History of Chefchaouen
Moulay Ali Ben Moussa Ben Rached El Alami founded Chefchaouen, also known as Chaouen, in 1471. The city began as a small fortress to defend against Portuguese invaders who occupied nearby towns. During the 15th century, the city was a silk and spice trading hub, attracting Berber and Jewish communities. Later in the twentieth century, Chefchaouen became a popular destination for hippies looking for a laid-back atmosphere and colorful architecture.
When to visit Chefchaouen, Morocco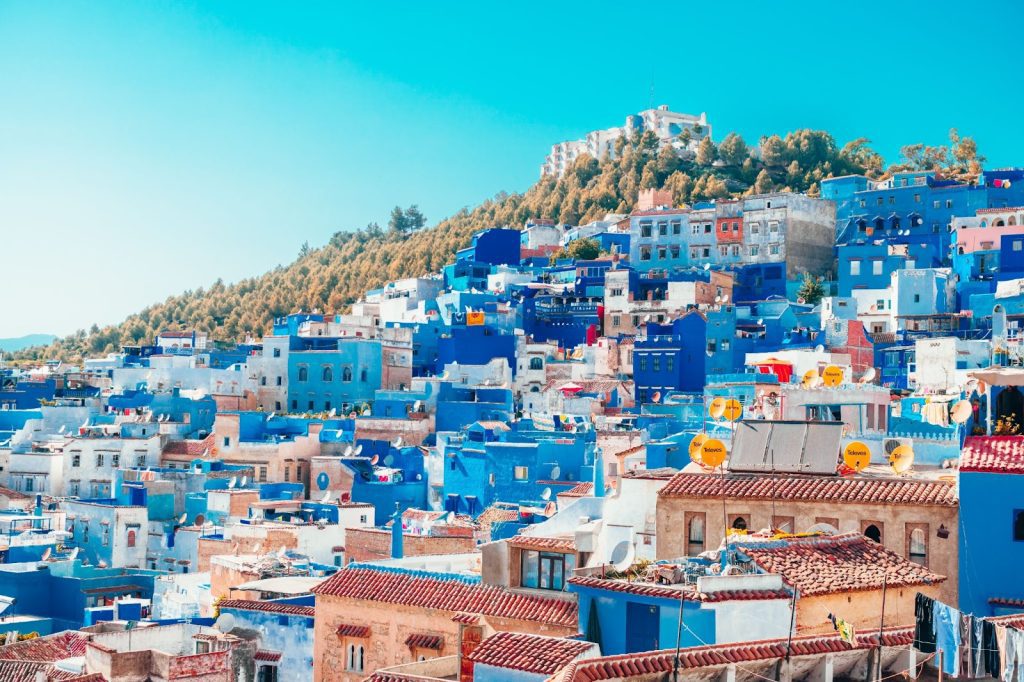 Weather
Chefchaouen's climate is Mediterranean, with hot summers and mild winters. Summer temperatures can range between 25 and 35 degrees Celsius (77 and 95 degrees Fahrenheit) from June to September. Temperatures average around ten °C (50°F) during the day and drop to 5°C (41°F) at night during the winter months of December to February. This city is one of the best visited in the spring and autumn when the weather is pleasant and mild.
Spring (March to May)
Spring is an excellent time to visit this city. The weather is pleasant, with temperatures ranging from 15 to 25 degrees Celsius (59 to 77 degrees Fahrenheit), making it ideal for outdoor activities such as hiking, exploring the city, and visiting nearby attractions. The city is also less crowded in the spring, making it an ideal time to enjoy its beauty without the crowds.
Summer (June to August)
Summer is the busiest tourist season in Chefchaouen, and the city can get quite crowded. Temperatures can reach 35°C (95°F), making some visitors very hot and uncomfortable. On the other hand, summer is the ideal time to explore the city's beauty, indulge in local cuisine, and enjoy outdoor activities if you don't mind the crowds and heat.
Autumn (September to November)
Autumn is also an excellent time to visit the city. The weather is pleasant, with temperatures ranging from 15 to 25 degrees Celsius (59 to 77 degrees Fahrenheit), making it ideal for outdoor activities and exploring the city. Autumn is also a beautiful time to see the city's beauty as the surrounding landscapes turn beautiful shades of red and gold.
Winter (December to February)
Chefchaouen's winters are mild, rarely falling below five °C (41°F). Winter is an excellent time to visit the city's museums, explore its rich culture, and enjoy the warm hospitality of the locals, even though it is not the best time for outdoor activities.
Finally, the best seasons to visit the city are spring (March to May) and autumn (September to November), when the weather is mild and the city is less crowded. However, regardless of the season, it is a beautiful destination that has something for everyone, and you will have a great time no matter when you visit.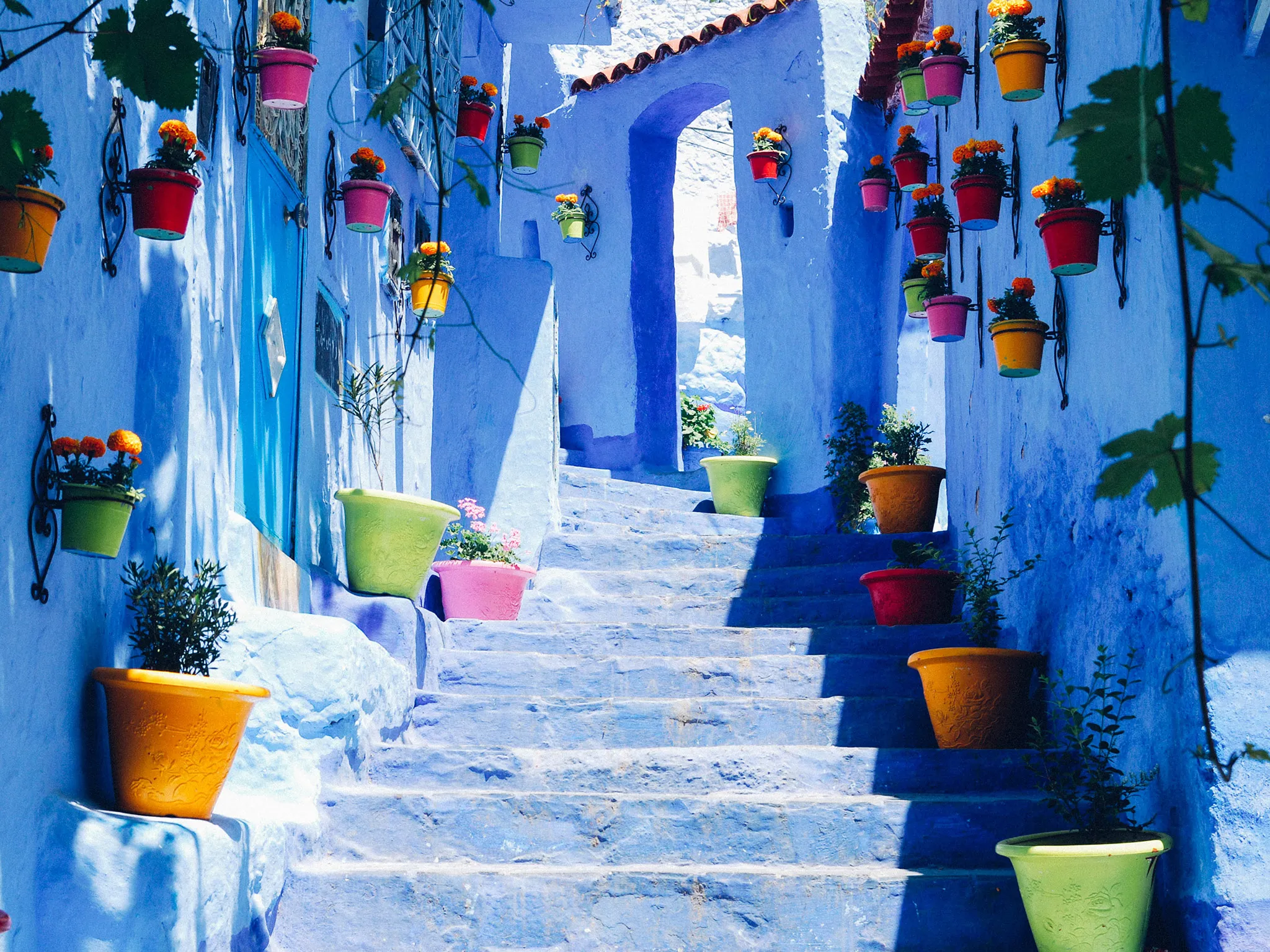 How to Get to Chefchaouen, Morocco
Chefchaouen, in Morocco's northwest, is a popular destination for visitors interested in the region's unique blue-painted buildings, scenic landscapes, and rich culture. Knowing how to get to this city is critical if you are planning a trip there.
By Air
Tangier Ibn Battouta Airport, located approximately 126 kilometers from Chefchaouen, is the nearest international airport. Several airlines, including Ryanair, Air Arabia, and Royal Air Maroc, fly to Tangier from various parts of Europe.
You can take a taxi from the airport to the city center. Depending on your negotiating skills, a one-way trip can cost between 70 and 80 EUR. You can also take a bus from Tangier's bus station to Chefchaouen, which takes about 3 hours and costs about 5-7 EUR.
By Train
There are no direct trains to Chefchaouen, but you can take a train to Tangier or Fes and then a bus or taxi to the city center. The train ride from Marrakech to Tangier takes about 9 hours, while the train ride from Fes to Tangier takes about 4 hours. When you arrive in Tangier, take a bus or taxi to Chefchaouen.
By Bus
This city is well connected by bus to several Moroccan cities, including Tangier, Fes, and Casablanca. The bus ride from Tangier to Chefchaouen takes about 3 hours, while the trip from Fes takes about 4 hours. CTM, Supratours, and other bus companies provide comfortable and reasonably priced bus transportation to Chefchaouen.
By Taxi
You can take a taxi to Chefchaouen if you prefer a more comfortable and private mode of transportation. Private taxis can be pricey, but you can bargain with the driver. Agreeing on a price before beginning the journey is best to avoid confusion later.
To get to Chefchaouen, several modes of transportation are available, including air, train, bus, and taxi. You can select the most convenient and comfortable option based on your budget and travel preferences. Regardless of how you get to the center, you will undoubtedly enjoy this charming Moroccan city's scenic beauty and unique culture.
Where to Stay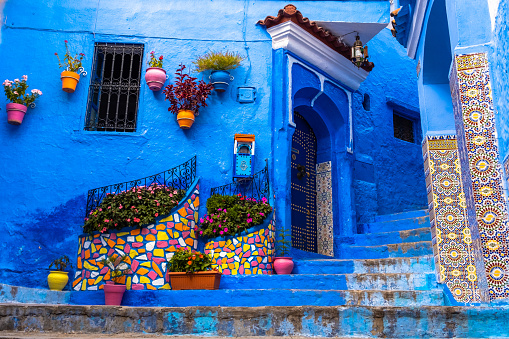 This is a popular tourist destination in Morocco, with numerous lodging options. The city has something for everyone, from budget-friendly hostels to luxury hotels.
Riads
Riads are traditional Moroccan houses that have been converted into hotels or guesthouses. These accommodations are typically found in the heart of the medina and provide a one-of-a-kind and authentic experience. Chefchaouen's riads are famous for their beautiful courtyards, rooftop terraces, and traditional decor. Dar Zambra, Dar Gabriel, and Dar Echchaouen are some of the most popular riads in the city.
Hostels
Budget travelers and backpackers will appreciate hostels. They provide inexpensive lodging as well as the opportunity to meet other travelers. Many Chefchaouen hostels offer shared rooms, private rooms, and communal areas. Hostels in Chefchaouen that are popular include Hostel Mauritania, Casa Amina, and Hostel Backpackers.
Hotels
Chefchaouen has a variety of hotels ranging from budget to luxury. Many of these hotels provide stunning views of the city and surrounding mountains. Lina Ryad & Spa, Hotel Parador, and Hotel Casa Miguel are some of the most popular hotels in Chefchaouen.
Guesthouses
Guesthouses are an excellent choice for travelers seeking a more intimate setting. These lodgings are typically smaller than hotels and provide a more personalized experience. Many of Chefchaouen's guesthouses are in the medina and feature traditional decor and architecture. Casa Sabila, Casa Perleta, and Dar Yakout are three popular Chefchaouen guesthouses.
Chefchaouen has a variety of lodging options to suit every budget and preference. You will have a memorable experience in this beautiful city whether you stay in a riad, hostel, hotel, or guesthouse. Book your accommodations in advance to ensure availability, especially during peak season.
What to Eat in Chefchaouen, Morocco
If you enjoy food, Chefchaouen is a must-see destination. Several street food stalls and local restaurants serve some of the city's most delicious and flavorful dishes. We will discuss some of the must-try foods in Chefchaouen in this article.
Tagine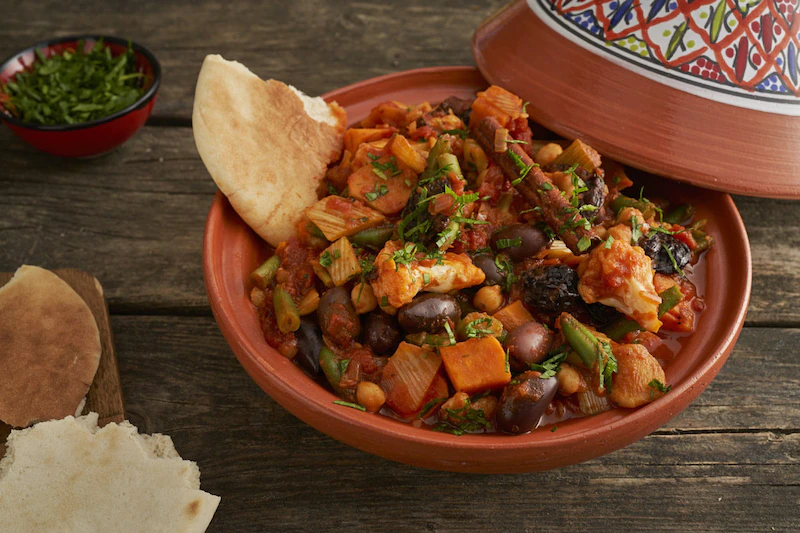 Tagine is a traditional Moroccan dish popular in Chefchaouen. It is a slow-cooked stew made with meat, vegetables, and spices cooked in a tagine, a cone-shaped clay pot. The word is typically served with couscous or bread and can be made with chicken, beef, or lamb.
Pastilla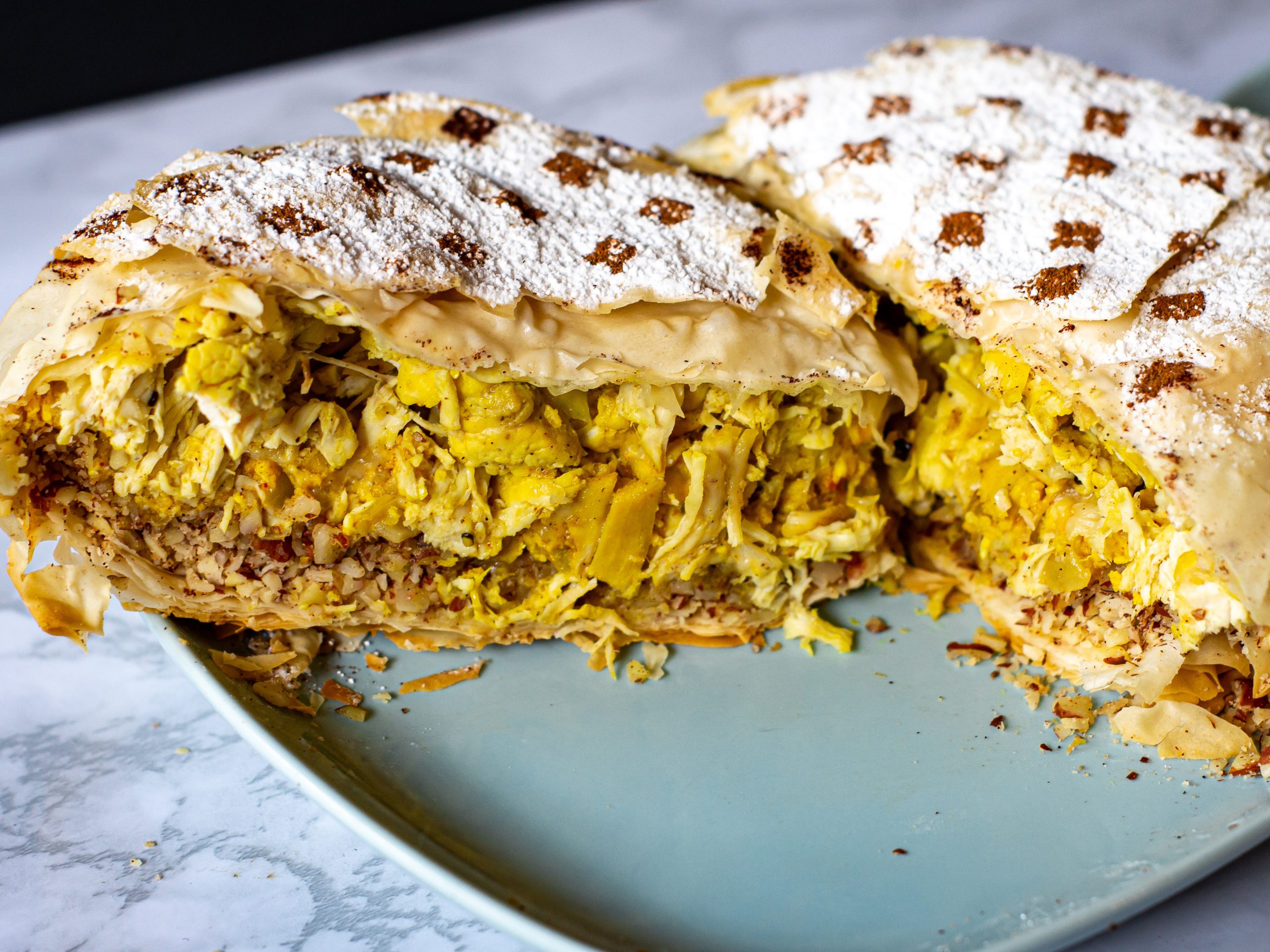 Pastilla is a traditional Moroccan dish from the city of Fez. It's a sweet and savory pie made with layers of thin pastry stuffed with shredded chicken, almonds, and eggs and seasoned with cinnamon, saffron, and sugar. Pastilla is a must-order dish in Chefchaouen, frequently served as an appetizer.
Harira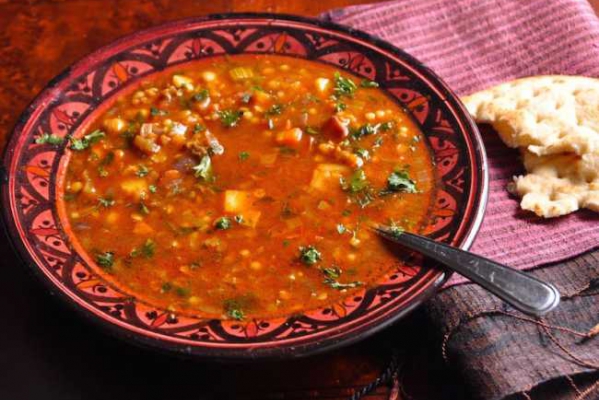 Harira is a traditional Moroccan soup that is traditionally served during the month of Ramadan. It's a filling soup with lentils, chickpeas, tomatoes, and meat seasoned with cumin, coriander, and ginger. Harira is frequently paired with dates and chakra, a traditional Moroccan sweet pastry.
Kefta Tagine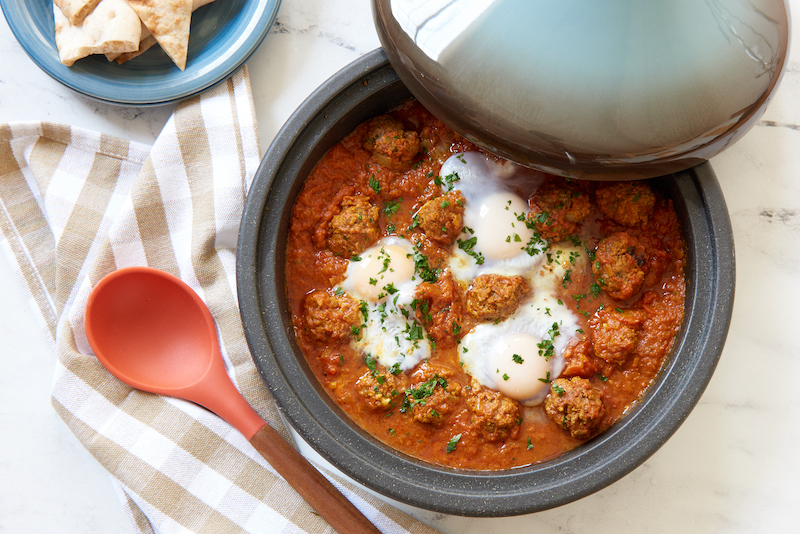 Kefta Tagine is a famous Moroccan dish made from seasoned ground beef or lamb formed into small meatballs and cooked in a tagine with tomatoes, onions, and spices. Eggs and bread frequently accompany the dish.
Zaalouk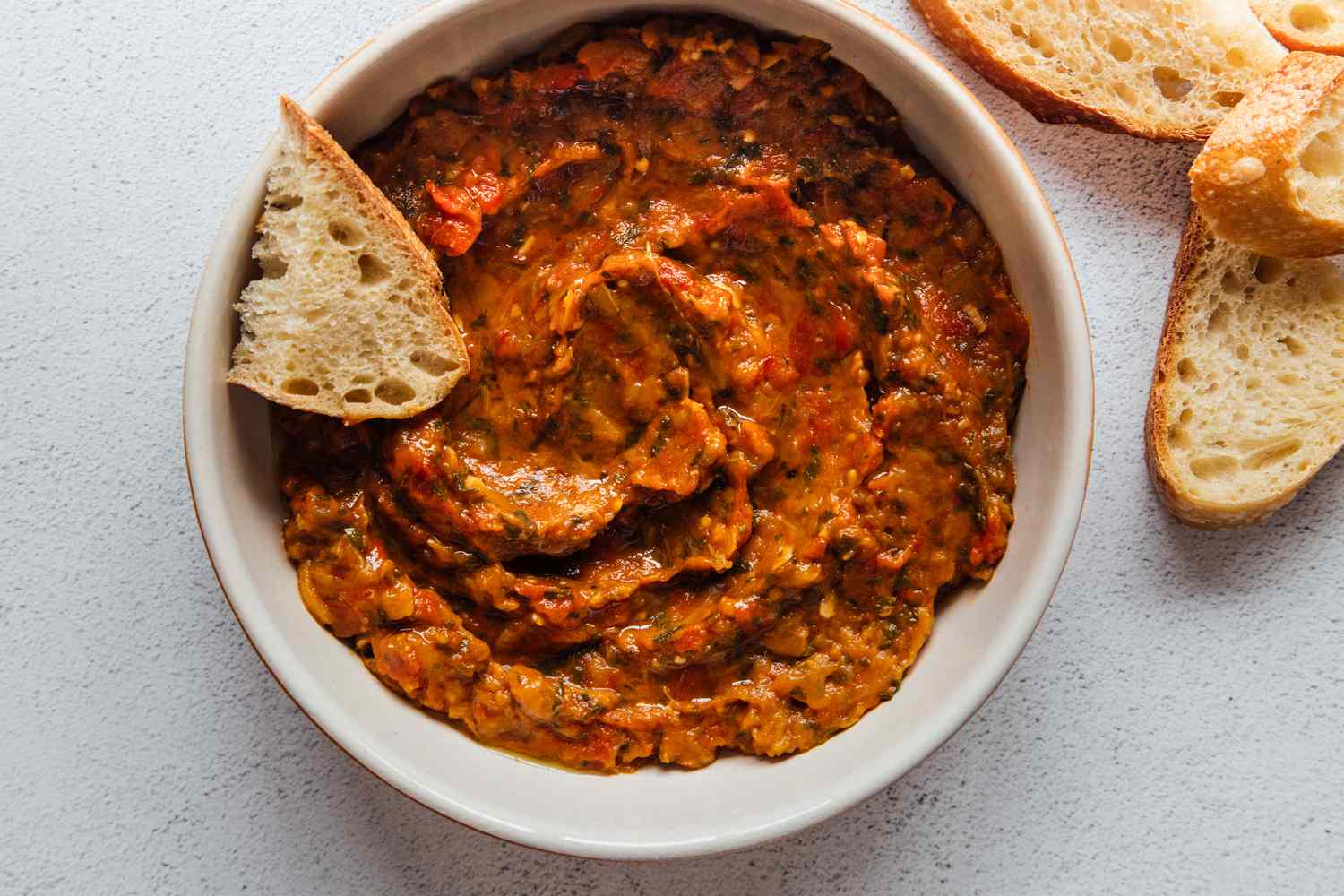 Zaalouk is a Moroccan salad with cooked eggplants, tomatoes, garlic, and spices like cumin and paprika. The dish is typically served cold and makes an excellent side dish for meat dishes.
Couscous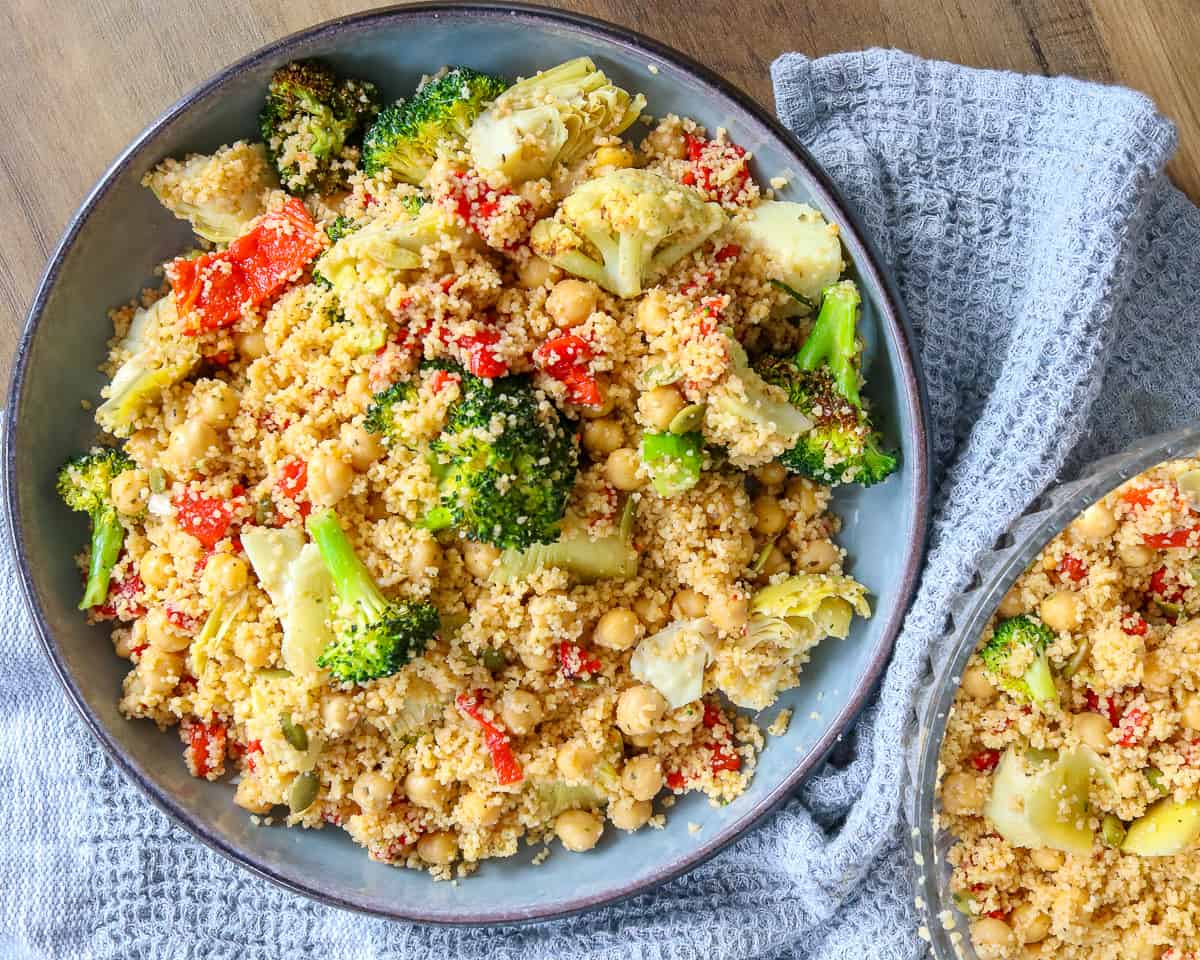 Couscous is a staple food in Morocco and is frequently served as a main course. It's made with steamed semolina grains and served with vegetables, meat, and a spicy broth. Couscous is a must-try dish in Chefchaouen, available in nearly every restaurant.
When it comes to food, this city has a lot to offer. The city's cuisine will tantalize your taste buds, from savory tagines to sweet pastillas and spicy couscous. Try some of the city's most delicious and authentic foods at the local markets and street food stalls.
Chefchaouen City Map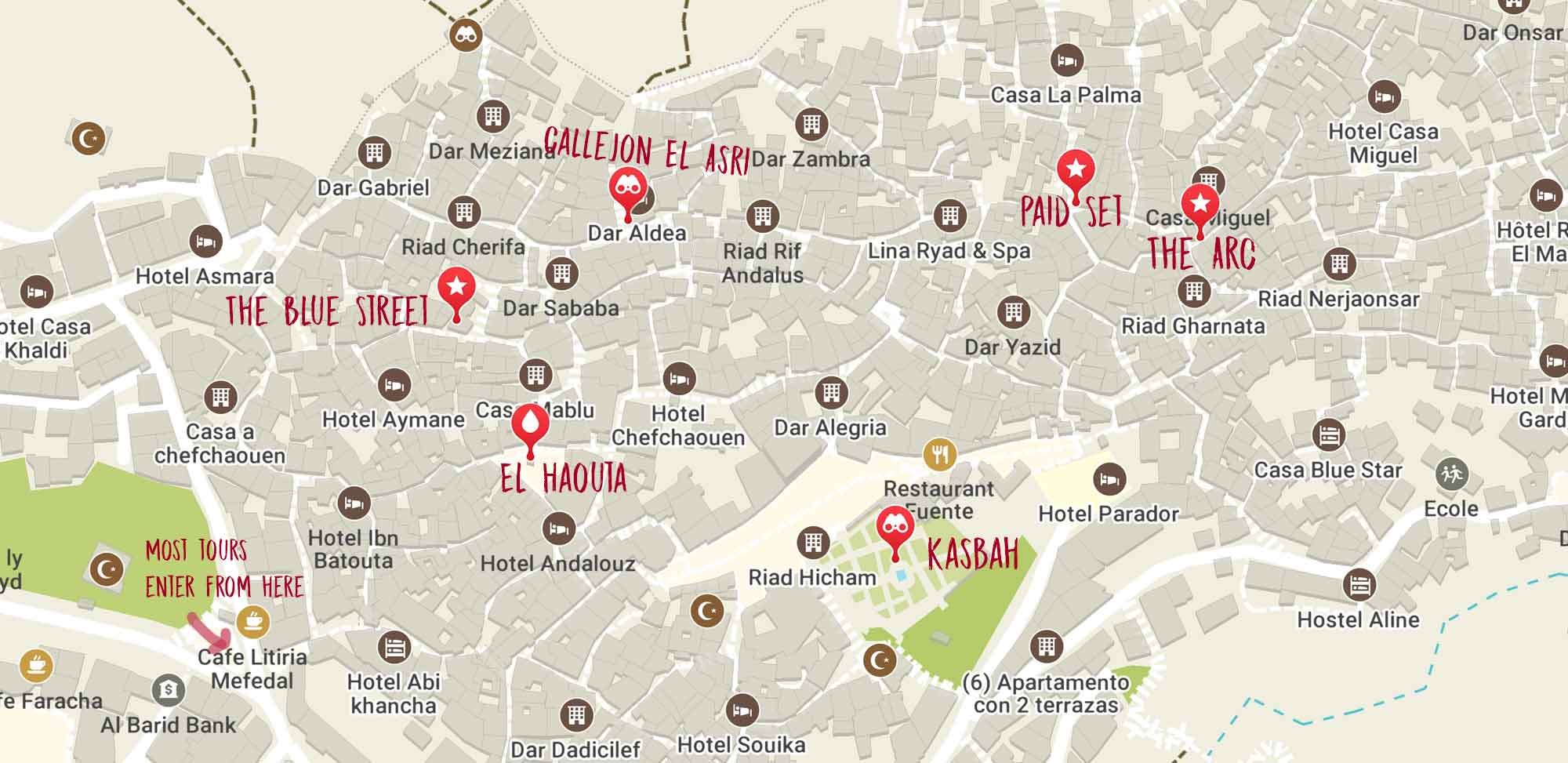 Travel in Chefchaouen on a budget?
There are several inexpensive ways to get to Chefchaouen if traveling on a tight budget. Here, we will review some budget travel tips for Chefchaouen.
Use Public Transportation
Public transportation is one of the most cost-effective ways to get to Chefchaouen. You can take a bus from major Moroccan cities like Tangier or Fez to Chefchaouen. The bus ride takes about 2-3 hours and costs about 30-50 Moroccan Dirhams (MAD), or about $3-5 USD. A shared taxi is also an option, though it is slightly more expensive.
Book Accommodation in Advance
It is best to book your accommodations in advance to save money. You can compare prices and find the best deals this way. Hostels and low-cost guesthouses are excellent choices for budget travelers. To save money, consider staying outside of the city center.
Eat Local
Eating local food is not only a great way to learn about the culture, but it is also a cost-effective option. Tagines and couscous are popular dishes at street food stalls and local restaurants. You can also buy fresh fruits, vegetables, and bread at local markets.
Walk or Use Shared Taxis
Chefchaouen is best explored on foot because it is small and easily walkable. However, shared taxis are cost-effective if you need to travel further. Shared taxis are available at designated taxi stands and cost between 10 and 20 MAD, depending on the distance.
Bargain
Bargaining is expected in Morocco, particularly in markets and souks. Don't be afraid to bargain when shopping for souvenirs or other items. Begin by offering a lower price than the vendor asks, and gradually work to a reasonable price.
With these tips, you can travel to Chefchaouen on a budget. Use public transportation, plan ahead of time for accommodations, eat locally, walk or take shared taxis, and don't forget to bargain. You can enjoy the beauty of the city without breaking the bank if you use these strategies.
Conclusion
Chefchaouen is a one-of-a-kind destination that combines culture, history, and natural beauty. The city's blue-painted buildings, vibrant arts scene, and delectable cuisine are just a few reasons to go. Chefchaouen has something for everyone, whether you are a nature lover, a history buff, or an art enthusiast. So pack your bags and head to this charming Moroccan city.
FAQ
Is Chefchaouen worth visiting?
This is the big question; your Moroccan itinerary will heavily influence it. The city is located in northern Morocco. So, if your itinerary includes Tangier, Casablanca, or Tetouan, Chefchaouen is worth visiting.
How many days do you need in Chefchaouen?
Two days. It is a small town with only two days to see the main attractions. However, because many people come here to relax in one of the hammams or hike in the nearby mountains, you may want to plan ahead of time.
Can you do Chefchaouen as a day trip?
Chefchaouen is the ideal destination for a day trip. There's plenty to see and do. However, after a day, you feel you've seen enough to do it justice.
Is Chefchaouen walkable?
The hike to Jeb al-Kalaa, the peak that overlooks Chefchaouen, is scenic but strenuous. To walk up and back, you must have a certain level of physical fitness.
When should I go to Chefchaouen?
May to September is ideal for visiting the coastal resorts and the north, which have a Mediterranean climate with hot, dry summers and mild, rainy winters. Inland cities such as Marrakech, Fez, and Meknes can be brutally hot at this time of year; the best time to travel south is between October and December.
Does Chefchaouen have a beach?
It is enjoyable with crystal clear water in calm weather and sand formed by the remains of seashells. The long promenade is immaculately kept, and there is plenty of parking for vehicles. At the end of the walk, there is a service area with several bars to grab a quick snack.
Is there a train to Chefchaouen?
To get to Chefchaouen from Fes, you can book a private transfer, drive, take a grand taxi, or take a bus. This route is not served by trains. The drive from Fes to Chefchaouen along Highway N13 takes just under four hours, and CTM runs five or six daily buses between the two cities.
People also viewed: