Mauritius, a tropical paradise in the Indian Ocean, is known for its beautiful beaches, pristine seas, and teeming marine life. Beyond its lovely shoreline is an enthralling natural phenomenon that draws people worldwide: the underwater waterfall. While it may appear counterintuitive, this fascinating display exposes nature's natural marvels, providing an enthralling experience.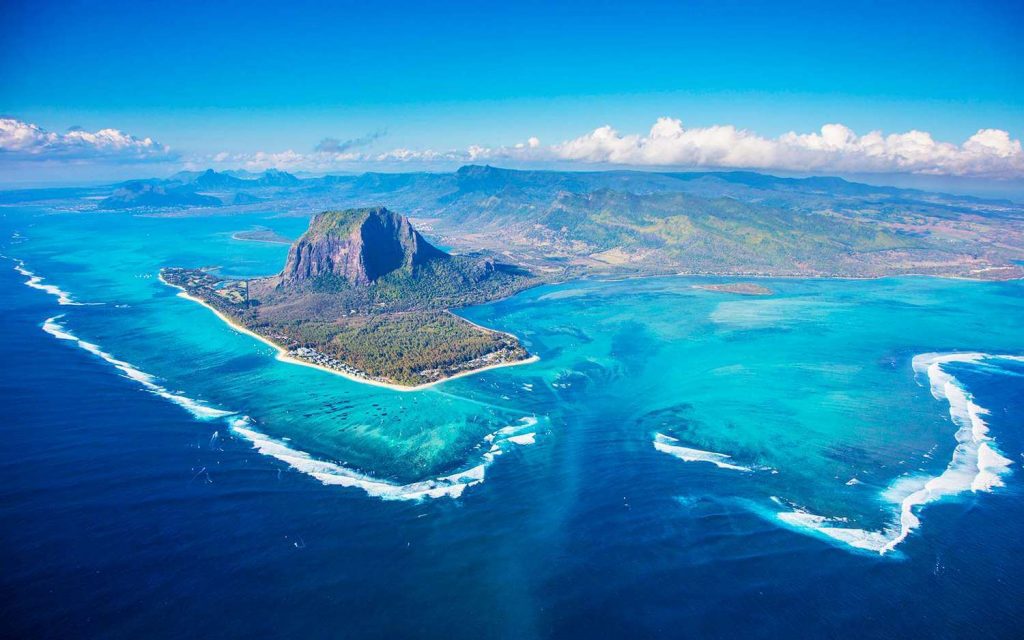 Why Visit Mauritius' Waterfall?
Natural Wonder and Visual Spectacle:
The waterfall is a breathtaking visual illusion that defies logic and captures the imagination. Seeing the flowing flood of sand and silt beneath the ocean's surface is a beautiful sight that will leave tourists speechless. The contrast between the sandy banks, the deep blue sea, and the play of light and shadow creates a visual spectacle unlike anything else.
Unforgettable Aerial Views: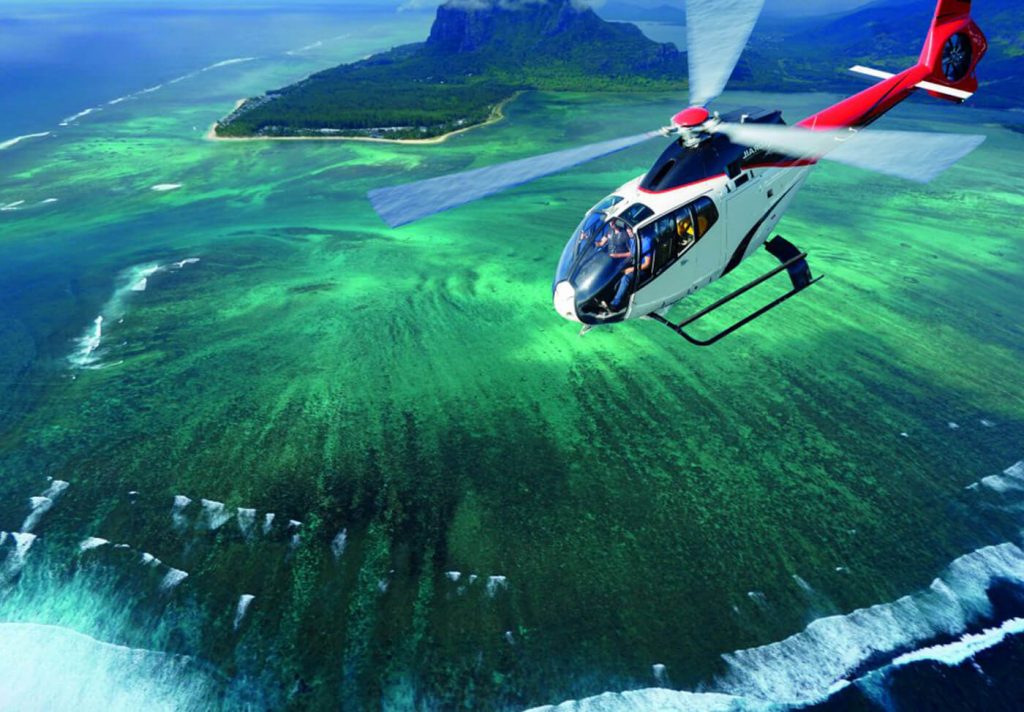 A helicopter tour of the underwater waterfall gives you a bird's-eye view that genuinely allows you to appreciate this natural phenomenon's majesty and magnificence. As you soar over the beach, the illusion expands underneath you, providing a breathtaking view. The airborne vistas offer a once-in-a-lifetime opportunity to take spectacular images and create lifelong memories.
Up-close Experience:
Boat tours allow you to come closer to the underwater waterfall and immerse yourself in its magnificence. Feel the lovely air on your face as you cruise over the clean waters, anticipating the illusion. Being near the underwater waterfall allows you to see the interaction of currents, sand, and light, adding to the enchantment of the experience.
A Photographer's Paradise:
For photographers, Mauritius' underwater waterfall offers a plethora of chances. The beautiful images and dramatic landscapes give limitless inspiration, whether shooting the panoramic view from a helicopter or getting up close and personal on a boat excursion. Interacting colors, textures, and natural components create highly distinctive and appealing images.
Ecological Significance:
The underwater waterfall is vital to marine ecology for reasons other than aesthetics. The mighty ocean currents help the illusion to carry nutrients, phytoplankton, and marine life. It is a fantastic educational experience for individuals interested in marine conservation and environmental consciousness since it reminds them of marine ecosystems' fragile balance and interdependence.
Exploring Mauritius' Natural Beauty:
Visiting the underwater waterfall allows you to combine it with other Mauritius natural treasures. The island is home to various spectacular sceneries, including lush jungles, charming waterfalls, and breathtaking coral reefs. Discover the rich flora and animals, participate in water sports, or relax on the pristine beaches. Mauritius is a haven for nature lovers and thrill-seekers alike.
Cultural Immersion:
Mauritius is a culturally rich and diversified destination in addition to its natural beauty. Immerse yourself in the island's diverse combination of Creole, Indian, African, and European influences and its history, food, and traditions. Meet the friendly inhabitants, see the colorful marketplaces, and sample the delectable flavors of Mauritian cuisine.
Background and Information for the Underwater Waterfall, Mauritius
Sorry to break the illusion, but Mauritius' underwater waterfall is not a waterfall. It's a natural optical illusion generated by flowing sand, yet, it's easy to fall for (get it?).
Ocean currents gather and transport coastal sand and silt from Mauritius' southern point into the ocean's depths. As a result, an "underwater waterfall" is formed. It's a dramatic scene that seems like a section of the island has been sucked down a drain.
Where is the Underwater Waterfall in Mauritius?
The underwater waterfall is located on the southern shore of the Le Morne Peninsula.
How Deep is Mauritius' Underwater Waterfall?
This underwater waterfall's sand and silt tumble to depths of almost 4000 meters into marine nothingness. Only come near if you're an excellent swimmer.
When is the Best Time to See the Underwater Waterfall?
The best time to observe this ethereal scenery is from September to December, when the rainfall won't be too much of an issue for helicopter flights, and it's a magnificent experience.
Can You Swim in Mauritius' Underwater Waterfall?
Great news — it's perfectly safe to swim in and even surf on these waters. So if surfing or diving in the underwater waterfall in Mauritius is on your bucket list, what are you waiting for? That again, if you're not much of a water baby, you can always glimpse its beauty from a distance. A prominent sight is Le Morne Brabant, a UNESCO World Heritage mountain affording an unsurpassed panorama of the beautiful underwater waterfall.
Underwater Falls Mauritius: Map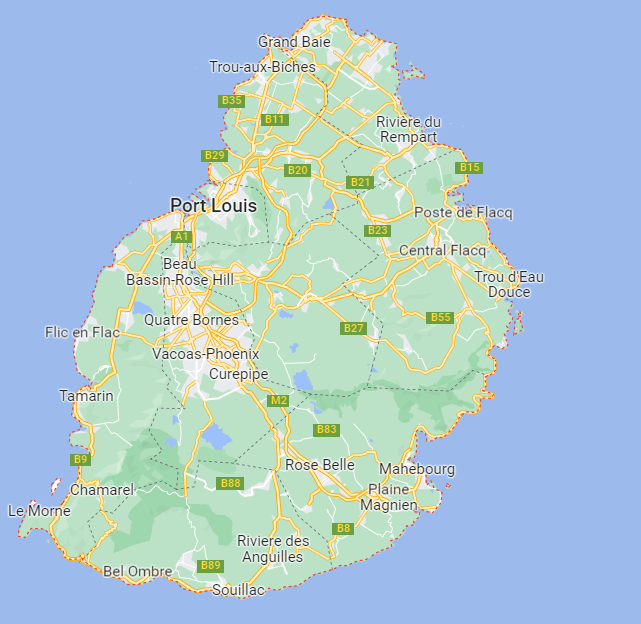 Conclusion
In conclusion, experiencing Mauritius' underwater waterfall is an experience that promises to be unforgettable. From the breathtaking visual spectacle and aerial vistas to the ecological significance and cultural immersion, it uniquely combines natural beauties and stimulating experiences. Embark on this adventure of discovery and be prepared to be charmed by the splendor of Mauritius' underwater marvel.
People also read: