I rarely arrive in a city without plans because I am an obsessive travel planner. The exception was Cartagena, a city I knew little about before I went there. Cartagena is one of southern Spain's less well-known cities; even though the Spanish Cartagena has a long history that dates back more than 2,000 years, it's much more likely that you've heard of its namesake on the Caribbean coast of Colombia. Cartagena is located about 20 miles from Murcia on a magnificent natural harbor.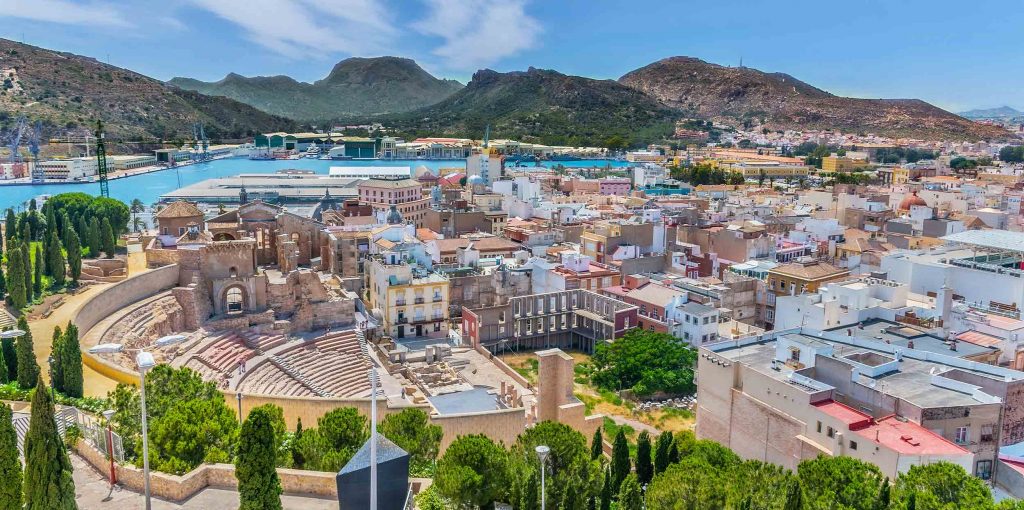 In honor of their capital in North Africa, the Carthaginians named the city Qart Hadasht when they constructed it in 228 BC. Students of classical history are more familiar with the original Qart Hadasht—which translates to simply "New City"—as Carthage. The Romans quickly conquered the Carthaginians who had settled in this area of the Iberian Peninsula, renaming the town Carthago Nova, which means "New New City" in Latin.
The Vandals took over the city in the fifth century, and the Visigoths followed, then the Byzantines. The city was conquered by the Ummayads in 714 AD and was held by a series of Muslim rulers until 1245 when the northern Christian troops surged in and regained it.
Cartagena is a hospitable city you shouldn't skip whenever you choose to visit. What are you still holding out for? Explore today's diverse cultures and people to learn more about its past!
Best Time to Visit Cartagena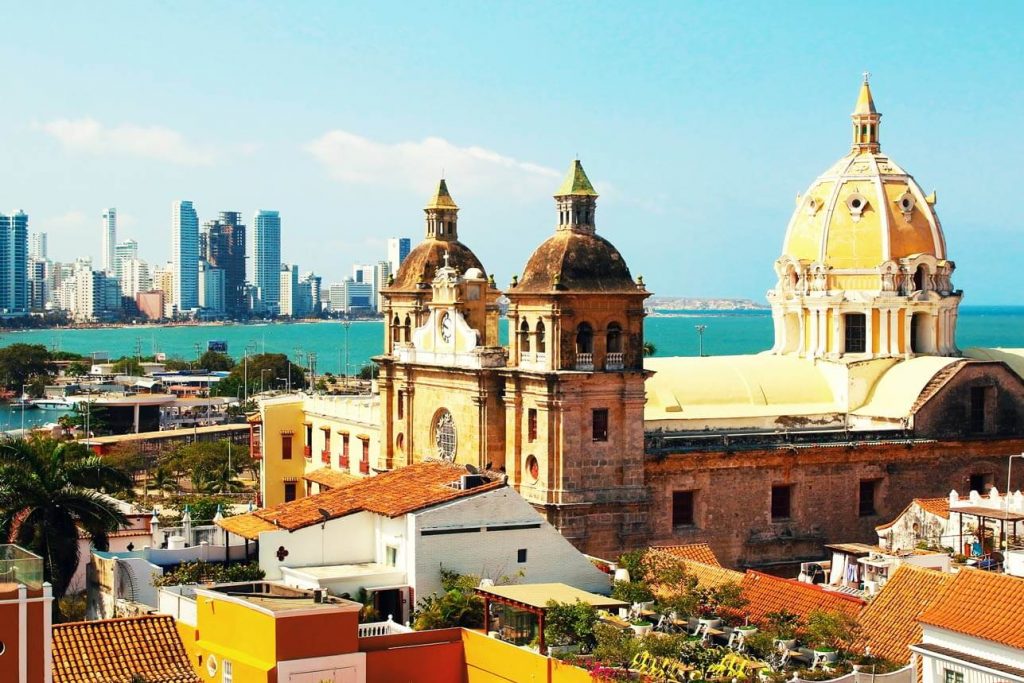 The best time to travel to Cartagena, Colombia, is from December through April. The weather is charming, sunny, and warm because it is the dry season.
Traveling here is fine anytime; however, the dry season is preferable. Travel from May to mid-June or during the rainy season from August to November for lower pricing and fewer crowds. The rain showers won't last long, so you'll have plenty of time to spend outside!
Avoid visiting during popular holidays like Carnival in February, Holy Week in March or April, and July when more people come for the summer. During certain times, pricing will be higher, and fewer hotel and flight options will be available.
Getting Around Cartagena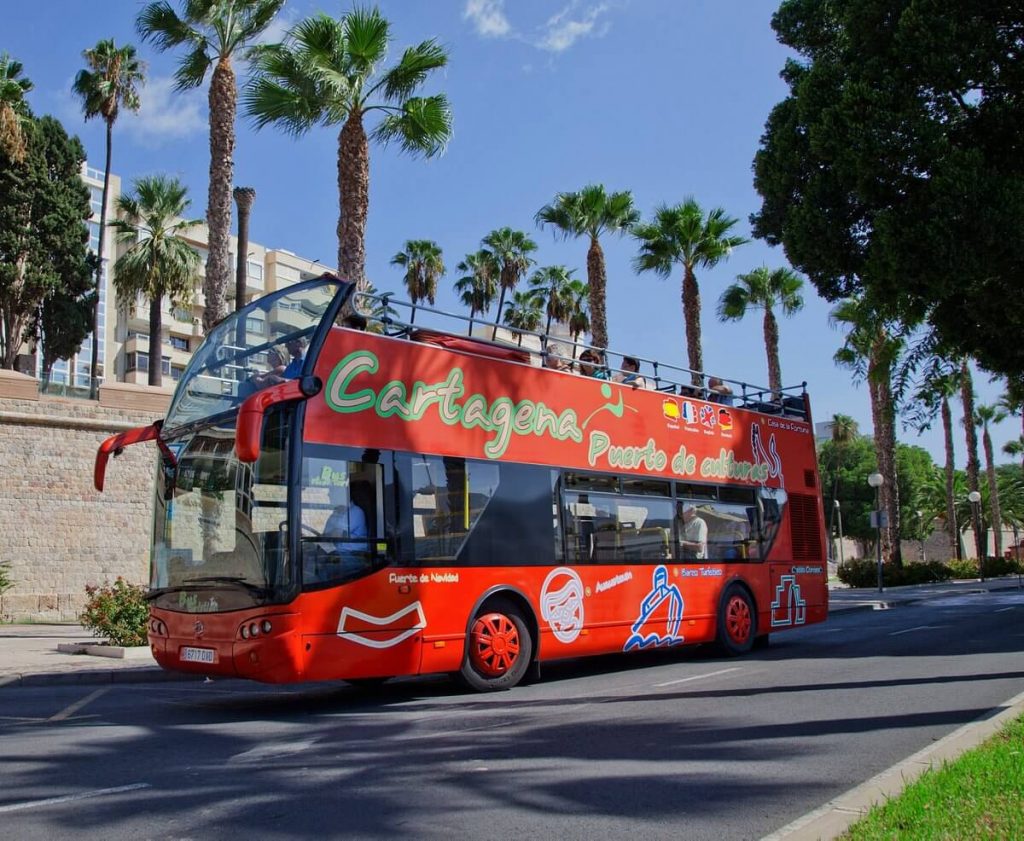 Taxis are the best mode of transportation in Cartagena. While small distances should be covered on foot, taxis make it simple to get between various locations in the city, including Rafael Núñez International Airport (CTG) in Cartagena. According to local hotels, taxes from the airport to the main tourist spots cost about $10
However, due to lax traffic laws and inadequate infrastructure, the U.S. State Department warns against driving in Colombia (international driving permits are necessary). Rental automobiles are available in Cartagena.
Tourists should take the buses from neighboring cities into Cartagena for different reasons. Instead, travelers should fly into the city, as it is the most popular method. Local buses are also offered at the airport and various locations in Cartagena. However, tourists are not advised to use the public transportation system because it can be confusing.
On Foot
Walking through the colorful alleys of Cartagena is a joy, thanks to the warm weather and confined neighborhoods with loads of attractions. Travelers can plan a quick stroll by the city's architectural landmarks, commercial areas, and beaches with some planning.
Taxi
Taxi drivers will quickly overcharge naive tourists even though they are numerous and safe in this tourist resort. Before getting into the car, customers should prepare to haggle over the price. Moreover, since there are no meters, additional charges are at the driver's discretion and often start at COL$ 7,000 (about $2). For trustworthy and courteous drivers, giving a tip of around 10% or rounding up to the next thousand pesos is a good gesture.
Although accessible in Cartagena, Uber's legal standing is in doubt. Local businesses are typically a better choice due to the concentration and dependability of cabs.
Bus
Individuals often reserve buses for trips connecting Cartagena with nearby cities. The city's public transportation system, TransCaribe, features many large buses that run along the main thoroughfares. To use TransCaribe, passengers must pay a fare of COL$ 2,300 (about $0.75) using cards, which can be purchased for COL$ 4,000 (about $1.30) at each station. However, because the transportation system is complicated, most visitors prefer taxis due to their convenience.
Things to Do in Cartagena
Cartagena has long been a sought-after site thanks to its rich mineral mines and one of the world's best natural harbors. Before the Romans took it in the third century BC, the Carthaginians significantly influenced how it developed as an old trading center.
To explore the many Roman sites in Cartagena and learn about the intricate prehistoric past of the city, you can buy a multi-ticket. A mining boom in the 19th century brought great wealth to Cartagena. It led to the construction of art nouveau buildings in the city's historic center.
Roman Theatre Museum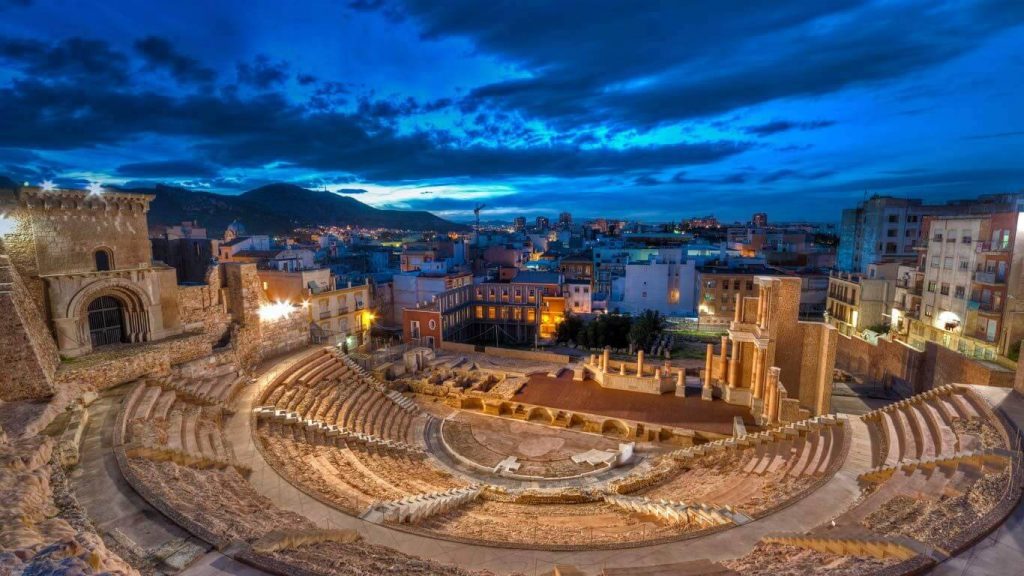 Your first stop should be the 2,000-year-old theater, one of Cartagena's magnificent Roman buildings. It was recently discovered in 1988 beneath the Old Cathedral's wreckage. It had been devastated by shelling during the Spanish Civil War. The fact that almost two-thirds of the theater's original construction materials remained on the property allowed for the meticulous restoration you can see today.
You can explore the fantastic artifacts unearthed during the excavations in the museum, including an altar to Jupiter, an Apollo statue, inscribed lintels, plaques, and medieval Islamic ceramics.
ARQUA, Marine Archaeology Museum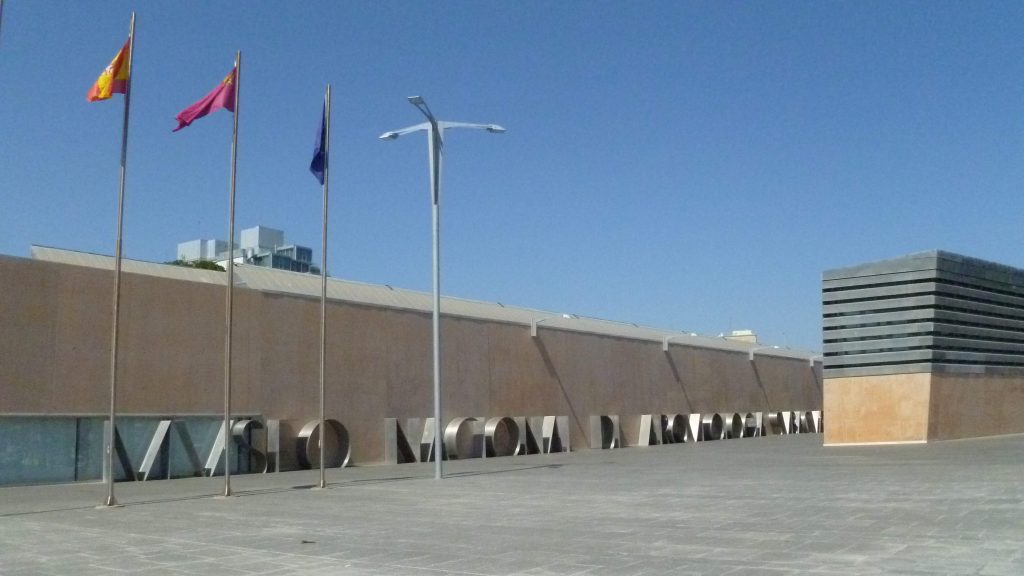 It is appropriate that this institution should be located in one of the significant historic harbors in the western Mediterranean, where fresh discoveries are produced virtually yearly. A national center for maritime archaeology, ARQUA houses unique historical artifacts from submerged locations and serves as a resource for researchers in the area.
Learn how archaeologists analyze their finds in the lab area, which contains kid-friendly interactive displays. Carthaginian ivory tusks and the treasure of the schooner Nuestra Señora de las Mercedes, sunk in the early 19th century with 14.5 tons of gold and silver coins, are two artifacts on display.
Modernist Architecture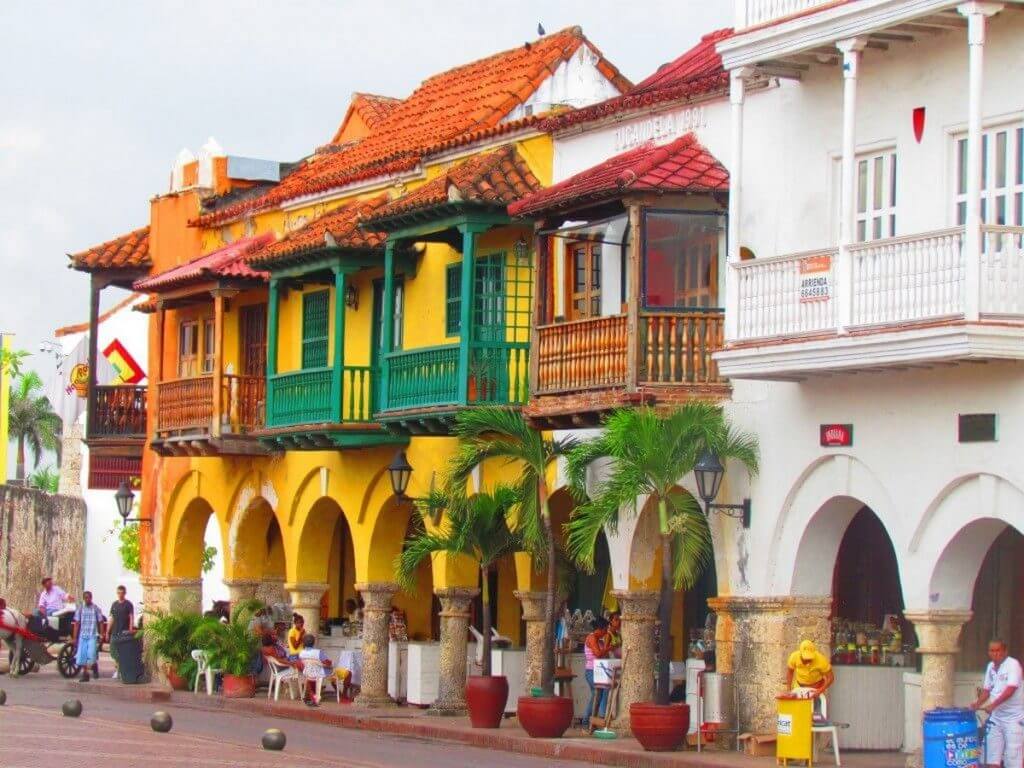 A few people became extremely wealthy in the late 1800s due to the mining sector. The historic center of Cartagena and adjacent La Unión are the best examples of this prosperity. Because a federalist uprising in 1874 destroyed half of the city, Cartagena's center already required reconstruction in the late 19th century.
At the end of the century, architects constructed numerous stunning art nouveau structures. A walking tour could include outstanding examples such as Palacio Pedro, Casino de Cartagena, Casa Cervantes, Palace de Aguirre, and Gran Hotel.
Palacio Consistoria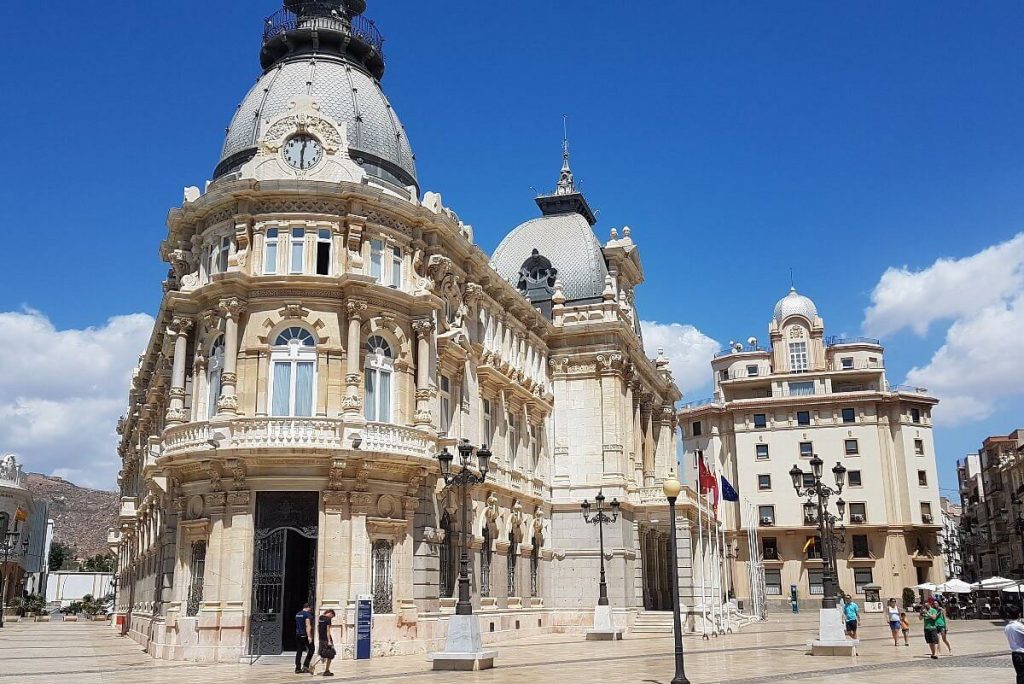 You can explore the century-old town hall on Plaza del Ayuntamiento, one of Cartagena's most spectacular modernist marvels. The late 19th-century mining boom. The fact that Cartagena had outgrown its previous town hall contributed to this triangular palace's construction.
Ten years ago, restoration experts brought back the tower. It had structural issues in the 1990s, to its Belle Époque splendor. Take some time to examine the facade, which consists entirely of white marble and has locally zinc-coated domes on top. If you get close enough, you might even be able to see some Civil War bullet holes.
English-speaking tour guides are available to walk you around the marble stairways with balustrades and the collection of historical tapestries.
Explore the Castillo de la Concepción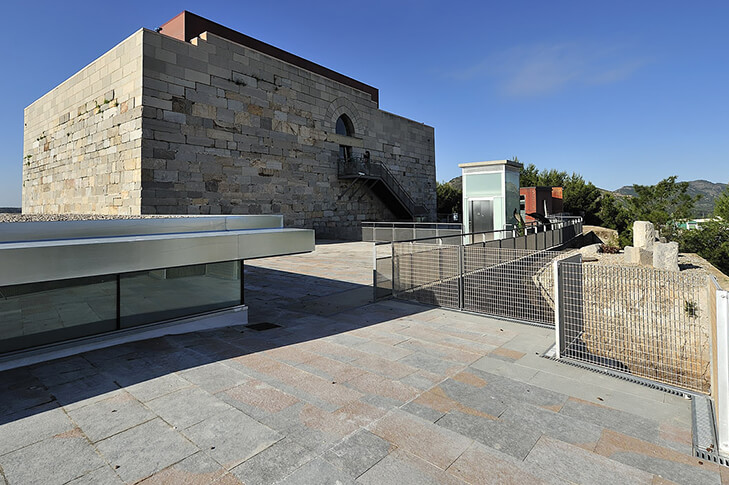 Castillo de la Concepción is located at the highest point in Cartagena and provides one of the city's best views. During the 12th-century period of Muslim power, a Moorish stronghold existed on the site where a Roman temple was previously built. After the Christian reconquest of Spain, a medieval castle was constructed on top of the site. It eventually replaced and transformed the previous structures.
The castle served as a bomb-spotting station up until the Spanish Civil War.
At the Center de Interpretación de la Historia de Cartagena, take the panoramic glass lift, stroll among the gardens, and learn about the city's past.
Look around the Military Museum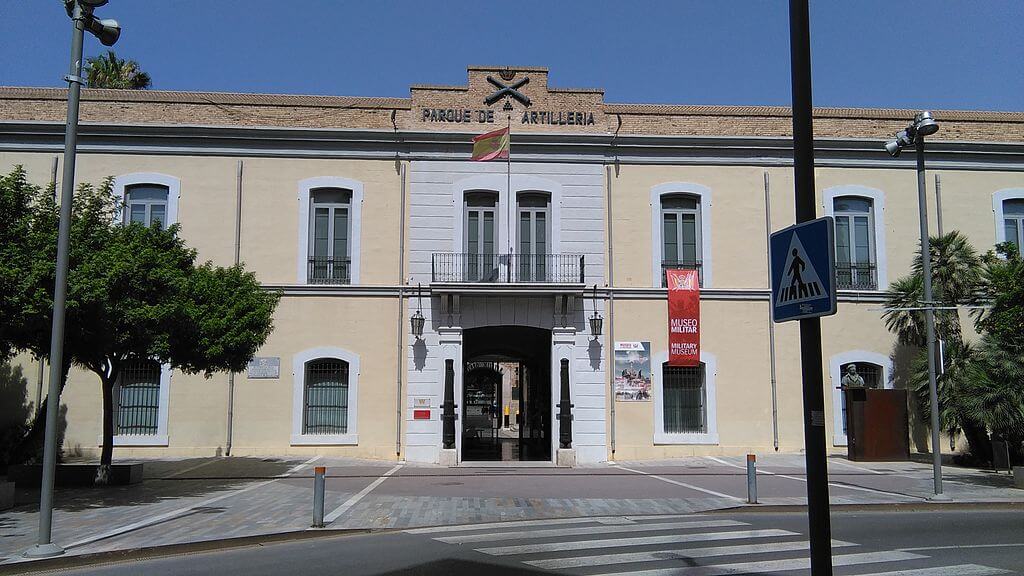 One of Spain's largest artillery collections is kept in the Military Museum, inside the city's Artillery Park. It is located in a historical structure that Carlos III constructed in the 18th century, with stone pillars and arched arches. There are displays of models, documents, weaponry, uniforms, paintings, and sketches that provide historical context for the artillery. Visitors are given tours, including stops in the cannon chamber, ammo room, and aircraft artillery room.
Discover the Naval Museum
Exhibits on everything from boat construction to naval health, uniforms, art, and sailor life are on display at the town's Naval Museum. Moreover, it features a room that houses the renowned Isaac Peral Submarine. Inventor Isaac Peral built the first ship with electronic propulsion and torpedo weaponry in the 19th century.
The building where the museum is located is also of note since it has earned architectural accolades for its seamless fusion of the original 18th-century prison's ancient styles with the 20th-century navy training center and current 21st-century design.
Spend the afternoon at Cala Cortina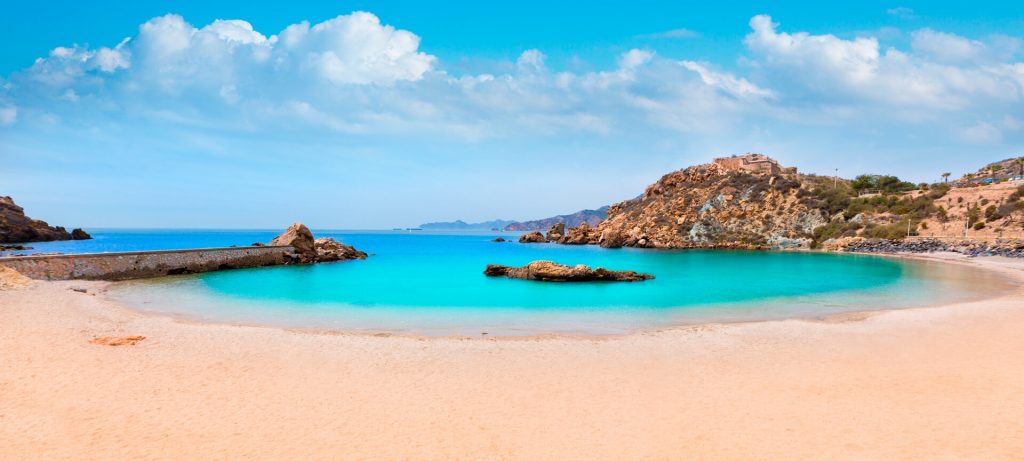 You'll be ready for leisure after visiting all those museums; what better place than the beach? Cala Cortina, the isolated beach in the community, is two meters (four kilometers) away from the town's center. The beach is a magnificent, vast expanse of sand with amenities like bars, restaurants, restrooms, children's play areas, and a picnic area.
Foods & Drinks You Have to Try in Cartagena
Pera de Jumilla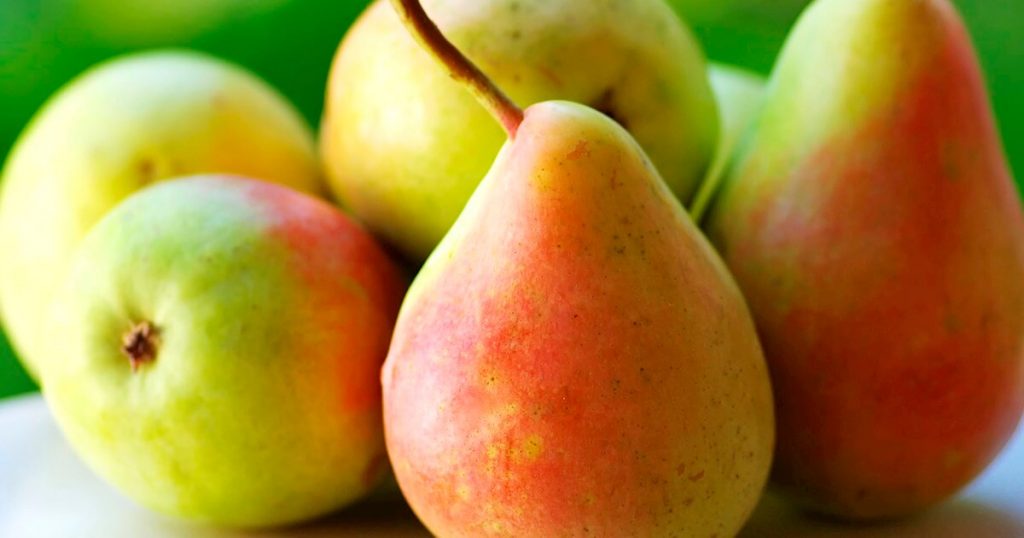 Pears cultivated, gathered, and packaged in Jumilla, a municipality in the region of Murcia, are known as pera de Jumilla. These pears have red dots on the side exposed to light, and they are yellow-green. The flesh is white, is quite juicy and delicious, and has a light scent.
Due to the extensive sunlight exposure, pears from Jumilla have higher sugar content than pears from other regions. Moreover, they are bigger, firmer, and mature earlier than other pears. The defined geographic area, which offers perfect weather and soil conditions for developing this particular variety, must be the location of all stages of cultivation and production.
Calasparra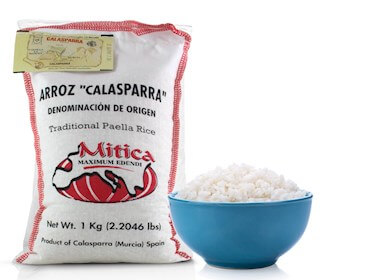 One of the most popular types of rice farmed in Spain is called Calasparra. It is grown without pesticides or herbicides in the village of Calasparra, located in the Murcia province. It is available in two varieties: regular and Bomba, with the latter enlarging more during cooking.
Since the fourteenth century, this region has farmed this white, short-grain rice type. Calasparra has exceptional culinary qualities, making it an indispensable component of paella, one of the most well-known Spanish dishes. Due to its high amylose concentration, it absorbs more moisture during cooking than other types of rice.
Pimentón de Murcia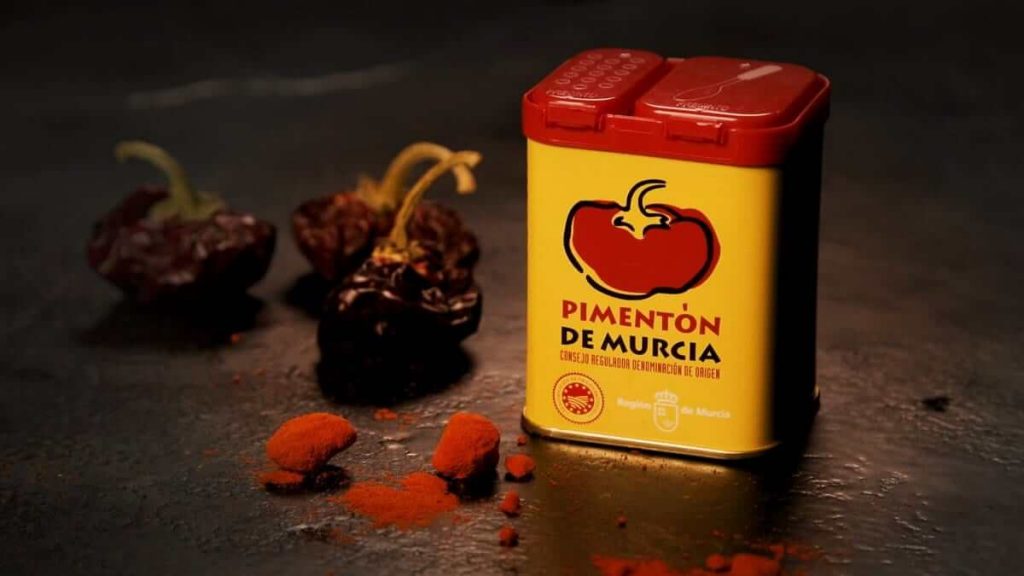 Farmers in Murcia, an autonomous community on Spain's southeast coast, produce paprika known as pimentón de Murcia, which is one of the most distinctive spices in Spanish cooking. The fragrant, spicy, vivid red powder is made from prized ora peppers that are hand-picked, sun-dried, and ground. Spanish chefs use this spice, called lomo, in many dishes, such as fried eggs, octopus, chorizo sausage, and lomo itself. The only ingredients used to create this special spice are the ora peppers.
Pimentón de Murcia comes in three varieties: dulce, agridulce, and Picante, which translate as sweet, medium, and fiery, respectively.
Imperial de Lorca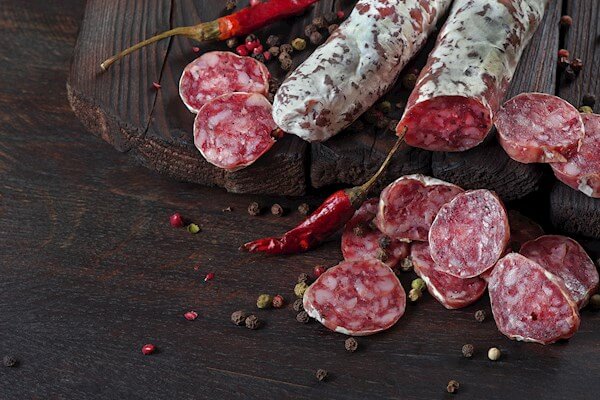 Imperial de Lorca is a Spanish sausage from Lorca in the Murcia region, as the name says. The main ingredients are lean pork, pork belly, salt, white pepper, and nutmeg. 20 cm links of the mixture are put into the calf casings. The sausage is ready to be eaten raw after drying for 15 to 20 days.
Queso de Murcia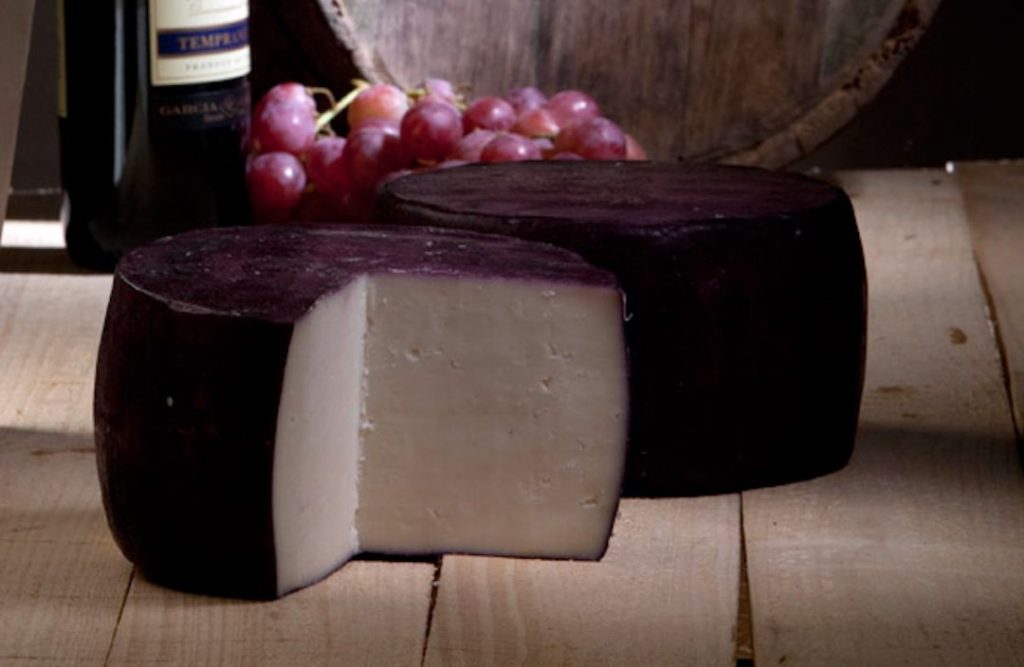 The region of Murcia is in southeast Spain. It is home to the Murciano-Granadina, the nation's top breed for milk production, which is used to produce Murcia goat cheese. This cheese is traditionally made and available in two forms: fresh (aged for 30-45 days) and aged (aged for 60 days or longer), depending on the desired amount of aging.
It has a white paste, similar to most goat cheeses, and smells deliciously of grass, yogurt, and almonds.
Murcia combines best with light wines due to its delicate goat milk and yogurt flavor.
Queso de Murcia al Vino
Cheese makers soak and age Murcia goat cheese in a double-fermented red wine, typically a blend of the region's Monastrell grapes, to create Murcia al Vino, also known as "Drunken Goat." This type of cheese is commonly produced in Murcia. It is an area in southeast Spain known as the birthplace of the Murciano-Granadina goat, which is the country's top breed for milk production.
Murcia al Vino has a strong aroma, a fruity, unsalted flavor, and a delightful finish that makes goat milk and cream come to mind. It goes great with robust fruity wines like Tempranillo.
Asiático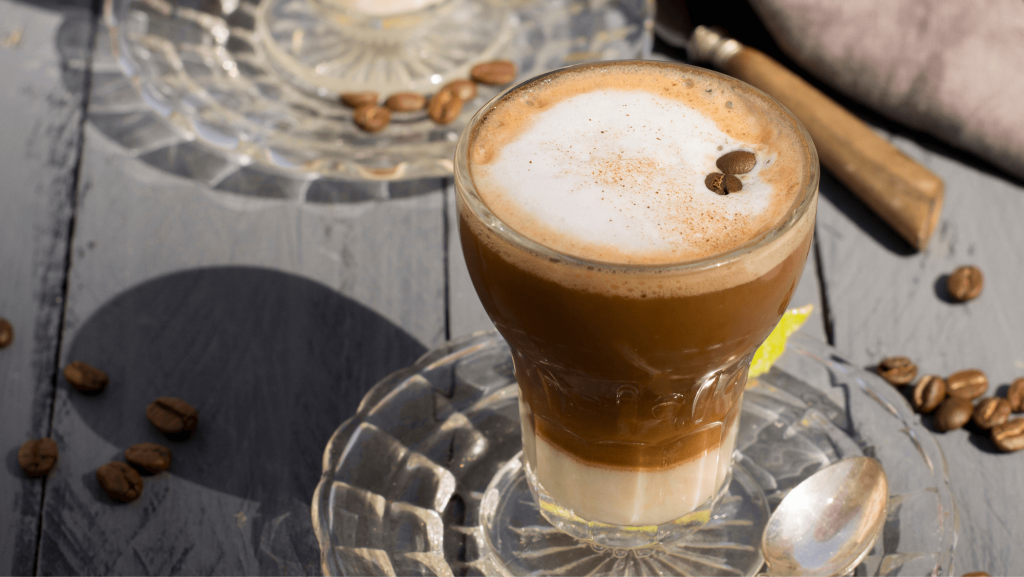 The ingredients for the Spanish cocktail known as Asiático include coffee, condensed milk, brandy, and Licor 43, a regional liqueur. The beverage should have coffee grounds, lemon rind, and cinnamon in the sturdy, properly-made glass.
The original Asiático was created by neighborhood fishermen. He brought rescue (poor coffee), milk, and brandy along their fishing expeditions to keep them warm. The City Council is promoting the cocktail to turn it into a tourism destination.
Licor 43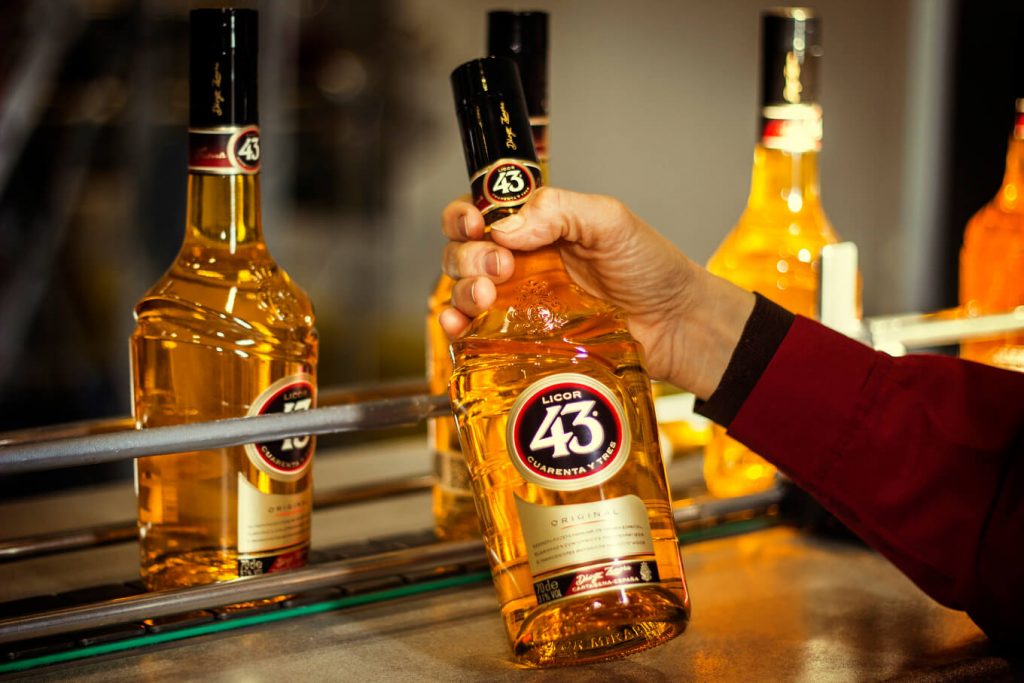 This sweet liqueur, also known as Cuarenta y Tres, translates to "forty-three," was created by Diego Zamora and other Zamora family members in the 1940s. They assert their recipe was based on an old liqueur known as liquor mirabilis (marvelous liquid).
The liqueur has 43 secret ingredients, creating a rich texture and scent of vanilla, citrus, and spices. It's added to cocktails or enjoyed as a chilled digestif over ice.
Where to Stay in Cartagena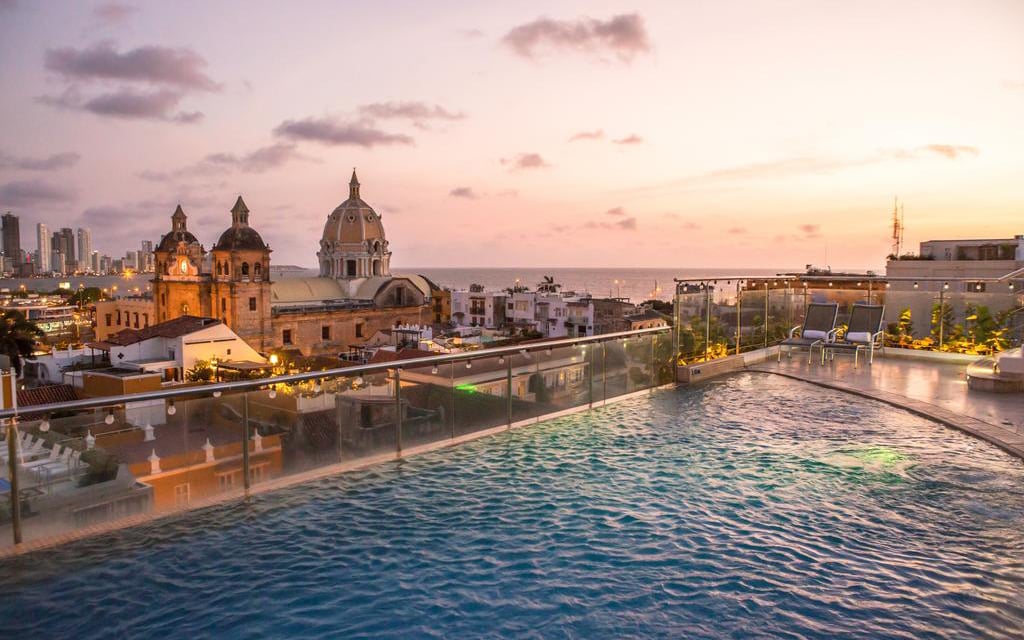 These are some suggested locations to stay in Cartagena if you intend to keep up the night or remain for a few more days.
B&B Hotel Cartagena Cartagonova is a four-star hotel with private rooms in the city's center, including single rooms. There is an option to add a buffet breakfast to the daily charge, and the rooms are contemporary and comfortable.
Hotel Los Habaneros – an excellent low-cost motel that is close to the harbor, as well as the bus and rail terminals. There are alternatives for singles, couples, and families in the clean, large rooms.
Click here to browse other hotels in Cartagena!
Tips for Visiting Cartagena, Spain
The ideal way to spend your day is on foot because the city is small. Visit the palm-lined beachfront, the substantial Muralla del Mar (the defensive walls constructed in the late 18th century), the historic district, the castle, and some Roman ruins.
The biggest problem you'll face is deciding which of the numerous top-notch Spanish museums to include. Practically, you could see the Underwater Archaeological Museum and the Roman Amphitheater in a single day. With time left over for a quick trip to the castle, a stroll through the old town to take in the modernista architecture, and a stop for tapas.
If you are visiting in the summer, take your time. The sun will be hot in the middle of the day, so it's a good idea to have lunch in the shade as the locals do. In addition to alternative forms of transportation, including Segway tours of the city center, a trolley train circles the main attractions if you would rather not walk.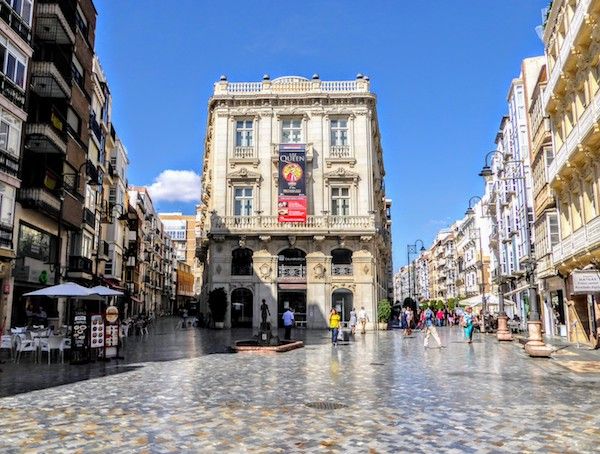 Although the city is next to a lovely beach called Cala Cortina, it is best to see the town itself because Cartagena is rich in history. Yet, if you want to spend some time at the beach, this sandy cove is only 2.5 miles away and easily accessible by taxi.
FAQ
Is it worth visiting Cartagena, Spain?
Roman ruins, a stunning city center with marble streets and Art Nouveau buildings, modernist architecture, delectable cuisine, and sights not found in Andalucia, Barcelona, or the rest of Spain.
How many days do you need in Cartagena, Spain?
Thus even if a day is short, it is possible to tour the main attractions in Cartagena in a single day. Yet, to truly appreciate this Spanish colonial town and the adjacent Caribbean islands, we advise giving yourself at least 3 to 5 days in Cartagena.
What is Cartagena, Spain, famous for?
Cartagena is a crucial defensive port in the western Mediterranean with a significant historical background. It has been the headquarters of the Naval Department of the Mediterranean of the Spanish Navy since the Spanish Bourbons arrived in the 18th century.
What is the best month to visit Cartagena?
December through April are the ideal months to explore Cartagena. The city has a tropical climate. Thus even while the year-round average temperature hovers around the mid-80s, precipitation varies significantly by season.
Is Cartagena, Spain, walkable?
Cartagena welcomes pedestrians. There are a few hills, but choosing the right path to walk and taking the elevators may reduce the amount of climbing. The distance from this port to the tourist attractions could be better. The shuttle bus to and from your ship is required.
Do you need a car to get around Cartagena?
Taxis are the best mode of transportation in Cartagena. While individuals can cover short distances on foot, taxis simplify transportation between various locations in the city, including Rafael Nez International Airport (CTG) in Cartagena.
Are there beaches in Cartagena?
The Caribbean Peninsula's most stunning beaches can be found near Cartagena. With an average temperature of 81.6 degrees, going to the beach is a great idea almost daily. The city's surrounding beaches and exotic islands draw tourists from all over the world.
What can you enjoy in Cartagena?
Kite surfing is another activity in Cartagena on the beaches to the city's north. Also, if you have more than a day or two, consider leaving Cartagena for a day excursion to visit the renowned Magic Mud Volcano or the stunning beaches of Islas del Rosario.
Check these other blogs now!