With its excellent combination of old-world beauty and modern ambitions, Tbilisi welcomes visitors to discover its hidden gems, sample its delectable food, and become immersed in its warm and inviting atmosphere.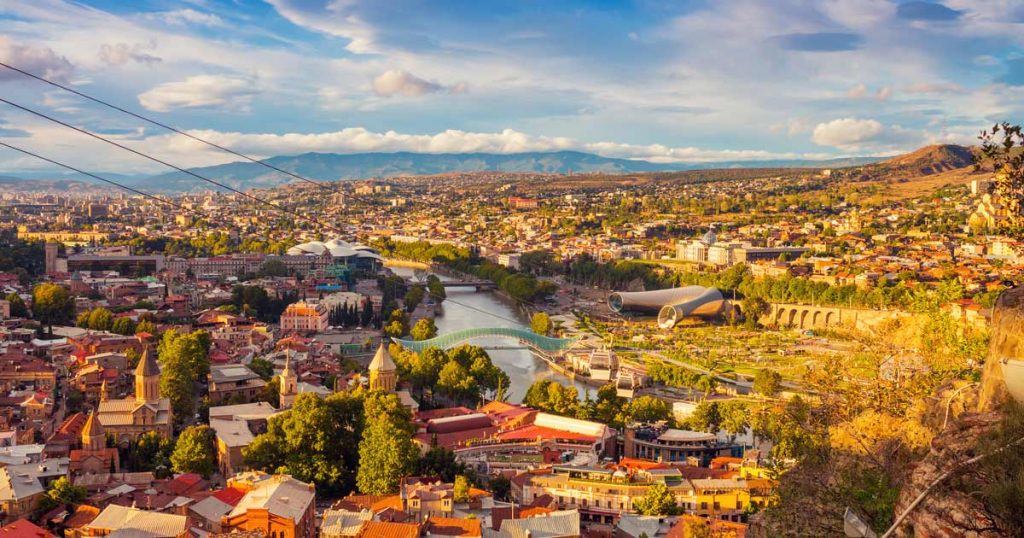 Tbilisi, Georgia's pulsing heart, emanates an irresistible attraction that lures travelers worldwide. The city was built in the 5th century by King Vakhtang I Gorgasali, whose famous quest led to the discovery of natural hot springs. Today, the old sulfur baths are a tribute to the city's origin tale, providing a calm escape in the center of the bustling metropolis for inhabitants and visitors alike. Tbilisi has expanded beyond its historical significance into a cultural melting pot where traditional Georgian traditions mingle with contemporary influences. Wander through the Old Town's labyrinthine alleyways, with their charming balconies and colorful façades, and you'll come across an eclectic mix of architectural styles ranging from Byzantine and Persian to Soviet and Art Nouveau. Every turn exposes a narrative and a hidden jewel to be excavated. In this post, we explore Tbilisi's fascinating streets, learning about its history, culture, food, and nightlife. Join us as we uncover the mysteries of this ageless treasure and learn why Tbilisi continues to enchant the hearts of everyone who stroll its colorful thoroughfares.
Getting to Tbilisi, Georgia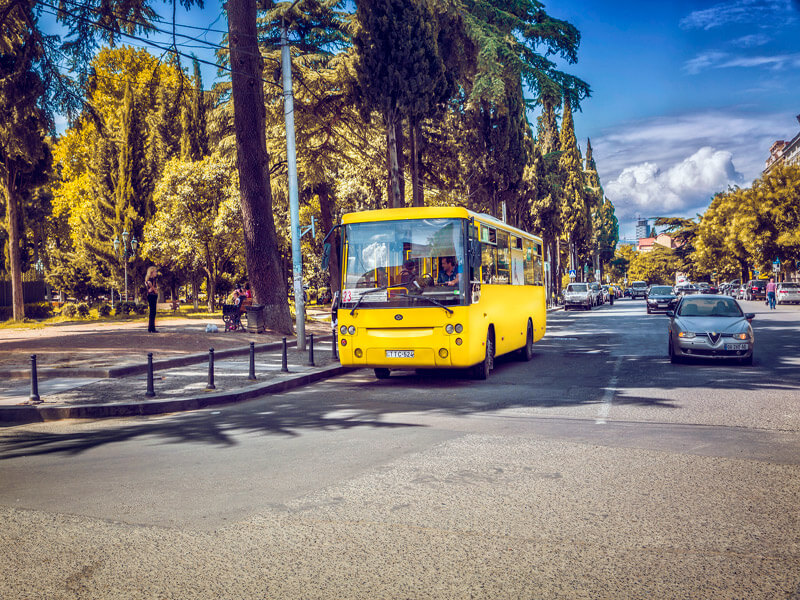 Tbilisi, Georgia's intriguing capital, welcomes visitors with its lively culture, rich history, and breathtaking surroundings. If you're considering a trip to this beautiful city, you should be aware of the many transportation alternatives accessible to get to Tbilisi. Whether you prefer flying, taking the train, or driving, several easy and accessible options will take you to this Transcaucasian beauty.
By Air
–
Tbilisi International Airport
(TBS) serves the city and is the most popular and efficient means to get there. The airport, located 17 kilometers southeast of the city center, runs several domestic and international flights linking Tbilisi to major cities worldwide. Tbilisi is easily accessible from various worldwide centers thanks to direct flights from many major carriers. Upon arrival, passengers can take cabs, airport shuttles, or public transit to the city center.
By Train
– Traveling to Tbilisi by rail is a fantastic choice for people looking for a picturesque and exciting adventure. Georgian Railways has a substantial rail network connecting Tbilisi to neighboring countries and significant towns. The sleeper train from Baku, Azerbaijan, takes a scenic route with spectacular views of the Caucasus Mountains. Trains from Istanbul, Turkey, and Yerevan, Armenia, also provide an immersive journey via varied landscapes. When you arrive at Tbilisi's central train station, located in the city's center, you will find a variety of transportation alternatives to visit the city's attractions.
By Road
– Traveling by car to Tbilisi gives visitors the freedom to explore the gorgeous countryside and adjacent areas. A substantial road network connects Tbilisi to other major cities and neighboring countries. If you are traveling from a nearby country, like Turkey, Armenia, or Azerbaijan, you may reach Tbilisi via well-maintained border crossings. Furthermore, the city is conveniently accessible from various places around Georgia, providing opportunities for exciting diversions and discovering hidden treasures along the road.
Local Transportation
– When you arrive in Tbilisi, you can easily navigate the city thanks to its excellent local transit system. The city has an extensive metro system, buses, and taxis, providing convenient access to its different districts and attractions. With its classic Soviet-era design, the Tbilisi Metro delivers a quick and inexpensive method to get about the city. Buses and minibusses, known as marshrutkas, are other prominent forms of transportation in Tbilisi, linking various city regions. Taxis are commonly accessible and are a handy mode of transportation, especially for shorter distances or when traveling in groups.
Best Time to Visit Tbilisi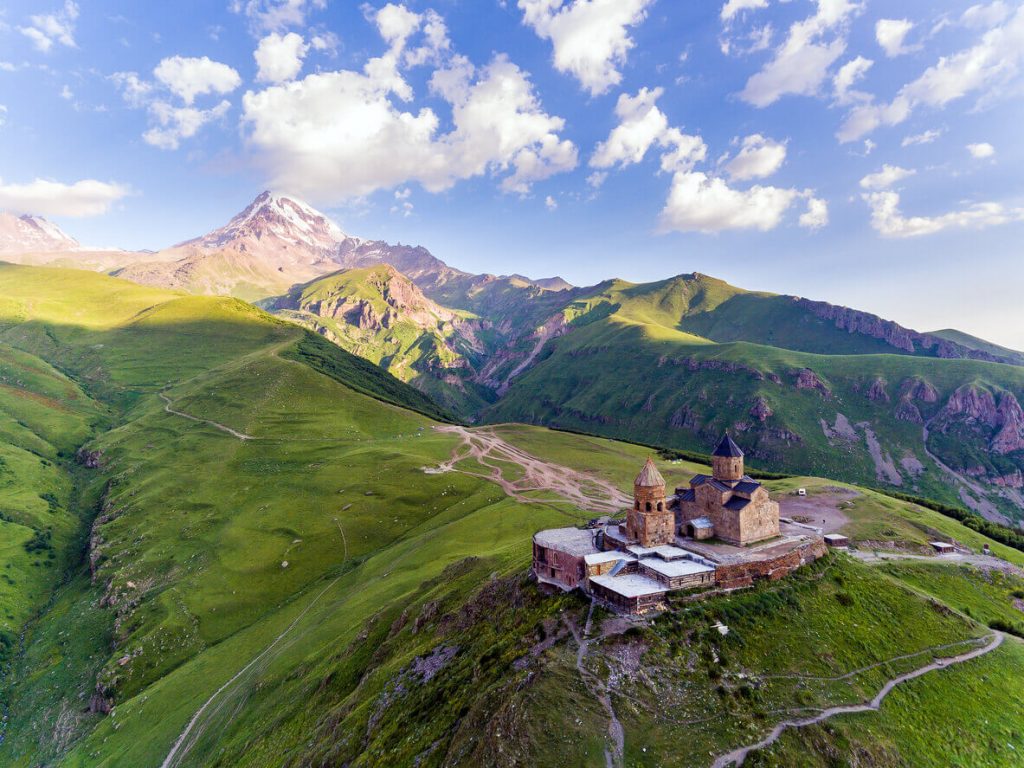 The months of April through June, when nature begins to bloom, are ideal for a vacation to Georgia's capital. Autumn is also a great time to enjoy the city's beautiful hues and chilly weather.
Festivals in Tbilisi
Here is a list of the most notable yearly events in Tbilisi:
Tbilisi International Film Festival (July)
Tbilisi Jazz Festival (June)
Tbilisoba Annual Festival (October)
Things to Do in Tbilisi: The Ultimate List
Everything on this list is in Tbilisi's city center and is easily accessible by foot, subway, or taxi. Let us begin with the classics. Here are the things that everyone remembers from their first trip to Tbilisi and constantly recommends to friends and relatives who visit.
Sip Coffee inside a Former Soviet Sewing Factory
Tbilisians have a penchant for reviving run-down structures and transforming them into colorful public spaces. A printing house has been restored as a hotel, a public pool has been transformed into an art space, and the most renowned is a Soviet-era sewing factory that has been rebuilt as a hostel and multifunctional creative space. Some individuals believe Fabrika personifies "Tbilisi cool." Others say the subculture is becoming commercialized. It's one of Tbilisi's most fantastic spots to drink, dine, shop, work, and socialize. Fabrika's exterior has been transformed into a canvas for street art. The bottom level is designed to look like a spacious, light-filled lounge room equipped with a cafe/restaurant, mismatched couches, and dozens of brilliantly colored Caucasian carpets. The Fabrika Courtyard is home to several cafes, restaurants, bars, and stores, including the
Flying Painter Store
, which sells a limited assortment of vintage items manufactured in the factory.
Go for a Scrub at the Abanotubani Sulfur Baths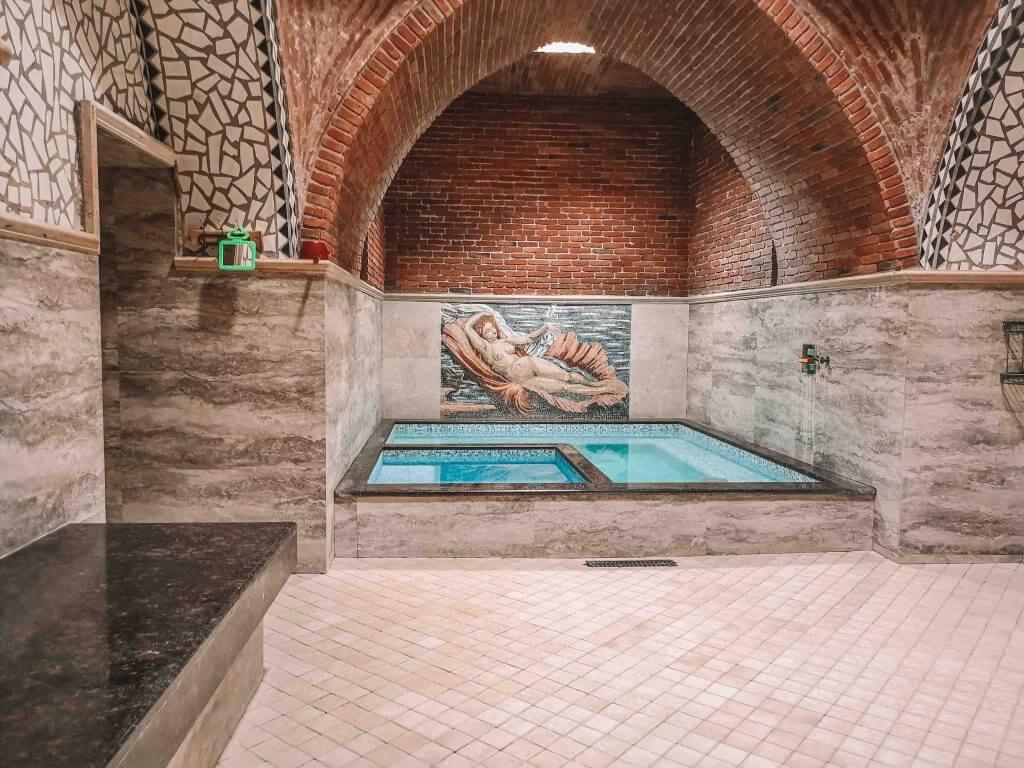 When Tbilisi took over as Georgia's capital from Mtskheta in the 5th century, the area was chosen because of the underground natural hot springs (Tbilisi meaning 'warm spot'). Persian-Ottoman-style bath houses were built atop this geothermal playground, most in Abanotubani, the Old Town's famed sulfur bath area. Each of Tbilisi's famed domed bathhouses (approximately a dozen in all) taps into the rare warm waters to provide a variety of health and aesthetic treatments. Many households relied on bathtubs throughout the 1990s, when running water was rare. Today's experience is significantly more touristic, yet certain bathhouses are more accurate than others. Go naked at the sex-segregated public baths for an authentic local experience. In addition, most bathhouses provide private rooms where you may wash and steam alone (or with a buddy). Don't miss out on the exfoliating scrub down known as a Kisi, which is comparable but not the same as a Turkish hammam treatment.
Explore Old Tbilisi by Foot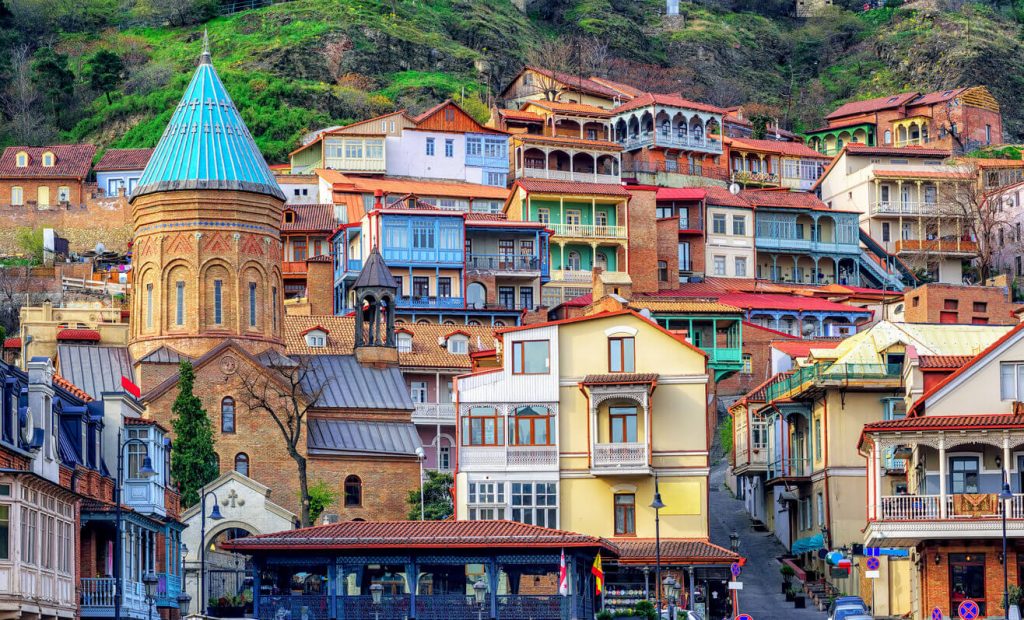 Since the Old Silk Road days, Tbilisi has been a meeting point for people of all cultures and beliefs. You can smell, taste, and hear the diversity, but the most apparent way to perceive it is through the city's unique architecture. To obtain a sense of the 'real Tbilisi,' get out and walk about, taking as many deliberate yet aimless walks as your feet can bear. Both the Kala' Castle' sector of Old Tbilisi and the Sololaki neighborhood are ideal for people-watching, architecture spotting, and street photography.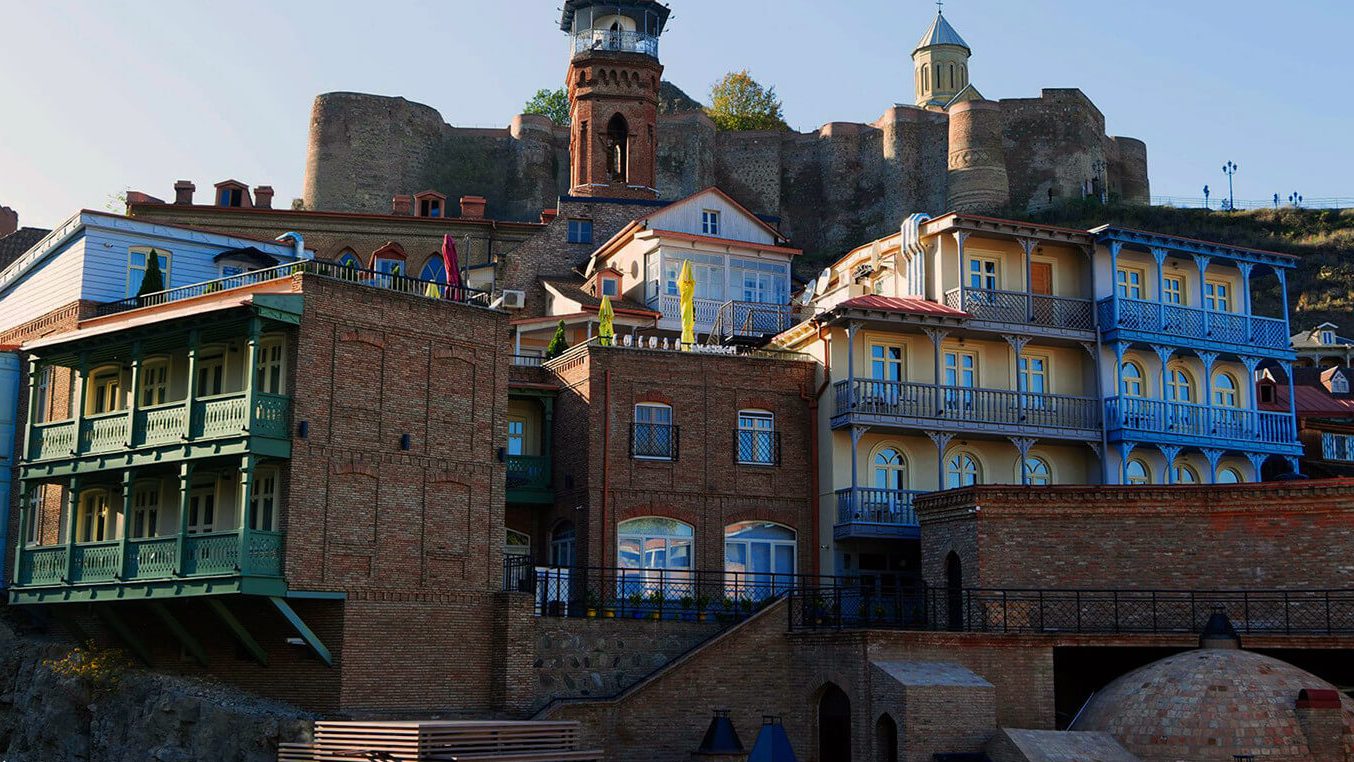 Abanotubani, Betlemi Street, the area around Old Meidani Square, and the Avlabari and Chugureti districts across the river are all part of Old Tbilisi. Winding lanes, tumbledown homes, Tbilisi courtyards, and huge balconies characterize the neighborhoods behind the Old City wall. While Shardeni Street and the Cotton Rows are famous, I prefer Sololaki, the historic commercial quarter west of Freedom Square. The change is instantly seen because this region is more organized with a gridded style. Around every turn, there are decaying treasures and beautiful public structures.
Embrace 'Italian Courtyard' Culture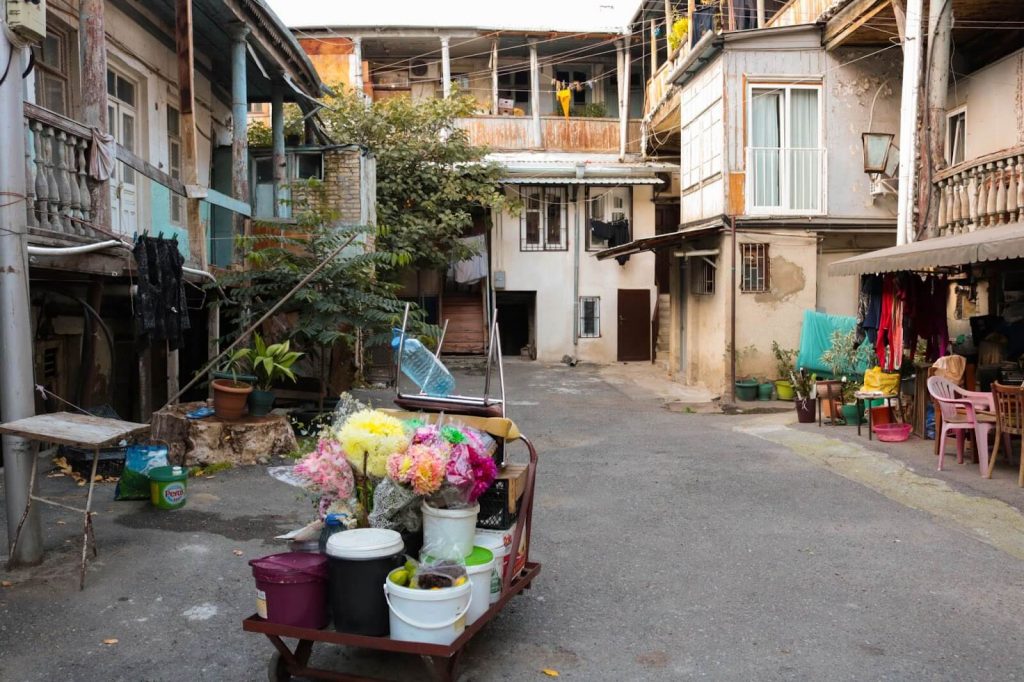 The so-called 'Italian courtyards' are a peculiar feature of Tbilisi's anatomy that may be found throughout the city (particularly in Sololaki and Chugureti). A complexity of gardens, water wells, balconies, covered walkways, galleries, and spiral stairs exists under a seemingly uniform and clean stone façade. The Silk Road caravanserais influenced This communal living style, which always included a central room for socializing and conducting trade. Many private properties were later broken up to make place for thousands of families pushed into the city during Georgia's tenure as a Soviet Republic. To construct different entrances, extensions were hurriedly built, and exterior staircases were slapped on. This explains why specific structures have a cluttered appearance.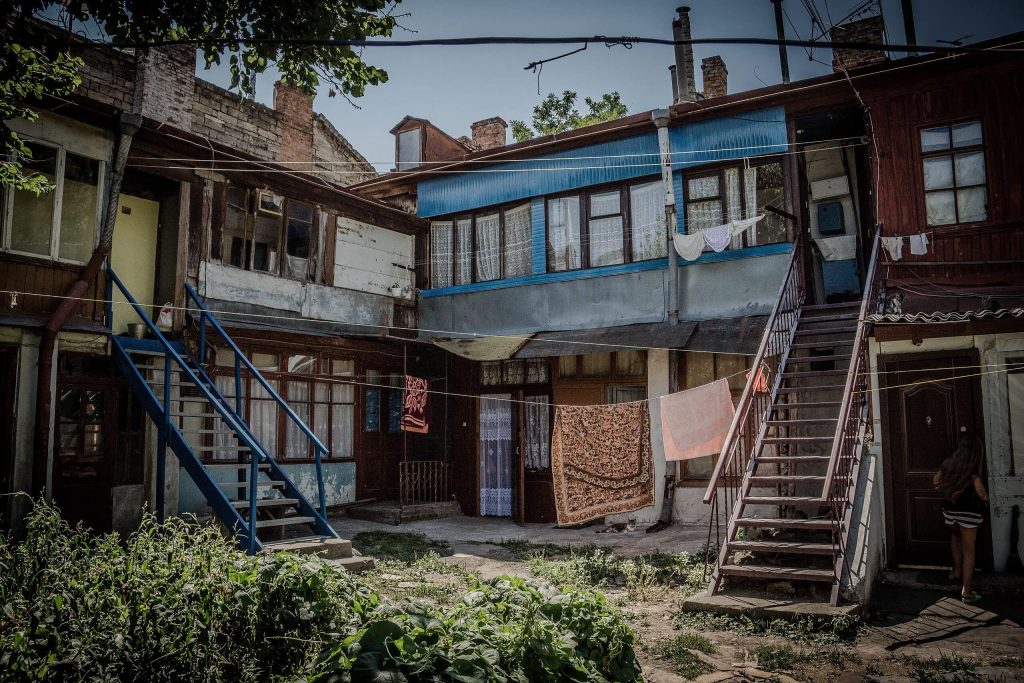 Tbilisians began referring to their outdoor areas as 'Italian courtyards' about this period, reportedly as a tribute to the Mediterranean-inspired lifestyle they conjured. Each square is alive with activity, almost like a mini-ecosystem with its own set of laws and regular routines.
Comb Through Kitsch at the Dry Bridge Flea Market
The Dry Bridge Market (so-called because the bridge on which it is held no longer crosses the Kura River) is a massive open-air flea market every day of the week. Treasure hunting is a must-do activity in Tbilisi. Hundreds of vendors congregate to sell an endless supply of antiques, vintage paraphernalia, and Soviet kitsch, including war medals, vinyl, KGB ID books, gas masks, chandeliers, maps of the former USSR, Soviet-issue film cameras, Christmas decorations, and anything else you can think of.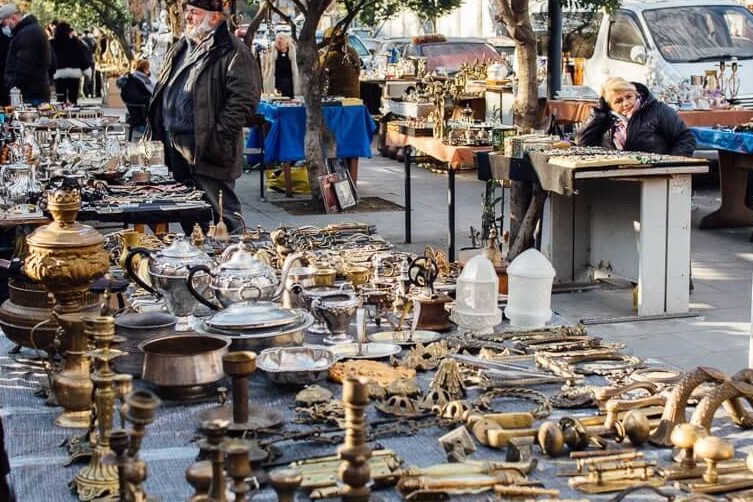 Painters put their easels beneath the bridge and at Dedaena Park to offer original artwork. Carpets and other handcrafted products are also available.
Go Inside the Apple of Love, One of The Best Things to Do in Tbilisi for Art Lovers
The city of Rustaveli is well-known for its museums and galleries. Another unique art project from the ceramic steps may be seen on the opposite side of the boulevard.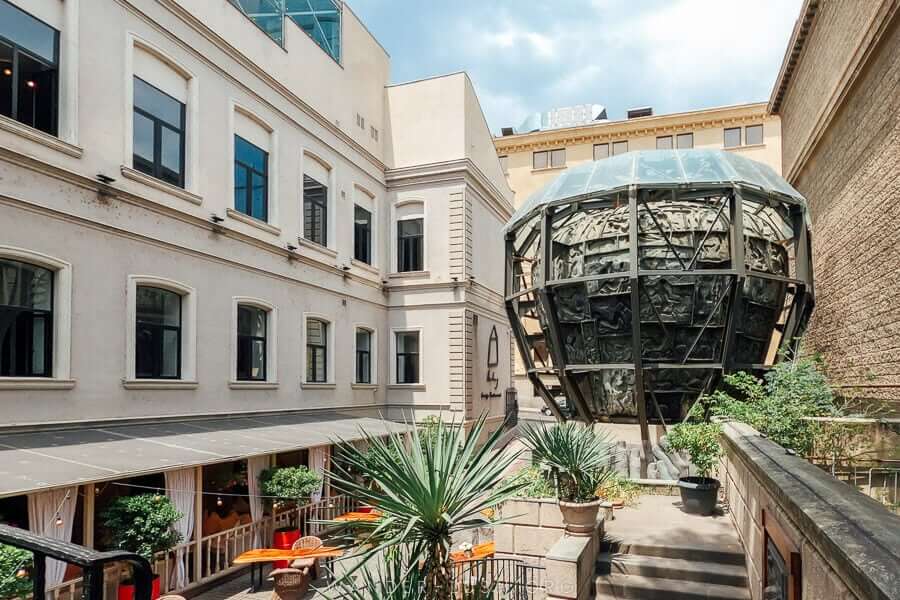 The 'Apple of Love' is a 9-meter-tall sculpture created by Georgian artist Zurab Tsereteli (who also sculpted the Chronicle of Georgia, #43 on this list, and contributed to the interior of Saint Sava Church in Belgrade, Serbia). It's on Meskhia Street, between the Biltmore Hotel and the courtyard of MOMA Tbilisi (the Museum of Modern Art), which the artist created in 2012. The sculpture appears strange from the outside. You then see the little entryway. On the other hand, there is barely enough light to read the 145 bronze relief panels that recount the story of the genesis of life.
Meet The Mother of Georgia
If there were one landmark to represent Tbilisi, it would be Kartlis Deda (Mother of Georgia), not the Peace Bridge or even Narikala. A monolithic aluminum figure guarding the city against the summit of Sololaki Hill, she holds a sword in one hand (to fight her adversaries) and a bowl of wine in the other (to receive her visitors). Wine or perish! Elguja Amashukeli designed and sculpted the original monument erected in 1958. It was coated in aluminum a few years afterward. Despite its Soviet overtones (similar monuments may be seen in Yerevan and other places around the former USSR), Kartlis Deda survived as a Tbilisi symbol following Georgia's independence. A new statue replaced the previous one in 1997. When visiting the famed 4th-century Narikala Fortress, remember to detour to meet Kartlis Deda.
Visit Narikala Fortress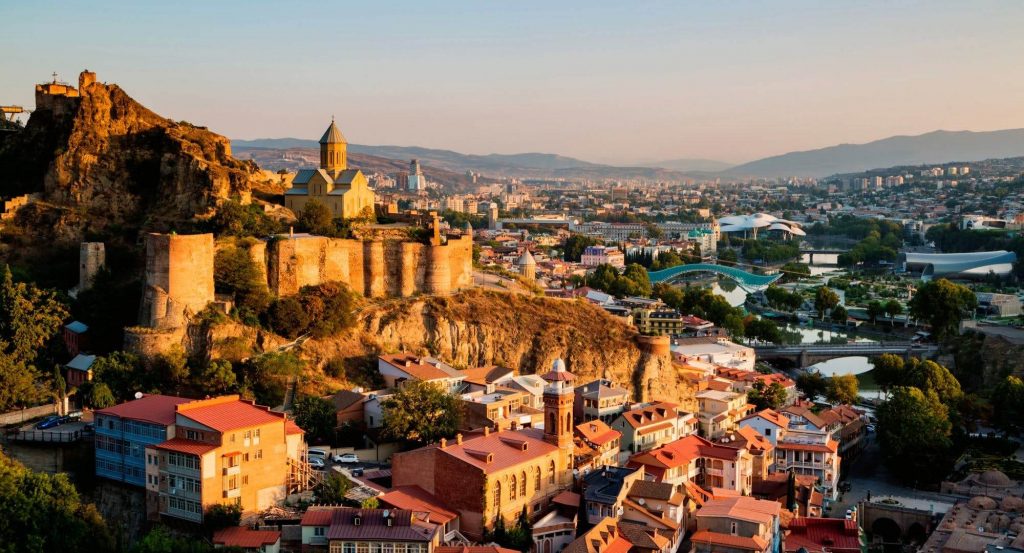 Narikala Fortress is a historical structure in Tbilisi that goes back to the 4th century. It is located on top of a hill that can be accessed by foot or cable car to witness the spectacular sunset.
Best Restaurants in Tbilisi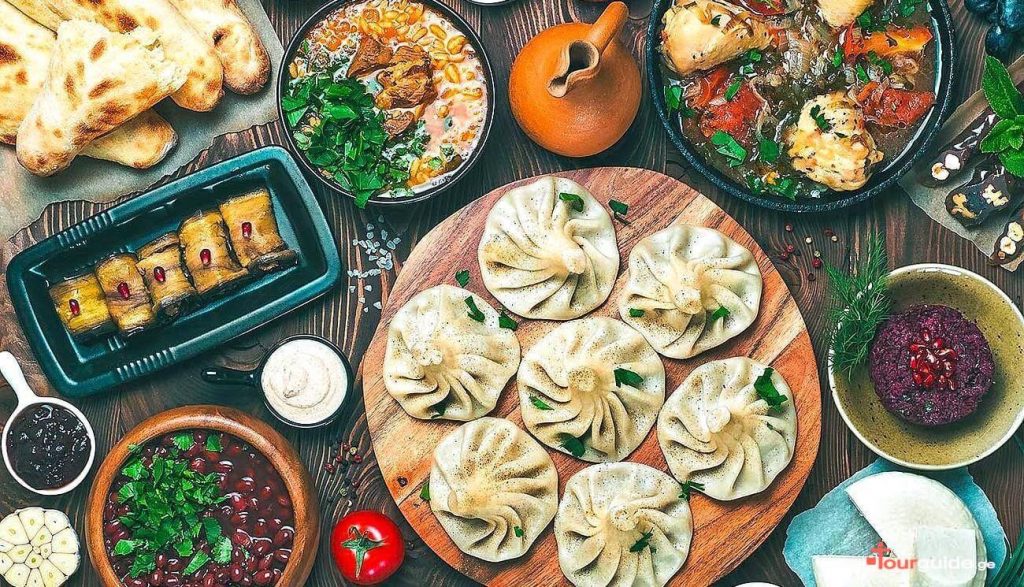 What makes Georgian food so unique? Traditional Georgian cuisine is rich in contrasts and paradoxes. While red meat, dairy, and carbohydrates are prominent in the meal, they are balanced by a liberal use of spices, aromatics, and fresh herbs. Georgian cuisine is influenced by centuries of Middle Eastern, Asian, and European influences, as well as the nation's unique climate, geography, and remarkable ethnic and regional variety (every area of the country has its specialties). There's something about Georgian hospitality and culture that elevates every cuisine taste. Tbilisi, Georgia's culinary capital, is the ideal location for exploring the depth and variety of regional cuisine while indulging in some of the country's top contemporary cafes.
Top 10 Restaurants in Tbilisi for 2023
Before we get started, here are the finest of the best.
ATI – best restaurant in Tbilisi with a view
Mapshalia – best budget restaurant
Shin-Aura – best-set lunch menu
Salobie Bia – best classic Georgian food
Amra – best regional cuisine (Megrelian-Abkhazian)
Kikliko – best breakfast in Tbilisi
Cafe Littera – the best fine-dining restaurant
Cafe Daphna or Asi Khinkali – tie for the best khinkali in Tbilisi
OtsY OR Holy – best new restaurants in Tbilisi
Ninia's Garden – best outdoor dining
ETSY
Giorgi Ninua, a Tbilisi-born chef, returned home after nearly two decades abroad cooking for ambassadors in France and Europe. He specializes in 'Tbilisi cuisine,' not technically fusion food but historic Georgian foods prepared with European technology.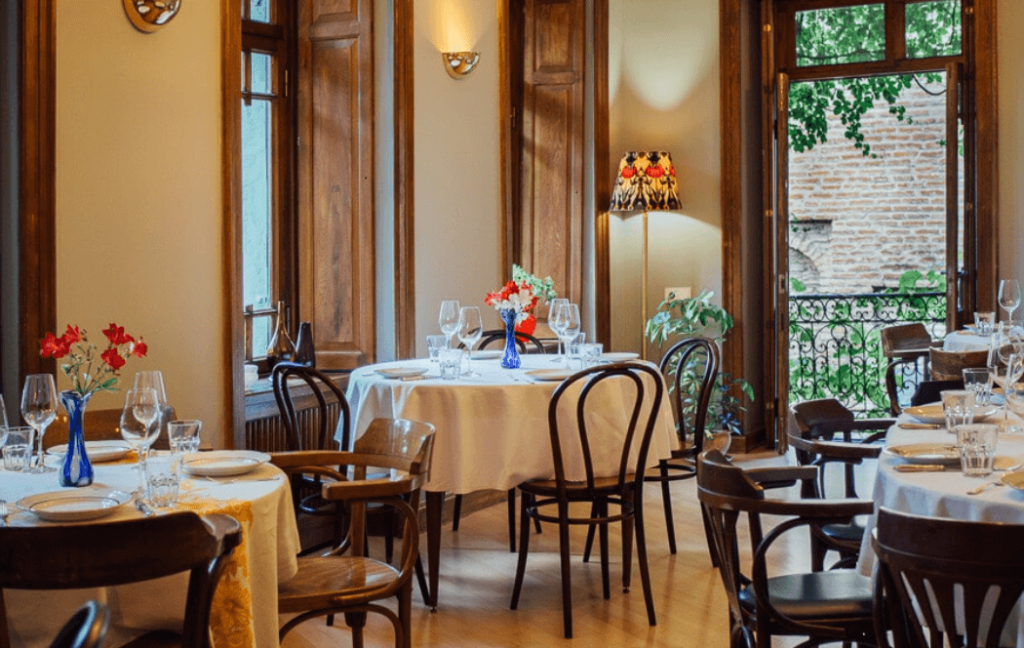 In a Tbilisi neighborhood where venues come and go, OtsY (the name means 'twenty' – as in the street number) already seems well-established and permanent. Georgian-style sharing plates include classic cucumber and tomato salad with coriander hazelnut adjika, chacha cured fish, and khachapuri with matsoni yogurt bread. The main courses are more European in flavor but with a Georgian twist and local ingredients: chicken ala shame with a garlic caramel sauce, Borjomi fish with grilled asparagus, and beef cheeks cooked in Saperavi wine.
HOLY
Holy, the newest restaurant to open at Wine Factory N1, is nestled inside its building (the enormous pink one) at the complex's side. The three distinct eating spaces are well maintained, with basic wall finishes, clay pots, and modern art contrasted by some of the building's historical characteristics, such as a classic Georgian-style ceramic fireplace.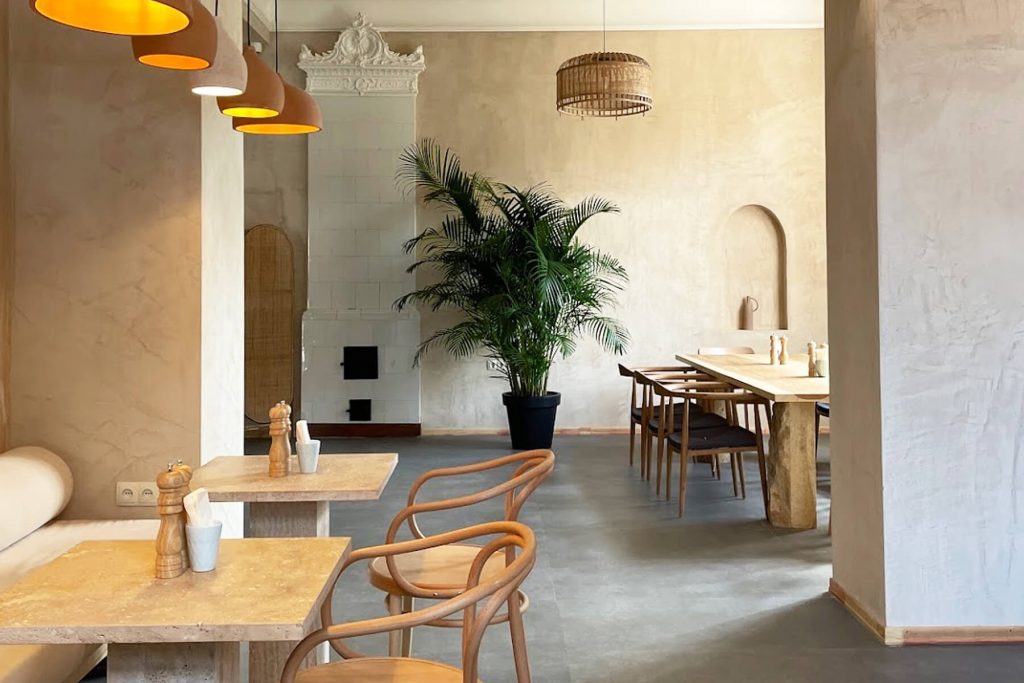 The menu is modern Georgian, with lots of meat-free alternatives and a few inventive dishes that put a new spin on traditional Georgian flavors. You'll adore the tempura eggplant with creamy walnut base sauce, chili, and herb oils – it has all the tastes of nigvziani Larijani but with distinct textures and a reasonably exciting presentation. Also delicious is the chvishtari cornbread with tarragon and cheese.
Saghighino
Anyone less clever may have designated this area as a parking lot. Saghighino, located in a tiny courtyard (with a more extensive indoor dining area and bar nearby), is the latest in a string of venues to sprout out of a fissure between ancient brick buildings in medieval Plekhanovi. The atmosphere is incredible, peaceful, and collected. The one-page menu is modest and refined: Khali, grilled corn, a selection of Georgian salads, and main courses of kupati sausage, chicken in blackberry sauce, and rabbit in walnut sauce. A special mention should be made of the desserts, notably the Tvishi wine custard with seasonal fruit. Cocktails made with chestnut honey and other locally sourced ingredients are also offered.
Tamara
It isn't easy to get great meals in Tbilisi's tourism district. Tamara, which debuted in 2022, is a pleasant addition to the Old Meidan neighborhood and a good choice for traditional Georgian cuisine in a fine-dining environment.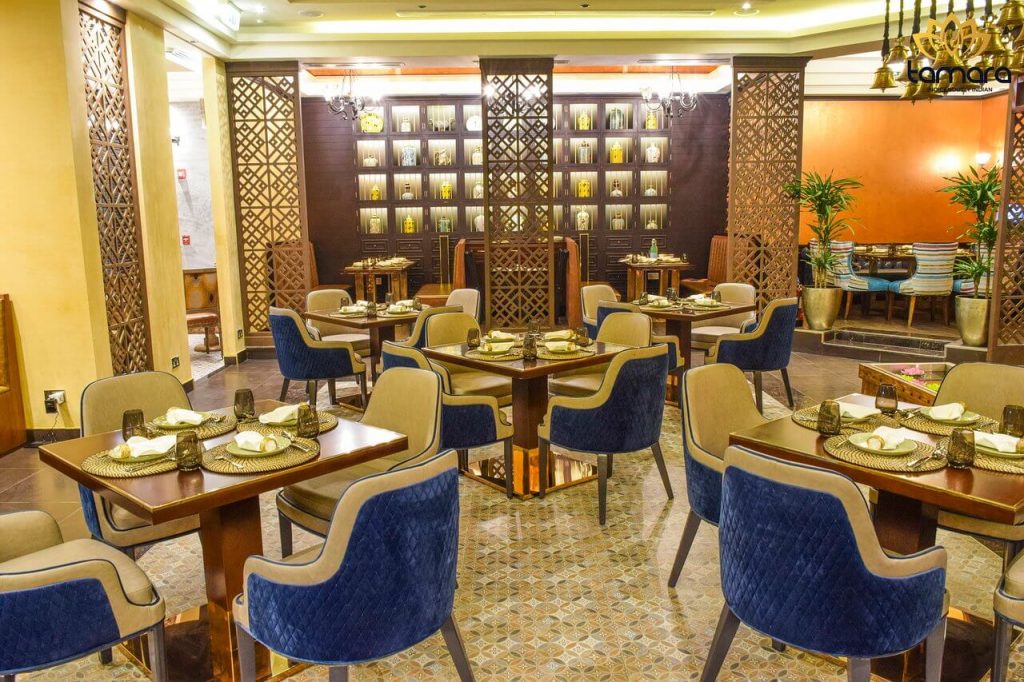 Gastronome, a luxury supermarket, owns Tamara, so you can know the product is top-notch. Everything is faithful to classic flavors, yet the simple presentation adds a twist. Both favorites are the nagi cottage cheese cones with truffle and pomegranate and the mxlovana (flat pie) laden with fresh herbs and aged cheese.
Best Bars in Tbilisi for Cocktails & Wine
Barbara Bar
With velveteen bar chairs, colorful wall art, and a long bar loaded with top-shelf whiskey, this restaurant bar on famous Afkhazi Street in the Old Town is all class. Signature drinks like 'Carrot Spices' (fresh carrot juice, bourbon, and aromatics) showcase regional flavors and go well with a meze plate or fresh burrata. Barbara holds Friday night jazz sessions during the summer. For more information, visit their
Facebook
page.
Tasmania
Iasamani, which means 'lilac' in Georgian, is located in the Sololaki area and mixes clean white table linens and fine-dining service with peeling paint and heritage charm. The restaurant delivers some of Tbilisi's most outstanding contemporary Georgian cuisine, while the bar serves traditional and new cocktails, including the best Negroni in town. Try the aptly titled 'Purple Lilac,' prepared with gin, lemon, Crème de cassis, and fresh basil.
Spirit
Spirit, located beneath a historic home on Machabeli Street, is "the best bar in Tbilisi that you've never heard of." The domed brick roof lends a cozy air to this underground pub, while the lack of signs (follow the white ghost…) gives it a speakeasy vibe. The cocktails are the star of the show, including classics as well as unique concoctions on the menu. The Tarragon and Whiskey Sour, prepared with handmade tarragon syrup, is tasty.
Where to Stay in Tbilisi
There's something for everyone here, from old-world Georgian beauty to recently rebuilt and highly minimal. Here are some of the top affordable hostels in Tbilisi; they all have excellent design, comfort, and cleanliness. All of these hostels have received favorable feedback from prior visitors. Whether you begin your Georgia trip in Tbilisi or end it there, each resort offers a superb location that is handy for touring, dining, and drinking.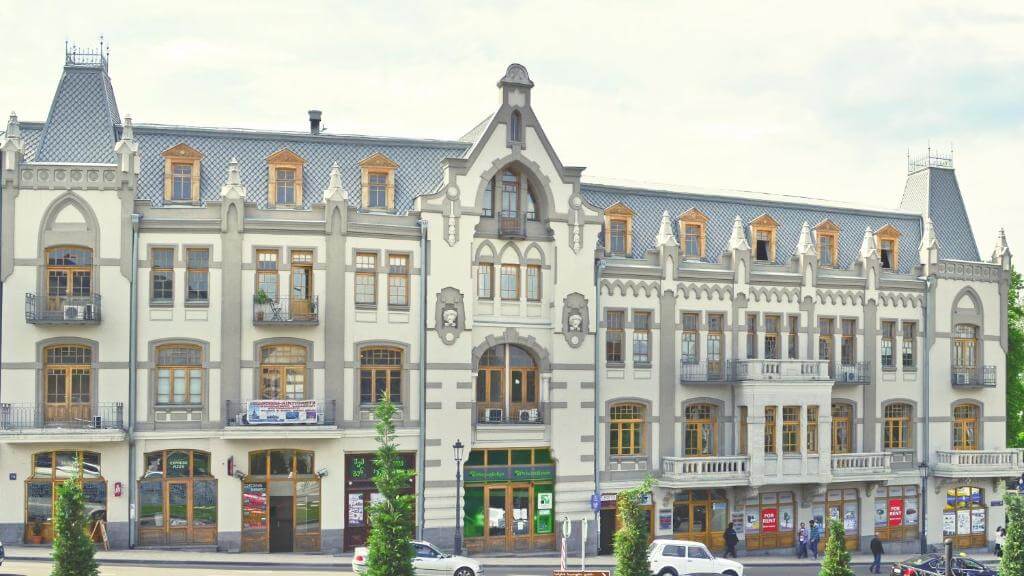 Pushkin 10's third-floor placement provides views of the city and the inner courtyard. The location, just downhill from Freedom Square, is unbeatable: it's within walking distance of most Tbilisi tourist attractions and the subway, as well as a large Carrefour grocery, economical local markets, and various eateries. Pushkin 10 has four and 8-bed dorms that are both mixed and female-only. The rooms and public areas are light and airy, with lots of natural light. WIFI is dependable, there is air conditioning in the summer, and visitors can access a washing machine.
This is my favorite hostel in Tbilisi since it is beautifully designed and immaculately clean. Staying at Fabrika means having everything you need right on your doorstep, including excellent restaurants and cafes, bars, and boutique shops in the Fabrika Courtyard, a rotating program of yoga classes, live music and film screenings, and a seriously cool co-working area. Dorms sleep 3-10 people and are industrial-chic, with block colors and exposed cabling, and are famously housed inside a renovated Soviet-era factory. Each room contains a row of lockers. The shared bathrooms are equally appealing. There are also private doubles, suites, and flats with ensuite bathrooms.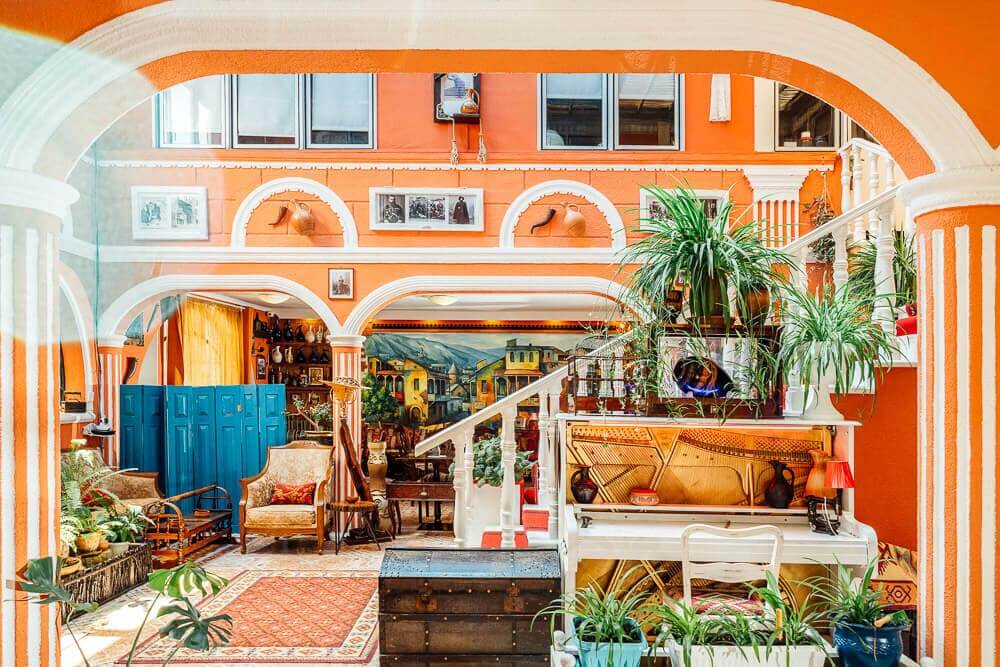 Elia Boutique, located in Old Avlabari beside Sameba Cathedral, Tbilisi's largest cathedral, is about as elegant as hostels in Georgia get. The beautiful property is decked up from head to toe with antiques and Old Tbilisi memorabilia – you'll have difficulties settling in for the night since there's so much to explore and admire! The eight and 6-bunk dorms are also well-appointed, with each bed having its privacy curtain. The shared bathrooms are maintained clean, there is a fantastic kitchen, and visitors are invited to socialize or work in any of the house's gorgeous common spaces utilizing the fast WIFI. The hostel is set on a hill; however, the surrounding area is incredibly calm. Extended visits are welcome, which is fortunate because you may not want to leave.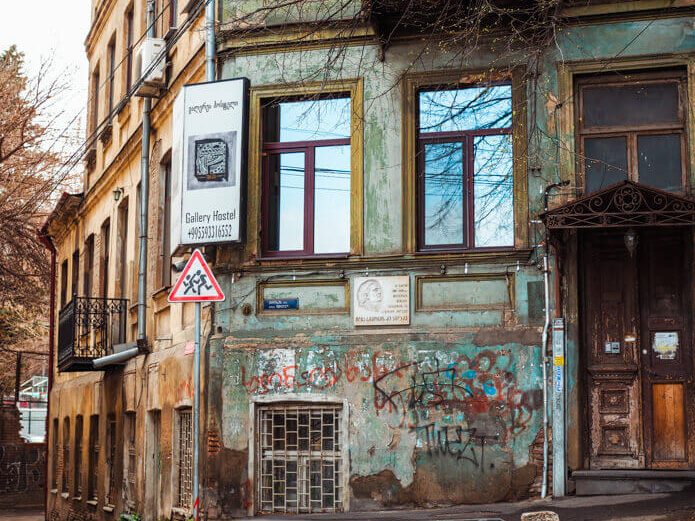 Gallery Hostel, located only steps from Rustaveli Avenue and the Dry Bridge Market in a quiet corner of town, is equal parts contemporary and atmospheric. Choose between a bunk in an 8-bed dorm or a private room with an ensuite bathroom. If you've ever imagined enjoying your morning coffee in a traditional Tbilisi courtyard, Gallery Hostel offers a balcony overlooking a public yard usually hung with colorful laundry. The hostel has a fully equipped kitchen and is near to groceries.
Envoy Hostel, a Tbilisi institution, is famous for social accommodation and day outings. The position on Betlemi Street is practically in the center of Old Tbilisi. The views from the rooftop patio (as well as some of the apartments) will make you forget where you are.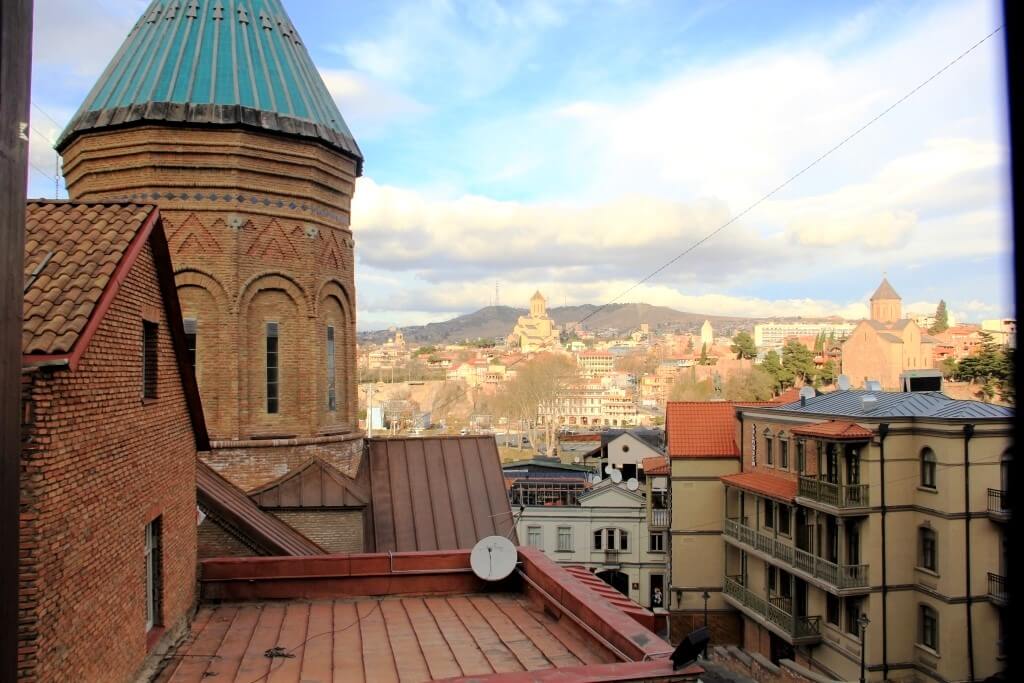 Dorms sleep four, six, or eight people, and private double, triple, and family rooms are offered. Complimentary breakfast, baggage storage, WIFI, and savings on all Envoy trips are all included. If you're planning a trip to Armenia, Envoy also operates a hostel in Yerevan.
SkadaVeli is excellent for touring because it is located in the ancient Old Town Kala region at the foot of the Narikala Fortress.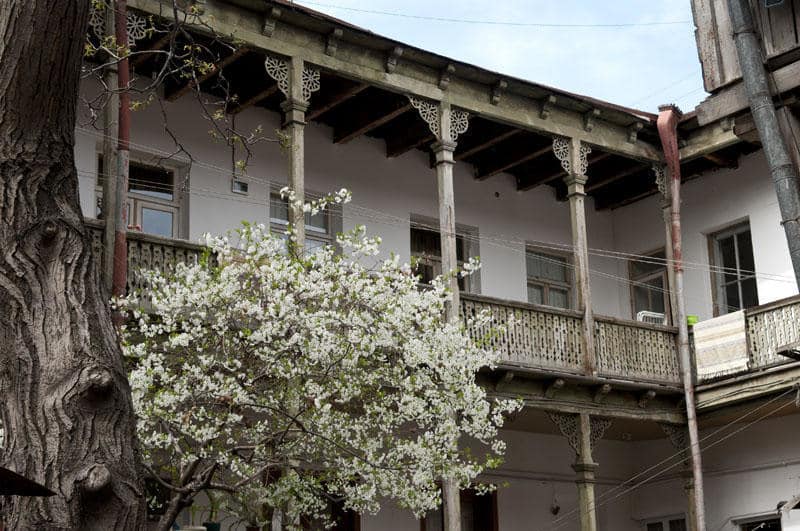 The property has beautiful oak floors and exposed rafters. The furnishings are simple but comfy. You're unlikely to spend much time in your dorm; instead, you'll be out on the wooden veranda, which overlooks the most evocative portion of Old Tbilisi. Guests can use the kitchen and the washing machine. The warmth distinguishes this Tbilisi hostel: host Irakli will go above and beyond to ensure you have the most fantastic stay possible, providing you with the finest insider Tbilisi advice.
If you only have a few days in Tbilisi, this hostel near the Abanotubani sulfur springs is ideal for exploring the core of the ancient town on foot.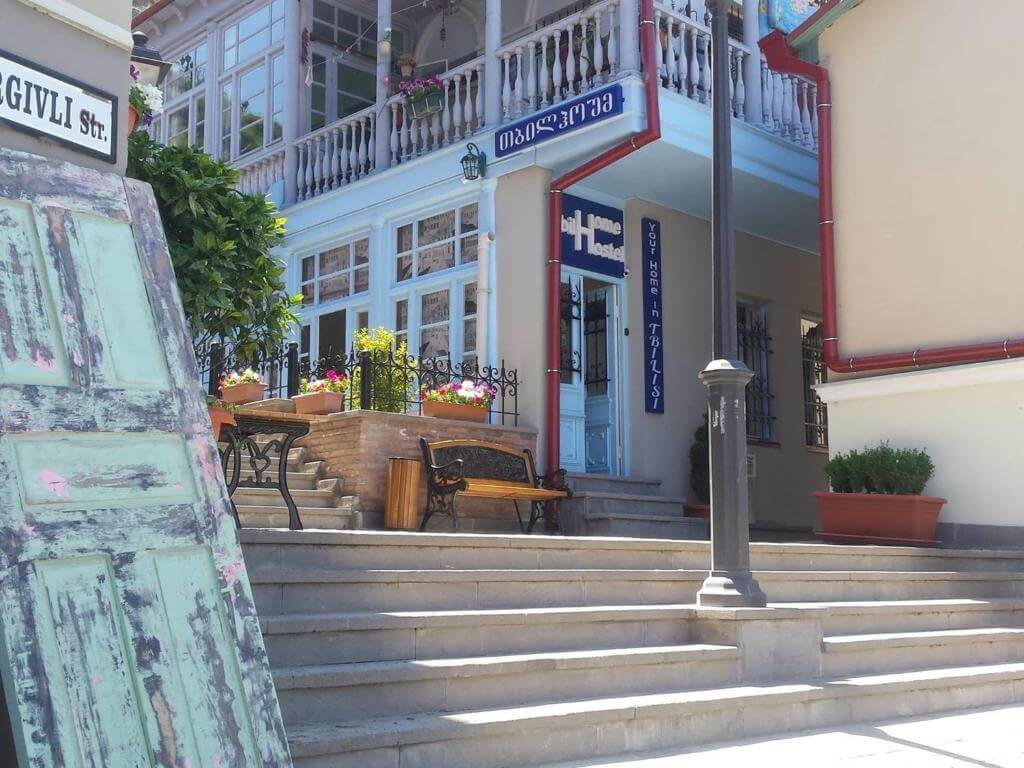 Dorm rooms are clean and bright, painted in the same Tbilisi blue as the shushabandi windows outside. Choose between a mixed or a sex-separated room. All additional fundamental necessities are provided: A kitchen and an outside deck.
Christmas in Tbilisi
Christmas is a highly fortunate time of year in Georgia because it combines the country's profound Christian origins and familial customs with a famous reputation for feasting, toasting, and partying.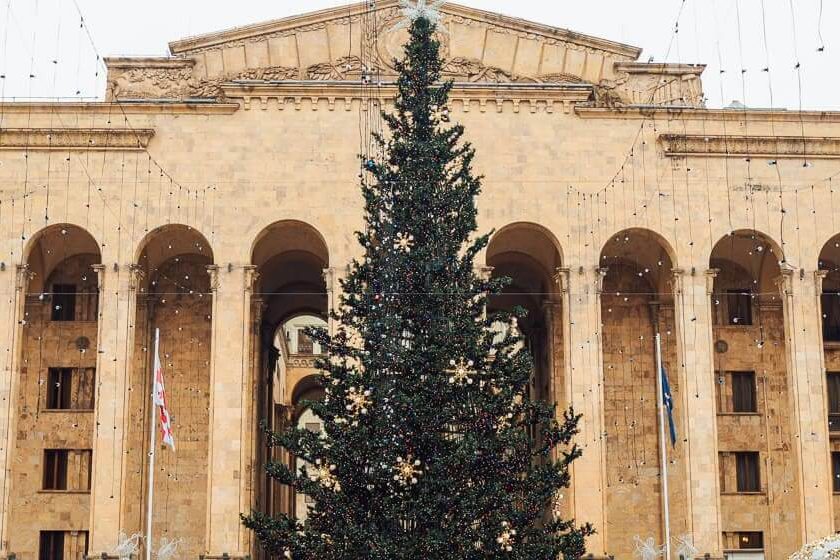 Christmas, New Year's Eve, Orthodox Easter, and the Rtveli wine harvest in October are two of Georgia's most festive and exciting seasons. Georgia uses the Julian calendar. Hence Christmas occurs later than in the West, in the first week of January. However, December 31 is the primary occasion, with loud festivities in Tbilisi, Batumi, and the surrounding districts. Georgia is an Orthodox Christian country that follows the 'old' Julian calendar. So, instead of celebrating Christmas on December 25 as other countries do, Georgia celebrates it precisely 13 days later. Every year on January 7, Georgian Christmas falls on the same day.
New Year in Tbilisi
Because most Georgians celebrate Christmas on December 31, this night is a double-whammy of holiday and new year's joy.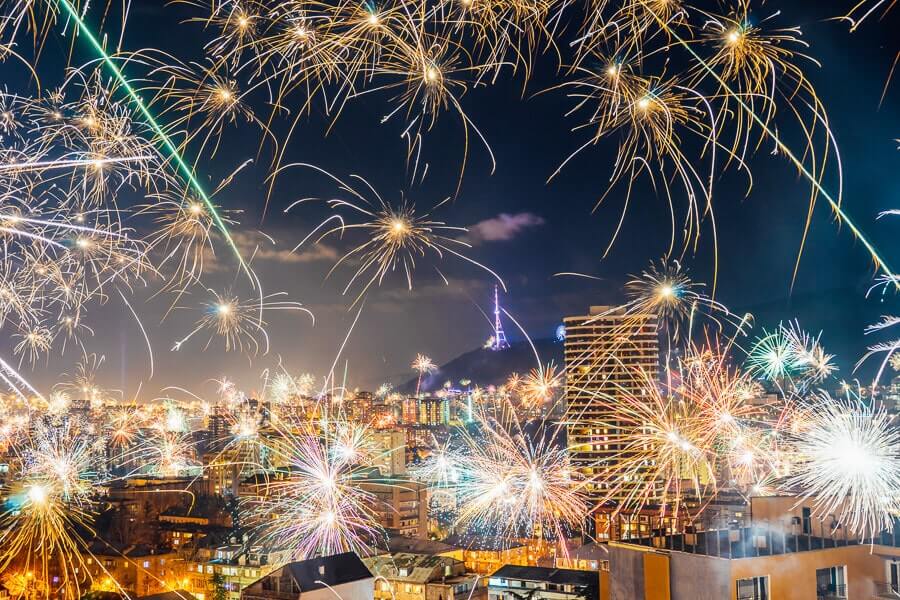 Traditionally, the evening of December 31 is spent with family. People gather with friends for part two, the afterparty, after receiving gifts and having a Supra feast with unique Christmas cuisine and a few glasses of sparkling wine. You would have heard fireworks going off at all hours in the days and weeks leading up to this moment. They will reach a climax tonight. Any vantage point with a decent view is the finest spot to observe the fireworks in Tbilisi and ring in the New Year. That should be easy to find in a city surrounded by hills, so you should be fine finding a location.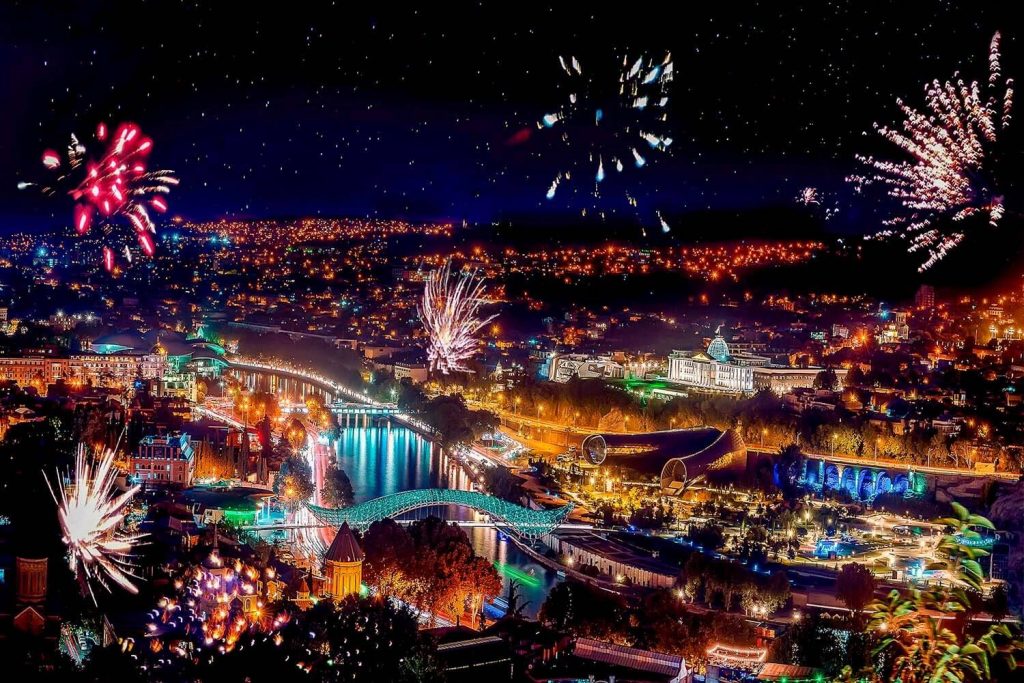 In the Old Town, Mtatsminda, Narikala Hill, and Betlemi Rise are all ideal spots to sit and enjoy the spectacle. Public transportation is free until 3 a.m. on January 1, making it much easier to move around the city.
Conclusion
This detailed travel guide will walk you through the whole process of planning a trip to Georgia. Structured around frequently asked issues, it provides a wealth of practical guidance, ideas, and insider knowledge not found in any guidebook. Prepare to read a lengthy and in-depth tutorial! If you make it through, I guarantee you'll feel more than adequately prepared for your vacation.
FAQ
Where is Tbilisi located?
Tbilisi is the capital city of Georgia, a nation in Eurasia's South Caucasus region. It is on the Kura River's eastern bank, snuggled between the Lesser Caucasus Mountains.
What is the best time to visit Tbilisi?
Tbilisi is open all year, although the ideal times are spring (April to June) and fall (September to October). The weather is pleasant, and the city is decked with bright fall leaves or colorful blooms. Summers can be hot, but winters can be frigid, with occasional snowfall.
Is it safe to visit Tbilisi?
Tbilisi is usually regarded as a safe place for visitors. As with any other trip, conventional measures should be taken, such as being aware of your surroundings, avoiding secluded areas at night, and preserving your valuables.
What are some must-visit attractions in Tbilisi?
Tbilisi has a plethora of attractions for travelers. The historic Old Town, with its narrow streets and ancient churches, the Narikala Fortress, which offers panoramic views of the city, the modern Bridge of Peace, the Rustaveli Avenue cultural hub, the Tbilisi Botanical Garden, and the stunning Holy Trinity Cathedral of Tbilisi are all must-sees.
What is Georgian cuisine known for?
Georgian cuisine is known for its rich tastes and one-of-a-kind delicacies. Khachapuri (cheese-filled bread), khinkali (dumplings), Larijani night (fried eggplant rolls), and mtsvadi (grilled meat skewers) are some famous Georgian dishes. Take advantage of the chance to match these delicacies with Georgian wines with a rich and illustrious history.
Is English widely spoken in Tbilisi?
While Georgian is the official language, many residents in Tbilisi, particularly in tourist areas and institutions, have a basic grasp of English. To enhance conversation, it is recommended that you learn a few essential Georgian words or take a translation app with you.
Are there any visa requirements to visit Tbilisi?
Tbilisi visa requirements differ depending on your nationality. Many countries have visa-free arrangements with Georgia, enabling visitors to remain for a set time without requiring a visa. Verifying the visa requirements and ensuring your passport is valid for at least six months is best.
People also viewed: