The Ultimate Guide To Prepare For An Unforgettable Experience: Edinburgh, United Kingdom.
Edinburgh, Scotland's capital since the 15th century, has a long history (especially literary history; the city was designated a UNESCO City of Literature in 2004). There have been many stories and traditions about the eerie side of the city over the years, and both the Old Town and New Town are UNESCO World Heritage Sites.
No matter your interests, there are many things to see and do in this, and the second-most visited city in the UK. Beautiful walks, old buildings, bustling pubs, significant celebrations (like Hogmanay and the Edinburgh Fringe Festival), a castle, Harry Potter tours, and many more can all be found there.
This Edinburgh travel guide can assist you in organizing your trip, making financial savings, and getting the most out of your time in this attractive and ancient city.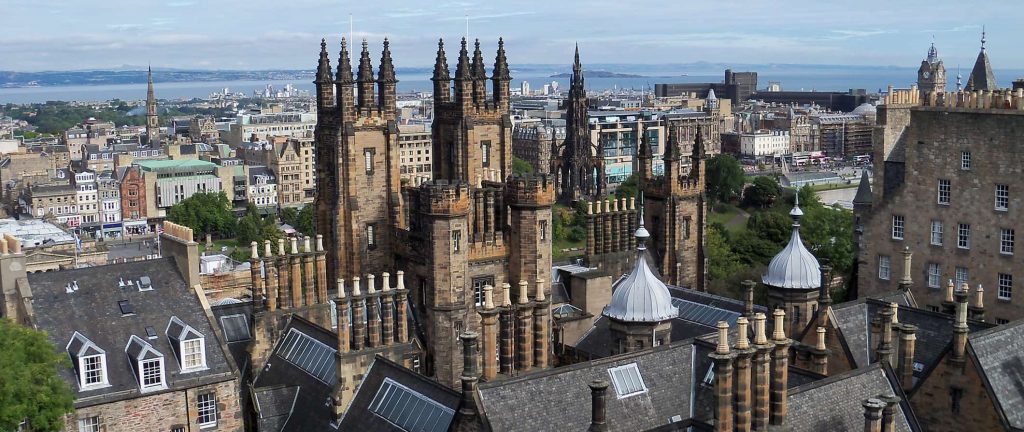 When to Go to Edinburgh

Edinburgh is most frequently visited during the summer. The months of July and August feature mild weather with little rain, with highs of about 20°C (68°F). Since this is also the year's busiest season, expect crowded cities and large crowds of visitors to the adjacent national parks. August is the month for the enormous, multi-week Edinburgh Fringe Festival. If you're going to be there at this time, make sure to reserve you're lodging in advance.
September
Although September is a damp month, October has stunning fall foliage. It's an excellent time of year to take road trips, especially if you want to see Scotland's largest national park, the Cairngorms, which is only a few hours away from the city. Mid-October marks the beginning of seasonal closures for establishments and lodgings, so prepare accordingly. The average daytime temperature in October will be around 12°C (55°F).
April & May
These months offer little rain and few visitors, making spring a fantastic time to travel. In the highlands, there is snow and a chill, but the city is vibrant without being overcrowded.
Scotland's winters are chilly and gloomy. December is generally dry but gets to about 0°C (32°F). The spectacular Hogmanay New Year's Eve celebration, one of the world's most significant New Year's events, draws many tourists to Edinburgh, making it a popular time to go.
Remember that snow is typical if you intend to rent a car in February. Avoid a winter visit unless you don't mind the gloomy and dismal ambiance of the country or you're coming to participate in winter sports.
Getting Around Edinburgh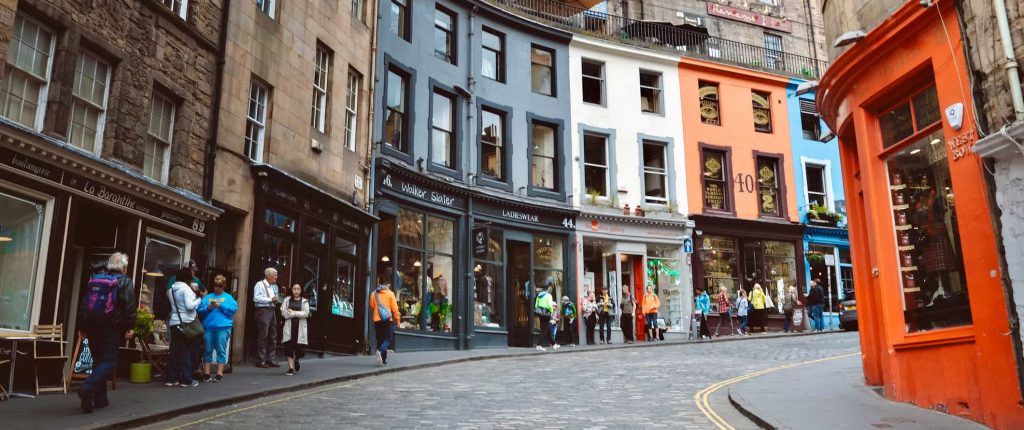 Public Transportation
The city's most popular public transportation modes are buses and trams. A single ticket starts at 1.80 GBP and increases according to how far you travel. You might want to download the "Transport for Edinburgh" app to buy tickets on your phone since buses only accept specific changes. Even tram tickets to and from the airport can be purchased with it.
A one-week ticket costs 20 GBP, while day passes are 4.40 GBP (does include the airport).
The 30-minute trip on the Airlink bus to the airport costs 4.50 GBP, whereas the tram costs 6 GBP.
Taxi
I would avoid taxis as much as possible because they are expensive here. Starting at 3 GBP, the cost of each kilometer increases by 1.40 GBP. If you're on a tight budget, stick to taking the bus or train unless you split the travel with someone.
The two most popular taxi platforms are Gett and Free Now; both are connected to the Google Maps app, so you can use them to get price estimates if you're comparing different kinds of transportation. Edinburgh provides dependable and secure public transit, so I'd advise against using taxis or ride-sharing if you need other choices.
Ridesharing
Although Uber is accessible in Edinburgh, it is not always cheaper than cabs.
Car Rental
Scotland is a fantastic place to take a road trip, but I only recommend renting a car if you're leaving the city (or if you need it for a specific reason the town). Getting to the city is simpler without a car because public transportation is dependable. I would only recommend renting a car if you're leaving the city.
Campers can be found for as cheap as 30 GBP per day, while rentals start at 25 GBP. Please keep in mind that left-hand traffic is the norm. The majority of automobiles have manual transmissions.
Bicycle
Edinburgh still needs to get a citywide bike-sharing program. Hire a bike from Cycle Scotland or The Tartan Bicycle Company if you want to rent one. E-bikes cost 45 GBP daily, while bicycles cost 25–30 GBP. Moreover, Edinburgh Bike Tours offers bicycle tours (starting at 39 GBP, including bike rental).
Top 5 Things to See & Do in Edinburgh
Visit Edinburgh Castle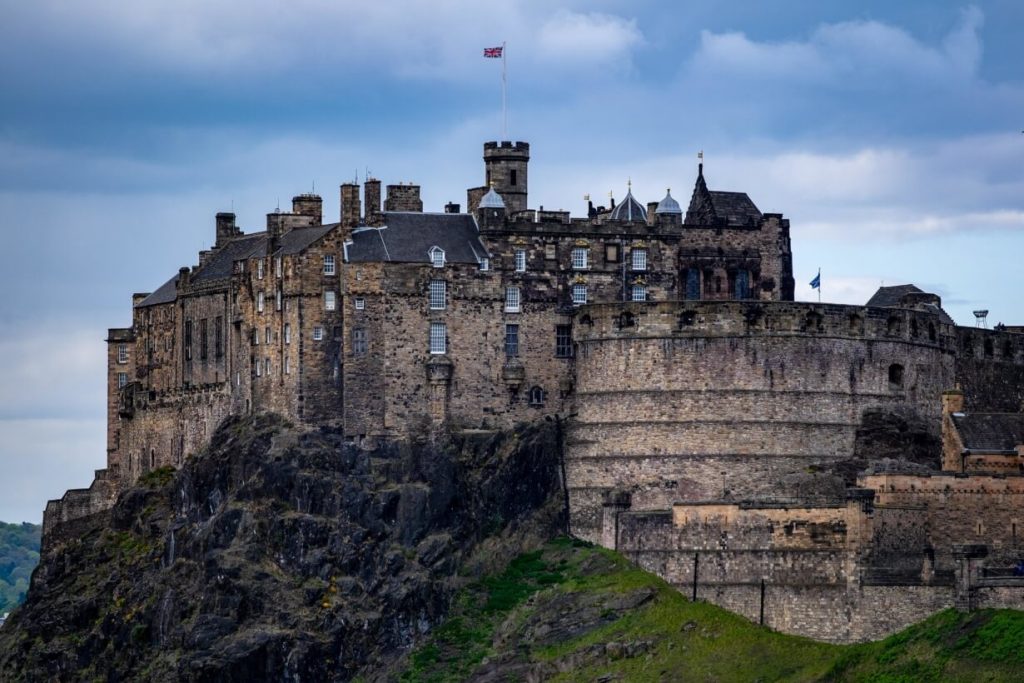 Edinburgh Castle dates back to the 12th century and is perched on a hill above the city's Old Town. You may easily spend hours here touring and learning about the castle's history, the most besieged location in Great Britain (the Crown Jewel exhibit is worth the price alone). It costs 15.50 GBP to enter.
Hike to Arthur's Seat
In the suburbs of Edinburgh sits an extinct volcano called Arthur's Seat. Its elevation of 251 meters (823 feet) offers trekkers a beautiful view of the city. Either way, the hike takes an hour. Bring a picnic if the weather is fine and spend the afternoon admiring the city.
Walk the Royal Mile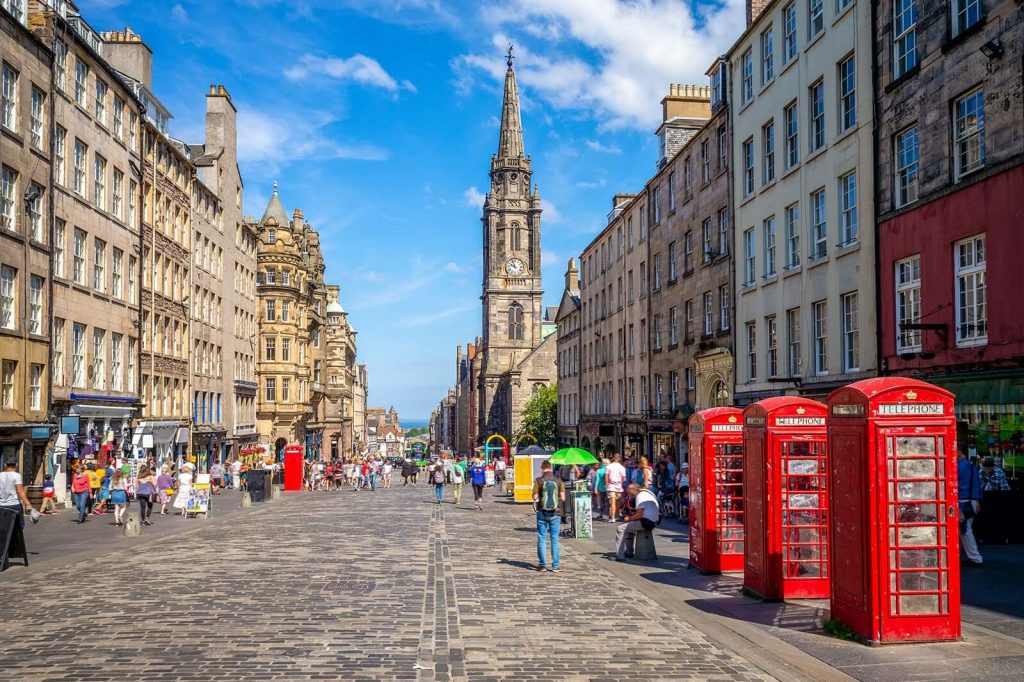 Pubs, eateries, and retail establishments line this pedestrian street. Although congested in the summer, it is a popular tourist destination and breathtakingly beautiful and old. The medieval St. Giles' Cathedral is one of the area's many historical structures and monuments.
Tour Rosslyn Chapel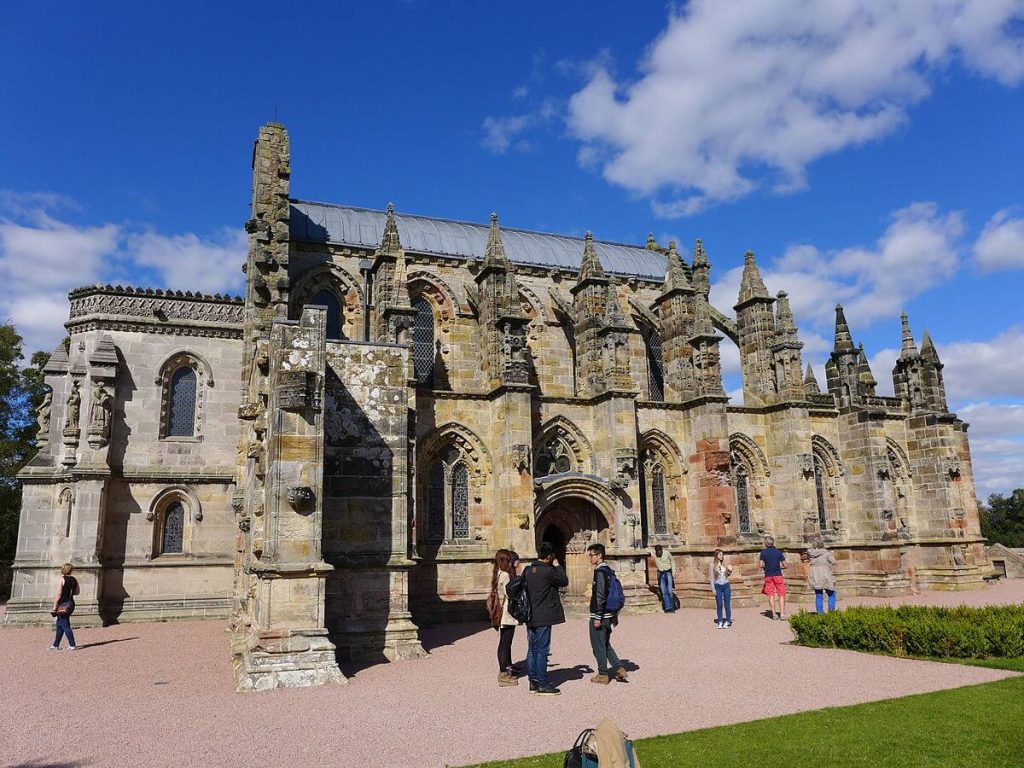 The Da Vinci Code made famous this medieval chapel outside of Edinburgh that was built in 1446. The church has elaborate decorations and symbolism have given rise to several conspiracy theories. The distance from Edinburgh is about one hour, and entry is 9.50 GBP.
See the Scott Monument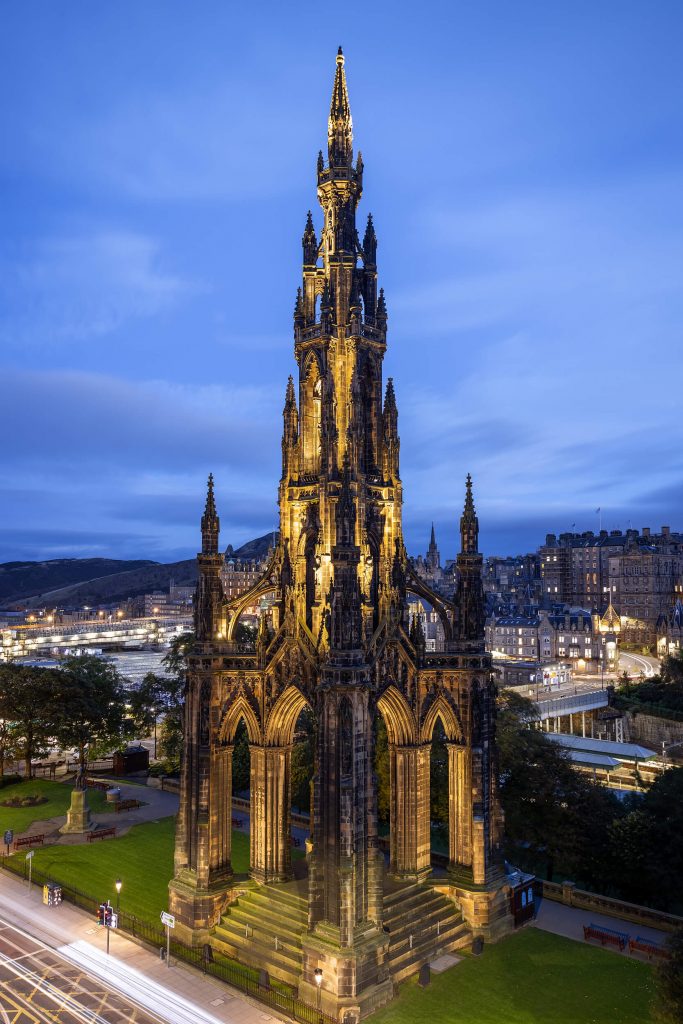 The Scott Monument, erected in 1846, honors Sir Walter Scott, the author of well-known books like Ivanhoe and Rob Roy. The Gothic spire monument was built to recognize his accomplishments and contributions to Scottish culture as well as to the city of Edinburgh itself. The cost of entry is 8 GBP.
Other Things to Do & See in Edinburgh
Take a free walking tour.
Doing a walking tour is the most effective approach to learning the lay of the land. With a local expert to answer your questions, you get a sense of the area and explore the main attractions. I always join a free walking tour when I reach a new location. The most significant way to settle in is to do that. Remember to tip your guide at the end of the beautiful two-hour free tour of New Europe!
Hang out in Calton Hill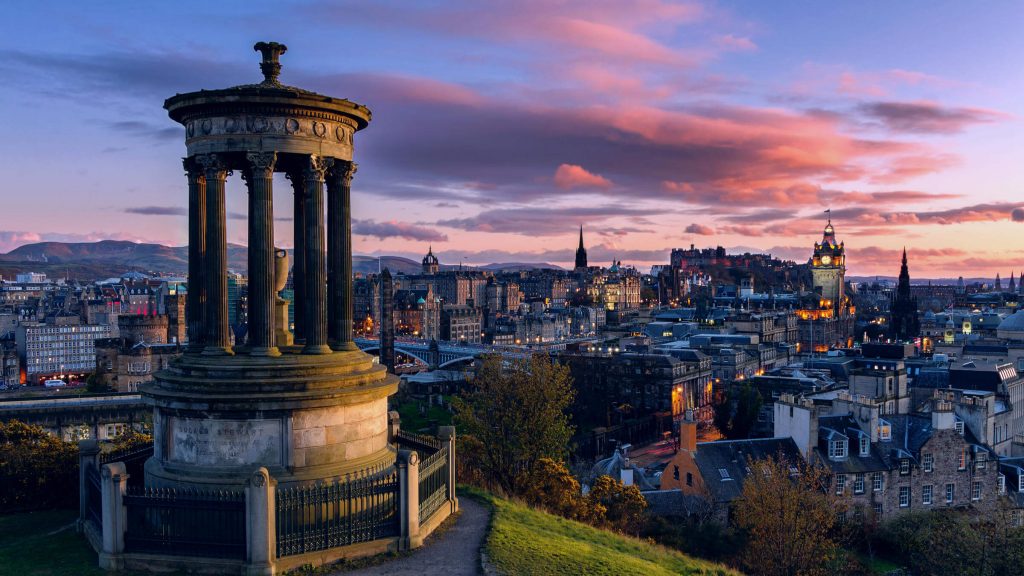 Calton Hill is a serene location where you can escape city sounds and enjoy the scenery. Hike up the hill to the summit, where you can sit in a tranquil park-like setting and unwind. Here is where the Nelson Monument, honoring the illustrious British Admiral Horatio Nelson, who served in the Napoleonic Wars between 1803 and 1815, and the National Monument of Scotland are situated.
Explore Princes Street Gardens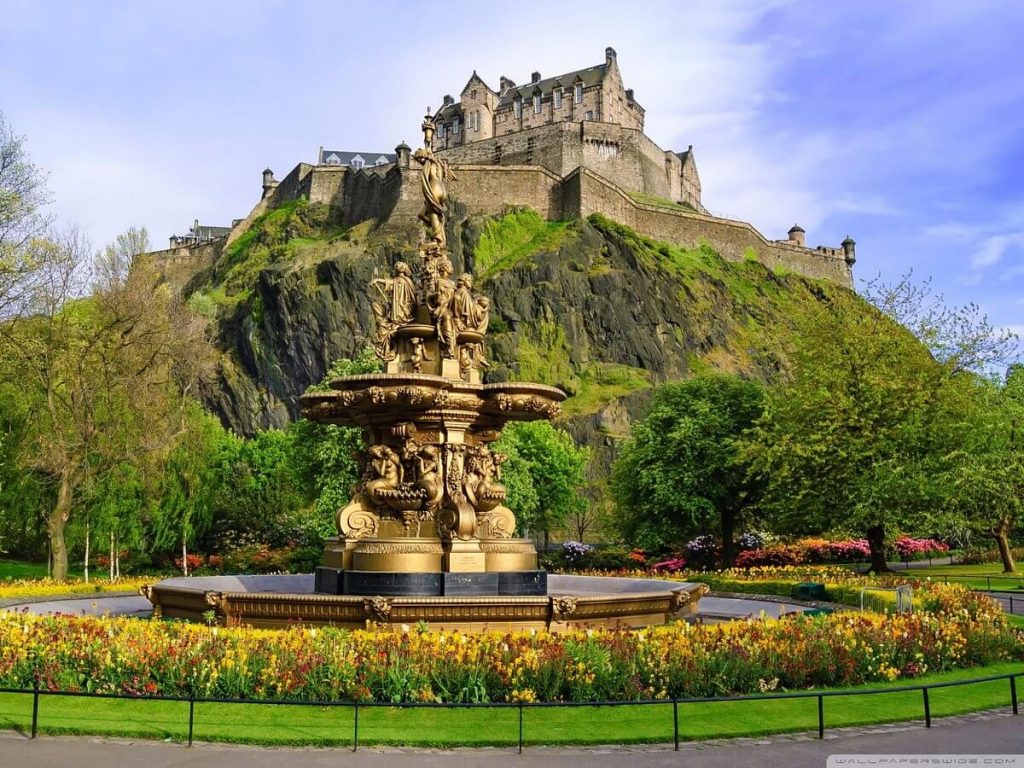 Spend an afternoon in Princes Street Gardens for another complimentary excursion to enjoy a stunning view of Edinburgh Castle. The garden, comprised of two major parks, was established in the 1770s after Nor Loch, the largest lake in Edinburgh, was filled in. The park is now a favorite among tourists and locals alike, and vendors here offer food and trinkets. The garden transforms into a German-style winter fair around Christmas, with many booths selling food, mulled wine, toys, and rides (the Christmas markets usually open mid-November).
Tour the Museum of Edinburgh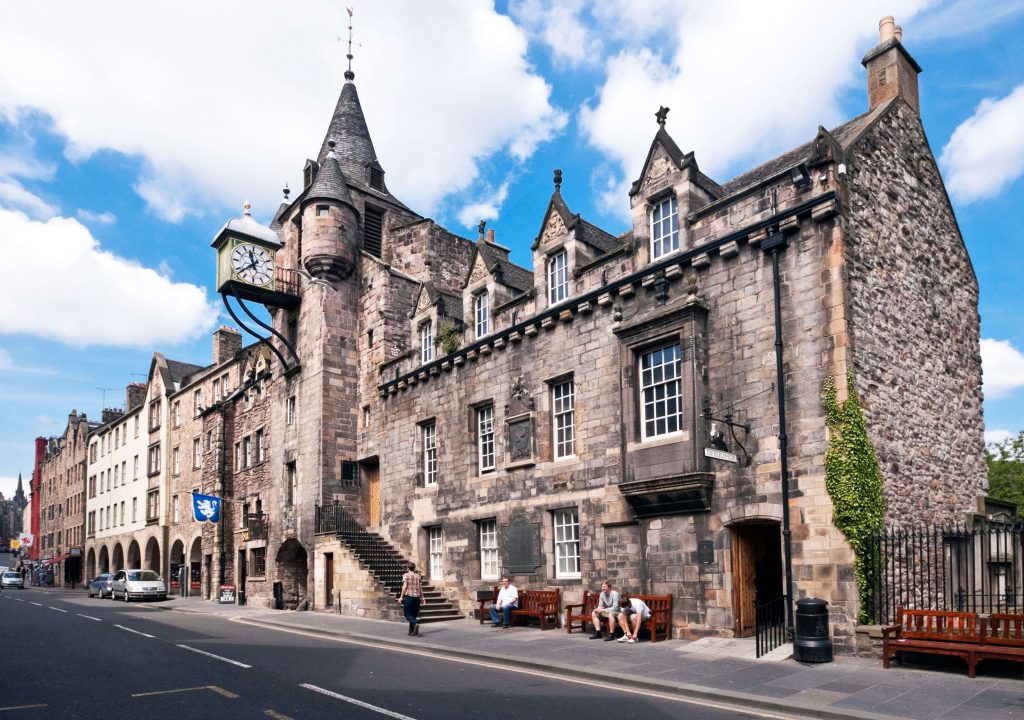 This museum provides information on the city and its past and is located in the 16th-century Huntly House (one of the historic structures on the Royal Mile). The National Covenant, an essential Scottish Presbyterian document from 1638, and some original city plans and a scale model of the Old Town are all kept in the museum. Silverware, weaponry, and other items are also present. The museum is at no cost.
Visit the National Gallery of Scotland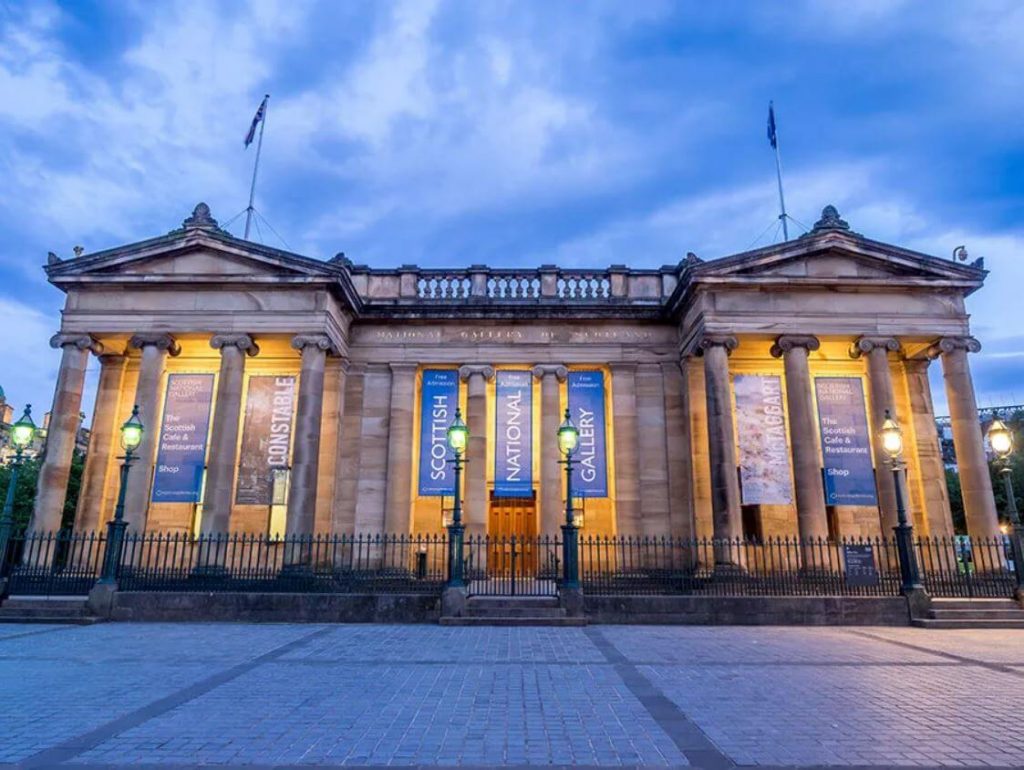 Monet, Rembrandt, Degas, Vermeer, and Van Gogh's works, as well as those by renowned Scottish artists Allan Ramsay, David Wilkie, and William McTaggart, may be found in this magnificent collection. The Neoclassical gallery, which debuted in 1859, was created to resemble a Greek temple. The gallery is open to the public and has works from the Renaissance to the 20th century (some temporary exhibits are free).
Attend a summer festival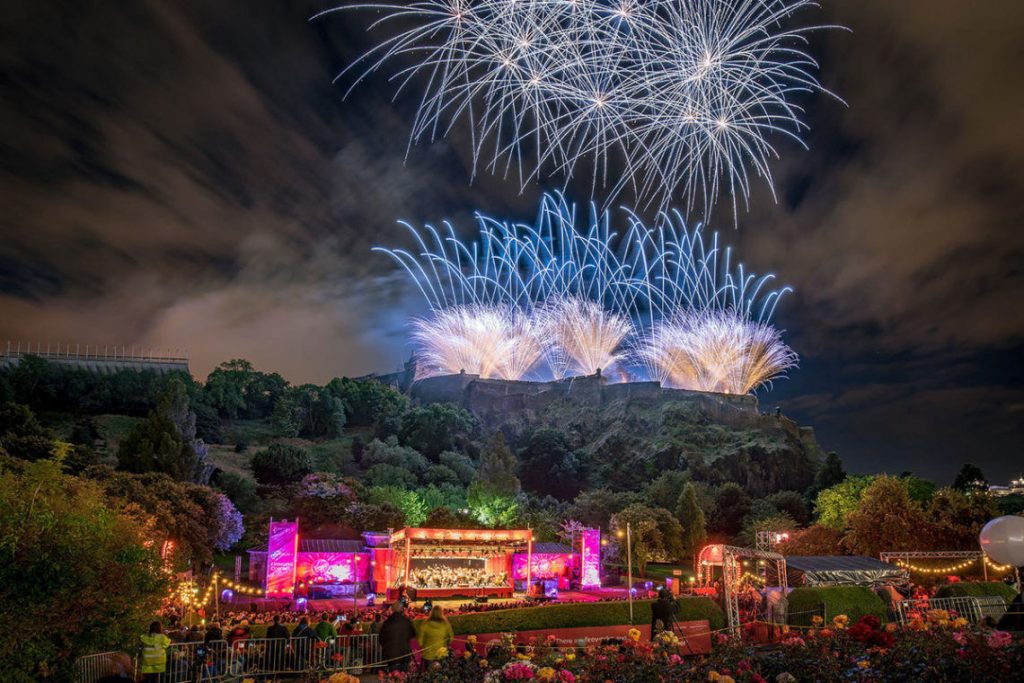 Throughout the summer, Edinburgh is the site of numerous sizable festivals. The Edinburgh Fringe Festival is by far the most well-liked. This event takes place in August, with entertainers and performers of all stripes, including actors, musicians, buskers, and more. The event is the largest in the world and lasts for three weeks. Remember that the city is flooded with people, and lodging costs soar. If you intend to attend, be sure to reserve you're lodging in advance. Two more significant events worth following in the summer are the Edinburgh International Film Festival in June and the Edinburgh Jazz Festival in July.
Take a ghost tour
Various tours take you to graveyards and underground tunnels to help you learn about Edinburgh's scary heritage. The excursions take you to some historic and fascinating areas of Edinburgh, even if you don't believe in ghosts. Remember to take the Ghost Bus tour and a tour of the Vaults, which are nighttime tours of the city's underground tunnels.
Drink some scotch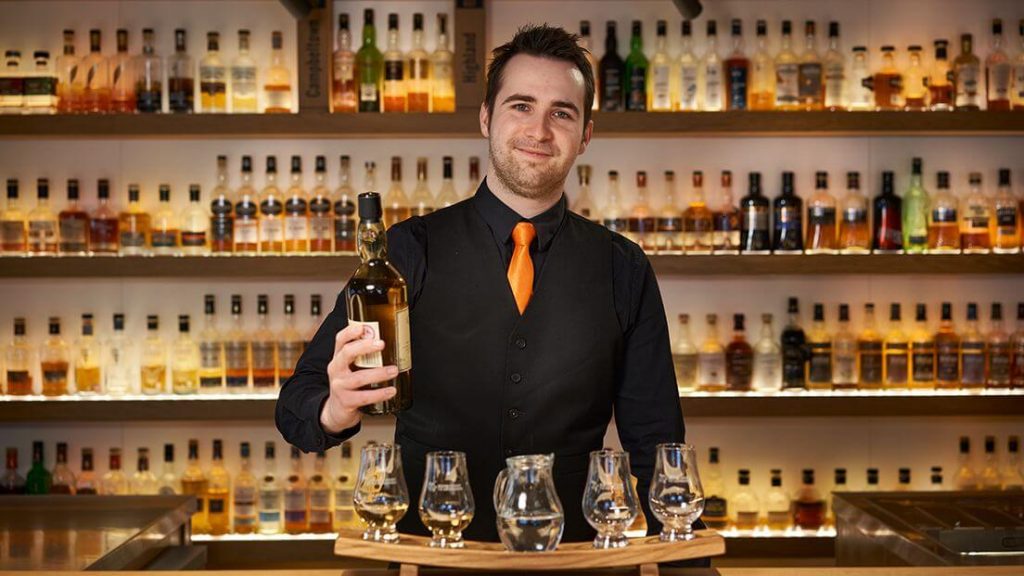 Visit the Scotch Whisky Experience to discover how scotch is manufactured. It combines a museum and an interactive experience (there's even a barrel ride where you sit in a phony barrel and learn how whisky is made). Also, some displays explain the background of Scotland's well-known beverage and how it came to have such a treasured position in society. Depending on the style of tour you desire, prices start at 17 GBP.
Celebrate Hogmanay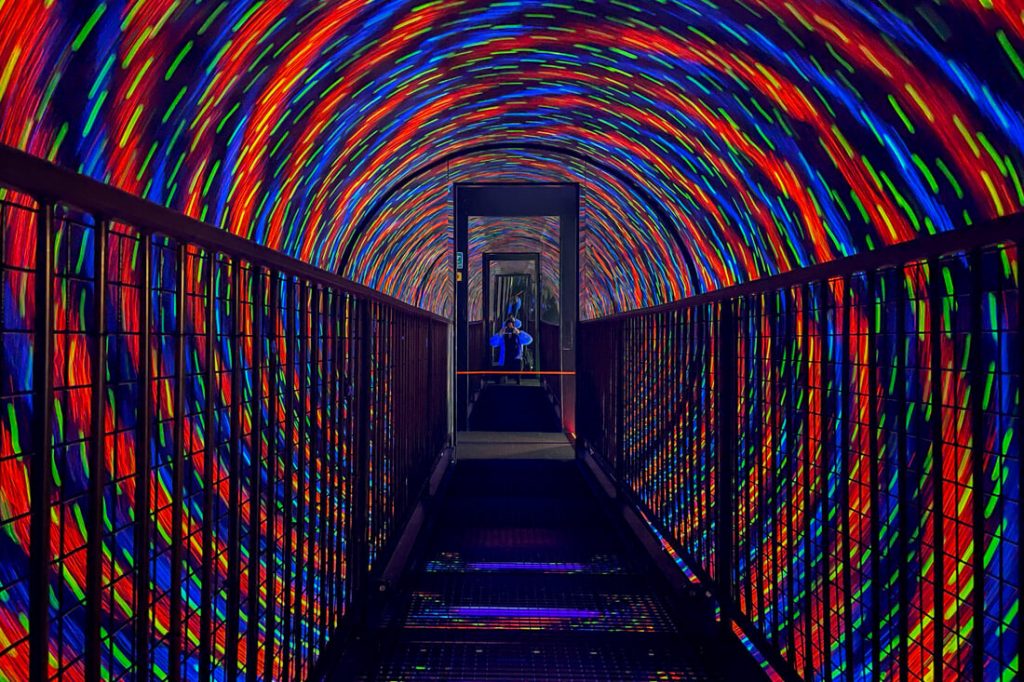 One of the most significant and well-known New Year's Eve events worldwide is Hogmanay. Thousands of people fill the city streets with torchlight processions, music festivals, and fireworks to celebrate. Get ready for drinking, holiday celebrations, live music, and many people. Tens of thousands of people attend the festival, so make reservations for your lodging well in advance.
Have fun at Camera Obscura
The 1835-founded Camera Obscura is an entertaining and instructive interactive museum. More than 100 displays employ mirrors, light, and electronics to produce amazing optical illusions. Anybody traveling with children will find it to be conveniently accessible because it is situated in the center of the Old Town (or anyone who wants to indulge their inner child). It's enjoyable and mixed with elements of illusion and science. Entry costs 18 GBP.
Take a Harry Potter tour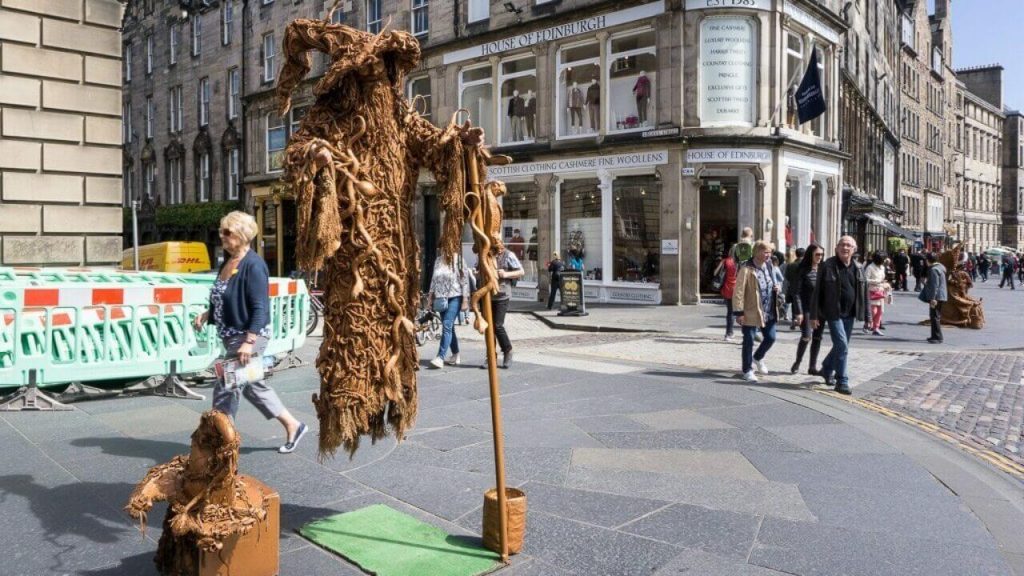 If you love J.K. Rowling's excellent fantasy novel, reserve a space on The Potter Trail, Edinburgh's original Harry Potter tour. Daily tours are offered, covering all the significant locations in the city that are related to the books. Both casual enthusiasts and ardent admirers can participate in the 90-minute trip. Although the trip is free, remember to give your guides a tip.
Edinburgh Food & Drink Guide
Although some of Scotland's traditional foods are strange, they are worth trying.
Edinburgh, the capital of Scotland, offers a wide variety of cuisines. There is a cuisine to satisfy every craving, from oddities like black pudding and haggis to traditional seafood dishes like smoked salmon or haddock.
Haggis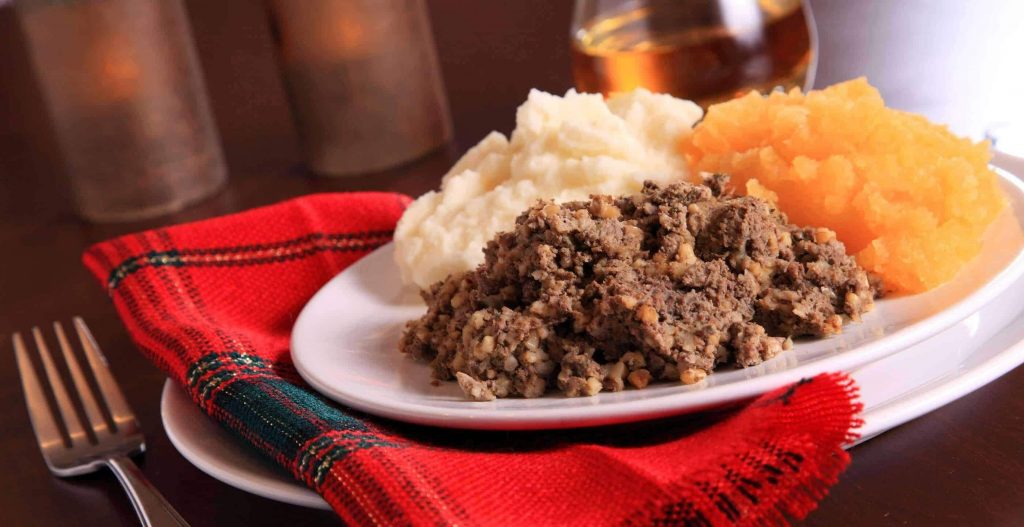 The national dish of Scotland is a favorite among natives yet daunting to tourists. This dish is typically prepared as a savory pudding and cooked in the sheep's stomach using oatmeal, various spices, and internal organs from the calf or sheep, such as the heart and liver. Haggis is reputed to be a delectable delicacy that will have you craving a second helping, as absurd as that may sound.
Stornoway black pudding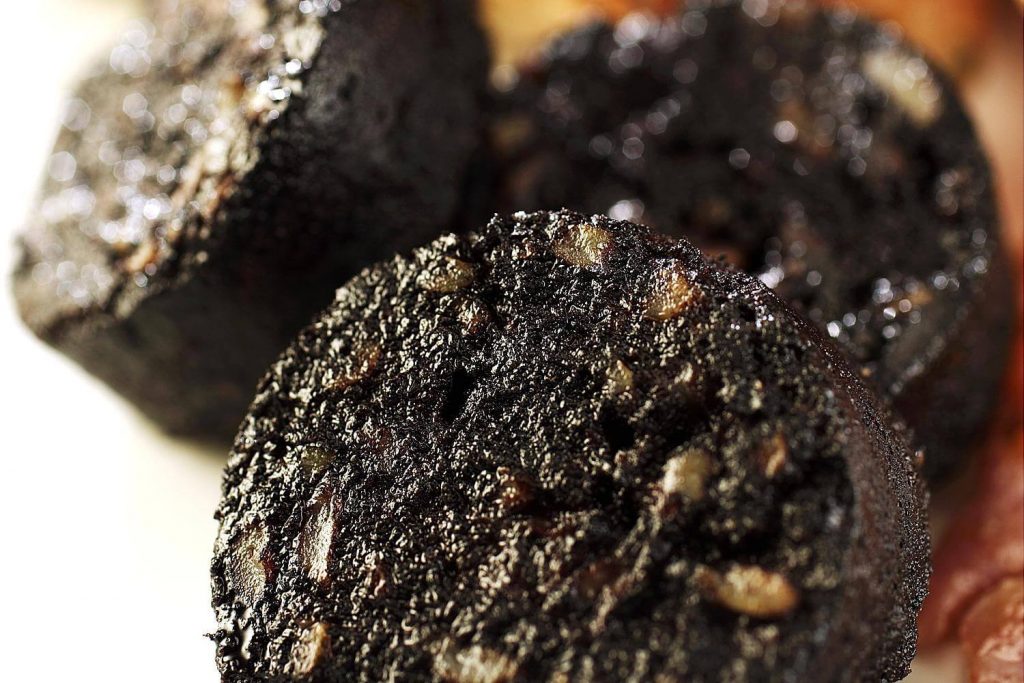 This pudding, another classic Scottish delicacy, is cooked with pig's blood, sausage meat, onion, spices, and oatmeal for texture. Even if it might appear dubious, its award-winning reputation will pique your interest enough to try it.
Porridge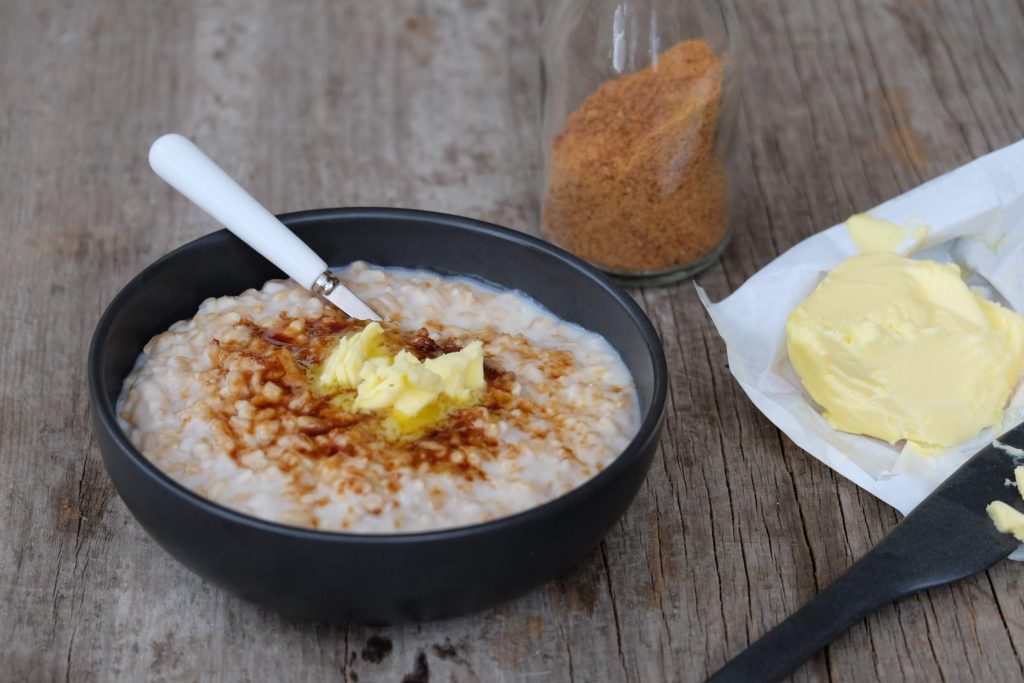 You're almost sure to try this traditional Scottish breakfast when you're there. This straightforward and wholesome dish, which is made using locally farmed oats and milk (or water), is the ideal way to start your mornings.
Cullen skink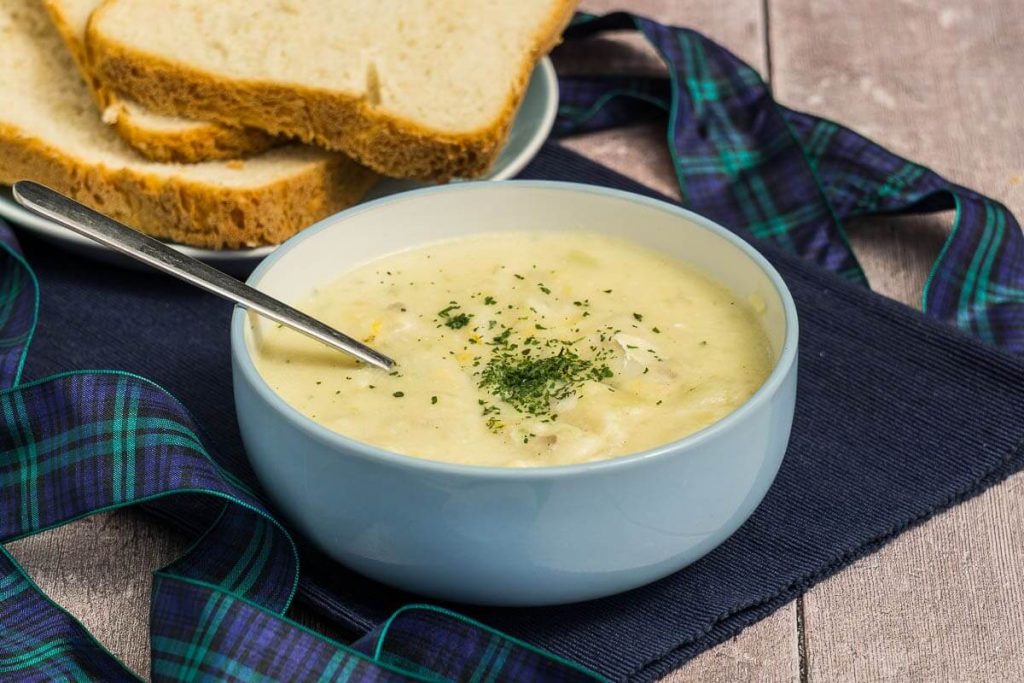 Don't be misled by the name; this substantial soup is a Scottish staple cooked with smoked haddock, potatoes, and onions. It becomes an immediate favorite due to its thickness and rich flavor.
Smoked salmon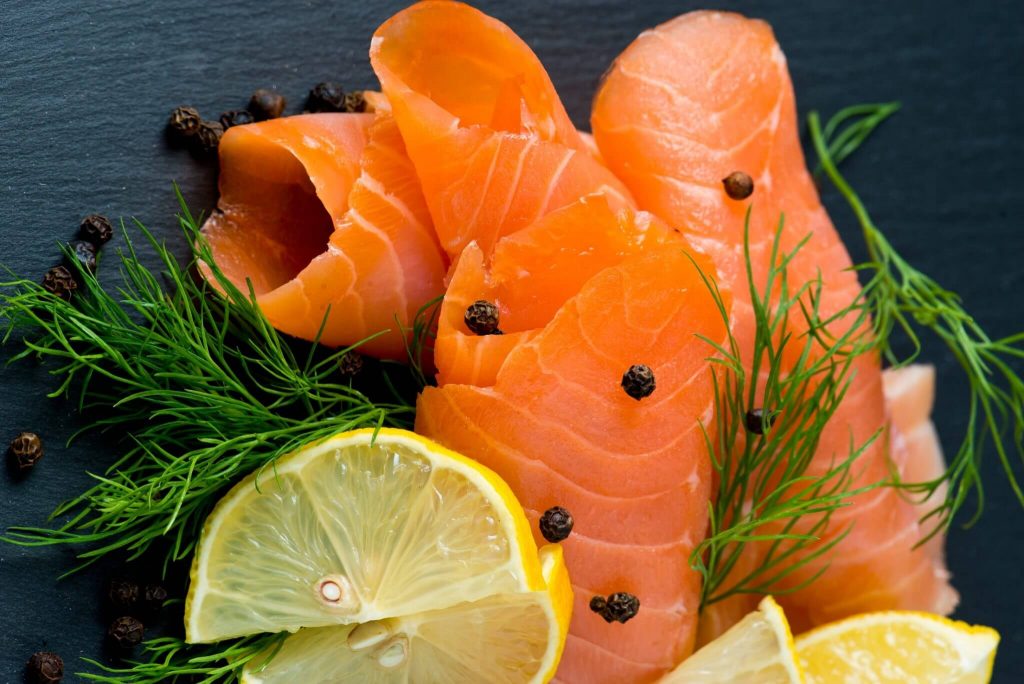 This meal frequently served in slices, is the ideal representation of Scotland's superb seafood. Salmon is a favorite food worldwide, but Scottish salmon is exceptional.
Partan Bree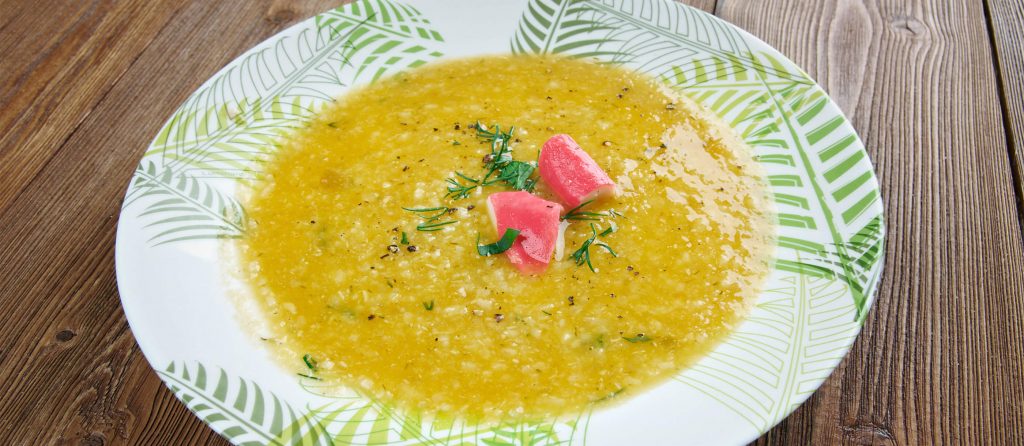 Another Scottish seafood soup is this crab broth with rice and cream. This straightforward but tasty bisque requires a few ingredients.
Arbroath smokies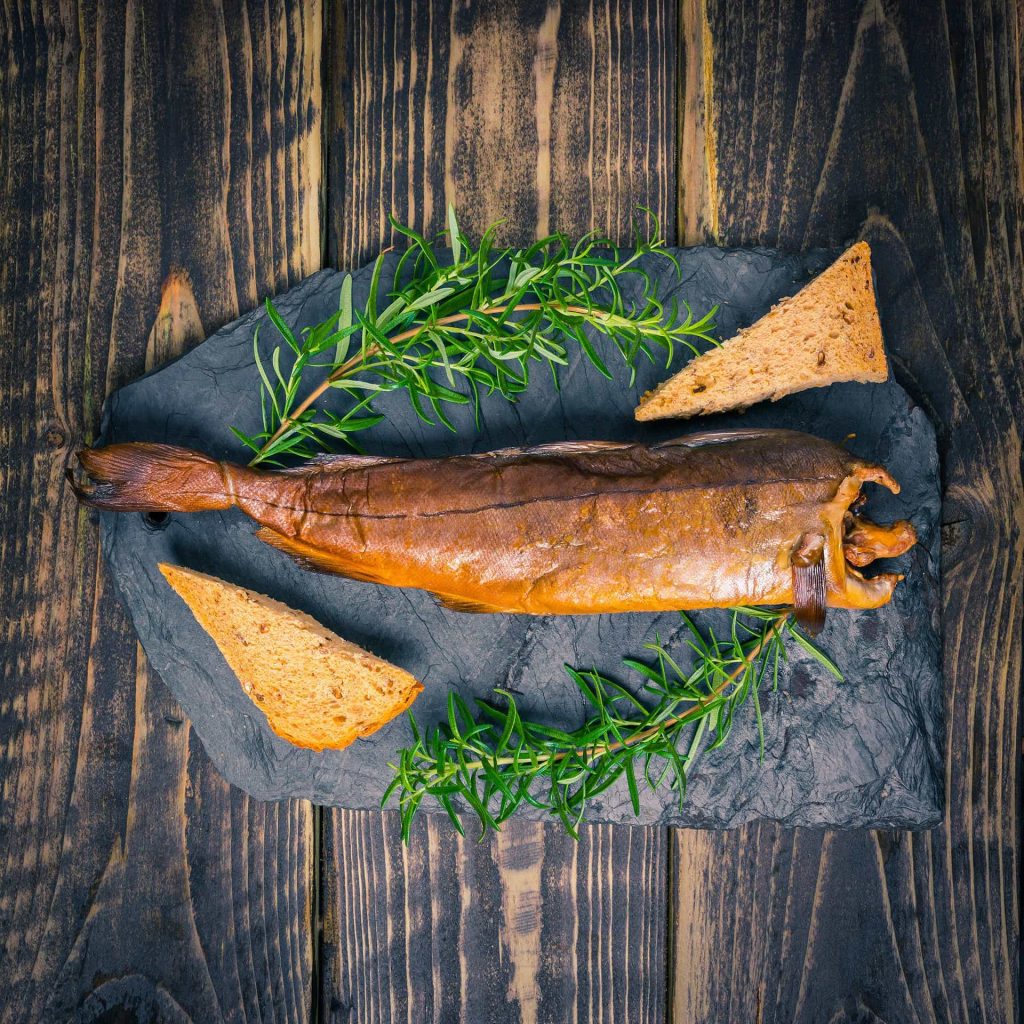 This smoked haddock is produced using a very particular method. Fish pieces are salted overnight and then knotted together to dry. Haddock is often smoked for 30 to 40 minutes by hanging over a barrel with a fire underneath it. A delectable, golden-brown fish that is unlike anything you've ever tasted is the end product.
Cranachan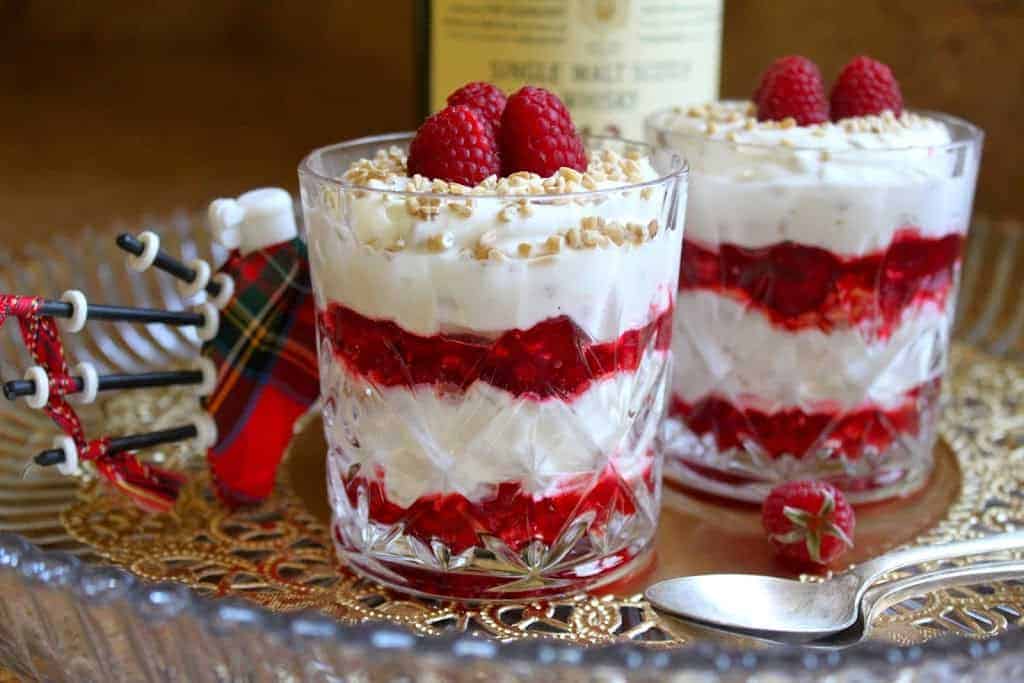 This smoked haddock is made in a precise way. The fish is salted overnight, and the pieces are tied together to dry. Haddock is frequently smoked by hanging over a barrel with a fire underneath it for 30 to 40 minutes. The result is a delicious, golden-brown fish, unlike anything you have ever tasted.
Whisky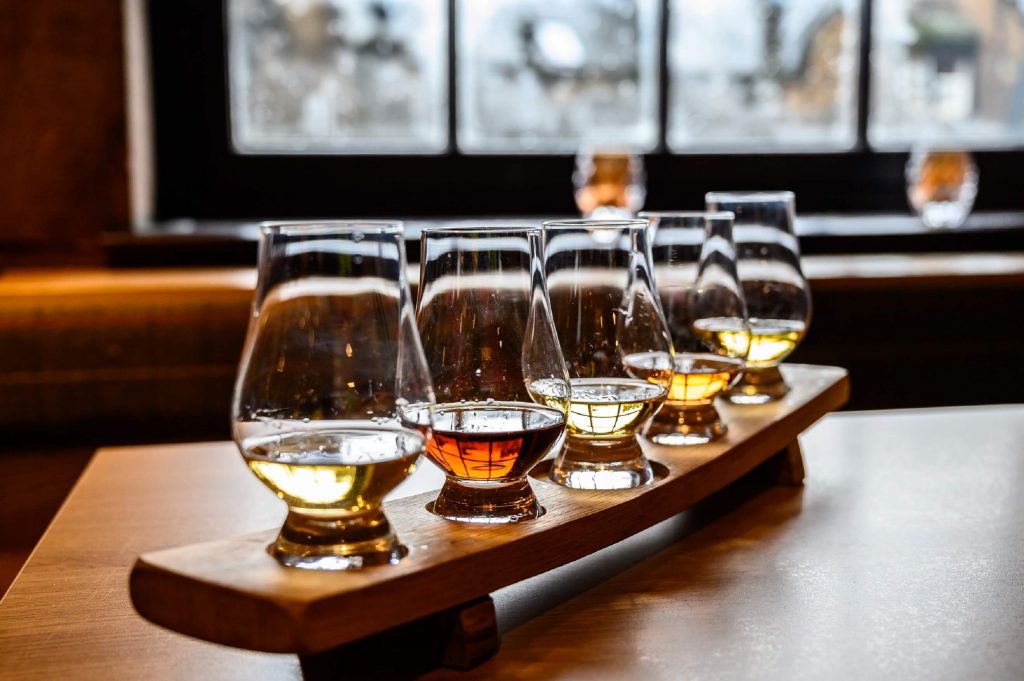 Scotland's national beverage and top export is whisky. You will want to experience this significant aspect of Scottish culture, as there are hundreds of distilleries and several opportunities to tour and learn about the entire whisky production process.
Where to Stay in Edinburgh
There are many hostels in Edinburgh, which are all generally cozy and welcoming. My top picks for accommodations in Edinburgh are as follows:
Edinburgh Travel Costs
Hostel Prices
A dorm with ten or more beds costs 12–14 GBP a night, while the majority of 4–8-bed dorms cost 16–22 GBP. Costs typically fluctuate a few pounds between summer and winter. The price of a private double room ranges from 50 to 75 GBP. Standard amenities at all hostels include free Wi-Fi, lockers, and self-catering options. Although it's uncommon, some hostels in the city do provide complimentary breakfast. If staying in hostels is a top priority, reserve them in advance.
Budget Hotel Prices
Budget lodging ranges from 50 to 65 GBP per night. Most of these offer free Wi-Fi and some even include complimentary breakfast. While entire homes and apartments start at 55 GBP per night, a private Airbnb room costs 30 GBP per night (though most cost 70 GBP per night or more).
Camping is an alternative for individuals coming here with a tent, mainly if you go to the close-by Loch Lomond National Park. A typical plot will cost about 17 GBP each night (which is just a flat space for a tent; electricity is generally not included). There are few parks open by late October or early November because most parks close for the winter. The "park4night" app can be used to locate paid overnight parking, free overnight parking, and campgrounds if you are driving or towing a campervan.
Food
Scottish cuisine is full, hearty, and heavy. Seafood is abundant, and famous traditional delicacies include haggis (a treat made of minced sheep's organs and spices inside a sheep's stomach casing), blood pudding, chopped beef, fish and chips, smoked herring, neeps, and tatties (turnips and potatoes), and fish and chips. Although a more extensive meal of sausage, eggs, beans, and bread is not unusual, porridge is a popular morning option. A popular treat is sticky toffee pudding, and of course, only a trip to Scotland would be complete with trying some scotch.
For a simple meal like a Scottish breakfast or haggis, budget between 10 and 12 GBP. Prices for pub fare like fish and chips or a burger often range from 15 to 25 GBP. Prices start at about 30 GBP for a packed three-course lunch at a mid-range restaurant.
A glass of wine costs about 5.50 GBP, compared to 4 GBP for a pint of beer. An average latte or cappuccino costs 2.70 GBP. A traditional order of fish and chips from a no-frills restaurant costs about 6 GBP. Chinese takeout costs about 8 to 10 GBP, while a typical combo meal at a fast food restaurant (like McDonald's) is about 6 GBP. A food truck or other street food typically costs 6–8 GBP. One of the most affordable eateries in the entire city is The Mosque Kitchen.
There, a fantastic lunch costs between 6 and 8 GBP. A week's worth of groceries should cost between 40 and 60 GBP. This includes common foods like pasta, grains, fresh produce in season, and some meat. Aldi, Lidl, Asda, and Tesco are the least expensive supermarkets to watch out for.
Backpacking Edinburgh Suggested Budget
Edinburgh may be visited on a backpacker's budget for roughly 55 GBP daily. This entails living in a dorm or camping, preparing food, consuming little alcohol, sticking to primarily cost-free pursuits like hiking and free walking tours, and traveling by public transportation.
With a moderate spending limit of roughly 100 GBP per day, you may stay in a private Airbnb room, eat out frequently (mostly pub food), engage in more expensive activities like visiting museums or art galleries, having a few drinks at the bar, and occasionally take a cab to travel around. Although you won't enjoy a lavish lifestyle, you can manage your finances without worrying.
You can stay in a hotel, dine out every meal, consume as much alcohol as you choose, visit as many museums and sites as you please, ride cabs, and do whatever you please on a "luxury" budget of 200 GBP or more per day. Yet, you can spend more money if you want to splurge out. This is merely the ground floor of luxury.
According to your travel preferences, you can use the chart below to estimate how much money you need to set aside each day. Remember that these are daily averages and that you may spend more and some days less (you might pay less every day). We wish to provide you with a rough outline for creating your budget. The currency is GBP.
| | | | | | |
| --- | --- | --- | --- | --- | --- |
|   | Accommodation | Food | Transportation | Attraction | Average Daily Cost |
| Backpacker | 20 | 20 | 5 | 10 | 55 |
| Mid-Range | 35 | 35 | 10 | 20 | 100 |
| Luxury | 65 | 75 | 25 | 35 | 200+ |
How to Stay Safe in Edinburgh
You won't need to worry about crime while you're in Scotland because it's a safe country. Even though women should use the usual caution when traveling alone at night (don't travel alone while intoxicated, watch your drink, etc.), Edinburgh is safe for solo travelers, including female visitors.
Keep an eye out for pickpockets, as they are common in crowded tourist areas and on public transportation in all cities. Always keep your valuables locked up and out of sight to be safe.
If you want to go hiking nearby (say, in the Cairngorms a few hours north), ensure you have the necessary gear and let your lodging know, just in case. Moreover, Arthur's Seat hikers should anticipate windy conditions at the peak.
Edinburgh City Map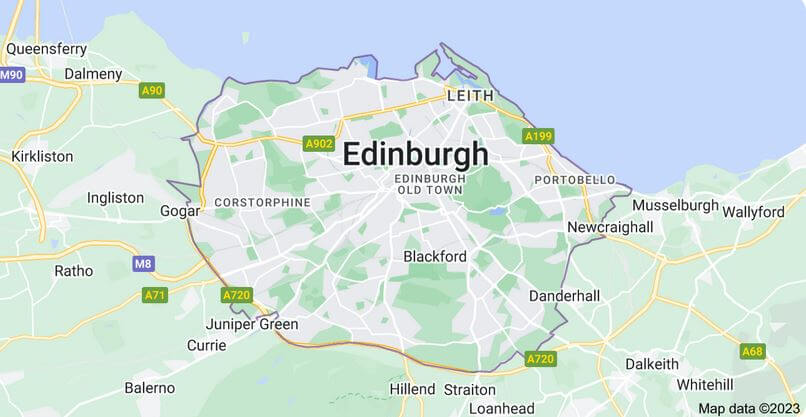 Edinburgh City Pass
The Edinburgh City Pass, which entitles you to utilize the tourist bus, do the Harry Potter tour, enter the Walter Scott monument, and much more, is the finest way to save money in Edinburgh.
Is it worthwhile?
With the Edinburgh City Pass, you can get all the city's worthwhile tourist sites while saving money. Edinburgh is home to several worthwhile tourist attractions. Together with the tourist attractions, it also offers transportation from the airport to the city's core and discounts at several Edinburgh stores and eateries.
You can get the card online by clicking here.

Your favorite moments have occurred here, with the city's skyline, cobblestone streets, and colorful characters serving as the backdrop. Do you feel up to more?
There are so many opportunities to embrace the city, explore, have fun just outside your door, and create new stories that you may read back on.
Whether you're a local or a visitor, Forever Edinburgh can show you Edinburgh in novel and fascinating ways.
FAQ
Is Edinburgh worth visiting?
Discovering Edinburgh is a fantastic experience. Climb a volcano, visit the site of JK Rowling's inspiration for the Harry Potter books, visit a castle, and discover everything there is to know about whisky. Two days in Edinburgh will be enough time to see all the city's top attractions.
How many days in Edinburgh is enough?
We advise first-time tourists to spend at least two or three days in Edinburgh, so they have enough time to tour the city's key attractions and explore the city center.
Is Glasgow or Edinburgh better for tourists?
Individuals drawn to ancient sites and traditional Scottish culture and Harry Potter lovers may consider visiting Edinburgh. Conversely, Glasgow is a fantastic choice for people seeking a contemporary, big-city vibe with amazing nightlife and live music.
Why do people want to visit Edinburgh?
Edinburgh's stunning architecture is well-known around the world. If you appreciate architecture, visiting the city will be a unique and unforgettable experience thanks to its century-old castles, cobbled streets, and historic homes.
What is the best month to visit Edinburgh?
The summer months of July and August are the most extraordinary times to visit Edinburgh. The days are longer, and the climate is generally warmer.
Is Edinburgh a walkable city?
Overall, the city received great rankings, topping the global list as the most attractive and walkable city globally. Edinburgh is also well-known for being an excellent area to take a nature walk and for having many fresh, fun things to do.
Which city is more beautiful in Scotland?
Scotland's historic and beautiful capital, Edinburgh, is one of Europe's most popular travel destinations. Edinburgh more than merits the accolades and media coverage it receives. Stunning architecture can be seen around the city, and the renowned Edinburgh Castle towers over it from Castle Rock.
Is Edinburgh the most beautiful city in the world?
According to a well-known US travel publication, the '25 Most Beautiful Cities in the world, including Edinburgh. Scotland's capital was listed among the world's most beautiful cities in Travel + Leisure's "by-no-means exhaustive list," which boasts roughly five million readers each month and is based in New York.
Is it easy to get around Edinburgh without a car?
The public transportation system in Edinburgh is nothing to laugh at. Although less refined than London's, there are direct paths to the city's four corners. All you need to know about navigating Edinburgh, Scotland, including 24-hour bus service and a sizable network of bike lanes.
How to get from the airport to Edinburgh city center?
With quick and frequent service to the city center of Edinburgh, trams are one of the simplest ways to travel to and from the airport. With a short 30-minute journey time, trams run every seven minutes from seven in the morning to seven in the evening and every fifteen minutes otherwise.
Learn about another fantastic destination now!