Exploring the Sights and Sounds of Bern: A Tourist's Delight
The winter season adds more scenic and fun activities to the picture. In the cold season, Bern greets visitors with ice skating, snowshoeing, skiing, and other activities. Bern is a scenic walking city!
Even though Bern is sometimes overlooked as a travel destination, anybody who has experienced its beauty would be eager to accompany more family and friends on their next trip to Bern to see the city's captivating mountains, alluring lakes, and little fairytale towns.
Bern History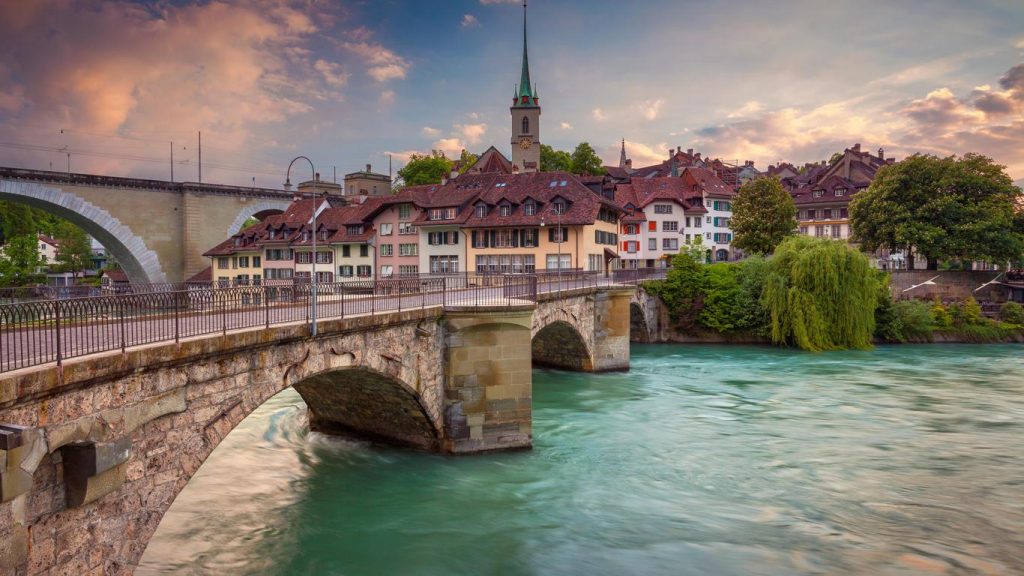 In 1191, Berthold V, DDuke of Zähringen, founded Bern as a military outpost. It became a free imperial city upon the collapse of the Zähringen dynasty in 1218. By increasing power and acquiring surrounding territory, Bern became independent in 1353 and entered the Swiss Confederation.
The brightly colored street signs (red, yellow, green, white, and black) date back to 1798, when Bern was under French occupation: the color coding helped soldiers find their way back through the city after a night of drinking.
Bern was believed to be named based on Duke's first hunting expedition, where he captured a bear.
In 1848 Bern was selected as the Swiss Confederation's capital city. Bern's old town was designated a UNESCO World Heritage Site in 1983.
Since Bern was founded more than 800 years ago, the city has become essential to the country.
How to Reach Bern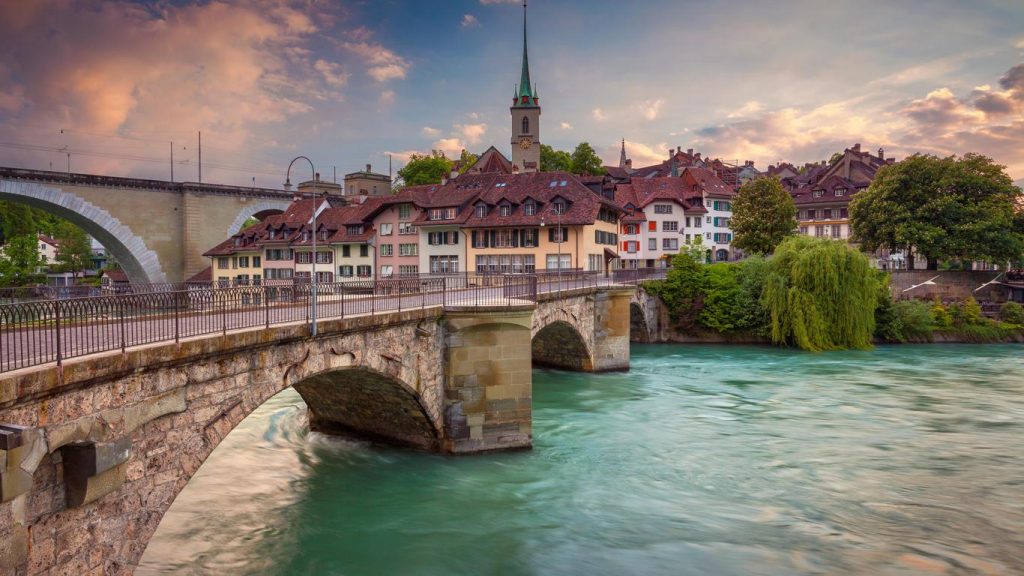 Bern is located in the center of Europe and Switzerland. It is an important crossroads for all principal Swiss transportation axes. It is linked to both international railway lines and the European motorway network making it easy to access through public transport, airplane, or car.
Travel by Train
Direct rail connections depart regularly for all important Swiss and European cities, ensuring comfortable travel. For example, Zurich, Basel, Interlaken, and Lucerne are only a one-hour train trip from Bern.
Bern is the only European capital with connections to ICE, TGV, and Pendolino.
Travel by Plane
Bern's international airport, Bern-Belp, is near the city center. The airport supports direct flights from various European countries and seasonal getaways, including Italy and Spain.
You can access Bern-Belp airport's official website through this link.
Travel by Road
The road network connects Bern to various cities around Switzerland, including Geneva and Zurich. The highways are well-developed, and the network is rather broad, with road connections to several cities. The journey itself is breathtaking and unforgettable.
Travel by Bus
Aside from traveling by train, car, or aircraft, Bern is conveniently accessible by bus, whether on the green FlixBus or the EUROBUS.
FlixBus website is accessible through this link, and EUROBUS through this link.
Bern Weather
The humid continental climate of Bern is marked by warm summers and cold winters.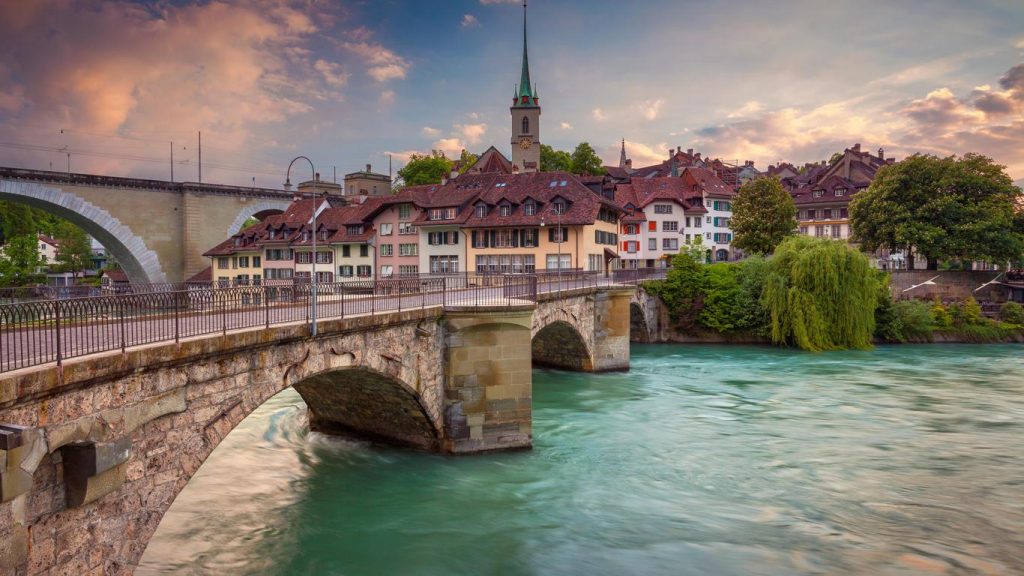 In Bern, the Winter is cold and gray. There may be relatively mild periods when Atlantic currents prevail and other colder periods when temperatures drop below freezing. There may be cold spells with temperatures as low as -15 °C (5 °F) or lower.
Temperatures are generally pleasant in summer, but rain and thunderstorms can occur. Hot periods, usually of short duration, can occur at times with temperatures exceeding 32 °C (90 °F).
Best Time to Visit Bern
Since it is the warmest and sunniest time of the year, mid-May to mid-September is the ideal time to visit Bern. But there can be some rain, cool weather, or even cold, particularly in May and early June.
Bern's Attractions
Here is the list of Bern's most attractive places and things to do in Bern;
Wander Through the Bern Old Town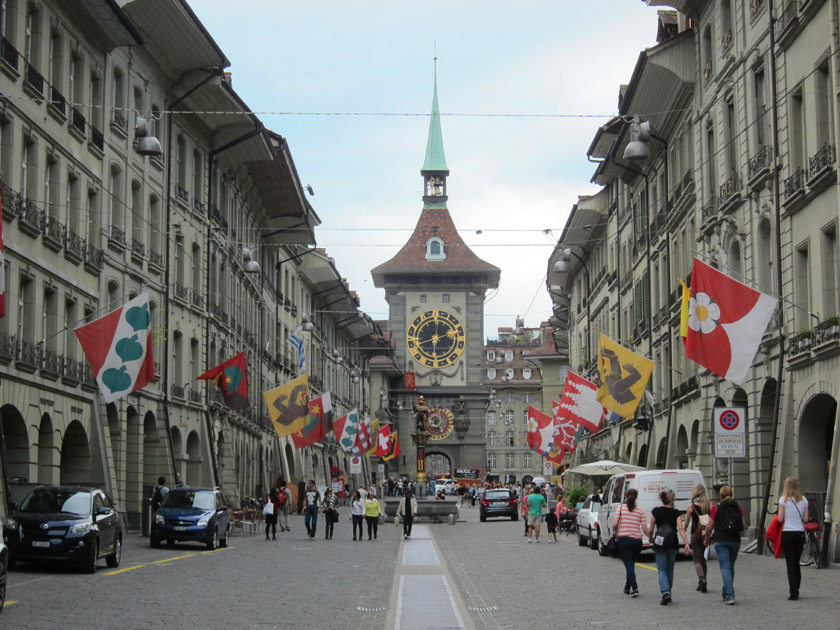 On a cliff where glittering waters of the Aare River surround three sides, we can find Bern's medieval old town, declared a UNESCO World Heritage Site in 1983. The broad cobbled streets running downhill are bordered by arcade sidewalks that snake their way for miles.
A defining characteristic of the city is the uniform four-story arcaded sandstone buildings, replaced after the fire in 1405, where existing wooden structures had been destroyed. Most buildings have arcades on the ground floor, occupying shops, cafes, bookstores, and restaurants, while the upper floors are apartments.
The street signs in Bern's old town are of various colors, including yellow, green, white, and burgundy. This is a relic from Napoleon's time; his men were primarily illiterate. Thus colored signs were employed to assist the troops in traversing the region.
Remember to bring your bottle to fill! Because nothing beats sipping fresh fountain water while on a tour
Don't miss out on a stroll around the old city, as this part of Bern is home to most of the city's landmarks, numerous fountains, the iconic clock tower, ancient statues, and stunning bridges that cross the Aare River. You won't regret making leisure strolls around the old city a priority of your Bern tour.
Bern is home to Europe's longest covered shopping street, with six kilometers of arcades.
Get Goosebumps at Berner Munster
The Gothic sandstone tower, which rises over the Old City rooftops, and the silhouette of its nearly 100-meter-high spire are critical components of Bern's distinctive skyline. The Bern Cathedral stands beside river Aare in the Heart of the Old Town. Its single spire soaring into the sky is the tallest in Switzerland, and the breathtaking panorama of Bern City beneath, the river Aare and perhaps the snow-capped Alps make the battle of 312 steps up worthwhile.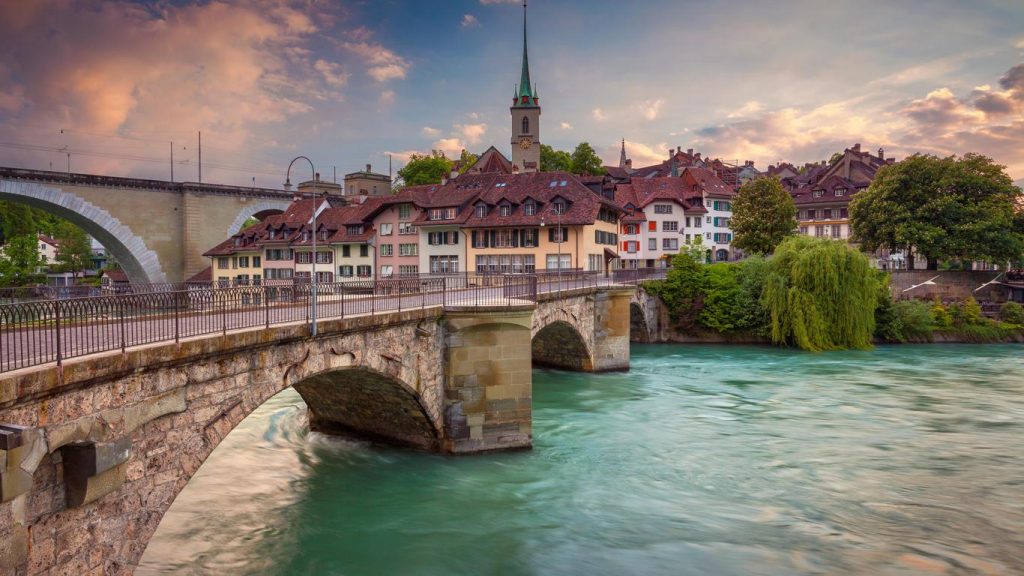 Inside the tower, you can find the largest bell in Switzerland, weighing approximately 10 tons, and this was rung every day at noon and 6 pm.
Before you reach the stairs, the last judgment, a collection of 294 sculptures showing the believers what the day of the Last Judgment would look like, will greet you at the entrance. The magnificent stained glass windows can be seen, with Matter Chapel's Dance of Death being the most remarkable.
The Bernese Munster has Switzerland's tallest church spire
The Dance of Death window is near the choir on the south side nave. The window depicts death as a skeleton claiming people from every status in life. The purpose of the Dance of Death was to remind the audience that death happens to everyone, regardless of position or money.
The choir, located on the eastern side of the Cathedral between the nave and the sanctuary, includes Switzerland's first Renaissance Choir Stalls. The stalls are richly carved with animals and scenes from everyday life.
You can look up the official website through this link for more details.
Head to the Munster Plattform behind the Cathedral for some good views without climbing, where you can see right across the Aare River and the city
Uncover Culture at Zentrum Paul Klee
A spectacular modern museum dedicated to one of the most influential artists of the early twentieth century, German-Swiss painter Paul Klee can be found in Bern's eastern suburbs.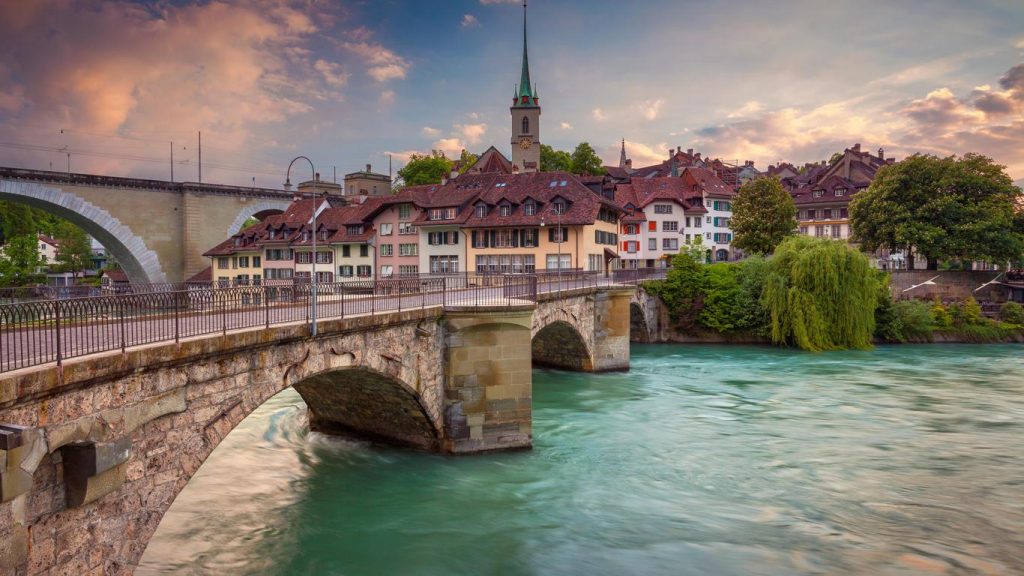 Klee's paintings frequently mixed many mediums (e.g., paint, ink, pencil, pastel, etc.), transcending the trends of his age (surrealism, cubism, abstraction).
The three curved "hills" and gently contoured lines of the building merge into the surrounding rolling landscape. The center, surrounded by fields and a vast park, is pleasant for a stroll. The Paul Klee Centre initially opened its doors in 2005. Its permanent collection contains over 4,000 pieces by Klee, predominantly pencil drawings and watercolors.
Because many of Klee's paintings are photosensitive, they are displayed in rotation with pieces from other artists. Typically, around 120 to 150 Paul Klee pieces are displayed at any given time, and the collection varies regularly. The center is closed on Mondays and open from 10.00 am to 5.00 pm on other days.
Visitors can interact with the art on display through various public and private tours. You can rent an audio guide for a modest cost if you prefer to explore the pieces at your own pace. The Zentrum Paul Klee is more than a museum because apart from housing the world's most significant collection of Klee's paintings, the center provides a variety of activities, recreational options, an appealing event venue, and a vibrant cultural atmosphere.
So no two visits would give you the same experience.
You can look up the official website through this link for more details.
Take in The View at Gurten
Just south of the city's center, Bern's local mountain, Gurten, stands tall with an incredible panoramic view of Bern in all its glory. One who leisurely hikes to explore the slope of Gurten can discover numerous scenic trails that wind through lush forests and flowery meadows. Make sure to climb the Gurten Observation tower-it's free.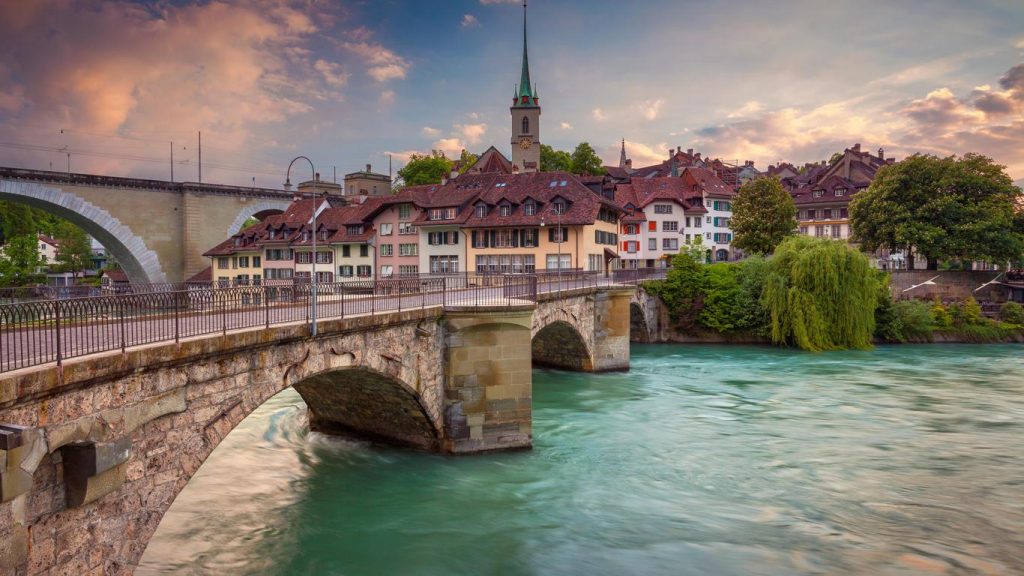 Getting there is very easy. Don't miss the ride in the century-old funicular up to the mountain. The funicular valley station may be reached in about 15 minutes by streetcar no. 9 from Bern's central station. Gurten Funicular runs daily throughout the year and departs every fifteen minutes beginning at 7 am.
Winter is a pretty satisfying period to visit Gurten as there are many thrilling activities, especially for children and adults, such as sledding and skiing.
You can look up the official website through this link for more details.
You will receive a Bern Ticket valid for your entire stay when you book one night's accommodation or longer at a hotel in Bern. All tram and bus routes in zones 100 and 101 of the LIBERO public transport network are included – along with the Gur-tenbahn funicular!
Unwind in the Rosengarten
The Rosengarten, also known as Rose Garden, is located at the top of a steep hill east of the Old Town and Aare Loop. The Rose Garden's relaxed atmosphere invites young and old visitors. During a stroll through the park, you can discover fountains, lawns, and many impressive sculptures.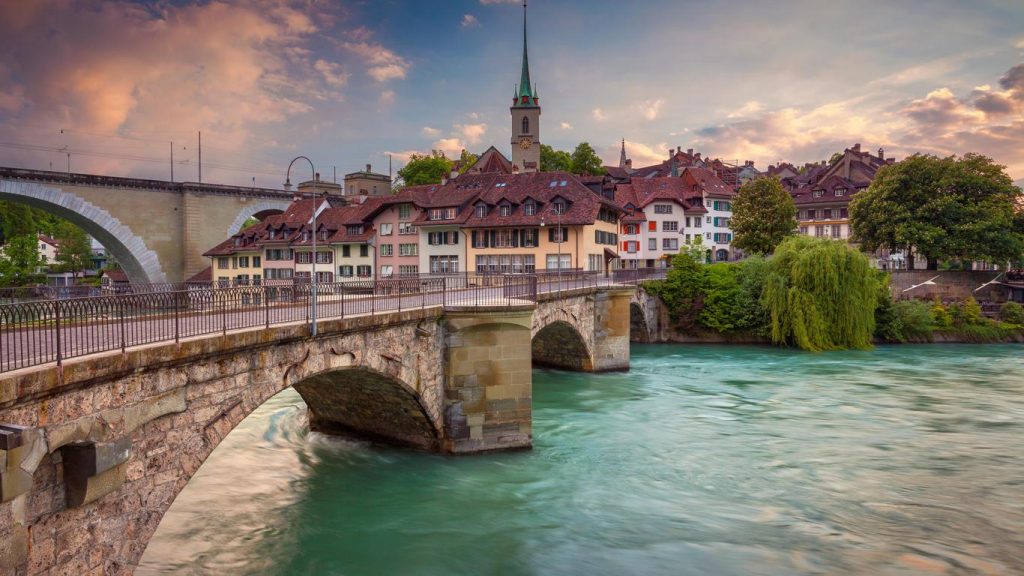 The Rosengarten has over 400 types of Roses and irises and a pond with lilies blooming in July. The spring and early summer are the best seasons to visit this garden. The blossoming of Japanese cherry trees in the spring is a particularly captivating sight. The exotic trees put on a stunning show of beauty towards the end of March and the beginning of April. Six months later, their leaves turn color, providing tourists with another dazzling display.
The finest place to unwind is the pavilion with a library and the adjoining reading garden. The library is open on Tuesday and Saturday afternoons from the end of April to the middle of October. The playground allows children to play and run around and gives a spacious feel to the garden.
The restaurant Rosengarten makes sure that the hungry bellies are filled. Soak up the sun while catching a breathtaking view over the city to the distant snowy Alps on the restaurant's sun terrace. You can refer to more information through this link.
Don't miss the Einstein bench next to the restaurant with a great city view. This is one of Bern's four Einstein benches.
Rose Garden used to fulfill a completely different purpose. It served as the cemetery for the lower part of the Old Town from 1765 until 1877. Its transformation into a recreational park took place in stages, and the garden has only been a public facility since 1913.
Explore the Zytglogge Clock Tower
This Old Town tower, built at the end of the 12th century as Bern's western city gate, has become an icon for its exceptional clock, erected in 1530. This 23-meter tower, located just above the entrance of the west building in the old section of town, is adorned with a massive astronomical clock. Visitors to the tower's interior are transported back in time by medieval clockwork devices, towering stone walls, and massive wooden beams.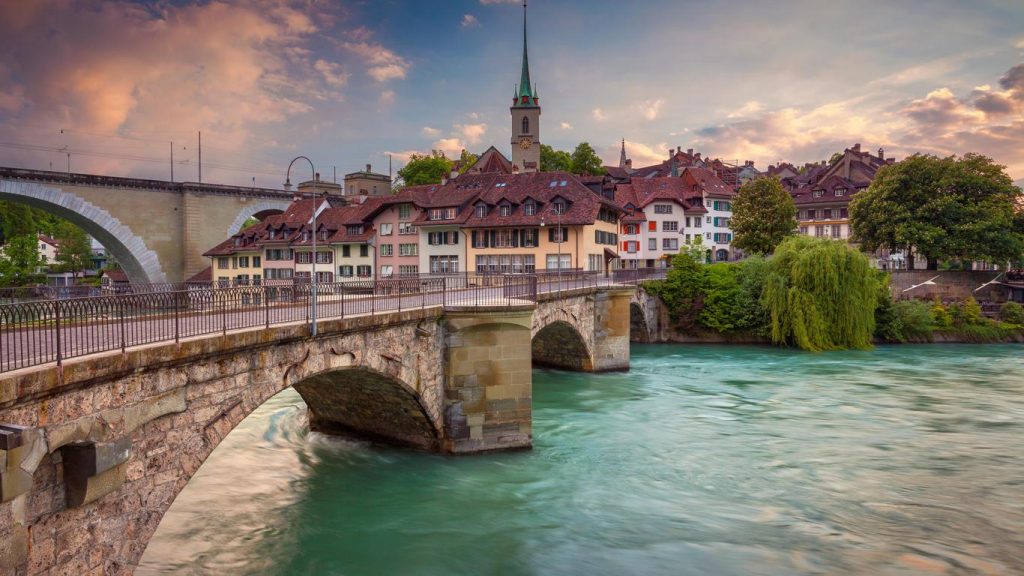 A gilded figure at the top of Bern's medieval clock tower strikes the original 3,000lb bronze bell with a golden hammer every hour on the hour. A series of bright mechanical figures start moving in anticipation of the chimes: a laughing red jester, some parading bears, a flapping gold rooster, and bearded Chronos, the god of time, who turns his hourglass.
When you climb up the stairs, after 130 steps, at the top, there's a close-up of the Zytglogge's intricately crafted astrolabium. This astronomical calendar clock is the tower's outstanding feature.
If you want to catch behind the scenes of the medieval clockwork mechanisms of the clock tower and hear fascinating facts and their hidden stories, it is always best to have a tour guide.
Einstein Museum & the Historical Museum of Bern
The Historical Museum of Bern is housed in a 130-year-old building. Andre -Lambert -designed a structure modeled on 15th-century castles, united with the Einstein Museum to establish Switzerland's second-largest museum. The Bern Historical Museum is one of Switzerland's premier cultural-historical museums, with a collection of about 500,000 specimens of worldwide historical interest dating from the Stone Age to the present day and representing cultures from all over the world.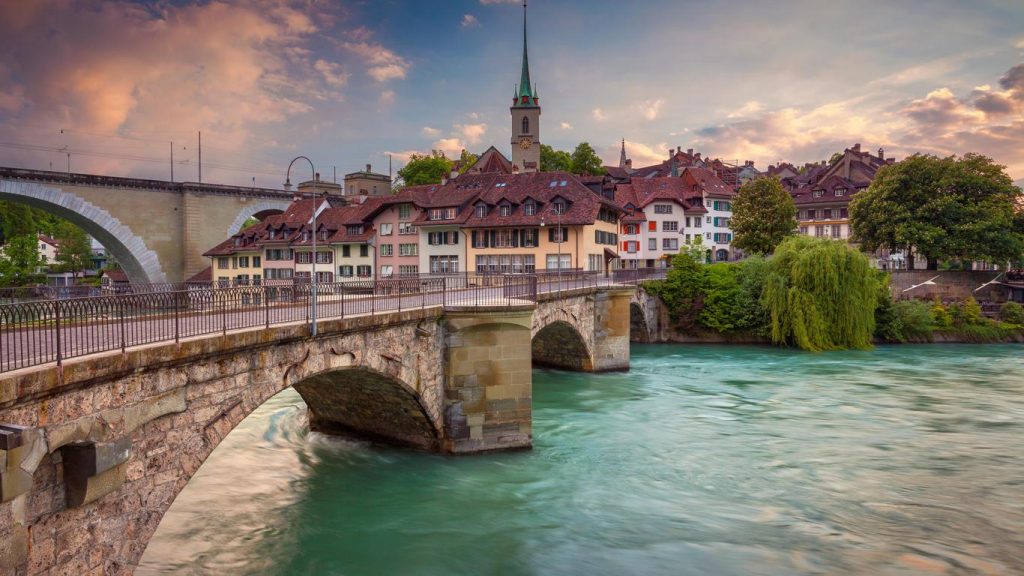 The Einstein Museum is dedicated to the life and times of the world's most famous modern scientist, Albert Einstein. In a 1000 square meters exhibition area, the Museum chronicles various aspects of Einstein's life. There are about 550 unique objects, 70 films, and several animations.
You need at least 1.5 – 2 hours for a quick look into the museum, but you can easily spend half a day there too. The museum is closed on Mondays and open on other days from 10.00 am to 5.00 pm.
While wandering around the Bern Historical Museum park, don't miss out on the unique encounter with a life-sized bronze statue of the great physicist on the Einstein bench.
You can look up the official website through this link for more details.
Say Hello to Bern Bears at Baren Park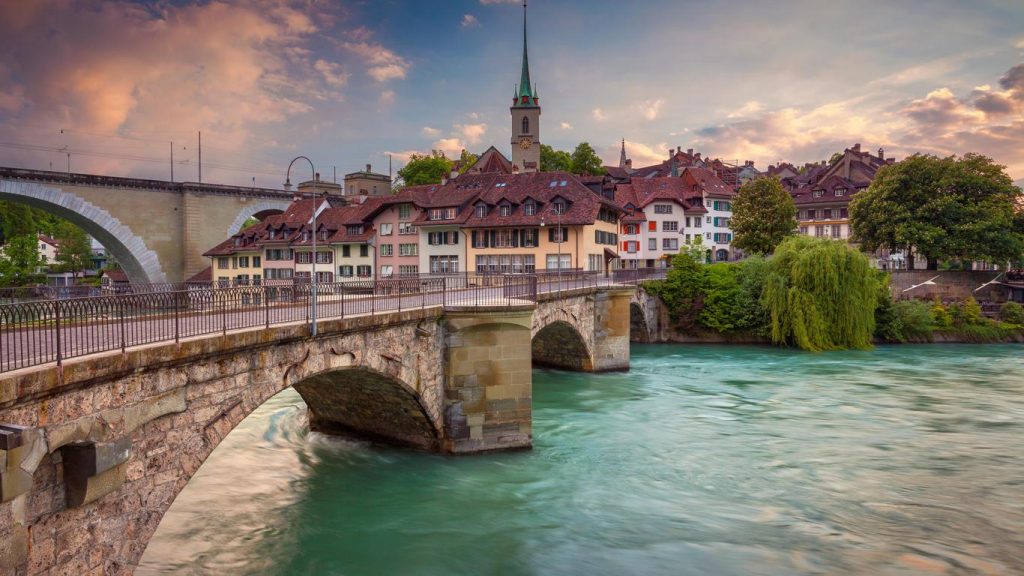 The Bear Pit is a renowned Bern sight that is free to explore. Bern has always been fond of bears, and the animal was adopted as a symbol as early as the 12th century. The bear pit and 6,000 square meters of interconnecting enclosures now hold four brown bears: Byörk and Finn and their two pups, Ursina and Berna. They are frequently seen play-fighting in their grassy square, swimming in the 'bear bath.'
The bears' habitat was renovated in 2009 by installing a second, larger green enclosure connected to the original through a tunnel. The second enclosure contains a segment of the river where the bears may cool down as the temperature rises. It would be a pleasant and unique experience on your Bern tour to say hello to the furry citizens of Bern.
Float in the Blues of Aare River
The Aare River winds away, surrounding three sides of the city and bringing out the beauty of Bern more vividly. The Aare River is the longest in Switzerland, stretching 288 kilometers. It passes through several villages and towns and a variety of breathtaking landscapes.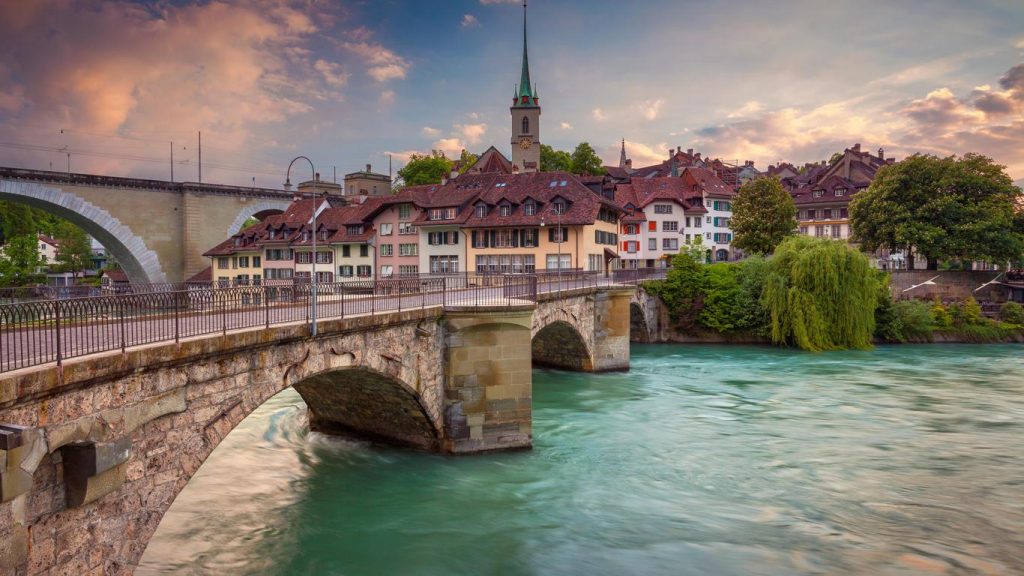 A stroll along the Aare River will relax your mind and body. The walk begins at the bear park and continues through zoos, restaurants, ponds, and numerous landscapes. In Bern, the Aare River provides a unique swimming experience by floating down, one of the favorite local experiences. There are many routes you can try based on your interest.
Since 2017, swimming in the Aare River has been on UNESCO's list of living traditions and is part of Switzerland's intangible cultural heritage.
Rafting down the Aare is an excellent way to see some of Bern's most lovely spots from a unique vantage point. You'll float by gentle hills, castles, forests, islands, and charming areas along the riverbanks while taking in breathtaking views of Bern's famed mountain chain.
The world record for Aare river rafting was set in Bern in 2012 when 1,268 persons drifted down the Aare River on rubber boats from Kiesen to Eichholz simultaneously.
Helicopter Tours
If you're seeking something completely mind-blowing in Bern, consider taking a scenic helicopter ride above the Swiss Alps. Because of its convenient position, Bern offers a wide range of helicopter tours.
Bern's Cuisine
Bern provides a wide range of restaurants and clubs which offer typical Swiss cuisine and cuisine only available in Bern.
Rösti and Berner Rösti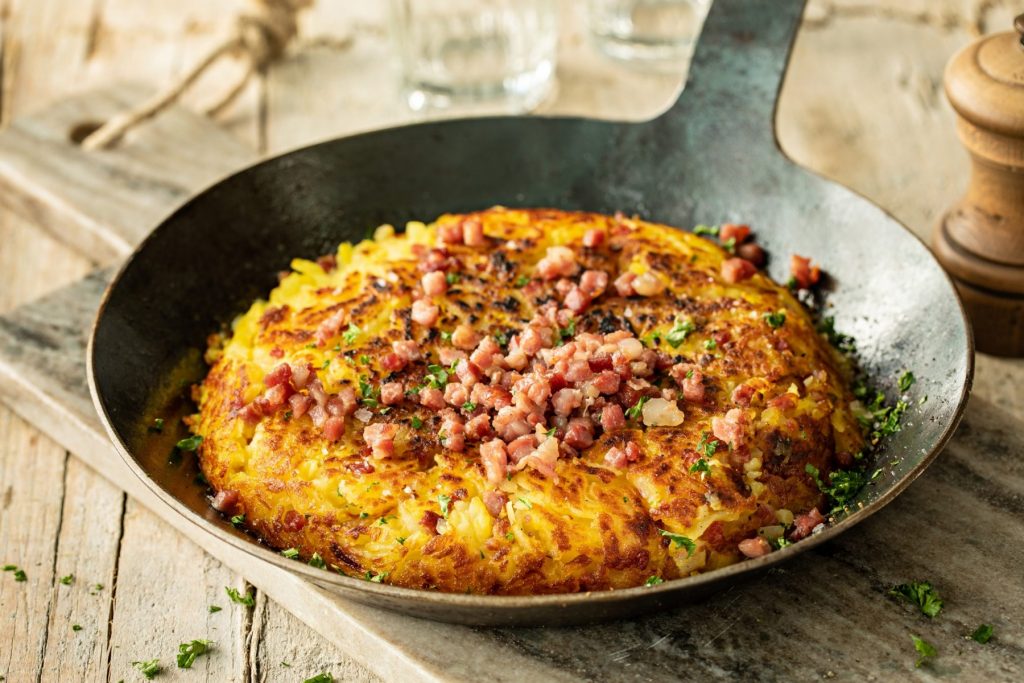 Rösti was initially eaten for breakfast by Bern farmers, but it is now a popular side dish with several variants. Potatoes for rösti are cooked, peeled, cooled, shredded into long strips, then fried in butter, oil, salt, and maybe bacon grease.
After that, the meal is divided into wedges and served. Herbs, onions, ham, or shredded cheese can also be added to the feed to improve the taste. Rösti is filled with Frankfurter Grüne Soße, a cold herb sauce made in Frankfurt with sour cream, spices, and herbs, and it can be paired with St. Galler Bratwurst, a traditional Swiss sausage and Apremont, a white wine.
Berner rösti is a typical Swiss rösti that originated in Bern. This form of rösti differs from the conventional rösti owing to the addition of chopped bacon, and the potatoes are finely shredded.
In Berner rösti, the potatoes are finely shredded, salted, and combined with diced bacon. On both sides, the mixture is cooked in butter over medium heat.
Berner Platte
The Berner Platte is a classic Swiss meal from Bern. It is a big platter with various sauerkraut, meat, offal, potatoes, and green beans. During the preparation, the heart is boiled with onions and bay leaves, the green beans are sautéed in butter, the potatoes are boiled and fried with butter and chives, and the sauerkraut is cooked in white wine with currants and bacon.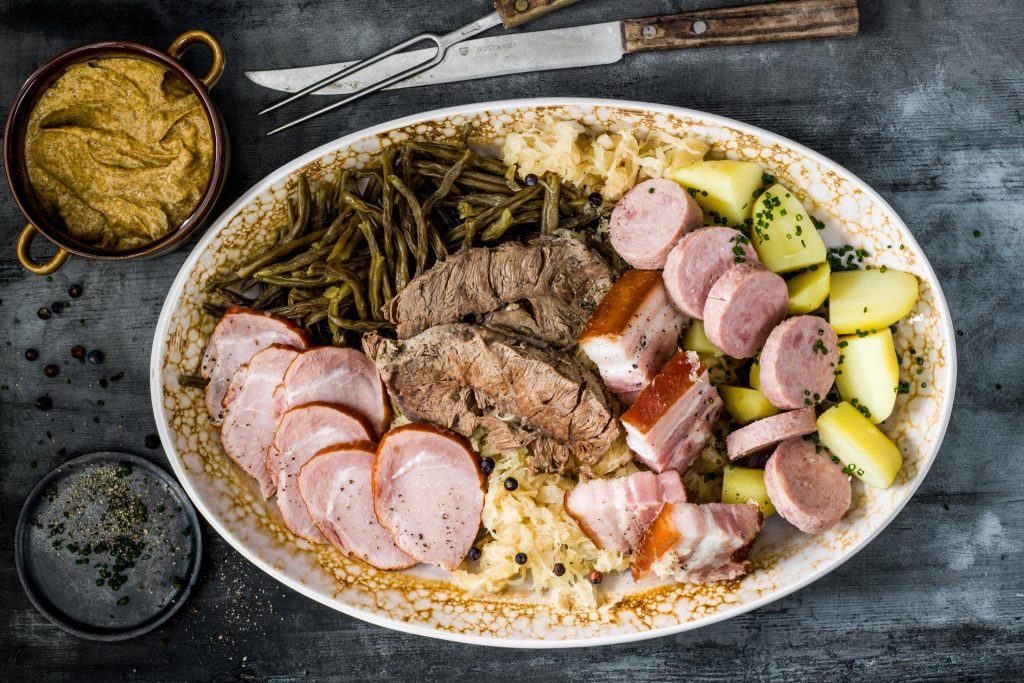 Emmentaler and Other Swiss Cheese
Emmentaler is a semi-hard Swiss cheese made with raw cow's milk. It must be aged for at least four months, though some varieties can last longer. This traditional Swiss cheese was named after the Emme River in the canton of Bern, where cheese-making has been practiced since the 13th century.
Although the ultimate flavor profile depends on maturation, the cheese is typically nutty and tangy, with scents of fresh hay. Emmentaler is generally served sliced or cubed, although it also works nicely in various meals. Other Swiss cheese may include Sbrinz, Tête de Moine, Gruyère cheese, Appenzeller, Raclette du Valais, etc.
Älplermagronen
Traditional Swiss cuisine includes pasta, potatoes, cream, cheese, and onions.
Birchermüesli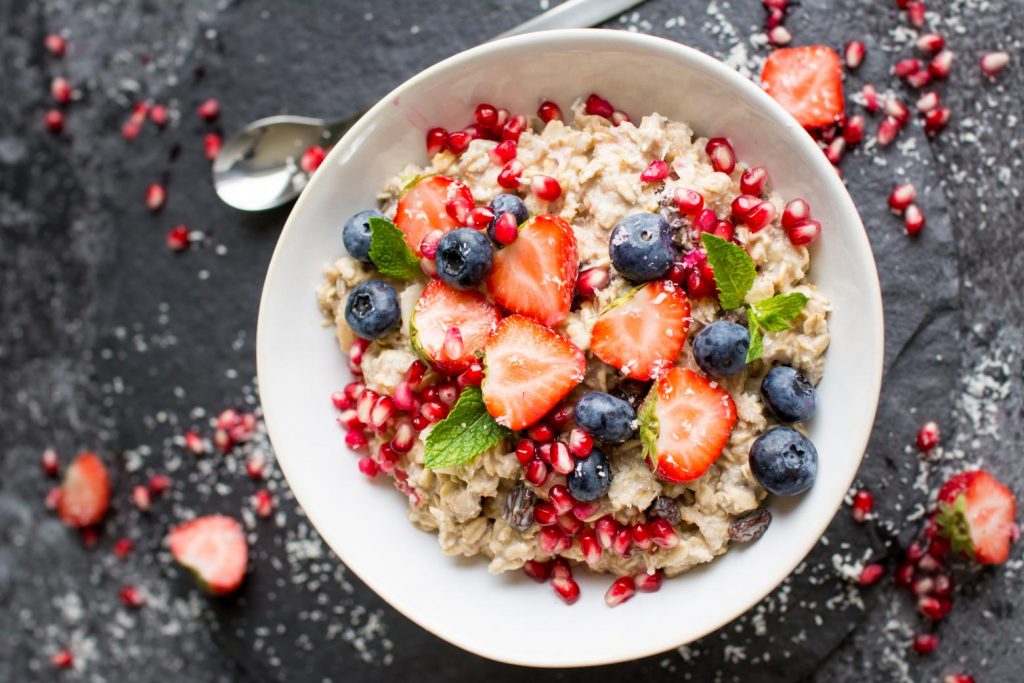 Birchermüesli is essentially oats soaked in fruit juice or milk and topped with nuts and fruit. It has a long history and several variations. A Swiss doctor, Maximilian Bircher-Benner, invented the original in the early 1900s. It originally consisted of oats, grated apples, almonds, lemons, condensed milk, and honey, but individuals have become creative with the recipe over time.
Spätzle
Spätzle is an egg noodle commonly served as a side dish with gravies or sauces.
Blue Cake
The famous Swiss blue cake, a Frutig Valley delicacy, is neither blue nor a cake. It's a plain puff pastry with no fillings or toppings made at local bakeries since the 1900s.
Mandelbärli
This was born in 1989 to fill an antique German-made bear-shaped mold with a tasty cake mix. This sweet bear has various flavors, including Irish cream, strawberry, and gluten- and lactose-free options.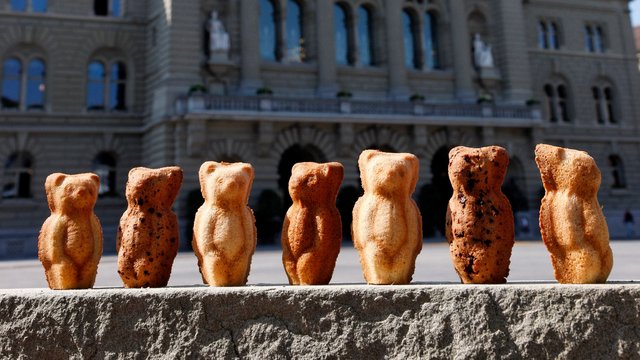 Kambly Biscuits
This has been baked for almost 110 years, using the original recipe. Fresh butter and eggs from Emmental and flour from the village mill contribute to the exceptional taste of Switzerland's most famous branded biscuit.
Beer
The canton of Bern has the most significant density of (micro) breweries in the country, making Bern the "beer capital" of Switzerland.
Where to Eat in Bern
The great Bern cuisines, including the above delectable meals, are available in Bern's restaurants, hotels, and cafés. So, go to some of the below places to try them out:
Beer Places in Bern
Below are a few beer places available in Bern for you to try,
Nightlife in Bern
In Bern, your evening and night plans will undoubtedly take care of themselves through available clubs, bars, and activities, including drama and movie theaters, sports, and leisure activities.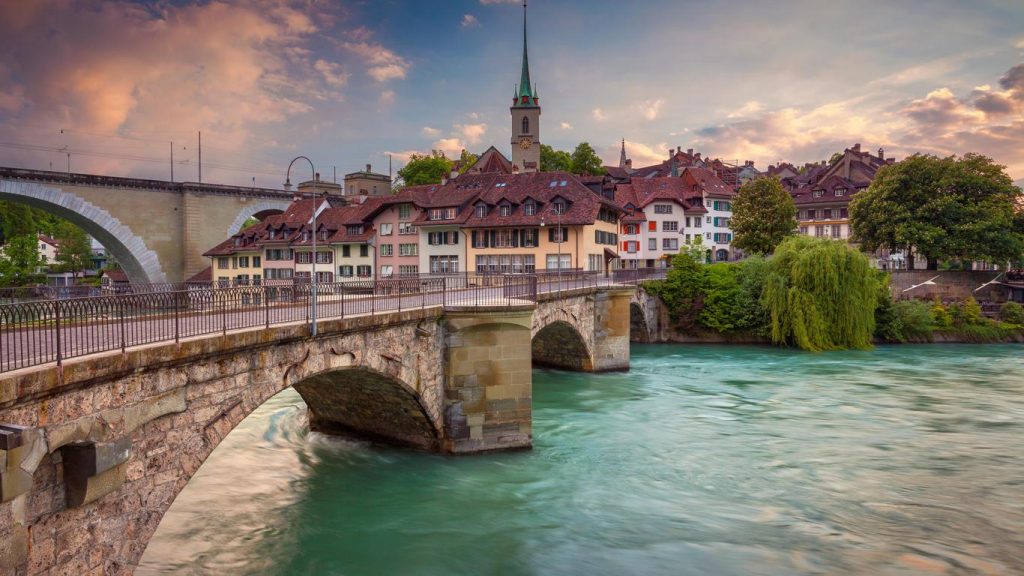 Bern officers a wide range of nightlife activities, including;
Clubs
Bars
Activities

Drama and movie theaters
Casino
Sports and leisure
Clubs in Bern
Below are a few clubs available in Bern for you to try,
Bern has public transportation until the early morning hours
Bars in Bern
Below are a few bars available in Bern for you to try,
Evening and Night Activities
Bern offers a variety of evening and night activities you can try. Below are a few of those,
Stay in Bern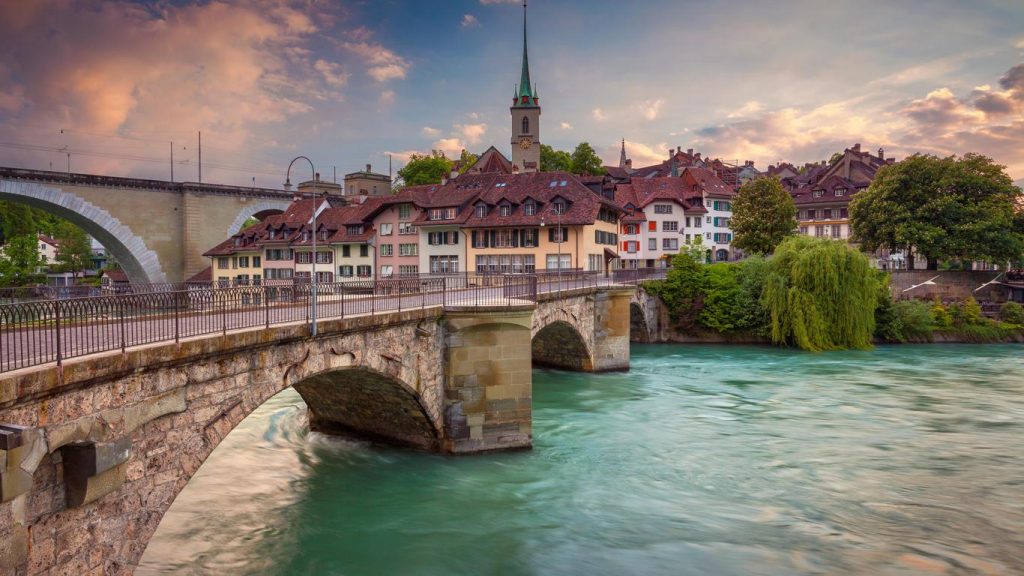 When looking for accommodation in Bern, it offers a variety of capacities, including backpacker hostels to luxury hotels, from suites and rooms to apartments and even Camping.
Luxury Hotels
Hotel Schweizerhof Bern
Bellevue Palace
Hotel Belle Epoque
Mid-Range Hotels
Hotel Alpenblick
Hotel Jardin Bern
The Bristol Bern
Budget Hotels
Hotel Landhaus
Ibis Bern Expo
Bed & Breakfast Wildrose
Apartments
Mohnhaus Apartments
Max Aviation AG
Stiftung Urgestein, Weitblick-Haus
Glandon Apartments Gümligen
Stay KooooK Bern Wankdorf
Hostels
Hostel 77
Jugendherberge Bern
Camping
You can visit one of our numerous camping sites in the capital city, directly by the Aare, or in the neighboring regions and enjoy the outdoors.
TCS Camping Bern – Eymatt
Bern City Details
Map of Bern
Bern's map is available through this link.
Besides the above map, Bern's Discovery Map will help you navigate the city and provide excellent recommendations for getting to know the Bern area even better. The discovery map can be seen on this link.
Going Around Bern
You may begin exploring as soon as you get to Bern because there are many options, whether by foot, public transportation, bike, or rickshaw.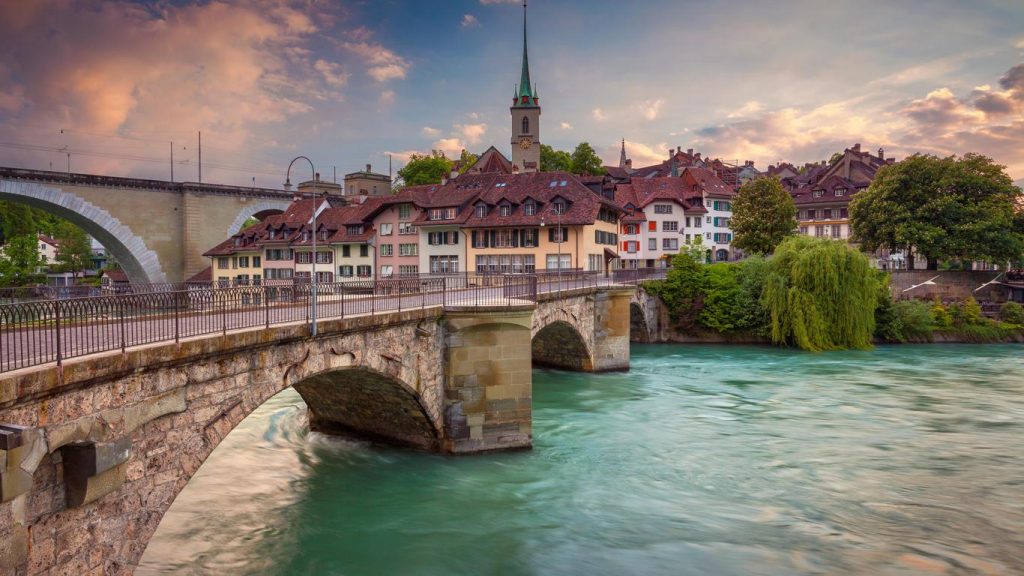 Bern's city center is easily accessible by foot due to its small size.
Six kilometers of arcades ensure you can fully explore the UNESCO World Heritage Site.
Bern has an extensive public transportation network, including multiple streetcar and bus routes. Tickets can be purchased at the stations' ticket vending machines, at the BERNMOBIL store in Bern's central station, or through the SBB-App.
Bern offers many bike rental options, including standard, e-bikes, road cycles, and cargo bikes. Using PubliBike day tickets, you may comfortably ride your bike or e-bike around Bern and its surroundings.
Through a 10-minute bike ride out of town, you can enjoy the pure air of the countryside, the verdant fields surrounding you, and the breathtaking panoramic view of the Bernese Oberland peaks.
Several taxis are accessible at taxi stations located around the city. Taxis can also be booked over the phone or called down on the street by waving.
It's worth noting that, compared to other European cities, a taxi in Switzerland is quite expensive.
Several bus rental firms provide anything from a minivan to a coach.
If you prefer not to use public transportation, cabs, or buses in Bern, you may go in your car, such as an exquisite limousine or a fun rickshaw.
Bern offers multi-story car parks and compulsory parking discs. Parking tickets for four or twenty-four hours are available at the Bernmobil ticket machine and the tourist office at the station.
This link lets you get details on multi-story car parks, including current occupancy rates, parking locations, and charges.
Bern Ticket
The Bern Ticket is free if you spend at least one night in hotels or tourist accommodations. Wh gives you free access to all public transit in the core city zones, the Marzilibähnnli and Gurtenbahn funicular trains, and shuttles to and from Bern Airport.
Bern Ticket Instructions are available through this link.
Bern City Applications
The Bern Welcome app offers your city tour valuable information, a complete city map (with augmented reality), recommendations for restaurants, museums, and activities in and around Bern, and an overview of current events.
You can access and get details of more Bern city applications through this link.
I hope this mini tour of us around the wonders of Bern inspires you to make Bern your next tour destination. 
FAQs
Why is Bern famous in Switzerland? 
Bern is Switzerland's capital and political center, where three sides of the UNESCO World Heritage Site, Bern Old Town, are bordered by the longest river in Switzerland, the Aare River.
Is Bern French or German speaking?
The official language of Bern is German
Is Bern, Switzerland, a beautiful city? 
Yes. Bern is Switzerland's fairytale capital city, located on the banks of the Aare River, and is one of the most attractive spots in the country.
recreational activities
Yes, because of its beauty and the location of Bern, the capital of Switzerland, it offers various experiences, such as sightseeing, adventure, and other recreational activities. Also, this is an ideal place to visit if you are considering bringing your kids along, as it is fun to be a child in Bern!
What percentage of Switzerland is German?
Over 60% of the Swiss population speak German as their primary language
Do they speak English in Switzerland?
Over 45% of the Swiss population can speak English
Is Switzerland more French or German?
The percentage of the population who speak German is high than French.
People also viewed: