White beaches are a captivating sight, drawing tourists and locals alike to their pristine shores. With their pure white sand, these beaches exude an irresistible allure of beauty and tranquility. The glistening sand, resembling fine grains of quartz or coral, creates a mesmerizing effect, reflecting the sun's rays and creating a luminous and inviting atmosphere.
The phenomenon of white beaches can be attributed to the composition of the sand itself. The presence of tiny particles of quartz or coral lends a remarkable whiteness to the sand, giving it a light and bright appearance. These natural elements contribute to the beach's aesthetic appeal, creating a striking contrast against the vivid blue hues of the surrounding sea and sky.
White beaches can be found in various parts of the world, but they are most commonly found in warm and subtropical regions that possess coral reefs or quartz deposits. These areas provide the perfect conditions for the formation of dazzling white beaches, as the coral or quartz fragments gradually accumulate over time, resulting in the creation of these stunning coastal landscapes.
Whitehaven Beach, Australia
Whitehaven Beach is a famous beach in the Whitsunday Islands, a group of islands off the coast of Queensland, Australia. It is often considered one of the most beautiful beaches in the world because of its bright blue water and white silica sand.
Some important things about Whitehaven Beach are:
The beach is made of 98% pure silica sand, making it look white, soft, and fluffy. The sand is so fine that it feels fantastic when you touch it, even on hot days.
Whitehaven Beach runs along Whitsunday Island for more than 7 kilometers (4.3 miles), making it the longest beach in the Whitsunday Islands and one of the longest in Australia. Its large size gives tourists plenty of room to relax, walk, and enjoy the view.
Hill Inlet is one of Whitehaven Beach's most famous spots. It is a beautiful cove where the blue water meets the white sand, making a beautiful swirling pattern. It's gorgeous when the tide is low, and the changing sandbars make a beautiful mix of colors.
This white beach is part of the Great Barrier Reef Marine Park, so people can see turtles, stingrays, and tropical fish, among other sea things, when they go there. People also like to snorkel and dive in the seas around the island.
Whitehaven Beach is a protected area, and steps are made to keep its natural beauty. Visitors are asked to be responsible tourists, meaning they shouldn't leave trash behind, step on, or mess with the peaceful environment.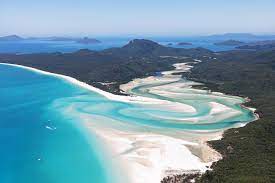 Grace Bay, Turks, and Caicos Islands
Grace Bay is a stunning white beach located on the island of Providenciales in the Turks and Caicos Islands, a British Overseas Territory in the Caribbean. Grace Bay Beach is often regarded as one of the most beautiful beaches in the world and has gained international recognition for its pristine white sand and clear turquoise waters.
Here are some key features and attractions of Grace Bay:
Grace Bay Beach is famous for its powdery soft, white sand, which stretches for approximately 12 miles (19 kilometers). The sand comprises finely ground coral and shells, creating a velvety texture underfoot.
The waters of Grace Bay are obvious and boast a mesmerizing turquoise hue. The calm and gentle waves make it an ideal spot for swimming, snorkeling, and other water activities.
The beach is situated along a vibrant barrier reef system known as the Princess Alexandra National Park. The coral reefs offer excellent opportunities for snorkeling and diving, allowing visitors to explore the colorful underwater world and encounter diverse marine life.
Grace Bay provides numerous options for water sports enthusiasts. Visitors can go kayaking, paddle boarding, jet skiing, parasailing, and take boat tours to nearby cays and islands.
The beachfront of Grace Bay is lined with upscale resorts, offering luxurious accommodations, world-class amenities, and stunning views of the beach and ocean. Many resorts provide direct access to the beach, allowing guests to enjoy the beauty of Grace Bay effortlessly.
The area around Grace Bay offers a variety of restaurants, bars, and cafes, serving both local and international cuisine. Visitors can indulge in delicious seafood dishes, enjoy refreshing tropical cocktails, and experience the vibrant nightlife in the nearby Grace Bay town centre.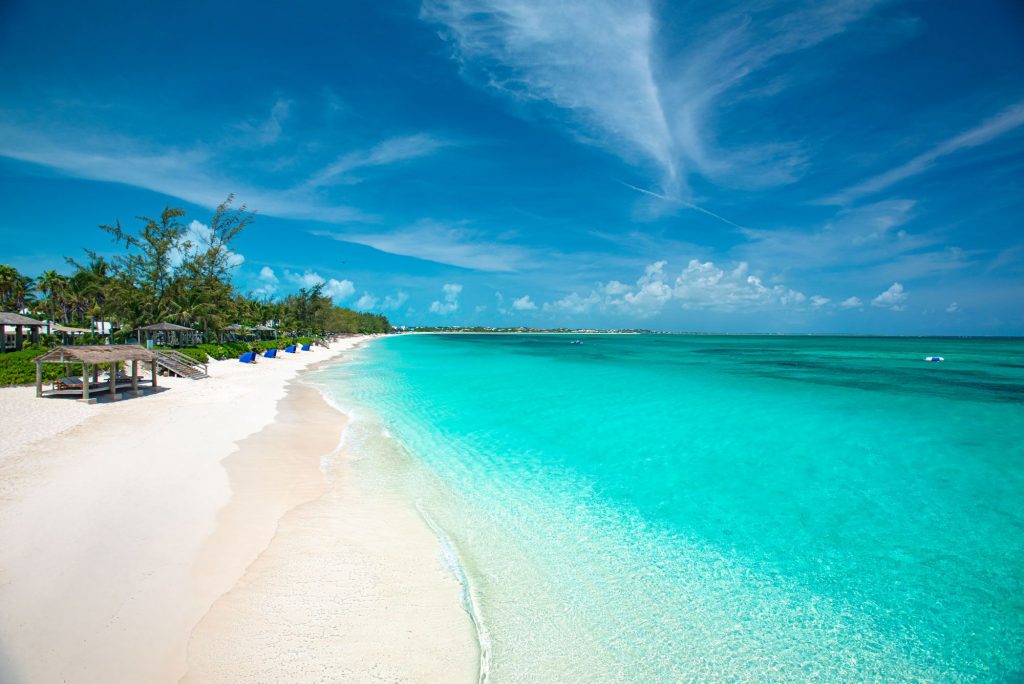 Anse Source d'Argent, Seychelles
Anse Source d'Argent is a famous beach on the island of La Digue, part of the Seychelles group. Many people think it is one of the most beautiful beaches in the world, and many tourists go there.
Anse Source d'Argent is known for its stunning natural beauty, powdery white sand, blue water, and impressive granite rock formations. The beach is full of enormous granite boulders that make beautiful scenery and give beachgoers natural alcoves and shade.
The flat and calm water at Anse Source d'Argent makes it even more beautiful. The crystal-clear water is excellent for swimming, snorkeling, and wading, and people can see the beautiful coral reefs and marine life just a short distance from the beach.
Palm and tokamak trees are along the beach's edge, adding to its tropical feel. Anse Source d'Argent is a great place to take pictures because it has turquoise water, white sand, and interesting rock formations. It is often featured on postcards and in tourist magazines.
Matira Beach, Bora Bora
Matira Beach is one of the most beautiful and well-known beaches on French Polynesia's tropical dream island of Bora Bora. It is at the southern tip of the main island and is often thought to be one of the best beaches in the world. Here are some of the best things about Matira Beach:
White Sand: Matira Beach has a long stretch of soft, powdery white sand that is very appealing. The sand is made of coral and shells that have been finely crushed, giving it a bright, clean look.
Crystal Clear Seas: Matira Beach's turquoise seas are known for their clarity and beauty. They let you see well enough to fish, swim, and do other things in the water.
Shallow Lagoon: A giant coral reef protects the beach and makes a shallow lagoon that is calm and quiet. This makes it great for swimming and walking slowly, especially for families with kids.
Palm Trees and Shade: Coconut palm trees provide natural shade on Matira Beach, surrounded by lush vegetation. People can relax under the trees or rent beach chairs and blankets to make themselves more comfortable.
Water sports: Snorkelling, kayaking, paddle boarding, and jet skiing are water sports you can do at the beach. People who want to explore the underwater world or have exciting adventures can rent equipment or go on guided trips.
Views of the sunset: Matira Beach is famous for its beautiful sunsets. Watching the sunset and filling the sky with bright colors is famous and romantic for tourists.
Nearby Attractions: There are many hotels, resorts, bars, and shops for tourists along the beach. You can eat fantastic Polynesian food, buy souvenirs, or sign up for tours to see more of Bora Bora.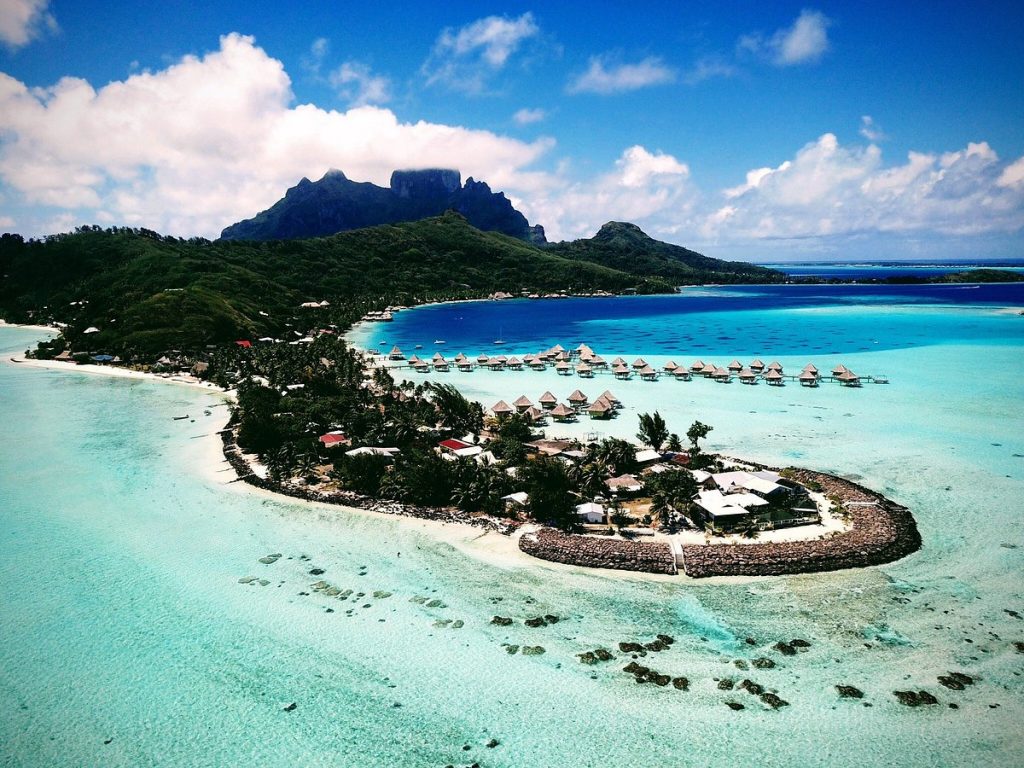 White Beach, Boracay, Philippines
White Beach in Boracay, Philippines, is one of the world's most popular and well-known white beaches. It is on the western side of Boracay Island, which is in the Philippines and is part of the Western Visayas area. White Beach is known for its powdery white sand, clear blue water, and beautiful sunsets. It is about four kilometers long.
Station 1, Station 2, and Station 3 are the three essential parts of the beach. Each region has its vibe and things to offer. Station 1 is known for its quieter, higher-end resorts, while Station 2 is where most restaurants, shops, and bars are. Station 3 is more laid-back and cheaper than the other two.
At White Beach, you can swim, fish, dive, paddleboard, sail, and do other things in the water. It's great for new and experienced swimmers because the calm water and the hills are pretty high. The beach is also known for lively nightlife, with parties and live music at beachside bars and clubs.
White Beach is Boracay's most famous attraction, but other beautiful beaches are on the island, such as Puka Shell Beach, Diniwid Beach, and Bulabog Beach. Boracay has been recognized for tourists because of its natural beauty and lively atmosphere. However, it's important to note that the island has been rehabilitated recently to fix environmental problems and ensure it will be around.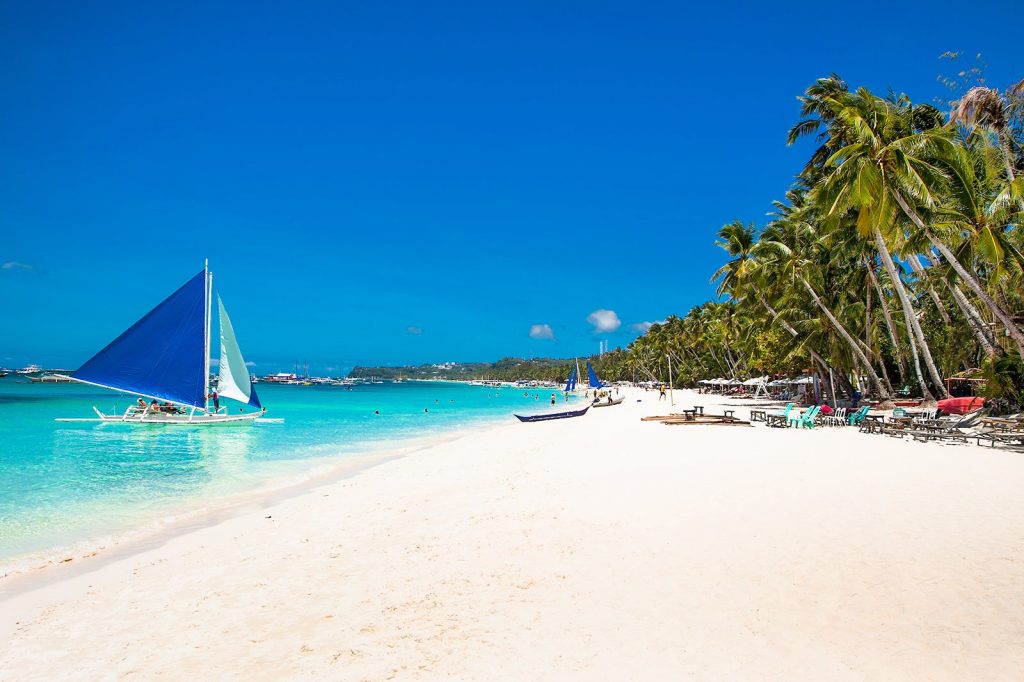 Conclusion
White beaches are beautiful natural sights that draw people from all over the world. With their clean, fluffy white sand and clear blue water, these beaches are a peaceful and lovely place to relax and play. White beaches are a treat for all the senses, whether going barefoot on the soft sand, soaking up the sun, swimming in the clear water, or just taking in the beautiful scenery. They show how beautiful nature is and are popular tourist spots. They offer unique experiences to people who want to get away from the busyness of everyday life and enjoy the beauty of nature. White beaches are real gems of the coast, reminding us of the beauty and wonder of our planet's many different and stunning environments.
Happy Travels!
People also viewed: