When we returned to Europe this summer, we were reminded of how essential a destination's cuisine is to go along with our experiences and activities. Europe is home to some of the best cuisines on the planet. Spanish cuisine has the ideal degree of elegance to complement otherwise straightforward recipes. Because of the regional diversity, there will always be something new to experience while traveling, including access to delectable fresh farm-to-table or ocean-to-plate fare.
Spain differs from its neighbors, particularly Italy and France, in terms of the variety of its food. You won't get bored anywhere, from Valencia on the east coast to the Basque Country in the north. No matter if it's seafood, tangy soup, or delectable tapas. Learn also The Hidden Flavors of Mediterranean Food.
Traditional Spanish Food
We have spent much time in Spain and are huge fans of Spanish cuisine. This nation has an infectious passion for food. Each meal is a celebration. Undoubtedly, you will grow to share our love for Spanish cuisine, from the most well-known dishes to the lesser-known ones.
You will be satisfied whether you attempt some of these at home, enroll in a cooking lesson in Spain, or join one of the well-known food tours while you are there. These are some of our favorite Spanish dishes, which we recommend you try at least once.
Seafood Paella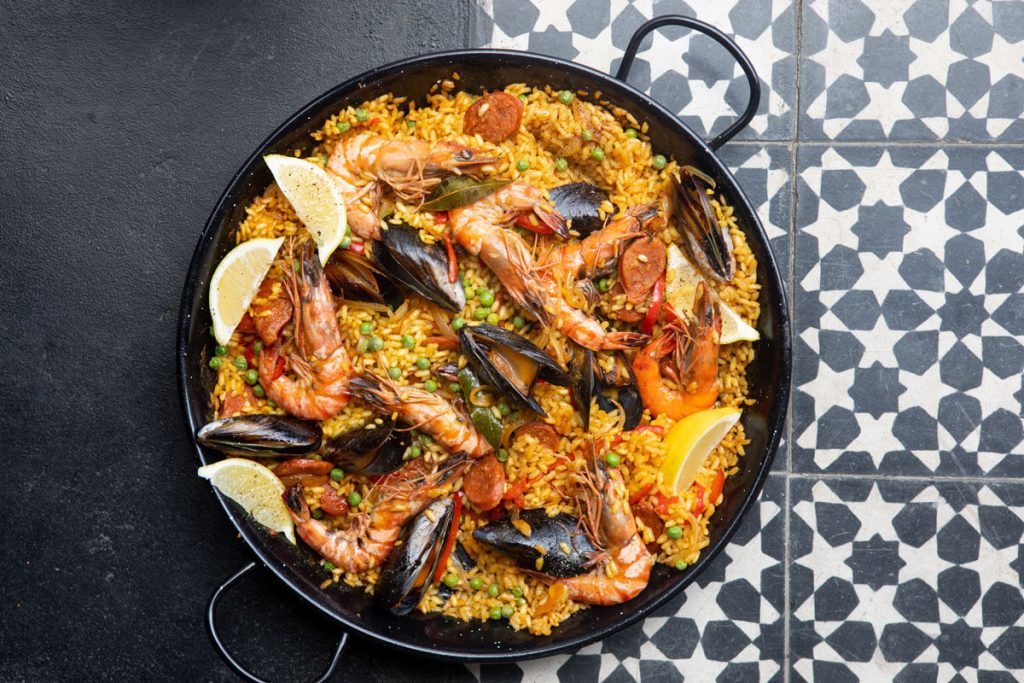 The pinnacle of Spanish food is paella. Many Spaniards consider this excellent lunch to be the national dish. Paella has a long history. It was first popularized in Valencia before spreading across the nation and the globe.
If you're a traveler familiar with Spanish food, you've probably heard of paella before. But as with many popular foods, the real deal prepared in the place where the dish was created is different.
If you travel to Valencia, you can sample the authentic paella, which consists of rice, Spanish saffron, rosemary, and mixed meat on top. Typically, this includes snails, rabbits, sausage, and chicken.
Jamon Iberico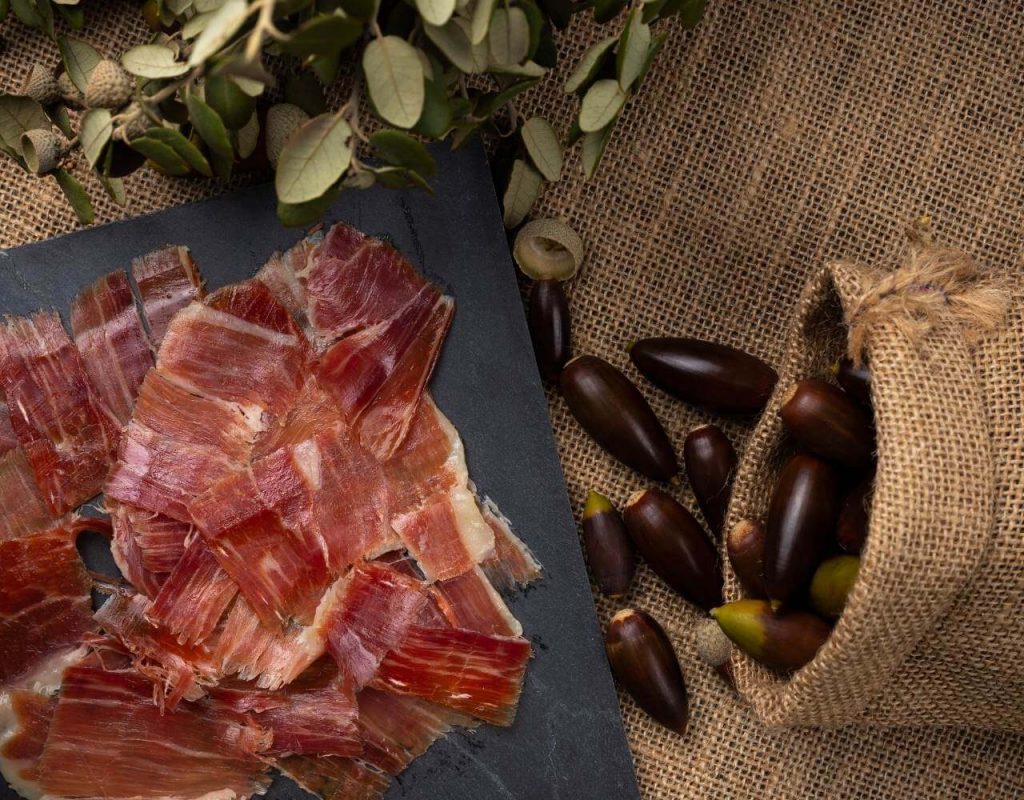 Did you know Spain is a top country for ham production and consumption? Over 35 million hams are produced nationwide each year. Once you taste Jamon Iberico, a cured ham meal, you won't find this number shocking. You can find the traditional Spanish meal, a prominent Spanish tradition, all across the country, with some of the more well-known variations in Madrid.
There are two types of cured Iberian ham available across Spain, with Jamon Iberico being more expensive and of more superb quality than Jamon Serrano. So why not reward yourself while you're traveling? It is one of the more famous hams on earth because of its savory-sweet flavor and smooth texture.
Jamon Iberico is one of those incredible Spanish delicacies you must have while traveling, much like Paella. Tostadas de Tomate y Jamon is a unique take on this Spanish dish, and you may also taste the ham by itself.
Chorizo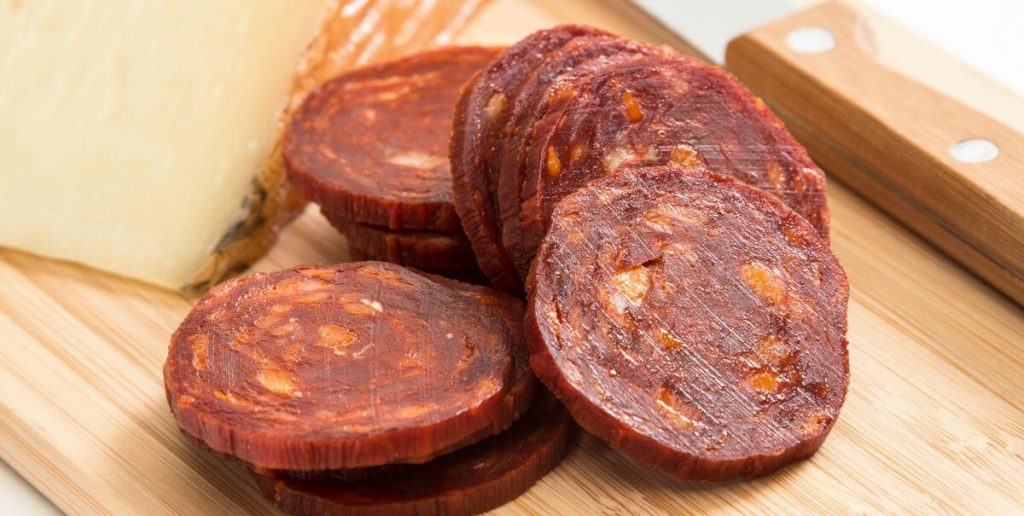 The best Spanish cuisine uses chorizo, which is a staple item that can be found worldwide. But the origin of the sausage dates to Spain in the sixteenth century. The excellent chorizo is now available in spicy, sweet, smoked, dry-cured, and even vegan forms, thanks to the five centuries that followed.
To return to its origins, however, traditional Spanish chorizo is a fermented, cured, and smoked sausage usually made from pork. After that, it is cut up and seasoned to taste with salt, Spanish paprika, garlic, and olive oil.
Throughout Spain, chorizos are divided into two categories: Picante (spicy) and Dulce (sweet) (sweet). This is the pimento (Spanish paprika) used in the well-known Spanish meal. Regardless of the variety, pimento gives chorizo its famous deep rouge color.
Zamburinas A La Gallega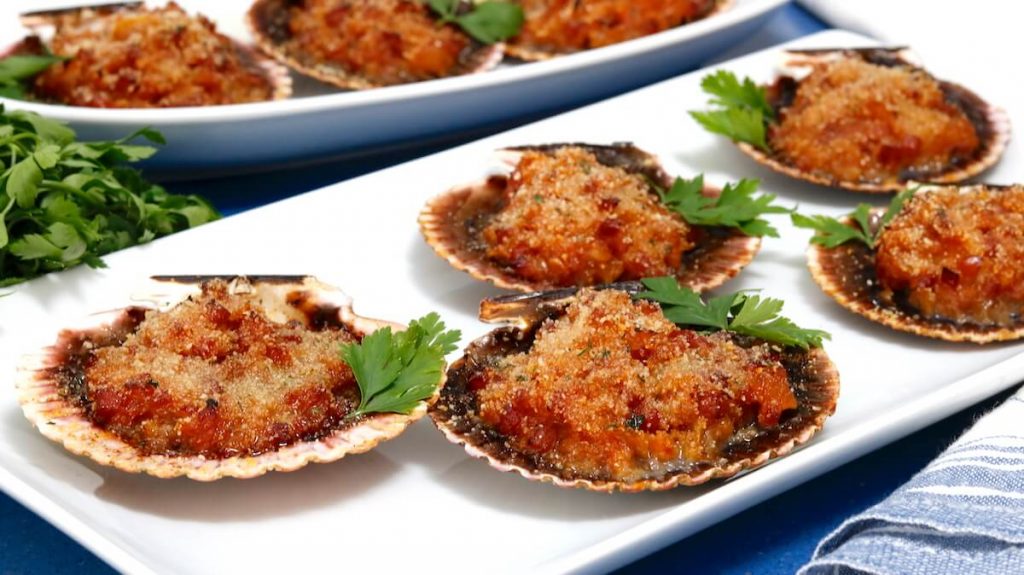 Zamburinas a la Gallega, one of Spain's top seafood dishes, originates in the country's northwest region, Galicia. Even while the town on the Iberian Peninsula is well known for its large wooded valleys, undeveloped beaches, and old lighthouses, the ocean gives the autonomous community one of the most well-known Spanish cuisines.
The renowned Galician scallops known as tambourines a la Gallega come from the margin of the Atlantic Ocean. While there are two varieties of scallops in Spain (the other is the sea scallop known as the Vieira), the tambourine, or variegated scallop, is known for its flavor and its distinctive shape.
Escalivada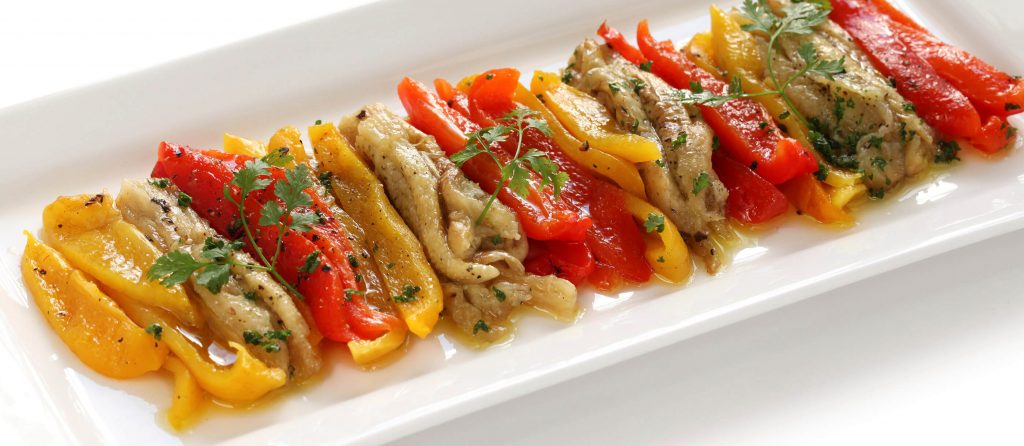 One of the more popular vegetarian recipes in Spain is escalivada. This is a blessing for vegan and vegetarian tourists and anyone who wishes to branch out in a country that is so focused on meat and fish.
The vegetable-heavy dish is Catalan, although it's also often consumed in Valencia, Aragon, and Murcia. Escalavida includes grilled veggies with a smokey flavor, such as eggplant, onions, and red peppers.
Gambas Al Ajillo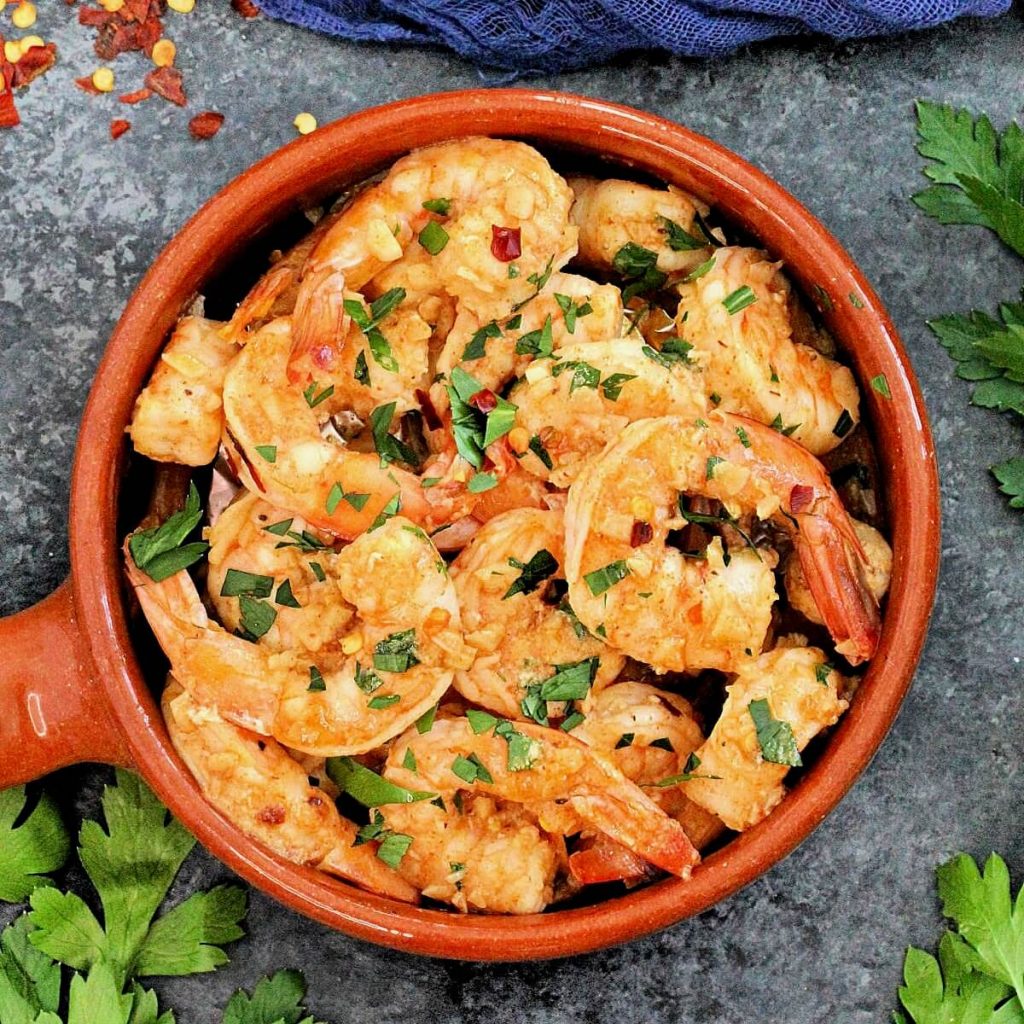 Spain is renowned for its plethora of flavorful tapas bars. Because there are so many shared small plates with delectable little meals, you'll often be able to skip the main meal and feel full and content.
Tapas has a long history dating back to King Alfonso X's reign. Word quickly traveled when he could only muster modest meals at one point while recovering from a sickness.
Grilled prawns with chili, olive oil, and roasted garlic make gambas al ajillo. The specific tastes combine to create a masterpiece that retains its flavor as you consume more.
Salmorejo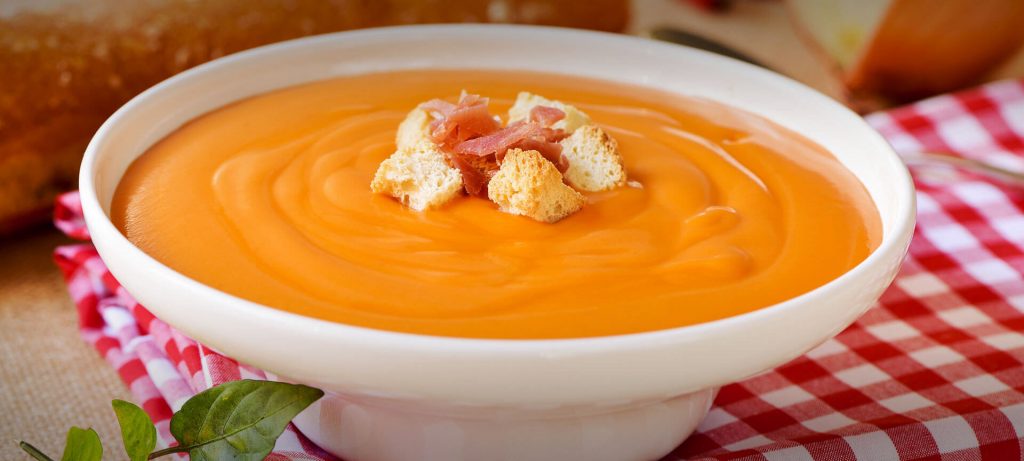 Tomato soups are popular for staying warm and well throughout the coldest months of the year when the sniffles and coughs are contagious in the neighborhood. However, the Spanish have developed a chilled tomato soup to cool off during the hot summer months when the heat is dispersed just as evenly by the old cobblestone streets as by the sun.
This soup's name is salmorejo, and it originated in the picturesque city of Cordoba in southern Spain. Although tomatoes had long been a key ingredient in Spanish cooking, this original addition produced one of the nation's most mouthwatering dishes.
Pulpo A La Gallega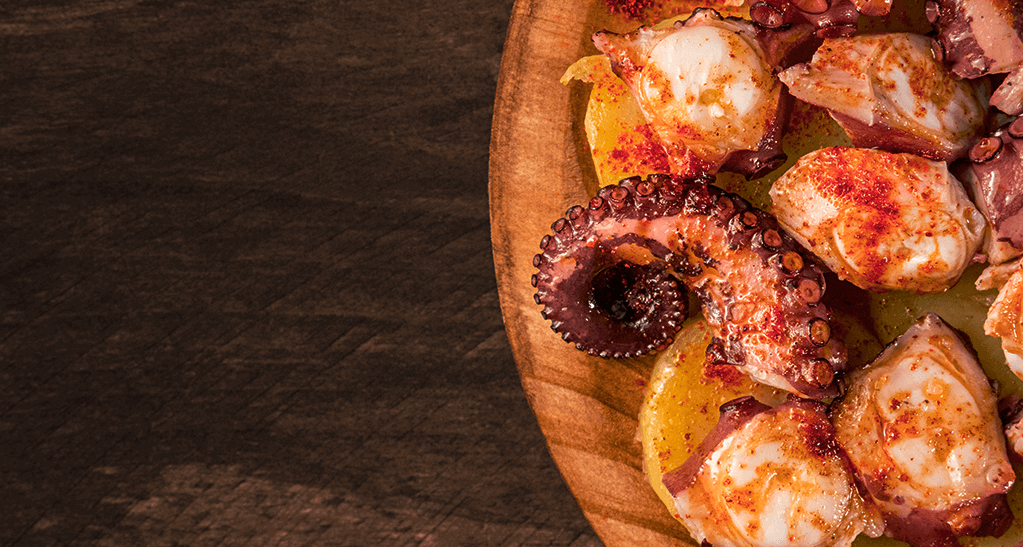 Although the octopus is an essential component of Spanish cuisine, we have yet to discuss it. Octopus has been a cherished component of regional cuisine for hundreds of years; it has come to be regarded as a delicacy. If you enjoy seafood, you'll be happy to learn that the Spaniards are among the best cooks of octopus.
A classic Galician meal called Polbo a Feira is more commonly referred to as Pulpo a la Gallega. Although the dish can be made at home, you must trust the northern Spanish chefs to deliver the dish's authentic flavors.
The octopus is traditionally cooked in a huge copper pot. The recipe has been improved over time, and the most incredible cooks have perfected the boil-down timing.
Bocadillo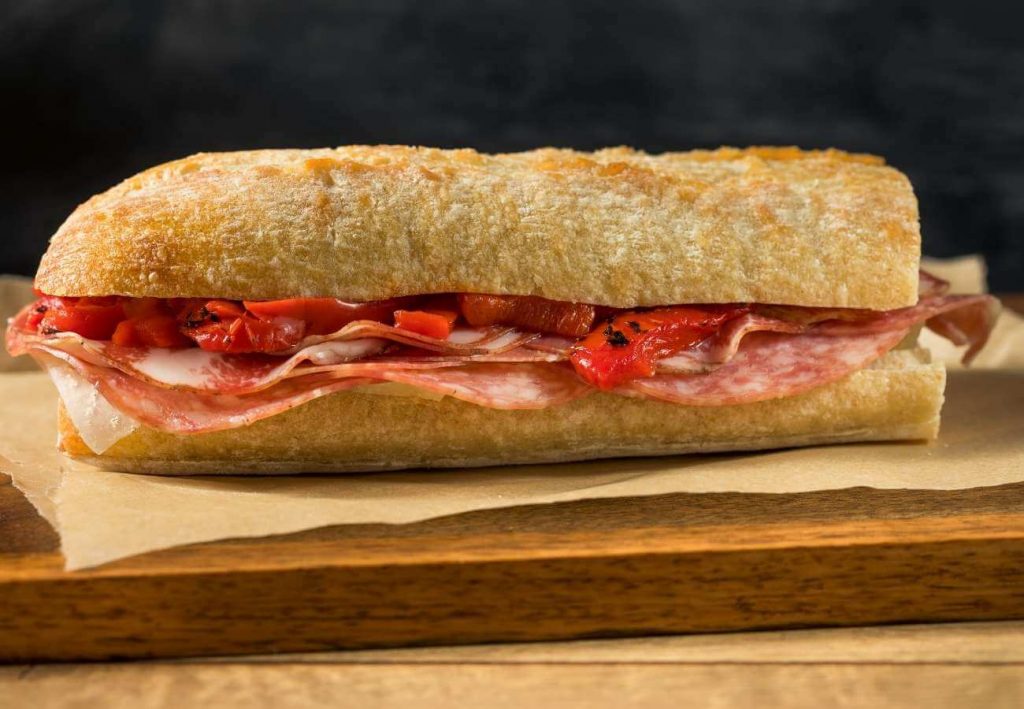 When traveling through Spain and you find yourself in haste, follow the locals' example and get a Bocadillo. This sandwich is a typical midday meal across the nation. This Spanish dish is a loaf of bread in the baguette style filled with your choice of cheeses, meats, and veggies to create a filling sandwich.
Since it was a cuisine that even the poorest people in Spain could buy, bocadillo has been a favorite for ages. As a result of the limitless filling options, which allow you to have a different Bocadillo every day of the week, it quickly acquired popularity across the country.
Gazpacho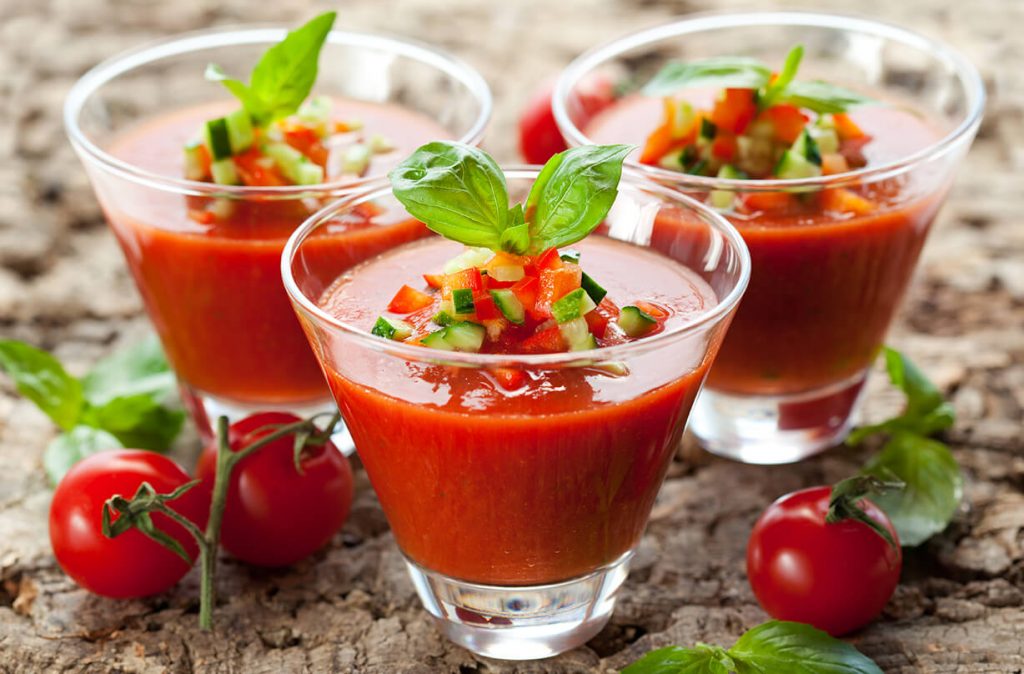 A cold soup, Gazpacho is similar to Salmorejo. Another instance of Spanish cuisine deviating from the norm is this. But I wonder if we travelers would choose anything different. Gazpacho is a traditional Spanish dish that uses raw and local vegetables rather than the typical steaming soup.
It won't keep you warm in the winter, but it's just as useful as a covaluablenk in the summer. Without weakening your resolve to endure the summer heat, the flavorful filler will fill you up and replenish your vitality.
Conclusion
Spanish cuisine is a gourmet excursion, ranging from rice dishes and appetizers to delectable sweets. The straightforward ingredients make it more than just a venue for daring eaters. Even those travelers who consider themselves more traditional eaters can participate in the fun.
Thanks to Spain's diverse regions, the Atlantic Ocean, and the Mediterranean Sea, you can sample n incredible range of foods. Getting away from Barcelona and Madrid to see smaller communities where you can sample traditional cuisine with a light nutritional profile that remains full of taste will reward travelers.
Spanish cuisine extensively uses veggies, but the people of Spain also like eating a lot of meat and seafood. Although there are more and more vegan and vegetarian restaurants in Barcelona and Madrid, this can present some challenges for vegetarians in settings like tapas bars.