The Heartbeat of Spain's Cultural and Artistic Scene
The largest city in Spain and its capital is Madrid. It's a place not to be missed, with electrifying energy, top-notch cuisine, and a raucous nightlife that lasts till dawn.
Madrid enjoys the night as its rival Barcelona does. The celebration doesn't start until several hours after dinner, usually at 9 or 10 o'clock. The early bird doesn't get the worm in Madrid; it's a city for night owls.
Madrid's many neighborhoods are ideal for getting lost in, gorging on tapas, and sipping sangria despite being somewhat vast. You will stay up late as you savor the city's pace and the hospitality of the residents. You will have a far richer and more in-depth experience in Madrid if you accept the late (and lengthy) lunches and late-night partying and live your life on Madrid's terms.
This Madrid travel guide will give you all the information you need to eat well, save money, and take in the city's top attractions!
MADRID, CAPITAL OF SPAIN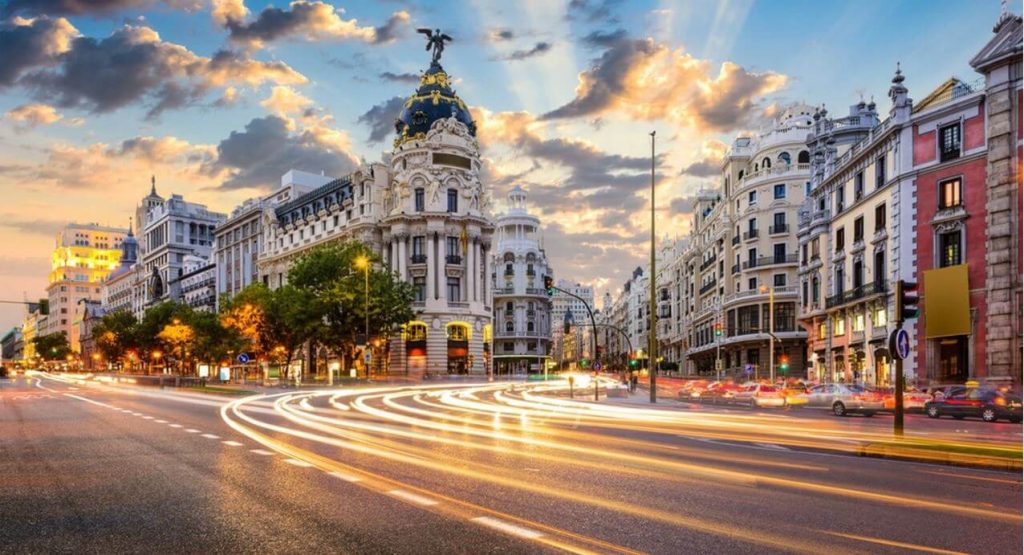 Before Philip II of Spain moved the capital from Toledo to Madrid in 1561, Madrid was not a significant city. After the Court was relocated, it was obvious that urban reforms were required, and soon suburbs arose outside the city's medieval walls, changing the course of the city's history.
4,060 people lived there in 1530; 37,500 did so in 1594. 3,300 beggars and 1,300 "genuine poor and crippled" persons were present in the Courts in April 1637. Most of them were tourists, ex-soldiers, and pilgrims from Galicia's Santiago de Compostela. These comprised the base of Madrid's socioeconomic pyramid, along with swindlers and thugs. Certain groups used the populace's unhappiness about rising prices and a shortage of bread as a pretext to incite disturbances, such as "The Riots of the Cats" in Madrid.
Many Spanish and international artists were drawn to the royal court, and the city developed as Spain's center for the arts and literature. The Plaza Mayor, the Town Hall, some churches, and the court jail are some of Madrid de Los Austrias' (the name given to the old city center) most remarkable structures.
WAR IN MADRID
Madrid played part in the War of the Spanish Succession in the eighteenth century, brought on by Charles II's untimely death and the absence of an heir. The royal houses of Austria (Habsburg), France (Bourbon), and Bavaria were interested in the empire (Wittelsbach). When Louis XIV of France (House of Bourbon) eventually dispatched his grandson to Madrid to become King Philip V of Spain, the nation was ruled by a member of the Bourbon family, as Madrid had supported the family since 1706.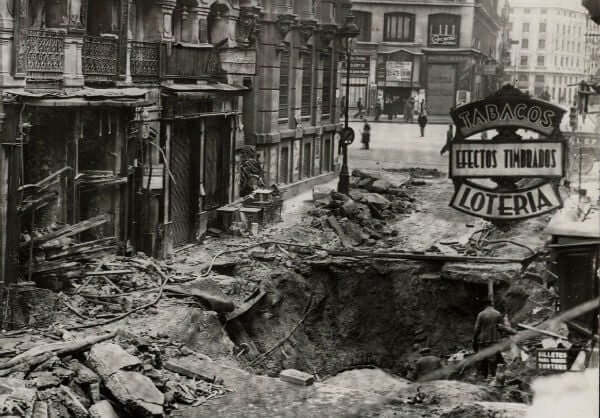 Philip V commissioned new palaces and structures as a token of gratitude to Madrid for its assistance, including the Bridge of Toledo and the Royal Palace of Madrid (1737), which was constructed to replace the Royal Alcazar, which burned down in 1734. IN PARTICULAR, Ferdinand VI of Spain and Charles III made significant efforts to modernize the city. Among other fascinating initiatives, they cleaned the streets, laid stone pavements, installed streetlights, and hired personnel to scour the streets at night. Charles IV carried on these changes, albeit more modestly.
MADRID'S HISTORICAL EVOLUTION
Madrid's society underwent a similar transformation, becoming less disorganized and diverse and more welcoming to liberal and artisan families. However, frequent famines continued to affect the lower classes, resulting in political unrest like the Esquilache Riots (March 1766) and the Mutiny of Aranjuez (1808). During the Dos de Mayo uprisings on May 2, the working classes of Madrid battled the French.
The Napoleonic Wars prevented the Bourbons from finishing their plans to develop and modernize Madrid. The 1830s saw the city's full recovery.
Due to Mendizábal's Desamortización Eclesiástica (the expropriation of church-owned property) in 1836, numerous historic convents and church-owned estates that had been purchased by traders, landowners, liberal workers, and financiers were destroyed between 1840 and 1850 to make way for new neighborhoods. Madrid was, nevertheless, essentially the same size as it had been under the Habsburg era.
MODERN MADRID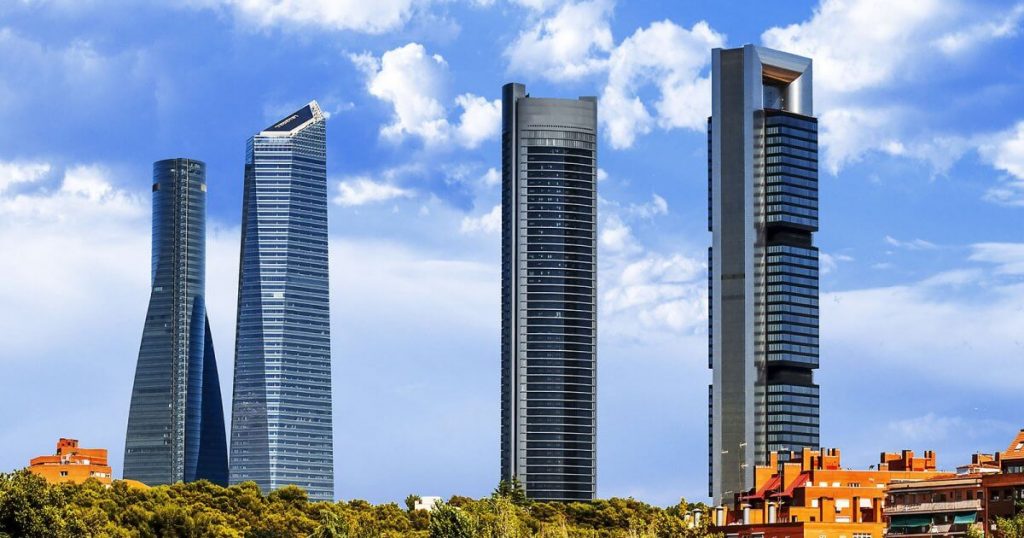 Because most industrial businesses in the 20th century were still extremely traditional and mainly served the city's needs, Madrid's population did not rise as a result of the city's industrialization. Immigration caused significant demographic shifts beginning in 1920, and by 1930, 46.9% of people living in the capital had been born outside of Madrid.
In addition to becoming a significant consumer market after World War II, Madrid saw a period of modernization during which huge corporations were established and certain industries, such as the chemical-pharmaceutical, metallurgical, and electromechanical, started to expand.
Madrid is one of the most significant cities in Europe, with a metropolitan area population of six million. Additionally, it has hosted significant congresses recently, including the 2019 COP25.
Madrid is a must-see location for short getaways and extended excursions because of the major concerts and sporting events celebrated in the city, which fill the neighborhoods with music and amusement.
BEST TIME TO VISIT MADRID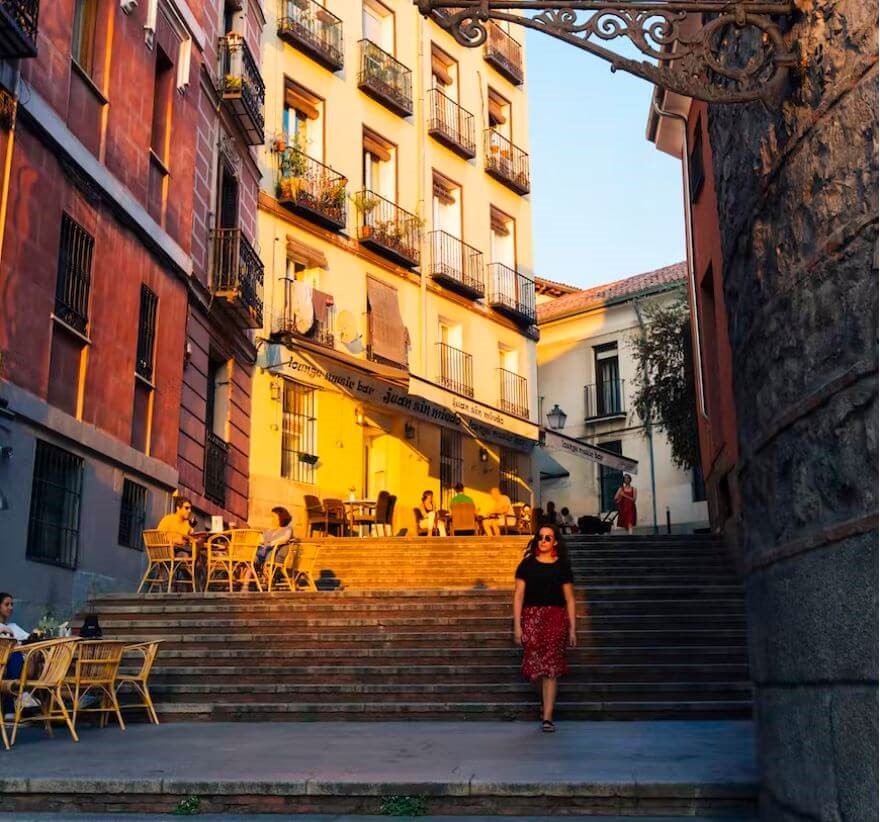 Personally, I believe that visiting Madrid is best done during the shoulder season (April-May and September-October). There is far less crowding at popular tourist destinations, and lodging costs are reduced. The average temperature, which hovers around 64°F (18°C), is nice. Pack a raincoat in case of light rainfall. In the spring, Semana Santa (Holy Week) marks the start of the festival season. In the fall, people make the most of the final few days of pleasant weather by mingling (late into the night) on rooftop pubs and outdoor patios before the city begins to cool off.
Even if the days can be freezing, traveling throughout the winter is still possible. Despite the poor weather, you'll have many attractions to yourself and the costs will be lower. Daily highs should be around 10°C (50°F).
TRAVELLING TO MADRID
Madrid has excellent domestic and international rail, air, and road connectivity. The main international airport is only 8 miles (13 km) from the city center, and it serves as the hub of the Spanish railway network. The city also has a very good road system.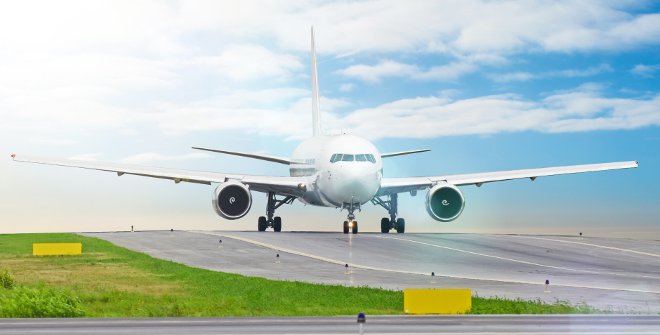 BY PLANE
The primary international airport in Madrid, Adolfo Suárez Madrid Barajas Airport, which is incredibly well-connected and close to the city center, is where all aircraft, whether low-cost or conventional carriers, land.
Four terminals are currently in use at Barajas. T4 was inaugurated in February 2006 and has won numerous honors for architect Antonio Lamela and Richard Rogers' designs. Nearly 26.8 million people used T4 during its first year of operation. 46.3 million people used the airport during the course of the same time period. Moreover, Madrid-Barajas offers 138,000 m2 of shopping and entertainment options for passing the time before boarding a trip. There are several possibilities, including churches, prayer spaces, dining establishments, and exhibitions.
GETTING AROUND MADRID
It doesn't take long for tourists to realize that few cities are as simple to navigate as Madrid. Madrid is a commuter-friendly capital thanks to its extensive public transportation network, which includes an effective and dependable subway system, a well-organized bus network and late-night buses, long-distance high-speed trains connecting to outlying Spanish towns, and even electric bikes with charging docks.
MADRID'S EXCELLENT METRO SYSTEM –
The Metro is the quickest, most dependable, and most efficient way to travel throughout Madrid. It connects the entire city and a significant portion of the suburbs, making it one of the biggest metropolitan networks in Europe. The most sensible and affordable way to go from the airport to the city center and vice versa.
FAST SUBURBAN TRAINS –
The Cercanias Renfe is your gateway to some of the loveliest communities on the outskirts of Madrid, day trippers, and city breaks. You can quickly travel to charming towns, World Heritage sites like San Lorenzo de El Escorial and Alcalá de Henares, and even top ski and hiking destinations like Cercedilla at the base of the Sierra de Guadarrama mountains with these quick suburban trains, which are accessible via the Atocha Metro station (Line 1).
SIGHTSEEING BUSES –
While taking a bus, or "autobus," is undoubtedly slower than using the Metro to travel around Madrid, it is unquestionably more scenic. Riding the bus is a great, affordable option if you don't have a tight schedule and want to explore everything the heart of Madrid offers, including its architectural icons, finely carved fountains, and sizable green spaces.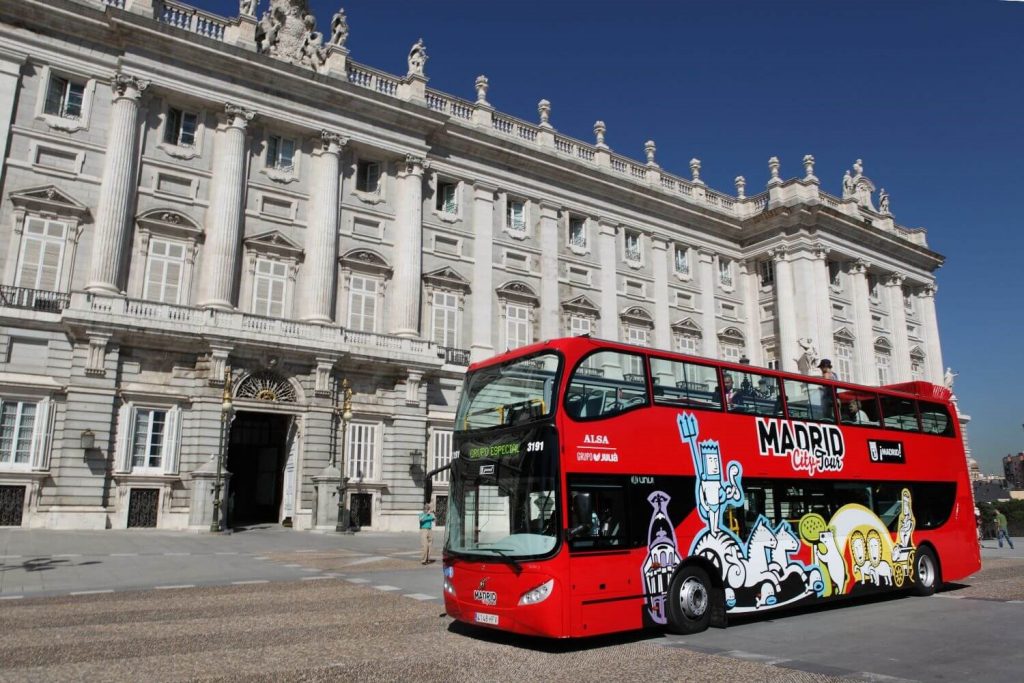 EMT MADRID –
With more than 200 bus lines, EMT Madrid is a public bus service from 6 am to 11:30 pm. Three zero-emission buses available for use have been introduced due to recent efforts by the local administration to acquire more ecologically friendly vehicles. After 11:30 p.m., Plaza de Cibeles is the starting point for 27 " Búhos" or "owl" night buses, which are appropriately named and denoted with an N. These buses are perfect for those who want to experience Madrid's renowned nightlife.
BICYCLE –
BiciMAD is the name of Madrid's electric bike-sharing program. The first hour of a rental is 2 euros, and each additional hour costs 4 euros.
TAXIS –
Taxis cost 3.25 euros, to begin with, and 1.10 euros for each additional kilometer. If possible, avoid them as the costs add up quickly!
CAR RENTAL –
You don't need a car to navigate the city, but you may rent one for as little as 25 EUR per day for a multi-day rental. Avoid renting a car unless you intend to explore the area nearby.
The metro is the most practical means of transportation in Madrid. One-way fares start at 1.50 euros for the first five stops and increase by 0.10 euros for each additional station, with a maximum of 2 euros in central Madrid.
From 6:30 am to 11:30 pm (with certain night routes as well), public buses run throughout Madrid and cost the same as the metro. Additionally, 10-journey cards are available starting at 11.20 EUR depending on your zones.
There are 1–7-day tourist permits available for unlimited use of any public transit. Depending on the zones you require, they range from 8.40 to 70.80 EUR.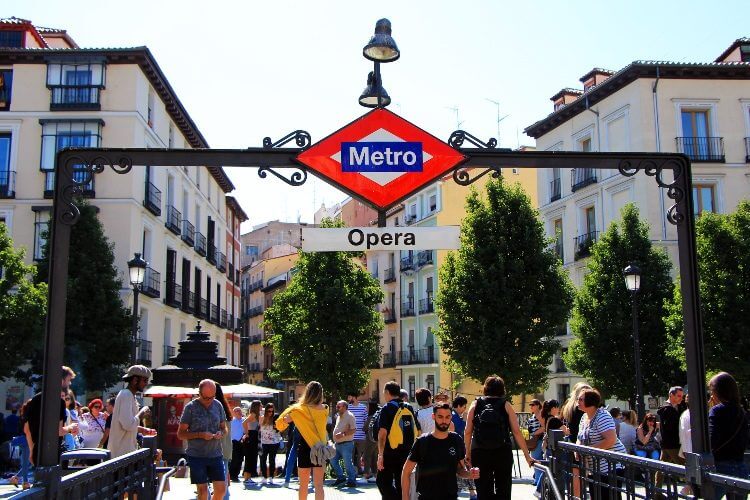 BEST THINGS TO DO & SEE IN MADRID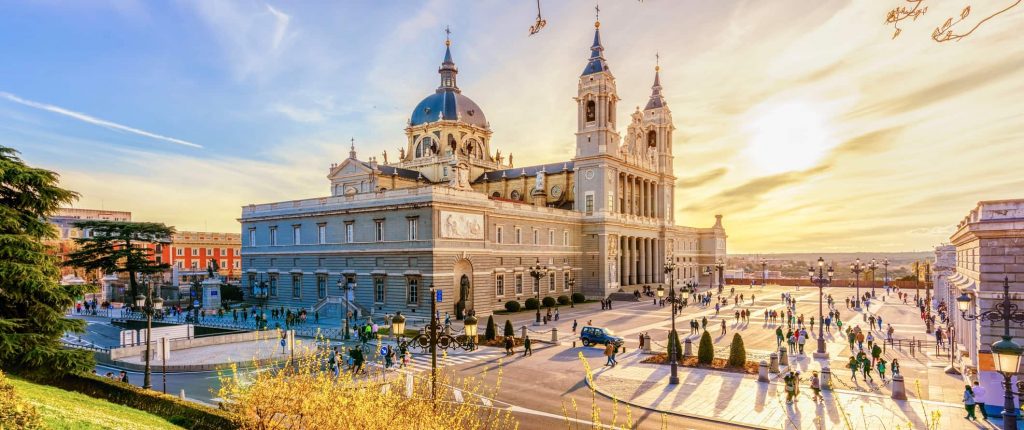 Despite lacking the beach lifestyle of destinations like Barcelona or Valencia, this beautiful city more than makes up for it with its culture and genuineness. Spend a few days in Madrid doing like the Madrilenos (Madrid natives) do, taking in the interesting markets, world-famous art galleries, and hours spent on restaurant terraces. With this thorough guide, take advantage of all the top things to do in Madrid.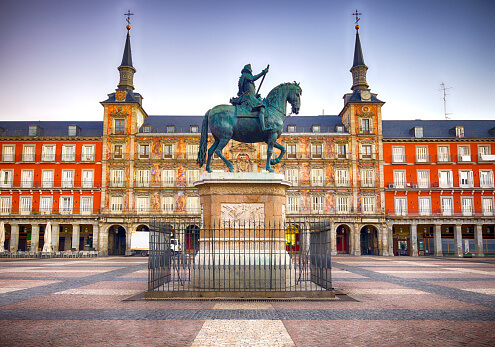 STROLL PLAZA MAYOR
Madrid's central square is the Plaza Mayor, constructed in the fifteenth century. Don't miss the Ayuntamiento (the majestic municipal council structure), the Baroque Church of San Pedro, the 18th-century San Francisco el Grande Basilica, and Calle de Cuchilleros while strolling this plaza, which was named a Spanish Property of Cultural Interest in 1985. (a popular place to eat, but expect tourist prices).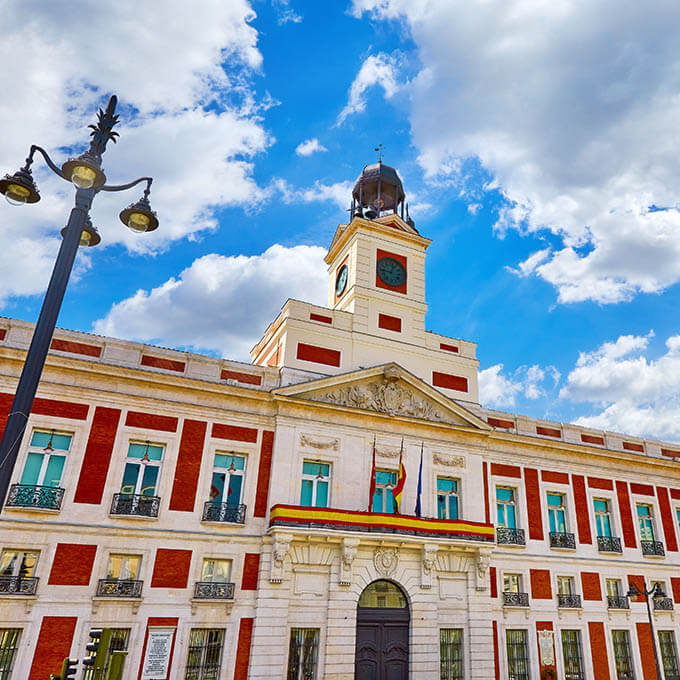 The Puerta del Sol is Madrid's busiest and most intriguing square, even though the Plaza Mayor may be its most well-known square. Although it is very busy because it is a major transportation center, there is also a lot of open space.
In this area, many intriguing statues and public artworks are on exhibit, and the Royal Post Office currently houses the president's offices.
This is the perfect spot to relax, sip coffee, and observe Madrid residents' everyday lives. Plus, the square is surrounded by a ton of gorgeous architectural wonders!
VISIT THE CATEDRAL DE LA ALMUDENA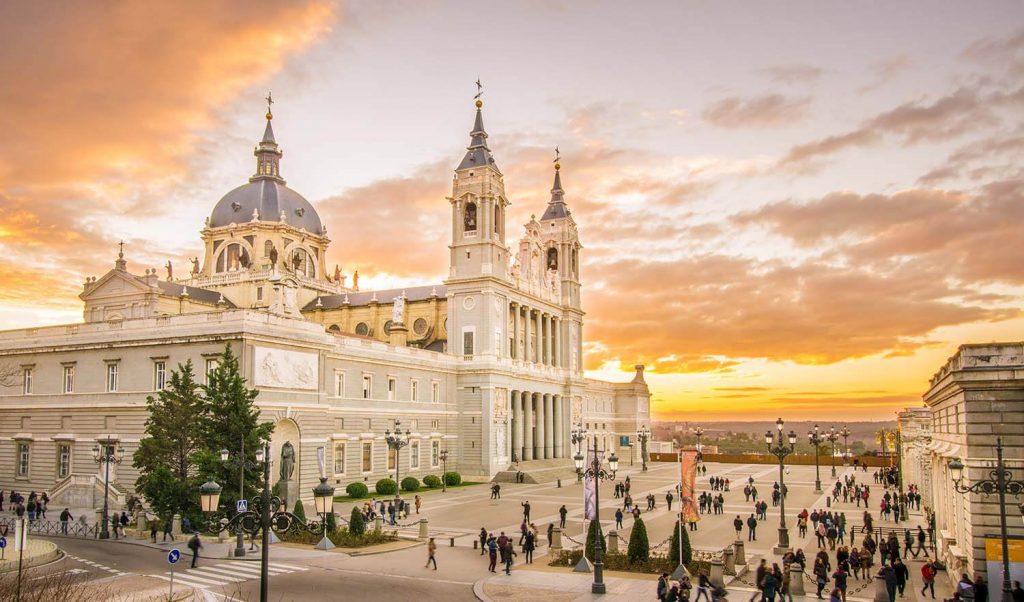 This magnificent cathedral, one of the largest in Europe and facing a wide open plaza, is one of the most elaborately decorated buildings in the city.
From construction until the cathedral was officially dedicated in 1993, it took more than a century to complete. What do you find most intriguing? The inside is decorated in a variety of artistic ways!
ENJOY A FLAMENCO SHOW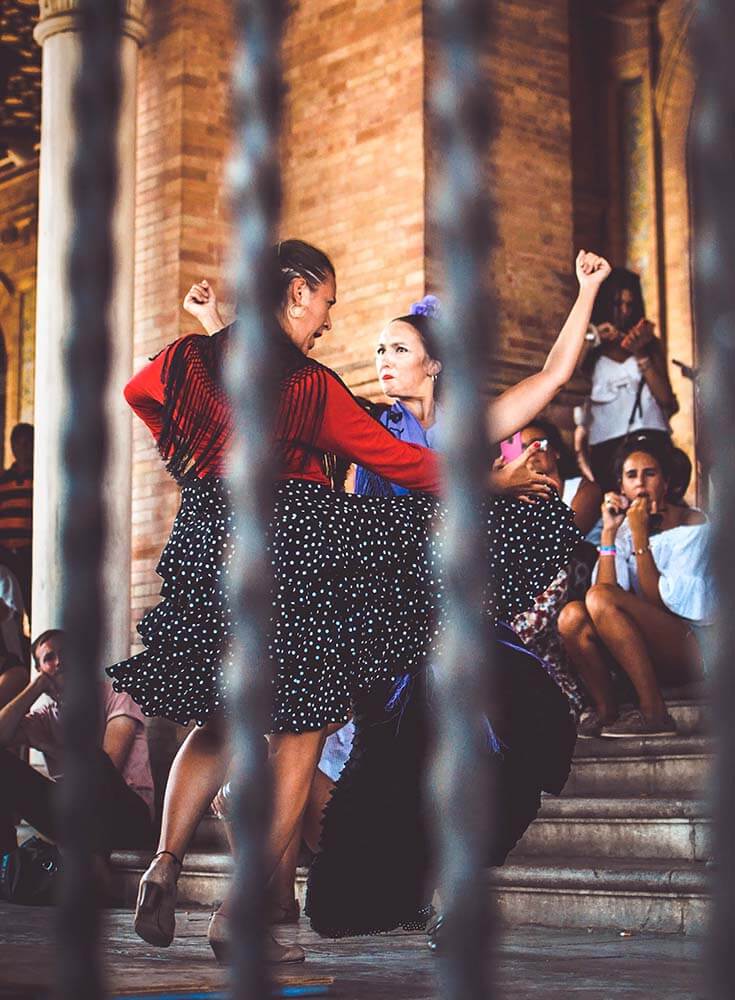 Flamenco is one of the most recognizable dance styles in the world, and as it originated in Spain, it should come as no surprise that it plays a significant role in the culture of that nation.
There are several places in Madrid where you can catch a Flamenco show and a traditional Spanish meal. This is a wonderful way to combine exuberant dancing with delectable cuisine. Really impossible to defeat that combination!
PALACIO DE CRISTAL
The Palacio de Cristal, constructed in 1887 and still in use today for modern art exhibitions, is almost entirely made of glass set in an iron structure. A 130-hectare park with a sizable lake and a diversity of plants, including more than 15,000 trees, can be explored on a bright Spanish afternoon.
MERCADO DE SAN MIGUEL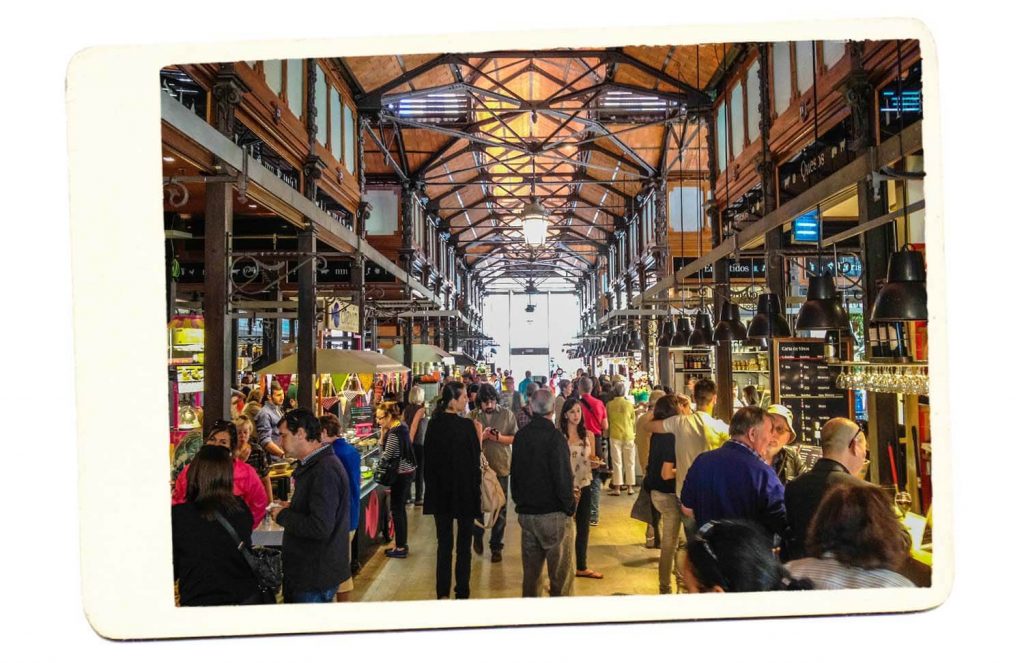 One of the most gorgeous food marketplaces I've ever seen is the Mercado de San Miguel! Both locals and visitors crowd the market to savor the delectable cuisine of Madrid. Try some tapas and drink a Gin & Tonic made in Spain, which is Madrid's preferred beverage!
WATCH A GAME OF FOOTBALL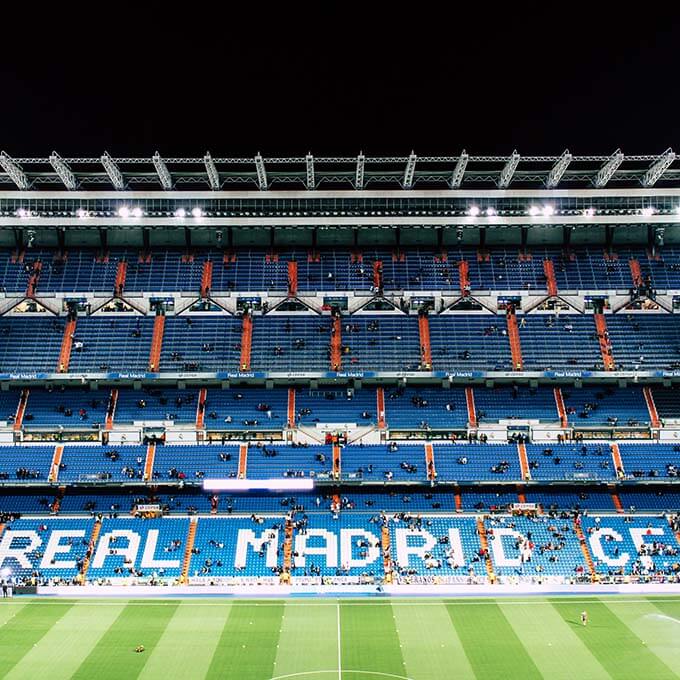 Can you visit Spain and not attend a game of soccer, er…I mean a football game? It's a terrific site to catch a game because there are two major club teams in the same city!
With players like Ronaldo and Gareth Bale strutting their thing, Real Madrid is one of the most recognizable teams in the world. If Atlético Madrid is playing while you are there, you should definitely see them because they are more of an underdog story.
MUSEO DEL PRADO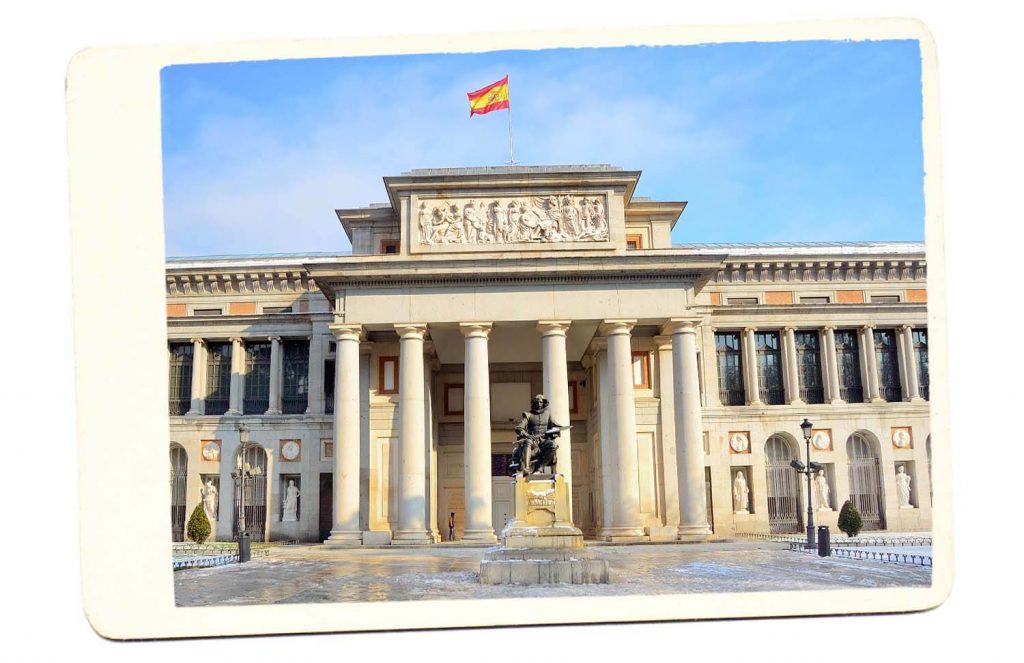 One of the top museums in Europe, the Museo del Prado has an outstanding collection of classical art by some of the most well-known painters to have ever put brush to canvas.
This fascinating and lovely collection is worth perusing, ranging from European artists like Rubens, Botticelli, and Caravaggio to Spanish masters like Velasquez and Goya.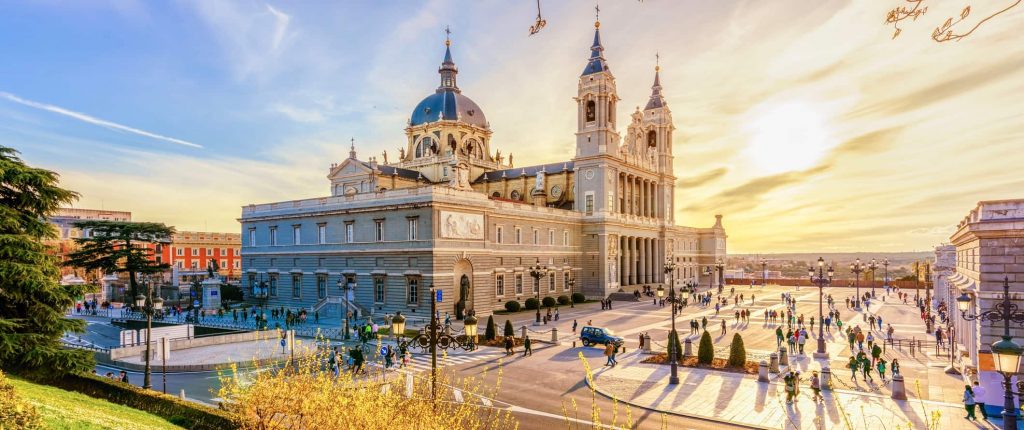 TAKE A FREE WALKING TOUR
One of my favorite things to do when visiting a new city is to take a free walking tour. You'll become familiar with the area, discover its history and culture, and contact a local guide who can respond to your inquiries. The best free tours in the city are provided by New Europe, Free Walking Tours Madrid, and Cat's Hostel Walking Tours. Just remember to give your guide a tip when you're done!
VISIT THE NATIONAL ARCHAEOLOGICAL MUSEUM
This museum is home to an amazing collection of artifacts from the Iberian Peninsula. Along with relics from Egypt and Mesopotamia, pieces date back to ancient Greece and Rome. Don't overlook the Altamira prehistoric cave paintings or the well-known La Dama de Elche (a bust of an Iberian woman from the fifth century). There is also the Madrid Guanche Mummy present. Between the 11th and 13th centuries, he was embalmed by the Canarian natives. The cost of admission is three euros.
EXPLORE THE NAVAL MUSEUM OF MADRID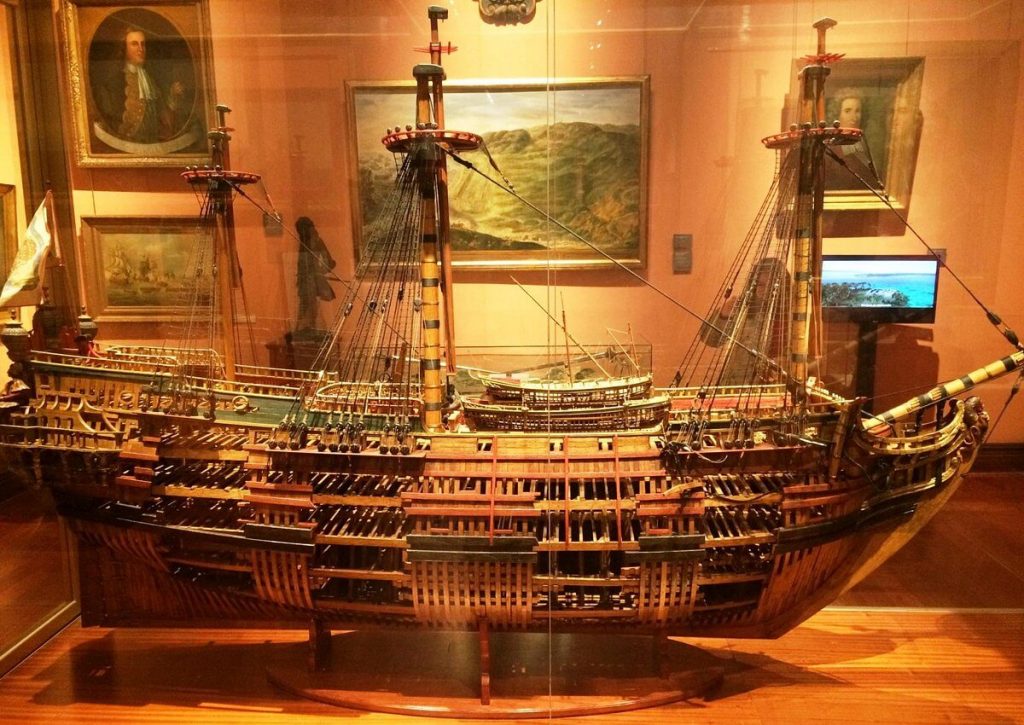 The Spanish Armada of the sixteenth century will undoubtedly come to mind when considering the world's historical maritime powers. Come learn about the country's rich naval history from historical charts dating back to 1500. A truly fascinating and in-depth part of the Spanish Armada is included, along with numerous antique sketches, armaments, and navigational tools. The suggested gift is three euros per person, although admission is free. On Mondays, it is closed.
ADMIRE SOME MODERN ART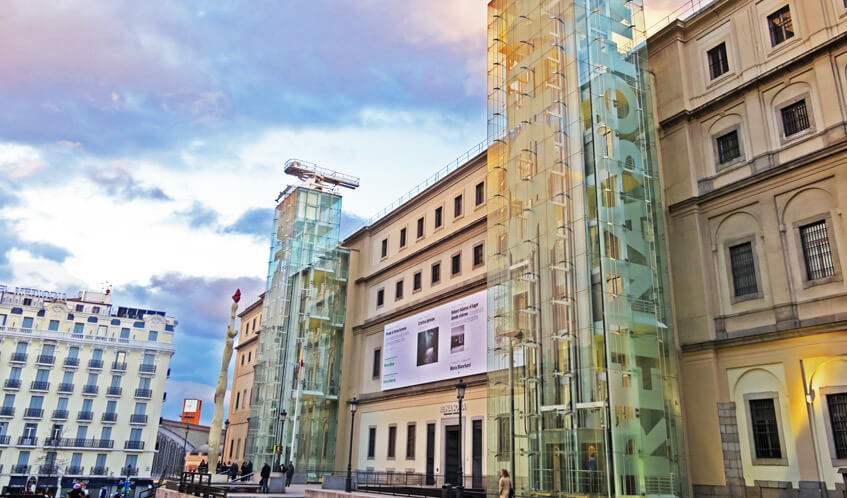 A magnificent collection of modern art is available at the Reina Sofa National Art Center or Museo Nacional Centro de Arte Reina Sofa. Here, you can find masterpieces by artists like Picasso, Miró, Kandinsky, Dal, and Bacon. Picasso's well-known Guernica painting, an oil painting from 1937 that is regarded as the most powerful anti-war painting in the world, serves as the exhibition's focal point. Even though I'm not a big fan of modern art, I had a good time in this museum. The cost of entrance is 12 EUR, but admission is free on Mondays, Wednesdays, Thursdays, Fridays, and Saturdays from 7 p.m. to 9 p.m. and from 12:30 p.m. to 2:30 p.m..
SHOP AT THE MERCADO DE SAN MIGUEL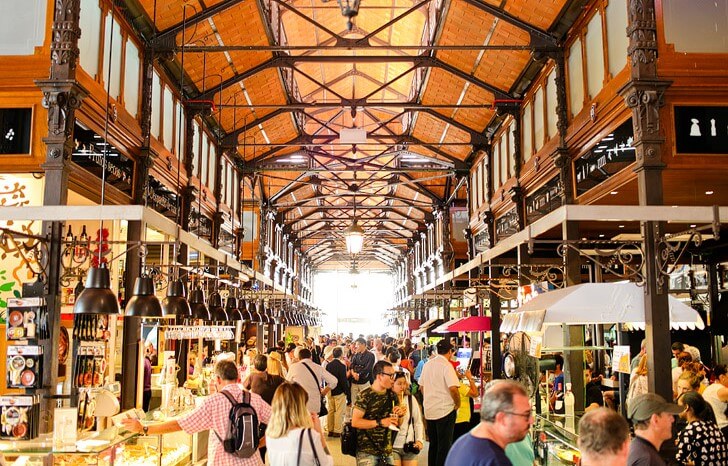 The famous indoor market is a delightful place to buy groceries. The city's oldest covered food market features stunning 20th-century construction. It's a great place to get inexpensive tapas, shop for dinner supplies, or people-watch. The market, which is open seven days a week and is only five minutes walk from Plaza Mayor, draws people for after-work beverages in the evenings.
SEE THE ANCIENT TEMPLE OF DEBOD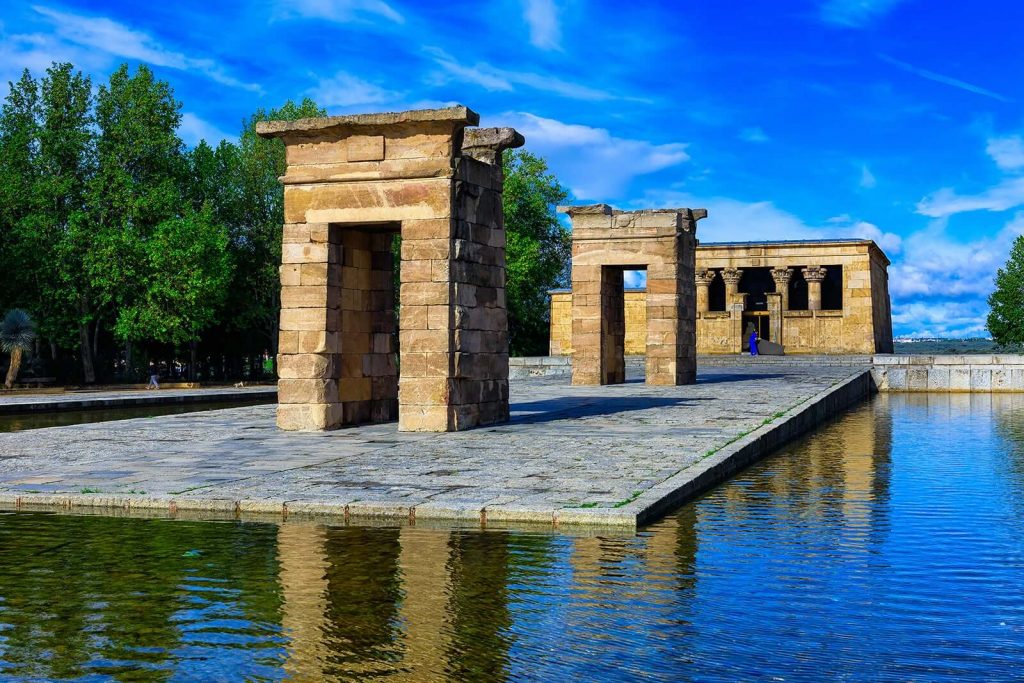 An Egyptian temple from the second century BCE is called the Temple of Debod. The Egyptian government gave it to Spain as a gift to say thanks for assisting with the relocation of monuments from the Aswan Dam site (the Aswan Dam is the largest embankment dam in the world and was built across the Nile in the 1960s-70s). The temple is now located in Madrid's Cuartel de la Montaa Park after being reconstructed in Spain between 1970 and 1972. You can still stroll outside the temple even though it is forbidden to enter the interior. The entrance is free, and it is closed on Mondays.
SPEND TIME IN THE BARRIO DE LA LATINA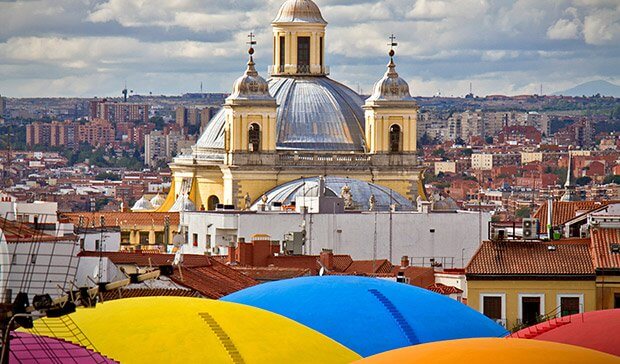 Walking is the best way to explore this vibrant neighborhood with its network of little lanes and streets crowded with tapas bars, eateries, and cantinas. If you're in town on a Sunday, browse the wares at the El Rastro flea market, open from 8 am to 3 pm, and fill up at one of the many food stands. Make sure to see the Moorish San Pedro el Real church, built in the 14th century, and the 18th-century San Francisco el Grand Basilica.
MADRID ARENA MULTIPURPOSE PAVILION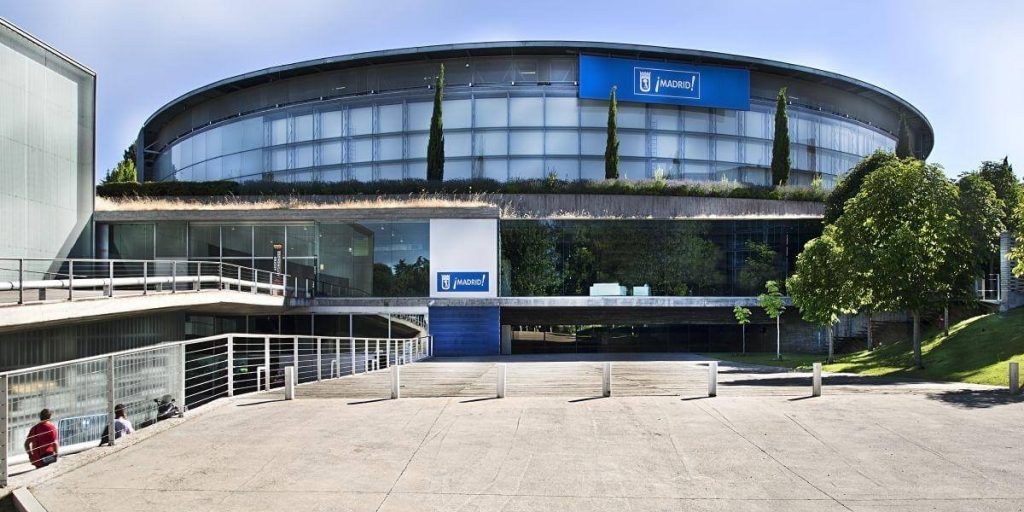 The spectacular location is suitable for fairs, sporting events, corporate events, or shows. It serves as a hub for planning major events. It has a circular layout with an impressive dome as its cap, making it quite adaptable in terms of circulation and usage.
Spread out over three interlinked floors and connected to the Crystal Pavilion and the Madrid Arena Satellite Pavilion through a tunnel, expanding its potential. This arena can easily adjust to any need thanks to its retractable stands.
It contains restrooms for changing and getting ready, a café, bars, roomy places for loading and unloading, and access for trucks to the main track. Events both social and professional are excellent.
FLAVOURS FROM ALL OVER SPAIN IN MADRID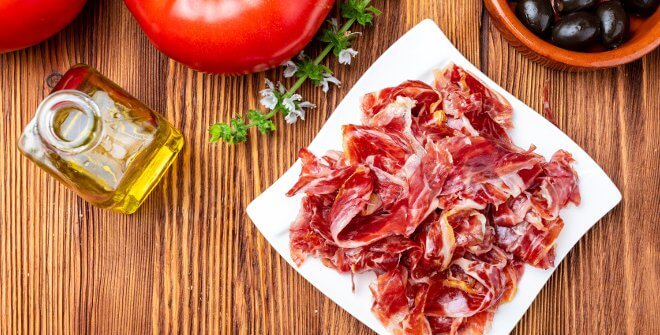 Madrid has a unique cuisine with its own traditional dishes, including stew in three stages, tripe, snails, squid rolls, and tapas. However, Madrid also lets visitors enjoy regional cuisine from different parts of Spain. It won't be difficult to sample the greatest bean stew from Asturias, the best-sucking piglet from Segovia, the best calçots from Catalonia, or the best octopus prepared in the Galician way name a few. All of the autonomous communities have "gastro" delegations in the city. The following is a list of some traditional Spanish cuisine you can try when visiting Madrid.
PAELLA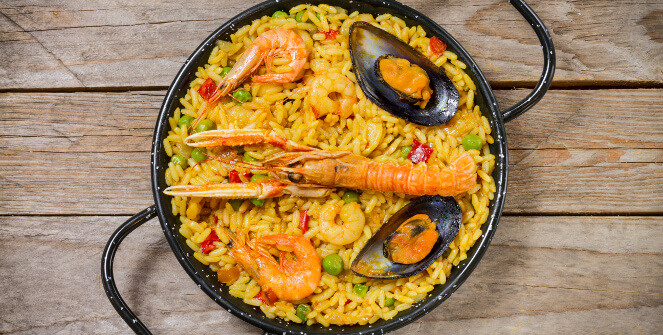 It is one of the symbols of Spanish cuisine and is typical of the Valencian Community. Although it is based on rice, there are other variations, including mountain paella, mixed paella, and seafood paella with fish and seafood (with ribs, rabbit, and chicken). Some well-known chefs like Rodrigo de la Calle, who has achieved great success with his oyster paella, like to explore more exotic ingredients. This unusual dish's modern incarnation is available to sample in the iconic San Miguel Market, situated next to Plaza Mayor. Do you favor a traditional paella? Visit La Paella de la Reina, located next to the Gran Va. Don't forget to read our article about the top rice eateries in the neighborhood.
ROAST SUCKLING PIG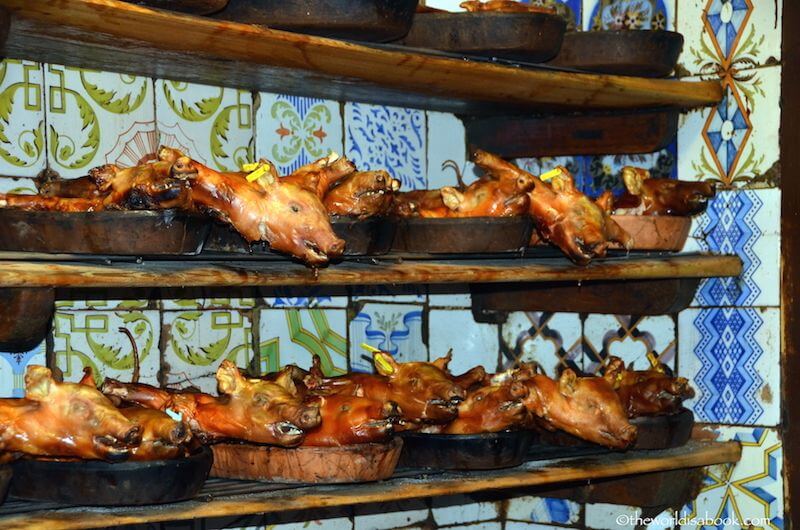 The most well-known restaurants may be found in Segovia and Arévalo, although you can also find eateries serving this delectable dish in Madrid. The roast is often prepared in a wood-fired oven using an earthenware dish, and the suckling pig's skin should be crisp and toasted. Coque, Botn, Casa Pedro, and Los Galayos are rumored to serve Madrid's greatest roast suckling pigs. Lambs and suckling pigs are among the most popular dishes in Castilian cuisine and are served at many events throughout Spain, are native to Castile and Leon.
GALICIAN OCTOPUS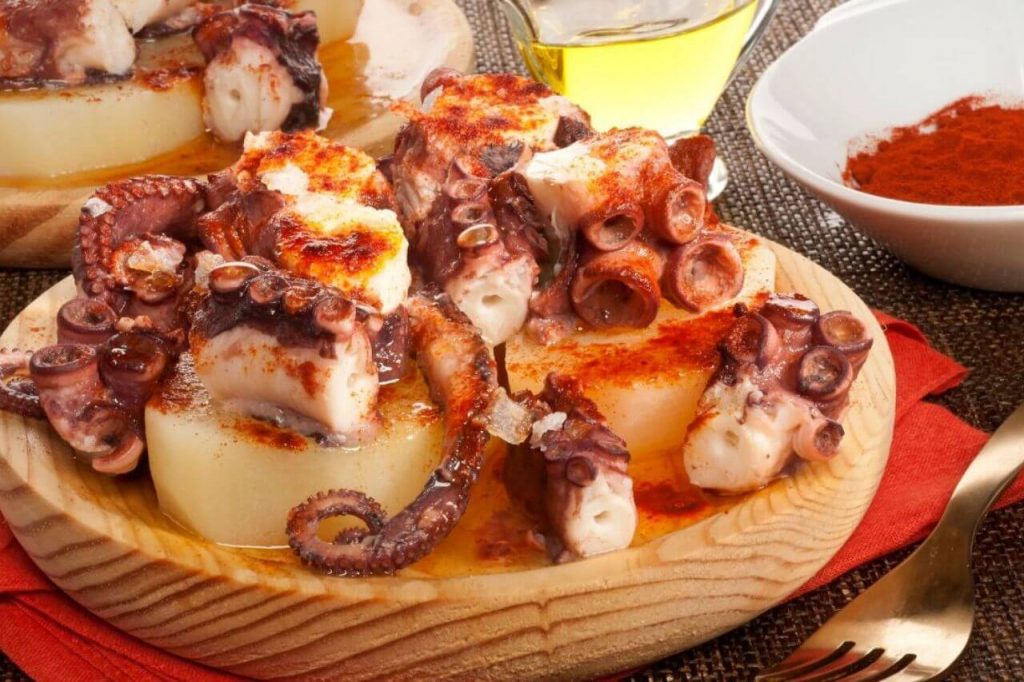 The octopus's camouflage was mentioned in Aristotle's antique Greece. Whether it was ever used as food is something we do not know. If not, a treat that Galicians are unrivaled in their ability to prepare was missed. Salt, oil, and a dash of paprika are all that is required. La Gran Pulpera, O'Pulpo, L'A (a restaurant with one Michelin star), Los Montes de Galicia, and Villa de Foz are just a few of the many Galician eateries in Madrid where you may enjoy it.
BEAN STEW
This one is the most delicious and well-known dish of the varied Asturian cuisine. This traditional Spanish recipe includes fabes (white Asturian beans), spicy sausage, lard, Asturian black pudding, and bacon. It is a slowly cooked dish, and a common myth holds that it tastes even better the next day. It may be enjoyed in numerous places in Madrid, but we suggest Casa Hortensia, Asturianos, El Oso, La Hoja, and the hallmark restaurant with Asturian roots, Asgaya.
FRIED FISH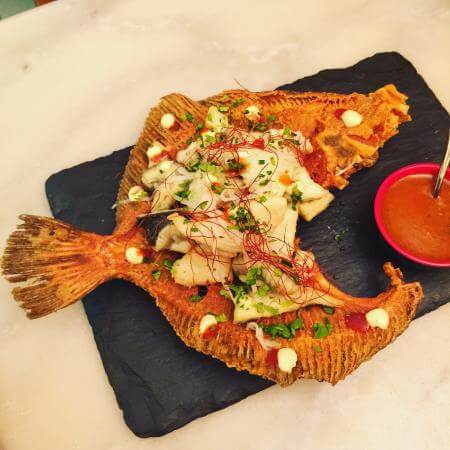 As long as it is properly prepared, fried fish, typical of Andalusia, is a culinary joy. It is typically served in a meal with cuttlefish, red snapper, sardines, and other seafood. The product and, more importantly, the frying temperature, hold the key. The best way to eat it is with your fingers, so even if it is difficult, you can try it in Madrid and end up licking your fingers. reliable restaurants? Taberna del Puerto, La Giralda, Bodega La Andaluza, or Taberna Don Paco. The "Jarama" anchovies at the El Albero restaurant in Paracuellos del Jarama cure hiccups.
MARMITAKO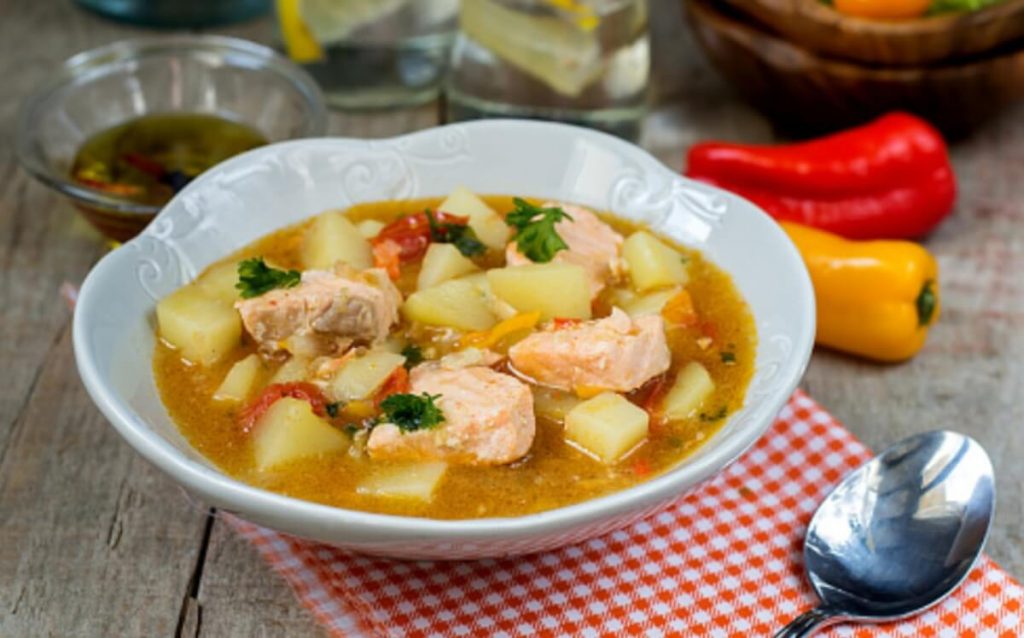 This dish represents Basque cuisine at its finest. With potatoes, onion, green peppers, red peppers, and tomato, marmitako is a fiery tuna stew. In the Basque Country, it is a delicacy that is always present on tables. Despite being a high-calorie stew, long-finned tuna is more frequently fished in the summer, therefore more people eat it then. You may sample it in various Basque eateries in Madrid, including Dantxari, Carlos Oyarbide, Olive Gastro, Jai Alai, and Taberna Gaztelupe.
CALÇOTS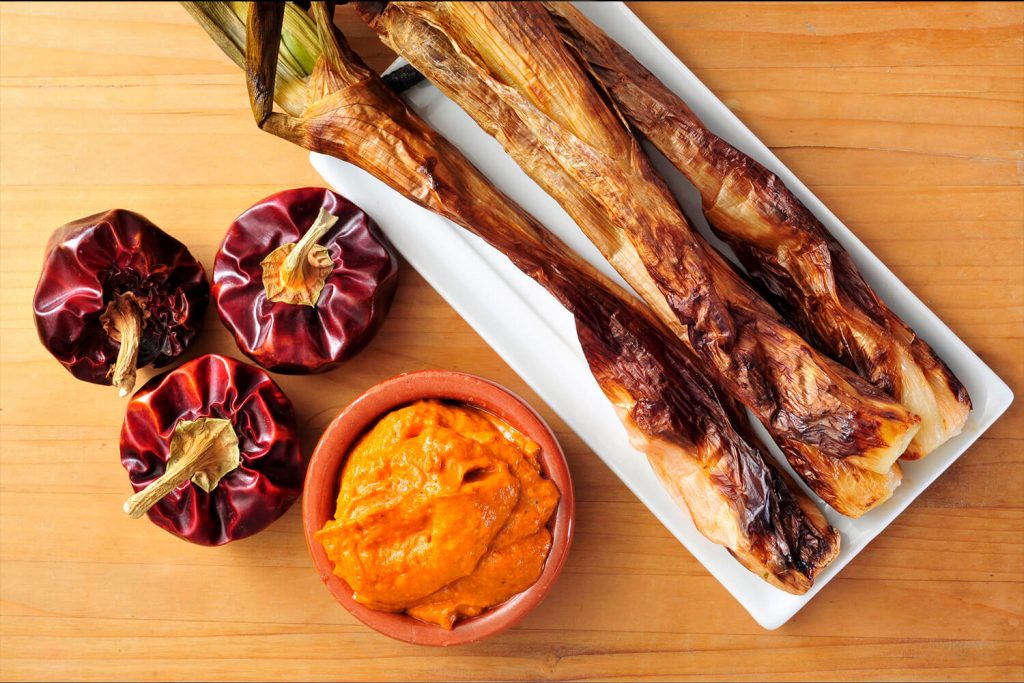 Inland Catalonia frequently contains this type of onion, which is delicate and bulbous. It is one of the staples of Catalan cuisine and is typically eaten at the tail end of winter or the beginning of spring with salvitxada or romesco sauce. They are the centerpiece of the event known as the Calçotades, where they are served roasted on shoots. They can be enjoyed at Casa Jorge, Parad's Madrid, Can Punyetes, or La Cuina in Madrid.
OXTAIL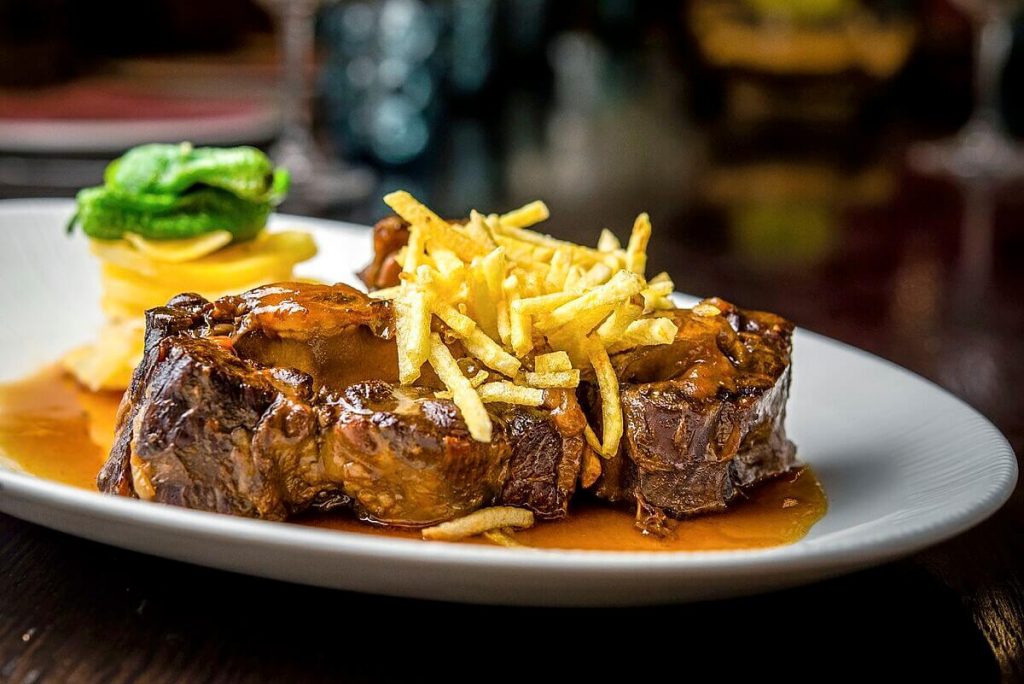 A slow-cooked oxtail casserole is the main component of this classic Cordoba stew. The sauce comprises onion, tomato, carrot, wine, olive oil, garlic, and peppercorns. This recipe is thought to have originated in the Roman era because Apicius' book "De re coquinaria" (On the Subject of Cooking) contains references to it. At El Fogón de Trifón or Casa Toribio, you can enjoy some of Madrid's best oxtail. Numerous eateries specializing in this dish can be found close to the Las Ventas Monumental Bullring, including Taberna El Burladero and Los Timbales.
WHERE TO STAY IN MADRID
For every budget, there are numerous hostel options in Madrid. The top cheap hotels in Madrid are listed below:
The Hat Madrid is the city's original boutique hostel. Located in a mansion in the Plaza Mayor's prime tourist district, 3 minutes from La Latina, Gran Via, and Puerta del Sol.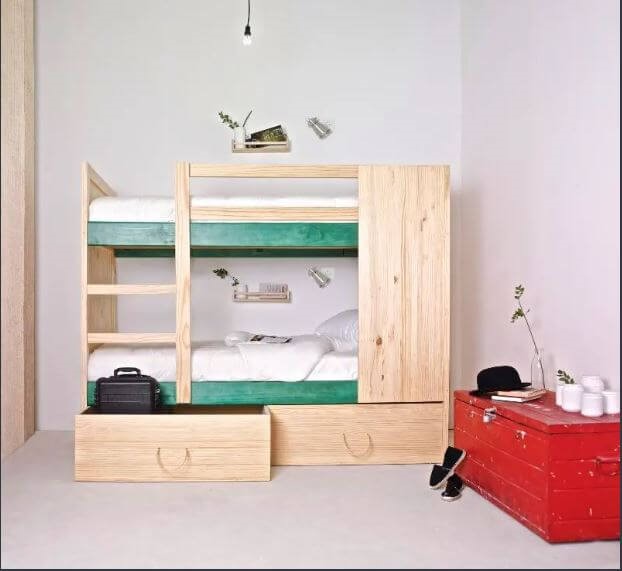 You must visit this fantastic location to experience the outstanding service given by a staff that has won numerous international awards and meticulously planned top-notch amenities for you.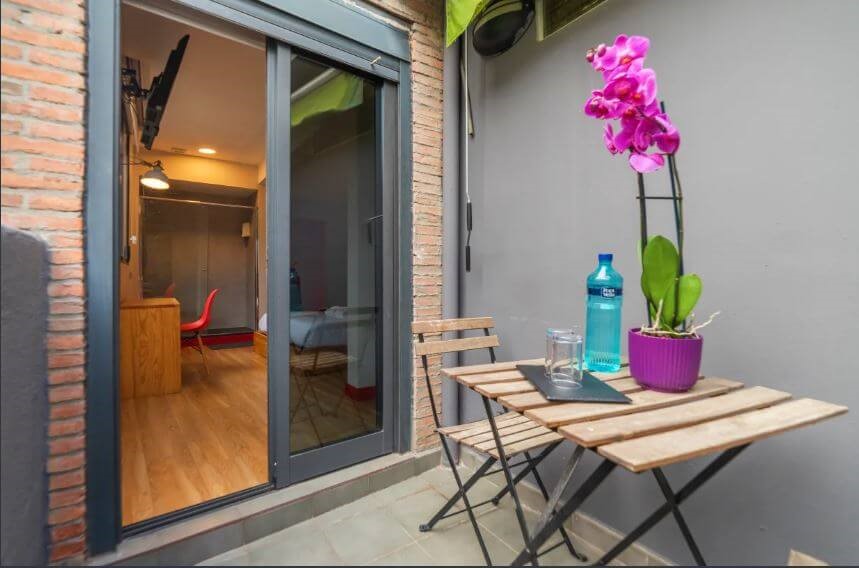 This is close to the metro line and popular tourist destinations including Puerta del Sol, Plaza Mayor, and the renowned Museum Triangle. It is situated in the hip Barrio La Latina in the center of Madrid's historical district.
Situated in the heart of Madrid (Puerta del Sol). The 12 rooms of Barbieri Sol Hostel can be either doubles or 4- or 6-bed dorms. They all have bunk beds, heating, and cooling, free private lockers you can secure with your own key, free bed linen, and 24-hour hot water.
Plaza Mayor, Prado, Reina Sofia Museum, Retiro Park, and the magnificent neighborhoods of La Latina (with El Rastro on Sundays), Lavapies, or Malasaa are all within easy walking distance of our hostel.
FREE LAST-MINUTE CANCELLATION – Don't worry; if you select the Standard Rate, you can change or cancel your reservation without incurring fees (48 hours before the check-in day).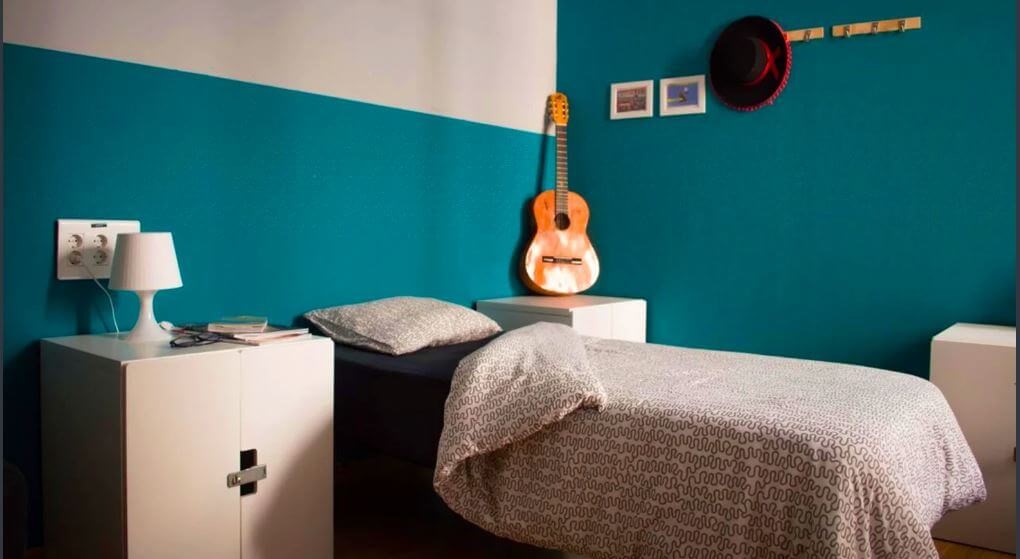 This is located in the heart of Madrid, the hub of all the fun stuff. They have 15 years of experience assisting you in getting a feel for the city, which sets them apart from the competition. Cats Hostel Madrid Sol is the best option if you want to experience the daily craziness of Madrid and its wild side with others.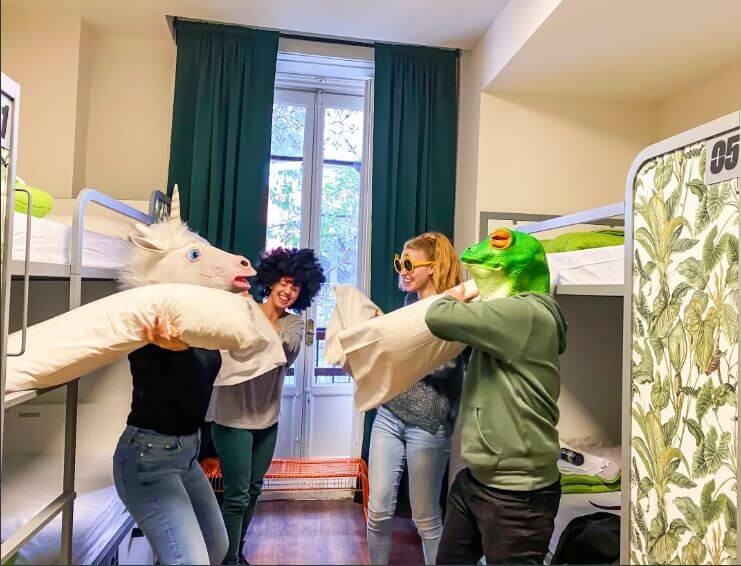 The city's most well-known attractions, such as the stunning Plaza Mayor, the bustling Puerta del Sol, and the renowned Prado Museum, are all conveniently accessible from their front door. There is nothing better than arriving at their completely remodeled and immaculately equipped facilities for a decent rest after a long day of exploring.
 Here are the top hotels in Madrid!
A gorgeous shop called The Orfila has cream-colored walls, a patio covered in flowers, and a rooftop terrace. With its antique furniture and marble decor, the hotel, which dates back to 1886, has a more art gallery-like atmosphere.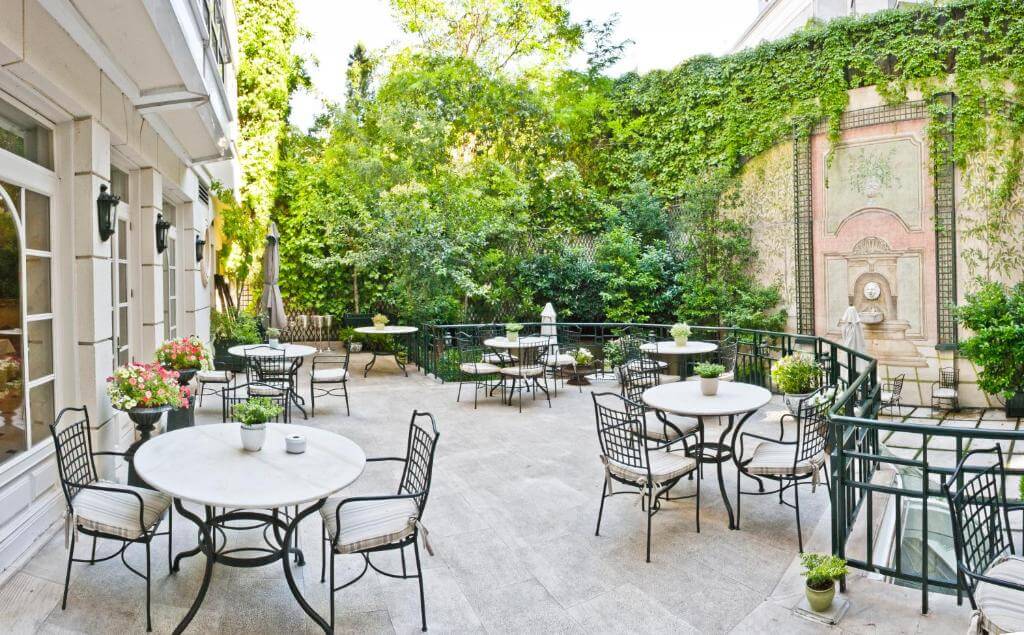 A terrific option to explore more of the city, meet people, and perhaps even save money over staying in a hotel is to rent a VRBO. Check out Madrid's fantastic collection of VRBOs!
This gorgeous boutique hotel exudes sophistication and modern style. The Hotel Palacio Del Retiro is one of the greatest places to stay in Madrid and is surprisingly inexpensive for a luxury hotel. There are shopping, restaurants, museums, and Retiro Park all nearby.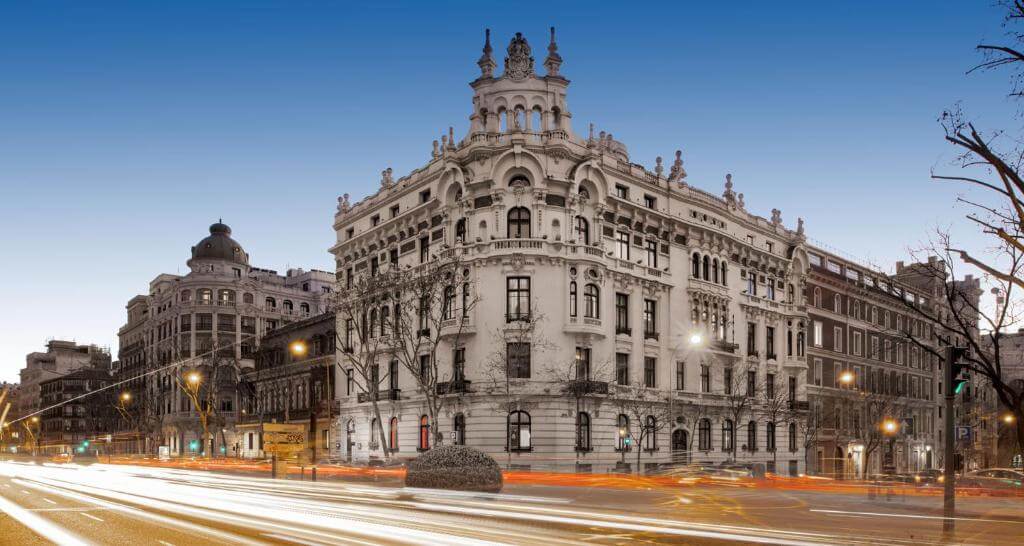 Budget hotel SLEEP'N Atocha is only a few blocks from the railway and metro station and is close to popular attractions like the Prado museum.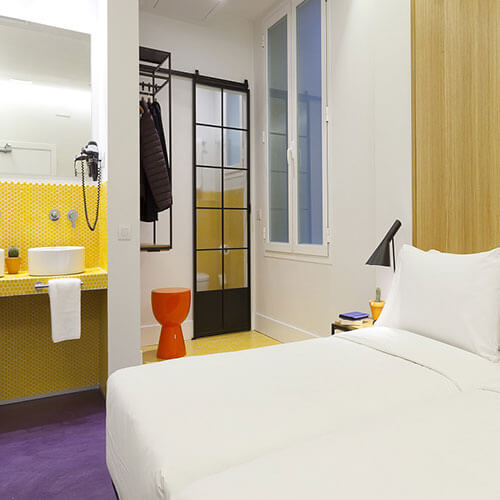 You'll fall in love with this hotel when you enter. It is in a fantastic position on Gran Via, close to many restaurants and tourist attractions (such as Plaza de España), and there is a metro station just in front of the hotel!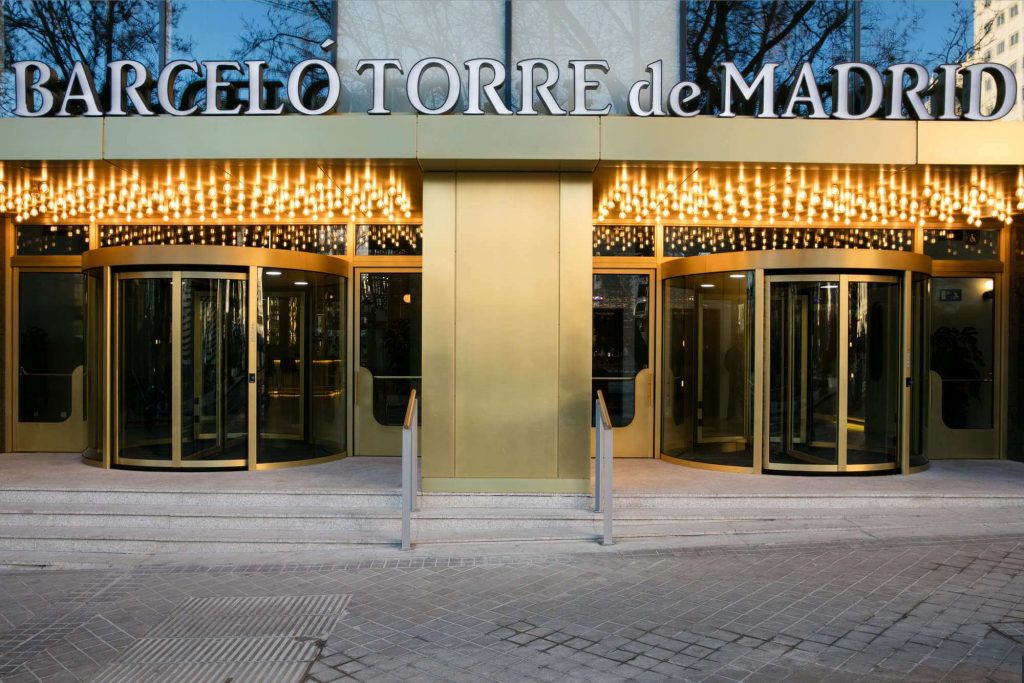 CITY OF MADRID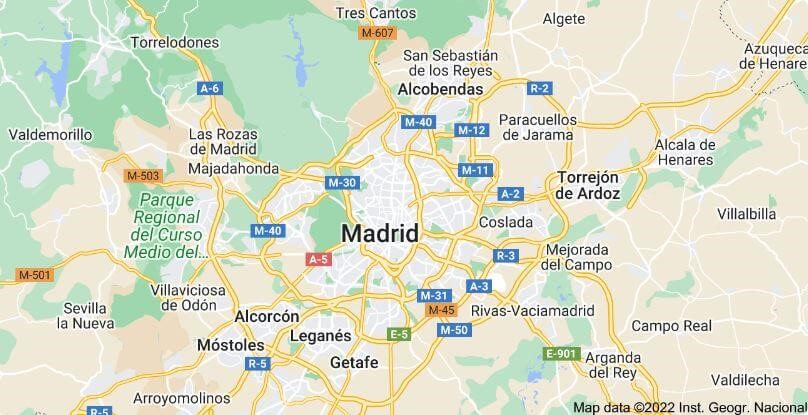 MADRID'S TRAVEL PASS
All forms of public transportation in the Madrid Region are compatible with the tourist ticket, often known as the tourist travel pass. It is a useful and affordable method of getting around Madrid because you may make as many trips as you like within your chosen period.
Passes are valid for one, two, three, four, five, or seven days, and for two zones (A and T).
Do you intend to stay in the city's center and have transportation in mind for that area? Zone A is the best choice for you since it includes the following services:
Use of the Metro in zone A (City of Madrid) – including the 3€ airport supplement,
All blue EMT city buses (except the yellow Airport Express shuttle),
Renfe Cercanías commuter trains covering zones 0 and A,
Metro Ligero light rail train ML1.
Are you staying in Madrid for a few days and intend to explore the region as well? Then Zone T is the best choice for you because it includes:
The entire Metro network.
All blue city buses (except the Airport Express shuttle) and green intercity buses in the Region of Madrid, including services to Guadalajara and Toledo. This pass encompasses all 8 zones, from A to E2 (6 zones in the Region of Madrid and 2 in Castilla La Mancha).
All Renfe Cercanías commuter trains (zones 0, A, B1, B2, B3, C1, C2).
Metro Ligero light rail trains ML1, ML2, ML3, and the ML4 Parla tramway.
If you intend to take day trips to locations like El Escorial, Aranjuez, or Alcalá de Henares, Zone T is the suggested choice.
Why buy a travel pass?
When you buy a 1, 2, 3, 5, or 7-day Tourist Travel Pass, the Tarjeta Multi, a contactless, transferable smartcard with a 10-year validity, is already pre-loaded with all the Tourist Travel Passes. You can add pay-per-ride tickets to the smartcard once the Tourist Travel Pass expires.
Where can I buy a travel pass?
You can purchase the pass at:
All Metro stations (including the airport stations Aeropuerto T1-T2-T3 and Aeropuerto T4) from ticket machines that have a red sticker saying Tarjeta MULTI Disponible AQUÍ. 
The entrance to the Cercanías (commuter train) Aeropuerto T4 station
The Madrid Regional Transport Consortium's main office is Plaza del Descubridor Diego de Ordás, 3.
Estancos (tobacco shops) and other authorized retailers.
All Metro Ligero (ML1, ML2, ML3 and ML4) stations.
If you do not wish to acquire a Tourist Travel Pass, you can buy the Tarjeta Multi (2.5€) and top it up with pay-per-ride tickets.
Prices
| | | | | | | |
| --- | --- | --- | --- | --- | --- | --- |
|   | 1 Day | 2 Days | 3 Days | 4 Days | 5 Days | 7 Days |
| Zone A | €8.40 | €14.20 | €18.40 | €22.60 | €26.80 | €35.40 |
| Zone T | €17.00 | €28.40 | €35.40 | €43.00 | €50.80 | €70.80 |
* Prices apply to customers aged 12 and older. Those who are under the age of 11 receive a 50% discount. On the bus, the metro, and the Cercanías commuter train, children under the age of six rides for free.
PARKING IN THE CITY OF MADRID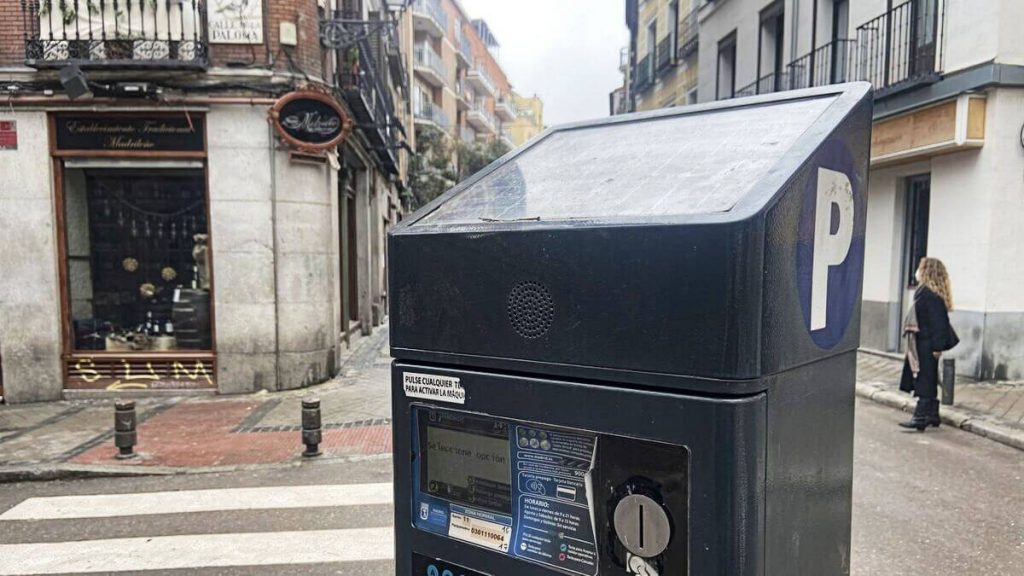 Due to the cost and regulation of on-street parking, finding a place to park a vehicle in Madrid can be difficult. Furthermore, access to Madrid Central is extremely constrained.
Actually, I advise against driving in Madrid. Whether using the bus, the subway, or a taxi, traveling about the city via public transportation is frequently quicker.
You should only rent a car in Madrid if you intend to leave the city and see other wonderful Spanish locations.
If you are unfamiliar with Madrid, parking your rental car can be challenging and requires careful planning.
FREE PARKS ON THE OUTSKIRTS
There are 25 public disincentive parking lots in Madrid (and perhaps 70 in the surrounding Comunidad Autónoma) (most of them free of charge). They are your greatest bet for avoiding using your car to enter the city core. You can park there instead and take public transportation.
You won't have to deal with the hassle of traffic jams, getting lost, or shelling out a fortune for a parking space or a fine.
There are currently 3 main free car parks:
Las Tablas-Telefónica

Nuestra Señora del Recue do
PAYING FOR CAR PARKS IN THE CITY CENTER
This online tool may be handy if you're seeking open underground parking garages. Although it is only available in Spanish, using it is really simple.
Enter the information (city, address, zip code, etc.) for where you want to park your car. Next, decide on the dates and timings for arrival and departure. Lastly, press the blue button (buscar means search).
The website will display the greatest outcomes for this specific place. You may order them according to distance (distancia) or cost (precio).
Each result lists the name of the parking lot, the total number of parking spaces, the cost, and the distance. Additionally, Google Maps will be displayed if you select a specific parking lot and then click the receive instructions (conseguir direcciones) option.
If you choose to park in one of these underground garages, be sure to keep track of your location and any nearby landmarks before leaving. It's simple to lose track of where you parked your automobile.
ON THE STREET
You can certainly leave your rental car parked on the street. But,
Madrid's historic center has paid to park. For more information, see the "Zones and Meters" section below.
Private vehicle access to Madrid Central is somewhat restricted. See the section titled "What Is Madrid Central?"
MADRID PARKING ZONES AND METERS
Zones govern all street parking in Madrid (also called Servicio de Estacionamiento Regulado or SER). There are painted lines with blue or green dashes on the side of the road where parking is permitted.
BLUE – You have a preference over certain areas as a tourist, and your stay is limited to four hours. Residents must abide by the same rules and pay the same fees to park in these lots.
GREEN – Priority parking privileges and unlimited time parking are available to residents who have paid the annual fee. You have a 2-hour maximum to park here as a tourist.
These zones operate during the following times:
Monday to Friday: 9:00 to 21:00
Saturday: 9:00 to 15:00
Sunday & public holidays: no service
August: Monday to Saturday 9:00 to 15:00
In the areas where parking is controlled, parking meters are everywhere. You must purchase your ticket from this location. Once you have it, put it on your car's dashboard in a prominent location.
Coins can be used to pay. Keep in mind that meters do not accept cash or change. The exact change must be available. Make sure you carry enough coins because most stores rarely give change to customers who ask for it.
BACKPACKING MADRID SUGGESTED BUDGET
Expect to spend about 55 EUR per day if you're backpacking in Madrid. With this budget, you can live in a hostel dorm, prepare most of your meals, drink sparingly, travel by public transit, and participate in primarily free activities like free walking tours and relaxing in parks. If you anticipate drinking or going out a lot, increase your daily spending by 10 to 20 euros.
A mid-range daily budget of 140 EUR allows you to stay in a private Airbnb or hostel room, eat most meals out at affordable restaurants, indulge in a few alcoholic beverages, occasionally take a cab to travel around, and participate in more expensive activities like culinary courses and museum tours.
You can stay in a hotel, eat out anywhere you like, drink as much as you like, take more cabs, and take as many guided tours as you like on a "luxury" budget of 275 EUR or more per day. But for luxury, this is merely the ground floor. There are no boundaries!
Follow the chart below to estimate how much you should budget each day. Remember that these are daily averages and that there may be days when you spend more or less (you might spend less every day). We wish to provide you with a rough outline for creating your budget. The price is in EUR.
| | | | | | |
| --- | --- | --- | --- | --- | --- |
|   | Accommodation | Food | Transportation | Attraction | Average Daily Cost |
| Backpacker | 20 | 15 | 10 | 10 | 55 |
| Mid-Range | 75 | 40 | 15 | 20 | 140 |
| Luxury | 120 | 90 | 25 | 40 | 275 |
MONEY SAVINGS TIPS
Madrid may be pricey, particularly if you indulge in a lot of food and drink. Fortunately, if you adhere to a few basic guidelines, you can reduce your expenses. Here are a few common tips for cutting costs in Madrid:
Eat a large lunch – In Madrid, lunch is significantly less expensive than evening, and you can find "menu del día" for about 10-15 EUR for a substantial meal with a glass of wine or beer.
Get the Madrid tourist card – Free public transit, free admission to the Prado and other museums, plus a variety of discounts at nightclubs, entertainment venues, stores, and restaurants are all included with the frequently disregarded Madrid Card. A 24-hour card costs EUR 47, a 48-hour card costs EUR 60, a 72-hour card costs EUR 67, and a 120-hour card costs EUR 77.
Embrace free museum days – Many museums in Madrid are free on specific days or during specific hours. It's much preferable to view attractions like the Prado for free, so make sure to check before you go! You can inquire at the tourism office, where a list is kept.
Take a free walking tour – This is one of my favorite methods for getting to know a new place, and the price is unbeatable! The city's two most well-liked free excursions are New Europe Walking Tours and Cat's Hostel Walking Tours.
Grocery shop at the markets – Fresh food can be reasonably priced at several of the city's daily markets. For fresh meat and fruit, visit the Mercado de la Paz or Mercado de Maravillas. Compared to the supermarket, you'll save a ton.
SPAIN VISA
You might require a visa and other travel documents to visit Spain depending on your passport type.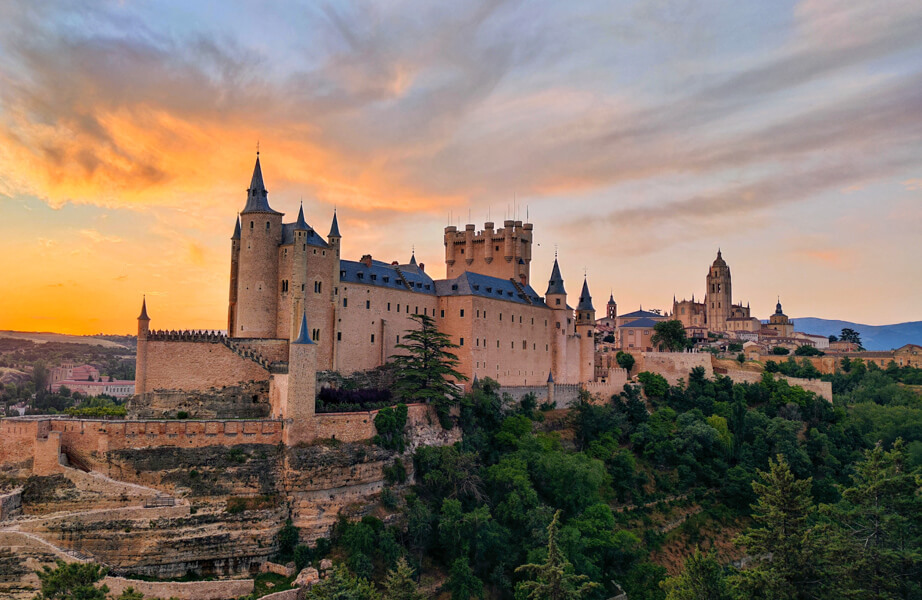 I'm by no means an expert on the Spanish capital but I do hope you find this Madrid travel guide useful. I'm only sharing some of the things I learned from our trip. If you have any comments or suggestions, then please feel free to leave them in the comment section below.
HAVE FUN!
FAQs
Is Madrid or Barcelona better for visiting?
Madrid wins the top spot for a longer stay because it is more affordable, offers more variety, and better food, and overall has more to do than Barcelona. Barcelona is the place to go if you're in the south of France and want to spend a fast weekend in Spain and take in some of Gaudi's architecture.
What is Madrid famous for?
Madrid distinguishes out as one of the top art capitals in the world. The Prado, the Thyssen, and the Reina Sofia museums are all connected by a walkway and comprise the artistic Golden Triangle.
Is Madrid good for tourists?
So, Madrid is it safe? Expressed, yes, it is safe to travel to Madrid. Crime rates are still low, with pickpocketing being the biggest problem. Students, lone travelers, backpackers, and female visitors can travel safely in the city both during the day and at night, in contrast to other comparable European towns.
How many days in Madrid is enough?
Everything is here in this city! One may easily spend a week in Madrid as a first-time visitor, although most tourists stay for 2 or 3 days before moving on to the next city. Not to worry If you're pressed for time, a well-planned 2-day Madrid itinerary will allow you to see all the major attractions.
Is Madrid a walkable city?
Is it simple to navigate Madrid on foot? Yes, that is the finest way to enjoy the city, in fact. Most of the city's famous landmarks are close to one another and the main streets and plazas are simple to get about.
What is Madrid's famous food?
The Spanish tortilla, often known as the Spanish omelet, is Spain's most typical and well-liked dish. Additionally, tortilla de patatas is another Spanish national cuisine and everyday food.
Do they speak English in Madrid?
English-language services are widely available in almost all tourist destinations; this includes staff in hotels, stores, restaurants, and bars. Madrid is one of the tourist locations where English is undoubtedly spoken.
Does Madrid have a beach?
Because Madrid is a landlocked city, there are no beaches there. The Manzanares River, however, only offers a few enjoyable locations and sandy beaches close to Madrid. Obviously, one can drive down to the river if one wants to spend a brief, enjoyable day at the beach.
What is unique about Madrid, Spain?
Madrid holds the dual distinction of being both Spain's capital and its largest city. It is situated on the Manzanares River, which flows through the nation's geographic center.
What is the best time of year to visit Madrid?
Madrid is at its liveliest in the spring (March to May) and fall (September to November) when pleasant temperatures sweep through the city. Visit Madrid in the winter, when hotel rates are lower if you don't mind the gloomy weather and the city's general lack of energy.
How do you get around in Madrid?
The metro is the best means of transportation in Madrid. A few metro lines reach the Madrid-Barajas Airport (MAD) in the city's north and southern suburbs. Other transportation options include buses and metered taxis, which can be located in taxi ranks or flagged down on the street.
What is the most luxurious city in Spain?
Madrid. Madrid is renowned for its wealth in history, culture, and art. It is also regarded as one of the most expensive cities in Spain, placed quite close to Barcelona. Its museums and galleries have some of the best Spanish and Latin American art collections.