Split: The second-largest city in Croatia
Split is the obvious destination for everyone who travels to Croatia. This breathtaking UNESCO World Heritage Site is a key launch point for boat cruises off the coast and an island-hopping ferry hub. The massive Diocletian's Palace is also located there. It is, in a nutshell, the center of the Dalmatian coast's economic and cultural life.
Split is a great spot to settle down for a while for all of these reasons. Explore the intriguing 1,600-year-old Roman palace, stroll along the Riva, or seaside promenade, and take as many day trips as time permits from this 180,000-person city, which is conveniently located to reach various islands and underappreciated but stunning towns like Trogir, which is located just north of the city.
Even though Croatia's Dalmatian coast is the busiest (and most expensive) region, a few days spent exploring it is undoubtedly worthwhile. Split has a ton to offer visitors of all colors and budgets, regardless of their hobbies, even though you might have to elbow through some crowds.
You can maximize your time in Split by using our travel guide.
THE HISTORY OF SPLIT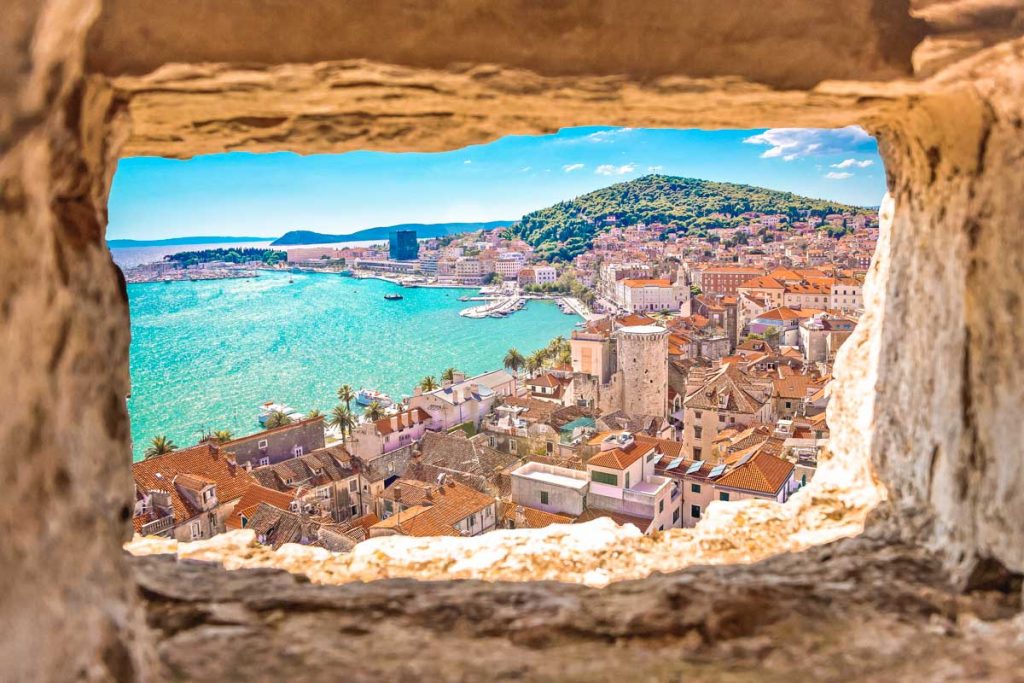 It would be impossible to adequately summarize Split's turbulent and rich history in a few terms. Emperor Diocletian, who began construction on his opulent villa in 293 AD near the important city of Salona, should be credited as the region's first resident and founder, even though Greek colonies had previously inhabited the area. After ten years of construction, he retired from the Roman throne inside the villa's walls.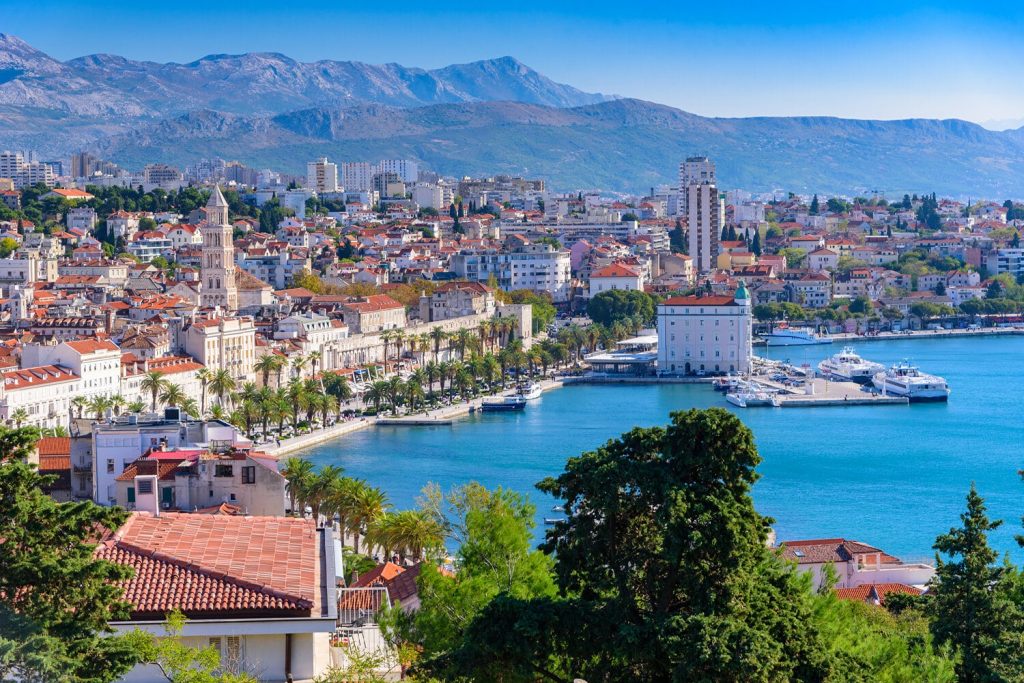 Mobilization
The fleeing residents of Salona who had fled from the Avars and Slavs had built the villa, which was transformed into a city over the following turbulent decades. From the Croatian Kings in the 10th century, through the Hungarian and Venetian administrations, to the French emperors and the Austro-Hungarian monarchy, many governments came and went in the city that, in the years that followed, expanded beyond the Palace walls. Split was "moved" by modernity and the 20th century from the Yugoslavian kingdom through the tragic yet heroic Second World War Italian and German occupation, when Split was one of the hubs of anti-fascist resistance, to Socialist Yugoslavia, and finally to the present time of free and independent Croatia, a member of the European Union.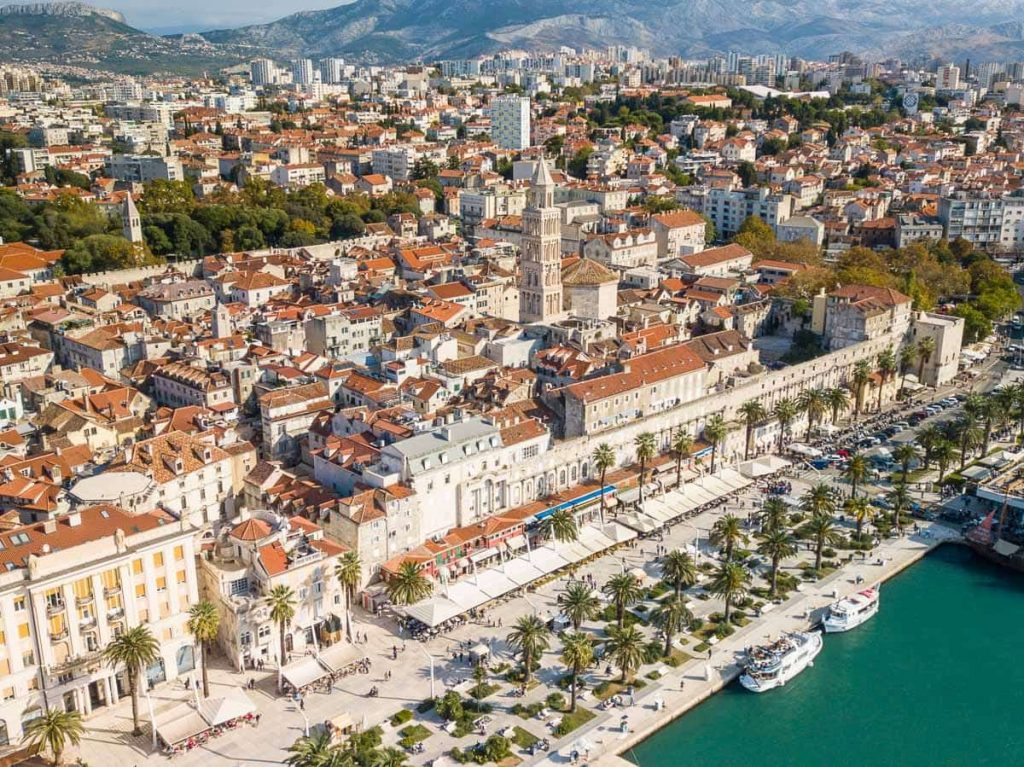 The city's daily activities, which have always advanced gradually and are still the geographic center of this portion of the coast, bear the imprint of its turbulent past. Clumsiness and occasionally even hasty development were unavoidable in those combinations of historical layers, but now it is all a part of its distinctiveness. Today, the great city pulses with the hushed hum of history, the vibrant spirit of youth, the allure of the Mediterranean, and in every way, the warmth of Croatia.
Are you going to Split and looking for the ideal Split travel guide? You've found it! In our travel guide, you can find all the information you need to prepare for your trip to Split, Croatia.
Before You Plan a Trip to Split;
Determine if a visa is required for Split. There is no need to apply for a separate visa for Croatia if you have a standard visa (C) good for two or more entries and valid in all Schengen Area Member States. Read our detailed Schengen Visa guide.
Before you enter Split, Croatia, make sure you have a guidebook. This makes navigating the city simple.
You need comfortable, super light walking shoes because Split is made for strolling.
PRACTICAL INFO ON SPLIT CROATIA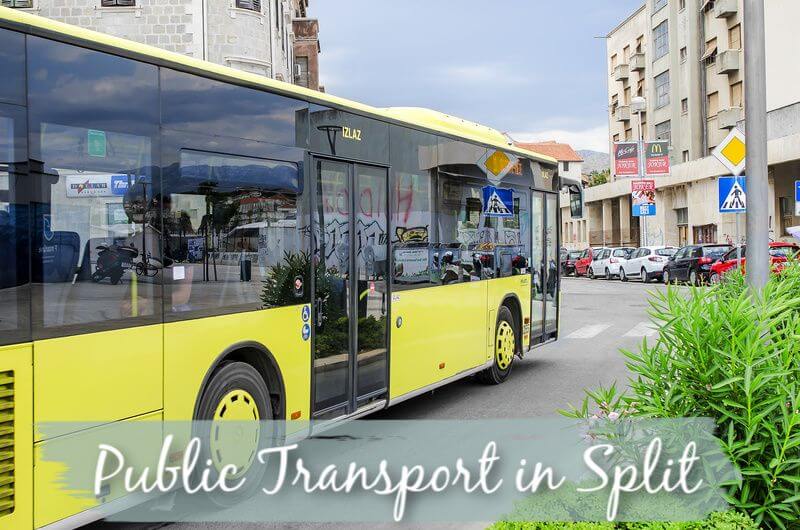 Last but not least, if you need any useful information on Split's public transportation, parking, or travel, you can find it in this blog!
We provide useful advice on how to get to Split, how to get around Split, and where to park your car for anyone traveling by automobile.
Split, the second-largest travel center in Croatia, is easily accessible by all means of transportation, including aircraft, automobiles, buses, and trains. The same is true for getting around Split; it is a compact, walkable town, and no matter where you stay, you are never more than 30–40 minutes from any big attractions. In addition, public transportation is accessible and efficiently run.
You'll be happy to know that parking spaces are still rather simple to come by if you plan on driving. Nevertheless, availability and costs vary according to how near the old town you would like. Parking becomes more expensive and scarcer the closer one approach the old town. We list all the costs and locations of significant parking lots below.
GETTING AROUND SPLIT
It's pretty simple to go to Split. Croatia is the country's second-largest travel center after Zagreb. Split is accessible by vehicle, ferry, train, bus, and airplane. A ferry port, bus, and train station are all close to one another and accessible by foot from Split's old town. On the other side,
Split Airport
Resnik (SPU) is situated 20 km northwest of the city center, close to Trogir.
BY PLANE!
A shuttle service connects Split Airport and the city center. Twenty minutes after landing, shuttle buses leave. Split's downtown may be reached in 30 minutes for a fee of 45 Kn (6 €, 6.4$, or 5 £) per passenger. A cab ride downtown will cost you between 30 and 45 euros. Taking local bus numbers 37 or 38 will get you to Split from the airport for the least amount of money (and vice versa). Near the airport, both lines are scheduled to make a stop. A single journey costs 17 Kn (2€).
Being only 150 kilometers northwest of Split, Zadar International Airport is another option to consider. Ryanair has various reasonably priced flights from Zadar Airport that can be used to get to Split.
BY TRAIN! 
Train service from Zagreb to Split is also available. A one-way ticket costs approximately 15 euros, while a round-trip ticket costs 30 euros. From June 15 to September 15, trains run three times per day. They operate just once each day for the rest of the year. It takes the train six hours.
More info here.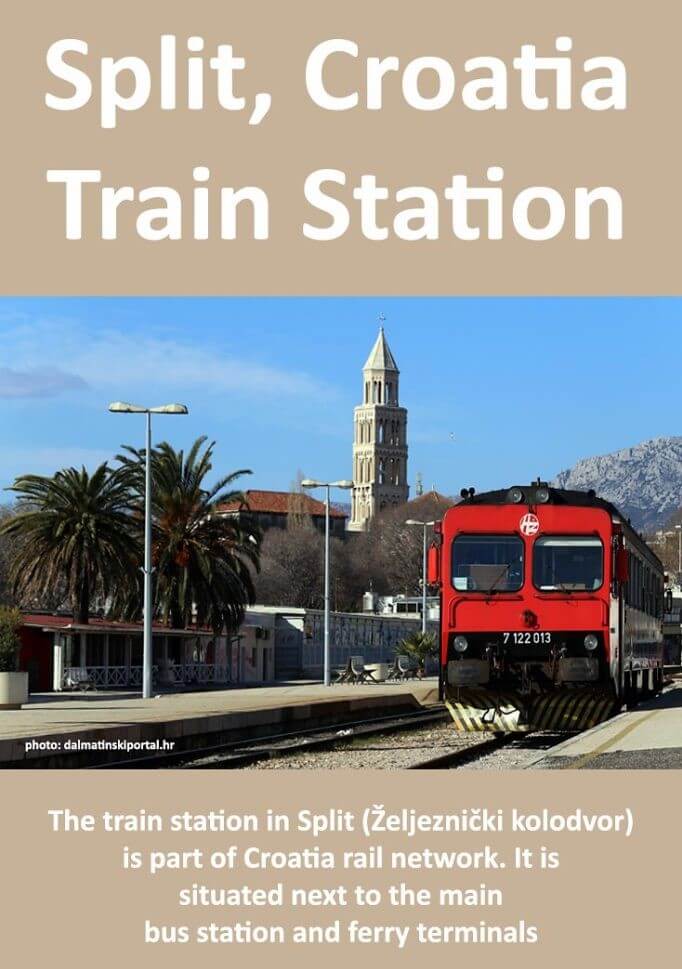 BY BUS!
Buses that travel between cities often throughout the day and throughout the year connect Split with Zagreb and a number of coastal settlements. A one-way ticket to Split from Zagreb costs about 20 euros and takes five hours. The best place to check bus timetables, and book your ticket online is GetByBus.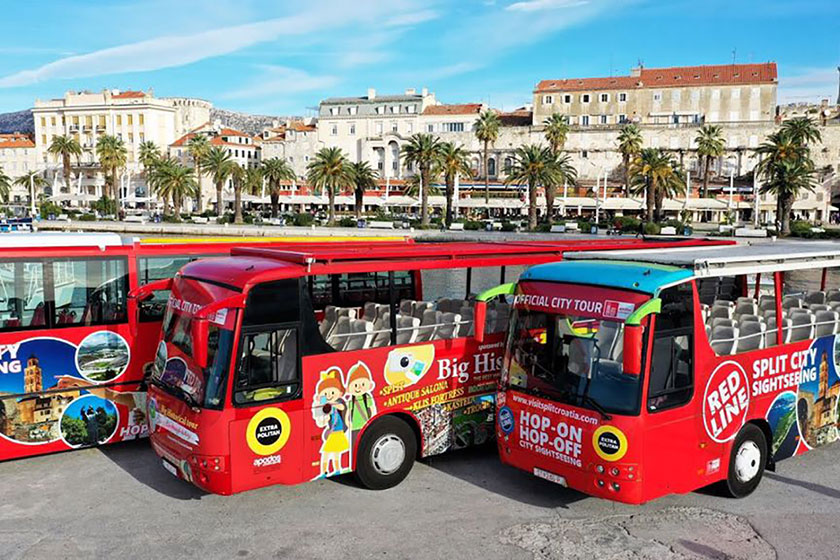 BY FERRY!
A significant ferry hub for the central Dalmatian islands is Split. In addition to regional ferries, ships link Split with Ancona in Italy. The largest ferry company in Croatia is Jadrolinija. On their website, where you may also purchase your ferry ticket online, you can view ferry schedules and costs. Jadrolinija also runs a ferry service between Split and Ancona. The line runs throughout the year by Jadrolinija. Prices start at 48 euros (52 dollars, 40 pounds), and 63 euros (67 dollars, 53 pounds), per adult.
Useful tip on local ferries: In high season ferries get crowded. Arrive at least two hours before departure (if you travel by car).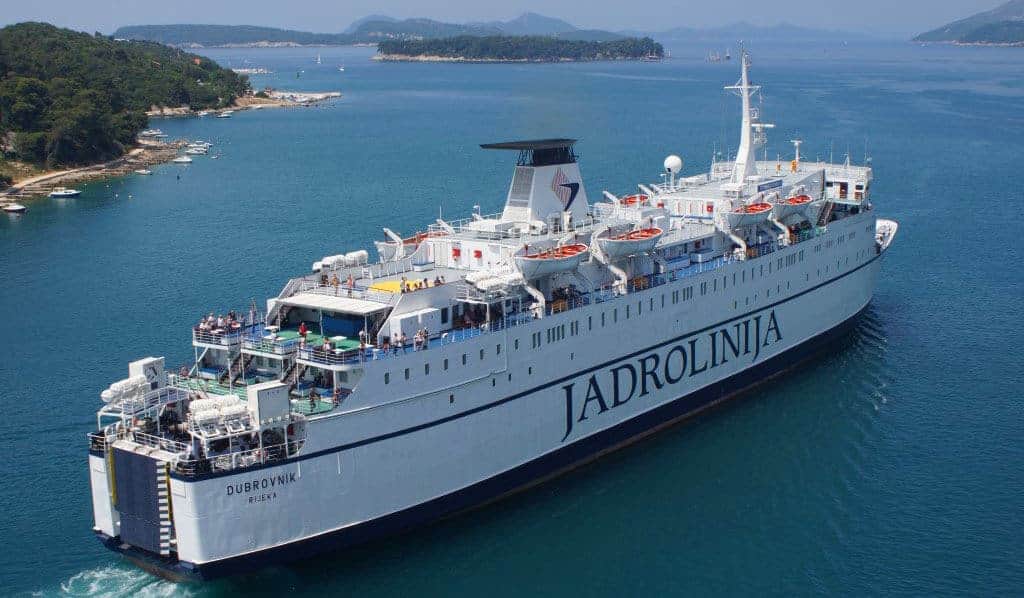 BY CAR!
Driving to Split is incredibly simple. Split is well-positioned and accessible from many locations in Croatia. Take the A6/A1 highway if you're traveling in the direction of Rijeka or Zagreb. Zagreb or Rijeka may be reached from Split in roughly four hours. A trip from Zagreb to Split will cost you roughly 181 Kn (25 €) if you use this toll road.
Budget tip: If you try to save on tolls, but don't mind driving through villages on a single-carriageway road, you can take an old D1 road. 
SPLIT PUBLIC TRANSPORT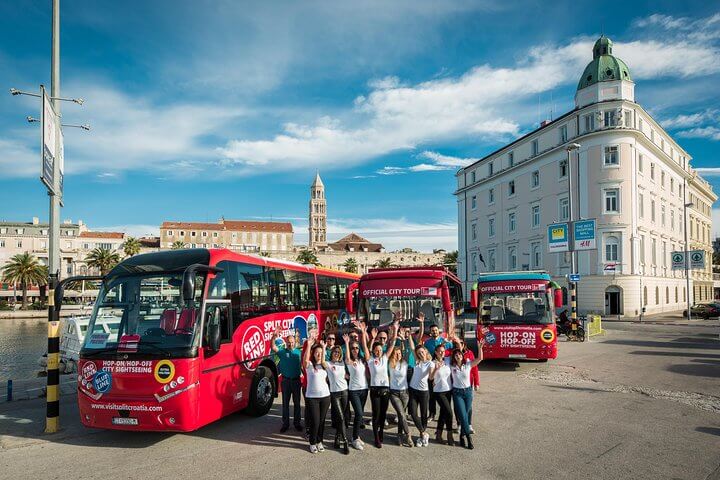 Public transportation in Split is well run. There is a vast bus network. City buses connect Split with the adjacent towns and the many areas within Split. They extend all the way to Omis in the south and to Trogir in the north.
The Split Metropolitan Area has three zones. The larger city center is covered under Zone 1. From 5 am to 12 pm, buses in Zone 1 run every half-hour. The night lines 23, 39, and 40 operate every hour on hour for the full hour.
Buses run less often in Zones 2 and 3. If you avoid the town center, check the bus timetable and plan accordingly because some bus lines have hourly service while others have much less frequent service.
Zone 1 one-ride tickets cost 11 kn, Zone II tickets cost 13 kn, and Zone III tickets (Trogir, Omis) cost 17 kn. Tickets can be bought on the bus or at any ticket kiosk.
Download the Split bus schedule, and bus lines map.
Split's taxis are pricey, but they are a nice option if you go with a group and split the bill.
Starting prices range from 6 Kn (UberX) to 7 Kn (Cammeo), and can reach 20 Kn (Radio Taxi Split). Additionally, each additional kilometer costs between 5 and 10 Kn (UberX, Cammeo) (Radio Taxi Split). The entry-level fare is about 20 Kn.
Generally speaking, a cab ride within the municipal limits costs 20 to 60 Kn (3–9 $, 2.7–8 €, 2.3–6 $).
The town is also easily accessible on foot. Split is a small city, so getting to the ancient town won't take more than 30 to 40 minutes, depending on where you stay.
CAR RENTAL IN SPLIT
Those who intend to rent a car while visiting Split will be pleased to learn that Split is home to branch offices for all major domestic and international car rental firms. All of them may be found at the airport in Split, although several also maintain a second office there. Whichever suits you more!
The car rental industry in Croatia is highly seasonal, with rates rising significantly from June to September.
We always suggest using Rentalcars.com to rent a car. They work as consolidators with all major automobile rental companies, offer reasonable costs, and are generally dependable.
You may quickly compare the costs and availabilities of numerous automobile rental providers on their websites. You can focus your search using their filter options in accordance with your preferences: transmission type—automatic or manual—supplier, seats, etc.
BEST TIME TO VISIT SPLIT CROATIA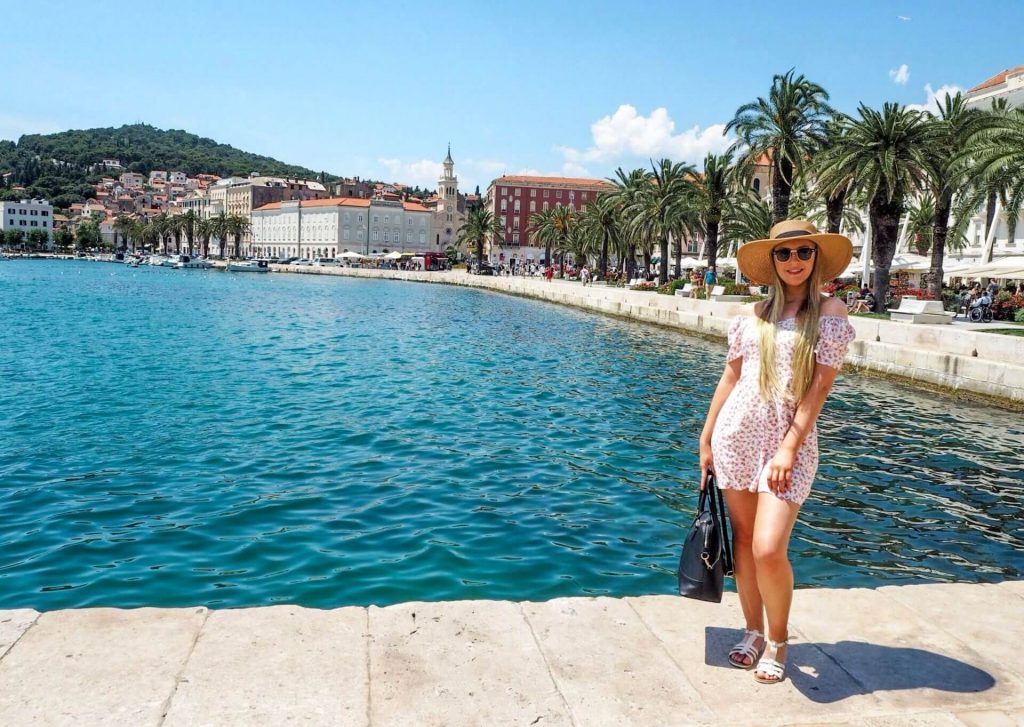 Split is a fantastic place to visit any time of year, but May through October are the greatest months. However, June and September are preferable over July and August because of the extremely hot temperatures and heavy visitor traffic during those months.
June and September are fantastic times to visit Split, but we like September a little bit better because the water is warmer.
Therefore, the second part of September, when the weather is still pleasant, dry, and bright but not unbearably hot, is the best time to visit Split. Additionally, the sea is still warm enough to swim in. By mid-September, the summer vacations are done and Split and other parts of Croatia are less touristy.
WEATHER IN SPLIT CROATIA
What's the climate like in Split? Split experiences rainy, moderate winters and dry, warm summers similar to other Mediterranean cities.
Wintertime lows are extremely rare, if ever. Almost never does it snow. But in Split, as in the rest of Dalmatia, you may anticipate a robust northwest wind called Bura during the winter. Additionally, it gets very cold when Bura blows.
On the other side, summer is incredibly hot and dry. In the summer, it rarely rains, and when it does, it never lasts for very long. 25°C is the typical July and August temperature. However, this represents the average for the entire month, day and night. As a result, there are days when the daytime temperature can rise well above 30 °C.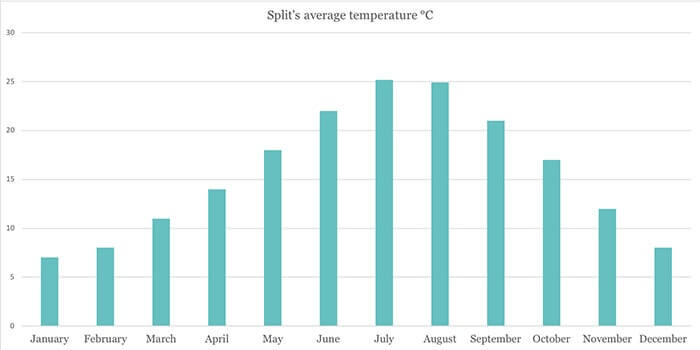 (Average monthly temperatures)
The graph below also shows Split's monthly average sea temperature. Because average values frequently mislead, use this simply as a guide. For instance, the sea temperature is significantly cooler at the beginning of June than at the end. The temps are warm enough for enjoyable swimming at the end of June.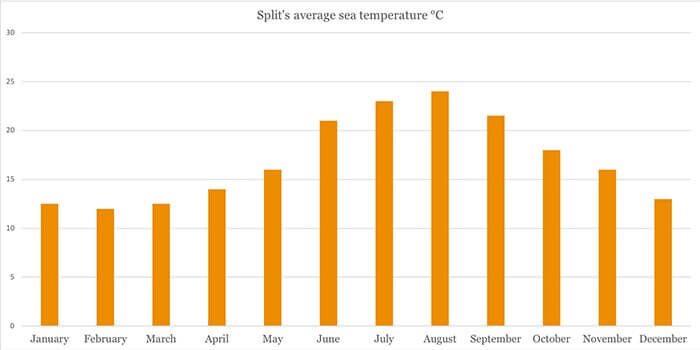 (Average monthly sea temperatures)
WHAT TIME ZONE IN CROATIA
Croatia is one hour ahead of GMT (Greenwich Mean Time) and two hours ahead of GMT during daylight saving time because it is in the Central European Time Zone.
We have to set our watches ahead by one hour during daylight saving time. It runs from the final Sunday of March until the final Sunday of October.
THINGS TO SEE AND DO IN SPLIT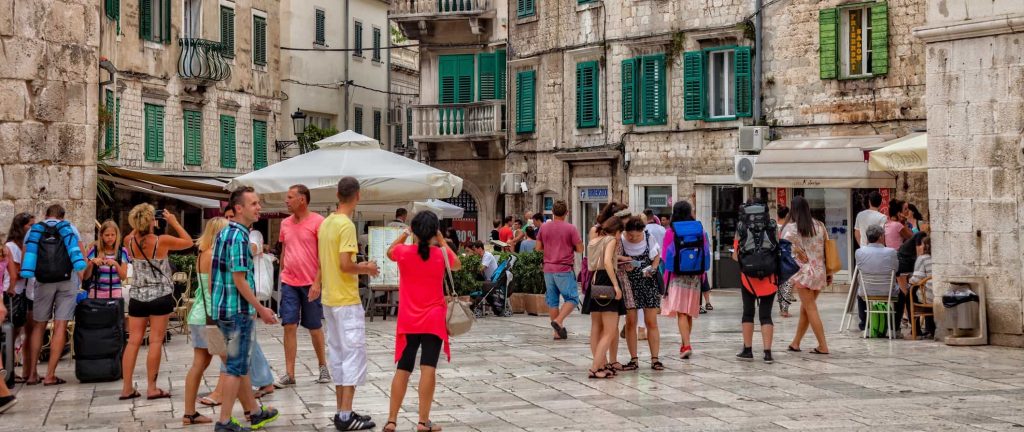 You can feel overloaded in Split because there is so much to see and see. You must be considering what you should do in Split. Do not fret! To create the ideal Split itinerary, I've included the top activities in Split, Croatia.
1.     EXPLORE DIOCLETIAN'S PALACE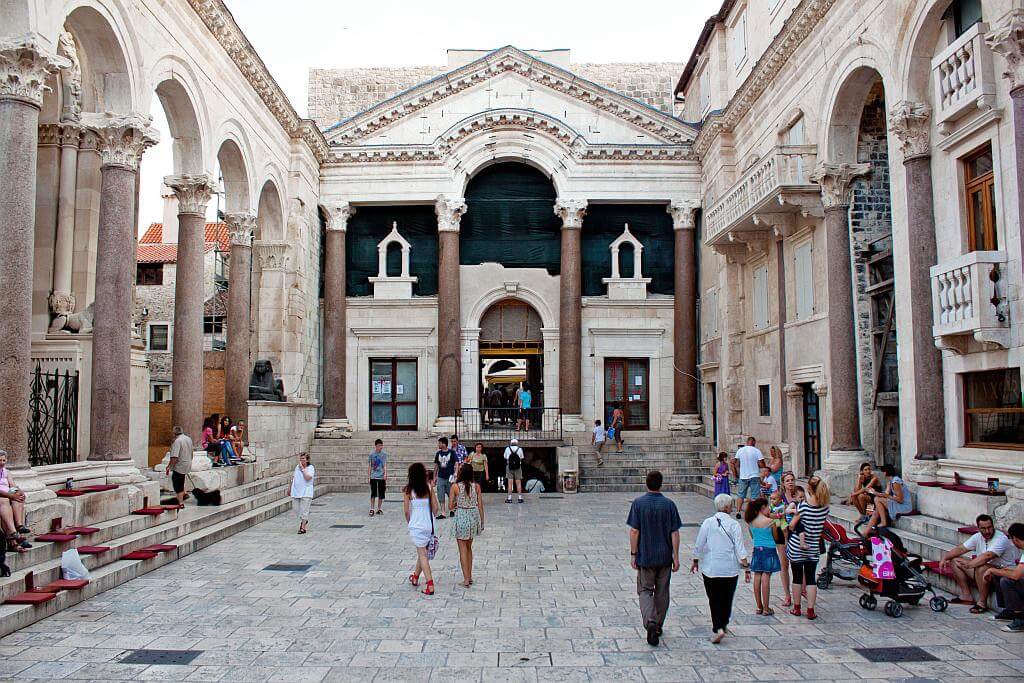 Diocletian, the Roman emperor who had this palace complex erected for him in the fourth century, passed away only a few years after moving in, leaving it to deteriorate (as did the Roman Empire). One of the first places in the world to be named a UNESCO World Heritage Site, the total complex spans seven acres. It's still around today, but the city has moved in. Split's historic core, home to a bewildering array of boutiques, eateries, and lodging options as well as many of the city's most important attractions, is largely made up of the enormous palace ruins.
2.     TREK UP MARJAN HILL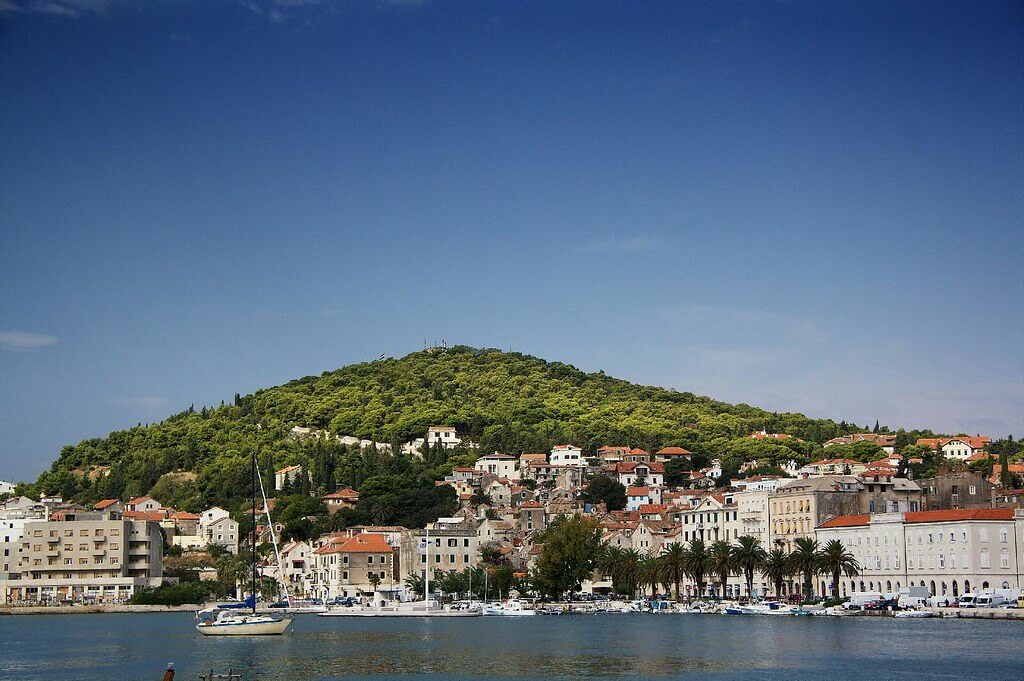 The hill that dominates Split, pronounced "mar-yahn," can be entertaining to climb, especially if you want to work off all that Dalmatian wine. Because of its extensive forest cover, Marjan is known as "the lungs of the city" and projects into the Adriatic. Going to the end of the Riva promenade along the shoreline will bring you to the path's base. You'll be rewarded with breathtaking views at the summit, but be advised that some sections of the paved trail with staircases are rather steep.
3.     CLIMB THE CAMPANILE OF ST. DOMNIUS CATHEDRAL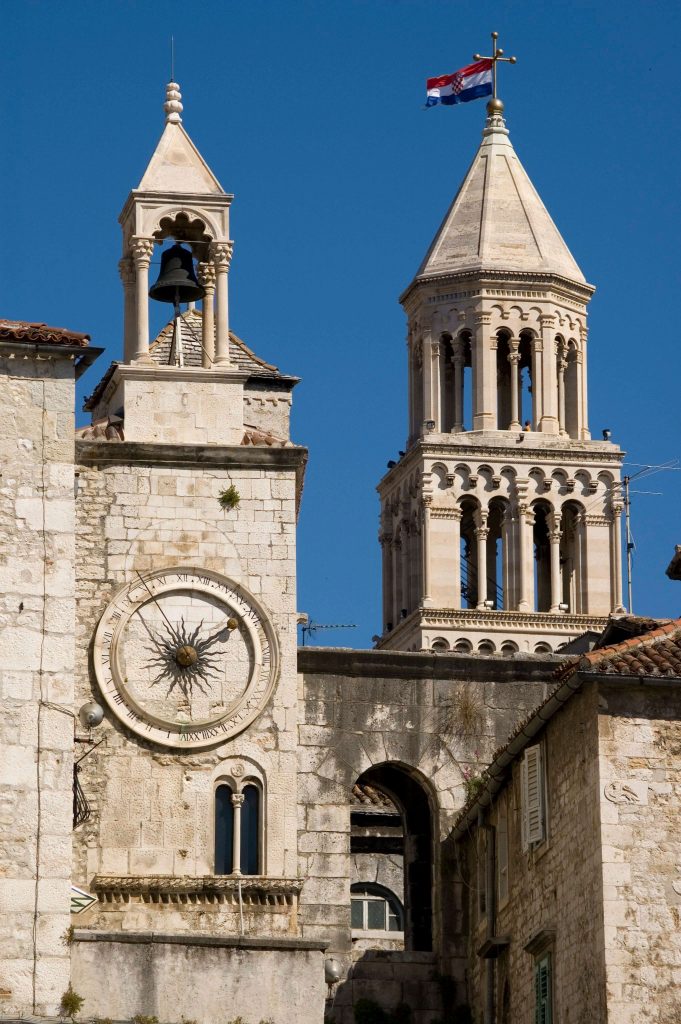 The Cathedral of St. Domnius, famous for its imposing spire that dominates the skyline, was constructed around Diocletian's tomb in the seventh century. It is regarded as the oldest Catholic cathedral that is still in use today. The inside is an intriguing examination of early medieval architecture, and the 57-meter-tall (187-foot) bell tower from the 12th century provides Insta-worthy views. You can purchase a combined ticket for the cathedral, crypt, baptistery, treasure chamber, and bell tower for 80 HRK.
4.      LEARN LOCAL HISTORY AT THE SPLIT CITY MUSEUM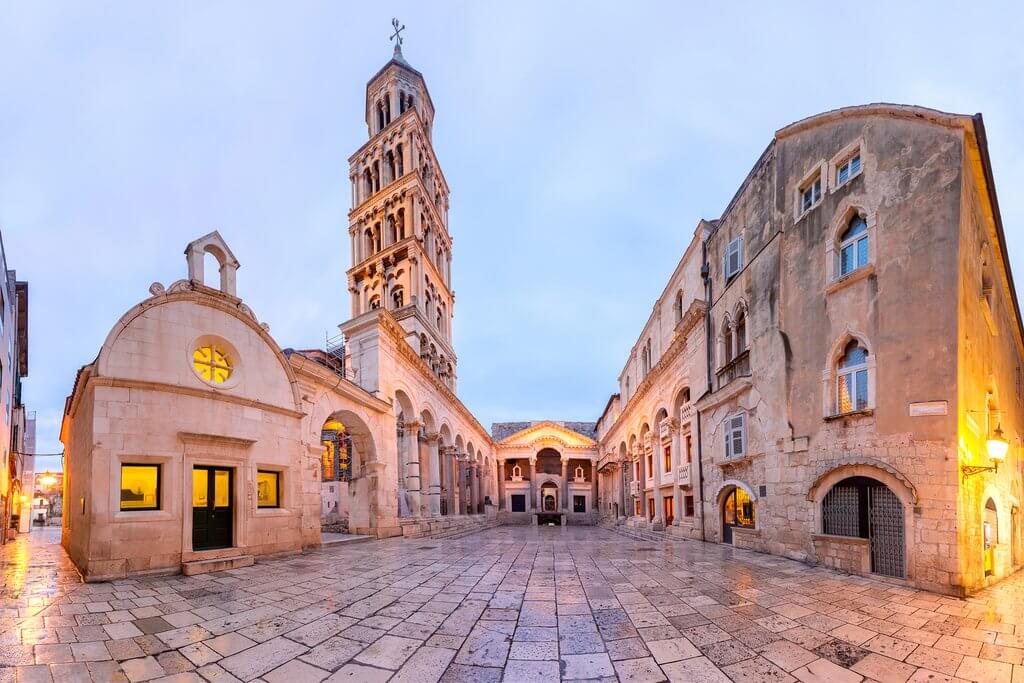 For first-time tourists, city museums are a good way to learn more about a location. The Diocletian's Palace is home to the Split City Museum, which is 75 years old. One of the attractions is wandering around the Gothic edifice from the fifteenth century, which has chambers decorated as they were when the nobles resided there. The museum's three floors are filled with exhibits and artifacts that trace Split's history from the Roman era to Yugoslavia (which broke up in 1992); the primary exhibits include weapons from the Renaissance and the Middle Ages and historical papers and drawings. Entry costs 25 HRK.
5.     RAMBLE ALONG THE RIVA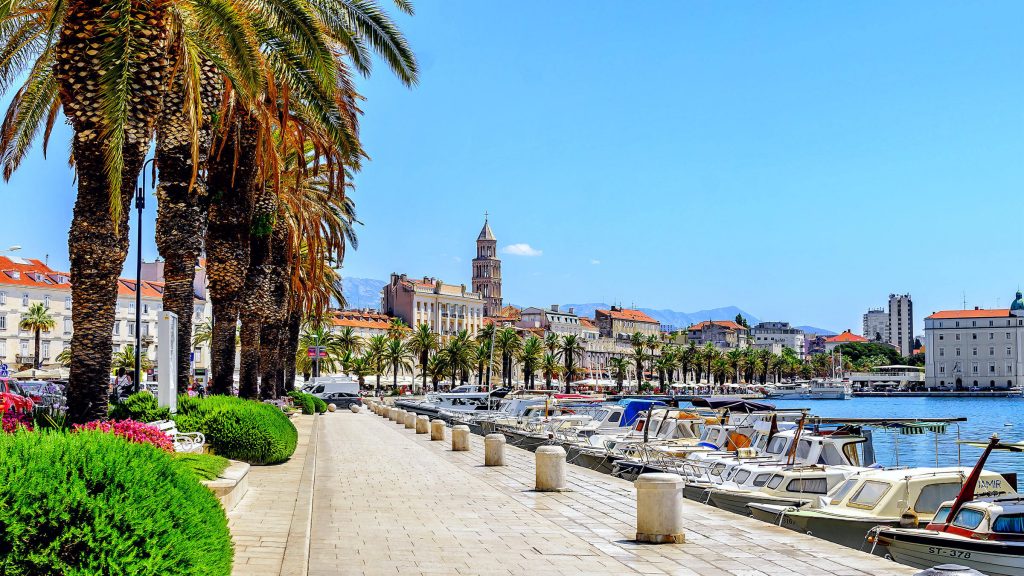 In Split, you should be on this broad, palm-lined coastal promenade. Obala hrvatskog narodnog preporoda is its formal name, but everyone refers to it as "the Riva." Locals frequent this area to sip coffee for hours, people-watch and chat with friends.
It's also an excellent spot to see the sunset, listen to some live music, or observe all the vessels entering and leaving the harbor. The bars in this area also get more lively as dusk falls.
6.     TOWN GATES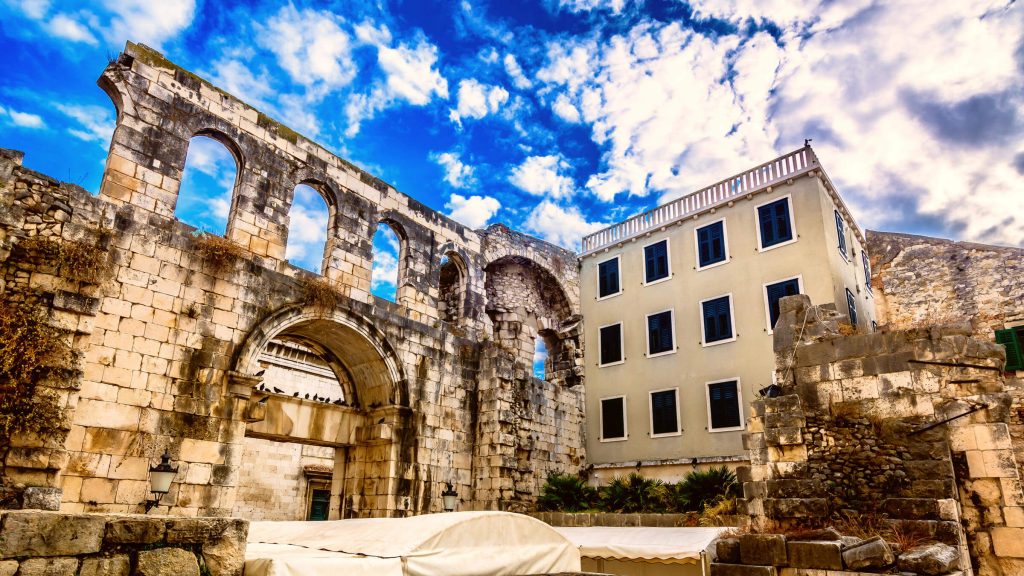 The Diocletian Palace, which dates back 1,700 years, houses the old town of Split. The Palace is roughly 160 m by 190 m in size. The Palace is divided into four quarters by the gates located at the center of each of the four towns' walls: the Golden Gate, Silver Gate, Bras Gate, and Iron Gate.
7.     TAKE A FREE WALKING TOUR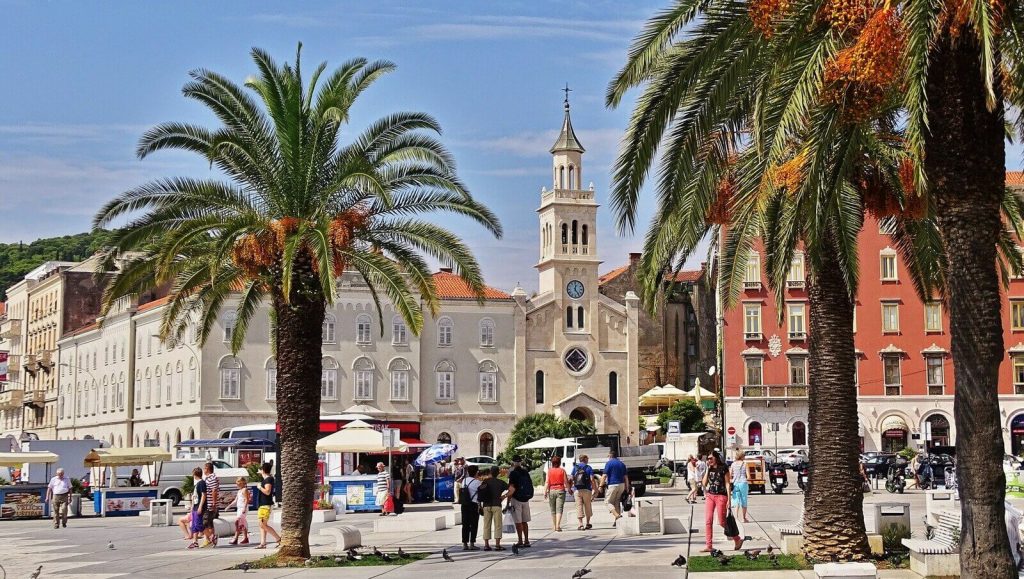 When I visit a new city, I always start out by going on a free walking tour. It's the ideal method to see the main attractions and get to know a local tour guide who can address all my inquiries. A regular, free tour that takes in all the major landmarks in town is organized by Free Split Walking Tour. Only remember to give your guide a tip at the end!
8.     TRY TO FEEL FJAKA
The only place where the untranslatable word fjaka, pronounced "fe-yahka," exists in Split. It's a sentiment of unwinding, of leading a balanced life without working excessively. Many refer to it as "Dalmatian Buddhism." Asking locals for advice on getting the most fjaka is a fantastic way to start a conversation.

9.     TAKE A DAY TRIP TO TROGIR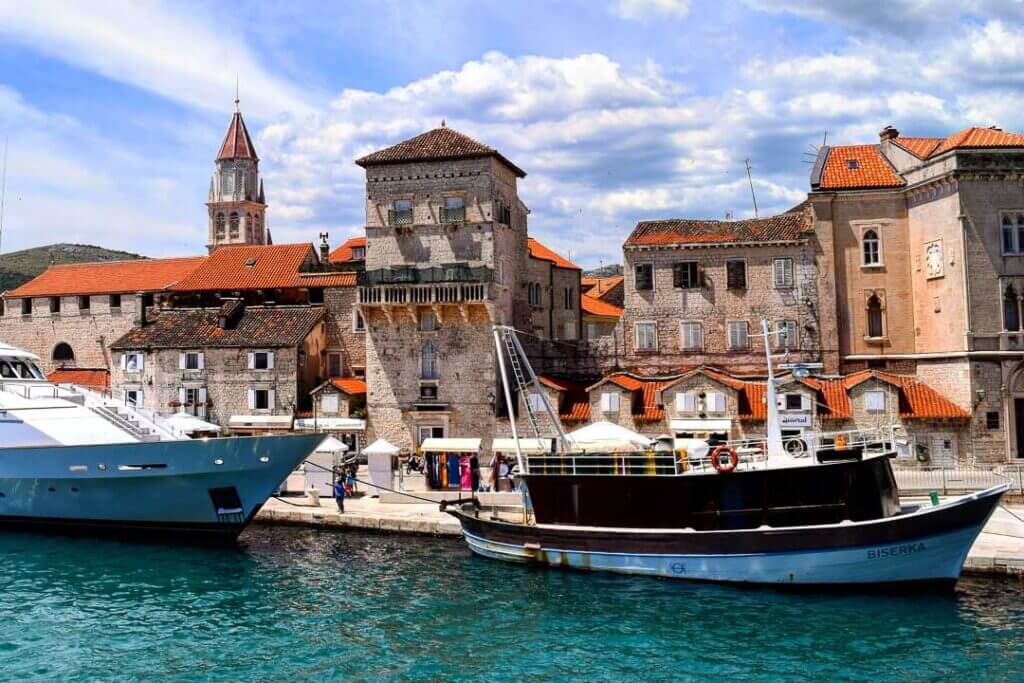 The most stunning village you've probably never heard of is Trogir, 32 kilometers (20 miles) north of Split. Trogir is also one of the simplest day trips from Split. This small community of 10,000 inhabitants has a lot to offer. It is attractively covered in white limestone and is enclosed by ancient walls. Numerous medieval churches can be found. And thankfully, there won't be a horde of cruise ship tourists occupying the area. Keep an eye out for the impressive Cathedral of St. Lawrence, whose construction dates back to the late 12th century. If the lofty bell tower from the 15th century is open and you're not frightened of heights, make your way to the top for a fantastic perspective. Obtain a bus to Trogir from the main station in Split, Sukoišanska.
10. VISIT THE GAME OF THRONES MUSEUM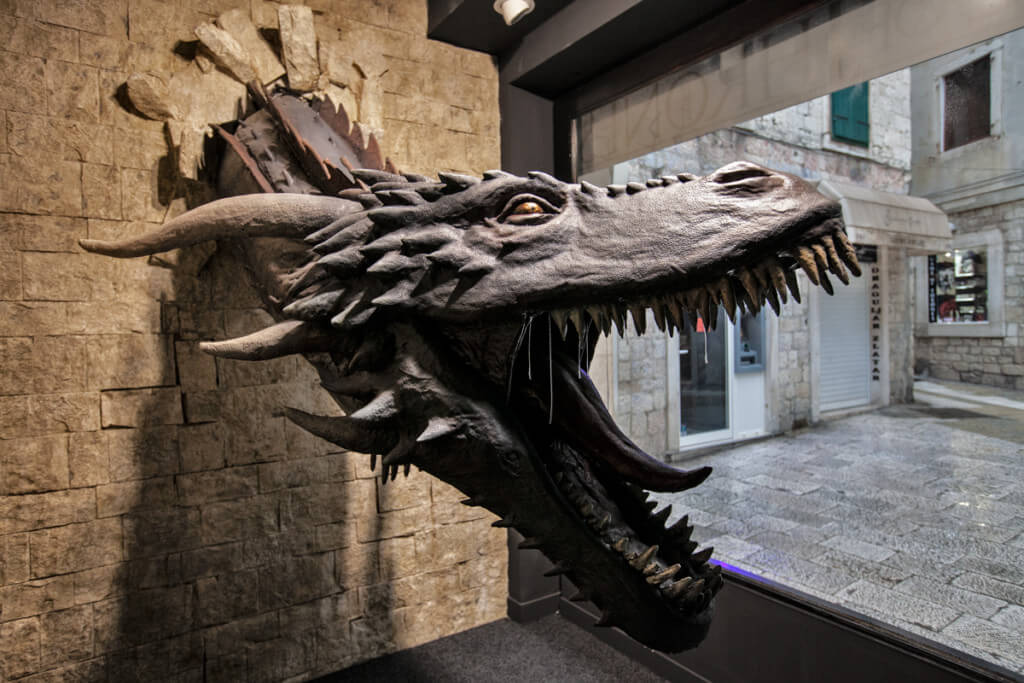 Despite its modest size, fans must visit this museum that is devoted to the renowned HBO series. Learn about the many places used for filming in Split and get a close-up look at a few elaborate costumes and set pieces. Entry is 100 HRK.
SPLIT BEACHES
Given that it is the largest town on the Adriatic, Split is also a true beach town with a variety of beaches along its coastline, including the pebbly Znjan and Trstenik, the rocky Kasjuni, and Bene beaches, and the sandy Bacvice beach.
Although Split's beaches aren't the most beautiful in Croatia, they do a good job of reducing the summertime noon heat. particularly during the workweek. Locals visit the town beaches because they are nearby and convenient when they have little time left after work. Bacvice, Kasjuni, Bene, and Znjan are Split's four most visited beaches.
Weekends are when people like to go swimming outside the city, either to Duce or one of the nearby islands like Solta, Brac, or Ciovo.
BUSIEST BEACH
The busiest beach in Split is Bacvice, a sandy cove a short stroll from the old center. The seashore is ideal for playing a game of picigin with friends. Another reason to like Bacvice is the charming café-bar Zbirac. This beach is quite well-liked by the locals and is nearly never empty.
LOCALS FAVORITE
You can find the beaches of Trstenik and Znjan just south of Bacvice. Locals favor them because both beaches have excellent kid-friendly amenities and easy access to parking.
Kasjuni beach is located at the base of Marjan Hill, west of the town center. This unadorned pebbly beach is shielded from the wind by a long breakout. This beach is dog-friendly and offers some seclusion along its rocky outcroppings at the far end. There is a popular beach in Split not far from Kasjuni called Kastelet (locals also call this beach – Obojena).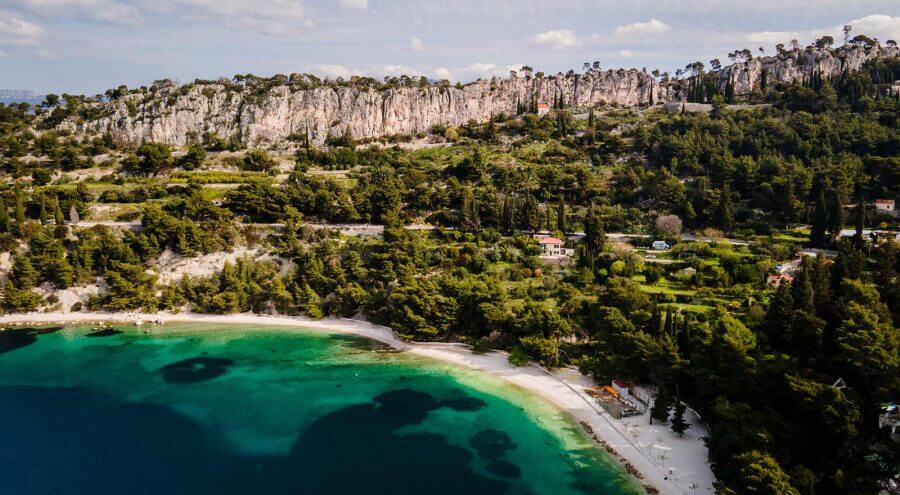 Bene beach is located on the opposite side of Kasjuni, at the base of Marjan Hill. The pine trees provide plenty of natural shade that flank this rocky and cement area with direct sea access. There are also nearby hiking trails, a beach bar, various sports available, restrooms, and hiking trails.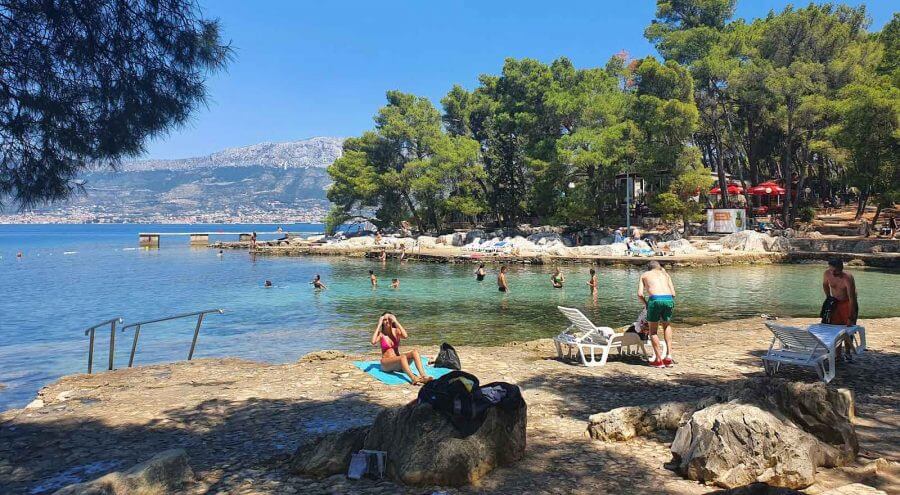 RESTAURANTS IN SPLIT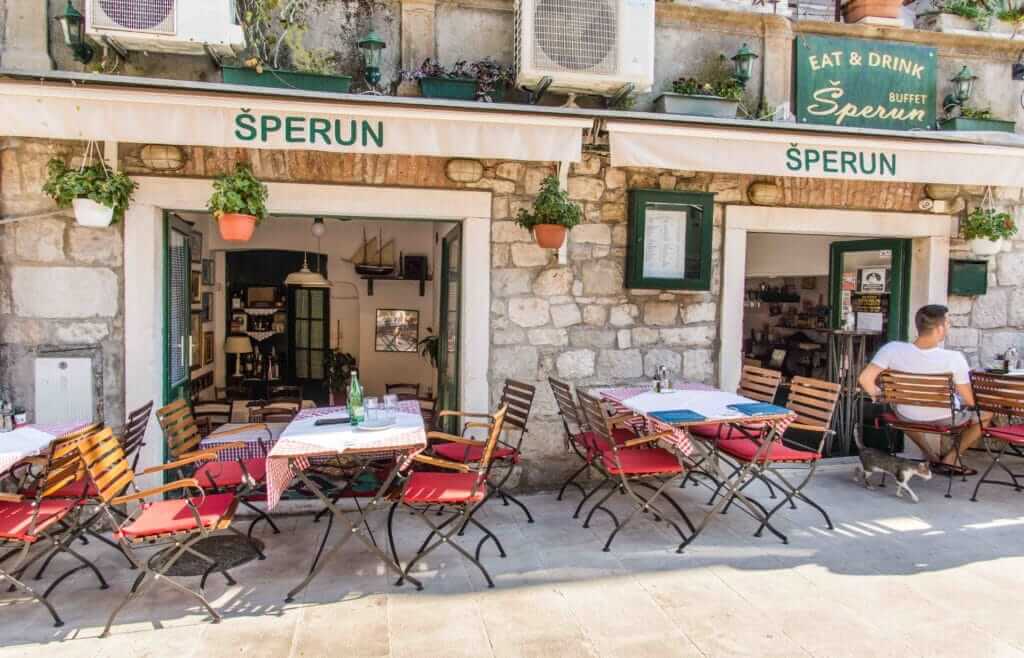 Split has so many fantastic restaurants that you can never get hungry. It is the ideal vacation spot for foodies. Split restaurants cater to every taste and budget, with options ranging from cozy, family-run taverns serving delectable Dalmatian fare to tasty street food stands serving a quick fix like hearty burek or cevapi for late-night meal demands.
What is a typical food in Split?
Several stews, such as cuttlefish or beef stew, pasta dishes, and risottos, are popular in Split, particularly black risotto with squids and squid ink. Other common meals include grilled meat, fish, or seafood with sides like Swiss chard, French fries, or grilled vegetables. Cheap local fast food options include cevapi, a finger-shaped minced meat dish that is grilled and served with pepper spread (ajvar), onions, and pita bread. Other affordable local fast food options include savory phyllo-dough pies (burek or pita) with various fillings like cheese, spinach, potatoes, or minced meat.
How much does it cost to eat out in Split Croatia?
Despite ongoing price increases, eating out in Split is still reasonably priced. Local fast-food restaurants provide meals for as little as 2 to 5 euros. A few neighborhood bars provide a selection of daily dishes that are fresh, flavorful, and well-prepared at prices ranging from 7 to 20 euros. Grilled tuna, tuna stew, pig, beef, or veal chops with Swiss chard, calamari stew, zucchini, prawn pasta, and other dishes are examples of possible menu items. Lunch at a high-end restaurant will cost you about 50 euros per person.
Below, we've listed our top three Split restaurants, all of which serve delectable Dalmatian fare.
1. Villa Spiza!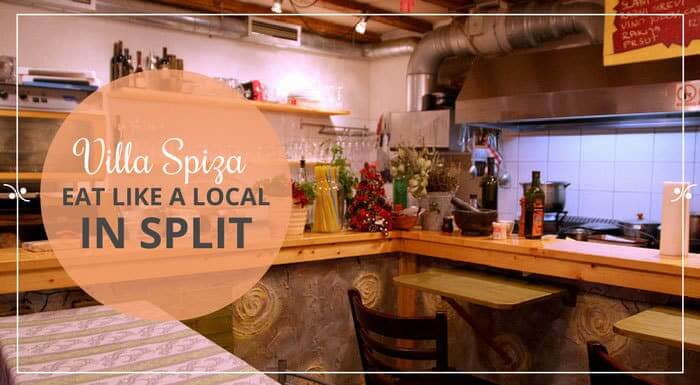 (Best Restaurants in Split: Villa Spiza | Croatia Restaurants Guide)
A little restaurant that only serves locally sourced traditional, fresh, and simple food. There are only a few tables. The uncomplicated menu gets updated every day. Pay between 40 and 70 Kn for each dish.
Split is THE place to go if you want to experience the authentic Dalmatian culture. The place to eat is Villa Spiza if you want to sample authentic Dalmatian home food. Villa Spiza is a charming local establishment that is distinctive and different from any other place in the world, with a warm and welcoming ambiance, delicious food, and a terrific experience that extends beyond the meal.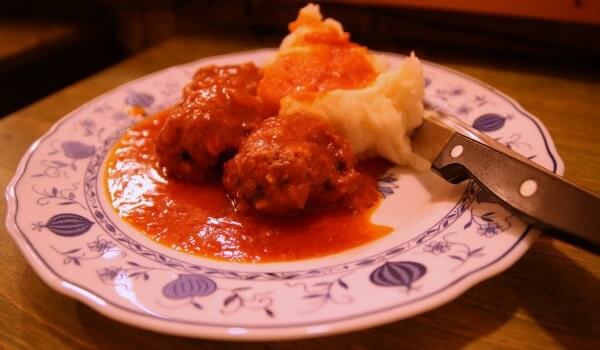 (Super tasty meatballs at Villa Spiza)
2. Fetivi!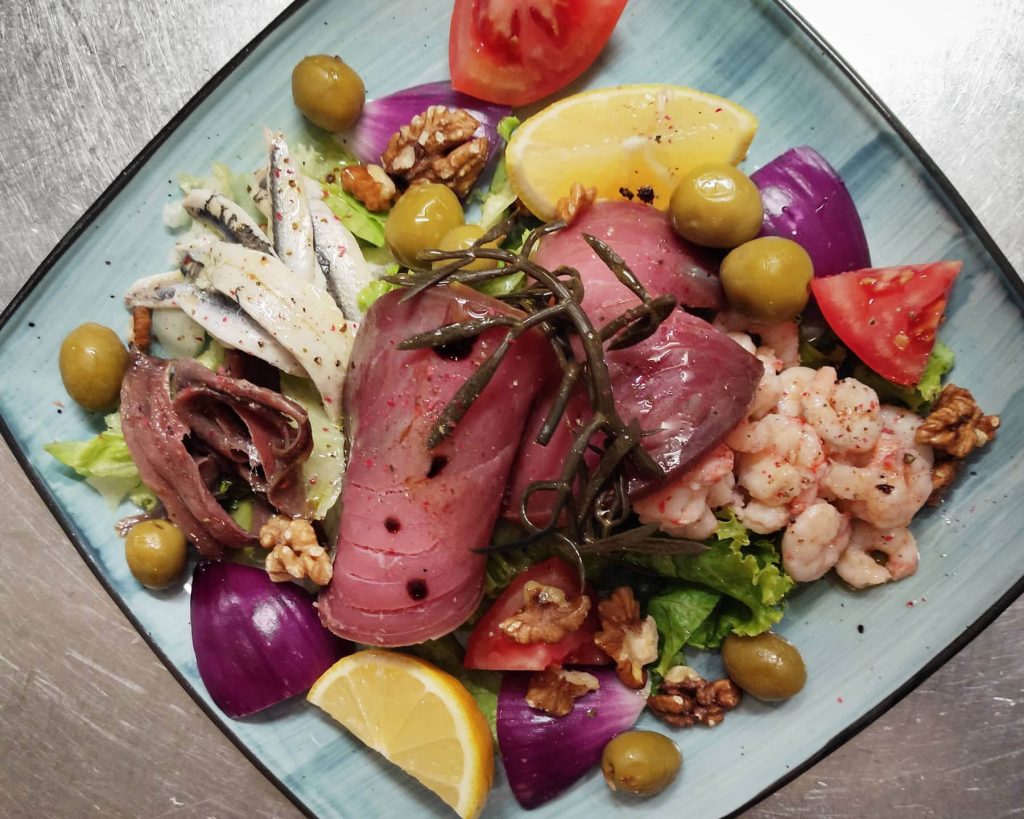 A cozy, family-run bar that serves delicious food in a small setting. Fetivi is a traditional Dalmatian restaurant serving fried little oily fish, octopus and chickpeas stew, black risotto, various grilled dishes, etc. It is adjacent to Matejuska, a small fishing harbor west of Split. Per dish, budget about 100 Kn.
3. Kadena!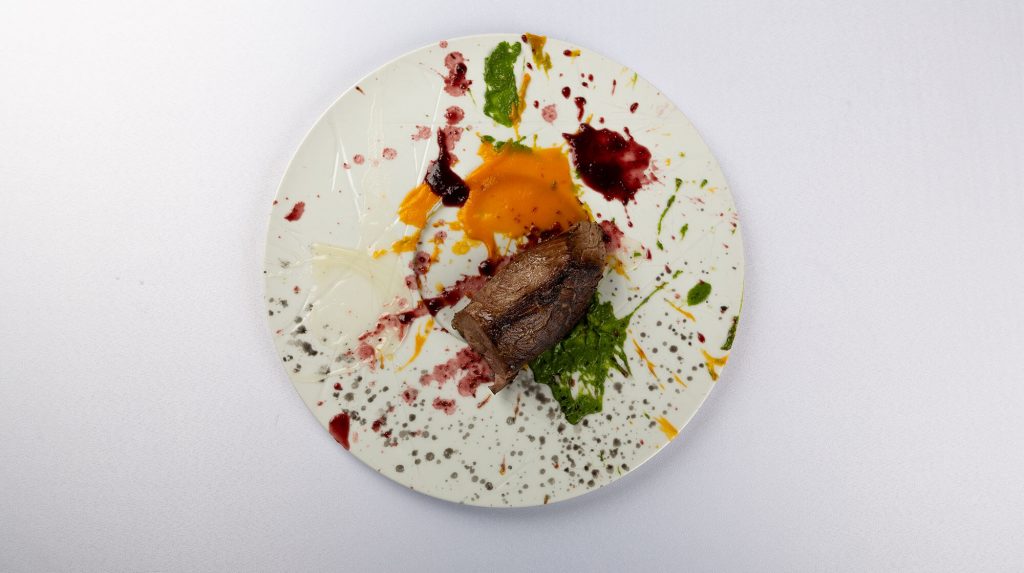 The exquisite Kadena restaurant in Split is a local favorite. It has a wonderful terrace that is sheltered and has amazing views of the sea. The location is quite large and frequently hosts huge parties, which can occasionally be boisterous. However, both the meal and the service are outstanding. A three-course lunch with drinks will cost you about 60€ per person.
BARS, CLUBS & NIGHTLIFE IN SPLIT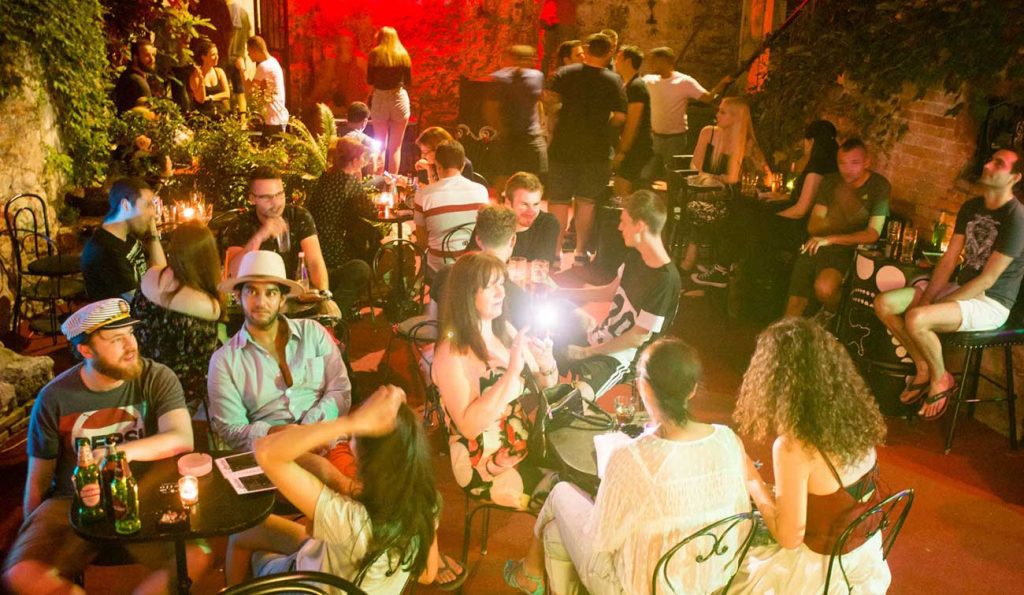 (Academia Ghetto Club)
If you're in town for late-night entertainment, Split isn't as wild as Novalja or Tisno. However, you can still find a few entertaining bars in the old town typically open until 1 pm, and a few nightclubs that stay open until early hours distributed across the city. Split's club scene is enjoyable and unpretentious.
Most well-liked bars and clubs are dispersed among a few streets and districts. A party crowd eventually goes to the Bacvice area later in the night after the typical bar crawl starts in the old town, passing pubs on Dosut Street and Pjaca.
Despite its moniker, Ghetto Club is actually a bar with an art gallery. The Ghetto, once a well-kept secret and a local hangout, is also gaining popularity among tourists. The bar offers a bohemian vibe and a great courtyard where you may relax while drinking. Check out Shotgun Shooters Bar, a little bar providing dangerously cheap shots, long drinks, and beer in Get, the hippest area of an old town. Charlie's Backpackers Bar is a great place to meet other international visitors. Charlie's motto "established by Aussies, created by travelers, and loved by locals" sums it up perfectly.
Leopold's Delicatessen Bar is the greatest option for craft beer lovers, and Marvlvs Library Jazz Bar is a nice spot to unwind with a glass of wine. Visit The Daltonist Craft Bar for a tasty drink and some small fare. Food, more than 50 local and foreign beer brands, and late-night DJ or live band parties are all available at Fabrique Pub.
Head to Central, a late-night club in the old town just outside the Palace walls, Adriatic Social Club offers wonderful day and night chilling for music and sound fans, or to the sleepy Bacvice neighborhood's Bacvice Club.
WHERE TO STAY IN SPLIT CROATIA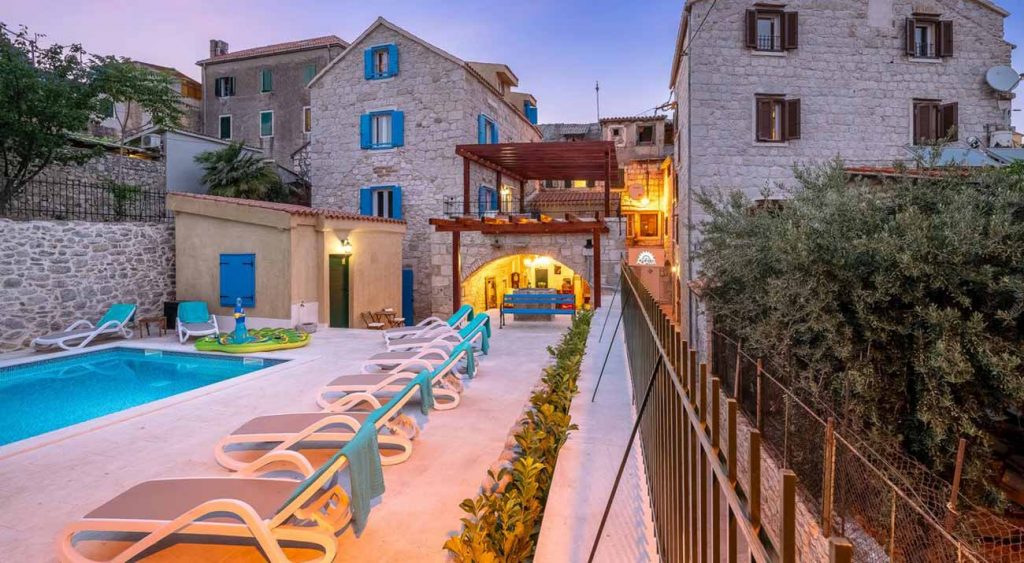 Are you planning your holidays in Split and asking yourself where to stay in Split, Croatia? Our Split accommodation guide is here to help!
Discover whether staying in Split is worthwhile, the best neighborhoods to stay in, the benefits and drawbacks of various lodging options in Split, and the full list of the top hotels, resorts, vacation rentals, and hostels in Split for all types of travelers and price ranges.
BASED ON YOUR PREFERENCES
If you have the option, stay in Split for longer than a day. You can discover areas in Split to fit your interests, from the elegant Meje to the beachside Bacvice and Trstenik region, to the picturesque Veli Varos and the ancient old town.
If you like to be in the middle of everything, staying in Split's old town (Diocletian's Palace) is the finest option. If you prefer a neighborhood atmosphere and a convenient location without the bustle of the old town, stay in the Veli Varos region. Dobri, Manus, and Lucac are your best options if you're seeking a cheap place to stay in Split. On the other hand, if you're looking for a hotel in Split close to the shore, pick Bacvice, Trstenik, or Znjan. Families with young children should consider visiting Meje.
The lodging options in Split include B&Bs and boutique hotels in the old part of the city, a variety of attractive vacation homes throughout the area, and a few full-service international hotel chains.
In Split, Croatia, you won't find the traditional 5-star or luxury hotels; instead, you'll find charming boutique hotels housed in old structures.
Instead of staying in the Split city center if you're seeking a great beach hotel, think about staying in one of the adjacent seaside towns.
For those looking for additional room and comfort, split vacation rentals are a terrific option. For families traveling with kids or groups of friends, they frequently provide the best bargain.
Split has a decent selection of contemporary hostels, many of which have private rooms and toilets, for tourists on a tight budget.
Let us assist you in choosing a place to stay in Split!
THE BEST AREAS TO STAY IN SPLIT
Where to stay for the first time – Old Town
Best places to stay for couples – Veli Varos
Where to stay on a budget – Dobri, Manus, Lucac
Where to stay for nightlife – Bacvice
Best neighborhoods for families – Znjan and Meje
BEST PLACES TO STAY IN SPLIT OLD TOWN
If you like to be in the center of everything, the ancient town of Split is the finest spot to stay. The ancient town is a nice place to stay in Split when visiting for the first time.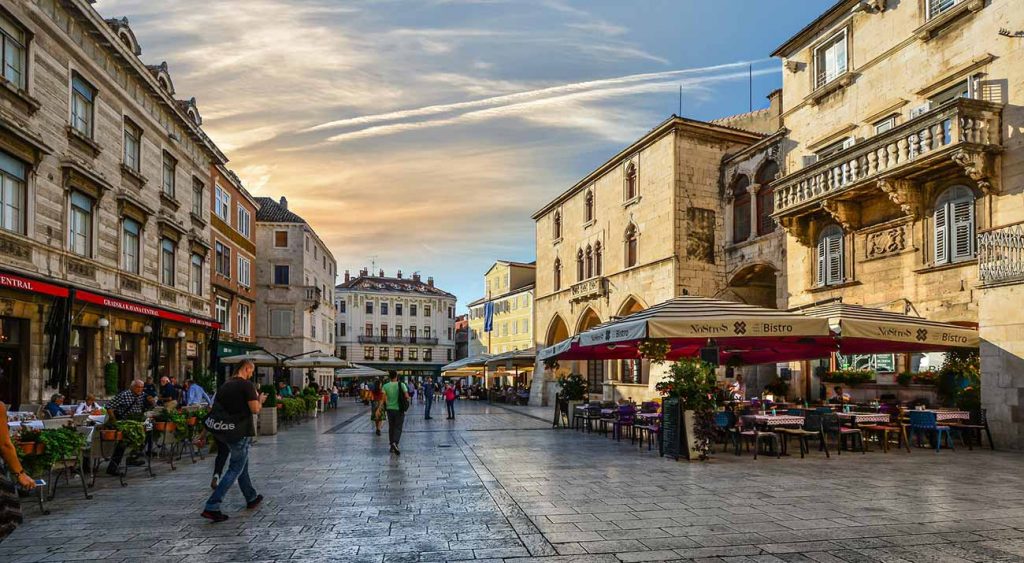 You must park outside the palace walls if you plan to drive through the old town, which is a car-free zone. Airbnbs do not typically offer a porter service to assist with your bags.
In the evening (due to bars, people, etc.) and in the morning (street cleaners). However, the majority of lodgings feature soundproof windows. Consider this, though, if you enjoy sleeping with the windows open.
The cost of lodging inside the palace is typically higher. Like anywhere else, a prime location is expensive.
Here you will find an array of cozy B&B, like Abokamento Boutique Rooms or Grgur Ninski Rooms; lovely heritage boutique hotels like our favorite Palace Judita or Antique; and charming self-catering apartments like Riva Luxury Suites or Studios Aurela Palace. They are all housed in historic buildings with a character.
BEST PLACES TO STAY IN SPLIT VELI VAROS AREA
Numerous luxurious self-catering apartments and a few little boutique hotels are available in Veli Varos. In our opinion, Veli Varos is the ideal area to stay in Split. Additionally, it is the ideal location for couples to stay in Split.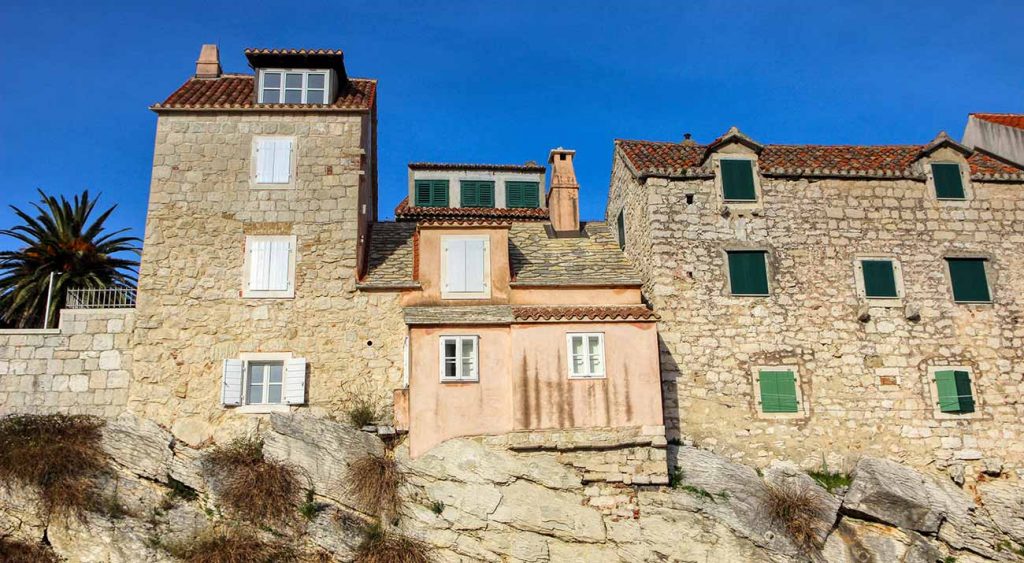 If you prefer a neighborhood atmosphere and a convenient location without the bustle of the old town, stay here. Parts of Veli Varos are pedestrian-only zones.
The Heritage Palace Varos hotel, located in a former olive oil press, is a classy establishment with a peaceful environment and helpful employees.
The Divota Apartment Hotel offers studios and apartments that are fully furnished together with the conveniences of a hotel including a hearty breakfast and spa.
Modern furnishings, a comfortable bed, and excellent kitchen and bathroom amenities are all included in the stylish Studios 81.
SPLIT ACCOMMODATION IN DOBRI, MANUS, AND LUCAC AREAS
Architecturally speaking, these regions are a combination of straightforward stone homes from the Middle Ages, Austro-Hungarian, and even post-war Soviet construction. They are less well-preserved than Veli Varos. There can be a lot of traffic here.
However, this gives these locations a certain quality all their own. They are some of the greatest places to stay in Split due to their proximity to the old town, parking spaces, and somewhat less expensive lodging. Consider staying in one of these Split neighborhoods if you need a place to stay Split on a tight budget.
studio apartments that are basic but practical The amenities of Mirakul include a fully equipped kitchen, free parking, and a welcoming host.
Hotel Luxe offers cozy accommodations, unique decor, a small spa, and a gym within a short stroll from the ferry terminal and the old town.
One of our favorite hotels in Split, Cornaro Hotel has 147 contemporary rooms, a spa, gym, buffet restaurant, and, best of all, a rooftop terrace with breathtaking views of the old town. It is located just outside the old town walls.
BEST SPLIT HOTELS
Large hotels are not present in Split. With a few notable outliers like Radisson Blu or Cornaro, most hotels in Split, Croatia, have fewer than 100 rooms, and the majority of them have between one and twenty rooms.
In Split, Croatia, you won't find traditional luxury hotels or five-star hotels; instead, you'll find charming boutique hotels housed in old structures designated Heritage Hotels.
1.    Palace Judita Heritage Hotel – Prices start from 110 € per night for a double room with breakfast.
2.    Heritage Hotel Antique – The prices start at 120 € per night for a double room with breakfast.
3.    Hotel Vestibul Palace – Prices start at 95€ per night for a double room with breakfast.
4.    Hotel Luxe – Prices start at 80 € per night for a double room with breakfast.
5.    Radisson Blu – The prices start at 110 € per night for a double room with breakfast.
HOSTELS IN SPLIT CROATIA
Consider staying at one of the many hostels in Split, Croatia, if you're seeking low-cost lodging options.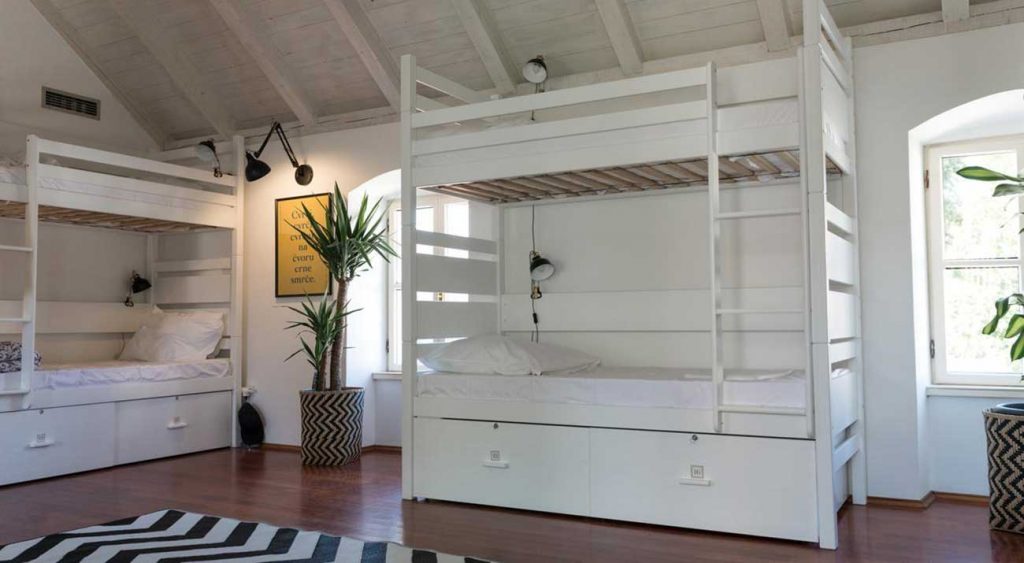 Comfortable accommodations for travelers on a budget are synonymous with Ciri Biri Bela Boutique Hostel in Split.
Ciri Biri Bela Boutique Hostel offers air-conditioned 8-bed dorm rooms with communal toilets, lockers, and free WiFi conveniently located within a short stroll from the old town.
The hostel has a terrace and a common kitchen. The staff is very welcoming and eager to share their expertise about this beautiful city.
– Few more Hostels to stay in Split;
SPLIT CITY DETAILS
CITY MAP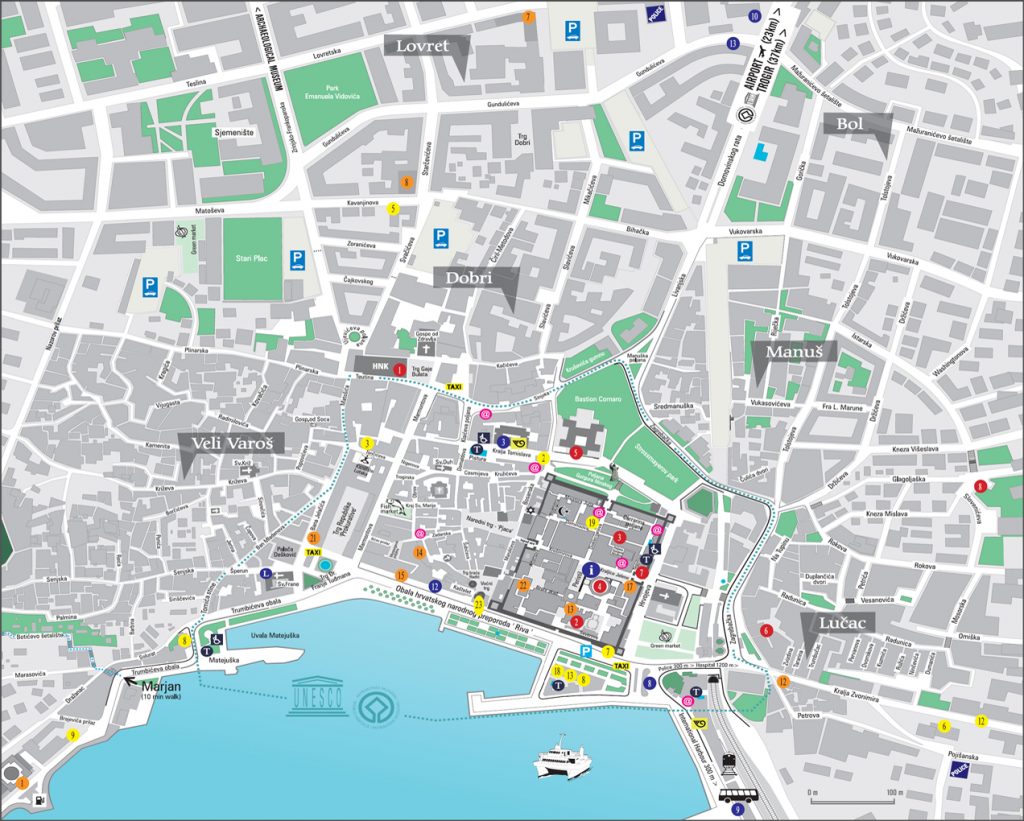 (Link)
SPLIT CITY CARD
With SplitCard, you can take advantage of all that Split has to offer, including free museum entrance and exclusive savings at some of the city's top eateries, stores, and service providers.
At one of our tourist information centers, including TIC Peristil, TIC Riva, and TIC Stobreč, you may pick up your FREE SplitCard.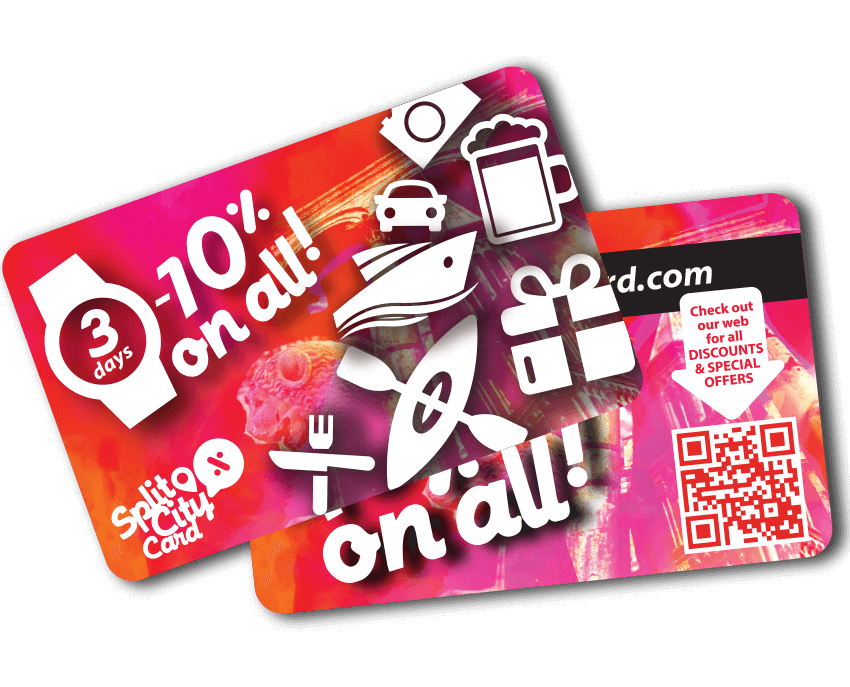 SPLIT CARD GIVES YOU;
Free entrance to Museums and Galleries
Split City Museum, Papalićeva
Etnographic Museum, Iza Vestibula
Natural History Museum, Poljana kneza Trpimira
Zoo, Kolombatovićevo šetalište
50% discount for Museums and Galleries
Archeological Museum, Zrinsko-Frankopanska 25
Tusculum (Salona), Ulica don Frane Bulića 91, 21210 Solin
Croatian Maritime Museum, Glagoljaša 18
The Meštrović Gallery and Kaštelet, Šetalište Ivana Meštrovića 39 and 46
SPLIT TO ZAGREB BUS
If you can, plan your trip in advance and steer clear of peak hours to get the greatest deal on a bus ticket from Split to Zagreb.
The cheapest tickets from Split to Zagreb may be bought for only € 20, however, the typical ticket costs around € 22 if you purchase it on the day of travel.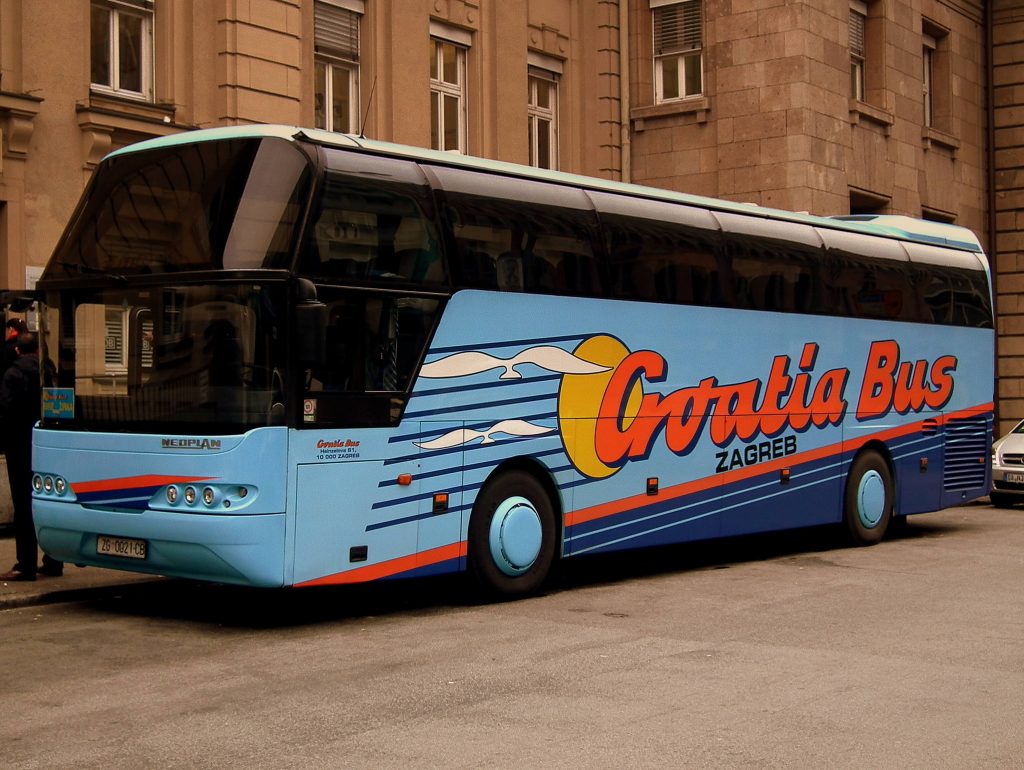 Three of the five buses depart daily from Split for Zagreb run directly, making it simple to steer clear of trips requiring you to change buses along the way.
These direct buses travel the 259 km trip in an average of 6 hours, and 46 minutes, however, some buses can travel the distance in just 5 hours, and 10 minutes.
The slowest buses will take 8 hours and typically require one or two changes along the trip, but if you're on a tight budget, you might be able to save a few dollars.
SPLIT CITY PARKING
If you drive there or through it, you might be curious about Croatia's parking situation. Most hotels and other types of facilities generally provide parking spaces without payment.
Keep in mind, though, that city centers typically have low or no car traffic. Before making a reservation, find out if parking is available if your lodging is in the city.
Parking is divided into three categories: garage parking, outdoor parking areas, and on-street parking. In town centers, you can expect to make between 8 and 12 Kn each hour. Parking at Riva in Split is 20 Kn for the first hour and 25 Kn for each additional hour. In Dubrovnik, however, each hour of parking in Zone 0 might cost as much as 75 Kn.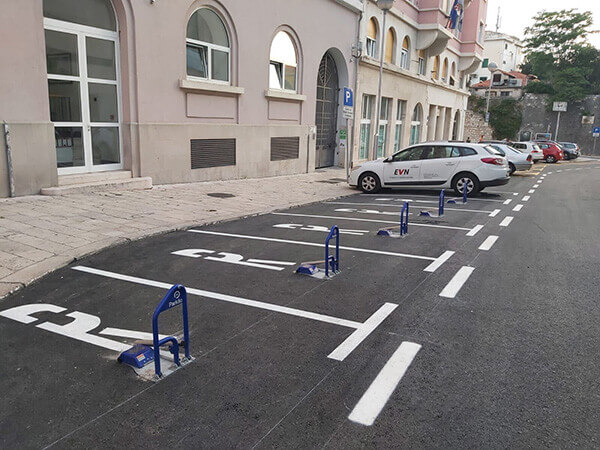 Convenient location for all your needs!
The historical heart of Split, where there are several cultural attractions in addition to a ferry port, Central bus and train station, and the port for excursion boats, is about ten minute walk from the garage. Parking is just a two-minute stroll from the shore, where there are a variety of beaches, hotels, cafes, and restaurants, as well as a marina, tennis courts, swimming pools, and other appealing attractions. A modest shopping area is located in the building above the parking garage. Among the shops are a SPAR supermarket, DM drugstore, pharmacy, bank, and medical clinics where COVID testing is available. The largest public hospital in Dalmatia, KBC Firule, is located just across the parking garage.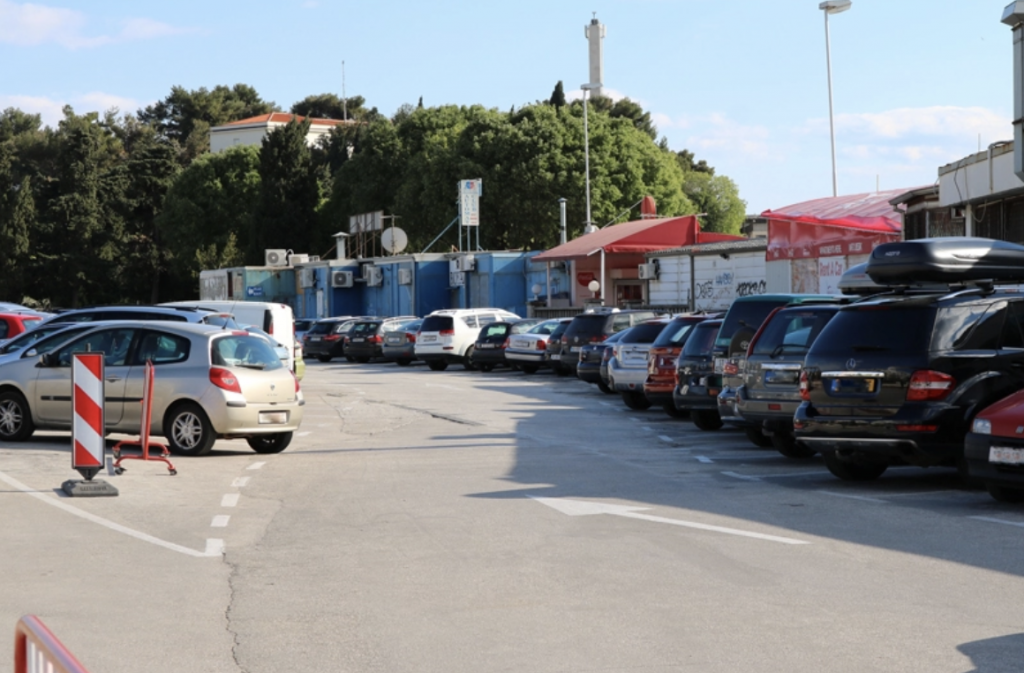 The best parking offer in Split!
Compared to other public parking lots and garages close to Split's center, we are up to 60% less expensive. Because there aren't many parking spaces and the hourly rates are relatively exorbitant, finding a nice spot for your car might be frustrating. Selecting Split City Parking will cost you just €2,00 per hour. Additionally, you will be close to all of Split's well-known attractions. Our parking spaces are roomy, and some of them have been modified especially for those who are disabled. For extremely huge vehicles, we also have a lot of XXL parking places. Do you want to be certain that there will be a parking space available for you?
IS CROATIA EXPENSIVE
Many people believe that Croatia is an extremely affordable travel option. Actually, not at all! In Croatia, costs are relatively high. Cigarettes and booze are the only items I've consistently found to be less expensive in Croatia than at home. And that's not really a good thing, you know!
Everything else has a higher, more similar, or similar price. In reality, due to how much cheaper it is in Italy, many Croatians in Istria, where we live, shop there every week. For instance, I pay about 4€ for 500 g of Lavazza coffee in Italy, while the price is double in Croatia. Just like that!
Below is a breakdown of all the costs you'll incur when visiting Croatia.
BACKPACKING SPLIT SUGGESTED BUDGETS
My recommended daily spending limit for backpackers visiting Split is 275 HRK. This implies you're using public transit, cooking your own food, limiting your drinking, participating in cost-free activities like hiking and walking tours, and living in a hostel dorm. If you're traveling during the summer or intend to consume alcohol, you'll need to set aside more money.
With an average daily budget of 800 HRK, you can stay in a private Airbnb or private hostel room, enjoy a few drinks, visit some islands, occasionally take a cab, and see more museums and sites. You can also eat out for the majority of your meals.
You may stay in a hotel, get a car to travel around, take private guided tours, eat and drink as much as you'd like, and visit as many museums and sites as you'd want on a "luxury" budget of 1,575 HRK each day. But for luxury, this is merely the ground floor. There are no boundaries!
To estimate how much, you should budget each day, follow the chart below. Remember that these are daily averages and that you may spend more or less on any given day (you might spend less every day). We want to provide you with a general outline for creating your budget. The price is in HRK.
| | | | | | |
| --- | --- | --- | --- | --- | --- |
|   | Accommodation | Food | Transportation | Attraction | Average Daily Cost |
| Backpacker | 130 | 70 | 25 | 50 | 275 |
| Mid-Range | 350 | 250 | 50 | 150 | 800 |
| Luxury | 550 | 400 | 250 | 375 | 1575 |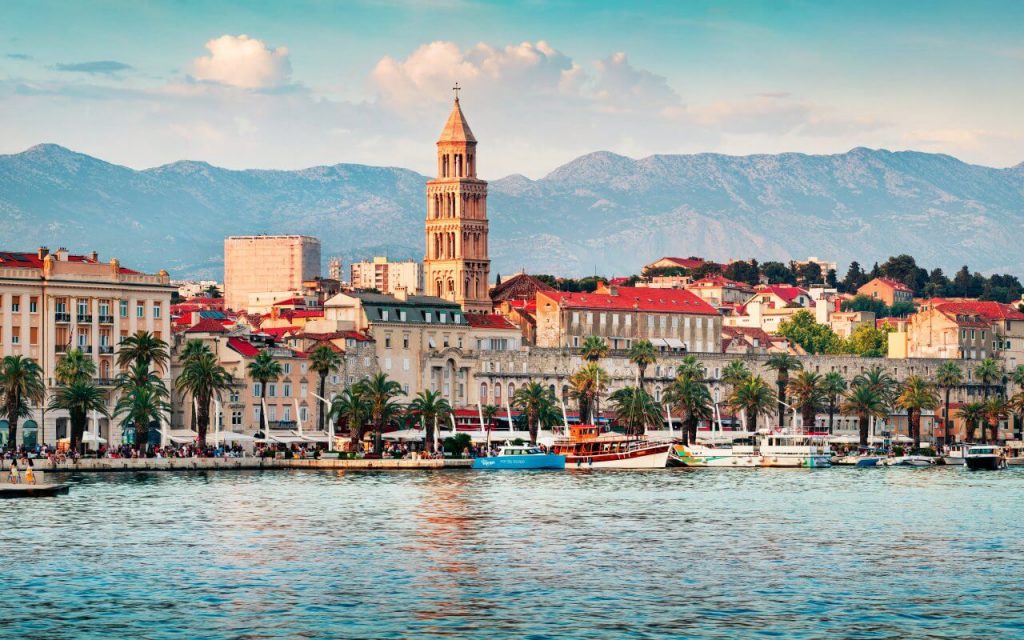 We hope you've found our Croatia Travel Guide useful. Is there anything else you'd like to know? Let us know in the comments below.
FAQs
Is Split in Croatia worth visiting?
Is a trip to Split worthwhile? Split is unquestionably worthwhile to visit. The second-largest city in Croatia offers a variety of tourist attractions, particularly the historical sites located within the Palace of Diocletian, a World Heritage Site. The city is also brimming with culture and boasts many top-notch museums.
2. Which is nicer Dubrovnik or Split?
Dubrovnik is a great holiday destination for foodies because of its superior Old Town. Split is often more affordable than Dubrovnik and provides a stronger nightlife and day trip selection. Excellent beaches are available at both locations.
3. How many days do you need to see Split Croatia?
Two days are sufficient to experience all the major attractions in Split. However, Split is in a prime location, so you can (or rather, you should) take a ton of day trips while you're there. We'll provide a selection of some of the top day trips and activities in the Split area.
4. Is Split a walkable city?
Few cities are as conducive to walking as Split, Croatia, which is why it's a great place to promote it. The easiest approach to feeling a city's actual character and typical Mediterranean personality is to wander around it.
5. What is Split Croatia known for?
The remains of the Palace of Diocletian are the city's most famous landmark. It is a significant economic and transportation hub (built 295–305 ce). The palace was named a UNESCO World Heritage site in 1979, together with the city's medieval royal houses, fortifications, and churches.
6. Is Split a party town?
The city itself parties with you wherever you go thanks to all-night dancing, drinking, and top-notch music. Don't be shocked if your night starts on the Riva and you move through many of these hot areas as it goes since Split comes alive in a whole new way throughout the summer.
7. Is Split in Croatia cheap?
Split is one of Croatia's most expensive cities, particularly in the height of the summer.
8. Do they speak English in Split Croatia?
At this stage, German and Italian are the two languages taught the most frequently, followed by English. Croatians frequently possess bilingual or multilingual skills. For instance, a recent survey revealed that 80% of Croatians speak multiple languages. 81% of that group are English speakers.
9. How far is Split from Dubrovnik?
The 143 miles (230 kilometers) that separate Dubrovnik and Split, two of Croatia's most well-known coastal cities, can be covered in various ways.
10. What is a typical breakfast in Croatia?
Breakfast & Gablec — Larger hotels and restaurants all around Croatia serve Western-style breakfast (doručak: eggs, pastries, meats, cereals). The typical early-morning meal in smaller towns and houses consists of a glass of rakija (fruit brandy), coffee, and fresh bread or rolls from the neighborhood bakery.
11. Do you tip in Croatia?
Tipping between 10% and 20% is customarily acceptable at restaurants, and it is usually fair to round up your amount. Of course, if you truly appreciated your food and service, feel free to leave a larger tip!
12. What is the coldest month in Croatia?
Croatia's coldest month is January, with the highest average temperature of 9.4°C (48.9°F).