Beautiful Buddhist temples, traditional wooden homes, and French colonial architecture have made Luang Prabang famous worldwide. The eclectic mix of architectural styles found here makes the city's overall vibe all the more special. Wat Xieng Thong is Luang Prabang's most well-known temple, and for a good reason: it's covered in beautiful mosaics and complex carvings.
The city's night market is bustling with activity and offers a wide selection of handmade goods, textiles, and regional specialties. The market is excellent for meeting warm locals and tasting the vibrant Lao culture. Lush green mountains, gushing waterfalls, and tranquil rivers form the backdrop of Luang Prabang. The Kuang Si Falls is a succession of gorgeous turquoise waterfalls in the middle of the jungle and are worth a visit. There are places to swim and routes to walk at the falls, perfect for nature lovers.
Luang Prabang History
Fa Ngum, a local ruler, united Laos for the first time in the 14th century by establishing the Kingdom of Lane Xang. Fa Ngum established his capital in the Xieng Dong Xieng Thong region, now known as Luang Prabang. The city became popular and a cultural, religious, and political hub.
Under King Setthathirat's rule, Luang Prabang thrived in the 16th and 17th centuries.
Internal strife and foreign interference contributed to the decline of the Kingdom of Lane Xang in the late 18th century. Colonial powers and neighboring countries threatened Luang Prabang in the late 19th and early 20th centuries. After being ruled by the French for the entirety of the 19th century, the city finally became part of French Indochina in 1893.
After Laos gained independence from France in 1953, Luang Prabang was officially named the capital. However, the country's political instability and conflicts remained, and the monarchy in Laos was overthrown by the communist Pathet Lao in 1975.
In 1995, UNESCO recognized Luang Prabang's historic significance and architectural excellence by designating the city a World Heritage Site. Beautiful temples, charming wooden homes, and an exciting blend of Lao and French colonial designs make the city a popular tourist destination today.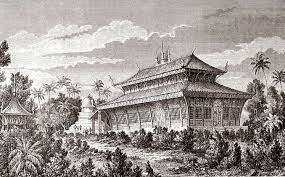 How To Get Into Luang Prabang
Luang Prabang is easily accessible by air, road, and water. Luang Prabang is accessible via a variety of means.
By Air -Luang Prabang has its international airport called Luang Prabang International Airport (LPQ). Several domestic and foreign airlines fly to and from this airport. Bangkok, Hanoi, and Siem Reap are just a few of the major Southeast Asian cities from which flights to Luang Prabang depart. You can take a cab or a prearranged transfer to your hotel from the airport.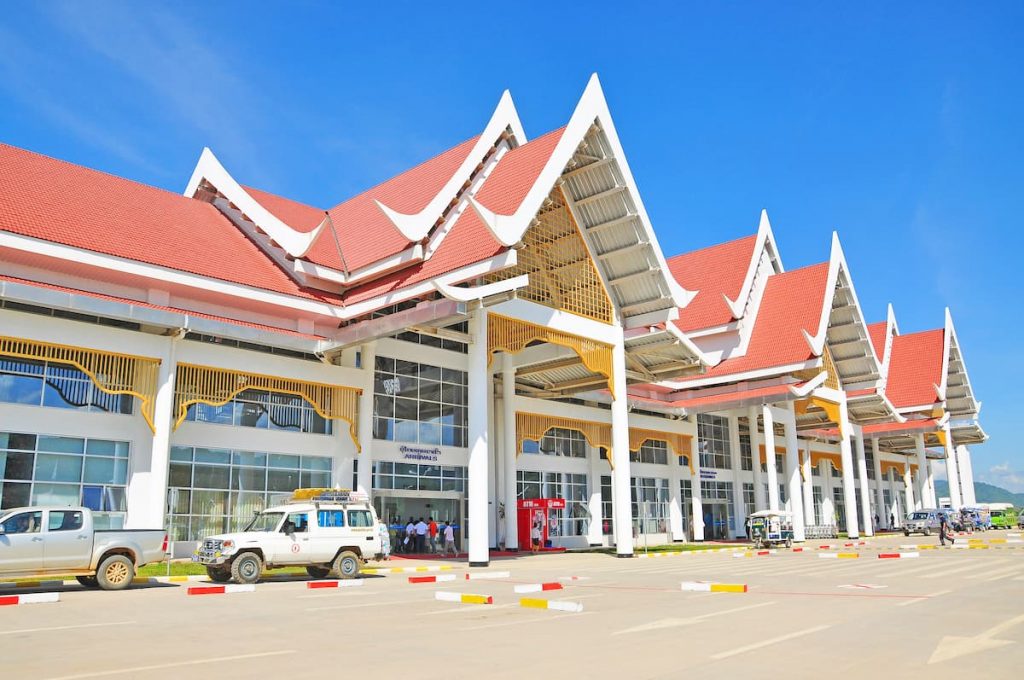 By Road – Luang Prabang has roads that lead to nearby towns and countries. Buses and taxis are available from major cities such as Vientiane, Vang Vieng, and Luang Namthai. Laos's road system is constantly improving, but remember that road conditions can be different, and trip times can be extended because of the country's mountainous terrain.
By Boat -Another beautiful way to reach Luang Prabang is by boat along the Mekong River. Slow and fast ships along the river take people from Luang Prabang to places like Huay Xai (on the border with Thailand) and Pakbeng. The boat ride gives you beautiful views of the area, but remember that it can be long and sometimes tricky, especially on speedboats.
Luang Prabang Climate
Luang Prabang has a tropical monsoon climate with clear wet and dry seasons. It is in northern Laos and surrounded by mountains, and the Mekong River affects the weather.
The city has its wet season from May to October, with the most rainfall between June and September. The weather is hot and humid during this time, and rain and clouds often happen. Temperatures average between 25 and 35 degrees Celsius (77 and 95 degrees Fahrenheit), and the humidity can be severe.
From November to April, Luang Prabang is in its dry season. This time of year has lower humidity and cooler weather. The average daily temperature is between 15 and 30 degrees Celsius (59 and 86 degrees Fahrenheit). The best time to visit is in December or January when lows average around 10 degrees Celsius (50 degrees Fahrenheit).
The dry season lasts from November to February and is typically the most pleasant time to visit Luang Prabang. The sky is blue, and the weather is mild, perfect for exploring the city's landmarks outside.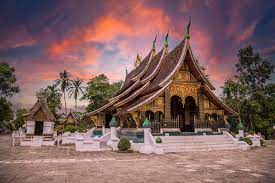 Top Sights In Luang Prabang
Wat Xieng Thong
Wat Xieng Thong is a temple in Luang Prabang, Laos, that is very important and beautiful. It is near where the Mekong and Nam Khan rivers meet at the peninsula's northern tip. Wat Xieng Thong is an important religious and cultural site in the city. It is a temple that is considered a masterpiece of Lao temple construction.
Wat Xieng Thong was built with traditional Lao design features in mind. The main sim (ordination hall) is easy to spot because of its long, multi-tiered roof that almost reaches the ground. The top has intricate golden patterns and magical creatures, and the walls have intricately carved wooden panels with scenes from Buddhist mythology and local folklore.
Wat Xieng Thong is still an operating Buddhist temple; visitors can see daily ceremonies and rituals. The temple is a must-see for Luang Prabang because of its peaceful atmosphere, beautiful craft, and historical importance.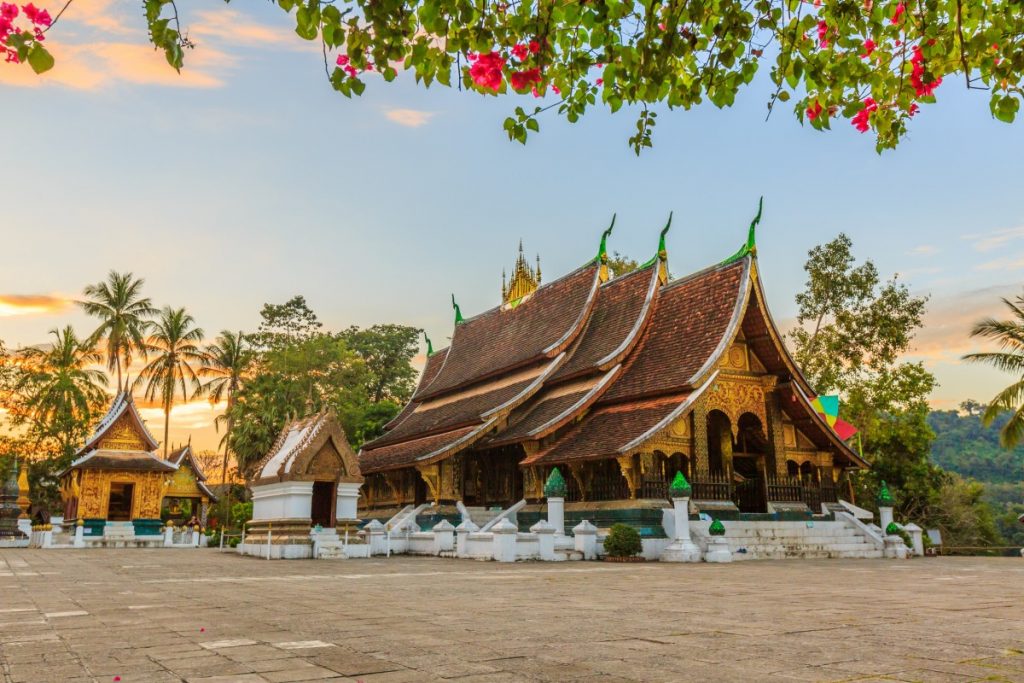 Royal Palace Museum (Haw Kham)
The Royal Palace Museum in Luang Prabang, also called Haw Kham, is an important cultural and historical site. It is in the old royal house where Laos's king and queen lived until 1975.
The palace was built in 1904 when King Sisavang Vong was in charge. It was meant to be the home of the royal family and the governing center of the kingdom when it was first built. The Royal Palace Museum is built in a style that is a mix of native Lao and French colonial styles. The building's golden walls, ornate gables, and elaborate carvings make it stand out.
The house is now a museum where you can see a vast collection of royal items, religious items, and traditional Lao artwork. People can look around the different rooms and halls to learn about the history and culture of Laosornate craft.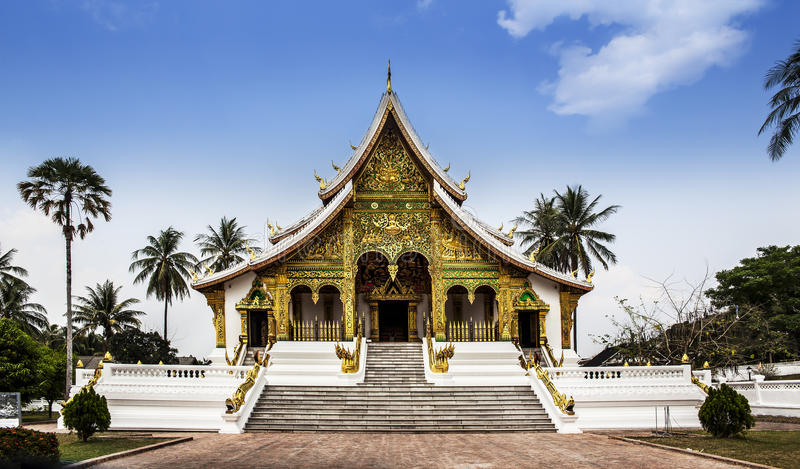 Mount Phousi
Mount Phousi is a notable feature in Luang Prabang, Laos. It is also known as Phousi Hill or Phousi Mountain. It is in the middle of the city, between the Mekong and Nam Khan rivers, and has a 360-degree view of the area.
Mount Phousi is very important to the culture and spiritual life of Luang Prabang. It is a holy hill with several Buddhist shrines and temples on it. Locals and tourists alike walk to the top of the mountain to pay their respects and enjoy the fantastic views. To get to the top of Mount Phousi, you must climb up a set of stairs with about 300 steps. Visitors will see many Buddhist figures, stupas, and small shrines along the way.
The best view of Luang Prabang, the Mekong River, and the surrounding mountains is from the top of Mount Phousi, which is the main draw. Mount Phousi is a must-see for travelers in Luang Prabang because it gives a unique view of the city's scenery and a look into its spiritual and cultural history.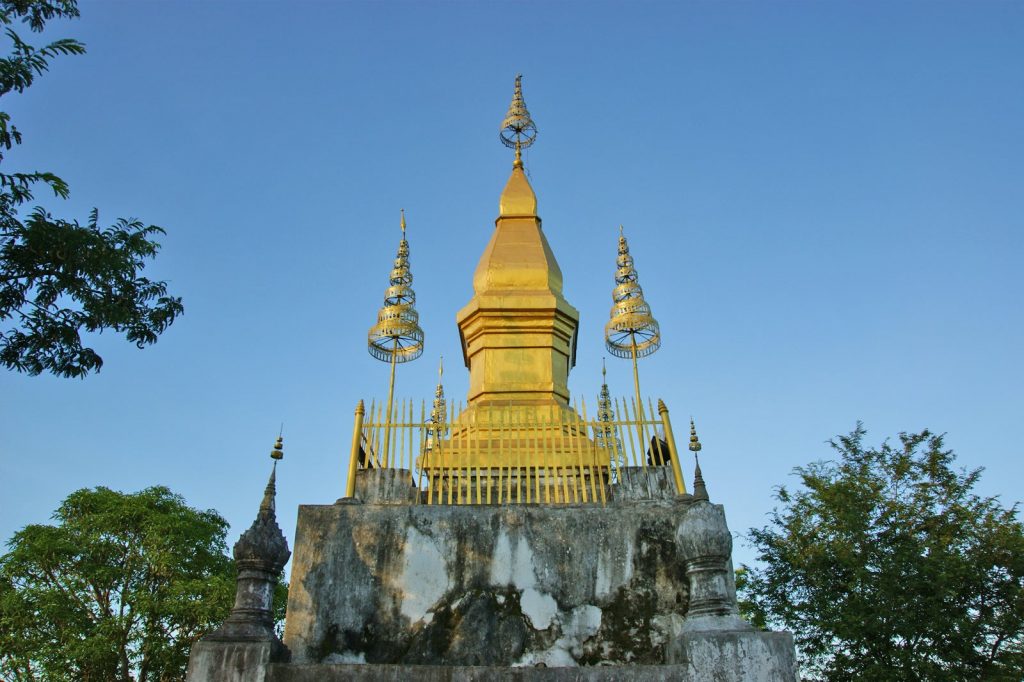 Kuang Si Falls
About 29 kilometers south of Luang Prabang, Laos, you can find the beautiful Kuang Si Falls. It is one of the most famous places to visit in the area because it is a three-tiered waterfall surrounded by lush green forests and turquoise pools.
The falls have more than one level, and each class is beautiful. The main waterfall is about 60 meters high, and the rushing water and mist make a beautiful show. At the bottom of the falls are turquoise ponds where you can swim and cool off. People are allowed to cool off in the pools with water that is clear as glass. The collections are safe for swimming, but you should always be careful and follow any rules.
Beautiful nature tracks lead to and from Kuang Si Falls, where you can take long walks or hikes. These trails wind through the forest and let you see some plants and animals there.
Traditional Arts and Ethnology Center
In Luang Prabang, there is a museum called the Traditional Arts and Ethnology Centre (TAEC) committed to preserving and promoting the traditional arts, crafts, and cultural heritage of Laos' many different ethnic groups.
The Traditional Arts and Ethnology Center's primary goal is to teach tourists about the many different ethnic groups in Laos and to show off these groups' traditional practices, customs, and handicrafts.
The museum has well-organized exhibits that show a wide range of artifacts, textiles, tools, photos, and audiovisual materials. These displays show how different ethnic groups live, their beliefs, and how they present themselves through art.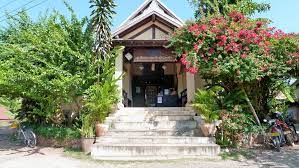 Pak Ou Caves
The Pak Ou Caves, also called Tham Ting and Tham Theung, are famous places in Laos close to Luang Prabang. You can find these caves where the Mekong and Nam Ou rivers meet, about 25 kilometers north of the city.
In Laos, the Pak Ou Caves are very important for religion. They are holy and have been a place of prayer for hundreds of years. There are two main caves in the Pak Ou Caves: Tham Ting, which is the lower cave, and Tham Theung, which is the upper cave. The lower cave is accessible, but you must climb stairs to get to the higher shelter. There are a lot of statues of Buddha in both caves, from small figurines to big icons.
There are a lot of Buddha images of different sizes, styles, and materials in the caves. The various poses and facial expressions on these statues make them a fascinating sight for tourists.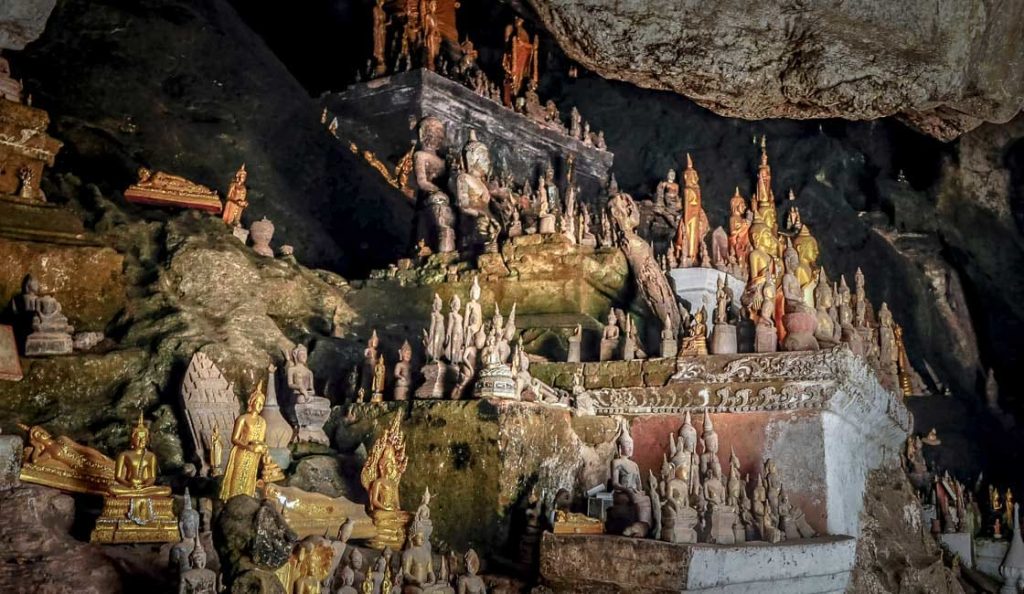 Night Market
The Luang Prabang night market is a busy, lively place where you can get a feel for the local culture, try delicious food, and shop for unique gifts and handicrafts. Here are some things you can find at the night market:
The night market is in the middle of Luang Prabang, along Sisavangvong Road, the most prominent street in the town. The need usually starts in the late afternoon, around 5 p.m., and stays open until about 10 p.m. You can go there any day of the week because it's open every day.
Food Stalls – The night market has a lot of food stalls where you can buy delicious street food from Laos. You can eat sticky rice, grilled meats, noodle soups, spring rolls, and fresh fruit shakes made in the area.
Handicrafts and Souvenirs – The market is known for its handicrafts and other handmade items. You can find traditional textiles, detailed wood carvings, bags and scarves made by hand, silver jewelry, ceramics, paintings, and more. It's a great place to get unique gifts and souvenirs.
Haggling – At the night market, people often bargain with each other. Feel free to deal with the sellers about the price, but do so politely and kindly.
Local Products – Besides arts, you can buy Lao coffee, tea, spices, herbal medicines, and traditional clothes like Sinh (Lao skirts) and sarongs.
Performances of traditional music and dance – Sometimes, you might see traditional music and dance shows near the market. These cultural shows add to the fun atmosphere and inform people about the area's arts.
Relaxing Atmosphere – The night market is loud and busy but calm. Take your time to look at the stalls, enjoy the lovely evening breeze, and learn about the area's culture.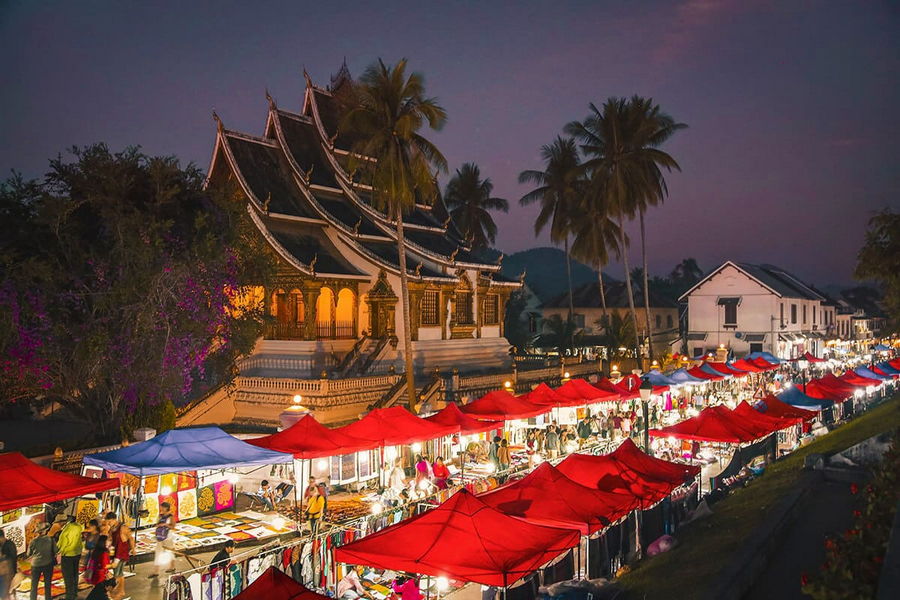 Luang Prabang City Details
Location – Luang Prabang is in the northern part of Laos. It is in a valley where the Mekong and Nam Khan rivers meet. It is the capital of the province of Luang Prabang.
Luang Prabang currency: The Kip
Luang Prabang Language- The Lao
Area- 820 ha
Time zone-UTC+7 (ICT)
Population -55,027
Getting around in Luang Prabang
Luang Prabang is easy, and there are many ways to get around. Here are the most popular ways to get around:
Walking – The center of Luang Prabang is small and easy to get around on foot. Many essential sights, like temples, markets, and restaurants, are close enough to each other to walk between them. Walking around the streets lets you get a feel for the area and find secret gems.
Tuk-tuks – Tuk-tuks are a popular way of transportation in Luang Prabang. You can find these three-wheeled cars all over the city. They are great for short trips or when you want to avoid walking. Talk to the driver about the price before you get in.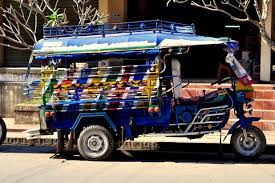 Bicycles – A great way to get to know Luang Prabang and its area is to rent a bicycle. Bikes can be rented for a fair price at many guesthouses and shops. The city is mostly flat, which makes it easy to get around by bike. You can also take bicycles to see places like Kuang Si Falls and the nearby villages.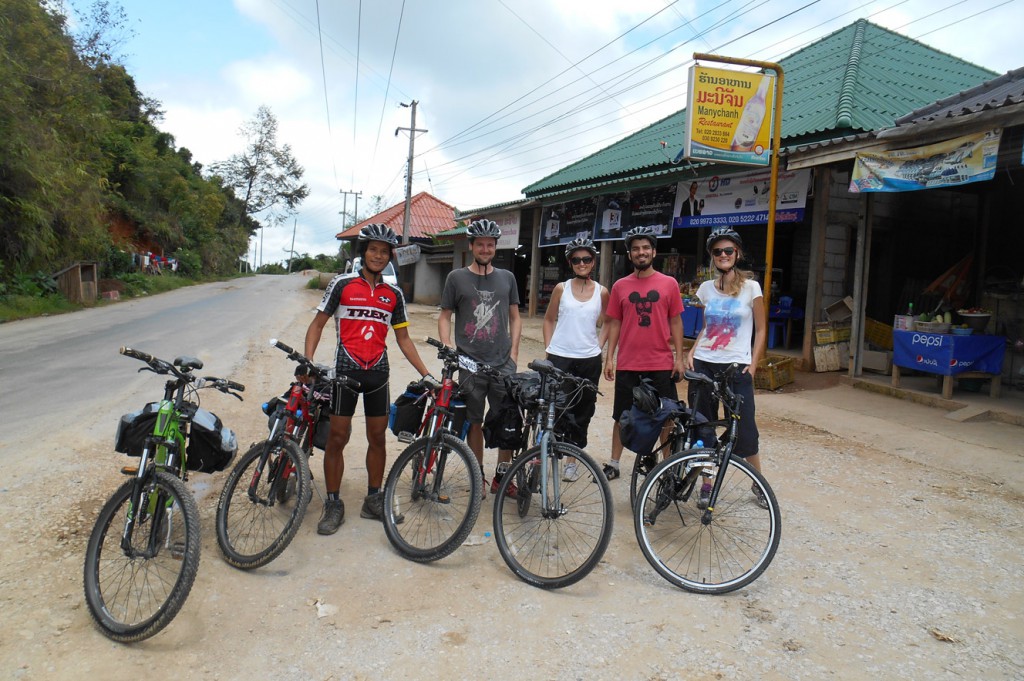 Motorbikes and scooters – If you know how to ride a motorbike or scooter, you can take one and see Luang Prabang and the area around it at your own pace. Ensure you have a legal driver's license, wear a helmet, and drive carefully.
Songthaews are pickup trucks or minivans that people in Luang Prabang share. They are used as a form of public transportation. They have set paths and can be stopped from the main roads. Songthaews are a cheaper way to get around, but they may come less often or make it easier to get to some sites.
Private Cars/Taxis – You can take a taxi or a personal car for more comfort and ease, especially if you travel with a group or have specific places you want to go. Talk about the price or use a taxi app to ensure you get a reasonable price. Cruise.
Luang Prabang Cuisine
Laotian food, like the food you can find in Luang Prabang, is known for its fresh, bright tastes and the use of fragrant herbs and spices. Here are some of the best and most famous dishes in Luang Prabang:
Sticky Rice (Khao Niao) -Sticky rice is an essential part of Laotian food and is often mixed with other dishes. Most people eat it by hand, rolling it into small balls and dipping them in sauces that come with it or using it to scoop up other foods.
Laap -Laap is a classic salad made of finely chopped chicken, beef, pork, or fish. Herbs, lime juice, fish sauce, and ground toasted rice are mixed with the meat to give it a unique texture and flavor. Fresh veggies and sticky rice are often served with it.
Mok Pa – Mok Pa is a popular food in Luang Prabang. It is made of steamed fish fillets marinated in a mixture of herbs, lemongrass, galangal, and other fragrant ingredients. Wrapping the fish in banana leaves and cooking it on a grill or in a steamer makes it smell good and taste good.
Or Lam – Or Lam is a classic Lao stew made with meat (usually pork), vegetables, and herbs. It is simmered with spices, chili, and padauk, a fermented fish sauce, which gives it a rich, slightly tangy flavor.
Khao Soi -Khao Soi is a popular noodle soup dish in Northern Thailand and Laos. It has a rich and delicious broth with coconut milk, spices, and herbs. It is served over rice noodles and topped with fried shallots, herbs, and lime.
Sai Oua – Sai Oua is a type of sausage popular in Laos. It is made by mixing ground pork with herbs, spices, and chili. It tastes hot and smells good; most people grill or fry it. People usually eat it as an appetizer or as part of a meal.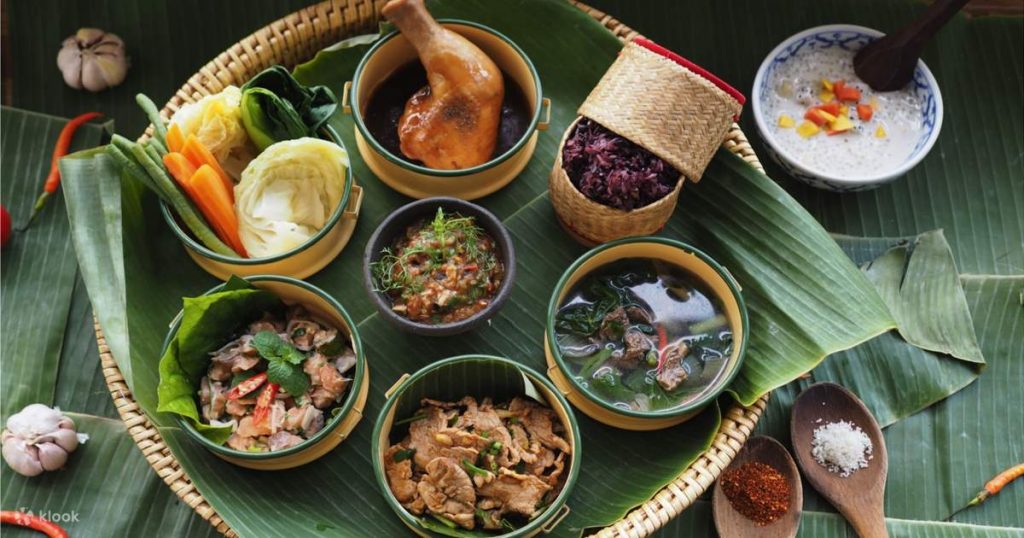 Luang Prabang Nightlife
The nightlife in Luang Prabang is relatively quiet and laid-back compared to other Southeast Asian cities. The city has a more relaxed atmosphere, and regulations are in place to maintain its cultural and historical integrity. While you won't find a bustling party scene, some options exist to enjoy the evenings in Luang Prabang.
Bowling Alley – Tourists and people living in Luang Prabang like to go to the bowling alley. It's a fun place to go bowling with friends in a relaxed setting. You can also get a drink and talk to people at the bar.
Night Market – The Luang Prabang night market is a lively and busy place to visit in the evening. It focuses mainly on arts, textiles, and local goods, but there are also a few food stalls with tasty street food. It's a great chance to learn about the area's culture and enjoy the exciting atmosphere.
Restaurants and bars by the river – Along the banks of the Mekong River, you'll find several restaurants and bars where you can eat or drink in a lovely setting. You can often sit outside at these places and enjoy the view of the river and the quiet atmosphere of the city.
Jazz clubs and live music – There are a few places in Luang Prabang where you can hear live music, such as jazz clubs. You can listen to live music in these places while drinking in a cozy, close-knit setting.
Cultural Performances – Some hotels and cultural centers in Luang Prabang put on shows with traditional Lao dances and music. You can learn about the arts and culture of the area in a fun and relaxed way at these shows.
Enjoy a Sunset boat -Take a boat along the Mekong River at sunset to see the beautiful scenery and relax. Many boat companies offer sunset cruises with food and drinks on board. This is a romantic and fun way to spend an evening.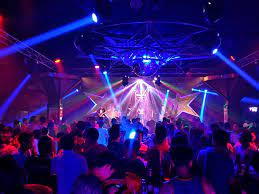 Approximate Budget
You should spend about 300,181 ($17) daily in Luang Prabang, the average daily price based on other tourists' spending. Historically, travelers paid an average of 115,963 ($6.64) for food and 44,796 ($2.56) on local transportation for one day. Also, the average hotel room cost for two people in Luang Prabang is 242,740 ($14). So, a one-week trip for two people to Luang Prabang costs an average of 4,202,531 ($241). These average travel prices were gathered from other travelers to help you plan your trip.
Conclusion
When you visit Luang Prabang, Laos, you will find a unique mix of history, nature, culture, and friendly people. Luang Prabang is a great place to visit, whether you want to look at the old temples, admire the natural beauty, or talk to the locals.
Enjoy your travel:
People also viewed: