Backpacking in Southeast Asia is a once-in-a-lifetime experience. This enormous area of the world is home to some of the most diverse and intriguing civilizations, magnificent scenery, delectable cuisine, and limitless adventure options. It's no surprise that millions of travelers visit this region of the world each year to discover and experience everything it has to offer.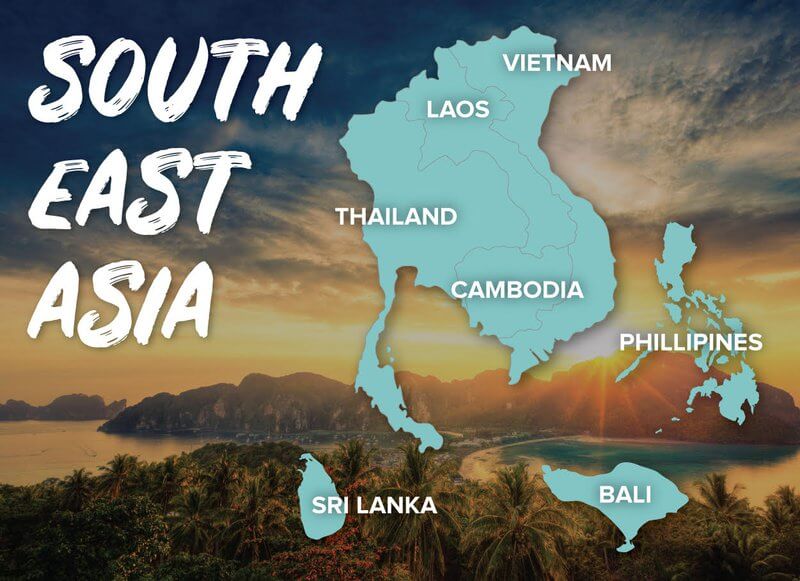 South East Asia's Epic Destinations
Southeast Asia is a treasure trove of epic destinations that captivate travelers with their stunning landscapes and diverse experiences. From the bustling metropolises of Bangkok and Singapore to the tranquil shores of Bali and Phuket, this region offers many choices for every type of adventurer.
Immerse yourself in the vibrant cultures and rich histories permeating Southeast Asia's streets. Explore ancient temples and palaces in Cambodia's Siem Reap, marvel at the grandeur of the Royal Palace in Phnom Penh, or wander through the bustling markets of Hanoi. The urban landscapes are a tapestry of traditions, modernity, and flavors that enthrall the senses.
For nature enthusiasts, Southeast Asia boasts breathtaking landscapes that range from towering mountain peaks to dense tropical jungles. Embark on a trek through the lush greenery of Chiang Mai in northern Thailand, where hidden waterfalls and hill tribe villages await. Or venture to the Cameron Highlands in Malaysia, where emerald tea plantations blanket rolling hills and mist-shrouded trails lead to panoramic vistas.
Of course, Southeast Asia is also renowned for its paradisiacal islands and pristine beaches. Dive into the crystal-clear waters of the Phi Phi Islands in Thailand, where vibrant coral reefs and marine life await beneath the surface. Unwind on the powdery white sands of Langkawi in Malaysia, or soak up the sun on the idyllic shores of the Philippines' Palawan.
Southeast Asia offers adrenaline-pumping activities for those seeking adventure, which will get your heart racing. Zip-line through the rainforests of Laos, go whitewater rafting in Bali's Ayung River or embark on a motorbike journey along Vietnam's legendary Hai Van Pass. The possibilities for excitement are endless.
Whether you're a history buff, a nature lover, a beach enthusiast, or an adrenaline junkie, Southeast Asia has it all. Plan your trip with our Southeast Asia travel guide, which offers insights into the best destinations, cultural experiences, and practical tips for a memorable adventure. Get ready to embark on a journey that will leave you in awe of Southeast Asia's epic landscapes, vibrant cultures, and boundless wonders.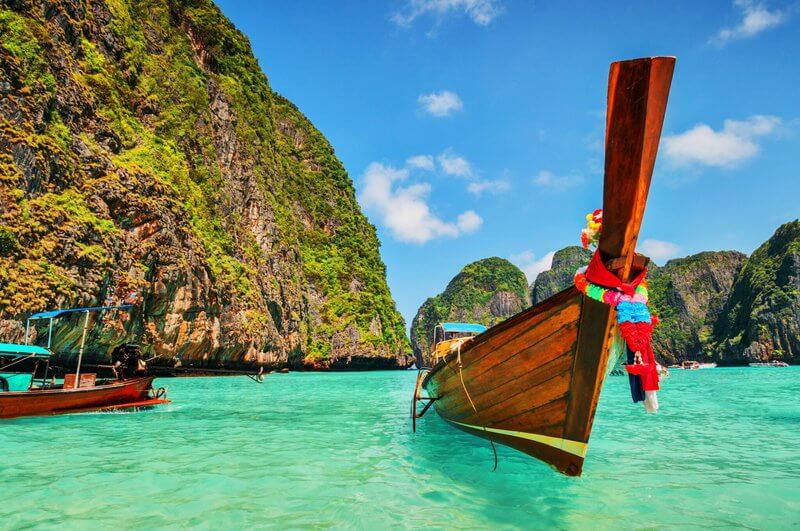 Thailand
When is the best time of year to visit Thailand? Thailand has three distinct seasons, yet it's small size and tropical warmth enable most sites and activities to be enjoyed all year.
The wet season lasts from the middle of May until the middle of October. During this time, it is best to travel further north and inland. If you get trapped in the rain, it shouldn't stay long. You'll only get a short burst spaced out over really warm days so that it won't ruin your beach vacation. This time of year, exploring the hills, mountains, and, of course, the rice terraces is a must.
The chilly season in Thailand lasts from mid-October until mid-February. This is the finest season to visit Chiang Mai. During the day, the weather is beautiful, and rain is infrequent.
The warmest months in Thailand are from mid-February to mid-May. Visit Thailand's beautiful islands, particularly those off the south coast, such as Phi Phi, Koh Samui, and Koh Phangan. If you can be in Thailand around the second week of April, you will have the opportunity to participate in Thailand's traditional New Year's celebration: The Songkran Festival! This festival, dubbed "The World's Biggest Water Fight," involves spilling massive water barrels on unsuspecting passersby and attacking them with huge squirt guns. Expect to be targeted fast if you're appropriately dressed. It's an adventure!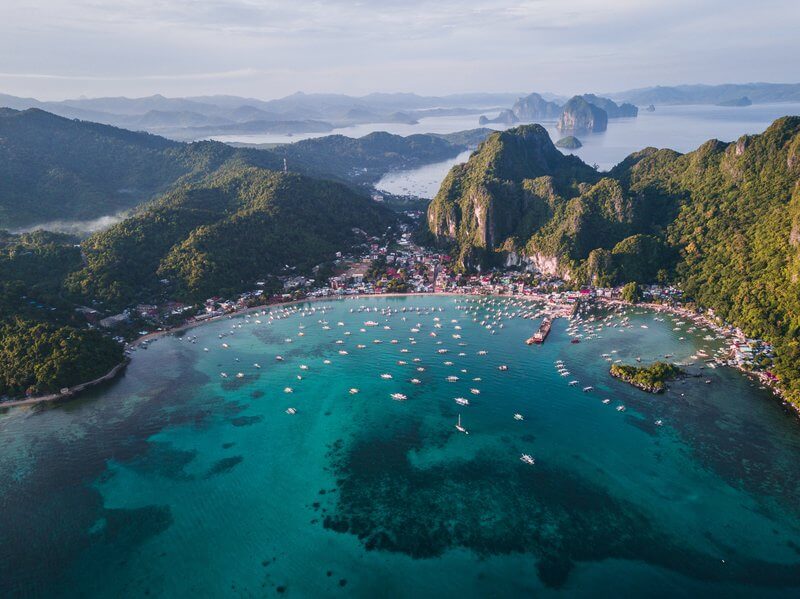 The Philippines
The Philippines, a tropical paradise in Southeast Asia, offers travelers a wide array of experiences. When planning your visit, it's important to consider the best time to explore this beautiful archipelago.
The dry season in the Philippines spans from November to April and is considered the peak tourist season. This period offers favorable weather conditions, making it an excellent time to visit the country's stunning islands and remote locations. December through February are particularly ideal, with mild temperatures and lower humidity. However, it's worth noting that March and April can be hotter, so be prepared for the warmth if you visit during these months.
On the other hand, the rainy season in the Philippines occurs from May to October. During this time, you can expect brief bursts of heavy rain followed by the return of sunshine. Despite the rainfall, there are still plenty of sunny days to enjoy, and this off-season period often comes with lower flight prices and fewer crowds. Just be prepared for the occasional rain shower and plan your activities accordingly.
It's essential to remember that the Philippines' weather can be unpredictable regardless of the season, so it's wise to be prepared for varying conditions. Pack lightweight and breathable clothing and rain gear to ensure you're ready for any weather changes.
If you want a unique cultural experience, consider visiting Kalibo in January to attend the Ati-Atihan festival. This week-long celebration features vibrant parades, colorful costumes, elaborate floats, and lively street dancing. Tourists are encouraged to join in the festivities and immerse themselves in the rich cultural heritage of the Philippines. The Ati-Atihan festival is regarded as the "Mother of all Philippine Festivals" and promises an unforgettable experience.
So, whether you visit during the dry season to enjoy the favorable weather or embrace the rainy season and its unique charm, the Philippines offers a wealth of natural beauty, warm hospitality, and cultural richness that will make your trip truly memorable.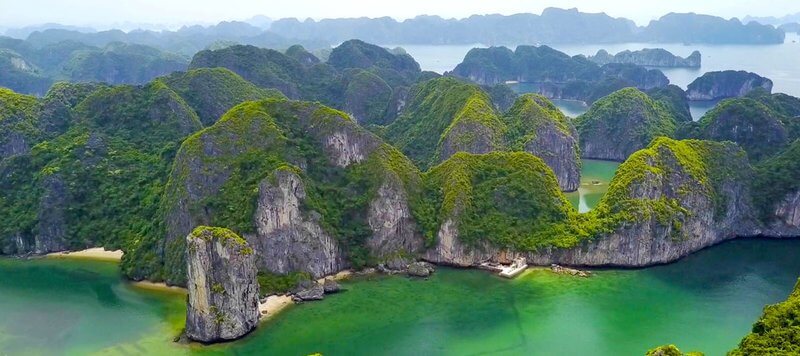 Vietnam
The most incredible time to visit – Vietnam is a fantastic location to visit in Southeast Asia at any time of year, with attractions and the most amazing places to stay open all year and typically unaffected by the weather. Because of the country's length, the seasons fluctuate significantly from north to south.
Between November and March, temperatures in the north of Vietnam, including Hanoi and Ha Long Bay, can drop below 20 degrees Celsius on average. However, the crowds thin out during this time, allowing you to enjoy the breathtaking scenery with fewer tourists. Flights and specific tourist sites also have lower prices during this calmer season, so it's the most incredible time to get a deal! Ha, Long Bay is one of the New Seven Wonders of the World and a must-see attraction.
From roughly June to October, the center and south of Vietnam, including Hoi An and Ho Chi Minh City, endure a short rainy season with brief rains. This again provides for lower costs and fewer tourists during this time. The remainder of the year is hot and dry. Hoi An was named the most incredible place to visit in 2019 and has a beach nearby. Check out the Full Moon Lantern Festival, which is held once a month!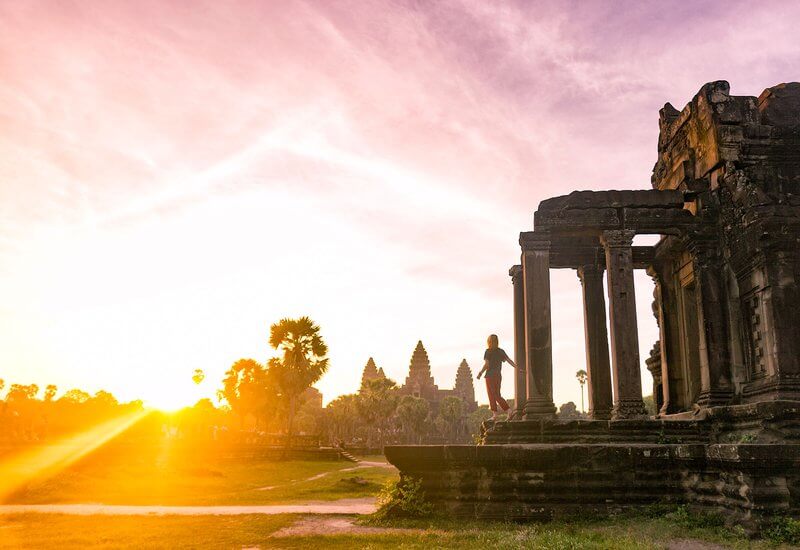 Cambodia
Cambodia, a captivating destination in Southeast Asia, offers travelers a diverse range of experiences. To make the most of your visit, it's essential to consider the best time to explore this beautiful country.
Cambodia enjoys warm temperatures throughout the year, but the climate is divided into two main seasons: wet and dry. The wet season typically occurs from May to October, with a higher chance of rain. However, it's worth noting that rain showers are often short-lived and happen in the afternoon, followed by periods of sunlight. This can create a lush and vibrant atmosphere, making it an excellent time to witness Cambodia's natural beauty.
On the other hand, the dry season, which spans from November to April, offers hot and dry weather, perfect for enjoying the country's stunning beaches and visiting iconic temples such as those featured in the famous movie Tomb Raider. December and January are favorable months to visit Cambodia, as they offer mild temperatures, low humidity, and clear skies. These months are also the peak tourist season, so expect larger crowds at popular attractions.
For those seeking a unique cultural experience, visiting Cambodia in October or November presents an exciting opportunity. During this time, Cambodia celebrates its annual water festival, a captivating event where brilliantly colored boats race along the water in Phnom Penh for three days. This festival attracts people from all over the country and offers a lively and festive atmosphere that showcases Cambodia's rich traditions.
Ultimately, the best time to visit Cambodia depends on your preferences and the experiences you seek. Whether you embrace the lushness of the wet season, enjoy the dry and sunny weather of the peak tourist season, or witness the vibrant water festival, Cambodia is sure to leave you with unforgettable memories.
So, pack your bags and embark on a journey to Cambodia, where ancient temples, breathtaking landscapes, and warm hospitality await you at every turn.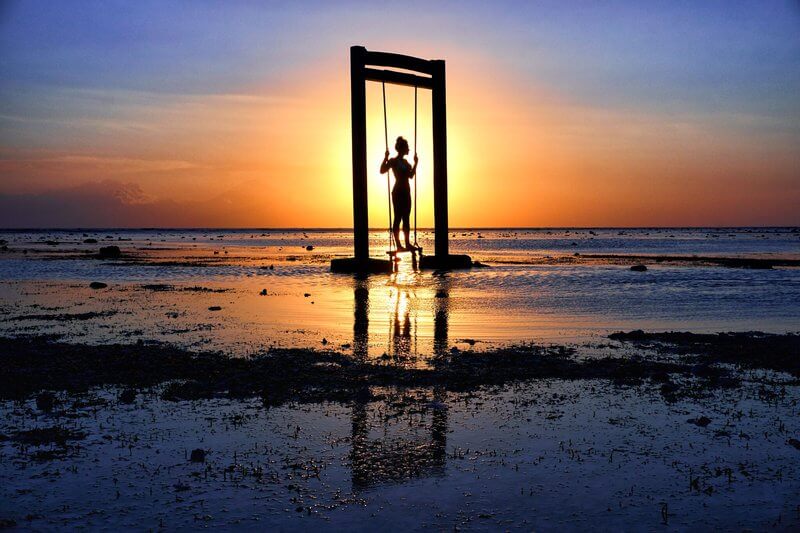 Indonesia
When is the best time to travel? Indonesia has hundreds of equatorial islands, but Bali is the most visited. The dry season in Bali lasts from May to September, and the wet season lasts from October to April. As a tropical country, you can expect sunny days almost all year, even during the rainy season. The rain, however, does not last long and provides a welcome reprieve from the heat! If you don't mind getting a little wet, this season is ideal for exploring the island's quieter side.
The finest months for weather are May, June, and July. Visit between May and October if you're looking for some big waves. If you travel between June and July, you may attend the Bali Arts Festival, which has incredible live performances. You can find us working on our tans, sipping cocktails outside, and swimming in the ocean any month of the year.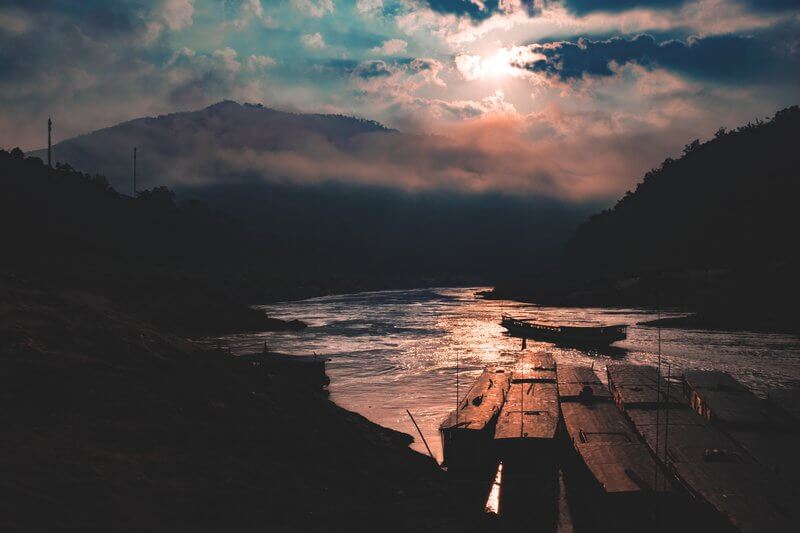 Laos
Laos, a hidden gem in Southeast Asia, offers a unique travel experience for those seeking an off-the-beaten-path adventure. When planning your visit to Laos, it's essential to consider the best time of year to make the most of your trip.
The ideal time to visit Laos is during the dry season, from October to April. During these months, you can expect pleasant weather with lower rain chances. This is particularly important if you explore the country's natural wonders, embark on outdoor activities, or visit remote regions. The dry season provides comfortable temperatures and clear skies, allowing you to immerse yourself in Laos's beauty fully.
A highlight of visiting Laos in April is the celebration of Bun Pi Mai, the Lao New Year. Like Thailand's Songkran, this festive occasion is marked by lively water festivities, traditional rituals, and a joyful atmosphere. It's an excellent opportunity to witness the Lao people's vibrant culture and warm hospitality.
On the other hand, if you're an adventure enthusiast and don't mind a bit of rain, the rainy season from May to October can offer a different perspective of Laos. During this time, the country's lush landscapes come to life, teeming with wildlife, blooming flora, and cascading waterfalls. It's a paradise for nature lovers and photographers who appreciate the vibrant greenery and dramatic scenery the rainfall creates.
However, remember that Laos's climate can vary due to its diverse geography. The presence of rivers, coastal regions, and hills contributes to variations in rainfall patterns and temperatures across the country. It's always a good idea to research specific areas or activities you plan to engage in to ensure the best possible experience.
Whether you visit during the dry season for optimal weather or embrace the lush beauty of the rainy season, Laos promises a captivating journey filled with cultural encounters, breathtaking landscapes, and tranquility. Embark on an adventure through this enchanting country and discover the hidden treasures that make Laos a unique destination.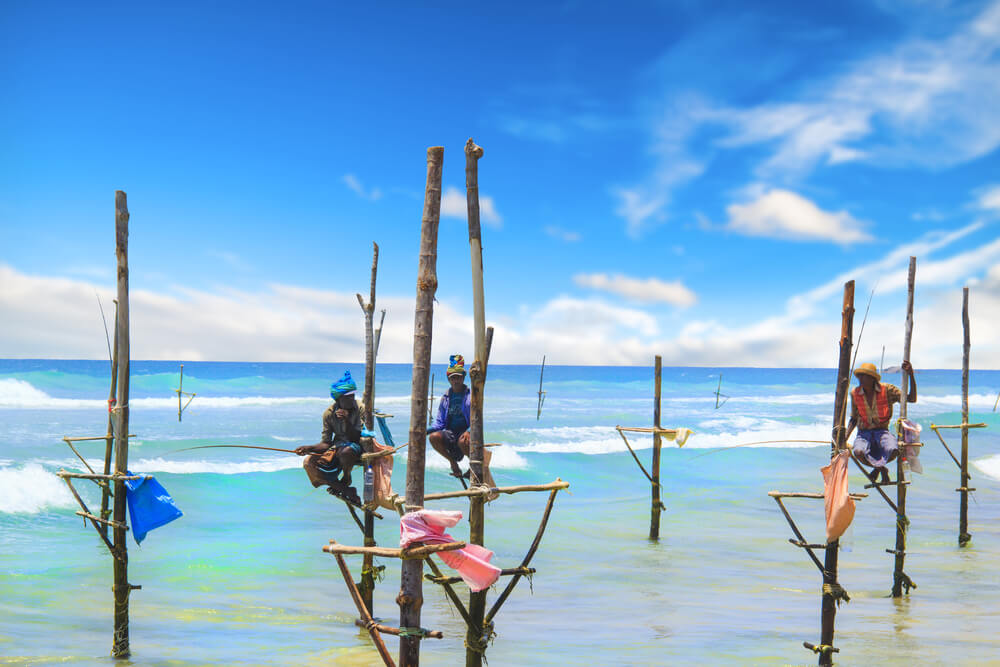 Sri Lanka
The best time to travel to Sri Lanka is complicated because of the two monsoon seasons. One side of the island may be gorgeous, while the other is inundated with rain.
The months of December through April are often the finest for weather. However, visiting during the peak summer months is also the busiest time for tourism. Navam Perahera, one of Sri Lanka's most significant festivities, occurs during the full moon in February and March. This traditional event is fascinating to behold, as it includes various performances of traditional music, dance, and dress.
Sri Lanka has it all! Whether you wish to learn about Buddhist culture, walk misty mountains, visit green tea plantations, or follow herds of elephants, deciding where to go might take time. Because of the country's size, you may see a lot in a single trip.
Overall, backpacking Southeast Asia is a fantastic journey filled with culture, adventure, and unique encounters. From Thailand's magnificent beaches to Cambodia's historic temples, this corner of the world is full of surprises and thrills. Southeast Asia should be at the top of your bucket list, whether you're a seasoned traveler or a first-time backpacker.
Happy Travels!
People also viewed: