The Andalusian Jewel of Southern Spain
By 2021, Seville's population is 1.5 million. It is the most populous city in Andalusia, the fourth most populous city in Spain, and the 26th most populous city in the EU. Its old city is 4 square kilometers in size. There are three UNESCO World Heritage Sites, the Alcazar Palace Complex, the Cathedral, and the General Archives of the Indies. So let's explore Seville in Spain.
SEVILLE HISTORY
Seville's history is unclear. When it was a Roman city, Seville was called Hispalis. After the conquest of Islam in 711, the city of Seville was known as Ishbilia. When the Caliphate of Cordoba collapsed in the early 1100s, Seville became the center of the independent Taifa Seville. After that, it was ruled by the Almoravids and Almohads until 1248, when it became part of the Crown of Castile.
During the 1600s, Seville grew into one of the largest cities in Western Europe. Along with the Baroque period, the city of Seville in the 17th century experienced a brilliant flowering of culture. In the 20th century, Seville saw events such as being a victim of the Spanish Civil War, critical cultural zones such as the 1929 Ibero-American Exposition and Expo '92 and being elected as the capital of the Autonomous Community of Andalusia.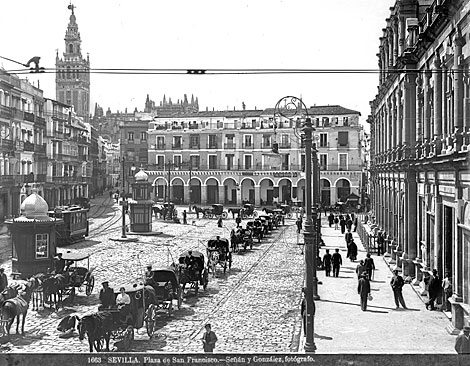 HOW TO GET TO SEVILLE
Seville is a place that is open to the world and has good connections to other big cities in Europe. To get to Seville, you can choose your travel destination.
By Plane
If you fly to Seville, you'll land at Seville Airport, also called San Pablo Airport. It's a top-notch airport. There are great places to park at the airport. There are all the necessary ways to get to the arrivals and departures halls. You can drive your car, rent a car, or take a taxi from the airport to the center of Seville in 15 minutes. It will take 35 minutes if you take the bus.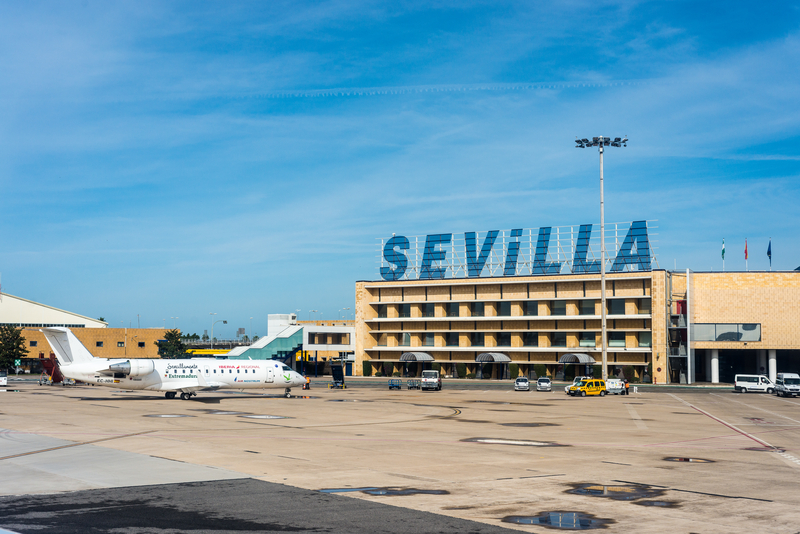 By Train
Seville was one of the first places in Spain to build high-speed rail. You can reach Santa Justa Station by expressway from Cordoba, Madrid, Zaragoza and Barcelona on the AVE southwest-northeast line and from Malaga on the AVANT trains. You can take the high-speed rail lines to get from London to Seville. The city center is about a 15-minute walk from the terminal.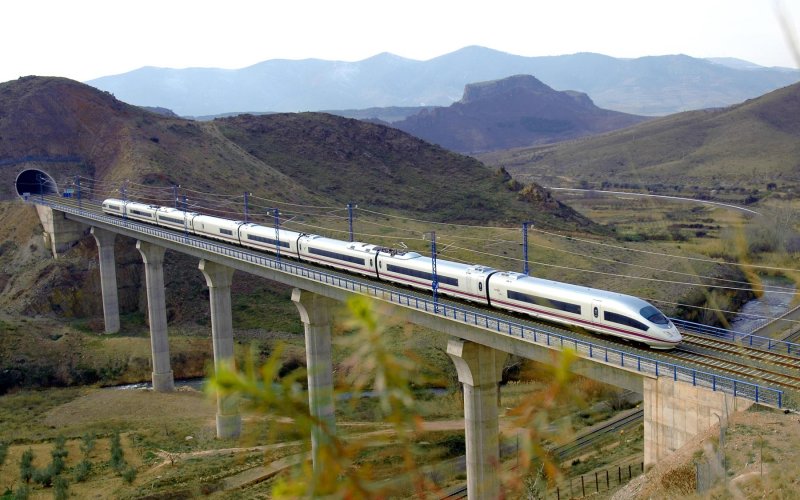 By ship
The Guadalquivir, Spain's only navigable river, connects Seville to the sea. Coming by boat to Seville is a special treat. It is a once-in-a-lifetime experience to enter the Guadalquivir from the Atlantic Ocean through Sanlucar de Barrameda and then cross the river between the fields of the Donana National Park (biosphere reserve) and the swamps.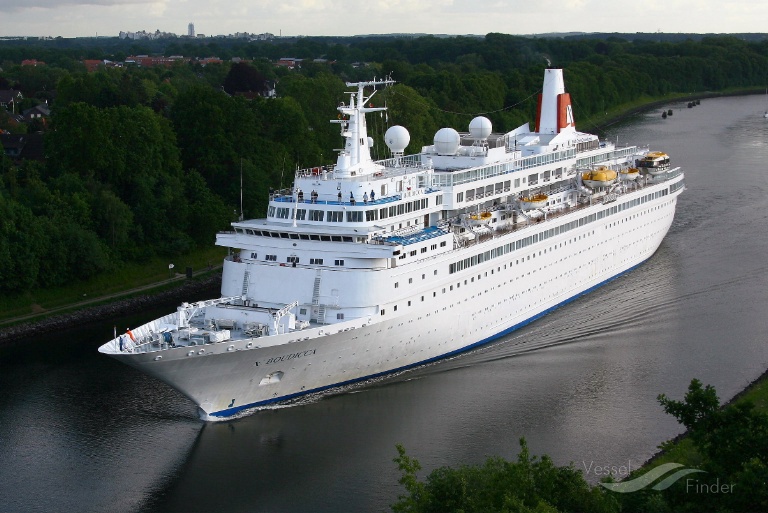 By car
Seville has excellent road connections. It is connected to the rest of the country by a network of highways. The A-49 goes to Huelva and Portugal. Highway A-92 connects Malaga and Granada. A-4 arrives from Cordoba and Madrid. A-66 connects to Extremadura and the north of Spain. The SE-30, the Ronda Super Norte, and the SE-40 are the bypass roads that make it easier to get around the city and its metropolitan area.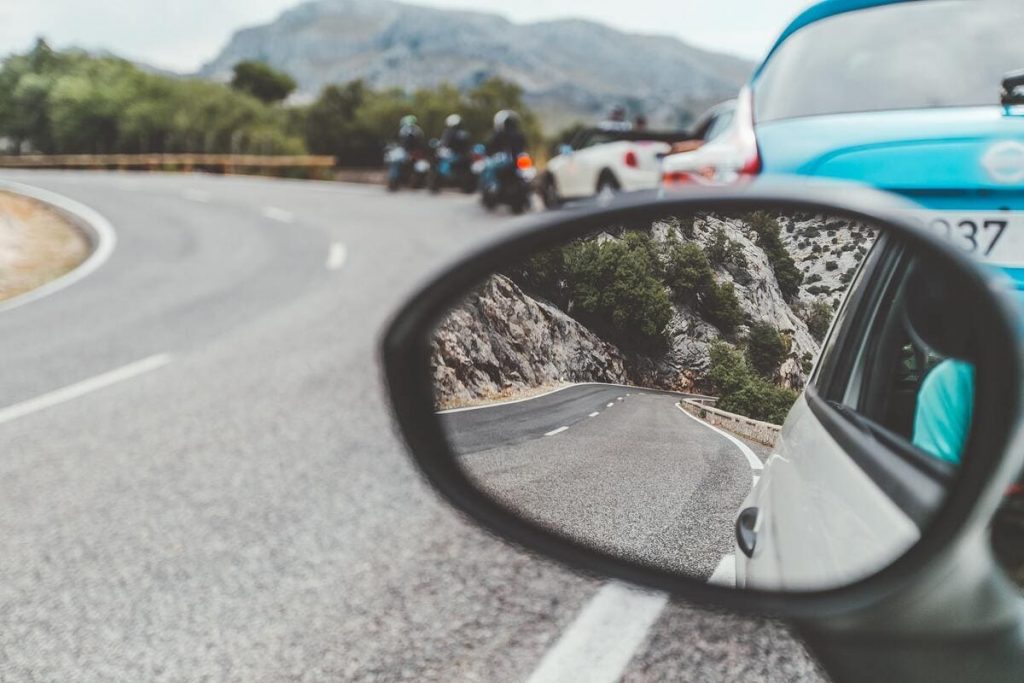 SEVILLE CLIMATE
Seville weather is Mediterranean. The summers are very hot and dry, and the winters are mild with moderate rain. Seville weather has an average annual temperature of 19.2 °C (67 °F). The average daytime temperature is 25.4 °C (78 °F), and the average nighttime temperature is 13.0 °C (55 °F). Winters are not harsh. The coldest months are December and January, when the average high temperature is 16 to 17 °C (61 to 63 °F), and the average low temperature is 6 to 7 °C (43 to 45 °F). Summer is very hot.
The hottest months are July and August, when highs average 35 to 36 °C (95 to 97 °F), and lows average 20 to 21 °C (68 to 70 °F). The amount of rain varies from 500 to 600 mm, and there are about 50 rainy days a year. With an average of 99mm of precipitation, December is the wettest month. March to May is the best time to go to Seville. During these months, Seville weather is warmer, there aren't as many tourists as in the summer, and hotel rates tend to be lower (except during special events)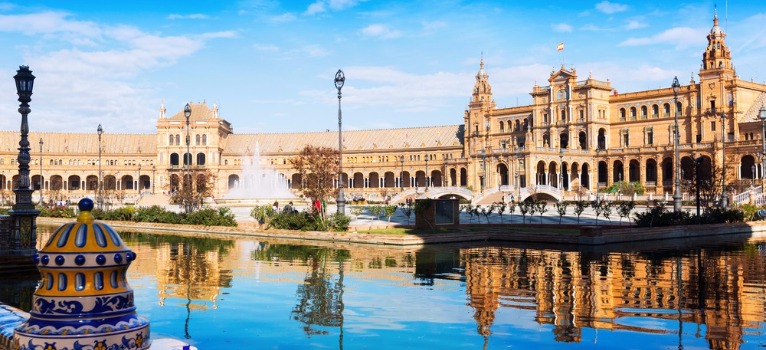 TOP SIGHTS IN SEVILLE
Catedral de Sevilla
Saint Mary's Cathedral, also called the Cathedral of Seville, is a Roman Catholic cathedral in Seville, Andalusia, Spain. In 1987, UNESCO put it on the list of World Heritage Sites. It is also home to the Alcazar Palace complex and the General Archives of India. It is the largest Gothic church and the fourth-largest church in the world.
Also, watch an intimate Seville flamenco show for the whole family near the cathedral. The Gothic section is 126 meters long, 76 meters wide, and 42 meters tall at its highest point in the middle of the transept. Tickets for Seville Cathedral and a UNESCO World Heritage Site can be bought online. Book tickets to save time.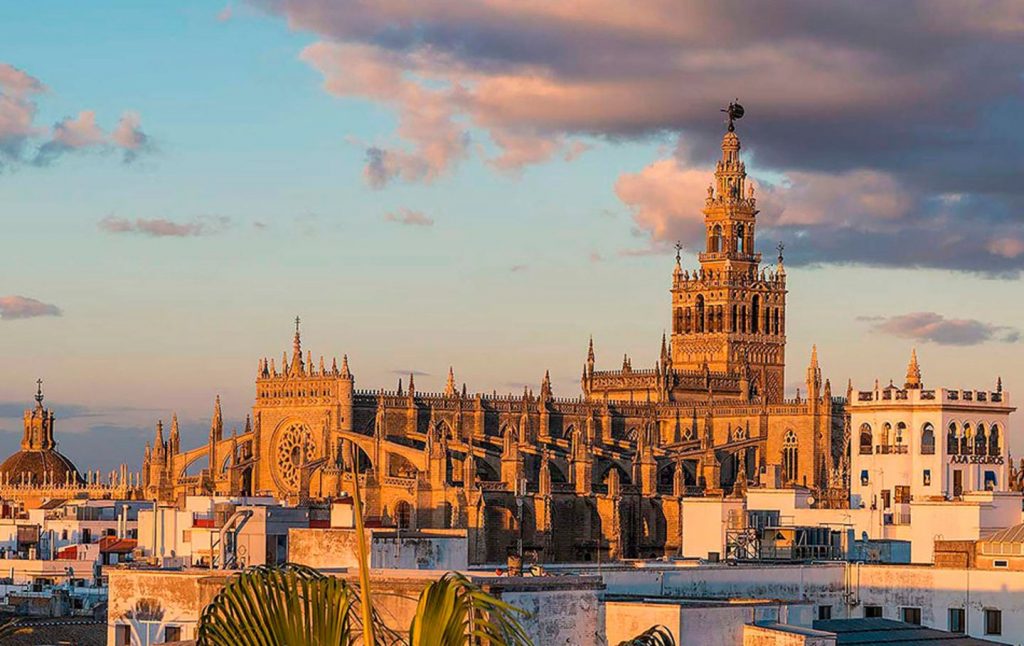 Royal Alcazar of Seville
It is often called the Alcazar of Seville. This royal palace in Seville, Spain, was built for the Christian King Peter of Castile. The castle was destroyed after the Christian conquest of Seville in 1248. The royal family still uses the Alcazar when they come to Seville. Patrimonio Nacional is in charge of it. UNESCO put it on the list of World Heritage Sites in 1987, along with the Seville Cathedral and the General Archives of the Indies, which are right next to it.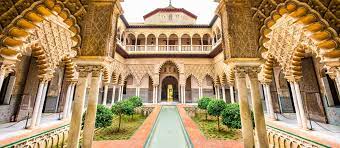 Seville Plaza de Espana
Plaza de Espana is a plaza in the Parque de Maria Luisa in Seville, Spain. It was built in 1928 for the Ibero-American Exposition that took place in 1929. It is a unique piece of regional architecture because it combines the styles of Baroque Revival, Renaissance Revival, and Moorish Revival.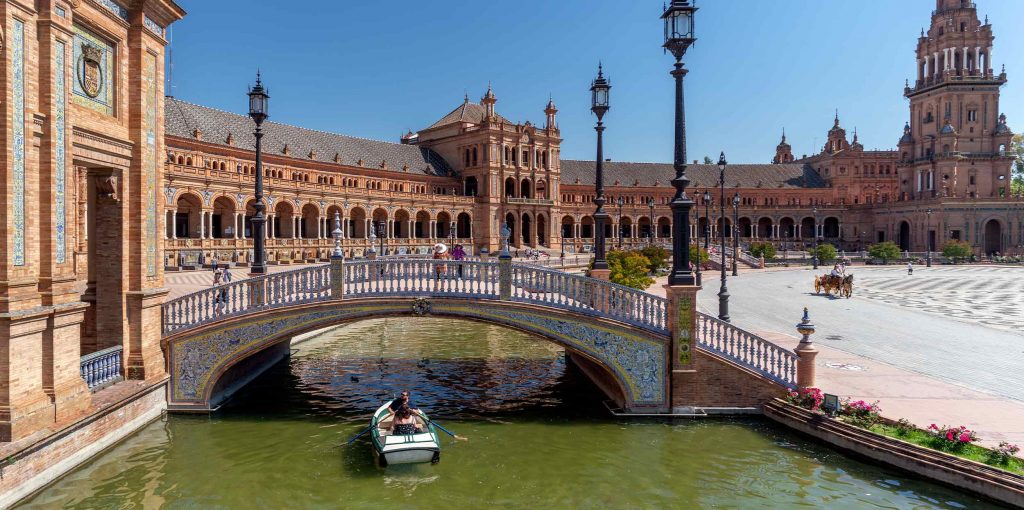 Seville Torre del Oro
Torre del Oro is a military watchtower made of a dodecahedron. It is in Seville, in the south of Spain. The Almohad Caliphate built it to keep people from crossing the Guadalquivir River and getting to Seville. When the tower was built in the 1300s, it was used as a prison in the middle Ages. Its name comes from the golden color that its building materials make it look like a river.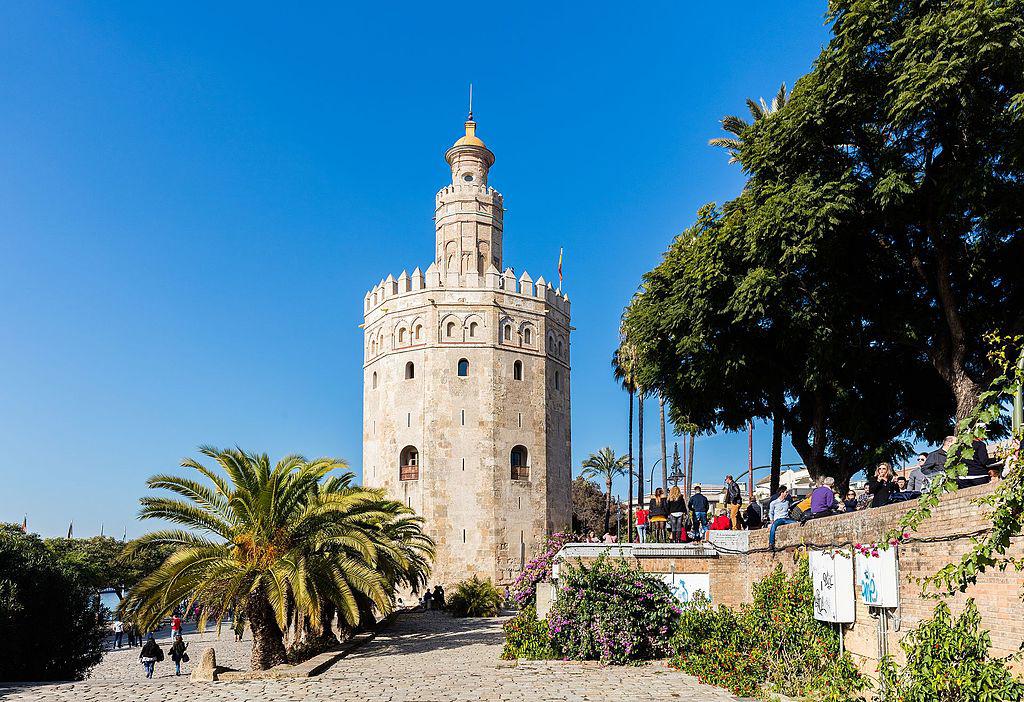 Seville La Giralda
In Seville, Spain, the Giralda is the bell tower of the Seville Cathedral. After the Muslims left the area, the Catholics added a bell tower in the style of the Renaissance. In 1987, UNESCO put the cathedral and the Giralda on its list of World Heritage Sites, along with the Alcazar and the General Archives of the Indies. Since the Middle Ages, the tower, 104.1 meters tall, has been an important symbol of the city.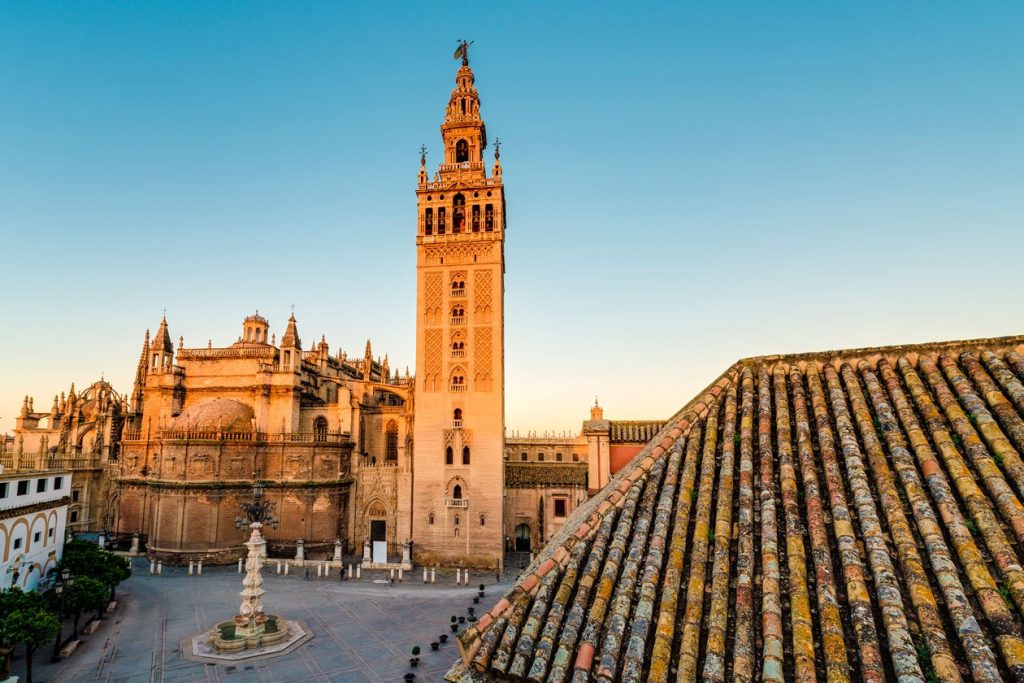 Seville Plaza de Toros
The biggest bullring in Spain is the Plaza de Toros de la Real Maestranza. The impressive bullring Plaza de Toros de Sevilla, built in the 18th century, is now home to the "Museo Taurino," which tells the story of bullfighting in Seville.

Seville Triana
It's worth crossing the river to see this dirty but lively old quarter, once the center of azulejo, or glazed tile, production. Here, you'll get a more authentic and less clean experience. There are a lot of tapas bars to keep you going while you shop for ceramics, and it's fun to look for the remaining corrals. Once, gypsy families lived in these small buildings with flower-filled courtyards. From these families came some of Spain's greatest flamenco dynasties.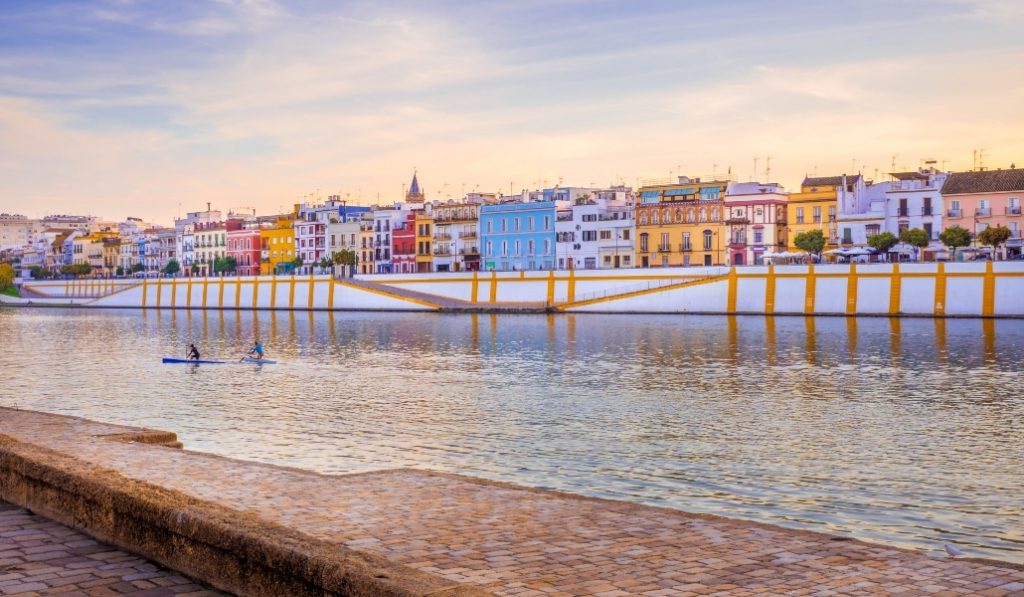 Seville Las Duenas Palace
Alba lives in the Palace of Las Dunas, built in Seville between the 15th and 16th centuries and is one of the city's most important historical sites. The building has a lot of architectural interest, with styles ranging from Gothic-Mudejar to Renaissance. It also has several gardens and a unique attraction. In addition to a wide range of paintings and sculptures, the house holds many family memories.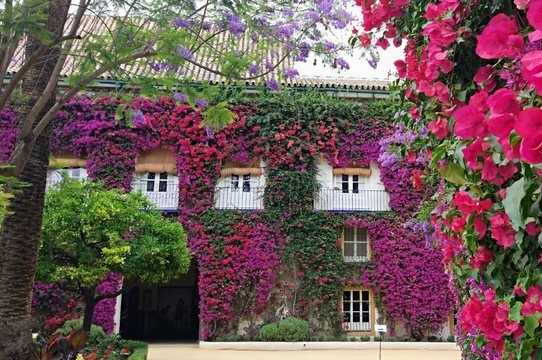 Popular things to do
Bike tour
Hop-on, hop-off bus Tours
Food tour
Boat tour
Cultural Tours
Aquarium experiences
Segway tour
Dining experiences
Horseback riding
Go kayaking down the Guadalquivir river
Parks experiences
Hot air balloons experiences
SEVILLE CITY DETAILS
The national topographic map says that Seville is 141 km2 in size. The city is in the valley of the Guadalquivir River, which is a very rich area. On average, 7 meters is how high you are above sea level. Triana, La Cartuja, and Los Remedios are on the west side of the river, while most of the city is on the east side. The Aljarafe area is west of the metropolis and is considered a part of it.
The borders of La Rinconada, La Algaba, and Santiponce are north of the city. Seville is one of the hottest places in Europe, and the summer months of July and August can be very hot. Seville has many museums ranging from art, science, and history to flamenco, ceramics, and popular traditions.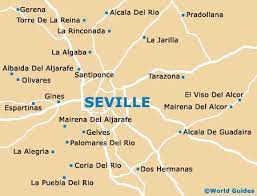 currency: Euro
Seville municipality population: 688,711 (2021)
municipality area: 140 km2
Seville Time zone: UTC+1 (CET)
official language: Spanish
Seville (Spain) dials Code: + 34
Getting around in Seville
Seville by Metro
Seville only has one metro line. Even though the metro line doesn't go through the historic center, it's still a great way to quickly get around the city after walking around. There are three different parts of the line, and the price depends on how many parts you go through. It runs from 6:30 a.m. to 11 p.m. Monday through Thursday, from 6:30 a.m. to 2 a.m. Friday, from 7:30 a.m. to 2 a.m. Saturday, and from 7:30 a.m. to 11 p.m. on Sundays.
Seville by Trams
The MetroCentro is a sleek and modern tram system in Seville. It is not the same as the metro system and only has five stops. It starts at Plaza Nueva, which is on the border of the Casco Antigua and San Bernardo neighborhoods and is about ten minute's walk northwest of the Real Alcázar. Along the way, it passes the cathedral. It can be helpful to see the most popular places, such as.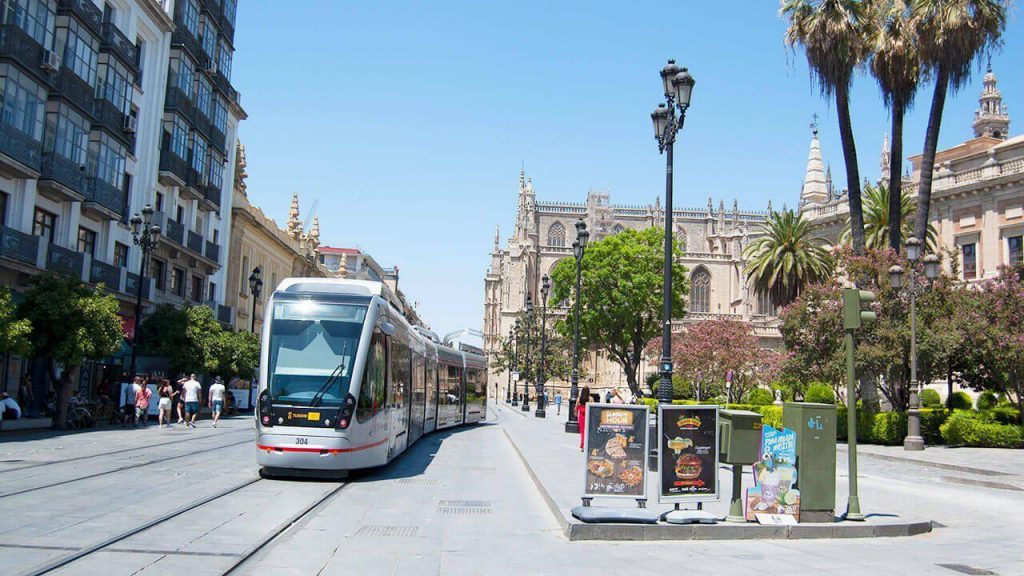 Seville by bike
In Seville, a bike is a great way to get around. Also, Sevilla is entirely flat, so you rarely have to walk uphill, so you don't have to worry about your health. Using Sevici, an urban bike rental, is one of the best ways to see Seville on your own terms.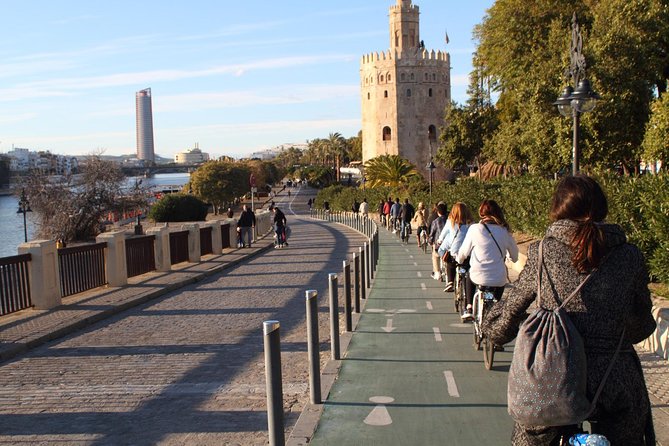 Seville by bus
Seville has an extensive bus system with more than 400 buses and more than 50 routes. The buses are red, clean, safe, and good at what they do. Each one has a cooling system. Seville buses are managed by the public company TUSSAM (Transportes Urbanos de Sevilla, Sociedad Anonima Municipal). Buses have their own lanes to drive in. It can keep you out of a lot of traffic.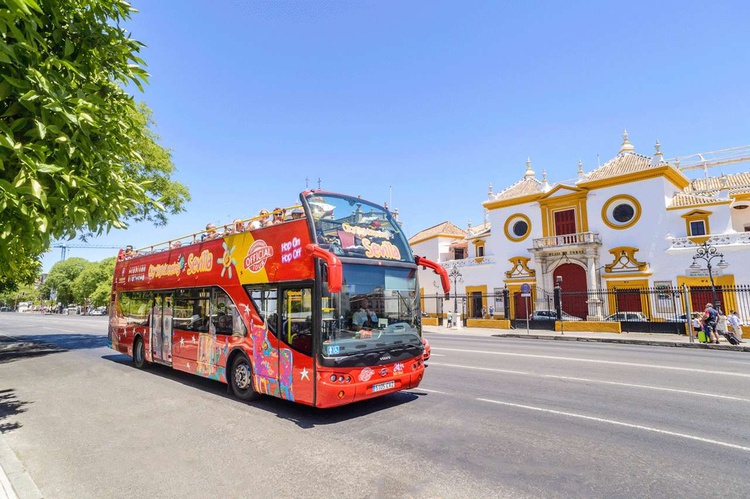 Seville by taxi
The official taxi in Seville is white with a diagonal yellow stripe on the back door. Taking a taxi in Seville is a more comfortable and faster way to get around than other public transportation, especially if you need to get somewhere quickly. It costs much more than taking the bus, the metro, or a bike.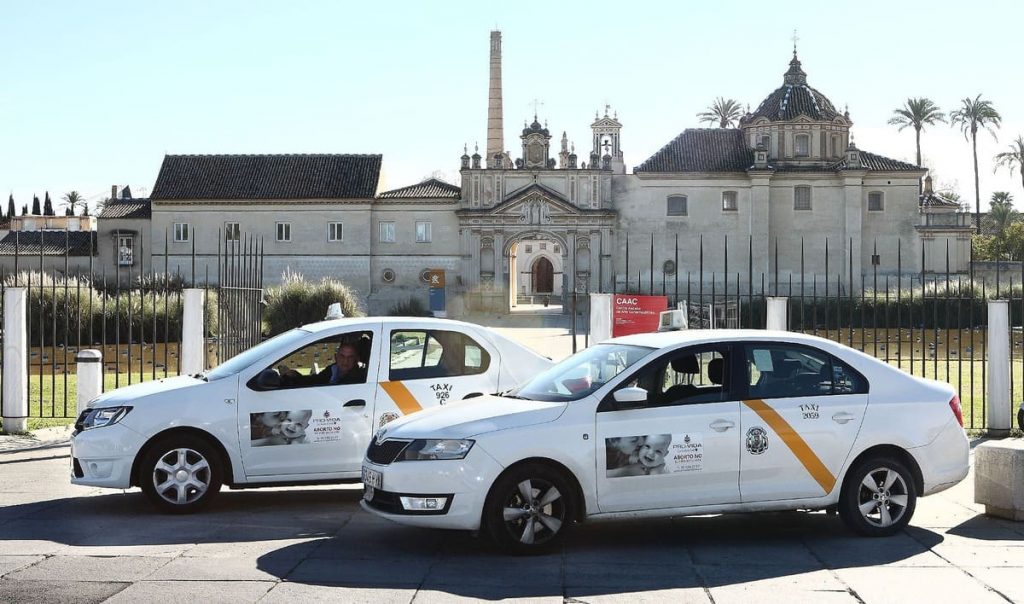 SEVILLE CUISINE
It's hard to know where to start regarding food culture in Seville. When cooking, it makes a wonderful blend. Spain's national dish, jamon Iberico, is known worldwide. It is often used in cold or hot tapas, like the famous paella and gazpacho.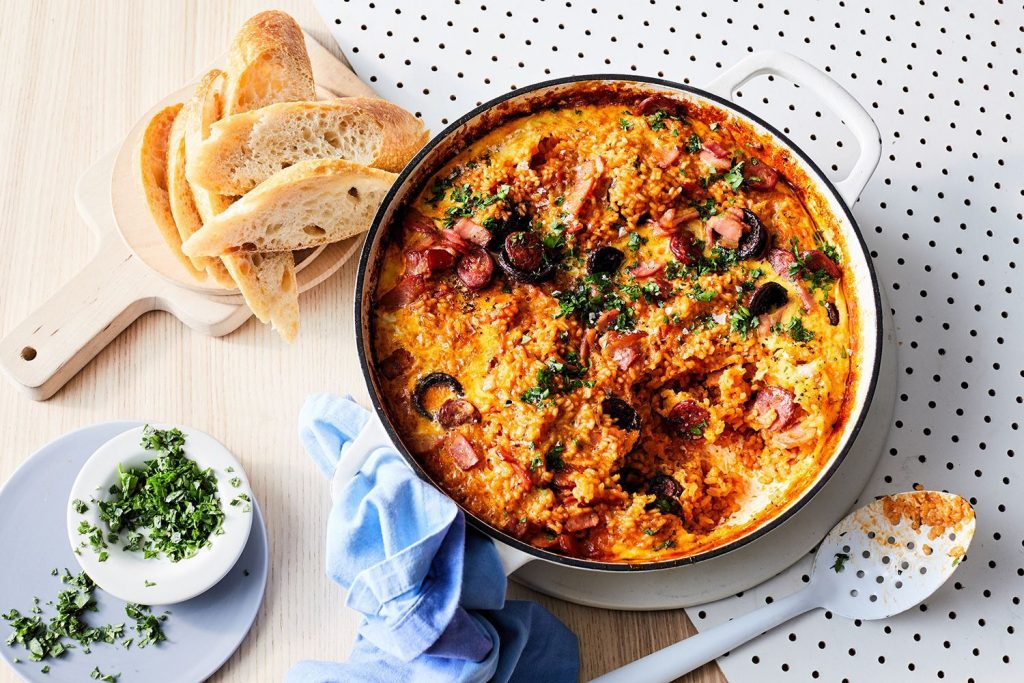 Traditional Dishes of Seville
Gazpacho.
Pescaíto frito (Fried fish)
Bacalao con tomate (Cod with tomato)
Snails.
Cocido (Spanish stew)
Serranitos and montaditos.
Pisto con huevo (Ratatouille with egg)
Chipirones a la plancha (Grilled squid)
SEVILLE NIGHTLIFE
Seville is a great place to go out at night. It's big enough to have a lot of places to go, but small enough that you can easily get around on foot. In the center, there are a lot of nightclubs and discos where you can listen to music and drink a beer with your friends. Most of Seville's nightlife gets going around midnight.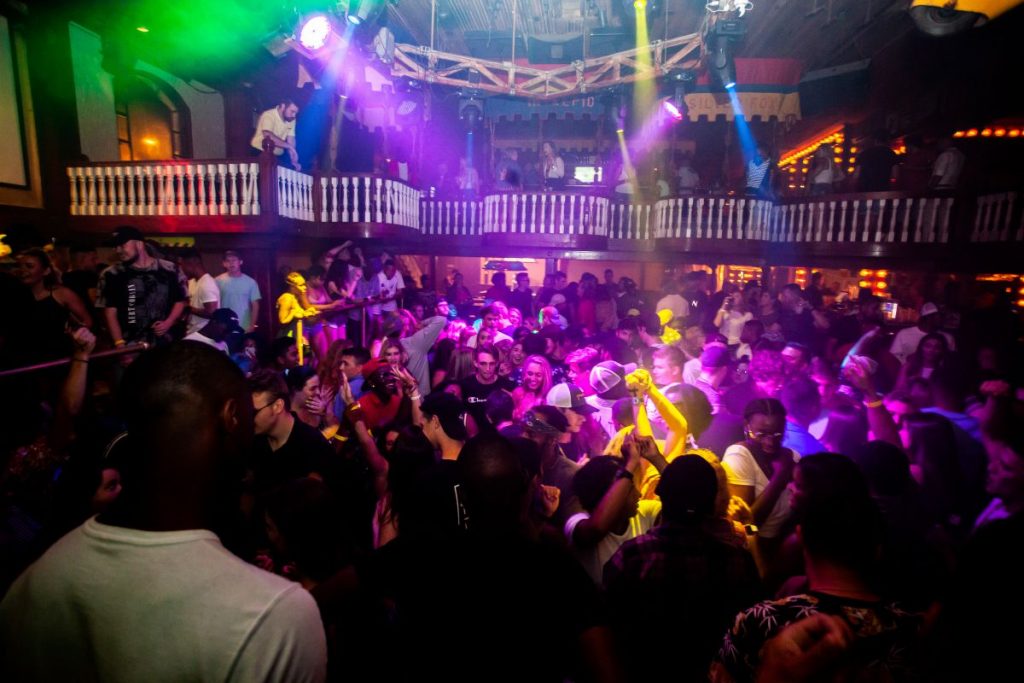 SEVILLE ACCOMMODATION
Seville accommodation offers many different types of hotels and B&Bs. It's easy to find a hotel in or near Seville's (larger) historic center, which is a good place to stay for a city tour. You could also choose the cozy neighborhood of Triana, which is across the river. Depending on your needs, you can book Seville accommodation as a Seville hostel, an Airbnb, or a Seville hotel.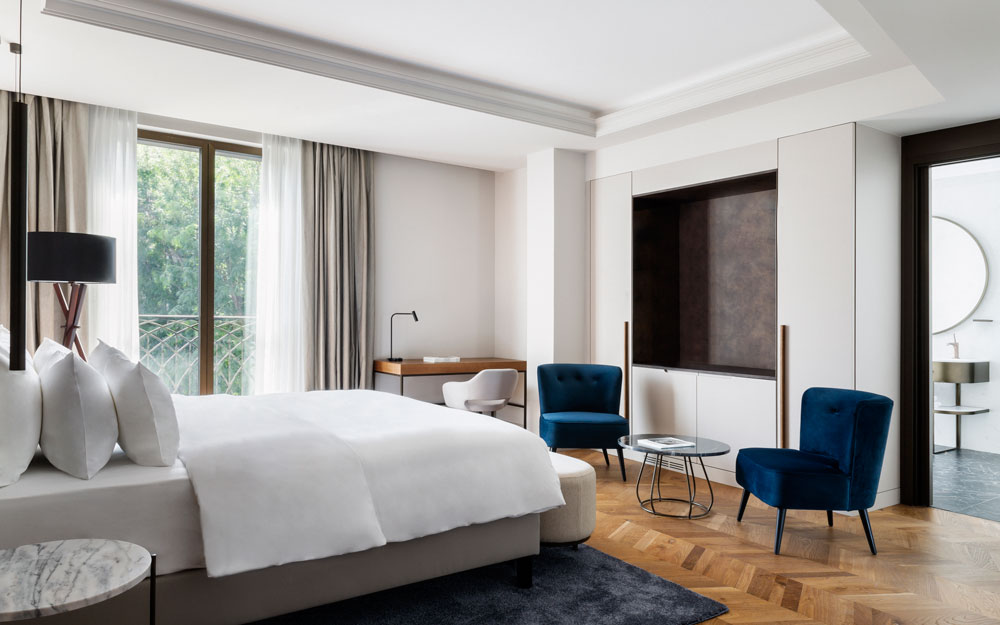 APPROXIMATE BUDGET
Plan to spend about €99 ($99) per day in Seville during your vacation. It is the average price per day based on what other guests have spent. Travelers in the past have spent, on average, $30 per day on food and $14 per day on local transportation. Also, the average cost of a hotel room for two people in Seville is $90. Remember that these are just average prices to help you plan your travel budget.
CONCLUSION
Seville is the most important city in southern Spain regarding culture, politics, economy, and arts. Seville has more history than any other city in Europe. The Guadalquivir River runs through this beautiful city. On Shabbat, you can eat traditional food or a mix of different kinds of food. It's a safe place for travelers, and you'll see many beautiful things there.
FAQs
What is Seville famous for?
Seville is known all over the world for its buildings and flamenco dancing. But there are a lot of tapas bars all over the city. In Seville, ascetic culture is a big part of how people live.
Is Seville the most beautiful city in Spain?
People often say that Seville is one of Spain's most beautiful cities.
How many days in Seville is enough?
Three days is a lot of time in Seville. But it's easy to stay longer. If Seville is a great European weekend trip, you can see many of the main sights in two days.
What is the best time to visit Seville?
April-June and September-October is the best time to enjoy the city when the weather is nice. Especially in June, it doesn't rain as much.
Is Seville a walkable city?
A lot of Seville can be seen on foot. Especially the old city with its small shops and cafes and narrow streets. Compared to the modern part of the city, Triana is also old. It is great for walking and there is a lot to see.
Does Seville have a beach?
Seville is not on the coast but is close enough to walk there. Playa Matalascas, the beach closest to the city, is easy to visit for a day.
Is Seville the hottest city in Europe?
Seville is Continental Europe's hottest city. It is also the hottest big city in Europe, with average high temperatures above 35°C (95°F) in the summer. It is also the hottest city in Spain.
Does it get cold in Seville?
Sevilla has cold, partly cloudy winters. Most of the year, temperatures range from 42°F to 97°F, and they rarely drop below 34°F or go above 105°F.