The Birthplace of the Renaissance
It is pretty much sure that you can't enjoy the beauty of this city from one visit. So certainly you will have the urge to visit Florence once again, after your first visit to Florence. World-class museums, lovely piazzas, and many restaurants where you can sample the Tuscan culinary scene are located along the cobblestoned streets of this historic city.
Magnificent works of world-renowned classic artists like Da Vinci, Michelangelo, and Botticelli originated in this city, so millions of people visit here to see these masterpieces with their own eyes. One-third of the world's art treasures are in Florence.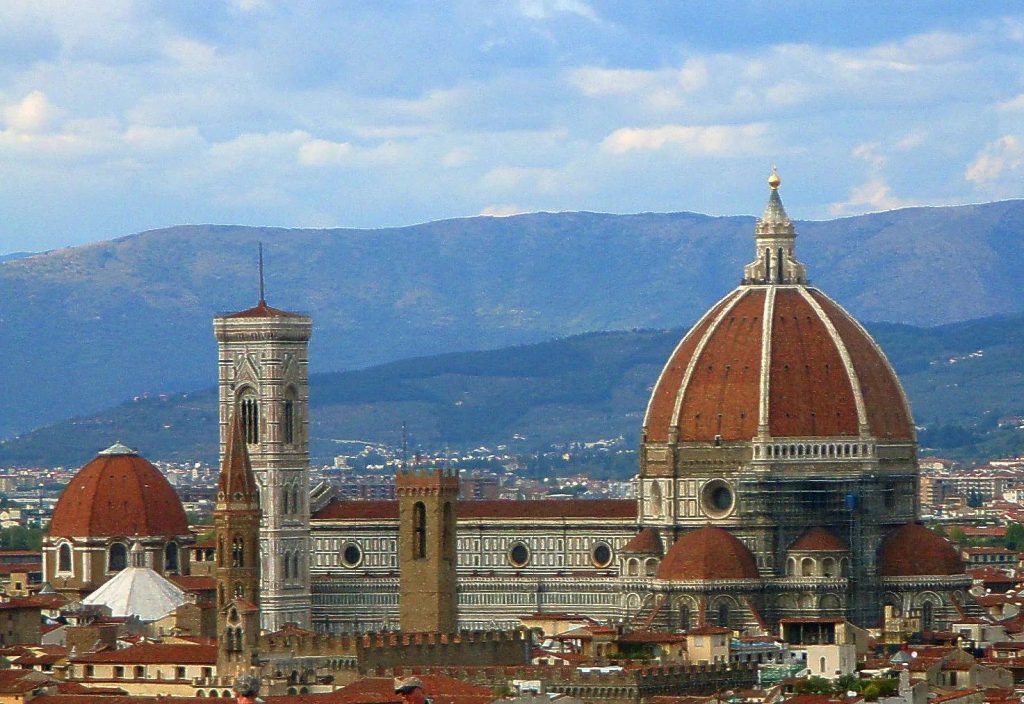 Florence is the capital of Italy's Tuscany region and is located in central Italy. Nearly 710,000 people live in Florence, and a 102.4 km² area belongs to Florence. Florence is the most populated city in Tuscany, known for its picturesque green hills and top wines.
Florence's economy heavily depends on tourism, attracting an average of 13 million visitors annually. In addition to tourism, Florence's significant industrial sector produces products, including furniture, rubber, chemicals, and food. High-end products like Vespa scooters continue to export from industrial areas like Prato-Pistoria. Also, Florence is not only the birthplace of the standard Italian language but also the birthplace of Opera and Piano.
So, let's know about some important things about Florence that will help you get the maximum out of your amazing trip to Florence.
Florence History
Around the first century BCE, the Romans established Florence as a military colony. Throughout Florence's lengthy history, it has served as a republic, the seat of the duchy of Tuscany, and the capital of Italy (1865–1870). Florence attained dominance in trade, banking, education, and especially the arts between the 14th and 16th centuries.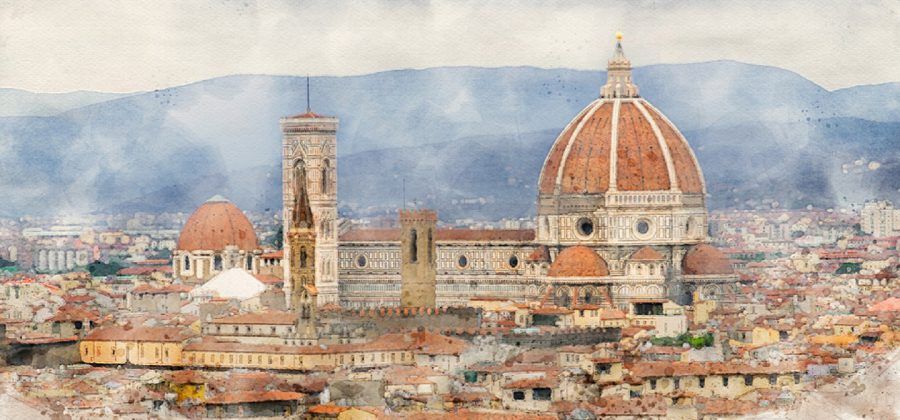 The language of Florentine locals developed into Italian, and the florin, the local coin, became a unit of currency used worldwide. A Florentine navigator named Amerigo Vespucci gave his name to two continents, while Florentine writers, painters, architects, and craftspeople started the Renaissance era. Florentine artists also developed the principles of perspective.
Florence was formerly a Roman city in antiquity and then turned into a vibrant medieval commune. It is celebrated as the home of the Renaissance movement and was one of the most significant cities in the world in the 12th, 15th, and 16th centuries.
How to reach Florence
All forms of transportation make it simple to get to this lovely city, which is well-connected to the rest of Italy and Europe. Florence is easily accessible from all directions as it is located in the middle of numerous national routes and autostradas that pass through. The fastest way to get to Florence is by plane, but you may also get there via train, car, or bus. Public transportation is an alternative option for getting to Florence and is a more convenient and budget-friendly mode of transportation.
By Plane
The Florence airport is on the northwest outskirts of Florence in Peretola. This airport was previously known as Amerigo Vespucci, and it is 4 Km away from the city center.
Major airlines connect this airport to numerous European cities, including Amsterdam, Brussels, Bucharest, London, Munich, Paris, and many others. FLR offers flights from Italian cities, including Bologna, Turin, Milan Malpensa, and Palermo.
You can take a shuttle bus to the city for 4 Euros from the airport once you arrive there. Ordering a taxi at the airport is also possible to order a taxi at the airport, but this alternative is more expensive. From this airport, you can take a cab for 20 Euros to get to the city's core in approximately 20 minutes.
By Road
If you're travelling from Milan, in northern Italy, you may get to Florence by taking the A1 autostrada, which departs at Bologna and travels through northern Italy. About 120 miles separate Bologna from here, and the routes are engraved with breathtaking natural beauty. Take the A12 highway toward Viareggio if you're coming from the French Coast or Genoa, and then take the A11 highway up to Florence. You can travel north on the A1 autostrada toward Florence if you are coming from Rome. Beautiful landscapes all around the nation reveal more about Italian culture.
By Train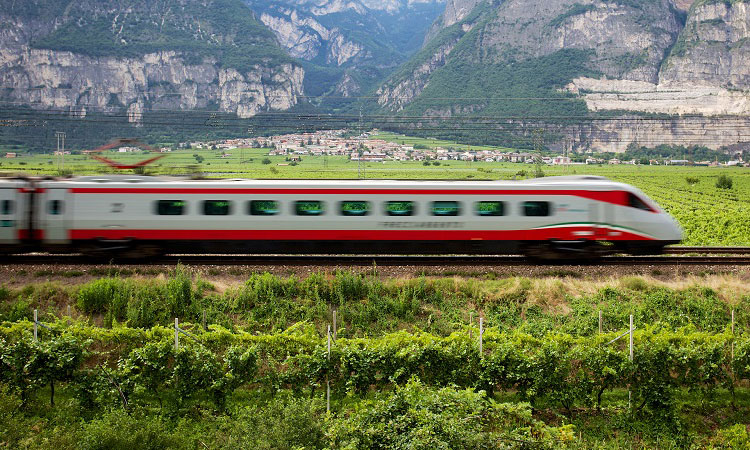 The Firenze Santa Maria Novella train station, located in the city's center, is the most important of Florence's several stations. This train station is the most significant in Florence because it receives trains from around Europe. The second-most significant railroad hub for the city of Florence is Firenze Campo di Marte, from where trains go throughout Italy and Europe. Many local train stations can be used to get to Florence depending on which direction you are coming from.
Florence Weather
The capital city of Tuscany in Italy, Florence, has a temperate climate characterized as transitional Mediterranean, with comparatively mild winters and bright, sunny summers.
The city is situated on the Tyrrhenian side of central Italy, but because it is also in a valley and some distance from the sea, its climate is slightly more continental than that of coastal towns.
The coldest month of Florence is January, and it has an average temperature of 6.5 °C (44 °F), while the warmest month of Florence is August, which has a temperature of 25.5 °C (78 °F).
Winter season of Florence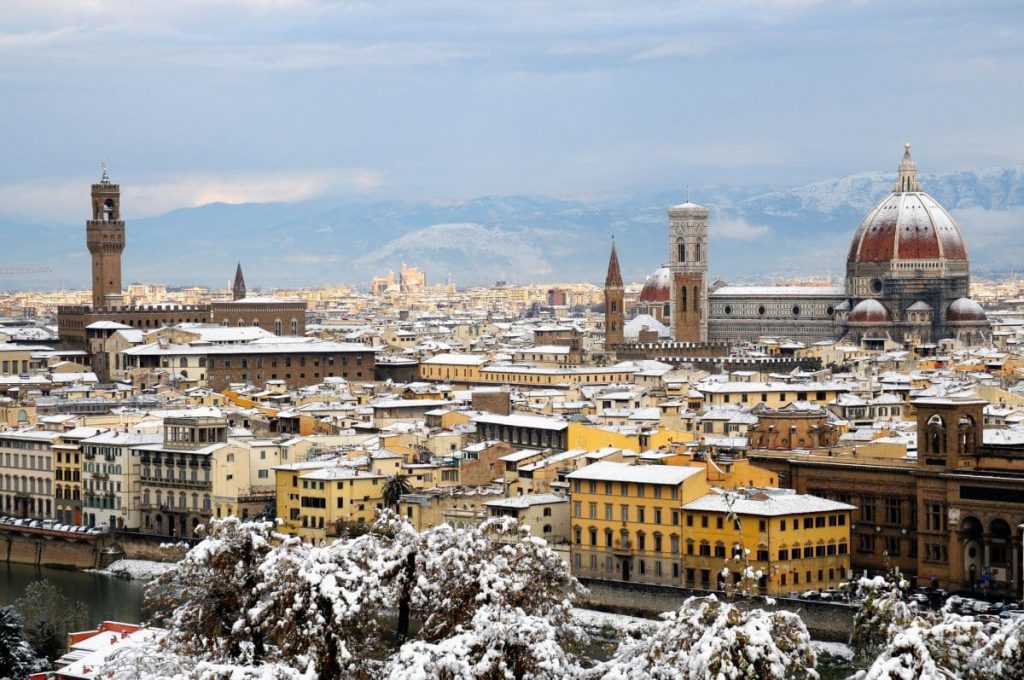 The winter season of Florence starts in December and ends in February. The temperature in the winter season can vary depending on the weather. On sunny days, the overnight lows frequently drop below freezing (32 °F or 0 °C), and some morning fogs are possible.
During the winter, the temperature can rise to or even exceed 15 °C (59 °F), even in January when the southern currents are dominant, despite being gloomy and frequently wet.
On the other hand, the north wind, also known as tramontana, can occasionally bring cold, windy days and nighttime frosts.
The summer season of Florence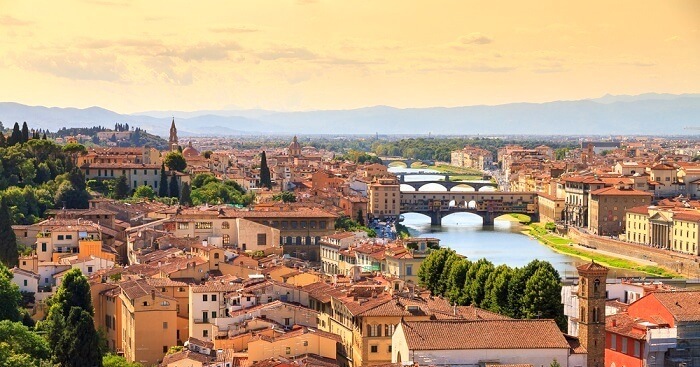 The summer of Florence is from June to August, and It's hot and sunny. There may occasionally be afternoon thunderstorms and, less frequently, chilly, rainy days, particularly in June and the second half of August. Due to its distance from the sea and geographic placement in a valley, Florence frequently ranks among the hottest towns in Italy when the weather is fine. It happens frequently. Every year, there are days with highs of 36–38 °C (97–100 °F), though they occasionally soar as high as 40 °C (104 °F). Fortunately, the humidity is not excessive, and the temperature drops somewhat at night, making it almost always bearable.
Best time to visit Florence
Mid-April to mid-June and September are the best times to visit Florence because there are many lovely days with comfortable mild weather and chilly evenings. There will be, however, also some rainy days. For those who can handle the heat, July and August are good options. Even in the middle of summer, a sweatshirt will be necessary for evening activities for safety.
Best things to do in Florence
Scroll at Piazzale Michelangelo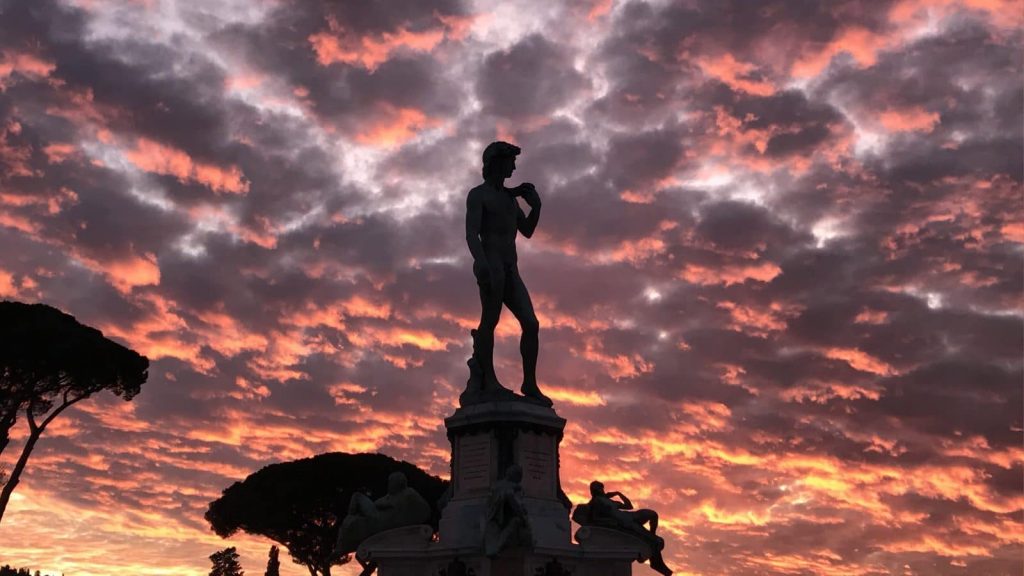 The famous Piazzale Michelangelo offers a stunning panorama of Florence. It is one of the few locations where you can see the entirety of Florence in a single, breathtaking glance. It was created in 1869 by the architect Giuseppe Poggi as part of the town's urban renovation.
Florence served as the capital of Italy at the period, and the middle class was anxious to demonstrate its resurgence. The Piazza honors the famous Renaissance sculptor Michelangelo and has replicas of David and the four allegories from the Medici Chapel of San Lorenzo. These copies are constructed of bronze as opposed to the originals, which are entirely made of white marble. Nine pairs of oxen hoisted the monument on June 25, 1873. You're here for the stunning vista, not the carts stacked high with souvenirs and buskers that line the Piazzale Michelangelo. From this area, you may get the greatest views of the Cathedral and Florence.
View the Duomo, the Arnolfo Tower of the Palazzo Vecchio, and the Uffizi from over the eroding city wall toward the west. The experience of looking out over the sea of terracotta is breathtaking. Also, this is a prominent landmark near the Boboli Gardens and the Palazzo Pitti on the South Banks of the River Arno. The River Arno frames Florence in all its splendour, providing an unmatched view from the Piazza.
You can have an unforgettable lifetime photo from this stunning view.
Cattedrale di Santa Maria del Fiore
Florence's top attraction is the Cathedral of Saint Mary of the Flower, sometimes referred to as the Duomo di Firenze. The Duomo, as it is known locally in Florence, is the city's crown jewel and maybe the most well-known Cathedral in the whole world.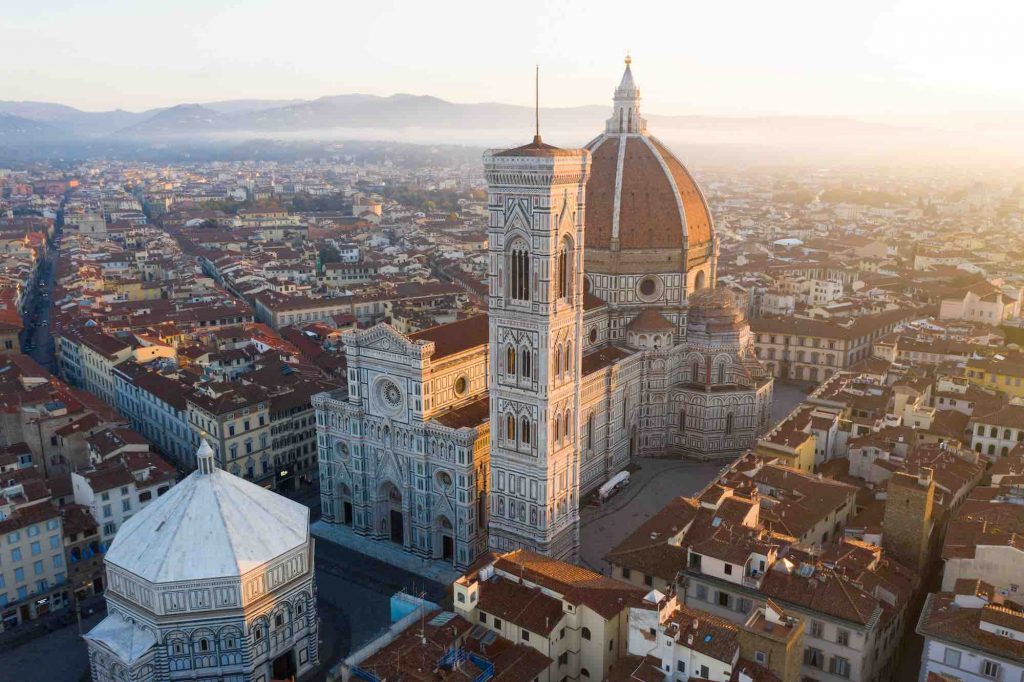 The Florence Cathedral stands out in this ancient city, amid the other medieval structures for miles, and makes an impressive spectacle. The Cathedral's front facade and exterior are also magnificent; they are coated in white marble with stunning crimson, pink, and green polychrome patterns.
Although it was first built in 1436, the stunning front facade wasn't finished until the 19th century. Until 1881, this was the largest Cathedral, with 463 steps and tight spaces to climb to the lantern at the very top of the building. That is the highest point in the heart of Florence.
Uffizi Palace and Gallery
Uffizi Palace and Gallery is a popular art museum in Florence. It is known as the most important Italian Museum as it is a veritable gold mine of Renaissance artwork. This renowned museum of art houses masterpieces by Michelangelo, Botticelli, and Leonardo da Vinci, among many others.
It was constructed in the 16th century as an office for the Medici family. The word "offices" means "Uffizi" which was the initial purpose of this building. Giorgio Vasari created the building, which was finished in 1581.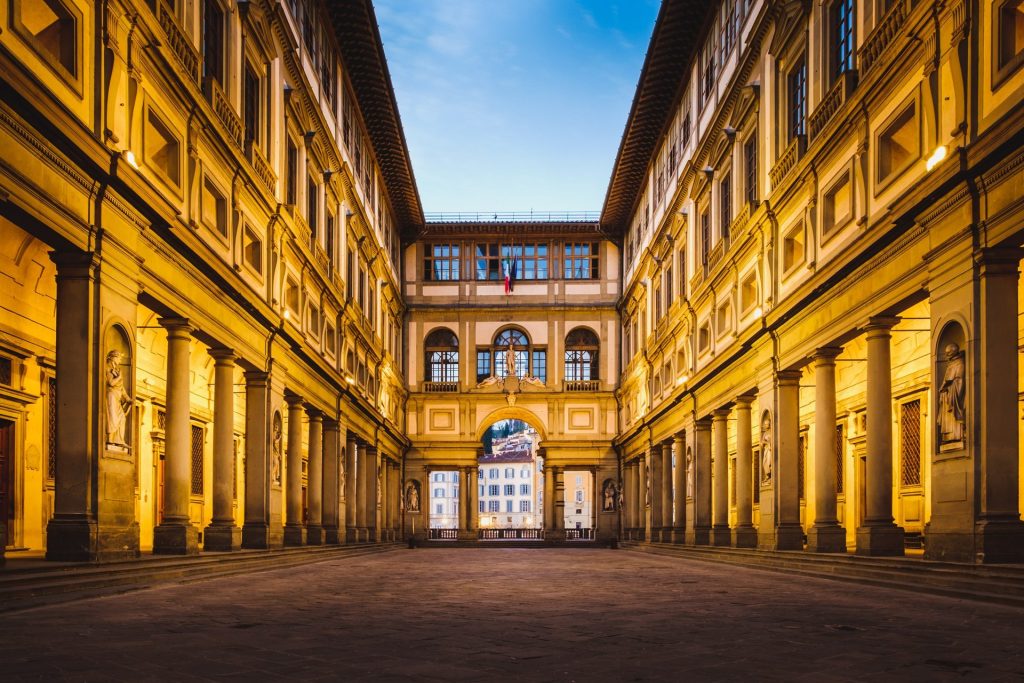 The Uffizi, formally established as a museum open to the public in 1865, visits over 4 million visitors annually, making it the most popular ticketed site in Florence. The reason to have many visitors to this museum is that it contains a large portion of the Renaissance art created in Florence. Some of the most famous works of art today can be seen, including Sandro Botticelli's La Primavera and the Birth of Venus, The Baptism of Christ by Da Vinci, the Adoration of the Magi by Botticelli and the Sacrifice of Isaac by Caravaggio.
The Uffizi Gallery houses a large portion of the Renaissance art created in Florence, which is why it is so well-known. Some of the most famous works of art today, including Sandro Botticelli's La Primavera and the Birth of Venus, can be seen today. Visitors to Florence absolutely must do this.
Our recommendation:
We strongly advise taking a guided tour of the Uffizi to see the museum and the artwork because there are so many wonderful things to see there. Check out our museum guide on how to visit the Uffizi Gallery with information on tickets, hours, and more if that is out of your price range.
The structure of the Uffizi is magnificent in and of itself, and the inside courtyard is home to numerous complex columns and arches filled with marble statues.
The Uffizi Palace can keep lovers of art and history entertained for hours. Also, it is a must-visit place in Florence for any tourist.
Walk across Historic Ponte Vecchio
The Ponte Vecchio in Florence, Italy, is a magnificent example of a medieval bridge. This stone bridge spans the Arno River, and shops have lined the sides of the bridge For centuries. Today, most of these shops sell jewellery and tourists are frequently seen shopping. Also, you can see some art galleries and gift shops.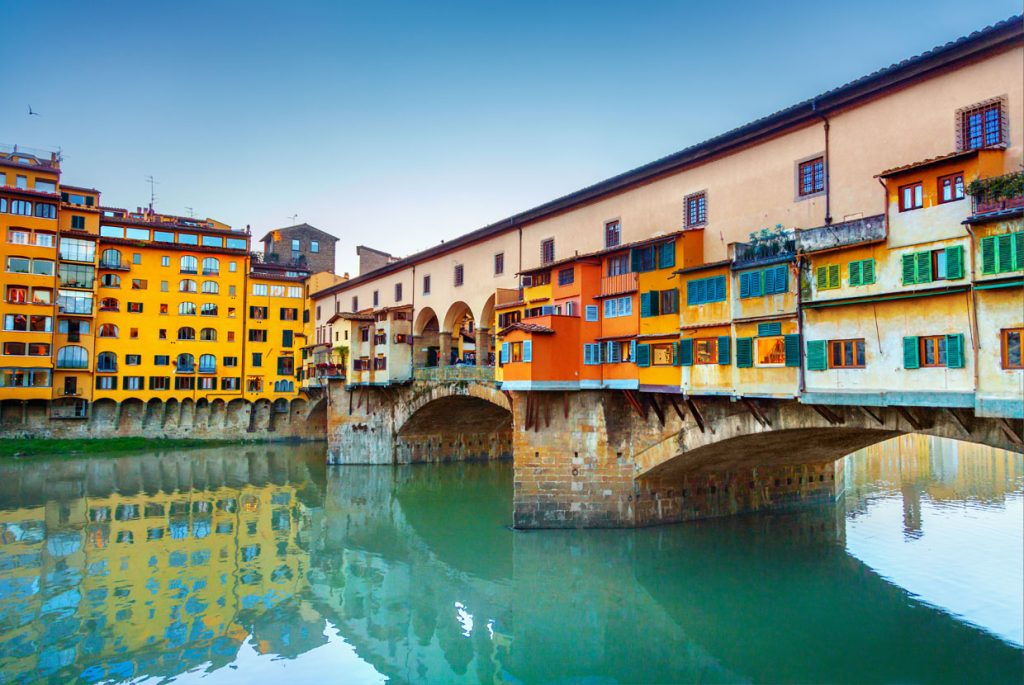 This bridge, its patrons, and the stores are all supported by stone archways that make up the entire structure. You can see a hidden passageway called  "Vasari Corridor", which leads to the Medici built on top. The Vasari Corridor is a magnificent building. The Medici, who controlled the Republic of Florence, erected a hallway to connect their palace, Palazzo Pitti, with the town hall, Palazzo Vecchio. But this secret passage is known by a few people.
The breathtaking views of the Arno river can be seen from this marvellous bridge. So, don't miss this.
Galleria dell'Accademia
The Gallery of the Academy of Florence, which is close to the Piazza del Duomo and the Basilica di San Lorenzo, is a very significant museum. Michelangelo's original "David" sculpture is the centrepiece of the Accademia, formally known as Galleria dell'Accademia di Firenze. The Accademia is distinctive because it has a far smaller collection of artwork than its rival, the Uffizi Gallery.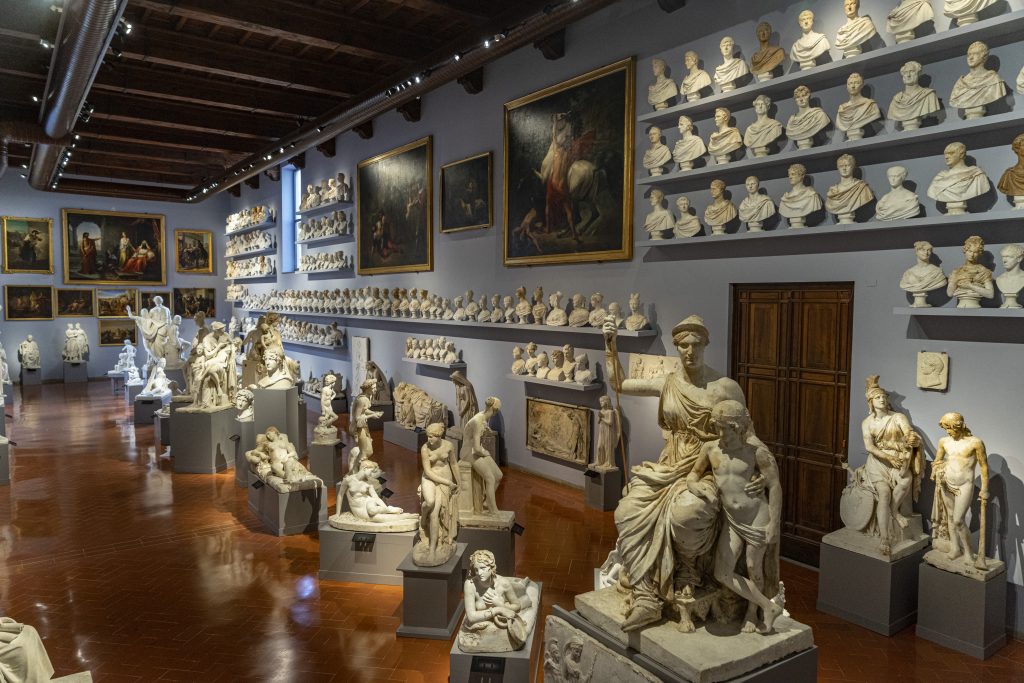 The Gallery is a plain structure you might walk right by if you didn't know it was there, but it houses several Renaissance classics. The museum, divided into various intriguing galleries, also exhibits more sculptures and works by Michelangelo in addition to this unique work of brilliance. Also, there are many other wonderful things to see at the Accademia, including works by other famous artists like Sandro Botticelli and a variety of vintage and one-of-a-kind musical creations showcased in the museum dedicated to musical instruments.
This Gallery also has a wealth of historical artwork and details about Florence in the 14th and 15th centuries. When you explore the Gallary, you can see four incomplete Michelangelo statues framing the staircase leading to David.
Michelangelo's "David" is the Greatest Sculpture On Earth. So, witness the greatest historical masterpieces of the world with your own eyes.
Palazzo Vecchio
The Palazzo Vecchio is the Town Hall of Florence and the most important administrative building in Florence. In later years, this building served as a town hall and the palace of the Signoria of the Republic of Florence.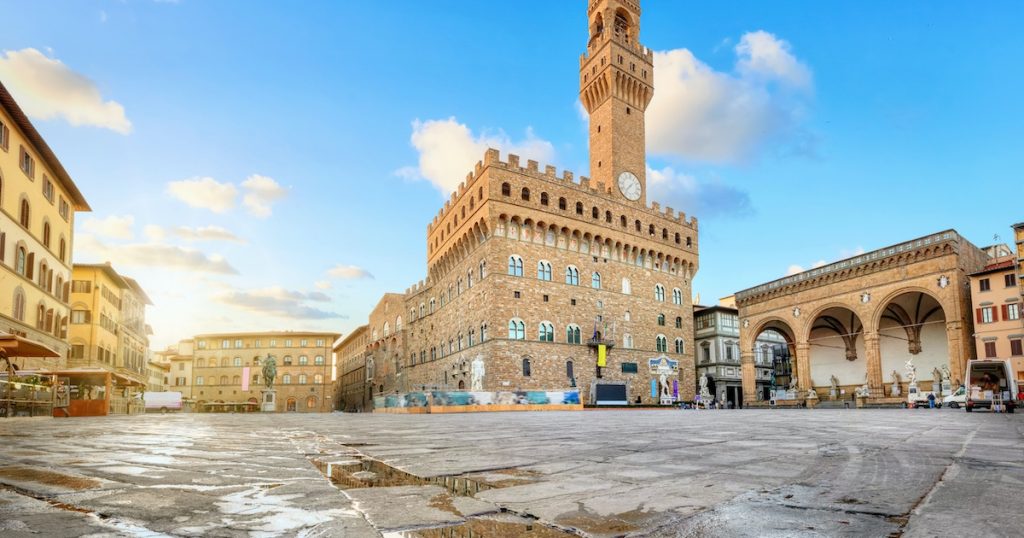 The Duomo and the Santa Croce church were also built by the same architects who also created the Palazzo, which was first constructed in 1299. The structure resembles a castle due to its square shape, numerous crenulations, and huge bell tower.
Wander through its Courtyards and take in the beautiful architecture and wall-decorated murals. The variety of works that the Medicis organized is astounding. The legendary Savonarola's prison cells, where he was held before being put to death on the square in front of the building, may be seen on the walk up to the top.
The palace's interior is magnificent, featuring several uniquely adorned chambers like The Hercules Room and The Room of Cybele. The best thing is to climb the tower to capture the stunning view of Florence. Also, admission to the building is relatively cheap. So, don't miss it.
Giotto's Campanile
Giotto's Campanile is One of the city's most well-known designs and is a genuine masterpiece of Gothic style. Many people think Giotto's Campanile is part of the Duomo, but it is a separate structure. The tower is next to the lively Piazza della Signoria and directly next to the Florence Cathedral.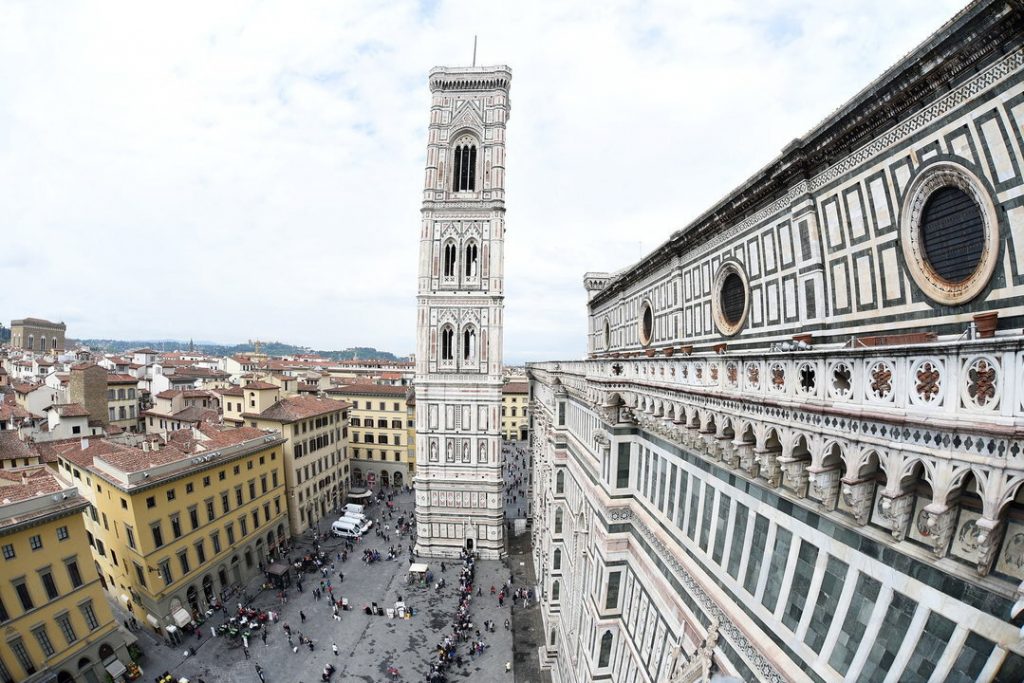 The tower's exterior is decorated with polychrome marble in dazzling green, and pink hues, also found on the Duomo. The building is divided into five distinct floors.
The renowned artist Giotto conceived and built the tower between 1334 and 1359, but Talenti constructed the final levels following Giotto's death in 1343. The tower is adorned with many sculptures, paintings, and painted panels, making it a genuine masterpiece of Renaissance art.
Wander about Giotto's Campanile, which has stood in Florence for many centuries (and inside). You can't miss it because it's one of the most well-known and best things to do in Florence.
The top of the building tower offers spectacular views of Florence and the Duomo. So, Climb the tower to enjoy it. Ensure you feel fit before attempting the steps because around 400–450 of them (and there is no lift) to the top.
Also, don't forget to keep an eye out for the hexagonal panels surrounding the base; they depict the development of humanity over time.
What other places could you see?
Apart from these major attractions, Florence has more places to visit. Some of the fabulous buildings are listed below. So, try to visit them also to complete your trip to Florence.
Basilica of Santa Croce
Baptistery of St. John
Basilica di San Lorenzo
Palazzo Pitti
Church of Santa Maria Novella
San Miniato al Monte
Bargello Museum
Also, try to scroll through the following stunning squares and monuments, which show the magnificent history of Italy,
Piazza del Duomo
Piazza della Signoria
Piazza della Repubblica
Corridoio Vasariano
Forte di Belvedere
Piazza Santo Spirito
Florence is filled not only with historical artefacts but also with beautiful greenery parks.
Boboli Gardens
Giardino Bardini
The Garden Of The Iris
The Giardino Delle Rose
Fiesole Hills
Shopping and enjoying the cuisines in Florence are other interesting things. So, go to the following markets and places and have fun.
Dine At Mercato Centrale
Try Vernaccia Di San Gimignano At A Tuscan Vineyard
Leather shops and markets
Cuisine in Florence
As you know, Italian foods are famous worldwide, and Florence is also one of the most visited Italian cities, many tourists who go there plan to try various delicious dishes. Florence is surrounded by stunning Tuscan hills and has a medieval history that influences the traditional staples of Florentine and Tuscan cuisine.
So, you must try at least some of the following cuisines during your trip to Florence;
Florentine steak
The Florentine steak, or "Bistecca alla Fiorentina" is the queen of Florence's traditional cuisine. It is sometimes referred to as a "T-bone steak" due to the shape of the center bone.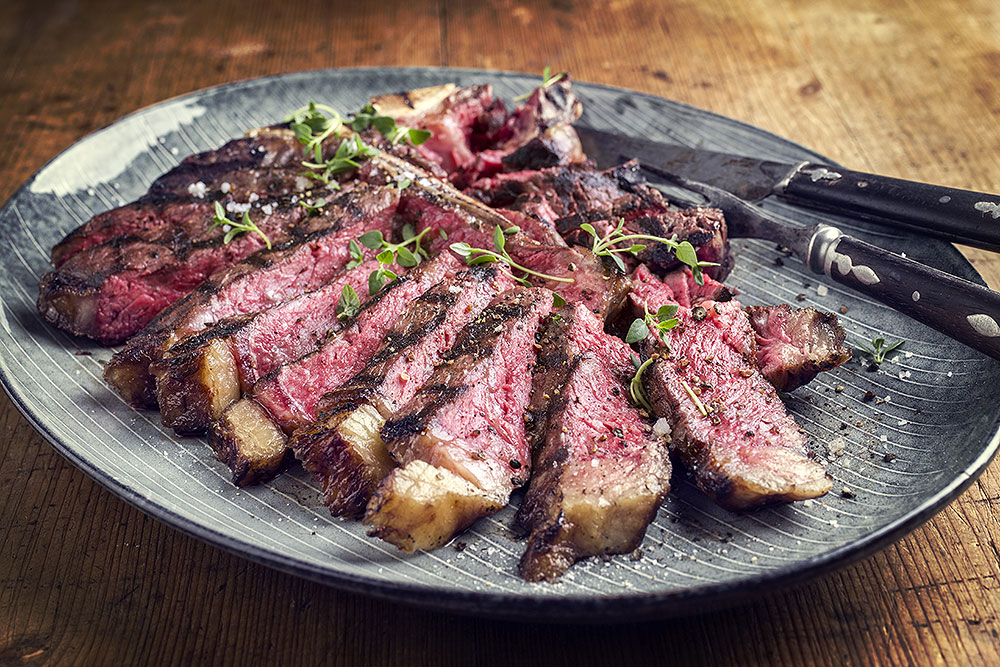 The classic steak is made from the loin of young beef, or "scottona" (a young cow that has never been mated), and is cooked to rare. The weight of each steak must be between 1 and 1.5 kg. If even one of these guidelines is broken, the steak is not truly "Fiorentina."
The dish doesn't have a complicated marinade to add taste, like in most Italian dishes. The flavor is enhanced by the salt, which also comes from the premium cut of beef. Steak, salt, pepper, and extra virgin olive oil are the four key components of a real bistecca Fiorentina.
In practically every restaurant in Florence, you may order this classic meal, which is frequently served with a side of cannellini beans and a fine Chianti.
Lampredotto And Trippa
One of those typical dishes from Florence's medieval era is this one. Regarding this street food, Florentines appear to have strong opinions on either side.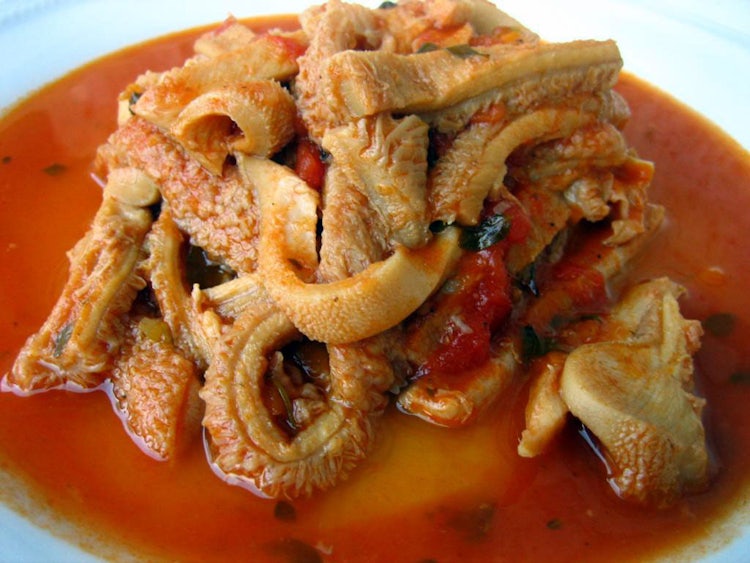 This sandwich is made of finely sliced tripe that has been seasoned, boiled in broth, and presented on a platter. From outdoor markets or street vendors across the city, you can get it with fiery red sauce, herby green sauce, or even Bagnato (with wet bread and a small amount of gravy).
Papardelle al cinghiale
Long, wide, flat pasta called pappardelle is frequently served with a hearty sauce like ragu. The food may also be made from a wild goose, hare, or rabbit. Wild pig, which was previously wild but is now often grown in a farm's free-range habitat, is used to make cinghiale. Wild boar is surprisingly good and has a rich flavor and texture that makes for a decadent ragu.
The traditional Tuscan soups
Tuscan cuisine has a long history, and these dishes are now popularly considered as comfort food because of their creamy textures and enticing fragrances.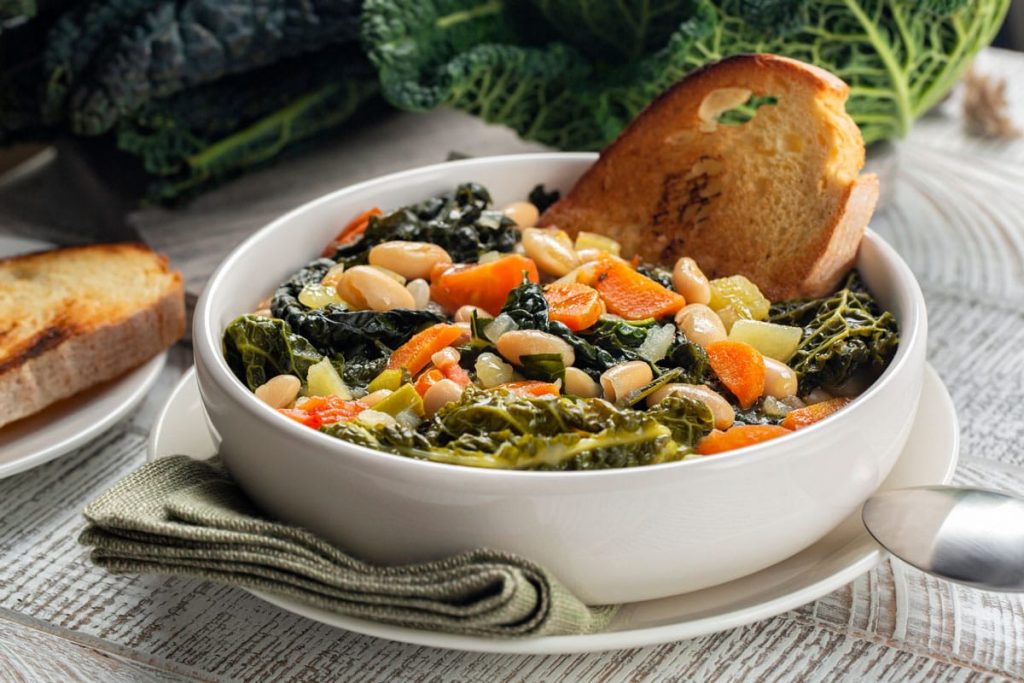 The most popular soup in Florence is called "Pappa al Pomodoro," or "Tomato Soup," and it is made with tomatoes, basil, and Tuscan unsalted bread. Old, dry bread was traditionally fried in this dish, and as it cooks, it crumbles into little bits, giving the soup a creamy texture. In Italy, this dish has become so well-known that a song has been composed about it. While "pappa al Pomodoro" may be found in any restaurant in Tuscany, "Ribollita" is a unique soup that is exclusively served in Florence. Ribollita means "cooked again." In the vegetable soup ribollita, kale, dry Tuscan bread, and borlotti beans are the three main ingredients. The soup is traditionally cooked in a pane, baked until the texture turns creamy, and then served in a terracotta terrine with grated parmesan on the side.
Gelato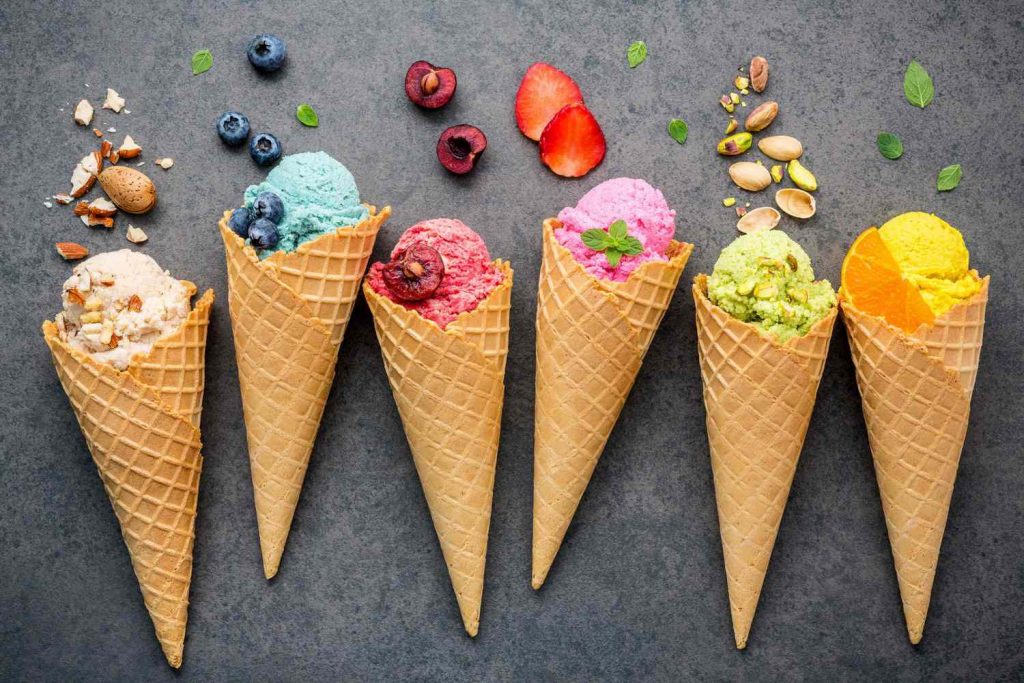 Some of Italy's best gelato can be found in Florence. Avoid buying from vendors with mounds of brilliant, artificially coloured gelato and extravagant garnishes. The best approach is a small batch. A gelato enthusiast gives an insider tip to avoid pistachio flavors brighter than dark greenish brown, as they lack high-quality ingredients.
Some other must-try cuisines in Florence
Trippa alla Fiorentina
Fagioli all'uccelletto
Crostini (antipasto toscano)
Cervello Fritto (Fried Brains)
Ribollita
Pane toscano
Nightlife in Florence
Florence is an old city with charming streets, so it is a perfect place to enjoy a fusion of the past and the present at night. Florence's nightlife is unlike any other city in the world since it offers the ideal fusion of traditional venues with contemporary moods.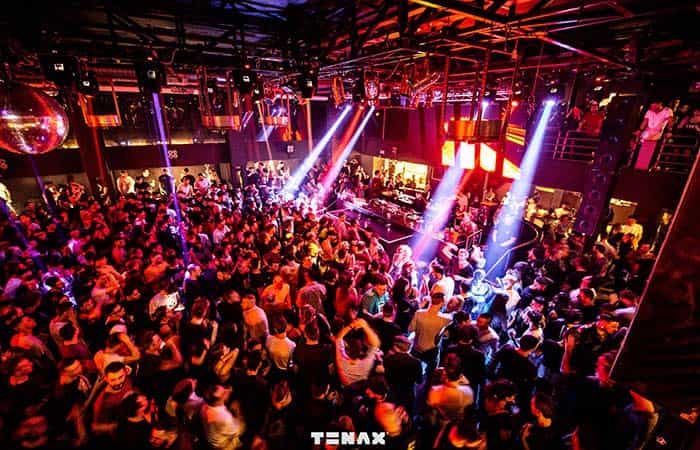 The parties in Florence generally begin late at night and last until the wee hours of the morning. Maybe you think that Florence does not know how to party by seeing the behaviours of the locals. Florence knows to party well, and you can see it when you join Florence at night.
When you are going to enjoy Florence's nightlife, please keep in mind that Italians abhor public intoxication, so drink as much as you like inside the bar, but once you leave, make sure to hold it up or prepare for some unwelcoming looks from the locals. Additionally, keep in mind to dress nicely because you are in one of the world's most fashionable cities.
The best thing about Florence's nightlife is that there are more options. See the nightlife of Florence both in and outside the piazzas. So, as per your choice for dinner, alcohol, and entertainment, you can find a place to fit that.
So, you are welcome to enjoy the nightlife in Florence at the following places;
Piazza Santa Croce
Piazzale Michelangelo
To taste the famous wine and craft beer of Florence, hop into one of the followings. Some of them are bars with restaurants; some are only bars.
Sesto Narno
Red Garter 
Coquinarius
Kikuya pub and bar 
Full Up Concept Club
Sabor Cubano
Procacci
Space Club 
Yab 
Green Street Bar
If you want to try nightclubs in Florence, here are them;
The Space Club
Full Up
Moyo
Tenax
Hangar
Accommodations in Florence
You can choose where to stay in Florence based on your preference, as there are plenty of accommodations in Florence.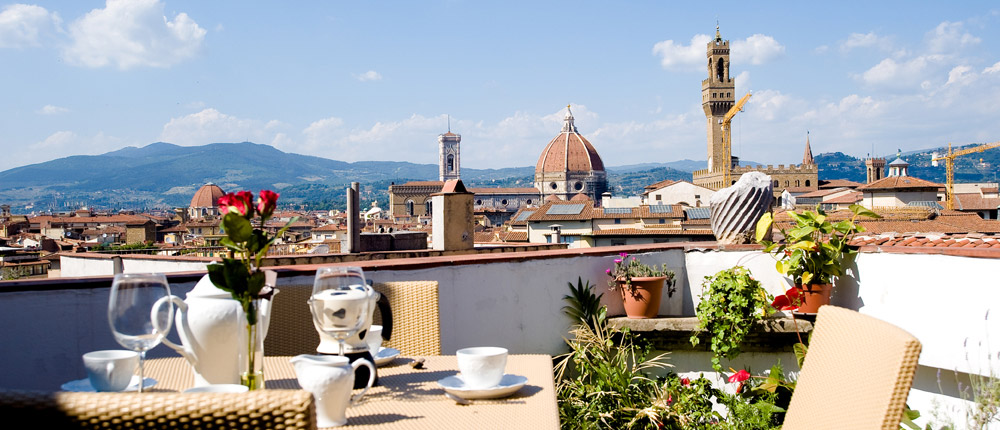 Luxury Hotels in Florence
Hotel Regency
The Westin Excelsior
Hotel Lungarno Florence
Hotel Savoy By Rocco Forte
Mid-range Hotels in Florence
Galileo 2000 B&B
Hotel La Scaletta Florence
Hotel Degli Orafi
Palazzo Peruzzi Residences
Budgetary Hotels and apartments
Hotel Monna Lisa
Aqa Palace
Palazzo Uguccioni Apartments
Florence City Details
The City map
You can see the map of Florence from this link.
Getting around in Florence
Walking
The city center of Florence is designed for walking. So, the best thing to visit in the attractions of Florence is walking. If you want to go further afield in Florence, use Florence Public Transportation systems.
However, you can experience this historic city's real feeling if you travel on foot.
Bicycle, E-Bikes or Vespa
It is a good choice to use two wheels to get around the city, as locals love, even if they do not have separate bike lanes or bike tracks. You can find two wheels for your tour from RideMovi and e-scooters websites.
Buses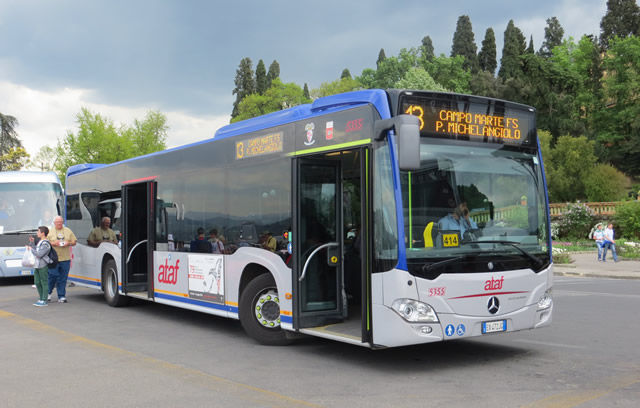 Around 100 bus routes service the city of Florence. The town also offers a unique late-night service called "Nottetempo." The most interesting lines for exploring the city are C1, C2, C3, and C4. These lines are all electric.
In addition to taking you to Piazzale Michelangelo and the Church of San Miniato al Monte, the regular lines 12 and 13 are also quite helpful because they run up the hill south of the Arno.
Nottetempo service runs from 10 pm to 2 am and takes in various city neighbourhoods.
You can purchase tickets inside the bus, which has two locations to validate them—at the front and back of the bus—or the stops themselves.
Purchasing multiple tickets at once or purchasing an ATAF (Florence Transport) pass is smart if you intend to use the public transportation system.
Trams
Though Florence has three active lines of trams, the tourists of Florence can not use much as non of them run through the city's historic center.
Taxies
Even though Florence is a walkable city, sometimes taxis are useful for going from one place to another. The minimum charge for taxis from 6 am to 9 pm is Euro 3.30 and the price per hour for waiting is Euro 24.
Firenze Card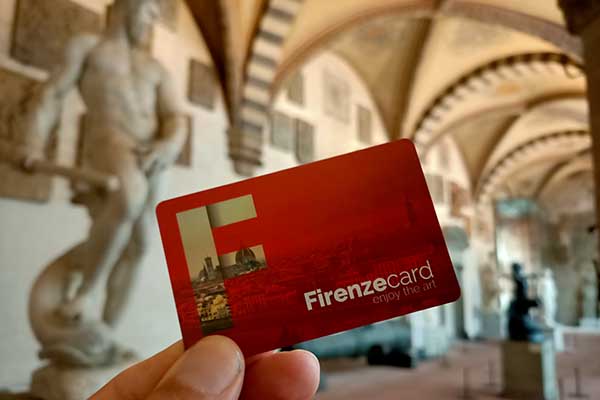 "Firenze Card" is Florence's museum pass, granting free admission to the city's top galleries, cathedrals, mansions, and ancient gardens. Additionally, the card provides skip-the-line tickets and permits guests free use of the city's public transportation for the duration of its 72-hour validity.
Final Thoughts
Florence is one of the most stunning cities in Italy, full of incredible architecture, great food, and historical significance. The beauty of this city can not be experienced with one visit.
So, we invite you to visit Florence and have a great experience witnessing fabulous historical masterpieces.
FAQs
The city of Florence is named Firenze in Italian. What is Florence best known for? Florence is primarily regarded as the Renaissance's birthplace. Florence is renowned for its breathtaking landmarks, classic artifacts, and vibrant cultural life.
Is Rome or Florence better to visit?
Rome is known for its ancient history and Roman ruins, while Florence is a renaissance history and classic Italian culture.
Is 3 days in Florence enough?
Florence has world-class museums and galleries, beautiful churches, and former palaces. So, you will need at least two or three days to cover this beautiful city while shopping for quality leather goods and delicious Tuscan food.
Unfortunately, Florence is an expensive city. Florence is ranked three among the most expensive cities in Itlay. By the way, it is one of the worth visiting cities in Italy.
What is the best month to visit Florence Italy?
Mid-April to mid-June and September are the best times to visit Florence because there are many lovely days with comfortable mild weather and chilly evenings.
Can you walk everywhere in Florence?
The city center of Florence is very walkable. You can go between all the top sights (like the Duomo and the Uffizi) in just a 5-10 minute walk. 30 minutes will be the furthest distance for any attraction.