A Hidden Gem in the Heart of the Hill Country
Welcome to one of the most beautiful places in Sri Lanka: Ella. This city is a mix of nature and man-made contraptions intertwined in perfect harmony.
If someone wants to be with the spirit of nature, Ella is one of the best places for that. Ella is filled with greenery, tea estates, marvel waterfalls and beautiful mountains covered with forest. This beautiful countryside is in Badulla District, Sri Lanka. Ella is a village that shows the colonial era of Sri Lanka. Sri Lanka has been a Portuguese, Dutch and British colony between 1505 and 1948. As a result, most of the hilly countryside in Sri Lanka cultivated tea. The plantation is one of the main export industries in Sri Lanka, starting in the colonial era. Surrounded by the tea estates is a common view in Ella. "Nine Arch Bridge", also called the "Bridge in the Sky", is a historic icon in Ella.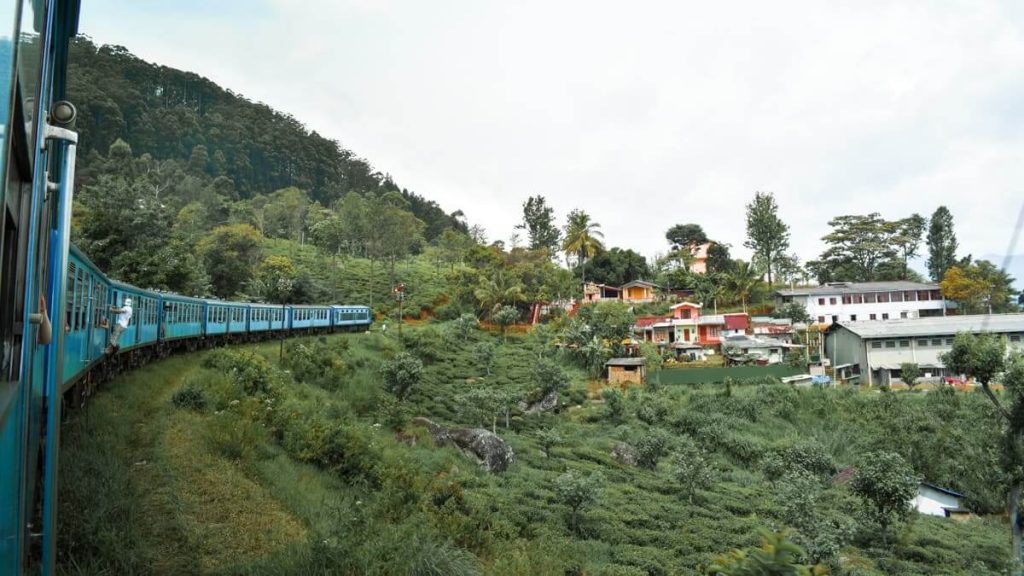 HOW TO GET TO ELLA
By Train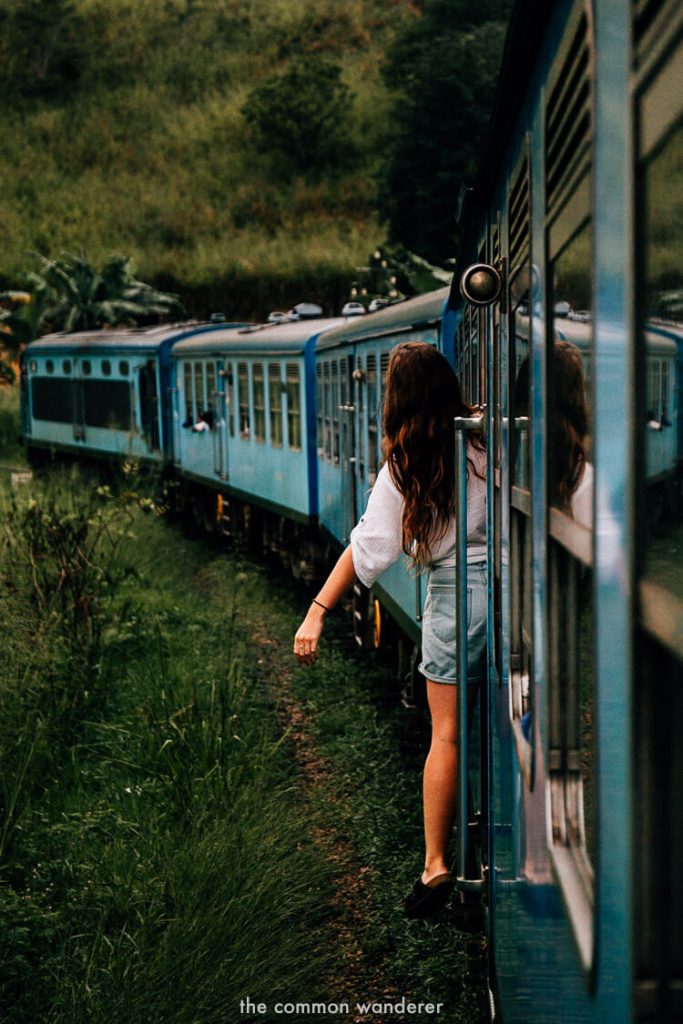 The waterfalls, tea plantations, and evergreen forests along the train route from Colombo to Ella are breathtaking! Around 272 kilometers separate from Colombo and Ella in total. If you are in Colombo or Kandy, this is the most recommended type of transport, as this is one of the most beautiful train journeys in the world. Simply you can board a train from Colombo to go to Ella. It is a slightly longer route which takes 10 – 11 hours. Or otherwise, suggest you get on the train from Kandy to Ella; it only takes around 6 hours.
You can book train tickets from here.
Ella Railway Station
The Ella Railway Station (ERS), constructed by the British in 1918, has genuine colonial-era architecture and is unquestionably one of Sri Lanka's busiest single-track mainline railway stations.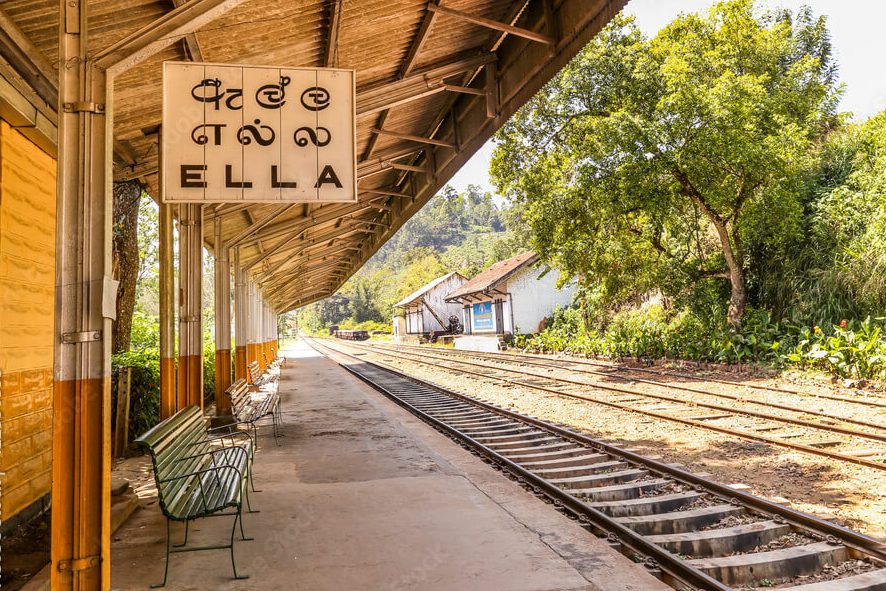 No matter which direction you head from ERS, you can always count on the stunning scenery. You will ride over the Nine Arch Bride and pass the Demodara Railway Loop as you travel the 20 km to Badulla (the terminus of the upcountry railway route). You can experience breathtaking views of tea plantations and tranquil mountain villages by riding in the opposite direction toward Idalgashinna Railway Station, which is 20 km away.
By Bus
Around 258 kilometers between Colombo and Ella on the bus route. Due to the lack of direct buses to Ella, you must board the bus headed toward Badulla at the Colombo Bus Terminal. You must disembark at Kumbalwela Junction, where you can take a local bus, cab, or even a tuk-tuk to continue traveling to Ella. Around 5 km distance Kumbalwela Junction from Ella.
BEST TIME TO VISIT ELLA
The greatest time to visit Ella is between January and March when you can go hiking, mingle with nature, and perhaps get some rain. In Ella, the monsoon season typically lasts from July to November, with the rest of the year being rather nice.
Ella experiences yearly maximum temperatures of 27°C (from 25°C in December to 28°C in April). A minimum of 224mm in January and 744mm in October make the annual rainfall total 4891mm.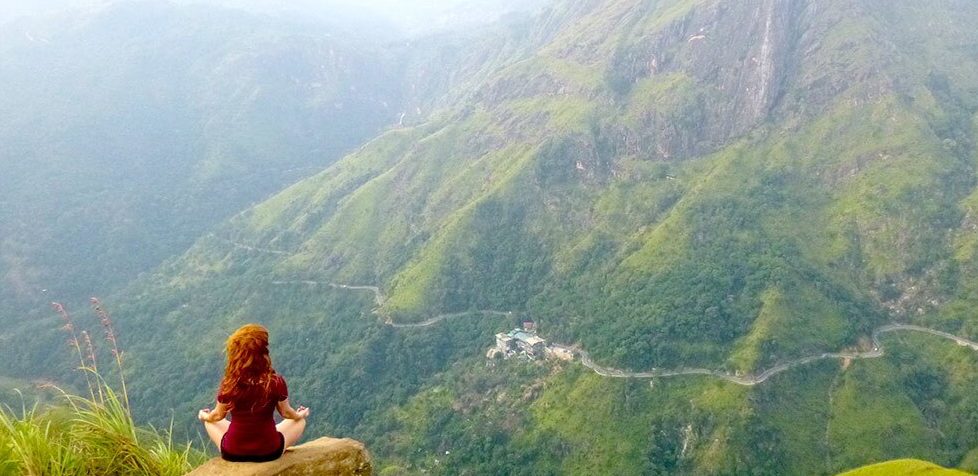 Best Time for Low Price in Ella
The cheapest month for hotels in Ella is often October. So now is a fantastic time to make holiday savings! On the other hand, statistically speaking, February is the most expensive month for hotels.
THINGS TO SEE & DO IN ELLA
Ella Rock
The Ella rocks provide some of Sri Lanka's most beautiful hiking and trekking locations, and the best views are from the top. On the way up, walking through the picturesque path, the railroad track, the bridge, and the tea plantation is a wonderful experience. If you want to trek into the mountains, you can begin your journey at Ella Railway Station, Kithal Ella Railway Station, or Heel Oya Railway Track.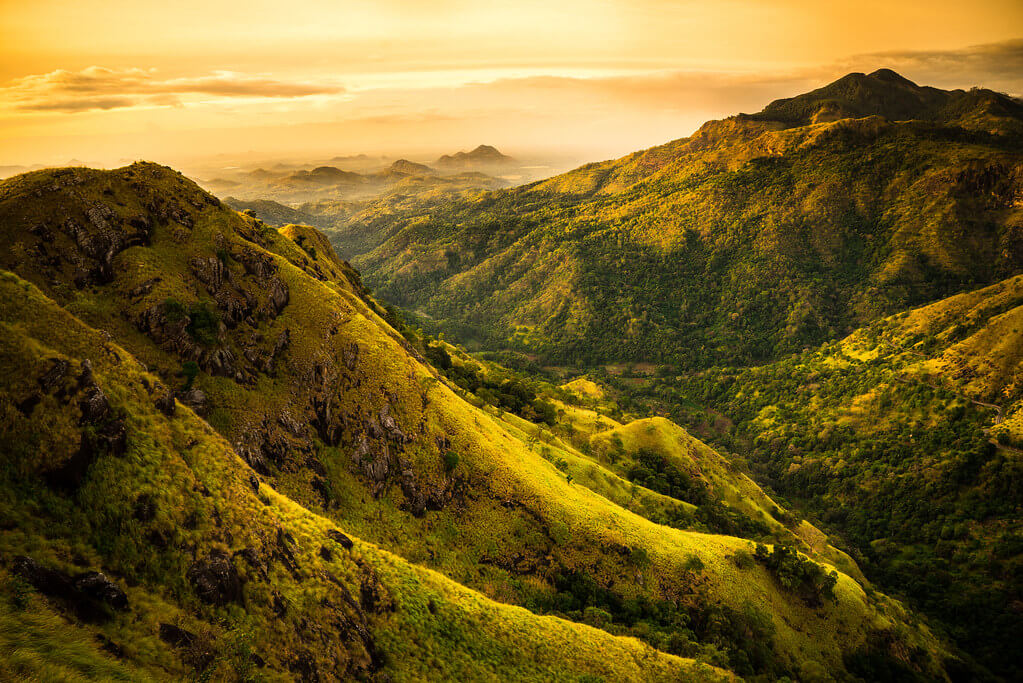 The person closest to the rock is Kithal Ella. Trekking up and down takes no longer than 4 hours. While embracing the wind and taking in the breathtaking view, one can sit and enjoy some fruits, and coconut water served on the summit.
Nine Arches Bridge
The Nine Arches Bridge, often referred to as "Ahas Namaye Palama" or The Bridge in the Sky, is a famous building that can be found in Sri Lanka's hilly district.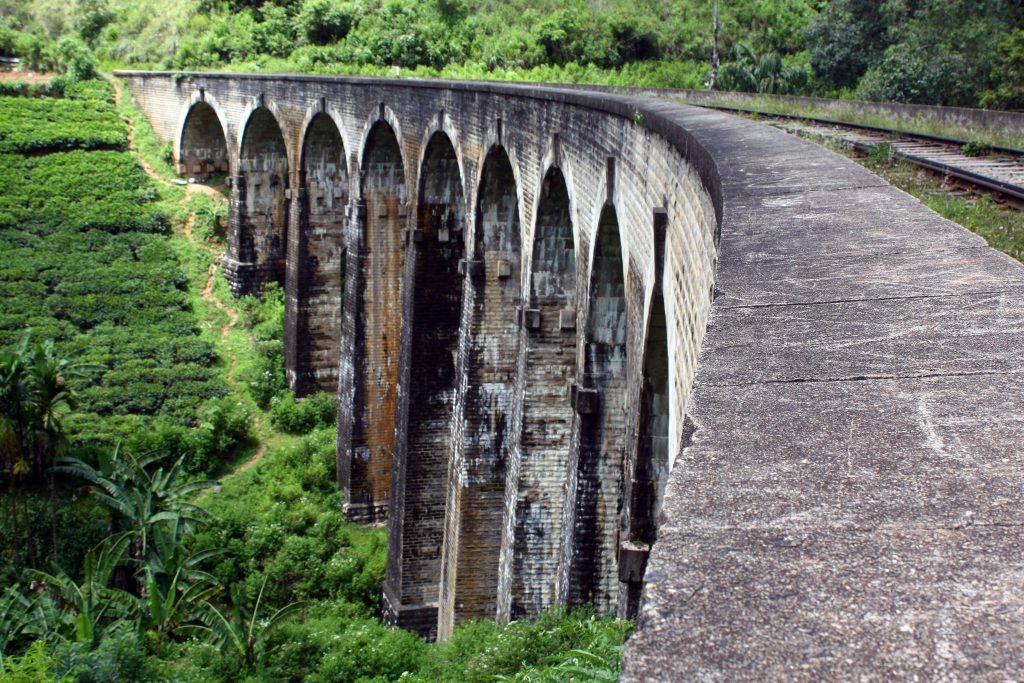 It is a wonderful stone bridge constructed between verdant tea gardens with breathtaking mountains in the distance. This 91-meter-long and 24-meter-tall old building never cease to astonish visitors with its beauty.
Ravana Falls
The Ravana cave and Ravana waterfall are situated at an elevation of 82 feet and are only 2 km from the City. Sri Lanka has a long history of more than 2000 years, and it is mentioned in the well-known Ramayana.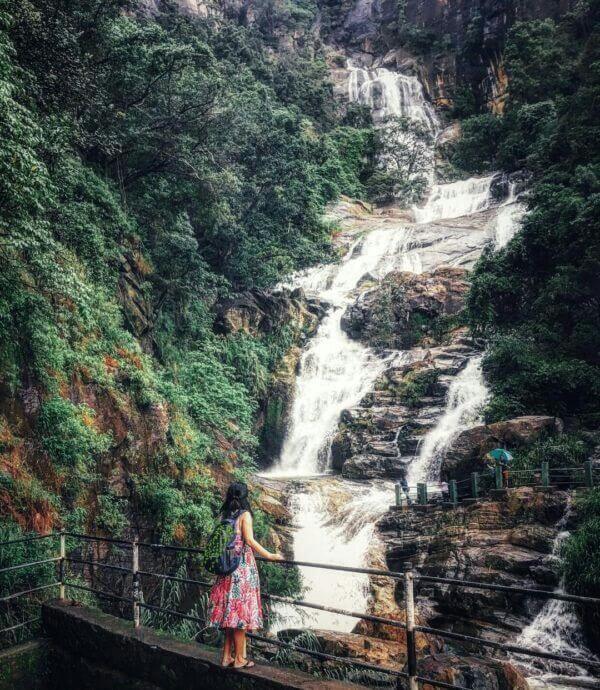 Ravana is thought to have been a devout Sri Lankan by birth and acted as a villain in the lives of Ram and Sita. In the fabled Ravana caves, and the Ravana falls, he kidnaps Sita and holds her captive. Around the Ravana Falls are hills, valleys, slopes, and streams that ornament the rocks.
Little Adam's Peak
The mini version of the central Sri Lankan mountaintop pilgrimage destination known as Adam's peak is Little Adam's peak. The Little Adam's Peak, which lies in Ella, has the same shape as its reputedly larger brother, The Adam's Peak.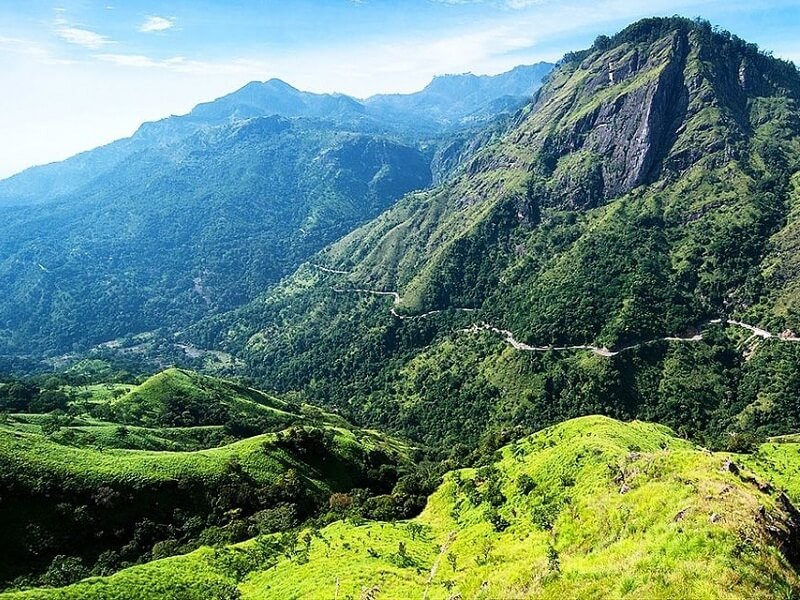 For those who cannot trek on a mountain as large as Adam's peak but still want to witness a beautiful view from a mountain's top, it offers a less hard and more enjoyable alternate hiking location.
Kinellan Tea Factory & Tea Centre
Ceylon tea is a brand of tea made in Sri Lanka, not just tea from the country of Ceylon. Sri Lankan tea is unmatched in flavor and well-known worldwide.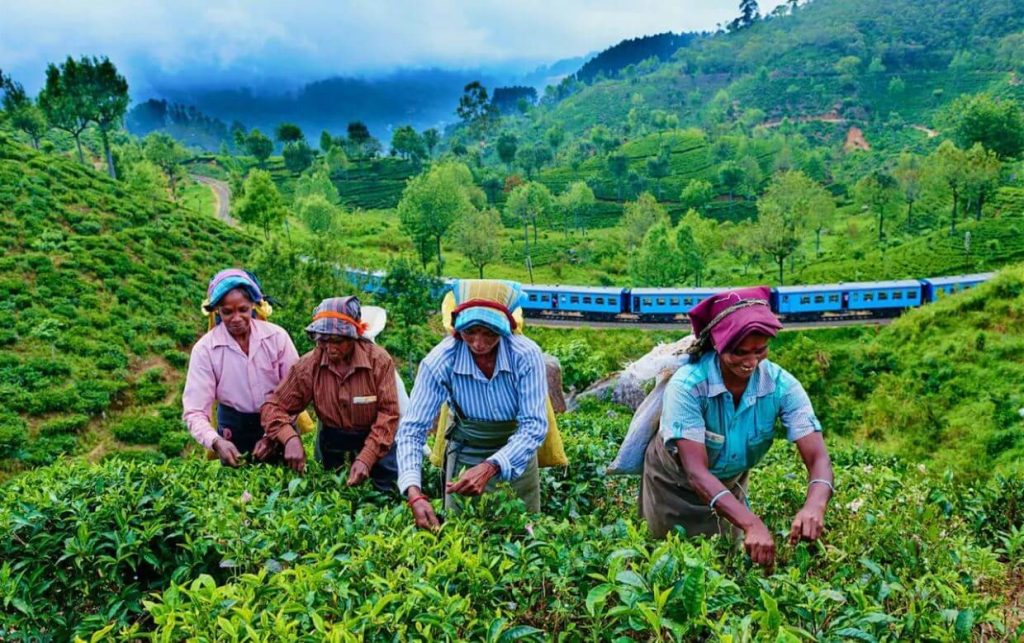 Visitors can purchase Ceylon tea bags from Kinellan Tea Estate and sample some for themselves. The staff may also organize tours of the Kinellan Tea Factory so that visitors can see how tea is made.
Ravana Caves
The Ravana caves, which are reputed to be about 4,000 years old, are situated 2 kilometers from the town of Ella on the base of a cliff. The 2500-year-old Ravana temple is accessible by automobile up the hill, and it is a further 800 steps to the Ravana caverns from there.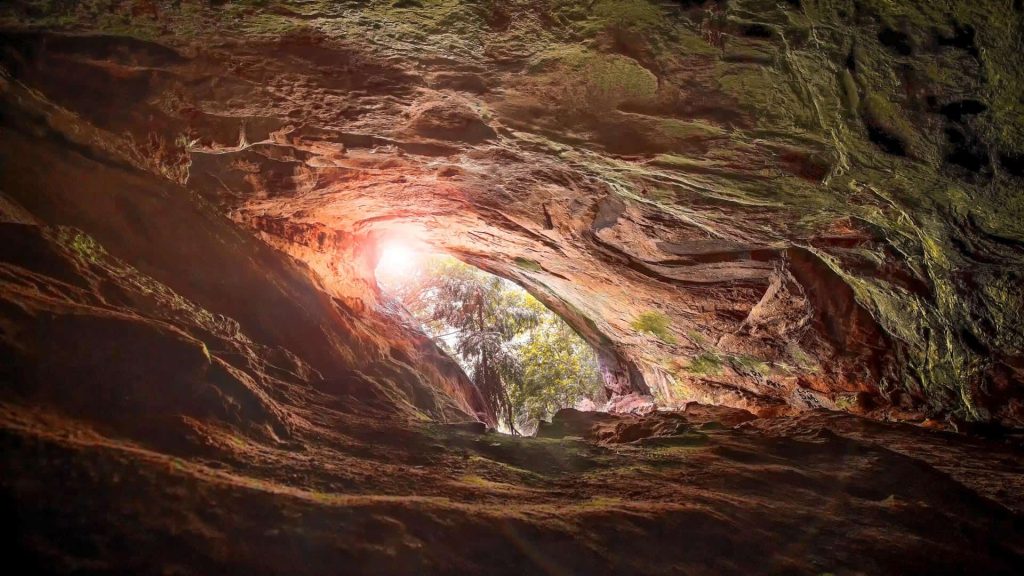 There is a tiny tea shop in the middle where you may rest or have a nice beverage while taking in the hillside wind. Many monkeys can be seen on the path, and one can hear birds chirping. Some of the steps are constructed of rocks and tree roots, while others are made of cement.
Flying Ravana Mega Zipline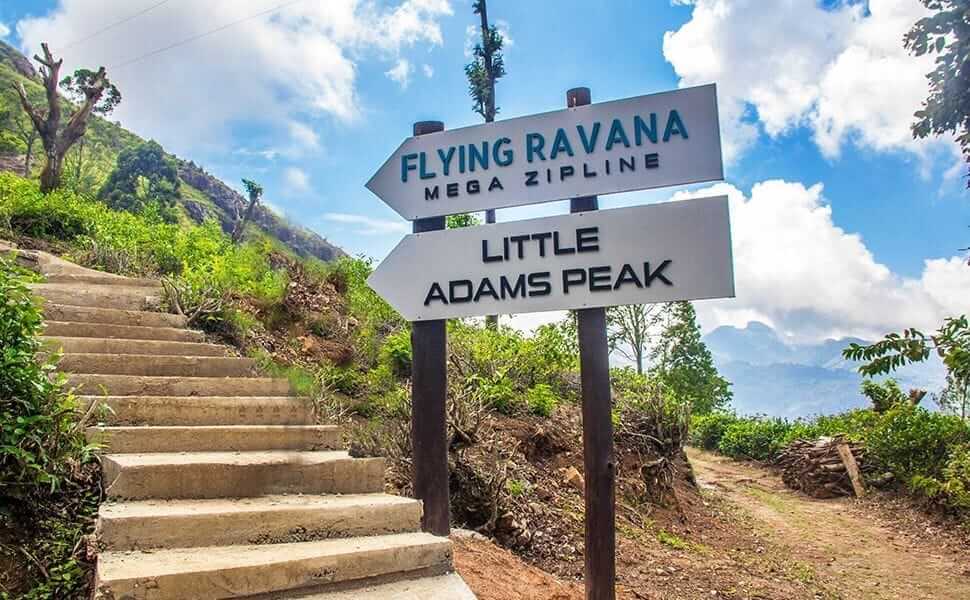 The 25-meter-high Ravana Falls are located beneath a cave where locals think Sita was abducted and hidden by Ravana. Adrenaline seekers can zipline 82 meters above the ground for more than half a kilometer from Ravana Falls, which is only ten minute drive from Ella. The zipline, which can travel up to 80 kph, provides breathtaking views of Ella's verdant landscape, the valley below, and the tea gardens.
Lipton's Seat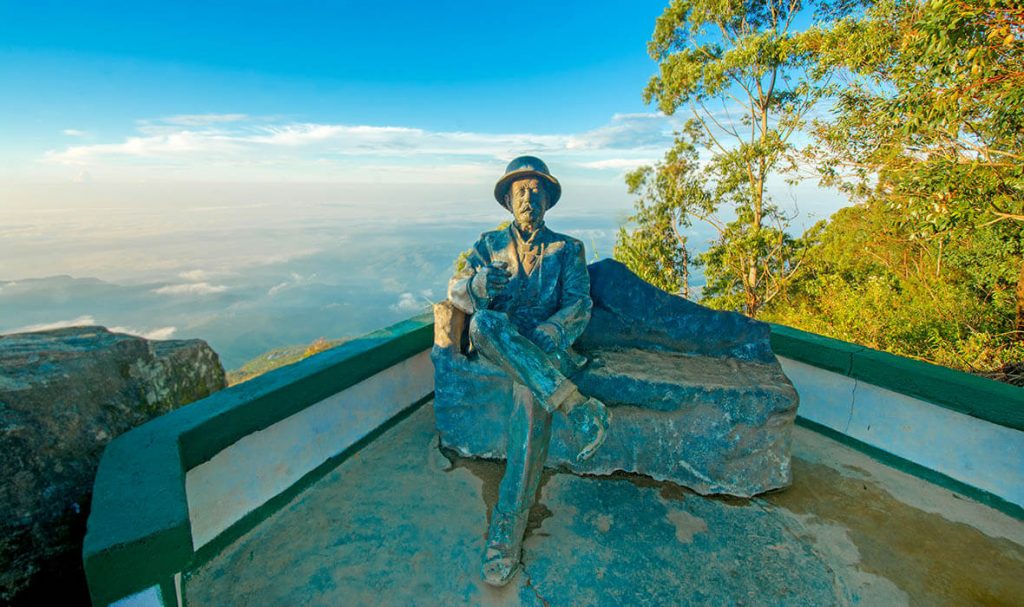 Atop the Dambatenne Tea Estate, in the Haputale mountain range, lies a viewpoint known as Lipton's Seat. Lipton's Seat, situated at 1970 meters above sea level, provides breathtaking 360-degree views of the lush hills and tea gardens. Adding a cup of hot tea won't get much better.
STAY IN ELLA, SRI LANKA
You can find budget hostels, mid-range hotels and luxury hotels according to your wish, as Ella has various stay options. All these staying options give you unique satisfaction with stunning beauty views. Hangover Hostel Ella, Bunk Station Hostel, No Name Hostel & Café, Nice View Homestay, Waterfalls Homestay, Rawan Den hotel, The Chillout Ella, New Cabin Ella and 98 Ares Resort & Spa are some of the options you can have. You can make a booking before your visit through Booking.com.
The hostel has stuck to the Hangover promise of giving travelers an amazing vacation and a chance to experience freedom fully. They offer a FREE Wi-Fi connection to stay in touch with your loved ones and share the wonderful details of your vacation on social media.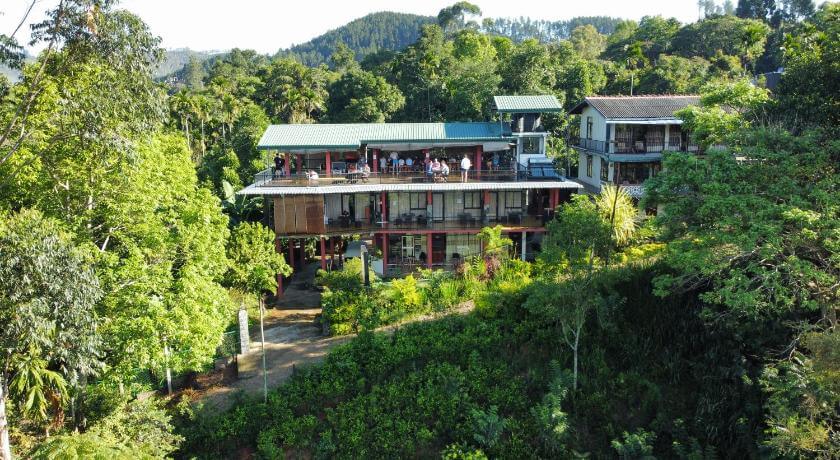 Despite the town's pleasant year-round climate, all rooms and dorms have air conditioning. You can freshen up in a hot water shower to start the day off right or unwind after a day of hiking and touring.
Why are you holding out? Use the private, roomy storage areas provided, ask their English-speaking staff for advice on where to go, and then start exploring Ella and creating memories!
No-Name Hostel & Café – The Noname Hostel and Cafe offers free bikes, a communal room, a balcony, and a bar in Ella. The free WiFi guesthouse is 49.9 miles from Hakgala Botanical Garden and about a 17-minute walk from Demodara Nine Arch Bridge. The facility offers a communal kitchen and karaoke.
Nice View Homestay – In Ella, 2.1 kilometers from Ella Rock and 2.5 kilometers from Demodara Nine Arch Bridge, lies Nice View Homestay. The on-site restaurant is open to visitors.
Waterfalls Homestay – Ella waterfall view, offers free WiFi, a restaurant, a garden, and a patio. The resort offers an à la carte, continental, or Asian breakfast. The homestay offers both a car and a bicycle rental service, and local trekking is also an option.
Ella waterfall vista is located 5.7 miles from Demodara Nine Arch Bridge, and Hakgala Botanical Garden is 50 km away.
Ella Jungle Resort
Embedded in the Kirindi Oya River's banks amidst untamed jungles, gushing mountain streams, and a variety of flora and fauna. It's the ideal location for the resort's many adventure activities or a peaceful area to unwind and connect with nature.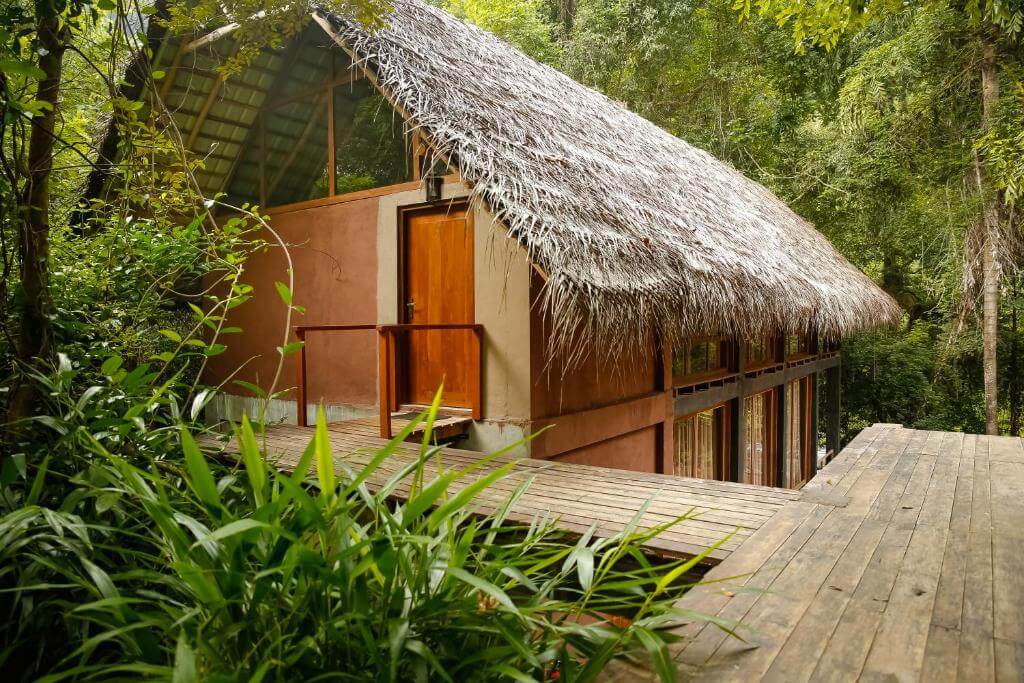 The Ella Jungle Resort's property was sanctified as holy ground many years ago. Because of the lands' cleanliness and the ideals upheld by the locals, this blessing was passed down and honored. Eating solely produced from the earth was one of the ideals upheld. The resort has decided to keep up its history of serving vegetarian meals only to staff and visitors to honor these precious blessings.
While many meat eaters may find this unsettling, they'll guarantee you that the traditional Sri Lankan chefs and menu won't let you down. You won't ever go without food. Be ready for a once-in-a-lifetime gastronomic adventure!
The 150-acre Ella Jungle Resort is 12 kilometers from Ella Town and close to the well-known Ella Gap. Between the villages of Ella and Wellawaya, on the main highway, the A23, is where you'll find the Jungle Resort. Please plan on a 7-8-hour drive if you are leaving Colombo by car, depending on your vehicle and traffic.
WHERE TO EAT: BEST RESTAURANTS IN ELLA
Naturally, whenever someone travels somewhere new, they are usually looking for the best restaurants. Prepare to taste the greatest delicacies in Ella with favourites like Cafe Chill, Matey Hut Ella Sri Lanka, Curd Shop, and more.
Café Chill
Although it might seem impossible for a roadside cafe to be stylish, Cafe Chill has combined the two. The cafe's upper deck, which is made of polished wood and has a thatched roof and overlooks Ella's stunning emerald-green tea farms, provides it with an outdoor-indoor sense while also giving it a modern, rustic atmosphere.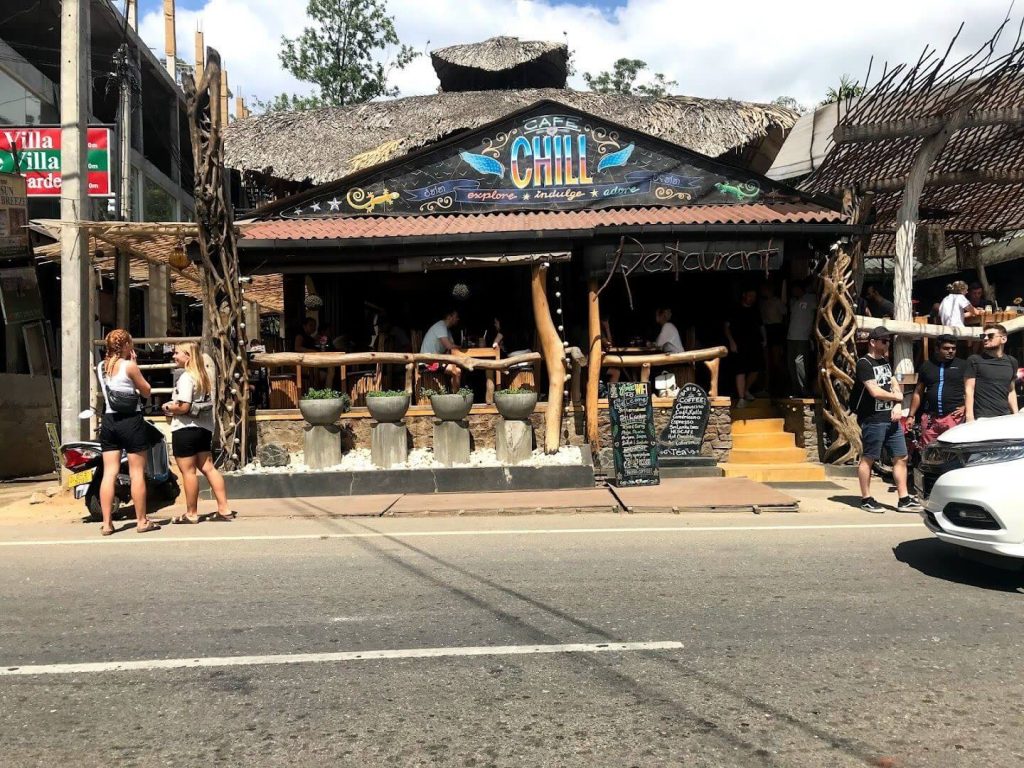 Go there at night or in the evening to conclude the day and to get more of a "bar-feel"; while you're there, you can sip a drink and watch the sunset behind the high peaks of Ella.
Matey Hut
A neo-rustic log cabin that eerily resembles a rural hipster hangout is a straightforward, extremely affordable roadside eatery staffed by a cheery, capable cook. Rice and curry are surefire winners.
Curd Shop
The walk-up Little Adam's Peak is among Ella's top attractions. The Curd Shop offers treacle and deadly curd on the city's outskirts and is close to the bus stop.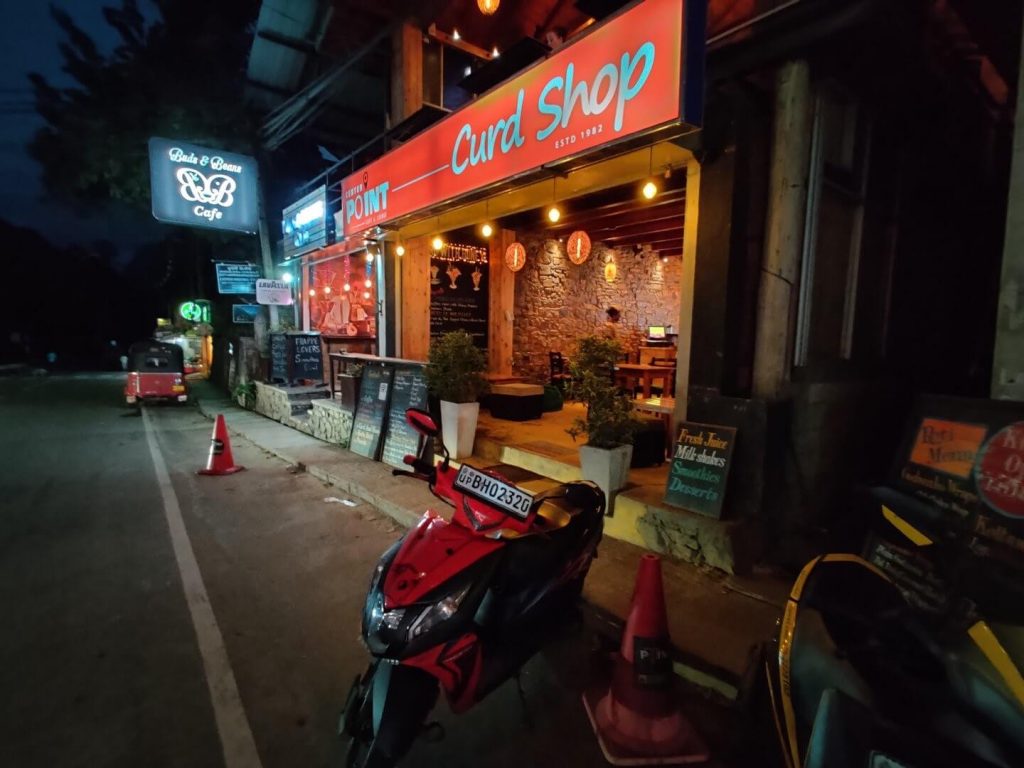 Additionally, it's a fantastic place to get sandwiches for the trip and have a quick breakfast before the hike.
AK Ristoro
The Italian restaurant AK Ristoro, a little off the main road, offers much more than just Italian food. It's wise to keep things simple because certain dishes are better than others.
Little Folly Restaurant
The Little Folly Restaurant is situated near the main road on the jungle's edge. It has a great "one with nature" feel and a laid-back attitude because it is near the forest. Although the restaurant offers tea and cakes, it is much more lovely at night when the warm light of the establishment contrasts with the shadowy bush.
360 Ella
This is a respectable choice whether you're in the mood for some genuine regional fare or require a sense of home. It offers regional and international cuisine, so you may find something to suit your tastes. I tried the pizza, and Sam tried the chicken kottu.
Ella Rotti Hut
As the name implies, the Downtown Rotti Hut has a wide variety of Rotti.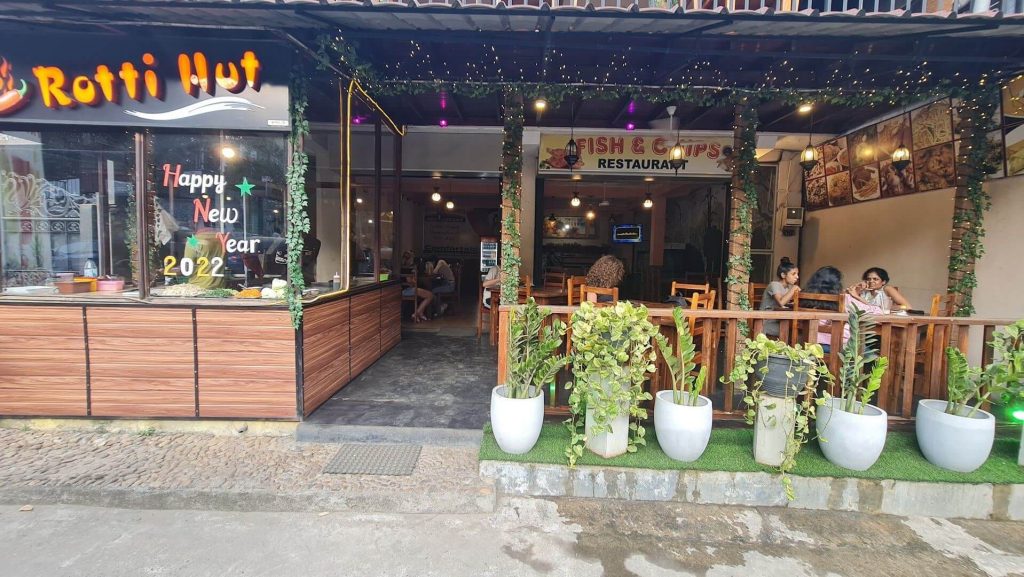 There are various types of rotti, including sweet rotti and even kottu rotti. It's a nice alternative for a quick supper and has a cute décor.
MAP-ELLA, SRI LANKA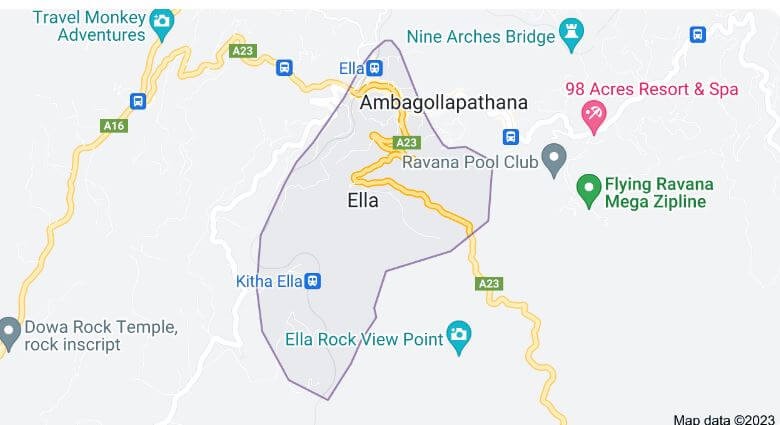 HAVE FUN!
I'm not an Ella expert, but I hope you found this information useful. I'm simply sharing a few of the things I discovered during my travels. Thank you for stopping by, and enjoy your trek around Ella!
FAQ
Is Ella Sri Lanka worth visiting?
Ella has many incredible activities, from scaling lush mountain peaks to leaping into cool waterfalls. After spending the day outdoors, visitors can unwind in the town's lively environment at one of the many fantastic cafes and eateries. The top activities to visit Ella, Sri Lanka, are listed below.
What is Ella Sri Lanka known for?
Ella combines the breathtaking mountains covered in jungle, the expansive tea plantations, and the magnificent waterfalls of Sri Lanka.
How long should I stay in Ella, Sri Lanka?
Plan a journey that lasts at least 2 to 3 days if you want to experience Ella to the fullest. You can enjoy sightseeing, partake in several activities, and go shopping while on your trip.
Why is Ella famous?
Both casual hikers and more expert trekkers love Ella. Little Adam's Peak and Ella Rock are the two well-known treks in the region, in addition to Ravana Falls and other well-known waterfalls.
Is Kandy or Ella better?
Ella is more intimate, calmer, and ideal if you want to relax. There are hiking trails nearby (Little Adam's Peak, Ella Rock). Kandy resembles a large city more (everything is relative, a big city for Sri Lanka). Even so, walking through Kandy is fun, and the botanical park is gorgeous.
Is Bali or Sri Lanka cheaper? 
Go to Sri Lanka if you're on a tight budget and searching for an incredibly economical place. Before it became well-known, Bali used to be cheap. Bali is not at all inexpensive right now!
What is the most beautiful train ride in Sri Lanka?
Kandy to Badulla via Ella
The 7.5-hour train ride from Kandy to Badulla is frequently cited as THE most beautiful in the world. To see emerald green landscapes, tea plantations, and tea pickers wearing vibrant saris, reserve a seat in the panoramic carriage.
What is the most luxurious train in Sri Lanka?
Ella Odyssey
For the first time in Sri Lanka, a luxury train called Ella Odyssey includes first- and second-class accommodations and a dining car. This train, run by Sri Lanka Railway Department, will contain around 144 second-class seats and about 176 air-conditioned first-class seats.