The Best of Antalya: Exploring Turkey's Mediterranean Coastline
Turkey's fifth most populated city and independent region is Antalya. The city, known as Turkey's "Tourism Capital," is situated on the Mediterranean coast in the south and draws about 30% of the nation's foreign tourists. So, is Antalya worth visiting, what can you do there, and how can you organize the ideal first-time budget trip to Antalya? Check out our Antalya travel blog (Antalya blog) for the most comprehensive Antalya travel guide, including information on how to get to Antalya, the best time to visit, where to stay, where to visit, what to eat, and the top things to do in Antalya.
Because it facilitates trade from Asia to the Mediterranean Sea, Antalya is incredibly significant to the Turks and many other nations. However, Antalya itself is what makes it so remarkable. Visitors today experience a unique sense of lightness and relaxation when they visit the former trading harbor.
Since visitors can travel to Antalya anytime to unwind, the city enjoys a typical Mediterranean climate with dry, scorching summers and warm winters. In addition, numerous historical Turkish baths, exceptional cuisine, and flavors are exclusive to this region.
I don't know when it started, but locals and visitors from all over the world flocked to Antalya to visit, admire, and eventually transform this city into a tourist hub that can draw up to 30% of tourists to Turkey, ranking as the fifth-most populous city in the Asian-European nation with more than 1.3 million residents (according to statistics from 2022).
Harmony between nature and history in Antalya: The city's location on the Silk Road, proximity to the Mediterranean Sea, and significance as a seaport for Asia Minor make Antalya particularly interesting. As a result, the city has both natural beauty and cultural influences from various cultures and a unique history.
A bit of history
Antalya is Turkey's largest city on the Mediterranean coast, with approximately 1.3 million residents. It is situated on the southwest coast of Anatolia (formerly known as Asia Minor), abutting the Taurus Mountains. Antalya was established somewhere in the first century BC. Attalus II Philadelphus declared that this place was Heaven as soon as he arrived. It is currently Turkey's fifth-largest city and, after Istanbul, the country's second-most popular tourist destination overall. Anyone wants to watch Antalya's sunset because it is beautiful.
King Attalus II of the Pergamon Empire constructed Antalya between 150 and 135 BC under the name Attaleia. The Roman Emperor Hadrian once left his mark on Antalya by the triumphal arch bearing his name (Hadrian's Gate), which was renovated and is now the entrance to Kaleiçi's old town. The city has always been densely populated and under significant influence from the Roman Empire's culture, history, and economy. Along with the Roman Empire, the Byzantine, Seljuk, Ottoman Empires, and modern-day Turkey impacted Antalya.
Like many other coastal cities, Antalya's culture has evolved over thousands of years due to the city's active trade activities. To build a dynamic, hospitable Antalya provides all guests a sensation of being in their own country with a culture, history, and cuisine that is extremely close and familiar.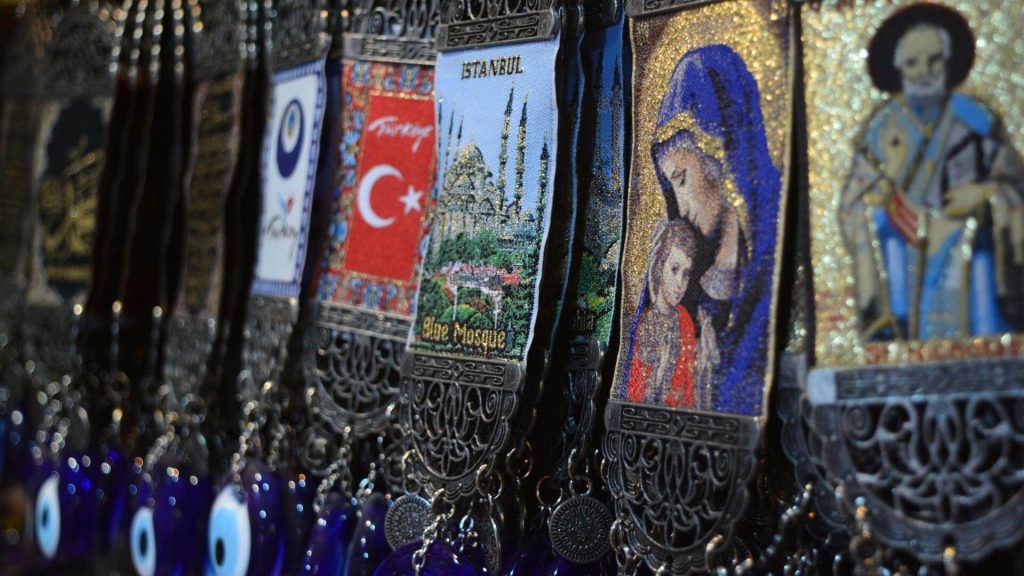 Or there are tourist-drawing bars, vibrant streets, and colorful gift shops. The historical writings left by the Byzantine or Ottoman Empires, etc., have survived well. Festivals, streets lined with historic homes, or stunning beaches. These are all justifications for treating yourself to this paradise at least once.
Best Time to Visit Antalya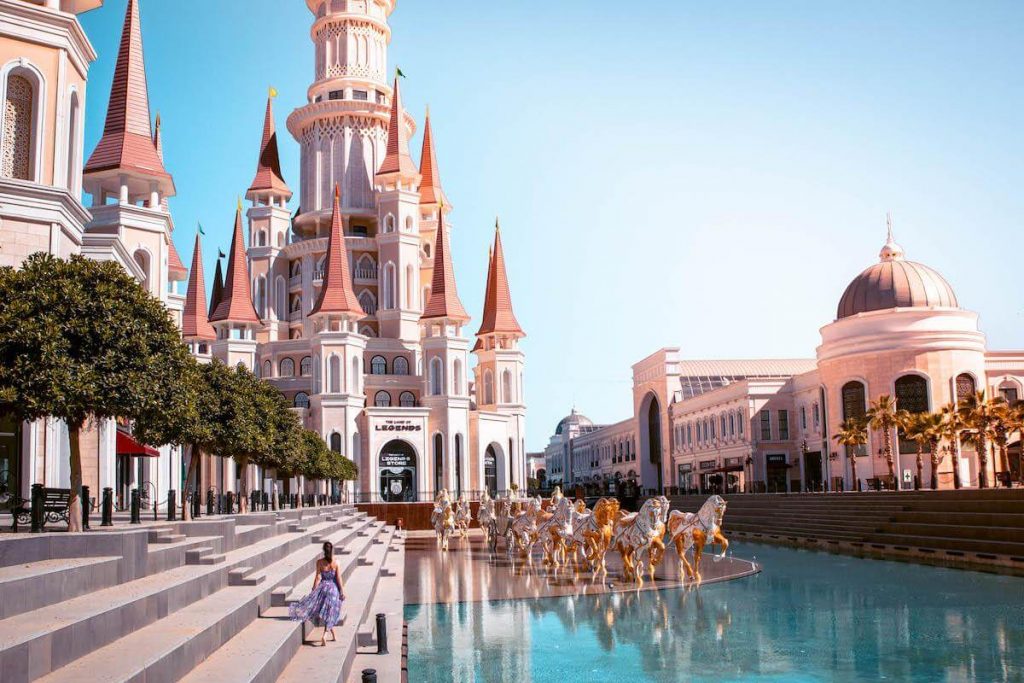 One of Turkey's and Europe's most well-liked resort cities nowadays is Antalya. As a popular vacation destination in the summer, Antalya is also a popular destination for German, Russian, and Nordic travelers seeking to escape the cold in the winter. However, because Antalya is a new destination on the global tourist map, there isn't precisely a peak season that makes the city crowded.
Due to the constant sea breezes flowing from the Mediterranean to the mainland, Antalya is covered in dazzling yellow sunshine and cool air for most of the year. Travel experts advise travelers to visit this city between April and October each year to experience fantastic, pleasant sunny days, Be aware of UV index to have more safe travel, safe uv index number is below 2.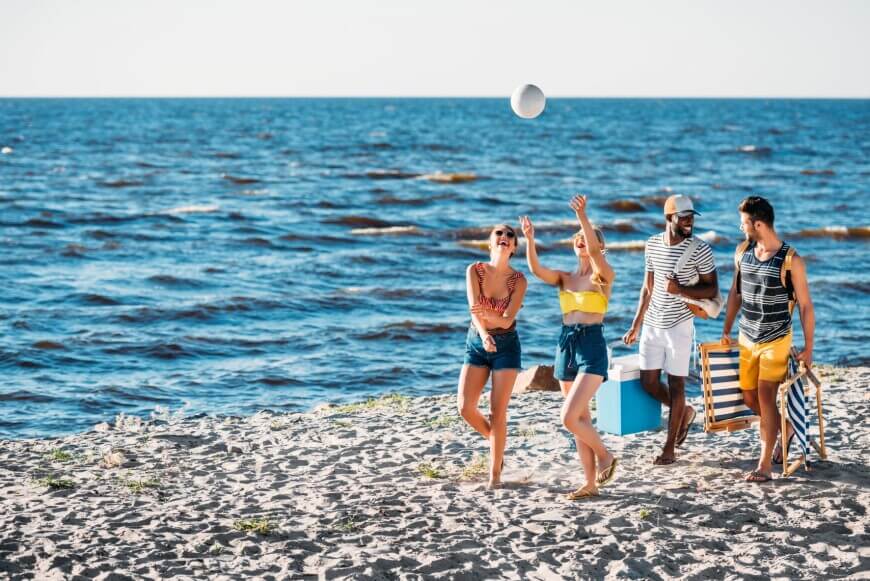 When Antalya's weather is warm and bright, the trees are green, the orchards are brimming with fruit, and herds of cows, sheep, and you can occasionally see goats lazily grazing on lush grass in the late winter and early spring (May onwards). It is a thriving modern metropolis with abundant retail and entertainment destinations near historical landmarks and ancient buildings dating back thousands of years. Antalya is frequently compared to Turkey's "tourism capital" because of this.
However, if you plan to stay in Antalya for an extended period or detest tiring, hot days, avoid visiting this city in the summer. The city's scorching weather can easily irritate and exhaust you.
How to Get to Antalya
You can get to Antalya by plane, train, bus, self-driving car, boat, or any mode of transportation.
By Plane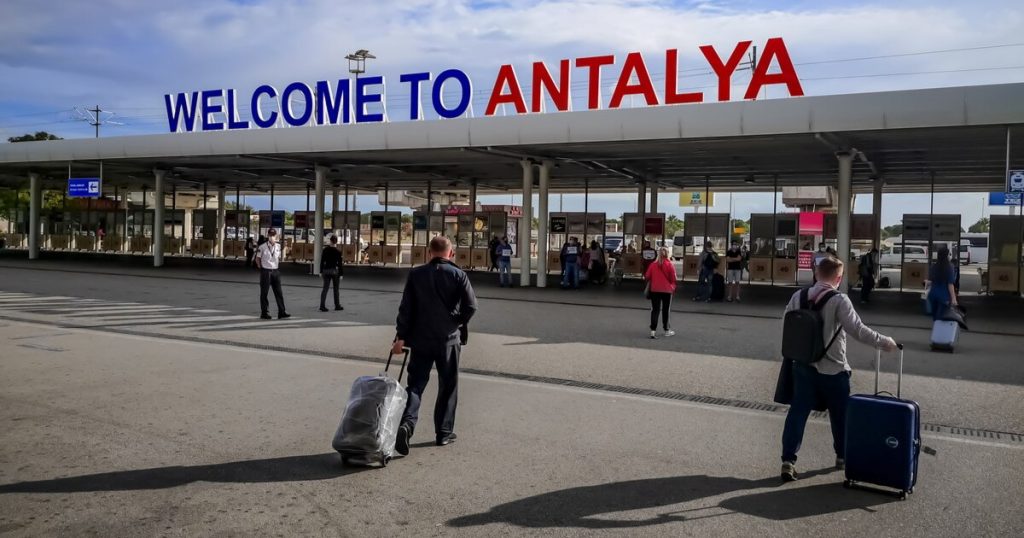 The distance between the city center and the International Antalya Airport is around 14 km. You can get there by using a taxi or the Havas airport shuttle bus, numbers 600 or 800; however, none of these options is appropriate for people with a lot of luggage. You can travel with Onur Airlines, a domestic Turkish airline, to Antalya from all major cities in Turkey and other countries. Other airlines with low-cost flights from and to Europe include Turkish Airlines, Thomas Cook, The Sun Express, and Condor (UK, Austria, Germany, Switzerland, or Italy).
By Bus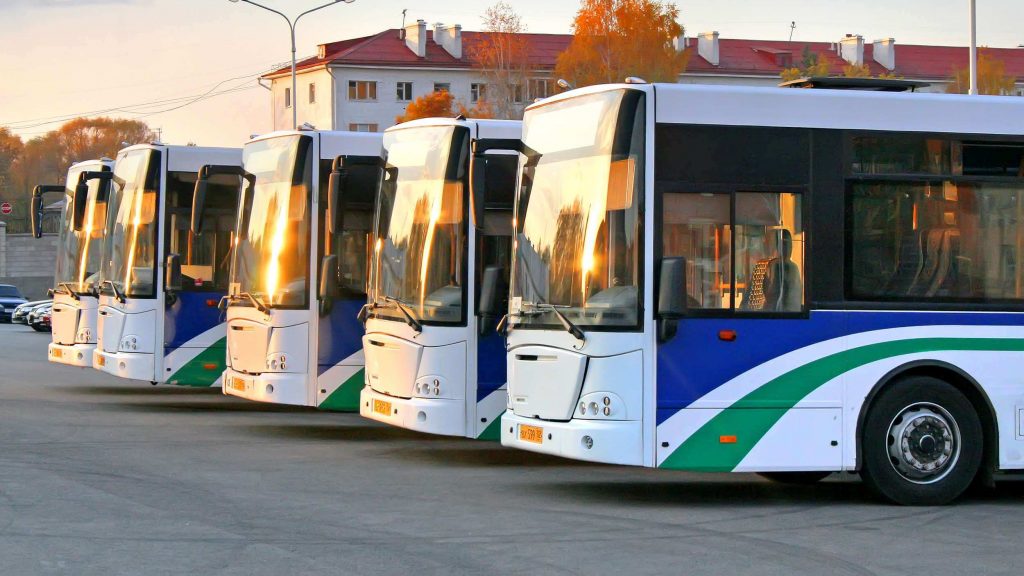 Bus travel to Antalya is simple from any location in Turkey. The Antalya Bus Station is the ultimate endpoint of routes E87, D400, and D650.
You may easily catch a bus from Istanbul's Esenler Otogar and Alibeyköy Otogar bus terminals to Antalya. It takes about 11 or 13 hours to get there. Several bus companies run lines, including Isparta Petrol Turizm, Pamukkale Turizm, and Metro Turizm.
By Boat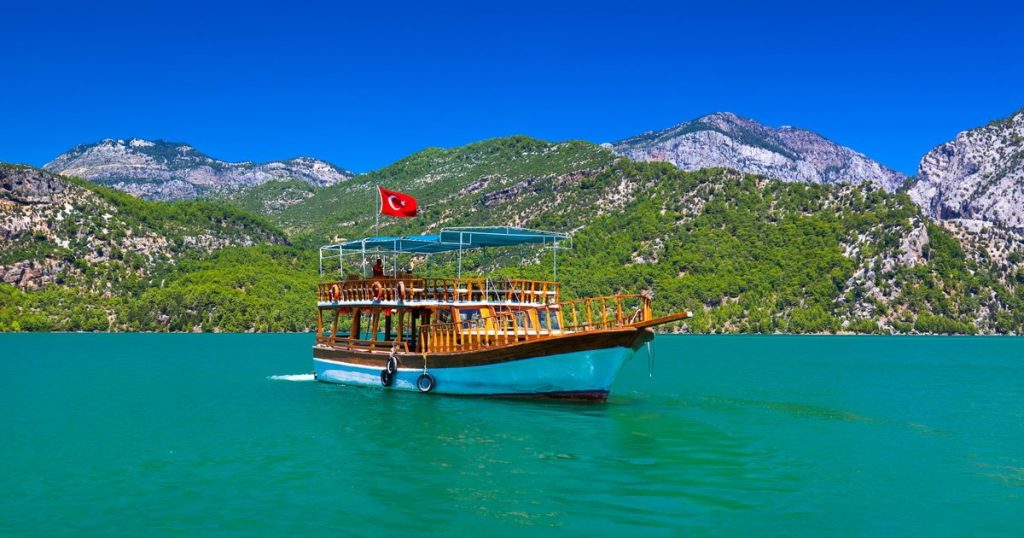 Due to its location as a port, Antalya is also easily accessible by boat with numerous ferry services. But practically many visitors arrive through the Greek island of Rhodes, dock in Marmaris, and then go by bus to Antalya. You can look here for a ferry schedule as well as other information.
What to Do in Antalya
Antalya Archeology Museum
The Antalya Archeology Museum is a fantastic location to display the city's rich history because it has 13 artifact galleries and an outdoor exhibition area. The Antalya Museum, which houses over 5,000 artifacts and works of art that reflect the local character and perspective throughout time, is in the middle of a large peninsula. Many ancient items from the area are collected there and brought back.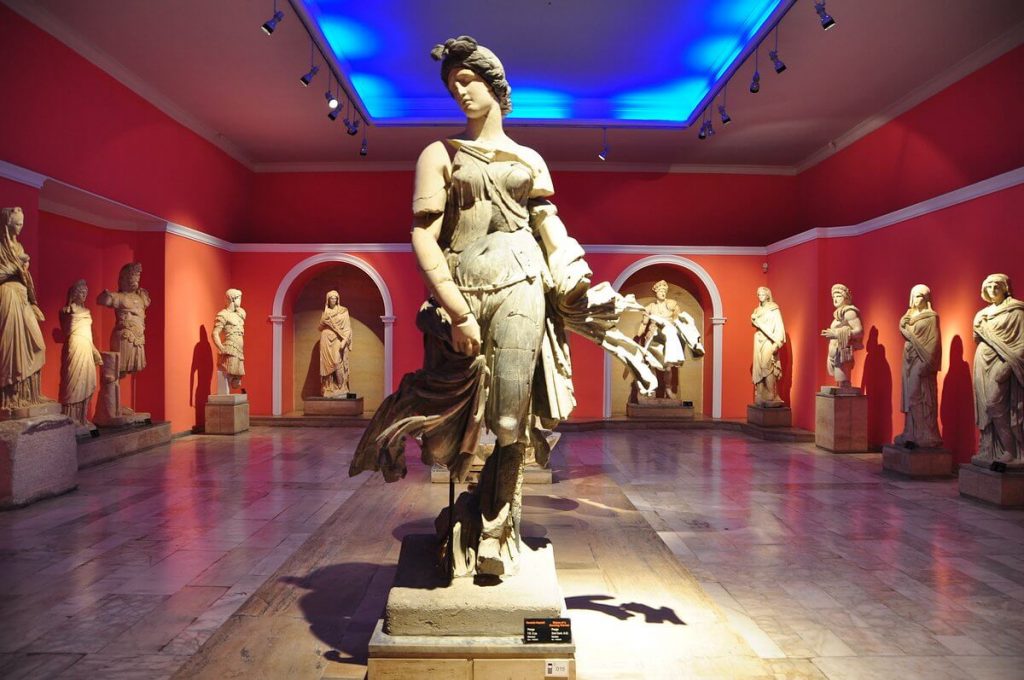 You can view Antalya at the museum from the Stone Age to Roman times, as well as the many dynasties and cultures that have significantly impacted this region. 30 TL is the admission cost.
The Antalya Museum is another very intriguing place to go if you enjoy making thoughtful trips throughout the city. There are more than ten antique galleries here, each with a different theme to make it easier for tourists to admire the antiques. Examples of these themes include statues, pottery, and home furnishings. Home, workplace, and tools.
Visitors can spend a half-day exploring the extensive collection of artifacts in the hall due to its size. The antiques are displayed thoughtfully, brightly lit and are given an easy-to-understand English explanation to facilitate viewing and education for tourists.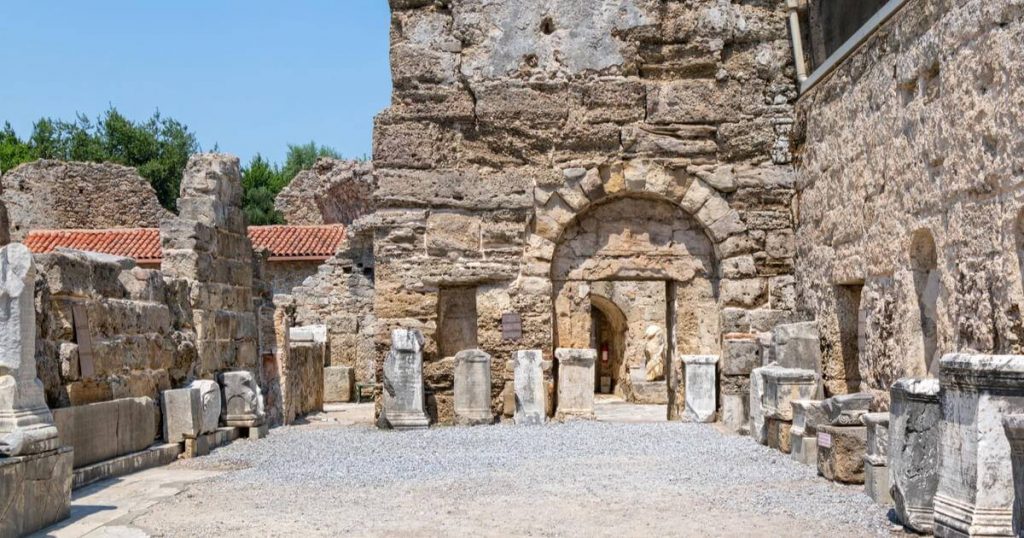 Visit this sizable museum in Antalya if you enjoy history and wish to learn more about Turkish traditions. It houses thousands of items found along this country's shore. More than 5,000 works of art are on show in various periods with simple-to-understand English captions.
Hadrian's Gate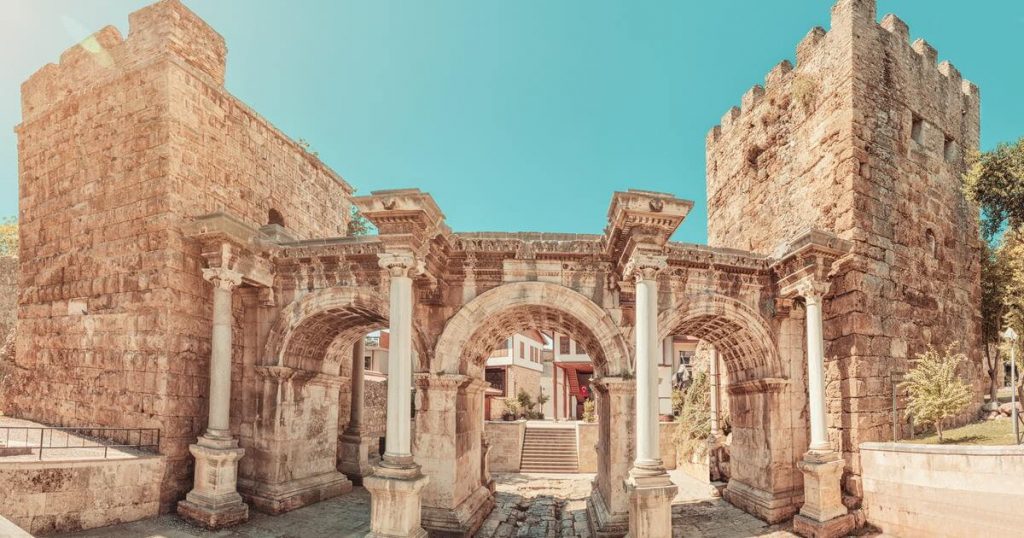 This temple gate, which dates back to the Roman Empire more than 2,000 years ago, is one of the principal and most significant gates entering Kaleici's ancient town. It features sophisticated and ornate art. It also separates into three aisles with arches and robust marble columns and commemorates the emperor Hadrian's visit to the city of Antalya.
Greek Theatre of Termessos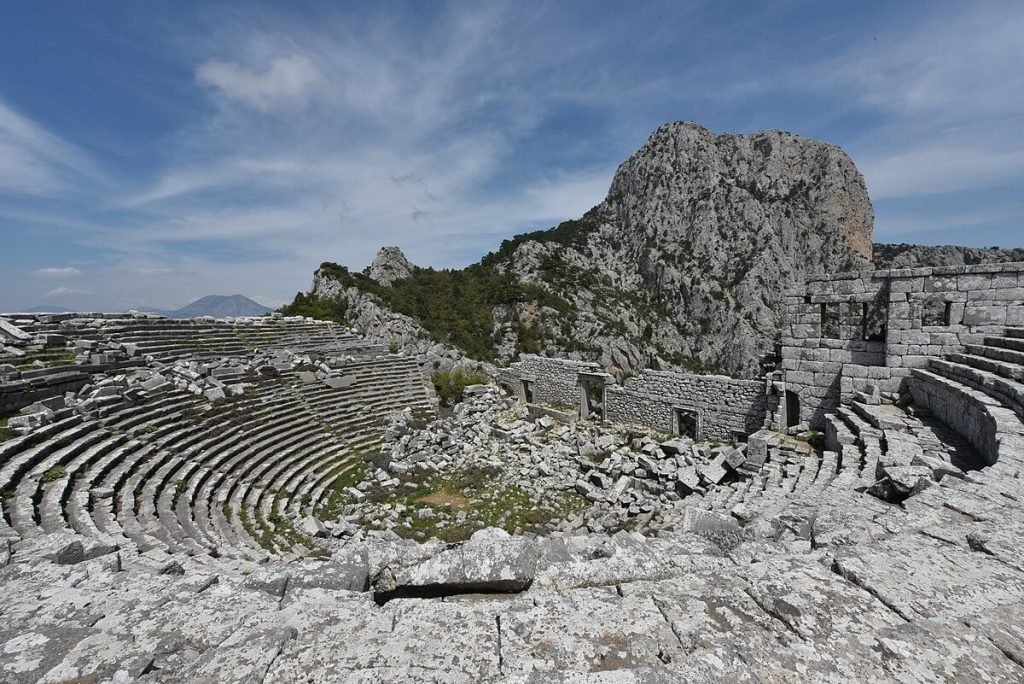 The Termessos Theatre is a well-known stone construction in Antalya that you should see before leaving the "Tourism Capital." The theatre's remains may still be seen on the tall mountain north of Antalya, albeit having lost part of its opulence and majesty over the years.
In the north of the city, a building was once a performing arts theater. The theatre features a staging area, stone-built rows of seats above, and sound can still be heard below from the highest point. And then pan out to view the big natural environment. There are temples dedicated to the goddess Artemis, the Roman emperor Hadrian, and nearby historic structures.
The theater's stage, entrances, and rows of tier-style seats were all gently sitting there despite the wind and rain as if attempting to preserve the memory of a beautiful day when it was still crowded with people. Noble aristocracy, poor people, and deplorable enslaved people loomed over the theatre and other social classes.
Pamukkale "Cotton Castle"
The Pamukkale cotton castle is a natural setting that will make tourists "Mouth A, Eye O" unable to close their mouths. The stairs are identical to those at the Termessos Theater, but here they are made of white limestone, and a blue stream flows from one step to the next instead of the hard stones buried in centuries' worth of dust. Make a breathtaking waterfall that resembles a tropical haven.
It is one tourist destination that draws the most tourists to Antalya. Water from the stream rushes down to make the white-layered limestone stairs, forming lovely little clear blue pools. It is additionally known as a cotton castle because, from a distance, it appears to be blanketed in snow. Visitors come here to check out the unusual lake and the nearby hot springs.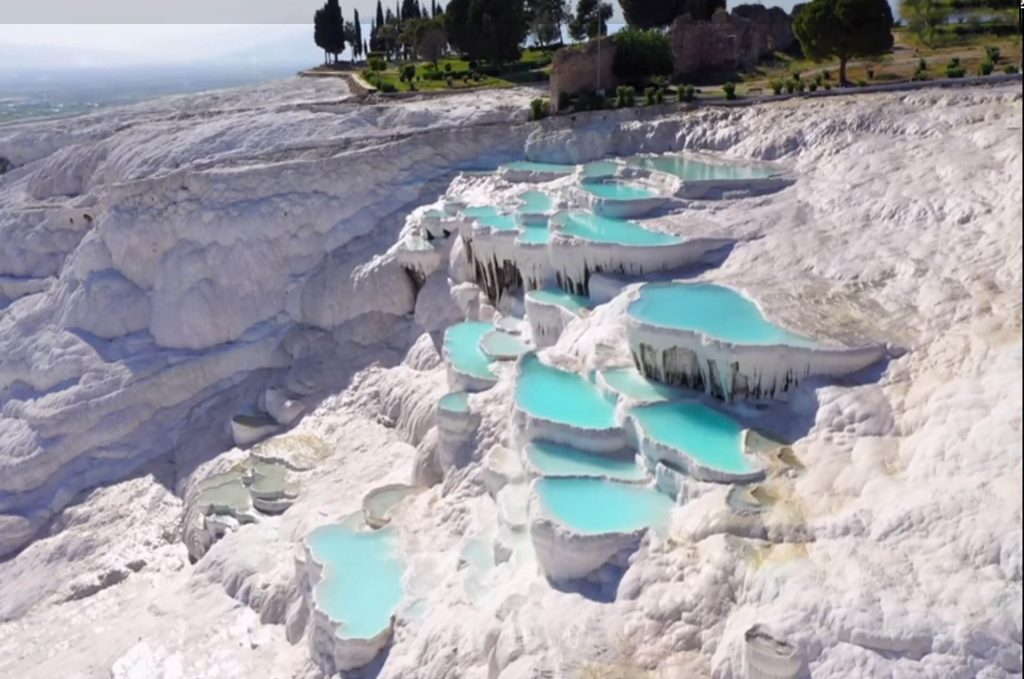 Millions of tourists visit this location each year to take in the landscape, relax in a hot spring, and enjoy plenty of opulent "check-in" occasions. Every site in Pamukkale offers a distinctive highlight for your picture.
Roman Harbor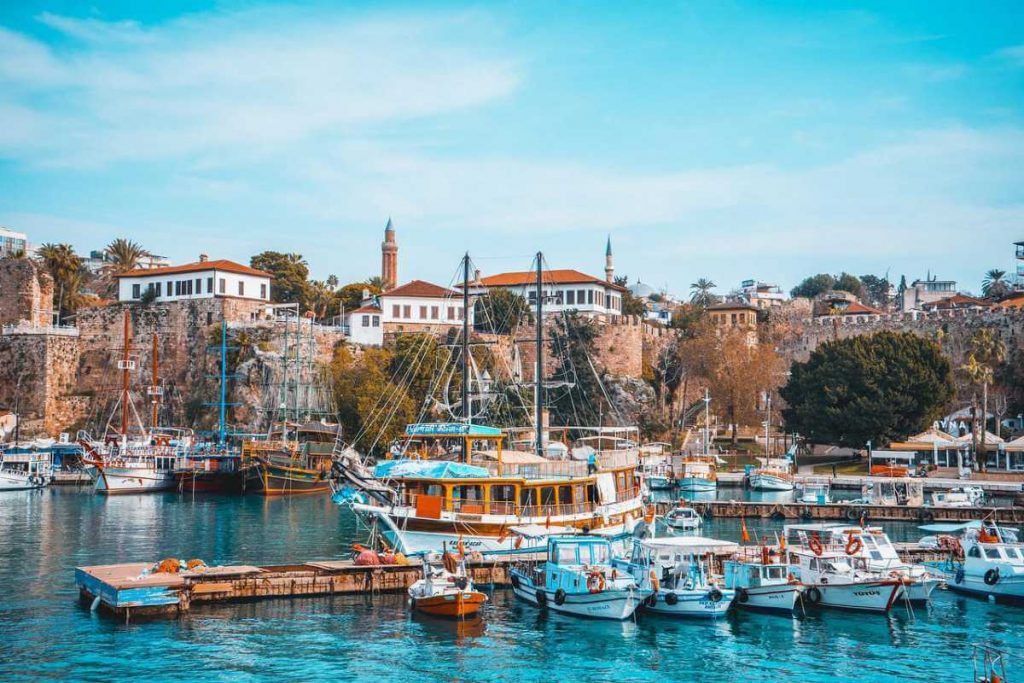 This location, also known as the Old Harbor, was established under Antalya's Roman Empire rule, and thanks to its strategic location, it grew to be a significant trading port. Currently, the harbor is home to a vast number of yachts.
Waterfalls
Antalya, known as the "kingdom of waterfalls," is home to numerous beautiful waterfalls. The most well-known one is Manavgat, which drops loudly with white foam from Taurus Mountain and is 40 meters wide and less than 5 meters high. Manavgat waterfall is one of the emblems of Turkey even though it isn't a very towering waterfall due to its powerful flow.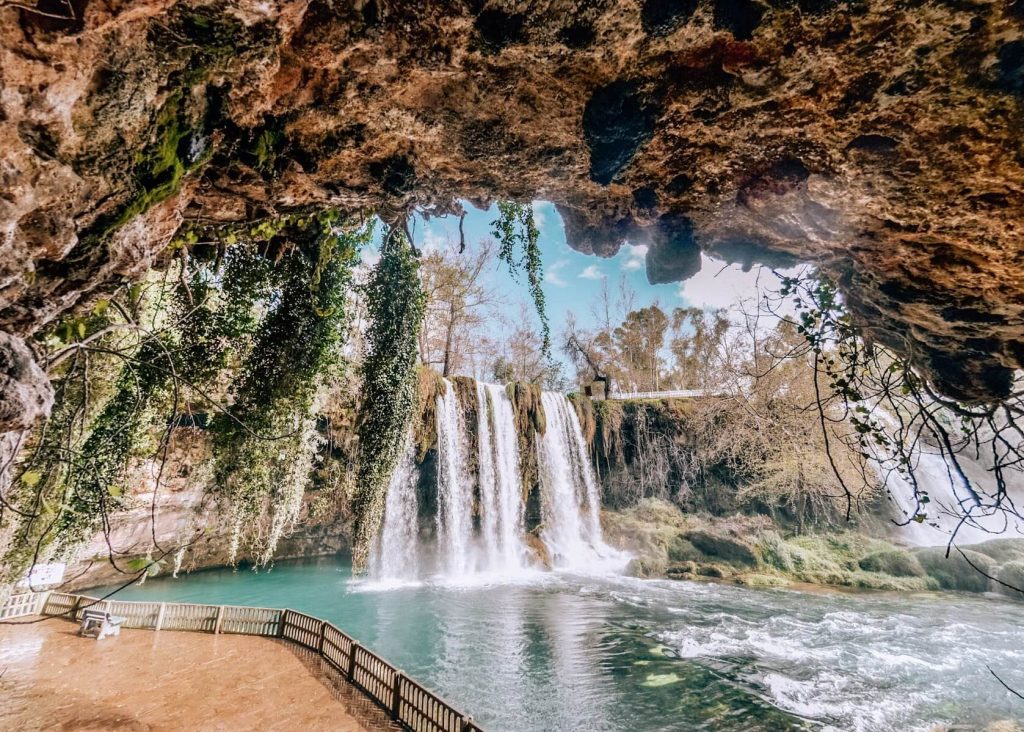 The magnificent Duden waterfall is around 10 km from Antalya's city center. With rivers running into the sea and the city of Duden perched on a high cliff above sea level, Duden waterfall emerged as a city landmark. The daybreak has a lovely glow here, and I can see jets landing at the Antalya airport every five minutes. It takes about 20 minutes to get to the city center by cab. For the finest pictures, make sure to arrive before the sun rises.
The Duden River forms the major waterfall, Upper Duden, which is 15 meters high and 20 meters broad. Lower Duden is the secondary waterfall formed when the river empties into the Mediterranean Sea. This vibrant image of nature features green leaves, blue water, and white bubbles.
Kaleici Old Town
This coastal city's old town does not impress because the architecture appears to have been renovated. The old town has lost its authentic appeal due to the proliferation of eateries and gift shops catering to tourists. Hadrian's Gate, where the entire neighborhood starts, must be the oldest town's most popular location, as described above.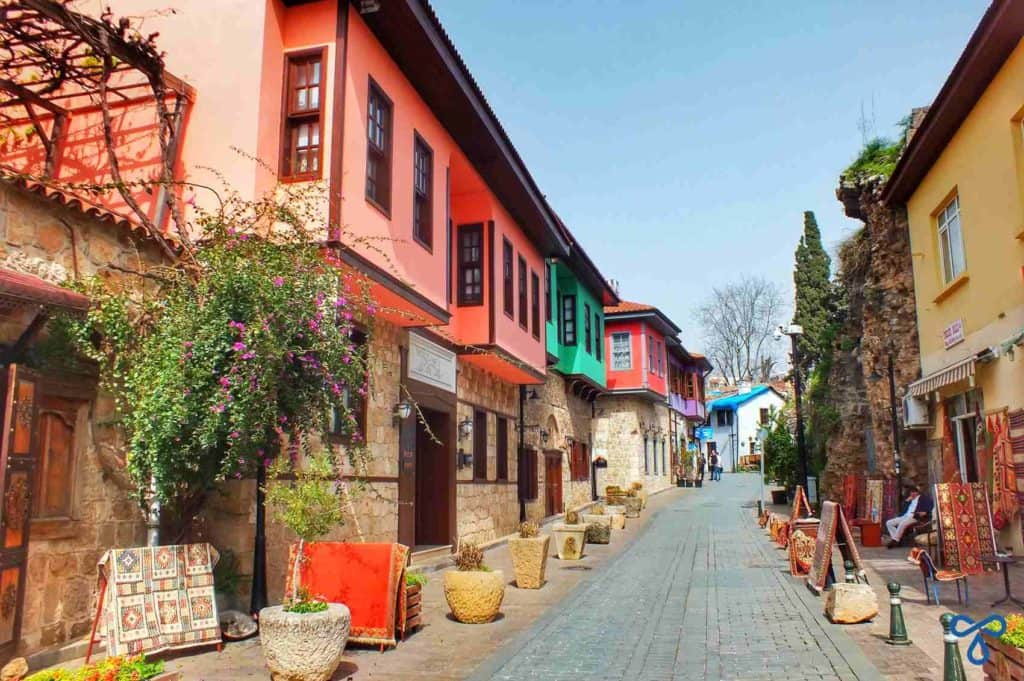 You can walk and explore this area like a maze. Ottoman-style villas with white and red roofs line the streets with cobblestones. This area has numerous boutique hotels, gift stores, art galleries, and restaurants. Visitors come here to take in the landscape and experience the local sounds.
Additionally, there is a mosque in Antalya's old town with a tall tower. It was constructed in the style of Roman architecture. In particular, the clock tower is made entirely of stone, with four clock faces with ancient writings and a flag on top. Only one of the 80 structures built around the city still stands, serving as an expressive reminder of the region's history.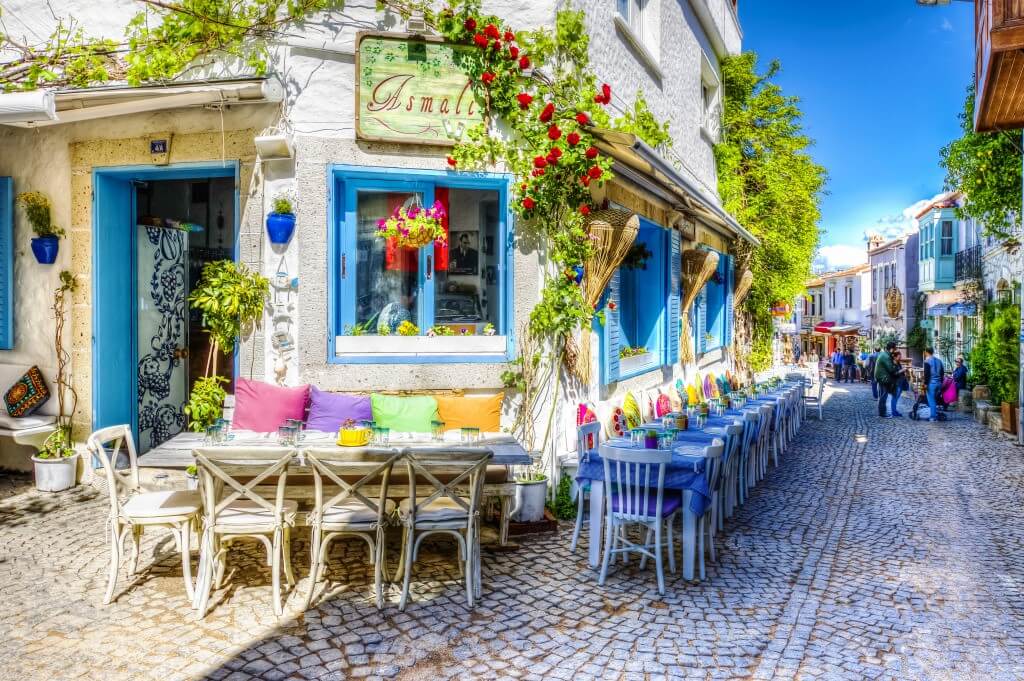 Sitting at the stores and cafes in the port area is also a must-do activity when visiting Kaleici. Enjoy some wine and food while you watch the sunset and the lovely boats passing by from here. Stroll down the paved road in the evening to enjoy the refreshing breeze while mingling in the charming little streets lined with historic and rustic homes. Or listen to folk music on the streets.
It's fascinating that you can travel by boat or cruise just 45 minutes from Kaleiçi to the Lower Duden waterfall. There you may swim safely while admiring this fantastic cascade.
Karaalioglu Park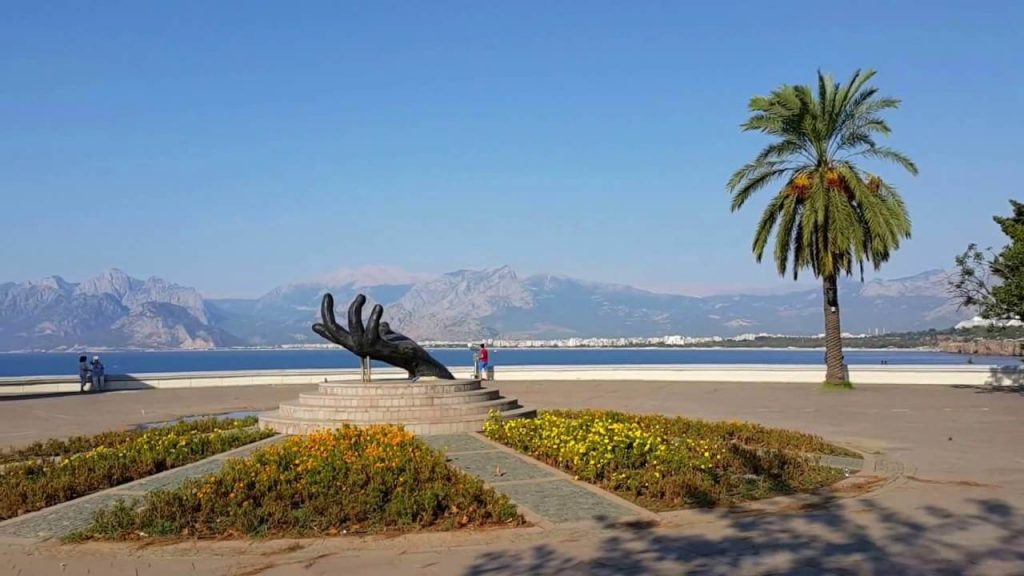 If you'd rather not see the ocean from the tiny harbor at Kaleiçi, you may go to Karaalioglu Park instead. It has a multitude of stone benches and also provides breathtaking views of the ocean. Visitors must select their preferred seating position, then sit back and observe the sea all day without bothering anyone, especially since the seat is free.
Lucky guests who come to Karaalioglu at night can also lose themselves in the sounds of folk and love songs sung by local bands and touring musicians.
The Ancient City of Myra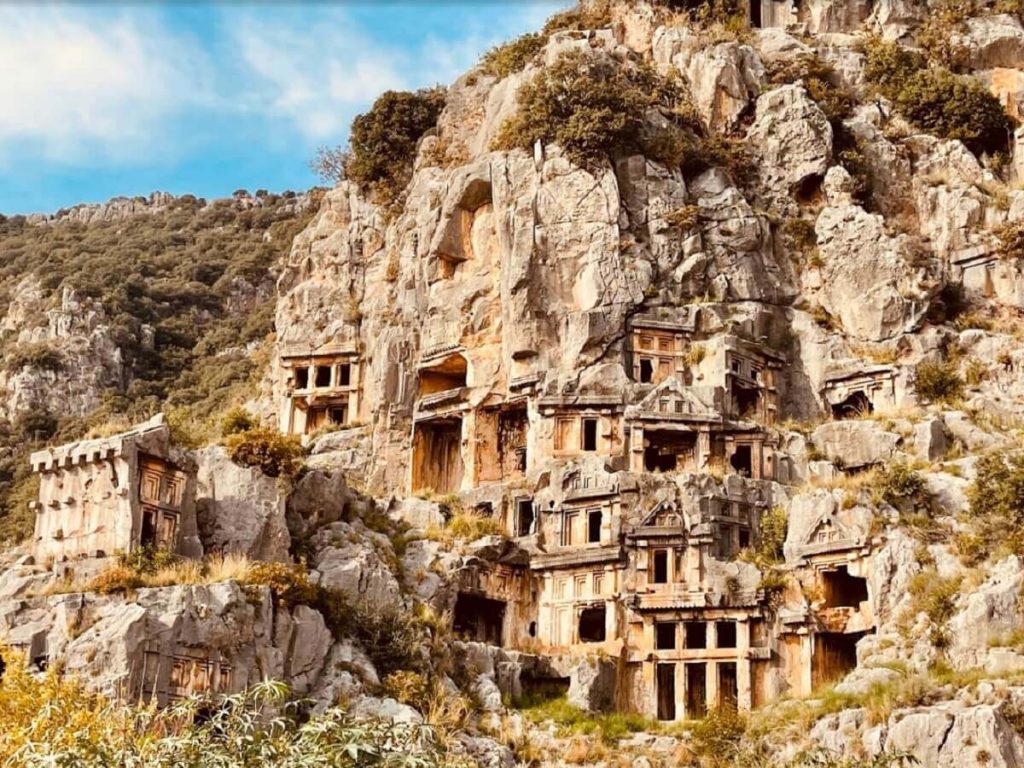 The ancient town of Myra is located in the modern Turkish province of Antalya's Demre County. It is around 140 km from the city of Antalya. Myra was founded in the first century BC; however, the exact year of its founding is unknown. In antiquity, Myra was one of the top six cities in the Lycian League (Xanthos, Tlos, Pinara, Patara, and Olympos).
You will be in awe of the open-air theater in Myra, which was constructed in 200 BC. It has space for 12,000 spectators. You may also see another old building, the church of Saint Nicholas, which is a popular pilgrimage site. It is also one of the most priceless examples of Byzantine architecture still standing today. The most magnificent structures in Myra are the stone tombs, which are found in two central locations: one is along the river Myros, commonly known as the river cemetery, and the other is in the cliffs west of the open-air theatre, both of which date to the 4th century BC. The alluvial sediments from the Myros River also contribute to Myra's wealth.
Antalya Aquarium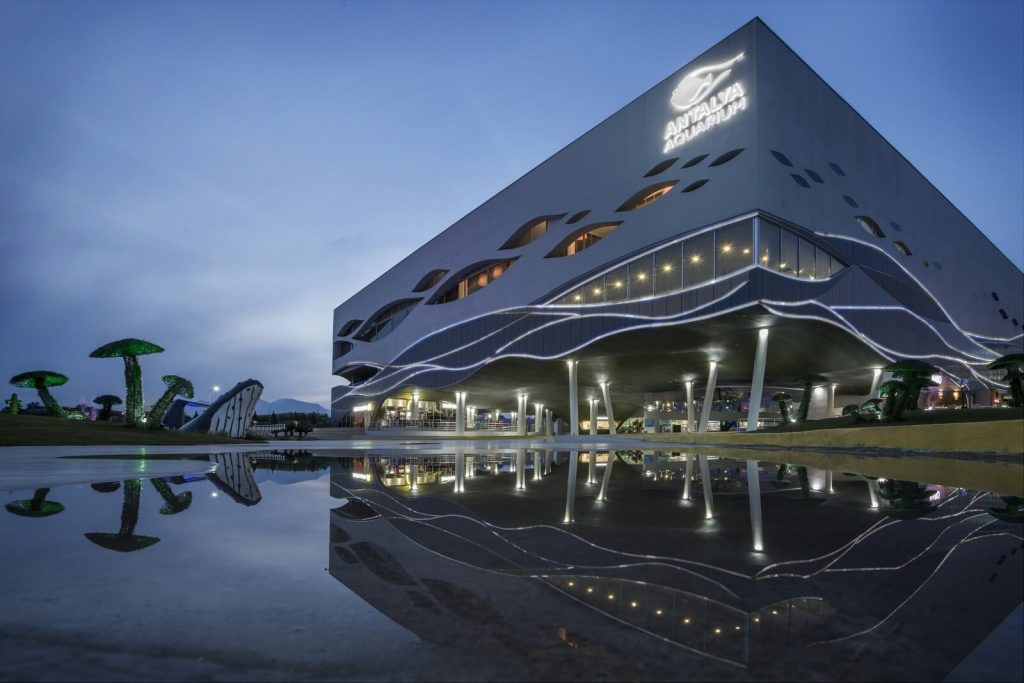 Antalya Aquarium is the largest tunnel aquarium entertainment complex in the world. It has 40 themed aquariums, each 131 meters long and 3 meters wide. You can enjoy playing in Snow World and the unique ice museum, admiring the marine creatures in the aquarium system, seeing reptiles in the wildlife park, taking pictures against a Hollywood backdrop, and finishing the trip with a filling lunch at one of the restaurants or cafés in the theme park.
What and where to eat?
Below are the best dishes worth trying in Antalya
Antalya's famous Dondurma ice cream (Battered ice cream)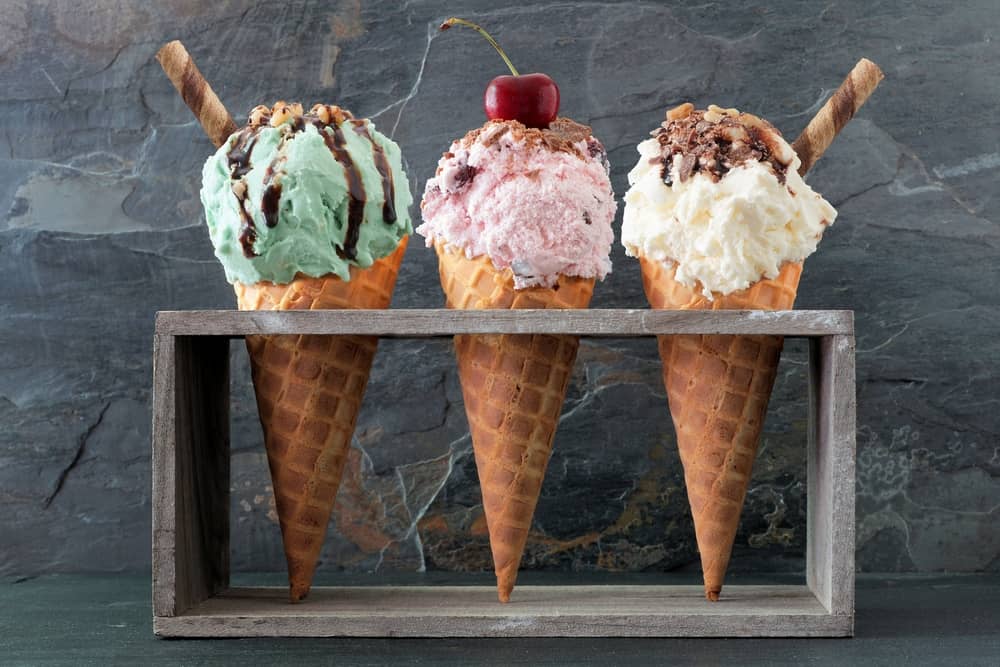 While visiting the streets of Antalya, many tourists have left Dondurma ice cream with endless encouraging words of praise. This delicacy has the same visual appeal as other well-known ice creams, but the salep ingredient gives it more viscosity. It is also so thick and chewy that you will need a knife and fork to cut it, but the flavor is delicious.
As soon as you try Dondurma, you'll add it to your list of the best ice cream you've ever had. In Antalya, ice cream is frequently available for purchase on the streets. Tourists can do so while out for a stroll.
Locum and Baklava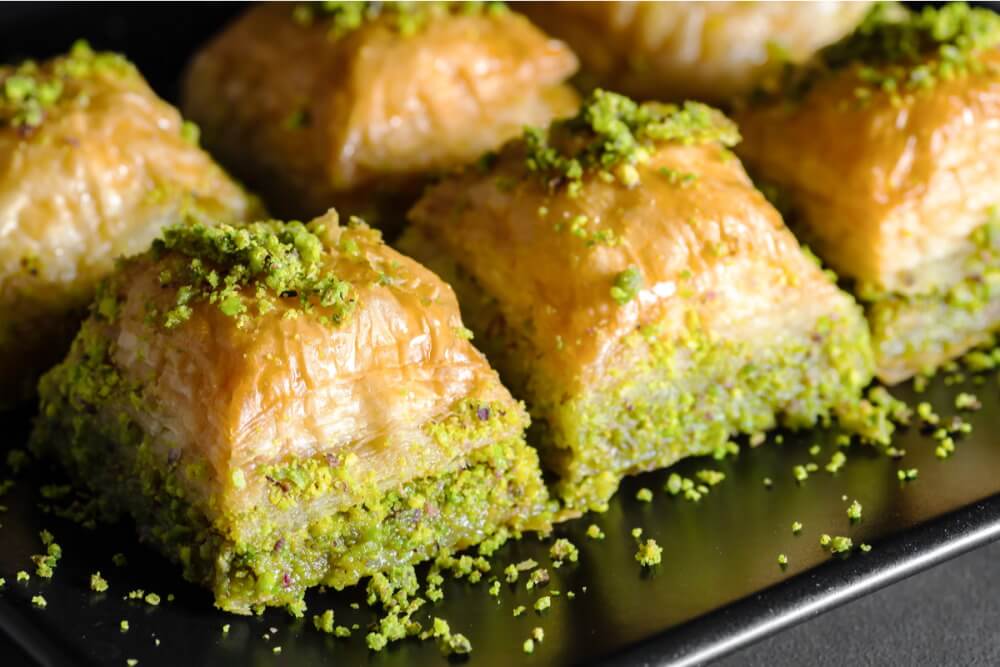 Along with Dondurma, Turkish pastries abound in Antalya's tourist areas, and you must at least once in your life. Locum and Baklava are two well-known traditional confections and sweets in any city in Turkey. If you want to experience Antalya's unique candies and sweets, you should buy some and try them.
Tulumba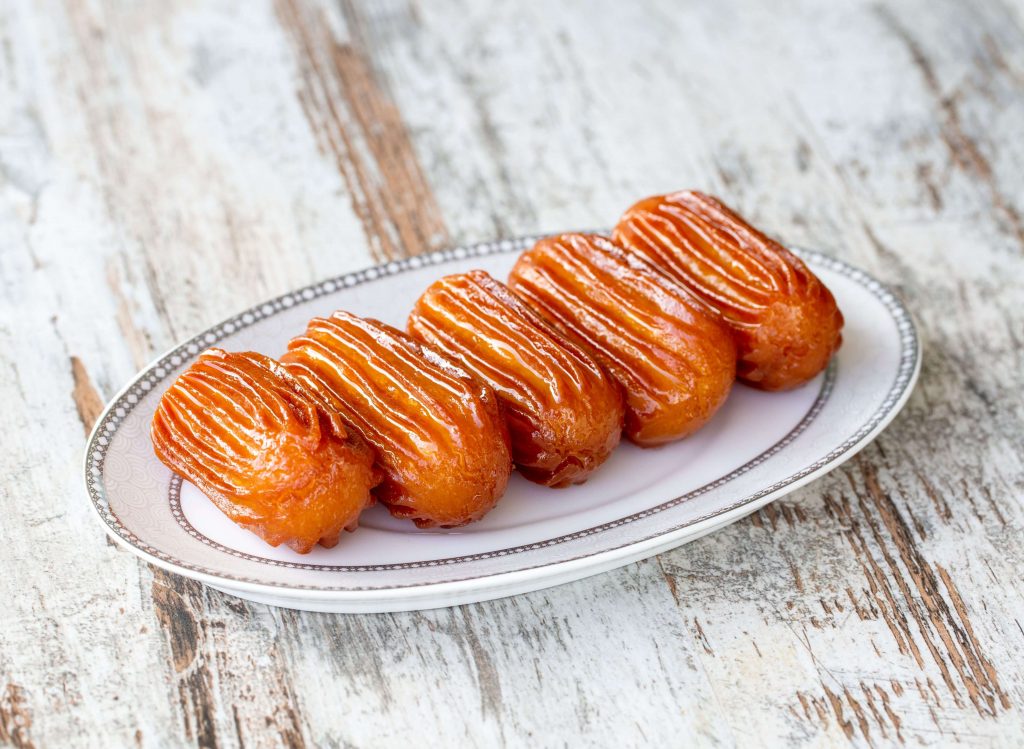 Find and try Tulumba, a well-liked dough pastry in the tourist hub. It is prepared with special monosodium glutamate, after Locum and Baklava. The cake varies in size and shape depending on the retailer, but it is typically chopped into tiny sticks. Tulumba tastes best when eaten right out of the oven. Avoid purchasing cakes prepared for an extended period because the flavor may deteriorate over time.
Pişmaniye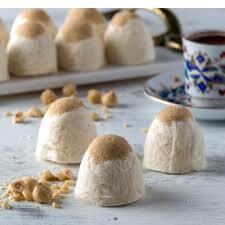 The most famous pastry in cafes and from street sellers, Pişmaniye, is also "named" as a dessert worth choosing in Antalya cuisine. Although it resembles candy, most ingredients are Turkish "specialty" nuts like pistachios and sesame seeds.
The chefs in Kaleiçi Old Town in Antalya specialize in making this dessert using an ancient recipe, so if you're looking for the most authentic Turkish Pismaniye, you should go there. You won't regret traveling to Kaleiçi to locate the original Pişmaniye because the flavor will be so delicious.
You're still not happy with Antalya's delicious confections. You will instantly fall in love with the cuisine of this lovely tourist city if you visit these well-known eateries.
Gizli Bahçe
The first place we'd like to suggest is Gizli Bahçe, Turkish for "Secret Garden." A romantic dinner by the sea is possible thanks to the restaurant's location on a high cliff overlooking the Mediterranean Sea.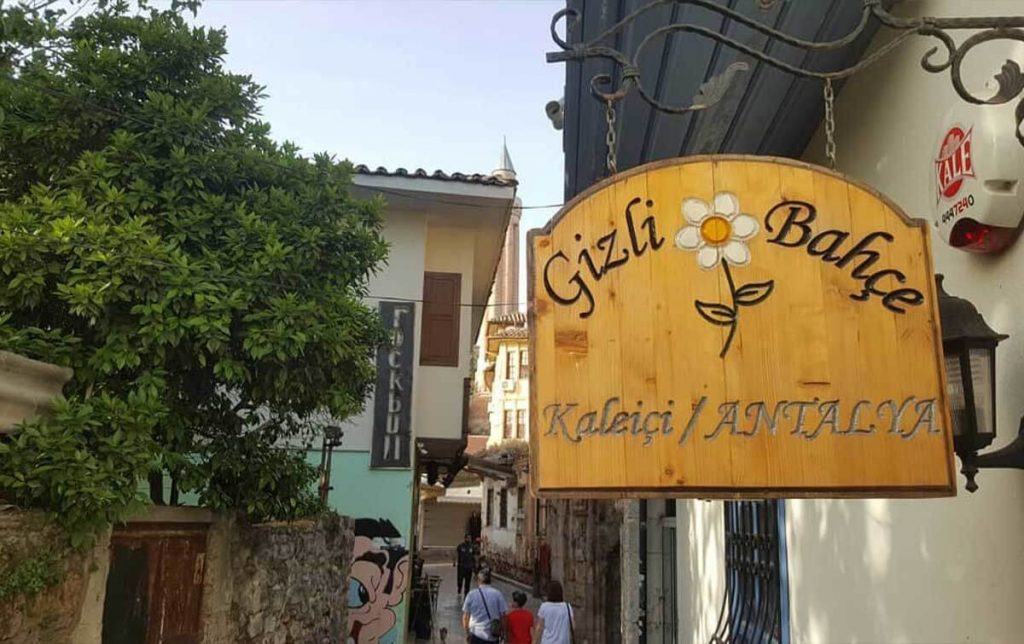 The restaurant specializes in serving traditional Turkish food. It also offers a variety of well-known meals that are prepared using recipes from worldwide. The restaurant also offers live music in the evenings so patrons can play, dance, and unwind.
Blue Parrot
The Blue Parrot restaurant is an excellent choice for families with lots of space because it routinely hosts enormous groups. The restaurant also has a giant plasma screen that broadcasts sporting events so that you may watch exciting games.
The restaurant's menu is also very diverse. Excellent English breakfasts are served in the morning, and salads and light desserts are served in the afternoon. A feast of delectable Turkish cuisine specialties is done in the evening.
China Garden Restaurant & Bar
Visit China Garden for delectable Chinese food; the restaurant has a gorgeously built terrace area. The restaurant's most well-known dish is Peking Duck. It would be best if you also sampled the fiery chili sauce, crab soup, and hot biscuits cooked with shrimp when you visit.
Seraser Fine Dining Restaurant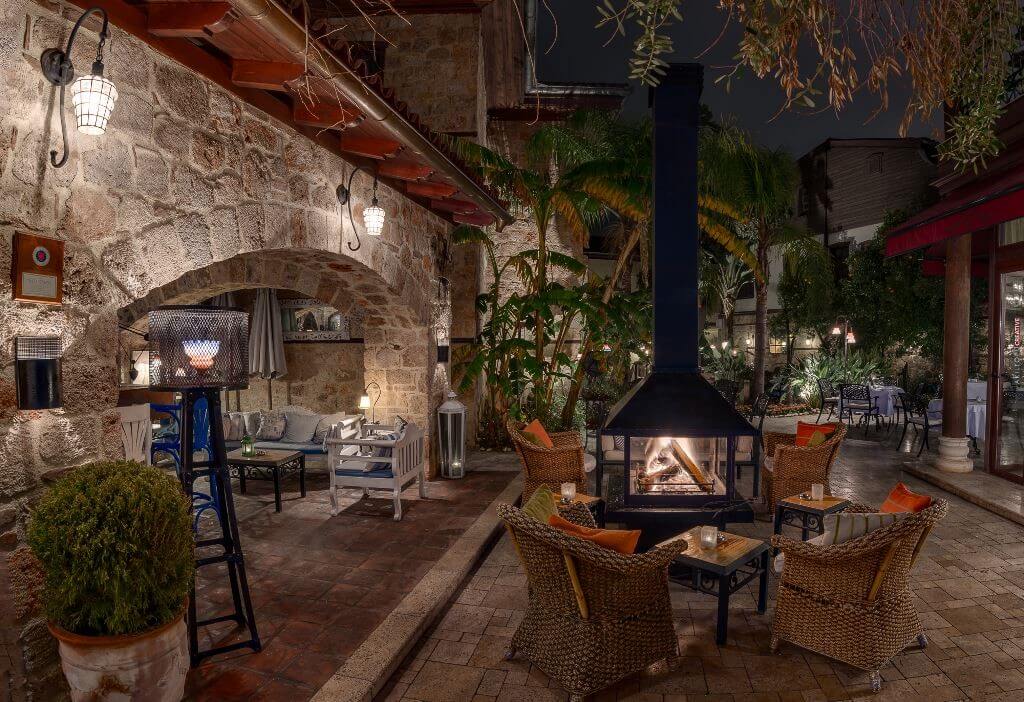 Many guests return to Seraser Fine Dining despite the high prices. They like the fragrant green garden and the roomy setting on the breezy Mediterranean coast. Each dish that is served to you is a complex work of art. It goes from form to content and is presented in a tastefully furnished area encircled by old Kaleiçi stone walls. The Seraser Fine Dining restaurant and bar is part of the Tuvana Hotel and is open 24 hours a day, seven days a week. It has an interior room for 80 people and an outside garden for 100.
Şemsiyeli Butik (Umbrella Street)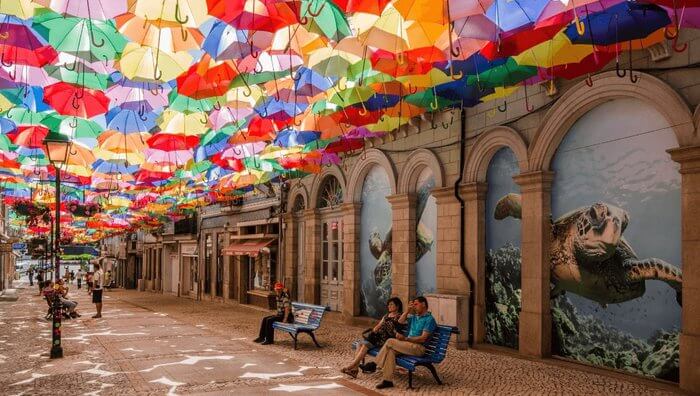 A few hundred meters from Hadrian's Gate is a location that no traveler should skip. This place is perfect if you wish to sample street food under vibrant umbrellas. The traditional Turkish kebab is ideal for eating while strolling through these beautiful alleyways. A lovely day in Antalya is excellent for savoring a flavorful fish sandwich or a slice of tender grilled lamb. After that, you can casually meander, browsing for lovely handmade products.
Turkish pizza, known as lahmacun, Arabic pizza, güveç stews, and traditional Kebap meals are all well-known at Anis restaurant on Umbrella Street.
Sibel's Four Seasons Cafe & Restaurant
Visitors are impressed with Sibel's Four Seasons Cafe & Restaurant's slate architecture, breathtaking mountain vistas, and especially the food prepared using local, fresh products from the owner's farm. This is the perfect place to rest before and after hiking the magnificent Lycian Taurus mountain. Diners will be treated to a selection of soups, Mezzes (appetizers), and unique meals that change daily. The restaurant also arranges trekking excursions to discover neighboring places. It would be best if you came here to eat the restaurant's renowned ice köfte minced meat pies, Beycik salad, and clay pot stew with goat meat.
Vanilla Lounge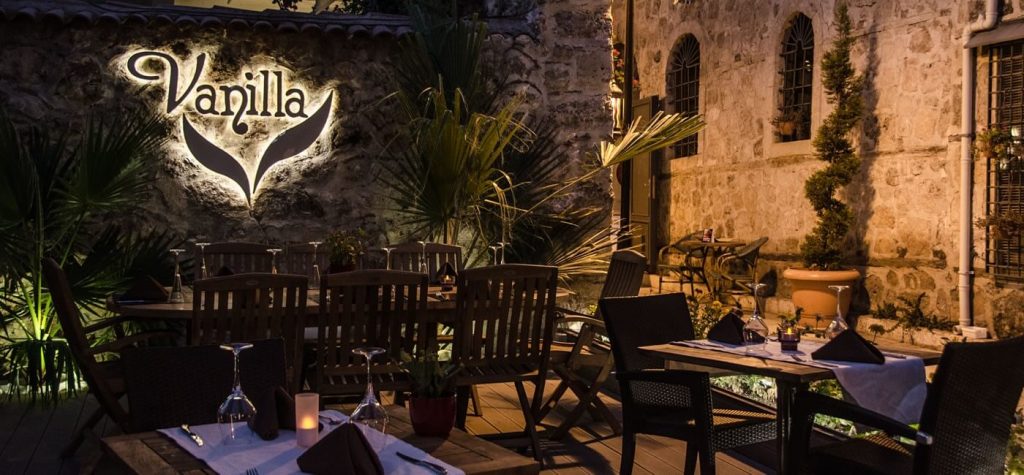 Just a few meters from Hadrian's Gate, the most well-known restaurant in Antalya is Vanilla Lounge. According to the restaurant's ethos, it strives to be a location where all tastes can be satiated using traditional, contemporary, and creative cooking methods. You can be amazed by each new flavor at Vanilla Lounge. It serves appetizers and even main courses in the Thai style. Italian cuisine has also affected Vanilla Lounge's menu. All meals are made with the finest, locally sourced seasonal ingredients.
Ship Inn Marina Restaurant & Bar
You can't miss Ship Inn Marina if you love cheese and long for a quiet area. This restaurant has a contemporary design, and a distinctive menu showcases a variety of Turkish culinary specialties. The Setur Antalya marina is close, and the restaurant looks into a sizable lake surrounded by green trees. Taste classic Turkish fare like yörük (pan-fried veal chops) or grilled meatballs. You can also allow the menu's abundance of salads, pizzas, baked goods, fish, and other delicacies to "immerse" you. Cheese transforms unique recipes into Ship Inn-inspired cuisine. The restaurant is located about 17 km from the heart of Antalya and 10 km from the aquarium.
Antalya Migros Shopping Center
Migros Shopping Center is one of the cheapest shopping destinations. It houses ten stores from various mid-range brands, including 5M Migros, Zara, and Mudo, an integrated theatre, and endless dining options. The Migros shopping center offers views of the Mediterranean Sea and the magnificent Beyda mountains.
Markantalya Avm
P30
The thriving tourism zone in the heart of Antalya is home to the Markantalya Avm retail mall. It covers over 5 hectares and has 155 known brands, international coffee shops, restaurant chains, and modern theaters. A short distance from the well-known Murat Paşa mosque, Mark Antalya is only 2 km from Antalya's city center.
This is the perfect location if you want to shop without fearing that your wallet will be empty shortly. The Deepo Outlet Mall, which has 80 stores and five cinemas, is the largest outlet center in the Mediterranean region. Enjoy purchasing items at Depot Outlet Center's original price to find great deals from many brands.
Where to Stay in Antalya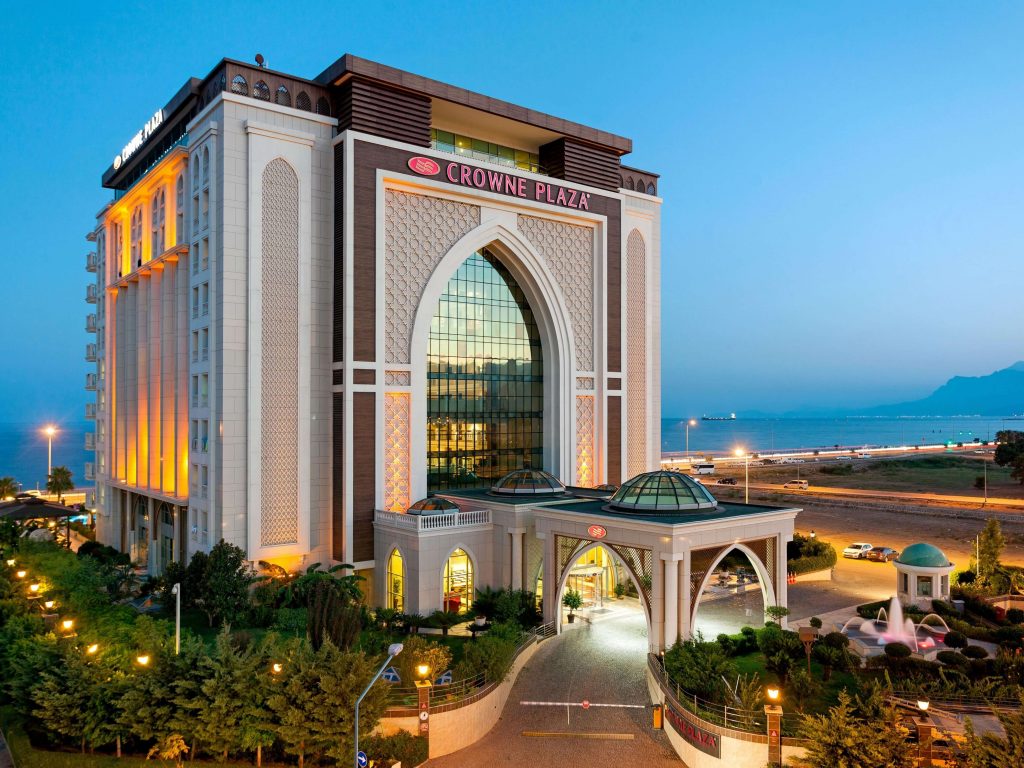 This lists other highly rated hotels in the budget, midrange, and luxury price categories.
Check out more top and best hotels in Antalya on Booking.com
Antalya City Map
AntalyaKart Guide for public transport in Antalya
You can see modern infrastructure all across Antalya. The key recommendation is to utilize an access card called AntalyaKart, which gives you unrestricted access to the city's transportation system. Traveling with a card is less expensive and reduces unnecessary traffic concerns.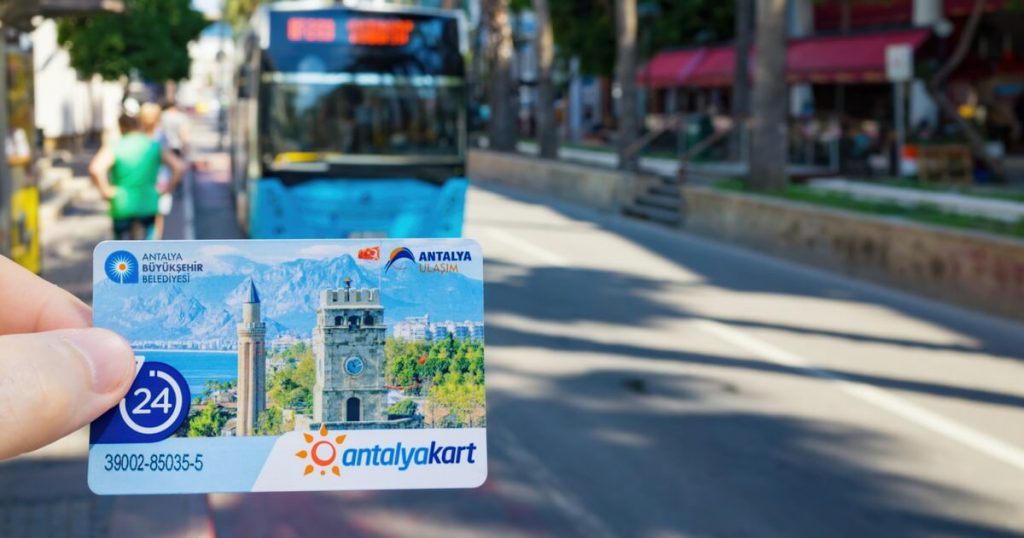 This article will give you a general overview of Antalya and AntalyaKart transportation, including its cost, where to find it, and what it's used for.
What is Antalya Kart?
You cannot utilize public transportation in Antalya without the AntalyaKart. All of Antalya's public buses and trams accept a card called AntalyaKart. You can move about the city with ease using this map. The plastic, credit card-sized cards are lightweight and convenient to carry. If you visit Antalya frequently, you can keep and utilize the card each time you go back.
Where Can I Buy Antalya Kart?
Two shops open XNUMX hours a day are located at the airport.
You may purchase the card from a few machines. Most of them are located close to tram stops and significant bus stops. Here, you can also top off the card.
How Much Does the Antalya Kart Cost?
To obtain your AntalyaKart, a one-time payment of 7,50 Turkish Lira (2021) is necessary. Since the card is anonymous, no ID or photo is needed. You can recharge it as needed after purchase. AntalyaKart must also be linked with unique HES codes and ID numbers because of the Corona Pandemic.
Tips to Visit Antalya
Dos and don'ts when visiting Antalya are listed below.
Mosques are pretty standard in Antalya. If you visit one of these mosques, remember to remove your shoes before entering and maintain silence.
Dress modestly and in light colors before entering the church to prevent upsetting the congregation.
Only snap random selfies and ask people's permission before photographing them on the street. You must also ensure not to photograph ladies covered in black shawls randomly. Doing so is against the law and can result in severe penalties.
Avoid "tipping" the wait staff by adding 5–10% of the cost to the bill after eating at a restaurant. Turkey does not accept this type of behavior.
Purchasing clothing or jewelry from shops and roadside stalls in Antalya is not advisable. They are of poor quality; visit recognized supermarkets and shopping malls instead.
Remember to haggle when buying at traditional markets; if you ask for a discount, they won't give it to you. Nevertheless, you might receive one if you go to a big supermarket.
Remember to bring cash in small denominations when purchasing items at the market to simplify paying the vendor. Many vendors will pretend they don't have a chance to "force" you to buy things at a high cost.
Most of the city's well-known sights are conveniently reachable by bus. Alternatively, you can hire a taxi service. Be sure to negotiate the fare upfront because many taxis lack meters.
Alcohol use is prohibited in public spaces and should only occur in bars and restaurants. However, you might not see alcohol on many restaurant menus.
It is best to purchase drinking water from stores and supermarkets. Like many other Turkish cities, tap water is unsafe for human use.
FAQ
Is Antalya a cost city worth visiting?
Antalya is worth visiting due to the abundance of activities, dining options, lodging options, beach hotspots, museums, and picturesque landscapes.
How many days in Antalya is enough?
4 Days
We believe four days in Antalya, mainly if you rent a car, is the ideal time to spend there. You can do day trips without booking any tours with this amount of time, and you can use public transportation to reach some of the distant destinations, including the Lycian Rock Tombs.
What is Antalya famous for?
Turkey's most prominent international sea resort is Antalya, on the Turkish Riviera. Government investment and extensive development have boosted tourism. 2019 saw a record 13.6 million visitors arrive in the city.
What is the best month to visit Antalya?
Our favorite time of year to travel to Antalya is October when the weather and crowds are most balanced.
Is Antalya tourist friendly?
Travelers can feel comfortable in Antalya because the population is friendly and willing to show visitors around. However, just like when visiting anywhere else on the globe, there are still a few things to be careful of.
Is it better to go to Istanbul or Antalya?
Both Antalya and Istanbul offer a variety of activities. Visitors prefer staying longer in Istanbul than in Antalya because there are typically more things and activities there. Two to five days are suitable for a vacation to Antalya, and three to seven days are ideal for a trip to Istanbul.
Is Antalya a party town?
There is a vibrant nightlife in Antalya. The old town of Kaleiçi and the marina both have bars that are very active in the summer.
Is Antalya a beach city?
The Turkish Riviera's Antalya is known as the "jewel of the Mediterranean." It attracts travelers from all over the world and is renowned for its abundance of beautiful beaches. Antalya is the ideal location for a beach vacation. It has 657 km of coastline, beautiful sand, and the purest waters possible.
Is Antalya a beautiful city?
Due to its distinctive geographic location on the Mediterranean coast, Antalya is one of Turkey's most alluring tourist destinations. There are lovely natural areas and many tourist attractions in Antalya.
What should I be careful of in Antalya?
Avoid going for a solo evening stroll, even in places with plenty of lighting. If you must stray from the course, stay on well-lit streets and steer clear of dimly lit passageways or unlit spaces.
People also viewed: