Discover Denmark's Hidden Gem
Aarhus city center is small and easy to get around on foot, and it is known for its mix of different architectural styles. In 2017, the European Capital of Culture was Aarhus. The Moesgaard Museum and ARoS Art Museum are new and among the world's best. Just like in Copenhagen, the food scene in Ahas is hopping, and there are many places to try modern Danish food and food from all over the world that has been given a Danish twist. Aarhus is a great place for a city break in Europe because it is big, has a lot to do, and is easy to get to by plane from all over the continent.
Aarhus History
The origins of Arhus are unknown. Yet, remnants of a Viking town have been discovered near where the Rhus stream overflow is currently submerged. The town's earliest known charter dates back to 1441 and refers to an even older alliance. Arhus was established as a diocese in 948 and experienced a period of prosperity during the European Middle Ages. At this time, the city was home to many religious institutions; however, Arhus declined during the Reformation. Industrialization, the extension of the Danish railway system, and the expansion of the city's port all contributed to the city's growth during the beginning of the 19th century. Industrialization was essential.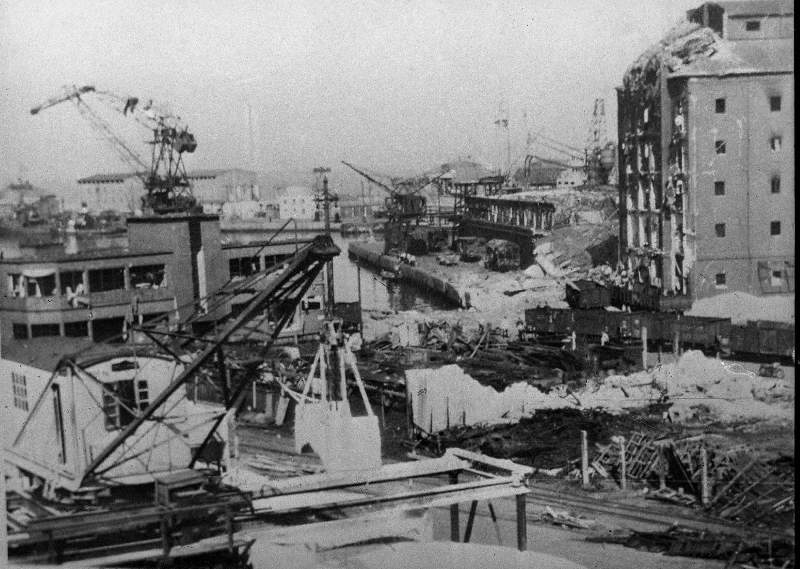 How To Get Into Aarhus
The Aarhus region is easy to get to because it has two airports, national and international rail connections, national and Scandinavian shipping connections, and a direct highway.
By plane
Aarhus Airport
The domestic airport around is Aarhus Airport, which is only 35 minutes away. Randers is a 40-minute drive from Aarhus. Shuttles run daily to connect all flights coming into and out of Aarhus Airport. You can fly to Aarhus from London, Manchester, Madrid, Rome, Berlin, Munich, Stockholm, Oslo, and a long list of other cities. The area around Aarhus is full of great things to do, whether you're there for business or pleasure.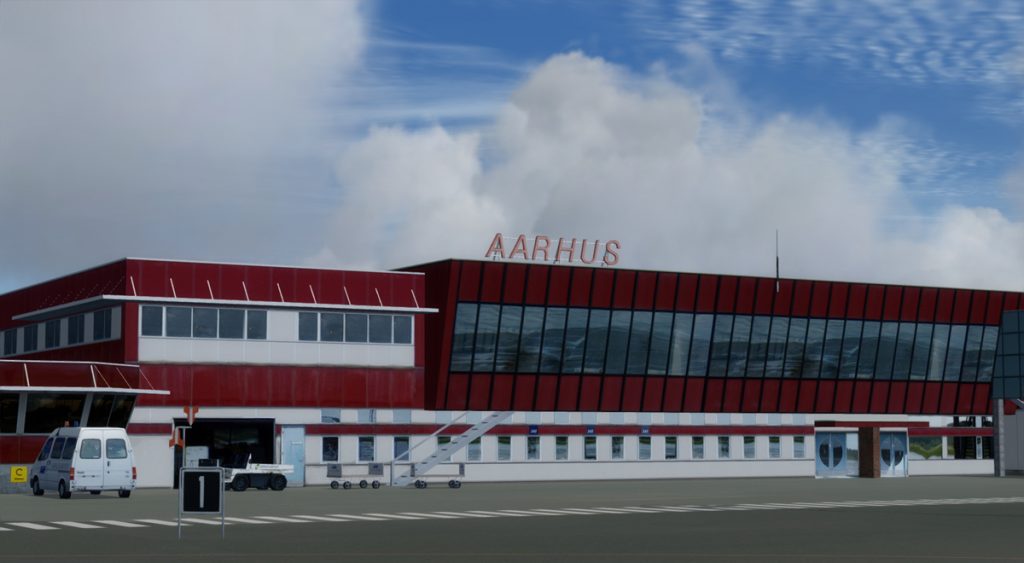 Billund Airport
Your best bet is to fly into Aarhus Billund Airport, which is directly linked to more than 55 European airports and can get you to more than 540 places worldwide with just one stop. Billund Airport is related to major airports, such as Frankfurt, Amsterdam, Paris, Helsinki, Istanbul, Brussels, Warsaw, and London. This means travelers worldwide who want to visit Aarhus have many great options.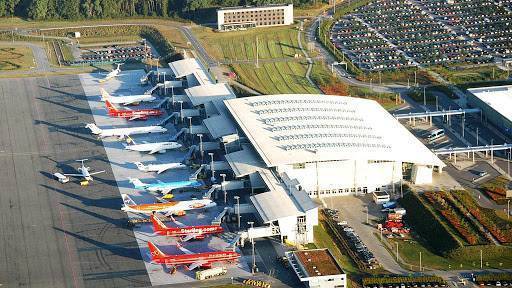 Aarhus Climate
Aarhus has a temperate oceanic climate, and the weather is always being changed by extensive weather systems coming from all four directions. This makes the weather unpredictable all year long. From one December to the next, the weather changes a lot. The fall is rainy and windy, and the winter is cold with frost and sometimes snow. Around March, the city center has the same weather as other large cities: more wind, fog, less rain, and higher temperatures than the surrounding countryside.
The average temperature for the year is 8.43 °C (47.17 °F), with February being the coldest month (0.1 °C or 32.2 °F) and the warmest month (15.9 °C or 60.6 °F). From June to August, the sea can get up to 17–22 °C (63–72 °F).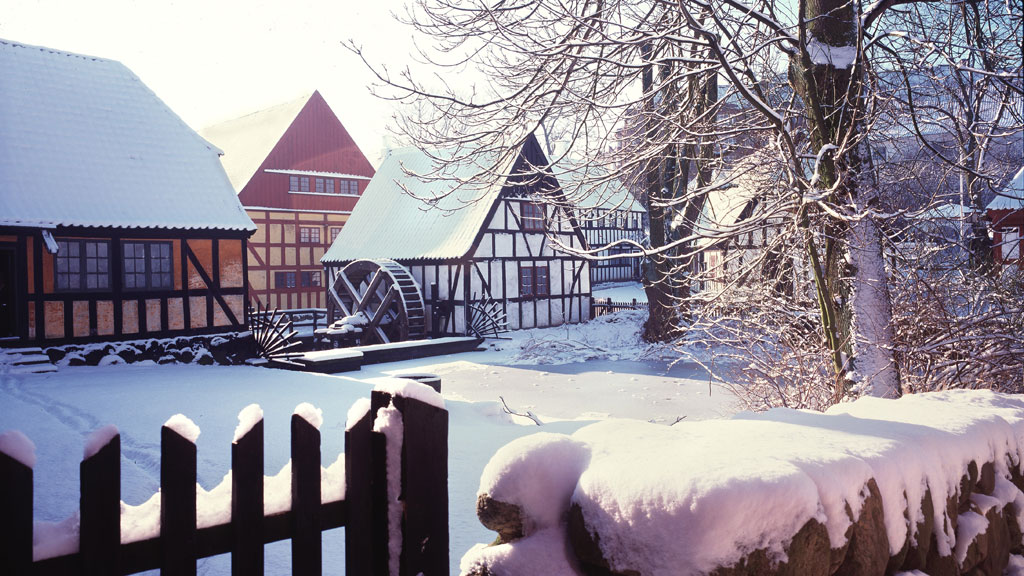 Top Sights In Aarhus
Aarhus Den Gamle By
The Old Town, or Den Gamle By in English, is a town museum open to the public. It is in the Aarhus Botanical Garden in Aarhus, Denmark. When it opened in 1914, the museum was the first of its kind to be outside. Today, the museum comprises 75 old buildings from 20 different cities all over the island. The main attraction is the city itself, but many of the buildings can be seen by tourists. The rooms are decorated to look like they did when they were first built or are set up as large exhibitions.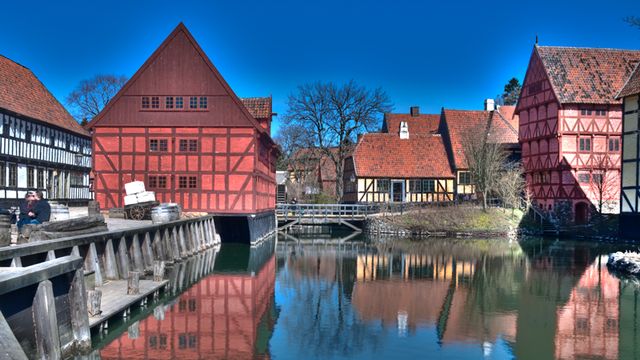 Aarhus Cathedral
The Aarhus Cathedral is a church in the Danish city of Aarhus. It is 93 meters long and 96 meters high, making it the most significant and tallest mosque. Construction on Aarhus Cathedral began in the 12th century. It is the main building of the Church of Denmark's Aarhus Diocese and is dedicated to Saint Clemens, the patron saint of sailors. The cathedral is on the side of Torv's central square that faces the harbor. About 1200 people can sit in the church.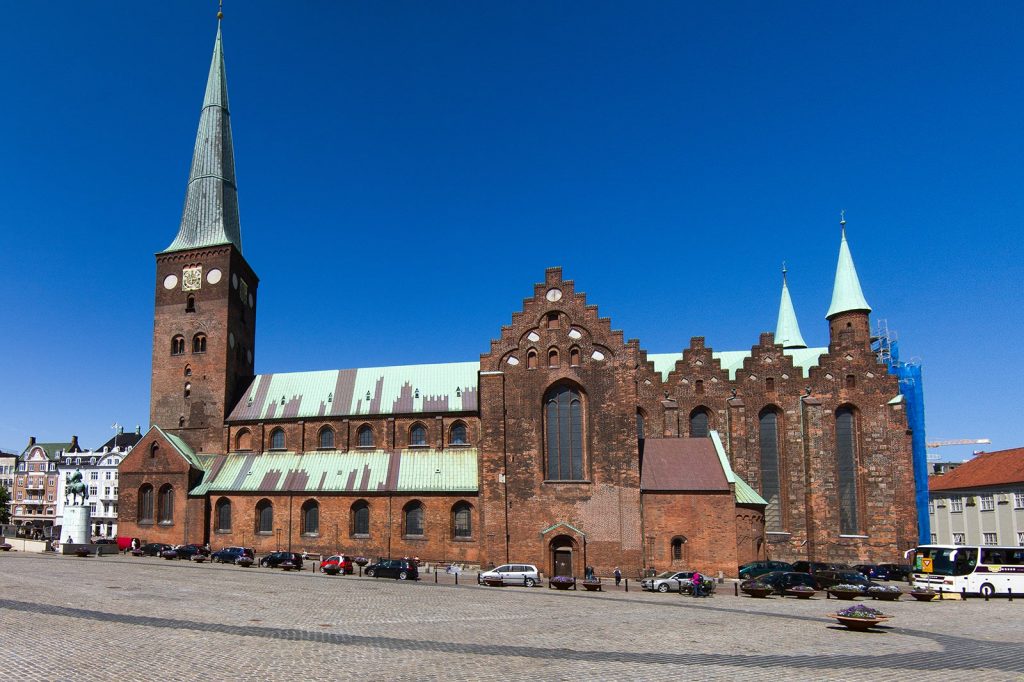 ARoS Aarhus Art Museum
AroS Aarhus Kunstmuseum is an art museum in Aarhus, Denmark. The museum opened in 1859 and is the oldest public art museum in Denmark that is not in the capital city. The ARoS Aarhus Kunstmuseum opened on April 7, 2004, with exhibits in a brand-new, modern building with ten floors and 20,700 m2 of floor space. Danish architect Schmidt Hammer Lassen designed the building. Aside from extensive galleries that have both permanent and changing shows. When the ARoS building has a restaurant, a dining room, and an art shop.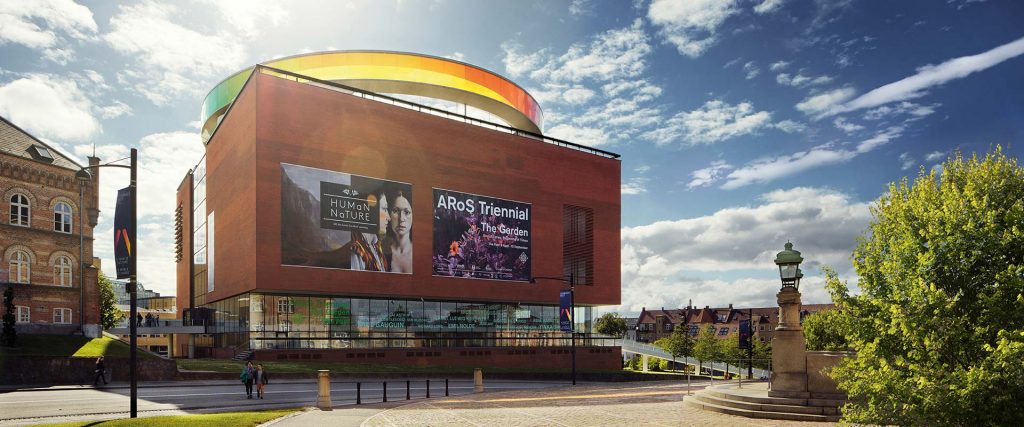 Aarhus Marselisborg Deer Park
In the northern part of the Marseillesburg Forest, the 22-hectare Marseillesburg Deer Park is a fenced-in forest area. There are few trees here, and the land is very hilly. The idea behind Marselisborg Deer Park is more like a small safari park than a traditional deer park. At first, sika deer were put on the open forest hills to graze, but later roe deer and wild boars joined them. Since it first opened in 1932, the park has grown in size several times.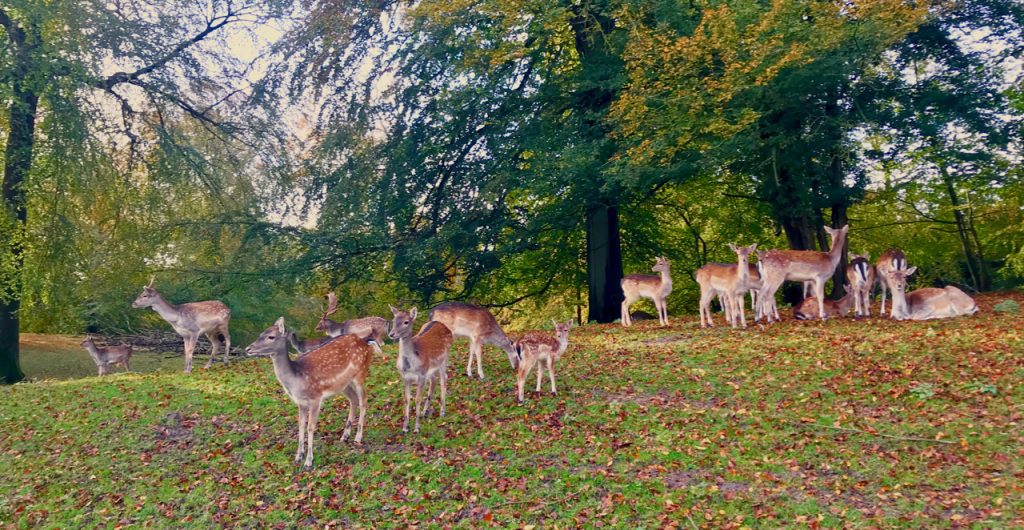 Musikhuset Arhus
This is a large group of concert halls in the Danish city of Aarhus. Musikhuset is the central place for music in Aarhus. It is in the city center and holds over 3,600 people, making it the largest concert hall in Scandinavia. The city of Aarhus hired Kjaer & Richter to design and build Musikhuset Aarhus between 1979 and 1982. The Concert Hall Garden is a boxwood sculpture and parterre garden with flowers, fountains, and benches. It is in front of the central glass atrium.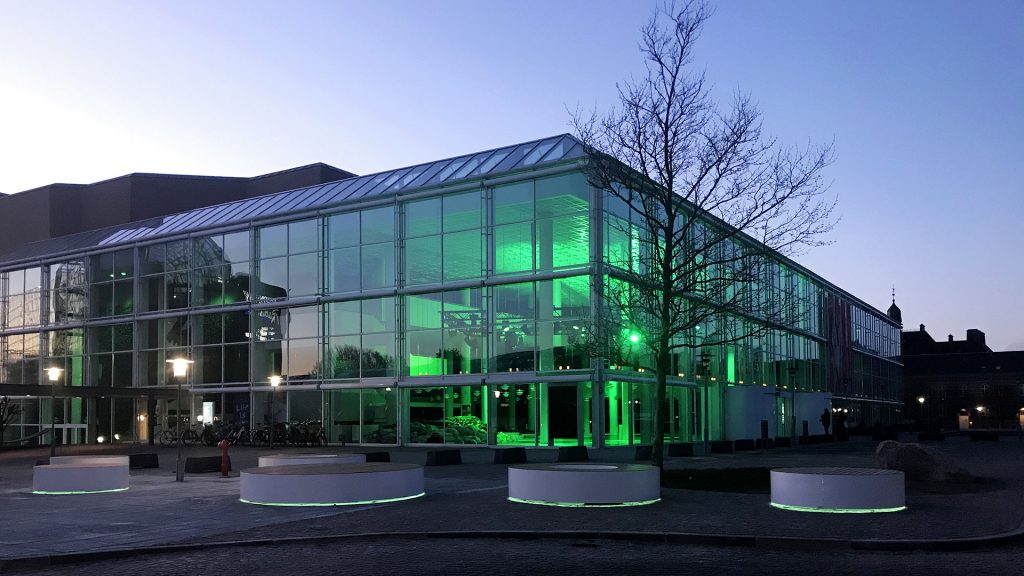 Aarhus Dokk1
Dokk1, or Dokken, is a government building. It is also a public library and a cultural center. At Hack Kampmanns Plads in the city center, it is on the water next to the customs house. Dokk1 is a part of Urban Mediaspace Aarhus, an extensive project to improve the city. The building was opened on June 20, 2015, four years after construction began on June 8, 2011.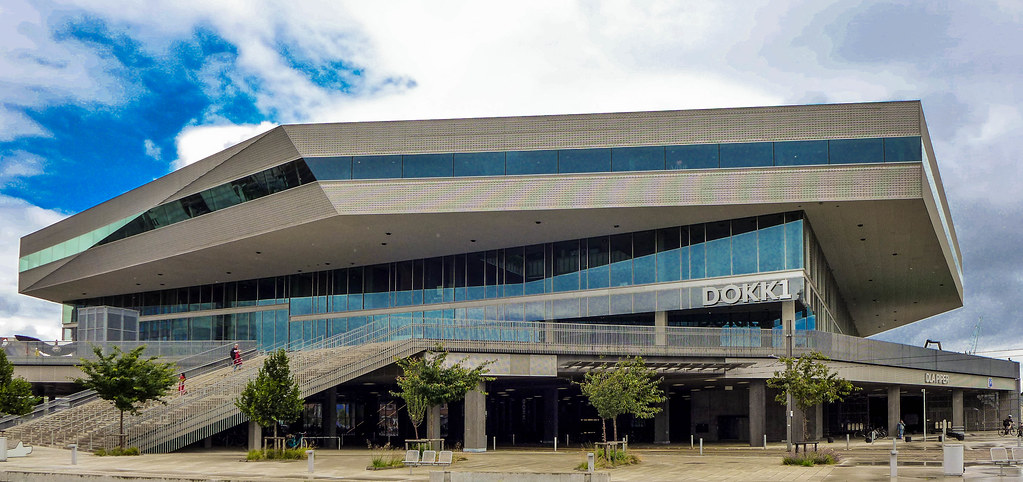 Aarhus Tivoli Friheden
A Danish amusement park called Tivoli Friheden is in the city of Aarhus. In 2009, more than 365,000 people went to the park, which keeps increasing. About 2 km south of the city center is where the park is. It has different kinds of attractions in various themed areas. There are more than 40 things to see and do. The size of the water section is 5,000 m2.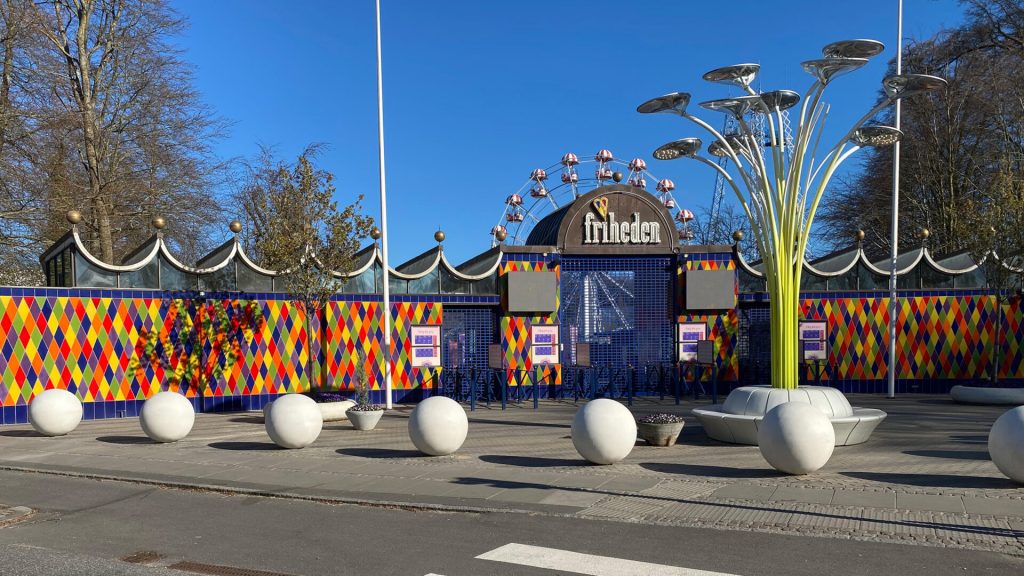 Aarhus Radhusparken
Radhusparken is a public park in the middle of the Danish city. The park is near the city hall in the Midtbine neighborhood of Indre. It is between the streets of Fredericks Allee to the west and Park Allee to the east. Some of the city's most important cultural and political institutions surround the park in a beautiful half-circle.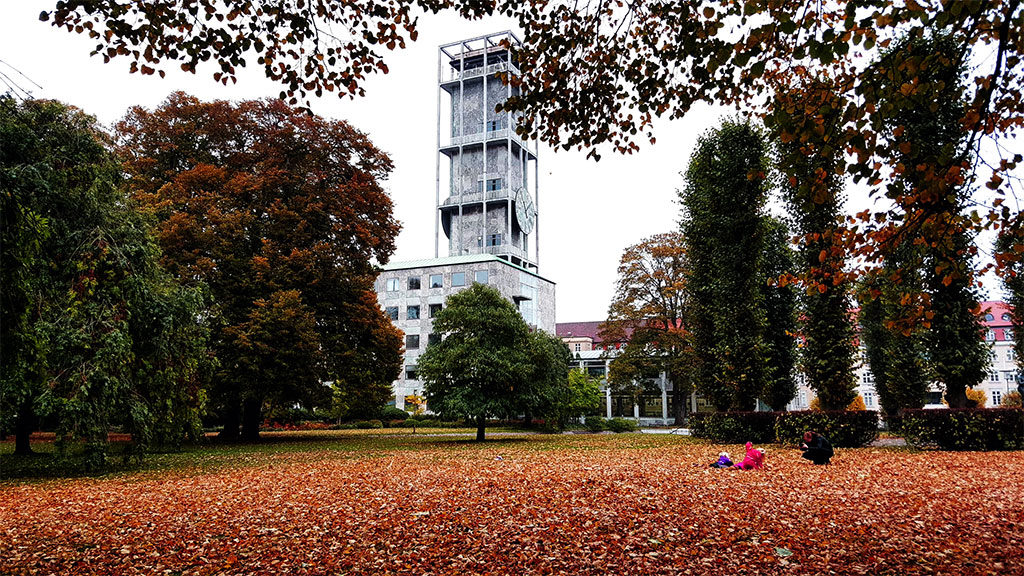 Aarhus City Details
Aarhus Currency: Danish krone
Denmark dials Code:  +45
Aarhus Weather:  4°C, Wind W at 8 km/h, 46% Humidity
Language: Danish is the primary language, and English is the secondary language
Aarhus city area:   91 km²
Getting around in Aarhus
Public transportation and walking are the best ways to get around Salzburg. Most of the city's sights are in the Altstadt neighbor, meaning most are close enough to walk to. Cycling is also a good choice for shorter distances. Taxis are easy to find all over the city. But if you want to get around outside Salzburg's historic city center, the BusTaxi and rail line are perfect.
Bus
City buses and the Letbanen, Denmark's first light rail, make it easy to get around Aarhus. Aarhus has an excellent bus system that makes getting where you want to go quick and easy. The city buses in Central Ahas are yellow and run all day. If you want to go farther, you can also take a city bus to and from the nearby suburbs. If you want to go somewhere other than Aarhus, you can also take one of the blue regional buses, which go to places all over Jutland.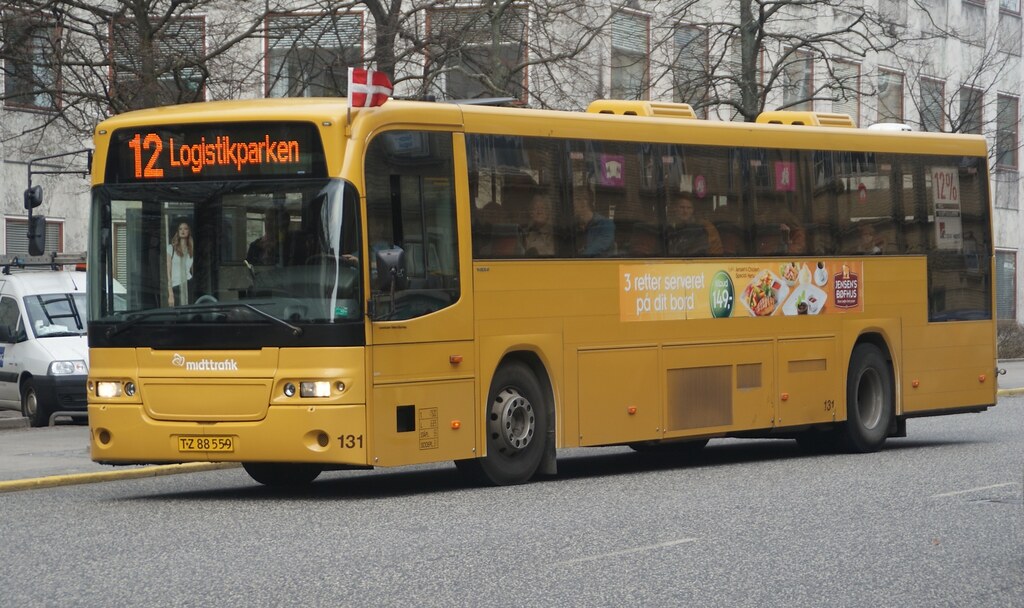 Bikes
Bicycles are one of the most popular ways to get around Arhus (as in most cities in Denmark.) Biking is a fast way to get around most of the city, but travelers can always stop to see the sights. Ride a bike and see the world without being surrounded by glass or going fast on the motorway. You can get a city bike from one of the 57 city bike parking racks around the city by putting down a DKK 20 coin. When you bring the bike back to any parking racks, the coin will be returned to you.

Walking
Arhus is generally a walkable city. Also, it is safe to walk in all parts of the city. Within a few hours' walk, one can see many places along the main city block.
Taxi
There are many taxis available to transport tourists from one place to another.
Aarhus Cuisine
There are a lot of interesting restaurants in Ahas, and the capital city of Jutland has a wide range of local, French, Spanish, and Italian food, to name a few. Some of Ahas' oldest restaurants serve tapas and other Southern European specialties, juicy steaks, authentic American barbecue, and classic Danish dishes in cozy settings.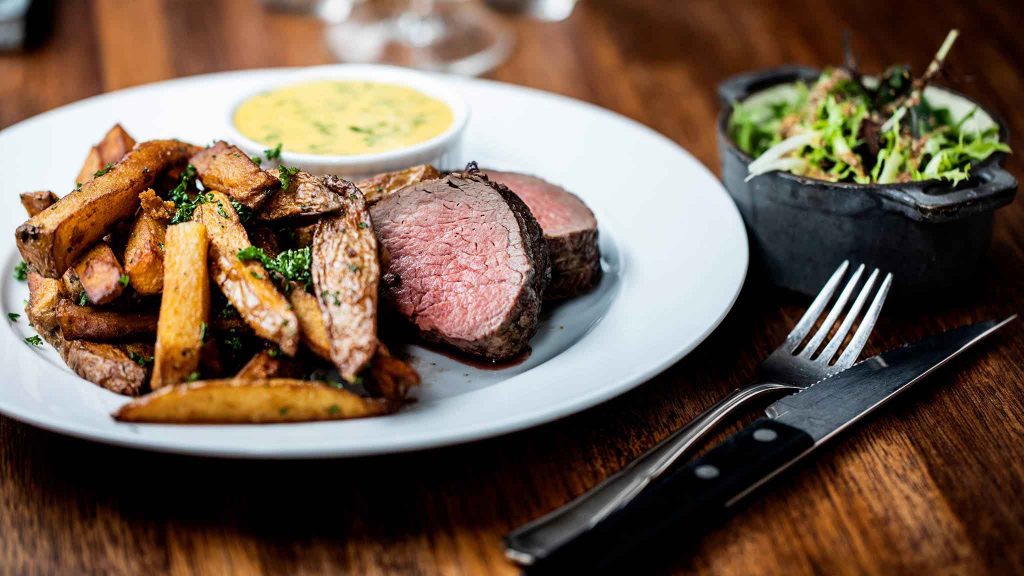 Best Places
Klassisk 65, Bistro & Wine Bar
Nordisk Spisehus
CANblau Tapas Restaurant
Piccolina
Restaurant Frederikshøj
Aarhus Nightlife
Aarhus has long been overlooked in favor of Copenhagen, Denmark's biggest and most popular tourist city. This western city's population is primarily young and liberal, which makes for a lively nightlife scene. Ahas has a lot of bars and clubs that make partygoers feel like they've been transported to the busiest discotheque in the capital. Book a hotel in the middle of the city. More specifically, Boulevard is a busy street and promenade where many parties occur after dark.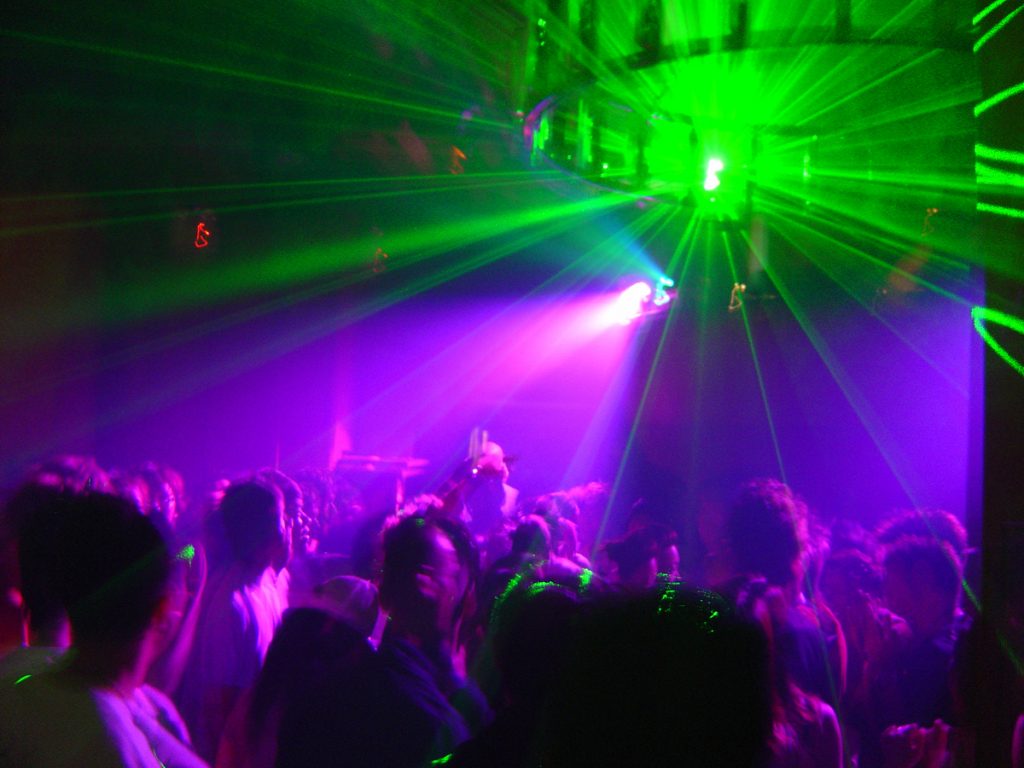 Aarhus Accommodation
The city center is the best place to find the most hotels. If you want to find a hostel in the city, you can also find some here. Staying in the center makes getting to all the other neighborhoods easy, so you can easily see the whole city. The train station is in the middle of the town, making it easy for tourists to arrive, leave, and take day trips.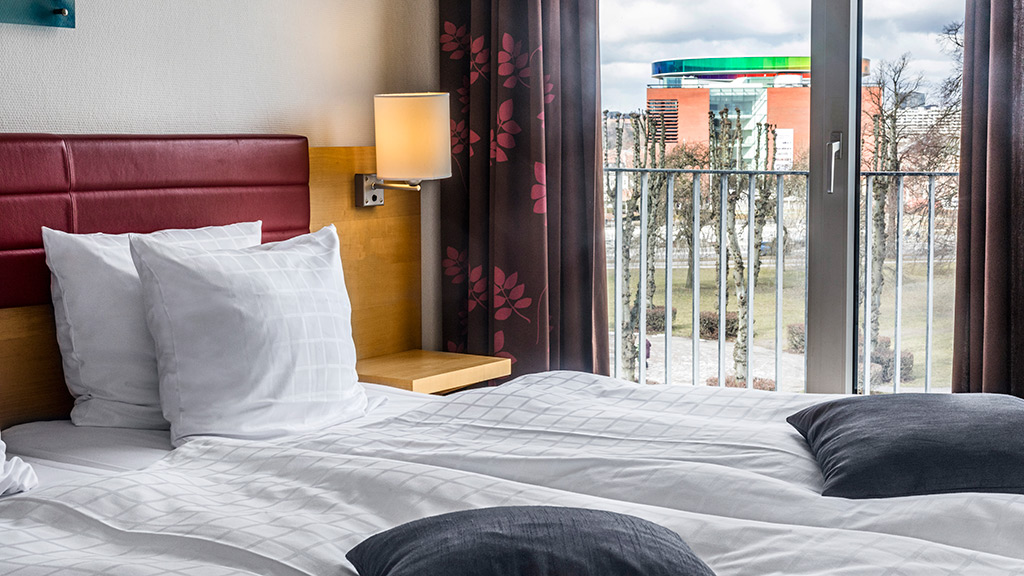 Approximate Budget
Daily expenses vary between 321 kr ($45) and 1,619 kr ($231) depending on your spending profile, with an average of 816 kr ($116)
Conclusion
It has some beautiful spots that are interesting to tourists. Before going to a city, tourists always list things they want to see or do there. You'll be sorry you didn't visit Aarhus.