Costa Rica is well-known for its lush rainforests, beautiful beaches, and diverse wildlife, but it's also a popular destination for those seeking the adrenaline rush of whitewater rafting. Costa Rica offers whitewater rafting experiences for all levels, from beginners to experienced paddlers, on various rivers throughout the country. This blog will examine some of Costa Rica's best whitewater rafting destinations and what to expect when you hit the rapids.
Penas Blancas River
The Penas Blancas River is ideal for groups with small children or those who prefer to float down a river peacefully rather than the high-adrenaline power paddling required on some higher-class rapids. The Penas Blancas River has both class I and II rapids for rafters. A safari float down this river is an excellent way to appreciate the beautiful forest surroundings and spot some unusual wildlife.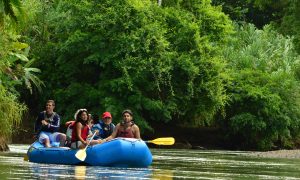 Rio Toro
The Rio Toro, or Bull River, is an apt name for this wild river. This is one of the best spots in the region if you want a bit of a challenge and some heart-pumping (but fun) rapids. The Rio Toro has class III and IV rapids for rafters. For adrenaline junkies, a white water rafting trip down the Rio Toro will provide nonstop action and a thrilling experience.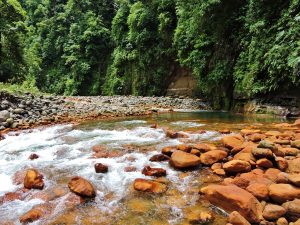 Turrialba rapids
Turrialba, a small town in Costa Rica's Central Valley, is widely regarded as the country's whitewater rafting capital. Two rivers, in particular, are well-known for their world-class rapids. This part of the country is breathtakingly beautiful, and numerous adventure and nature tours are available from here. San Jose is also a popular starting point for the whitewater rafting tours listed below.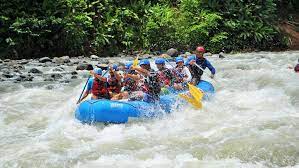 Rio Balsa
The Rio Balsa is 45 minutes from La Fortuna and has class II and III rapids. This river's whitewater rafting tour is ideal for the entire family. It's not overpowering but lively enough to keep you interested. You will be surrounded by lush and wildlife-rich forests while paddling down the river. This is an incredible way to experience the woods while doing something exciting.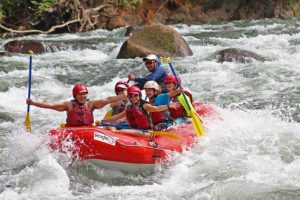 La Fortuna rapids
La Fortuna is Costa Rica's adventure capital and the "gateway" to the Arenal Volcano National Park. It is the ideal starting point for a whitewater rafting adventure. This zone has numerous rivers and rapid classes to choose from, depending on your experience, adventure level, and group dynamic. These rivers are out of the way but are all easily accessible from La Fortuna.
Sarapiqui River
The Sarapiqui River is a bit further east. The Sarapiqui River is famous for multi-day white water rafting adventures, though one-day tours are also available. River has class III and IV rapids, which are most enjoyable between June and October.
Pacuare River
National Geographic named the Pacuare River one of the top five best rapids in the world. The fact that the water is not icy cold makes white water rafting in Costa Rica so appealing. The Pacuare River has numerous class III and IV rapids. The river cuts through dense jungle, providing incredible opportunities for rare wildlife sightings. This river contains 52 rapids!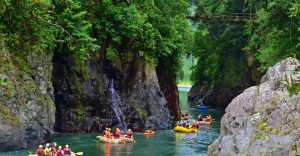 Manuel Antonio rapids
While most people associate white water rafting with more mountainous areas, two excellent white water rafting rivers are easily accessible from Manuel Antonio. If you want to go white water rafting, you can get to any of the rivers mentioned above from anywhere in the country. All-day and multi-day rafting tours are available, with transportation typically included in the price.
Savegre River
The Savegre River is an excellent choice for white water rafting with small children. The rapids here are gentler than those on the Naranjo, but they are still thrilling. The Savegre River has class II and III rapids and is known for being one of the cleanest rivers in Central America.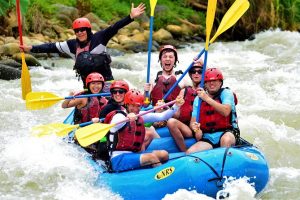 Reventazon River
The Reventazon River flows down Costa Rica's Atlantic slope toward the Caribbean. This river has class III-IV rapids and runs at this level all year. While there are some challenging sections, this is an excellent river for the first-time rafter with an adventurous spirit. A white water rafting tour down this river will take you through the rainforest, where wildlife sightings are common. Toucans, iguanas, monkeys, and a wide variety of birds can be found here.
Naranjo River
For white water rafting enthusiasts, the Naranjo River is famous. This thrilling river features class III and IV rapids. A white water rafting tour down the Naranjo River is an adventure for the whole family. The river borders the Manuel Antonio National Park on the south, so you can imagine the wildlife and nature viewing opportunities.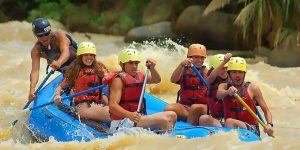 Conclusion
Finally, Costa Rica is an excellent destination for whitewater rafting enthusiasts seeking a once-in-a-lifetime adventure. Costa Rica offers an unforgettable experience for novice and experienced rafters, with its numerous rivers, lush rainforests, and breathtaking scenery.
The Pacuare, Reventazon, Sarapiqui, and Tenorio rivers are among the most popular rafting destinations in Costa Rica, with varying levels of difficulty and breathtaking scenery. With experienced guides, high-quality equipment, and safety precautions, you can enjoy a thrilling ride surrounded by nature's beauty. So, if you're looking for an adrenaline rush, grab your paddle and prepare for an unforgettable whitewater rafting adventure in Costa Rica.
Read more blogs here: