Colombian cuisine is artistic and flavorful to the brim. Native cooking in Colombia has been inspired by numerous areas, including Spain and Africa, and has resulted in a distinctive cuisine. However, the ingredients are where Colombian cuisine really shines. One of the nations with the most biodiversity is Colombia. Its incredible selection of locally farmed ingredients make Colombian foods it one of the best to try.
As we examine some well-known and completely wonderful Colombian meals in further detail, get ready for loads of color, passion, and flavor.
Arepas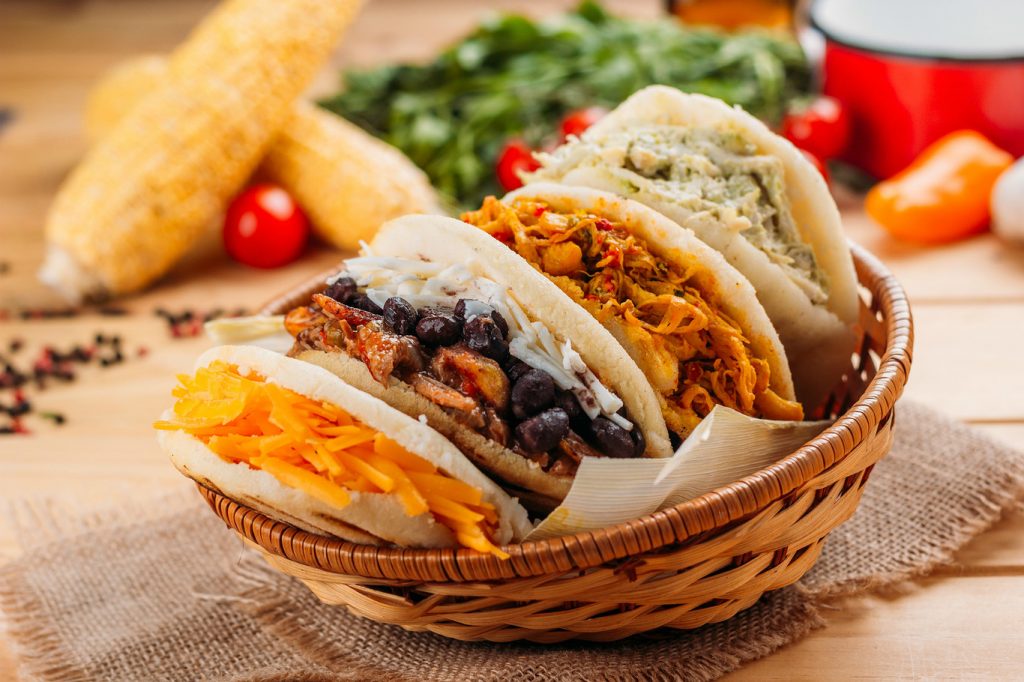 Arepas are one of those foods that can be found all around Colombia because they were passed down from the native pre-Columbian people.
They can be an appetizer, a side dish, a snack, or even a meal, such as breakfast or dinner.
They are among the most well-liked street meals, but you can also find them in several bakeries and restaurants. Since cornflour is readily available at all supermarkets and can be an enjoyable family activity, many Colombians also prepare them at home.
Arepas come in more than 30 different kinds, but they all share a flat, circular shape and are constructed of maize dough. The color and flavor of the corn vary depending on the region and the variety of maize utilized. Arepas are often grilled, but some varieties can also be deep-fried, pan-fried, or, less frequently, baked.
Ajiaco (Potato & Chicken Soup)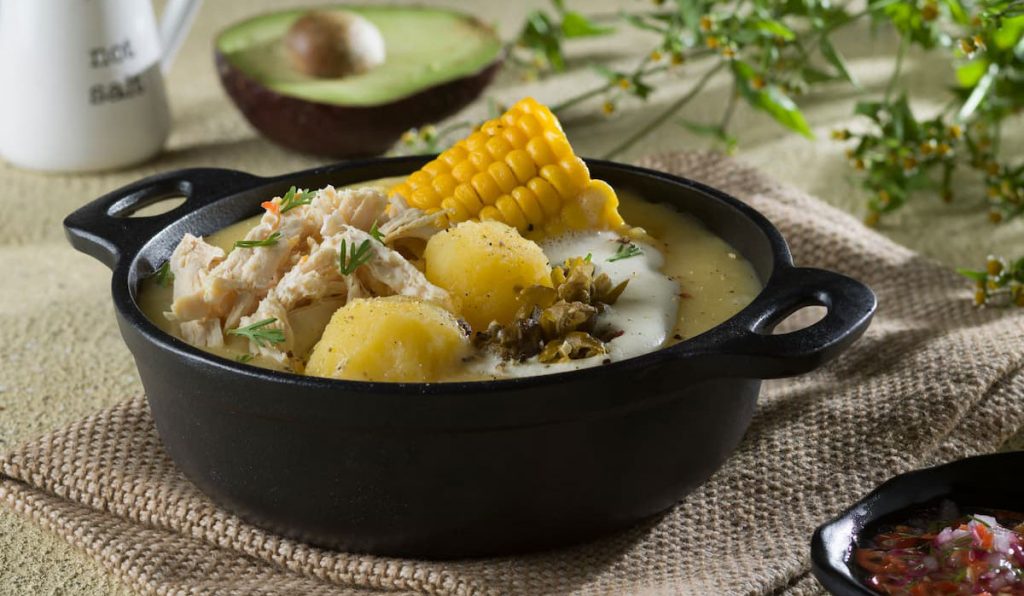 A potato soup common in the highlands of central Colombia is one of the nation's most well-known foods.
It's a base of three different kinds of potatoes—one hard and white potato, thinly sliced; one soft potato, which essentially melts and imparts the dish's distinctive thickness and texture; and one tiny, yellow potato—provides the dish with body and a substantial amount of flavor.
Additionally, diced chicken, capers, cream milk, and a corn kernel are included in the usual Colombian soup. It is typically served with rice and avocado on the side, although some people also mix the two ingredients into the soup. In my opinion, one of the best within colombian foods.
The soup's distinctive flavor comes from a local herb known as "guascas," which serves as the major ingredient.
Bandeja Paisa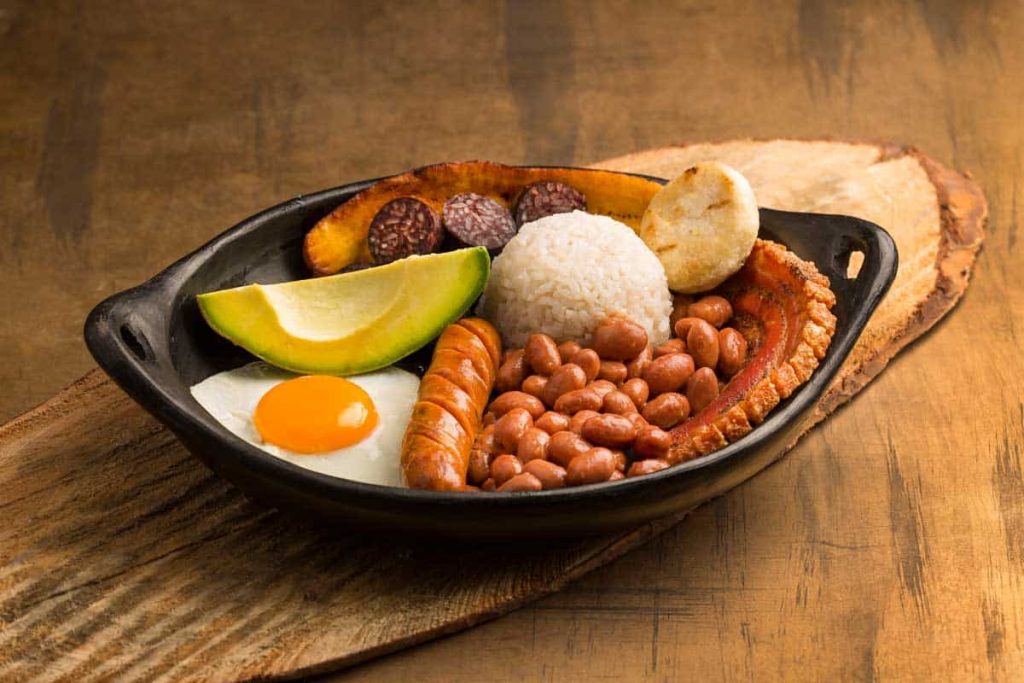 Wait until you reach the Medellin region and eat their specialty if you thought ajiaco was big.
Rice, minced meat, red beans, chorizo, arepa, a fried egg, chicharron (fried pork skin), morcilla (black pudding), sweet plantain, and a piece of avocado are all included in this filling and well-liked dish that is served on a single platter.
Bandeja paisa is one of the most well-known foods in the entire nation and is also regarded as a national cuisine, along with ajiaco.
Cholao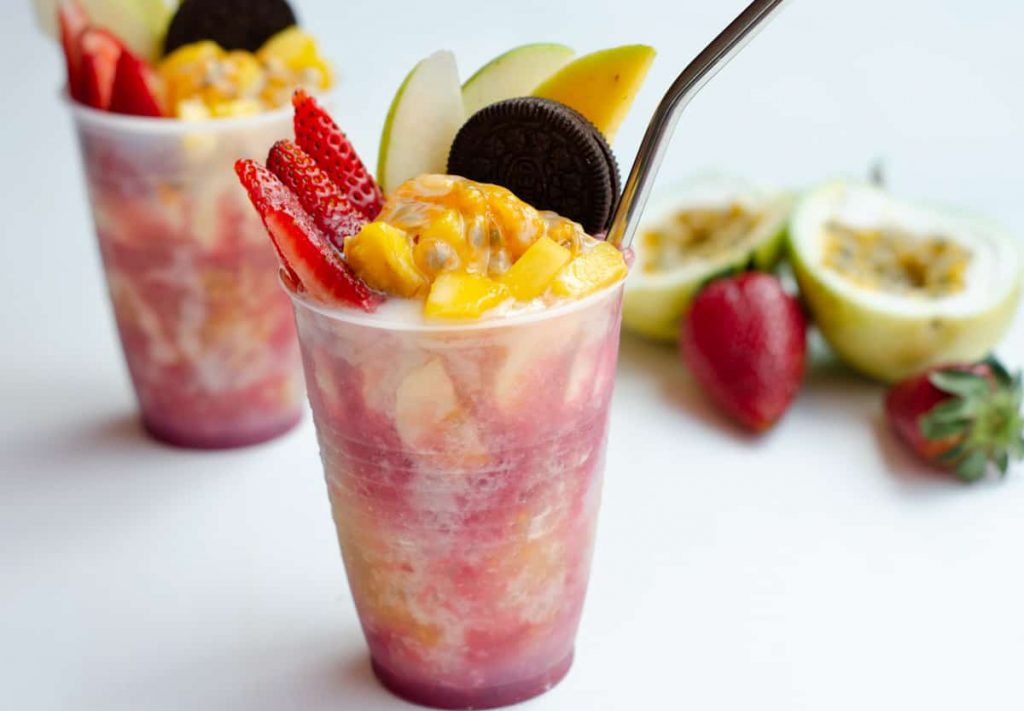 This may be difficult to explain, but consider it to be a fruit salad, frappe, and dessert all in one.
Cholao, which originated in the Valle del Cauca region of South America, is a flavor explosion and a cooling beverage.
The fruit, which typically includes soursop, passion fruit, papaya, watermelon, pineapple, strawberries, apples, and grapes blended with blackberry and passion fruit syrup and condensed milk, are layered in a large glass with ice at the bottom.
A cherry, shredded coconut, and occasionally wafer cookies and whipped cream are added to the top. If you want a cool drink that can also satisfy your sweet craving, you must try it.
Lulada (Lulo Drink)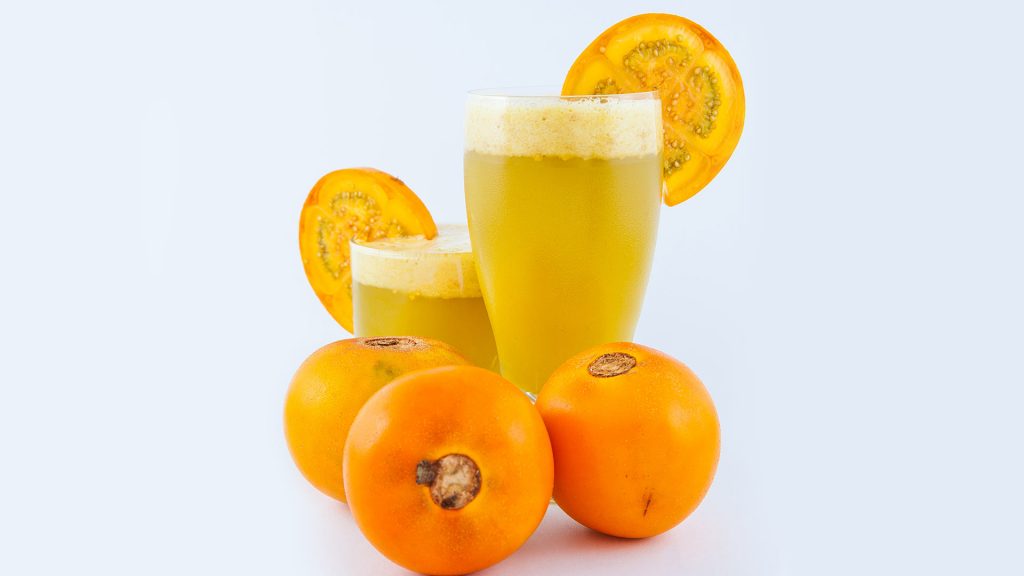 One of those fruits, called lulo, is unique to Colombia and a few neighboring nations, including Ecuador.
Due to its acidic flavor, its pulp is primarily used in juice and other drinks while its peel is green.
The name of one of those beverages is lulada. Unlike lulo juice, lulada is a traditional beverage from western Colombia in which the fruit is manually triturated before being combined with condensed milk, crushed ice, and lime juice.
As a consequence, you get a deliciously cool drink that tastes like a smoothie. It may also come with a shot of vodka or aguardiente, a regional liqueur made with anise.
Pan de Bono (Cheese & Yuca Bread)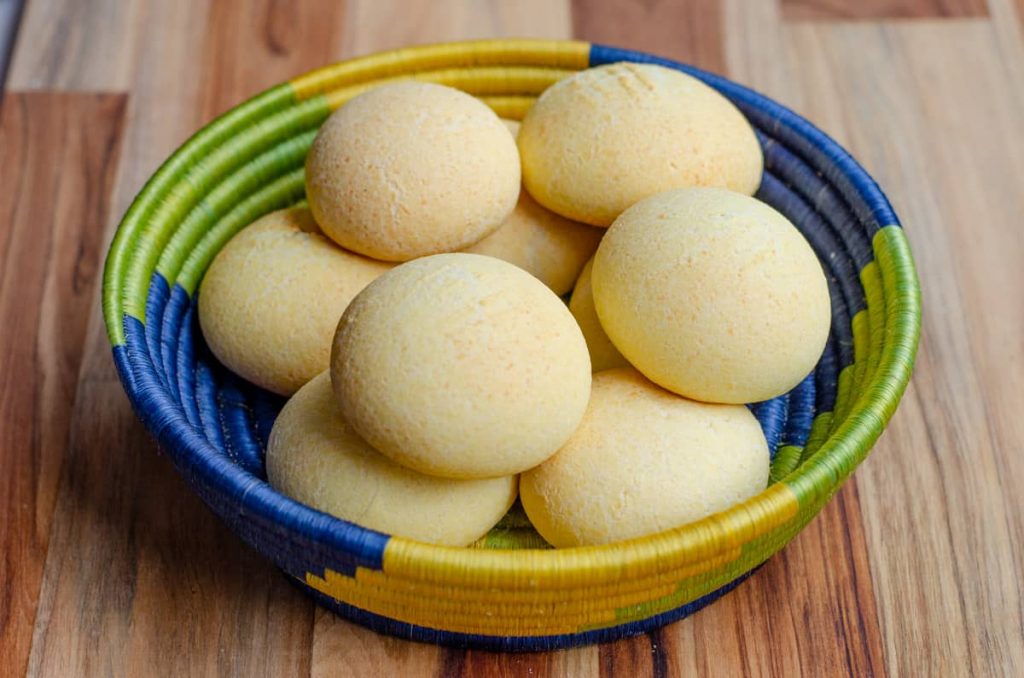 Pan de bono is undoubtedly one of the most popular street foods and snacks among Colombians. It is available in practically all bakeries, markets, and small businesses. This food its is a circular, fluffy baked bread made with fresh cheese and yuca starch. It is better to consume it warm together with some customary beverages like avena (oat-based refreshment).
The majority of Colombians adore it because it makes a terrific grab-and-go snack. It is originally from the Valle del Cauca region, where it is also eaten for breakfast.
Pan de yuca, a crispy and 'U'-shaped version of it that is sometimes marketed alongside pan de bono, is almost as well-known as the former.
Obleas (Thin Wafer Sandwich)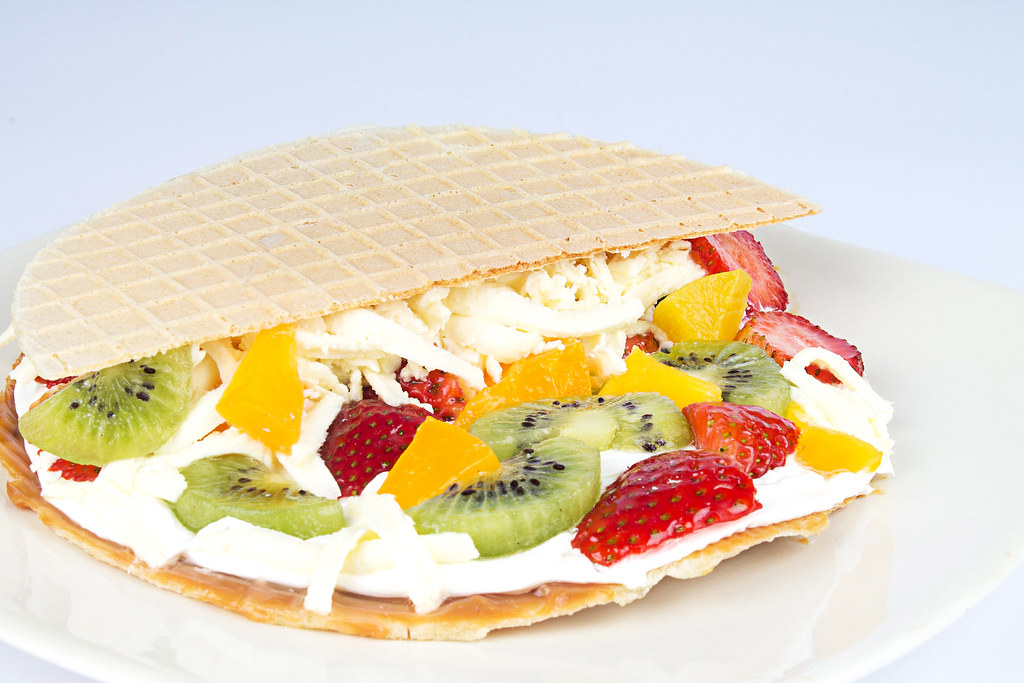 They are a great sweet snack and dessert that are typically sold on the street but can also be found in select local eateries.
They resemble sandwiches and are created from two round, incredibly thin wafers that are filled with delectable contents. The original oblea just had arequipe (the country's version of caramel spread), but today you can personalize it by adding different toppings.
These consist of cheese, milk cream, condensed milk, peanuts, coconut, fruit syrups, chocolate sprinkles, and blackberry jam, among others. Eating this delicacy is quite the experience because, because the wafer breaks easily with each bite, it's practically hard to avoid getting any on your hands and clothes.
But the danger is worthwhile. Just remember to have some napkins with you.
Chocolate Santafereño (Hot Chocolate with Cheese and Bread)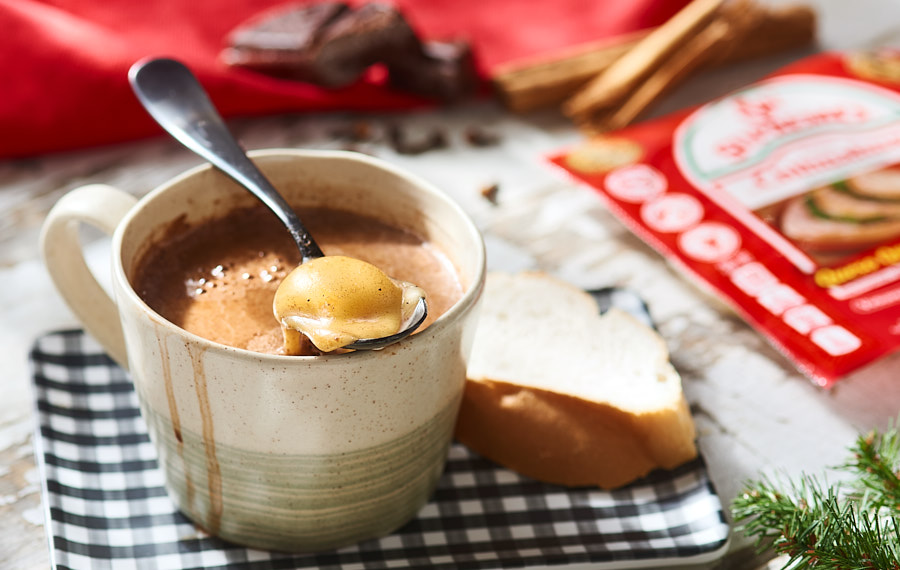 Many Colombians used to have a meal called "onces"—equivalent to tea time in England—between lunch and supper until about the middle of the 20th century.
This meal was typically served with bread, almojabana (corn and cheese bread), a piece of fresh cheese that was afterwards sliced into little pieces and dropped into the hot beverage to melt, and a cup of hot chocolate in Bogota and the surrounding areas.
Although it may seem odd, Colombians find it to be very natural. Although individuals no longer have "onces" every day, when they do, this is unquestionably one of the foods they consume.
Even on the weekends, when people have the time to make it in their specialized jar-shaped pot called a "olleta" or "chocolatera," which is a need in every Colombian kitchen, hot chocolate is a popular breakfast option.
Cocadas (Coconut Sugar Cookies)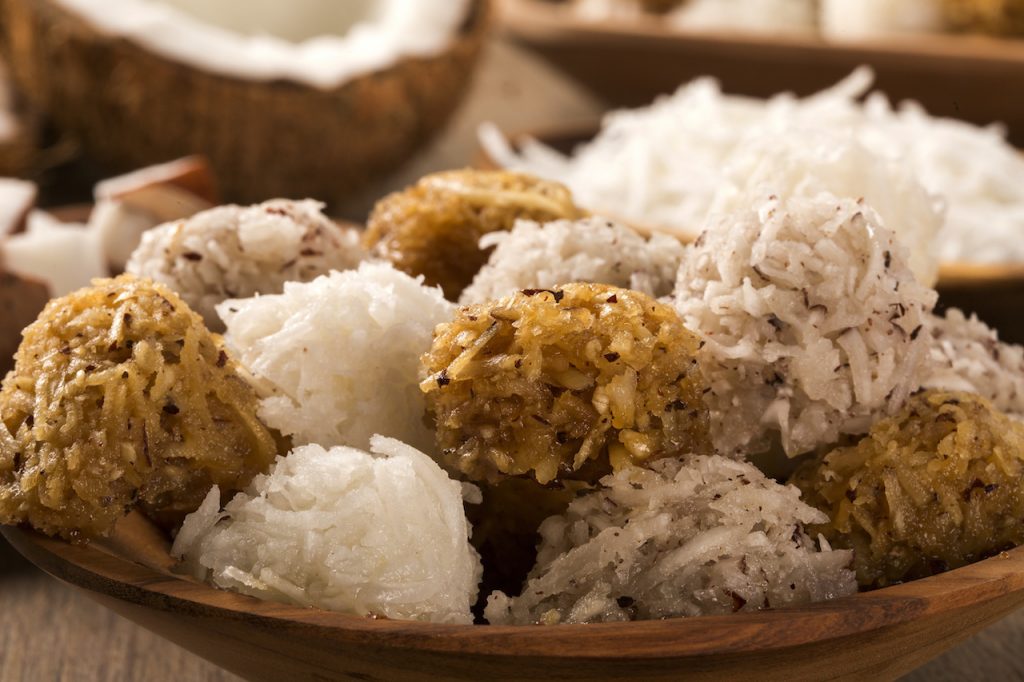 Cocadas is the most well-known dessert made with coconut, which is a key component in Colombia's coastal cuisine. They originate from the Caribbean coast. They are typically sold by someone holding a large pot over their heads on the street and at the beach.
Although they come in a variety of flavors, the basic ingredient is grated coconut mixed with melted sugar to make a mixture that is divided, formed into circles, and dried, occasionally by baking.
Alternative ingredients that can be added to the sugar and coconut mixture include milk, fruit syrups, raisins, peanuts, and even liquor, providing a wide range of possibilities for people who enjoy sweet treats. An unique dessert within colombian foods.
Lechona (Stuffed Roast Pig)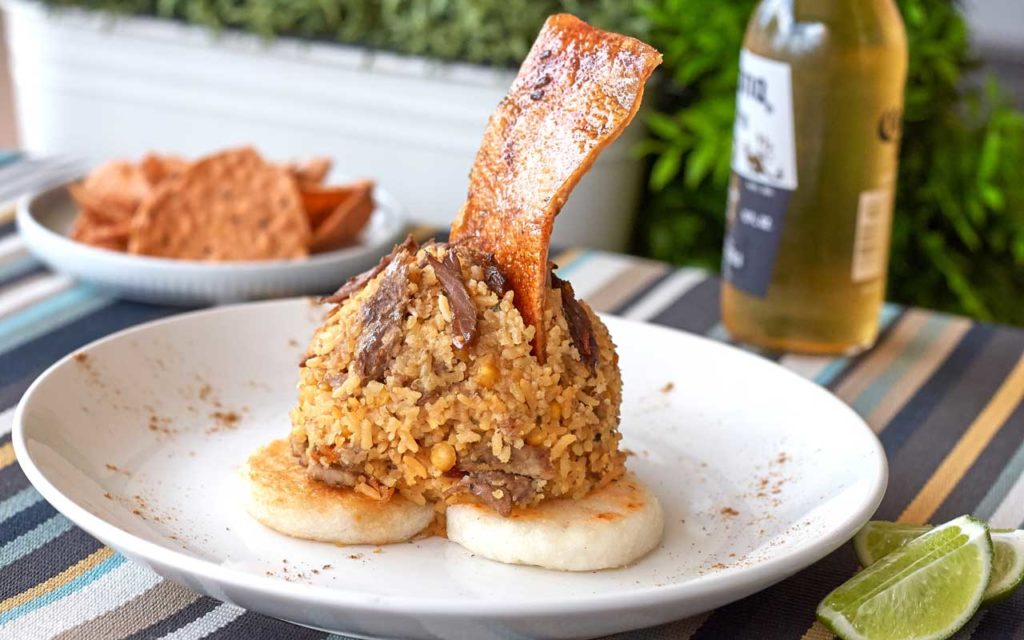 A roast pig packed with rice and pork, cooked for around 10 hours, and then served in individual servings with white arepa and pig's skin. This is what makes up this dish, which was inspired by Spanish cuisine.
It is customary in the Tolima region, although you may buy it in some restaurants or at farmer's markets.
The entire lechona (roast pig) can also be purchased. Colombians typically do that when they are holding a huge party. Although a lechona is expensive, it can feed a large number of visitors and is a popular among the locals.
Colombian Food Summary
The options are infinite when you're working with one of the planet's most biodiverse regions. So it comes as no surprise that Colombia has produced so many delicious, vibrant, and opulent cuisine. Resulting in a staggering amount of fusions. The spice and flair of Caribbean cuisine have had a big impact on Colombian cuisine.
Then there is the effect of Latin America. Ingredients and methods from the Pacific and Amazon have all made their way to Colombia.
Finally, the food in Colombia has become even more diverse as a result of influences from across the ocean. Arabic, Spanish, and to some extent African influences are all present. So don't swait anymore and go try some of the best Colombian foods!
Check out now another internation cuisines!