Airports are often thought of as a mundane and stressful experience for travelers. However, many airports worldwide are changing this perception by incorporating stunning and thought-provoking airport art installations throughout their terminals. These airport art installations not only provide a visually stunning environment for passengers. Also, offer a glimpse into the culture and history of the region. This article looks closely at some of the best airport art installations in airports worldwide.
The Cloudscape by Ned Kahn at San Francisco International Airport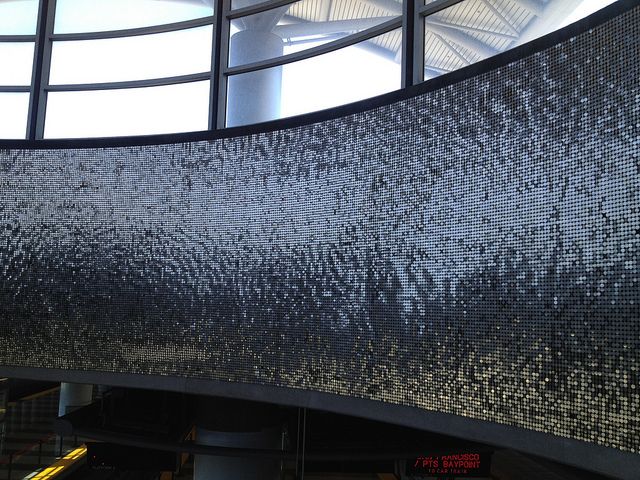 San Francisco International Airport is home to one of the world's most mesmerizing airport art installations, The Cloudscape by Ned Kahn. This installation features thousands of small reflective discs suspended from the ceiling and moving with the air currents in the terminal. As a result, the discs create a stunning and ever-changing cloud-like formation that is a visual treat for passengers.
The Kinetic Rain at Changi Airport, Singapore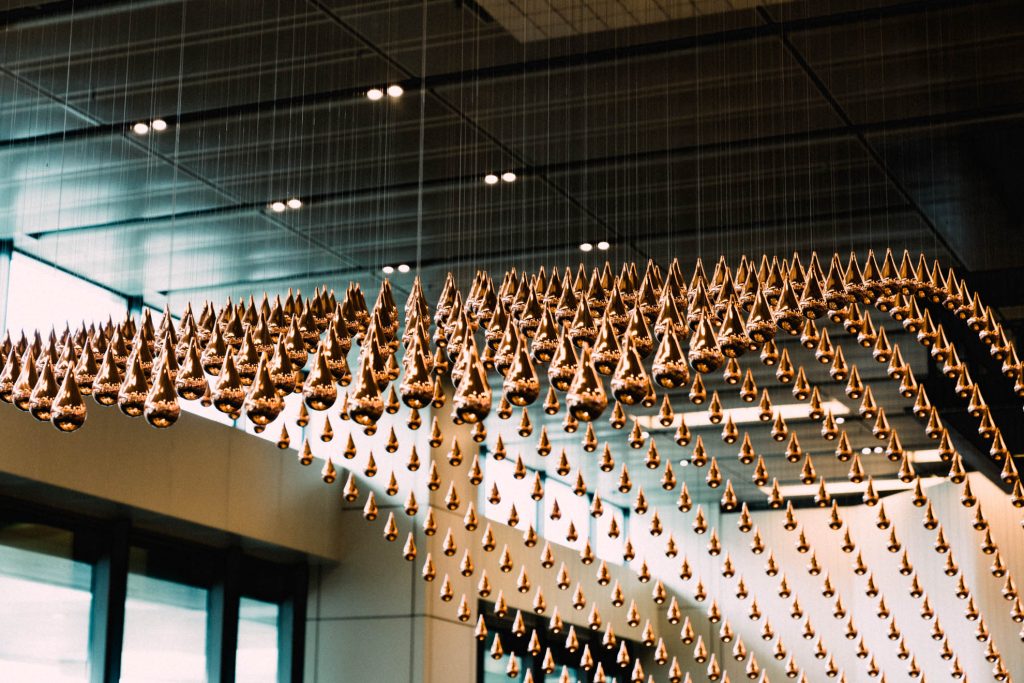 Changi Airport in Singapore is renowned for its stunning and innovative airport art installations, and the Kinetic Rain is no exception. This installation features 1,216 raindrop-shaped metal pieces suspended from the ceiling and moving in a synchronized dance to create different patterns and shapes. The installation is a testament to the innovation and creativity of Singapore, making it a must-see for any traveler passing through the airport.
Reflections at Vancouver International Airport
The Reflections installation at Vancouver International Airport is a mesmerizing and thought-provoking art piece that reflects the natural beauty of British Columbia. The airport art installation features over 300 aluminum panels suspended from the ceiling and reflecting the natural light in the terminal, creating a stunning interplay of light and shadow.
The Great Wave by Soo Sunny Park at Tampa International Airport
The Great Wave installation at Tampa International Airport is a stunning ethereal art piece comprising thousands of hand-cut pieces of mylar suspended from the ceiling. Therefore, the building creates the illusion of a shimmering, undulating wave that changes as passengers move through the terminal.
A Walk Through British Art at Heathrow Airport, London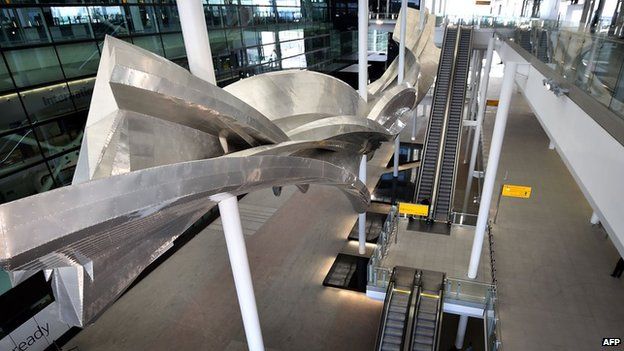 Heathrow Airport in London is home to a unique and fascinating art installation that offers passengers a glimpse into British art history. Therefore, the building, titled A Walk Through British Art, features reproductions of famous works of British art, ranging from the Tudor period to the present day. The installation is a must-see for art lovers passing through Heathrow Airport.
Titled Arc by Richard Serra at Terminal 7, JFK Airport
Richard Serra's Titled Arc is a monumental installation that spans an entire wall of Terminal 7 at JFK Airport. Therefore, the installation is a massive, curving wall made of weathered steel that creates an immersive experience for passengers passing through the terminal. Also, Serra's work is known for its powerful and imposing presence, and Titled Arc is no exception. Some of the best Art in the Airports.
The Dreaming by Emily Kame Kngwarreye at Brisbane Airport
Brisbane Airport's installation, The Dreaming by Emily Kame Kngwarreye, is a stunning and colorful art piece that pays homage to the ancient Aboriginal culture of Australia. Therefore, the installation features a massive painting by Kngwarreye, translated into a beautiful mosaic covering the airport floor. Additionally, the installation's vibrant colors and intricate patterns create a sense of energy and movement, immersing passengers in the beauty of Australia's indigenous culture.
Birds in Flight by Robert Rauschenberg at Miami International Airport
Miami International Airport's installation, Birds in Flight, by Robert Rauschenberg. This stunning art piece captures the essence of Miami's vibrant and eclectic culture. The building features three massive, colorful screens that depict birds in flight. Also, these are inspired by the tropical birds found throughout the city. Therefore, the screens are made of reflective glass, creating an ever-changing display that mirrors the movement of passengers.
America by Deborah Butterfield at Denver International Airport
Deborah Butterfield's America installation at Denver International Airport is a stunning sculpture that captures the majesty and power of the American West. The installation features a horse sculpture made of driftwood, which creates a sense of movement and fluidity despite its size. Butterfield's work is known for its reverence for the natural world, and America is no exception.
Suspended Time by Manfred Kielnhofer at Vienna International Airport
Vienna International Airport's installation, Suspended Time by Manfred Kielnhofer. The piece is a haunting and thought-provoking art piece that explores the relationship between time and space. Therefore, the building features a series of ghostly figures made of polyester and fiberglass. These are suspended in mid-air and appear to be frozen in time. Thus, the eerie and enigmatic installation creates a sense of mystery and intrigue for travelers passing through the airport.
Conclusion
These art installations are a small sample of art pieces in airports worldwide, from mesmerizing kinetic sculptures to thought-provoking installations. Also, these pieces transform the airport experience from a mundane task to a memorable and inspiring one. There are just a few incredible airport art installations that can be found around the world. From massive sculptures to colorful mosaics, these installations transform the airport experience into a memorable and inspiring. So, the next time you pass through an airport, take a moment to explore the incredible art pieces found throughout the terminal.
Now that you know how to spend your time in the airport. So, prepare yourself to learn the best things to do!