Glamping, short for luxury camping, has become a popular way to experience the great outdoors without sacrificing the comforts of modern-day luxury. Luxury camping elevates this experience by providing visitors with the best lodgings, facilities, and eating options while allowing them to enjoy the natural beauty fully. With luxurious tents and cabins equipped with plush beds, private bathrooms, and stunning views, luxury camping provides an unparalleled camping experience. From outdoor activities such as hiking and fishing to gourmet meals and spa treatments, guests can indulge in the great outdoors in style and comfort. Luxury camping is the perfect way to enjoy a luxurious experience while embracing the natural world.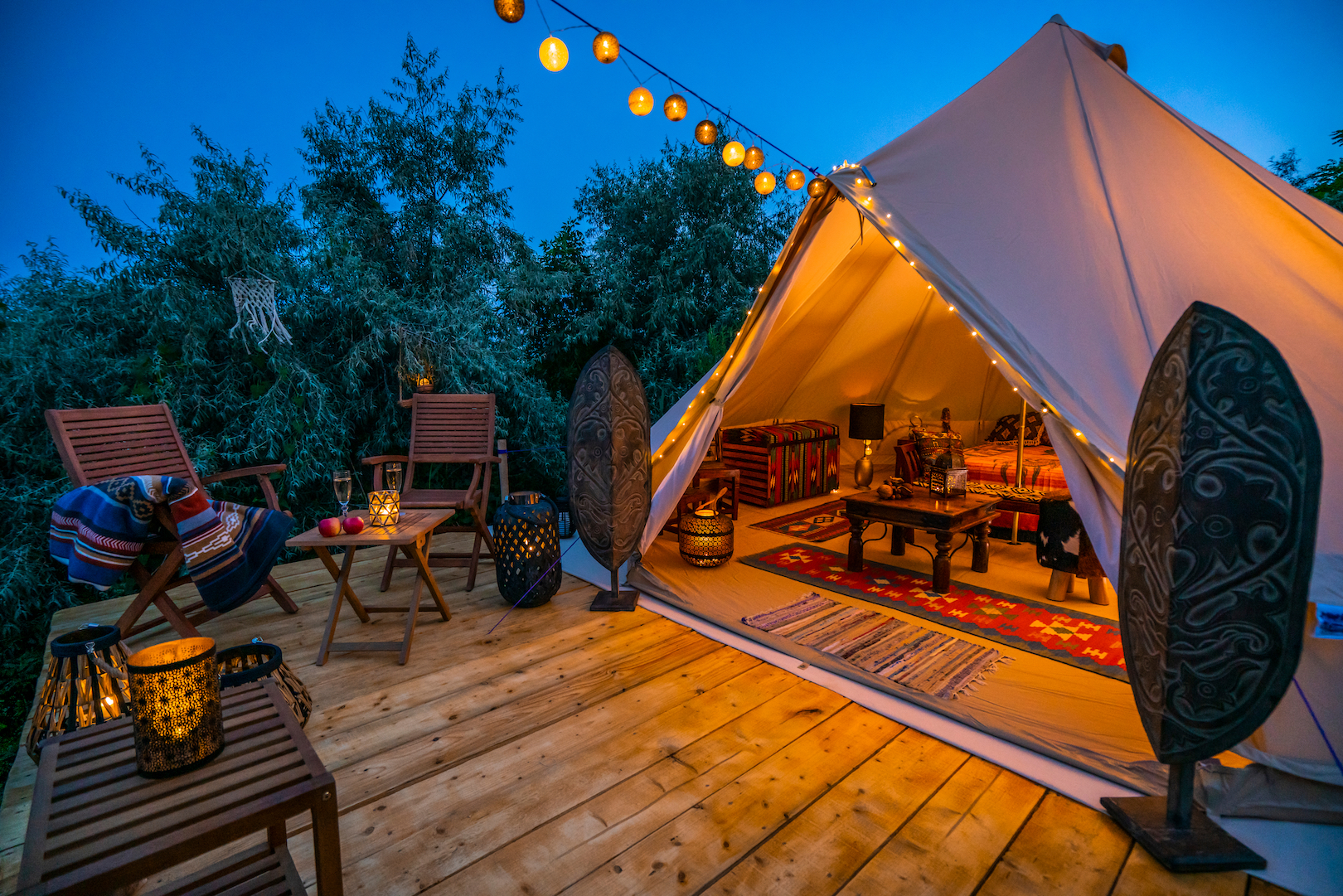 Top 10 locations to get a luxurious experience of glamping
Aman-i-Khas–

Ranthambore National Park, India: This luxurious camping is set on the edge of a wildlife reserve and features ten spacious and beautifully appointed tents. A private outdoor space and an ensuite bathroom with a bathtub and shower are included with each tent. Guests can enjoy guided nature walks, tiger safaris, and yoga and spa treatments.

Longitude 131– Uluru-Kata Tjuta National Park, Australia: This luxury camp offers a unique and unforgettable experience in the heart of the Australian outback. Each tent features panoramic views of Uluru and Kata Tjuta and a private balcony and ensuite bathroom. Guests can enjoy guided tours of the surrounding desert, sunset drinks, and stargazing.
The Resort at Paws Up– Greenough, Montana, USA: This luxury camping resort offers a range of luxurious accommodations, from tents and cabins to treehouses and luxury homes. Each features comfortable beds, private bathrooms, and stunning views of the surrounding wilderness. Various outdoor pursuits are available to visitors, including hot air balloon rides, fly-fishing, and ATV trips.
Under Canvas- Various locations across the United States: Under Canvas offers luxury camping. Experiences at several national parks across the US, including Yellowstone, Glacier, Zion, and Grand Canyon. Each camp features comfortable and stylishly appointed tents with private ensuite bathrooms. From hiking and animal viewing to river rafting and hot-air balloon excursions, visitors may participate in various outdoor activities.
Sandat Glamping- Ubud, Bali, Indonesia: This eco-friendly luxury camping resort offers luxurious safari-style tents with private outdoor showers and baths. Each tent is set in its secluded garden, with comfortable beds and a private veranda. Guests can enjoy spa treatments, traditional Balinese meals, and cultural experiences like batik-making and temple visits.
Clayoquot Wilderness Resort- Vancouver Island, British Columbia, Canada: This luxurious camp features 25 tents and suites, each with a private ensuite bathroom and comfortable furnishings. Along with exquisite meals made with locally sourced fresh ingredients, visitors may take advantage of guided nature hikes, horseback riding, kayaking, and heli-adventures.
Treehotel- Harads, Sweden: This unique glamping experience offers a range of treehouse accommodations, each with its unique design and theme. Guests can enjoy stunning views of the surrounding forest and participate in various outdoor activities, from hiking and fishing to dog sledding and snowmobiling.
El Capitan Canyon- Santa Barbara, California, USA: This glamping resort offers a range of luxurious safari tents, yurts, and cabins, each with comfortable beds and private bathrooms. Guests can enjoy various outdoor activities, from hiking and mountain biking to horseback riding and wine tasting.
The Ranch at Rock Creek- Philipsburg, Montana, USA: This luxury ranch offers a range of glamping accommodations, from canvas cabins to a historic barn and a luxury treehouse. Each features comfortable furnishings and stunning views of the surrounding wilderness. Guests can enjoy various outdoor activities, from fly fishing and horseback riding to hiking and archery.
Dunton River Camp- Dolores, Colorado, USA: This luxury camp features eight beautifully appointed tents with private bathrooms and comfortable furnishings. Guests can enjoy various outdoor activities, from fly-fishing and horseback riding to hot springs soaking and hiking. Gourmet meals are prepared with fresh local ingredients and served in a communal dining tent.
Accommodation Options at Glamping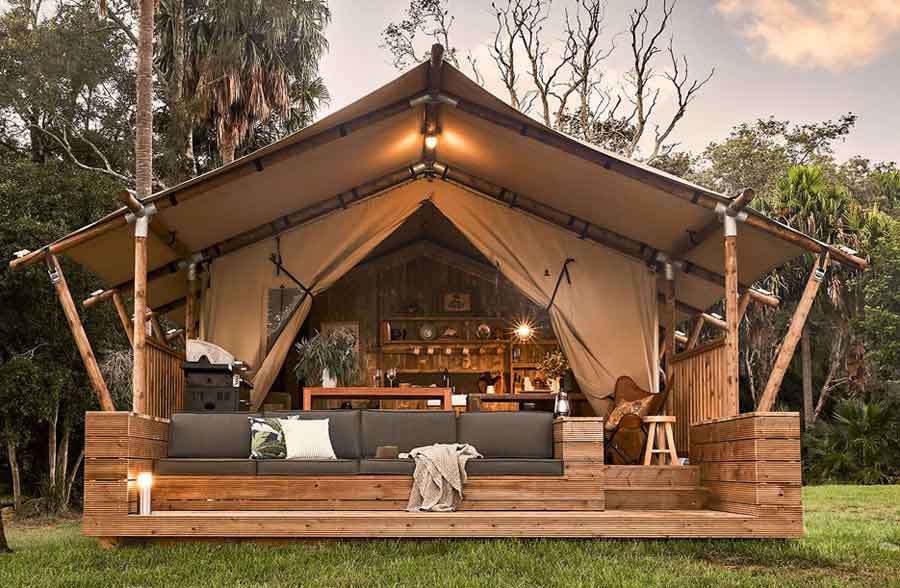 Luxury camping offers a range of accommodation options that combine the comforts of home with the beauty and adventure of the great outdoors. Here are some of the most common luxury camping accommodation options:
Safari-style tents: The most popular glamping accommodation options, ranging from basic to ultra-luxurious. They typically feature comfortable beds, high-quality linens, and private bathrooms with hot showers.
Yurts: These circular tents, traditionally used by nomadic people in Central Asia, have become increasingly popular in the glamping world. They typically feature a central wood stove for warmth and a skylight for stargazing.
Treehouses: These unique accommodations allow guests to sleep on the treetops and offer stunning views of the surrounding landscape. They often feature amenities like hot tubs, fireplaces, and full kitchens.
Cabins: These traditional log cabins offer a rustic but luxurious glamping experience. They may feature full kitchens, comfortable furnishings, and private bathrooms.
Airstreams: These vintage trailers have become popular glamping accommodations due to their unique style and retro charm. They often feature modern amenities like air conditioning, heating, and private bathrooms.
Luxury tents and lodges: Some glamping resorts offer more luxurious accommodations, like canvas tents with hardwood floors, en suite bathrooms, and plush furnishings. These are often found in more remote, high-end glamping destinations.
Popular Activities at Glamping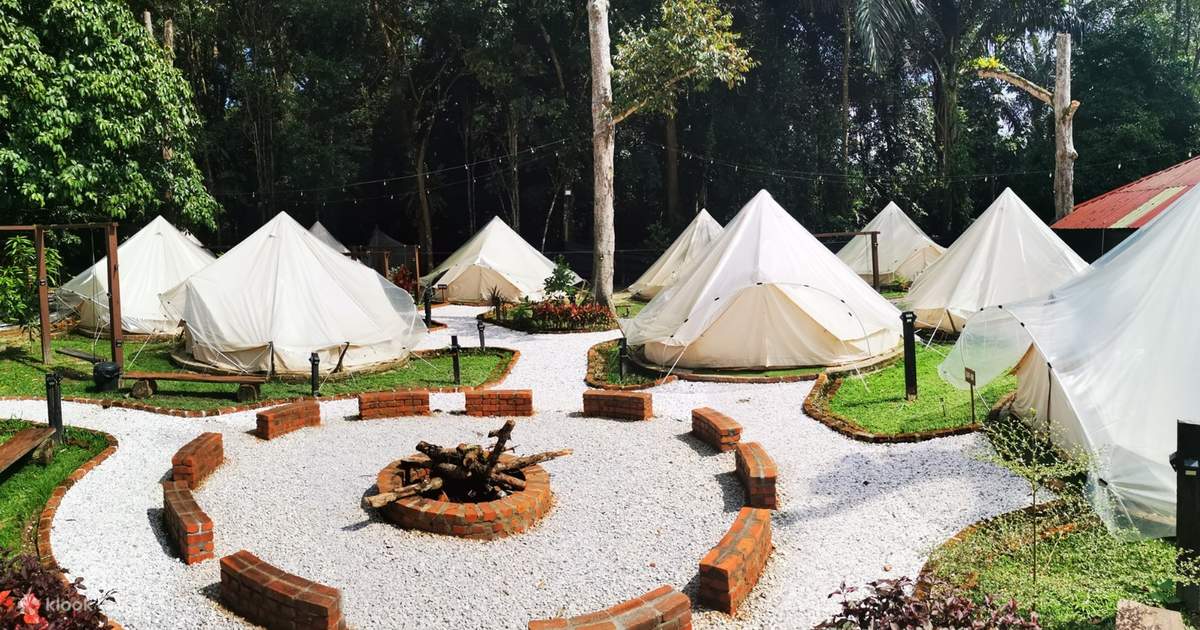 Luxury camping, or glamping, offers tourists many activities while exploring the great outdoors. Here are some of the most popular activities available at luxury camping sites:
Hiking: Many glamping sites near hiking trails allow guests to explore the surrounding wilderness and enjoy stunning views.
Wildlife watching: Glamping sites are often situated in areas where wildlife is abundant, making it possible for guests to see animals like deer, elk, bears, and moose up close.
Fishing: Many glamping sites are located near lakes and rivers, offering guests the chance to cast a line and catch trout, salmon, or other fish species.
Biking: Glamping sites often offer bike rentals and guided tours, providing guests a unique way to explore the wilderness.
Horseback riding: Many luxury camping sites offer horseback riding tours, allowing guests to explore the backcountry uniquely and memorably.
Guided tours: Some glamping locations give guided tours and excursions led by skilled and qualified tour leaders who may share information about the area's flora and wildlife as well as its history and culture.
Outdoor activities: Luxury campgrounds frequently provide a variety of outdoor pursuits, like kayaking, paddle boarding, rock climbing, and zip-lining, giving visitors many opportunities to discover and enjoy nature.
Dining Options at Glamping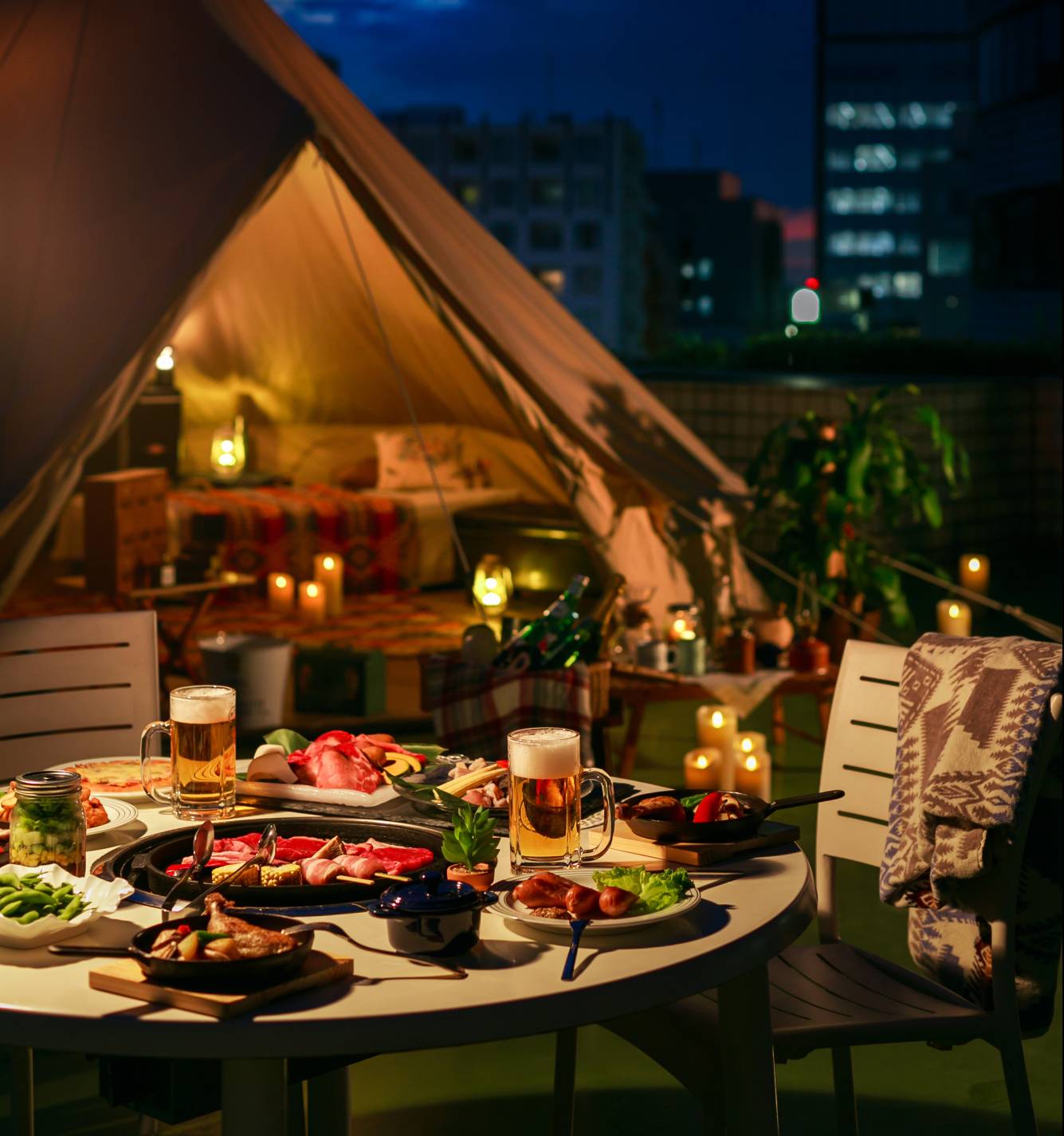 Luxury camping, or glamping, typically offers a range of dining options to provide guests with a memorable culinary experience. Here are some of the dining options available at luxury camping sites:
On-site restaurants: Many glamping sites have on-site restaurants that offer gourmet cuisine prepared by experienced chefs, using local ingredients to create dishes that showcase the region's culinary traditions.
Private chefs: Some glamping accommodations come with a personal chef who can prepare meals for guests in the comfort of their tent or cabin. This allows guests to enjoy a personalized dining experience tailored to their preferences and dietary restrictions.
Picnics and packed lunches: Glamping sites often offer picnic baskets and packed lunches, allowing guests to enjoy a meal while exploring the surrounding wilderness.
BBQs and campfires: Many glamping sites have communal BBQs and campfire pits where guests can cook meals, roast marshmallows, and enjoy a relaxed, social dining experience.
Cooking classes: Some glamping sites offer cooking classes, allowing guests to learn new culinary skills and techniques while enjoying the fresh, local ingredients of the region.
Local food tours: Many glamping sites offer local food tours, taking guests on a culinary journey through nearby towns and villages, where they can sample the best local cuisine, including farm-to-table produce, artisanal cheeses, and fine wines.
Amenities at Glamping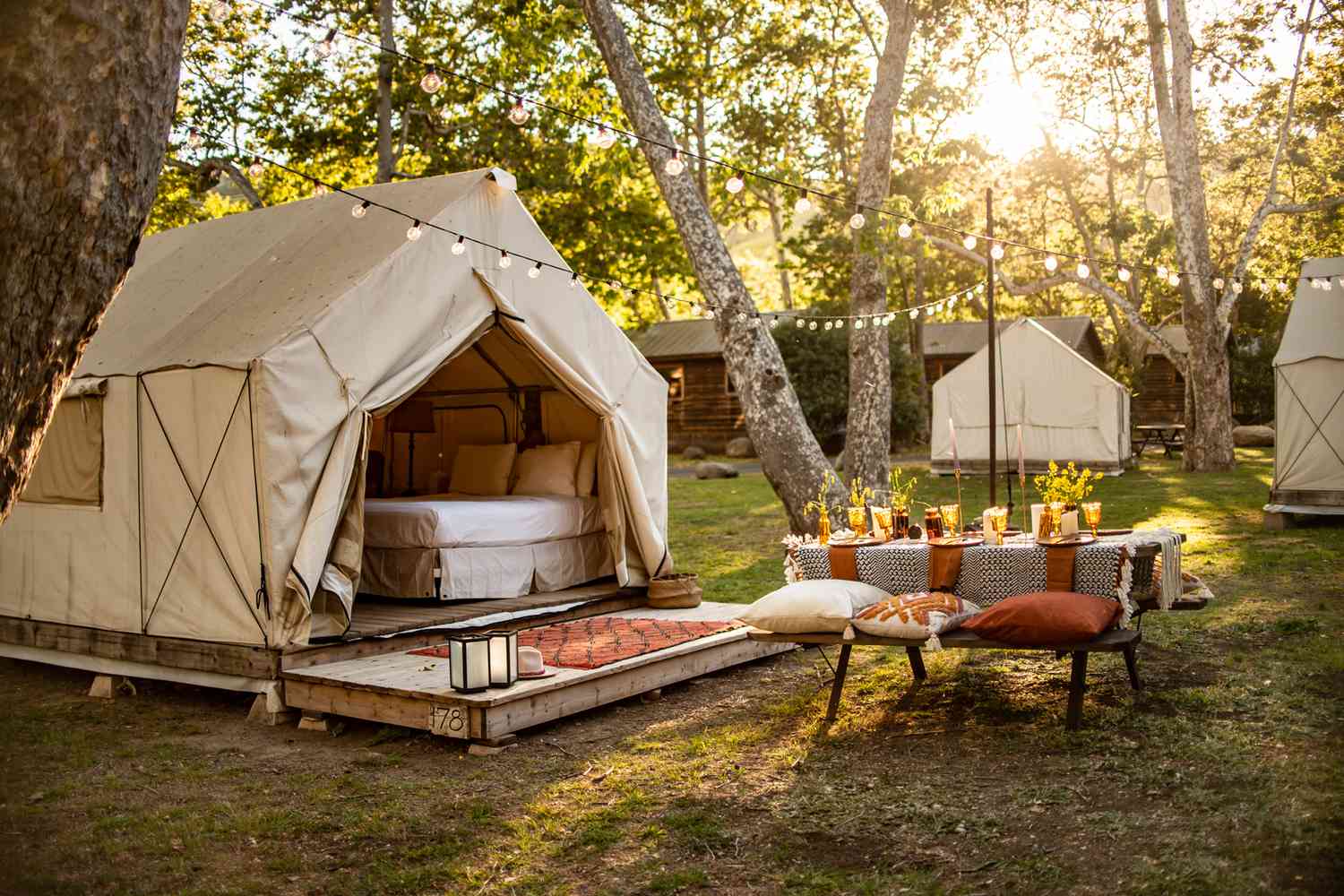 Glamping, or luxury camping, provides a variety of facilities to guarantee that visitors have a relaxing and pleasurable stay in nature. Here are a few features you could anticipate encountering in a posh camping area:
Comfortable accommodations: Glamping accommodations range from luxurious tents and cabins to treehouses and yurts, each offering a unique and comfortable experience.
Private bathrooms: Many glamping accommodations include showers, flushing toilets, and hot water.
Electricity and Wi-Fi: Glamping sites often offer electricity and Wi-Fi, allowing guests to stay connected and charge their devices while enjoying the great outdoors.
Heating and air conditioning: Depending on the climate, glamping accommodations may come with heating and air conditioning to ensure a comfortable stay.
Luxury bedding: Glamping sites typically provide high-quality bedding, including plush pillows and comforters, to ensure a good night's sleep.
On-site dining: As mentioned earlier, many glamping sites have on-site restaurants, private chefs, communal BBQs, and campfire pits for guests to enjoy.
Outdoor seating areas: Many glamping accommodations include outdoor seating areas like decks or patios, allowing guests to relax and enjoy the natural surroundings.
Recreation facilities: Some glamping sites offer recreation facilities, such as swimming pools, hot tubs, or game rooms, providing guests with additional entertainment options.
Luxury camping outdoors is a distinctive and thrilling way to enjoy nature. After a long day of hiking and exploring, picture retiring to your beautiful tent to sleep beneath the stars. Or a picture is waking up to birds singing and delicate leaf rustling. Luxury camping provides the ideal mix of action and leisure because of its first-rate amenities, including private toilets, cozy beds, and on-site restaurants. While still having your own personal and unique glamping area, you can participate in outdoor activities like hiking, fishing, or stargazing.
So why settle for a generic hotel room when you can experience the beauty of nature in style and comfort? Book your luxury camping trip today and create unforgettable memories that will last a lifetime.
Happy Camping!
People also viewed: