Visit Restoran Bruschetta, one of Zadar's most renowned eateries. Experience delectable cuisine, a friendly service, and one of the greatest settings around. Every time you visit Bruschetta, you'll be treated like royalty by the warm, friendly staff, who pay close attention to every detail. Apart from that, you can look forward to amazing, delectable food. Presented beautifully and paired with a variety of wines.
Restoran Bruschetta is a relatively new restaurant in Zadar. We attempted to dine at this well-known seaside restaurant every time we were in Zadar, but securing a table in the summer was impossible.
It is, without a doubt, a place where one can have a beautiful and interesting evening at a reasonable price, even though Bruschetta Restaurant describes itself as a pizza and spaghetti. There being so many people during the summer is therefore not surprising.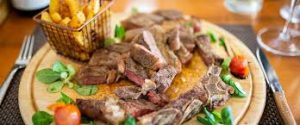 Additionally, this restaurant provides both indoor and outdoor eating alternatives in a tranquil environment.
One of the best sites in Zadar belongs to the well-liked restaurant Bruschetta. From here, you can view the famous Stomorica Chapel and the Zadar promenade.
Restoran Bruschetta Zadar Meat Menu
Meat platter (2 persons)
Veal cutlet, pork fillet, turkey, rump steak, vegetables, potatoes.
---
Marinated pork ribs
Pork ribs, Mediterranean marinade, tzatziki sauce, fried potatoes.
---
Chicken fillet with fresh truffles
Chicken fillet, truffles, vegetables, pumpkin gnocchi.
---
Beef steak grilled with vegetables
Beef fillet, potatoes, vegetables
---
Pork medallions with porcini mushrooms and gnocchi
Pork tenderloin, porcini mushroom sauce, homemade pumpkin gnocchi.
---
Children's meal Bruschetta (for our little guests)
French fries, a small portion of chicken, or fried squid.
---
---
Matured sirloin steak (300 gr.)
---
Veal tomahawk (cca 400 gr.)
Bruschetta Restaurant Zadar

Seafood Menu
Tuna steak on a bed of vegetables
Tuna, vegetables, olive oil.
---
Fish stew with monkfish
Monkfish, potatoes, onions, peppers, zucchini.
---
Seabass fillet with prawns
Seabass, tomato sauce, white wine, parsley, polenta.
---
John Dory fillet with dried tomatoes and spinach ravioli
John Dory fillet, dried tomatoes, ravioli, seasoning.
---
Whitefish (500 gr.)
---
Adriatic calamari fried
---
Adriatic calamari grilled with chard
---
Whitefish
---
Whitefish (John Dory, Red Scorpion Fish)
---
Seafood platter (for two people)
Whitefish, Adriatic scampi, tuna, grilled squid, swiss chard with potatoes.
Conclusion
In conclusion, if you're seeking for a distinctive eating experience in Zadar, Restoran Bruschetta is a must-visit location. It is a popular choice for both residents and visitors because to the welcoming personnel, delectable cuisine, and breathtaking surroundings. Even though the restaurant is still very young, it has already established itself as one of the most well-known dining spots in the area. Even while it could be challenging to get a table during the busy summer months, the effort is absolutely worthwhile. With a peaceful setting with a view of the well-known Stomorica Chapel and the Zadar promenade, the restaurant has both indoor and outdoor sitting choices. Overall, Restoran Bruschetta is a terrific spot to eat for any occasion since it provides a lovely and exciting evening at a fair price.