Polka Restaurant is a must-visit for classic Polish food with a contemporary twist. It is well situated for a romantic supper or a get-together with friends and is conveniently located in the center of Warsaw. The restaurant's interior is rustic-chic, with warm lighting and a welcoming ambiance that quickly puts customers at ease.
Traditional Polish cuisine is celebrated on Polka Restaurant's menu, emphasizing fresh ingredients and locally produced components. Pierogi, bigos, and kotlet schabowy are some of the most well-liked dishes; all are expertly prepared and flavorful. Many modern options are available for those seeking something a little lighter, such as tender salmon and delicious steaks.
The Polka Restaurant's staff is informed about the food and always willing to offer suggestions. They work hard to ensure that every patron feels welcome and at home because they are passionate about offering a distinctive eating experience. You will undoubtedly like the food and ambiance of Polka Restaurant, whether you are a foodie seeking a new culinary experience or simply someone who appreciates fine food.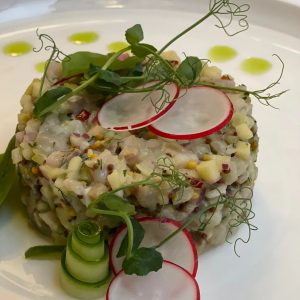 The restaurant also has a well-supplied bar with a large wine list and a selection of classic and modern drinks. There is something for everyone, whether you want to relax before dinner or after a long day.
Conclusion
The Polka Restaurant in Warsaw is a unique eatery that serves traditional Polish cuisine with a modern twist. The restaurant boasts a lovely rustic-chic interior, and its menu offers both traditional and modern cuisine. Each customer will have a satisfactory eating experience with the personnel. The bar offers a selection of drinks to go with the meal. Whether they are residents or tourists, Polka Restaurant is a must-visit location for anybody looking for authentic Polish food.