A Mediterranean restaurant called La Paella de la Reina can be found in the center of Madrid, at the start of Gran Via, 100 meters from Cibeles and 150 meters from Puerta del Sol. There are many different leisure and cultural activities available nearby. It has great contact with the rest of the city because of its advantageous position and public parking lots for private automobiles.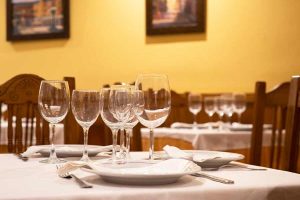 Since it has been open for 33 years, the restaurant is rich in history. After working in hotels since 1966, its proprietors, Antonio and Maribel, decided to start their own company in 1989. They purchased this restaurant in Madrid this year and are still in charge of the business.
Since it first opened, they have chosen to serve high-quality food, taking great care when selecting the ingredients and paying close attention to providing excellent customer service. This has led to the establishment developing a warm atmosphere and a welcoming feeling as soon as you step inside.
The attention to detail in every aspect makes this restaurant a landmark in the neighborhood. The Valencian paella. A traditional recipe that captures the essence of the Valencian region and communicates the team's commitment to excellence. This dish has been its signature for 33 years. We must not overlook the extensive selection of rice dishes and other meals on their menu, all of which are prepared using premium ingredients.
Authentic dining is available at La Paella de la Reina, where diners may unwind while savoring delicious Mediterranean fare with friends.
Conclusion
Near well-known locations like Cibeles and Puerta del Sol, The restaurant is a Mediterranean restaurant. Owners Antonio and Maribel, who have a wealth of experience in the hospitality industry, have operated the restaurant for 33 years. They have a reputation for making guests feel at home and welcome and offering top-notch food and outstanding customer service. The restaurant's signature dish is Valencian paella, a traditional recipe demonstrating the staff's commitment to excellence. The menu also has other rice dishes and Mediterranean food. All are prepared using premium ingredients.