JncQUOI restaurant provides guests with a welcoming and chic ambiance thanks to its sleek and modern interior design. The chefs only use the freshest, highest-quality ingredients to make delectable and inventive dishes that blend traditional Portuguese cuisine and other world flavors.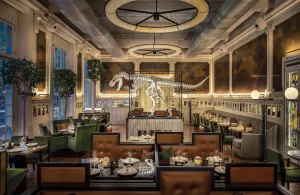 The seafood platter at JncQUOI, which features a variety of the freshest seafood from the Atlantic Ocean, is one of their standout specialties. Another well-liked dish is grilled octopus, prepared to perfection with the ideal balance of char and suppleness. The eatery also provides a selection of meat meals, such as a flavorful steak cooked to your preference and paired with crisp rosemary potatoes.
The wine selection at JncQUOI includes a variety of domestic and foreign wines. They have been specifically chosen to match the dish's flavors. The helpful staff constantly offers suggestions and leads customers through the menu. JncQUOI is the ideal location for a special dining experience. The perfect fit whether you're planning a cozy meal for two or a fun get-together with friends.
The restaurant includes a large outdoor terrace that offers a stunning view of the city and the main eating room. Diners can eat outside in the summer while taking in the sounds of the city and the balmy Mediterranean breeze. JncQUOI is a must-try dining spot in Lisbon, regardless of whether you are a local or a visitor.
Conclusion
To sum up, JncQUOI is a top Lisbon restaurant that provides a distinctive and enjoyable dining experience. JncQUOI is the ideal location for a romantic meal for two, a fun get-together with friends, or any special occasion. Thanks to its sleek and modern interior design, cozy environment, and creative menu. The chefs only utilize the freshest and highest-quality ingredients to prepare each meal. Truly a culinary marvel combining traditional Portuguese cuisine with foreign flavors. The wine list is thoughtfully chosen to enhance the flavors of the dish, and the helpful staff is constantly on hand to offer suggestions and lead customers through the menu.