For those seeking a classic dining experience, Arcadas restaurant in Coimbra, Portugal, is a genuine gem. At Arcadas restaurant, the welcoming ambiance and rustic design transport you to the center of Portuguese culture. You can savor well-prepared dishes using delectable local products.
At Arcadas restaurant, you can try the Coimbra-style roast pig, a must-try for every meat lover, and one of the many classic Portuguese meals offered on the menu. Fresh seafood is the restaurant's specialty; it offers a daily assortment of fish and shellfish from the neighboring Atlantic Ocean. Other alternatives for vegetarians and vegans include the classic "Açorda" bread soup and the well-known "Migas" with vegetables.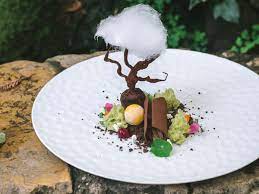 At Arcadas restaurant, you can indulge in an amazing collection of Portuguese wines meticulously chosen to accompany the cuisine's ingredients on the menu, presented in the wine list. You can get assistance from the helpful and attentive staff in selecting the ideal wine for your meal.
However, Arcadas is about more than just the cuisine; it's also about the setting and the level of service. The restaurant features a cozy, friendly ambiance where you can unwind and take your time eating with loved ones. You will enjoy a wonderful eating experience thanks to the staff's friendliness and attentiveness. They are pleased to provide suggestions and ensure that your demands are satisfied.
Conclusion
In conclusion, for those seeking a classic and genuine Portuguese eating experience, Arcadas restaurant in Coimbra is a must-visit location. The restaurant's menu includes traditional meals and ingredients acquired locally, including fresh fish and roast pig prepared in the Coimbra way. The setting is cozy, pleasant, and rustic, and the wine list includes a selection of Portuguese wines. It's the ideal spot to have a leisurely lunch with family and friends since the kind and accommodating staff ensures a wonderful eating experience.