Origins of Oktoberfest
Oktoberfest is an old German event that started in 1810 in Munich, Bavaria. The festival is held annually during the last two weeks of September and the first weekend of October. It is one of the most significant folk events in the world.
The first Oktoberfest was held on October 12, 1810, when Prince Ludwig of Bavaria married Princess Therese of Saxony-Hildburghausen. Horse races, parades, music, and dancing were all part of the wedding celebrations. The events were so popular that the organizers held them yearly.
Over time, the event grew to include beer tents, funfair rides, and games. It became a celebration of Bavarian culture and traditions. Today, Oktoberfest is not only held in Munich but also in many other places around the world. It is still a well-known and loved part of German culture.
Highlights of Oktoberfest
Beer
Beer takes center stage at Oktoberfest, captivating millions of visitors who flock to Munich each year for this iconic festival. Here are some essential facts about the beer at Oktoberfest:
The renowned beverage served is "Oktoberfestbier" or "Wiesn beer." This special brew is crafted exclusively by six significant breweries in Munich, adhering to stringent regulations set by the city.
Oktoberfestbier is a distinct type of lager, boasting a more robust and darker profile than typical German lagers and those enjoyed worldwide.
The beer is traditionally served in hefty one-liter mugs called "Mass," creating a sense of grandeur and camaraderie within the festival's dedicated beer tents.
With 14 expansive beer tents, each exuding its atmosphere and adorned with unique decorations, Oktoberfest offers a diverse range of experiences. The Hofbrau-Festzelt, for instance, stands as an enormous tent accommodating up to 10,000 revelers.
The beer tents are typically brimming with enthusiastic partygoers, who often take to the benches and tables, dancing and singing to the lively music.
While the price of beer at Oktoberfest tends to be higher, ranging between 11 and 13 euros per Mass, many individuals consider the experience of indulging in this renowned brew well worth the investment.
However, Oktoberfest is not solely about beer consumption. It is a dynamic platform for forging new connections, reveling in merriment, and basking in the festival's distinctive atmosphere. For many, attending Oktoberfest is a once-in-a-lifetime affair that etches unforgettable memories.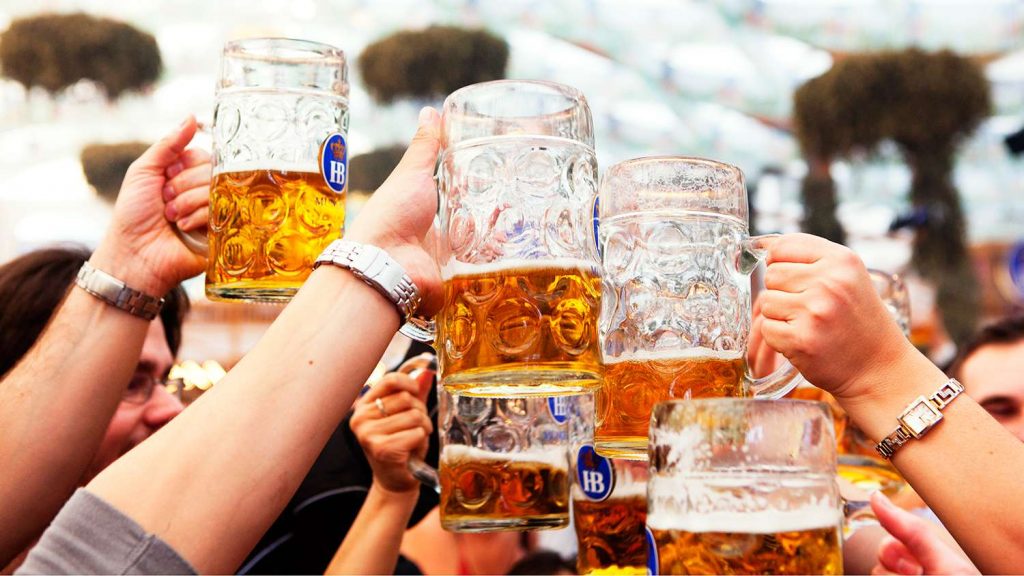 Food
Oktoberfest is known for its traditional German food, which includes a wide range of hearty, tasty meals. Here are some of the most favorite things to eat at Oktoberfest:
Bratwurst – Bratwurst is a sausage made with pork, beef, or veal. It is a typical food at Oktoberfest. It is often served with mustard and cabbage on a bun.
Schweinshaxe – This pork knuckle has been cooked until the outside is crispy and the inside is soft. Usually, sauerkraut and potato dumplings are given with it.
Brezen -These giant, soft pretzels are a popular snack at Oktoberfest. People usually eat them with mustard or Obatzda, which is a spread made of soft cheese.
Hendl is a chicken marinated in beer and spices and then roasted or grilled. Potato salad or potato dumplings are usually given with it.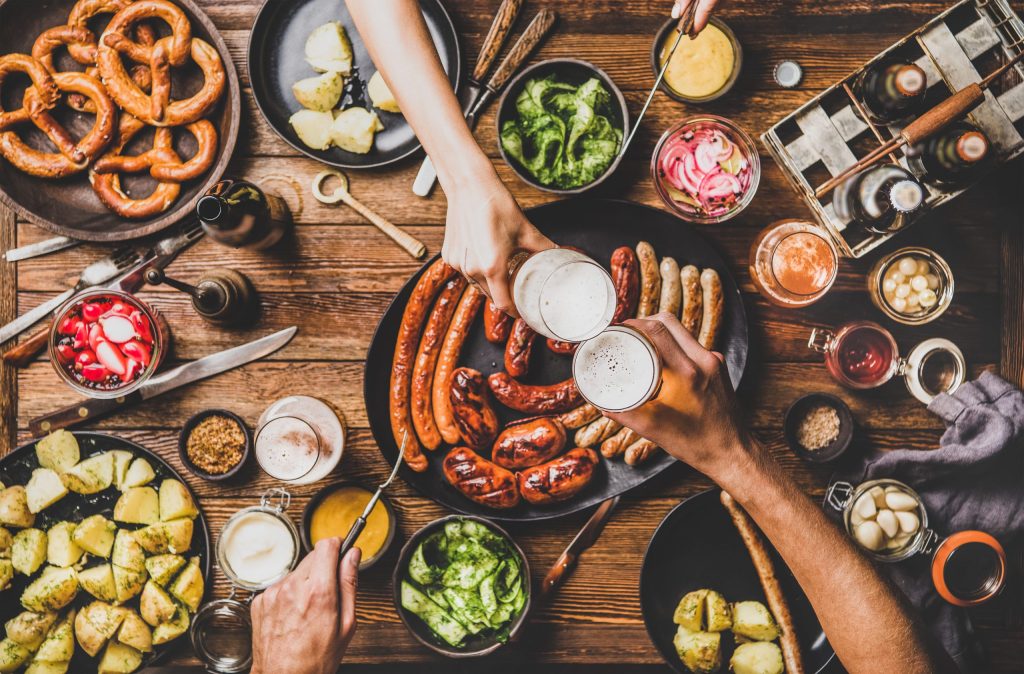 Music
Oktoberfest is a famous beer event held every year in Munich, Germany. Music is an essential part of Oktoberfest. Traditional Bavarian music is played during the whole event, and there are many chances for people to dance and sing along. Here are some things you should know about the music at Oktoberfest.
Oompah bands -Oompah bands are a big part of the music at Oktoberfest. They usually have brass and woodwind instruments like trumpets, trombones, clarinets, and percussion instruments like drums and cymbals. Oompah bands play polkas, waltzes, marches, and other types of classical Bavarian music.
Singing -A big part of Oktoberfest is also singing. People often sing traditional Bavarian folk songs together, as well as famous German drinking songs like "Ein Prosit" (which means "A Toast") and "Zicke Zacke."
Other music genres -Most of the music at Oktoberfest is traditional Bavarian music, but you might also hear pop, rock, and dance. This music is usually played in the giant tents at the event, where younger people tend to hang out.
Tent-specific music -At Oktoberfest, each tent usually has a band or DJ playing different kinds of music. Some tents play traditional Bavarian music, while others may play more modern types.
Festive atmosphere -The music at Oktoberfest makes it feel like a party, which is hard to do anywhere else. People worldwide come together to party, dance, sing, and enjoy the music, making it a truly unique event.
Calaveras Literarias
Calaveras Literarias are a type of written statement often done in Mexico on the Day of the Dead. In Spanish, "calavera" means "skull," and "Calaveras Literarias" are songs that use death as a person and are intended to be funny or sarcastic.
Most calaveras literarias are short songs usually written in pairs that rhyme. They usually have a funny message that makes fun of death or the remembered person. The poems are meant to be both funny and make you think. They often use wordplay or jokes.
During Day of the Dead celebrations, Calaveras Literarias are read aloud, often in public squares or private parties. Sometimes they are written ahead of time and shared with family and friends. They are usually made up on the spot as part of the celebration.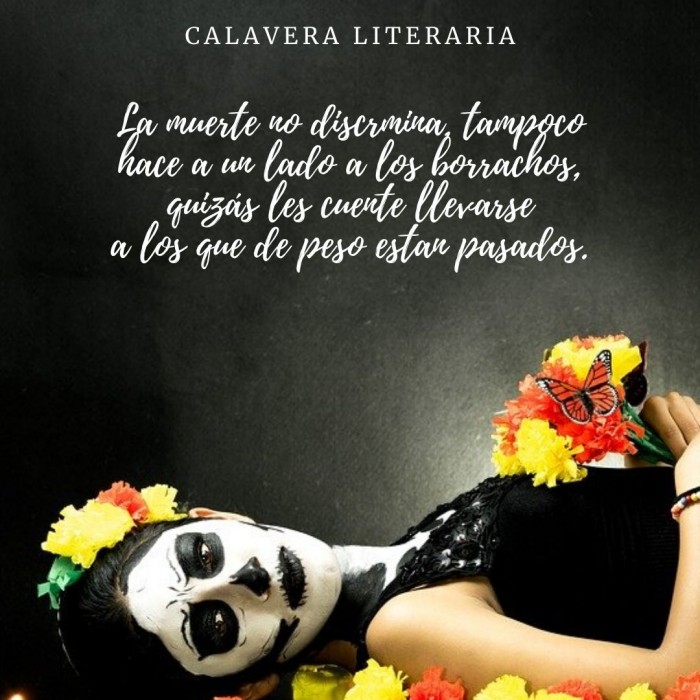 Carnival rides
Oktoberfest is best known for its beer tents and traditional Bavarian clothes, but tourists can also enjoy funfair rides and games. There are rides at the Oktoberfest funfair that are gentle enough for young children and fast and scary sufficient for people who like to take risks.
Ferris Wheel – The Ferris Wheel is a classic ride at Oktoberfest. From it, you can see amazing views of the fairgrounds and the city of Munich.
Roller Coasters – There are several roller coasters at Oktoberfest. One of the biggest portable roller coasters in the world is the Olympia Looping.
Carousel – The carousel is a classic ride at Oktoberfest, and both kids and adults like to ride it.
Drop Tower -The Drop Tower is a thrilling ride that takes people to the top of a tower and then drops them at high speeds.
Fun House – The delightful house is an attraction that looks like a maze and has optical illusions, mirror rooms, and other fun and challenging things to do.
Bumper Cars -Bumper cars are a famous carnival ride where people can drive and bump into other cars.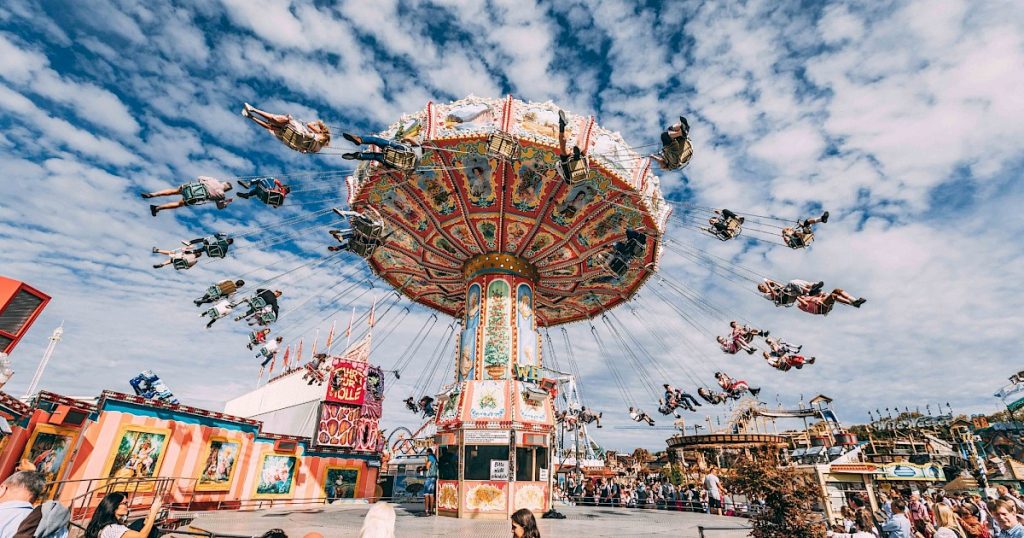 Traditional clothing
Women wear Dirndls, and men wear Lederhosen at Oktoberfest, which is the world's biggest beer festival and takes place every year in Munich, Germany.
Dirndls are dresses that women wear. They usually have a top, a full skirt, and an apron. Most of the time, the shirt is white or a light color. On the other hand, the dress and apron can be different colors and patterns. The skirt can be any length, usually knee-length or longer. Women also wear tights or socks and comfy shoes, like flats or shoes with low heels.
On the other hand, guys wear leather shorts called lederhosen. Most of the time, they are made of leather and come in different shades of brown. They are often worn with a white or checked shirt, braces, and traditional shoes like Haferlschuhe. Men can also wear hats. A Tyrolean hat is a green felt hat with feathers that men usually wear.
Dirndls and Lederhosen are classic clothes worn for hundreds of years in the Alpine areas of Germany, Austria, and Switzerland. Today, they are also a big part of other worldwide fairs and events honoring German culture.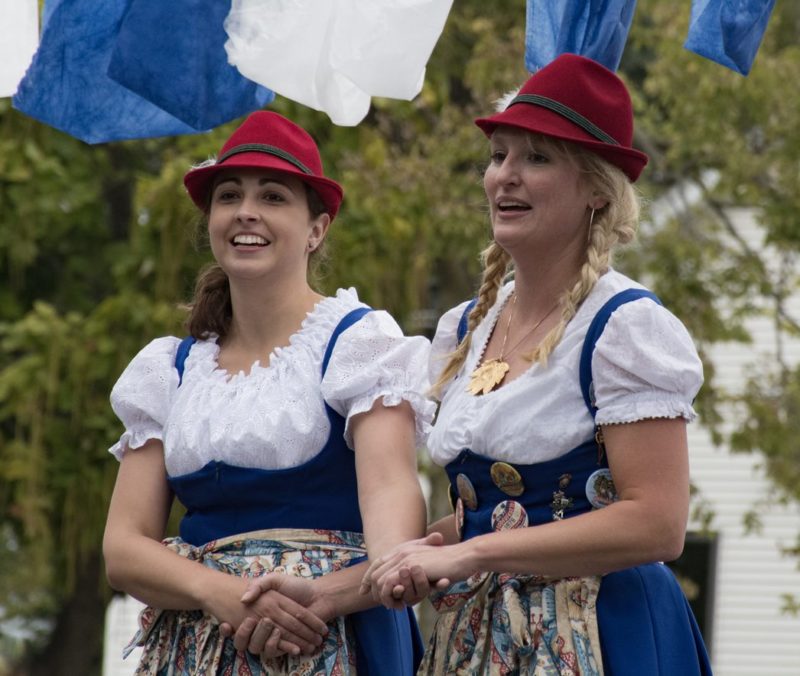 Parade
The "Trachten- und Schützenzug," or the "Oktoberfest parade," is one of the holiday's most traditional and well-known parts. It happens on the first Sunday of Oktoberfest and is a parade of decorated horse-drawn carriages, marching bands, and different groups dressed in traditional outfits.
The parade starts at 10 a.m. at a building in Munich called the Maximilianeum and goes through the streets of Munich until it reaches Oktoberfest grounds. The route is about 7.5 kilometers long and takes about two hours to finish.
In the parade are people from many different Bavarian groups, such as guilds, associations, and historical societies. The horse-drawn wagons, decorated with flowers and other things, are one of the parade's best parts. The mayor of Munich and the Oktoberfest owners and landladies ride in the carriages, among other important people.
The marching bands and traditional Bavarian music are a big part of the parade. The bands play popular folk songs, like the famous "Ein Prosit" song, repeatedly at the event. The different groups and associations show off their traditional outfits during the train, and some even dance in them.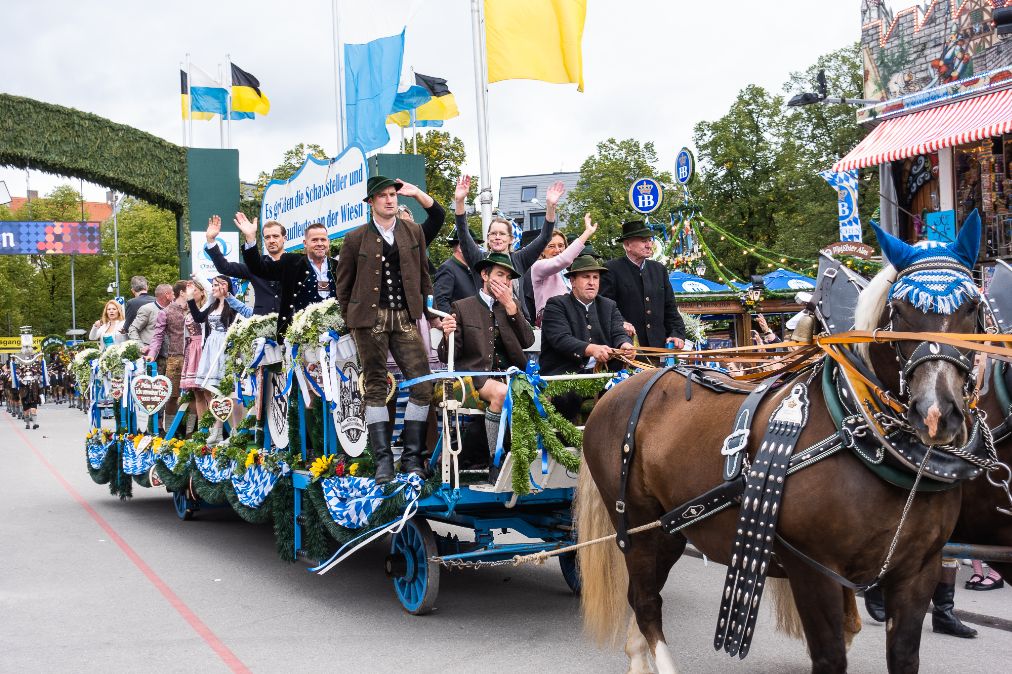 Conclusion
In conclusion, Oktoberfest is a remarkable cultural celebration, paying homage to German traditions and fostering a sense of unity among people from various backgrounds. Regardless of your preference for beer, the festival offers an unparalleled experience that should not be missed. It is a testament to the power of shared festivities and serves as a lasting memory for all who partake in its vibrant atmosphere.
Oktoberfest has grown into a significant cultural event honoring German history and customs. It also gives people from different places a chance to get together and enjoy something they have in common. Even if you don't like beer, you should check out Oktoberfest because it is a unique and memorable event.
People also read: