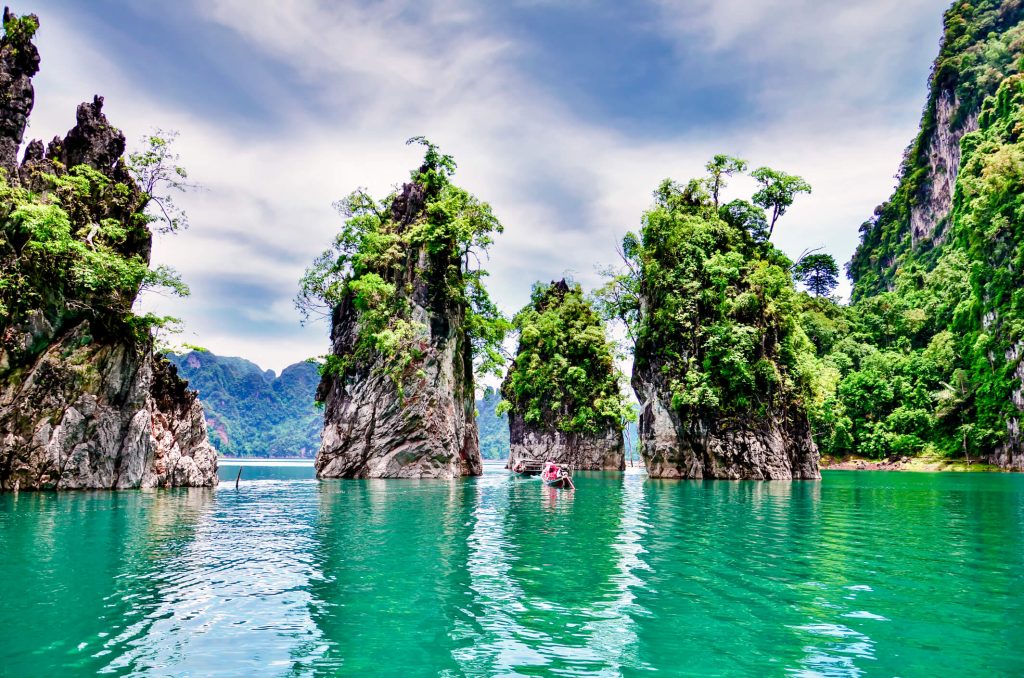 Welcome to "Island Hopping in Thailand: A Stunning Escape," an exhilarating journey that will transport you to the idyllic shores of Thailand's captivating islands. Prepare for a thrilling escape where pristine beaches, turquoise waters, and tropical landscapes await. Thailand, renowned for its natural beauty and vibrant culture, offers an abundance of picturesque islands that beckon travellers seeking the ultimate beach getaway.
We will guide you through the enchanting world of beach hopping, unveiling each island's hidden gems, specialities, and unforgettable experiences. Join us as we dive into azure waters, bask in the golden sunshine, and discover the irresistible allure of Thailand's island paradise. Get ready to immerse yourself in a beach-hopping adventure like no other.
Island hopping in Thailand – Experience Thai Islands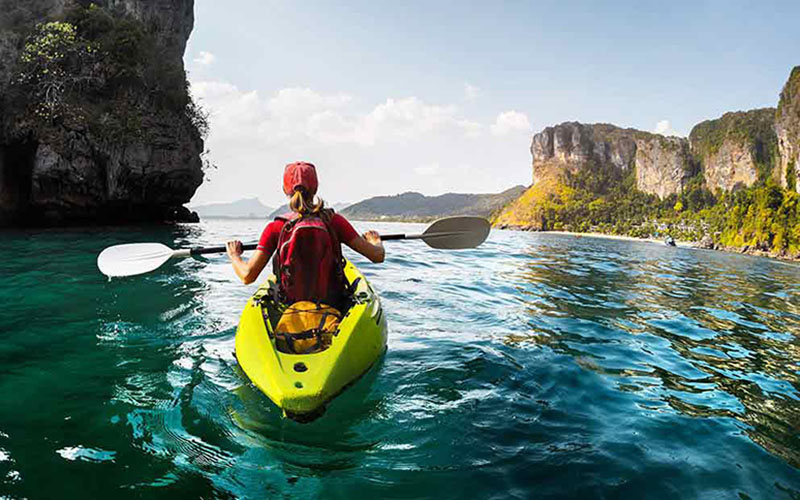 Island hopping in Thailand offers man Adventure from various captivating experiences and activities that cater to every traveller's desires. Here are some of the top experiences and activities that tourists can indulge in during their island adventure in Thailand:
Beach Bliss:
Immerse yourself in the sheer beauty of Thailand's beaches, whether it's sunbathing on powdery white sands or taking refreshing dips in the crystal-clear turquoise waters.
Discover hidden coves, explore secluded bays, and relax while enjoying the breathtaking coastal scenery.
Snorkelling and Scuba Diving:
Dive into the vibrant underwater world surrounding Thailand's islands. Snorkelers and scuba diving enthusiasts can explore coral reefs teeming with colourful fish, turtles, and other marine life.
Popular spots for snorkelling and diving include Koh Phi Phi, Koh Tao, and the Similan Islands, where visibility and marine biodiversity are astounding.
Island Hopping in Thailand Tours:
Embark on island-hopping adventures to explore multiple islands in one trip. Cruise on traditional longtail boats or speedboats, hopping between stunning islands, hidden lagoons, and secluded beaches.
Discover the breathtaking Phi Phi Islands, the emerald waters of Phang Nga Bay, or the pristine beauty of the Similan Islands.
Water Sports and Adventure Activities:
Thrill-seekers can partake in various water sports, including jet skiing, parasailing, kayaking, and paddleboarding. Feel the adrenaline rush as you glide over the sparkling waters, taking in the picturesque surroundings.
Sunset Cruises and Boat Trips:
Experience the magic of Thailand's sunsets on a relaxing sunset cruise. Enjoy a romantic evening as you sail along the coast, witness the sky ablaze with hues of orange and pink, and capture stunning photographs.
Take boat trips to explore hidden gems such as James Bond Island, the famous Maya Bay, or the picturesque Four Islands near Krabi.
Thai Cooking Classes:
Enjoy Thailand's culinary traditions by participating in a Thai cooking class. Learn the art of preparing delicious Thai dishes, discover unique ingredients, and savour the flavours of authentic Thai cuisine.
Cultural Exploration:
Discover the rich cultural heritage of Thailand by visiting ancient temples, such as the Big Buddha in Phuket or Wat Arun in Bangkok. Immerse yourself in the local customs, observe traditional rituals, and engage with friendly locals.
Wildlife Encounters:
Explore the natural wonders of Thailand by visiting wildlife sanctuaries and national parks. Encounter elephants at ethical elephant sanctuaries, go on a jungle trek to spot exotic birds and wildlife, or visit the Gibbon Rehabilitation Project.
Nightlife and Entertainment:
Experience the vibrant nightlife on islands like Phuket, Koh Phi Phi, and Koh Samui. Enjoy beachfront bars, clubs, fire shows, and lively night markets that offer a fusion of entertainment, music, and local delights.
Island Hopping in Thailand – Wellness Retreats and Spa Experiences:
Indulge in ultimate relaxation and rejuvenation by pampering yourself with spa treatments, yoga classes, and wellness retreats available on the islands. Take advantage of the serene surroundings to unwind and rejuvenate the mind, body, and soul.
Popular Islands in Thailand
With azure waters, powdery white sands, and lush landscapes, these popular islands offer an idyllic escape for beach lovers and adventure seekers alike. From the vibrant and bustling shores of Phuket to the serene and secluded beaches of Koh Lanta, each island presents its unique charm and specialities.
Whether you seek vibrant nightlife, thrilling water sports, or a tranquil retreat amidst nature's beauty, Thailand's islands have something to offer everyone. Get ready to embark on a remarkable journey as we explore these enchanting havens and discover the magic that awaits on the popular islands of Thailand.
Phuket: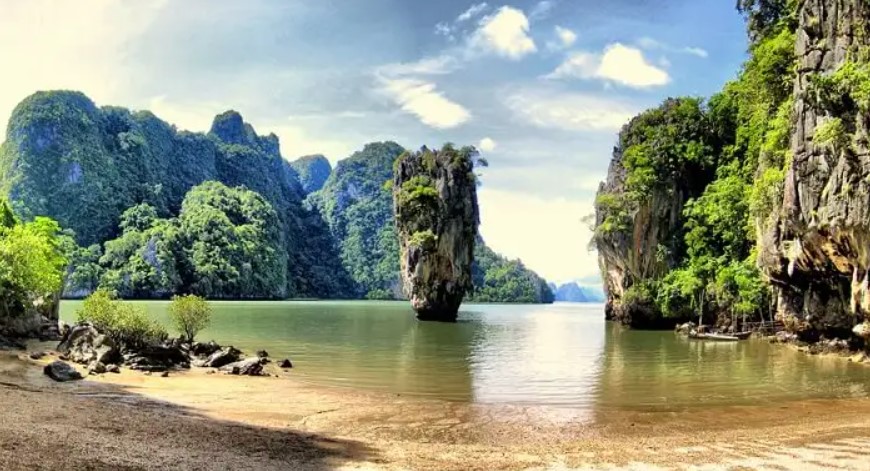 Phuket is Thailand's largest and most developed island, known for its stunning beaches, vibrant nightlife, and luxury resorts. This is number one on our list of island hopping in Thailand list.
Visitors can enjoy swimming, sunbathing, and water sports at popular beaches like Patong, Karon, and Kata. Phuket also offers a wide range of dining options, shopping opportunities, and exciting nightlife. Visitors can explore cultural landmarks like Wat Chalong or take boat trips to nearby attractions such as Phi Phi Islands and Phang Nga Bay.
Koh Phi Phi: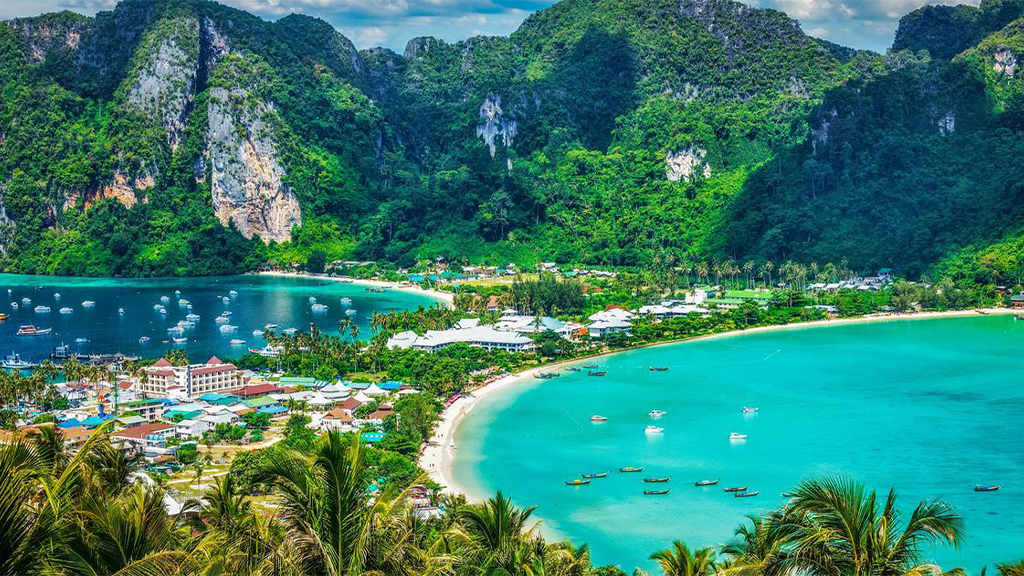 Koh Phi Phi is renowned for its breathtaking natural beauty, with pristine beaches, towering limestone cliffs, and vibrant marine life.
Visitors can relax on the stunning Maya Bay, featured in the movie "The Beach," or explore other picturesque beaches like Long Beach and Loh Dalum Bay.
The best island for your island hopping in Thailand adventure for snorkelling and diving is here. Discover the vibrant coral reefs and encounter marine species.
Koh Phi Phi also offers opportunities for hiking, kayaking, and enjoying beachside bars and restaurants.
Koh Samui: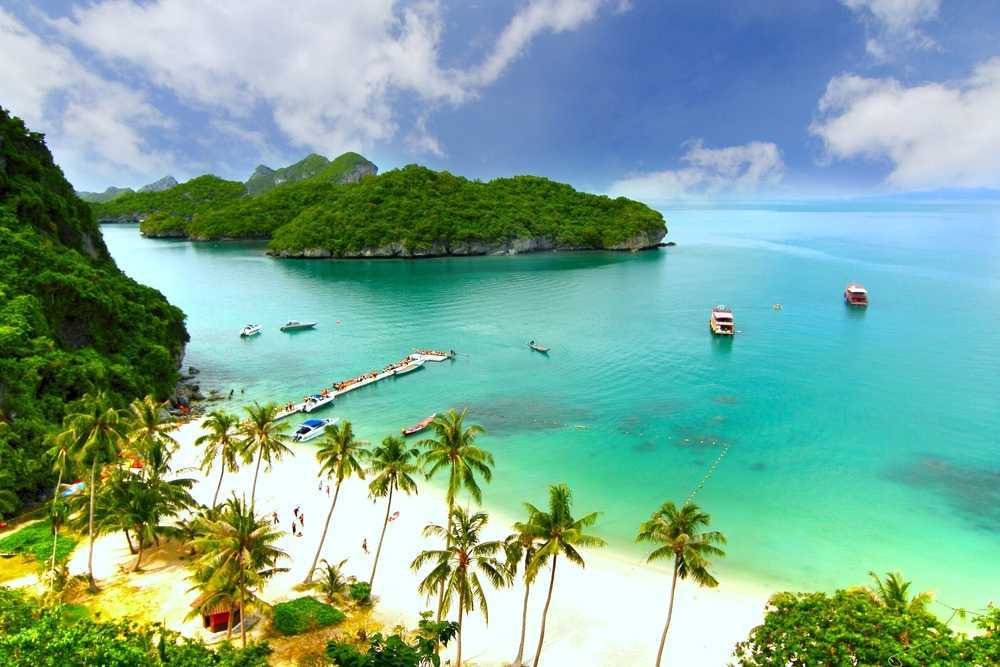 Koh Samui is a tropical paradise known for its palm-fringed beaches, luxury resorts, and lively entertainment options.
Tourists can unwind on popular beaches like Chaweng, Lamai, and Bophut, indulging in water activities or simply enjoying the sun and sea.
Koh Samui also offers attractions like the Big Buddha Temple, vibrant night markets, and rejuvenating spa experiences.
Visitors can explore the nearby Ang Thong Marine Park, consisting of 42 islands, or participate in water sports like snorkelling, kayaking, and sailing.
Koh Tao: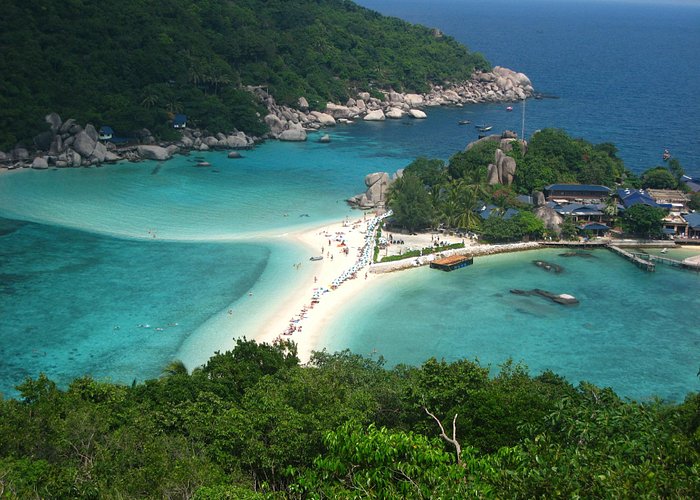 Koh Tao is a diver's paradise, renowned for its stunning coral reefs, clear waters, and diverse marine life.
Diving and snorkeling enthusiasts flock to Koh Tao to explore world-class dive sites like Chumphon Pinnacle and Shark Island.
The island also offers opportunities for hiking, rock climbing, and enjoying panoramic views from viewpoints.
Visitors can relax on beautiful beaches such as Sairee Beach, enjoy seafood feasts, and soak in the laid-back island atmosphere.
Koh Lanta: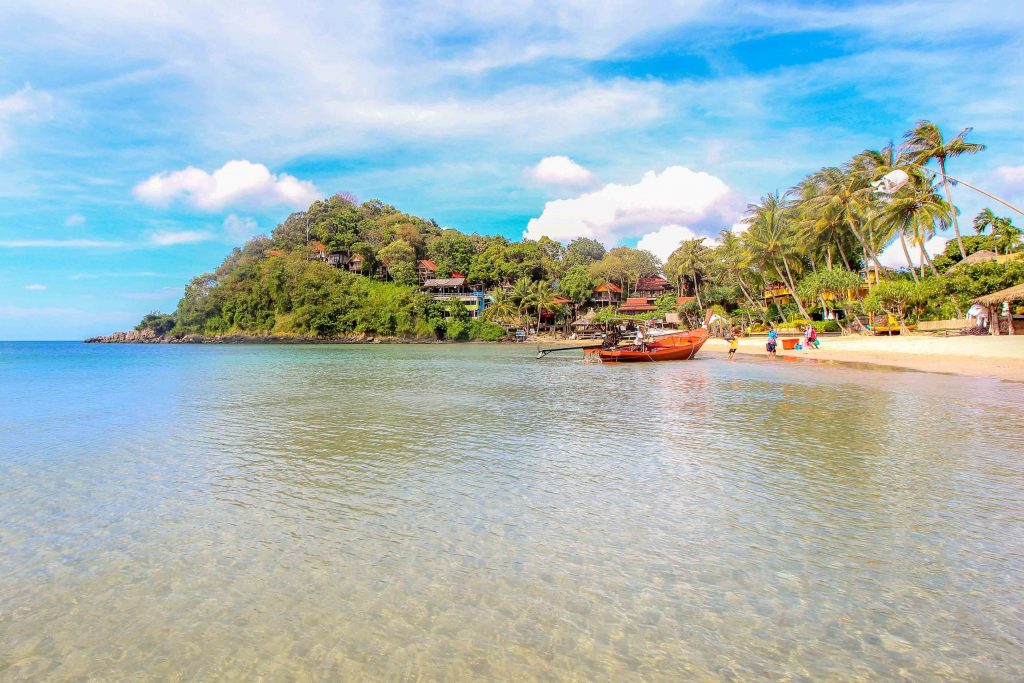 Koh Lanta offers a peaceful, less crowded beach experience with pristine nature and a relaxed ambience.
Tourists can unwind on long white sandy beaches like Klong Dao, Kantiang Bay, and Bamboo Bay.
Koh Lanta is an excellent destination for nature lovers, with opportunities for jungle trekking, exploring waterfalls like Namtok Khlong Chak, and visiting the Lanta Animal Welfare Center.
Visitors can also take boat trips to nearby islands, kayak in mangrove forests, and savour delicious seafood.
Island hopping in Thailand – Koh Chang: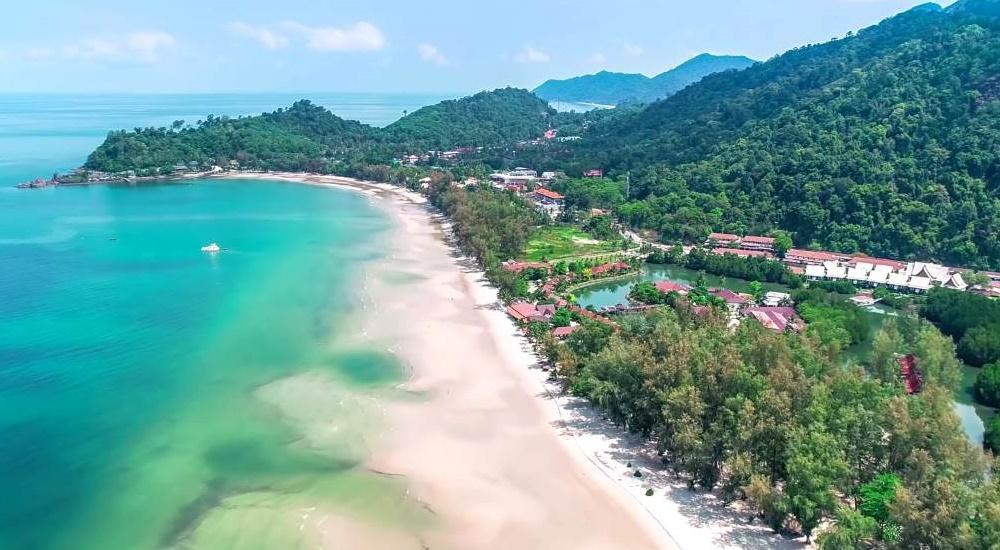 Koh Chang is known for its lush rainforests, scenic waterfalls, and tranquil beaches, offering a perfect blend of nature and relaxation.
Visitors can enjoy the pristine beaches of White Sand Beach, Lonely Beach, and Kai Bae Beach.
Koh Chang provides opportunities for jungle trekking to discover its abundant flora and fauna, swimming in natural pools at Klong Plu Waterfall, and visiting the Mu Ko Chang National Park.
Tourists can also experience elephant trekking, kayaking and enjoy beachfront dining.
Things To Consider
Embarking on a beach-hopping adventure in Thailand is like stepping into a dream. With its pristine shores, crystal-clear waters, and many stunning beaches, this tropical paradise beckons travellers to immerse themselves in its coastal wonders. But a few tips can go a long way to make the most of your beach hopping experience.
These beach hopping tips will ensure a seamless and memorable journey, from planning your itinerary to packing the essentials, navigating water activities, and respecting the environment. So, grab your sunscreen, towel, and sense of adventure as we dive into the turquoise depths and explore the captivating beaches of Thailand, one sun-kissed paradise at a time.
Research the Beaches:
Thailand is home to numerous beautiful beaches, each with its unique charm. Research and identify the beaches you want to visit based on natural beauty, activities, and ambience.
Consider whether you prefer busy and lively beaches or secluded and tranquil ones.
Plan Your Itinerary:
Create a beach-hopping itinerary that allows you to visit multiple beaches while optimizing your time and transportation.
Consider the proximity of the beaches to one another and plan your route accordingly. This will help you make the most efficient use of your time and minimize travel time.
Start Early:
Start your beach-hopping adventures early to make the most of the daylight hours and avoid crowds.
Many beaches are at their best in the morning, offering serene and uncrowded environments.
Beach Activities:
Take advantage of the various water activities available at the beaches. Snorkelling, scuba diving, kayaking, paddle boarding, and jet skiing are popular options.
Research if any specific beaches are known for certain activities and plan accordingly.
Beach Essentials:
Pack your beach essentials, including sunscreen, hats, sunglasses, towels, and swimsuits.
Carry a reusable water bottle to stay hydrated, and don't forget to bring snacks or a picnic lunch if needed.
Respect the Environment:
Practice responsible tourism by respecting the natural environment and local culture.
Avoid leaving behind any trash, and be mindful of marine life when snorkeling or swimming.
Follow any specific rules or regulations set by the beach authorities.
Explore Beyond the Beach:
While the beaches are the main attraction, don't forget to explore the surroundings. Look for viewpoints, nature trails, or nearby attractions that offer a different perspective and experience.
Relax and Enjoy:
Take the time to unwind, relax, and enjoy the beauty of the beaches. Sit back, soak up the sun, and listen to the soothing sound of the waves.
Capture the memories through photographs and take moments to immerse yourself in the serene ambience.
---
Island hopping in Thailand beckons with its pristine beaches, azure waters, and unforgettable experiences. From thrilling water sports and mesmerizing underwater encounters to cultural immersion and serene relaxation, these islands offer a paradise for every traveler.
Embrace the beauty, savour the flavors, and let the magic of Thailand's islands create memories that will last a lifetime. Your beach-hopping escape awaits in this tropical haven, where the allure of the islands is sure to captivate your heart and leave you longing for more. Discover the enchantment of Thailand's Island Adventure and let the journey begin.
---
People also read: