Zagreb: the eye-catching inland capital of Croatia
I loved my time here. It's super affordable, there are not a lot of tourists, and it's beautiful.
The museum scene in Zagreb is also impressive, with oddball attractions like the Museum of Broken Relationships, the Hangover Museum, and the Mimara Museum, to mention a few. Additionally, there are many restaurants and lively bars where visitors can sip beer and rakija, the region's ubiquitous stomach-churning fruit liquor.
Zagreb sees a fraction of the tourists compared to Split and Dubrovnik, so you'll probably just be sharing the city with a few other tourists while most tourists in Croatia are relaxing on the (busy) Dalmatian Coast.
You can make the most of your vacation using this Zagreb travel guide. I hope you stay a while because it's a hidden gem. This Zagreb travel guide has all the information you need to make the most of your trip to Croatia's capital.
ZAGREB AND CROATIA: A SMALL HISTORICAL CONTEXT
Since the 20th century was "complex" in this region of Europe, it is difficult to visit Zagreb without being somewhat interested in Croatia's recent history, much like it is with the Baltic nations or Poland. After the First World War and the collapse of the Austro-Hungarian Empire, Slovenians, Croats, and Serbs decided to create the future nation of Yugoslavia. However, Croatian fascists (the Ustashis) were able to seize power in Croatia due to the Nazi occupation of Yugoslavia during World War II. Similar atrocities to those committed elsewhere in Europe followed, including the murder of Serb and Roma minorities (several hundred thousand deaths).

Marshal Tito "violently" seized control after the Second World War and founded the Socialist Federal Republic of Yugoslavia, a communist nation with the advantage of being independent of the Russian Empire. Despite being an authoritarian government, Yugoslavs had more freedoms under Tito's rule (including the freedom to travel freely in Western Europe). But a wave of nationalism arose in Yugoslavia following the passing of Tito in 1980 and the worldwide collapse of communism in 1989. And in this way, Slovenia and Croatia separated from Yugoslavia in 1991 to become independent states.
However, due to escalating tensions with the rest of Yugoslavia, the tragedies do not end there in Croatia (or Serbia and especially in the Croatian border areas with many ethnic Serbs). Four more years of fighting followed, culminating in Croatia's "win" in 1995, which gave rise to the country's current shape. But as you may guess, the locals still have these wars "fresh" in their memories; thus, I believe we should be conscious of this when visiting Croatia.
WHERE IS ZAGREB IN CROATIA?
Zagreb, Croatia's capital and largest city, is situated along the River Sava in the country's northwest region, south of the Medvednica Mountain (Zagrebačka Gora). Zagreb is the centre of Croatia's rail, road, and aviation transportation since it is situated at the intersection of Central Europe, the Mediterranean, and Southeastern Europe.
Budapest, Hungary, is about 345 kilometres distant, Vienna, Austria is about 370 km away, and Ljubljana, Slovenia is about 140 km away from Zagreb.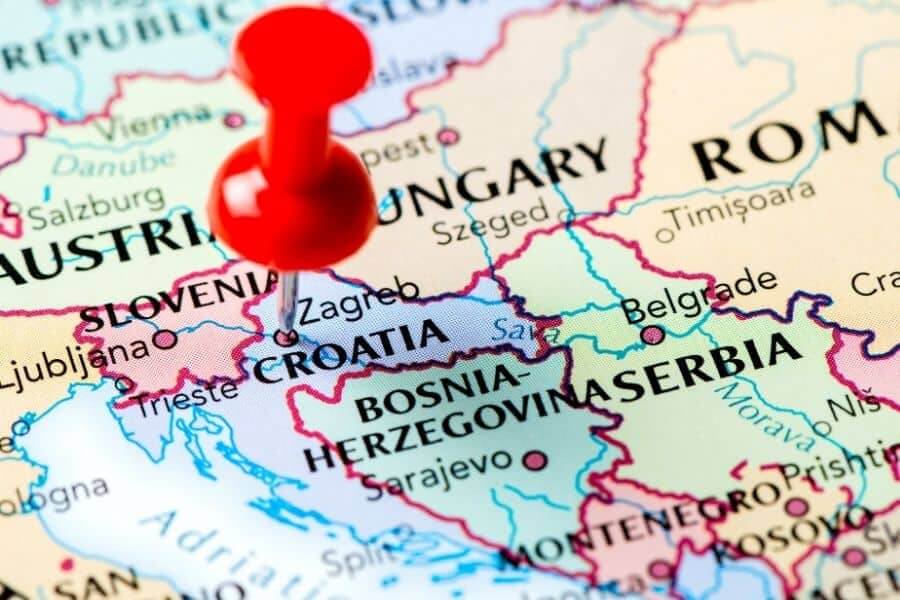 In the Middle Ages, Zagreb was divided into two settlements: Kaptol, which was home to priests, and Grič, or Gradec, which was home to merchants and farmers. In 1851, Ban Josip Jelai joined the two medieval towns. Now known as Zagreb Old Town, Kaptol and Gradec were combined. When compared to Gradec, Kaptol is more level.
GETTING TO ZAGREB
Zagreb is well-connected to the rest of the globe by air and other European nations by road as Croatia's capital city.
BY AIR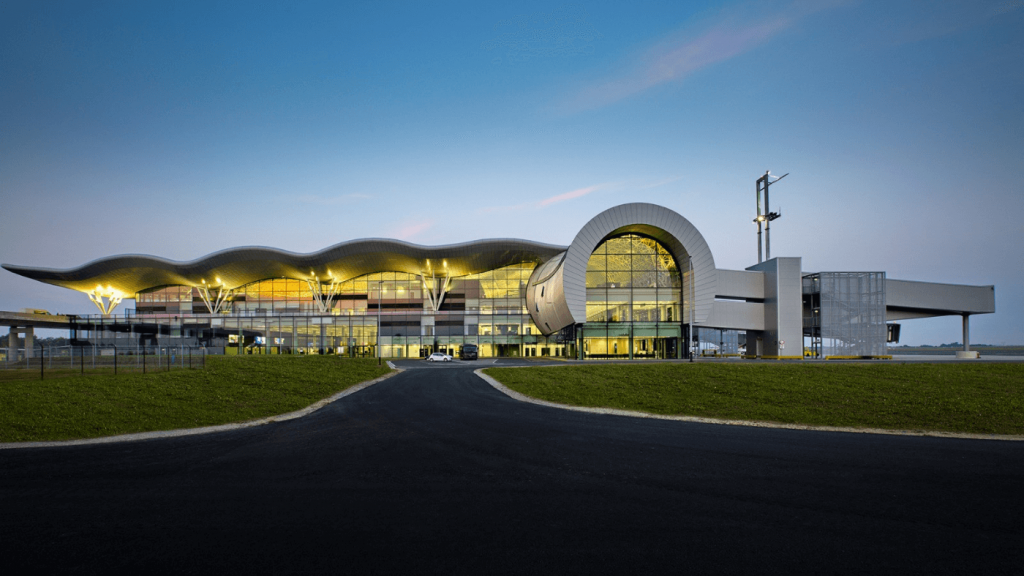 All the main airlines offer year-round service from Franjo Tuđman Airport in Zagreb to the world's capitals. Croatia Airlines is the most reliable option for trips to and from other European capitals.
The distance between the Zagreb Airport (Franjo Tudman Airport) and the city centre is roughly 12 kilometres. A private shuttle with a skilled local driver takes you to your hotel and is the quickest, easiest, most pleasant, and hassle-free method to get from the airport to the city centre.
You can choose to use the Airport Shuttle, or Pleso prijevoz, if money is an issue. According to the airport schedule, it travels between Zagreb Airport and the Zagreb Central Bus Terminal. Tickets cost HRK 45 for one way.
Another choice is ZET (Zagreb Electric Tram), which travels 19 km while stopping at roughly 20 locations. Every 35 minutes, it runs.
GETTING AROUND ZAGREB
PUBLIC TRANSPORTATION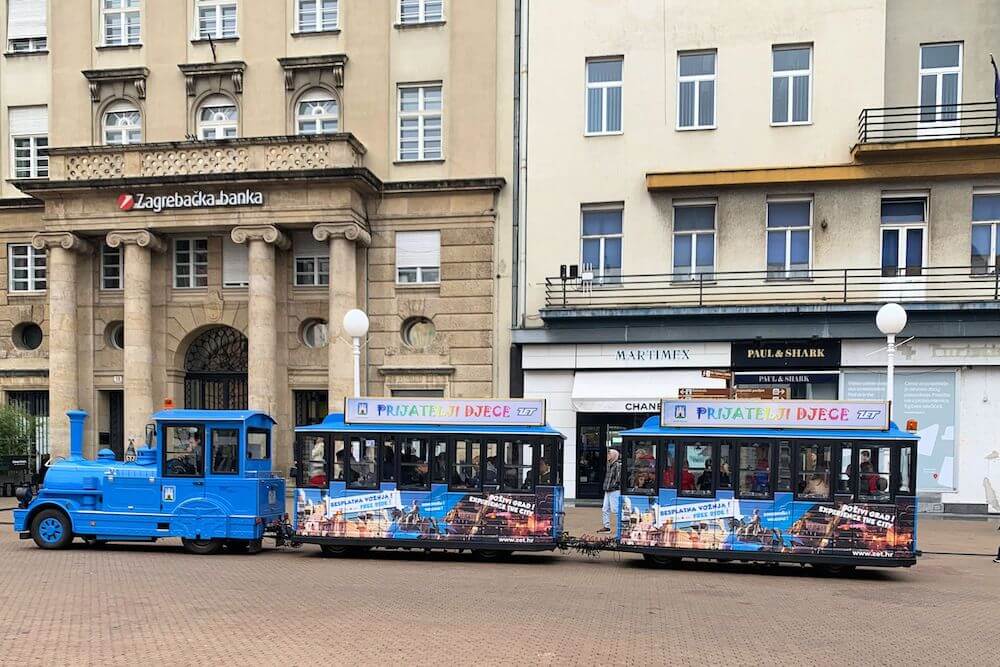 The city boasts a sizable tram network. There are 19 separate lines; you may purchase a ticket at any Tisak street kiosk. 14 lines operate throughout the day until 12 a.m., and 5 lines operate from midnight to 4 a.m. A 30-minute ride costs 4 HRK, and an hour-long ride costs 7 HRK.
As soon as you board the tram, validate your ticket using the tiny yellow onboard box. Similar to trams, buses travel around the city, whereas trams do not.
The relatively modern airport in Zagreb is simple to get to and from. Step outside the arrivals area and board the Croatian Airlines bus. It costs 35 HRK one way and departs every 30 minutes, dropping off passengers at the city's primary bus station, a 15-minute walk from the city centre.
You can check the bus schedules at the official website of the Zagreb Bus Terminal and train schedules at the Croatia Railways website and the Die Bahn website.
We recommend Trainline, Eurail, RailEurope, Omio, and FlixBus to book trains and buses in Europe.
TAXI
Taxis cost 15 HRK and increase by 6 HRK for each kilometre here, making them reasonably priced. However, cab fares can add up quickly, so if money is tight, I'd recommend avoiding them.
CAR RENTAL
In Zagreb, you may rent a car for as little as 100 HRK per day for a multi-day rental. While a car won't be necessary for getting around the city, it will be useful if you want to visit the surrounding area.
BIKE RENTAL
Zagreb is a simple city to navigate by bicycle, and Blue Bike offers full-day rentals for about 100 HRK.
ZAGREB TRAM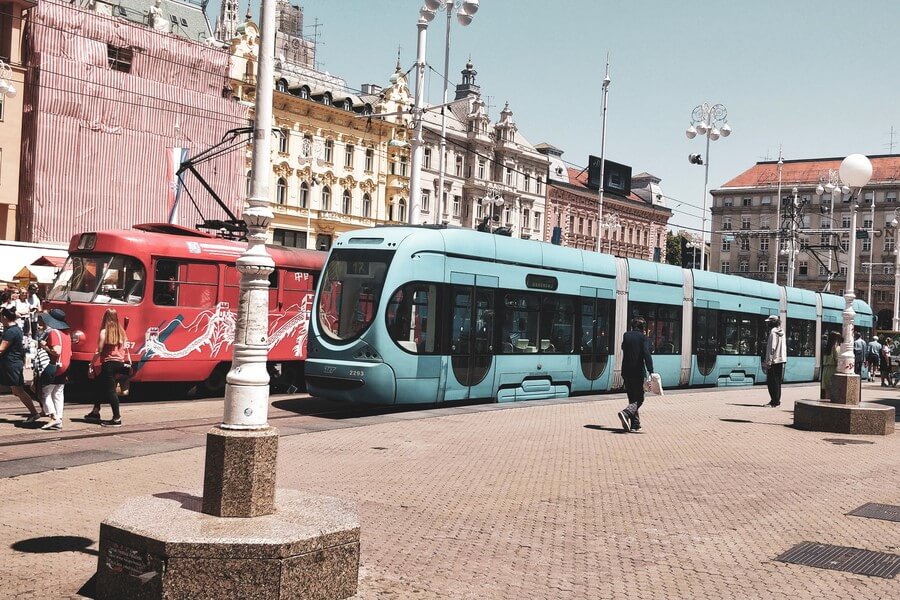 Several trams connect the various areas of the city on as many as 20 lines. You can buy the tickets from the tram driver or at Tisak kiosks. A standard ticket has 90-minute validity in one direction and costs 10 Kuna during the day and 15 Kuna at night.
You can purchase a daily ticket for 30 Kuna, which entitles you to unlimited tram rides in either direction. The same goes for 3-day, 7-day, 15-day, and 30-day tickets.
UBER
Unexpectedly, Uber in Zagreb provides excellent service at affordable prices. The starting fee is 6 Kuna, and each additional kilometre costs roughly 3 HRK. The minimum fee is 13 Kuna, while the cost per minute is 0.60 Kuna.
BEST TIME TO VISIT ZAGREB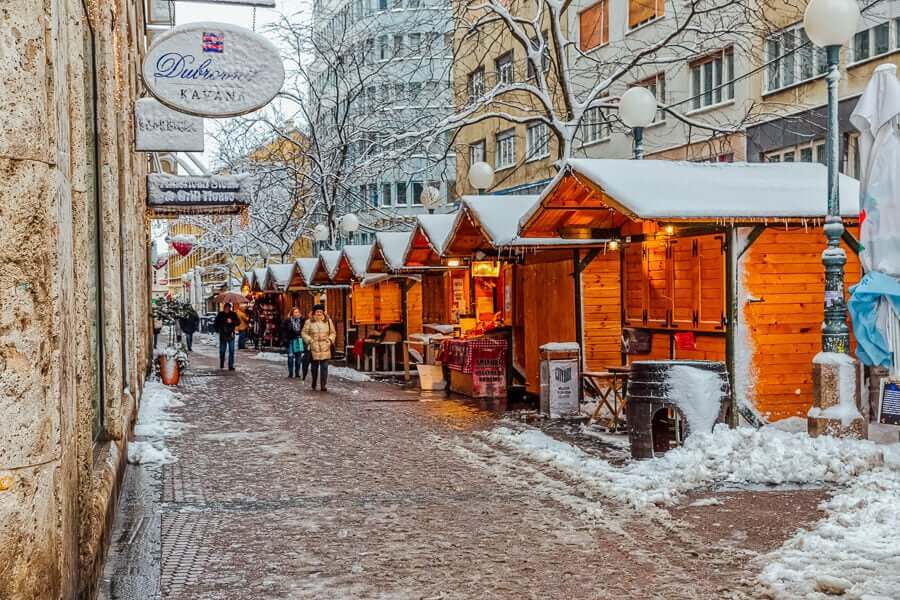 Zagreb may be visited at any time of the year, in contrast to other really popular locations where you must plan your trip to avoid the crush of other tourists. The summer months may be busier, and costs may rise slightly, but you won't feel overrun. Summertime highs should be around 28°C (82°F).
Because June and July are the busiest months, avoid making plans. It's when everything goes up, including the temperature, the number of tourists, hotel rates, and travel costs.
The shoulder seasons of April through May and September through October are some of the greatest times to go because the weather is still pleasant, and the crowds will have dissipated.
Come to Zagreb in the winter if you can't stand visitors; you'll have to put up with cooler temperatures of about 7°C (low to mid-40s °F) and frequently overcast sky, but it will just be you and the locals.
TRADITIONAL CROATIAN FOODS YOU MUST TRY
Even if the food scene in the Croatian capital isn't particularly well-known, there are still plenty of delicious foods to try. Please continue reading to learn about Zagreb's most delicious traditional delicacies and where to find them.
Zagreb's culinary traditions are the consequence of two significant influences: the opulent cuisine of the Austro-Hungarian nobility and the seasonal foods cultivated on the fertile farmlands that are so evident when you fly in from above.
Because of the wealth and luxury, the food in Croatia's northern regions is frequently heartier than some of the cuisine in the country's southern regions.
You won't be let down if you seek out Zagreb's most well-known foods or pleasures. A few of the best are listed here.
ŠTRUKLI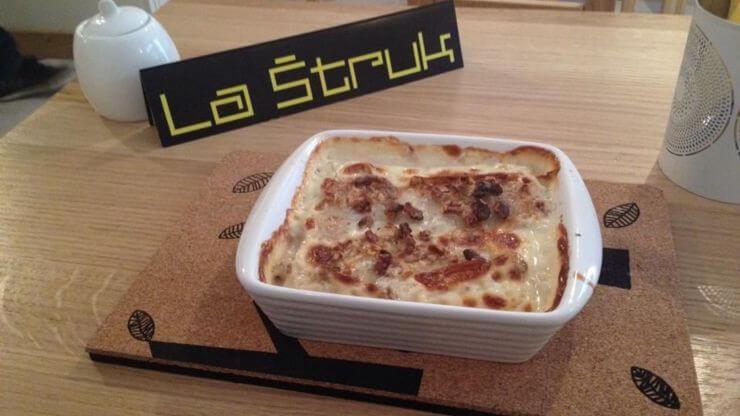 Štrukli is a dough-based dish that can be either sweet or savoury and is filled with cottage cheese and sour cream. This Slovenian delicacy, štruklji, and this Croatian speciality are closely linked. It is either prepared for boiling or baking.
Where to try it?: Head for La Štruk, which only makes different slants on this one dish. It's located at Skalinska 5.
ZAGREBAČKI ODREZAK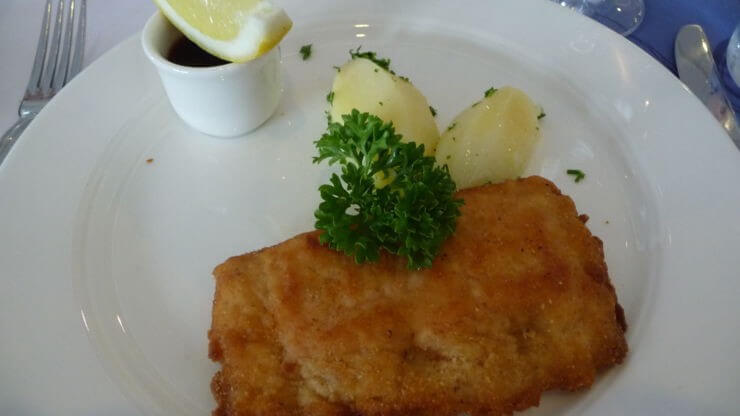 The fact that the name of this dish has the word "Zagreb" tucked away suggests that it is a staple in this city. Steak (typically veal) is rolled up or folded, then stuffed with ham and cheese before being dusted with flour, beaten egg, and breadcrumbs. It is delicately fried till golden brown on both sides.
Where to try it?: A good place to find this dish is at Vagabund Pizza on Vlashka Ulica 90, Zagreb, which serves many traditional Croatian main meals and a great selection of pizza (obviously).
MEAT AND VEGETABLE STEW (ČUŠPAJZ)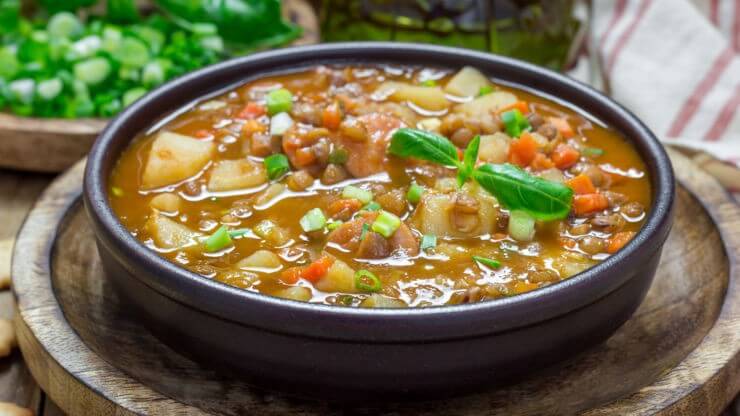 This is a simpler dish to eat than it is to pronounce! (The 'Č' is pronounced 'ch', and 'š' is pronounced 'sh'.) The main attraction of čušpajzis its wholesome qualities. Some people enjoy it as a quick alternative to a sandwich or a pizza, and it's certainly better on the waistline. The stew is made with various vegetables, such as kale, cabbage, onions, spinach, beans and potatoes, and meat, such as pancetta, sausages or bacon. Spices include paprika (which can give a Hungarian slant), nutmeg and garlic.
Where to try it? If you'd like to combine čušpajz with an outing, why not take a trip to Mount Medvednica, where mountain lodges like Runolist serve a wonderful helping after you've completed a hike. If you want to eat čušpajz in the city, a good spot is the aptly named Čušpajz, which serves three different varieties each day. It can be found at Gajeva Ulica 9, Zagreb. Vegetarian options are also offered. Enjoy this dish with a glass of wine!
TURKEY WITH NOODLES (PURICA WITH MLINCI)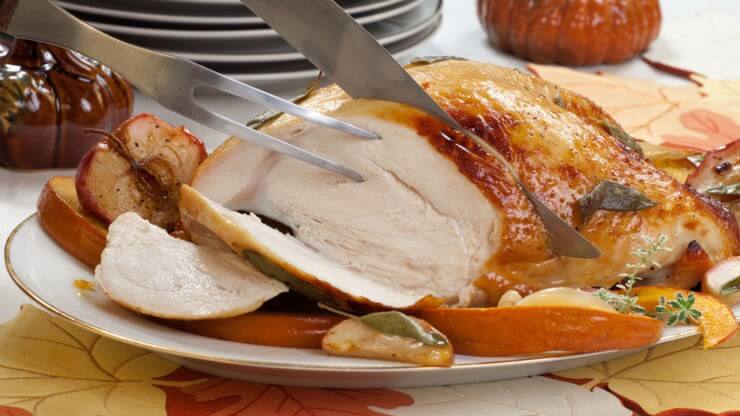 While turkey is more of a seasonal dish in many nations (Christmas and Thanksgiving come to mind in particular), Turkey is a dependable favourite all year round in Croatia. The two poultry species that Croatians enjoy the most are duck and turkey.
Where to try it? If you want to try this local dish, why not drop into Restaurant Puntijarka, which is fairly close to a Zagreb highlight: the Mirogoj cemetery. The restaurant is highly suitable for families and has an enclosed terrace with a view and seating for 100. (Note it's closed on Mondays.) Address: Graščica 40, 10000, Zagreb.
505 S CRTOM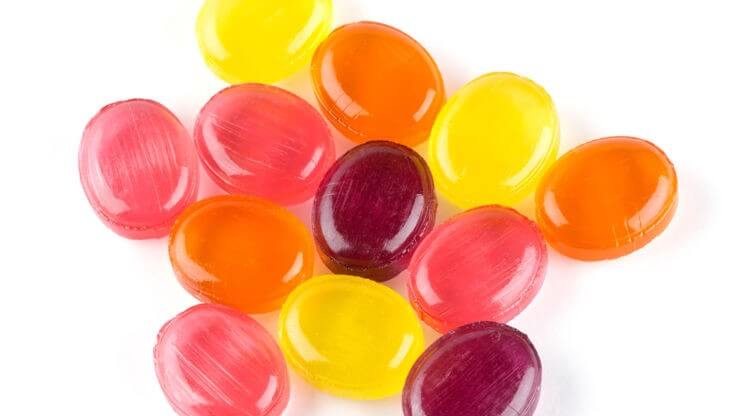 This hard candy is well-known to Croatian children because the renowned Kra chocolate factory has been making it for close to a century. In reality, Kra is South-East Europe's largest confectionary product maker! The name of this particular product translates to 505 with a line (the line is a faint blue). No one can fully recall what the "505" refers to.
Where to try it? You can buy 505 s crtom all over the city at most grocery stores, and Kraš also has speciality shops in Zagreb from which you can buy them too. Find the one nearest to where you are staying by visiting the Kras website. If you wish to purchase, buy the red packet for full sugar and the green for sugar-free.
BEST ZAGREB RESTAURANTS AND BARS THAT UTILIZE THE TRENDY "STREET FOOD" CONCEPT
Brewbites
The restaurant and sports bar Brewbites are authentically American. It has distinctive décor that is understated but contains intriguing design elements. Locals enjoy unwinding and watching sporting events at the Brewbites restaurant. So that you don't miss out on any match balls or points, TV screens can be found everywhere.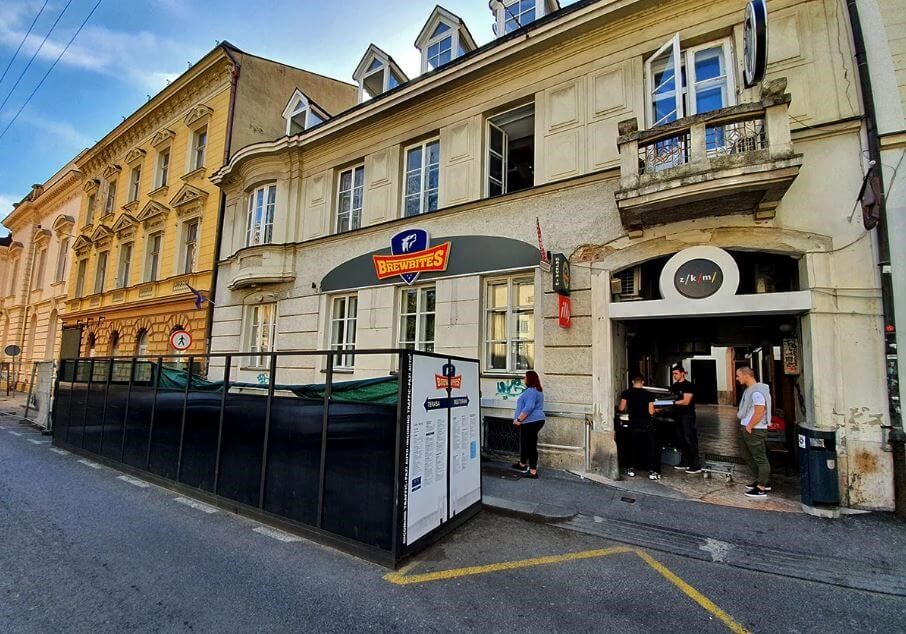 The restaurant serves burgers, ribs, bar snacks, salads, wraps, pancakes, and desserts as far as food goes. Naturally, it also boasts a big selection of energizing local and foreign beers. A favourite hangout, Brewbites American restaurant and sports bar features outstanding meals and flavours, a stylish interior, and a welcoming ambience.
Ginger Sushi
This restaurant's straightforward concept is to serve high-quality sushi. The simple cuisine that emphasizes rich flavours and fragrances, the restaurant's colourful design, and fascinating features have made it a favourite sushi location for locals and visitors. Every tourist and visitor can take advantage of it before, during, or after tourism, thanks to its prime location in Zagreb's city centre.
Amazing dishes with vibrant flavours and fragrances are available at Ginger Sushi. They offer a wide variety of sushi produced with premium ingredients at reasonable costs. Each meal is painstakingly made to deliver a genuine taste of traditional Japanese recipes to the heart of Zagreb.
Croatian Food Heritage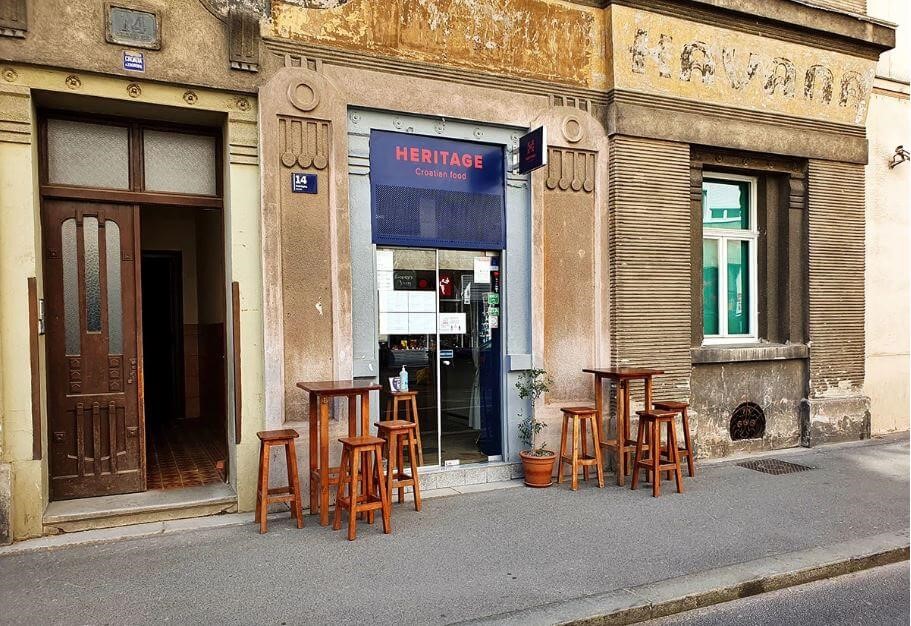 This location quickly springs to mind when the term charming is mentioned. The traditional Croatian flavours and the well-known street food concept are combined in "Croatian Food Heritage." The Croatian Food Heritage is a tiny establishment with a lovely atmosphere, easily identified by its characteristic blue sign with red letters. It sells traditional goods, allowing you to always purchase little dishes with distinctive flavours and bring them home.
In addition to flavours-to-go, the eatery provides Crobites. These are bite-sized, artistically prepared dishes from several Croatian areas. The restaurant offers everything from Slavonia and Međimurje to Istria and Dalmatia, including truffles, prosciutto, fish, cheeses, and olive oil, as well as regional wines, brandies, craft beers, and more. Every dish offers a tiny, distinctive taste of Croatian cuisine's heritage.
La Štruk
Visit La Štruk to enjoy authentic Croatian cuisine with outstanding gastronomy and a distinctive environment. It has wonderful accents and vibrant chairs and is situated in an old backyard bordered by stone. The restaurant has a romantic summer atmosphere that helps you have the genuine experience you want.
The environment and decor of La Štruk are distinctive, but the cuisine also makes it stand out. It only provides one food, Štrukli, which is prepared in various ways. Štrukli is a traditional Croatian meal that can be baked or prepared with various ingredients, including cheese, almonds, apples, blueberries, and truffles. This location is a must-visit and a must-try, as we locals know and concur!
Craft Room
Inside a lovely yellow cottage is where you'll find The Craft Room. On the inside, it includes natural wood and green walls in addition to a lovely terrace. This location is envisioned as a traditional tavern and pub with a fantastic menu. Its central location lets you take Zagreb's stunning architecture and pleasant streets before unwinding on the Craft Room's terrace.
The cooks at this restaurant make incredible burgers that pair well with beer and are very proud of their beer choices. Over 100 domestic and foreign beers and 12 craft beers are available. After sightseeing or just catching up with old friends over a delectable, juicy burger and a cool glass of beer, The Craft Room is the perfect spot to unwind.
SOI Fusion Bar
The SOI Fusion Bar combines antique and industrial design elements and is a fun spot to eat, hang out with friends, or unwind after a long day of touring. There are a few tables in front of the restaurant, situated in a small lane with graffiti. The brick takes centre stage inside with only basic black and brown accents.
Delicious Asian foods and meals may be found at SOI Fusion Bar. The chefs create a variety of appetizers, entrées, and desserts that infuse a little Asian flair into Zagreb's old town. The eatery serves traditional Asian street food full of taste and aroma and a small variety of regional speciality beverages.
Taquitos Bandidos
This street food establishment is exactly what it says: a traditional Mexican cantina with beautiful décor and design that will take you to Mexico in the middle of the desert. However, unlike the movies, you'll be transformed this time by delicious cuisine and refreshing drinks!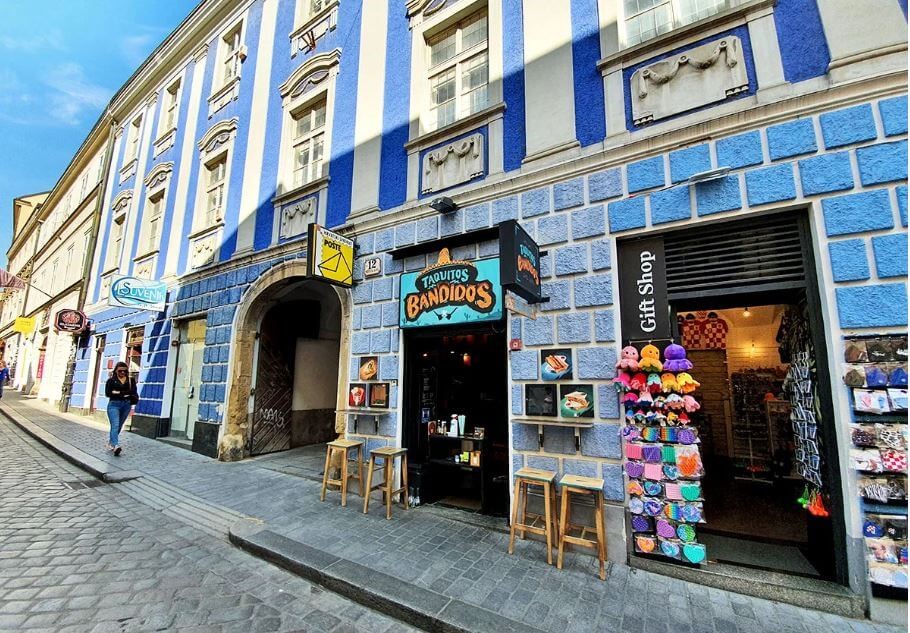 Taquitos Bandidos offers traditional Mexican dishes such as chilli con Carne, taquitos, quesadillas, wraps, nachos, and salads that go well with beer or jarritos (a Mexican beverage). Even if the flavours of Taquitos Bandidos are traditional, the cooks know how to add a unique twist to exceed your expectations.
Wok and Walk
Wok and Walk's plain atmosphere provides a lovely contrast to all the sumptuous meals and flavours waiting for you there. The establishment is a traditional Chinese eatery that specializes in serving Chinese food. You can sit and savour all the delicacies at the restaurant, or you can get a wok to go. The Wok and Walk is a welcoming ambience where you may sample some Chinese food.
Many traditional foods are offered on the menu, broken down into hot appetizers, soups, noodles, dishes with different proteins, desserts, specials, and chef's suggestions. The dishes can, of course, be presented in little or large portions. The restaurant Wok and Walk is a fantastic spot to try Chinese food!
Zagreb offers it all, from traditional hamburgers to international cuisines. You can eat Mexican meals while singing a mariachi song or consuming traditional American dishes. Indulge in Chinese or Japanese cuisine as well as traditional snacks from Croatia. Your choice is up to you.
NIGHTLIFE IN ZAGREB
The nightlife in Zagreb has bars, cafes, clubs, discos, taverns, and live music, so dedicated night owls won't get bored. There is a club scene for every preference, from alternative to sophisticated. You have the Lower Town with Bogoviceva and Trg Preradovica, the Branimir Center across from the railway station, and the Upper Town with the winding, bar-lined Tkalciceva street. Then there is Out-of-Town, south of the Sava River and close to Jarun Lake, which may be reached by tram (where a car is most convenient).
The atmosphere in Zagreb clubs is generally quite laid back. There are still no menacing bouncers, viciously discriminatory door policies, or weak drinks on the scene. There are a few clubs where it's expected that you arrive dressed like a movie star, but those are the exception rather than the rule. The cover weighs between 30 and 50 KN. Drink prices are comparable.
From September to June, Zagreb experiences vibrant nightlife. Locals visit the coast in the summer, particularly Novalja on Pag Island.
There are way too many places to list everything, but here are some of the essential stops:
BARS
ALCATRAZ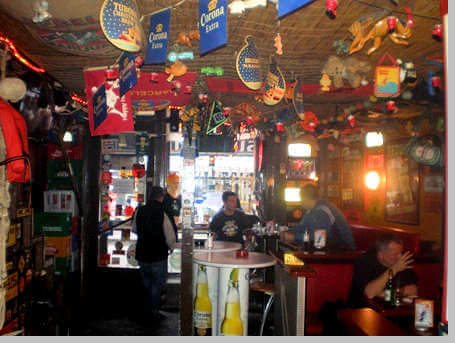 This American-themed party bar in the Lower Town on Preradoviceva 12 is well renowned for its crowds of enthusiastic locals guzzling foreign beer and regional spirits.
ZABAC
Down by Jarun Lake at Jarunska 5, this is a raw, boisterous, and cheap place ideal for all students.
APERITIVO BAR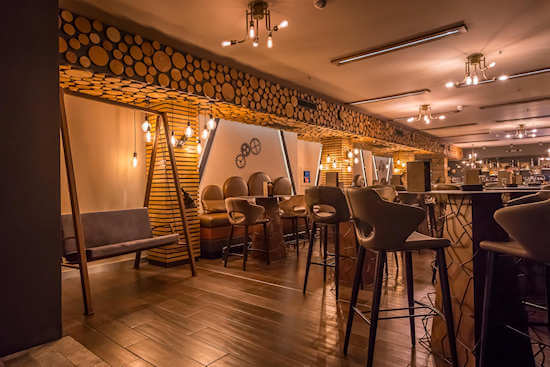 Are you a cocktail nut? Are you dedicated to whiskey? The skilled mixologists in this establishment will create the beverage of your desire. Young professionals are drawn to Aperitivo in the lower town's Vlaska 9 neighbourhood because they wish to venture beyond beer and wine and into the realm of unique mixed drinks.
CAFFE BAR SEDMICA
Zagreb's literati congregate at Caffe Bar Sedmica at Kaciceva 7 in the hipster quarter to contemplate the unanswerables before going to a performance or exhibition. There are plenty of dimly lit inner spaces where conspiracies can be hatched, and there is a great assortment of craft beer and artisanal rakija to hydrate the proceedings.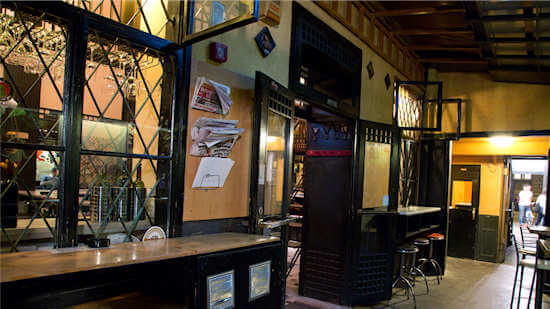 THINGS TO DO & SEE IN ZAGREB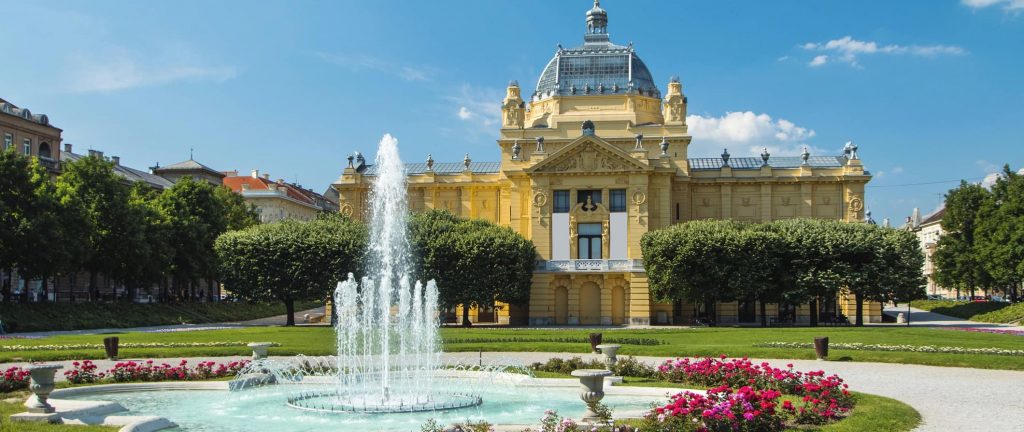 VISIT THE MUSEUM OF BROKEN RELATIONSHIPS
This museum houses a collection of haphazard (and peculiar) but significant items that the bereaved have donated. The museum was first established as a travelling display by two Croatian artists after their loving relationship ended. You can read descriptions of these things to learn more about the relationships they stand for—relationships that have since ended. Among the objects is an "ex-axe," which a lady once used to rip up her ex's furnishings when their relationship abruptly ended. Visitors can contribute their tales, images, or documents to the museum's archives and the actual exhibits in a virtual area. Entry costs 52 HRK.
EXPLORE THE UPPER TOWN
Stride through the historic city gate to reach Zagreb's "Upper Town," or Gradec as it is known locally. Local history claims that a significant fire in 1731 destroyed most of the gate but left a 17th-century artwork of the Virgin and Child standing. Locals frequently stop to pray in front of that picture or light candles in remembrance of this alleged miracle. It is still there. The oldest section of the city, Upper Town, is perched on a hill and features winding streets, museums, historic landmarks, and rustic inns for when your feet need a respite and you grow thirsty. The Zagreb Cathedral, Saint Mark's Church, one of the city's most recognizable structures, and the 13th-century Lotrscak Tower, which provides.
Here is a list of things to do in the upper town of Zagreb:
The world's shortest funicular railway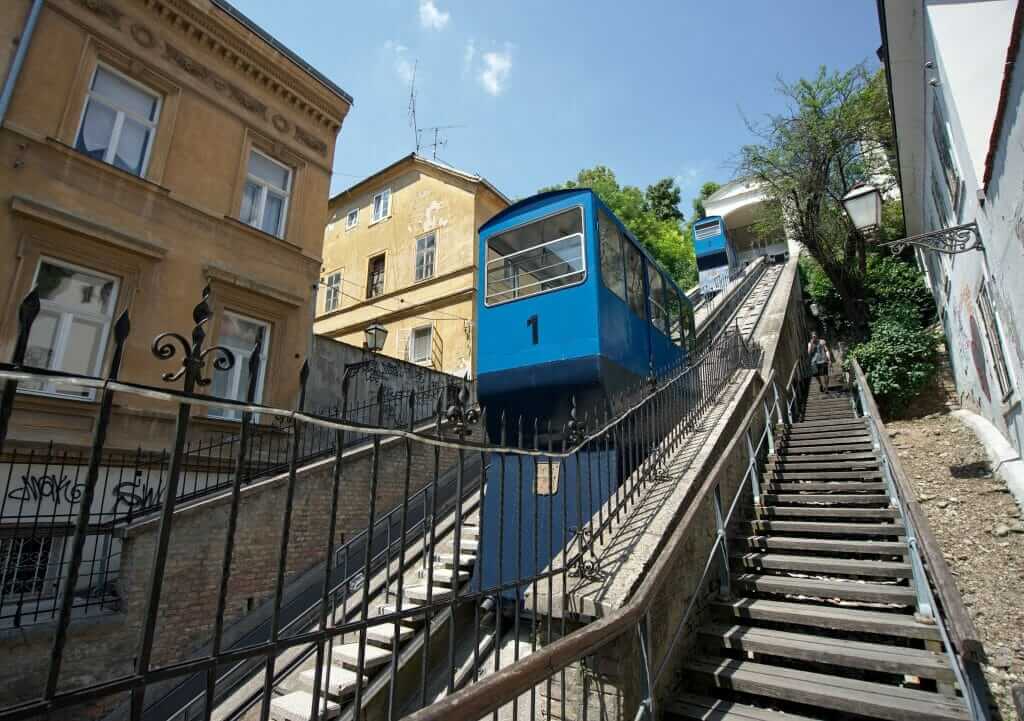 So let's begin with this well-known funicular, which is only 66 meters long and was used to transport citizens of Zagreb between the lower and upper parts. Even though the funicular only costs 4 HRK per ride, we didn't need to take it to get to Gradec hill, even though it has a charming antique appearance. Take the stairs for 5 minutes, and you're done.
The Lotrščak tower
One of the city's most stunning views can be seen from the top of this tower, which is right where the funicular arrives. It served as one of the city's primary fortifications at one point and continues to be one of Zagreb's icons today. In addition, a cannon has been fired each day at noon for more than 100 years to signal the time to the citizens of Zagreb.
You can enter the tower for 20HRK for each person, learn the many details about its history on each floor, and take in the view from the top. You can also see the cannon fire if you arrive a little before noon.
St Mark's church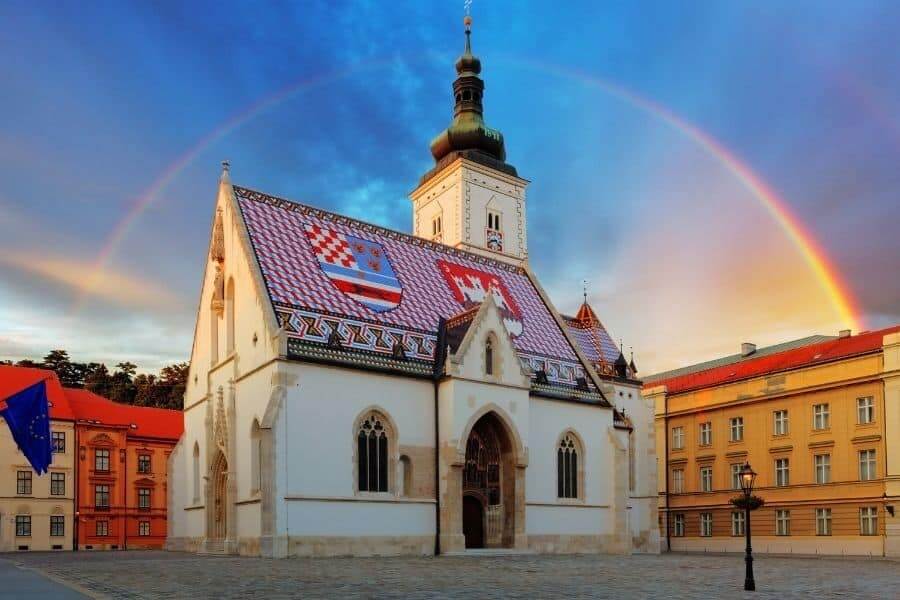 The most well-known landmark in the area is St. Mark's Church, which has a colourful tiled roof that displays Croatian and local insignia. The roof is lovely and well worth a visit. However, we were unable to enter the interior. Although the opening hours are listed on the city of Zagreb website, we are unsure if it is feasible to visit the church.
In addition, there are government buildings in the square surrounding the church.
The Gric tunnel
This tunnel was constructed during the Second World War to act as a sanctuary in case of attacks and is situated beneath the hill of Gradec. Sadly, it once again functioned as a haven between 1991 and 1995 during the Croatian War of Independence after being more or less ignored. The tunnel has been accessible to the general public since 2016 and frequently holds cultural events. To avoid climbing the hill, there is a wonderful little detour between Mesnika and Stjepan Radi.
St Catherine's church
A baroque church that is worth visiting inside but has a bad outside. The Museum of Broken Relationships is immediately next door.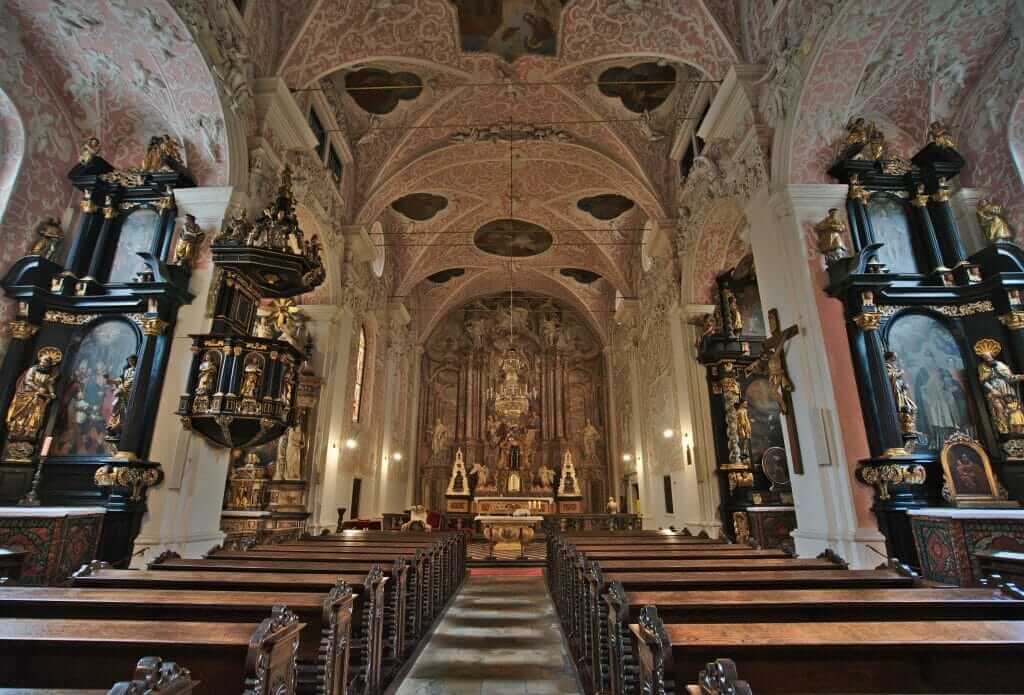 The stone gate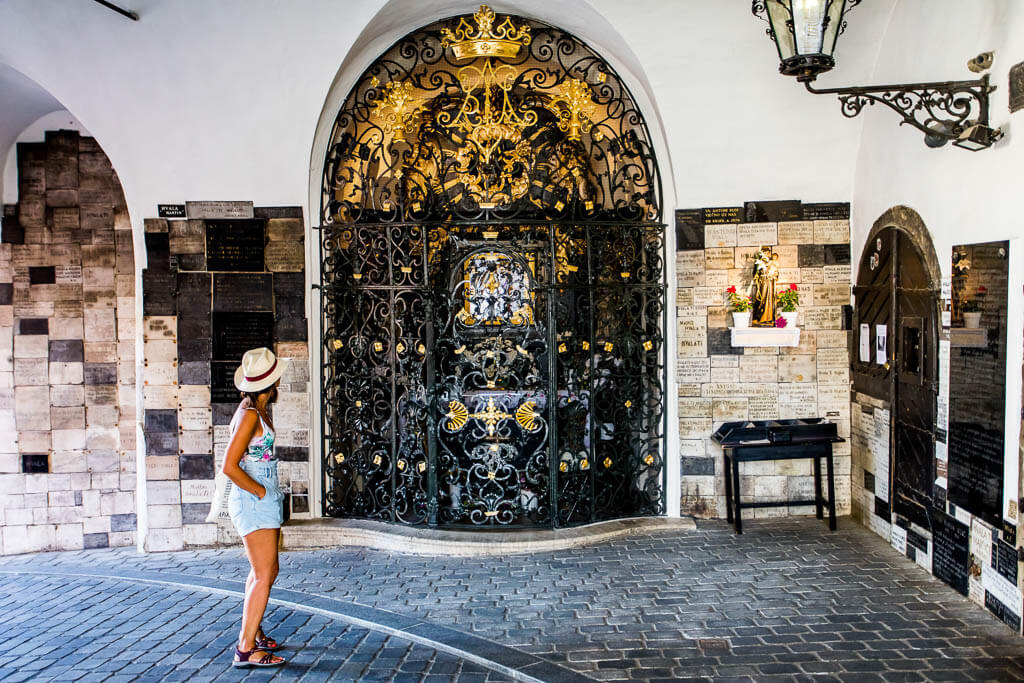 It is the only existing gate from the first Gradec town because it was constructed of stone, and it became a site of meditation because just one Virgin Mary painting survived when a big fire destroyed much of the city and all the wooden components of the gate (the inhabitants of the time saw this as a sign).
People from Zagreb continue to visit and leave messages at the picture, which is now displayed in the door's passage.
GO ON A BAR CRAWL ON TCALCICEVA STREET
This pedestrian-only boulevard, named after a 19th-century Zagreb historian, is built over the former river that served as the centre of many of Zagreb's early industrial operations. Due to pollution, it was covered with pavement in the 19th century, and people have returned ever since. It was the location of the city's red-light district in the early 20th century, but today's pubs have taken the place of brothels. Ban Jelacic, the city's central square, marks the beginning of the street, now completely lined with active pubs, outdoor cafes, and quaint shops.
MARVEL AT ZAGREB CATHEDRAL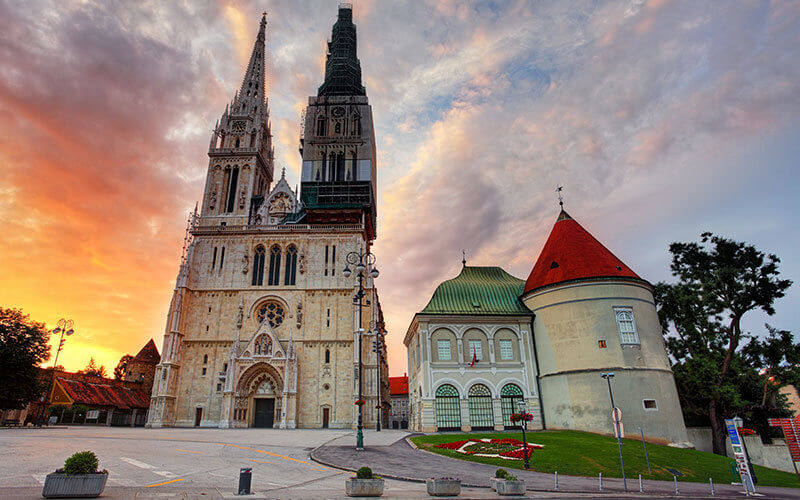 The twin neo-gothic spires of this cathedral, the second-tallest structure in Croatia, dominate the city's skyline. The church's foundations date back to the thirteenth century and are officially known as the Cathedral of the Assumption of the Blessed Virgin Mary.
A significant amount of the building was destroyed by fire in the late 19th century and reconstructed in the neo-gothic style. Look inside the famous Croatian artist Ivan Metrovic's mausoleum of Cardinal Alojzije Stepinac. One of the world's biggest and most well-known organs, the cathedral's organ has 6,000 pipes. Even in the summer, it hosts a festival where internationally known organists perform.
There is no charge to enter the cathedral. Sadly, because of the earthquake in March 2020 that struck Zagreb, the cathedral is undergoing repairs, and entrance is not currently possible. It's set to reopen by the summer of 2023.
CHECK OUT THE ART AT MIMARA MUSEUM
Ante Topic Mimara, a Croatian art collector, left the city a sizable amount of his 3,700-piece collection of artwork, giving birth to the Museum Mimara. The Lower Town museum, housed in a new Renaissance structure, is home to numerous masterpieces by Bronzino, Bosch, Van Dyck, Rubens, Goya, and Velázquez, among others.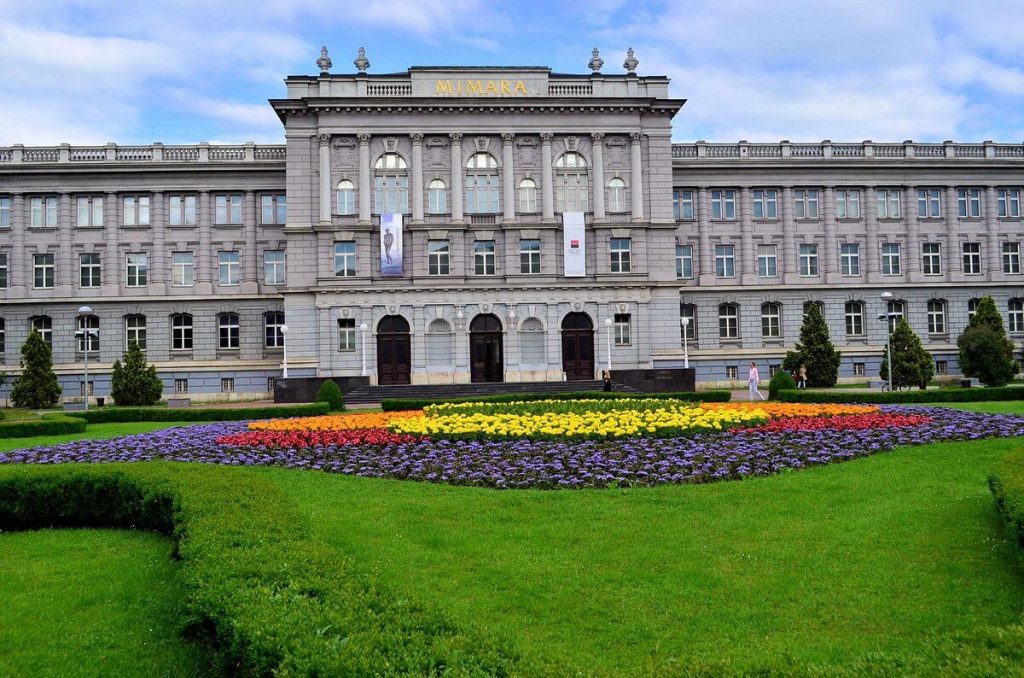 This museum is seriously underappreciated when it comes to major art museums, yet there has been some debate about whether or not all of the pieces are genuine. Still, it's a wonderful way to spend an afternoon and a truly incredible collection. Entry costs 40 HRK. (At the moment closed due to earthquake damage).
TAKE A FREE WALKING TOUR
Taking a free walking tour is one of the first things I do when I get somewhere new. It's the greatest way to familiarize yourself with the area, take in the major attractions, and meet knowledgeable local guides. A thorough two-hour walking tour is available from Free Spirit Tours that includes all the major highlights. Only remember to give your guide a tip at the end!
VISIT THE ZAGREB CITY MUSEUM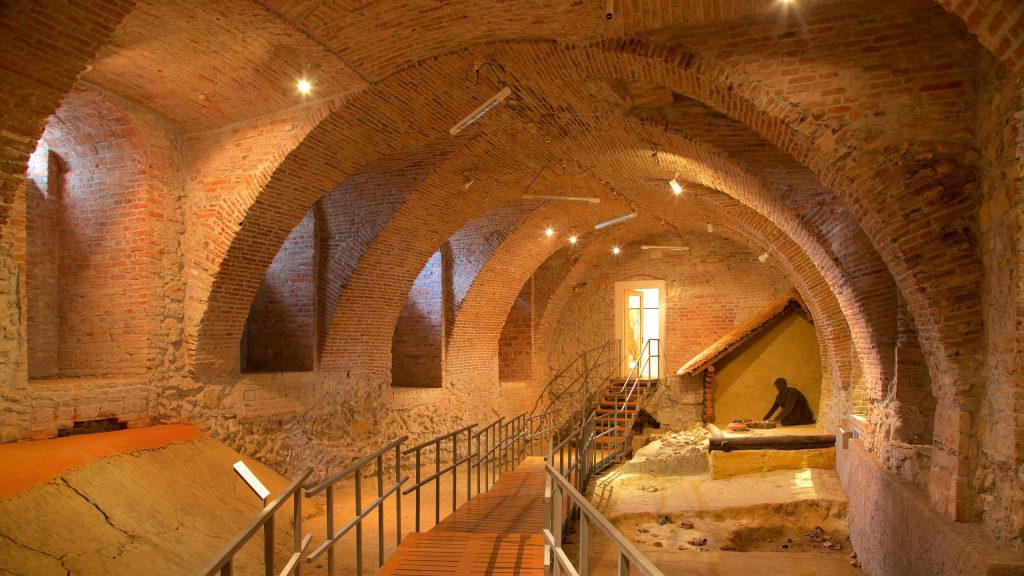 The city museum is a good place to start if you want to understand the Croatian capital better. This museum transports visitors from prehistory to the Roman era, through the Middle Ages, and into the 20th century. It is housed in a 17th-century monastery.
The collection contains more than 75,000 items that, taken as a whole, shed light on the city's evolution over time. There are numerous maps, paintings, pieces of furniture, flags, and uniforms from the military. Entry costs 30 HRK.
ADMIRE THE ZAGREB BOTANICAL GARDEN
Take a stroll in the botanical garden to escape the city's noise and bustle. The garden, which covers 12 acres and is in the city's heart, was established in 1889 by a professor from the University of Zagreb. Taking in the sights, sounds, and fragrances of more than 10,000 different plant and flower species worldwide is a wonderful way to pass a few hours. Admission is 10 HRK. On Mondays and Tuesdays, the entrance is free if you want to save some money.
SNACK YOUR WAY THROUGH THE DOLAC MARKET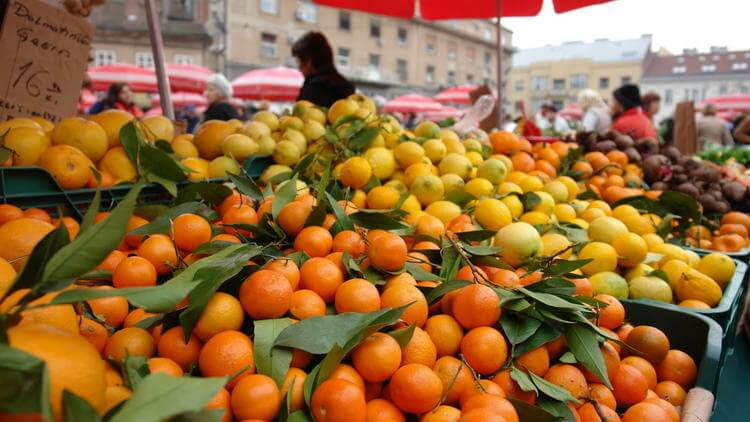 The Dolac Market, located in the heart of Zagreb's city centre, is a feast for the senses. Visit this market, which was first established in 1930, before 1 pm, for the greatest experience. Locals will likely purchase fresh produce, fish that has just been hauled out of the river, and pig parts. Pick up some sir I vrhnje (a creamy cheese) and kružnjak (cornbread), two very traditional Zagreb mainstays, and eat them together for food to eat on the road (or for a picnic).
WALK THE GREEN HORSESHOE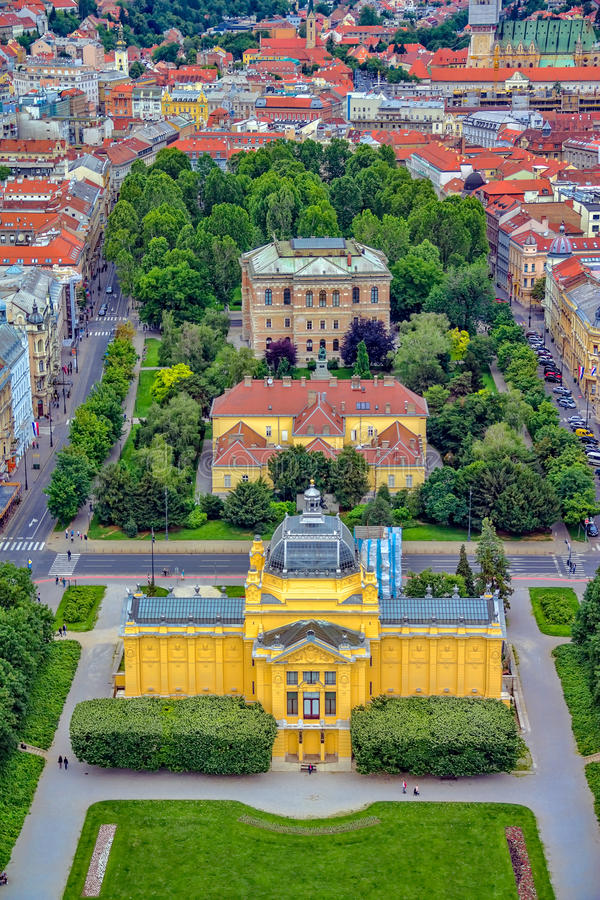 The "horseshoe" can be the first thing you see when you leave the train station and make your way to the city's heart if you arrive in Zagreb by train. What a charming welcome it is as well. The Green Horseshoe, also known as the Lenuci Horseshoe, is a U-shaped network of interconnected parks and squares in the city's Donji Grad, or Lower City, and was created in 1882 by Milan Lenuci. Many of the city's museums may be found along the route, as can century-old homes that originally belonged to the city's old-money nobility.
ZOO
In 1925, Zagreb Zoo was established in more than 200-year-old Maksimir Park. It is 7 hectares in size, of which 5.5 are on land. It has more than 7800 creatures from all seven continents representing more than 350 species.
The Zoo participates in many initiatives and activities meant to advance science and save threatened and endangered species. You can participate in more than 30 educational programs and activities throughout the year. This makes it a popular spot for people to unwind and rest.
UNIVERSITY OF ZAGREB
The University of Zagreb is the oldest higher learning institution in South East Europe and Croatia. Emperor and King Leopold I of the Habsburgs proclaimed on September 23, 1669, establishing the university in its present form and awarding the Jesuit Academy of the Royal Free City of Zagreb the rights and privileges of a university. By that document, Zagreb's philosophy department earned the name Neoacademia Zagrabiensis and was formally recognized as a public institution of higher learning.
BEACHES IN CROATIA
Every summer, Croatia is a major hit with tourists; if you've ever been there, you can probably guess why! The greatest advice is to move south because the most stunning sand and rock beaches are along the Dalmatian coast. Take the first flight (or bus) to the Croatian coast: Airport Split, Airport Zadar, or Airport Dubrovnik. Croatian islands are Adriatic pearls that frequently conceal your ideal getaways, most of which are easily accessible by ferry. So don't hesitate, get your swimsuit and sunblock and take the trip without thinking twice. Here are some reasons to visit the best Croatian beaches we have hand-picked.
SAHARUN, DUGI OTOK
The most well-known beach in Dugi Otok is likely the one that most people consider the most picturesque on the Croatian side of the Adriatic Sea. Its photographs will make you want to take in the scenery of Mauritius or the Maldives. Plan your journey to this slice of heaven on Earth, where the white beach and sparkling turquoise sea are a vacation for your body and soul.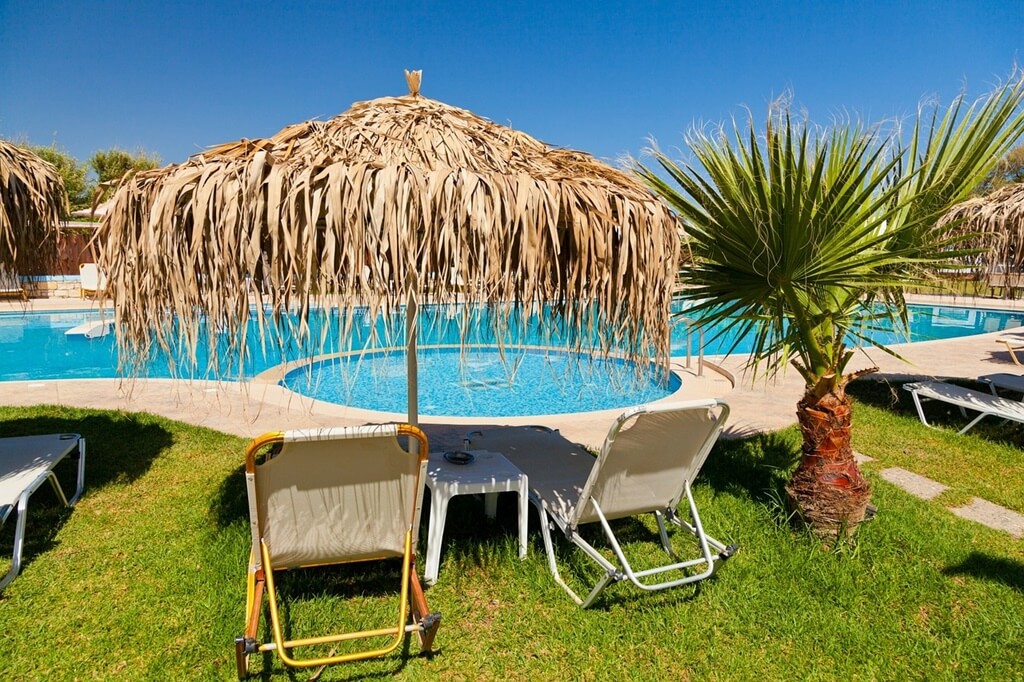 How to get to Saharun:
By ferry: Take the bus to Zadar; from there, the ferry line is Zadar – Brbinj.
SOLARIS, SIBENIK
This is a true family beach where children will enjoy themselves to the fullest thanks to the many activities available, including playgrounds, mini-golf, wooden child town, water slides, and pools. The pebble-white beach has already won numerous accolades, including Best Resort Beach on the Adriatic Sea and Best Beach in 2013. In addition to all of this, the cuisine is superb and is a true culinary heaven.
How to get to Solaris:
By bus: You can reach Sibenik from many regional cities, like Zagreb, Split, Rijeka, Dubrovnik, Sarajevo, Podgorica, etc.
ZLATNI RAT, BRAC
Zlatni rat, located on the island of Brac and more especially in Bol, is likely the most well-known Croatian beach. One of the most stunning beaches in the world, which alters its shape according to the sea current and waves, is just 15 minutes on foot from the Bol centre. The beach's natural white pebble stone surface is covered in a variety of activities for tourists, including jet-ski, bars, and restaurants with uniformed professional masseuses.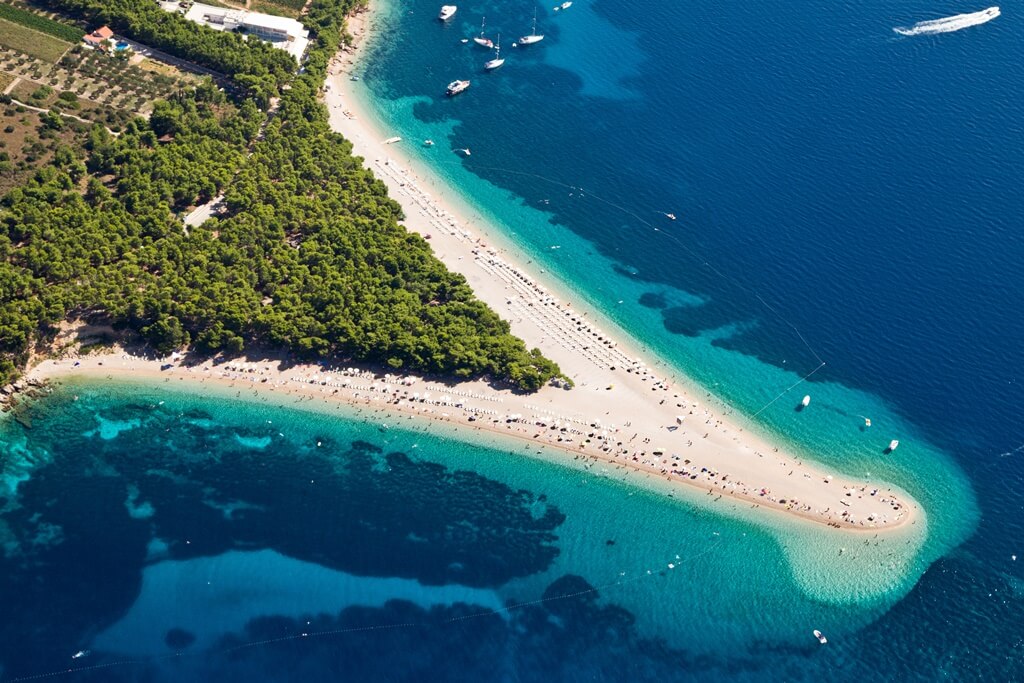 How to get to Zlatni rat:
By ferry: Take the ferry from Split to Brac (Bol). From there, you can walk or take a small tourist bus which takes you directly to the beach and departs from the port.
ISTRUGA, BRNA
Istruga beach, another gem on the island of Korcula, is 600 meters long and 500 meters from Smokvica and Brno, two popular tourist destinations. A modest restaurant and a sports and recreation facility are located in the cove, and they are all encircled by Mediterranean vegetation. However, the up to 6 m thick "peloids," a dark marine mud with a significant medicinal effect, are the finest feature of the cove.
How to get to Istruga:
By ferry: Take the ferry to Korcula from Split or Dubrovnik, and from there, take the local bus to Smokvica (4km away), where you need a short ride to Brna.
BANJE, DUBROVNIK
In the historic city of Dubrovnik, close to the city centre, lies one of South Dalmatia's most well-known beaches. Because you must descend a set of stairs to get to the beach, it is inaccessible to individuals with disabilities. Beautiful views of the old city of Dubrovnik and the uninhabited island of Lokrum may be seen from the beach.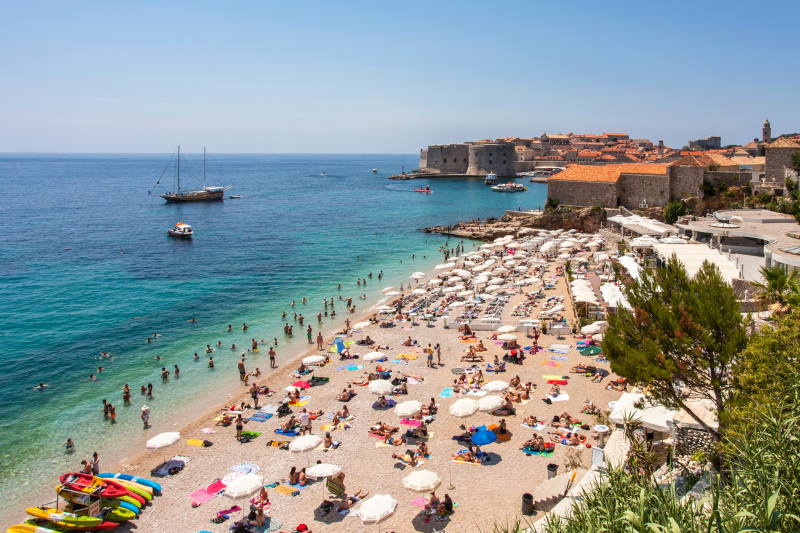 There is a restaurant there as well, where you can dine on some of the tastiest dishes while escaping the blazing sun. Other options include participating in water sports like jet skiing, paragliding, water tubing, banana riding, and other similar activities and going to clubs at night.
How to get to Banje:
By bus: The beach is in Dubrovnik's centre, so you can only walk there from the bus station. Dubrovnik is reachable from many European cities, like Zagreb, Podgorica, Sarajevo or Split.
WHERE TO STAY IN ZAGREB
With a variety of family-friendly Zagreb lodging options that promise affordability, quality, and style, the city also ranks among the most affordable cities in Europe and the best Balkan city lists. These accommodations range from five-star luxury hotels to international hotel chains, heritage hotels, boutique hotels, and rental apartments to Airbnb. Here are my recommended places to stay:
We hope that our carefully curated list of the top places to stay in Zagreb, Croatia, will assist you in making the right decision and enhance your overall experience there.
The greatest places to stay in Zagreb are Gornji Grad (Upper Town) and Donji Grad (Lower Town). Naturally, most of the main attractions are situated in these places.
For luxury guests, we suggest Hotel Esplanade and Hotel Le Premier; for those on a budget, Rooms Zagreb 17 and Art Hotel Like; and for those looking for a home-like setting even when travelling, Feels Like Home Apartments.
Another great choice is Airbnb, particularly for families taking children on vacation. You'll enjoy every minute at Bianca and Marko's house. Despite being far from the city's heart, it is quiet and peaceful.
Best Areas to Stay in Zagreb: Best Zagreb Hotels for Families
Before booking a hotel in Zagreb, deciding which part of the city best suits your needs for a place to stay is important. Out of all the neighbourhoods and districts of Zagreb, the following are particularly well-liked by tourists: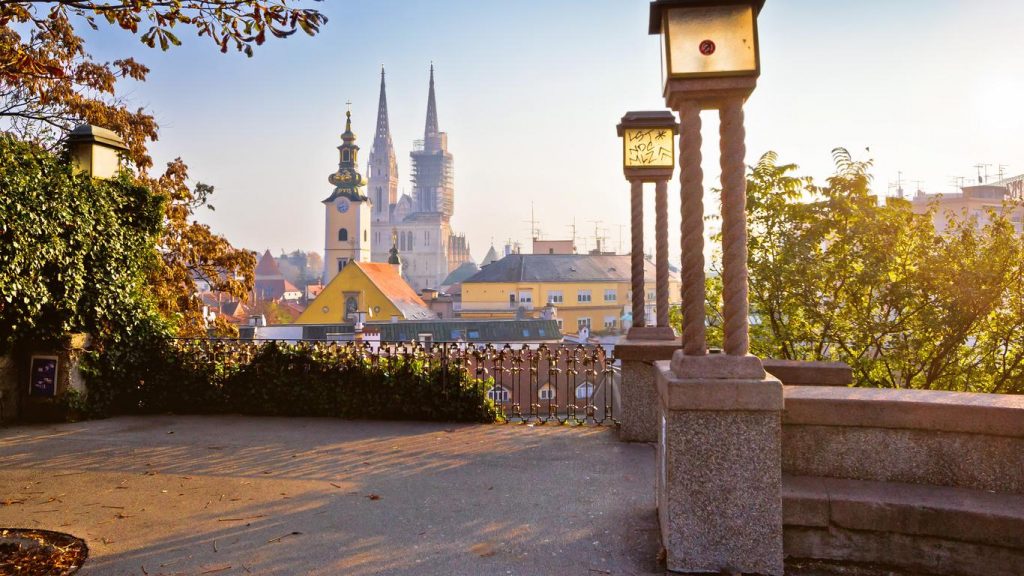 LOWER TOWN (DONJI GRAD)
We completely adore the lower town because of its superb position, making it one of Zagreb's best neighbourhoods. It's the finest location for sightseeing because nearly all Zagreb city tours begin from here, and most of the attractions, landmarks, restaurants, and cafes are within walking distance.
Best Hotels in Lower Town:
UPPER TOWN (GORNJI GRAD)
Upper Town is a peaceful city centre compared to Lower Town, which is more crowded and boisterous. Rustic cafes, taverns, and clubs abound there. Additionally, lodging in the Upper Town guarantees the greatest vistas of Zagreb.
Best Hotels in Upper Town:
ZAGREB CITY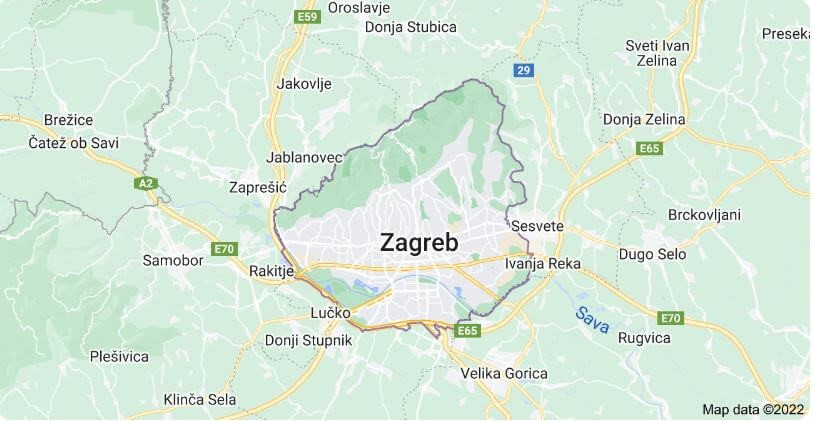 The capital of Croatia's northwest, Zagreb, is distinguished by its Austro-Hungarian construction from the 18th and 19th centuries. The Gothic Zagreb Cathedral, with its twin spires, and the 13th-century St. Mark's Church, with its vibrantly tiled roof, are located in Upper Town's centre. Tkalčićeva Street is pedestrian-friendly and close by and packed with outdoor cafes. The major square, Ban Jelačić, stores, museums, and parks are all in Lower Town.
ZAGREB CITY CARD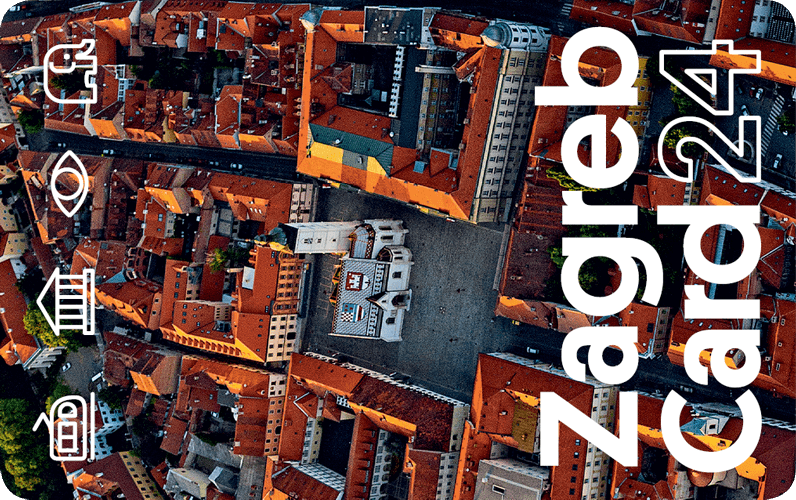 A unique ZAGREB CARD for visitors to Zagreb has been produced for you by the Zagreb Tourist Board and Five Stars Ltd. You are eligible for exclusive discounts, incentives, and unexpected presents when purchasing this card.
WHAT IS ZAGREB CARD?
Your ideal travel companion in Zagreb is ZAGREB CARD. Providing free transit within the city transportation system of Zagreb and free admission to three esteemed Zagreb museums and the Zagreb Zoo helps you save time and money.
You are also entitled to fantastic savings as a ZAGREB CARD holder at 70 various establishments and places, including museums, restaurants, stores, and shops.
WHAT DO YOU GET IF YOU BUY ZAGREB CARD?
You receive a special pamphlet with a list of all the free-entry places, service providers, and discounts included in your card when you purchase a ZAGREB CARD.
WHAT IS THE DURATION OF THE ZAGREB CARD?
You can get a 24-hour or 72-hour card depending on how long you expect to stay in Zagreb or your itinerary. When you're ready to use it, please enter the date and time on the card, and it's good for 24 or 72 hours, depending on your selection.
WHAT IS THE PRICE OF THE ZAGREB CARD?
The price of a 24-hr ZAGREB CARD is 13 EUR, and a 72-hr ZAGREB CARD is 18 EUR.
WHERE CAN YOU BUY ZAGREB CARD?
Your ZAGREB CARD can be ordered online and picked up at the visitor centre at Ban Jelačić Square 11. The ZAGREB CARD is available from travel brokers and at the front desks of many Zagreb hotels and hostels.
GARAGES & ZONES, WHERE TO PARK IN ZAGREB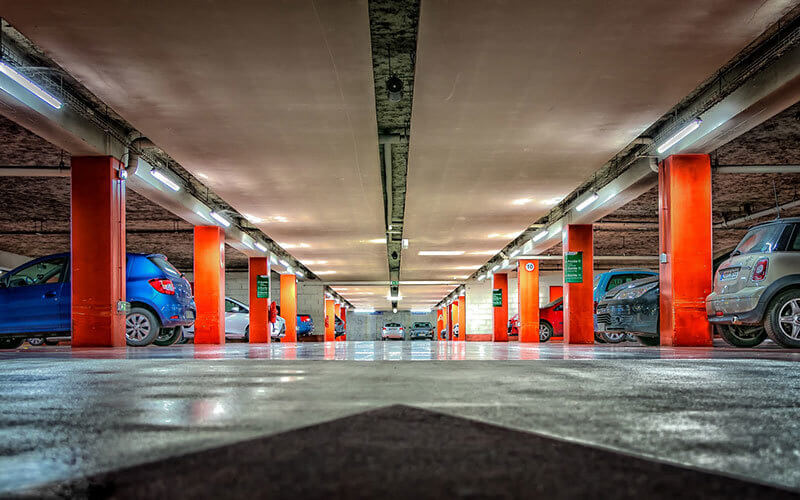 Except for specific classifications, Zagreb Parking is separated into 3 zones. Do you need to park a car or a bus in Zagreb? Discover what suits you by reading on.
Zone I is north of the train track; zones II and III are south of the train track. If the parking space is not cleaned during the winter, you do not need to pay for it.
Parking in Zagreb can be difficult and expensive if you are not careful. The cost increases with proximity to the city centre. Be aware that prices and rules can change.
How to pay for a parking ticket in Zagreb?
As soon as the car is parked, payment is due. Parking meters on the street and text messaging are two ways to pay.
Paying by Parking Meter
Only coins worth 0.50, 1, 2, and 5 HRK can be used in the parking meter, so be prepared with your change. Make sure to purchase the parking ticket and display it on your dashboard.
Zagreb Public Street Parking and Zones
Except for individual categories, parking throughout the city is separated into three zones. Pay heed to the signage if you park in a spot designated for street parking.
Parking Zone I
Mobile payment SMS number (+385) 700101
Monday-Friday 07:00-22:00
Saturday 07:00-15:00
Free parking on Sunday.
Price – 12 HRK per hour
Maximum 2 hours parking!
A full-day ticket is 100 HRK.
You can pay for half an hour at the parking meter or add #30 after your licence plate number (no gaps, ex. ZG1234AO#30).
Parking Zone II
Mobile payment SMS number (+385) 700102
Monday-Friday 07:00-20:00
Saturday 07:00-15:00
Free parking on Sunday.
Price – 5 HRK per hour.
Maximum 3 hours of parking!
A full-day ticket is 60 HRK.
Parking Zone III
Mobile payment SMS number (+385) 700103
Monday-Friday 07:00-20:00
Saturday 07:00-15:00
Free parking on Sunday.
Price – 2 HRK per hour.
Unlimited parking!
A full-day ticket is 20 HRK.
BACKPACKING ZAGREB SUGGESTED BUDGETS
350 HRK per day is the suggested spending limit if you're backpacking around Croatia. This implies you're using public transit, cooking all of your food, limiting how much you drink, participating in cost-free activities like hiking and free walking tours, and lodging in a dorm at a hostel. If you're travelling during the summer or intend to consume alcohol, you'll need to set aside more money.
You can stay in a private Airbnb or private hostel room, dine out for all of your meals, enjoy a few drinks, participate in some guided tours, occasionally utilize a cab to get around and see more museums and sites on a mid-range budget of 800 HRK per day (like the funicular).
You can stay in a hotel, get a car to travel around, take private guided tours, eat and drink as much as you'd want, and visit as many museums and sites as you'd like on a "luxury" budget of 1,600 HRK per day. But for luxury, this is merely the ground floor. There are no boundaries!
Follow the chart below to estimate how much you should budget each day. Remember that these are daily averages and that there may be days when you spend more or less (you might spend less every day). We wish to provide you with a rough outline for creating your budget. The price is in HRK.
| | | | | | |
| --- | --- | --- | --- | --- | --- |
|   | Accommodation | Food | Transportation | Attractions | Average Daily Cost |
| Backpacker | 150 | 70 | 35 | 45 | 300 |
| Mid-Range | 300 | 275 | 100 | 125 | 800 |
| Luxury | 525 | 550 | 275 | 250 | 1600 |
Final Words
Travellers are so mesmerized by Croatian cities and villages with breathtaking Adriatic coasts like Dubrovnik and Split that they entirely ignore the country's inland capital city of Zagreb, one of our favourite European capital cities in the world. However, they are unaware of what they are missing.
It's simple to fall in love with Zagreb, Croatia, because of its distinct charm, rich culture and history, one-of-a-kind architecture, and energetic vibes.
You will have a wonderful experience and remember Zagreb for the rest of your life.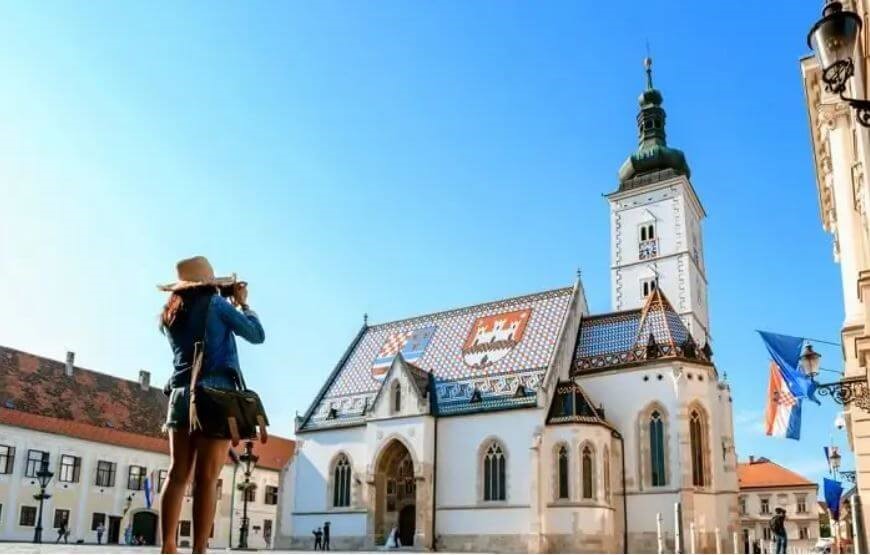 FAQs
Why is Zagreb famous?
There are too many noteworthy art galleries and museums in Zagreb for this article to list them all. We think the renowned Art Pavilion in Zagreb is a place you must visit. It is the oldest gallery in Southeast Europe and was built in 1897.
Is visiting Zagreb worth it?
Is a trip to Zagreb worthwhile? I would say sure! Zagreb will complete your trip in Croatia while giving your pocketbook a much-needed respite. In comparison to islands and coastal communities, it is quite different.
Is Zagreb a cheap city?
Although rising popularity has led to increased expenditures, Zagreb still offers cheaper pricing than other large cities in the European Union. Zagreb is the city for you if you want to live the ex-pat dream in a cheap-living European major.
Which is better to visit, Dubrovnik or Zagreb?
Dubrovnik is the most well-liked tourist destination. Both cities offer fantastic experiences. The beaches, historical sites, and city tours in Dubrovnik appeal to families seeking a quick trip.
How many days do you need in Zagreb?
The ideal time to enjoy the culture and environment, see the city's top attractions, and sample some of the local cuisines in Zagreb is three days, although you could easily stay here longer. This itinerary will provide all the information you need if you want advice on spending three days in Zagreb.
Do they speak English in Zagreb?
English is the most prevalent among all secondary languages in this age range. It's not surprising that English speakers concentrated in Croatia's capital, Zagreb, along the breathtaking Dalmatian coast
Is Zagreb cheaper than Dubrovnik?
Zagreb's average daily cost (per person) is $60, compared to Dubrovnik's average daily cost of $75. This means that Zagreb is a bit cheaper when comparing to Dubrovnik.
Is there a lot to do in Zagreb?
There are many things to do in Zagreb, so even if you did a walking tour of the city's top attractions in a single day, you wouldn't have time to linger. Given that this is the "city of museums," you might wish to stay longer to visit more. Spend an additional day at Plitvice Lakes.
Is Zagreb a walking city?
The capital of Croatia is Zagreb. Although the city is large, its historic center is compact and easy to wander through.
Is Zagreb good for nightlife?
Few cities can compare to Zagreb's nightlife in terms of the variety of regularly occurring live music and the sheer number of venues that host it. The music bars in Zagreb are also well-known; venues like SPUNK, for example, turn into small clubs as the night goes on and occasionally feature live performances.