A Hidden Gem of Croatia's Dalmatian Coast
Today, Zadar is a historical centre of Dalmatia and the country's principal political, cultural, commercial, industrial, educational, and transportation centre. It is also the Archdiocese of Zadar's diocese. Now is one of the most famous Croatian tourist destinations, dubbed "the entertainment centre of the Adriatic" by The Times and "Croatia's new capital of cool" by The Guardian.
This fortified city was added to UNESCO's World Heritage List as part of the Venetian Works of Defense between the 15th and 17th centuries.
Zadar History
Zadar has been mentioned as a settlement in written documents and historical artefacts for over 3,000 years. It became a fully urbanised centre during ancient Roman times and remained so for the next two millennia. Since prehistoric times, the Zadar district has been inhabited. The earliest evidence of human life dates from the late Stone Age, with most settlements dating from the Neolithic. Before the Illyrians, the area was previously occupied by an ancient Mediterranean people of a proto-Indo-European culture. They mixed with the Indo-Europeans who settled between the 4th and 2nd millennia BC to form the Liburnians, a new ethnic group. Zadar is an ancient Liburnian settlement dating back to BC. It was constructed in the ninth century.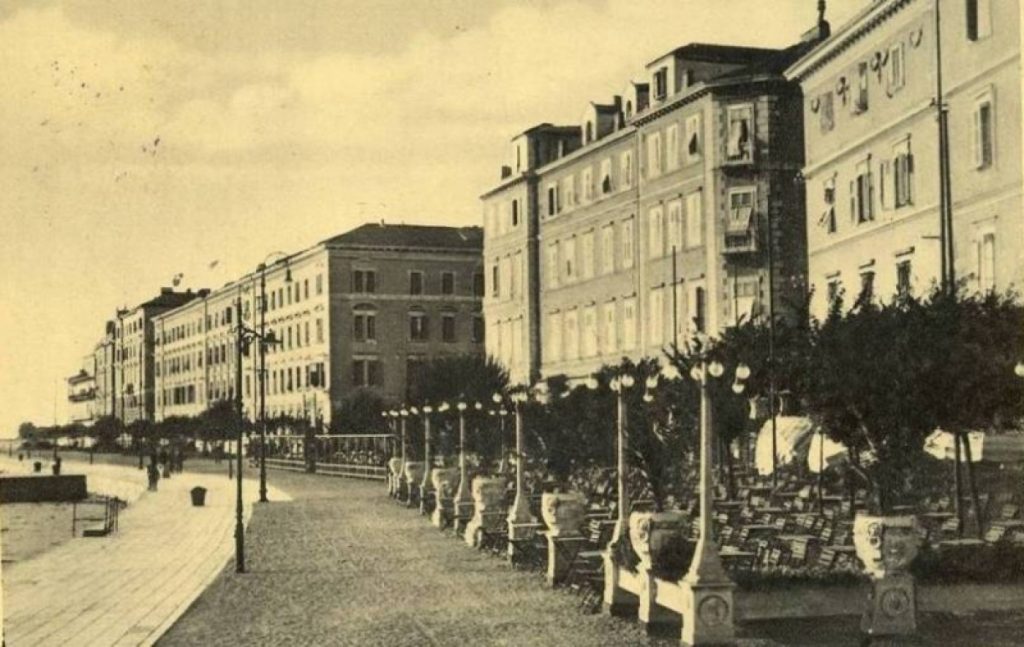 How To Get Into Zadar
By Plane
Zadar's airport is a small but modern facility located 9 kilometres from the city centre. Although it is a small airport, it has excellent connections to European cities, and many low-cost airlines have made the Airport their primary base for flights to the Adriatic in recent years. Zadar Airport provides public transportation to and from the city (Liburnija company). The Airport bus stop is in front of the main airport building's entrance/exit.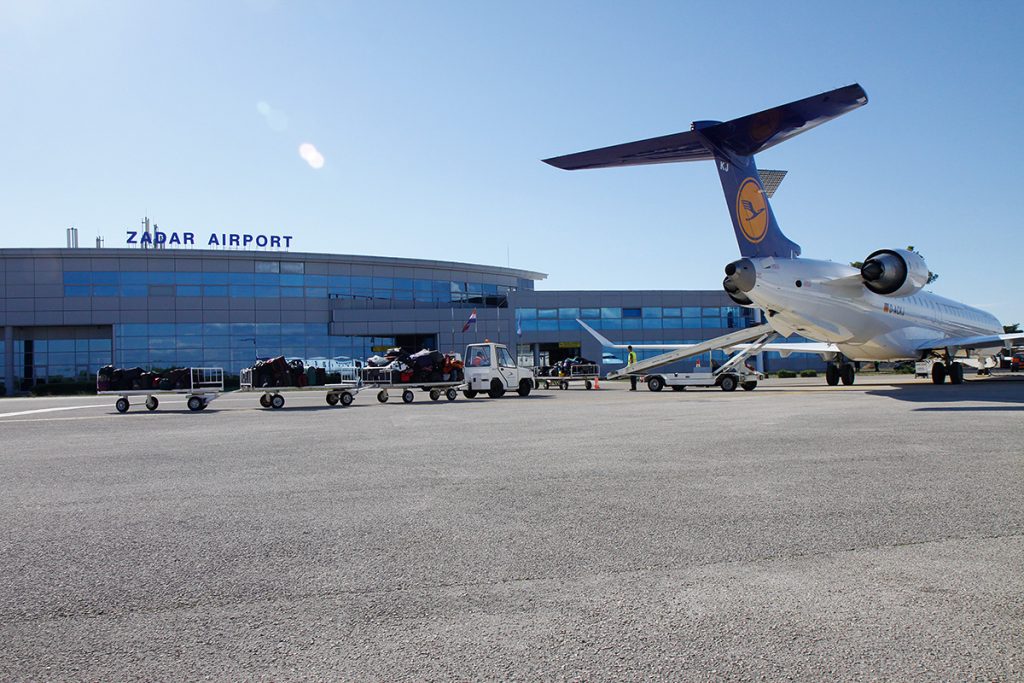 Zadar by Ferry
Outside of peak season, Zadar has an international ferry connection from Ancona, Italy, which runs several times weekly and more frequently during peak season. The national ferry/catamaran schedule includes departures from Ugljan, Pasman, Dugi Otok, and other locations. The ferry dock is in the city centre, which causes traffic jams during the summer.Ryanair often use Beauvais.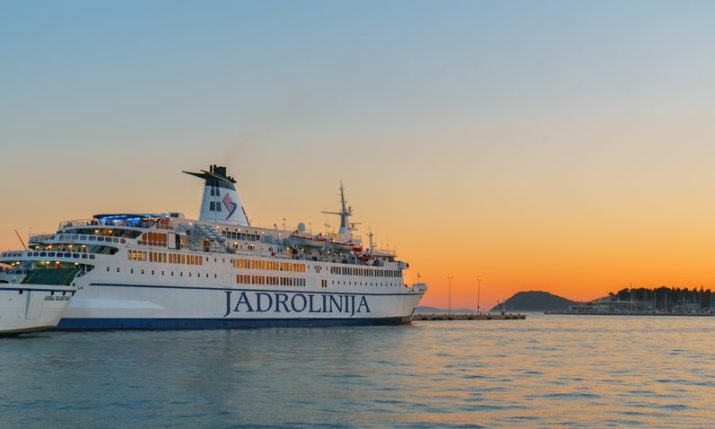 By Train,
The train station in Zadar is located next to the bus station. Regular trains run from Zagreb to Sadar, with a stop in Knin in between. In addition, there are standard train lines from Vienna, Belgrade, Prague, and Budapest to Split during the summer; this train stops in Knin, where you can change from the local train to Zadar.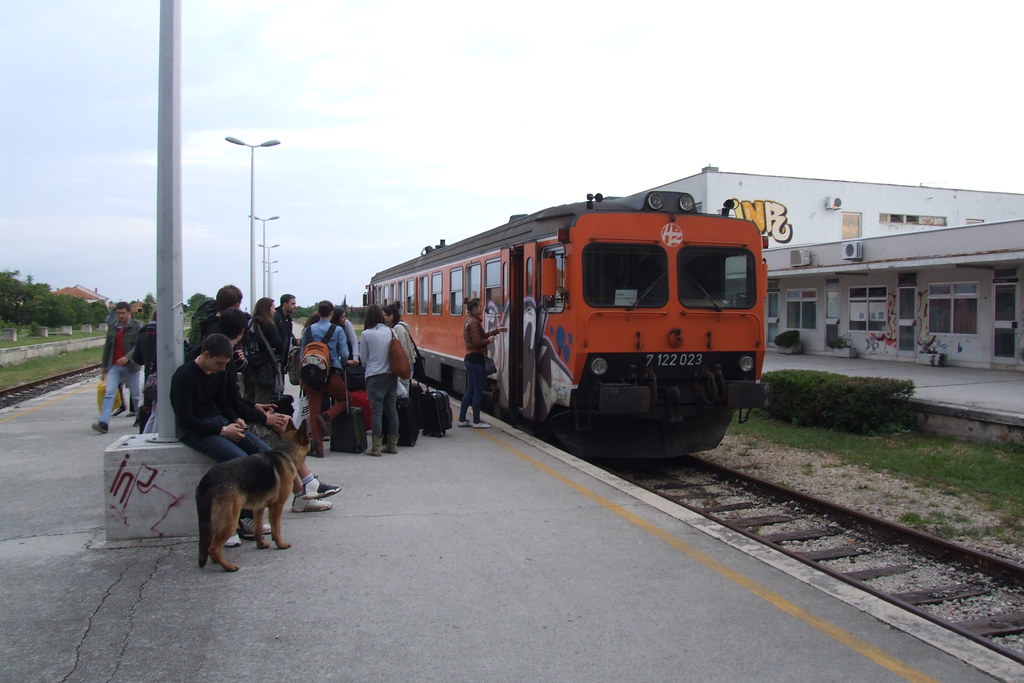 By Bus
Zadar has excellent bus connections to major cities throughout Croatia and international connections to Bosnia, Herzegovina, and Germany. The central bus station in Zadar is near the railway station, at the crossroads of Bregdetti and Ante Starcevic streets.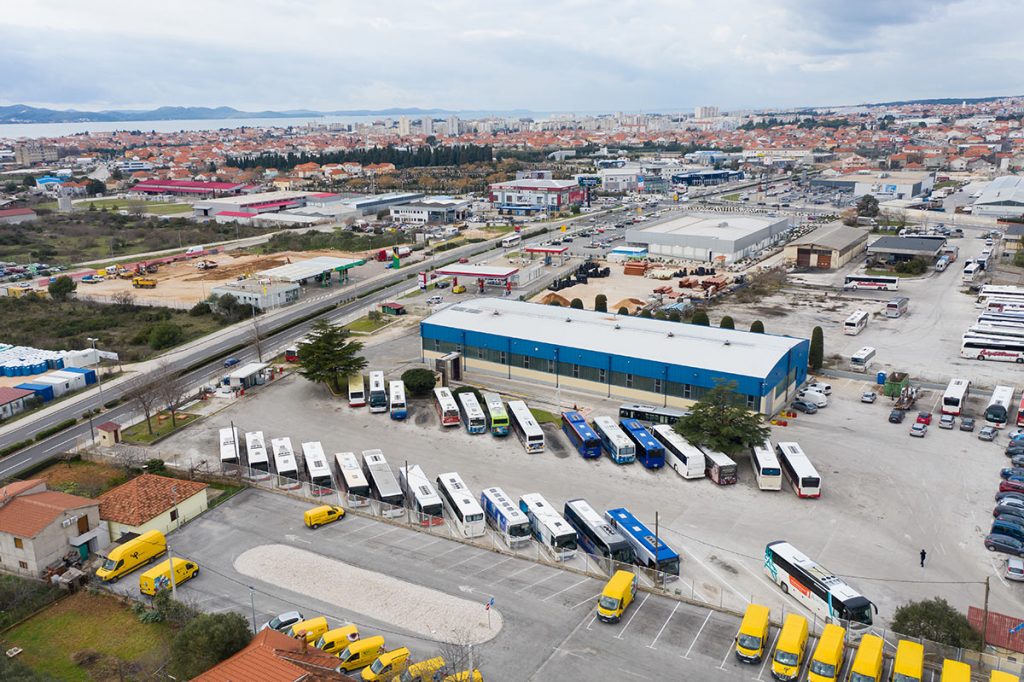 By Car,
Zadar has located about 260-270 km from the nearest border crossing to Slovenia. The fastest way from the Slovenian border is always the Croatian highway; when you reach Zadar on the highway, you should exit Zadar I, and you have about 15 km to the city centre.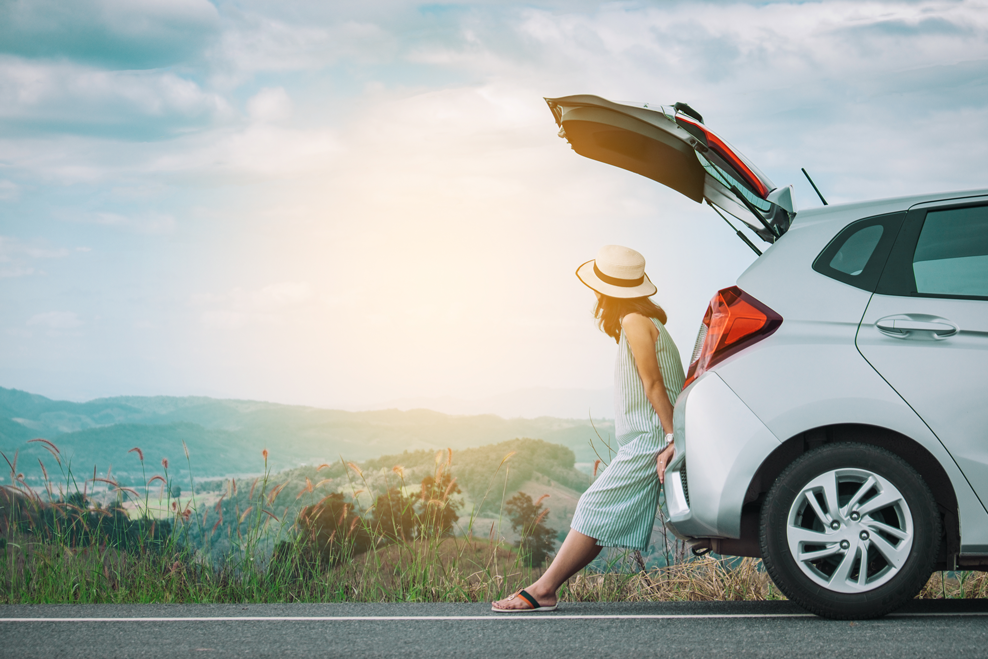 Zadar Climate
Summers in Zadar are short, warm, and mostly clear, while winters are long, cold, wet, windy, and partly cloudy. Throughout the year, the temperature typically ranges from 36°F to 88°F, with temperatures rarely falling below 28°F or rising above 95°F.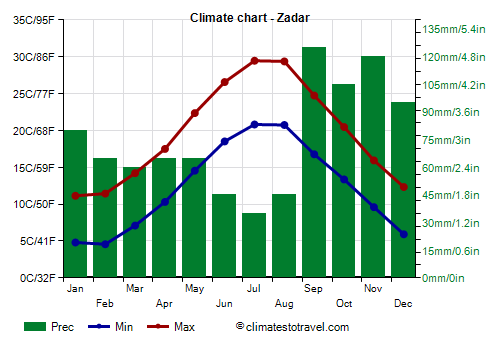 The best time of year to visit Zadar for hot-weather activities is from late June to late August, according to the beach/pool score.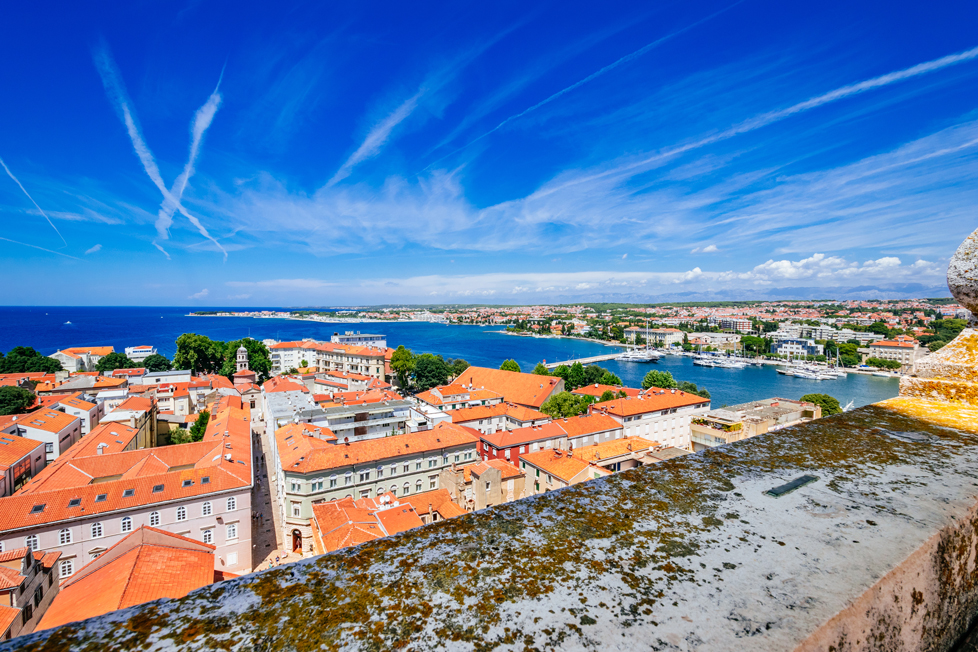 Top Sights In Zadar
Cathedral of St. Anastasia
The Cathedral of St. Anastasia in Zadar, Croatia's Roman Catholic cathedral, the seat of the Archdiocese of Zadar, and the largest church in Dalmatia. The church's origins can be traced back to a Christian basilica built in the fourth and fifth centuries, while much of the current three-nave structure was built in the Romanesque style during the 12th and 13th centuries. The site has been added to the Tentative List of World Heritage Sites maintained by UNESCO.est artificial structure.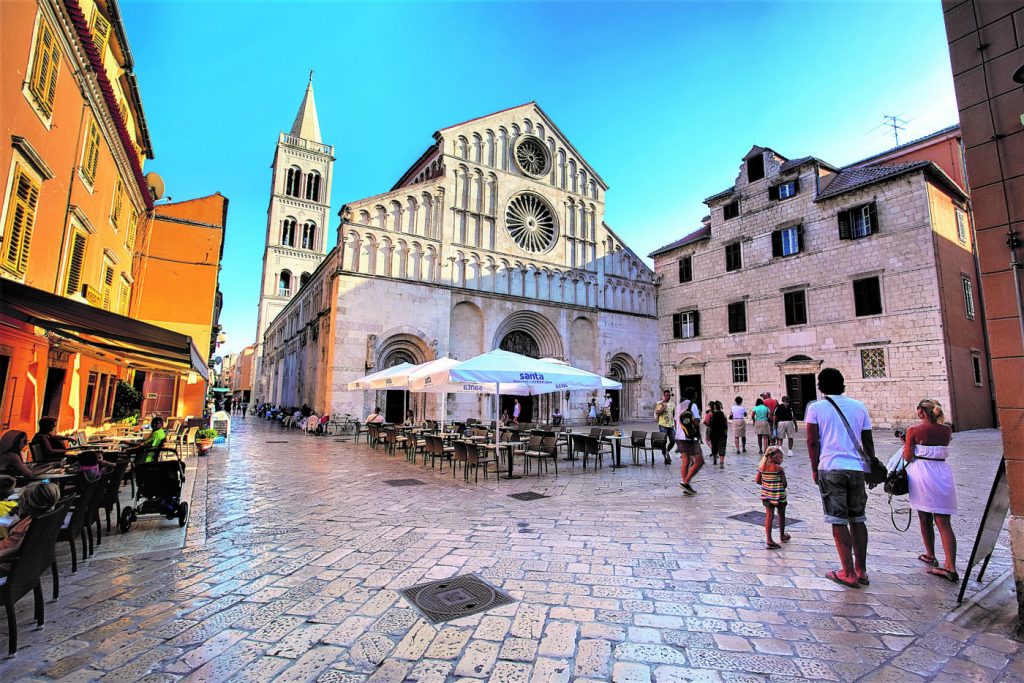 Crkva SV. Donata
The Church of St. Donatus is a Croatian church in Zadar. It was named after Donatus of Zadar, who built this church in the 9th century and finished it on the northeastern part of the Roman forum. Originally known as the Church of the Holy Trinity, it was renamed St Donatus in the 15th century. The church is Croatia's largest Pre-Romanesque structure. It is also an example of the Carolingian period's centralised type in Europe.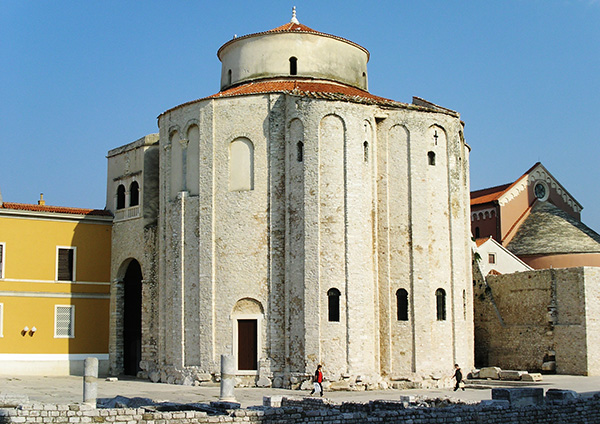 Sea Organ
The Sea organ is an architectural sound art object and experimental musical instrument located in Zadar, Croatia, playing music through sea waves and tubes beneath a set of large marble steps.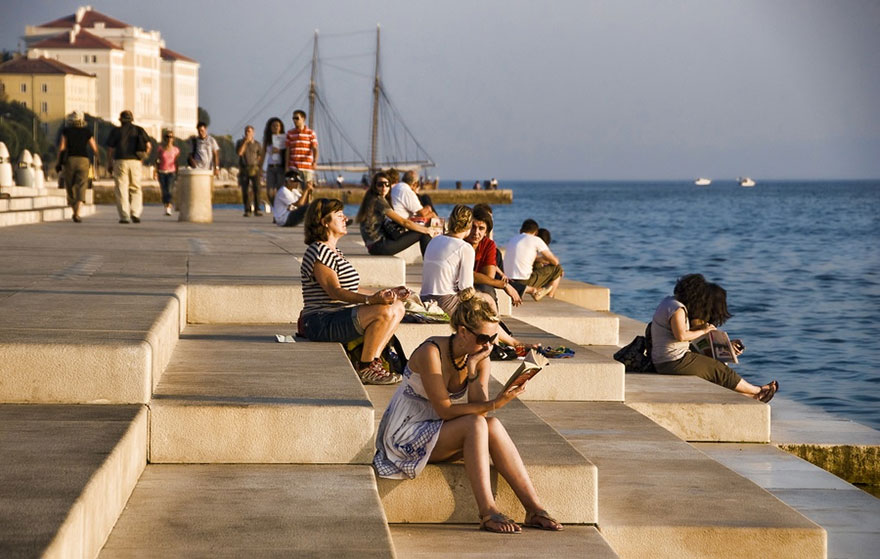 The Greeting to the Sun, Zadar
Monument to the Sun, also known as The Greeting to the Sun, is a monument dedicated to the Sun in Zadar, Croatia. It comprises 300 multi-layered glass plates on the same level as the stone-paved waterfront. It comprises a 22-meter-diameter circle with photovoltaic solar modules beneath it. At night, lighting elements in a circle illuminate and create a light show. The monument, designed by Croatian architect Nikola Bai, represents communication with nature through light, whereas the nearby Sea organ communicates through sound.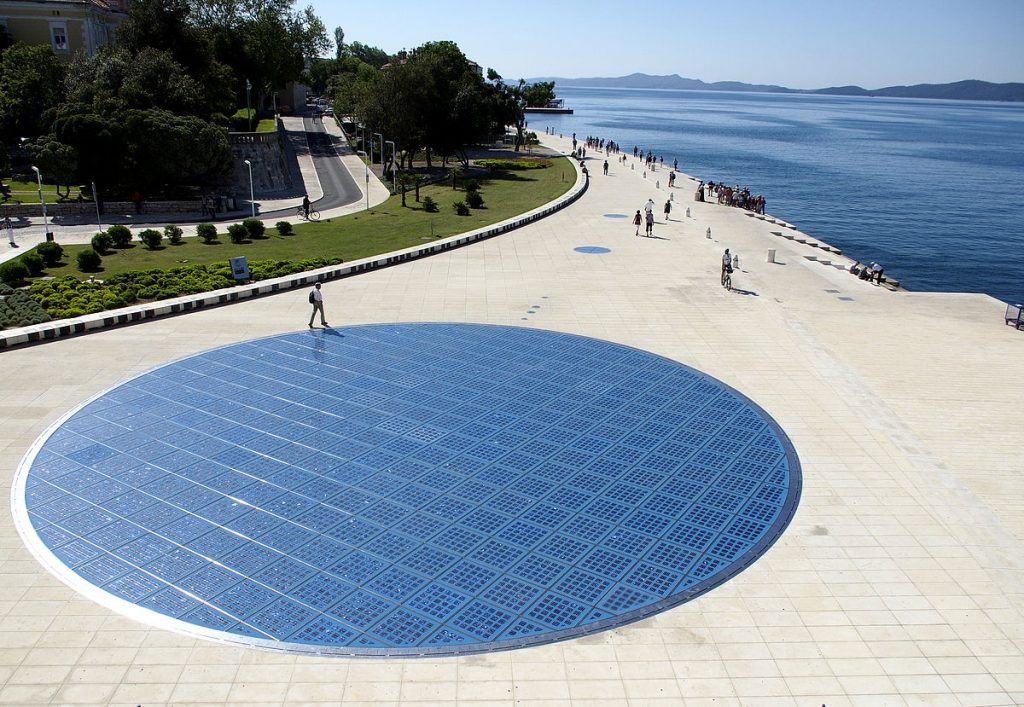 Plitvice Lakes National Park
Plitvice Lakes National Park is one of Croatia's oldest and largest national parks. The park was added to the UNESCO World Heritage List in 1979 for its beautiful tufa lakes, caves, and waterfalls. The national park was established in 1949 and is located in central Croatia's mountainous karst region, near the border with Bosnia and Herzegovina. The protected area is 296.85 square kilometres in size. The majority of this area is in Lika-Senj County, with the remaining 10% in Karlovac County.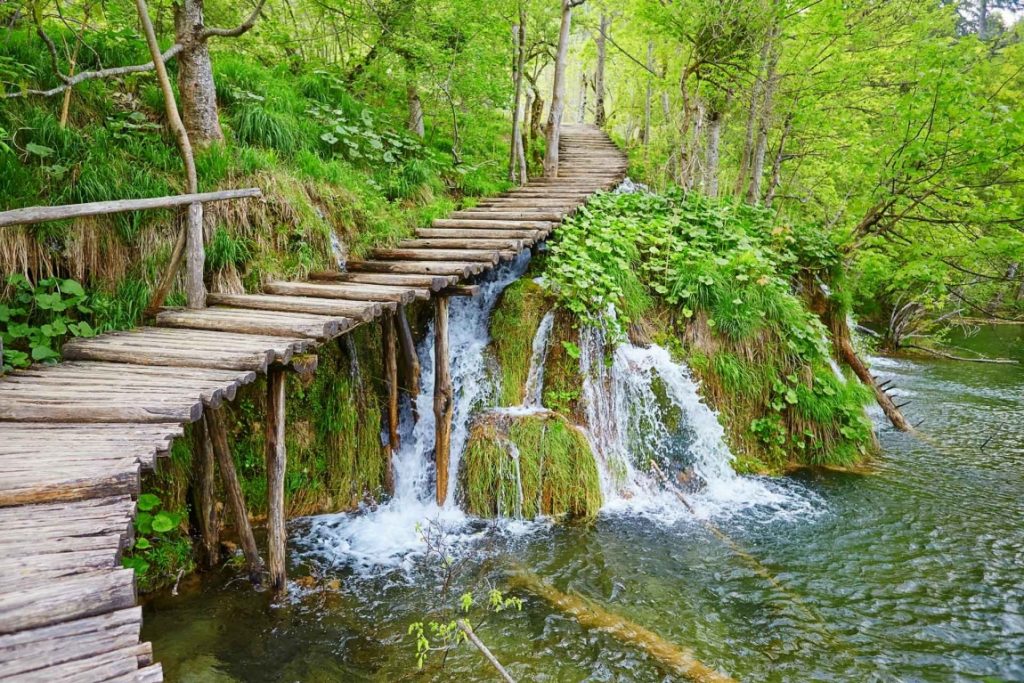 Church of St. Krsevan
Chrysogonus Church is a Roman Catholic church in Zadar, Croatia, named after Saint Chrysogonus, the town's patron saint. Archbishop Lampridius of Zadar dedicated the Romanesque church in 1175. It replaced the Chapel of St Anthony the Hermit and is the only surviving part of a large mediaeval Benedictine monastery. It was built on the site of a Roman emporium. Elisabeth of Bosnia, the murdered Queen Dowager of Hungary and Dalmatia, was secretly buried in the church in 1387. She remained for three years before being moved to the Székesfehérvár Basilica.
The Roman Forum 
The first and second centuries BC and AD Sadr's ancient Roman Forum, built between the third and fourth centuries AD, should be explored as part of a walking tour of the city.
The scale of this impressive ruin in Zeleni trg square is still impressive at 90 metres long and 45 metres wide. Several public building foundations, paving stones, and a Corinthian column are notable.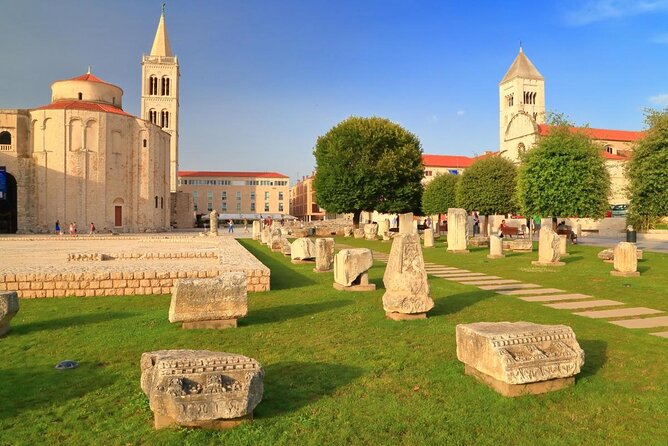 City Walls and Gates Zadar
Exploring Zadar's stunning old town walls and gates is a must-do on any visit. The Romans built the oldest part, located along the eastern wall near the footbridge, while the Venetians mostly built the remaining parts. The land entrance is the most important and impressive. This magnificent structure, built in the Renaissance by the Venetians in 1543, is the best starting point for exploring the city's old quarter.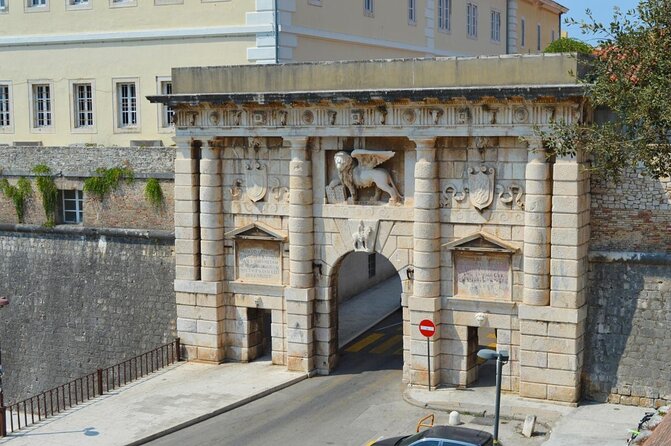 Zadar City Details
The narrow Zadar Strait separates the islands of Ugljan and Paman from Zadar. The old city's mainland was separated from the mainland by a deep moat, which has since been filled in. The harbour in the city's northeast is secure and spacious. Tourism, transportation, maritime trade, agriculture, fishing, and aquaculture are all major industries, as are metal manufacturing and mechanical engineering, chemicals and non-metallic industries, and banking.
Zadar currency: The kuna
Zadar city area:  City 25 km2 (10 sq mi)
  Metro 194 km2 (75 sq mi)
Zadar time zone: UTC+1 (CET)
  Summer (DST) UTC+2 (CEST)
Zadar's official language: Croatian
Zadar (Croatia) dials Code: +385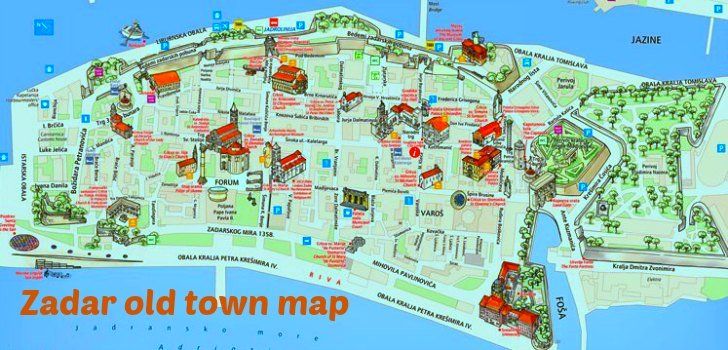 Getting around in Zadar
Public Transportation
In Zadar, the only mode of public transportation is the bus. Liburnija, Zadar's local bus company, handles local bus routes from the bus station to the city centre and all suburbs. Buses frequently run from the old town and bus station to Diklo and Boric. The cost of a bus ticket is 1.50 euros.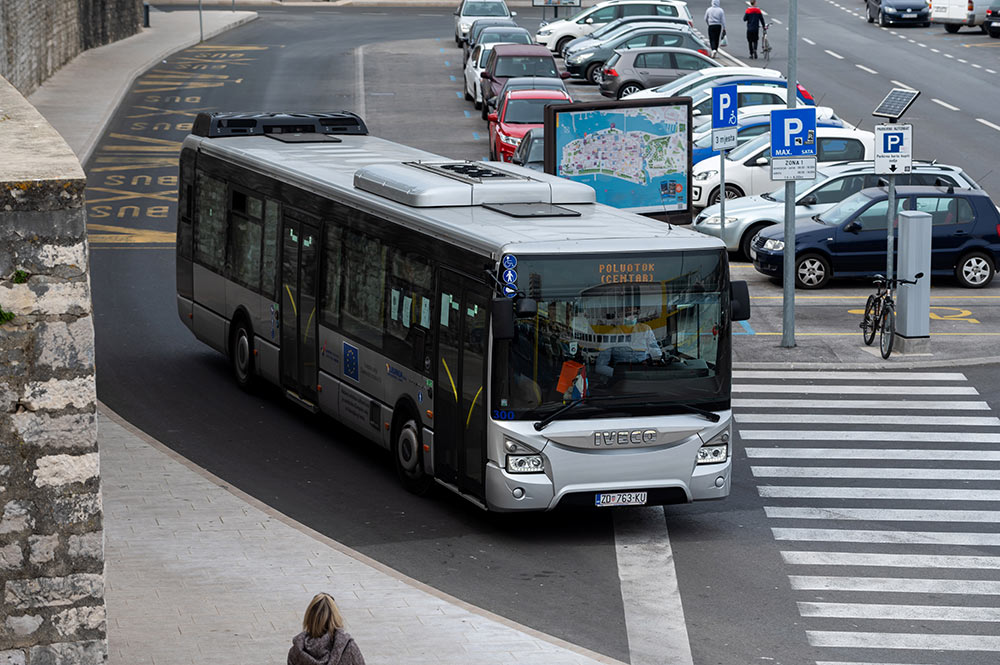 Bike
Biking is a popular and convenient mode of transportation in Zadar. Especially for returning to the neighbourhoods of Borik and Diklo. Bike lanes are marked on sidewalks rather than busy roads. It improves the overall experience. Take a bike on a ferry to Dugi Otok or Ugljan Islands for even more relaxation.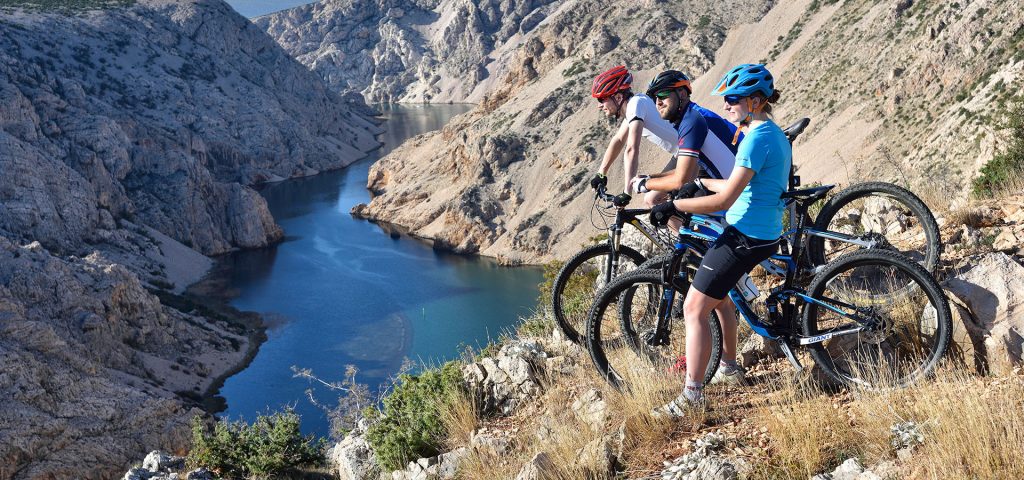 By Car,
The historic centre of Zadar is mostly car-free, but there is parking outside the walls and at either entrance. Although the Old Town is self-contained and easy to walk through, many hotels and private accommodations can be found in Borik or Diklo, two suburbs about 3 kilometres northwest of the town centre.
Zadar Cuisine
Zadar's traditional cuisine is named after the Dalmatian region and is a one-of-a-kind representation of Mediterranean cuisine. It includes several Mediterranean cooking methods, Dalmatian products and traditional cooking. It is based on simplicity, naturalness, seafood, and agricultural products grown on farms in the surrounding countryside. Researchers claim that Mediterranean and Dalmatian diets are among the healthiest in the world, lowering the risk of various diseases such as obesity, diabetes, and cardiovascular disease. Those who follow that diet are also more likely to live longer lives.
For centuries, traditional recipes in Zadar have been proudly passed down from generation to generation. And, just as importantly, meal preparation is an opportunity for friends and family to gather to cook and share a glass of wine.
traditional local food and products
Dalmatian Prsut (prosciutto) and Sokol from Nin.
Cheese from island Pag.
Salted or marinated anchovies.
Roasted olives with olive oil.
Asparagus.
Mussels.
Shrimp or lobster with buzara sauce.
Salsa – Croatian tomato sauce.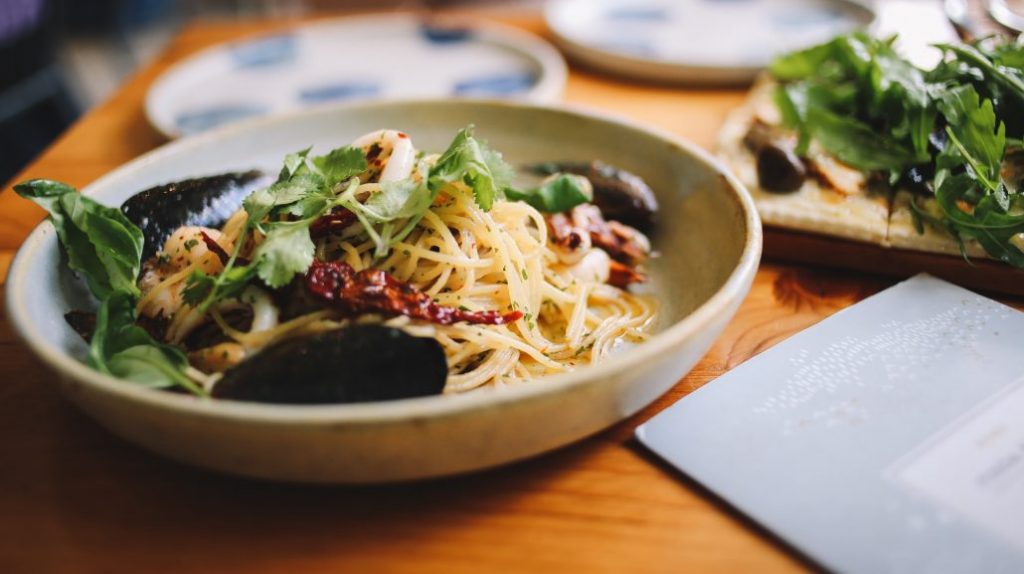 Zadar Nightlife
Everyone is out on warm evenings. Sitting on benches and promenading down the street are still practices. Zadar's nightlife is neither sceney nor divided into old and young, so you'll find an unpretentious mix of people in most places.
While the Old Town is a charming place to spend an evening, you can also visit Borik, Diklo, and Kolovare to enjoy the sea breeze and watch the sunset. The sunsets in Zadar are said to be the best in the world. Alfred Hitchcock, it appears, agreed.
Those of you looking for a little more will not be disappointed. Young Croatians are a cosmopolitan bunch, and you'd be surprised at how urban the culture is.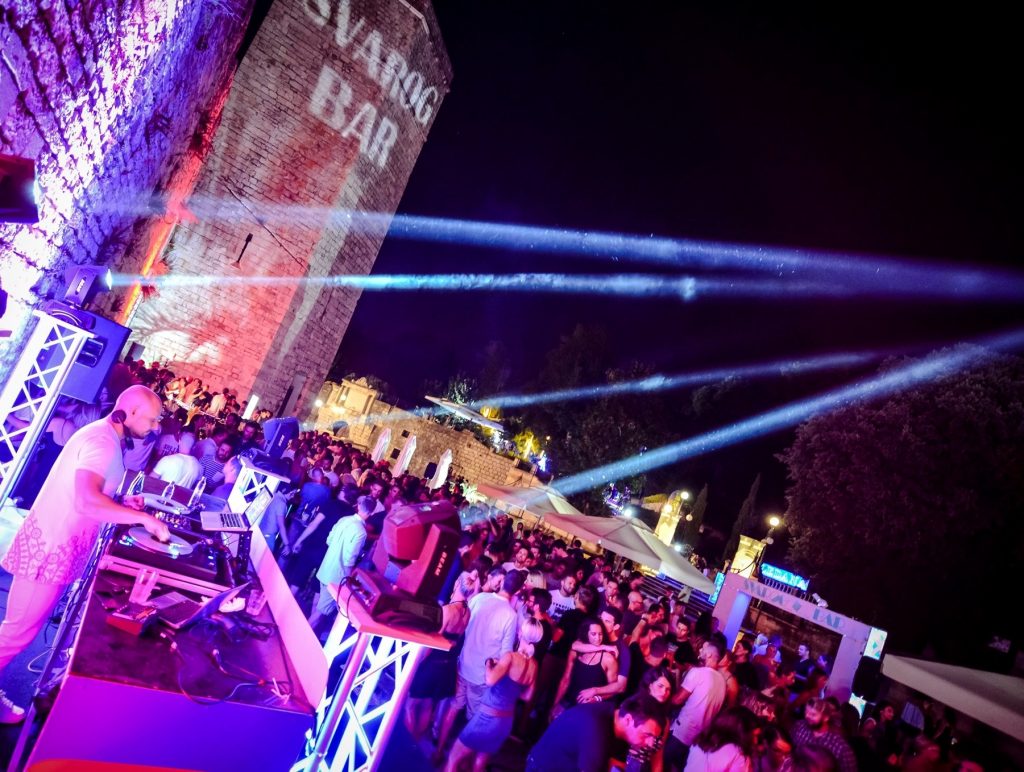 Zadar Accommodation
Zadar's accommodation is primarily concentrated in three- and four-star hotels. There are no five-star hotels. There are, however, some excellent four-star hotels. On the other end of the spectrum, there are numerous private accommodations and excellent youth hostels.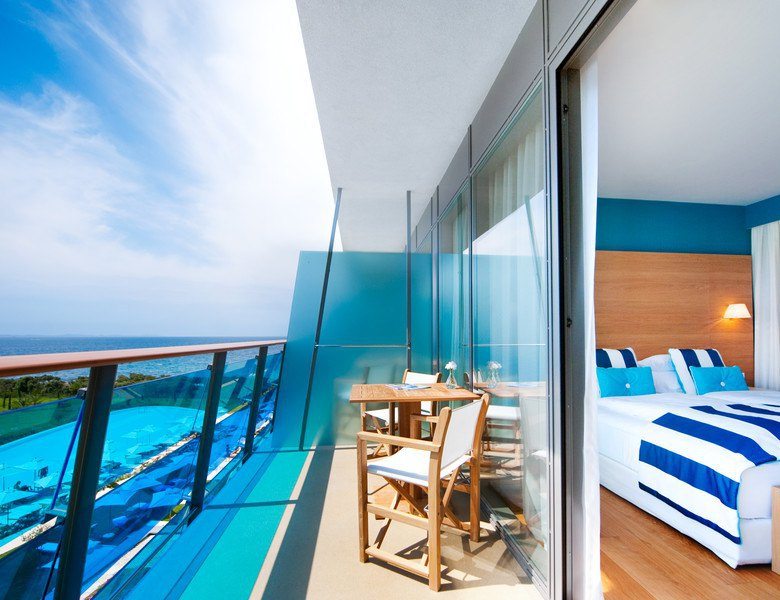 Approximate Budget
Based on what other tourists have spent, you should plan to spend about kn538 ($76) per day in Zadar. This is the average daily price based on what other tourists have spent. For one day, travellers have spent an average of kn170 ($24) on food and kn57 ($8.06) on local transportation. Also, a hotel room for two people costs an average of kn613 ($86). So, two people going to Zadar for a week will spend an average of kn7,537 ($1,058). These average travel prices were all collected from other travellers to help you plan your travel budget.
Conclusion
Zadar is one of the most important cities on the eastern Adriatic coast. It is a place where poets, writers, and people who like to try new things have to go. Walking through its streets, squares, waterfront, churches, and historic buildings, you can see how old and consistent it is. At the same time, modern installations show how the city sees the future and inspire new tourists.
Those who want a little more won't be disappointed, though. The young people of Croatia are pretty worldly, and you might be surprised by how urban their culture is.
FAQs
Is Zadar worth visiting? 
This city may not be as well-known as Split or Dubrovnik, but it is cheaper and less busy. Plus, travellers on a budget can take great day trips to places like the nearby Zrce beach, the Kornati Islands, Krka National Park, Ugljan Island, and more.
Which is better, Split or Zadar? 
In Croatia, Zadar is a good place to go if you want to find peace and get off the beaten path. If you would rather stay in a busy city and see the best of the coast, I would recommend Split.
What is Zadar known for? 
Many dance music festivals in Croatia start in Zadar and end there. From here, you can take a ferry to the island of Pag, best known for its cheese and long, rocky Zrce beach, as well as the Hiding Festival and the Fresh Island Festival, a hip-hop event.
Can you swim in Zadar?
Yes, there are many beaches and places to swim in Croatia. But some of the best places are in Zadar. You can swim from the main promenade by the city's main attractions, the Sun Salutation and the Sea Organ, and many beaches along the coast.
Is Zadar cheaper than Dubrovnik? 
These are the average costs of getting to the two places. The average cost per day for one person in Zadar is $76; in Dubrovnik, it's $81.
How many days do I need in Zadar? 
Since Zadar is a small city, you can see the main sights in just one day. If you also want to see the beaches in the area, you should give yourself about two to three days.
Is Zadar English-friendly?  
Zadar's official language is Croatian, but most people there speak English very well.
Is Zadar safe for tourists? 
Croatia is a great and safe place to travel alone, especially for women. There is a strong infrastructure for tourism, and there are group tours, hostels, and many other ways to meet people while travelling. Croatia is one of the safest places in the world for tourists.
Does Zadar have a sandy beach?
The area around Zadar has sandy beaches, a lot of sunshine, and beautiful islands. This makes it a paradise for people who want to spend a relaxing vacation on the Adriatic Sea.