Vilnius: What to See and Do in Lithuania's Charming Capital
If you are searching for a destination to have a mixed experience blended with historic and attractive sights while having unique cuisines and affordable prices, Vilnius is one of the best cities for that.  
Vilnius is a fabulous city in Lithuania which is located in Europe. It is the capital and the largest city in Lithuania. Vilnius is the main city in Europe that showcases architectural and cultural developments in the medieval foundation of Eastern Europe over several centuries.
Vilnius is famous for its old town with nearly 2000 medieval, gothic, renaissance, and baroque structures, which is listed as a UNESCO World Heritage Site. The neo-classical cathedral and town hall serve as their focal points. Other famous sights include the KGB Museum and the 13th-century Higher Castle.
Beautiful sceneries with landscapes, forests, lakes, flatlands and marches are the favorite spots of travelers around the world. Also, sandy beaches are common in Vilnius.
The Vilnia River, derived from the Lithuanian word for surge, gave the name to the city.
History of Vilnius
Lithuania was one of the biggest European countries during the 15th century, as they extended their border up to the Black Sea. This country endured many difficult periods, like the Crusades and the Soviet occupation. 
If we talk about Vilnius, in 1323, the Grand Duke of Lithuania had chosen Vilnius as the capital of Lithuania.  To become the largest state in Europe, Poland and Lithuania united. So, Vilnius was famous for its Polish culture and Jewish learning. In 1795, it was incorporated into the Russian Empire, and Vilnius was occupied by German forces from 1915 to 1918. Also, during the Second World War, it was occupied by German forces and had to suffer heavy damage. At that time, the Jewish population was all but wiped out.
Do you know that the Lithuanian language is one of the oldest languages spoken in the world?
How to get to Vilnius
By Plane
You can reach Vilnius by plane. Various Airlines fly from different destinations in Europe to Vilnius International Airport.  
The airport is only around 20 minutes from the Old Town in Vilnius
By Road
It is easy to reach Vilnius by land or sea also. Modern highways connecting Vilnius with other cities in Lithuania are well developed. So, you can come in your vehicle if you wish.
By Coach
 The Main Railway Station centrally locates at Vilnius Bus Station in Old Town. Coach service provides transportation to the main cities in Lithuania and outside Estonia, Latvia, Belarus and Germany. 
Eurolines, Lux Express and ECOLINES are the main operations of Coach service.
By Train
Vilnius Train Station is also located in the Old Town and provides domestic and international services. 
If you think of using public transport to get around Vilnius, this link will help you.
Vilnius Weather
Vilnius experiences chilly summers and mild winters due to its moderate oceanic climate. The Baltic Sea has a significant impact on the climate. January's highest temperature on record is -1.9°C (28.58°F). Spring usually does not last very long and is fairly unpredictable. 
The greatest time of year to visit Vilnius is during the summer, which typically begins mid-May and lasts until the end of August. The average temperature in July, the hottest month, is about 23.7°C (74.66°F).
You will most likely have pleasant weather during June, July, and August, when average temperatures range from 20 degrees Celsius (68°F) to 26 degrees Celsius (79°F).
Snowfalls frequently occur during the winter; however, they are typically not copious. Russian cold snaps, which used to occur more frequently, can be severe. The record low temperature was reached in January 1940 at -37.2 °C (-35 °F).
What to visit in Vilnius
Old Town
The Old Town of Vilnius, one of the largest and best-preserved historic centers in Northern Europe and the Baltics, is a delight to visit since it is filled with stunning medieval structures. It contains a variety of architectural styles over its 74 various quarters. Alongside Gothic and Renaissance churches and cathedrals, Baroque and Classical residences and guilds of artisans are on display.
Walking around the Old Town is the main thing you can do in Vilnius.
Amidst the city's numerous historical and cultural treasures are quaint cafes and eateries with a long history. It has a lot of distinct sides, so you may be in the Vilnius Ghetto before you know it after passing through the castle complex and Cathedral Square. The centerpiece of Vilnius is the Old Town, which has a wealth of things to see and do.
St. Anne's Church
The stunning St. Anne's Church, one of Vilnius' most well-known structures, is a short distance from several of the Old Town's most significant attractions.
St. Anne's church is a masterpiece of the gothic era, which hasn't changed for over 500 years. As one of the iconic sights of Vilnius, this beautiful church has attracted the eyes of almost all tourists in the city.
Lying on the banks of the Vilia River and flanked by two towers with a delightful spire between them, its elegant red brick facade has increased the church's beauty.
The main altar is worth seeing, despite the interior's Baroque style being somewhat plain in comparison. 
Gate of Dawn
Visiting the Gate of Dawn is another great thing to do in Vilnius. It was built between 1503 and 1522 and is the only remaining part of Vilnius' city wall of five from the wall that once surrounded the city limits.
The gate is not only a major historical and cultural landmark but also a well-known destination for pilgrims, as it is the location of the famous and revered chapel of the same name.
Locals refer to the gate as the Gate of Dawn since the Virgin Mary is frequently associated with sunrise.
There is a beautiful icon and painting of the Blessed Virgin Mary within the chapel, and many people come here to pay their respects or to pray for miracles. The first time you enter Vilnius via such an imposing gate, it gives you an unforgettable feeling.
Gediminas Tower
This is the place to have the best views of Vilnius. This tower was built in 1409 and was rebuilt in its present form in 1933. Gediminas Tower is on the prominent hilltop and is one of the only remaining constructions of the upper Castle still on show. Inside the tower has some fabulous models, which implies what the castle used to look like.
Hill of Three Crosses
After visiting the tower, you can walk down and head to the stairs leading to the hill of three crosses.
Awesome 360-degree views of the city and its surroundings can be seen from The Hill of Three Crosses. Even though the hill's view is the main draw, the three crosses at the top are a significant historic site representing the nation's rebirth.
According to legend, wooden crosses were built atop the hill in the 17th century to memorialize the seven Franciscan friars executed there. 
In the evening, many people come here to view the sunset over the city.
KGB Museum
KGB Museum, also known as the Museum of Occupations and Freedom Fights, shows the dark period in the country's history. 
At first, this building served as the Gestapo headquarters during the Nazi occupation in 1941. When the Soviets retook the country in 1944, All individuals who opposed Soviet rule were detained, imprisoned, tortured, and killed in the building by the KGB. 
Now, this building is a museum. The basement has the prison where torture and execution would occur. In this museum, the top two floors describe the country's daily life and the Lithuanian struggle against the Soviet Union throughout the fifty-year occupation by the Soviet Union. The museum is a terrifying reminder of occupation, dominance, and the results of resistance.
Its extensive collection includes artifacts, images, and even the jail cells where the Lithuanian resistance was imprisoned and tortured.
This museum is worth visiting to honor and pay tribute to a dark period in the country's history.
Uzupis
Vilnius has a unique area called Uzupis that is close to the Old Town. The meaning of Uzupis is "beyond the river". 
By crossing the bridge over the Vilnia River, you can visit this self-governing "free town". This town has its president, currency, and constitution and is very charming to walk around.
You can find yourself exploring the art pieces while lounging by the Vilnia River in the little neighborhood, which has a bohemian and artistic vibe.
The district proclaimed itself an independent republic on April 1, 1997, calling itself the Republic of Uzupis with its constitution, which has been translated into multiple languages.
Don't forget  to read its constitution when you visit there
Enjoy The Street Art
A street art tour is another way to enjoy your trip to Vilnius. 
An excellent way to view the city, get some exercise, and veer off the usual tourist trail is to take a brief tour of the noteworthy locations.
Even though this is a longer outing, it's worthwhile to see the art because Vilnius has some genuine talent running rampant, as evidenced by the variety of artistic styles, colors, mediums, and mural sizes.
Churches
St. Peter And Paul Church
Church of St Johns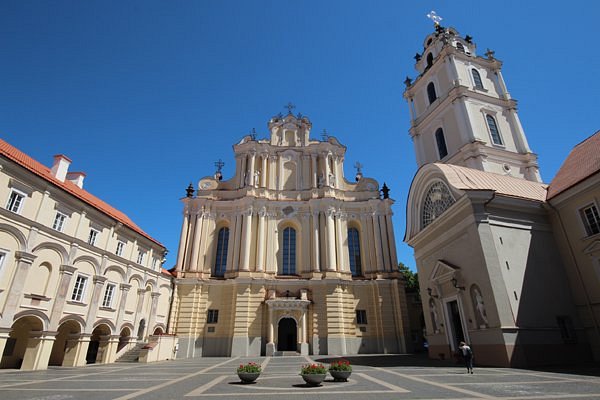 Church of St Theresa
Vilnius Cathedral
If you are a fan of architecture, you can visit all these churches, as they have magnificent architecture and glorious exterior and interior displays.
Cuisine in Vilnius
Cepelinai (Potato Dumplings)
This is a staple food in Vilnius. Cepelinai are similar in texture to Chinese bao dumplings, with a soft outer shell made of potato instead of dough. Inside, again similar to bao, they are filled with ground meat — or sometimes cheese or mushrooms.
 Kibinai (Savoury Pastries)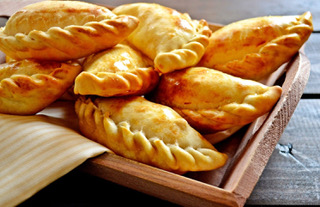 Kibinai is essentially identical to Cornish pasties in the UK. This food came from the Kariate people, an ethnically Turkic group who have lived in Lithuania for hundreds of years. These pasties are large, baked in a crunchy, crusty pastry shell, and then filled with your choice of meats and veggies.
They normally contain chicken, meat, mushrooms, potatoes, or onions. Although not specifically a Vilnius dish, they are quite well-liked in Trakai, the former capital and now a small castle town outside of Vilnius.
Lithuania Soup – Saltibarsciai (Pink Soup)
This is a beetroot, and kefir soup served with boiled potatoes and hard-boiled eggs. It serves seasonally and is a dish from Vilnius that the people of Lithuania are incredibly passionate about. One of its more distinctive features is serving cold as a customary way to cool yourself on those rare hot Lithuanian summer days.
Forest Mushroom Soup
This soup is made with mushrooms, and mushroom picking is integral to the culture of Lithuania. Lithuania does this mushroom-picking seasonally and prepares them for the traditional Christmas eve dishes.
Choosing your mushrooms is so essential that it's preferable to forgo serving store-bought ones entirely. You chose them or obtained them from a relative for nothing.
Dried Apple Cheese
Dried Apple cheese is a Lithuanian snack and is not cheese at all. It is a big lump of dried apple, the sort that is typically found in super-healthy snack bars but is a terrible alternative for chocolate.
However, these chunks of dried apple are delicious and affordable.
Fresh Cucumbers with Honey
Beehives are also an important part of Lithuanian culture, as is the straightforward yet traditional dish of fresh cucumber and honey.
In Lithuania, where beekeeping is very common, sharing a portion of your hive with a friend so they can start their colony makes them one of your closest friends—almost like a brother or sister.
Black Bread
Black bread is the absolute staple of traditional Lithuanian food. Like rice in Japan or hummus in the Middle East, it is the skeleton of their culture. It is commonly available in restaurants in Lithuania and is delicious.
Three Nines (Trejos Devynerios), Rhubarb Wine andKvass are Lithuanian drinks that are served in Vilnius too.
Restaurants in Vilnius
Senoji Trobele, Lokys, Džiaugsmas, Queensberry, Busi Trecias, Etno Dvaras, Ertlio Namas, Aline Leiciai, Mykolo 4 and Zemaiciu Asotis are some of the restaurants you can try these Lithuanian cuisines in Vilnius.
Nightlife in Vilnius
Vilnius boasts a vibrant nightlife, with clubs and restaurants along the cobblestone streets of the Old Town. Except for the hippest spots, you can count on getting a lot for your money when going out.
Mojo Lounge Vilnius,  Pabo Latino, Loftas, Opium, Pantera, Tamsta Club and Salento DiscoPub are some of the best nightclubs in Vilnius.
Where to stay in Vilnius
If you want to stay in the Old Town of Vilnius, the followings are some of the  best hotels in Old town Vilnius;
Tips for traveling in Vilnius
This is the link to the map of Vilnius.
Having a Vilnius pass for your trip is good, as it provides you with great offers while you pay less.
Also, you can try Uber or Bolt for your travel, and it costs around 8 euros to come from Vilnius airport by both Uber and Bolt.
---
Usin the app called CityBee, which allows you to rent electric bikes and cars for however long you need them.
You use the app to locate a bike or car nearby, scan the barcode, and then leave. You can leave it wherever in the city zone after you finish, and your credit card will be debited.
---
If you prefer bike riding, then you can rent a bike, and it is throughout the city. The bike is yours to keep for however long you need it if you download an app or pay at the box.
Vilnius is a simple city to navigate by bike, and it's a great way to see everything.
---
Vilnius is really easy to navigate if you wear comfortable shoes. It's simple to get around, and everything is accessible on foot.
---
Budget
When compared to other cities in Europe, Vilnius is very cheap. Drinks and foods have rock-bottom prices. So, you can enjoy Lithuanian foods and beer at an affordable cost. 
Though the alcohol is cheap, the sales in stores stop at 8 pm and 3 pm on Sundays.
Uber and Bolt are relatively cheap, as are buses if you choose to go local. So, Finally, you can get by in Vilnius on a budget of $25-30 on the low end and a moderate budget of $25 to $30.
So, with all these facts, we welcome you to visit Vilnius to experience the beauty.
FAQs
Is Vilnius Lithuania in Russia? 
Lithuania had been part of the Russian Empire since the end of the 18th century, but Lithuania became an independent state after the Russian Revolution of 1917.
Is Vilnius worth visiting? 
Vilnius is ideal if you enjoy beautiful scenery, the arts, architecture, and delicious food. 
Suppose you're looking for a capital city that is incredibly affordable, not overly populated and has just the right amount of bustle and excitement. In that case, Vilnius is best suited for that.
Why is Vilnius famous? 
Vilnius is famous for the architecture in its Old Town, which was declared a UNESCO World Heritage Site in 1994.
Did Vilnius use to be Poland? 
During the Third Partition of Poland in 1795, Vilnius was given to Russia. The Germans occupied it in Both World Wars, and it suffered significant damage. It was a part of Poland from 1920 to 1939; Soviet forces seized it in 1939 and returned it to Lithuania.
Is Lithuania in NATO?
Yes, it has been a member of NATO since 2004.
Is Lithuania Russia or Polish?
More than four out of every five people in Lithuania are of ethnic Lithuanian descent. There are also Russians and Poles. Other minorities include Belarusians, Ukrainians, Latvians, Tatars, and Gypsies.
Do I need a visa to go to Lithuania? 
If you are a citizen of a non-Schengen nation without a visa-free travel agreement with the region or if you have been denied visa-free travel, you will require a Schengen Visa if you are visiting Lithuania.
What kind of food do they eat in Lithuania? 
These are some traditional Lithuanian food.
Cepelinai (Potato Dumplings Filled with Minced Meat)
Šaltibarščiai (Cold Beet Soup)
Bulviniai Blynai (Potato Pancakes)
Kepta Duona (Fried Bread with Garlic)
Kibinai (Meat-Filled Pastries)
Žirniai su Spirgučiais (Peas with Cracklings)
Juoda Duona (Dark Rye Bread)
Marinuoti Agurkai (Pickles
Is Lithuania cold?
Lithuania is in a cool temperate zone with moderately warm summers and chilly winters. In July, the average temperature is around 17 °C, while in the winter, it is around -5 °C.