Exploring Malta's Capital City and UNESCO World Heritage Site
Although travel to the nation has increased recently (those British retirees were onto something!), it is still mostly unknown to the general public.
My time in Malta was fantastic. The little island nation is home to a mild climate, friendly locals, historic medieval villages and castles, and lovely (if rather dated) cities.
Malta provides tourists with an intriguing fusion of cultures due to its special location between Africa and Europe. The Italian, English, and North African influences on the cuisine, language, culture, and architecture become more apparent as you explore.
And to top it all off, the beaches and seafood are amazing, and it's quite inexpensive compared to mainland Europe. This Malta travel guide can save money while organizing an amazing trip to this off-the-beaten-path location!
Valletta, the capital of Malta, may be little but it is crammed with beauty thanks to its golden stone structures, elaborate churches, colourful balconies, and beautiful seas. Despite being only 1 km by 600 m in size and having water on three sides, the city boasts so much historic architecture that UNESCO has named it a World Heritage Site.
Did you know?
While strolling through Valletta's bright streets is like travelling back in time, the city has recently undergone repair and rebuilding due to its designation as the 2018 European Capital of Culture. Here are my top recommendations for things to do in Valletta, regardless of whether you're stopping by on a cruise, a city break, or a day excursion from a beach vacation in Malta.
The Knights of St. John, who established Valletta as a haven for injured soldiers and pilgrims during the Crusades in the 16th century, are responsible for the city's existence. The portion of Mount Sceberras on which Valletta is located, sandwiched between two natural harbours, was a barren tongue of land before the Knights' arrival.
The population of Valletta fell to 9,000 people during the post-war years as many residents migrated away to more contemporary homes in other communities. However, in recent years, many people with a passion for distinctive architecture have started re-entering the city and investing in older homes.
The island's largest commercial and financial hub is presently Valletta, the smallest capital of the European Union, which attracts many travellers daily interested in learning about the city's fascinating past.
HOW TO GET TO VALLETTA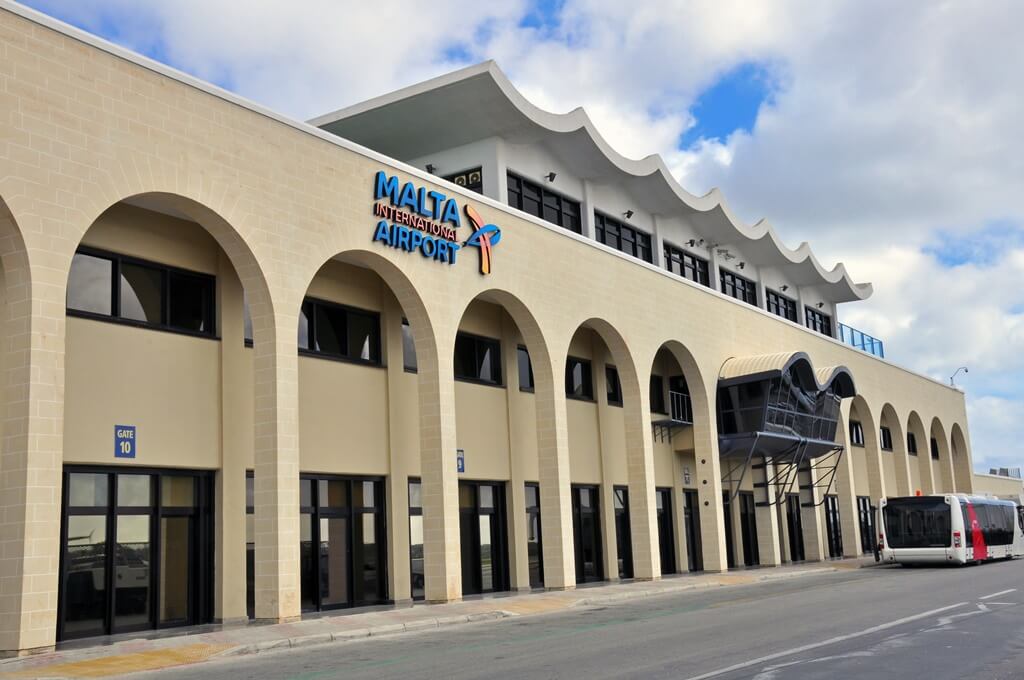 The distance from Valletta to Malta International Airport is 9 kilometers. The X4 bus, which costs €2 one way and stops at the bus station right outside the city gates, may take you to the city in about 35 minutes. You can also get into the city in 20 minutes via taxi or shared transfer. Taxis from the airport to Valletta have a set rate of €20.
There are ferries from Sliema and the Three Cities, and Malta has a strong bus system if you're travelling to Valletta from another location on the island. Additionally, a quick automobile ferry runs an hour and a half from Valletta to Pozzallo in southern Sicily. Additionally, the dock is a 10-minute walk from the city gates if you're taking a cruise to Valletta.
HOW TO GET AROUND VALLETTA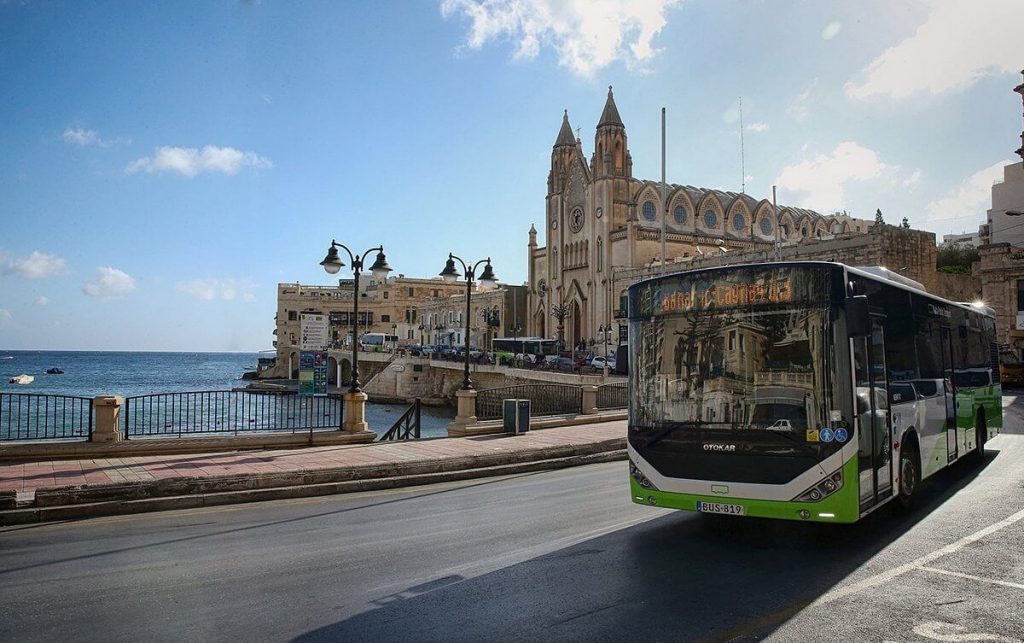 In Malta, public buses essentially travel everywhere (albeit not regularly). In the winter and summer, a single fare costs 1.50 EUR and 2 EUR, respectively. Just be aware that they get crowded quickly, so you might have to stand the entire way. If they are full, they may also be infrequent and pass by stops without warning, so if you want to use the bus, give yourself plenty of additional time!
There are hop-on/hop-off buses that have several itineraries across the nation in addition to regular buses. These routes cover all the important locations on both islands, including Valetta, St. Julian's, Popeye Village, the former Azure Window, etc. The price of a ticket for a single route day pass with Hello Malta is 20 EUR, and a ticket for a two-day pass with City Sightseeing is 48 EUR (who also do a 1-day pass for 24 EUR). It's a small country, so I'd skip this and take the bus or walk if it's only a little distance.
FERRY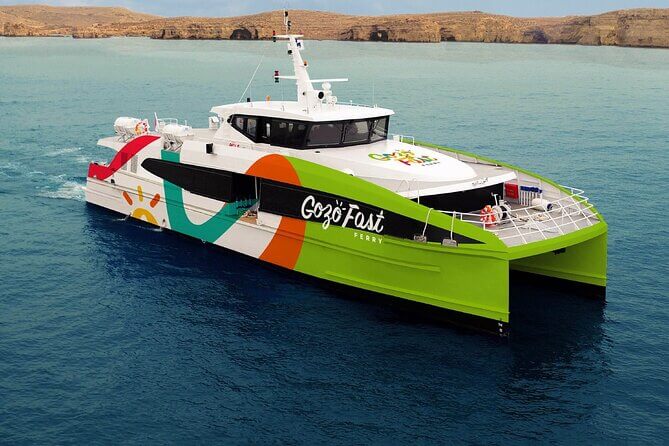 The fare for the ferry to Gozo is 4.65 EUR. Because it fills up quickly, make sure to get there early. For a one-way ticket to Sicily, the boat from Malta to Italy takes 4–7 hours and costs 95–145 EUR (based on the season).
BIKE RENTAL
Bicycle rentals cost about 12 EUR daily, but I wouldn't recommend pedalling outside Valletta. The roads are fairly narrow, and the drivers are aggressive.
TAXIS
Taxis begin at 6 euros and run about 2 euros per mile. Although Uber and Lyft are unavailable in this area, you can download the eCab app as a substitute. For short trips, it's typically less expensive than a cab. However, it's best to refrain from taking them if you're on a tight budget.
FLYING
You may find round-trip flights from Malta to and from the rest of Europe for as little as 45 EUR. Ryanair is your best option if you're on a tight budget because it offers the most affordable flights to Malta. You may find round-trip tickets for as little as 50 EUR to and from Morocco and North Africa. Around Malta, there are no domestic flights.
CAR RENTAL
Car rentals cost between 10-25 EUR per day for a small car. Just keep in mind that the cheapest rentals are manual transmissions, so you need to be able to drive a stick if you want to get around. The drivers here are also very aggressive and tend to see the rules of the road as suggestions rather than laws.
HITCHHIKING
It is not advisable to hitchhike in Malta because most drivers do not stop. If you do decide to give it a shot, Hitchwiki is a great resource for advice and knowledge.
WHEN TO VISIT VALLETTA, MALTA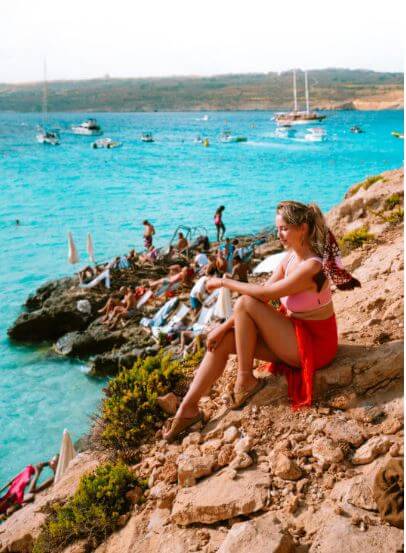 Malta is a well-liked destination for a short-haul winter sun vacation because it is located in the extreme south of Europe. In January, the average daytime high temperature is 15°C/59°F, and the average overnight low is 9°C/48°F. But it can rain in December and January.
Valletta is ideal for spring exploration when there are eight hours of sunshine daily and average highs of 18–23°C/64–74°F. With average highs of 30°C/86°F, Malta's summers are hot, dry, and sunny, yet you might prefer to be on the beach than in the city. Additionally, the island may be crowded and pricey due to the high season.
Additionally, with typical high temperatures of 20–28°C (68–82°F), fall is slightly warmer than spring. Even if there may be a few spots of rain, there are still many bright days, and the end of the season is frequently a good time to get a deal.
WHAT TO VISIT IN VALLETTA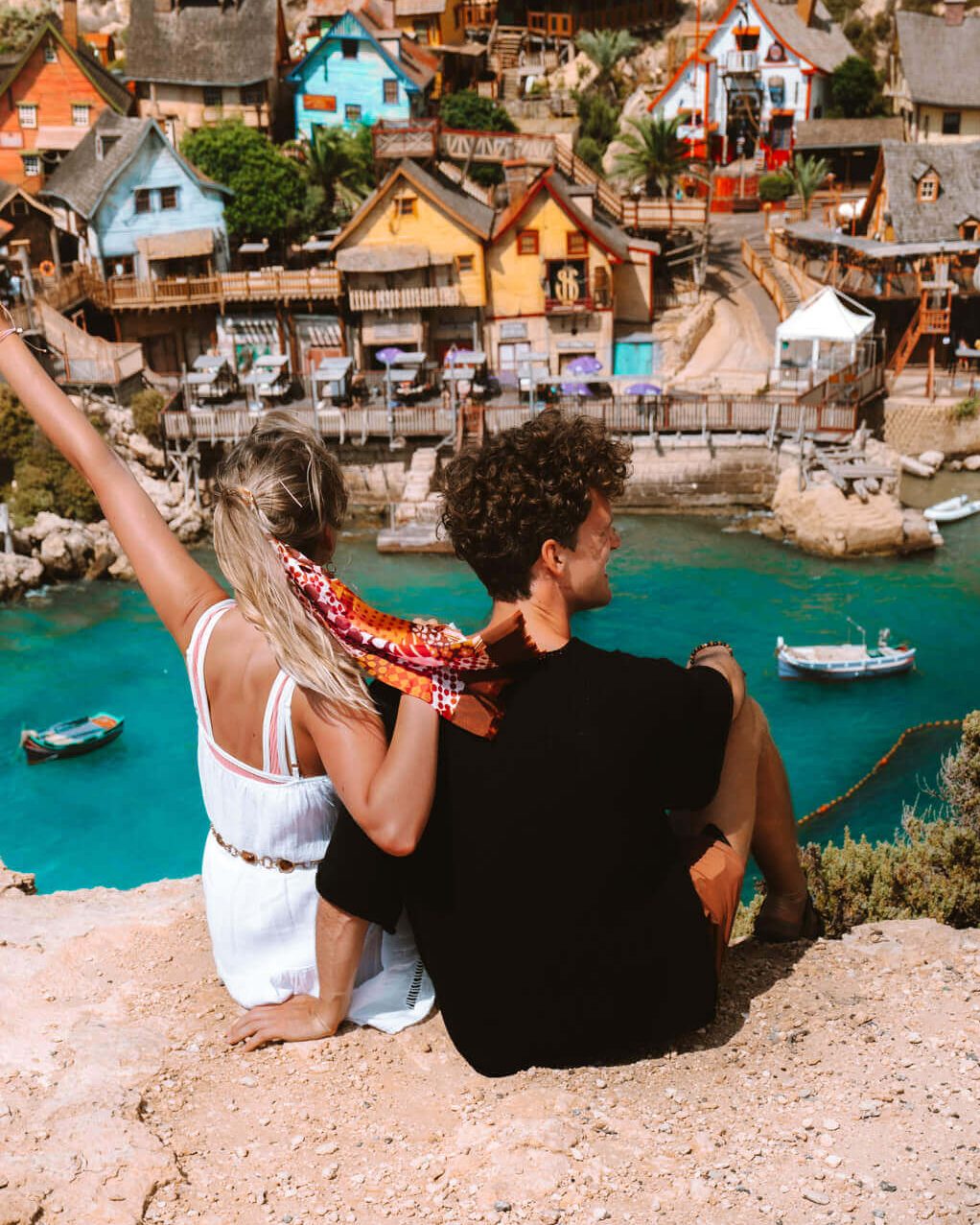 Stunning limestone homes will surround you with vibrant window boxes as you stroll across the city. The best part is that no matter where you walk, there is always a great view, thanks to the lovely hillside streets. Here are a few of Valletta's most popular attractions:
 GO FOR GOLD AT ST JOHN'S CO-CATHEDRAL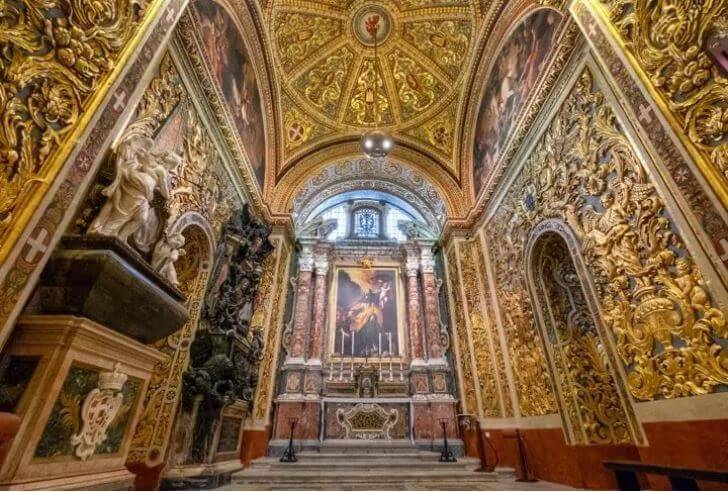 The most spectacular of all the enormous domed cathedrals in Malta is St. John's Co-Cathedral. From the outside, it appears uninteresting, but as you enter, a different scene unfolds. Every surface has a colourful and glittering gold coating. There are frescoes on the ceilings, marble flooring beneath your feet, and elaborate gold carvings all over the walls.
The cathedral, often known as the co-cathedral because it shares the role of the bishop's house with the cathedral in Mdina, was constructed between 1572 and 1577 for the Knights of Saint John. But in the 17th century, it had a makeover and was lavishly decorated in the Baroque style.
You can either join a guided walking tour of Valletta and the cathedral or enter it and receive an audio tour to learn about its history. Visitors must cover their knees and shoulders and are not permitted to wear high heels since they could scratch the marble floors.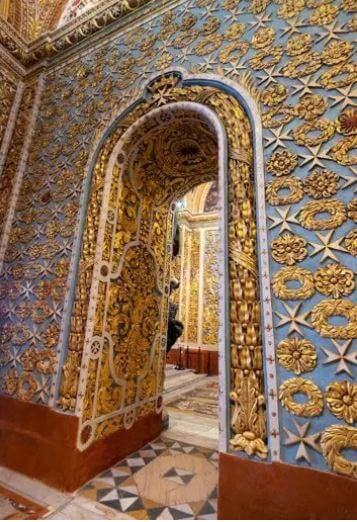 CHECK OUT THE VIEWS FROM THE BARRAKKA GARDENS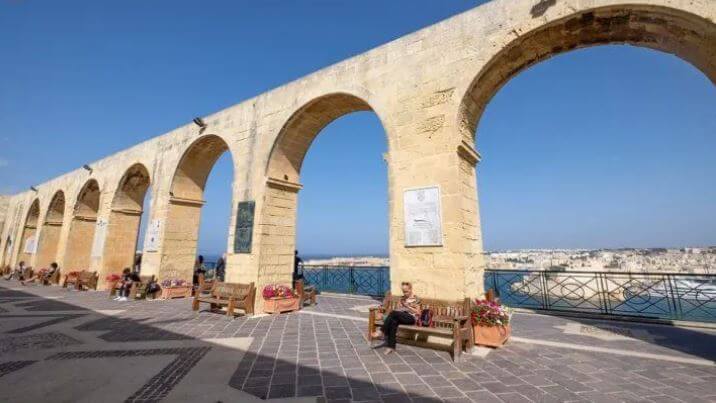 Go to the Barrakka Gardens for one of Valletta's most beautiful views. Two of them—the Upper and Lower gardens—provide expansive views of the harbor and are located on the east side of the peninsula. The Italian branch of the Knights of St. John first constructed the Upper Barrakka Gardens in 1661 as a training area for its members.
They were originally covered by a roof and encircled by arches, but after the French occupied Malta, they converted them into a public park with trees, flowers, and sculptures. There is a café where you may unwind while drinking. Additionally, if you go at 12 or 4 o'clock, you can see the Saluting Battery's cannons fire below the gardens.
The cannons were once used to welcome ships into the harbor, but they have since been repaired and are again in use. Or the more sedate Lower Barrakka Gardens are comparable to the Upper Gardens, including the same arches and a miniature temple in the Greek style.
 VISIT THE GRANDMASTER'S PALACE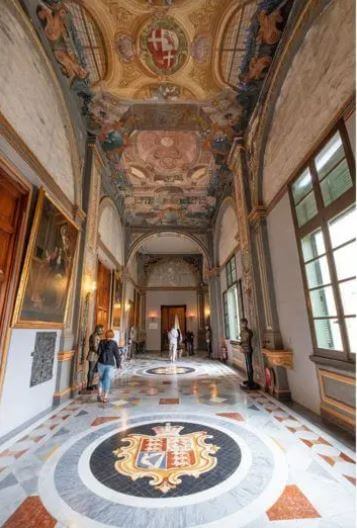 Note: The state rooms at the Grandmaster's Palace are currently closed for refurbishment (expected to reopen to visitors in late 2022).
The Grandmasters' Palace was one of Valletta's earliest and largest structures when the Knights of Saint John first constructed it in the sixteenth century. The parliament of Malta used to meet in the palace, which was home to the highest ranking Knight. Although it is still the president of Malta's official residence, a portion of it is accessible to tourists.
Like St. John's Co-Cathedral, it is another structure whose unassuming facade conceals a richly decorated interior. You can tour five staterooms featuring a Baroque ceiling painting and rare French 'Gobelins' tapestries.
Visit the palace armoury, where you can examine suits of armour and weaponry used by the Knights of Saint John between the sixteenth and eighteenth centuries, including the armour worn by Valletta's founder, Jean de Valette (you can see a statue of him near the Opera House).
ADMIRE OLD AND NEW ARCHITECTURE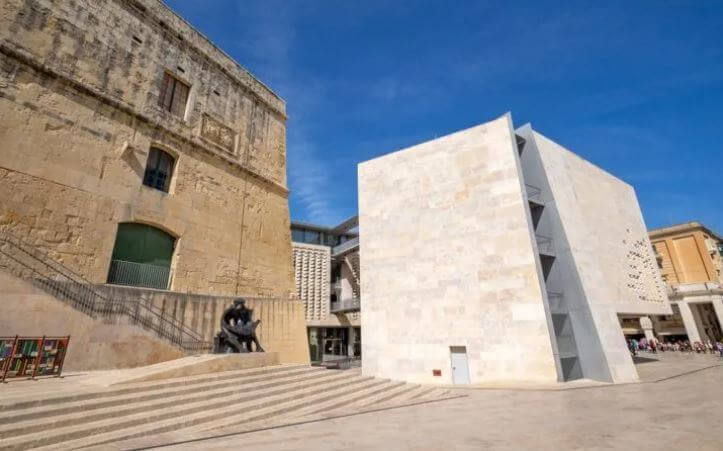 Valletta is ideal for exploring on foot because it is not too big, there is not a lot of traffic, and hidden churches and buildings from the 16th century have been transformed into stores, restaurants, and boutique hotels. The city is a photographer's dream, with an abundance of old storefronts and doors that are purposefully flaking.
Valletta's grid-like layout, sloping streets, and tall buildings kept it shady while allowing cool sea breezes to enter. So it's not unbearably hot even in the summer. And there are plenty of cafés to stop off at where you can pick yourself a coffee and a pastizzi (a native flaky pastry filled with ricotta – or more typically mushy peas) (local flaky pastry filled with ricotta – or more unusually mushy peas).
Malta also has a contemporary side; the new City Gate and Parliament Building stand out among the country's historic buildings. They were created by the Italian architect Renzo Piano and are made of the same type of stone as the other structures. However, they still stand out significantly from the rest of ancient Valletta, which has caused some controversy among the people.
 PHOTOGRAPH COLOURFUL BALCONIES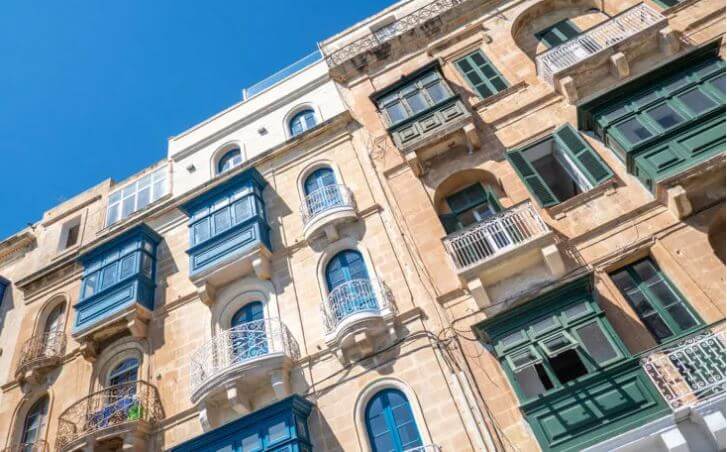 The square, vividly coloured Maltese balconies, also known as gallarija (meaning gallery), adorn the city's buildings is one of Valletta's most recognizable views. The Knights of Saint John mandated that every corner of the city be embellished with a monument, shrine, or corner balcony when it was first constructed, and many of those decorations still stand today.
They are believed to have descended from Arabic mashrabiyas, which let individuals gaze out and benefit from the air without being seen. At the Grandmaster's Palace in Malta, where a long gallarija was constructed along one side so he could spy on his subjects, they were first used. In the 19th century, the more opulent, the better.
HAVE A DRINK ON ST LUCIA STREET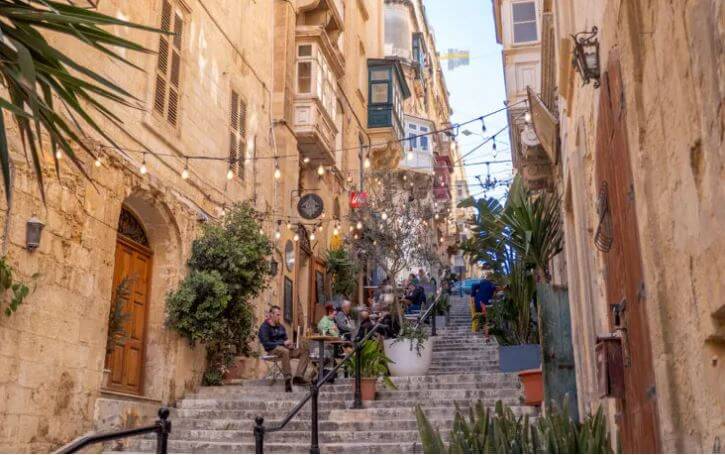 Valletta has many beautiful places, but St. Lucia Street was one of my favourites. Right across the peninsula, this street is pedestrianized on the south side from the intersection of Merchant Street, with steps down to the harbor and the tiny Church of St. Lucy, built in 1570, at the foot of the hill.
This section of St. Lucia Street is lined with cafes and eateries, with giant pot plants, lights, and chandeliers between the structures. Particularly at night, when the church is illuminated, it is a wonderful location for a drink.
 TAKE TO THE WATER ON A BOAT TRIP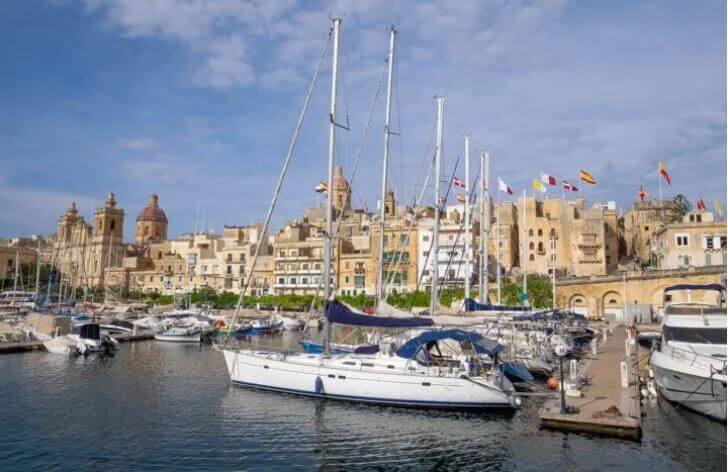 Being surrounded by water, one of the best things to do in Valletta is to take a boat tour around the peninsula. There are many possibilities; however, the public ferries, which transport passengers to Sliema from the north side of the city and the Three Cities from the south for €1.50 one way/€2.80 return, are the fastest and cheapest.
Although the trip only lasts around five minutes, the scenery is breathtaking. When taking photos, the Three Cities in the morning and Sliema at dusk will give you the best views of Valletta. However, be aware that ferries do not operate in bad weather or with excessive swell (which affects the Sliema ferry more often).
Additionally, longer 90-minute cruises* around Malta's two harbors on a Luzzi, a traditional sailing vessel, are offered with a historical lesson on Valletta.
Or how about a trip on a Dghajsa for something truly Maltese? These little traditional wooden fishing boats have bright yellow, blue, and red paint. Originally used to transport seamen from ships to land, they are now used to transport tourists to the Three Cities for €2 or on an €8 30-minute harbor tour using motors rather than oars.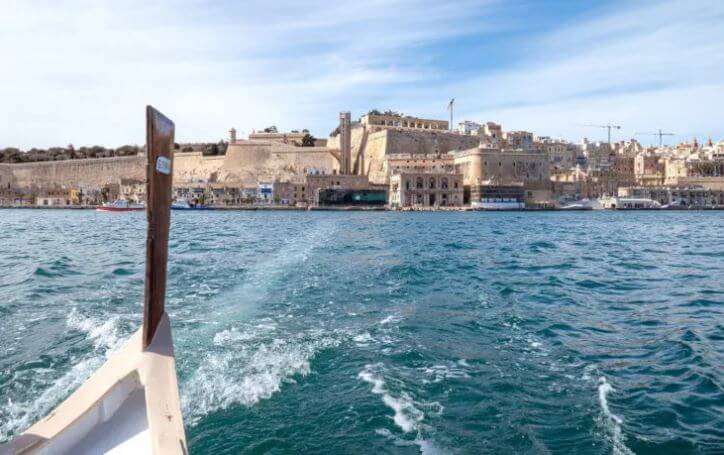 VISIT THE THREE CITIES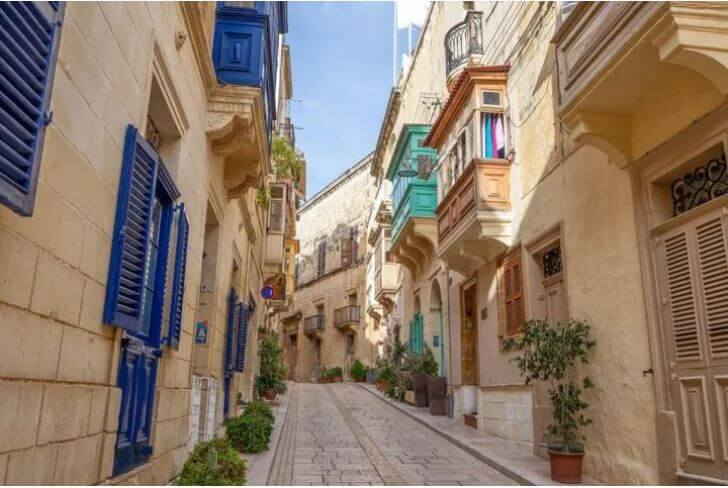 The tranquil Three Cities of Vittoriosa, Senglea, and Cospicua are only over the harbor from bustling Valletta if that ever happens. The buildings here are older than those in the city because the Knights of Saint John were based there when they created Valletta. However, they still contain the same architectural features, such as brightly colored doors, flower pots, wrought ironwork, and winding streets.
There are a variety of forts, bastions, and cathedrals to explore in each of the Three Cities, and they all provide stunning views of Valletta across the harbor. Additionally, there is a more up-to-date waterfront promenade where you can view the superyachts docked in the harbor and stop by one of the marina's cafés or restaurants for a beer or glass of wine as the sun sets.
ATTEND THE CARNIVAL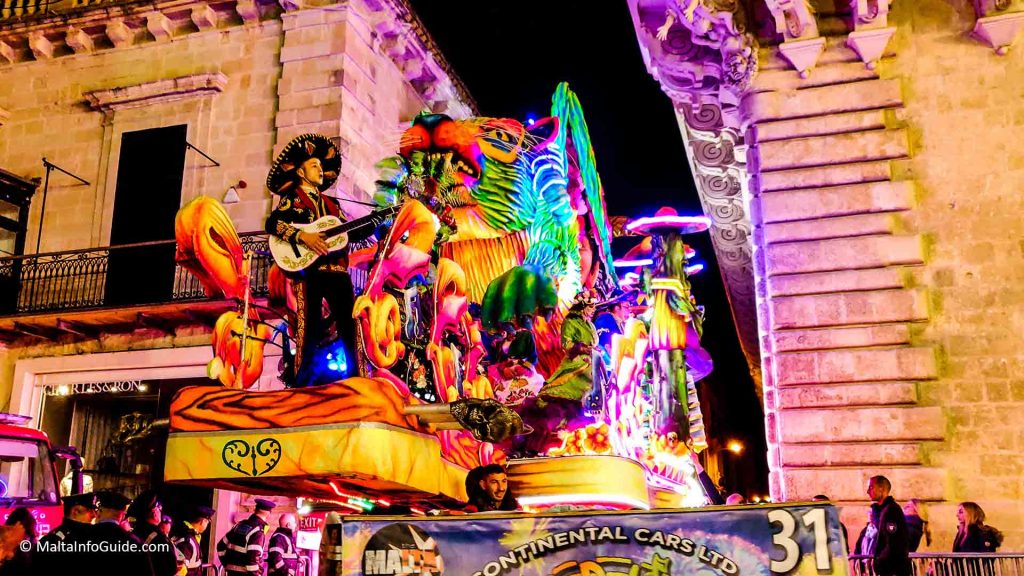 Since more than 500 years ago, Malta has held its form of Carnival every February. During the week preceding Ash Wednesday, celebrations across the island feature parades, dancing, and costumes. Make sure to plan because many of the population travels to Gozo over the weekend, and public transportation can be a nightmare (more so than usual!). Also, reserve your lodging in advance!
EXPLORE THE CITADEL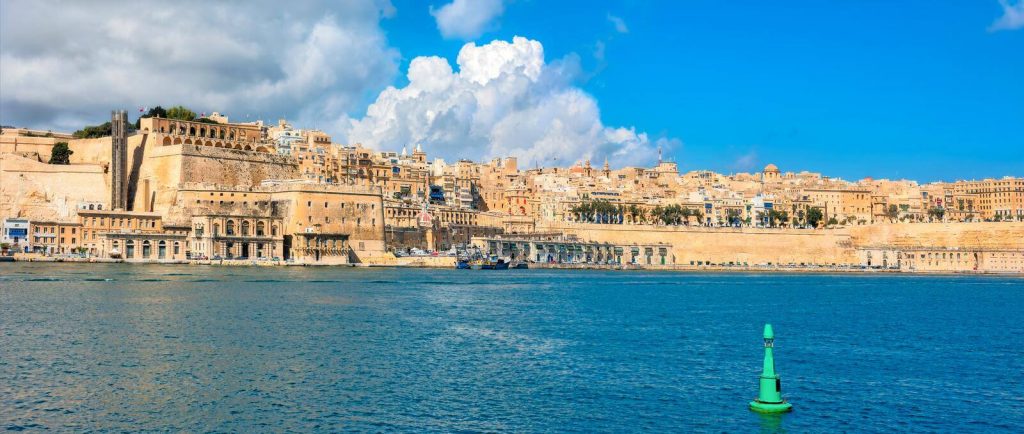 The British constructed this fort in Rabat, Victoria (Rabat on the island of Gozo; not to be confused with Rabat on the main island of Malta). Although it was constructed in the 16th century and is known as the Cittadella or the Castello, the fortifications discovered here date back more than 2,000 years (the area was settled in the Bronze Age). Numerous tiny shops are tucked away into the alleys, and entry and exploration are free. The fort is a fantastic site to visit at sunset because it provides a great view of the city and the neighbourhood.
FOOD IN MALTA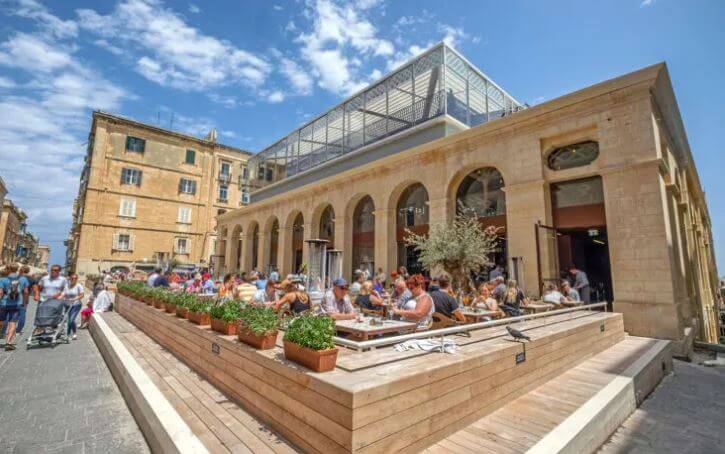 Due to its long history of conquest by numerous nations, Malta has a somewhat distinct gastronomic history. Italy heavily influences most cuisine, but other culinary influences are from Britain and North Africa. Stuffat tal-fenek, a stew made with rabbit, is regarded as the national food. Since it is an island, seafood is also widely available, with lampuki (mahi-mahi) serving as one of the primary staples. Popular dishes include fish pie and kapunata, a ratatouille-inspired Maltese dish.
Pastizzi, a savoury-filled pastry, are readily available everywhere and cost about 1 EUR for quick meals. If you want to quickly put up a basic lunch, fresh bread, cheese, and meats may be found in the grocery store for just a few euros.
Pricing in Valletta
A traditional dinner at a restaurant or cafe costs about 15 EUR, whereas a multi-course meal with a drink and table service at a midrange restaurant costs more like 30 EUR. For a combo meal, fast food (like McDonald's; there are McDonald's here) costs about 8.50 EUR.
A bottle of water costs about 1.20 EUR, whereas a beer costs about 3 EUR (1.60 EUR if you get it from a grocery store) (less when bought in bulk). A latte or cappuccino costs roughly 2.25 euros.
Expect to spend between 40 and 60 euros per week on groceries if you intend to prepare your meals. With this, you can purchase necessities like pasta, rice, seasonal veggies, some meat, or seafood.
Café Cordina, a local landmark, has been serving coffee, pastries, and Maltese specialities on its shady patio since 1837. Naan Bar serves great Indian food with gluten-free and vegetarian options for something a little different. And go to the food court and market in Is-Suq Tal-Belt if you're in the mood for a quick bite or want to stock up on groceries.
The Grassy Hopper, Suruchi, and Rising Sun were a few of my favourite eateries.
WHERE TO STAY IN MALTA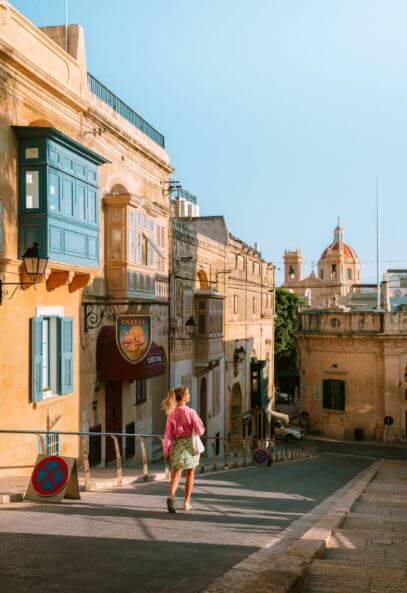 While hostels aren't plentiful, you can find them around Valletta. Here are my recommended places to stay:
Best Restaurants in Malta
Malta offers various regional specialities, including ricotta-filled pastries, Pastizzi, and local wines. Our favourite eateries are included.
Trattoria Romana Zero Sei (Italian)
Aaron's Kitchen (Maltese)
San Paolo Naufrago (pizza)
Papannis Restaurant (Italian)
Il Pirata Senglea (pizza)
JuFu (Asian)
Mint (Fresh, homemade, vegan)
Il-Kartell Restaurant est 1973 (on Gozo)
BANK OF VALLETTA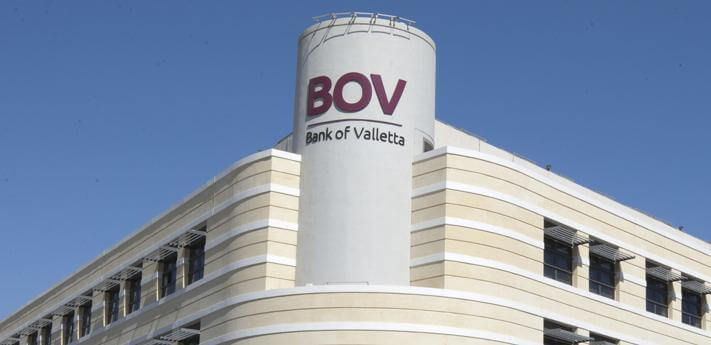 A Maltese bank with its main office in Santa Venera is called Bank of Valletta plc (BOV). It is one of Malta's largest and most well-established providers of financial services. In the Maltese Islands, as of 2014, the bank had a head office, 6 regional business centers, 44 branches, a wealth management division, and a head office. [2] It has representational offices in Belgium, Australia, Italy, and the UK.
Retail Banking, Wealth Management and Investment Services, Capital Market Services, Fund Administration, Bancassurance, and Card Services are just a few of the financial services the Group provides to personal and non-personal customers.
With 36 locations in Malta and Gozo, one satellite branch, and four agencies, Bank of Valletta p.l.c. Manages the island's largest retail network. Additionally, the bank maintains business centers and investment centers that provide specialized services. The Wealth Management division and Corporate Center are located at the BOV Premium Banking Center.
NIGHTLIFE IN VALLETTA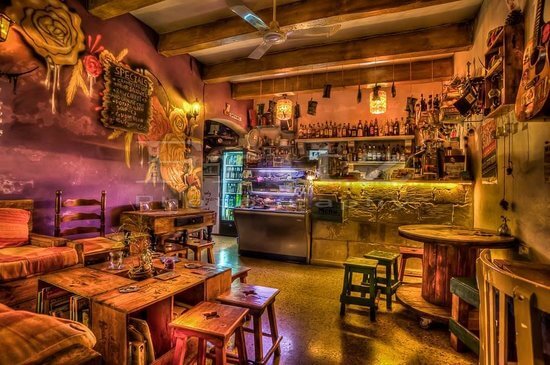 Only ten years ago, early closing times for shops meant the end of the day for Malta's capital city. Valletta has come a long way, and it's finally able to claim some real nightlife. We list the 10 best spots to enjoy a drink in this historic city.
Django Jazz Bar
Pub, Bar, Beer, Wine, Pub Grub
On South Street, a thriving live music venue is Django Jazz Bar. Do not be fooled by the "Borg's Bakers" sign over the door; it must remain there due to worries about heritage preservation. Inside, a 16th-century vaulted basement serves as a platform for classical performers and upcoming Jazz, Blues, and Rock bands. This piece of history is also preserved. There are drinks, meals, and occasionally even Belgian beer available.
Bridge Bar
Bar, Pub, European
The rest of the week, Bridge Bar operates like any other tavern. But on Friday night, the ambience is unrivalled. According to custom, jazz musicians perform live sets on the bridge that gave the bar its name from May through October as patrons watch from the opposite side on the spacious illuminated steps immediately above Valletta's imposing Victoria Gate. When the Grand Harbor is so impressively visible from this location, it is difficult to ask for more, and drinks are fairly priced.
The Pub
Bar, Wine, Beer, Cocktails, Pub Grub
One of the few English-style taverns on the island is The Pub, which has a short name. You'll quickly notice Royal Navy and Union Jack flags flying within. The overwhelming quantity of photos and tributes to British actor Oliver Reed—which resemble a shrine—will likely take even less time. This is the location where the imposing actor indulged in his last drink before passing suddenly in 1999, midway through shooting Gladiator. You are welcome to add your markings to the sailors' and other customers' graffiti that has been painted on the upper floor's walls.
Loop Bar
Bar, Wine, Beer, Italian, American, British
The interior of Loop Bar, which had red walls from the 1950s and an art-deco design, has been restored to its former splendour, and the present owners have also put the original logo and some other historical design items on display. In addition to drinks, this establishment serves a variety of delectable foods both inside and outside.
Tico Tico
Strait Street, which formerly housed the red-light district of the capital city, was abandoned for many years before a concerted effort was made to help the neighbourhood get better. One of the early adopters of this idea was Tico Tico, which debuted its newly renovated location in 2012. There are occasionally jazz nights here, where bartenders in sailor uniforms serve drinks and tapas in front of pin-ups-covered walls.
Address: 61 Strait Street, Valletta, Malta. +356 9949 0456
Maori
Bar, Wine, Beer
Valletta has several different types of bars, from upscale wine bars to more laid-back establishments. Maori is a step above the very informal. A rectangular, blue building with a one-eyed octopus painting is located at sea level, close to temporary boathouses and below the western city bastions. Hammocks are available for guests on the front terrace, just meters from the water. Maori resembles a living room more than a bar because it is furnished with literature, a guitar, oddly matched furniture, and even a cat. In other words, if you're starting to grow weary of your hotel's 5* shiny, impersonal exterior, sink into Maori's couches with a cat on your lap, and you'll feel right at home.
Ġugar
Restaurant, Wine, Beer, Mediterranean
A newer generation of island residents frequents Ġugar, a tiny, laid-back café and restaurant located at the lower end of Republic Street. It occasionally holds chess games and small-scale musical performances. Gugar serves healthful cuisine and energizing smoothies, promotes alternative living, and has a nice selection of left-of-centre book titles to read, all in keeping with the organization's objective. It is also decorated with a vibrant combination of upcycled materials.
Trabuxu Wine Bar
Wine Bar, Wine, Beer, $$$
More than ten years ago, Trabuxu began as a small wine bar with the distinction of being the country's first of its kind. A sophisticated clientele frequents the wine bar in a cozy, 400-year-old stone vaulted cellar, frequently following a theatrical or musical performance. This restaurant offers platters, fondue, and a variety of dips in addition to a sizable wine list for shared snacks.
VALLETTA CARD
The new Valletta Card is a 24-hour card that provides access to tourist attractions in Valletta and transportation options to and from the City by bus or ferry.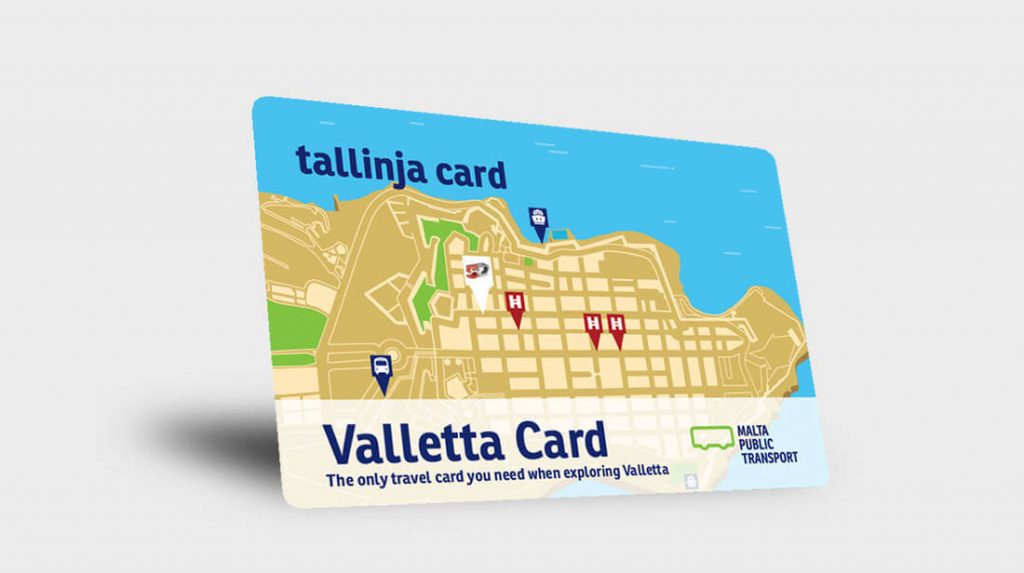 The new Valletta card provides access to the attractions: The Palace State Rooms, The Palace Armory, The National Museum of Archaeology, and Malta 5D. It also provides transportation to and from Valletta from any location in Malta using public transportation buses and ferry services from Sliema and Cospicua. Heritage Malta is in charge of running the museums.
The Valletta Card may be purchased for €19 from any of Malta Public Transport's sales offices in Valletta, Malta International Airport, Bugibba, Sliema, and Rabat, Gozo for immediate use on the bus.
For more information, visit: publictransport.com.mt
PARKING IN VALLETTA
Having a footprint of less than one square kilometer, Valletta is quite modest for a capital city. It is hardly surprising that parking is difficult to find inside the city's boundaries, given that it is one of Malta's major commercial and tourist destinations.
What you need to know about parking in Valletta
i) Generally speaking, it is best to park close to Valletta. If you park in the nearby town of Floriana, it will only take you five minutes to walk into the city due to the proximity of everything.
ii) Navigating the narrow streets and the one-way system can be tricky enough, and parking spaces are limited.
Parking outside of Valletta, although the most popular choice, isn't always simple. Malta has one of the highest car densities in the world. One of the biggest problems the nation is currently facing is traffic congestion. Here are a few things you could try:
Paid parking is available from the MCP (underground) car park, which sits right outside Valletta (and offers direct access to the Valletta Waterfront from its bottommost level through a tunnel).
Public parking is available in two areas on the road leading down to Great Siege Road (The northern side of the city). One area is right at the top of the road, next to a large football pitch, and the second is at the top, which runs alongside the Grand Excelsior hotel. Public car park attendants are usually present here and will ask for a gratuity. It's customary to offer €1 legally; you're not obliged to tip them.
HOW MUCH DOES MALTA COST?
Malta is a reasonably priced vacation spot. Local buses and taxis are all reasonably priced transportation options to go to lunch or dinner. On the other hand, lodging typically costs around 150 USD per night.
BACKPACKING MALTA SUGGESTED BUDGETS
You can live in a hostel dorm, prepare your food, get around using public transportation, keep your alcohol consumption to a minimum, and participate in free or inexpensive activities like going to the beach or visiting a museum on a backpacker budget of 40 EUR per day.
On a moderate budget of 100 EUR per day, you can rent a private Airbnb, prepare the majority of your meals, occasionally eat out at inexpensive, fast food restaurants, enjoy a few drinks, use a rental car to get around, and participate in more expensive activities like boat tours and museum visits.
You can stay in a cheap hotel, consume as much alcohol as you like, eat wherever you please, rent a car to travel around, and participate in additional activities like scuba diving and visiting Popeye Village on a "luxury" budget of 230 EUR per day. But for luxury, this is merely the ground floor. There are no boundaries!
To get a general idea of how much you need to budget each day, utilize the chart below. Remember that these are daily averages and that you may spend more and some days less (you might spend less every day). We wish to provide you with a rough outline for creating your budget. The price is in EUR.
| | | | | | |
| --- | --- | --- | --- | --- | --- |
|   | Accommodation | Food | Transportation | Attraction | Average Daily Cost |
| Backpacker | 15 | 10 | 5 | 10 | 40 |
| Mid-Range | 40 | 25 | 15 | 20 | 100 |
| Luxury | 75 | 100 | 20 | 35 | 230 |
Final Words
The most crucial piece of guidance I can give is to get quality travel insurance. You are safeguarded by travel insurance against accidents, illnesses, theft, and cancellations. It offers complete security in case something goes wrong. Since I've needed it so often, I never travel without it. To find the insurance that's best for you, use the widget below:
Malta is a large archipelago for its size. There is a surprise around every corner, whether you're travelling through imposing scenery, photographing historic structures, or diving on the periphery of paradise beaches. Travel by boat between the islands during the summer to explore the stunning environment and marine life, or spend the weekend in the capital city of Valletta. Utilize our comprehensive travel guide to take advantage of all the best things to do in Malta.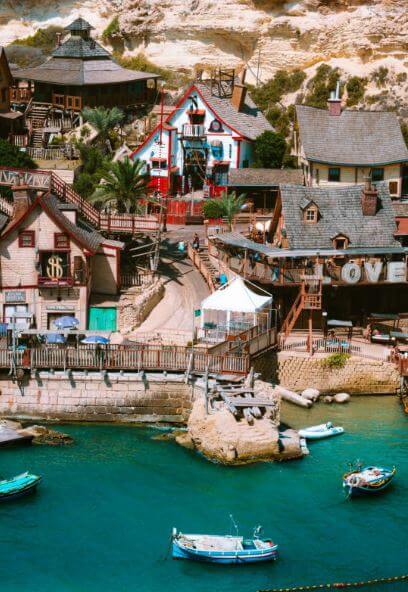 FAQs
Is Valletta worth visiting?
Is a trip to Valletta worthwhile? Certainly is. This town is home to some of Europe's most remarkable medieval remnants, including the magnificent Fort St. Elmo and the gold-glistening Co-Cathedral, which houses the famous Caravaggio painting. It's obvious that this is a great place to visit if you're interested in history, art, or culture.
What is Valletta Malta known for?
Valletta has several names, many of which refer to its lengthy history. It is a masterpiece of the Baroque period, a European Art City, a World Heritage City, and the "modern" city constructed by the Knights of St. John. It now ranks among the world's historical regions with the highest concentration.
Is Valletta the smallest capital city?
Valletta, a city enclosed in bastion walls that dates back to the sixteenth century, is the capital of Malta. It takes up only 0.8 kilometers of land, making it the smallest capital city in the European Union territory.
How far is Valletta from the airport?
Valletta and Malta International Airport distances are only 9.5 kilometers (MLA). The trip to Valletta's city center takes the X4 bus for 20 minutes and a taxi for about 16 minutes.
Are there beaches in Valletta?
In Valletta, there are no sandy beaches. Although there isn't a beach in Valletta, Malta, there are beaches nearby. St. George's Bay, a well-liked vacation destination in Malta, is located just north of Valletta.
What is Malta's famous food?
Traditional Maltese cuisine is unpretentious and seasonal. Watch out for Maltese versions of ratatouille and Lampuki Pie (fish pie), Rabbit Stew, Bragioli (beef olives), Kapunata, and widow's soup, which includes a small round of Ġbejniet (sheep or goat's cheese).
How many days do you need in Malta?
If you want to visit Malta and explore the major towns and the island of Gozo, 3 days may be plenty. You'll have enough time to explore places like Valletta, Sliema, and the Three Cities and unwind on the beaches of Gozo for a day.
How big is Valletta?
Malta, an island nation in the Mediterranean, has a little capital city called Valletta (or Il-Belt). The Knights of St. John, a Roman Catholic order, built the fortified city on a peninsula in the 1500s. Grand churches, palaces, and museums are well-known features. St. John's Co-Cathedral, which houses the Caravaggio masterpiece "The Beheading of Saint John" in its lavish interior, is one of the city's baroque landmarks.
Is Malta a rich country?
In 2021, the average global GDP per person was roughly 12.259 USD. However, the GDP in Malta reached 33.257 USD per person or 17.19 USD for the entire nation. One of the smallest economies is Malta, ranked 127 at the moment.
What currency is spent in Malta?
The currency of Malta is the Euro.
Happy Travels!
People also viewed: