Unveiling Trieste: A Cultural and Culinary Journey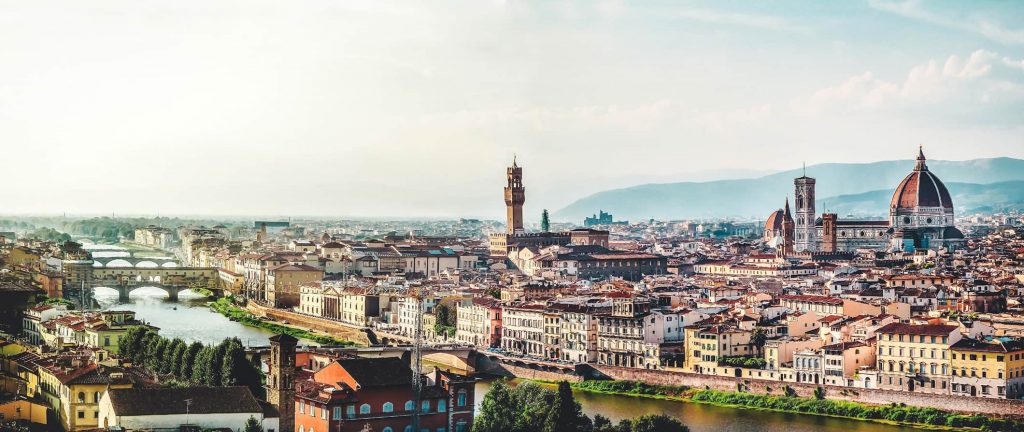 Rome, Florence, Venice, Naples, Milan, Tuscany, Cinque Terre, Almafi, and many other well-known tourist destinations in Italy are well known to us all. But there are some equally amazing places to add to your list if you want to avoid the overrun tourist traps without sacrificing the rich culture of this wonderful country. If you ever have the chance, go to Trieste, an Italian port city next to Slovenia's border and sometimes referred to as "Venice's Little Sister" because of all the city's glistening canals.
HISTORY OF TRIESTE
The charming city of Trieste, which serves as the regional capital of Friuli Venezia Giulia, is situated in the northern Adriatic Sea's innermost named gulf. It sprawls amphitheatrically on the karst relief of the slopes bordering the sea and along the beach.
The city, which sits atop San Giusto Hill's northwest slope and provides stunning views of the surroundings, has long served as a significant commercial center.
The village grew into a small urban center throughout the Middle Ages, and for ages, many peoples fought and strived for dominance.
Trieste, a hub for bishoprics and a university, has a lengthy and complex history that the arrival of different cultures has shaped.

AFTER 788
The Byzantines governed the city until the fall of the Western Roman Empire in 788 when the Franks took control of it.
The city was crucial to the growth of early Christianity, and in 1098 it was made into a diocese under the control of bishops.
However, the church did not establish its control in the area, and by the twelfth century, the city had become a free municipality.
Austria's aspirations for expansion at the start of the eighteenth century initially brought Trieste to public attention. The city developed and became the Austrian Empire's sole port and free port on the Adriatic Sea.
Numerous issues plagued the time between the two World Wars, particularly regarding the economy. The city suffered from losing its long-standing economic hinterland, which impacted the port and business activities.
SOVEREIGNTY
Trieste lost its historical municipal sovereignty, and its linguistic and cultural makeup underwent significant changes.
Trieste was declared an independent city within the Federative Republic of Yugoslavia on May 8, 1945. The people of Trieste were still torn during these trying times between two diametrically opposed ideas: joining Yugoslavia or going back to Italy.
The UN declared Trieste a Free Territory after two years of ambiguity and after hearing both Italian and Yugoslav claims. The territory remained split into two military occupation zones, governed by the Anglo-Americans and the Yugoslavs, due to the inability to appoint a governor.
Years of conflict ensued until, in October 1954, Italy and Yugoslavia ultimately split the Free Territory of Trieste.
Trieste became the seat of the Autonomous Region of Friuli Venezia Giulia in 1962, and with the Treaty of Osimo in 1975, Italian authority was extended to the full city's territory.
GETTING TO TRIESTE
CLOSEST AIRPORTS TO TRIESTE
Trieste (TRS) Airport, located 29.6 kilometers from Trieste, is the closest airport. Ljubljana (LJU) (83.2 km), Venice (VCE) (113 km), Venice Treviso (TSF) (122.2 km), and Zagreb (ZAG) are further airports that are close by (177.7 km).
GETTING AROUND TRIESTE
Walking, taking public transportation, riding a bike, and getting around Trieste is simple. You may learn about Trieste's beauty by taking a Hop Tour bus sightseeing tour. Take the Delfino Verde, a ferry that both locals of Trieste and visitors commonly utilize, to travel to the little Istrian-Venetian town of Muggia.
BY BUS & TRAMS –
Trieste has a dense network of bus lines connecting all of its neighborhoods and is connected to the Karst plateau by a historic tram.
CITY BUSES –
The Trieste Trasporti website provides information about schedules and urban routes: www.triestetrasporti.it
INTERURBAN BUSES – 
Information on schedules and routes is available at:
www.saf.ud.it www.aptgorizia.it www.atap.pn.it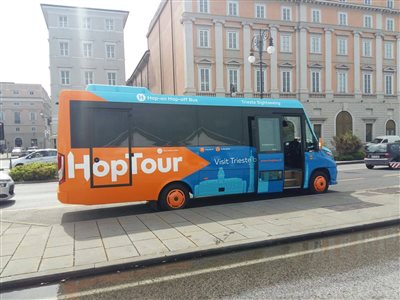 TRIESTE HOP TOUR –
Discovering Trieste with Hop Tour is easy! Trieste Hop Tour is a new tourist transportation service offered by the city of Trieste in partnership with Trieste Trasporti and Yestour. With 13 daily stops and hop-on, hop-off access, the Trieste Tour HopOn HopOff service offers a scenic bus tour of Trieste.
Ticket on departure, online, and at the info point via Einaudi 1 (inside the "Tipicamente Triestino" shop)
PRICES
Tour Bus €11 children aged 5 to 16 € 8 children under 5 travel free
OPICINA TRAM: CURRENTLY THE SERVICE IS SUSPENDED –
BY FERRY –
There is a regular daily ferry service between Trieste and Muggia, Barcola, and Sistiana. Bikes can be carried as well. With intermediate stops in Barcola and Grignano, the ferry leaves from landings in Trieste and Sistiana.
Schedules and ticket information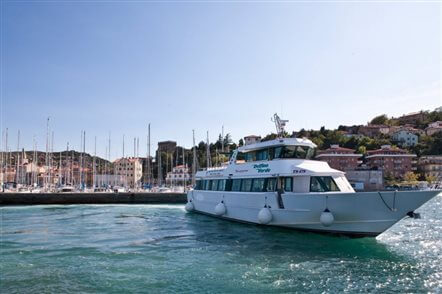 BY BICYCLE –
 A number of routes that are excellent for both families and experienced cyclists can be found in and around Trieste, making it a great place to go for beautiful bike rides.
Bike Sharing
BiTS is the new bike-sharing service at fixed stations in the Municipality of Trieste.
Pick up a bicycle at one point in the city and return it to another!
At your disposal, there are both traditional and pedal-assisted bicycles.
All information about the service: www.bicincitta.com/frmLeStazioniComune.aspx?ID=266 mobilitasostenibile.comune.trieste.it/bike-sharing
BY SCOOTER –
Scooters provide an easy way around because of the slopes and lack of parking spaces. Find out where you can hire scooters!
ALBA CHIARA car motorcycle rental
Motorcycle/scooter / Vespa rental www.albachiaranoleggi.it info@albachiaranoleggi.it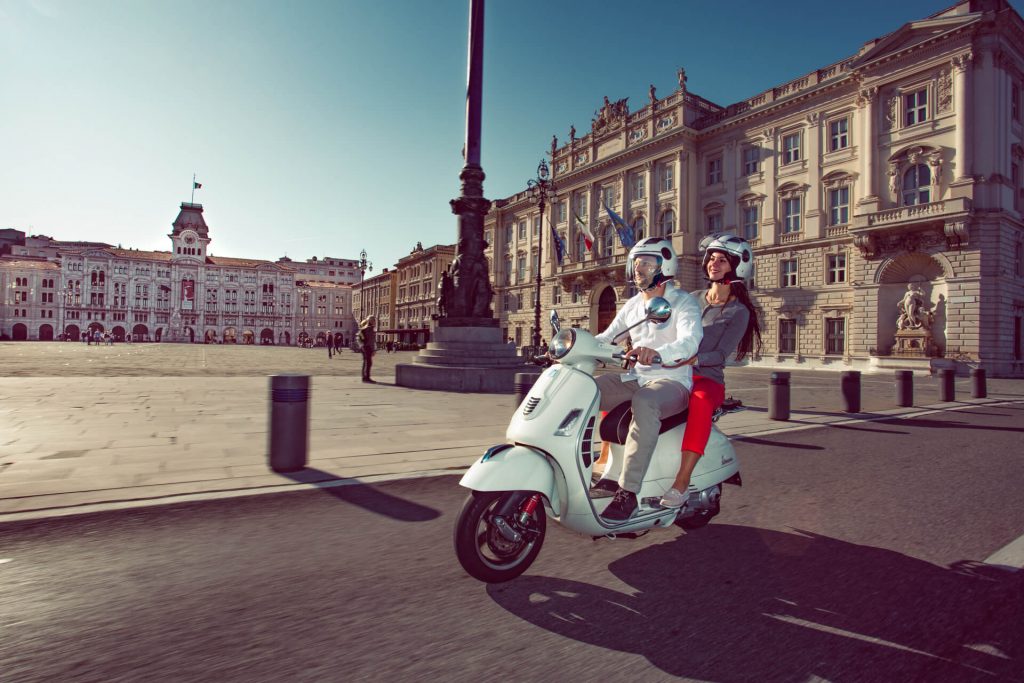 BY CAR – 
When traveling around Trieste by car, one must constantly ascend and descend between the various parts of the city. It is simple to enter and drive through the city thanks to the large main routes, and there are many places to park for a fee.
BEST TIME TO VISIT TRIESTE
There is never a bad moment to travel to Italy. July and August are the busiest months, but June is also busy. During this period, temperatures can reach as high as 36°C (98°F), and popular towns like Rome, Venice, and Florence see a huge increase in tourist traffic. Despite the increased prices and wonderful atmosphere, visiting during peak season is worthwhile.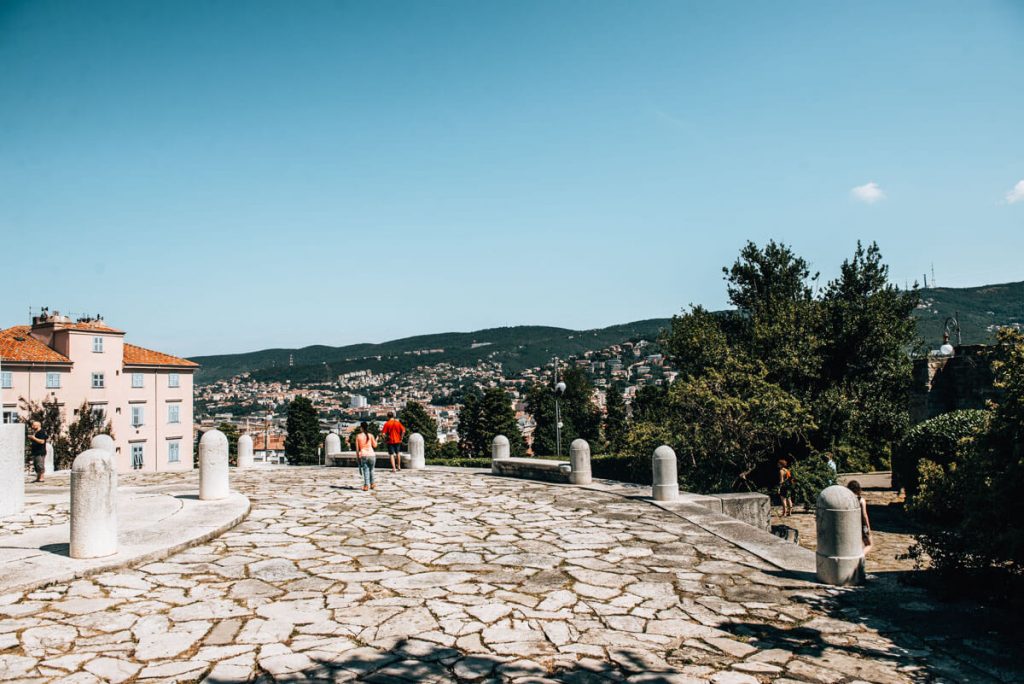 Having said that, I believe the shoulder season is the ideal time to visit Italy (March-May and September-October). Although it's still warm, there are fewer people, and the costs are lower. The Mediterranean is a fantastic place to be right now.
November to February is winter. Trieste's temperatures often hover around 8 degrees Celsius in the middle of winter, hardly ever falling below the freezing point. As a result, there is fog, frost, and snow. As a result, Trieste's off-season is now.
11 THINGS TO DO IN TRIESTE
Here are some things not to miss during your visit:
Trieste is not your usual tourist destination with loads to do. Instead, it resembles a vibrant metropolis that is enjoyable to explore and learn about. Despite this, you should still add a few major attractions and landmarks to your Trieste list of things to do.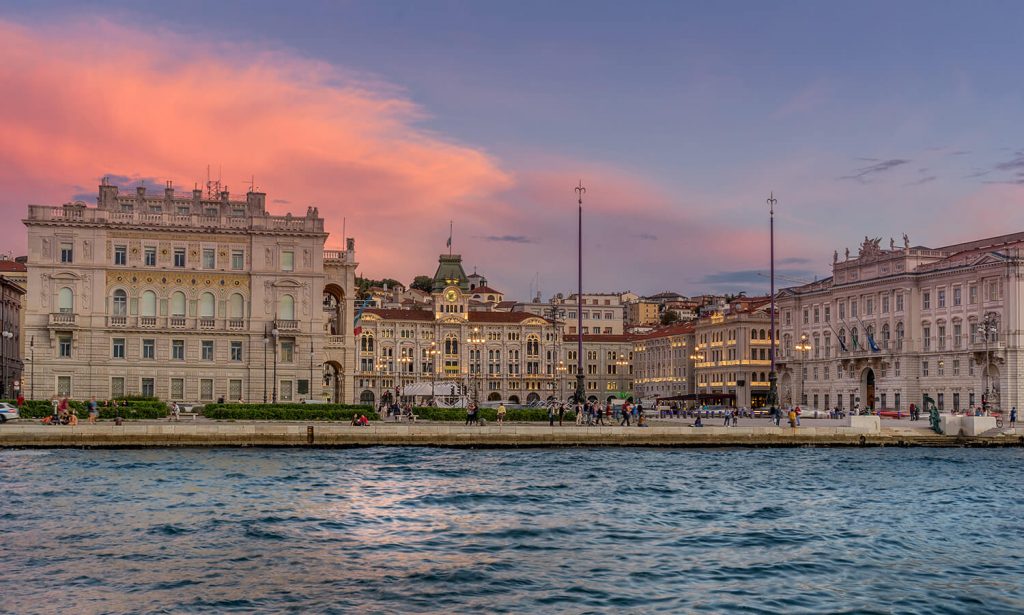 1.   UNITÀ D'ITALIA SQUARE
The easiest way to see the city's historic center is on foot because a sizable portion is pedestrian-only.
Let's begin in the city's center, Piazza Unità d'Italia, where visitors seem to be welcomed with open arms. The magnificent Town Hall with a view of the Adriatic Sea the Prefecture Building, which has a unique front adorned with golden mosaics, and the nineteenth-century Caffè degli Specchi, located on the ground floor of the Stratti Palace, may be seen on each side of the building. The massive Four Continents Fountain, constructed in 1754 to symbolize the then-known four continents, dominates the square (Europe, Asia, Africa, and America).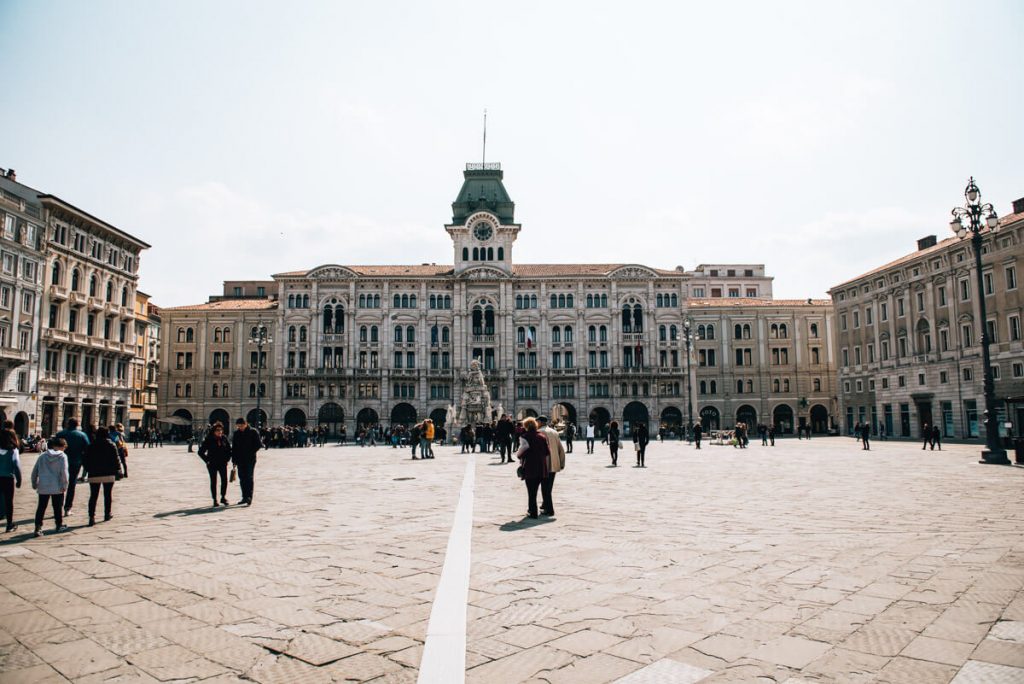 Finally, as you approach the ancient city, you can see the Region Building and the illustrious Hotel Duchi D'Aosta. (Once home to one of the world's oldest shipping corporations, Lloyd Triestino, built-in 1836).
2.   AUDACE PIER
A short distance from Unità d'Italia Square, on the "Rive di Trieste," lies the 200-meter-long medieval stone walkway. The first ship of the Italian navy, "Audace," which was berthed in the Port of Trieste in 1918, gave rise to the name of the Audace Pier.
Both tourists and residents of Trieste should stroll in this area. You can discover peace and quiet here. The sunset over the water with the lovely palaces along the "Rive" that turn crimson is one of the most spectacular scenes you must not miss.
The Barcolana, a yearly historical and international regatta in Trieste is held at the Audace pier.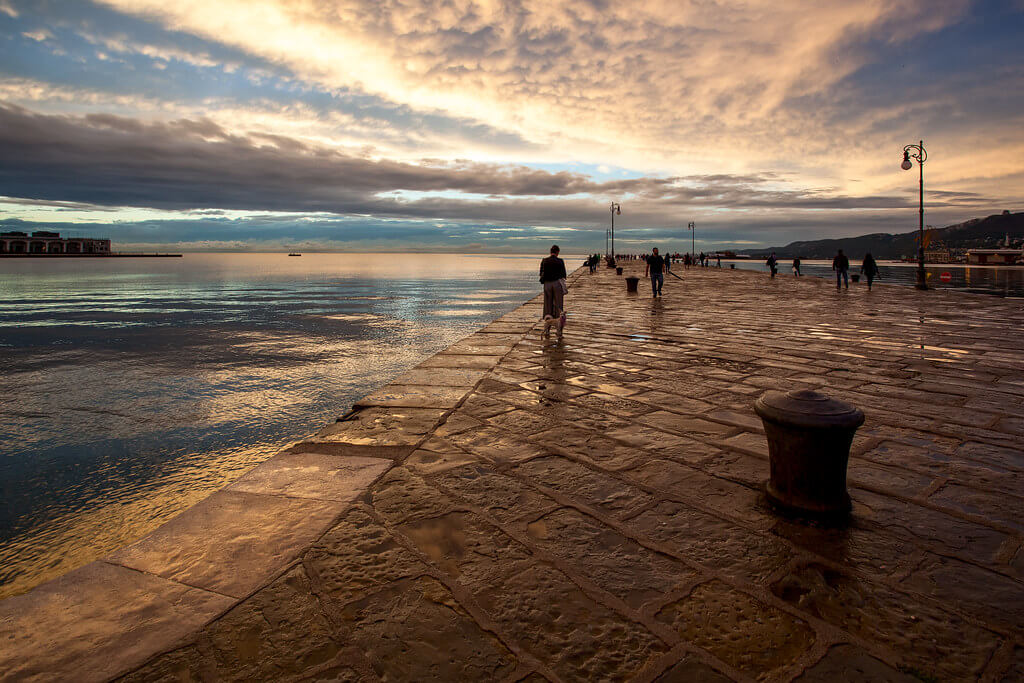 3.   THE CANAL GRANDE
The most popular location for sunsets! The only waterway in Trieste is the Grand Canal. It is bordered by lovely, old buildings on both sides. The sun sets across the horizon in the evening over the water, and with any luck, it will shed its warm hues along the Grand Canal.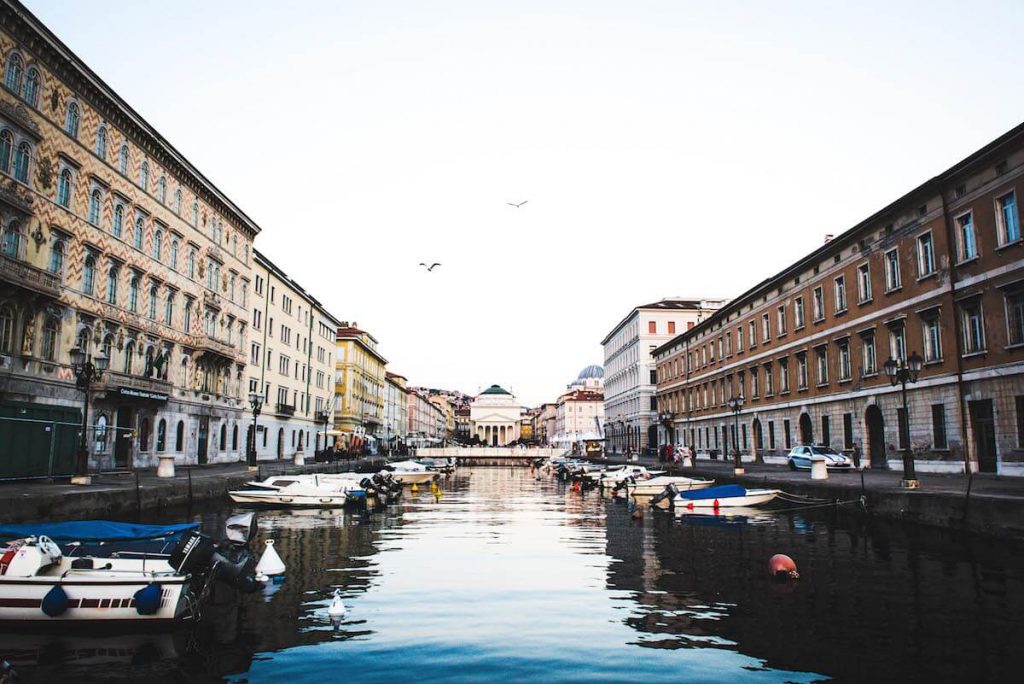 Along the Grand Canal, many eateries and pubs entice you to stay a little while longer. You can treat yourself to some aperitivo and take in Trieste's style there.
4.   BARCOLA'S BEACH
Let's swim, shall we? Locals use this phrase to describe the Barcola beach. Instead of a traditional stretch of sand or pebbles, topolini are concrete platforms, some of which are even projecting and rounded (little mice).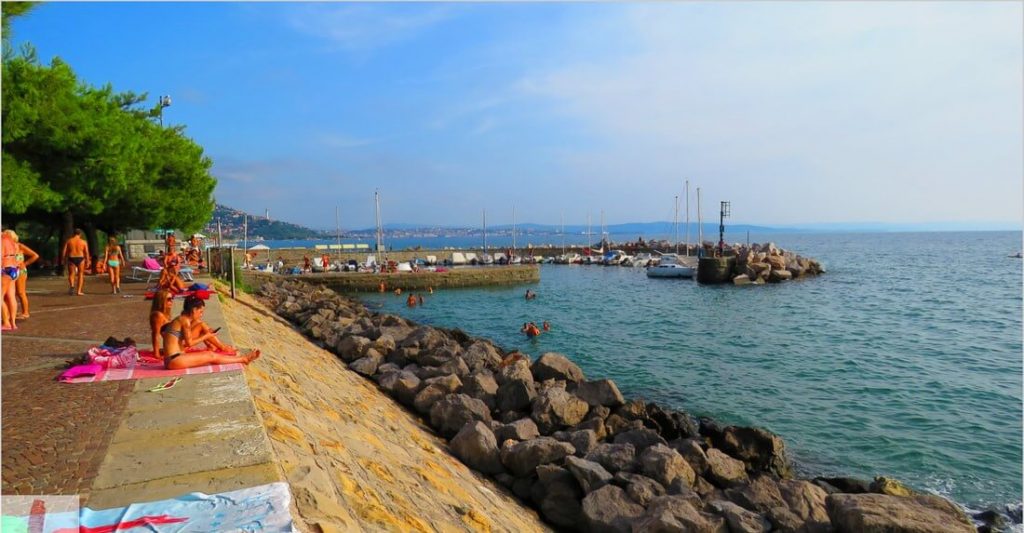 Since there is also a pine forest with games for kids, Barcola throughout the summer is full of locals of Trieste (and not only) to sunbathe, have a good dip, or cool down. Trieste residents prefer to go for long walks in the winter, especially around dusk when they may take in some fascinating city vistas.
5.   MIRAMARE CASTLE
The magnificent Miramare Castle is located at the far end of Barcola's coastline and commands a view of the water. Even if you plan to spend a few days in the city, this is unquestionably a must-see destination and a place straight out of a storybook. At the entrance, a sizable park filled with trees, art pieces, and fountains will greet you. The Castle, which was also the former home of Archduke Ferdinand of Habsburg and his wife Charlotte of Belgium in the late nineteenth century, is the true gem.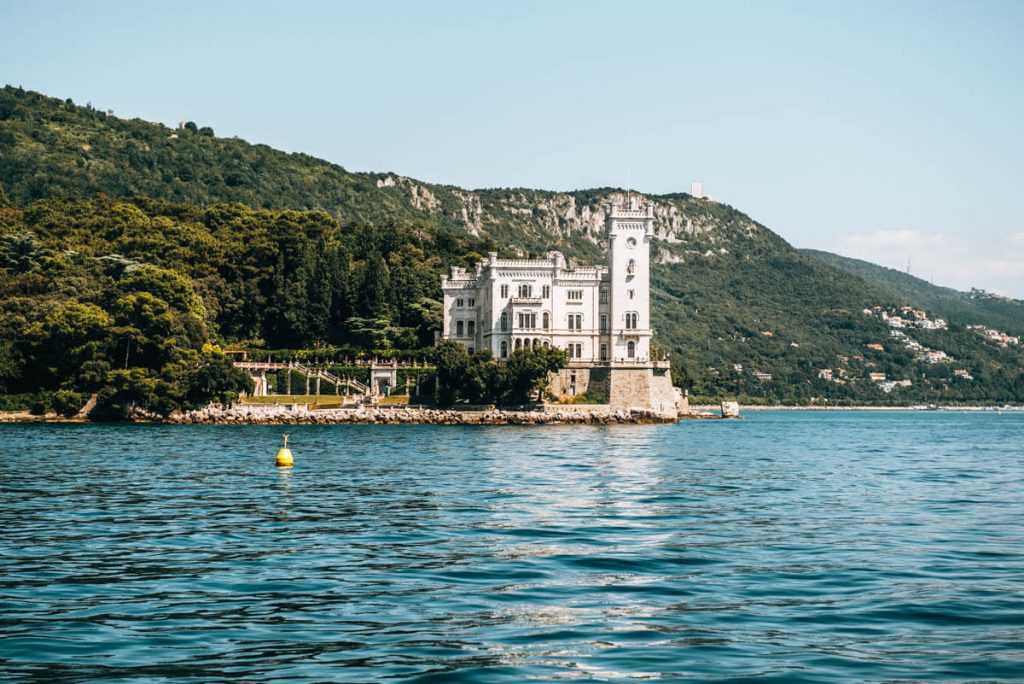 TRANSPORTATION TO MIRAMARE
At 8:00, 11:00, 14:30, and 17:30, boats to Castello di Miramare depart immediately from the Trieste harbor. The boats only operate throughout the summer. At the conclusion of the page, you may find a travel map with the location of the dock where the boats leave from indicated.
The castle is also accessible by train. The trip costs 4.25 euros per person one way and takes about 30 minutes. You wish to get to Grignano station. We received a completely fresh and distinctive perspective of Trieste, the shore, and the Miramare Castle thanks to the boat tour, which was unquestionably the best choice.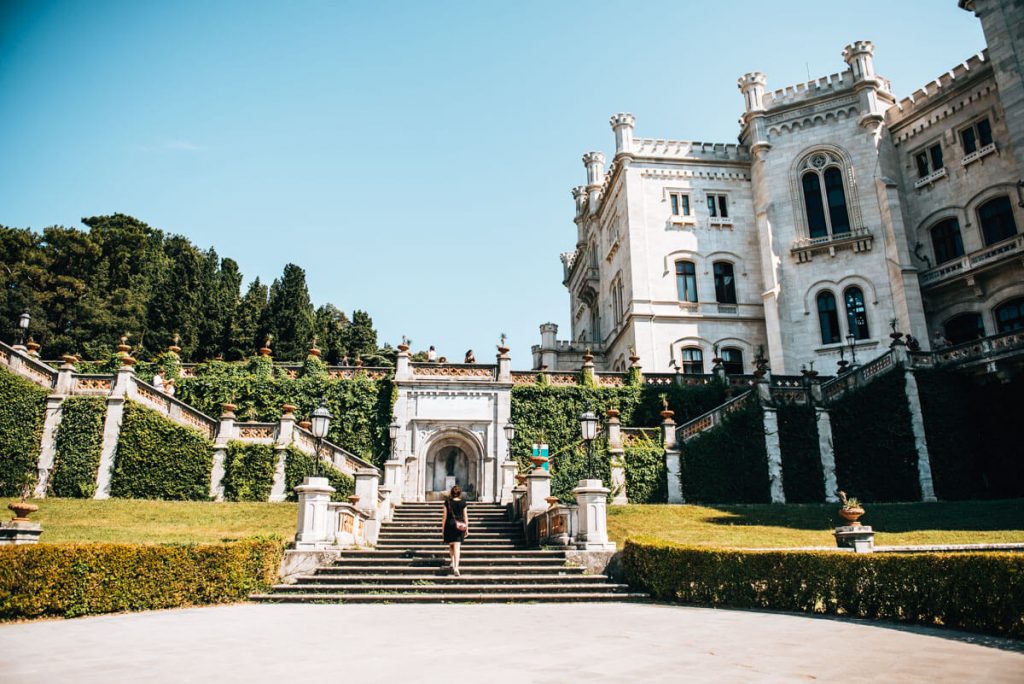 6.   CATHEDRAL OF SAN GIUSTO
Two churches from the sixth and eleventh centuries were combined to create the cathedral of San Giusto in the fourteenth century. The central aisle of the cathedral was formed by combining the side aisles of the churches of San Giusto (on the right) and Santa Maria (on the left) (on the nave).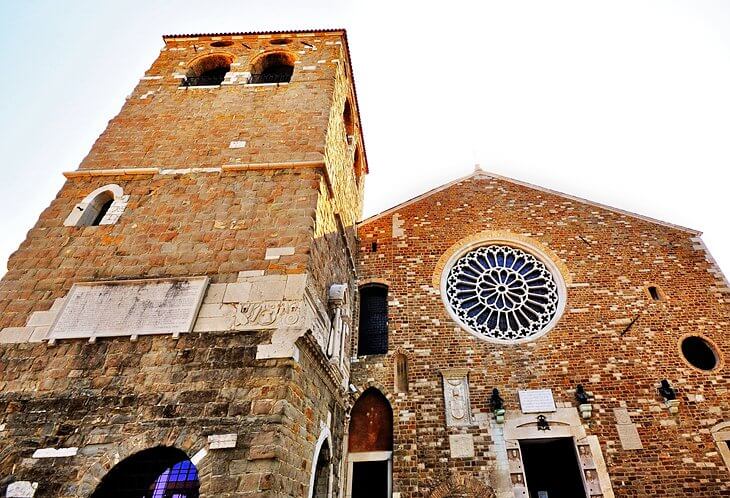 Roman masonry fragments were recycled into the building together with the two churches; seek for them in the doorway and the campanile. Keep an eye out for the superb mosaic work from the seventh and twelfth centuries in the altars at the end of the side aisles. You can turn on the lights for a single penny to fully appreciate them.
7.   DAY TRIP TO LAKE BLED AND LJUBLJANA
Lake Bled, one of Slovenia's most picturesque locations, is approximately 100 kilometers from Trieste. The picture-perfect island is situated in the middle of the lovely, crystal-clear glacial lake, which has a charming settlement along its wooded shore and is surrounded by a mountain range.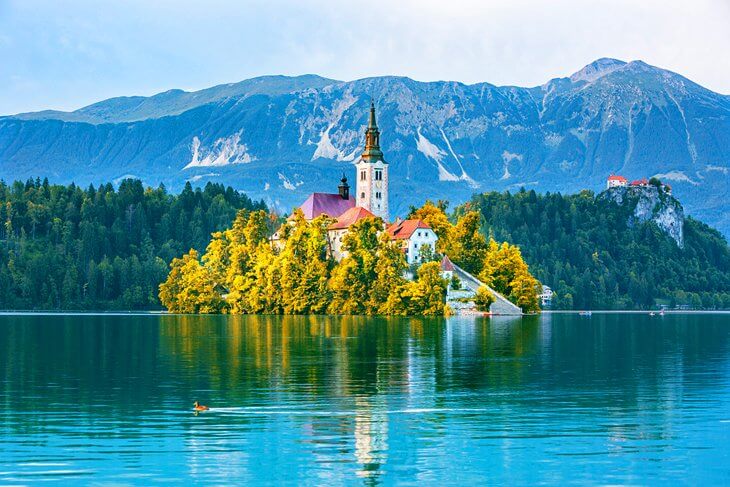 The island rises to a stunning Gothic church with spires. Walking pathways extend along the lake's beach from the hamlet, where the 12th-century Bled Castle is perched atop a jagged 130-meter cliff above the lake, where swans bathe in the water.
8.   ROMAN THEATER
Trieste, located in Italy, naturally has a rich history, and the Teatro Romano, Trieste's Roman Theatre, is the greatest venue to see part of that history. It is in remarkably good condition and conveniently located near Piazza Unità d'Italia in the city's center. Some of the ancient walls, columns, and furniture are still visible.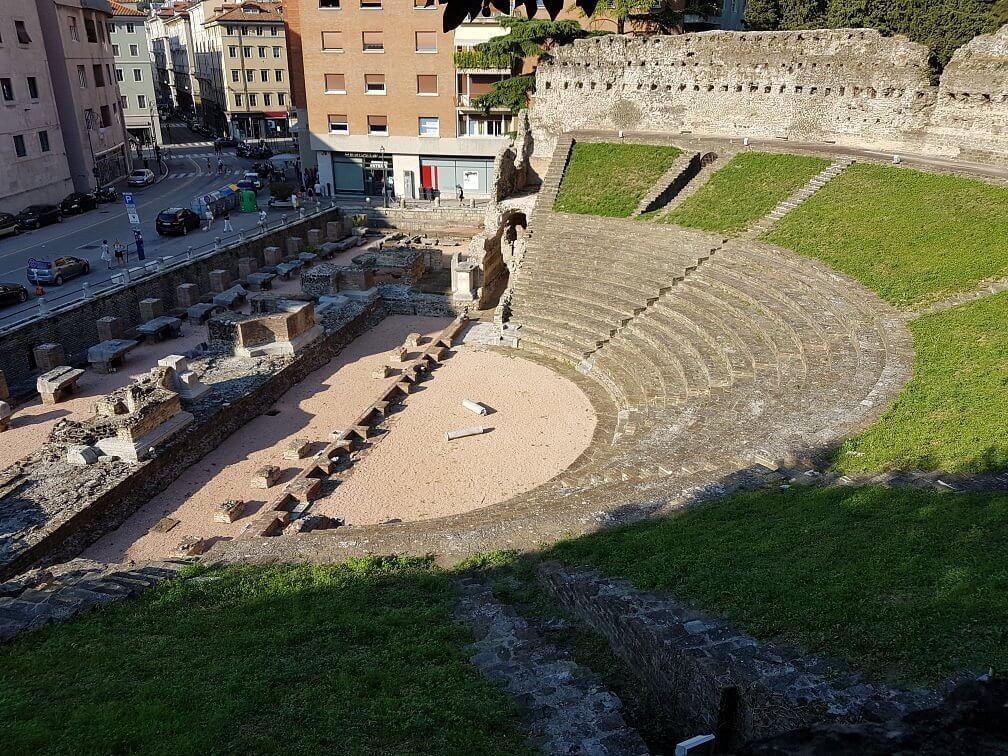 9.   SUMMER BATHS BY THE MARINA AT BAGNO AUSONIA
These adorable beachside old-fashioned baths are ideal for a cool swim on a hot day. Men's and women's bathrooms are separate, but they're still worth visiting even for a quick glance.
10. PONTEROSSO MARKETS
These regular markets have existed for more than 200 years. The Piazza Sant'Antonio Nuovo is filled with vendors selling various goods along the Grand Canal's banks, including clothing, fresh fruit and vegetables, and hot snacks.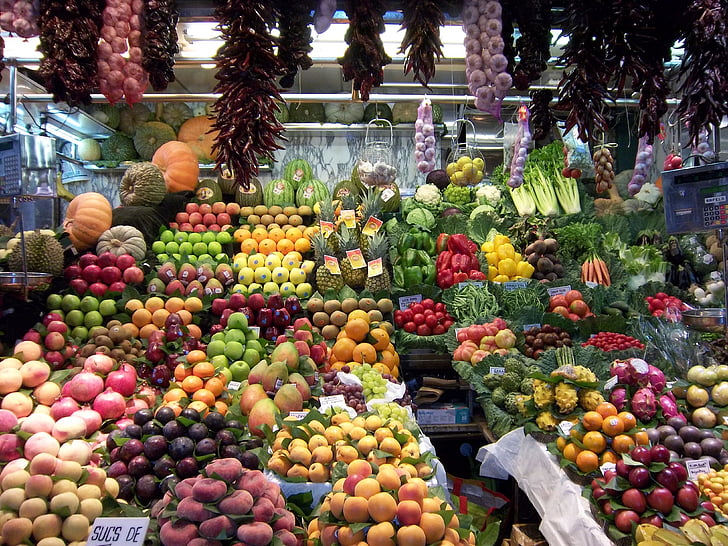 11. EXPLORE THE CITTÀ VECCHIA
The old area on the sea known as Città Vecchia is where Trieste's medieval core is located. You get a true sense of the city by exploring these tiny streets. The 12th to 14th centuries are represented across the entire territory from the dock and beyond the Piazza dell'Unità d'Italia. The antique structures that make up the neighborhood include Venetian and Austrian architectural influences.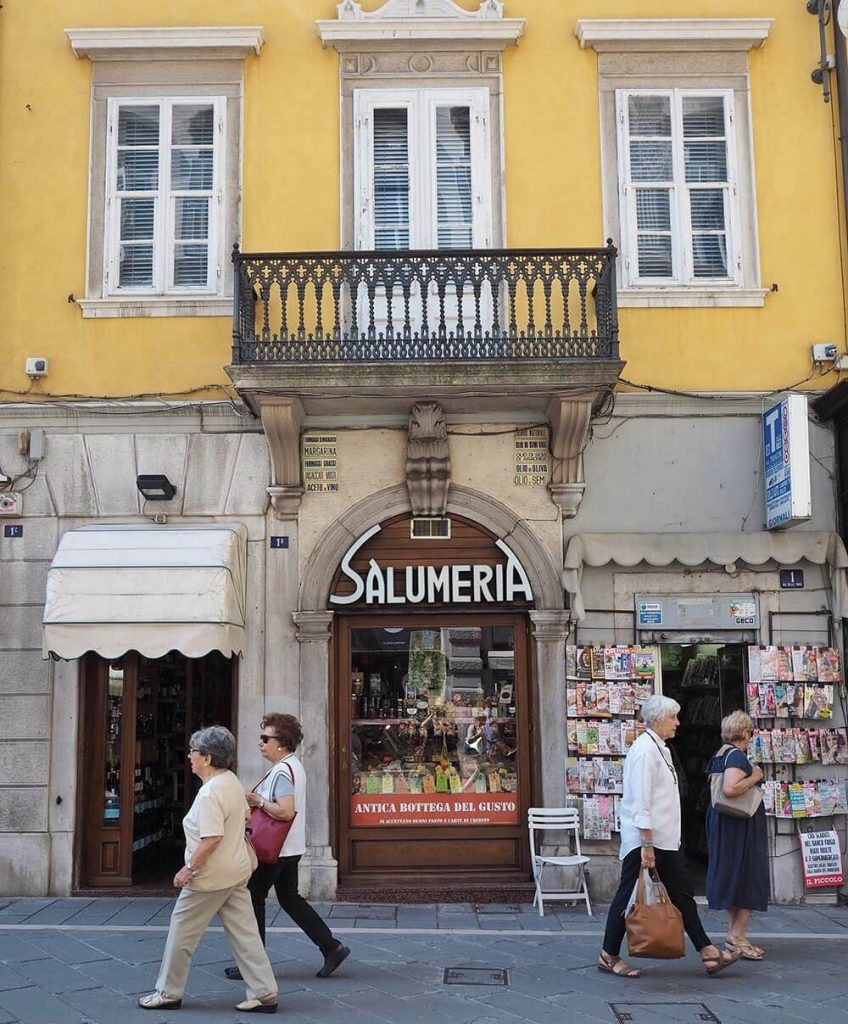 IF YOU HAVE MORE TIME
Ride the Trieste-Opicina Tramway
Although it might be a day trip in and of itself, the funicular tram ride up the karst to the small town of Villa Opicina east of Trieste is a delightful experience. Views of Trieste and the Adriatic will be your reward if you take the time to do this.
Even though the tram is now out of commission and there is no word on when it will start operating again, it is still worthwhile to ascend to Villa Opicina. There would only be a brief bus or taxi travel required.
Spend the day in Muggia
This tiny settlement in the far southeast of the Bay of Trieste is pronounced: "Moojya." It has existed since around 800 BC and shares many influences with Trieste regarding architecture.
Its little marina makes for a very picturesque setting as you pull in on the Green Dolphin Ferry – a 40-minute cruise from Trieste's port.
Gorizia food festival
One of the most exquisite instances of an Italian food festival you're likely to find lasts for three days at the end of September each year.
Gusti di Frontiera fills the streets of the outlying town of Gorizia, which in reality lies on the border of Slovenia and Italy.
Take a Couple of Day Trips
I discovered Trieste to be incredibly inexpensive and well-connected compared to other Italian cities. Because of this, I suggest using it as a base to explore other regions of the nation, including neighboring Slovenia, over the course of a few days.
Here are some worthwhile day trips from Trieste, including the following:
Prosecco and Karst region
Ljubljana and Lake Bled
Piran and Slovenian Coast
Due to the difficulty of using public transportation between the two countries, day visits to Slovenia are best taken as part of a group tour (see link above). However, if you'd prefer to be on your own, you can take the regional rail in Italy to some of the smaller adjacent cities or even spend the day in Venice.
EATING AND DRINKING IN TRIESTE
1.   The best ice cream in Trieste
Gelateria Marco serves delicious ice cream. Behind the main square, in a tiny lane, is where you'll find this little slice of gelato bliss. The combination of pistachio and hazelnut is our top suggestion! Just like you shouldn't judge a book by its cover, this gelateria's exterior and interior decor are neither very stylish nor hip, yet its gelatos are pure gold.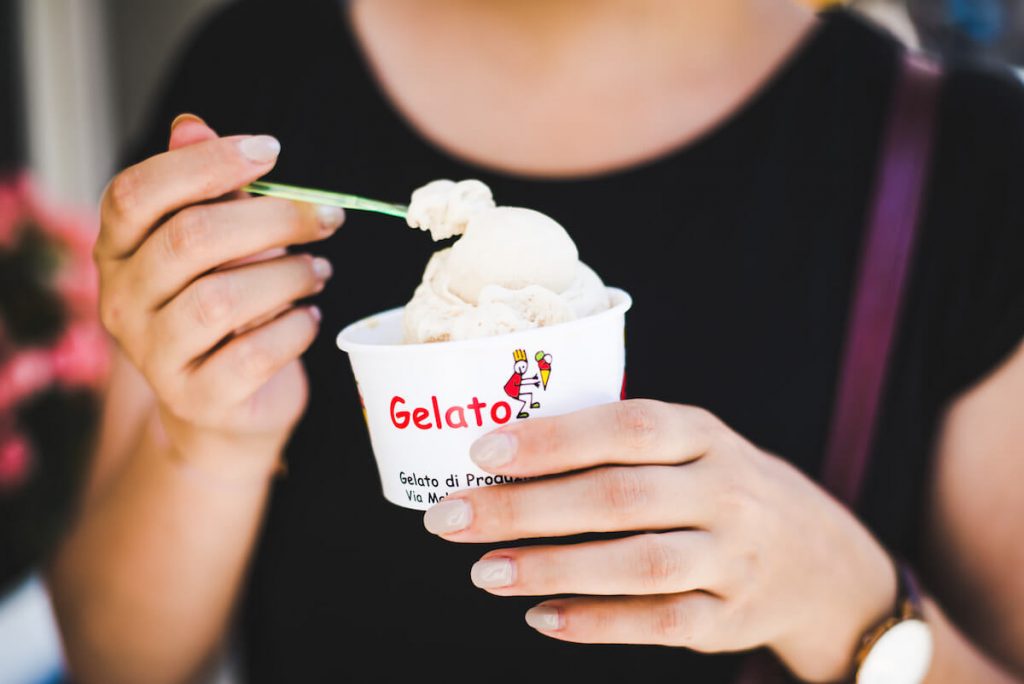 2.   The best coffee houses in Trieste
Granted, almost every coffee in Italy is decent. Trieste is regarded as the capital of the Italian empire of coffee. It is said that Trieste consumes more coffee than any other city in Italy.
There is a fairly cool concept called the Coffee Pass that really celebrates the coffee culture of Trieste. The pass costs 5 euros and is available at the tourist information office close to Piazza dell'Unità d'Italia, as well as the airport and various hotels in Trieste.
The coffee card gives you a coffee of choice at seven classic cafes. Italians generally stand at the counter and sip their coffee. But beware—the people of Trieste have their own dialect when it comes to coffee. Espresso is known to them as "Caffè Nero," while what we refer to as an Espresso Macchiato is termed "Capo" in Trieste. Right, it's confusing.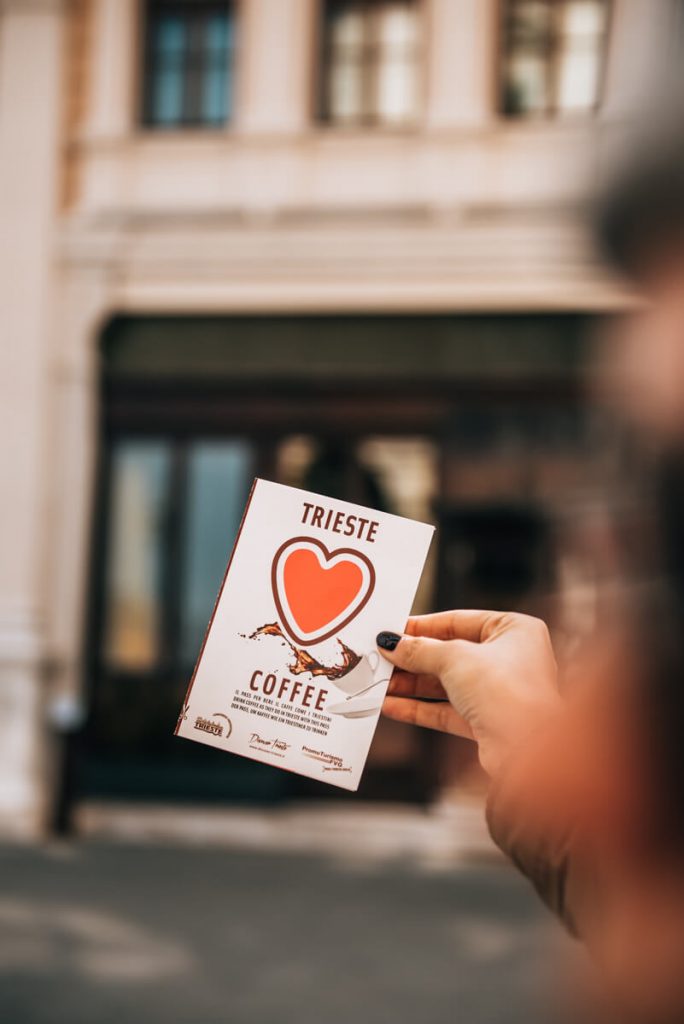 3.   Pasticceria La Bomboniera
After entering, we immediately rated the Pasticceria La Bomboniera as Trieste's most attractive coffee shop. Suddenly, it seemed as though time had stood still for a while. Numerous desserts and pastries are present in the glass cases. The coffee pass also covers the Pasticceria La Bomboniera.
4.   Antico Caffè San Marco
The espresso macchiato from Antico Caffè San Marco was possibly the best. Additionally, this coffee shop has a fantastic environment. Although a little beyond the city center, the Antico Caffè San Marco is worthwhile the travel, and one of the cafés included in the coffee ticket.
5.   Caffè Tommaseo
Of course, we also had to stop by Trieste's oldest coffee shop. Don't be shocked if large groups of tourists surround you because Caffè Tommaseo is a Trieste institution. Nevertheless, we adored the Caffè Tommaseo's vintage charm. Breakfast of "Cappuccino e cornetto" was relished by us; we don't require much to be content.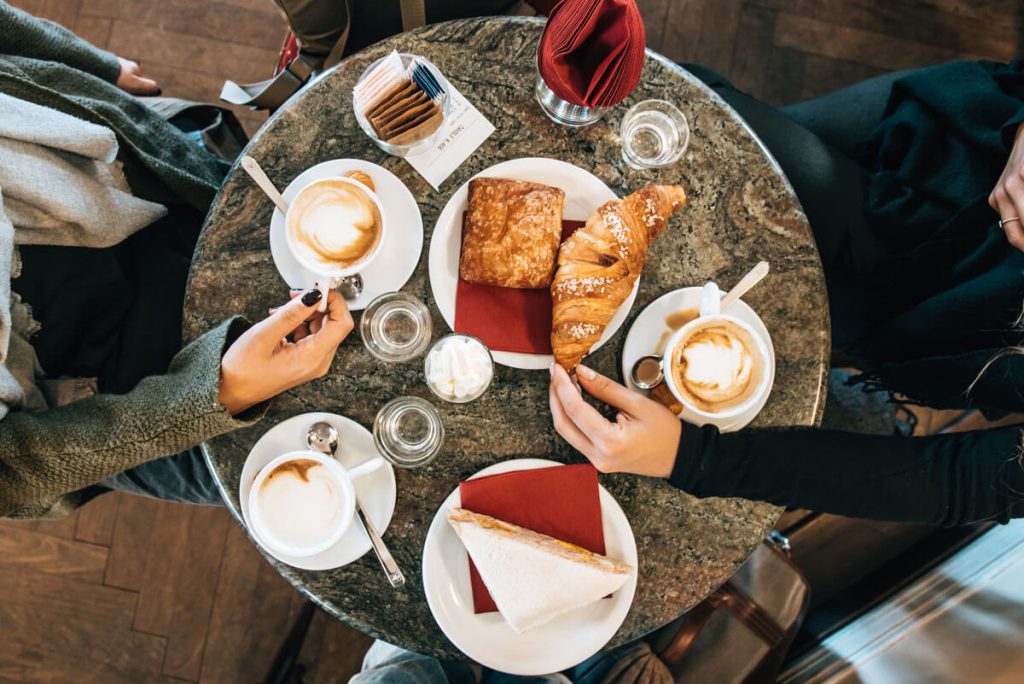 6.   The best pizza in Trieste
Al Civicosei
During our most recent trip to Trieste, we stumbled into this cutting-edge pizzeria and were completely taken away. The pizzas are outstanding, and the waitstaff is really cordial. Try the Pizza Norma; it's heaven-sent! We also liked the on-site Vino Frizzante. The Al Civicosei is unquestionably reasonable in terms of price. The less expensive pizzas run between 7 and 8 euros.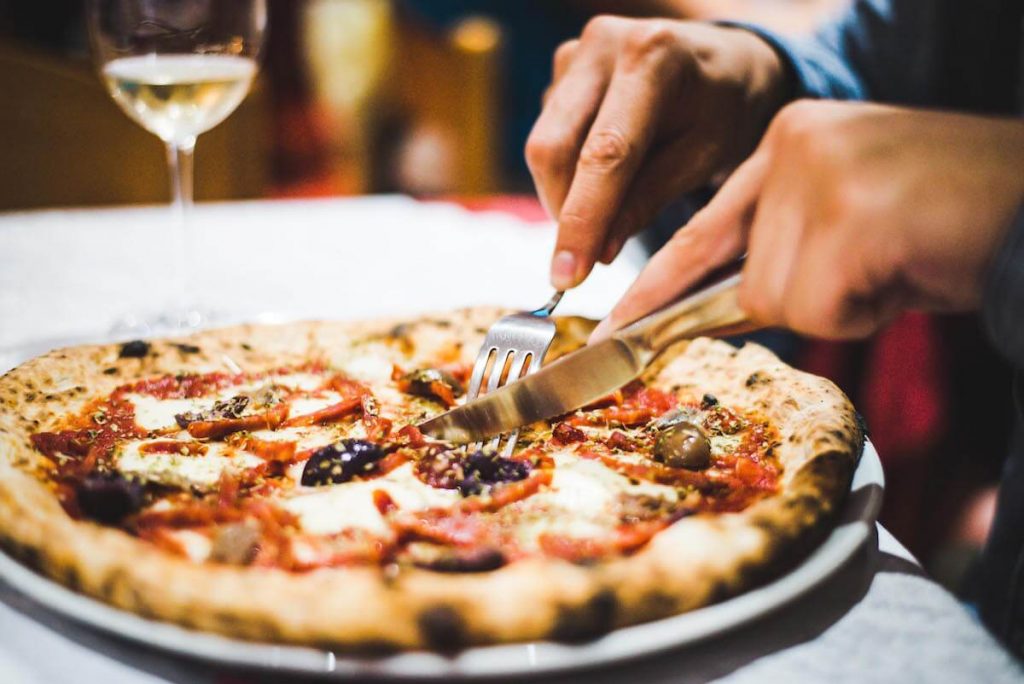 7.   Ristorante da Giovanni
In the pedestrianized area of Borgo Teresiano, Giovanni offers traditional Triestino fare and regional specialties such as sardines Frito, chargrilled squid, and pasta sepia. Next door is Caffe Russian.
8.   Caffe San Marco – coffee & snacks
It's simple to picture activists and intellectuals holding private meetings in the 1920s when this lovely café was constructed. After Austrian soldiers damaged this irredentist center in World War I, its vaulted ceilings, and elaborate art deco finishings have been meticulously restored.
These days, after a long day of touring, it's the ideal place to unwind with a coffee and a snack.
9.   Eataly
This food hall, delicatessen, bar, and restaurant, modeled after its New York parent, offers a fantastic selection of cuisine and one-of-a-kind views of the Trieste port from its vast picture windows.
Head upstairs for the whole menu (though it's frequently busy). For a lighter meal, opt for the meat and cheese plates below.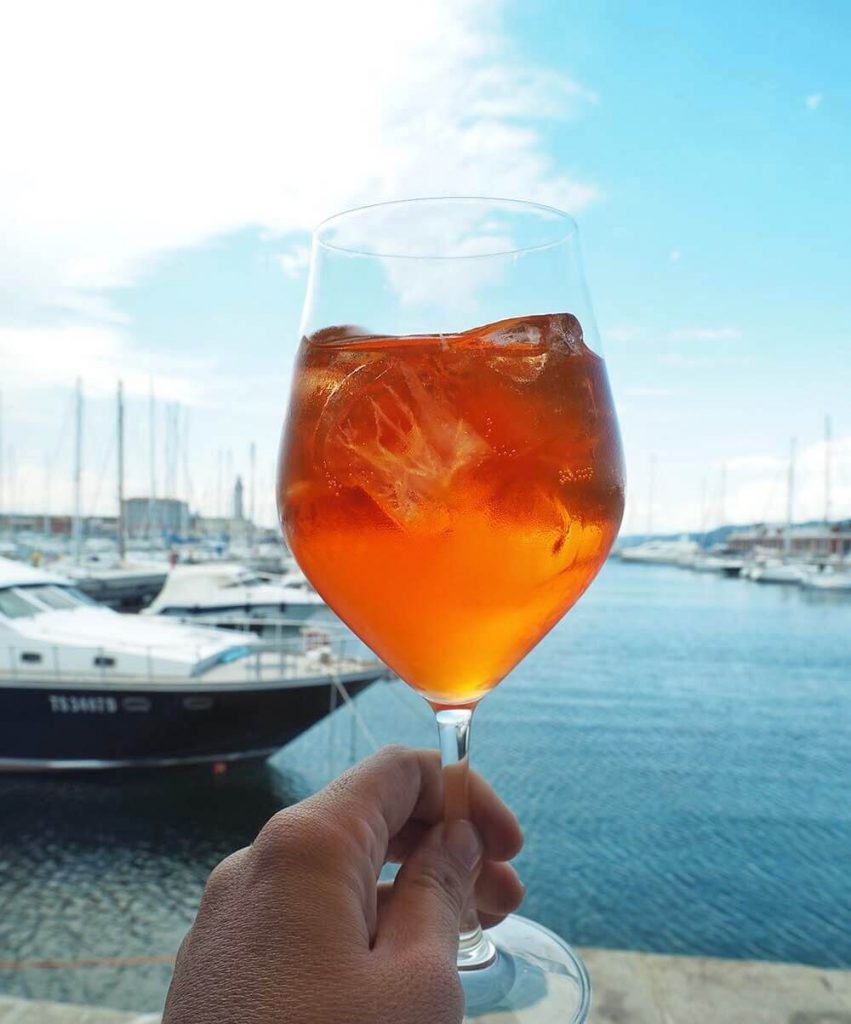 10. Ristorante Baracca e Burattini
You'll discover one of the most neighborhood restaurants in Trieste's old town. The entire menu is in Italian, so be prepared with your Google Translate app (download Italian onto your phone first, then take a picture of the menu and translate it super-fast).
Depending on how the chef feels, the menu may change every day or every week, but everything on it will be wonderful. If you ever get the chance, try the susini gnocchi, a dish that Christina and her family grew up eating.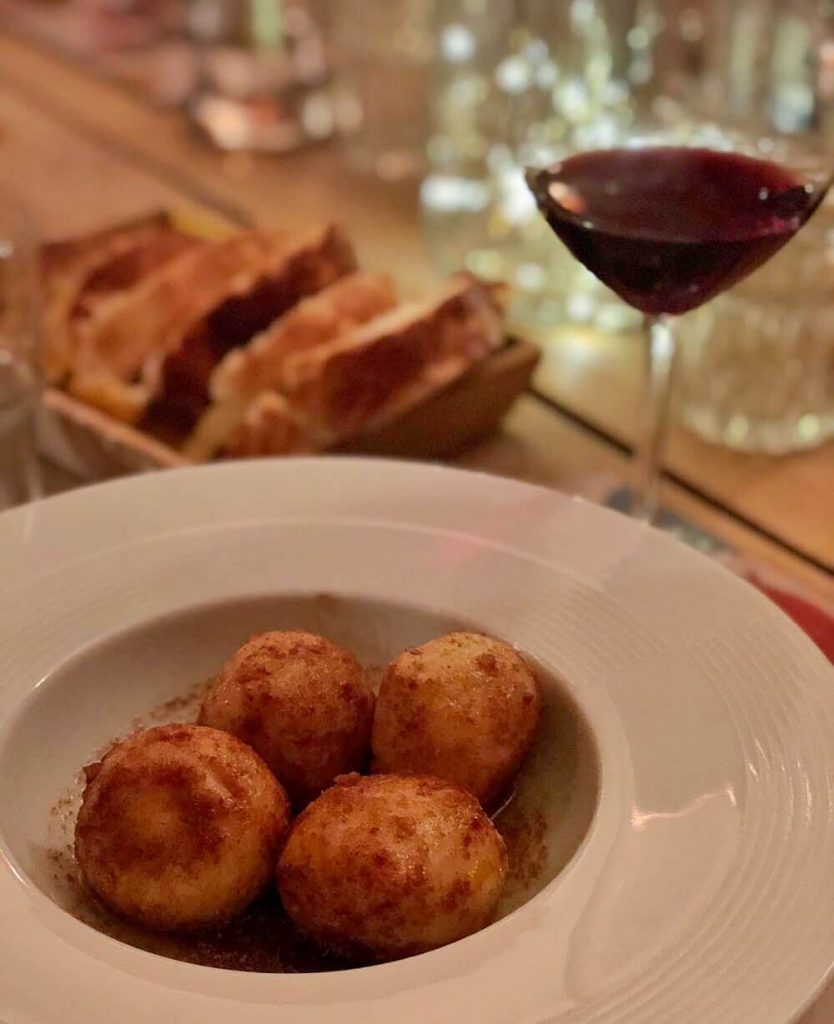 Large potato gnocchi is covered in a warm sauce of sugar, cinnamon, and breadcrumbs after filling with a tiny plum (or plum jam). Unbelievably, this delicacy is a main course, not a dessert.
11. Gelateria Zampolli
Zampolli creates delicious ice cream, gelato, and sorbet and is likely the city's most well-known and adored Gelateria. The line will allow you time to select your flavors because it is constantly bustling with everyone from schoolchildren to suits.
If you're still unsure, check out Christina's explanation of the distinction between ice cream and gelato. She also divulges the Italian gelato ordering method. Here are our opinions on getting a cup or a cone if you're still unsure.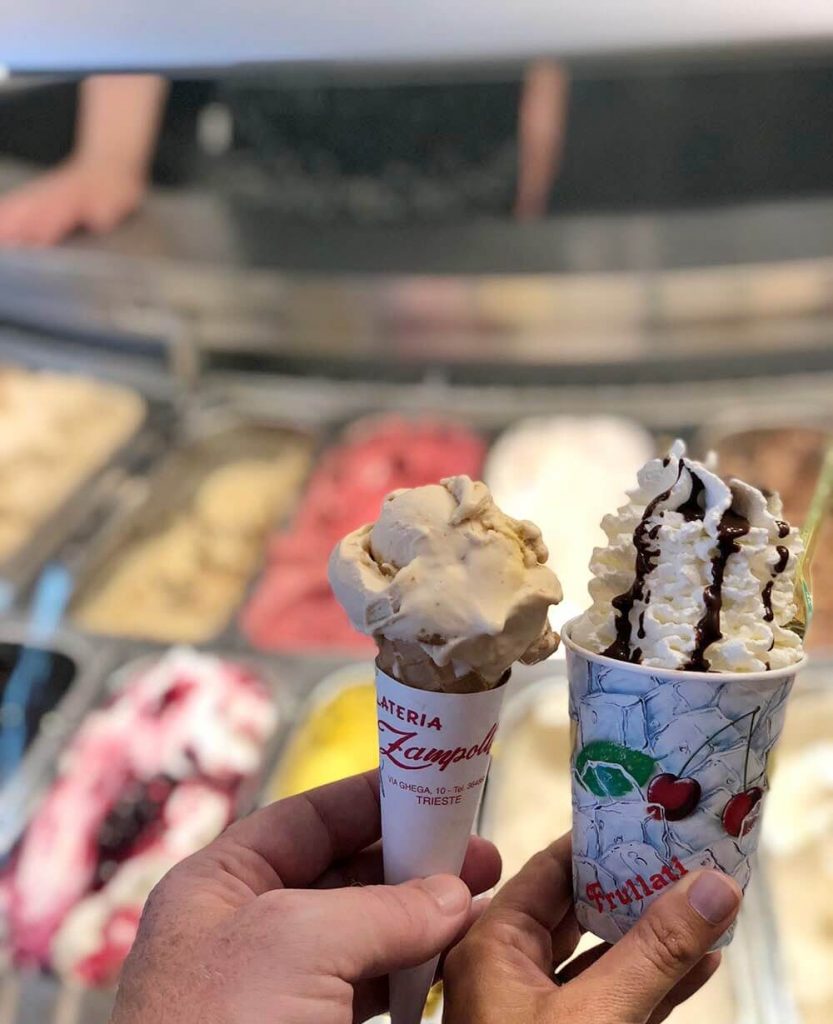 WHERE TO STAY IN TRIESTE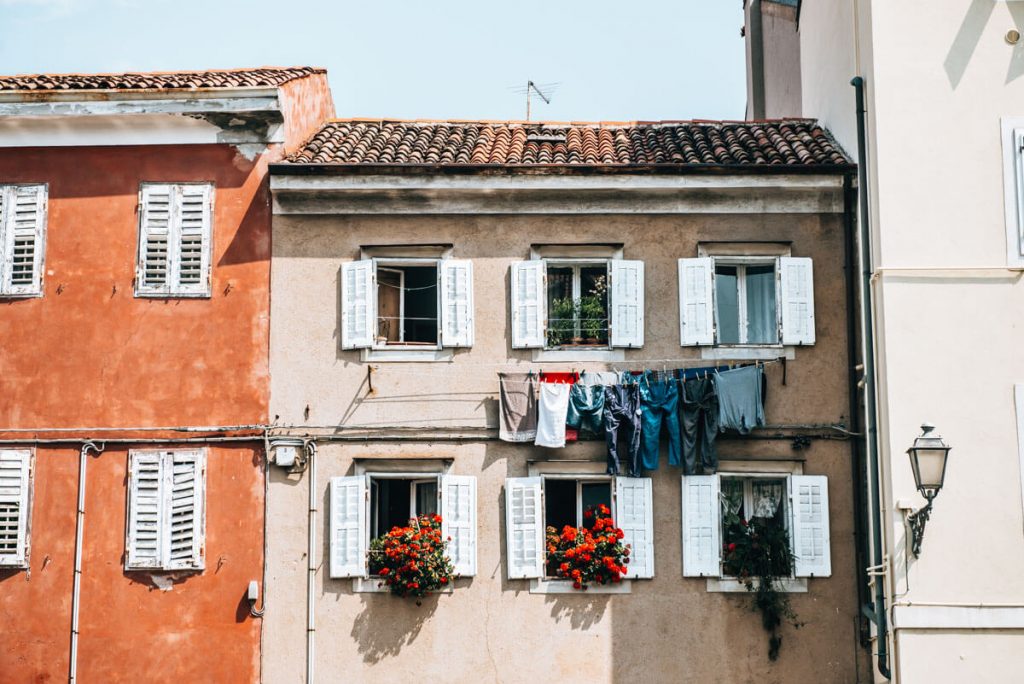 Trieste has a wide variety of lodging possibilities; however, hotels are typically fairly pricey (which is Europe all over). However, Airbnb is fantastic in Italy. Recently, we stayed in an ideal spot—in the center of town, with a kitchen.
However, if you've got your heart set on a hotel in Trieste, here's a short list of hotels in the town for you to choose from.
I would suggest staying close to the Grand Canal region. The train station is a short distance away by foot (which you will no doubt use to arrive and leave as it also goes to the airport). Additionally, it's close enough to many restaurants and the tourist attractions I mentioned before.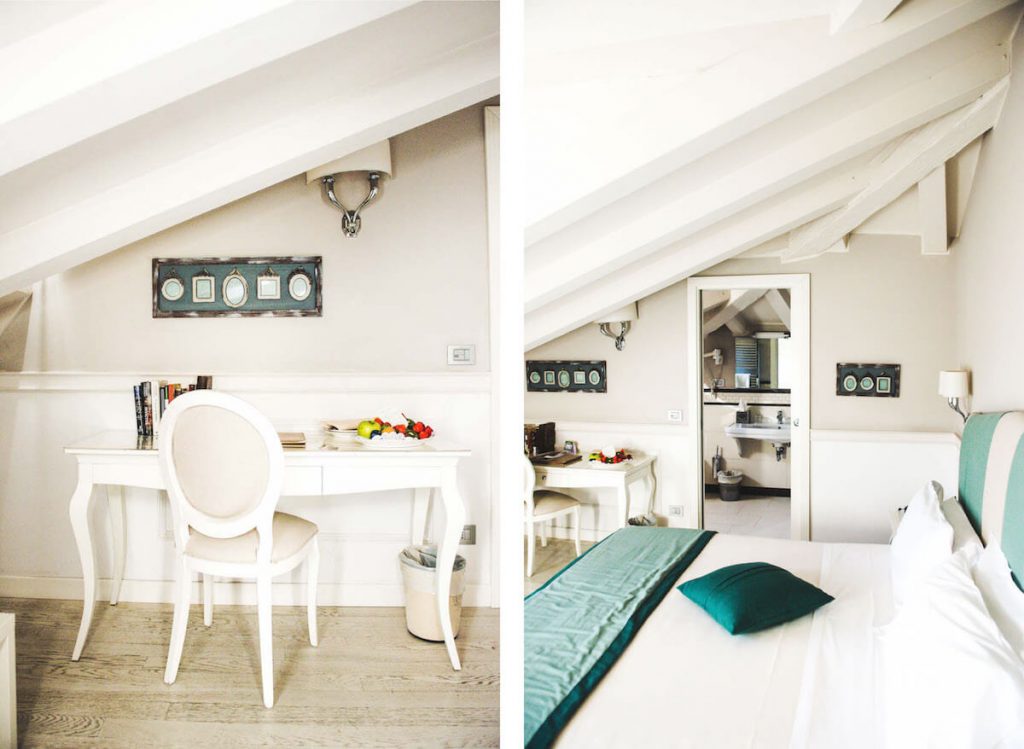 NIGHTLIFE IN TRIESTE
A late afternoon aperitif can easily lead to an early morning taxi ride home in Trieste, with a few typical local meals, several new friends, and many memorable conversations frequently falling in between. While Trieste isn't exactly a top destination for 24-hour partygoers, it has a vibrant nightlife scene. At least in our experience. Although there is frequently a very thin line dividing cafés and bars in this region of Italy, we have attempted to list establishments that fall more firmly into the second category. If there's one part of town where you should concentrate your drinking, it's the hip Cavana neighborhood to the west of Piazza Unità, where it seems like a new hip bar, or eatery opens every other week or so these days. Other respectable beer halls, clubs, rock bars, and more are dispersed across the city.
BARS
Harry's Bar
Bar Stella
Golden Horse
Knulp
CLUBS
PUBS 
Kapuziner
Mastro Birraio
Foraperfora
WINE BARS
Salu Mare
Ai Santi Vignaioli
Angelina
TRIESTE CITY DETAILS
CITY MAP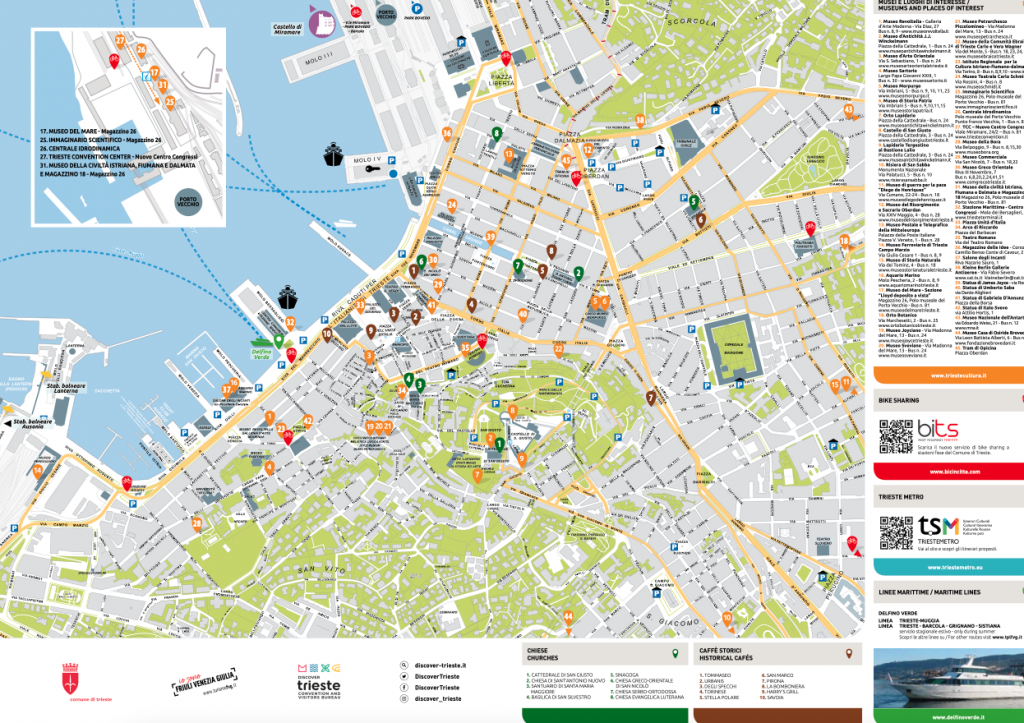 (Link)
PARKING IN TRIESTE CENTRE
Where to park in Trieste
Parking on the Street
Parking in the blue spaces in the heart of Trieste is available Monday through Saturday from 8 a.m. to 20 p.m. for a price; weekends and evenings are free. The hourly fee varies by location:
RED AREA Central location € 1,40 / h
Minimum rate € 0.70 equal to 30 minutes
Next Fraz. € 0.35 equal to 15 minutes
YELLOW AREA Central location € 1,00 / h
Minimum rate € 0.50 equal to 30 minutes
Next Fraz. € 0.25 equal to 15 minutes
GREEN AREA Semicentral location € 0.80 / h
Minimum rate € 0.40 equal to 30 minutes
Next Fraz. € 0.20 equal to 15 minutes
BLUE AREA Peripheral location € 0.50 / h
Minimum rate € 0.25 equal to 30 minutes
Parking lots discovered
Park Boveto – 400 parking spaces for automobiles and 20 campsites are provided at the Barcola-area Boveto park. Bus lines 6 and 36 connect to the city center and are free.
Parking Pier IV – The Molo IV parking lot, which has 600 seats and is available twenty-four hours a day, seven days a week, is situated on the Rive di Trieste in the heart of the city, close to Piazza dell'Unità d'Italia, the Miela theater, and the main station. There are fences and security cameras around the parking lot. Payment is deferred and can be made with cash, a debit card, or a credit card through automated teller machines.
The rates applied are as follows:
Hourly rate: € 1 / hour up to 5 hours
The rate for 12 hours: is € 6
The rate for 24 hours: is € 10
BACKPACKING TRIESTE SUGGESTED BUDGET
I advise setting aside 60 EUR per day if you're taking a backpacking trip through Italy. This implies you're sleeping in a hostel, preparing your own food, consuming little alcohol, getting around primarily on public transportation, and sticking to cost-free activities like hiking, free walking tours, and visiting the beach. If you intend to drink, increase your daily spending by 5–10 EUR.
A mid-range daily budget of 140 EUR will allow you to stay in a private Airbnb, eat out a few times, indulge in a few drinks, occasionally take a taxi to travel around, and participate in more expensive activities like visiting Pompeii or the Colosseum.
LUXURY Vs. BUDGET
You can stay in a cheap hotel, eat out for every meal, consume as much alcohol as you like, rent a car, and participate in any tours and activities on a "luxury" budget of 255 EUR or more daily. But for luxury, this is merely the ground floor. There are no boundaries!
Depending on your travel style, you can use the chart below to estimate how much money you need to set aside each day. Remember that these are daily averages and that you may spend more and some days less (you might spend less every day). We wish to provide you with a rough outline for creating your budget. The price is in EUR.
| | | | | | |
| --- | --- | --- | --- | --- | --- |
|   | Accommodation | Food | Transportation | Attraction | Average Daily Cost |
| Backpacker | 25 | 15 | 10 | 10 | 60 |
| Mid-Range | 60 | 40 | 15 | 25 | 140 |
| Luxury | 100 | 80 | 25 | 50 | 255 |
Have you ever visited Trieste? Do you have any recommendations for things to do in this lovely city in the north? In the comments, please!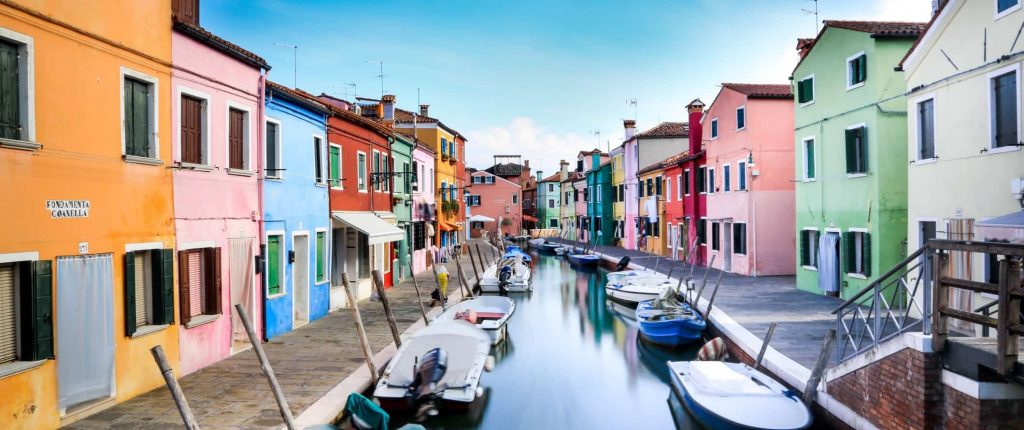 FAQs
Is Trieste worth visiting?
There are no other cities in Europe like Trieste. Unlike other cities, Trieste boasts a historic square with a sea view. Both day and night are good times to visit Piazza Unità d'Italia. Visit the venerable Palazzo del Governo, Trieste Town Hall, and Fontana dei Quattro Continenti (fountain).
Is Trieste worth going to?
Although you can see a lot of Trieste in two days, you should give it at least three to get a full sense of the city. Give yourself five days or more if you wish to take day trips to the caves or neighboring cities. The city is very walkable; you can explore most of it on foot, despite some of its hillier areas.
Does Trieste have nice beaches?
A seaside town, Trieste has some of Italy's most stunning beaches. In reality, you should be aware that since the first city baths opened in 1820, you can go to the sea in the middle of the city. Real swimming facilities were subsequently constructed along Trieste's coastline.
Can you visit Venice from Trieste?
Over a distance of approximately 71 miles, the average train trip from Trieste Centrale to Venice lasts one hour and 58 minutes (114 km). Trieste Centrale to Venice trains typically run 25 times per day, and advance-purchase tickets for this route start at €5.90.
Why is Trieste famous?
For more than five centuries, Trieste served as the Austrian-Hungarian Empire's primary port, and the Monarchy left its stamp on the city's urban planning, architecture, cuisine, and coffee culture. Going to Trieste, Italy, is like going to Vienna, Ljubljana, and Italy all at once.
Is Trieste really Italian?
Trieste and the entire Julian March were ceded to Italy in 1920 after World War 1 ended and Austria-Hungary fell apart (the Venezia Giulia).
Is Trieste still part of Italy?
Northeastern Italy's Trieste is located along the Slovenian border, at the northernmost point of the upper Adriatic. On the Gulf of Trieste, the city is located.
What food is Trieste famous for?
Locals in Trieste frequently eat Montasio cheese, Prosciutto di San Daniele, and Sauris smoked ham. Sauris and Prosciutto di San Daniele are two well-known regional types of meat that are so delicious that they are frequently exported and are well-known worldwide.
Do people speak English in Trieste?
Although many locals and visitors to Trieste are fluent in English, it is wise to avoid expecting it outside of the city limits.
Is Trieste a safe place to live?
Trieste: 10th safest city in the world.
How did Trieste get its name?
Julius Caesar gave Trieste colonial status, referring to it as Tergeste in his "Commentarii de Bello Gallico" (51 BC).
What does Trieste mean in English?
Seaport with a population of 228,000 in NE Italy on an Adriatic inlet (Gulf of Trieste). 2. The United Nations established and governed a free territory in the former region surrounding this city in 1947, divided between Italy and Yugoslavia (1954).