Discover Thessaloniki: Culture and History
Thessaloniki, the second-largest city in Greece, is well known for its cuisine and has a population of over 1 million in its metropolitan area. The Cyclades Islands undoubtedly receive the most attention and fame due to their incredibly picturesque white buildings, magnificent beaches, and dramatic terrain. Thessaloniki resembles a more compact, scaled-down counterpart of Athens. Despite lacking the well-known Acropolis and Parthenon, it has much to offer. It is the go-to location for spectacular nightlife and delectable food because it is on the sea.
Thessaloniki has many stories, starting with its foundation in 316/315 B.C. Fortunate to have royal ―blood since the new city was named after Thessaloniki, sister of Alexander the Great and daughter of Philip II, King of Macedonia. Due to its prominent geographical location, it was developed rapidly as one of the most important ports and economic and commercial centers of Macedonia and the Balkan Peninsula, an advantage maintained for the past 2300 years.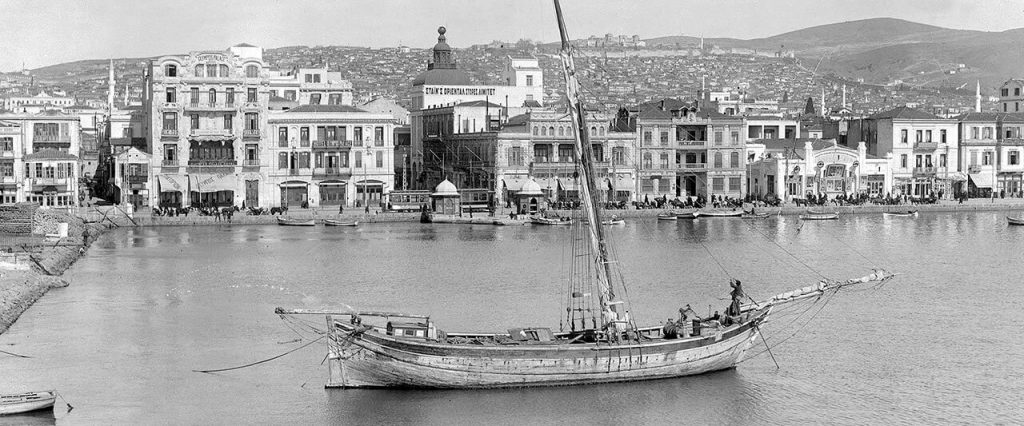 Getting to Thessaloniki from the Airport
With a strategic position in Greece and Europe, Thessaloniki is easily accessible by all means of transport. Features International Airport (Macedonia International Airport by IATA code SKG), Railway station, Harbor, and Intercity Bus station is connected by road with the rest of Greece and abroad through national and international highways. By plane, train, bus, car, or cruise ship, see how you can get to Thessaloniki and choose the best for you.
The public bus service runs to and from Thessaloniki Airport, approximately 14 kilometers from the city center. The city center and the airport are connected by the express bus route 78 (and 78N at night). The ticket cost is EUR 2, and they may be purchased from vending machines on the bus (precise change is necessary). Buses run every 30 minutes, taking 40 to 50 minutes to travel from the airport to the city.
Airplane
Thessaloniki is connected to more than 60 foreign cities and about 38 countries by direct flights through the international airport "Macedonia" (SKG), in addition to 35 towns and Greek islands (direct flights and transit). Depending on the season, there are different numbers of connections. The distance between the center and the airport is only 16 km. The central and eastern areas of the region of Thessaloniki are immediately connected to the city center via bus lines OASTH No. 01X and No. 01N (night) and via the IKEA transfer station by Halkidiki Bus Station. Taxis are positioned to serve travelers in the airport area. The trip from the airport to the city center will set you back at roughly 20 euros.
You may find a currency exchange, ATMs, food services, and more at the airport.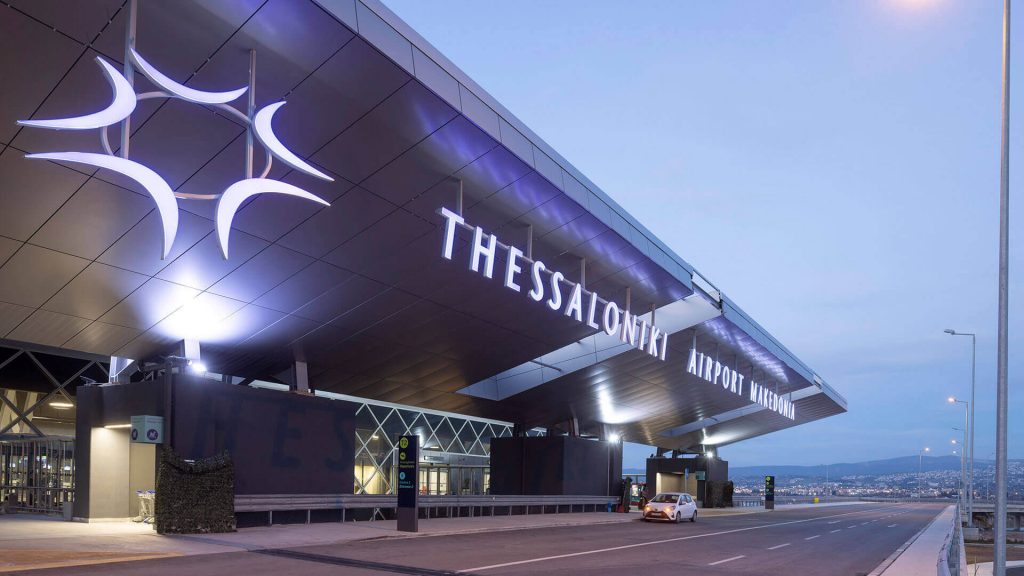 Train-Suburban
The main passenger terminal of Thessaloniki, the New Railway Station, is situated on Monastiriou Street. It has seven docks, and there are working commercial stores inside. It serves as the beginning or end point for TRAINOSE's trains that travel the entire length of Northern Greece's rail network. The suburban line Thessaloniki-Edessa-Florina and the long-distance line Athens-Thessaloniki-Alexandroupolis-Dikea, as well as international routes with destinations Sofia, Skopje, and Belgrade, all depart from the Thessaloniki Railway Station. These lines also pass the suburban line Thessaloniki-Larissa (while serving ten intermediate stations).
Bus
The Intercity Bus Station KTEL "Macedonia" is a hub for Thessaloniki's long-distance transportation. Eight hundred daily routes are operated, with ten coastal lines, five international routes, and 41 bus stations linking Germany, Bulgaria, Albania, the Czech Republic, and Slovakia. The amenities include coffee shops, restaurants, indoor and outdoor parking, luggage storage, and free Wi-Fi. There are 12 lines of convenient urban transportation nearby, and taxis are also available.
The second-largest organization for urban transportation in Greece, O.A.S.TH., connects the entire city with a comprehensive bus system. You can purchase tickets at the O.A.S.TH. Ticket booths, any of the 1200 retail locations, or the vending devices inside the buses. To those with exceptional requirements, services are provided without charge.
Attempt to board the "No 50 Cultural Route," which leaves from the White Tower. It travels past ancient neighbourhoods, monuments, and significant structures while chronicling Thessaloniki's rich history over time. The passengers can access visual and aural information in both Greek and English.
Attempt to board the "No 50 Cultural Route," which leaves from the White Tower. It travels past ancient neighbourhoods, monuments, and significant structures while chronicling Thessaloniki's rich history over time. The passengers can access visual and aural information in both Greek and English.
All necessary information concerning timetables, bus tracking in real-time, route duration, best routes, etc., is available on the official page of O.A.S.TH. More here.

Taxi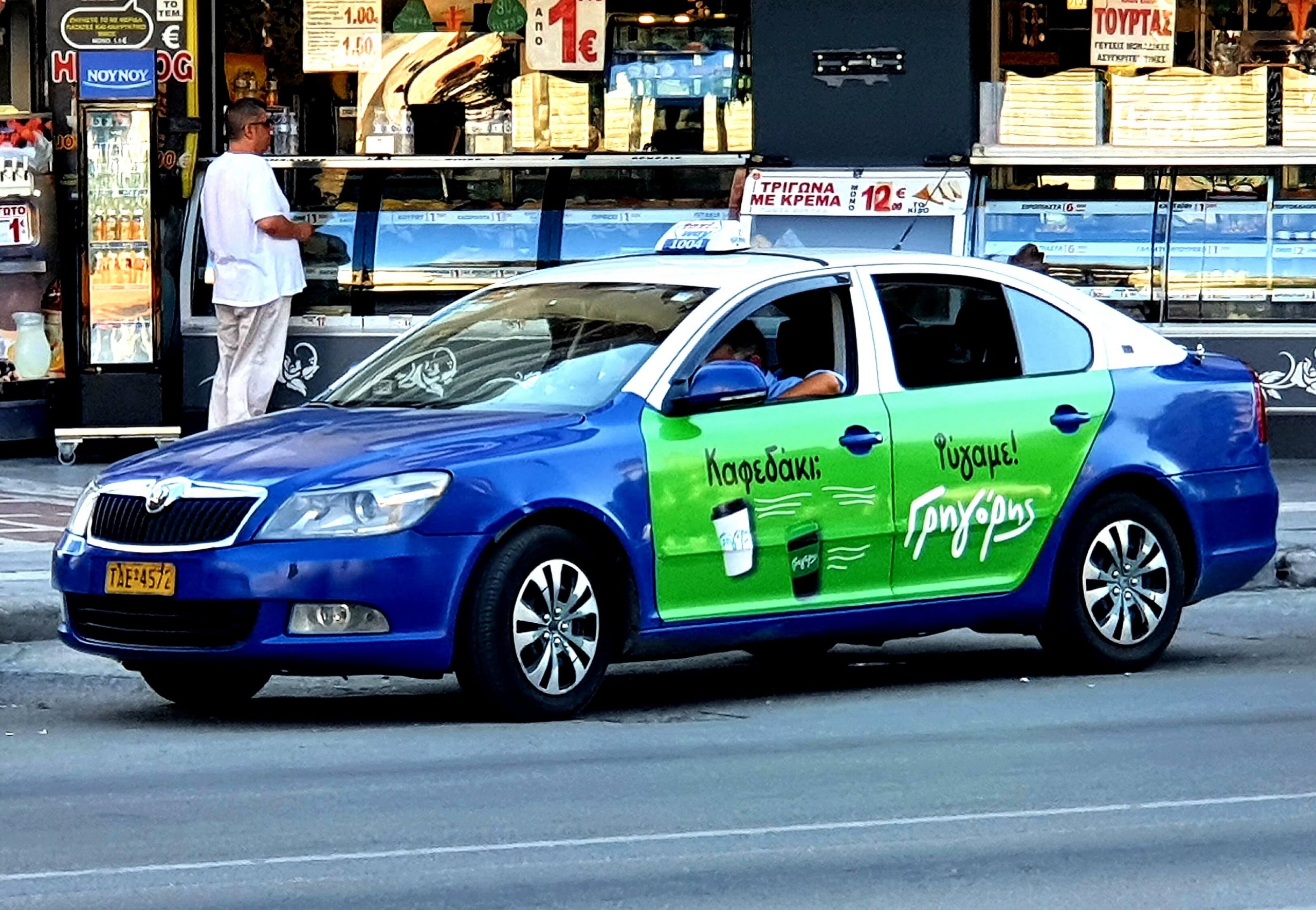 There are about 2000 cabs in Thessaloniki, and 24-hour taxi stands throughout the city, including the airport, train station, Macedonia Intercity Station, and port. Thessaloniki's taxis are blue, with white tops.
5. Car
Thessaloniki approaches the port of Igoumenitsa in the west via Egnatia Odos, from whence there are frequent ferry connections with Italy in the East to Kipous of Evros at the Greek-Turkish border. Furthermore, Thessaloniki is connected to Europe and the Balkan nations by the vertical axes of Egnatia Odos. Thessaloniki is connected to the Greek capital by the National Road Patra-Athens-Thessaloniki-Evzoni, a section of the European Autobahn E75.
Parking: There are many municipal and private car parks in the city. The cost for the first hour ranges from 2.5 to 4 euros and is reduced for each subsequent hour.
WHEN TO GO TO THESSALONIKI
The lack of frequently occurring extreme weather events and the generally mild temperatures associated with each of the four seasons gives inhabitants and visitors the ideal opportunity to appreciate the beauty and changing hues of the urban landscape. We're talking about the Mediterranean region here!
You may enjoy your visit to Thessaloniki at any time of year because of the city's around 300 days of sunlight each year! Thessaloniki experiences weather similar to the Mediterranean region; the city can experience frigid winters and hot, muggy summers. Wintertime has seen snow, but it does not happen often. Mid-August to Mid-October is the ideal time to visit Thessaloniki since you can participate in various events and have beautiful weather.
Thessaloniki-summer

Spring (Mar-May)
Traveling is usually lovely in the spring because of the air's freshness. Starting in March, you may anticipate an average temperature of 15 °C, which will rise by May. Rain isn't very likely throughout these months. During this time, lovely flowers blossom, bringing the city to life. Due to the leisurely pace of tourism, you may peacefully take in the views.
Every year in May, a delightful celebration for book lovers is called the Thessaloniki International Book Fair.
Spring (Jun-Aug)
Thessaloniki experiences a heavy tourism season in the summer. The average daily high is 28°C, and the days are frequently warm and bright. Rain is not anticipated. As Greece's cultural center, many celebrations occur here, especially in the summer.
Fall (Sep-Nov)
Even in September, which is still a busy month, the average temperature of 25°C feels like summer. However, the air has cooled by November, and the temperature has dropped to 15°C. Every month, there is a risk of rain for three to four days.
Winter (Dec-Feb)
Winters in Thessaloniki are not too harsh and might sometimes be pleasurable. During this time, 8–10 days of rain and sporadic snowfall are to be anticipated each month. The place can get cloudy and foggy throughout the day, contributing to its tranquility. The sun sets at roughly 5:30 pm, and the average temperature in winter is six °C, providing plenty of time to enjoy the sights. Due to the frigid evenings, most restaurants do not offer outdoor seating. Thus, you are left out of the vibrant nightlife.
WHAT TO SEE & DO IN THESSALONIKI
Greece's second-largest city, Thessaloniki, is renowned for its history and culture. The city's history differs significantly from that of the rest of the nation. The Byzantine monuments, which are many, are the most notable sights to view in Thessaloniki. It was an important commercial center and the seat of government for the former Roman province of Macedonia. Since the city was also an early center for Christianity, numerous churches are here, some still in operation. Here are a few of Thessaloniki's most popular tourist attractions.
White Tower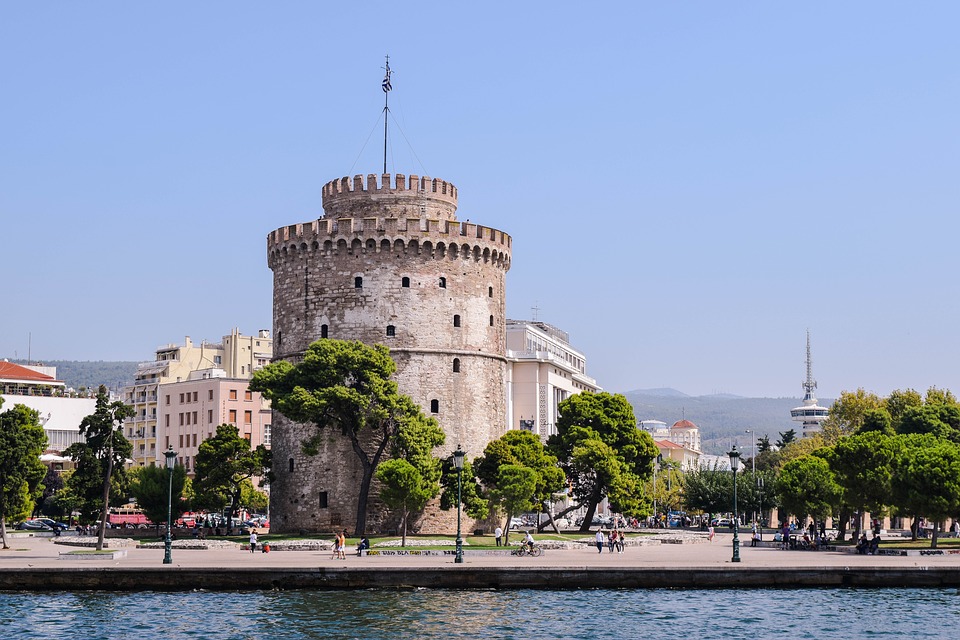 Despite its bloody past, Thessaloniki's White Tower remains the city's emblem. Initially, a Byzantine fortification that encircled the entire town was replaced by this tower. It has a view of the water and is close to the shore. Over time, the structure underwent numerous modifications. In the time of the Ottoman Empire, it served as a fortress and a prison. It was known as the Tower of Blood during the 1826 massacre, but once Greece gained independence, they painted it white as a symbol of purification.
Arch of Galerius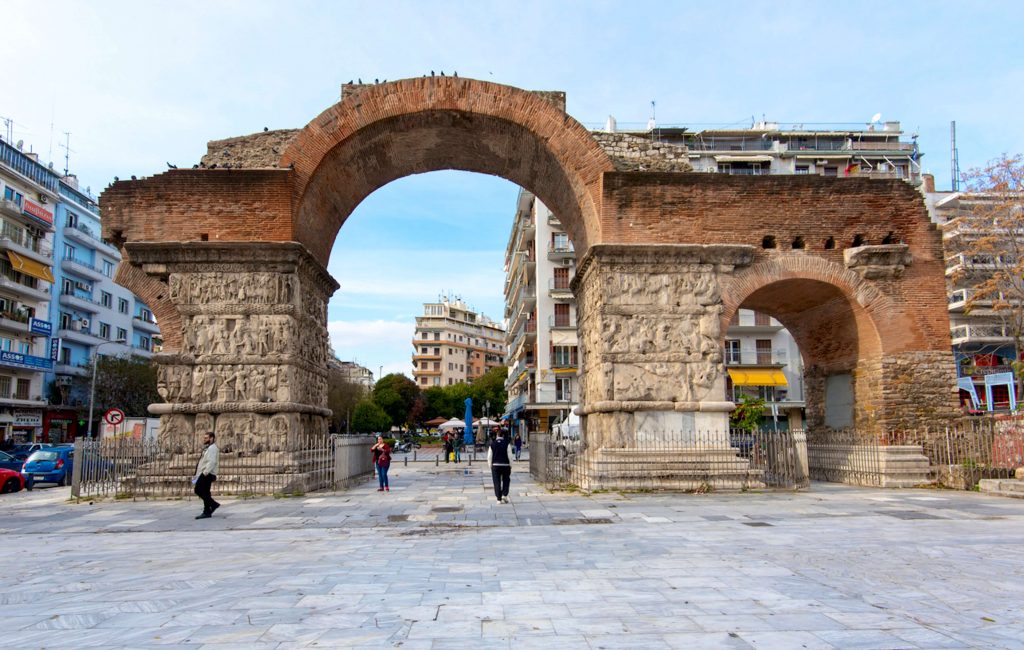 The magnificent Arch, often called Kamara, is a recognizable Roman building from Thessaloniki. The beautiful marble plates on each pillar, built in the fourth century CE, were designed to depict Rome's triumph. The emperor Galerius ordered it to commemorate the victory against the Sassanid Persi. It is situated not far from the Rotunda.
Rotunda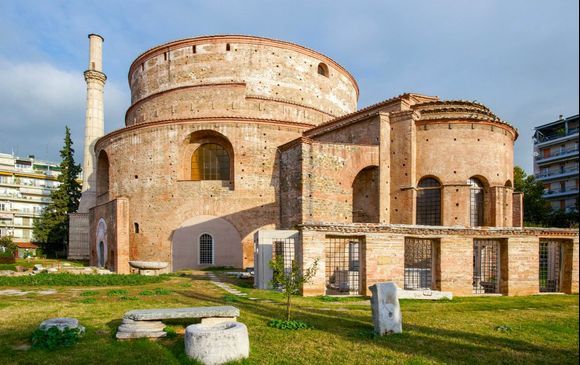 The history of the Rotunda is intriguing. It served as the mausoleum for the Roman emperor Galerius and was first considered a Roman temple. The Rotunda was first transformed into a church around 400 AD, and then, during the Ottoman era, a minaret was erected to the building to make it into a mosque. It is currently open to the public and recognized as an archaeological site. However, holy mass is still celebrated here once a month. Visit here to admire the exquisite frescoes on the dome's ceiling.
Museum of Byzantine Culture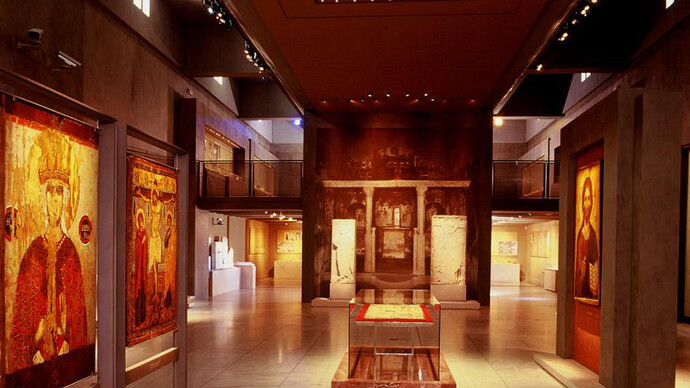 If you wish to learn more about Byzantine culture, character, and beauty, this museum is for you. It is educational, well-organized, and contains many unusual exhibits and artefacts showcasing the Byzantine period. There are many subject sections with gorgeous mosaics, murals, jewelry, texts, and rare volumes, among other things.
Church of St. Demetrios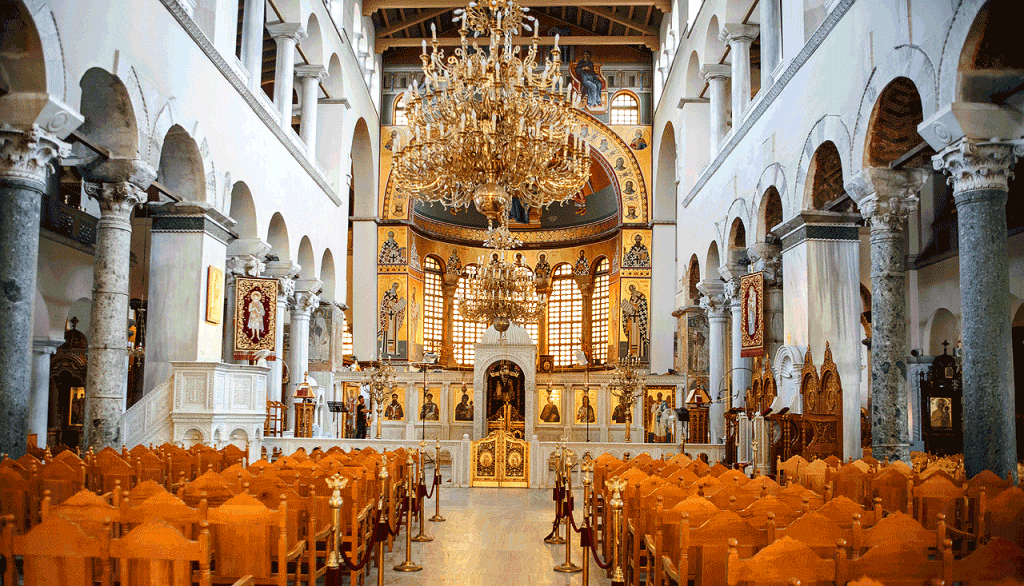 Thessaloniki's patron saint, Saint Dimitrios, is honored in the Church of Agios Dimitrios. It was constructed over a Roman Bath; you can still see the remnants in the subterranean Crypt. Saint Dimitrios was imprisoned here and executed as a martyr in 306 A.D. during the Galerian persecution of Christians, according to the church's history. A stunning specimen of Byzantine architecture is the temple. During the Ottoman era, it was converted into a mosque.
Christmas in Thessaloniki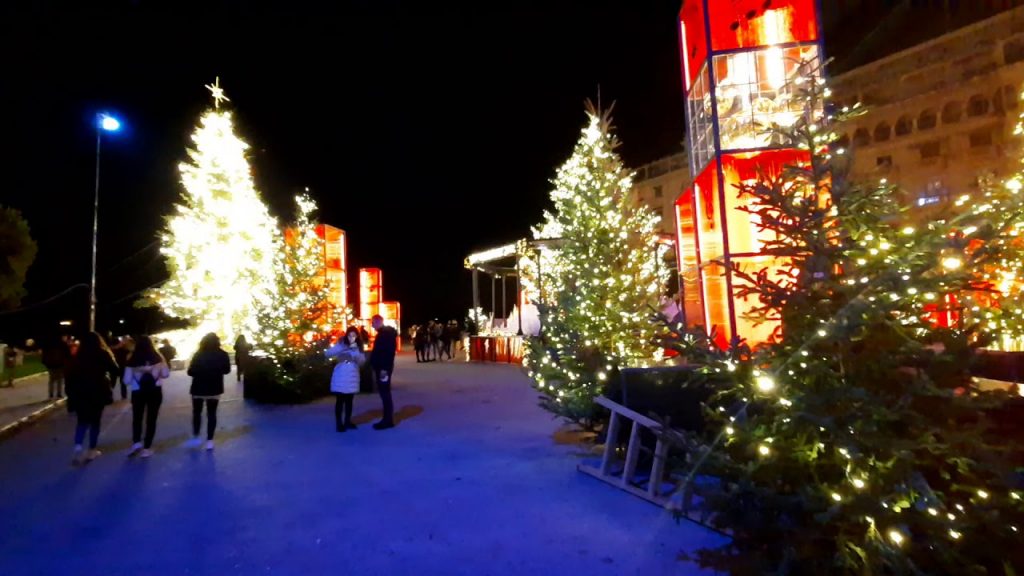 The elf of Thessaloniki exclaimed, "Every year is greater than the prior one," and he unlocked old Scrooge's chest. Astonishing Christmas carols, ferocious dancers, fairytale goblins and witches, fir trees and boats, carols, "melomakarona" and "diples," stars and shiny ornaments, reindeer, sleighs, Santa Clauses, gifts, and countless surprises all appeared out of nowhere. They unfolded and unrolled on the city's incredible turn.
Thessaloniki is getting set for the most beautiful celebration of the year, which will feature several activities for festival-goers from all over.
The visitors should remember that the most glamorous days of the merrymaking celebration are the next two weekends and the three days (Saturday-Sunday-Monday) before Christmas and before New Year's Eve.
Segway City Tour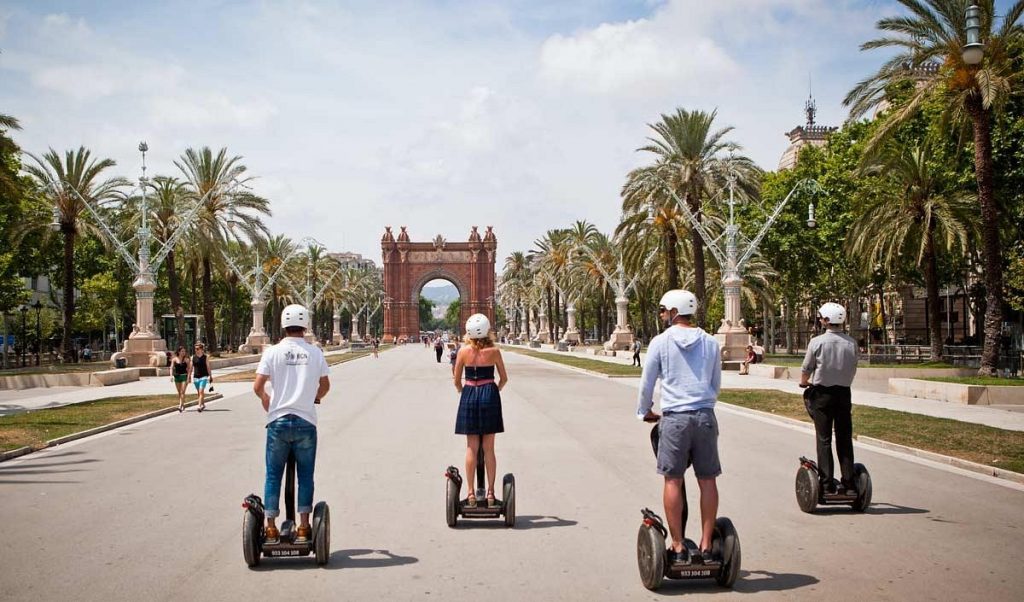 Modern, cultural, and historical sites can all be found in Thessaloniki. A Segway tour is an exciting way to see the city! See locations like the White Tower, Church of St. Demetrius, Turkish Baths, Arch of Galerius, and more as you travel efficiently and sustainably!
Sail on a Private Yacht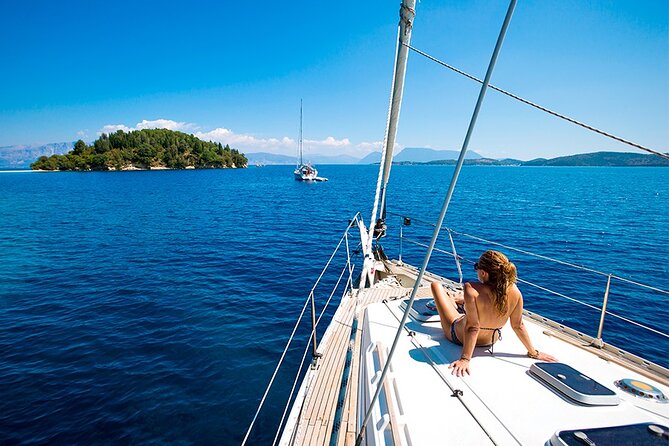 For a day, treat yourself like a celebrity by renting your very own private yacht! Many tour companies offer full-day and half-day cruises, which are undoubtedly a distinctive way to observe Thessaloniki's coastline. Relax while drinking coffee (or a cold beer!) Enjoy the sea's never-ending beauty, the breeze on your face, and the sound of the birds.
FOODS YOU NEED TO TRY IN THESSALONIKI
This quality is even more crucial in Thessaloniki. Thessaloniki's gastronomy tourism has grown thanks to investments made by the local government in recent years. Due to this, numerous options are available to satisfy your appetite, ranging from street food and traditional Greek tavernas to fine dining establishments. The city's culinary heritage is primarily derived from the East, particularly from the refugees from Asia Minor who immigrated here in the 1920s and carried their culinary secrets with them.
We are here to provide you with a comprehensive list of all the must-try items from Thessaloniki's culinary riches if you are having trouble deciding which delectable, traditional delicacies you should try first.
Breakfast: at Bougatsa Giannis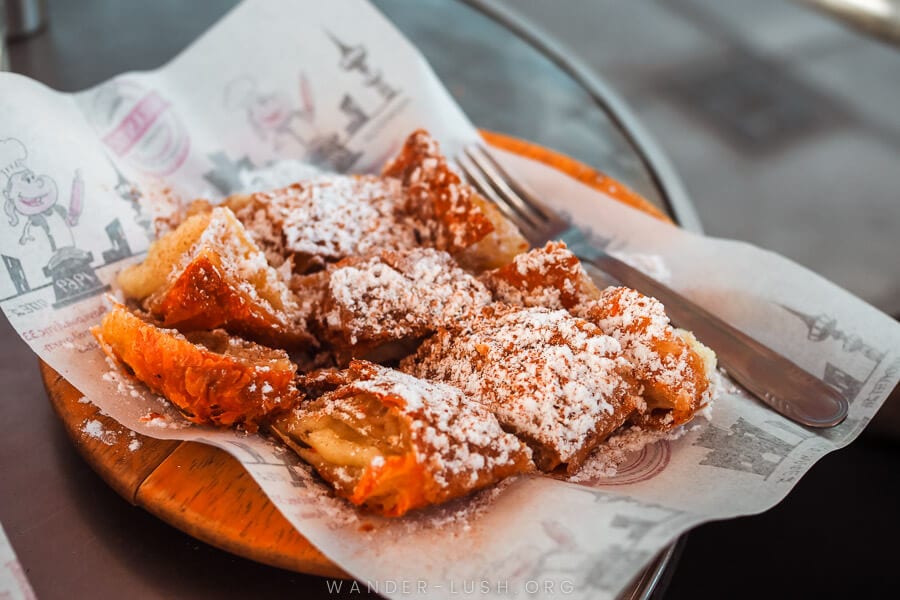 The most significant meal of the day is, as is generally known, breakfast. The city of Thessaloniki takes that duty extremely seriously! The bougatsa is unquestionably the most well-known breakfast option here.
A type of pie that dates back to the Byzantine era, bougatsa rose to fame after the 1922 population exchange in Greece, particularly in Northern Greece. Bougatsa's definition is possibly "cheesy or sweet pie filling enveloped and sealed in the dough." The original dish can be made sweet with semolina custard, topped with powdered sugar and cinnamon, or savory with cheese. Today, you can buy bougatsa packed with pork, spinach, or chocolate in addition to the typical flavors.
Regarding the right place to enjoy the best bougatsa, Thessaloniki has more than 1,000 bougatsa-selling spots. My recommendation would be ―Bougatsa Giannis‖ on 136 Mitropoleos Street. It has been operating since 1996 and has been famous for feeding the city 24 hours/a day.
Coffee: Frappe
The coffee culture in Greece is critical in everyday life. The most well-known variety of coffee, aside from the classic regular Greek coffee, is frappe.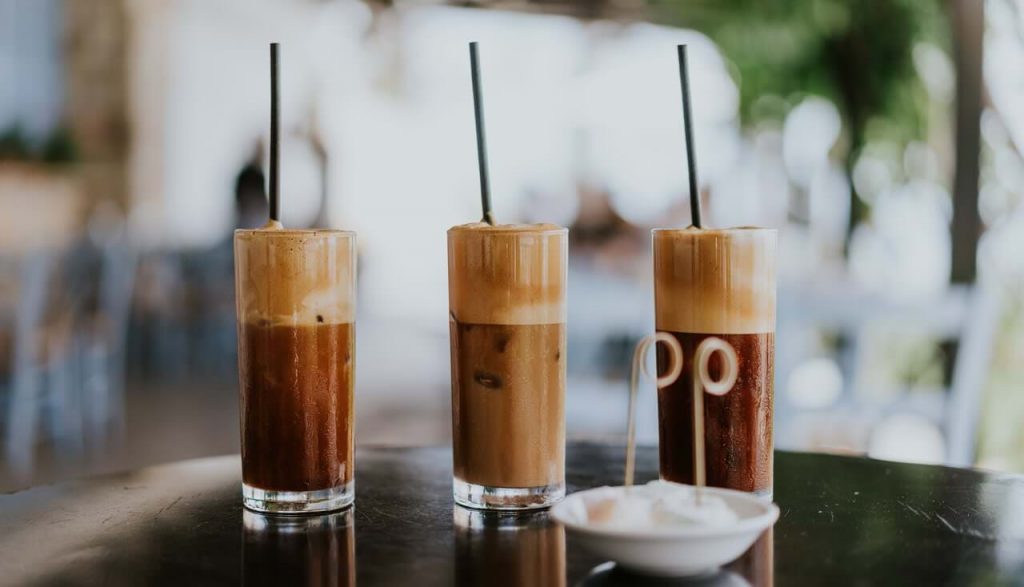 Frappe is instant coffee mixed with sugar, water, and many ice cubes to make it cool enough for the hot summer days in Greece. It was unintentionally created at the Thessaloniki International Trade Fair in 1957. Don't miss the opportunity to unwind at a lovely café (ideally near the sea) while sipping your frappe slowly.
Snack: Sesame Bengal or "Koulouri Thessalonikis."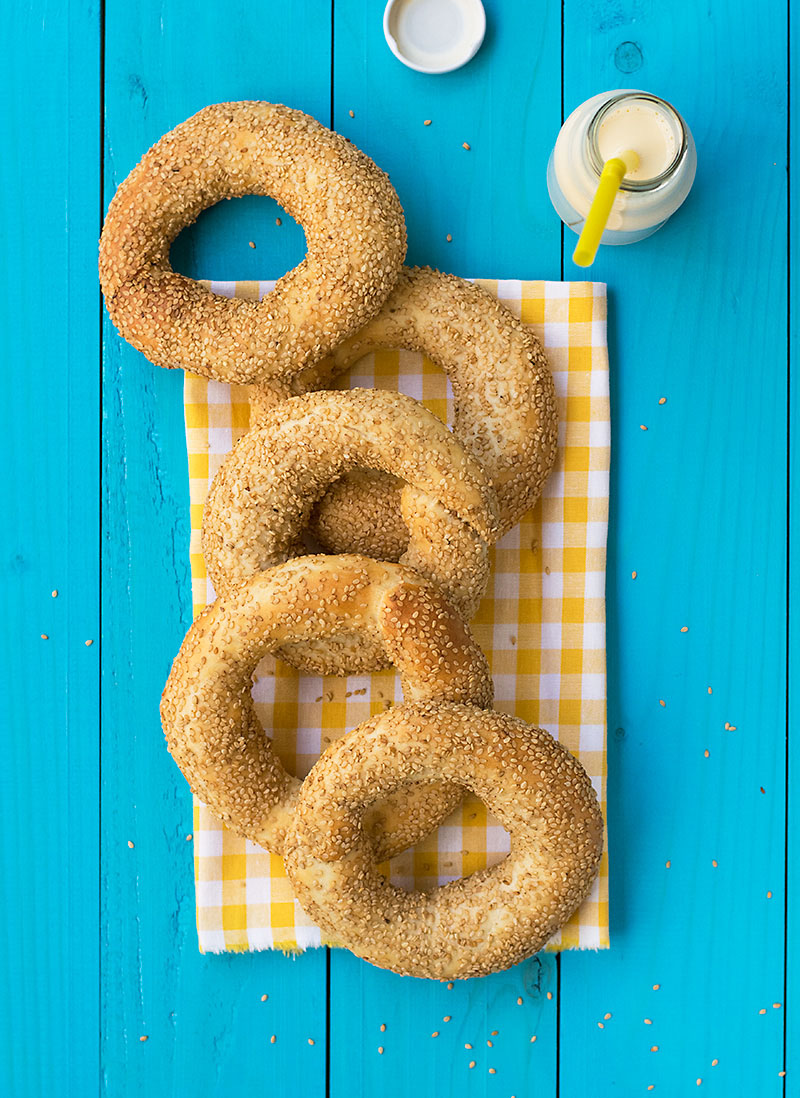 This is possibly the most well-known product in the nation, not just in Thessaloniki. The ingredients are straightforward: a regular bagel with sesame seeds on top. Despite its simplicity, it is one of the healthiest sources of protein, carbs, and energy, making it incredibly delectable. On the other hand, select a stuffed koulouri if you want something extraordinary. Several possibilities include feta cheese, bacon, cream cheese, smoked turkey, raisins, chocolate, and marmalade.
You can find a koulouri everywhere in every bakery or street vendor across the corner. It is the perfect choice for a snack while you are exploring the city!
Lunch: Thessaloniki Style
A classic Greek lunch consists of a main dish, numerous appetizer dishes, or "mezedes," known in Greek, and a sweet dish. Restaurants offer small foods called 'mezedes' to whet your appetite before the main dish. Spinach Pie or "Spanakopita" at Miltos Bakery:
A wonderful crust filled with scrambled feta cheese, onions, and spinach composes Spanakopita, a delicious pie. You can find excellent spinach pies everywhere in Greece, but Thessaloniki is the best. In the 1920s, immigrants from Asia Minor earned renown for creating delicate yet delicious dough. The pies play a significant role in the gastronomic character of Thessaloniki. Adding a special ingredient that is said to improve the flavor of the Spanakopita is how every Greek grandmother enriches the traditional recipes.
Even while it makes a terrific appetizer, you can eat a piece of Spanakopita for breakfast, pick up a slice of pie on the way for the ideal snack, or even have it for supper.
Greece has a wide selection of traditional pies available at every bakery. Visit Miltos Patisserie on 82 Tsimiski Street in the heart of Thessaloniki to sample their delicious Spanakopita and freshly squeezed orange juice.
"Bougiourdi" at Mythomageiremata:
A starter of bougiourdi is a good choice if you prefer to fish. You layer a large amount of Greek feta cheese, fresh tomato green pepper slices, salt, oregano, olive oil, boudoir, and chili flakes on top of a terracotta dish. The feta melts within while sizzling outside and becoming crunchy. The blending of flavors produces a delectable dish that pairs wonderfully with ouzo! Here's another piece of advice: Dip some crusty bread in the tiny terracotta pan to enjoy it like a native. Visit the Mythomageiremata tavern in Peraia, a little town west of Thessaloniki, to enjoy it by the sea.
Main Course: Souvlaki or Pita Gyro Sandwich at Yok Balik
As you may already know, souvlaki is Greece's most famous street meal, from the northernmost region to the southernmost island. It is also well-liked in Thessaloniki, known as the "Pita Gyro Sandwich." The key ingredients are Gyros, either chicken or hog meat roasted on a vertical rotisserie and wrapped in pita bread with French fries, tomatoes, onions, and sauce. Try the hot cheese sauce, or "tirokafteri," particularly popular in Northern Greece, as an alternative to the traditional tzatziki sauce.
The size of the sandwich is the primary distinction between this and the Athens souvlaki. The pita has to work extra hard to wrap itself around all the ingredients in the Thessaloniki gyro sandwich because it is too big to hold all the meat. We're talking about a size roughly twice that of an Athens souvlaki. No matter where you are in Greece, the food is fantastic. Yok Balik, located at 34 Ethnikis Amini's Street, is my go-to spot for gyros. Gyros and souvlaki of the highest caliber, served in enormous servings, are available here.
Soutzoukakia Smyrneika or Grilled Soutzoukakia
Soutzoukakia smyrneika would be the main entrée in a typical Greek Sunday lunch. This dish consists of meatballs, often rectangular rather than circular, cooked in tomato sauce and served with rice, mashed potatoes, and a slice of crusty bread for dipping. The meal is named meatballs from Smyrna in English, indicating that Asia Minor is where it originates.
Desserts: Thessaloniki Style
As Greece's gastronomic capital, Thessaloniki will not disappoint you in the sweets field. A sweet paradise of desserts awaits visitors offering a variety of flavors and textures, from traditional syrup-laden pastries to mouthwatering profiteroles and ice creams. Here are the must-try:
Trigona Panoramatos at Elenidis: One of the trademarks of the city
Greek is the language of triangles, and the dessert's name, trigona, refers to the triangle-shaped phyllo crispy cones filled with cream. Giorgos Elenidis created the trigonal recipe in the 1960s, and ever since, the family at Elenidis Patisserie has continued to bake trigonal using his original recipe. They are still hand-produced and offered in traditional flavors like kataifi and baklava.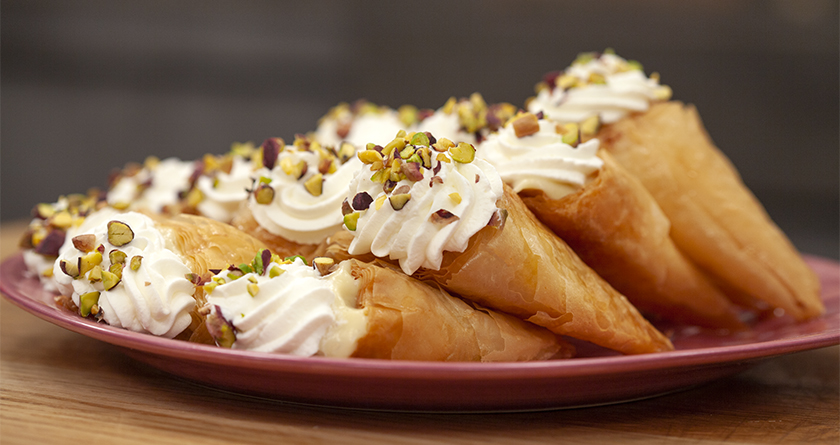 Don't miss the chance to try authentic Arizona at 69 Komninon Avenue in Panorama, which is the place where the dessert got its name.
Tsoureki at Terkenlis Patisserie
The Greek equivalent of delicious plaited brioche bread is called tsoureki. Greeks reportedly used to prepare it during Easter festivities and consume it on Easter Sunday. Nowadays, it is so widely available that you may find it all year round in every pastry shop.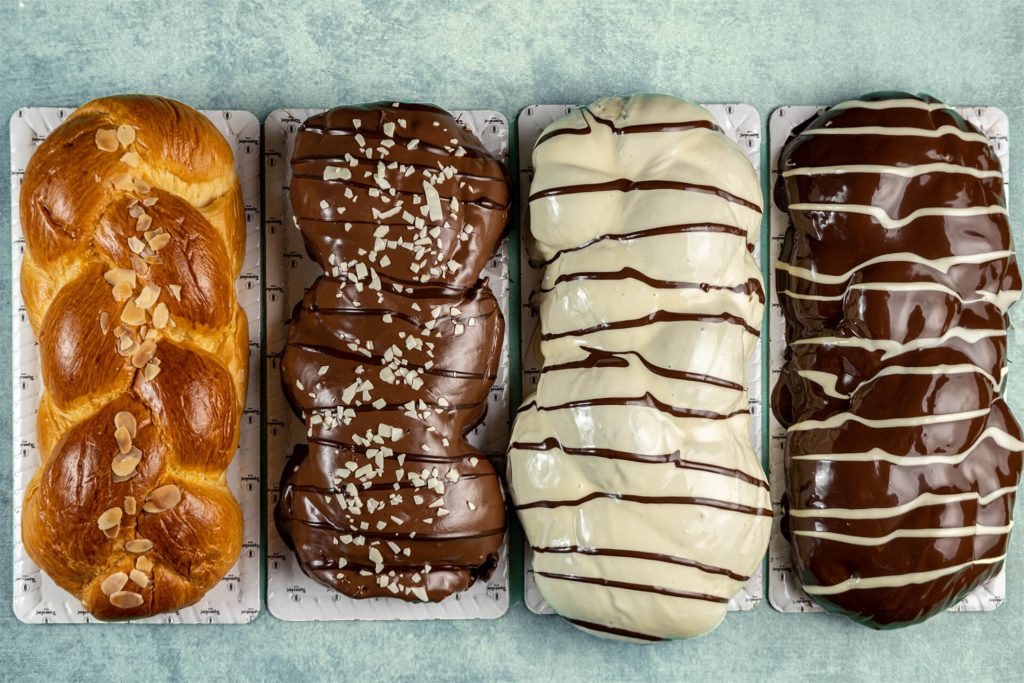 Numerous flavors are available, including plain, chocolate-filled, and—by far—the most well-liked—chestnut cream topped with white chocolate. You can buy a slice of tsoureki or the entire loaf since more is better!
Kazan Dipi at Konstantinidis Bakery
A typical dessert from the Byzantine era called Kazan Dipi was brought to Thessaloniki by refugees from Asia Minor. It is a milk pudding. This dessert's name has an intriguing backstory. The pastry chef burned the milk when the Sultan requested a dessert.
He presented it to the Sultan as a Kazan dip as an explanation. Kazan dip, also known as the creme Brule from the Balkans, is a term that refers to "the bottom of the caldrons."
Many people refer to Thessaloniki as the culinary capital of Greece because of its rich culinary heritage and mouthwatering flavors. Your exploration of Greek cuisine can start with all of the above. For more, explore the city's winding streets to locate hidden gourmet gems waiting for you to find them.
NIGHTLIFE IN THESSALONIKI
Clubs
Without the thrill of a night spent in bouzouki clubs, nighttime entertainment in Thessaloniki would be unimaginable! Famous Greek singers perform in enormous settings with a live orchestra and bouzouki, elevating the mood until the early morning! Please enjoy your beverage, watch Thessalonians perform their favorite singers' greatest hits, join them on the dance floor, and participate in the flower fight!
The clubs in Thessaloniki are impressive facilities with unique aesthetics that keep you entertained till the wee hours of the morning with various international and Greek music selections by planning special events and frequently inviting prominent singers and DJs who will lift your spirits! You can most commonly find them on Polytechneiou Street, in the Port neighborhood, on Valaoritou Street, and in Ladadika.
Bars
The bars in Thessaloniki await you in the city center and the suburbs. In the center, the hottest spots are located in Ladadika, and the area around Valaoritou Street offers a wide array of food and drink, on the White Tower area, on Mitropoleos Street and its slashes in Iktinou and the vertical Zefxidos Street in Proxenou Koromila str, in Pavlou Mela str. To the East, you will find beautiful old houses, which made bars for those who want to drink in a more nostalgic atmosphere.
Your choices are many, and bar hopping is imperative! Do not start early. The bars in Thessaloniki go to sleep very late!
Taverns with Greek Music
Thessalonians enjoy eating their favorite regional cuisine while listening to live Greek music. The suggestions for a night out that combines supper and musical entertainment include a voice, a bouzouki, a guitar, traditional dishes, local wine, and excellent spirits. Bars across Thessaloniki play Greek music; many are open for lunch at noon.
STAY IN THESSALONIKI
Ancient history, natural attractions, and beautiful beaches abound in Thessaloniki. While staying here, you may experience the ideal balance of leisure and exploration. Whether you're looking for a luxury break or traveling on a shoestring budget, we've figured out the best places to stay in Thessaloniki.
Upper Toumba
Upper Toumba is a little area east of the city center, yet it is still very close to the excitement. This is the ideal location to visit Greece on a budget without going overboard!
This charming top-floor apartment offers stunning views over the city, port, and ocean. A large terrace, free Wi-Fi, and a full kitchen and dining area are included. The Airbnb sleeps six guests, which is perfect for groups and families.
Best Budget Accommodation in Upper Toumba: Sharks Thessaloniki
For families or parties visiting Thessaloniki, this apartment is ideal. It has all the conveniences of a home, including laundry facilities and outside seating space, and is charming and genuine. If you stay here, you'll be close to markets, stores, and public transportation.
Ladadika
Once seen as a seedy part of town, this Thessaloniki neighborhood has become vibrant and fashionable. You'll be in the center of the activity with stunning pubs and clubs facing over the ocean and close to the port.
But this region offers more than simply lively nightlife. Along with the famed White Tower, which serves as Thessaloniki's emblem, there are other enlightening museums. Additionally, nearby is the Aristotelous Square.
The best boutiques, eateries, and sights are only a two-minute walk from this chic Airbnb in the city's center. The apartment accommodates four people comfortably and is soundproofed, so you can rest peacefully without being disturbed by outside noise.
Some of the most excellent and affordable lodgings are offered by Restrooms Thessaloniki in Greece. Beautiful indoor and outdoor areas, including a beer garden, are available for guests. Every room has a fridge, a TV, and stunning city views.
Ano Poli – Coolest Place to Stay in Thessaloniki
Ano Poli, Greek for "Old Town," is the hippest area to stay in Thessaloniki. The best aspects of Thessaloniki's ancient past, dating back to the Roman Empire, can be found here.
It's also full of quirky shops and restaurants, and green spaces are dotted around it. Ano Poli is further inland but a short walk from the seafront, so you can easily explore Thessaloniki.
This spacious residence is located in the center of Ano Poli! Sip a late-night beverage or a cappuccino in the morning on your private balcony while taking in Thessaloniki's beauties. All of the top attractions in Ano Poli are accessible on foot from this location.
This excellent Greek hostel is relaxed and offers a genuine and distinctive illustration of Mediterranean hospitality. The rooms are basic yet functional, and there is a lovely outdoor space for gathering.
Stunning scenery, fascinating ancient history, and the beautiful Aegean Sea – Thessaloniki has much to offer travelers! If you're backpacking in Greece, you should have this beautiful spot on your destination list.
THESSALONIKI CITY
Never before has getting about Thessaloniki been so simple. View detailed directions before you arrive at any destination, street, or significant transit hub. To find out how to travel anywhere in Thessaloniki, view bus and train timetables, arrival times, service alerts, and comprehensive routes on a map.
Use Moovit's Live Directions with Get Off Notifications when going anywhere in Thessaloniki to know precisely where to go, how far to walk, how long to wait, and how many stations are left. There's no need to keep checking to see if your stop is the next one because Moovit will let you know when it's time to get off.
Want to see how Thessaloniki's commute stacks up against those in other cities? The Moovit Public Transit Index provides information concerning utilization patterns for public transportation in over 150 cities. Find out how long commuters take to work on public transport, how far Thessalonians walk daily, and the average commute and wait time for riders. View Thessaloniki's most popular bus, train, station locations, and more!
Parking in Thessaloniki
Parking in Thessaloniki can be challenging if you visit the city as a tourist. In a foreign country, finding city center parking in the right place for a reasonable price can be completely different from seeing it in your home country! To find a great deal on parking in Thessaloniki, ParkVia is here to help!
Parking in Thessaloniki is easy when space is booked in advance and confirmed by email through ParkVia. Don't hesitate to enter the dates and times of your stay in our booking form above and get a personalized quote in minutes.
Get your trip to Thessaloniki off to the right start with the peace of mind of knowing you've chosen parking with ParkVia.
Accommodation, food, transport, and entertainment costs in Thessaloniki (Greece)
Many people are interested in traveling to Thessaloniki, Greece, yet are unsure about the cost. Like any trip, the price will vary depending on where you fly in from, the type of accommodations you desire, and the sights or activities you want to do. We are gathering all these travel expenses from others making the same trips as you so that you can more accurately project the cost of a vacation that suits your needs.
How much money will you require to travel to Thessaloniki, Greece?
On your trip to Thessaloniki (Greece), you should budget roughly 143.12 € (141.40 $) for one person and 189.06 € (186.80 $) for two people. This budget covers the costs of two adults' lodging at a respectable 4-star hotel (97.18 € 96.00), lunch at a local eatery, street food and beverages for a day (49.80 € 50.39), and some entertainment for two (41.48 € 41.00).
How much would a trip to Thessaloniki, Greece, last for a week?
For a single individual, a week in Thessaloniki, Greece, often costs around 1,358.34 euros (1,341.80 dollars), and for a couple, it typically costs around 1,900.34 euros (1,877.20 dollars), including airfare. January is the cheapest month to go to Thessaloniki (Greece).
How much does a flight to Thessaloniki cost?
July and August are peak travel months for Greece's Thessaloniki, so expect to pay at least $229.00 for round-trip airfare (Greece). A return flight can often be purchased for around 134.00$ on average from September to November, regarded as the low season. And if you're fortunate, you might even locate a better offer!
How much do hotels in Thessaloniki charge per night?
Greece's Thessaloniki experiences its peak travel period from June to August. During these months, a night at a mid-range hotel runs about $97,000. The off-peak months are September through October. You may get a room for as little as $38 for the night. Usually, some great deals are also to be had, especially at the pricier resorts. What is the price of food in Thessaloniki? For one person, the daily average cost of food and drink in Thessaloniki is 0.00 € (00 €). Thessaloniki's typical street food supper will set you back 9.59 euros. A two-person sit-down supper would cost approximately 23.86 euros. You would spend between the two amounts for lunch at a mid-range café or eatery.
How much does airport transfer cost in Thessaloniki? The average price of a 20-minute taxi ride is approximately 7.70 €.
How much does airport transfer cost in Thessaloniki? Renting a car in Thessaloniki would cost you around 13.96 €.
Final Advice Before Visiting Greece
Just be cool, yo! A responsible Greece backpacking trip doesn't require much. My best advice is to respect Greeks and their culture while embracing it. Dine outdoors whenever possible, mix with the people, and indulge in their delectable cuisine.
Don't forget to respect historical and archaeological places as well! No building or wall art or graffiti is permitted.
Depending on where you go, you can see ancient Byzantine, Venetian, and Greek history. In Greece, you can choose between relaxing on sandy beaches and swimming in crystal-clear bays or admiring the monasteries and ancient sites of Meteora. You can savor Greek specialties at authentic tavernas or indulge in fresh seafood by the sea.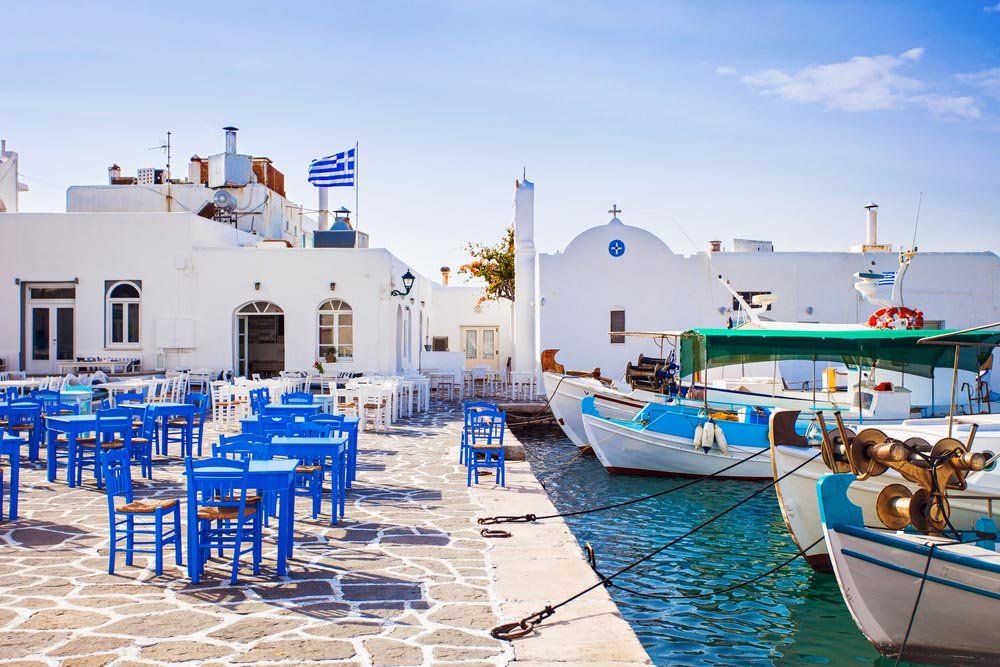 The choice is yours. You just got to get there first!
FAQ
What is Thessaloniki best known for?
The city is renowned for its festivals, events, and vibrant cultural life and is considered Greece's cultural capital. Its origins date back to Alexander the Great's reign. The city is full of Middle Ages mega-buildings like the Walls of Thessaloniki and historic Greek landmarks. Discover unique Roman gems like the spectacular Galerius Arch and a wealth of gorgeous Ottoman-influenced architecture.
Is Athens better than Thessaloniki?
Although Thessaloniki is near its beaches (more later! ), Athens has much better access to the islands. So, if you're considering taking a ferry to several Greek islands, you should start in Athens because it has much better access.
Are there beaches in Thessaloniki?
Beaches in Thessaloniki. Visitors can easily access a few excellent beaches nearby in Thessaloniki, Greece, despite the city being best known for its nightlife and attractions. Most of these beaches are developed with tourist amenities, making them convenient for travelers.
Is it worth going to Thessaloniki?
It is the ideal location for discovering genuine and untouched Greek elements because it is not a popular tourist destination. Thessaloniki was the perfect place to start our introduction to Greece because it is both a historically remarkable city and a cutting-edge cosmopolitan one.
Is Thessaloniki safe for tourists?
The crime rate in Thessaloniki is considered low, making the city safe. However, corruption and bribery are significant issues like in many other parts of Greece.
Is Thessaloniki cheaper than Athens?
Greece's Thessaloniki has a 6% lower cost of living than Athens (Greece).
How many days do you need in Thessaloniki?
A journey to Greece that includes stops in Athens and Thessaloniki should last between seven and eleven days. If you don't mind traveling quickly, you can complete this route's highlights in as little as three days. If you have more time, you can participate in additional activities at each stop or spend a few days in another area, like Crete.
What is the best time of year to go to Greece?
The finest seasons to travel are late spring (May) and autumn (Sept-Oct). It's excellent with nice weather, no rain, and fewer people around (except during holiday weekends). Winter is colder and rainier, lasting from late October to mid-March.
Is Greece better in summer or winter?
The best time to visit Greece is in the fall and spring when the weather is more agreeable. Visitors can also access the country during the summer, but it experiences more visitor influx, and the main attractions close during the winter.
People also viewed: