Porto: a delightful historic city in Portugal
The city is in the north of Portugal. It has a long history, interesting tourist attractions, lively nightlife, and top-notch tourist facilities. It is known for its beautiful bridges and for making port wine. In the medieval Ribeira (Riverside) district, narrow cobblestone streets wind past merchants' homes and cafes. The baroque interior of So Francisco Church is known for its elaborate carvings and gold leaf. The grand Palacio de Bolsa, which used to be a stock market and was built in the 1800s, was made to impress potential European investors. In 1996, the historic district of Porto was honored with a UNESCO World Heritage Site designation. So let's explore this beautiful city in the north of Portugal.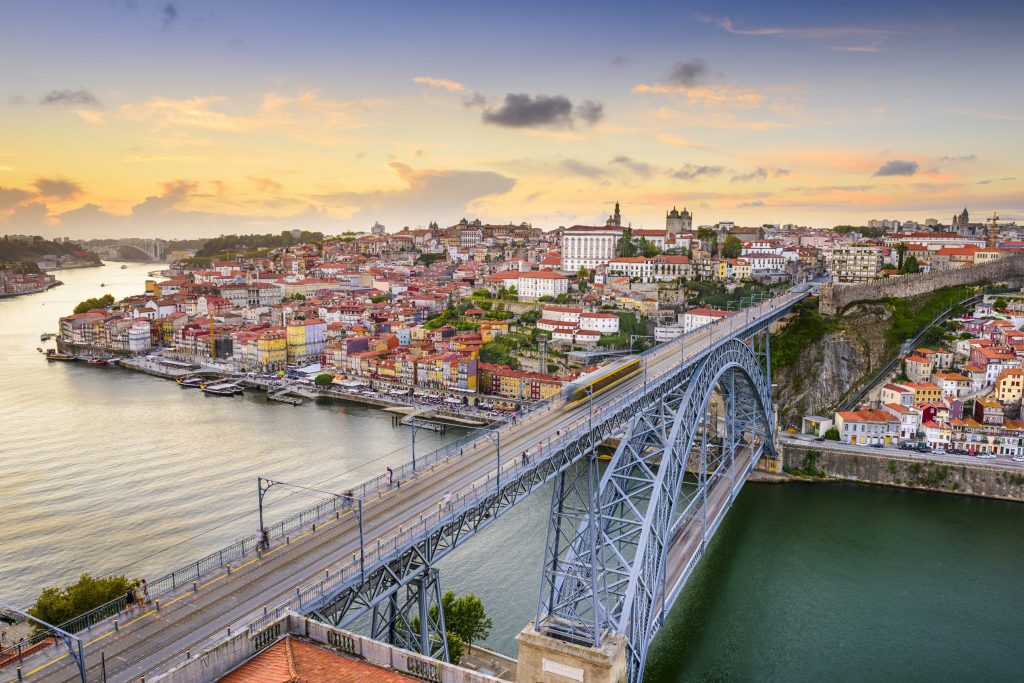 PORTO HISTORY
In Roman times, Porto was called Portus Cale. It used to be a prosperous town on the south bank of the Douro. Later, the nomads of the Alani tribe built Castrum Novum on the north bank. The Visigoths took over the site around the year 540, but they gave it up to the Moors in 716. In 997, Christian forces took Porto back from the Moors. It was the capital of the Count of Portucalense (Northern Portugal), while the Moors ruled the rest of the country for a while. Moors took the city back for a short time, but in 1092, it was finally ruled by Christians. In the 1400s, the city turned into a major port.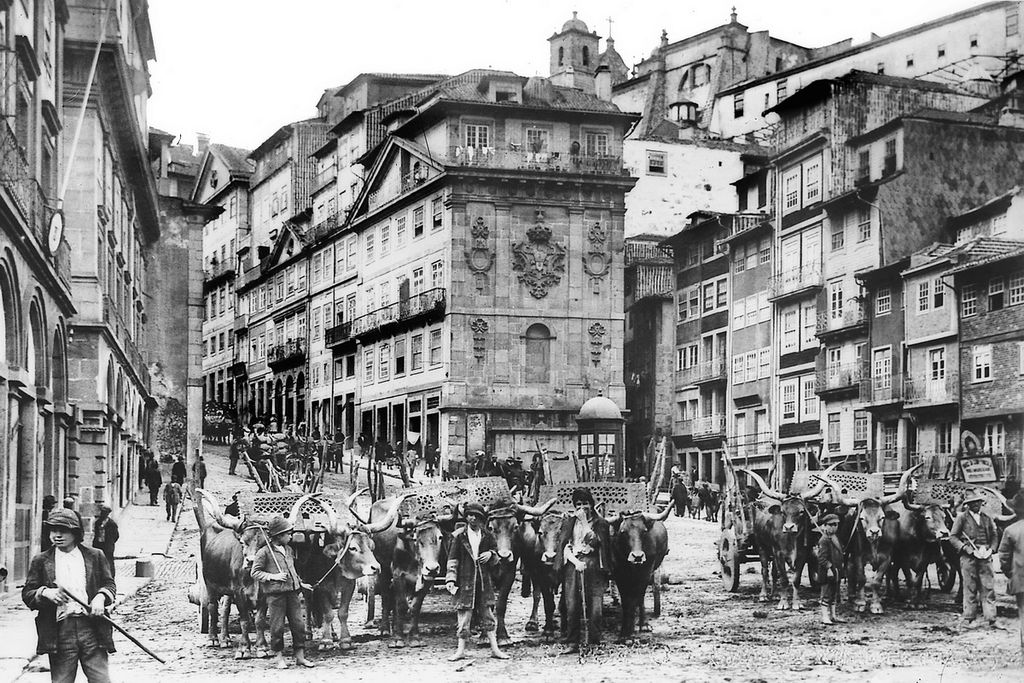 HOW TO GET TO PORTO
Porto is the largest city in northern Portugal and the country's second-largest city. Because of this, it is easy to get there by many different types of transportation. It is closely linked to the rest of the country and Europe as a whole.
By Plane
The closest airport to Porto is Francisco Sa Carneiro Airport, about 10 kilometers north of the city. Business class and low-cost airlines like Luxair, TAP Portugal, Ryanair, and Lufthansa use it as a hub. You can take public transportation or a taxi from the airport to the city center.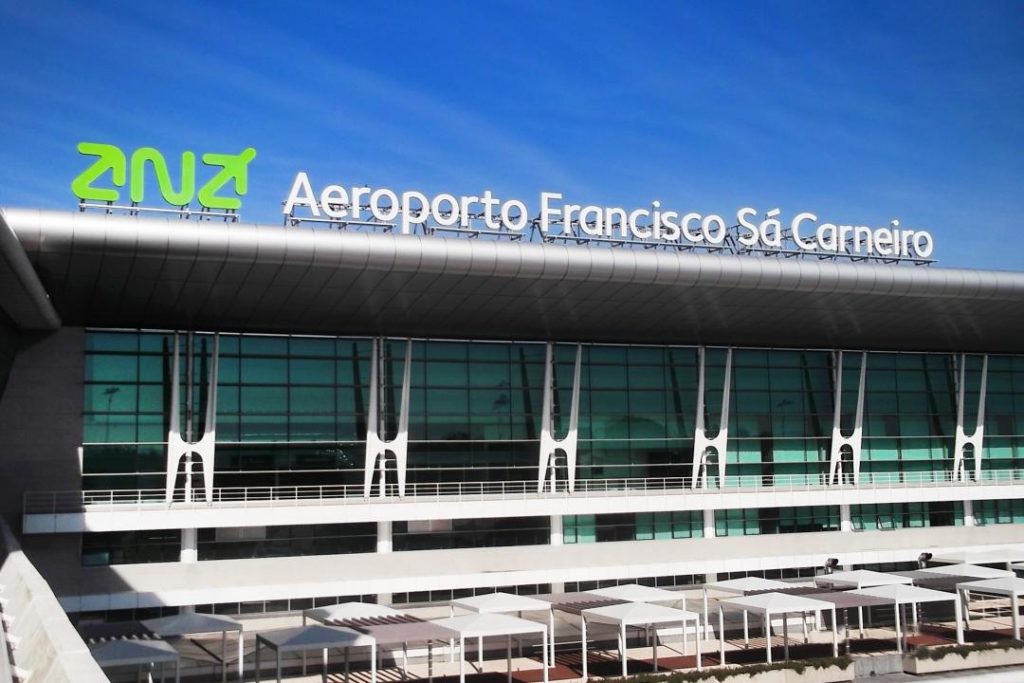 By Train
Porto has the most important train station of all the cities in the north of Portugal. There are two main places where trains stop. Sao Bento station is in the middle of the city. It is where regional trains go to places in the north end. Trains from the south, including those from Lisbon, arrive and leave from Campanha station. The trip from Porto to Lisbon by train takes about three hours and is one of the most beautiful in the country.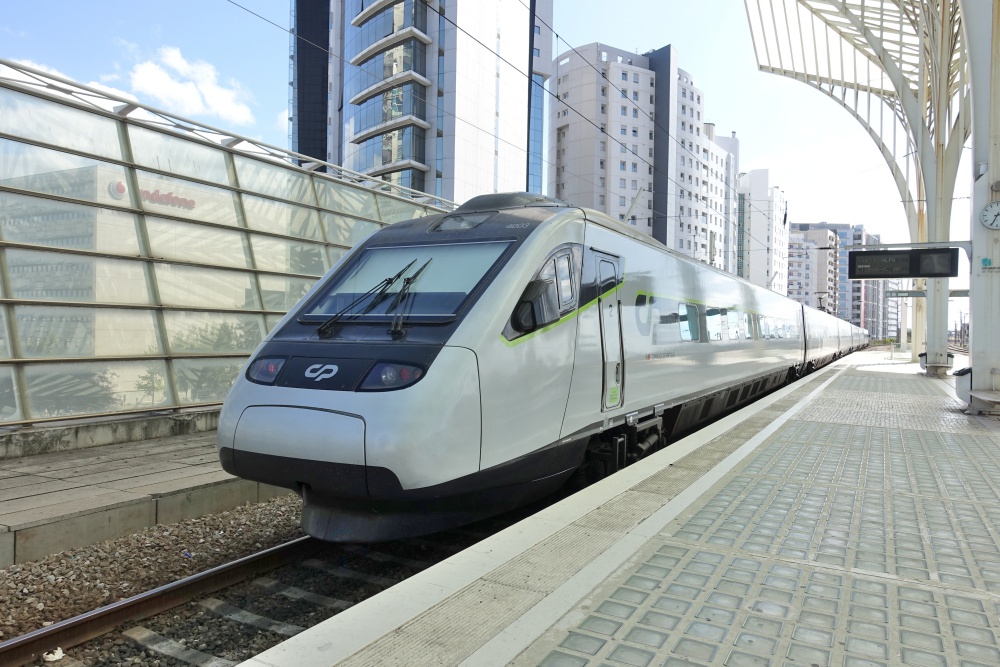 By bus
People living in Portugal or from other countries can also take a bus to get to Porto. Once in the city, there are two main bus stations: the Park of the Carmelitas bus station, which is near the Sao Bento Railway station, and the Casa da Musica bus station, which is near the city center.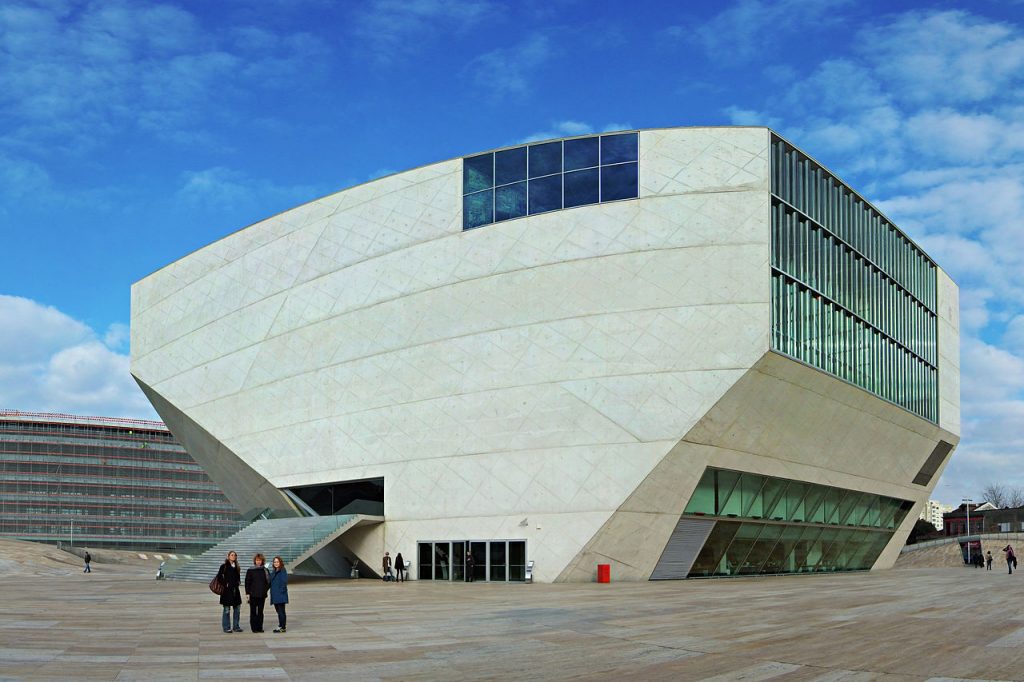 By car
If you like to drive, Portugal has good roads that will get you to Porto. You can plan your trip with Google Maps.
PORTO CLIMATE
Porto has a partly Mediterranean climate, but the Atlantic Ocean has a big effect on it, making it colder than other cities with the same climate. During some heat waves in August, the temperature can get as high as 40 °C. Winters are mild, rainy, and humid, and temperatures can drop below 0 °C on rare occasions.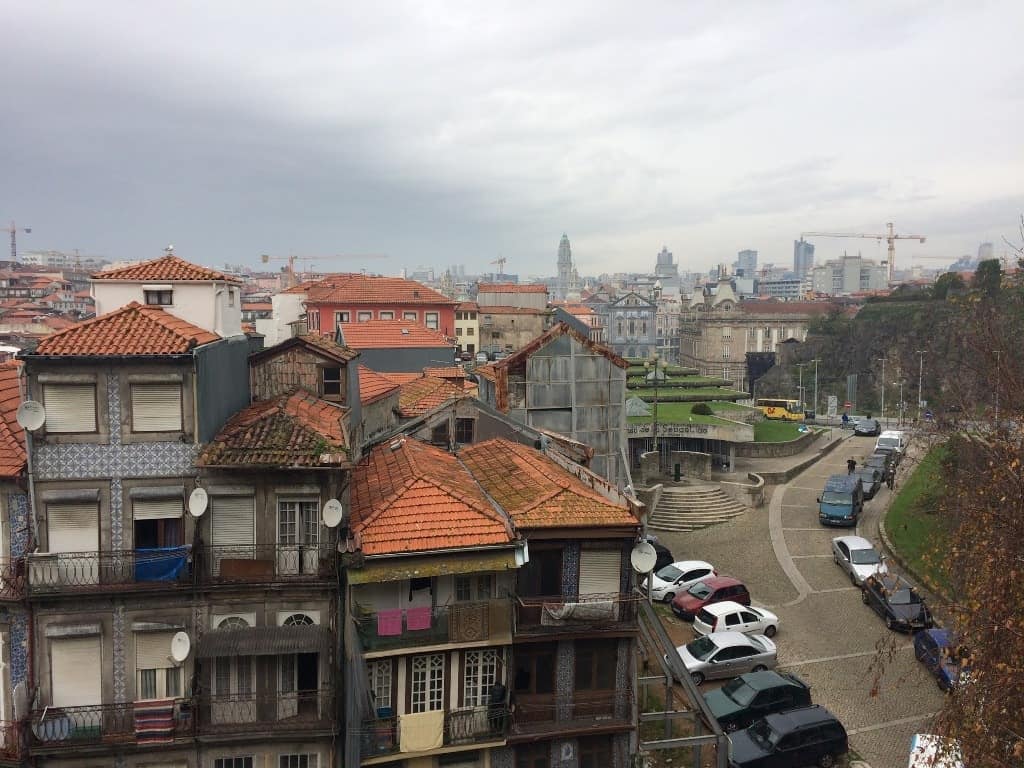 TOP SIGHTS IN PORTO
Porto Luis I Bridge
The Dom Luis I Bridge, also known as the Luis I Bridge, is a two-level bridge spanning the Douro River between the Portuguese cities of Porto and Vila Nova de Gaia. A metal arch bridge. Its 172m span was the longest in the world when it was built. People have confused it with the Maria Pia Bridge, a railway bridge built 9 years before the Louis I Bridge and it appears.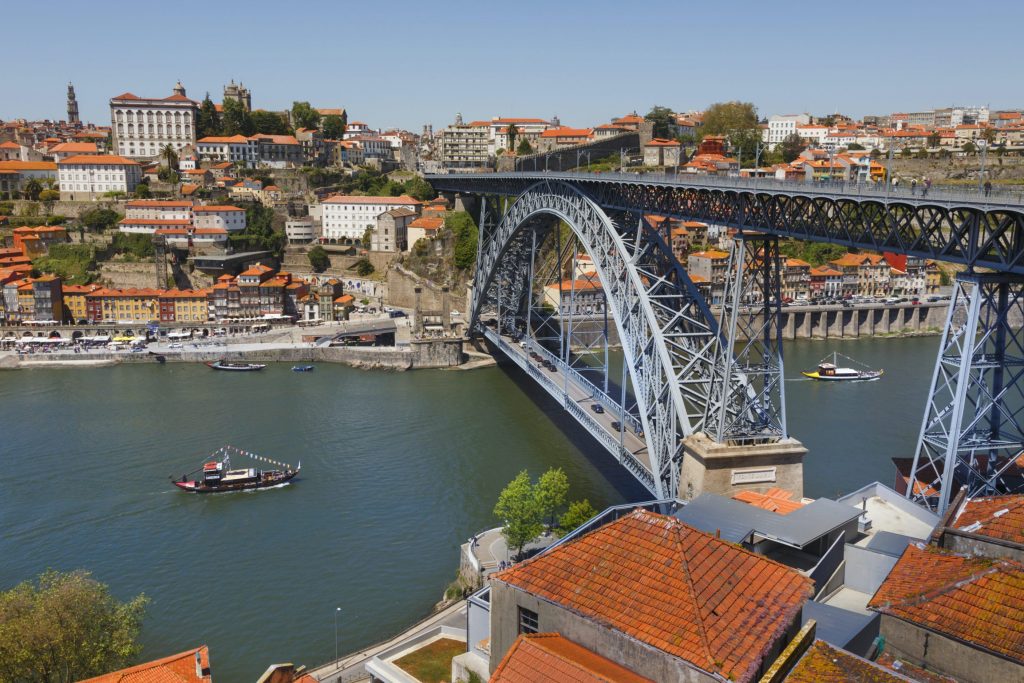 Porto Clerigos Church and Tower
One of the first Baroque churches in Portugal to have an elliptical floor plan was the Church of Clerigos. Manuel dos Santos Porto made the altar of the main chapel, which is made of marble with a different color. In the back of the church is a huge tower that was only built between 1754 and 1763. The tower stands 75.6 meters tall and is the tallest thing in the city. To get to the top of its six floors, you have to climb 240 steps. This enormous building has become a symbol for the whole city.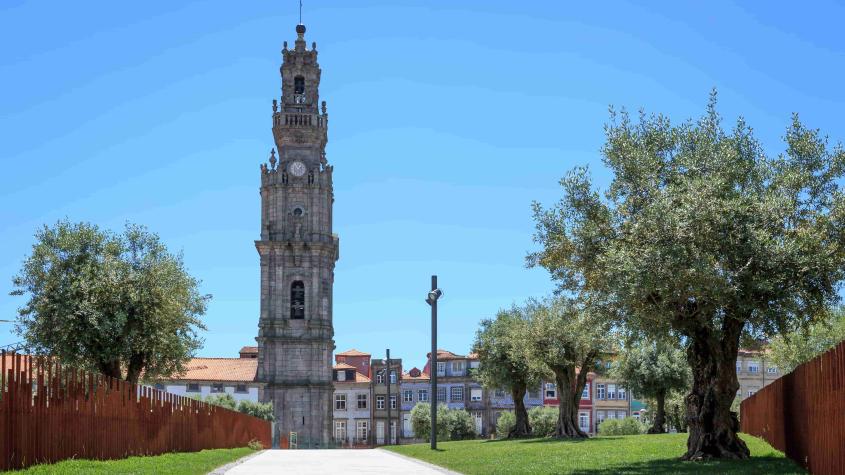 Porto Cathedral
The cathedral has two square towers on either side. On top of each tower are two buttresses and a dome. The front is plain and has different styles of architecture. It looks like a strong church with a baroque entrance and a beautiful rose window under a strong Roman arch. This building is the first in Portugal to use this style of architecture.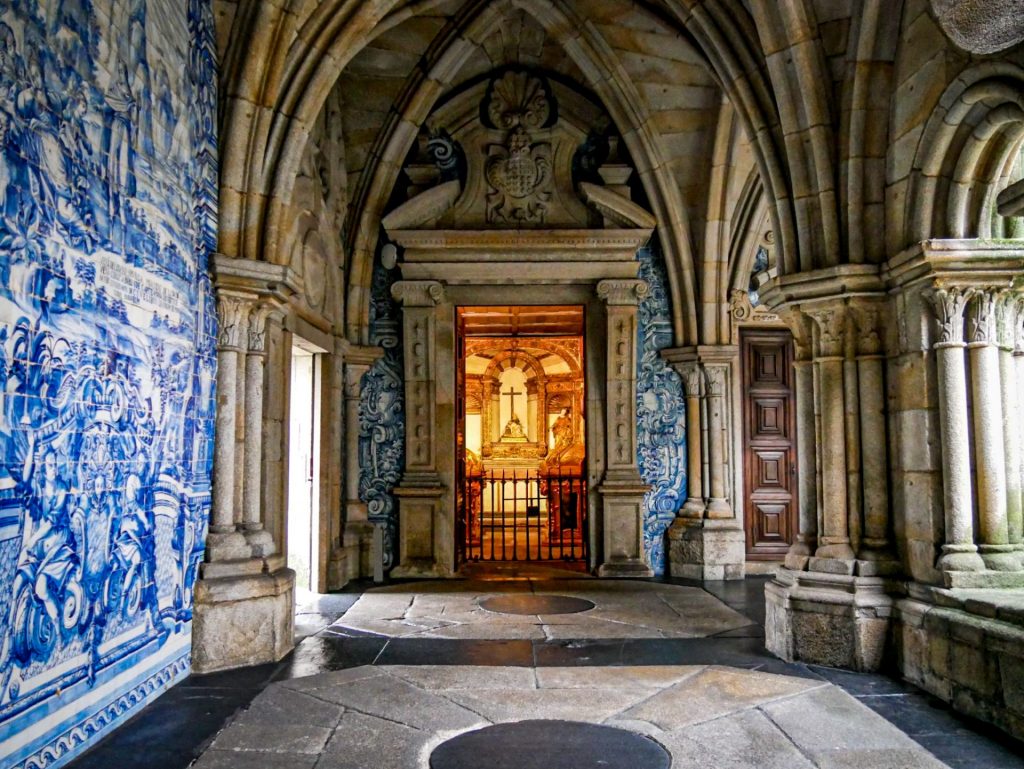 Porto Livraria Lello
The Livraria Lello is known worldwide as one of the most beautiful places to buy books. Because of that and the fact that it was used in Harry Potter, it is very popular. Livraria Lello & Irmo, also called Lello Book Store in English, is a bookstore in the northern Portuguese municipality of Cedofeita, Santo Ildefonso, Se, Miragaia, So Nicolau e Vitoria. It is in the civil parish of Cedofeita, Santo Ildefonso, Se, Miragaia, So Nicolau e Vitor. It is one of the oldest bookstores in Portugal and Bertrand in Lisbon. This is also often ranked as one of the best bookstores in the world.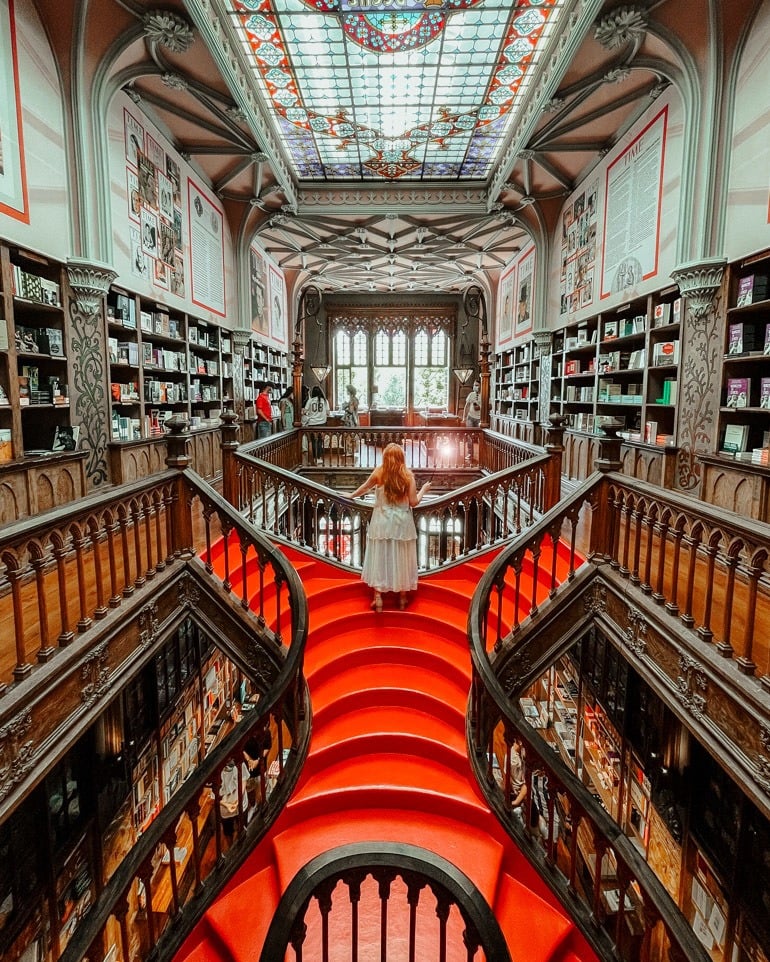 Porto Sao Bento Station
Sao Bento Station is a train stop from the 20th century in the civil parishes of Cidofeita, Santo Ildefonso, Se, Miragaia, Sao Niccolo e Vitoria, in the municipality and district of Porto. Saint Benedict is what Sao Bento is called in English. The site is in Porto's historic center, a UNESCO World Heritage Site and a Portuguese National Monument. Murals show parts of the country's history, and rural scenes in different color palettes show people from other parts of the country.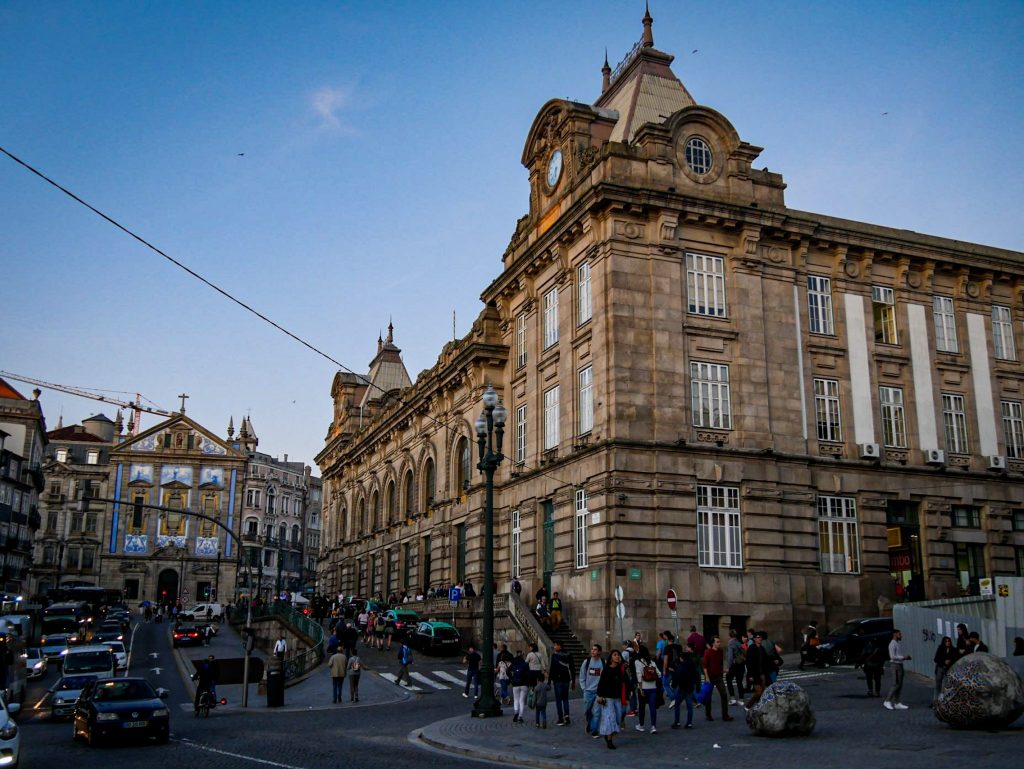 Porto Douro River
The Douro is the Iberian Peninsula's river with the most water flowing through it. It flows into the Atlantic Ocean at its mouth. The beautiful Douro railway goes right next to the river. Ports and other agricultural goods are made in nearby areas. The Koa Valley Palaeolithic art site is on a small river branch. It is important for its prehistoric archaeological history and has been named a UNESCO World Heritage Site. In Spain, it flows through the autonomous community of Castile and Leon, and its basin covers the northern half of the Meseta Central.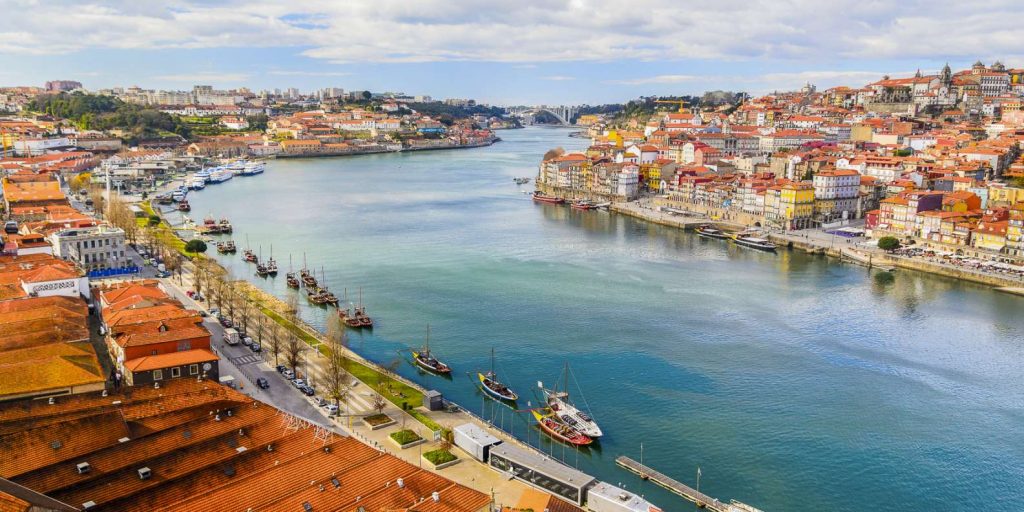 Porto Mares Swimming Pool
This is one of the most beautiful things. It is a famous building by Alvaro Sisa Vieira, who has won more awards than any other architect in Portugal. The pool has a unique design and is set in a natural area between rocks and the sea (it is a saltwater pool).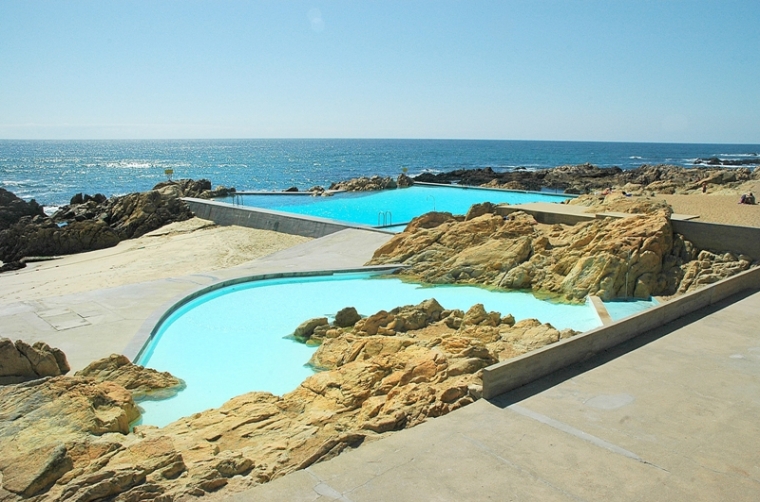 Porto Wine Cellars
Gaia, which is close to Porto, has beaches and those famous port wine cellars. They are beautiful, and you can learn about the history of things and what makes each type unique. Taylor's (Rua do Choupelo, 250), where the highly rated O Barao de Fladgate restaurant is, and Cockburn's (Rua Serpa Pinto, 346), where you can have a picnic with some Portuguese specialties.
Popular things to do
Wine Tasting
Bus Tours
Cultural Tours
Architectural Buildings
Special Museums
Dining experiences
Self-Guide Tours
Gardens
Night Tours
Parks experiences
PORTO CUISINE
Meals are one of the best parts of any trip to Portugal, and Porto is no different. Because the city's natural setting is so varied, chefs can choose from a wide range of fresh foods. The food is stronger, spicier, and heartier than the food in the south of Portugal. Classic dishes use a variety of meats and fish, and a glass of port wine goes well with them all. Francesinha is called "The Queen of Sandwiches" in Porto. It has two thick slices of bread filled with moist-cured ham, linguiça (Portuguese sausage), steak, or roast beef. Melted cheese and a special tomato and beer sauce are spread on top.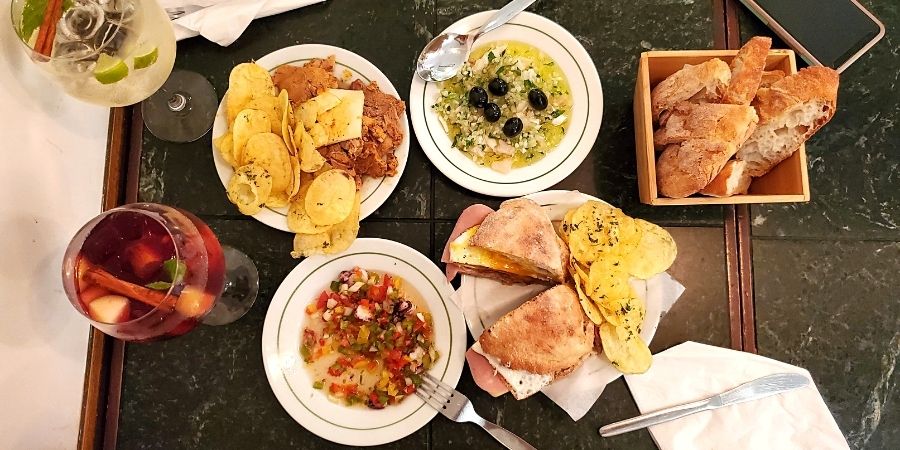 PORTO NIGHTLIFE
In the past few years, Porto's nightlife has changed. As the second largest city in the country, there are many places where people go to party or meet up at night. It can be crazy to move around the city at night, especially on the weekends. It's a great place for people who want a drink or to meet someone. Because it means people who like music and dance will be out on the street.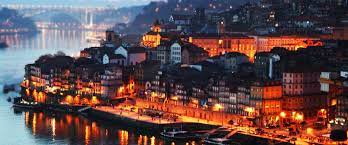 PORTO ACCOMMODATION
Around the city, there are houses for people to live in, Porto hotels and great restaurants. The hostels can also be booked as required. There are also three-star hotels with very reasonable prices. There is only one camping ground in the town, called Prelada. It is quite far from the city center. There aren't many family homes to rent in town, so finding one will be difficult. You can find unique listings if you want to get away to a place that feels like home. Unique host. No one else. With Porto Airbnb, you can find great deals and book the right place for you.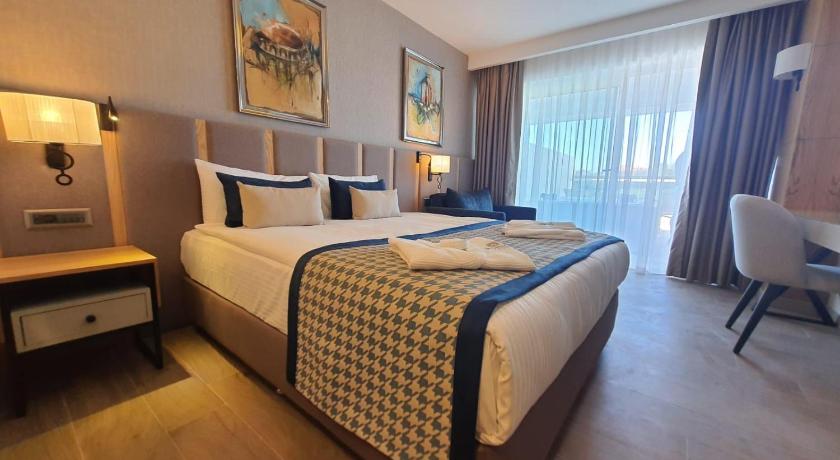 PORTO CITY DETAILS
The city of Porto is on the Douro River, about 3 km from where the river meets the Atlantic Ocean. It is about 280 km north of Lisbon. Porto is the second largest city in Portugal and the center of business and industry for the area north of the Mondego River. It is famous for the best port wine. Many people work in manufacturing, and fishing and tourism are also important. Porto will surprise you with how many and how nice its beaches are. Your journey will be easy by following the map from the beginning of the tour.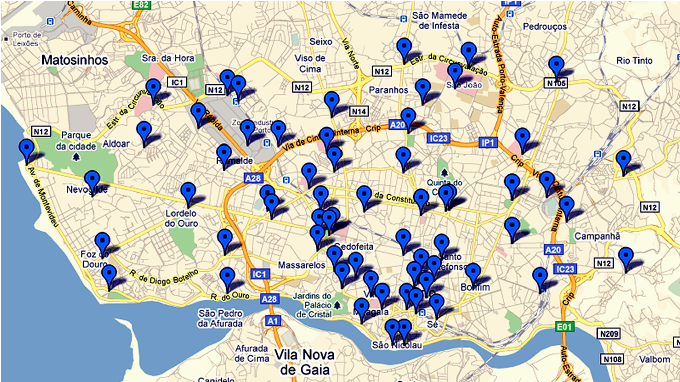 currency: Euro
Porto population: 214,349 (2016) United Nations
area: 41.42 km²
Porto weather: 14°C, Wind E at 5 km/h, 89% Humidity
Official language: Portuguese
Dials Code:    +351
Getting around in Porto
Porto is easiest to get around by metro, bus, or foot. Sociedade de Transportes Colectivos do Porto runs an extensive network of public buses and trains (which includes the metro, buses and trams).
Porto city card
The Porto Card is a sightseeing pass that lets you get into Porto's main museums, monuments, and guided tours for free or at a discount. If you want to use the city's public transportation while there, you can ride Porto's buses and metro as much as you want. You can buy the card at the airport or in an official tourist office in the city right when you get there. Six museums, like the Casa-Museu Guerra Junqueiro and the Museu Romantico, are free to get into with the Porto Card. It gives a 50% discount on entrance fees to 14 landmarks like the Clerigos Tower, Military Museum, and many more.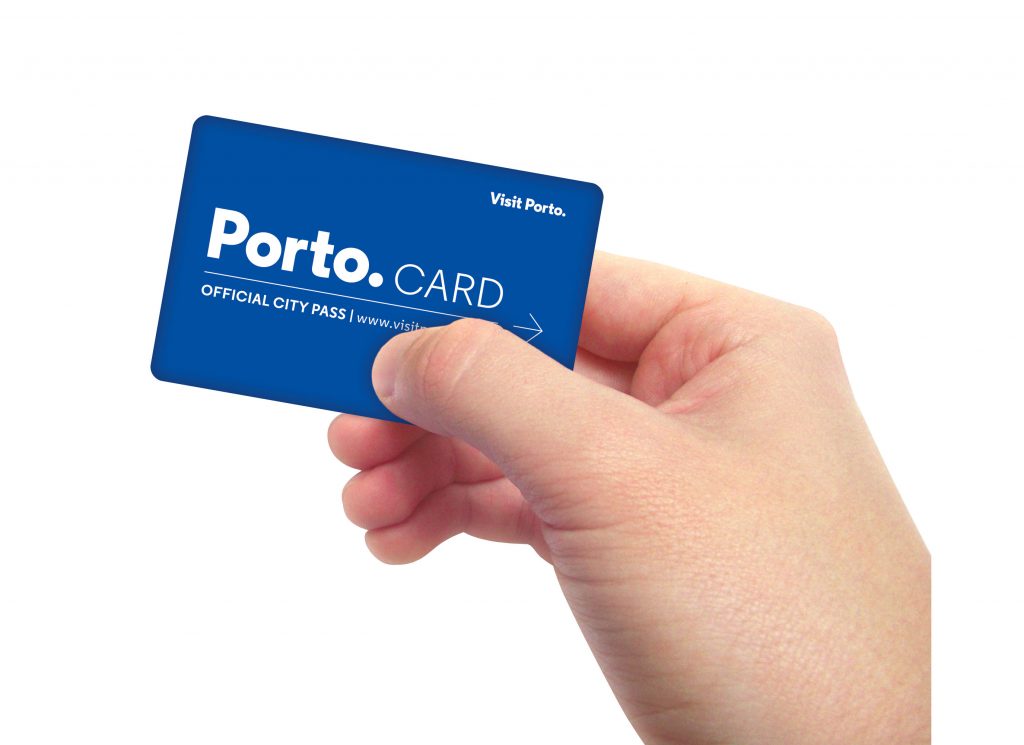 Porto on Foot
Most of Porto's roads are small, narrow, and windy, so walking is the best way to get around. If you want to get around on foot, plan your schedule ahead and ensure that the best things to see are close to each other. 
Porto Metro
Porto has six metro lines. You can check out a Metro map before you start your journey. The A (blue), B (red), C (green), D (yellow), E (purple), and F (connected) lines run from 6 a.m. to 1 a.m. every day. Around the city, more than 80 metro stations are marked with wavy blue "M" signs. The best places are easy to get to from most sites, and the metro is a cheap way to get into the city. When you buy a Porto Card, you can ride the metro, buses, and funiculars as much as you want for a certain amount of time. Sometimes, you can also get free rides to museums and discounts at other museums and restaurants.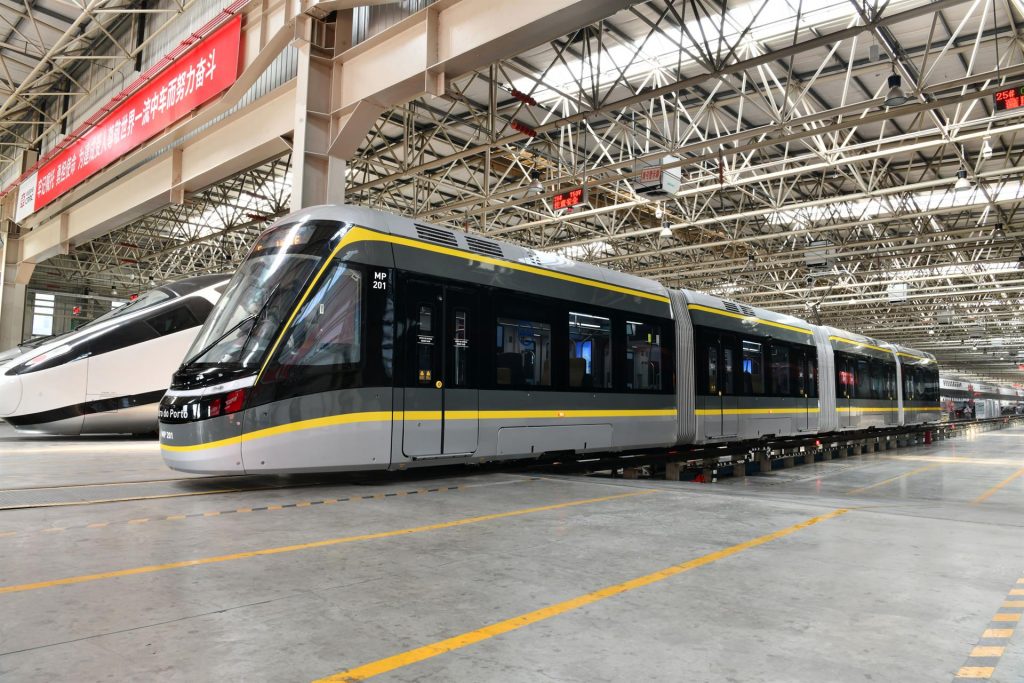 Porto by Bus
More than 75 STCP bus lines go all over the city center and the area around it. Buses run regularly from 6 a.m. to 9 p.m., but after 9 p.m., they run less often. A.M. Both Porto Cards and Andante bus passes work up to zone 1. One-way trips with an Andante Card start at €1.20, and the price changes based on how many zones you want to cross. You can pay the fare for your trip on a one-time paper ticket for €0.60 on the bus.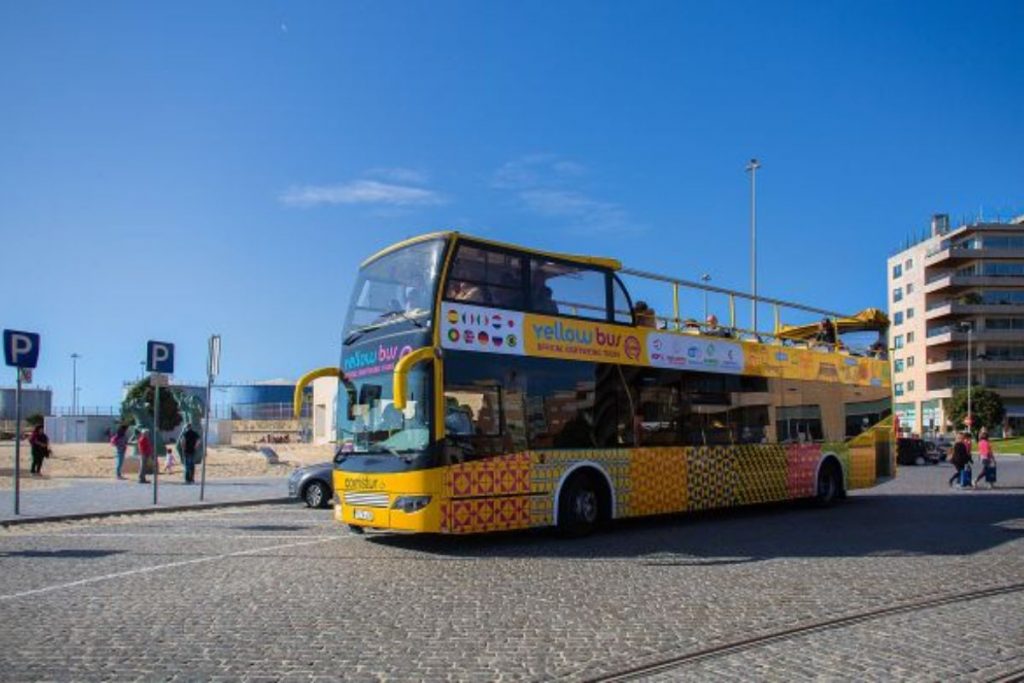 Porto Tram
STCP also operates three tram lines in Porto: Line 1, Line 18 and Line 22. Porto's trams (or cable cars) are a historic part of the city, dating back to 1872. Line 1 runs along the west coast and along the Douro River. From Matosinhos to Loios. Lines 18 and 22 operate circular routes near Hospital Geral de Santo Antonio and São Bento station in south Porto and Avenida dos Aliados in the city center, respectively.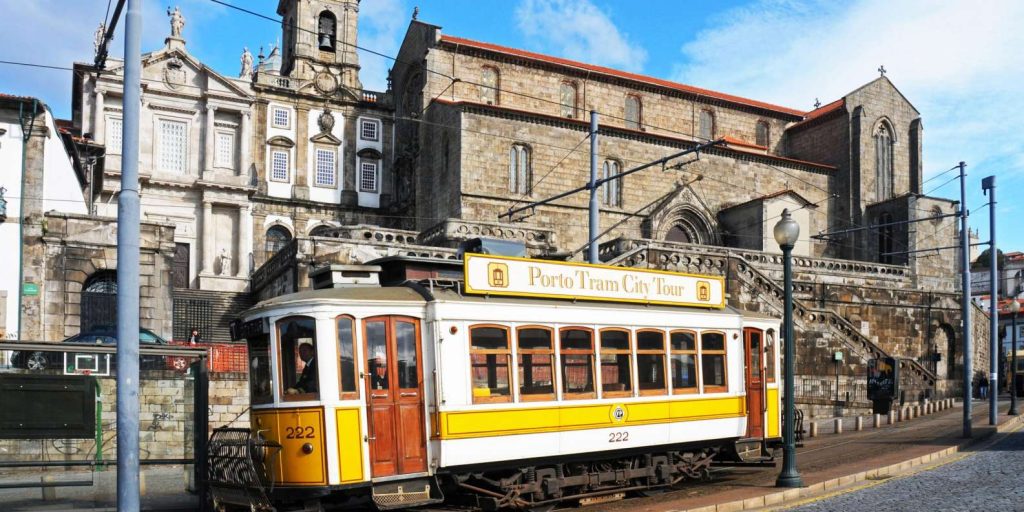 APPROXIMATE BUDGET
Based on what other tourists have spent, you should plan to spend about €100 ($100) per day in Porto. This is the average daily price based on what other tourists have spent. For one day, travelers have spent an average of €29 on food and €16 on local transportation. Also, the average price of a hotel room for two people is €103 ($103). So, it costs an average of €1,406 ($1,404) for two people to spend a week in this city. These average travel prices have been put together to help determine how much you want to spend on your trip.
CONCLUSION
Porto Portugal is a very different way to see Europe than the way most people do it. It is a beautiful city full of history and culture. This is an excellent place for people who want to drink wines that are known all over the world. You can also relax by the Douro River, which flows through the city. This is a must-see for tourists who enjoy seeing places with a lot of history and culture.
FAQs
What is Porto very famous for?
Porto is the second largest city in Portugal and is known worldwide for its port wine. It is also the commercial and industrial center for the area north of the Mondego River. In 1996, the old part of the town was named a UNESCO World Heritage site.
Is Porto or Lisbon better?
Lisbon has more tourist sites, sights, and museums than any other city.
Porto has some beautiful cathedrals and sights, like a bookstore that looks like it belongs in Harry Potter. However, the best thing to do is to enjoy the city, walk around, see the sights, and try port wine at port lodges.
Is Porto worth visiting?
Yes, Porto is definitely a place you should go to. This old city has a lot to offer tourists, from beautiful buildings to tasty food and interesting culture. There's something for everyone, whether you want to walk around the city and look at the beautiful azulejo tiles or try some new foods.
Is Porto easy to walk around?
If you don't mind the hills, Porto is an easy city to walk around once you get there. If the hills are too much for you, there is a good public transportation system with old wooden trams, a metro, and buses.
Is Porto Portugal cheap?
Generally, the cost of living in Porto and most of Portugal is much lower than in most western Europe. The city is also usually cheaper than Lisbon's capital. On average, it is thought that prices in Porto are 10% lower than in Lisbon.
Are two days enough for Porto?
Porto is an old and lively city with a lot of culture, fun things to do, and a busy nightlife. You can see everything in the town in two days‍.
Does Porto have beaches?
This city will surprise you with its number and quality of beaches, and many of them are easy to get to by public transportation.
How long is the train ride from Lisbon to Porto?
With train changes, it takes 2 hours and 46 minutes to get from Lisbon-Santa Apolonia to Vila Nova De Gaia-Devesas.
Is Porto English-friendly?
The language spoken in Porto is Portuguese, but most people who work in the tourism industry also speak English. In general, people who visit the north of Portugal won't have any trouble communicating because they don't speak the same language.