Marmaris: a city with beautiful coastline in Turkey
Although Marmaris is famous for its honey, its primary source of income is international tourism. After a construction boom in the 1980s, little remains of the sleepy fishing village that Marmaris was until the late 20th century, nestled between two sets of intersecting hills on the sea. Marmaris is a center for yachting and diving, complementing the tourism industry with two primary and two small marinas. It is a popular wintering spot for hundreds of yachtsmen. Let's explore this beautiful city.
History 
It needs to be clarified when Marmaris was founded, but in the 6th century BC, the area was called Physkos. It was in a part of Caria owned by Rhodes and had a beautiful harbor and a garden that Leto considered holy.
Herodotus, a historian, says there has been a fort here since 3000 BC. The Persian Empire took over the area in the end. Alexander the Great went to Caria in 334 BC. Marmaris was part of the Beylik of Mente in the late Middle Ages. In 1522, the Ottoman military built a new Marmaris Castle from scratch to house a garrison. 1957, two earthquakes almost destroyed the city of Fethiye. In 1979, work on fixing up the palace began. It was turned into a museum with seven galleries, the largest of which was used as an exhibition hall. This was done with the help of the Ministry of Culture.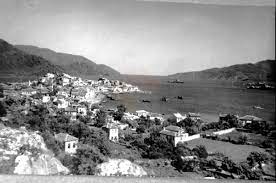 How To Get Into Marmaris
By plane
Dalaman Airport
Dalaman Airport is one of the most common ways. This Airport is 95 km east of the city, and international and domestic flights go there. During the summer, there are charter flights from the major cities in Europe to other parts of the world. Most of the time, other flights to Dalaman Airport have a stopover, usually in Istanbul. If your flight stops in Istanbul, it takes 1 hour and 30 minutes to get from one airport to the other. Any way you look at it, once you arrive at Dalaman Airport, you can get to the city by public transportation, a taxi, or a rented car.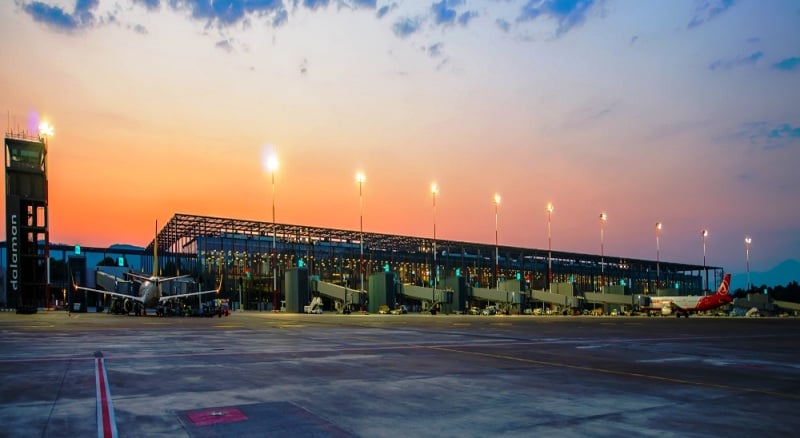 Bodrum Airport
If you want to fly to Turkey and spend your holiday, you could also land at the airport in Bodrum. Bodrum is another popular summer destination, and the city's airport has many domestic and international flights daily. You can fly to Bodrum directly or with a stopover from almost anywhere in the world. Please remember that you have to travel 130 km to get to Marmaris. You can take a bus or a taxi to get there safely and in comfort, and the trip takes about 1 hour and 45 minutes by car.

By bus
Taking a bus to Marmaris can be a fun way to get there. The country generally has a good road and transportation system that makes it easy to get from one city to another.
From Rhodes by ferry                
There are many ways to get to Marmaris, but there is one you would never think of. During the summer, there is at least one ferry from Rhodes to Marmaris. Suppose you want to avoid crowds. The port of Marmaris is about 25 nautical miles from Rhodes. It takes about an hour to get from Rhodes to Marmaris. You can get tickets online or at the Rhodes Port.
Marmaris Climate
Marmaris is in the Mediterranean, so its summers are hot. It has summers that are hot and dry and winters that are mild and rainy. Between May and October, it only rains a little. Summers are hot and dry, and temperatures get especially high in July and August when heat waves happen. The weather starts to get cooler in September, and October is rainy but still warm and sunny. Most of the rain falls after November. Winter is the rainy season. The average annual rainfall is 1,232.7 mm (48.531 in), and heavy cloudbursts can cause flash floods in areas prone to flooding.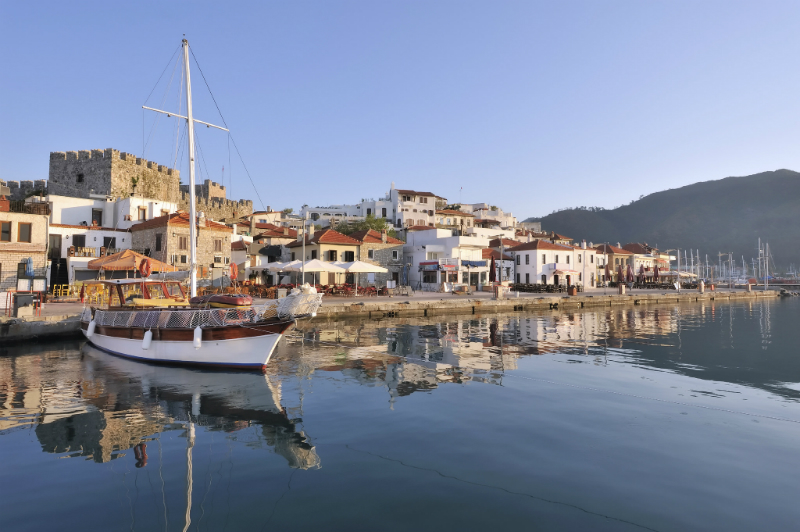 Top Sights In Marmaris
Marmaris Castle and Archeology Museum
One of the few castles in Turkey with a museum is Marmaris Castle. Herodotus, a Greek historian, said that the city walls of Marmaris were built for the first time in 3,000 BC. During World War I, the 1957 Fethiye earthquake tore down the fort. People lived in the palace until 1979. It has 18 homes, a fountain, and a pond. Since 1979, work has been going on all the time to fix up the palace.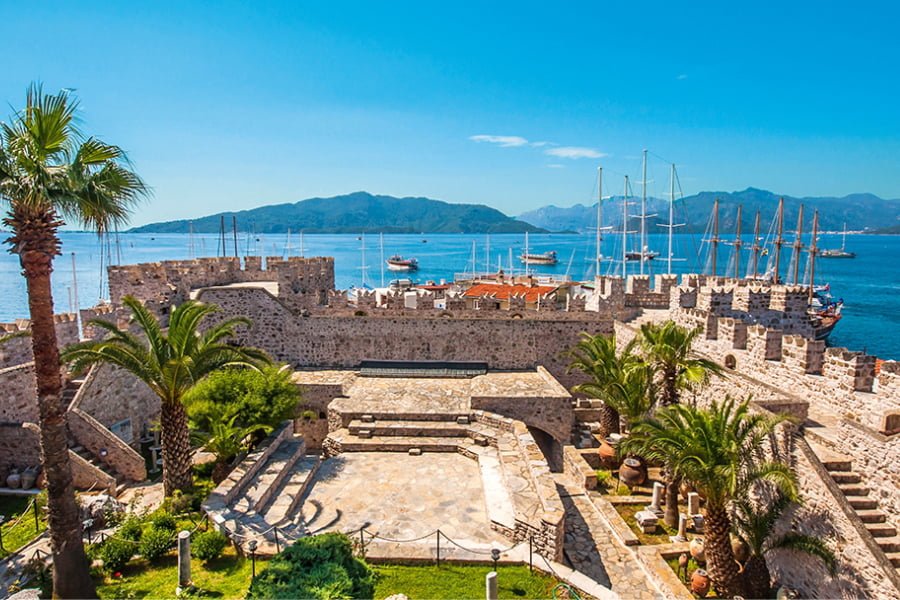 The Dancing Fountains
Dancing fountains are fun for kids and adults in the middle of town. Dancing fountains are precisely what they sound like. At night, the fountains that dance to music, projections, and lights are one of the best free things to do in Marmaris. The streets around the plaza with the Dancing Fountains are full of restaurants and bars, making it a lively place to have a drink or two. When I go to Marmaris, the fountain show is from 8.30 to 9 p.m.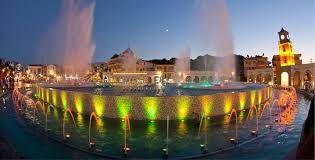 Marmaris Old Town
The main historical tourist spots in the city are Marmaris Castle, which looks out over the harbor, and the cobblestone streets that circle the old town. The path to the palace goes through the old town's narrow, cobblestone streets, lined with whitewashed cottages with bougainvillea growing over the walls. This small area is a quiet break from the busy harbor, just a few steps away.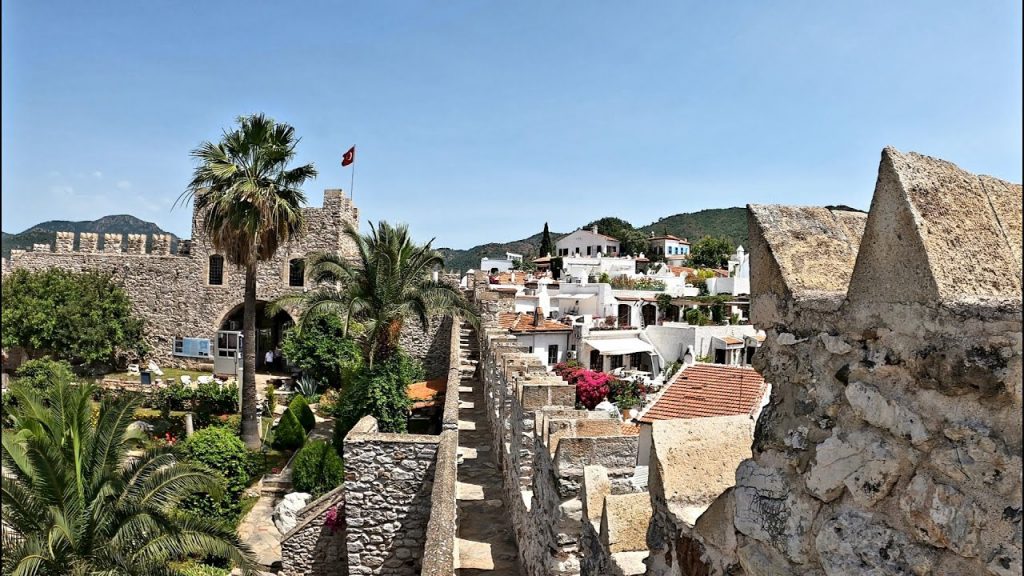 Marmaris National Park
Marmaris National Park borders Marmaris Bay's azure seas east of Marmaris town. Many tourists visit this coast by yacht, but you may see more by going inland into the park. Vehicle, ATV, and horseback tours are available. Oak, plane, and red pine dominate this forest. Wild goats are the park's most common mammals. Birdwatchers should watch for falcons and eagles.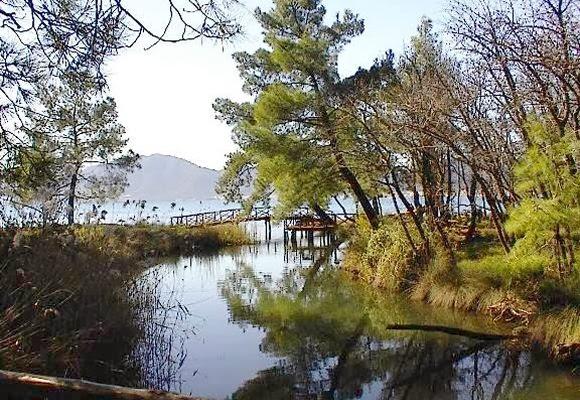 Yildiz Adası Park is the most visited (Yildiz Island; more often referred to as Paradise Island by tour operators). Despite its name, it's a broad peninsula that protrudes into Marmaris Bay. Yildiz Adası has stunning views, a yacht marina, and resorts in Adakoy. For panoramic bay views, climb the village's rocky trail.
Sedir Island
Sedir Island, sometimes called Cleopatra Island, is in Gokova Bay, 23 kilometers north of Marmaris. It is near the coast of all and is sometimes called Cleopatra Island. During the summer, ferries go back and forth between the other beach and the island of Camli all day.
Off the coast, there is a theatre with a view of the sea, an agora, two churches from the late Byzantine period, and the remains of the city walls, all of which are great places to walk and learn about history.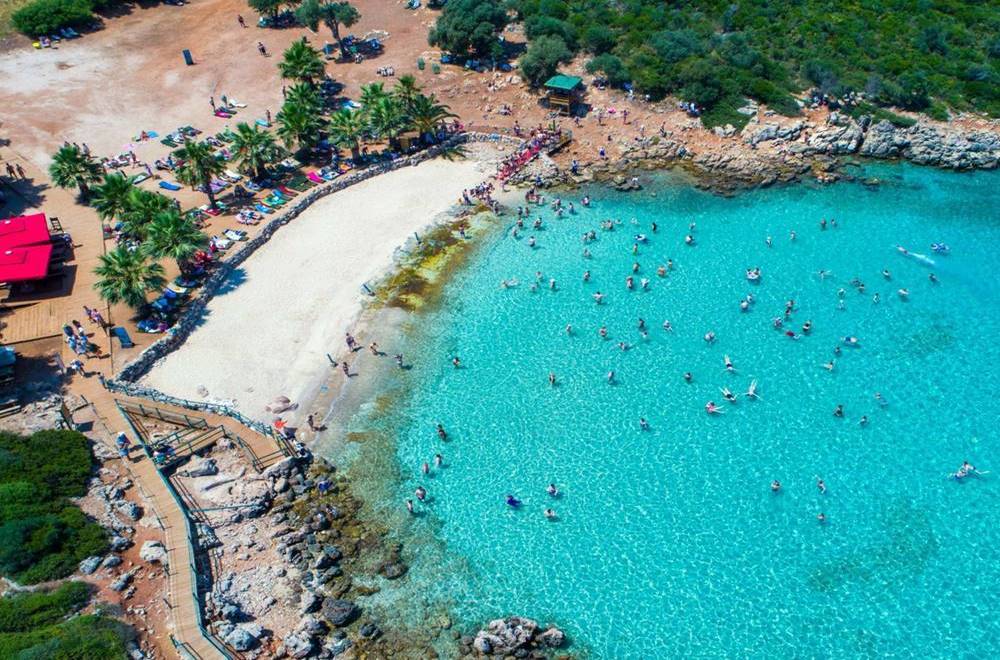 Marmaris Rhodes
Because of this, the Greek island is one of the most-visited places while people are staying in Marmaris. With only one day, you should do most of your sightseeing in Rhodes Town, where all the major tourist attractions are close to the port where you get off the ship.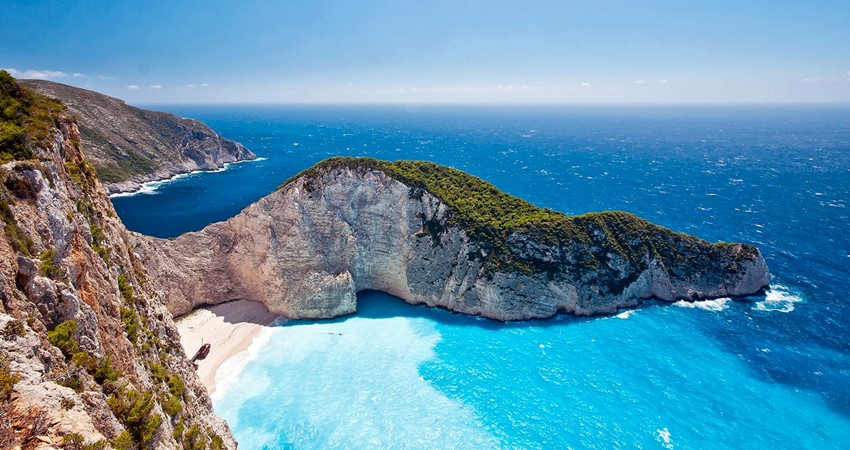 The main attraction is the Walled Old Town, which is on the UNESCO World Heritage Sites list. It has cobblestone streets and golden-colored stone walls that lead to the dramatic palace of the Grand Master.
Ruins of Kaunos
On the other side of the Dalian River from the city of Dalian are the vast ruins of the ancient Kaunos. From the top, there are great views of the countryside all around. A large Roman bath area, a theatre, a harbor, and the ruins of the Acropolis are all spread out along the hillside.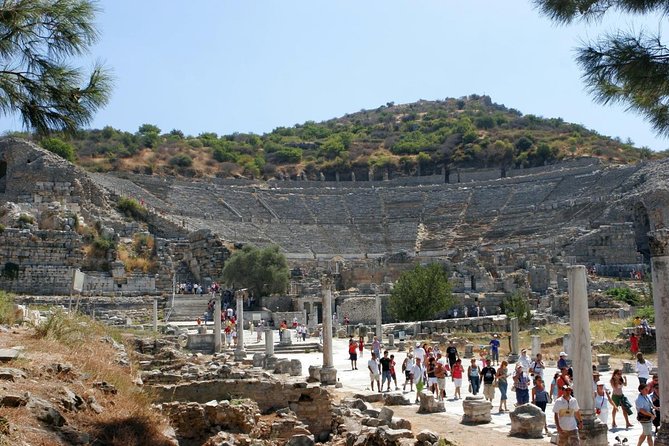 Most tours from Marmaris to Dalyan focus more on river activities than the Kaunos ruins, so if you want to explore the defaults, you should rent a car and go there on your own.
Iztuzu Beach
Iztuzu Beach, 95 kilometers southeast of Marmaris and part of a natural park, is one of Turkey's most famous beaches. It has less than five kilometers of white sand and is protected by the park. The beach has a quiet, natural feel because it is in a nature park. This is different from many beaches in the Marmaris area. A lovely place to swim and lay out in the sun for a day.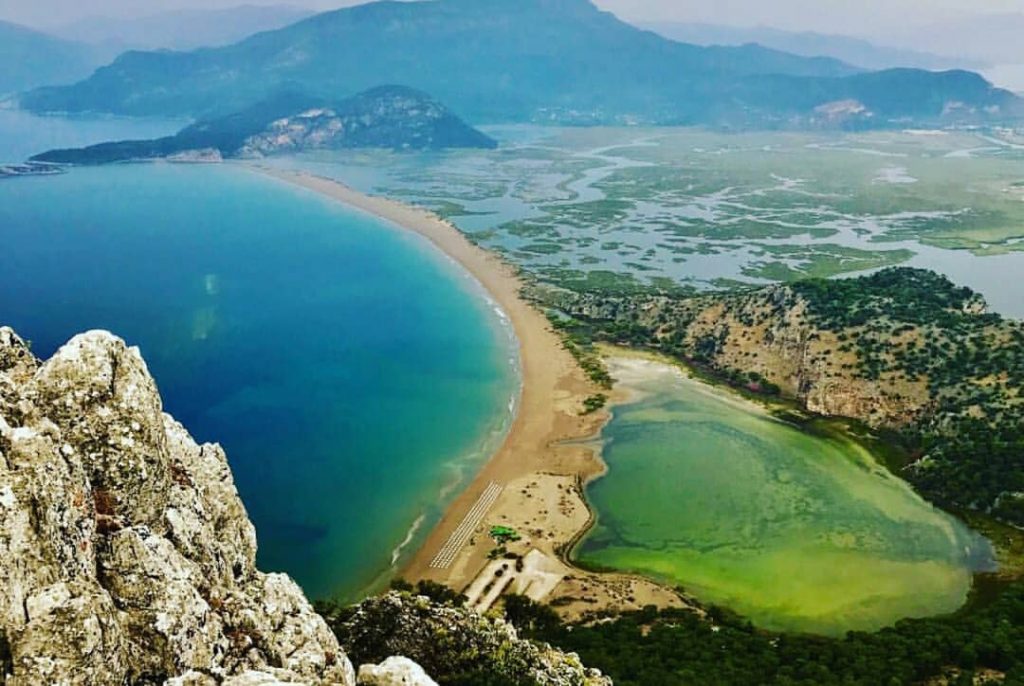 Marmaris City Details 
Marmaris Currency: Turkish Lira
(Turkey) dials Code:  +90
Marmaris  (2012)       Urban 34,047
             District 83,081
Time zone                  UTC+3 (EEST)
Official language: Turkish
Marmaris city area:   District 878.09 km2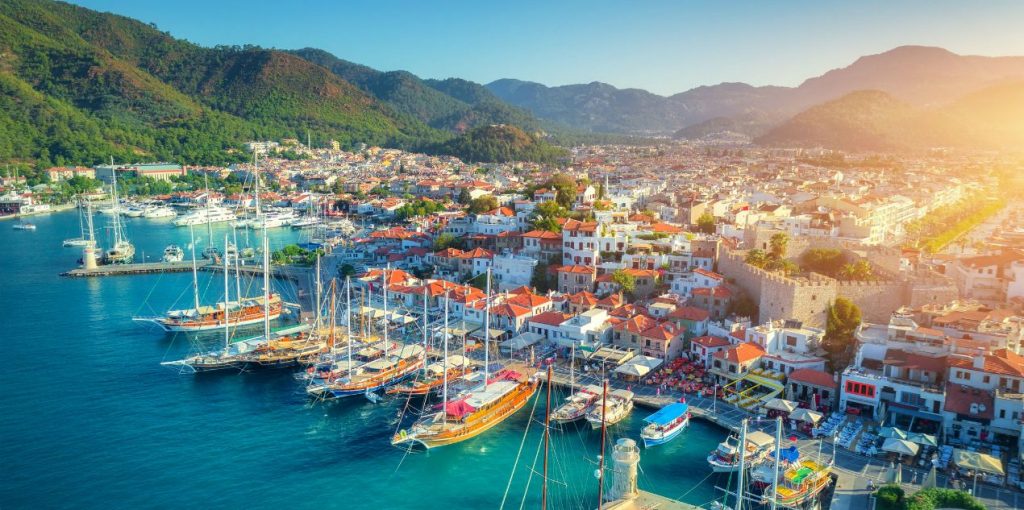 Getting around
Tourists can get around by taking a dolmus, a taxi, a taxi boat, or by renting a car, a bike, or both. The dolmus is one of the most valuable and popular ways to get around on public transportation. Also, sightseeing bus tours are popular in Marmaris, and guided ones are the best option because they make it easy for visitors to get around the city and see the sights. The center and old town of Marmaris are easy to get to on foot.
Public Transportation
The best and cheapest way to get around Marmaris is by dolmus, also called a midibus. They leave from the center, usually in front of supermarkets, and stop wherever you want. Tourists can take several lines of dolmus to get to their hotels. Some of them are Marmaris-Icmeler, Marmaris-Siteler, Marmaris-Armutalan, etc. The last Dolmus line runs at 2:00 a.m. Also, there are many minibusses in nearby towns and villages like Hisaronu, Datca, Koycegiz, etc. Taxi boats also take tourists from Marmaris to Icmeler and Turunc.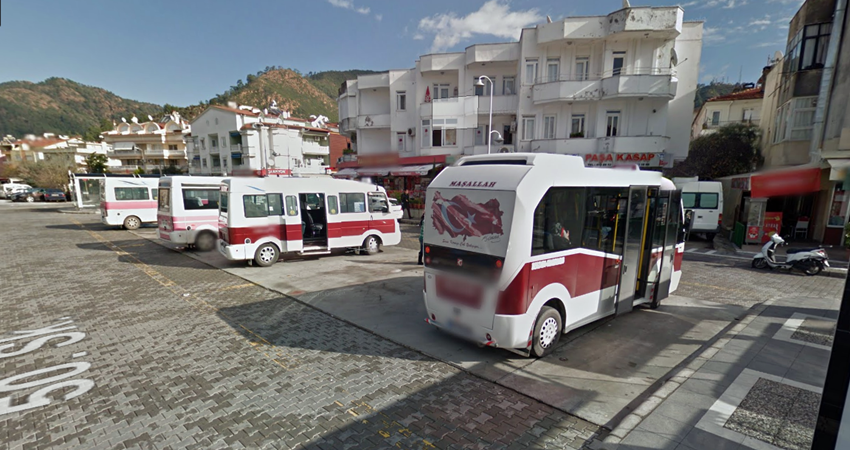 Taxis
It's essential to agree on a price before getting into a taxi. Some taxis have meters and have two rates: one for the day (called "gundus") and one for the night (called "jees"). Daytime rates are in effect from 7 a.m. to midnight and are usually about half the price of nighttime rates. Even if you call for a taxi over the phone, the meter should start once you get in the car. He doesn't think about how far he has to go to get to you.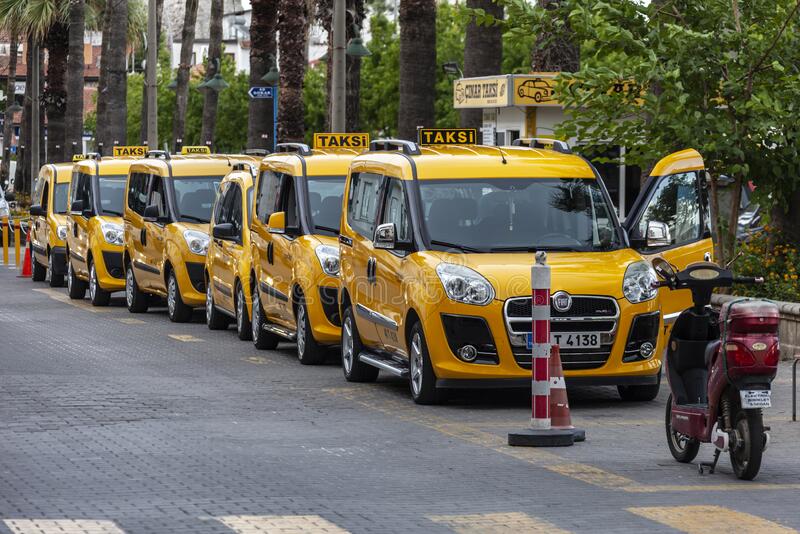 Marmaris Cuisine
The best food in the world is found in Marmaris. Marmaris has more than 300 places to eat. Serves everything from jacket potatoes to pies and kebabs that are a meter long. You should decide where you want to go ahead of time because Marmaris has some of the best food you will ever eat.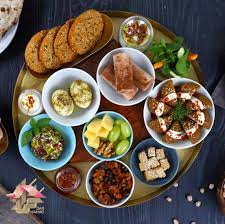 After a long day in the sun, there is nothing better than going inside to cool off and eating kebabs with your family. Most of the time, Netsel Marina, Long Beach, or Icmeler have the most popular restaurants in Marmaris.
Marmaris Nightlife
Marmaris is known for having great nightlife. A few bars on the beach are the perfect place to get a drink before a party and watch the beautiful sunset. There are bars and lavish clubs on the coast that play different kinds of music and cater to different tastes.
Bar Street is in the old town and has more than a hundred bars and clubs, from rock bars to Club Arena, a vast open-air nightclub with foam parties. This street is for people who like to party hard. All areas are open until 4:00 AM at least.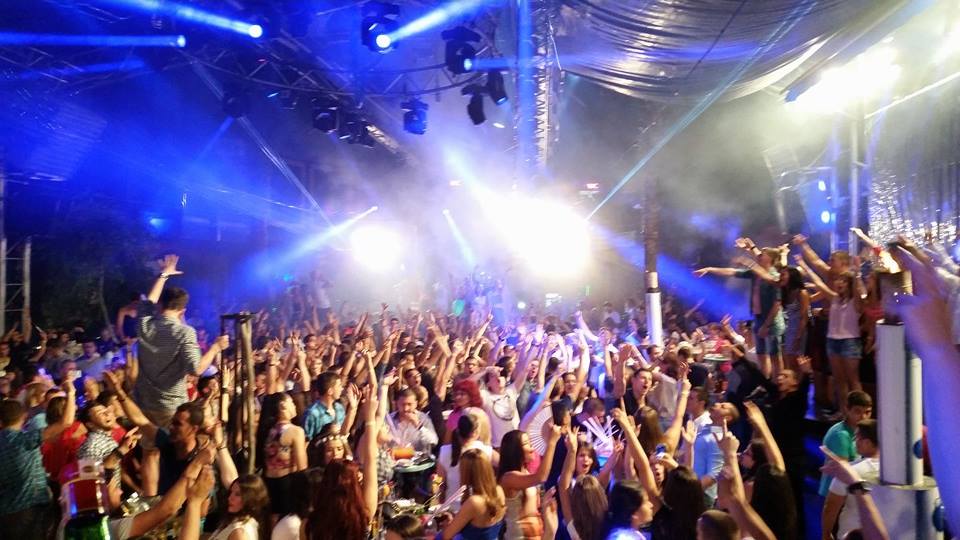 Marmaris Accommodation
Choosing where to stay is essential to making plans for a trip. There are hundreds of hotels in Marmaris, ranging from cheap hotels to luxurious five-star resorts like The Grand Yazici. There are hundreds of hotels in Marmaris, and they range in price and comfort. Let's try to find the best ones.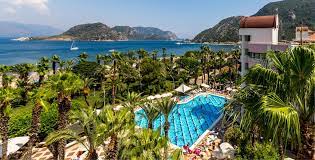 Approximate Budget 
Based on what other tourists have spent, you should pay about TRY434 ($23) per day on your trip to Marmaris, Turkey. This is the average daily price based on what other tourists have spent. For one day, travelers in the past spent an average of TRY135 ($7.19) on food and TRY67 ($3.54) on local travel. Also, a two-person hotel room costs an average of TRY346 ($18). So, a trip to Turkey for a week for two people costs an average of TRY6,077 ($323). These average travel prices were all collected from other travelers to help you plan your travel budget.
Conclusion
Marmaris can be your piece of paradise in the Mediterranean, and you can also get the perfect holiday gift there. The blue waters of the Aegean Sea wash over the beautiful city, and the mountains in the background are some of the most beautiful in the world. But Marmaris is unique because it has a lively and international vibe. When you visit this city, you can look forward to seeing its history, culture, beautiful beaches, and wild nightlife. Your dream trip doesn't have to be hard to plan. No matter where you're coming from, it's easy and convenient to get to Marmaris.