A Guide to Slovenia's Second-Largest City
Maribor lies near the Austrian border, beside the Drava River, and in five distinct geographical regions. It serves as Tajerska, Slovenia's Styria capital. During the 12th century, Maribor was first mentioned. Even though the city had previously been subject to Turkish attacks, the Austrian Habsburgs maintained control of it until the end of World War I. The Austrians and the nascent state of Yugoslavia claimed the city after the war. Yugoslavia eventually won the battle.
German forces controlled it during World War II, but Yugoslavia reclaimed it after the war. Since its founding in 1975, the University of Maribor has contributed to the city's growth as a desirable, energetic, and popular destination for students. The 1991 declaration of Slovenia's independence had adverse economic effects on the town. Maribor is a transregional hub for commerce, education, and culture today.
Maribor has developed into one of the most popular tourist sites in the nation because it is charmingly modest, nestled in the Pohorje Mountain on one side, the wine-growing hills on the other, and the river Drava meanders through it. The oldest vine in the world, various wine routes, the old town's cultural offerings (theatre, traditional events, galleries, and museums), and recreational opportunities are some of its standout characteristics (hiking, cycling, and skiing).
Getting to Maribor

By Plane
The only airport in Slovenia, after Joe Punik Airport Ljubljana, that is suitable for international commercial air transport and has ILS is Edvard Rusjan Maribor Airport. It is the second-largest international airport in Slovenia.
Nearby airports are in Ljubljana (Slovenia), Graz (Austria), Zagreb (Croatia), and Klagenfurt (Austria). Airports in Ljubljana, Graz, and Klagenfurt are also destinations of the low-cost carriers easyJet (Ljubljana) and Ryanair (Klagenfurt and Graz). The closest to Maribor is the Graz Airport: trains from the Graz Airport to Maribor leave six times a day, and the journey takes about an hour and a half.
By Car
You may reach Maribor region from Ljubljana in Slovenia through the A1/E57, Zagreb in Croatia via the E59, Budapest in Hungary via the E59/E65/E71/M7, and Trieste in Italy via the E57/E70. The cities of Maribor and Klagenfurt are only a few minutes' drive from the Austrian border. Maribor is accessible via the A9/E57/E59 from Graz, the B80/B70 from Klagenfurt, and the B80/B70/E66/B83 from Villach.
A vignette is necessary for Slovenia to utilize expressways and highways. The vignette is available at the border, at gas stations in Slovenia and its neighbouring countries, at Slovenian post offices, at some kiosks, etc.
By Train
The Maribor train station is located in the city's eastern section (at Partizanska Cesta 50). You can take the railway, for instance, from:
Vienna Meidling – Maribor (3 hr 30 m)
Graz – Maribor (1 hr)
Venezia Santa Lucia – Ljubljana – Maribor (9 – 10 hr)
Zagreb – Dobova – Zidani most – Celje – Pragersko – Maribor (3 hr 30 min)
Budapest – Vienna – Graz – Maribor (6 hr 30 min)
Budapest – Székesfehérvár – Veszprém – Hodoš  – Murska Sobota – Ormož – Ptuj – Pragersko – Maribor (6 hr 30 min), IC 246/247
Budapest – Murakerestur – Zagreb – Maribor (13 hr 30 min)
Prague – Vienna – Maribor (9 hr) 
By bus
The Maribor bus station is a short distance from the central train station in the eastern portion of the city center (at Mlinska Ulica 1). Several international bus routes pass via Maribor, including these:
By bike
The Pohorje Mountain's slopes and the attractive Maribor surrounds are covered in extensive bike routes, making it convenient to travel through the Maribor region by bike.
You can ride the Drava Cycling Route from Dobbiaco, Italy, through Lienz, Spittal, Villach, Dravograd, Rue, Maribor, Ptuj, and Ormo, Slovenia, ending at the Slovenian-Croatian border whether you're traveling to Maribor from Italy, Austria, or Croatia.
GETTING AROUND MARIBOR
On foot
Maribor is a relatively tiny town, making navigating the city center on foot simple. In Maribor, there are two visitor centers. One is at Partizanska Ulica 6a, near the Franciscan Church (the red-brick one). The other is located at Vojanika Ulica 8 in the Old Vine House on Lent, the town's historic district near the river embankment. The tourist information centers are open daily, offer free maps, and assist in making travel and lodging arrangements. Aerial photographs and street maps of the city center of Maribor can also be found mounted on the exteriors of buildings.
By bus
Maribor has an extensive bus network, but it is unnecessary unless you want to go to the city's outer districts. Bus No. 6 is the most interesting for tourists – it takes you under the Pohorje Mountain (lower cable railway station), hotels, apartments and campsites, wellness center, restaurants, and recreational activities: hiking, cycling, skiing, etc.).
Some bus routes are more consistent than others, arriving at stops every 15 minutes (arriving at stops every 30 – 45 minutes). The bus routes' typical operating hours are 05:00 to 23:30 on weekdays and 06:00 to 22:30 on weekends. Two circulator buses operate from Monday through Friday from 11:15 to 0:00. Bus tickets can be purchased at the bus stop, in kiosks, or at the central bus station for €1.10 for a single ride or in advance for 2, 6, or 20 rides (at Mlinska Ulica 1).
Due to inconsistent bus schedules and weak bus connections, local buses aren't the best mode of transportation for exploring Maribor's neighboring areas. Rental cars are advised.
By car
The most excellent way to explore the region of Maribor and its surrounding areas is by vehicle. As a result, you may take full advantage of the magnificent scenery and explore the wine slopes and Pohorje Mountain's secret caverns. Around Maribor, an excellent highway system connects the city with smaller communities like Ptuj, Murska Sobota, and Slovenska Bistrica. Regional roads are also kept in good condition.
Finding a toll-free parking spot in Maribor's city center during the workweek may be challenging. The chargeable " blue zone " covers most of the inner city. Alternatives include the Kolosej parking garage (€1.20/hour), the Forum parking garage (€1.00/hour), and the parking structure beneath Trgovski Central City (€1.50/hour). Typically, the cost decreases the longer you stay. The vicinity of Mestni Park can offer a fantastic opportunity to locate toll-free parking. In the shopping center Europark, free parking is available during the day. On weekends and after 17:00, parking in the blue zone is free.
By bike
Cycle paths are widely dispersed around Maribor. One of the better options for getting around Maribor, or at least the center parts, is by bicycle. The central train station, the cable railway station, the city hotels Piramida and Orel, the cultural center Pekarna – Magdalenske maze, and the tourist information center all provide bike rentals (under the Pohorje Mountain). The tourist information center offers a city map for cyclists who want to explore the city on two wheels and other cycling maps with routes across the Maribor-Pohorje region and up the Pohorje Mountain. On Pohorje Mountain, Maribor also hosts the yearly Mountain Bike World Championship.
By taxi
Taxis are available all the time. You can call for a cab or proceed to the taxi rank (Partizanska Cesta 50 in the central train station and along Svetozarevska Street next to Trg Svobode Square). Several taxi firms, such as Taxi Micro, Taxi tajerka, Taxi Plus, etc., offer services for a fair price (about €0.70/km).
BEST TIME TO VISIT MARIBOR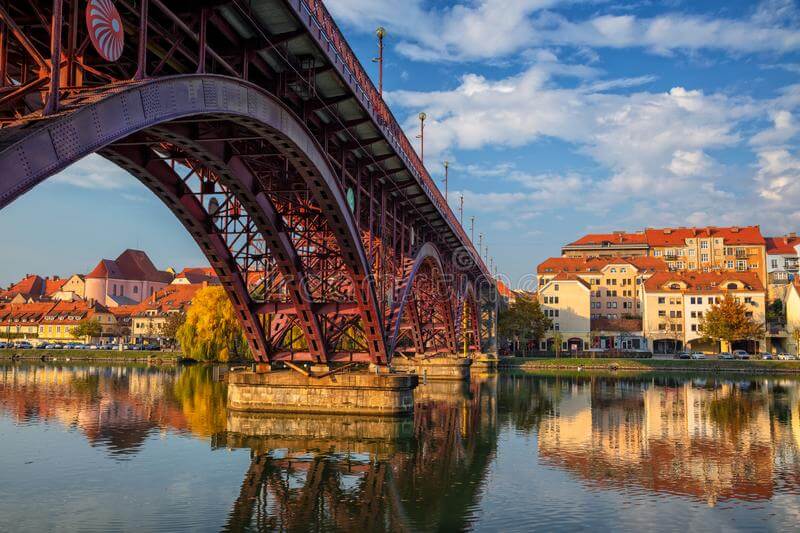 To figure out the best time to travel to Slovenia, first, you need to know about the country's climate. The region's climate can be continental, High Mountain, or Mediterranean. Therefore, depending on which part of Slovenia you want to visit, the time for it will vary.
Maribor Travel Experience by Season
Spring (March through May)
This season feels relatively cold because of the combination of humidity and temperature. Highs typically range between 73.5°F (23.1°C) and 49.7°F (9.8°C), getting warmer as the year progresses. With 5 to 9 days of considerable precipitation per month, rain is quite frequent. The best time for individuals looking for activities is spring because it is the busiest season for tourism.
Summer (June through August)
The middle of the year has quite pleasant weather with comfortable high temperatures. With 6 to 8 days of monthly precipitation, these months experience the most rainfall. The second largest travel period in Maribor is from June to August. These hotel rates may be a little higher at this time.
Fall (September through November)
Given the humidity and wind, the daily highs in the fall vary between 72.4°F (22.4°C) and 44°F (6.7°C), which will seem cold. Five to seven days each month, see substantial rain or snow. Due to the weather, tourism is generally quiet during these months. Therefore hotel rates may be lower.
Winter (December through February)
Maribor's current climate is too chilly for visitors from warm climates to enjoy themselves. The typical high temperature for this time of year ranges from 37.4°F (0.3°C) to 50.8°F (10.4°C). On average, it rains or snows four to five times per month. The least number of tourists visit during these seasons.
Top Sightseeing & Things to Do in Maribor
Maribor is a mountain city in the Eastern Alps with a long history of winemaking. Look no further than the Ancient Vine House, which, as its name suggests, is covered in an old vine, for evidence. It's an ancient vine with stems resembling antique tree trunks growing up in the building's exterior since the 1500s. This vine is located in the Lent neighborhood, which includes many of the city's oldest structures and backs up to the Drava River.
The Gothic church and the castle, which boasts an engaging museum, are two must-see attractions. Maribor is nestled among a cluster of peaks known for their wine production, the highest of which is to the south. It is home to Slovenia's biggest ski resort, whose night ski runs allow visitors to see the city lit up hundreds of meters below.
Let's explore the top sightseeing & things to do in Maribor:
Old Vine House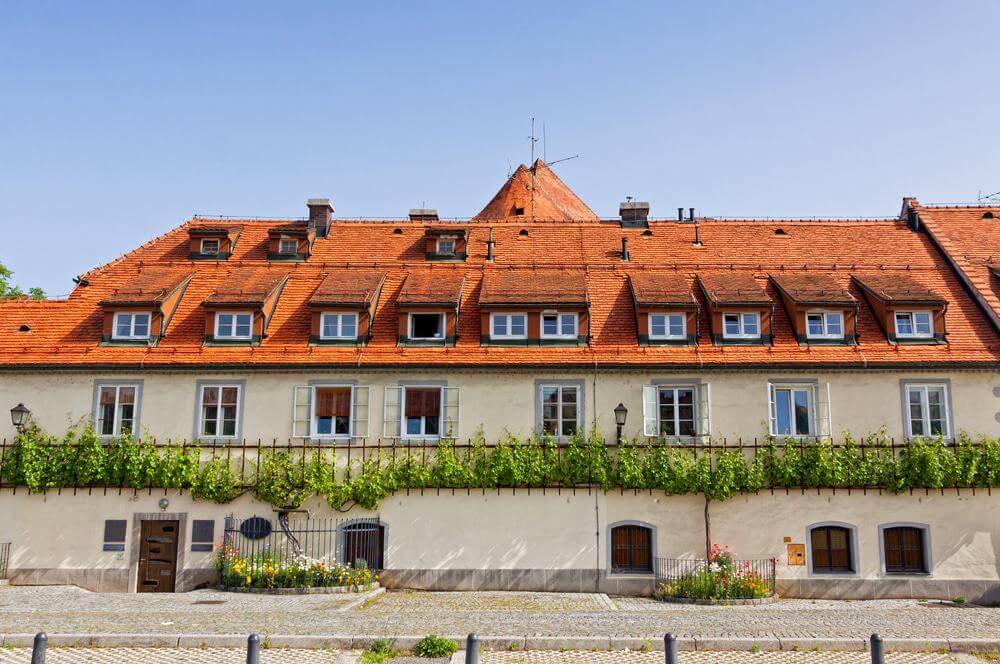 The oldest fruit-bearing vine in the world is found in the Lent neighborhood next to the Drava. This 440-year-old plant is enclosed by iron bars and grows along a trellis on the front of the antique building. The vine has been documented since 1657, and it is impressive to consider the tragedies it has endured, including the two World Wars and the phylloxera blight in the 1800s.
The vine yields 25 liters of wine annually, given in tiny bottles to significant guests, and bears "Blaufränkisch" grapes. For instance, when Bill Clinton visited in 1999, he was given a bottle. The structure holds a museum appropriately dedicated to Styrian wine and pays particular attention to this illustrious plant.
Glavni Trg
Glavni Trg, Maribor's main square, is your starting point for a quick tour through the city's history. A few major city landmarks include the Town Hall, the Plague Column, and a former casino. However, the majority of the structures in the square have an intriguing history. One was once the city's pharmacy and features apothecary motifs in panels on its exterior. Ludwigshof, a lovely Jugendstil home erected by an industrialist family in 1905, is located at the intersection with Potna Ulica. Friday morning farmers' markets offering seasonal fruit and vegetables, bread, and local specialties like the pastry gibanica have restored the square's market history.
Water Tower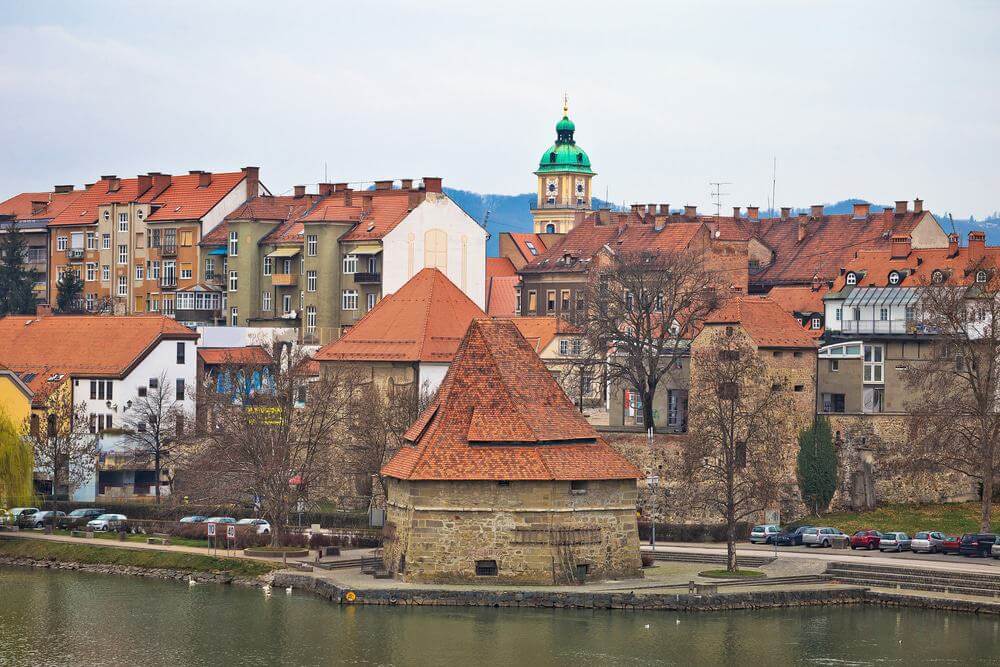 This stone tower, which stands by itself on the Drava, was once a part of Maribor's city defenses. It was raised when a new defensive system was developed to fend off Turkish raids in the middle of the 16th century. The tower was converted into a wine cellar after it lost its military utility and became Slovenia's first wine cellar. The purpose of the building hasn't changed in hundreds of years: on the upper floor, you can sample a few Styrian wines or get a recommendation and consume it at your leisure next to the river.
Piramida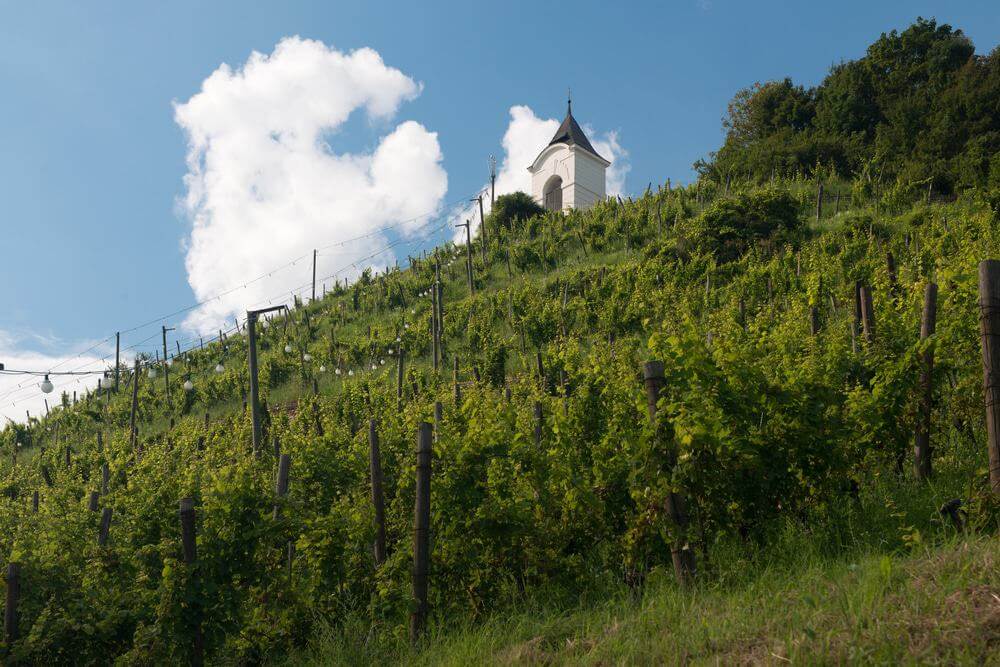 There is no more picturesque way to lose weight than climbing this hill's vine-covered slopes. If you walk quickly, you may get to the top of Piramida from the banks of the Drava River in less than 30 minutes. The hill served as the plinth for the Upper Maribor Caste until 1784, when it was demolished. It was replaced with an obelisk, and since this was struck by lightning and destroyed in 1821, a modest church has served as the hilltop's only memorial. Views of Maribor and the Pohorje Range can be enjoyed while peeking inside to admire the Virgin's statue.
Maribor Cathedral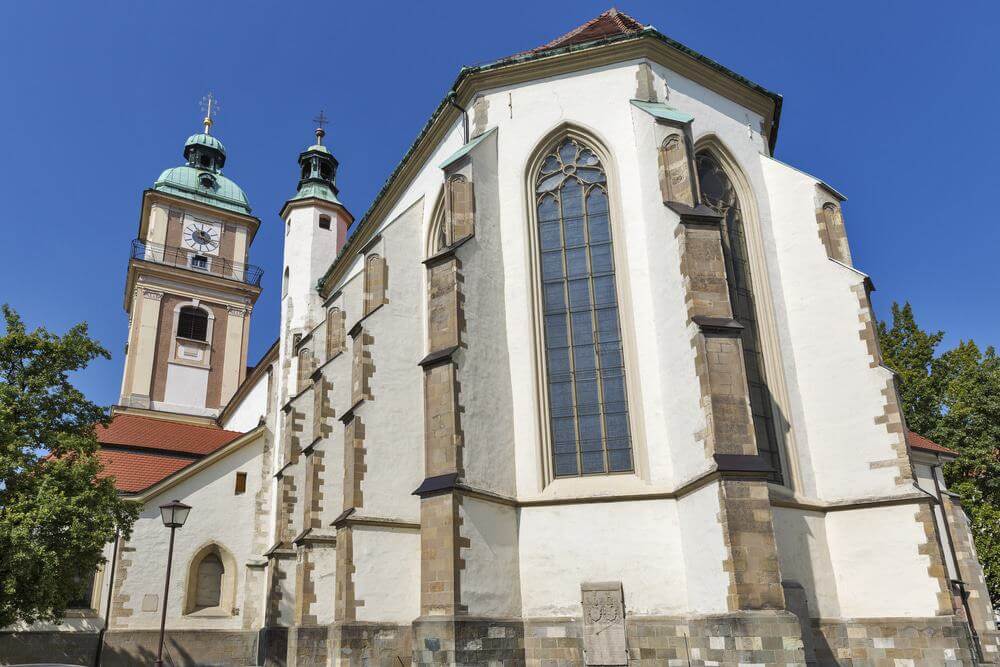 The oldest parts of Maribor Cathedral, which dates back to the 1100s, are Romanesque in design. However, a Gothic renovation occurred as the city's population grew dramatically in the Middle Ages. The apse's pointed arches, ribbed vaults, and lancet windows are all Gothic and made of the local yellowy sandstone, as is a large portion of the nave and chancel. The Baroque tower was added in the 17th century and is accessible in the summertime until 18:00. A new stained glass window was created to pay tribute to Pope John Paul II's 1999 visit.
Plague Column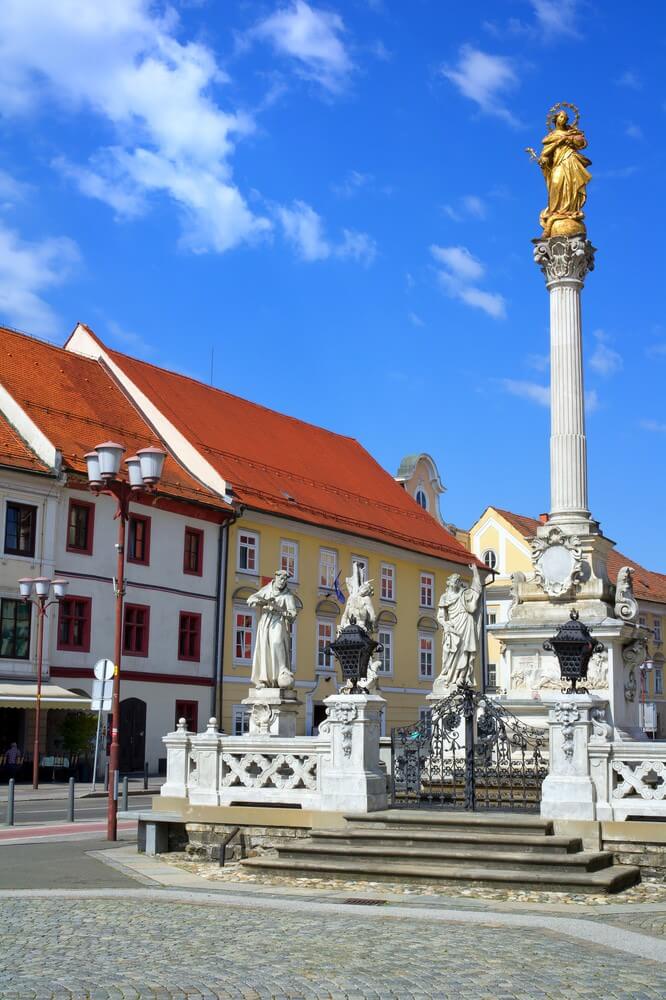 The Plague Column in Maribor honors a plague outbreak that decimated a third of the city in 1680 and is located on Glavni, Trg. The first memorial to the epidemic was built a year later, but this magnificent column replaced it in 1743. The Plague Column is considered one of Slovenia's most spectacular Baroque monuments because of the quality of its craftsmanship.
Josef Straub created the sculpture. Then added, a golden statue of Mary on the capital of a Corinthian column. The marble column is flanked by saint sculptures and is supported by a marble plinth with plaques and reliefs. These sculptures are copies since the originals are preserved in the Maribor Regional Archives, away from the elements.
Maribor Castle
Now, if you were looking for it, you wouldn't be at fault for walking by Maribor's castle. That's because it resembles a palace much more. The structure's defensive use was limited to temporarily bolstering the northern walls. Instead, it felt more like an elegant home that had seen centuries of repairs and additions. Frederick III of the Habsburgs started construction on the castle in the 1400s, and it underwent numerous changes until 1843.
Renaissance and Baroque styles are combined, and its upper floor's arcaded gallery is its most stunning feature. Consider visiting the regional museum, which is listed below.
Regional Museum Maribor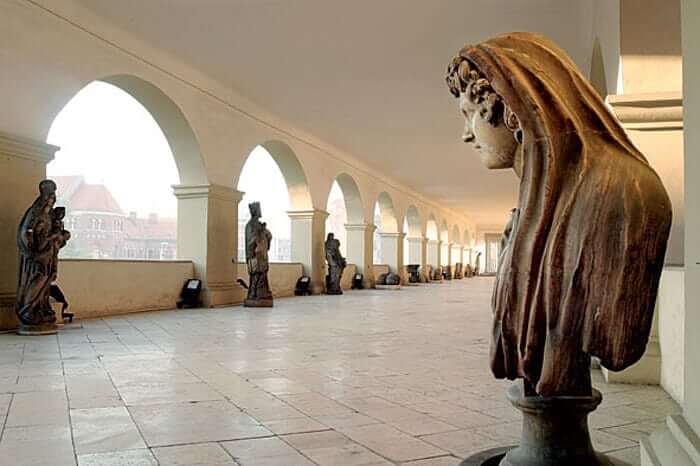 The ceremonial hall features spectacular ceiling frescoes framed by a riot of stucco design, and the opulent main staircase is two examples of the castle's once-famous interior opulence. The end of the 19th century saw the museum's opening, which describes the area's archaeology, ethnology, and cultural history.
The intriguing items in this large chest include a collection of Frankish swords from the 1200–the 1300s, Iron Age Celtic weaponry, Roman coins, ceremonial banners, 19th-century photos, and paintings from the 1300s. The pharmacy display features pots, scales, mortars, and cabinets dating back to the 1600s for a glimpse into early medicine.
Maribor Synagogue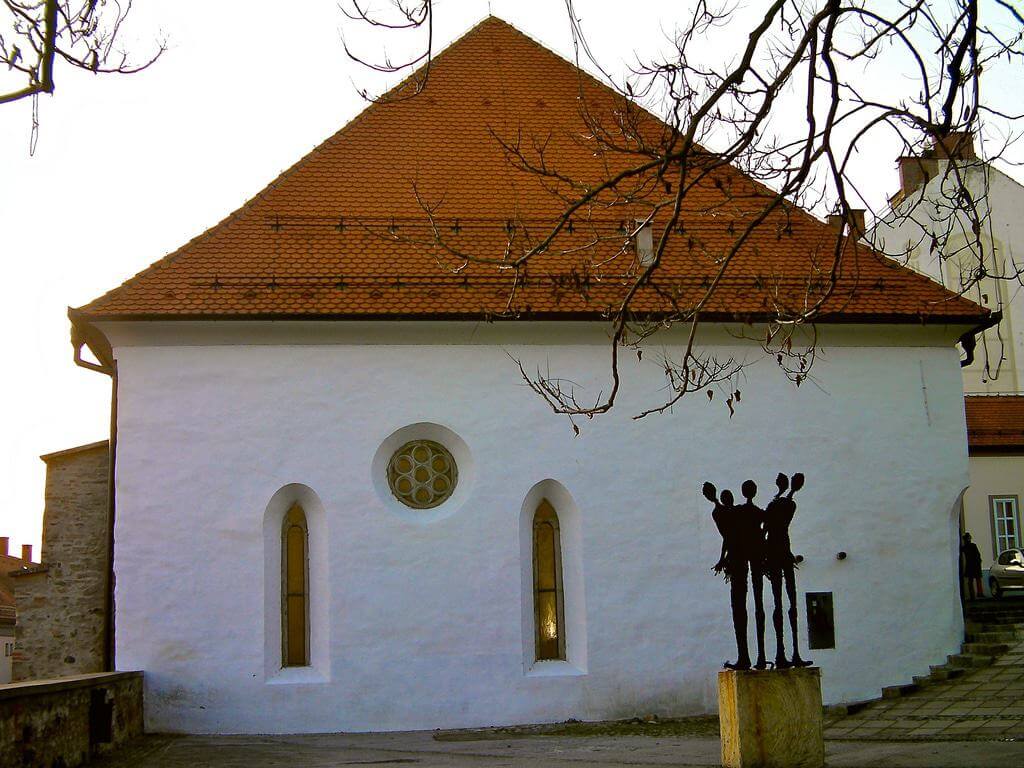 In what was Maribor's ghetto, idovska Ulica (Jewish Street) is home to one of Europe's oldest synagogues. The synagogue, built in the 1300s, is one of just two still standing in the nation. This now-solo building was once a part of an enclave that included a cemetery, a Talmudic school, ritual baths, and a residence for the local rabbi.
Following the 1497 Jewish expulsion from Maribor, the synagogue was used as a church, a military storage facility, a private residence, and, eventually, as a synagogue. This modest but historically significant structure is now a cultural hub and museum filled with items belonging to the city's Jewish community.
Mestni Park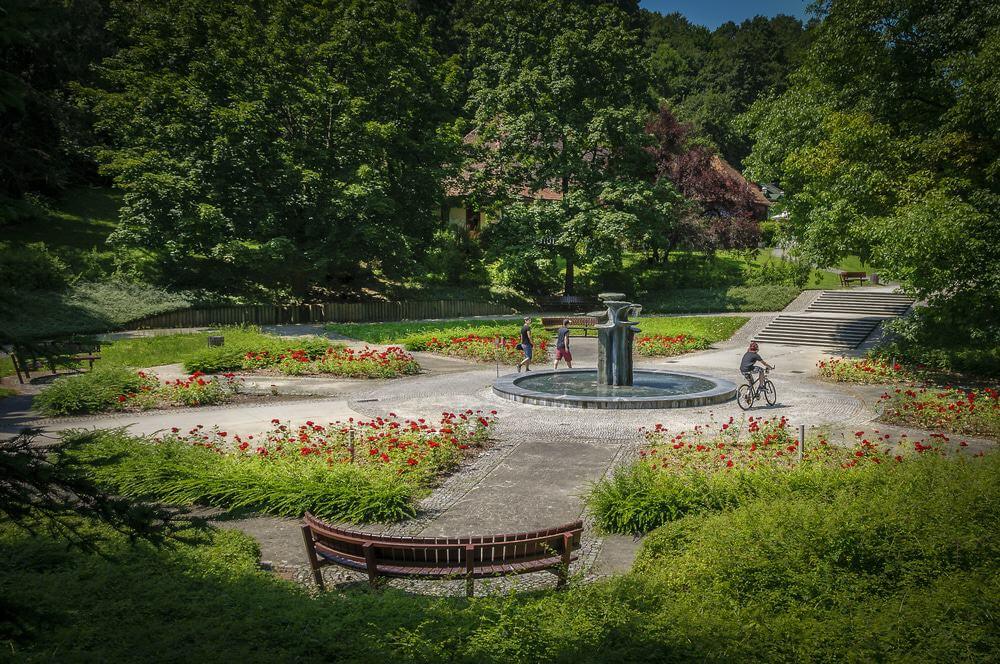 The bottom portion of Maribor's central park is integrated into the city's layout and features tree-lined avenues, sculptures, lawns, and a location for summer weekend concerts. Along with a terrarium home to poisonous and other reptiles, there is also an aquarium with more than 120 freshwater and saltwater species.
However, the park goes a few kilometers up the hill and into the surrounding farmland, where its forest meets vineyards. Three sizable ponds, the lowest of which has a majestic pavilion and boathouse on its south side, mark the transition to these wilder areas.
Skiing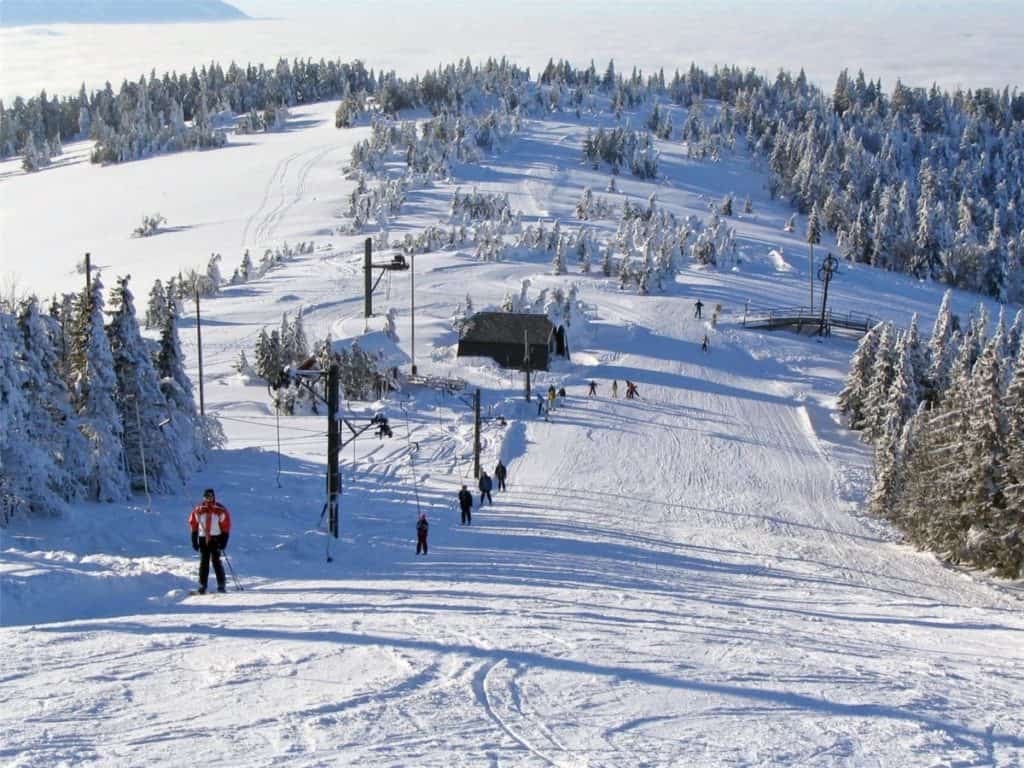 The largest ski area in Slovenia is located immediately south of Maribor, rising to a maximum elevation of more than 1,300 meters in the Maribor Pohorje range. There are 42 kilometers of ski runs spread across three distinct regions, more than half of which are blue runs with groomed pistes and gentle inclines.
If you're starting, good news.
Ten kilometers of these runs can also be skied at night on slopes that face north, providing a picturesque view of Maribor lit up. When the resort hosts the "Golden Fox" FIS Alpine Ski World Cup competitions for slalom and giant slalom, there is also top-notch competition on the upper slopes.
Lent Festival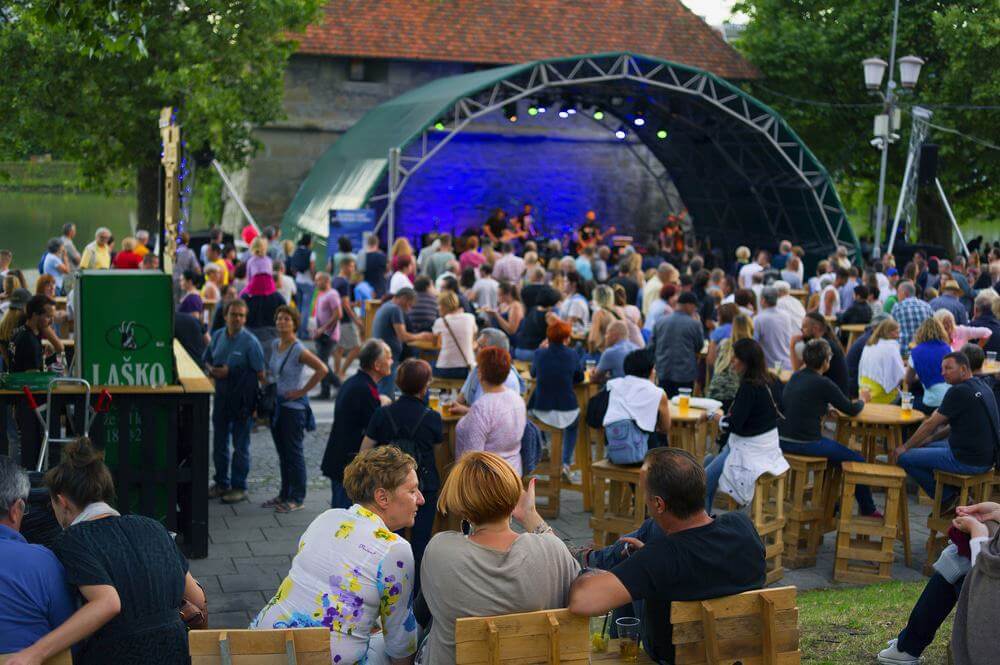 The name of this cultural spectacular refers to the riverfront neighborhood in Maribor's historic center rather than the season. The festival starts at the end of June when massive grandstands are built on the riverbank in front of the stages. Call it a cliché, but whether you enjoy opera, ballet, jazz, pop, rock, or dance music, there is something for everyone.
Kids can enjoy themselves, and numerous fringe events are happening across Maribor. Additionally, you will have plenty of opportunities to fully experience Slovenian culture at street food stands, theater productions, and folk concerts. When Lent Festival began in 1993, celebrities like Ray Charles and James Brown performed there, while Bob Geldof was the special guest in 2017.
Drava Boat Trip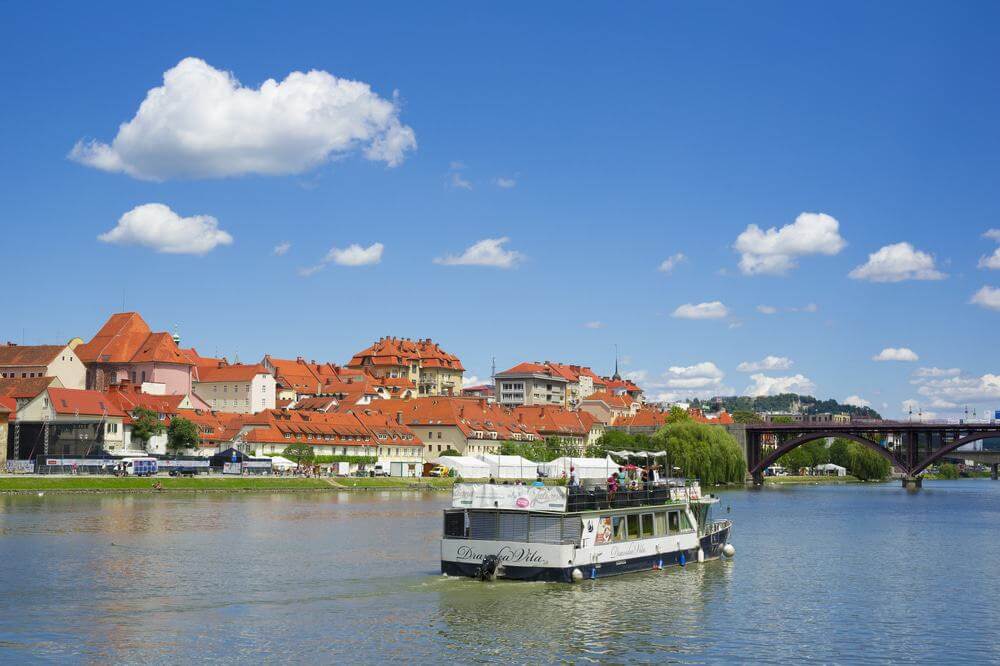 A leisurely Drava sail could be the perfect way to end a summer visit to Maribor.
You can enjoy a refreshing beverage while watching the Lent barrier and its ancient structures pass by on your boat. The Dravska Vila has an observation deck upstairs and a bar underneath. A 45-minute sail to the Studenici footbridge is available, or you can travel beyond the city to Maribor Island, a forested natural reserve with a recreation area in the middle. You can travel down the Drava on a timber raft to add extra authenticity to your river journey. The loggers of Maribor used these to move wood from the Kozjak and Pohrje ranges to Belgrade and Osijek.
Nightlife in Maribor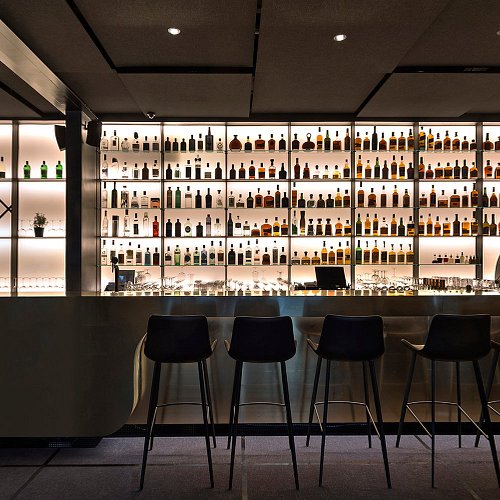 Maribor is home to many pubs because it is a university town, and in the spring and summer, these bars flow out onto the streets. While some are dispersed throughout the city's center, most are found along the Drava, particularly in the Lent neighborhood.
Maribor is not short of good nightlife; you will find a mix of dance, house, jazz, funk and Latino, theatrical performances, and literary evenings. For the more cultured, there's opera and ballet. Here are some places for you.
Niagara Lounge Bar
Patricks Pub
Pub Gambrinus
How to Find Budget Food Options in Slovenia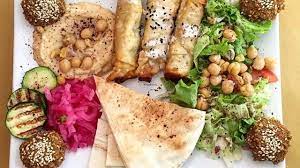 Slovenian food is reasonably priced; you could quickly get by at about €25 per day.
To save money and because eating European pastries for breakfast doesn't sit well with my lactose intolerance, I always search for accommodations that provide a complimentary breakfast. Fortunately, breakfast is generally included in the rates of Maribor's hostels and hotels. If not, expect to pay €6 for a typical Slovenian breakfast and coffee.
I spent an average of €11 for lunch while visiting Slovenia. A sandwich and a bag of chips or crisps will cost you about €6, a burger and a soft drink about €8, street food from a cart about €3-5, and a nice meal with a glass of wine about €15 in a posh restaurant. If you happen to be there, I highly suggest treating yourself to some delectable Bled Cake; it will cost you just €3 and one of the most excellent cakes you've ever had. And yeah, I should have dairy myself for it.
Dinner
As usual, dinners are more expensive than lunches. While visiting Slovenia, I spent between €11 and €17 on my nightly dinners. Around €14 will get you a pizza and a glass of wine; €22 will get you a steak and a glass of wine; €10 will get you a spaghetti dish; €4 will get you a cheap shawarma; and €11 will get you a burger and chips with a Coke.
Lunch
Making lunch my main meal while traveling is one of my favorite strategies for reducing food expenses. When prices are lower, I'll choose a more prominent main meal for lunch, and when I'm not as hungry at dinner, I'll pick a starter or salad because they are less expensive.
You'll be pleasantly surprised by the costs of drinking in Slovenia. In restaurants, I frequently pay between €2 and €3 for a glass of wine, while an average bottle of wine from a supermarket costs about €5. If you like beer, you should budget €2.50 for a pint in a bar or restaurant. A liter bottle of water costs €1.50. however, I advise bringing a foldable Vapur water bottle and filling it with Slovenia's delicious tap water before leaving home. Doing this will limit your use of plastic and save you money.
Last but not least, if you enjoy coffee, you can expect to pay €1.50 for an espresso or €2.50 for a good latte or flat white. If you enjoy cooking while traveling, buy groceries at the grocery stores, and regional markets are also reasonably priced. Typical costs for necessities include the following:
A loaf of bread: €1
A dozen eggs: €1.70
A kilogram of tomatoes: €1.85
A liter of milk: €0.80
A kilogram of potatoes: €0.75
A kilogram of chicken thighs: €6.50
Where to Stay in Slovenia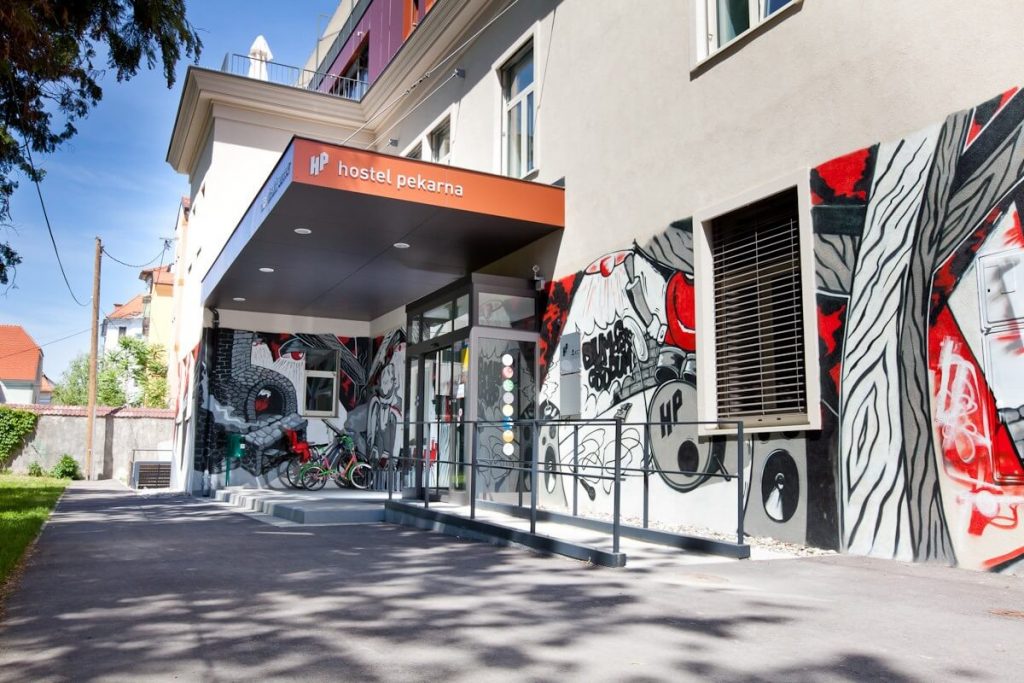 Slovenia has some excellent hostels in all the well-known backpacker locations nationwide. Here are a few of my top picks for lodging in Slovenia:
In Slovenia, you may find affordable lodging. Whether you're a backpacker on a shoestring budget, traveling as a couple on a moderately priced trip, or a luxury traveler searching for a fantastic value vacation.
Maribor's most central youth property was rewarded with five triangles, the highest level of YH categorization in Slovenia. Located in the city of Maribor (historical and cultural center). Private Rooms are furnished with private bathrooms, cable TV, and free WIFI internet connection. Dormitory Rooms have a private bathroom and free WIFI internet – bar/restaurant in the building – is open 24 hours a year.
Located in Maribor, on the right bank of the Drava River, in a quiet, peaceful area. Hostel M is surrounded by greenery and offers volleyball and a basketball court.
One of the most affordable ways to explore Slovenia is by staying in a hostel. I've stayed in several as I've traveled around the country, and I was impressed with the hostels' quality and the number of options to choose from. One of the more notable hostels in Slovenia is Hostel Celica Art (dorms starting from €17 a night), which allows you to stay in a converted jail. Every cell has been decorated differently, so you never know what your surroundings will look like, but you're guaranteed a unique experience!
If you're even more strapped for cash, you might want to look into possibilities that would give you free lodging while in Slovenia. If not, Couchsurfing is a website where you can meet people and stay on their couches. You've probably heard of it before. It is free and a terrific way to learn about Slovenian daily life, which is challenging while hanging out in a dorm with other travelers.
Other Choices
Another choice is housesitting, so you can visit Slovenia without paying for lodging. You can apply for housesits and look after locals' homes (and typically their dogs) for free after registering on the website. This is a fantastic choice for all types of travelers, but it works best for those of you who don't have set trip dates because it's uncommon to find a housesit that completely matches your ideal vacation dates. This isn't simply a cheap vacation option—I've had friends get housesitting jobs for everything from far-flung farms to massive castles!
Some of the best hotels to stay in Maribor and with the best reviews include the Hotel Maribor, the Hotel City Maribor, Hotel Orel, Hotel Piramida, and the Hotel Bau.
Maribor City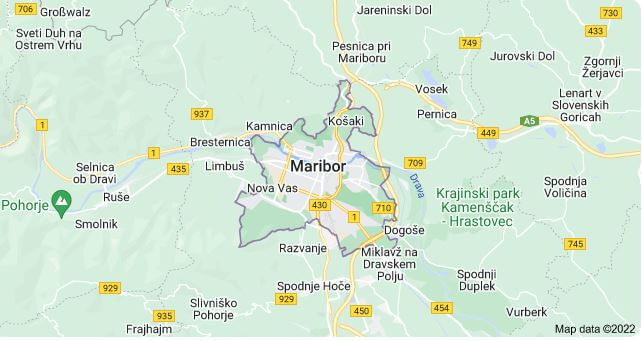 The card entitles holders to free services and discounts for catering, tourism, and cultural services inside the Municipality of Maribor. Three tourist cards are available, each with various services. (24, 48, and 72 hours) and lengths (24, 48, and 72 hours).
The card can be purchased online or at TIC Maribor. Users can buy a mobile version of the card. Simple to use and more environmentally friendly than the conventional plastic card.
From the visitor's viewpoint, the primary benefit of the tourist card is a better vacation because it saves time and money while also making it simple for them to discover as much as possible about the tourist spots. Additionally, it facilitates cooperation between numerous stakeholders, aids in developing comprehensive services, and makes it simpler for the tourist destination to lessen the adverse effects of the tourist season.
Parking

In the City Centre
The majority of parking places in Maribor's Municipality need payment. An automatic barrier limits access to public off-road parking places. Payment is made at the park's automatic pay station before leaving the parking lot. Parking in zones, i.e., designated parking places on or near city streets, requires upfront payment using parking meters or a parking app on a smartphone (SMS).
Parking Garages
Indoor parking is available in the following parking garages in the city center:
Budget Travel in Maribor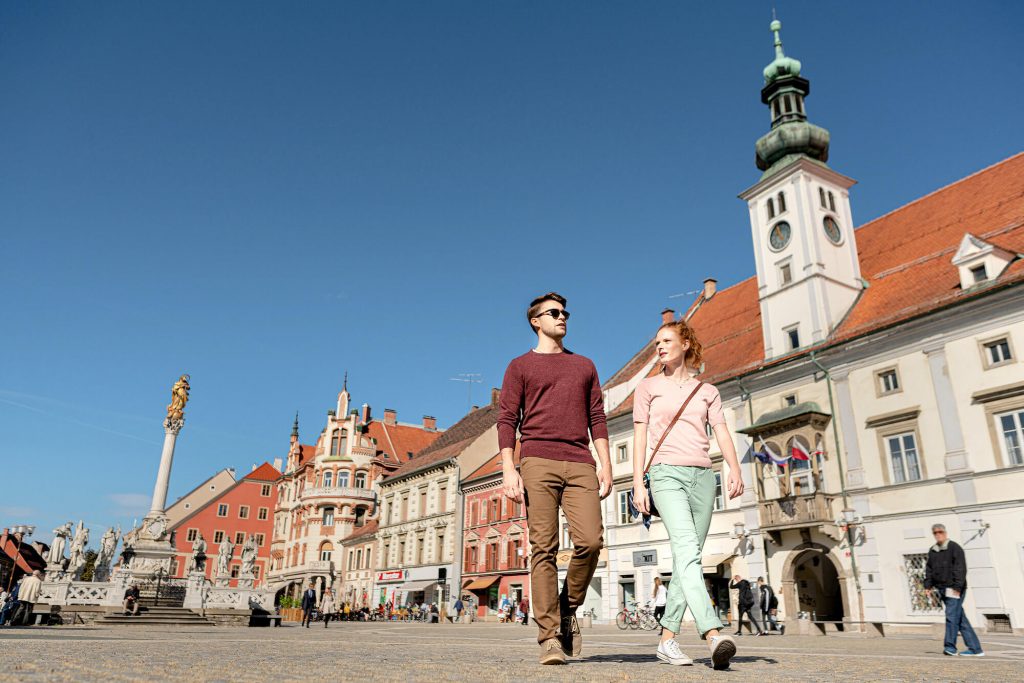 Budget travelers should anticipate spending about 50 EUR per day. This budget allows for lodging in a hostel dorm, preparing meals, consuming little alcohol, participating in cost-free activities like walks and hikes, and using public transportation.
You may stay in a private Airbnb room for about 120 EUR, eat out for most of your meals at moderate prices, drink a little more, take some castle tours, go biking or kayaking, and use taxis to move around on this budget.
If you have a "luxury" budget of at least 225 EUR a day, you can stay in a hotel, order takeout for every meal, use taxis to go around, participate in as many activities as you like, rent a car, and schedule some private guided tours. But for luxury, this is merely the ground floor. There are no boundaries!
You can use the chart below to estimate how much money you must set aside daily according to your travel preferences. Remember that these are daily averages and that you may spend more and some days less (you might pay less every day). We wish to provide you with a rough outline for creating your budget. The price is in EUR.
| | | | | | |
| --- | --- | --- | --- | --- | --- |
|   | Accommodation | Food | Transportation | Attractions | Average Daily Cost |
| Backpacker | 20 | 10 | 10 | 10 | 50 |
| Mid-Range | 50 | 35 | 15 | 20 | 140 |
| Luxurious | 90 | 60 | 35 | 40 | 225 |
Don't Forget Travel Insurance When You Travel to Slovenia
If you've read any of my past entries on Never Ending Footsteps, you know how strongly I believe in getting travel insurance before leaving home. I've seen way too many Go Fund Me campaigns from impoverished backpackers who are suddenly left stuck in a foreign country following a scooter accident, being attacked, or breaking a limb with no method of returning home or affording their medical bills. These expenses could leave you with a six-figure account at the end.
In short, if you can't afford travel insurance, you can't afford to travel.
Suppose your flight is cancelled, and you need to find a new flight. In that case, if your luggage is lost and you need to buy new belongings, if you suddenly develop appendicitis and need to be hospitalized, or if you learn that a family member has passed away and you need to return home right away, travel insurance will cover you in all of these situations. Your insurance will pay for your flight home to receive medical care if you become dangerously ill.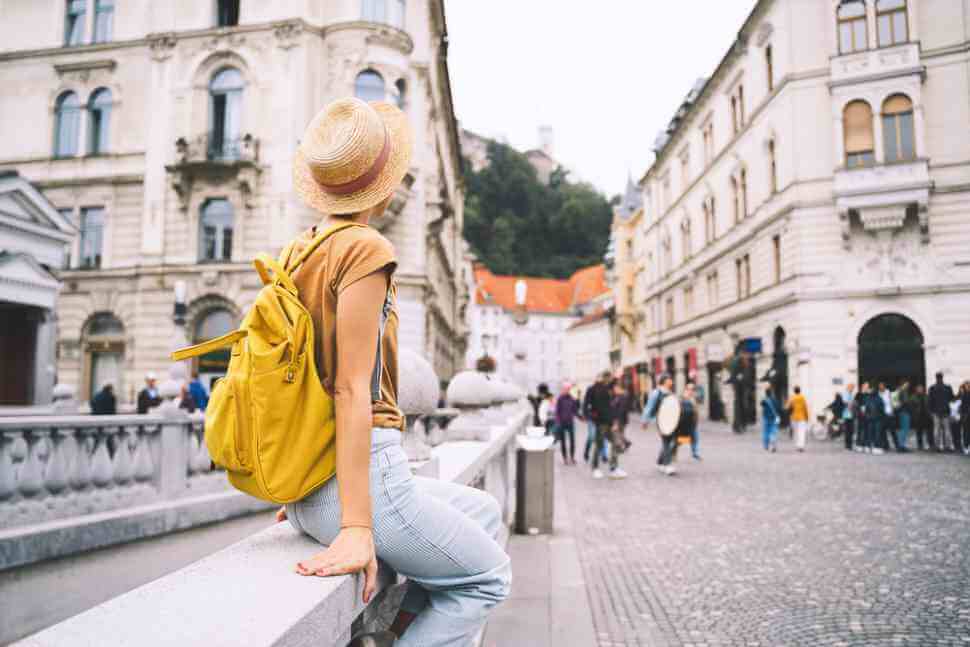 FAQ
1. Is Maribor worth visiting?
Despite being small, Maribor has a lot to offer. Stroll around the city's historic district and stop at the cathedral, some of which date back to the 13th century, or the Maribor Castle, built in the 15th century and now housing the Maribor Regional Museum.
2. What is Maribor known for?
The oldest vine in the world was planted in Maribor, sometimes known as "the city of wine," more than 400 years ago. Lent, a lovely riverfront area along the Drava River where ships used to be unloaded in the past, is the epicenter of the city's wine culture.
3. What country is Maribor in?
Northeastern Slovenia's Maribor, often known as Marburg, is a city on the Drava River near the Austrian border. Maribor, the second-largest city in Slovenia, is situated between the Slovenske Gorice hills and the Pohorje Mountains.
4. How many days do I need in Slovenia?
But it's advisable to budget at least four days in Slovenia for a well-rounded journey that includes Slovenian icons like Triglav National Park and Predjama Castle. Here are some fantastic itinerary suggestions that range from two to eight days—and even longer!
5. How old is Maribor?
Maribor was first mentioned as a castle in 1164, a settlement in 1209, and a city in 1254.
6. Is Slovenia in the European Union?
Slovenia has been a full member of the EU since May 1, 2004. Slovenian citizens can obtain jobs in other EU countries besides membership's financial and economic benefits. Travel throughout the EU has become significantly easier since Slovenia's accession to the Schengen zone.
7. What to do in Maribor in the winter?
The largest skiing center in Slovenia, the city ski slope of Maribor, is a gathering place for all kinds of snow enthusiasts – those on skis, boards, or sleighs. And after a day of diverse happenings, you get to enjoy even more diversity by the slopes.
8. How do I get from Maribor to Ljubljana?
The best way to get from Maribor to Ljubljana is by bus, which takes one h 40m and costs €9 – €20. Alternatively, you can train, which costs €6 – €8 and takes one h 50m.
9. What money is spent in Slovenia?
The currency in Slovenia is the euro. Each euro is divided into 100 cents.
10. Do Slovenians drink a lot?
Slovenia is a member of the region with the highest alcohol consumption rates globally, together with the European Union, Norway, and Switzerland. This region consumes twice as much alcohol as the rest of the world.
People also viewed: