Discovering the Hidden Charms of Luxembourg City
Luxembourg is one of the safest and wealthiest countries in the world and is known for its beautiful contrast between contemporary and medieval.
With a population of around 625,000 people and an area of 2,586 km², it is more like a large town than a country.
The city is separated into two levels, with the top half perched on a rocky cliff and the lower part snuggled in the Alzette River Gorge. Even if you only have a day or two, the town is worth seeing. The City has many exciting things to do, making it worthwhile to visit this small capital.
Because of the vast number of ancient buildings and fortifications, the City's Old Quarter has been listed as a UNESCO World Heritage site. That's not to imply you should spend all of your time in the city center; a short drive outside of town will take you to a variety of charming towns and villages with picture-postcard enclaves and old and gorgeous castles, which can be reached by rail.
Also, it is the only country in the world with a Grand Duchy as its official head of state. The country has a prime minister in addition to the Grand Duke.
Did you know Luxembourg has three official languages; French, German, and Luxembourgish?
Luxembourg History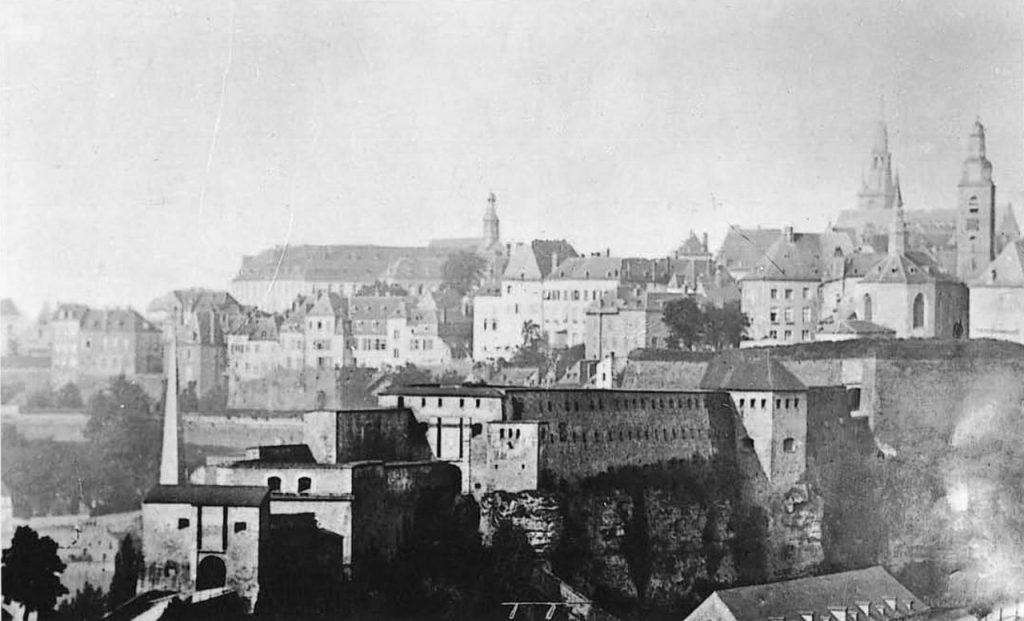 Luxembourg gained independence in 963, when Siegfried I, Count of Ardennes, exchanged some of his family estates with the Trier's Abbey of Saint Maximin monks for an ancient, allegedly Roman, fort known as Lucilinburhuc.
A town gradually developed around this fort, which became the center of a small but important state of enormous strategic importance to France, Germany, and the Netherlands. Luxembourg's castle, located on a rocky outcrop known as the Bock, was continuously enlarged and improved over the years by successive rulers, including the Bourbons, Habsburgs, and Hohenzollerns, making it one of Europe's strongest castles. The city was renowned as the "Gibraltar of the North" because of its formidable defenses and strategic location. It remained an independent kingdom of the Holy Roman Empire until 1354, when Emperor Charles IV elevated it to the status of a duchy.
1795
Six years after the start of the French Revolution, in 1795, Revolutionary France captured and annexed Luxembourg, incorporating it into the department of the Forest.
The Congress of Vienna in 1815, convened to settle conflicts and reconstruct the continent's political map following Napoleonic France's defeat, elevated Luxembourg to the position of the grand duchy and granted it to William I (1772-1843), King of the Netherlands.
The Great Powers (France, Britain, Prussia, Russia, and Austria) intervened in 1831, deciding that Luxembourg belonged to William I and became part of the German Confederation.
After WWII, Luxembourg abandoned its neutrality policy, becoming a founding member of NATO (1949) and the United Nations. It signed the Treaty of Rome and formed a monetary union with Belgium (Benelux Customs Union in 1948) and an economic alliance with Belgium and The Netherlands, known as BeNeLux. Luxembourg has been a staunch supporter of the European Union. The city was one of the six founding members of the European Economic Community in 1957 (later the European Union).
How to reach Luxembourg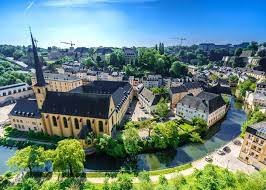 Luxembourg is a modest, charming tourist destination in Europe's core. The city is accessible via flights, long-distance bus services, trains, or vehicles.
By Plane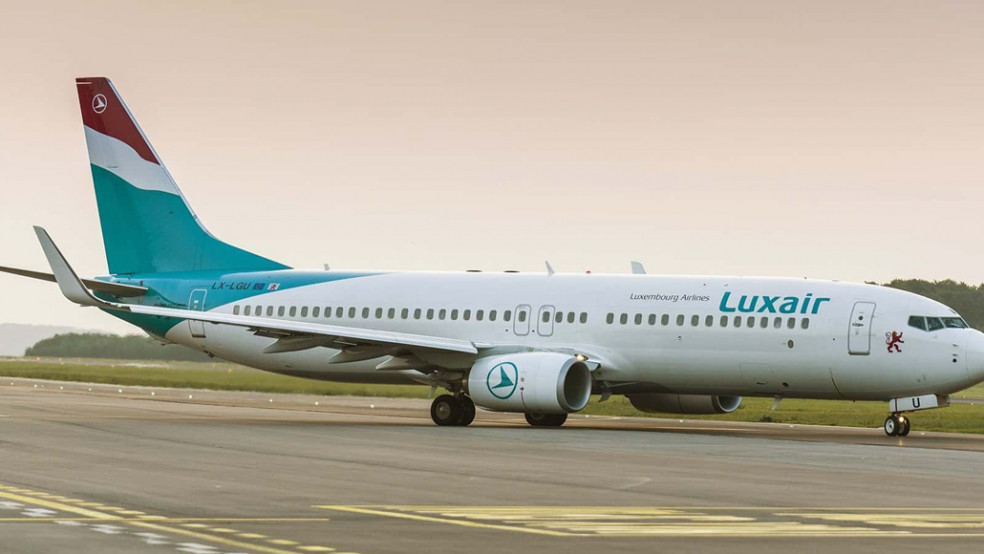 Luxair is Luxembourg's national airline, which offers direct flights to major European cities and many other destinations.
The airport of Luxembourg is Lux-Airport, located only six kilometers from the center of the capital city. It is home to more than a dozen airlines offering flights in and out of the city daily or several times a week.
Also, Luxembourg-city is close to other major airports in neighboring countries.
By Train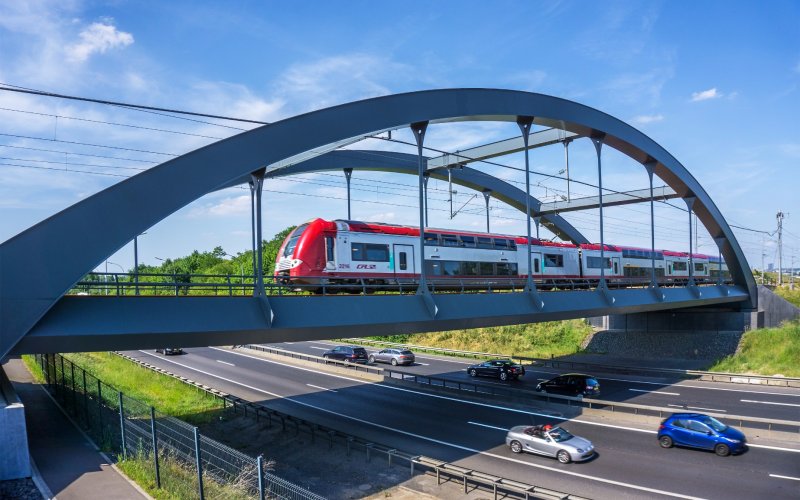 You can travel to Luxembourg by train from Germany, France, or Belgium.
The TGV Est high-speed train travels from Paris to Luxembourg in under 2 hours and 10 minutes. It offers numerous daily direct trains in each direction between the Paris Gare de l'Est and Luxembourg's capital city.
Other direct trains to France are Strasbourg (1 hour 33 minutes), Lyon (5 hours 30 minutes), and Marseilles (5 hours 30 minutes) (7 hours 42 minutes).
Luxembourg is linked to the European continent through various international railway lines. The capital city is connected to the TGV and ICE networks, and the principal train station is only a 10-minute walk from the city center.
If you plan to head to Luxembourg by train, get the information from CFL – Luxembourg National Railway Company link.
By long-distance bus
Bus services are available to and from various cities in neighboring countries, and they are frequently a more cost-effective option to rail and air travel. For example, FLiXBUS and Flibco are some long-distance bus services that operate in Luxembourg.
By car 
Luxembourg is located in the heart of Europe, bordered by Belgium, France, and Germany. It is connected to the rest of Europe by an outstanding highway network. Luxembourg's capital city is easily connected to highways A1, A13, A3, A4, A6, & A7.
Distance between Luxembourg to various cities in France, Germany, and Belgium are as follows;
France – Metz  – 60 km, Paris – 370 km, Strasbourg – 222 km
Germany – Trier – 48 km, Saarbrucken – 100 km, Cologne – 197 km, Frankfurt – 275 km
Belgium – Brussels – 225 km, Liege – 168 km, Antwerp – 245 km
Weather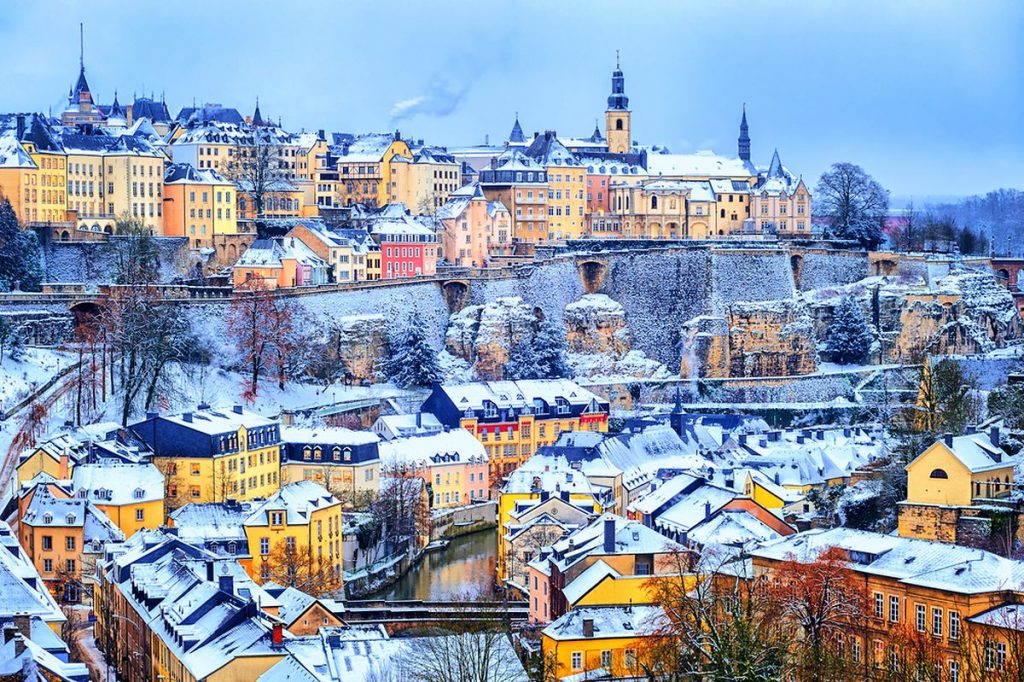 Luxembourg has a somewhat continental climate, with cold winters and warm summers. The impact of the Atlantic Ocean is visible, but the altitude, which varies between 250 meters (800 feet) in the far south and 500 meters (1,650 feet) in the north, makes it a bit colder than the plains, with more regular snowfalls in winter.
Winter, which lasts from December through February, is chilly and grey. Also,  more regular snowfalls are there. In January and February, the average temperature in the capital is about freezing or slightly higher.
When the Atlantic currents become stronger, there may be mild days that are cloudy and windy. The coldest month in Luxembourg is February.
Summer is mild or pleasantly warm, with cold nights and pleasant days. The hottest month in Luxembourg is the month of July.
Also, there is no shortage of cool and rainy days, but they combine with sunny and warmer days.
There may be brief, extremely hot spells growing more often due to global warming.
Luxembourg's autumn starts in September and ends in November. The weather is frequently dark, wet and rainy, particularly in the second half, and windy.
So, the best time to visit Luxembourg is from mid-May to mid-September, as The weather varies and the temperature is generally pleasant.
Landmarks of Stunning Luxembourg
Wander around the Grund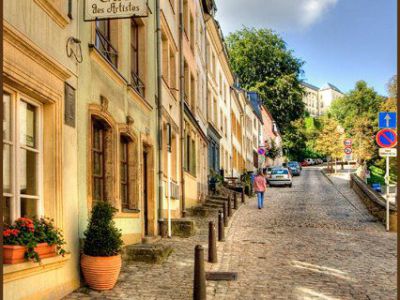 The Grund is Luxembourg City's historic area in the valley below the city center. The preserved village area is located on the banks of the Alzette River and is a lovely site to explore both during the day and at night. It is a gorgeous place to meander through and snap photos during the day, and the region is known for its nightlife in the evening.
This lovely neighborhood feels more like a tranquil European village than a bustling metropolis.
The Grund's calm pace does not imply that there is nothing to do there. On the contrary, it is one of the city's biggest nightlife districts. You can go café hopping, shopping, or dining at some of the best restaurants in town. Neumunster Abbey, one of Grund's oldest structures, also holds several concerts, exhibits, talks, and other cultural events throughout the year.
The Grund is easily accessible by walking downhill from the city center or taking the elevator.
See Casemates du Bock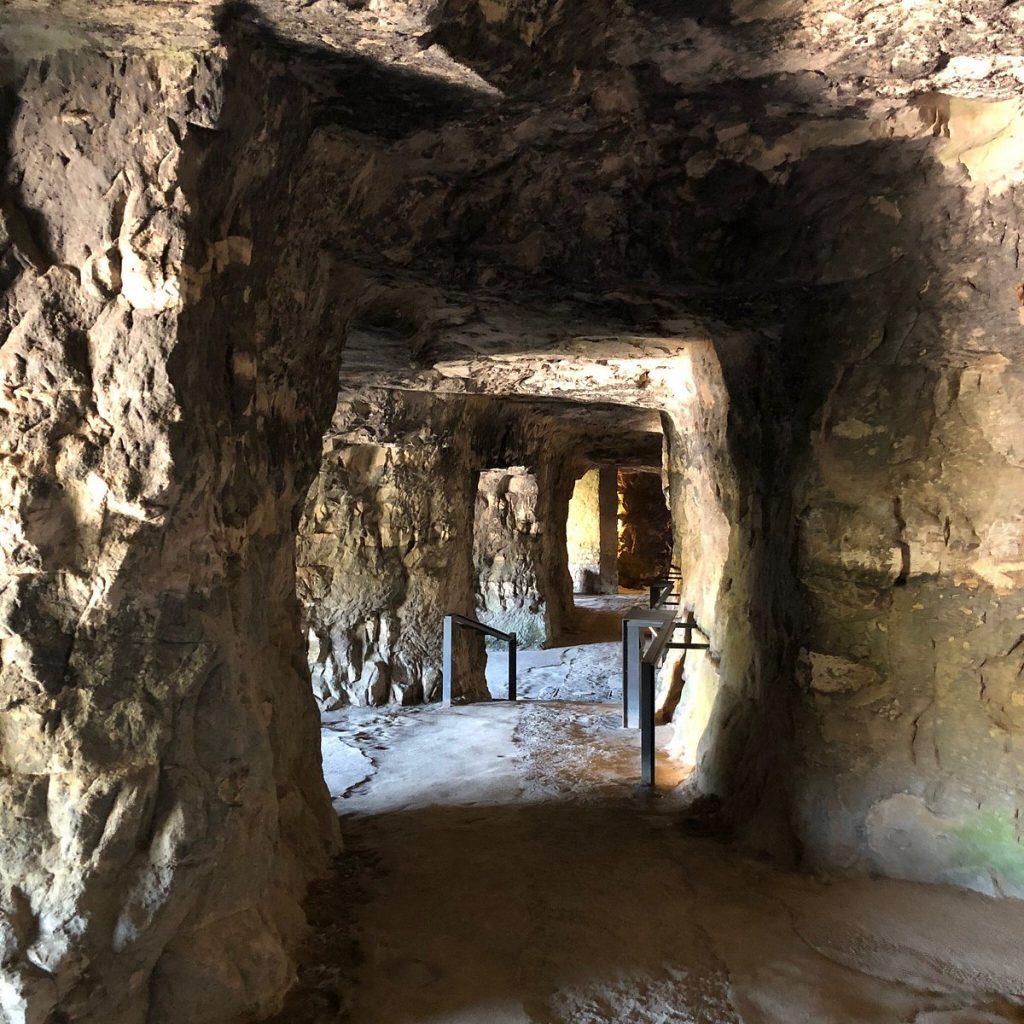 Casemates du Bock is a historical attraction in Luxembourg City and an essential part of the city's status as a UNESCO World Heritage Site. It is a 17-kilometer tunnel that runs beneath the ancient castle at Montée de Clausen. This underground tube, originally dug out of the rock by the Spanish beginning in 1644, served as a sanctuary for more than 35,000 people and thousands of soldiers during World War II.
The medieval Casemates tunnel includes atmospheric corridors, varied elevations, and spectacular rock stairways.
Visitors can see a piece of the fantastic 10-mile-long honeycomb of tunnels even if the castle is now in ruins. The views of the valley from the Casemates are likewise rather magnificent.
Visit Grand Ducal Palace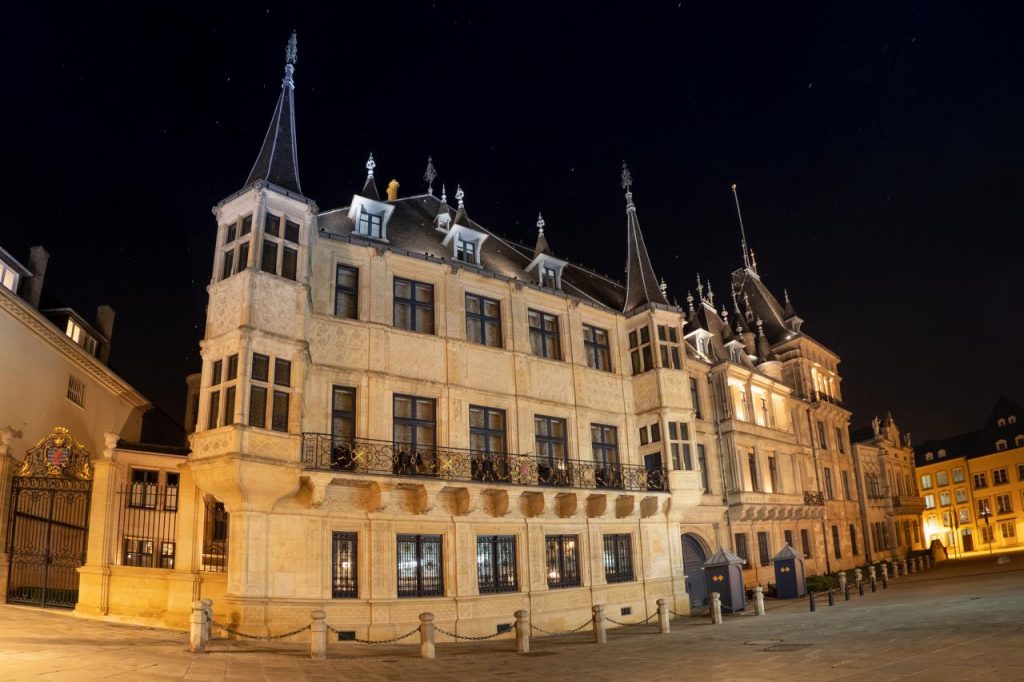 The Grand Duchal Palace, built in 1573, is located in the city's heart. It is the Grand Duke of Luxembourg's official residence, where he meets with foreign heads of state and conducts official business and functions. Although the palace may be seen from the outside all year, it is only open for guided tours from mid-July through early September.
Tickets can be purchased online for a behind-the-scenes glimpse into Luxembourg's royal family's house.
The Grand Ducal Palace in the City is a stunning example of Flemish Renaissance architecture from the 16th century. The palace's interior design is a fascinating mix of forms – an interplay of Romantic and Medieval Gothic styles with modern light designs by German industrial designer Ingo Maurer.
If you need a break after your visit, head next door to the Chocolate House for some of the greatest hot chocolate in town.
See the Golden Lady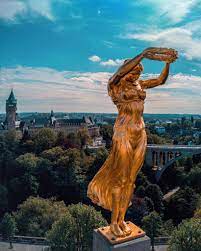 The Golden Lady, also known as Glle Fra or the Monument of Remembrance, soars over Constitution Square, and is a symbol of the Luxembourgish people's freedom and resistance, as well as one of the country's most recognizable landmarks.
This is a war memorial dedicated to Luxembourg's dead troops from World War I, World War II, and later conflicts. Thousands of Luxembourg soldiers volunteered to serve alongside the French army and Allied forces during both world wars and the Korean War, with approximately 2,000 fatalities.
She was built in 1923 now its remembrance has expanded to tribute to Luxembourgers who served in both World Wars and the Korean War.
A golden statue of Nike, the Greek goddess of victory, holds out a wreath at the top of the obelisk, her head looking downward toward a fallen soldier lying at the base of the pillar.
Don't miss the panoramic vistas of the valley and Pont Adolphe just behind her.
Take in the view at Constitution Square.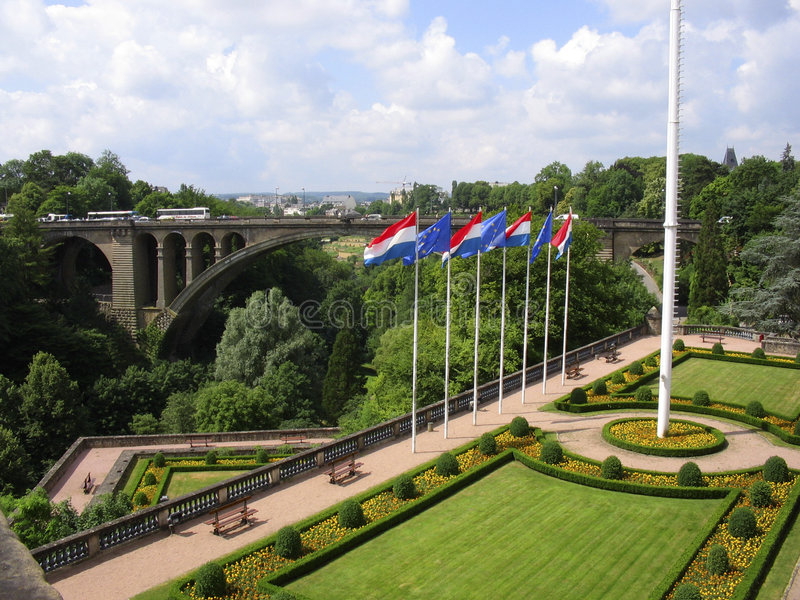 A charming garden erected on the site of a historic bastion or fortress wall is adjacent to the Monument of Remembrance, Constitution Square, or Place De La Constitution. The Luxembourg flag boldly waves in the center of the square, towering over the green landscape. The flagpole is flanked by meticulously kept hedges, flowerbeds, and grassy areas. Pont Adolphe and the Petrusse Valley may be seen from Constitution Square.
Visit the National Museum of History and Art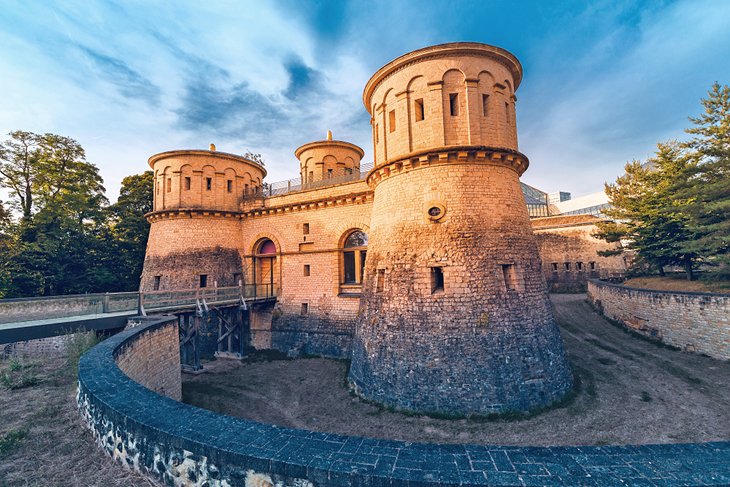 The National Museum of History and Art is one of Luxembourg's unique attractions, ranked as a must-see spot.
It's in the historic Fish Market district, previously the town center. The Museum holdings include art artifacts, archeological finds, furniture, tools, coins, arms, and historical documents, all housed in a spectacular new structure.
Much of the artwork focuses on the Gallo-Roman era and tells the tale of Luxembourg's social, religious, and intellectual lives from the 16th to the early 20th centuries.
If you enjoy modern art, you will not be disappointed; it contains works by a wide range of twentieth-century most notable painters. There are also English-guided tours, a research library, and an on-site shop.
Explore Bourscheid Castle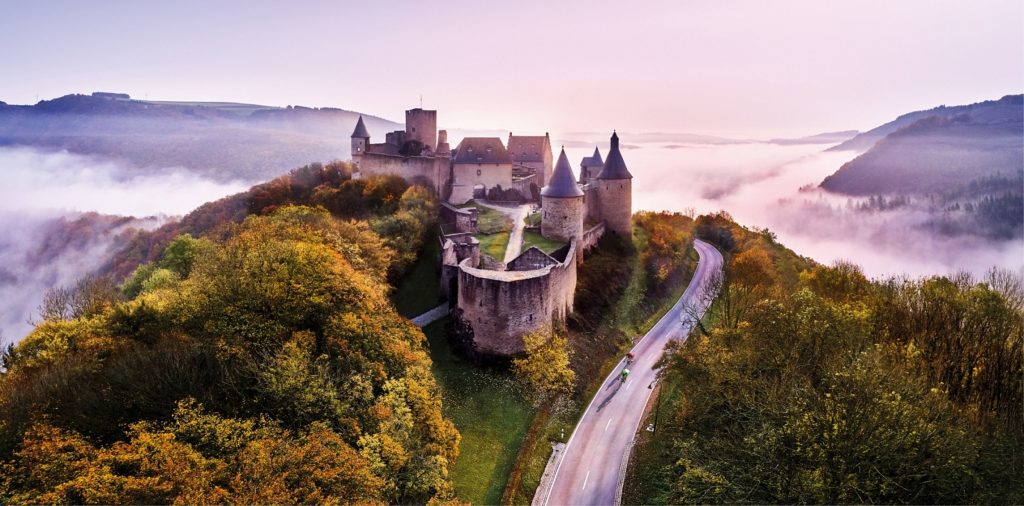 The settlement of Bourscheid is situated on a plateau with two rivers, the Wark and the Süre, running through it.
The remnants of the Bourscheid Castle dominate this part of the Ardennes. This fairy-tale-like stronghold, perched 137 meters above the Sûre, dominates the surrounding area. The castle dates from the 10th century and has been extensively repaired and is open to the public.
If you're searching for something intriguing to do at night, see the castle while it's lit up. It's one of the best free things to do in Luxembourg, and it's a genuinely unforgettable experience, especially from the village.
Apart from exploring this stunning Castle, the village also offers a variety of outdoor activities, such as hiking paths and other pastimes.
Admire the Notre-Dame Cathedral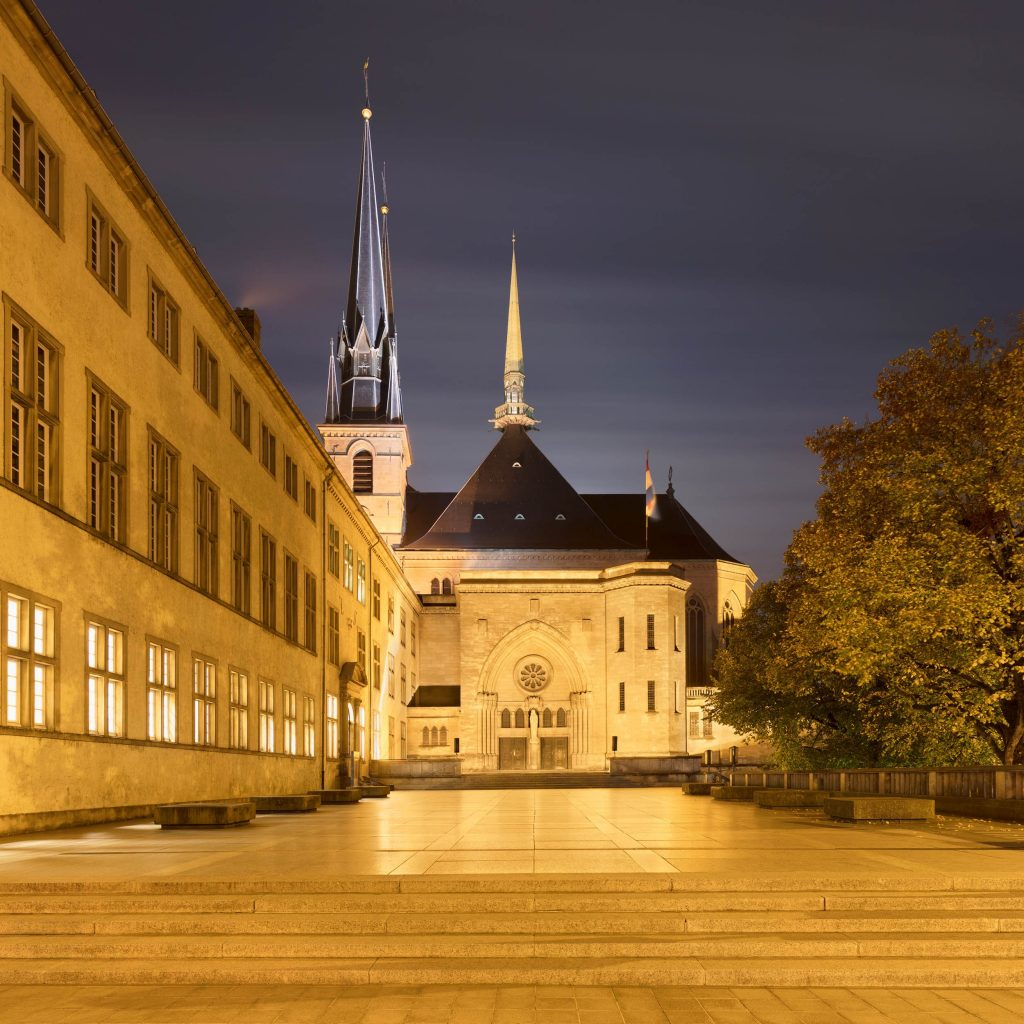 Jesuit Jesuits built the Roman Catholic Notre-Dame Cathedral (Kathedral Notre-Dame) in Luxembourg City in the 17th century and still stands proudly today, with several elegant Renaissance embellishments added later. The two original choir bays, dating from 1621, are notable elements of the country's only cathedral, as are its three distinctive towers, one of which, the west tower, dates from the same period.
The north gate, baroque in style and adorned in pretty stained glass from the 19th and 20th centuries, is one of the trademark elements here.
Along with historic architecture, modern sculptures and a famous small Madonna and Jesus statue are sitting over the altar.
The intricately wrought Baroque angels around the organ tribune, which dates back to the early 1600s, are equally noteworthy. The cathedral graveyard also has a sombre memorial devoted to the country's WW2 resistance movement and deportation victims.
Visitors who are Catholic should consider visiting the cathedral's Sunday evening service.
The Archbishop of Paris regularly attends this regular service.
Grand Duke Jean Museum of Modern Art (MUDAM)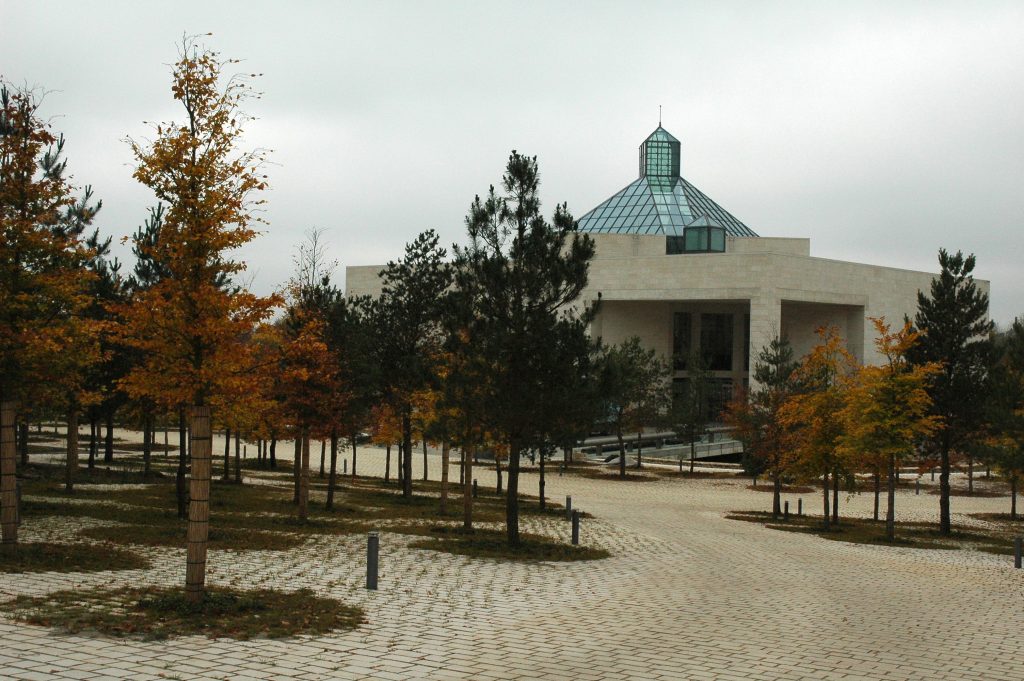 People may believe Luxembourg is rich in antique artefacts, but it also contains several cutting-edge museums, such as the Museum of Modern Art or MUDAM. The Grand Duke Jean Museum of Modern Art (Musée d'art moderne Grand-Duc Jean) is a must-see for anyone interested in modern art and ultramodern architecture. It is sometimes known simply as MUDAM, one of Europe's most important art galleries, with collections of contemporary art by world-renowned artists.
The museum has an area of 4,500 square meters and is erected on the ancient Fort Thungen walls, which date from 1732. MUDAM has received sustained praise for its big contemporary collection since its inception in 2006. Among the highlights are pieces by well-known artists such as Bruce Nauman, Andy Warhol, and Julian Schnabel, to name a few.
The entire museum complex is located in the Parc Drai Eechelen, which features a variety of sculptural works of art and magnificent views over Luxembourg's old town.
The museum has several visiting and temporary exhibits, including its great permanent artworks. A range of first-rate educational programs and workshops, including some tailored exclusively to children, are also accessible to the general public.
On-site, a large shop provides related items, souvenirs, and a fantastic café. English-language guided tours are also provided.
Scroll in Place Guillaume or Place d'Armes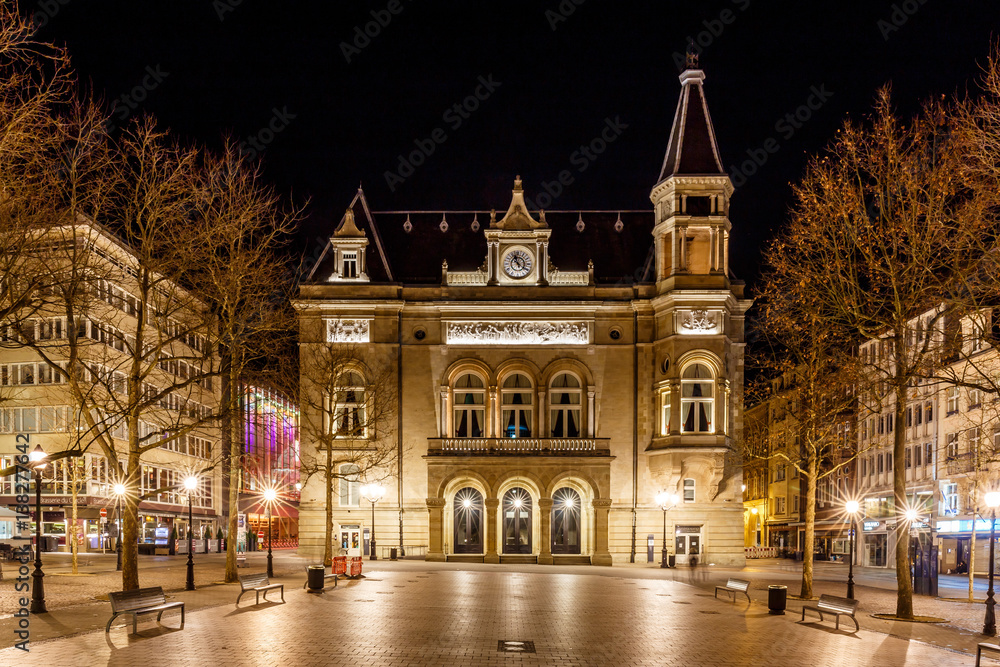 Place Guillaume, and Place d'Armes are Luxembourg City's two main squares and ideal spots for a bite to dine on a restaurant terrace. The Luxembourg City Hall is located on Place Guillaume. The eastern part of the square is dominated by a statue of the former Grand Duke William II riding a horse.
Place d'Armes is located in the center of Luxembourg City's pedestrian zone. Cafes, restaurants, and shops surround it. The plaza has a Christmas market during the holidays, and the square offers a flea market every other Saturday.
Check out the Dick-Lentz Monument at the west end of the square. The pillar honors two Luxembourg poets who composed the country's national anthem lyrics.  
Luxembourg Cuisine 
Luxembourg is a small country at the heart of Europe between France, Germany, and Belgium. Its cuisine is a mix of French, German, and Belgian cuisines.
Traditional Luxembourgish cuisine is heavily founded on local farming and food, including some of the best meats, sausages, cheeses, potatoes, cabbage, beans, and other seasonal products.
Other well-known products include wine, sausage, honey, cheese, and mustard, all of which are traditionally produced throughout the country.
Bouneschlupp and Gromperenzopp (Green Bean and Potato Soup)
Bouneschlupp is a classic Luxembourgish soup with green beans, potatoes, vegetable stock, onions, smoked bacon or Metworst, and various types of sausage with spices.
Bouchée à la Reine (Queen's Morsel or Filled Puff Pastry)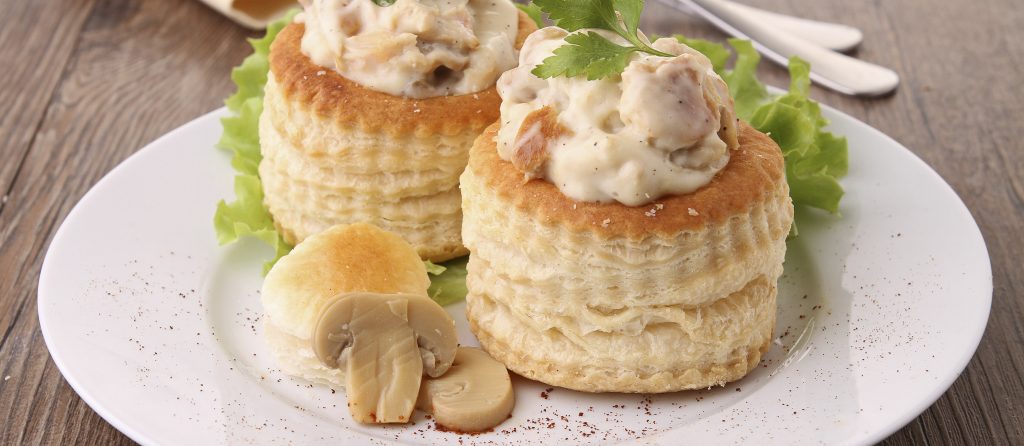 In Luxembourg, Bouchée à la Reine is particularly popular. It is a typical French appetizer named for the Queen of France and has its unique recipe in Luxembourg. It is a popular main course in restaurants. Bouchée à la Reine is a buttery vol-au-vent puff pastry with a creamy or béchamel sauce filling containing chicken and mushrooms.
It can also have inside a typical creamy veal sauce from Luxembourg. To make the pastry, cut two circles from rolled-out puff pastry, cut a hole in one of them, and stack the ring-shaped piece on top of the disc-shaped portion.
Then you bake it and fill it with the creamy chicken and mushroom or other ingredients before topping it with a small pastry lid. It goes well with a salad and wine.
Gromperekichelcher (Potato Pancakes)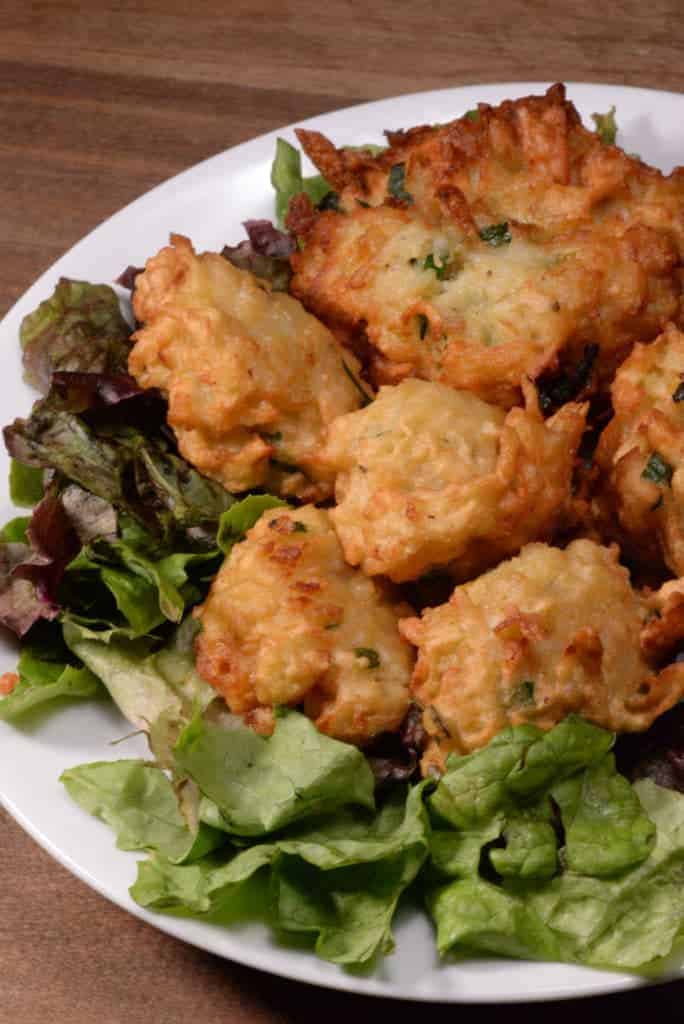 Gromperekichelcher is a potato pancake variation that is popular in Luxembourg. It is extremely popular during festivals and fairs throughout Luxembourg, including local festivals and markets, National Day and Schueberfouer, a massive fun fair, and Christmas Markets.
Serve warm potato pancakes with apple sauce and a sprinkle of salt or Luxembourgish mustard. Gromperekichelcher is a popular restaurant dish. Make them with potatoes, shallots, garlic, parsley, eggs, and flour. Seasoned with salt, pepper, and a touch of nutmeg before flattened and fried in hot oil.
Letzebuerger Kniddelen (Luxembourg Dumplings)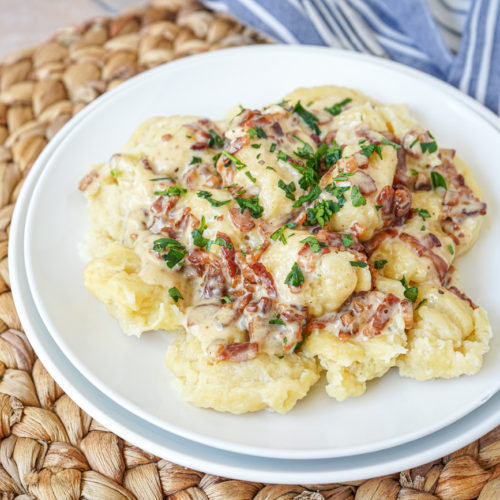 The original Letzeburger Kniddlelen is a popular dumpling. They're cooked in a creamy white sauce with smoky bacon (lardon). Kniddlelen is a mix of flour, eggs, and milk.
Pour the thick batter into boiling water, and once the dumplings rise to the top, they are done. Kniddelen can be served alone, in soups, as a side dish to stews and casseroles, or, more traditionally, with bacon. Other variations include smoked pork and wide beans in the savory sauce with bacon.
Serve kniddelen typically with an apple compote and pair it well with a glass of white Luxembourg wine.
Judd mat Gaardebounen (Smoked Pork and Broad Beans)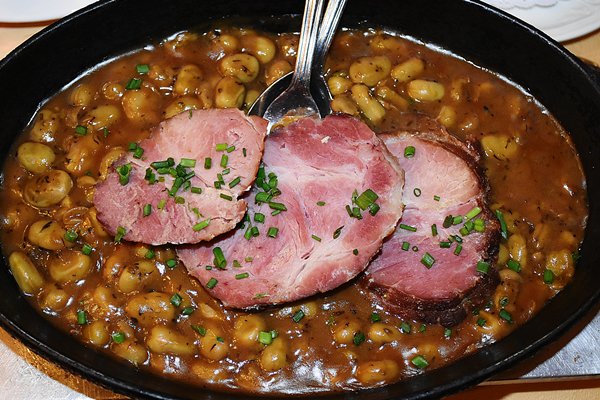 Prepare Judd mat Gaardebounen, a traditional Luxembourg meal, using Judd (smoked pork collar) and wide beans (unique Luxembourg beans). It is also possible to make it with smoked pork or sliced ham.
Cooking a pork collar in water with vegetables and herbs such as leeks, carrots, onions, celery, bay leaves, cloves, savory peppercorns, and wine results in this dish. After cooking, slice and serve it with a creamy sauce made of fresh cream, dry white wine, stock or water, blanched broad beans, bacon, and herbs. Accompany it with boiled or fried potatoes and Luxembourgish mustard.
This dish is generally made in early summer when the broad beans are young, soft, and fresh.
Luxembourg Nightlife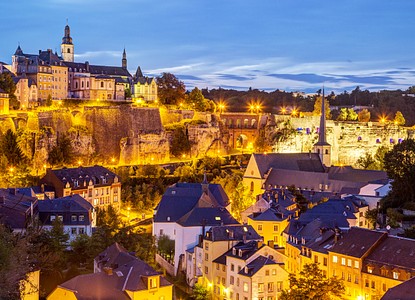 Luxembourg has many faces during the day, but going out in the evening until late at night is worthwhile. Night owls looking for music, ambiance, and intercultural interactions over a pleasant drink will not be disappointed in any areas. The busiest evenings are Wednesday, Friday, and Saturday. Terraces are packed in the summer.
The narrow streets around the Place d'Armes and the old city are full of bars and restaurants. Also, Grund and Clausen are the major targets of Luxembourg's nightlife, with numerous English and Irish bars. Terraces are packed in the summer. The "Rives de Clausen" district, built on the old industrial site of the breweries Mousel and Clausen, has become "the place to be" in town.
The Railway Station District is a busy district mostly famed for its bars, cabarets, and multicultural restaurants, and also Hollerich buzzes with some of the trendiest bars in town.
Try some restaurants, Bars, and cafes during your visit to Luxembourg city;
Where to stay in Luxembourg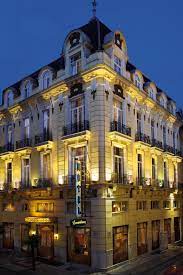 There are numerous accommodations in the city, and we highlighted the following accommodations as the best from the experiences of previous visitors;
Luxembourg city details
Luxembourg map
You can see the map of Luxembourg city from this link.
Getting around in the city
By Public Transportation – Bus, Train, and Tram
You can get around Luxembourg city by bus, taxi or tram.
You can get information on Public Transportation from this link, which will be useful for your trip to Luxembourg. The city has free, simple, and sustainable public transportation.
Luxembourg is the world's first country to offer free, nationwide public transport. Travelers no longer need to buy tickets for local, regional, and national trains, trams, or buses.
Only first-class travel on trains has to be paid for.
By Taxi  
Taxi drivers in Luxembourg are free to set their rates; there are no legally mandated fares. It's better to inquire about the fares in advance when ordering a cab online or over the phone. The rates can vary depending on some options.
You can try some of the following  cab companies ;
Rent a car –
Also, car rental companies are available for your transportation needs. Try some of the following car rental providers;
By Bike  
Also, you can rent a bicycle or walk around the city to experience the beauty of this city.
By your car – 
If you have any problems or questions when visiting Luxembourg in your automobile, you can get help from the Automobile Club of Luxembourg.
You may also find the Luxembourg traffic regulations at www.acl.lu.
Conclusion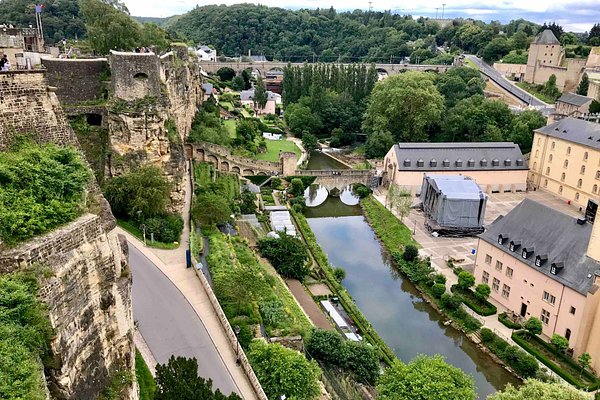 This guide will give you a perfect idea of the city as a travel destination, and we hope you enjoy your trip to Luxembourg with these details.
FAQs
For what is Luxembourg famous? 
Luxembourg is well-known for being the world's second richest country, a European economic powerhouse, and for producing award-winning wines. It is also well-known for its capital city, also known as Luxembourg, as well as its unusual network of underground tunnels and three national languages.
Does Luxembourg speak English? 
Luxembourg has three official languages: Luxembourgish, French, and German. English is widely spoken, as is Portuguese, which is spoken by around 20% of the population.
Is Luxembourg a good place to live? 
Luxembourg offers an excellent quality of life for natives and expats alike. A truly cosmopolitan country with a long tradition of welcoming residents from abroad, it is a great place to live and raise a family.
Is Luxembourg Dutch or German?
According to a 2018 Ministry of National Education research, 98% of the population speaks French, 80% English, and 78% German. 77% of the population speaks Luxembourgish.
What makes Luxembourg so rich?
Luxembourg is the wealthiest country in the European Union regarding per capita income, and its residents enjoy a high standard of living. It is a key hub for substantial private banking, and its finance sector is the country's largest contributor to GDP. Germany, France, and Belgium are the country's biggest trading partners.
Is Luxembourg friendly for foreigners?
Yes, the locals are friendly to all tourists and expats.
What is the main religion in Luxembourg?
The vast majority of the countrymen are Roman Catholics, with approximately 90% belonging to this religion. Protestants, Jews, and Muslims are among the other religions represented.
People also read: