Explore the capital of Slovenia
Because of its wealthy history and culture, many tourists are attracted to this small city. As a friendly city with many offers to visitors, Ljubljana is increasingly popular as a European tourist destination. Even Though it is one of the smallest capitals in Europe, Ljubljana is well known by meeting planners as it is a safe, green multilingual, and hospitable city. Ljubljana's population is around 275,000, and this is the only city with a population of more than 100,000 in Slovenia.
It is also a cheaper country than many other cities in Europe.
History of Ljubljana
The mythology said that the city was founded by the Argonauts 3,000 years ago, as they passed through the area with the famed golden fleece. The city has had periods of Roman, Slavic, and Habsburg occupation over the years, and each of these groups has left its marks. It is known that Ljubljana was an important spot during numerous battles.
Slovenia joined the Kingdom of Serbs, Croats, and Slovenes after World War I and then the Kingdom of Yugoslavia. Ljubljana was invaded twice during World War II: first by Fascist Italy and later by Nazi Germany.
Slovenia, which had been a part of Yugoslavia during the war and had its capital in Ljubljana, attained independence in 1991.
How to get to Ljubljana 
Halfway between Vienna and Venice, Ljubljana is situated at the crossroads of important European transportation corridors. The Joe Punik international airport is only a short drive away, making it conveniently accessible by car, train, and air.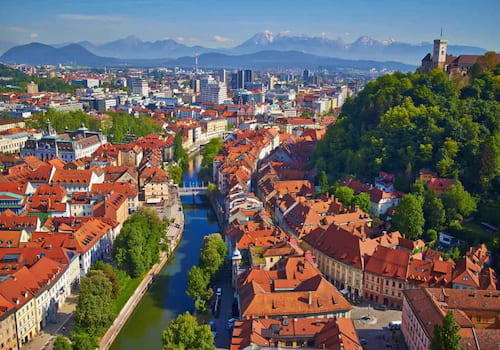 By Plane
You can reach the city by plane easily. Regular direct flights serve more than 20 European cities. The Airport is 26 kilometers from the city center and 20 minutes by road.
Also, you can fly to an airport in neighboring countries and then take a transfer to Ljubljana.
Check with GoOpti and Namago shuttle transport services to have shuttle transfers from Venice, Treviso, Trieste, Bergamo, Graz, Zagreb, and several other cities at very reasonable prices.
By Train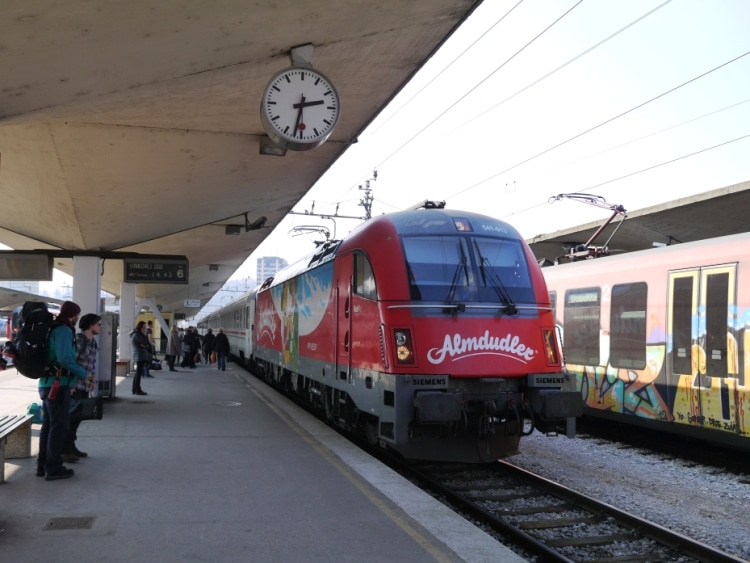 The Ljubljana Railway Station connects Ljubljana to many European cities like Trieste, Frankfurt, Munich, Zurich, Prague, Vienna, Graz, Budapest, Zagreb, Salzburg, Villach, Rijeka, Venice, Sarajevo, and Belgrade. These international railway connections are fast and reliable. This is a low-cost transport method to go to Ljubljana.
You can find train schedules and other information from this link.
By Bus
The Bus Station serves main European cities like Trieste, Venice (Mestre, Marco Polo Airport), Florence, Milan, Klagenfurt, Vienna, Munich, Dortmund, Paris, Budapest, Zagreb, Sarajevo, Belgrade, Nis, and  Sofia. You can purchase the ticket at the counter of the Station or online from the Bus Station website.
By road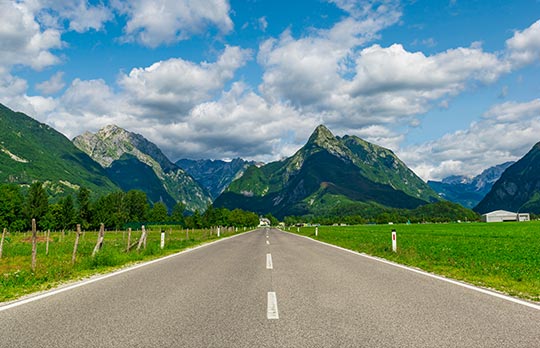 Motorway access from neighboring countries is easy as it is located at the crossroads of Slovenia's most important road routes.
However, if you are trying to go to Ljubljana by road, don't forget the followings;
The Ljubljana bypass and other Slovenian freeways require the purchase of road tax vignettes. Special vignette signs identify the roads where the vignette is necessary.
Vignettes are available for purchase at gas stations along the borders of Slovenia's neighboring nations, as well as at most newspaper kiosks, gas stations, post offices, and the branch offices of the Automobile Association of Slovenia (AMZS) and other vehicle clubs.
Ljubljana Weather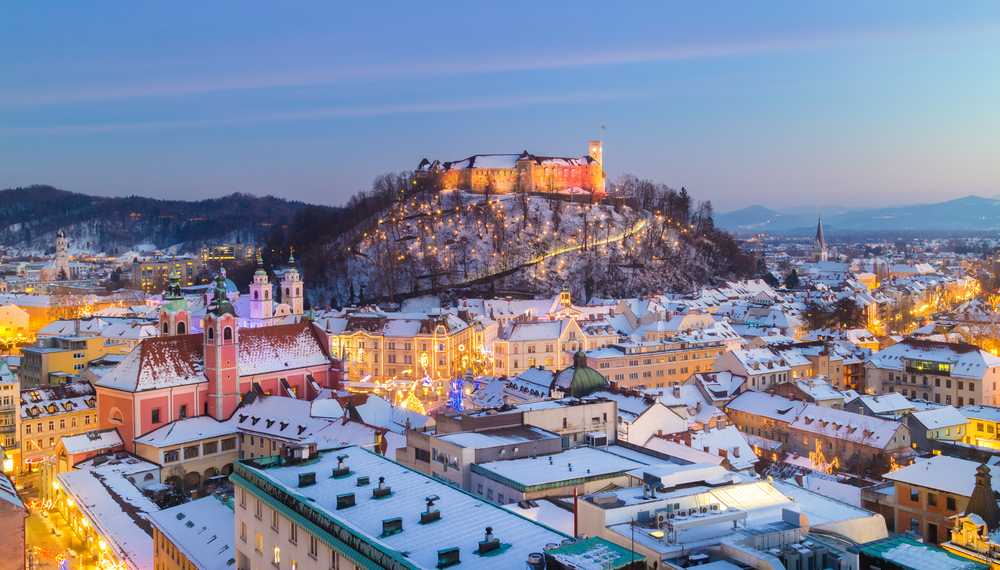 Ljubljana has a continental climate with cold winters and mild summers.
Often snowfalls can be seen in Ljubljana when it's wintertime. Frequent fogs are in Ljubljana when the weather is stable. Cold waves from Russia can bring intense frosts. During the most intense cold spells in the city, the temperature can reach -20 °C.
In summer, though the sun shines quite often, there is a moderate amount of afternoon thunderstorms. There can be short heat waves, with peaks of 35 °C
The coldest month is January, and it is 1.2 °C. The warmest month is July in the city, and it is  21.9 °C.
So, the best months to visit are April to May or September to October.
During that time, the city has pleasant weather for sightseeing, even if it is occasionally cold.
Cheaper accommodation rates are available during these spring and fall months than the peak summer season and the busy winter holidays.
Landmarks in Ljubljana
Ljubljana has many attractive sights, beautiful monuments, expansive parks, and the Old Town, which has many medieval, neoclassical, and Baroque buildings. Following are the landmarks that you can visit during your trip;
Ljubljana Castle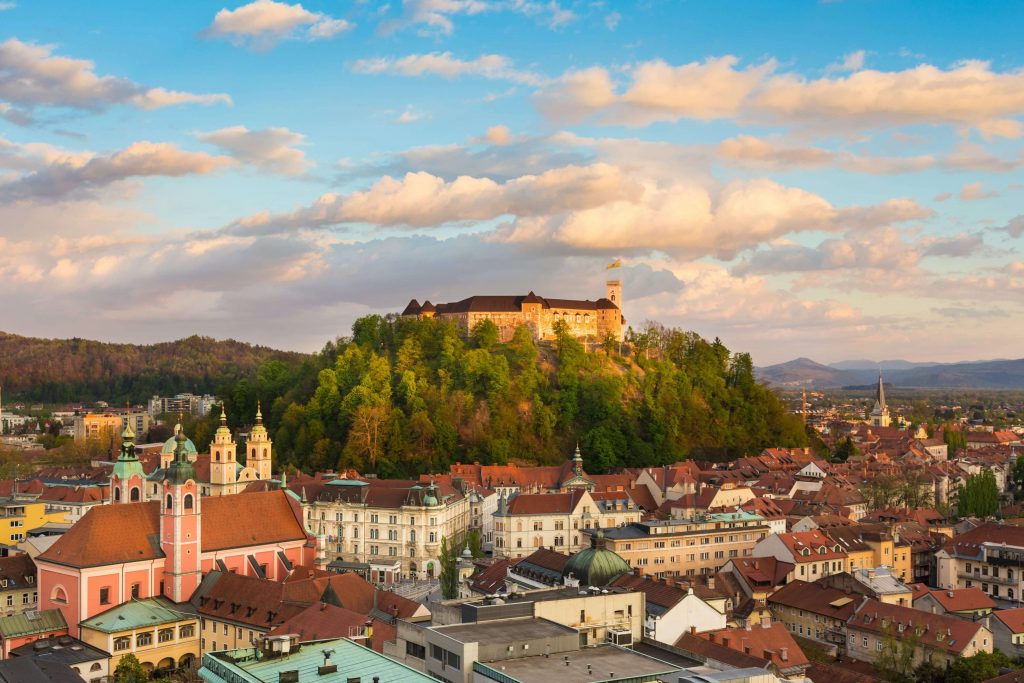 This is the key landmark of the city, located on a hill.  The castle was built in the eleventh century, and its present appearance was given in the fifteenth century.
When you visit the Ljubljana Castle, you can see the exhibition of Slovenian History and can visit the Puppet Museum. You can admire the stunning views of Ljubljana and its surrounding area. Also, you can visit several historical rooms in the Castle, such as the Chapel of St George, the Prison, and a video presentation room called Virtual Castle.
The architecture of Joe Plenik
The most well-known Slovenian and international architect of the 20th century was Joe Plenik. He is a master of art nouveau and modernist design.
If you are a  lover of experiencing the world's architecture, You can admire the following masterpieces of Joe Plenik;
Triple Bridge
The Church of St. Michael on the Ljubljana Marshes
The covered market buildings on the Ljubljanica River embankment 
Ljubljanica Sluice Gate
Cobblers' Bridge
The National and University Library
Trnovo Pier
Things can do in Ljubljana
 Walk around the fabulous city center
The best way to explore is on foot, especially through the narrower streets and alleyways around Ljubljana's old town.
The Ljubljanica River cuts the city in half as it runs through it. So, take a stroll along Cankarjevo Nabrežje, the Ljubljanica River's pedestrian-only strip. Numerous locations are along or close to the river.
The core is there. Thus, this is the ideal approach to experiencing the city and its vibe.
The historic pedestrian streets and squares Mestni trg, Stari trg, and Gornji trg are just one block away from the river. Here you'll find some of the best restaurants and boutiques, and you can have breakfast or have a coffee or drink while observing this lovely city.
Also, we suggest you go for a boat cruise on the river and relax at the vibrant riverside.
Explore the beautiful bridges of Ljubljana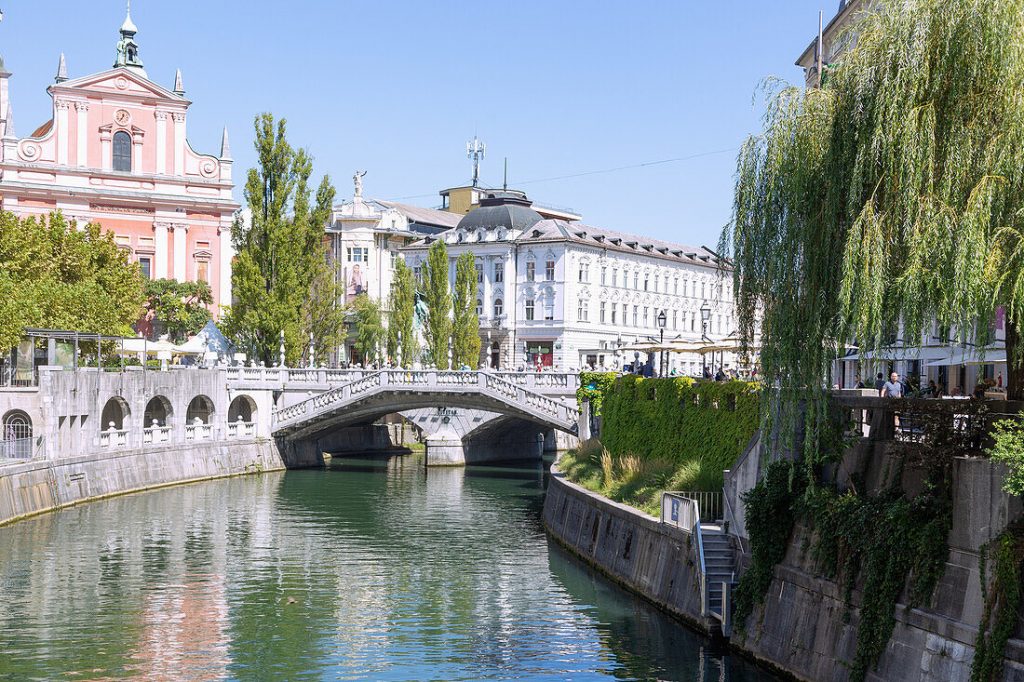 In a small city with a narrow river, surprisingly, Ljubljanan has many bridges built in interesting ways. Triple Bridge – which three bridges sit side by side; the Dragon Bridge – the most famous bridge in Ljubljana, adorned with fierce dragons, Butcher's Bridge -is the Ljubljana love bridge with so many love locks attached.
You can cross all these bridges while admiring their beauty to feel the city's essence.
As Ljubljana is also called "the city of dragons," you can spot where the dragons are while walking through the city.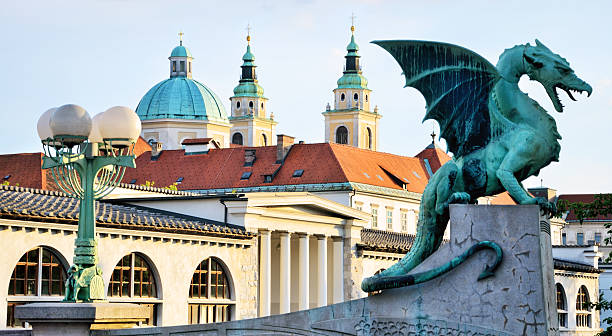 See the Art-Nouveau architecture and brutalist architecture
In the city's center, you can see the attractive buildings of Art-Nouveau architecture. Hauptman House at Presernov Trg, People's Loan Bank Building, Vurnik House, Urbance House, and Municipal Savings Bank Building are great examples. Try to visit at least some of them while you are here.
Republic Square, arguably the most significant location in the city where Slovenian independence was declared on June 26, 1991, is the heart of brutalist architecture in Ljubljana. In addition to the Canker Hall and the Parliament building, there are two imposing concrete structures called NLB Tower and TR3.
Enjoy the Graffiti at Metelkova Mesto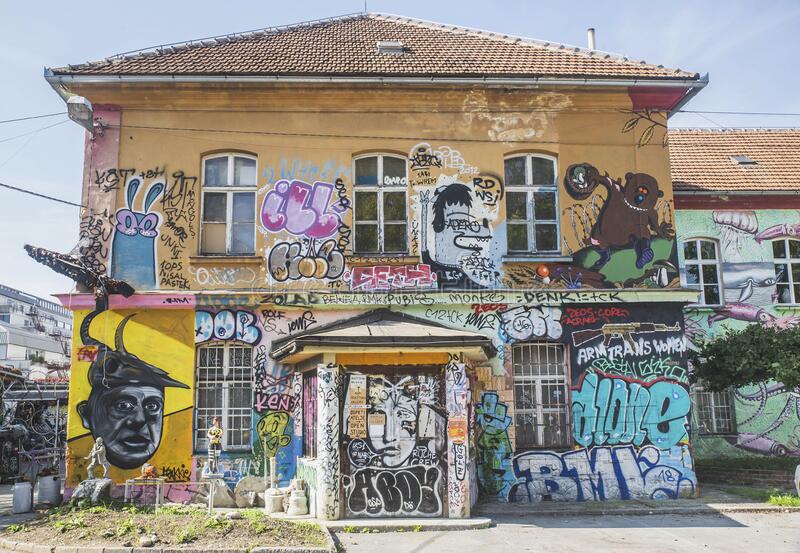 The amazing street art can be seen at this place, and the history of Metelkova began in 1993, taking over the army barracks by squatters. Art galleries, clubs, craft shops, and bars are here with graffiti.
Also, you can visit the ROG Factory, located very near to Old town,  to enjoy the art galleries, attend cultural events, go skating, and more.
Relax at Tivoli Park in the city
This largest green park will surely relax you with its beautiful scenery. So, wandering around the park or sitting on the bench will make you feel calm; otherwise, you can go to Tivoli Castle, Cekin Mansion, the rose garden, or a greenhouse while in the park.
Visit the Museums in Ljubljana
Ljubljana has some attractive museums that are worth visiting.
House of Illusions, National Gallery, Technical Museum of Slovenia, National Museum of Slovenia, and House of Experiment are some of them.
Also, there are many galleries you can visit, such as Juha Studio Keramike, Galerija Hest, Galarija Fotografija, The Jakopic Gallery, Gallery & Auction House, and Ravnikar Gallery Space.
Try to find some time to visit at least some of these Museums during your visit.
---
With all these suggestions, we recommend you have a green tour to unwind in the arms of nature and get away from the bustle of the city, as this is one of the greenest cities in the world.
---
Cuisine in Ljubljana
Slovenian dishes can be seen in Ljubljana, and they are made with fresh local ingredients. They especially have some delicious pastries and desserts that you must try.
I want to tell you that you can experience the Delicious culinary scene in the city.
Gobova juha –  Gobova juha is a Slovenian Mushroom Soup usually made with wild mushrooms, onions, garlic, butter, flour, potatoes, white wine or wine vinegar, bay leaves, marjoram, salt, and pepper.

 

Gobova-juha
In addition, we want to tell you that there's a cat cafe where adorable cats relax in the sun and local people kick back sipping a cup of coffee.
Ljubljana Nightlife 
If you are searching for a place to enjoy the nightlife, the followings are the best places to spend your night;
These two places are perfect for offering a wide spectrum of popular music
This Club offers a Bar Counter and a Dancing Floor with live music, especially for Rock music fans.
This nightclub offers Contemporary electronic music with over thirty years of tradition.
This club provides Jazz and ethnic music with live music performances.
This city's largest squat has developed into one of Europe's best-known centers of independent artistic activity. It gives the fullest picture of Ljubljana's underground culture.
Most parties and nightlife take place on weekends, especially on Friday nights.
Where to stay at  Ljubljana
We suggest you the following hotels at the Old Town and City Center as accommodations;
Bed and Breakfast Petra Varl,  Bed & Breakfast Atticus, Vila  Veselova, Galeria Rooms, Ambrozic, Viva Rooms, and CUBE Central Rooms for 2 are some of the budget hotels in Ljubljana.
Emonec Hotel Ljubljana, Grand Hotel Union, Adora Hotel Ljubljana
Urban Homy Ljubljana, Art Hotel, Vander Urbani Resort and Western Premier Hotel Slon are mid renege hotels in Ljubljana.
Hotel Cubo Ljubljana, Apartments Villa Popp, Tromostovje and Apartments, and InterContinental Ljubljana are affordable luxury hotels in Ljubljana.
The City details of Ljubljana
Getting around
Ljubljana is a compact city that is convenient for sightseeing. Most of the major sights are within a 15-minute walk of Prešeren Square. So, Getting around is not much complicated.
You can buy  Ljubljana Card, which offers free admission to over 20 attractions, with free public transport, a free guided city tour, a free funicular ride, and a free boat tour.
Do you know you can have free rides around in an electric car?
Ljubljana  map 
This link gives you the city map of Ljubljana and eases your trip.
So, with these facts, we look forward to your trip shortly.
Have a safe journey!
FAQs
With all the great attractions, buildings, restaurants, and tourist-friendly environment, visiting the capital of Slovenia are worth it.
Though Slovene is the mother language in Ljubljana, English is widely spoken. Also, most Slovenes speak Serbian and Croatian or at least understand it very well, and many would also know some German or Italian.
Ljubljana is a culturally rich city. Its theatres, museums, buildings, and galleries made Ljubljana famous. Also, one of the oldest philharmonic orchestras in the world is located there.
Is Ljubljana better than Zagreb? 
For those with a somewhat bigger budget who wish to take in the traditional attractions of a Central European city, Ljubljana is a great option than Zagreb.
How many days do you need in Ljubljana?
According to the size of Ljubljana, two days is enough to explore the city.
Is Slovenia a cheap country? 
As per European travel standards, Slovenia is not an expensive destination.  Approximately €55–105 per person per day on vacation to Slovenia may be enough.
Can you drink tap water in Slovenia? 
You can drink tap water in Slovenia, as it is clean.
Does Ljubljana have good nightlife? 
You can be sure to discover something enjoyable here.
Is there a direct train from Ljubljana to Vienna? 
Yes, Without changing trains, you can get from Ljubljana to Vienna. Each day, just one direct train runs between Ljubljana and Vienna.