Fall in love with the Hanseatic City of Hamburg.
If you are planning to have a fantastic vacation to spend your time in, Hamburg is a perfect destination for that. With more than fabulous attractions, 50 museums and theatres, delightful cuisines, and outstanding nightlife are waiting to impress you. Also, this city is an ultra-modern landmark that underwent a significant transformation within the past few years.
It is clearly shown that Hamburg has embraced its commerce and mercantile past to become one of Germany's most distinctive cities. With a vast network of canals alongside the picturesque Alster Lake, the city gets many visitors. Also, its maritime past has left imprints on many of Hamburg's well-known tourist sites.
The tiny, twisting Deichstrasse, the only stretch of old Hamburg to survive centuries of fires and wars, provides a feel of the city's past. The street, built long before the 19th century, with warehouses and 21st-century harborside structures, looks into the city's Hansa heritage.
Deichstrasse leads directly to a bridge across one of the city's many canals. Massive brick warehouses form a canyon along the canal's sides, built centuries after Hansa's influence disappeared. Another footbridge leads into Hafencity, the city's hottest new area, where old and modern collide in a dramatic combination of 19th-century neo-Hansa brick and contemporary steel-and-glass apartments, their balconies jutting out over appealing cafés, eye-to-eye with historic sailing yachts. This port region contains several of the most exciting things to do in Hamburg.
So, invite you to visit Hamburg, and we will give you tips to make the most of your visit without disappointment.
Hamburg History
Hamburg has a long history dating back to the ninth century AD. The earliest permanent settlement here was in the shape of a fortress known as "Hammaburg." It was erected on Emperor Charlemagne's orders and stood between Elbe and Alster rivers.
The stronghold was a meeting place for Christian missionaries. Most significantly, its first bishop was appointed in 834 AD. At the time, this city was the target of numerous strikes. In particular, Viking attackers wreaked damage in 845 AD. The King of Poland later burned down the city in the 11th century.
Emperor Friedrich I, sometimes known as 'Barbarossa,' granted Hamburg the right to become an Imperial Free City in 1189. It immediately established the city as a prominent port and resulted in the establishment of merchant guilds.
Hamburg joined the Hanseatic League in the 14th century, an association of cities and merchant guilds that allowed them to dominate trade in Northern Europe. As a result, the city's fortunes grew significantly, giving even more chances. In the early 15th century, the city established its own naval and could keep its Hanseatic commercial privileges.
Did you know that the people of Hamburg are called Hamburgers?
Hamburg welcomed the 16th-century German Reformation. The city's cathedral chapter was closed in 1531 and reopened in 1540 as a Lutheran organization. Napoleon, the French Emperor in the early nineteenth century, captured the city. It was a member of the German Confederation from 1814 to 1866.
The city grew astoundingly throughout the second part of the nineteenth century and when it became a member of the German Customs League. The city became Germany's gateway to the rest of the world with significant moves. The Speicherstadt (Warehouse District) and the Rathaus (Town Hall) are both viewed as emblems of the city's optimistic age.
Though World War I affected the city immensely, it revived in the following decade, gaining several shipping firms. The University of Hamburg was founded in 1919. Under the Third Reich, Hamburg was forced to give up its status as a free city.
Allied bombing operations during WWII caused significant damage to the city. Almost half of the city's industrial sections were destroyed, as was roughly 80% of its harbor district. Hamburg surrendered and was seized by British forces in April 1945.
A severe storm devastated the city in 1962, destroying much of the historic district. Many buildings were inundated, and around 300 people were killed. Since reunification, Hamburg has worked to become one of Northern Europe's largest deep-sea ports.
How to reach Hamburg
By Plane
The Hamburg Airport is Germany's oldest continuously operating international airport, which provides convenient access to the city's attractions. Since more than 120 routes are driving to and from this Airport, you can find the best match option to reach Hamburg by plane.
In addition, the nearby town of Lubeck has an airport called Lubeck Airport, which is served by low-loss carriers and offers air access to Hamburg.
The distance between the city center and the Airport is 9 kilometers, and the Lubeck Airport is situated about 75 kilometers far from the city center.
Regarding passenger volume, Hamburg Airport is the fifth busiest airport in Germany. It offers year-round flight access to Hamburg's popular tourist destinations all year. Additionally, this airport's contemporary amenities make it safe to fly there year-round.
Travel from the airport to the city center
By Public Transport
You can use public transport from the Airport to the City Center, which is quick and easy.
Every 10 minutes, S-Bahn line S1 runs from Hamburg Central Station to the airport and back, taking only 25 minutes. The S-Bahn station "Hamburg Airport (Flughafen)" is easily accessible via elevators, escalators, and fixed stairs from Terminals 1 and 2 (Arrivals).
You can switch to the U1 underground line at the "Ohlsdorf" subterranean and suburban railway station, one stop from "Hamburg Airport."
If you choose to use the bus for your subsequent trip, you may find the stations outside Terminal 1 on Level 0 (arrival). You can get the information on timetables online or by phone at any time at local rates;
Hamburg Transport Association (HVV)
Deutsche Bahn Timetable information
By Shuttle Service
Hamburg Transfers is the shuttle service that takes you from the Airport to your destination. This link provides the information you need to travel by this shuttle service.
By Taxi
You can find the taxis at the taxi stands in front of Terminals 1 and 2. These taxis are regularly checked for particular quality criteria of Hamburg Airport so that you can guarantee the most incredible comfort from these taxis.
Both cash and cashless payments can be made for these taxis. For better service, please reserve a taxi before you travel. Some taxi companies are  listed below;
By Bus
Since intercity bus services connect Hamburg well, getting there via the autobahn system is simple. Numerous routes connect Hamburg's tourist destinations to the rest of Germany and other European cities.
Bus travel to and from the city may include lengthier journey durations, but the simple ticket availability and inexpensive cost frequently make up for this. Hamburg's central bus station (ZOB), which is close to the main train station, is the city's primary bus stop (Hauptbahnhof). Several buses run from the Wandsbek bus station to connect visitors to the sights in Hamburg and Lubeck.
Four autobahns pass through the city, making getting from one tourist site to another easy. However, it is advised to use public transportation and one of the many pay-and-park locations when seeing Hamburg, especially if visiting the city's tourist attractions in the city center where parking costs are prohibitive.
By Train
The Hauptbahnhof (central station), Altona, Dammtor, Harburg, and Bergdorf train stations all provide excellent access to rail services.
Along with numerous direct trains to other parts of Europe, some ICE (Inter City Express) high-speed rail services run between German cities like Berlin, Cologne, Dusseldorf, Frankfurt, and Munich.
Hamburg Weather 
Due to its location, the city has a sub-oceanic climate, which is damp, with chilly, gloomy winters and mild to pleasant summers.
Hamburg is distinguished by water because the Elbe River runs through it. The Elbe River breaks into a network of canals in the city before widening in front of the estuary. Two tributaries also feed into the river, one of which, the Alster, expands to create two lakes.
Therefore the wind may be relatively strong and frequently blows, especially from November to March.
The winters of Hamburg are frequently damp, windy, and wet. When Atlantic currents are strong, there may be comparatively mild periods, and then there may be colder periods when it can snow and the temperature goes below freezing. The coldest month of the winter is January, and it is two °C (35.6 °F), while periods of extreme cold are occasionally possible, with lows of -10 °C (14 °F) or even lower.
Even in spring in Hamburg, the weather is frequently cold and unpredictable until April or the first half of May.
Summer
Although there are chilly, wet, and even thundery spells during the summer, the temperatures are often moderate and conducive to outdoor activities.
Occasionally, hot spells can last for a short time, are more often in recent years due to global warming, and can reach temperatures of over 30 °C (86 °F). The hottest days of the year usually have 33 °C (91 °F) temperatures in July 2022.
Did you know that the white evening phenomenon, in which the sun sets but doesn't turn entirely black until after midnight, cannot be observed here?
The sun rises at 4:50 am on June 21, the shortest day of the year, and sets at 9:55 pm. Sun rises at 8:35 in the morning and sets at 4:00 in the afternoon on December 21, the shortest day of the year.
When greeting someone in Hamburg, Hamburgers "Moin" rather than using the greeting "Hello." It's straightforward and conveys more than just a greeting. Its literal translation is "Have a wonderful day."
Best time to visit Hamburg
This city is best visited between May and October when temperatures are typically around 20 degrees Celsius and the hottest and sunniest months of the year. The best season to visit Hamburg, except the summer, is the spring when the city is covered in blooming flowers and new foliage.
July and August can occasionally be hot, while other nights can be cool or cold in these months.
What to do in Hamburg
Take a Walking Tour of Hamburg-Altstadt
The genuine beginning of Hamburg's history can be found in the eighth century AD when a castle (or "burg") was established beside the Elbe River. This early colony eventually developed into this city, one of Europe's wealthiest harbors and a vital member of the medieval Hanseatic League.
On a walking tour of Hamburg-Alstadt (the Old Town), where you can see living history in the squares, churches, architecture, and canals, you can discover the city's modest beginnings and rapid expansion.
You can take a guided or self-guided tour of the Old Town to experience the historical city at its finest. Hamburg's tourism bureau publishes beautiful self-guided walking routes. Either way, you must begin at Hamburg's magnificent City Hall, the Rathaus.
You'll learn that the concept of a German nation is a relatively new occurrence because Hamburg was an independent city-state for many years, with all administration taking place in this Old Town structure.
The St. Nikolai Church serves as a war memorial and is the next stop. This medieval church's burned-out tower and shell remain a permanent legacy of the Second World War, even though the Gothic structure was destroyed during that fight.
You can reach the renowned Kontorhausviertel neighborhood, on the UNESCO World Heritage list and known for its distinctive red-brick architecture, by strolling through plazas, bridges, and ancient lanes.
Explore Speicherstadt and HafenCity
In 1988, when the city officially entered the German customs zone, the construction of a new warehouse district for Hamburg's free port was started. On the Zollkanal, residential buildings were demolished, and Gothic Revival-style storage facilities were built on oak piles in their place.
The Speicherstadt, or City of Warehouses, is now a UNESCO World Heritage Site and has its ambiance. It's enough to stroll through these red-brick canyons, cross the canals, and take in the glazed decoration on the gabled facades, as Speicherstadt is renowned for its beautifully soaring red brick and timber-framed structures that rise across canals and rivers.
A few warehouses still serve their original role of storing electronics, tea, coffee, spices, and other goods, while others have lately been converted into residences or tourist attractions. So in Speicherstadt, you can see the industrial port sector of Hamburg in the late 1800s.
HafenCity
A new waterfront neighborhood with the Speicherstadt was established in 2008. In the next 15 years, HafenCity, partially built on reclaimed Elbe soil, will expand, adding 12,000 new houses and up to 40,000 new jobs. Outside the history sector, the free port has undergone significant regeneration, and the architecture is innovative and inventive.
You can see glitzy business buildings, residential buildings, and recreational facilities that have all been sensitively and stylishly created for their seaside locations.
The Elbphilharmonie concert hall, which needs its entry, is currently the biggest attraction.
Hamburg's canals are just as distinctive as Venice's! Additionally, you'll discover hardly any tourists in this European city. Hamburg's vast historic port and harbor regions have seen substantial regeneration in recent years, as has their intricate network of waterways and canals.
Visit HafenCity, Hamburg's ambitious modernization initiative that has dramatically changed the city's perception, to learn more. Instead of demolishing outdated warehouses or clogging up abandoned canals, the city has embraced its nautical heritage and developed Europe's most significant urban regeneration zone.
HafenCity is home to fantastic museums, including the International Maritime Museum, some of Hamburg's quirkiest boutique hotels, and an excellent range of cafes, pubs, and restaurants. HafenCity is located adjacent to Hamburg-Altstadt on the islands of the River Elbe.
Enjoy a concert at the Elbphilharmonie.
The spectacular Elbphilharmonie, a modern piece of exquisite architecture that perfectly combines history with the new, is one of Hamburg's most impressive sights. The Elbphilharmonie, the focal point of the city's HafenCity regeneration project, overlooks the River Elbe.
The Elbphilharmonie, formally presented in 2017, is more than 100 meters tall and is the tallest inhabited structure in the city.
Despite its large size, this project by Herzog & de Meuron has a light, ethereal aspect, constructed in Hamburg's traditional red brick design, while the top half is a glass superstructure with a wave-like pattern.
There are almost 1,000 curving windows on that glittering facade, and the Plaza, an observation deck, and a chic cafe are at the top.
If you enjoy music, you owe it to yourself to see the Elbphilharmonie Orchestra perform at The Great Concert Hall, one of the most technically advanced concert halls ever constructed, with seating for 2,100 people.
Admire the art at Kunsthalle.
The Hamburger Kunsthalle is among the top places to go if you enjoy art. There are hundreds of years of art history to examine in one of Germany's most spectacular art galleries.
The exhibitions are housed in three buildings, the oldest of which dates back to the mid-19th century and the most recent debuting in 1997 at the Hamburger Kunsthalle, situated close to Alster Lake.
You can peruse more than 700 permanent exhibits in the three buildings. As one might anticipate, the Hamburger Kunsthalle's main objective is to present North German art.
The works of art on show come from the medieval era, many of which are historical masterpieces significant in developing European art. The Hamburger Kunsthalle also features modern art and regularly changing temporary exhibitions featuring artists' creations worldwide.
It's fair to say that the Kunsthalle has enough masterpieces to enthral you for an entire day: works by Goya, Rembrandt, Rubens, Lucas Cranach the Younger, and Canaletto are just a few examples. Also, there are paintings of numerous famous artists of the 19th century, like Caspar David Friedrich, Max Liebermann, Manet, Degas, and Gauguin.
Scroll at Planten un Blomen
Planten un Blomen, which means "Plants and Flowers," a 47-hectare complex of gardens, lawns, ponds, greenhouses, and botanical plantations, would be at the top of any list of the best urban parks in Europe.
This is the best place to escape the surrounding city of Hamburg. Also, it can be easily reached from the city center.
The Old Botanical Garden was established in 1821 by planting the first plants. It is situated just north of the Altstadt. Give yourself enough time to explore the five interconnecting greenhouses, which make up the park's botanical garden, any time of year.;
The Schaugewächshaus is the largest and comprises laurels, olive trees, palms, and eucalyptus, among other species native to Mediterranean climates. The Kakteenhaus, filled with succulent plants from desert climes, is fascinating.
The grounds of Planten un Blomen are arranged around a central lake, where lavish water and light performances frequently occur. Planten un Blomen often holds festivals and concerts in the summer. The park's exterior shines in summer since the rose garden is in full bloom, the apothecary is at its most fragrant, and the vibrant melodic fountain adds even more charm to the setting.
Miniatur Wunderland
Miniatur Wunderland is frequently rated as one of Germany's best tourist destinations. This is a great place to have fun if you're seeking things to do in Hamburg.
There may be tens of thousands of feet of hand-built model railway lines, many model trains, buildings, and miniature figurines at Miniatur Wunderland.
According to Guinness World Records, the largest miniature model railroad in the world is located in Miniatur Wunderland. Miniatur Wunderland has developed gradually since the early 2000s, much like HafenCity.
It all started with a toy railroad chugging through 1:87 scale replicas of Austria, Central Germany, and a conglomerate called Knuffingen.
You'll travel through a tiny world of wonder as you stroll through the exhibition, Scale models of Italy, Hamburg, Las Vegas, Venice, the Austrian Alps, the United States, Switzerland, and the airport in Knuffingen have been added over the past 16 years, and many more are planned for subsequent years.
All these locations have powerful computers controlling thousands of automated moving elements, including people and traffic.
The environment changes from day to night in 15-minute cycles as of 2017, and visitors can flip 200 switches to operate objects like windmills, a helicopter, or a space shuttle. There are 15.4 kilometers of railway track in all.
Visit the International Maritime Museum
If you prefer to know about the city's maritime history, one of the best things to do here is to visit the International Maritime Museum. The museum immerses you in the history of seafaring, maritime trade, and sailing as you peruse the remarkable collection of artifacts. This is a city that is practically built on the water.
This museum is in the oldest red-brick warehouse in Hamburg's historic port and harbor district, Speicherstadt, which is 11 stories tall and features a striking gabled exterior. The museum was opened in 2008, and you can see the massive propeller in front.
You may browse among thousands of exhibits, ranging from historic navigational tools to miniature ships in glass bottles. The museum's collection of nautical artifacts will captivate anybody drawn to the romanticism of the vast sea. There are complete sailboats, fascinating oddities like Admiral Nelson's letters, a replica of Ernest Shackleton's lifeboat, and a 3,000-year-old canoe in Hamburg's harbor.
Given the museum's enormous collection, you might be shocked to learn that it was primarily the creation of one man. The group's founder, Peter Tamm, was an enthusiastic collector of model ships and nautical artifacts. He died in 2016, spending his whole life accumulating a sizable group of nautical-themed items.
Experience the Fun Festivities at Dom Festival
Spending a day at the Dom Festival is one of the most excellent things in Hamburg. This is one of the most well-known festivals in Germany, which occurs three times a year.
The Festival is held in the spring (April), summer (August), and winter (November) at the enormous Heiligengeistfeld fairground.
One festive time is roughly 30 days long, and traditional carousels, cutting-edge roller coasters, sideshows galore, and food is always a huge deal.
Since the first celebration was reportedly staged outside the city's cathedral in 1329, the Dom Festival has entertained large crowds. The Winterdom is the oldest of the three fairs. The event has grown yearly and is a unique blend of food, culture, entertainment, and beer.
Kid-friendly attractions, carnival-style activities, big German beer tents, bratwurst, currywurst food vendors, and more events. The market features more than 100 booths, the majority of which sell Currywurst, Hamburg's famed herring sandwiches, and other international delicacies.
You can experience the fireworks every Friday at 11.30 pm, which gives you a start off a night out on the Reeperbahn.
Elbe Tunnel
The Elbe Tunnel was initially constructed in 1911 to give dock workers a more direct path from the Landungsbrücken piers in St. Pauli to the southern banks of the Elbe River. When the 'new' Elbtunnel and many bridges were erected in the 1970s, the tunnel—a technological advance at its construction—became a popular tourist destination. Now, cars can use hydraulically operated cages for a modest cost, and walkers and bikes can ride an accessible elevator into the deep to cross below the river.
The Landungsbrücken's green dome directs traffic to the 426-meter-long underpass. City folk uses the tunnel to travel to Wilhelmsburg or Altes Land or explore the port's far-flung areas. You can also enjoy the observation point south of the river, which gives breathtaking panorama views of the city.
Other things you can do in Hamburg
Take a tour to Heligoland by a High-Speed Ferry
You can have an enjoyable tour of Heligoland by a High-speed ferry and try to get a time from the following links;
Cycle along the River Elbe

Visit the Sailing Ships at Hafenmuseum 
Visit Treppenviertel Blankenese
Take a unique experience at "Dialogue in the Dark."
Do you know that the VHH buses in Hamburg have bookshelves? These small libraries are operated with integrity. When your ride ends, you can borrow the book and return it to Stilbruch if you cannot finish it.
Fischbrötchen

Fischbrötchen is a simple fish roll and is considered a snack. Pickles, remoulade sauce, some onion, pickles, and pickled herring (bismarckhering or soused herring, matjes) are often used to make the sandwich. Nevertheless, the choices are as diverse as the food vendors that sell them. You can consume crabmeat, North Sea shrimp, or fish patties that have been cooked. The fischbrötchen is best enjoyed with the wind from the North Sea or the River Elbe blowing in your face.
Finkenwerder Scholle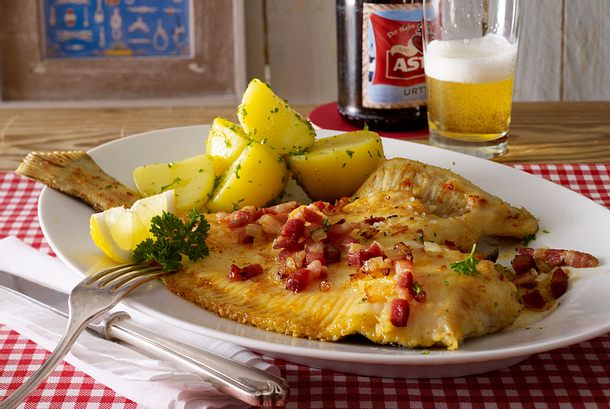 This traditional dish is made with Scholle (Plaice), one of the most commonly eaten fishes, and it is also used in fish and chips in North Germany. Scholle is baked or pan-fried with bacon, onions, and shrimp from the North Sea. Presently, Plaice is now rare in many seas, yet if you stroll through Finkenwerder, you can discover many restaurants that are skilfully preparing this delicious fish dish. Name this traditional dish after a district of Hamburg that was once a fishing village.
Labskaus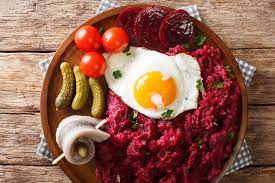 Look no further than Labskaus to experience authentic sailor and seaman food. People serve this dish in various forms throughout Scandinavia and even in Liverpool, England, where it is known as "scouse," along with pickled beets, pickled gherkins, herring, and fried eggs. The Labskaus is undoubtedly not the most Instagrammable food, but your taste buds will appreciate it if you dare to try it.
Rote Grütze
People cook this dish using corned beef, mashed potatoes, and onions. After your fill of robust fish and meat dishes, treat yourself to local sweet treats, such as the delicious rote grütze, made with red summer berries and eaten with milk, vanilla sauce, or ice cream. Although the Danes introduced this dish to the area, it has become a mainstay of North German cooking. While this fruit dish's usual color is red, you can also find green, yellow, and blue variations on select café and restaurant menus.
Aalsuppe
A book published in 1788 contains the earliest known recipe for Hamburg eel soup. Some believe this dish did not initially include eel and was a leftover meal. Nowadays, people make this sweet-and-sour soup using meat broth, cured beef, vegetables, baked fruit, dumplings, and some eel. Some believe that they included the latter ingredient to avoid alienating and disappointing visitors to the city. Usually, they serve soup as a main meal.
Restaurants & Street Food in Hamburg
You can enjoy not only these traditional dishes but also other delicious cuisines by visiting some of the following places:
Hamburg Nightlife 
The nightlife here is one of the best in Europe. Hamburg's nightlife ranks higher than Amsterdam, Berlin, and Barcelona. You may find something to suit every taste in this city, full of incredible music venues, wild nightclubs, fascinating exhibitions, techno performances, and cultural events.
Better yet, there will be a traditional Hamburg activity to partake in immediately following the party until the wee hours of the morning. Whatever your preferred entertainment, Hamburg always offers suitable alternatives, day or night. With so many affordable (some even free!) options, this dynamic and multicultural city is undoubtedly ideal for people of all ages and income levels.
Hamburg is one of the top locations worldwide for an unforgettable night out, not just in Europe. This vibrant port city offers a wild night-out experience for every taste with its great bars and nightclubs for every budget.
Germans love to party, and a typical German party lasts all night. The bars frequently stay open till the early hours of the morning. The celebration truly starts in certain nightclubs after one in the morning. Many larger clubs only operate primarily on Thursdays, Fridays, and Saturdays and don't operate every day of the week. On Friday and Saturday evenings, most clubs stay open until 6:30 am.
So, try out some of the places mentioned below and enjoy the nightlife as you wish;
Docks, St Pauli [Techno, House, and R&B]
Südpol, Süd Hamburg [Techno]
Grosse Freiheit 36, Reeperbahn [Multi Sectional]
Prinzenbar, St. Pauli [Electronic and Rock]
Golden Pudel Club, St. Pauli [Underground]
Fundbureau, Sternschanze [Punk, Jazz, Hip-Hop, Reggae, and Electro]
Cotton Club, Alter Steinweg [Jazz]
Uebel und Gefährlich, St. Pauli
Mojo Club, Reeperbahn [Mainstream]
The party boat – Ms Hedi / Frau Hedis Tanzkaffee, St Pauli
The party boat – Ms Hedi / Frau Hedis Tanzkaffee, St Pauli
This is the biggest red light district in Europe in Hamburg. People call this street "die sündigste Meile" in German, which means the most sinful mile. The exciting thing about this street is that Hamburg's red-light district street prohibits entry to women UNLESS they work there.
Der Fischmarkt – The fish market
After a night of partying, you must visit Der Fischmarkt to experience Hamburg's nightlife like a local. You'll encounter a lot of wild partygoers there. The market starts at 5:00 from March to November, and one can find live music and DJs in the 19th-century Fischauktionhalle.
Around the stalls, which offer flowers, fruit, and fresh seafood, there is an odd mixture of early risers and others who haven't even gone to bed (the fish traders are entertaining). The Hamburg version of Berlin's Currywurst, the Fischbrötchen, can help you sop up some of that booze.
Fill the roll with mackerel, herring, pollock, salmon, or shrimp fresh from the North Sea.
Accommodation in Hamburg
You can find many places in Hamburg that match your preferences and budget. We suggest the central Hamburg-Mitte district as the best place to stay for easy access to Hamburg's top attractions. The city's bustling harbor and the largest model railroad in the world, Miniatur Wunderland, are all within a short stroll of this neighborhood, which is also home to fantastic restaurants, shopping, and art galleries.
If you prefer to have hotels as per your budget, these are the options;
Luxury Hotels
Mid Range Hotels
Budget Hotels
Also, try Booking.com and Airbnb to find your best match staying option for your journey in Hamburg.
City Details in Hamburg
To make your trip to Hamburg easy, go to this link on the Hamburg map.
Hamburg Offline City Map is also available in the google play store, which helps you to browse the city in fantastic detail.
This app helps you to find bars, cafes, restaurants, clubs, or events. Also, it can search by location, allowing you to find out what's around the corner.
Getting around in Hamburg
Getting around Hamburg is easy with your preference for walking, biking, or driving. Hamburg has an extensive public transportation network, including rapid transit and regional trains, buses, and harbor ferries, operated by Hamburg's public transport organization HVV.
The HVV ticket machines offer a variety of single, daily, and weekly tickets that are accepted on all buses, trains, and ferries. Getting a Hamburg Card will be more beneficial for tourists visiting Hamburg.
Hamburg Card will be valid for free public transport and up to 50% discount on museums, musicals, and tourist attractions.
By S- and U-Bahn
Hamburg's public transportation system connects to neighboring cities in the area through nine regional rail services, six S-Bahn suburban lines, and four U-Bahn underground lines. Providing exclusive service to the city center and the greater region.
By Bus
Many bus services, including metro buses (frequent services), express buses, sprinter buses, and regional buses, supplement the train network, connecting stations, and surrounding towns.
By Ferry
Six ferry lines travel between the harbor and the River Elbe. With your HVV ticket, you can "set sail" and even take a short harbor cruise.
U and S trains run continuously on weekends from 4:30 am to 1:00 am the following weekdays. Similar timings apply to bus services, with night buses operating on significant routes after midnight.
Approximate budget to visit Hamburg
A week-long vacation to Hamburg usually costs around €652 for one person. So, a two-person trip to Hamburg costs about €1,305 for one week. Figure out your budget to visit Hamburg on this link.
We hope all these facts about Hamburg have given you a boost to visit Hamburg. Hamburg is a vibe city to visit and makes a beautiful experience in your life.
FAQs
What is Hamburg famous for? 
The various bridges and canals, the infamous red light district, and the long heritage of Hamburg's naval trade are famous attractions in Hamburg. Also, Hamburg is well known
for its fish markets, vibrant regional language, and breathtaking architecture, including that of the storied Elb Philharmonic.
Is Hamburg worth visiting? 
There are numerous UNESCO World Heritage Sites in Hamburg. The largest in the world, the historic Speicherstadt warehouse area features stunning red brick buildings, canals, and bridges. The brick expressionism office building shaped like a gigantic ship, Chilehaus, is a notable example nearby.
Do they speak English in Hamburg? 
Yes, English is used widely in Hamburg.
Is Hamburg a walkable city? 
Yes, Hamburg is a walkable city, and public transport is extensive.
How many days in Hamburg is enough? 
Three days may be enough to visit the main attractions, explore the history and eat delightful foods with vibe nightlife.
Is Hamburg a prosperous city? 
Yes, it is one of the wealthiest cities in Germany.
People also viewed: