A Hidden Gem of Culture, Cuisine, and Outdoor Adventure
Graz has magnificent architecture from all eras and manages to strike a balance between its illustrious history and contemporary present. It also has a warm, sunny climate influenced by its proximity to the Mediterranean, making it aming city to visit. It has served as an essential metropolitan center for Styria. Austria and Slovenia have given rise to many notable individuals in various disciplines, from inventor Nikola Tesla to California governor Arnold Schwarzenegger.
The city of Graz, the Historical Centre, and Schloss Eggenberg is a world heritage sites.
Get Around in Graz
By Plane
It is a small regional airport about 9 km south of the city center. With connections to international hubs of Lufthansa, Austrian Airlines, KLM, Turkish Airlines, and Etihad Airways, scheduled flights are available from Amsterdam Schiphol, Berlin, Birmingham, Dusseldorf, Frankfurt Airport, Istanbul, Munich Airport, Stuttgart, Vienna, and Zurich to Graz.
The main town of Graz is easily explored on foot and is reachable with a 20 min walk from the central train station. Stop at the Tourist Information at the train station or any hotel lobby that you come across to pick up a brochure also contains a map with most of the sights marked, as well as recommended self-guided walking routes through the town.
Tram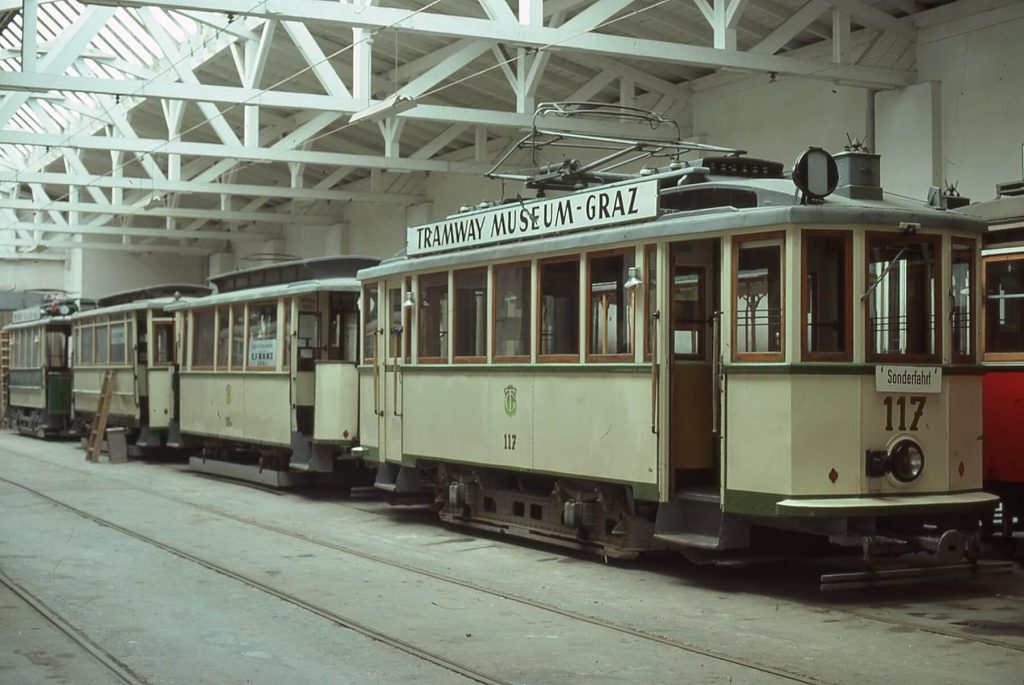 You can purchase any train ticket inside the tram. Excellent tram service is available in Graz, and it passes through the Jakominiplatz, where several routes converge, and trams can be changed. The tobacco shop in the middle of the square also sells tickets. If you purchase tickets at the kiosk, punch your key inside the tram (failure to do so will result in a EUR60 fine, a ticket purchased inside the tram is already valid).
Ticket prices range from 2.40 euros per hour to 5 euros per day, 12 euros for a 3-day tourist pass, and 20 euros for ten rides, weekly or monthly. The tickets are accepted on all public transportation in Zone 101, including Graz, its nearby surroundings, and the airport.
Trams running through the old city (Altstadt) are free, usually one to two spots in all directions from Hauptplatz (main square) and Jakominiplatz.
Bus
Additionally, Graz has a first-rate city bus system that covers the areas of the city that the trams do not reach. Jakominiplatz, Hauptbahnhof, and Geidorplatz are all bus stops. The exact tickets apply as they do for the tram. If you intend to use the network frequently, be sure to get a map of it.
Tickets Prices: Single ticket (available from the driver) 2.10 euro (valid for 1 hour), day ticket (available from the driver), 4.70 euro (good for 24h), weekly ticket 12.70 euro, available from the office of Transportation at Jakominiplatz and a 10-single-ride ticket (valid for ten single rides) 19.20 euro available at most of the tobacco kiosk.
Remember that bus and tram service is available from 5 am until late during the week. Around 23.30, all trams departing from Jakominiplatz come to a stop. Night buses run only on Fridays and Saturdays and in the hours preceding holidays. At 0.00, 01.30, and 02.30, they depart from Jakominiplatz in all directions.
Taxi
Taxis are accessible around-the-clock. You can call for a taxi via phone, hail one on the street, or at a taxi stand. "Hauptplatz" or "Hauptbahnhof" are the taxi ranks with the best odds of finding a taxi day or night. All rides have a base price of 3-4 euros. Due to traffic congestion, a cab ride can be exceptionally pricey in the early morning and evening. Typically, a ten-minute cab ride costs around 10 euros. Booking a taxi costs the same as paying cash on the street.
Car
Avoid it if possible. Graz has some confusing one-way systems that make it simple to get lost. From Monday through Friday, as well as on Saturdays, parking is scarce and subject to a cost. Every street has a ticket machine where you can purchase tickets for 0.60 cents (hourly ticket). Don't even try to park without a valid passport because there are numerous "ticket police" in the area because doing so will result in a 25 euro fine.
BEST TIME TO VISIT GRAZ, AUSTRIA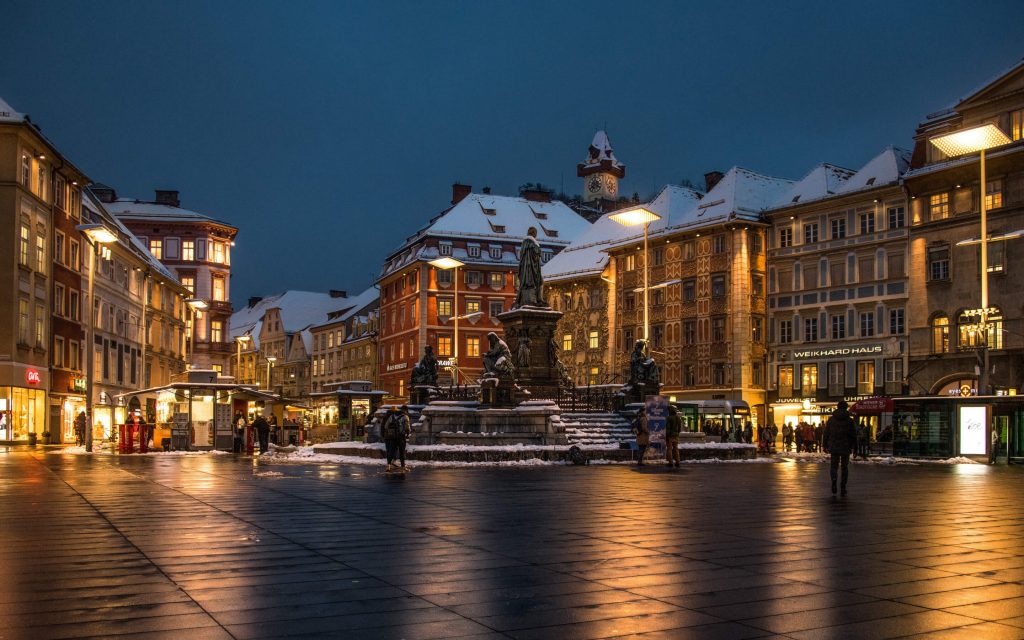 Graz is the 2nd largest city in Austria and one of the most popular tourist attractions. The Alps protect from strong winds, and the region experiences mild summer continental weather with influences from the Mediterranean. The summer months see the most rainfall, with an average yearly temperature of 8-9 degrees Celsius.
Winter – The winter season typically lasts from November to February, with an average temperature of 0-2 degrees Celsius. These months get relatively little precipitation.
Spring – The spring season lasts from March to May; during this time, the temperature often hovers around 8 degrees Celsius. Gradually more rain is falling higher heights. The busiest travel period is currently.
Summer – Temperatures hover around 17 degrees Celsius from June to August, and there's a lot of rain. Although occasionally humid, the weather is usually lovely.
Autumn – Both the precipitation and mercury levels decrease from September to October. Typically, the temperature is around 11 degrees Celsius.
March through May are the ideal time of year to explore Graz. The temperature is just cool enough to be comfortable for sightseeing. The summer months during the western season should generally be avoided. However, they are suitable for planning a visit you're seeking for lower prices.
Places You Must Visit in Graz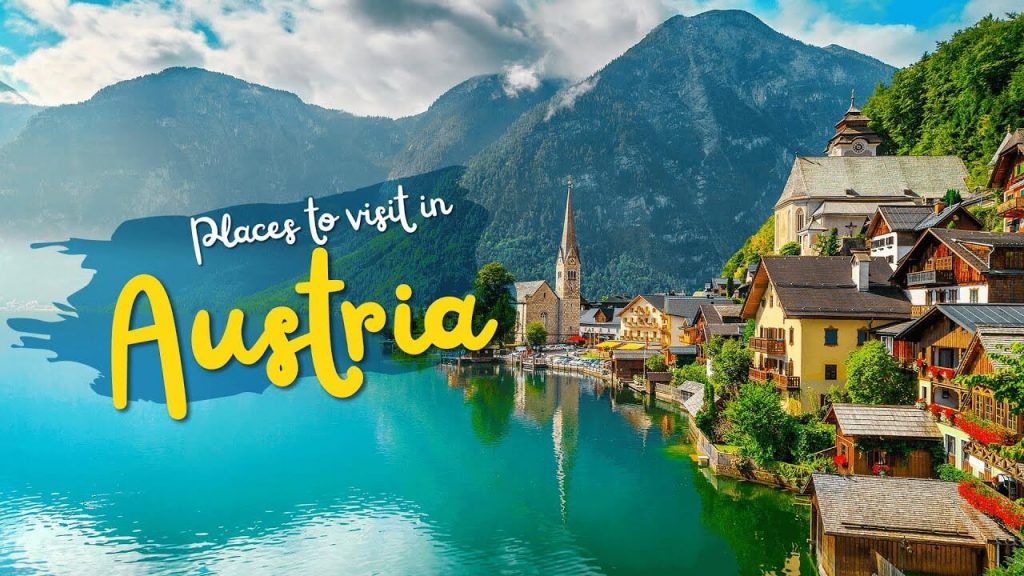 The Graz Clock Tower, Uhrturm
The Clock Tower! The clock tower is delightful because no matter where you're walking in Graz, you consistently get views of it down different streets. It may look small and compact from far away, but once you reach it, it's HUGE!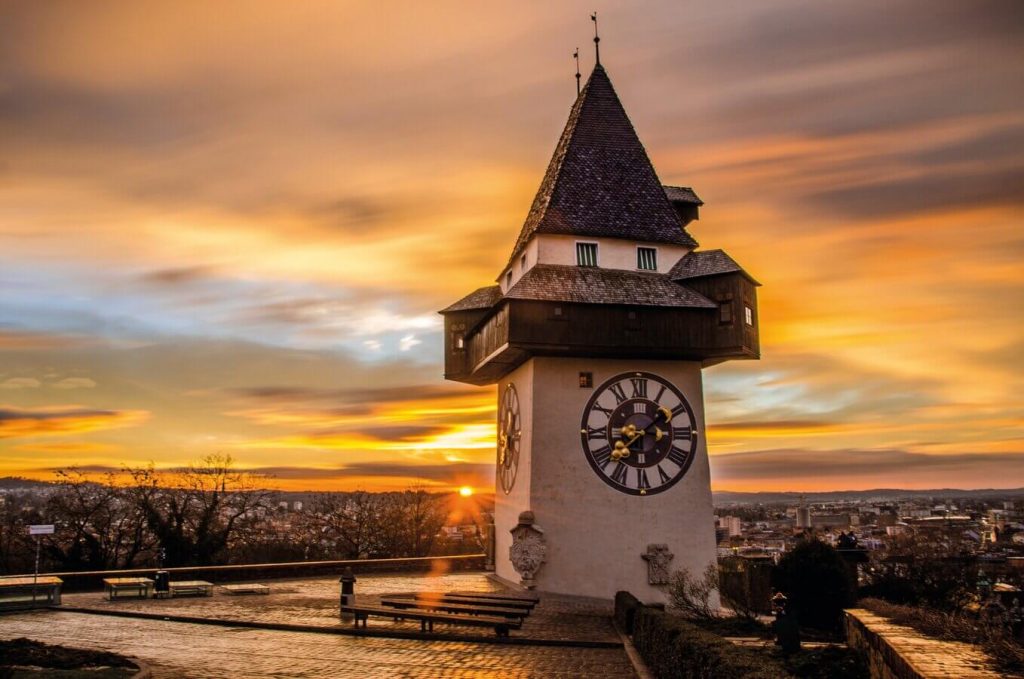 There used to be only one hand on the clock to show the hour from a distance, which is why the long and short hands are now switched. It became shorter when the minute hand was added.
Of course! Because it overlooks the entire city, the clock tower has the most incredible view! Climb the hill to the Schlossberg for an even better idea of the city and clock tower.
Schlossberg Graz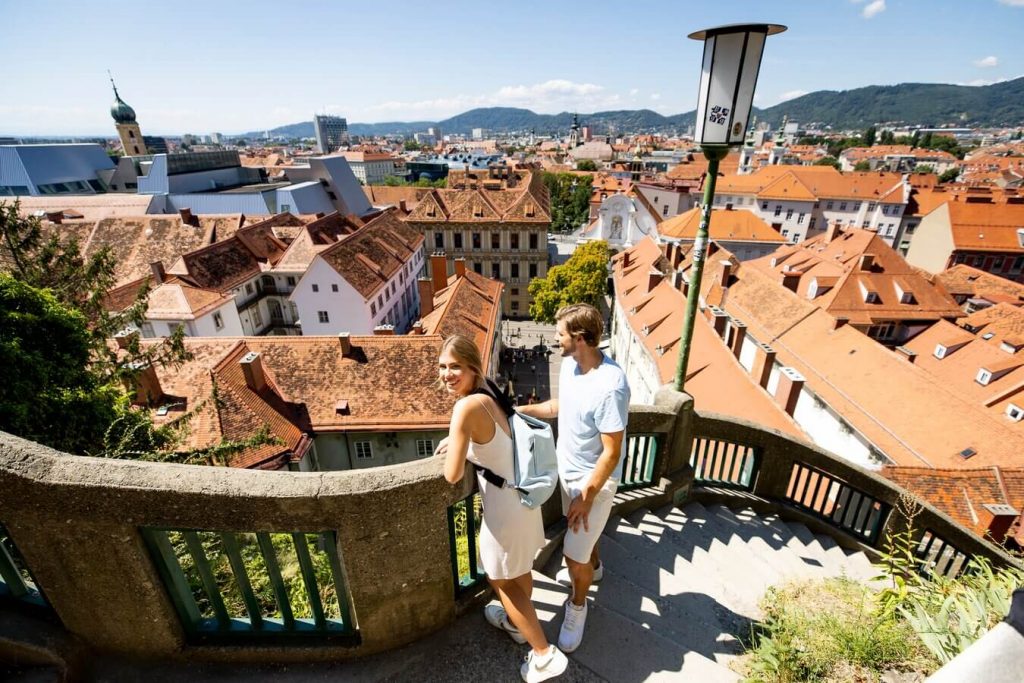 Schlossberg translates to "castle hill." Hence the entire hill overlooking the city is considered the Schlossberg. However, I advise visiting the genuine castle's remnants, which were once much more extensive and covered the whole hill before the Treaty of Vienna ended imperial hostilities and Graz decided to demolish the structure.
Visit the res stone castle and look at the bastion still perched atop the hill. Additionally, there're many gardens up here with beautiful city views.
Stadtpark Graz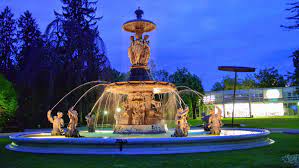 They planted dozens of trees outside the eastern gates of the city when Graz was a much smaller city following the castle's destruction (near Grazer Burg). There are still many forests, and the gorgeous Stadtpark, Graz's central park, is the nearest.
There're many grassy knolls, walkways, and leafy trees in Stadtpark. It is a great area to get lost in nature while still being close to the city and around the old town to the Schlossberg.
Herrengasse, Graz's Main Street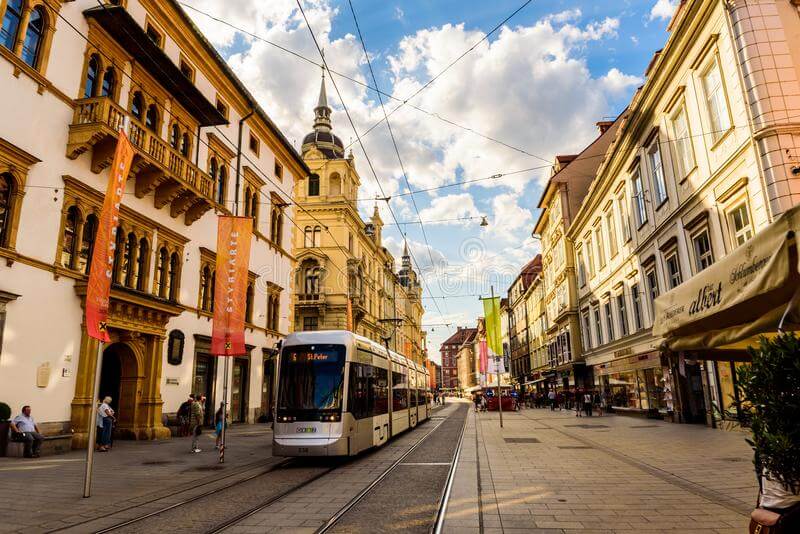 The principal street in Graz is called Herrengasse, and it's frequently the 1st street you notice when you arrive. Trams speed down the middle of the large road, surrounded by vibrant buildings filled with chocolate stores of every description and arcades leading to courtyards and museums.
Graz Main Square (HauptPlatz)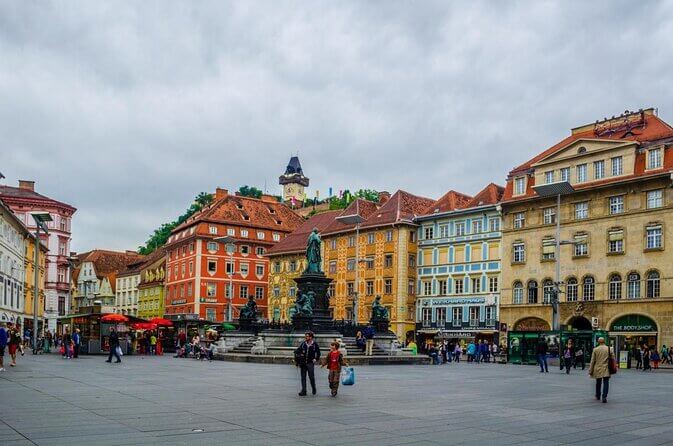 Graz's central plaza sits at the bottom of Herrengasse, close to the base of the Schlossberg. Any community meetings take place on this spacious square. It offers a magnificent perspective of the clock tower and is surrounded by magnificent Renaissance-style frescoed medieval structures.
Rathaus (City Hall)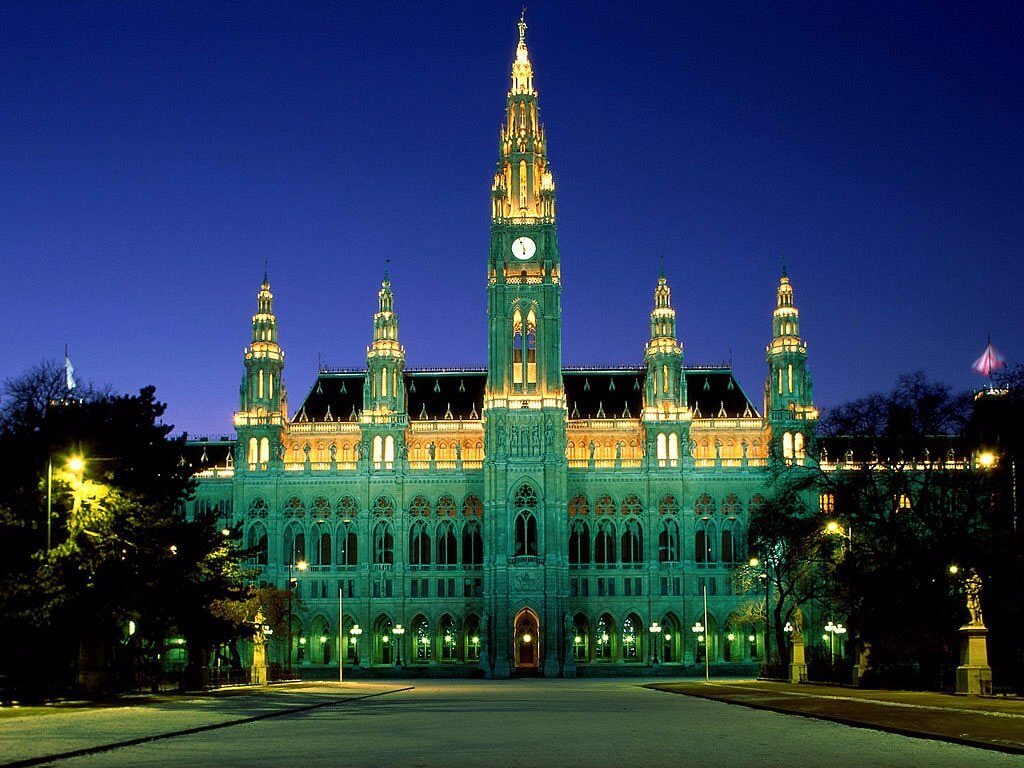 While on the central square, the city hall is impossible to miss. This enormous, historical old-style German structure dominates the main square, decorated with numerous rainbow flags and elaborate designs. It's one of the most significant and stunning structures around!
Murinsel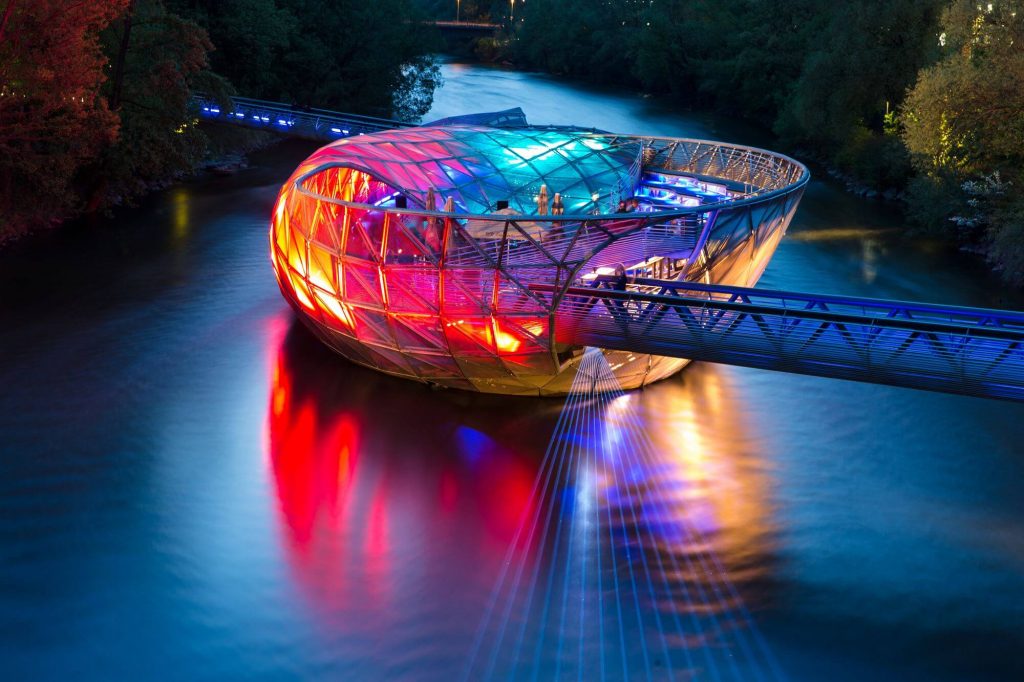 You won't miss the stunning and fascinating Murinsel if you cross the river in Graz. There's a café inside and an outdoor theatre on this silver "island" that floats in the middle of the river. Art exhibitions are going on there frequently.
Kunsthaus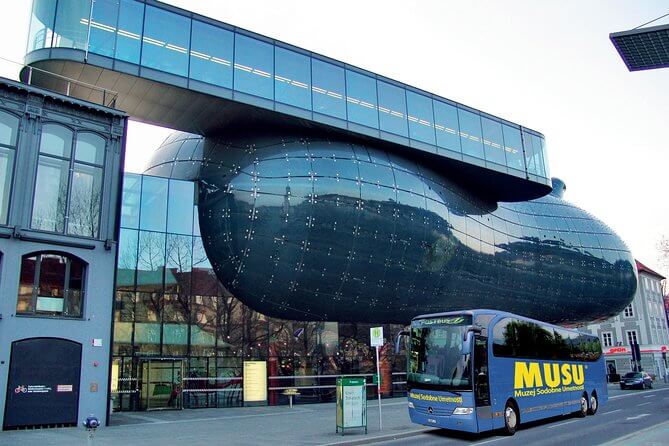 One of Graz's most recognizable buildings is the Kunsthaus (after the clock tower, perhaps). The modern art museum in Graz is housed in an intriguing, slightly spherical, or amoeba-shaped structure that locals call the "friendly alien."
Joanneum Quarter of Graz Museums
The Joanneum Quarter is a part of Graz's old town that houses four museums/ exhibits central to Graz's culture and art. The museums here are the Natural History Museum, the Neue Galerie Graz, the CoSA – Center of Science Activities, and the Styrian State Library. To see all this, you can get a 24h or 48h pass to this museum quarter alone!
Opera House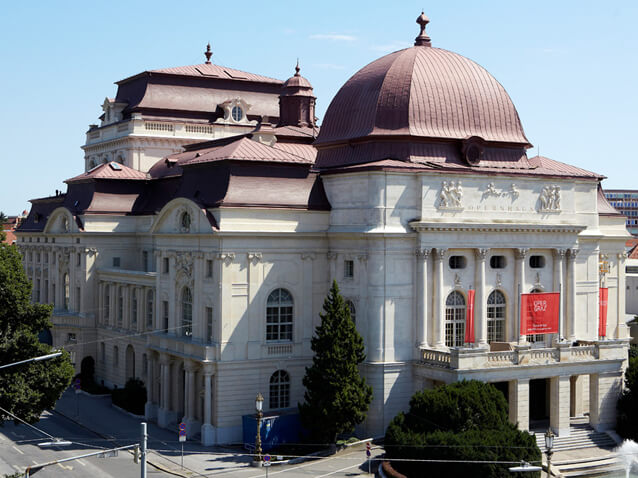 One of the town's prominent historic structures is the Graz Opera; while you're there, see if there are any events for a taste of authentic Austrian culture!
Where to Stay in Graz
There are many locally owned, distinctive, and boutique hotels in Graz, some of which emphasize sustainability. The best are listed here.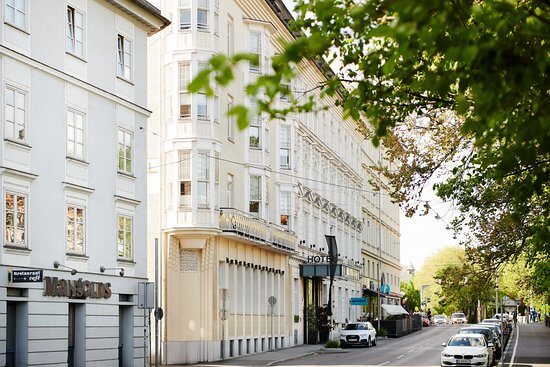 Hotel Gollner
I spent my stay at the Hotel Gollner, and I adored it! This unusual four-star hotel features two contemporary wings that are fully wheelchair accessible and offer vast modern rooms like the one in the above photo. In contrast, the older wing has older, more rustic suites with wood trimmings.
Additionally, there is a rooftop patio with views of the Schlossberg, the rose garden, and more. The cuisine and service are both top-notch. Oh, plus, there's a bar open 24/7!
Book Direct View on Booking.com
Das Weitzer Hotel with Die Scherer Resto
Due to the dense gardens and hanging vines surrounding it, Das Weitzer is one of the most unique hotels in Graz. It is on the border between Lend and Gries, directly on the river, with a bridge leading to the old town and a stunning view of the clock tower. The place is perfect!
Book Direct View on Booking.com
In Graz, Austria, the Hotel Daniel is a highly stylish, individual boutique hotel adjacent to the train station. There are many benefits to being close to the train station, and this hotel boasts excellent areas, rooftop terraces, Vespas and bicycles for rent, and contemporary rooms.
Book DirectView on Booking.com
Things to Eat in Graz
Here are some of the more typical Graz dishes to keep your eyes out for: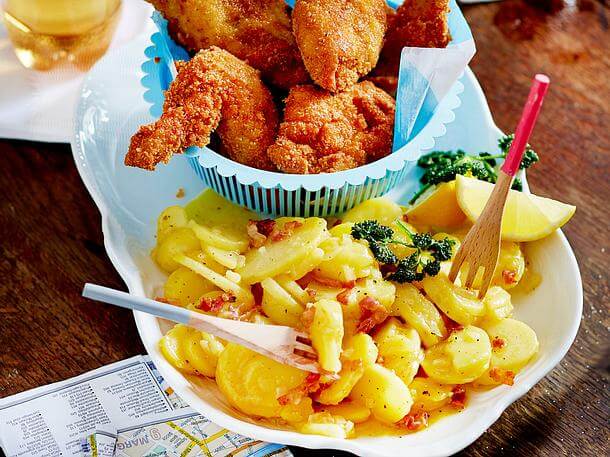 Backhand – Styria's take on fried chicken. Yum.
Tafelspitz – 'the emperor's favorite meal' with boiled beef, potatoes, creamed spinach, marrow, horseradish, and more.
Schnitzel – do I need to explain this one? As Austrian as you can get!
Cordon Bleu – ham and cheese wrapped in chicken and breaded. Also yum.
Pumpkin in fall – This region produces many pumpkins, products, and restaurant specials. Keep your eyes out for this!
Veal, Venison, Beef dishes, and ragouts – There's also a season for game meats around Graz, so keep your eyes out for words like this in restaurants.
Hotdogs from the main square like Arnold – fancy something quick and iconic? Grab a sausage from the main square, HauptPlatz.
Chocolate, especially the local chocolate brand, Zotter
Graz Food: Where to Eat
Here is my travel guide on eating in Graz. We visited several outstanding restaurants and learned about them even more. You could dine out for a year in Graz and not sample everything excellent to eat!
Der Steirer Restaurant
Der Steirer is a fantastic restaurant that doubles as a fully equipped wine shop. It offers daily specials and a wide selection of traditional Styrian meals. This is a tremendous location to sample regional cuisine, including beef patties, Backhendl, and Tafelspitz.
Stammtisch am Paulustor
Stammtisch am Paulustor is a more recent high-end restaurant in Graz that you may miss if you weren't looking. It is nestled into a corner of a lengthy street in the old town. You might initially believe you've located a furniture or indoor design store, but have faith that it is also a hip restaurant and bar! This restaurant offers a wide variety of regional and seasonal foods prepared in unique ways. The service is outstanding as well.
Hummel
Hummel is a low-waste eatery run by a local woman that offers delectable interpretations of "Levantic Food," which includes dishes from the Mediterranean, Greece, and Israel. The cuisine is fantastic, and the interior and design are warm and adorable. Get the mezze plate to sample ten or more incredible meals to split; you won't be disappointed.
Die Scherbe
This one is another hip area in Lend with an almost industrial vibee. They offer imaginatively crafted eats and drinks with influences ranging from Austrian to Asian to Indian. The food is excellent, and this location captures the spirit of Lend.
Kunsthauscafe
The Kunsthaus boasts a hip cafe on the ground floor, as if that weren't cool enough. Pre- or post-museum visit, stop by for some food or beverages.
Tribeka Coffee
Brunch lover like me? You're in luck. Tribeka is an excellent cafe with coffee options and many delicious breakfast bagels. Good morning!
Aiola upstairs
Check out Aiola Terrace Upstairs on the Schlossberg, just above the clock tower, for more upscale dining options in Graz with a spectacular view. If you can get a reservation, this restaurant has a range of well-presented tasty foods. However, if you're in a hurry, grab a glass of wine and sit on the patio to people-watch.
Things to Drink in Graz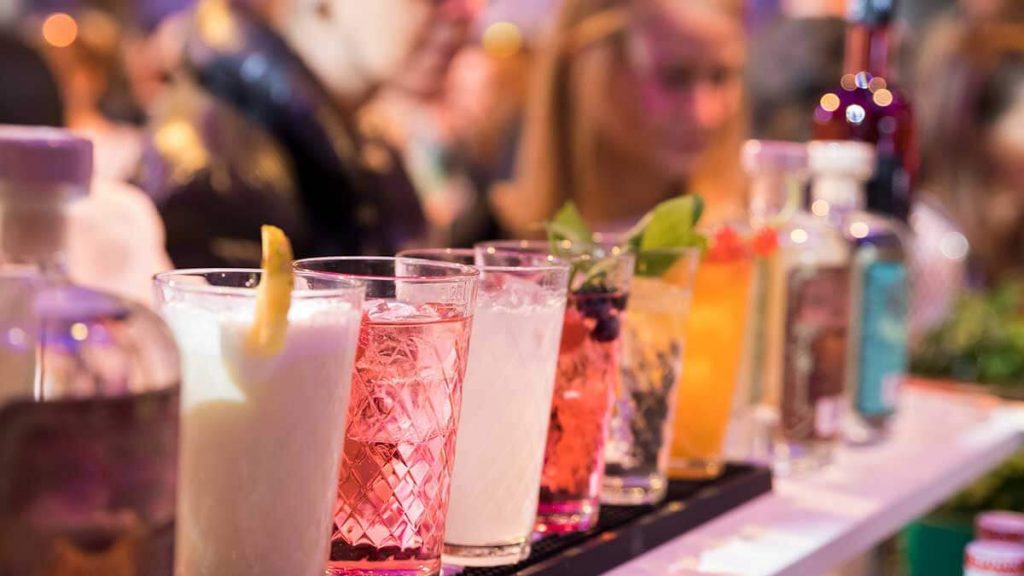 Try many new kinds of spritzers, ideally on a rooftop or patio
Local wines: many whites are produced here, like muscateller, sauvignon blanc, riesling
Styrian beers
Try apple cider wine from the farmer's markets
Kardamint (a cardamom mint spirit) in a spritzer or with sparkling wine
Local fresh fruit and vegetable juices
Local schnapps from the farmer's market or farm shops
Where to Drink
Here's the Graz Travel Guide for drinks – the best places to enjoy a spritz with a view or local products in a lovely atmosphere.
Kastner – Ohler Rooftop Bar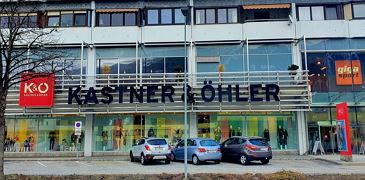 Make this the pub you visit if you only see one in Graz! And yes, it is, in fact, inside or on the roof of an old town department shop. Take the elevator to the back of the store after passing all the cosmetics and perfumes. This rooftop bar might be as close as you can get to the clock tower without reaching out to touch it. It provides a fabulous view of the Schlossberg and Uhturm, as well as the main square and street of Herrengasse. They have all kinds of drinks, but their list of 10+ spritzers is the most impressive. I loved the lavender one!
Klapotetz Weinbar
You can find Klapotetz Weinbar by making your way through a few narrow lanes and arcades in a medieval courtyard. This is located in the Generalihof courtyard, which features magnificent archways that once served as noble residences. The yard is quiet all year round, although, in the summer, you can find activities and music.
Pink Elephant
A hip Mexican restaurant, Pink Elephant, features fantastic, imaginative artwork and consistently plays excellent melodic techno music. The patio is a terrific alternative if you arrive before 10 pm. This is THE place to go in Graz for cocktails.
They also provide several twists on traditional Mexican dishes here if you want something different!
Landhauskeller
The place to be on the weekends in Graz after dark seems to be this historic tavern in the old town. A large crowd waits outside the door for live music and drink promotions. If you want to get in, make sure to get there early.
Bunker Club
I was so astonished when I passed a door in Gries that had no name, thousands of stickers on it, and a sheet of paper with the club's hours written on it: 22:00 to 08:00. I didn't picture Graz as the kind of location where you can stay up all night partying, but I guess there's something here for everyone!
Graz Card: Lots of Culture and Lots of Connections
Acquire the Graz Card to access free public transportation and admission to numerous museums and attractions in Graz. The perfect travel companion for a family sightseeing vacation.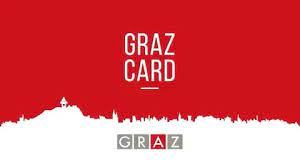 1. Public Transport/museums / Schlossberg and more
Free travel on public transport in tariff zone 101 during the whole validity period. The ticket is valid in the entire city area, including airport transfer.
Free ride with the Schlossbergbahn funicular and Schlossberg lift.
Free entry to selected museums during the whole period of validity.
Free walking tour through the historic center.
Two children under 15 travel free with each Graz Cardholder.
Good to Know: The Graz Card is available 24, 48, or 72 hours.
2. Flexible and Easy: How it works
Purchase the Graz Card now online or during your stay:
Austrian Railway Train stations (ticket counters)
Customer Centre for Public Transport
Tourist Information Graz Region
Graz City Map
The second-largest city in Austria has a lot to offer. You can already feel yourself falling in love with the lovely Capital of Delight after only a few short steps down secret passageways, across exquisite courtyards, and past gorgeous palazzi. And it's a lasting love!
Our map lets you quickly locate the city's most picturesque locations and must-see attractions. Using the interactive map with its range of filtering options will help you organize your trip to Graz.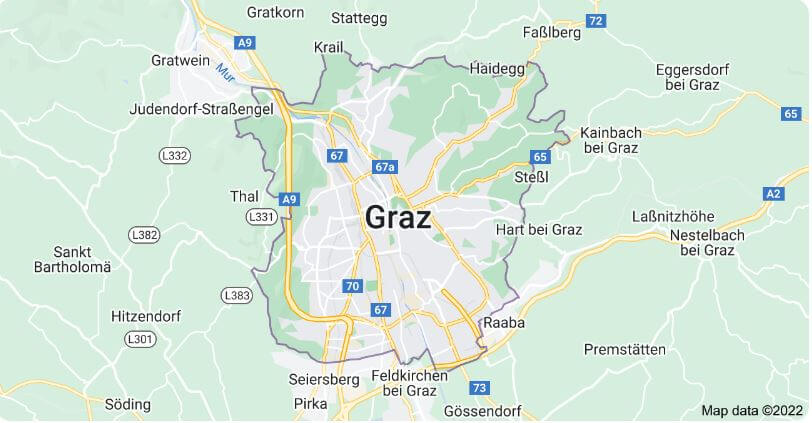 Parking in and Around Graz
Driving to Graz is simple. Furthermore, parking is no problem. In the inner-city short-term parking zones, you might have a chance to score one of the sought-after parking spots. Additionally, there are numerous park-and-ride locations close to Graz. There is a specific coach parking area for bus groups.
Parking Zones in the City Centre (Blue & Green Zones)
Parking in the heart of Graz is typically pay-to-park. Signs indicate the short-term parking zones throughout the city at each entrance and exit.
Parking is only permitted for three hours in the Blue Zone. Parking fees are in effect on weekdays from 9 am to 8 pm and Saturdays from 9 am to 1 am. Charges are in effect daily between 8 am and 10 pm at Graz Hauptbahnhof (central railway station).
There are parking fees in the Green Zone as well. However, you may park in this area for several consecutive days with a valid ticket.
Parking Garages and Car Parks
There are numerous parking facilities in Graz if you prefer indoor parking. By the way, comparing costs wise because parking fees might vary greatly!
Park-and-Ride Sites around Graz
Explore the city without the parking hassle.
Graz is a well-liked tourist destination because of its charming alleys, Mediterranean temperature, artist's district, numerous parks and gardens, and Schlossberg Hill. Due to this, it could be challenging to get parking in the city.
You can leave your car at one of the city's many park-and-ride locations if you'd rather spend time visiting the area than looking for a parking spot. All of them have easy access via public transportation to the city center.
Smartphone Parking in Graz
Parking without cash is simple now that the city has a smartphone parking system. Numerous vendors give mobile phone parking payment options. Enjoy cash-free parking by purchasing your ticket via text message, app, or phone!
Buses and Trams in Graz
Public transport at its most convenient
Buy a ticket, and off you go! Tickets are available at the following locations:
At the ticket machines in the trams
The ticket machines are at Hauptbahnhof, Hauptplatz, Jakominiplatz, and Liebenau Murpark.
At local tobacconists
Online tickets can be purchased via the GrazMobil app for smartphones.
Good to know: Tickets are available for all bus and tram lines of tariff zone 101. The zone extends up to Graz Airport. In addition, tickets are valid for the Schlossbergbahn funicular.
Important note: Please validate pre-purchased tickets properly before your journey. Here you will find an overview of all keys, including more detailed explanations and purchasing options.
Graz Nightline (An excellent offer for night owls)
Between 00.30 and 02.30 am on Saturdays and Sundays, as well as the nights preceding a holiday, a total of eight-night bus lines are in service.
When the bus stops, you have reached your destination – or you can continue your journey by bike, car, or caravan. There are many ways to explore the Capital of Delight!
Average Cost of Trip to Graz
How much cash will you require to travel to Graz, Austria?
You need to budget about 143.58 € (143.30$) for one person's journey to Graz (Austria) and 198.01 € for two people's travel. This budget covers the cost of two adults' lodging at a respectable 4-star hotel, lunch at a nearby eatery, a day's worth of street food and beverages, and some entertainment for two.
How much would a week's trip to Graz (Austria) cost?
The typical cost of a week's vacation in Graz, Austria, is approximately 1,506.83 euros for one person and around 2,264.84 euros for a couple, including flights. The most affordable month to visit Graz is August (Austria).
Many people are interested in traveling to Graz, Austria, yet are unsure about the cost. Like any trip, the price will vary depending on where you fly in from, the type of accommodations you desire, and the sights or activities you want to do. We are gathering all these travel expenses from others making the same trips as you so that you can more accurately project the cost of a vacation that suits your needs.
How much do hotels charge per night in Graz?
September to December is Graz (Austriapeak) 's tourist season. During these months, a night at a mid-range hotel runs about $89.00. The off-peak period runs from January to March. You can book a room for as little as $46 for the night. Usually, some great deals are also to be had, especially at the pricier resorts.
3*, 4* Hotels. Double rooms in 3*and 4* Hotels cost around 84.70$ per night, but prices can go up to 5% higher during high season.
Airbnb. Double Airbnb rooms cost around $ 39.30$ per night, but prices can go up to 126% higher during the high season.
How much does food in Graz cost?
In Graz, the average cost of a dinner from the street is 15.03 euros. A two-person sit-down supper would cost approximately 26.48 euros. You would spend something between the two amounts for lunch at a mid-range cafe or eatery.
How much does airport transfer cost in Graz? The average price of a 20-minute taxi ride is approximately 13.71 €.
How much does airport transfer cost in Graz? Renting a car in Graz would cost you around 43.31 € a day.
That's for now, for this massive, comprehensive Graz Travel Guide! Let us know if you have any questions in the comments, and we'll be sure to get back to you and look even more profound on our next visit!
We had the best time in Graz, and I hope you do too!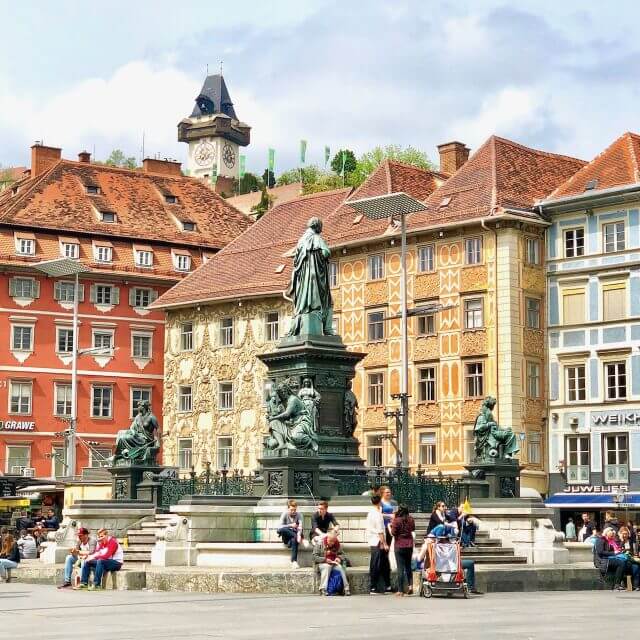 FAQ
Is Graz worth visiting?
For its fascinating history spanning the ages, Graz is worth a visit. The history of Graz is intriguing from beginning to end, and the city is still filled with artifacts from numerous historical periods.
What is Graz, Austria, known for?
Graz is worth seeing for its rich history across the ages. Graz's history is fascinating from beginning to end, and the city still teems with relics from many eras.
What does Graz mean in German?
Etymology. German last name, originating in Austria's Graz. Additionally, from a personal name derived from the adjective "greedy" in Old High German (from Proto-West Germanic *gern), see Dutch greeting ("eager").
Is Graz Austria in Germany?
Up to the end of World War II, Austria was a federal state of Germany. Then, the Allies annulled the Anschluss and restored Austria's independence.
Is English widely spoken in Austria?
English. An impressive 73% of Austria's population speaks English. According to Education First's English Proficiency Index, Austrians outperform European averages for spoken English in every age group, which ranks the country sixth out of 63 nations.
Is one day enough in Graz?
Since Graz is considered the culinary capital of Austria, one day may not be sufficient to experience all the local delicacies. However, you may see a lot of terrain by strategically scheduling your time and going to eateries that let you sample a variety of foods quickly.
Does Graz have an airport?
Graz Airport, also known as Flughafen Graz in German, is the leading international airport serving southern Austria (IATA: GRZ, ICAO: LOWG).
What language is spoken in Austria
Austria's official language is German, making proficiency a requirement for participation in the country's social, professional, and economic life. In some areas, the official languages of independent people groups include Croatian, Slovenian, and Hungarian.
Is Austrian the same as German?
German spoken in Austria is very similar to Standard German. However, other varieties of Austrian German are commonly spoken, some of which are simpler to comprehend than others. Many of the variations involve words and phrases.
Is Austria an expensive country?
Austria was listed as the 18th most expensive country in the world in a recent CEOWORLD Magazine analysis. The most expensive place was close to Switzerland. The prices for groceries, wine, and food in Austria, as well as those for eating out, travel, and other expenses, are shown below.
People also viewed: