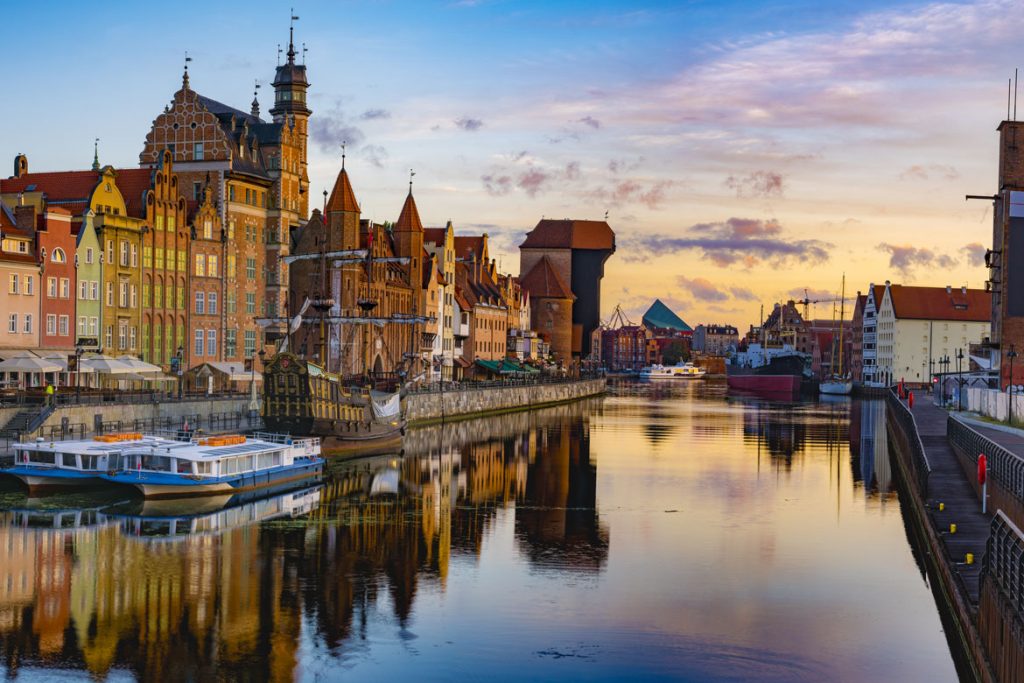 With its beauty, Gdansk can attract many tourists worldwide, but it has a dark history leading to the beginning of World War II. This is where World War II began in 1939, as well as the birthplace of the Solidarity movement, which eventually led to the end of communism in Eastern Europe.
Also, Gdansk is one of the most important port cities in Poland. During the Medieval Era, Gdansk – Poland's largest port, succeeded as a merchant city trading Baltic amber.
Gdansk was ranked among the richest ports on earth and held a major position in the Hanseatic League, a historic trading alliance in Europe during the Middle Ages.
Currently, Gdansk is arguably the preferred long-weekend location for Scandinavians.
Moreover, Gdansk is the type of city that's exciting to visit at any time of year, as it's filled with cozy European Christmas markets in the winter and a great place to chill after a sunny afternoon in Sopot in the summer.
So, look at the important things about this amazing city you should know before visiting.
Gdansk may be visited in one day on the quickest routes. However, if you want to get the most out of your visit, plan on staying at least two to three days. This offers ample time to tour the old town, see two of Poland's top museums, and eat your heart out at incredible restaurants. If you have extra time, you may also do many day trips. Visit Sopot and Gydnia for Baltic beach time or Malbork for one of Europe's biggest castles.
Gdansk History
Gdansk was first mentioned in the late 10th  century as a Polish town. This city was rotated for hundreds of years between German and Polish territories. Danzig was the name given to the city while Germany governed it.
The first World War II battles started on September 1, 1939, not far from Gdansk. Not only in Gdansk but also throughout the entirety of Poland, the German soldiers prevailed with ease. Poland languished under Nazi domination throughout World War II until it was "liberated" by the Soviet Union in 1945.
The German warship Schleswig-Holstein opened fire with her 15-inch guns on the Polish fort at Westerplatte, which guarded Gdansk harbor, on September 1, 1939. They were the first shots fired during World War II
In the Gdansk shipyards in 1980, the Solidarity labor movement started. This nonviolent campaign was one of the earliest significant uprisings against the communist government.
How to Reach Gdansk
Getting to Gdansk is straightforward. You can get to your destination using a variety of modes of transportation.
The biggest and best-known communication routes to Gdańsk are:
from Berlin via Szczecin, Koszalin and Słupsk
from the eastern border of Poland via Białystok and Olsztyn
from the Czech and Slovak border via Cracow and Warsaw
from the Czech and German border via Wrocław, Poznań, and Bydgoszcz,
from the Czech border via Katowice, Częstochowa, Łódź and Toruń
Travel by Train
Gdansk is a major railway hub, with dozens of trains passing daily. The modernized infrastructure makes traveling by train to Gdansk faster and more pleasant than ever. Express trains from Warsaw to Gdansk take only 2 hours and 40 minutes.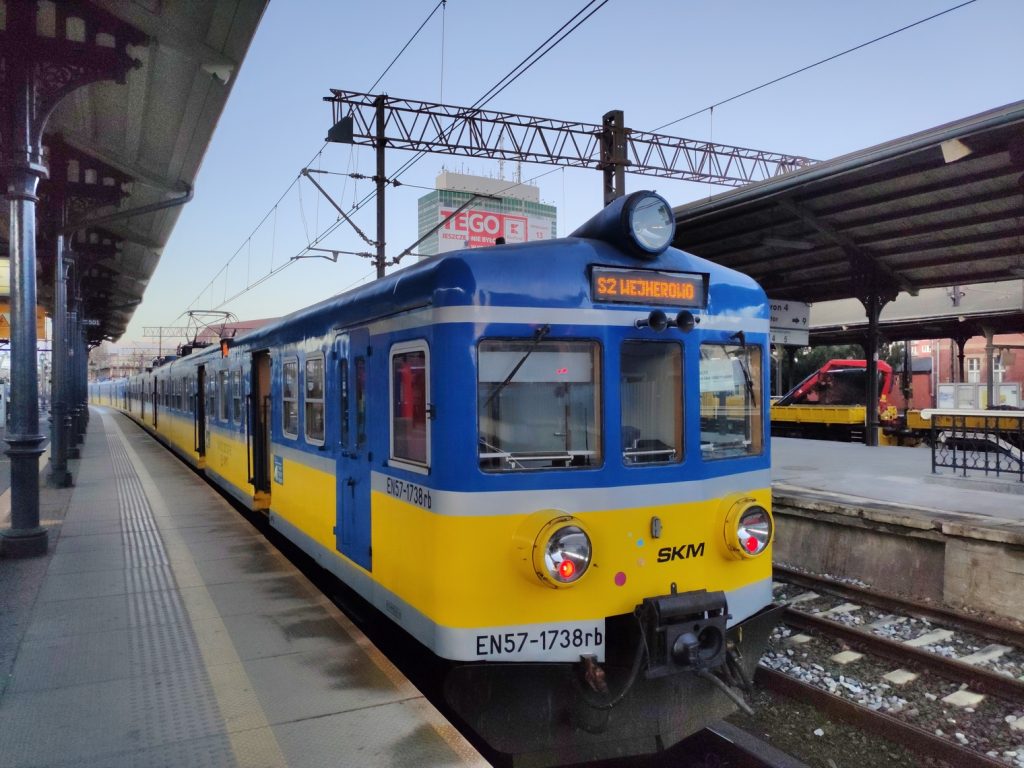 Direct train connections are available from Warsaw, Krakow, Bydgoszcz, Pozna, Katowice, Wroclaw, Szczecin, and Olsztyn, making it possible to reach Gdansk effectively.
Travel by Plane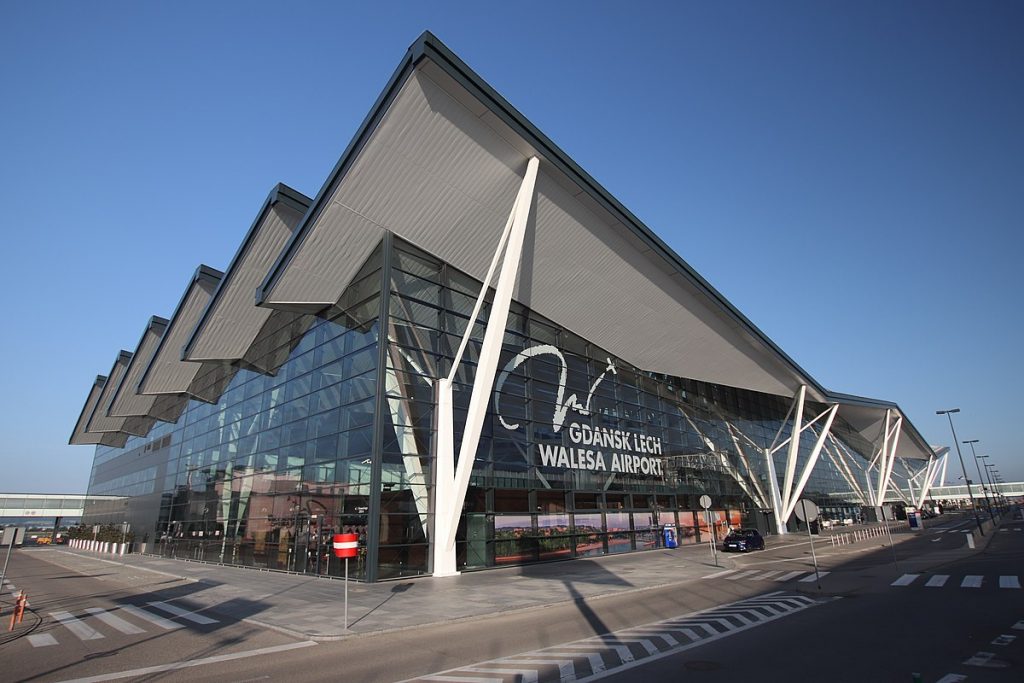 An international airport also serves Gdansk, "Gdansk Lech Walesa Airport," which is located 15km from the city center. There is a vast network of links between Gdansk Lech Walesa Airport and airports in several European cities, provided by airlines including Lufthansa, SAS, Wizzair, Ryanair, Eurowings, airBaltic, and Finnair.
The official website of Gdansk Lech Walesa Airport is accessible through this link, and the connection map is available through this link.
Travel by Road
You can reach the city through the available network of expressways and highways.
Travel by Bus
Another common kind of transportation in Poland is line buses. The FLIXBUS line is the one with the most connections.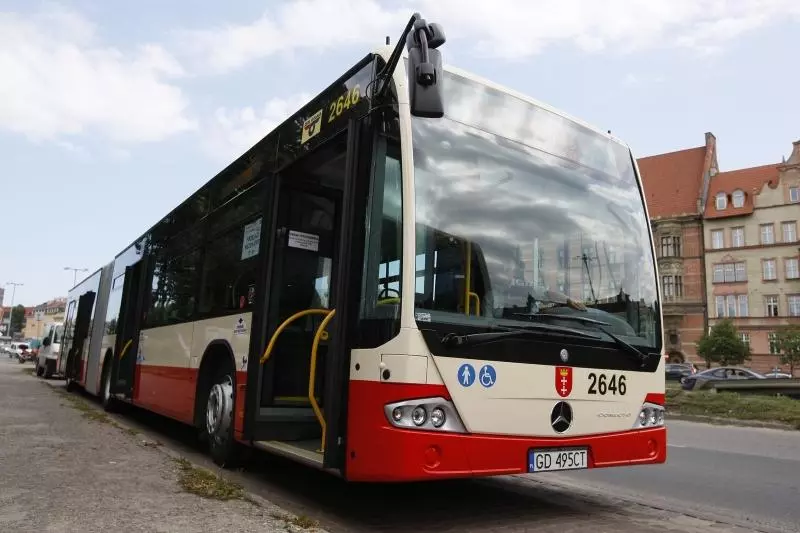 Gdansk Weather
Gdansk Weather
According to the Köppen-Geiger classification, Gdansk has a moderate oceanic climate (warm summer). Gdansk's annual high temperature is 12°C (from 1°C in January to 23°C in August). The average annual rainfall is 1041mm, with a low of 52mm in April and a high of 157mm in July.
Seasons in Gdansk
Spring (March through May)
The combination of humidity and temperatures makes this season feel mildly frigid. The temperature ranges between 64.5°F (18.1°C) to 40.4°F (4.7°C), with higher temperatures in the later months. Rain is common, with three to five days of substantial monthly precipitation.
Summer (June through August)
The middle of the year has quite pleasant weather with moderately high temperatures. These months receive the greatest precipitation, averaging 7 to 9 days per month.
Fall (September through November)
The daily maximum temperatures in the fall vary from 67.2°F (19.6°C) to 42.5°F (5.8°C), which will feel chilly due to the humidity and wind. It rains or snows frequently: 4 to 6 days each month.
Winter (December through February)
This time of year, the weather is just too cold. During this season, the average high-temperature ranges between 40.4°F (4.7°C) and 32.6°F (0.3°C). On average, it rains or snows three to four times every month.
Best Time to Visit Gdansk
Gdansk can be visited all year, but based on the climate conditions, the finest months for pleasant weather are May, June, July, August, and September.
Gdansk's Attractions and Things To Do
Dlugi Targ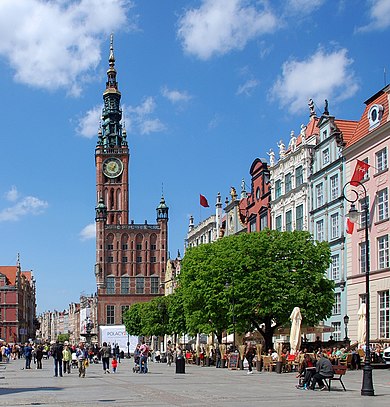 Dlugi Targ, commonly known as the Long Market or the Royal Way, is Gdansk's major street. Because the street is just 500 meters long, you can walk it in 10 minutes. The Long Market was founded in the 13th century as a commerce avenue for people to assemble. Still, the strip is currently more famous for its colorful traditional buildings and other distinctive characteristics waiting for you to discover. The market strip also connects most of the city's tourist attractions, so if you're not sure where to visit Gdansk, start at the Long Market.
These are the best places to visit while walking down Dlugi Targ.
The Golden Gate
The Golden Gate, one of the most renowned gates in the city, marks the beginning of the Long Market on the western end of the Long Market. Abraham van den Blocke, the same person who created Neptune's Fountain and the Golden House, created the design for this structure.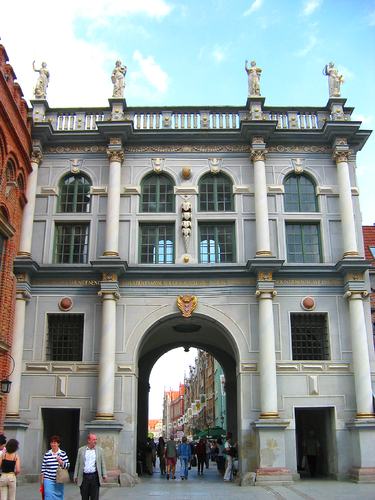 Neptune Fountain
Neptune's Fountain, one of the city's most recognizable monuments, is another well-known sight in the Long Market. If the mermaid statue is Copenhagen's emblem, then Neptune's fountain is Gdansk's.
The fountain was built in the 17th century when the mayor and municipal councilors decided to establish a more significant memorial for the city. They came up with this stunning mannerist-rococo-style figure, one of the most beautiful of its kind.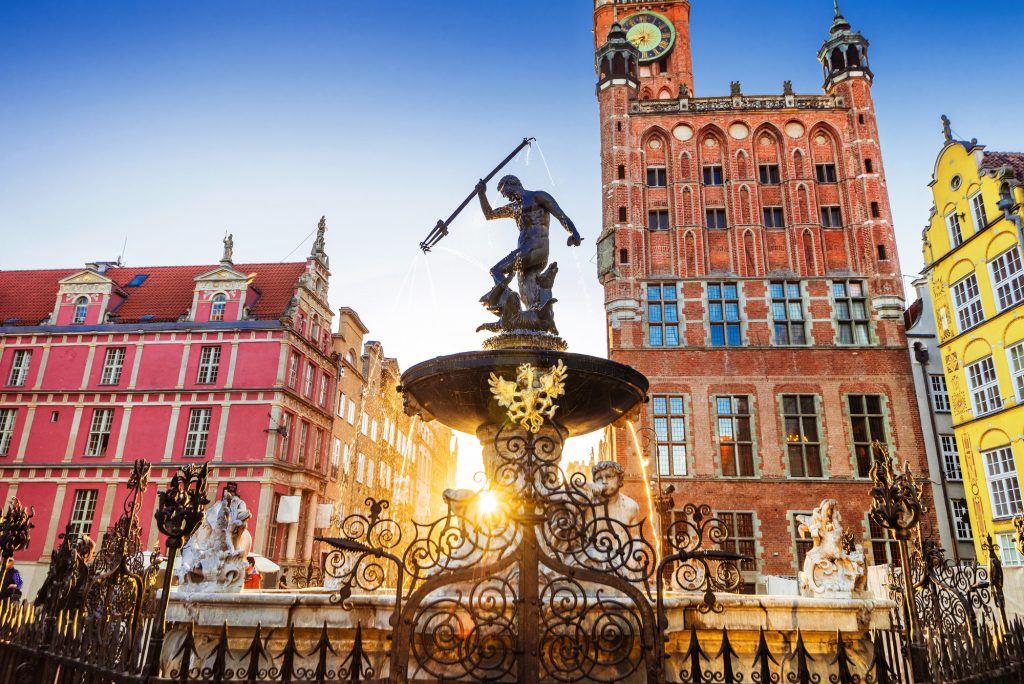 Neptune's Fountain is a popular photo location, and it would be a waste if you didn't grab one.
Artus Court
Artus Court, located just below the Neptune fountain, was originally a meeting area for merchants and officials. It is presently used as a museum.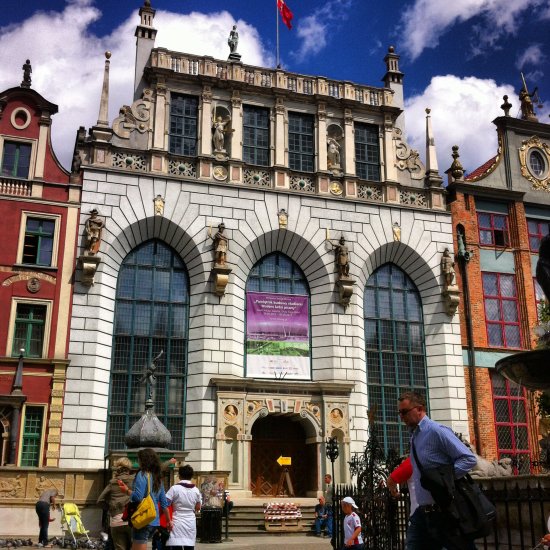 Golden House
Staying on the Long Market, two doors to the right of the Artus Court, is a building that is frequently referred to as the city's most magnificent. The Golden House was built in the early 17th century with Mannerism architecture for Jan Speyman, mayor of Gdansk. The home, designed by Abraham van den Blocke once more, exhibits Gdask's distinctive narrowness and height.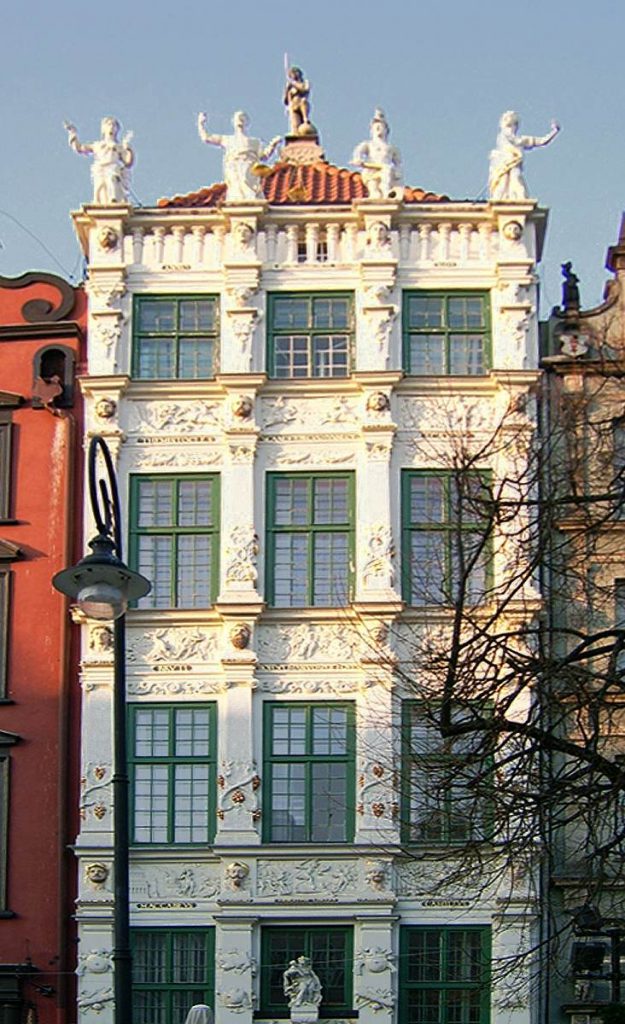 Town Hall
The Gdansk Town Hall is located on Dlugi Targ and is easily identifiable as one of the most attractive structures on the street. It was erected in the 15th century but was seriously damaged and renovated after WWII. The Museum of Gdansk has a decent display inside, but what's more impressive are the magnificent furnishings in several of the rooms. The Red Room, with amazing ceiling decorations from the early 17th century, is the most stunning.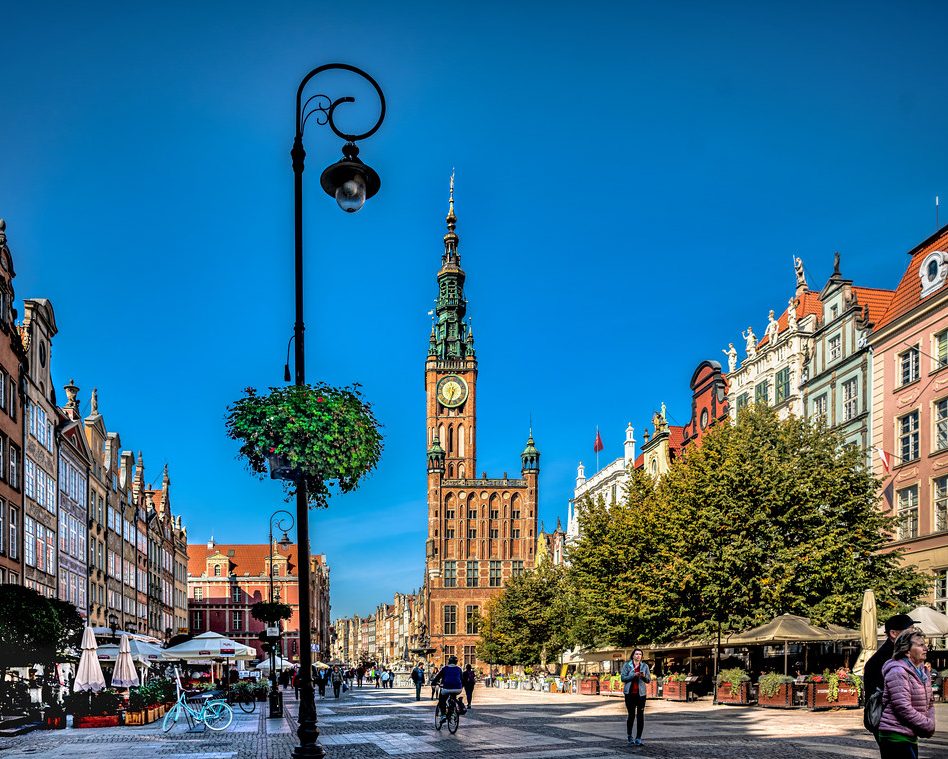 Gdansk Crane
The renowned Gdansk Crane, an example of a medieval port crane and a magnificent reminder of how affluent the port city was back in the day, is one of the most remarkable elements of Medieval architecture that can still be seen today in Gdansk. The crane is reportedly built as early as the 14th century and has a medieval lift mechanism capable of lifting 4-ton weights to a height of 11 meters, demonstrating how inventive humans were back then.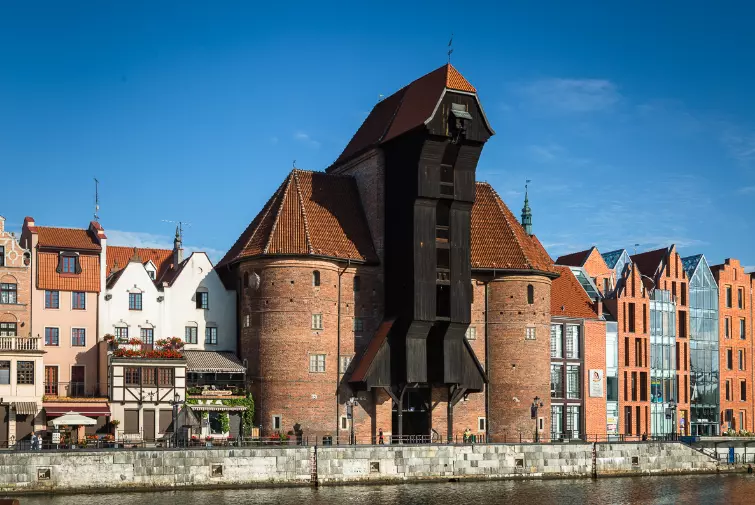 Museum of the Second World War
Visitors may witness the massive main display (one of the largest in the world!) that spans approximately 5,000 square meters. Surprisingly, the exhibition is placed 14 meters down in the basement. Over 2,000 displays and 250 multimedia stations teach us about the terrible history of the six years of war.
More details are available on the official website.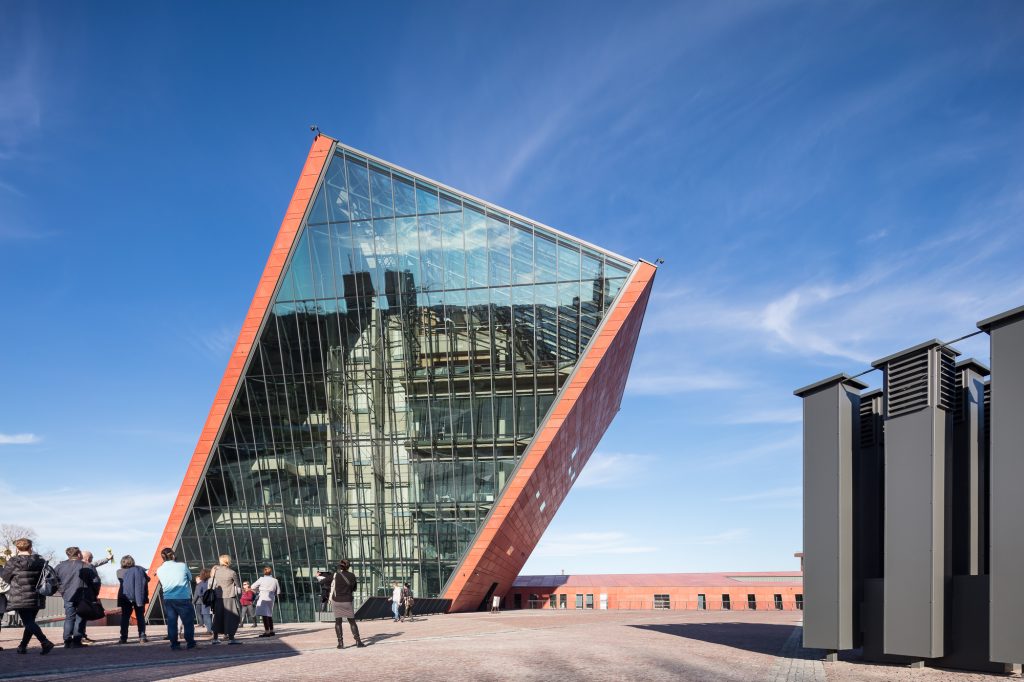 St. Mary's Church, a magnificent brick Gothic architecture from the 13th century, dominates the center portion of Gdansk and can be seen from many locations across the city.
This sacral building is also Europe's largest brick-built church
They began construction on St Mary's Church in 1343, but it took 159 years to complete. St Mary's Cathedral's most notable historical treasure is a three-story astronomical clock built by German clockmaker Hans Düringer in 1470. The astronomical clock is 14 meters tall! The clock was rebuilt in 2018 and now has a moving display.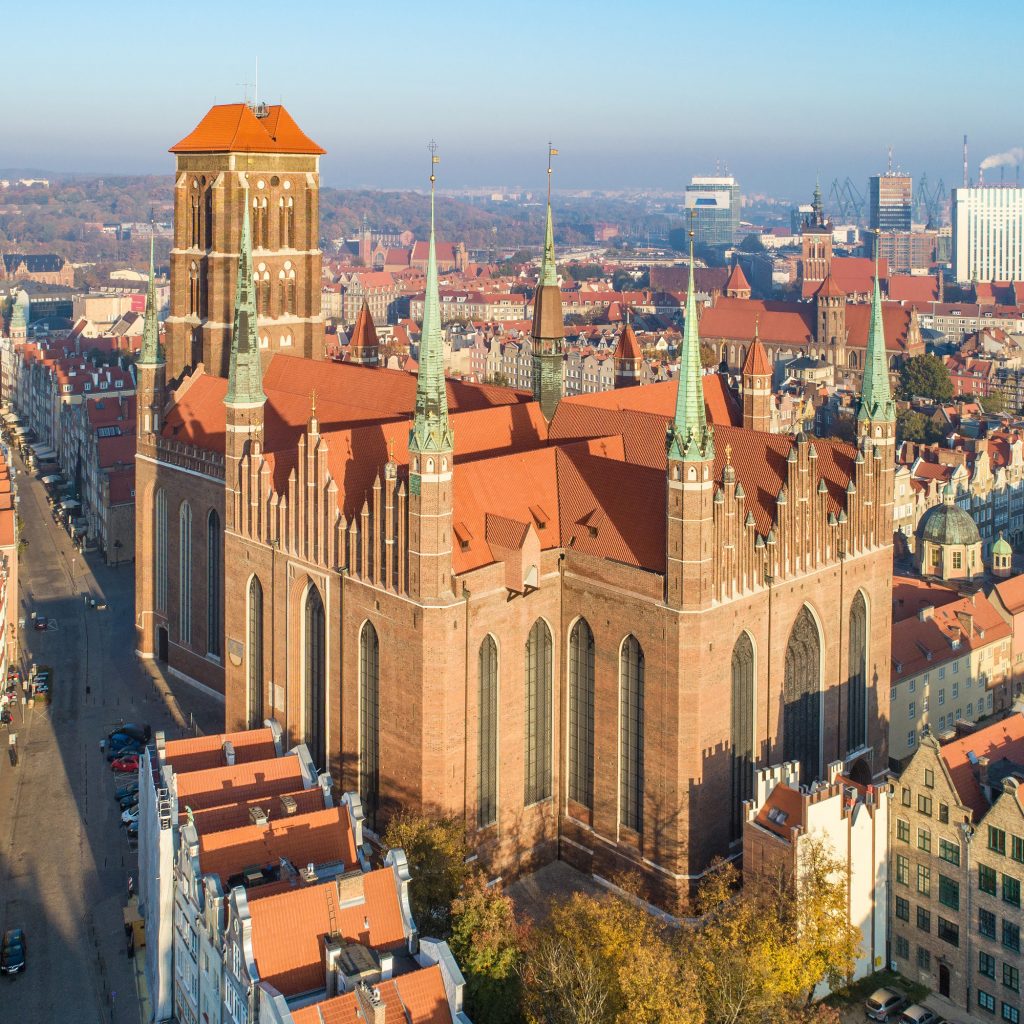 European Solidarity Centre
The museum tells the story of the Solidarity and opposition movements that brought about many significant changes in Poland and other European nations. The eye-catching structure resembles a steel ship and blends with the shipyard's surroundings. The museum's interior is stunning, with a unique blend of rusted steel, glass, and plants.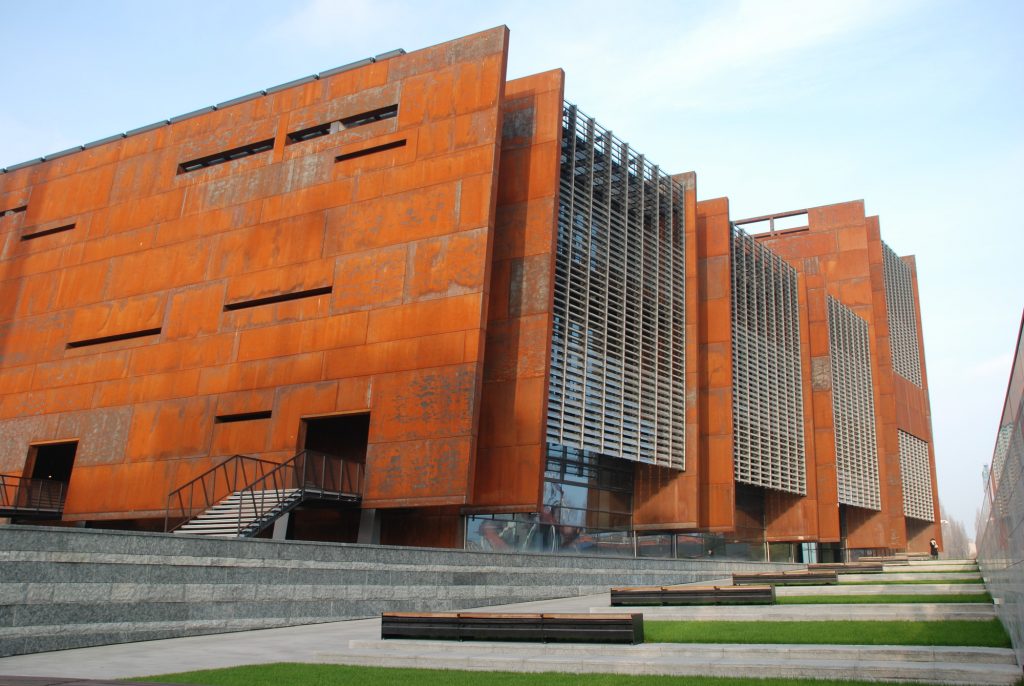 Amber Museum
The exhibit explains the history of this petrified resin, its processing processes, and its applications throughout history. We also get to observe prehistoric flora and wildlife preserved in amber, as well as unique amber artifacts and utensils. The museum's setting is very intriguing. A gothic-renaissance building named Przedbramie of Dluga street is an antique, unique in Europe. It is divided into three sections: the Prison Tower, the Main Prison, and the Torture Chamber. This structure was important to Gdansk's fortifications throughout the Middle Ages.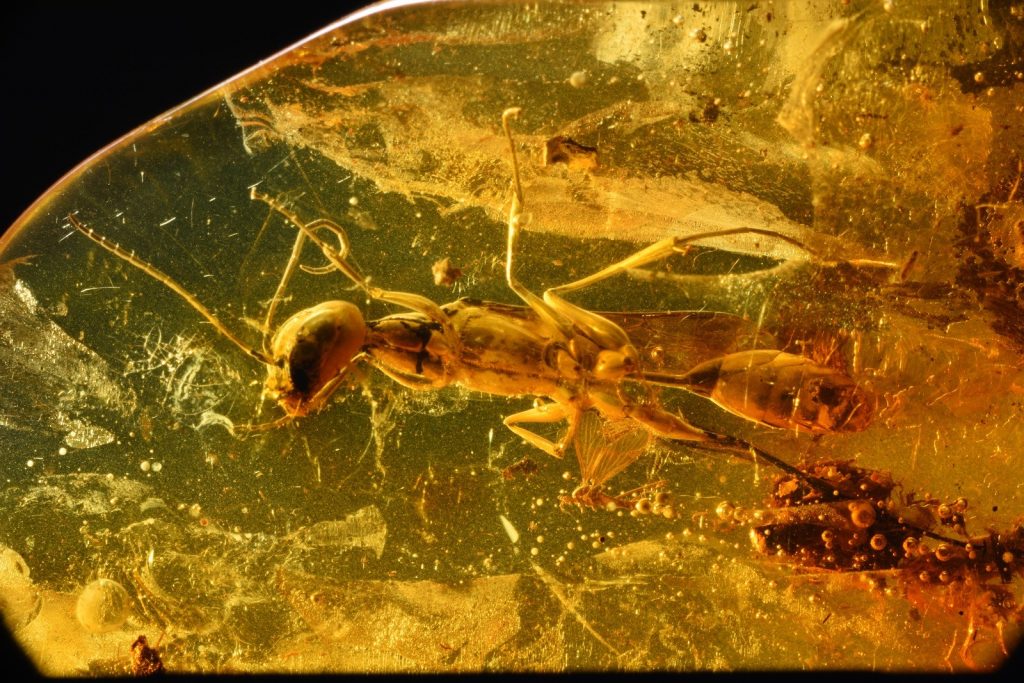 Jelitkowo Beach
Although many visitors to Gdansk focus on museums and tourism, it is important to note that Gdansk has wonderful beaches. Jelitkowo beach is the most popular in Gdansk. It is regarded as the nicest beach in Gdansk and one of the most beautiful beaches in Poland. Jelitkowo beach is large and sandy, with a bike route and promenade. Ideal for beachgoers, families with children, and anybody searching for a natural city retreat.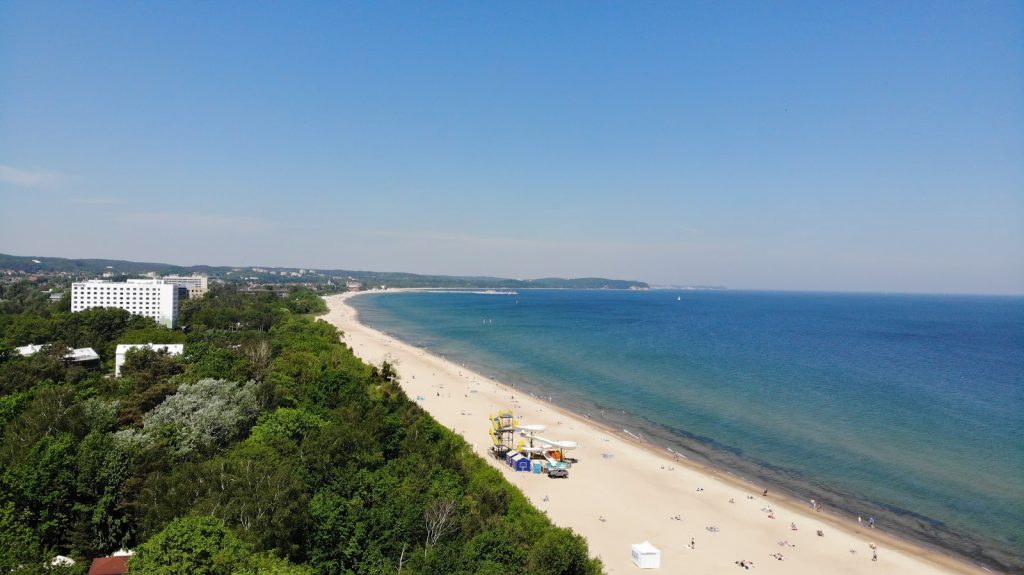 Amber Sky
Amber Sky, located on Ołowianka island, is one of Gdansk's most popular attractions. This 50-meter-tall Ferris wheel provides spectacular views over Gdansk and beyond. The trip lasts around 15 minutes and is undoubtedly an amazing experience.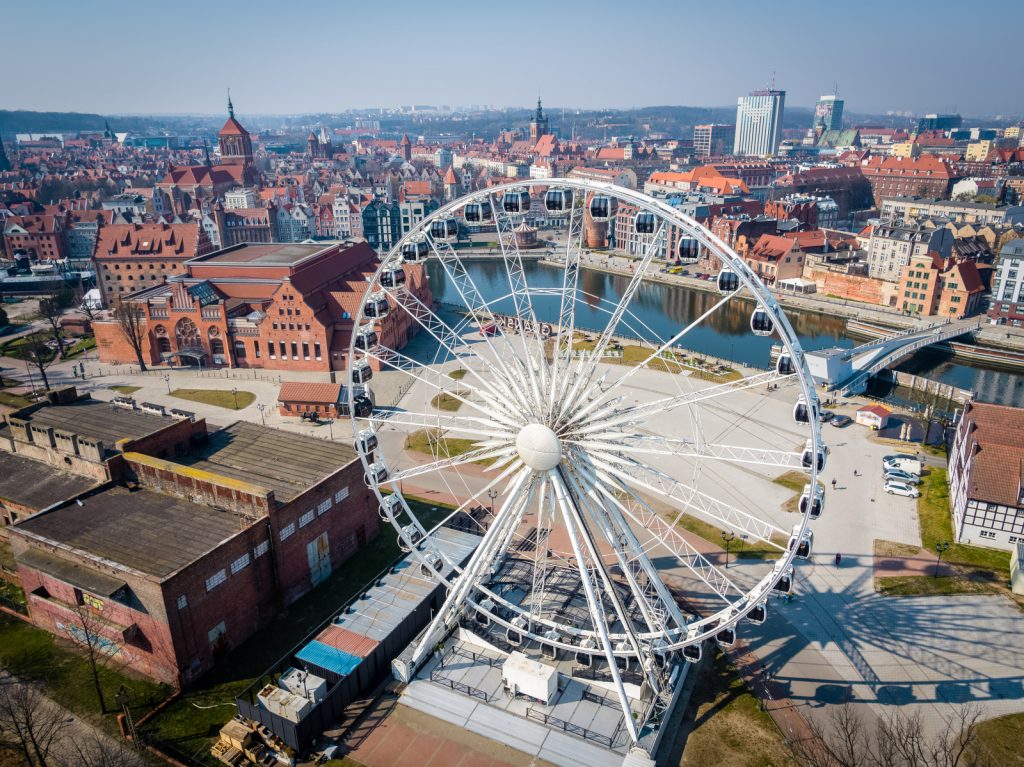 Street Art in Zaspa
While there is excellent street art to be found across Gdansk, one district, in particular, should not be overlooked: Zaspa, the heart of Gdansk street art. It's a little far from the center, but you can easily get there using the local SKM rail. This residential area of apartment buildings is covered with stunning paintings.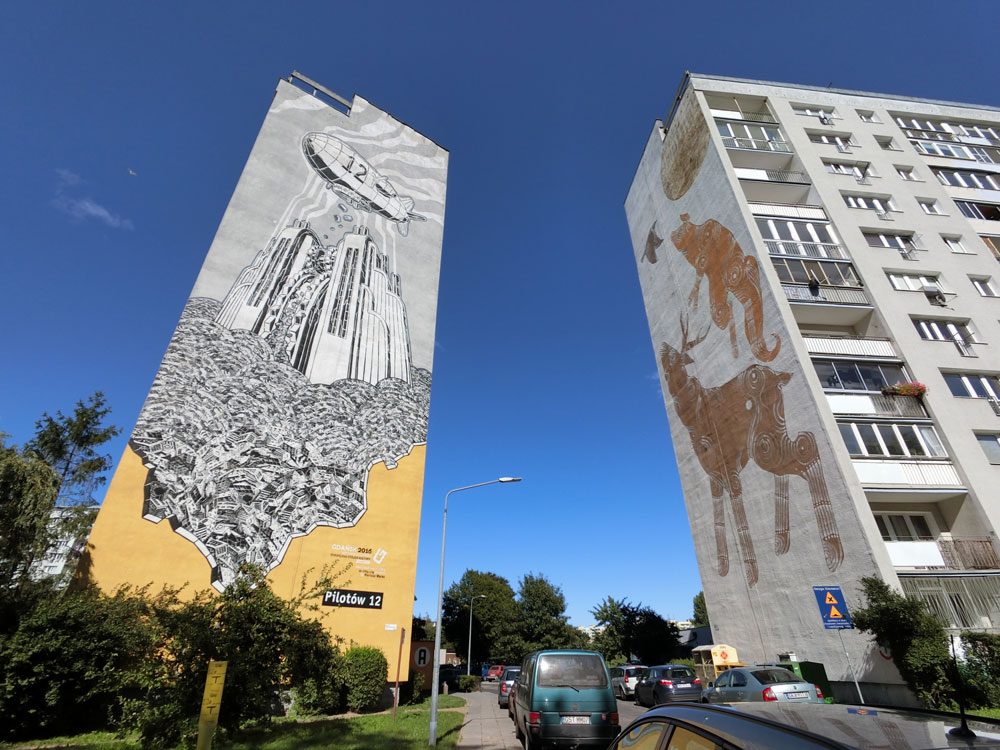 Westerplatte
Westerplatte, a tiny peninsula between the Dead Vistula and the Baltic Sea, is where World War II began on September 1, 1939, at 04:45 a.m. The catastrophic battles lasted seven days and destroyed the military zone. This is a lovely and grassy place for a walk along the beach today, ideal not just for history aficionados. There are various relics of the battles on Westerplatte.
Gdansk's Cuisine
Gdansk has a variety of amazing restaurants that provide traditional Polish food at reasonable costs. It is an excellent location for sampling local food.
Cuisine
I want to list a few foods you should try on your visit to Gdansk.
Pierogi
The name of these packed dumplings comes from the Russian word for pie, pirog. This traditional peasant meal has become one of Poland's favorite foods. Pierogi can be sweet, savory, or spicy, with ingredients like cheese, onions, ground pork, mushrooms, potatoes, and sauerkraut being popular.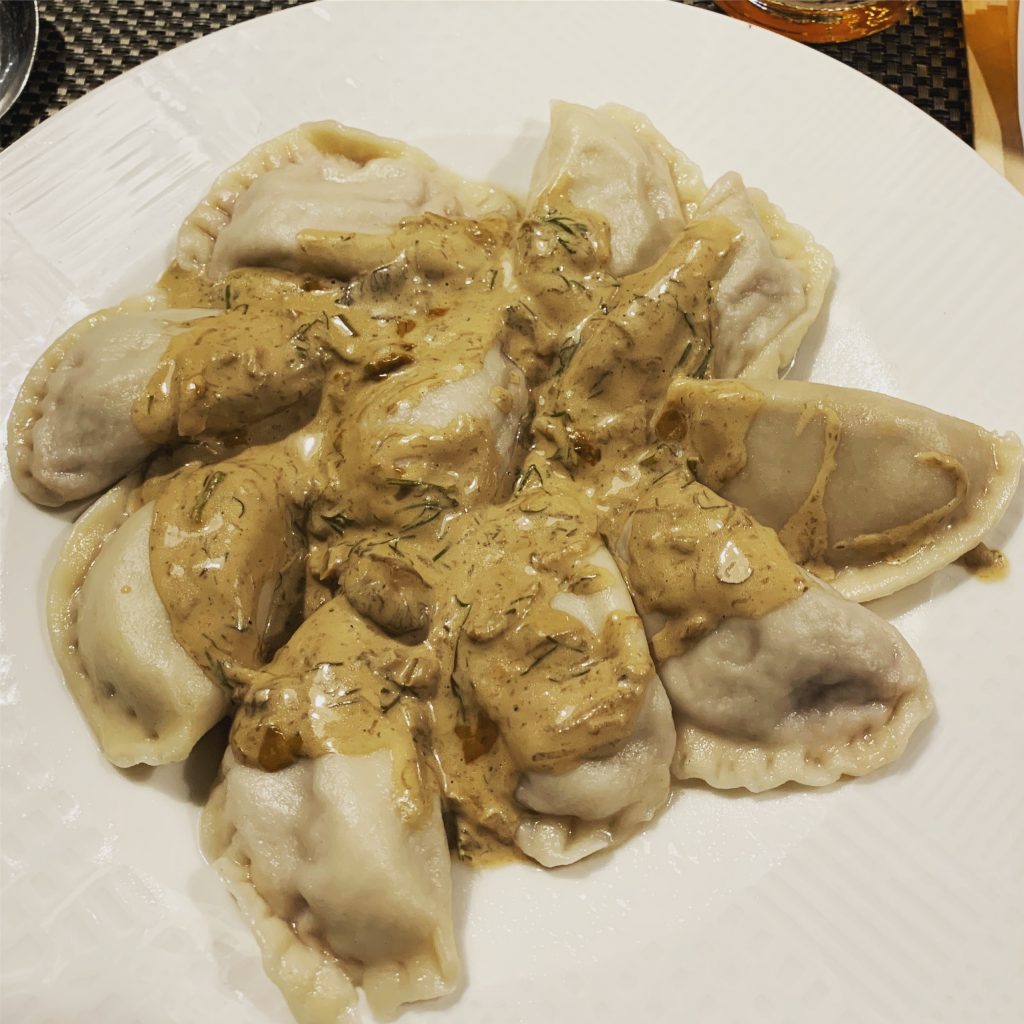 Gołąbki 
Gołąbki is a classic Polish meal made of cabbage leaves filled with minced beef and rice. The whole thing is then folded and fried in a mushroom or tomato sauce. Gołąbki is Polish for "small birds," alluding to their tiny form and size.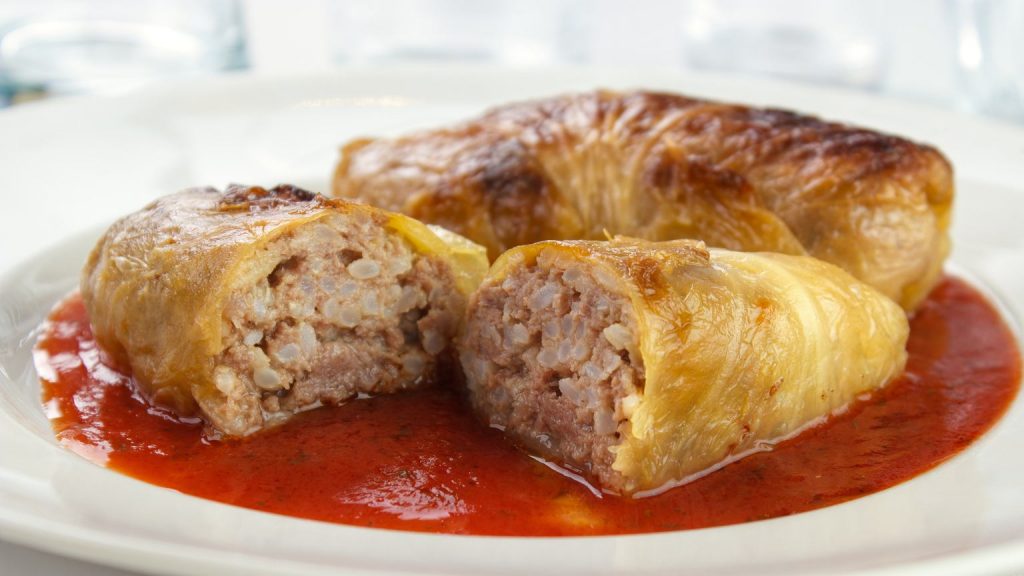 Mizeria 
One of the most well-known Polish salads is mizeria. It's made with thinly sliced cucumbers seasoned with salt and pepper before blending with creamy sour cream or yogurt. A handful of freshly chopped dill, one of Poland's favorite herbs, is a vital component of mizeria.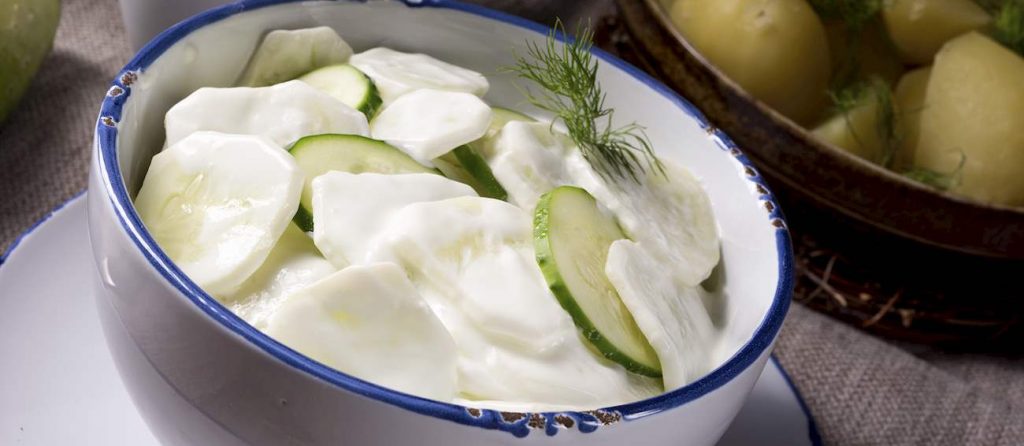 Placki Ziemniaczane
Placki Ziemniaczane is a well-known potato pancake, a common and simple meal appreciated throughout Poland. The foundation of the meal is made up of grated potatoes and onions mixed with eggs and occasionally flour.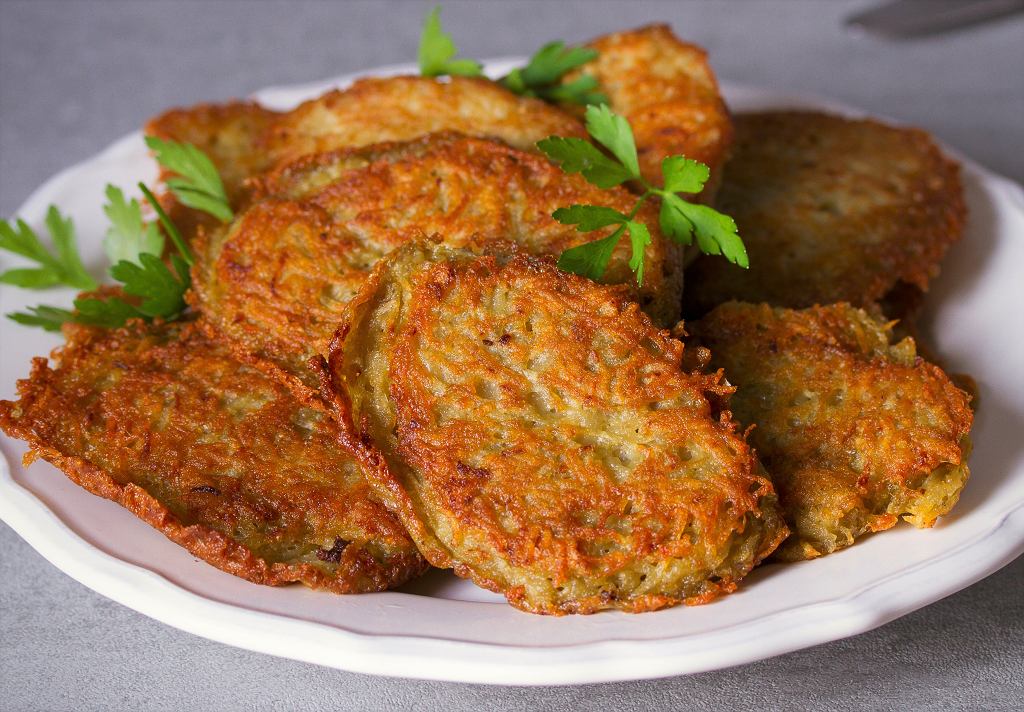 Rosół
Rosó is a traditional meat soup from Poland. Although the chicken variant, known as rosó z kury, is the most well-known, beef, veal, turkey, or mixed meat broths are also popular throughout the country.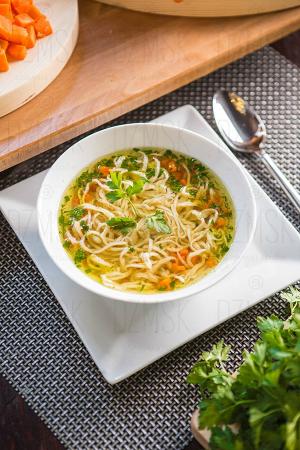 Pierogi Ruskie
These soft, crescent-shaped dumplings from the historical region of Red Ruthenia are filled with a combination of potatoes and cheese, which is periodically changed with various spices or fried onions. Pierogi ruskie are often boiled and then quickly fried until crispy.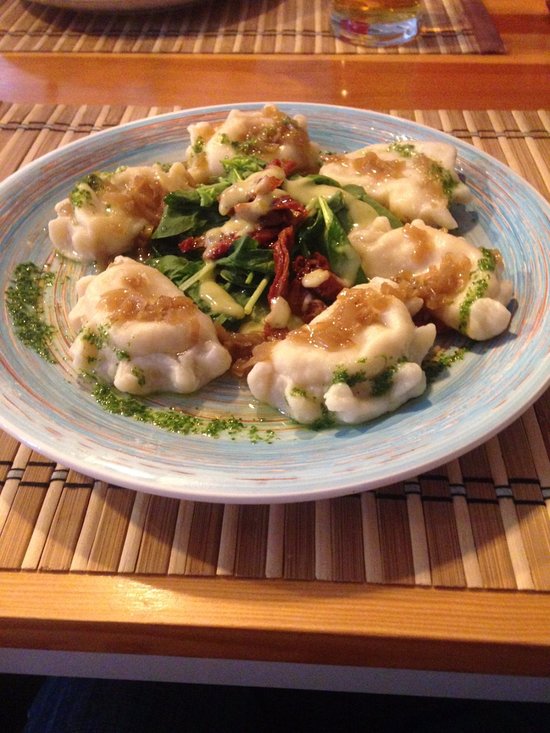 Where to Eat in Gdansk
Restaurants
Bars and Pubs
Nightlife in Gdansk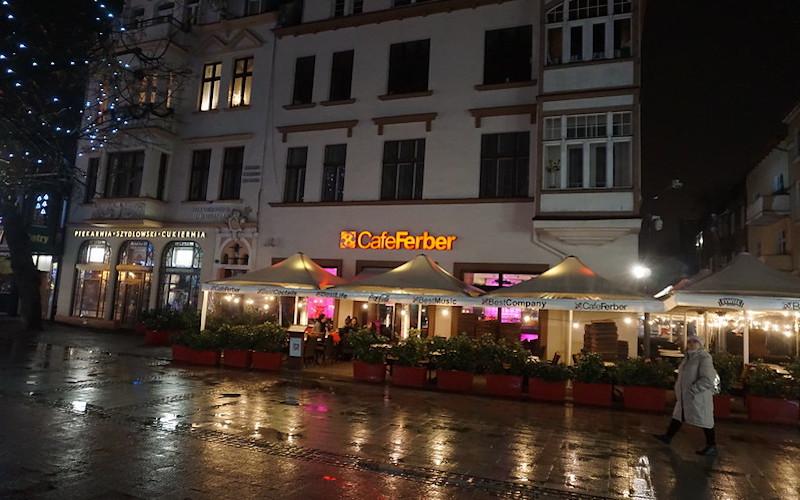 Gdansk is a wonderful spot to go out, drink, dance, and participate in other nighttime activities. There are several pubs and bars. Gdansk's nightlife clubs exude passion, originality, excitement, and a healthy amount of extravagance that will enhance your vacation.
Gdansk's nightlife is linked with live music clubs, concerts, and outdoor acts, but it also has beer houses, cafés, and wine bars. There are enormous discos where you may dance the night away for those who wish to continue partying late into the night. In the summer, though, beer gardens and other open-air bars crowd the terraces of the Long Market and along the Motlawa.
Gdansk's pubs, breweries, and nightclubs are located in the Old Town and are easily accessible, so you won't have to struggle or walk far to get to them.
Below is a list of the best clubs and pubs to drink and dance in Gdansk.
Clubs in Gdansk
Klub Parlament
Irish Pub
Autsajder Klub Studencki
Buffet Club
Red Light Pub
Bars and pubs in Gdansk
Degustatornia
Pijalnia Wódki i Piwa Gdańsk
Scruffy O'Brien Pub
Cafe Szafa
Stay in Gdansk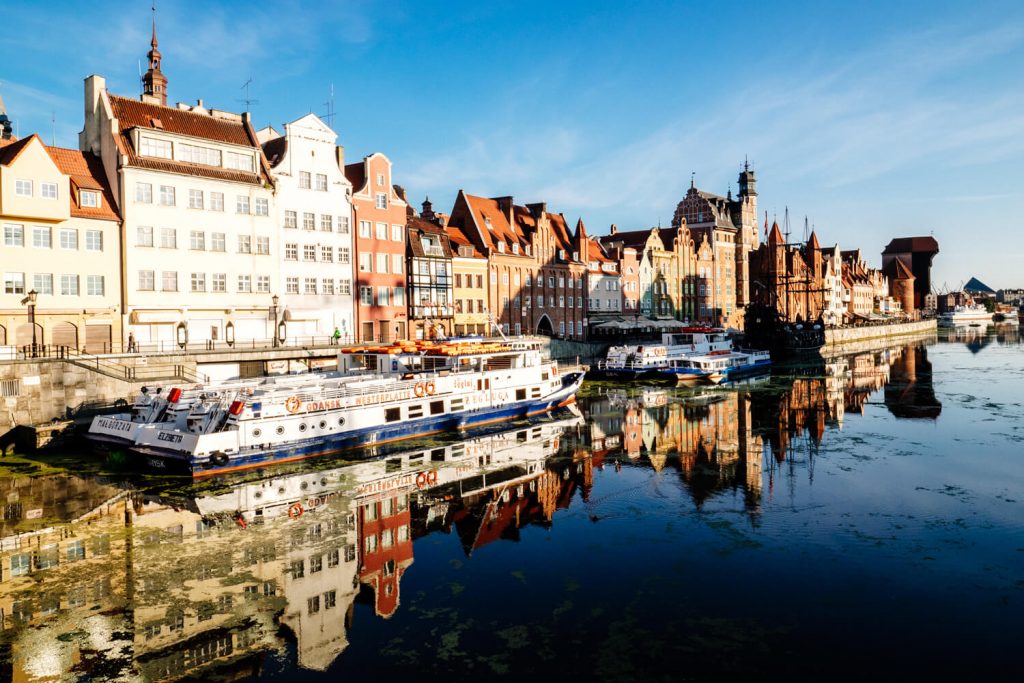 Gdansk offers a variety of options, including hotels in the city center, hotels with sea views, spas, hostels, and many more you can select based on your interest.
Hotels in the City Center
Hotels with Sea Views
Prawdzic
Mercure Gdynia Centrum
Villa Baltica Hotel
Hostels
High 5 Hostel Gdansk
Grand Hostel Gdansk
3city Hostel
Hanza Hotel
Ibis Gdansk Stare Miasto Hotel
Gdansk City Details
Map of Gdansk 
The map is available through this link
Go Around Gdansk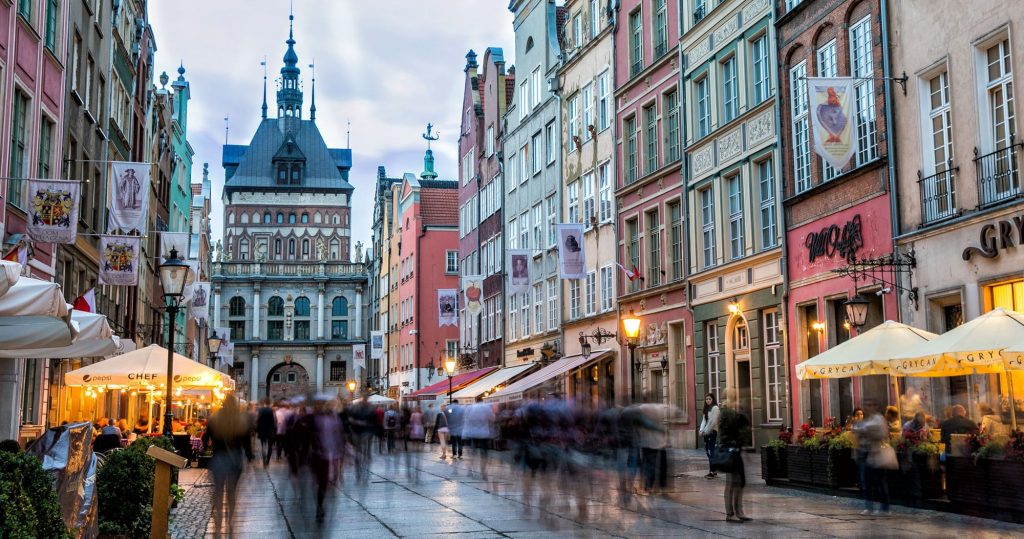 Plenty of methods are available to go around Gdansk and enjoy the city. Below are some of those.
On Foot
Most of Gdansk's tourist attractions are situated around the Old Town and easily accessible on foot.
Public Transport – Bus and Tram
Gdansk's public transportation provides an easy method to get around the city. The rates are reasonable, and provided there is no traffic congestion caused by roadwork, accidents, or harsh weather, it arrives on time. All of the buses and trams are modern, with air conditioning in the summer and heating in the winter. SKM Gdansk – Gdynia train has stops at Gdansk, Gdynia, and Sopot on longer trips. Bus and tram tickets are the same. They can be purchased from kiosks, ticket booths (rare), ticket teller machines, or the driver.
Car Sharing 
Car sharing is becoming increasingly popular. The major advantage of this system is that it is less expensive than a cab and allows you to park for free in the city. The primary downside is that you may not be able to find a car when you need one.
Motorbike Sharing
Since 2018, Gdansk has had a motorcycle-sharing system similar to that of vehicles.
Electric Scooter Sharing
Electric scooters have become a popular mode of transportation in several European cities, and Gdansk has had scooters for rent since 2019.
Trains – SKM Train
Gdansk does not have a metro, but the SKM train quickly travels inside the primary communication line. It is commonly referred to as the Gdansk-Gdynia train. However, some trains travel beyond, even beyond Wejherowo. SKM trains stop at each station. Tickets are available at train stations, automated ticket terminals on phones (Skycash App), and the board.
Tourist Card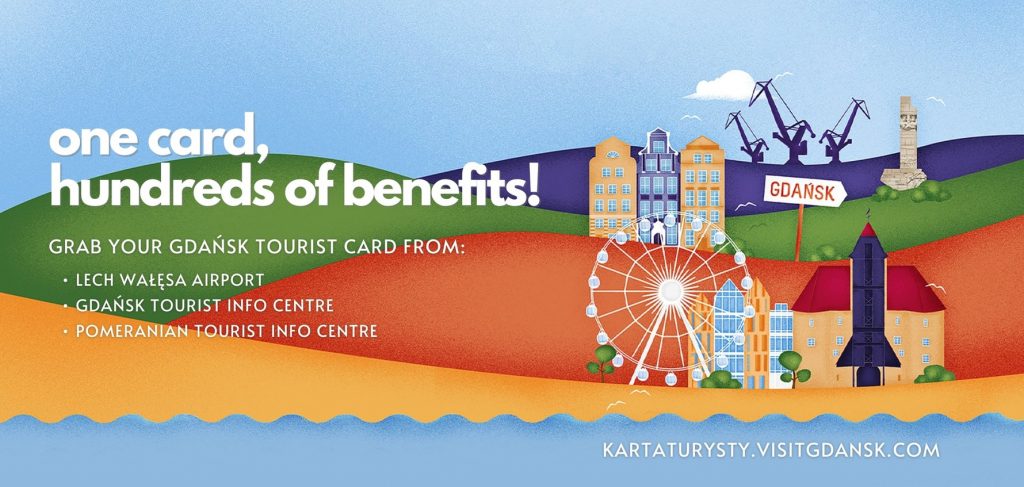 The Tourist Card is a customized bundle of free admission to over 20 museums and discounts to cultural organizations and eateries. After purchasing a package, you can load the Card with various transit tickets and use public transportation to travel freely within Gdansk or Gdansk, Sopot, and Gdynia. You may also supplement it with Gdansk Airport's Fast Track and Executive Lounge services.
More details are available on the official website
---
With all the above, we hope you enjoy your tour in Gdansk, a city with many attractions and history you to explore and enjoy
---
FAQs
Is Gdansk worth visiting? 
Yes, of course. Because Gdansk is a city rich in history and bustling with activities all year, you can explore and have a wonderful experience.
Is Gdansk Poland cheap? 
Yes, in comparison to western European countries. We must accept that Poland is one of the most affordable countries in Europe.
Why is Gdansk famous?
Gdansk, Poland's Baltic beach city, has long been considered one of Europe's most undervalued places. The city suddenly became famous to tourists because of its location and attractions.
Is Gdansk in Ukraine? 
No. Gdansk is in Poland.
Is 1 day enough for Gdansk? 
Gdansk cannot be visited in a single day. If you don't have more time, you should go to the city center.
Is Gdansk English-friendly?
English is the second most commonly spoken language in Poland and is also spoken in Gdansk. Almost everyone in a large city's tourist business speaks English to some extent.
Can you use euros in Gdansk?
Most souvenir stores, motels, coffee shops, and restaurants take both dollars and euros.
Does Gdansk have a beach? 
In Gdansk, there are two guarded bathing beaches: Stogi and Brzeno. Other beaches may be found in the districts of Jelitkowo and Sobieszewo.
Is Gdansk cheaper than Warsaw?
Warsaw is around 25.0% more expensive than Gdansk.