Doha, Qatar: A City of Endless Wonders
Doha, the capital of Qatar, started as a tribal port settlement in a desert area. Its economy was based on pearl diving, fishing, and sea trade. When the country started making money from oil, the city quickly became more modern. Then look around the city, which is full of interesting art, religious, and market traditions, as well as impressive architecture and technological investments.
The history of Doha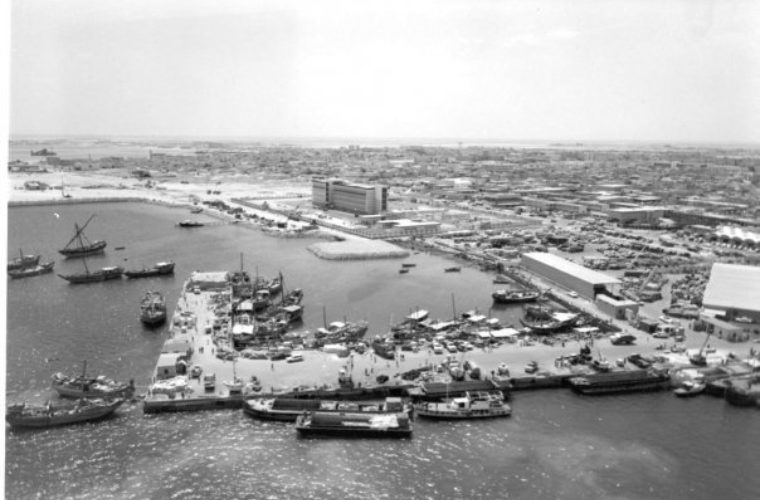 Most likely, Sudanese tribe members from the sheikhdom of Abu Dhabi started the city of Doha. This city was once a small village when the war between Bahrain and Qatar broke out in 1867. At the time, it was a port city involved in maritime conflicts in the Persian Gulf.
Muhammad Ibn Thani Al Thani, the Sheikh of Doha, was named Prime Minister and Ruler of Qatar by the second British government. He agreed to follow the rules of the Perpetual Maritime Treaty of 1853, which greatly cut down on naval wars. At the end of the 19th century, when it controlled most of the Arabian Peninsula, the Ottoman Empire had a garrison in the city. The city kept a British political establishment when Qatar became a British protectorate in 1916. Late in 1971, Doha became the capital of Qatar, which had just won its independence.
HOW TO TRAVEL TO DOHA
By air is the best way to get to Qatar. Qatar Airways is the country's leading airline, but many other airlines worldwide also fly into Qatar. If you fly to Qatar, you can get in through Hamad International Airport. At Doha Airport, people from many countries can get a free visa when they arrive (for EU citizens, it is valid for 90 days). It's a barcode that's stuck in your passport.
Hamad International Airport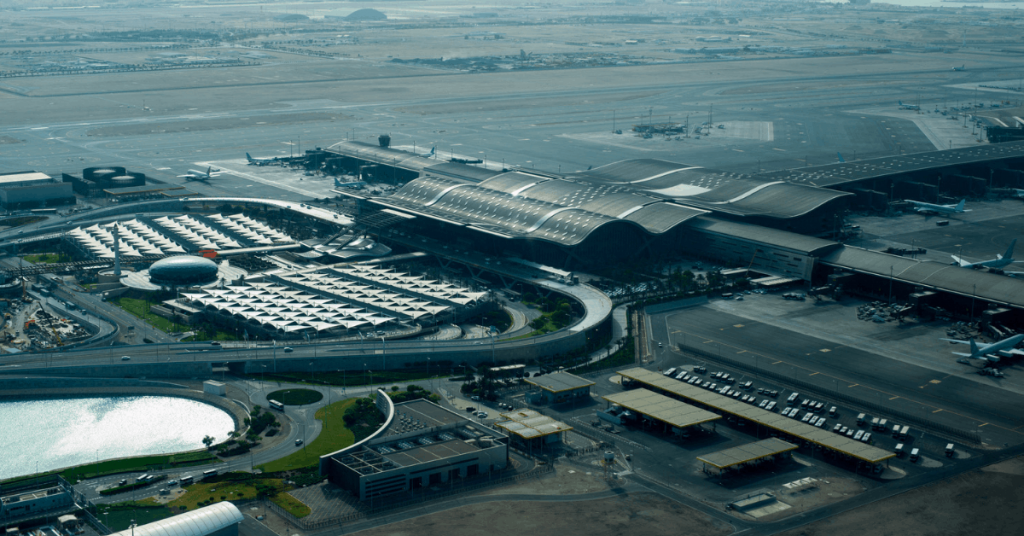 Hamad Airport also called Doha Airport and NDIA (New Doha International Airport), is the main international airport in Doha, the capital city of Qatar. Doha International Airport is becoming increasingly important in the Persian Gulf area. Domestic airline Qatar Airways is building a worldwide network from there. It connects the city to Africa, Asia, Australia, Europe, the Indian subcontinent, North America, and South America. In 2013, it joined a group of airlines called One World. Since the airport metro opened in December 2019, it's very easy to get to the airport. The business is open from about 6:00 to 22:30. (Except Friday morning). It goes every 5 minutes and takes about 20 minutes to get to the city.
DOHA WEATHER?
The city is in a hot desert, so the summers are long and very hot, and the winters are short and hot. Between May and September, the average high temperature is over 38 °C and often goes up to 45 °C. May and June are usually the months with the least humidity. In the summer, dew points can go above 30 °C. In the summer, the city gets no rain on average, and in other months, it rains less than 20 mm. winter days are pretty warm when the sun comes up, but they get cold at night.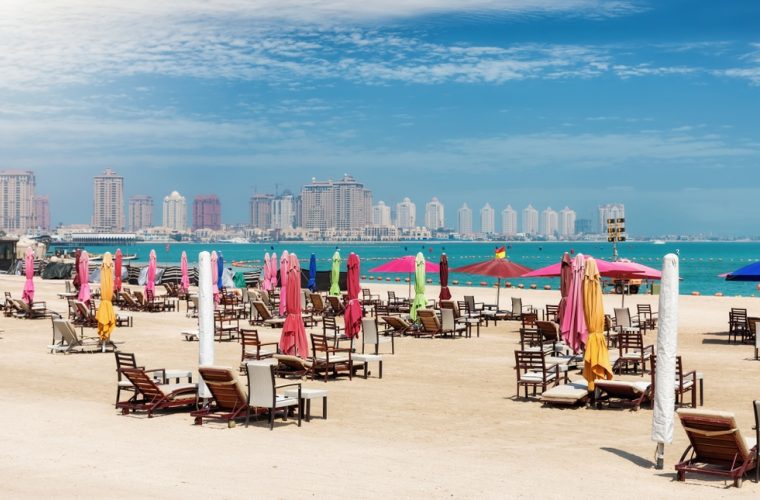 TOP SIGHTS IN DOHA
Museum of Islamic Art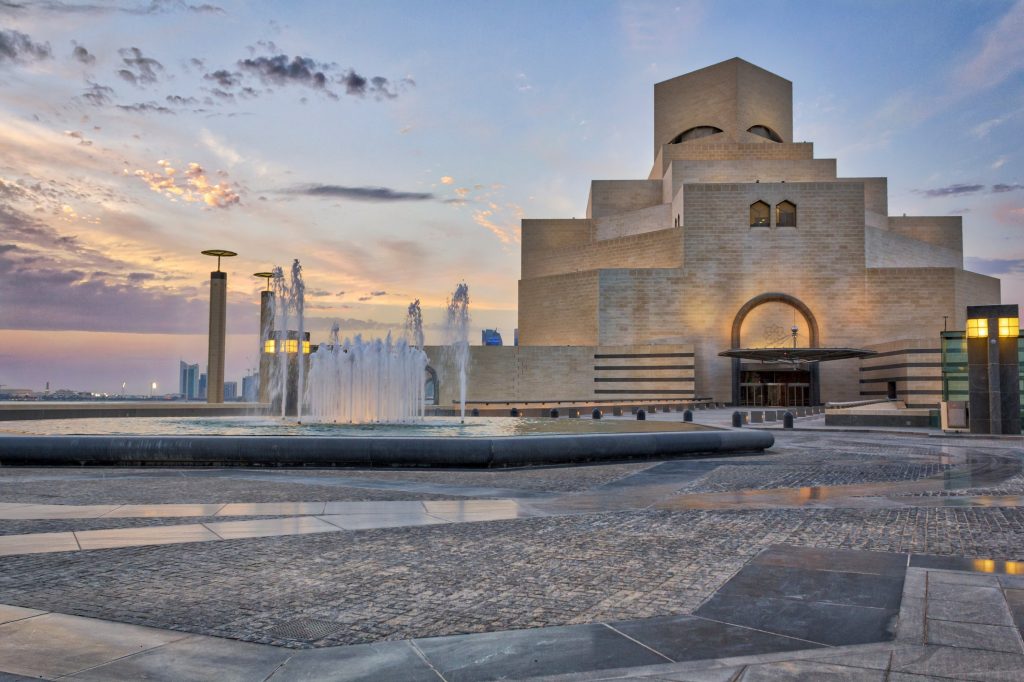 The museum building stands out as a beautiful piece of architecture. It is in MIA Park on the water in Doha. Once you get inside, you'll see metalwork, ceramics, jewellery, woodwork, textiles, and glass from the 7th to the 19th-century works of Islamic art. These pieces were collected from three continents. The museum is free to enter, and it's cool at night.
National Museum of Qatar
The interactive and immersive National Museum of Qatar tells the story of Qatar and its people from ancient times to the present. The restored historic palace of Sheikh Abdullah bin Jassim Al Thani (1880–1957), the son of the man who started modern Qatar, is at the center of the new museum. A building that used to be the royal family's home.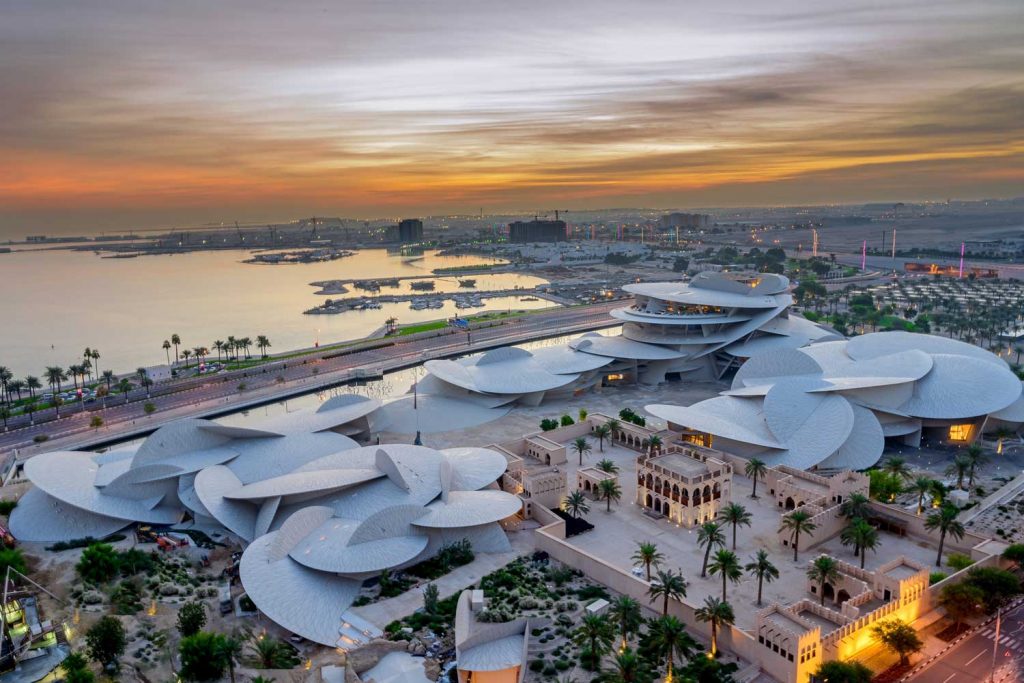 In Jean Nouvel's new building is a palace with works by Qatari and international artists, rare and valuable objects, historical documents, and contemporary works of art that come together in interactive studies that don't feel out of place.
The Pearl-Qatar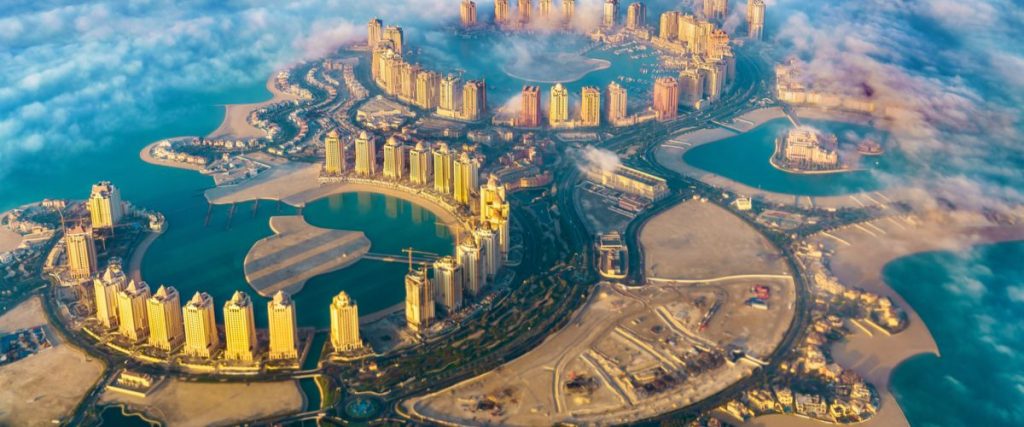 Pearl Island is a man-made island in Qatar. It is almost four square kilometres in size. United Development Company built the island, and the architecture and design firm Callison planned it. 350 meters from Doha's West Bay Lagoon area. The DEME Group created the artificial peninsula, which finished before the Asian Olympic Games in Doha in 2006.
Aspire Park
The Aspire Park is in the Southern District of Bayah in the city. It is in the Aspire Zone. It is Doha's biggest park, with an area of 88 hectares. The park has many different things, such as beautiful fountains, playgrounds for kids, and other places to play. It has the only lake in Qatar, a small hill, a coffee shop where you can get different drinks, and rare and common trees, and the only lake in Qatar.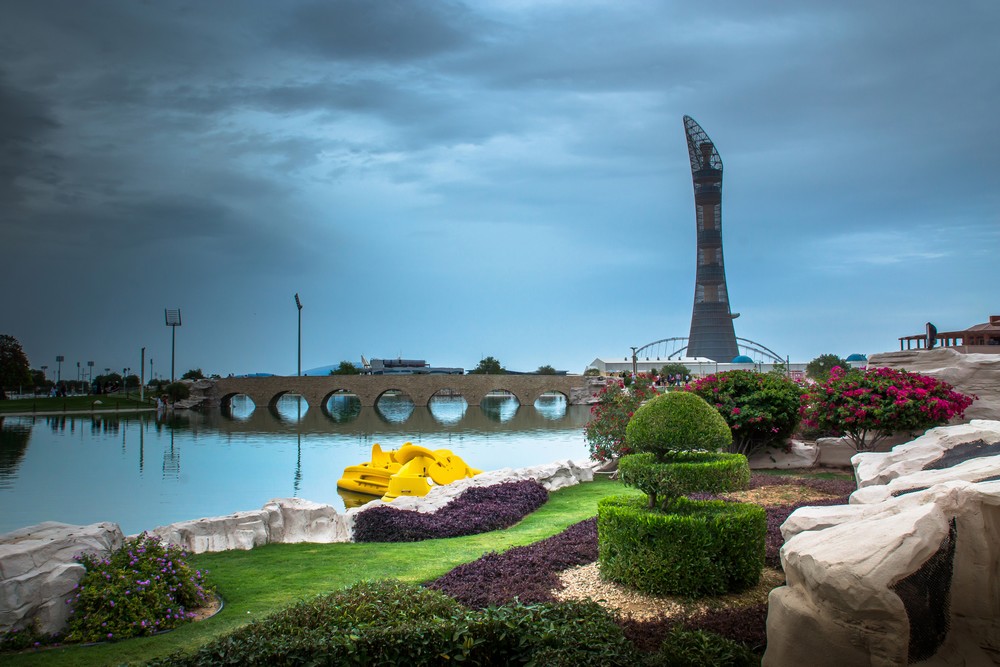 Katara Beach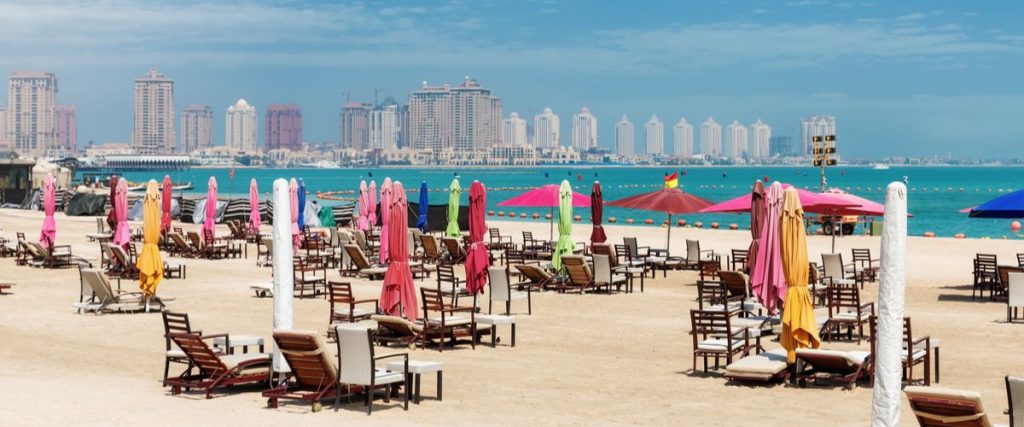 Katara's private beach is over 1.5 km long and is one of the most beautiful beaches in Qatar. People who go to the beach can take it easy or jump into the fun with various activities that get their hearts pumping. Take in this city's view.
Doha Quest
Quest, in Doha Oasis, Msheireb, is Qatar's first theme park. Quest is a 32,000-square-meter indoor entertainment center different from anything else in the city. It has over 30 rides and attractions for people of all ages, including high-adrenaline thrill rides, media-controlled simulators, virtual reality experiences, miniature thrill rides for younger guests, and family-friendly attractions. Take a boat ride or walk around the bay in the evening to view this city.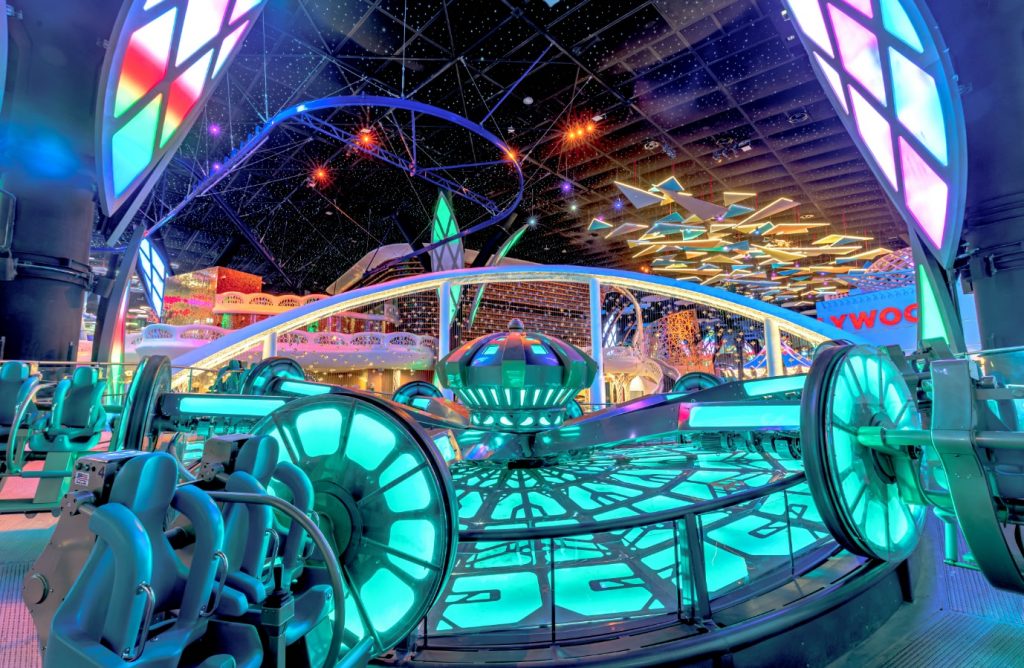 It has over 30 rides and attractions for people of all ages, including high-adrenaline thrill rides, media-controlled simulators, virtual reality experiences, miniature thrill rides for younger guests, and family-friendly attractions.
Qatar Corniche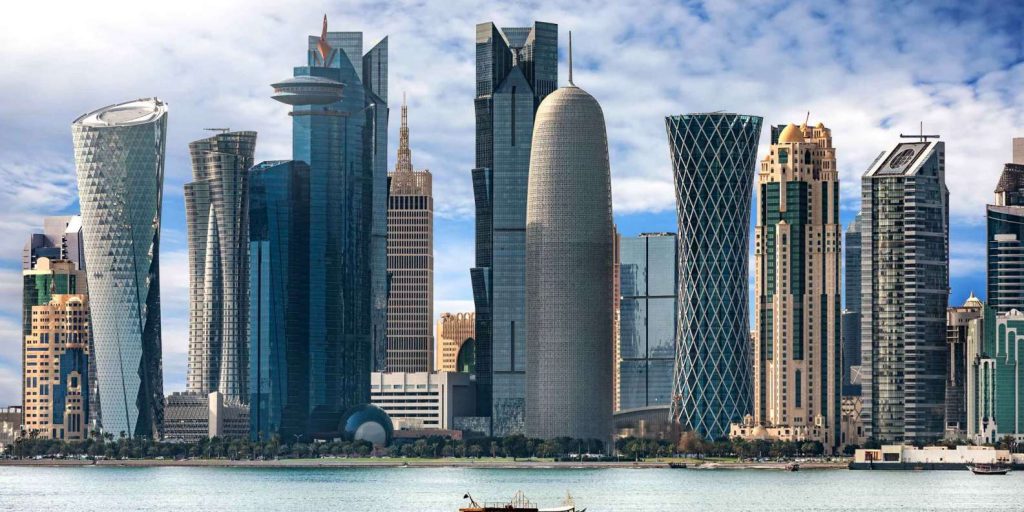 The Doha Corniche is a 7-kilometer-long, beautiful promenade that looks out over the calm water and is one of Doha's most famous sights. The Corniche is a crescent-shaped walkway that goes around Doha Bay. It has the best views of the city's modern skyline and is where events like the National Day celebrations and the National Sports Day are held. You can walk around the bay and watch the dhows light up the  Corniche at night or take a boat.
Museum of Illusions
Enter the fascinating World of illusions, which will make you doubt your senses but will also amaze you. This is a world that will make you completely confused but will also teach you something. We promise you will be amazed because nothing in the Museum of Illusions is what it seems to be.
Things to do in Doha
When visiting Qatar's capital, Doha, you must go on at least one adventure in the desert. Exploring dunes, riding a camel, sandboarding, and dune bashing are all fun ways to get away from the busyness of the city. Endless dunes at sunset are a sight you will never forget. A trip to Wakra and Messaid, Sealine Beach, and Khawr al Udayd, as well as quad biking in the dunes, is an exciting adventure. The Monster Bus adventure is for anyone who wants to take a bus ride through the desert.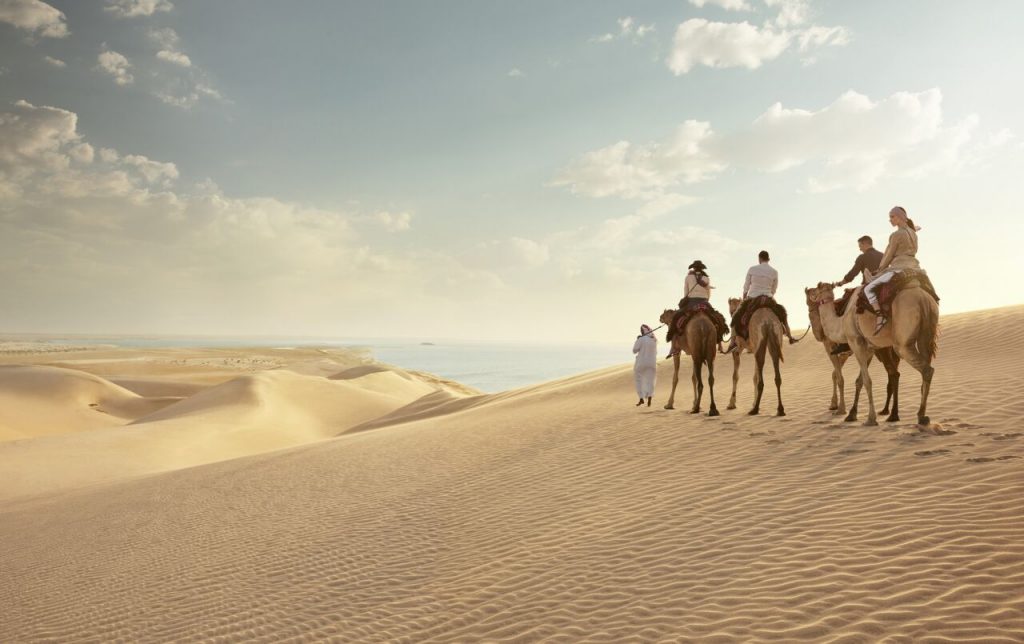 Doha Oasis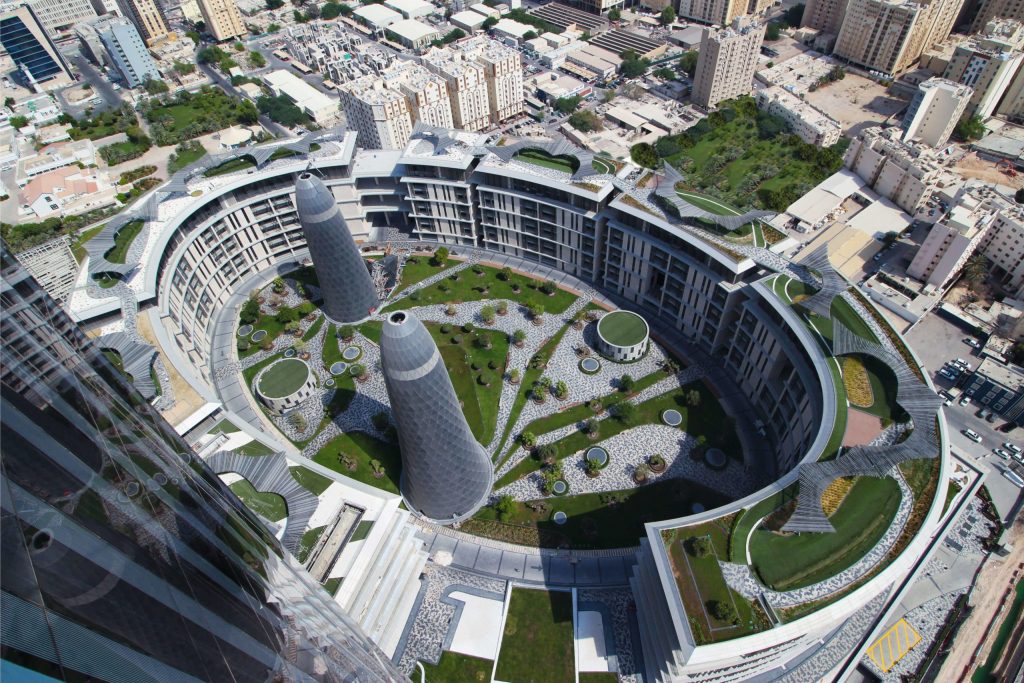 The Doha Oasis is a "city-within-a-city" in the heart of Musheireb, Qatar, and is one of the most ambitious, futuristic, and enticing "destination" magnet projects ever constructed. The complex consists of two ultra-luxurious, 20-story elliptical glass residence buildings, each with nine floors of duplex apartments; a 29-story, seven-star hotel with seven restaurants; and a business center, with a total area of 4 million ft2/37,000 m2.
The "Jewel in the Crown" is a nearly 775,000ft2/72,000m2 "Themed Experience Center" (TEC) with twenty-six self-contained experiential attractions and the Doha Oasis Boutique, a four-level underground "Commercial Podium" housing the TEC, an exclusive spa, and extensive high-end shopping options.
Cool Facts about Doha
Qatar is the safest country in the World.
Qatar Airways is the best airline in the World.
Hamad International Airport is the third-best airport in the World
Qatar is the second flattest country in the World
It is a country where the sea meets the desert
Doha has the longest continuous cycle path in the World.
Cuisine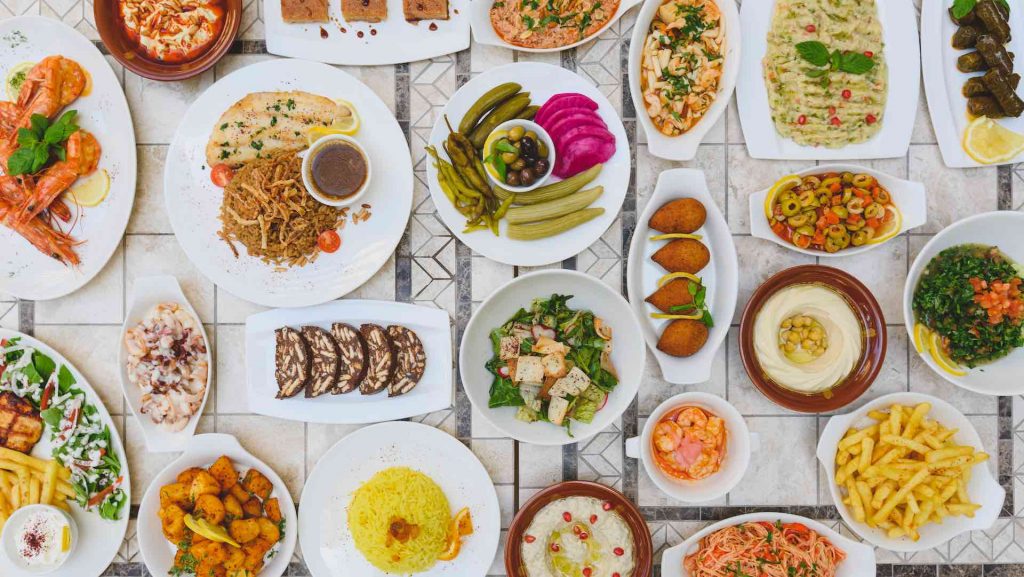 The food in Doha is based on classic Arabic dishes. The national dish of Qatar is called machbs and consists of rice, meat, and vegetables. Traditionally, lamb or chicken is used, and the dish is slow-cooked to enhance the meat's flavour. The staples of the diet in this nation are seafood and dates.
Doha Nightlife
Doha has a diverse nightlife scene that promises excitement despite the ban on public drinking. The capital of Qatar is known for its ultramodern skyscrapers and Islamic-inspired architectural masterpieces. Still, rooftop bars, historic shopping districts, and even desert safaris will keep you busy when the sun goes down. Evenings in the capital can be spent in many different ways.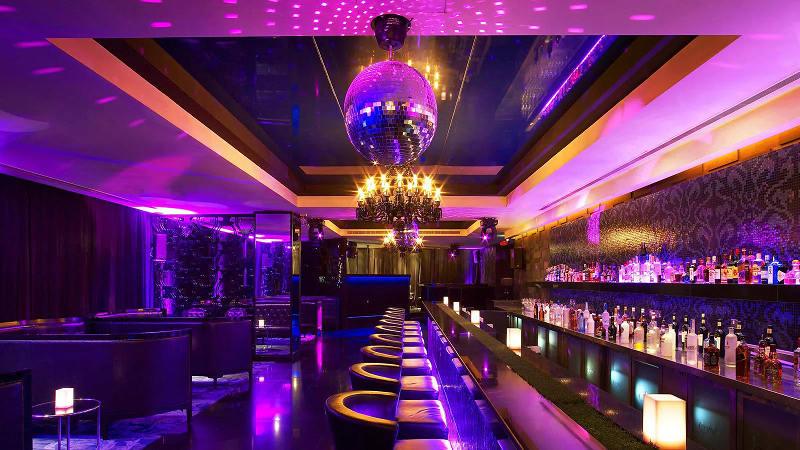 You can walk around Qatar's best souq, sip a cocktail as the sun sets over the skyline, or sit back with friends and smoke a shisha when it gets cooler.
Night desert safari
If you want to get away from the crowds and get your blood pumping in the evening, go on a dune adventure in the Qatari desert. Instead of riding a camel through the barren desert, you'll bounce over the dunes in the back of a 4×4. This wild ride of a drive takes you past beautiful scenery and beaches as smooth as pearls.
Visit the beach club at St. Regis.
Autumn afternoons and evenings in Doha typically provide ideal weather conditions. Visit the Oyster Bay beach club at the St. Regis Doha Hotel to unwind on its stretch of white sand or engage in watersports such as banana boat rides and tube riding. You may also take a dip in the Olympic-sized swimming pool that is adjacent to the beach.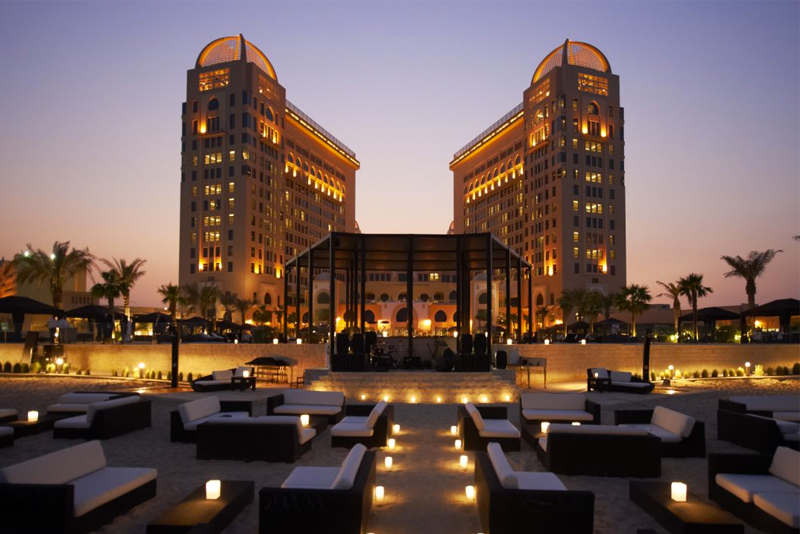 Lounge at Hilton 
Society Lounge is one of Doha's most popular nightclubs. It's on the roof of The Hilton Doha, so you can drink cocktails and dance with your friends while looking out over the city. Soft purple lights and laser shows light up the rooftop. There's also a section where you can take a break from all the action.
Doha shopping
Qatar has the highest per capita income in the World, and its city, Doha, has a fantastic selection of retailers. Numerous little boutiques, art galleries, and abundant shopping centers are stocked with prestigious brand labels.
Doha accommodation
For the best Doha Hotels, Villas, and Hostels, visit www.booking.com or Airbnb.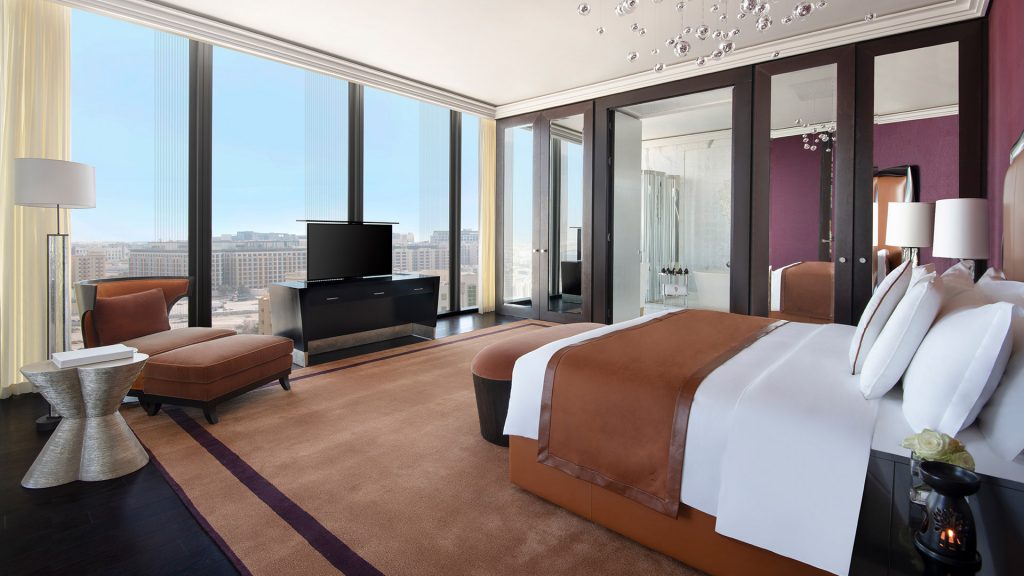 City details
Currency: Qatari Riyal qcb.gov.qa
Population: 2.382 million (2018)
Area: 132 km²
Weather: 26°C, Wind S at 11 km/h, 79% Humidity
Official language: Arabic
Dial Code:  +974
Getting around in Doha
Public transport
Late in 2005, the city got its first public transportation: a bus service with two different routes. By March 2006, there were six routes, and now there are a lot of bus routes that go all over the city and to other cities as well. The Gold Souq is next to the central bus station, a big open lot. Some bus stops and some buses have air conditioning.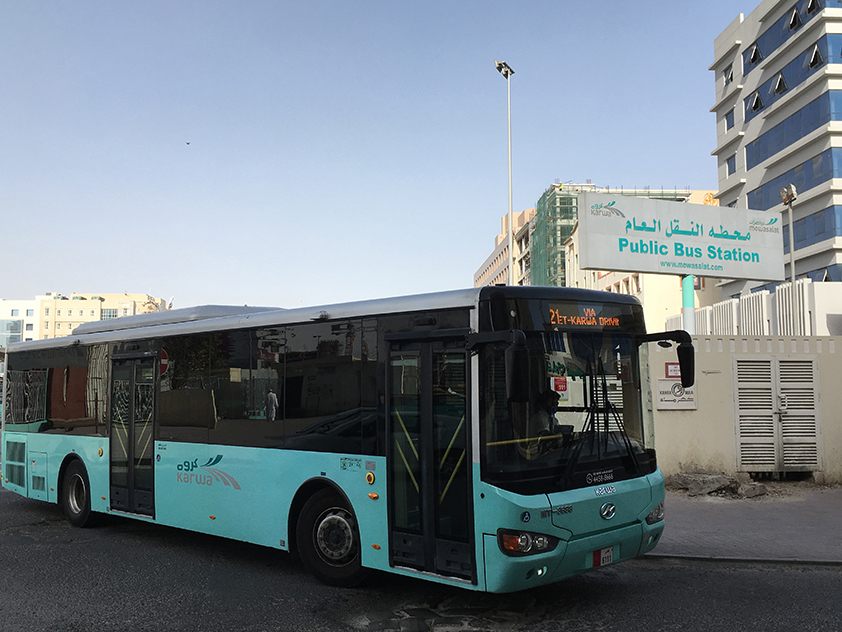 Taxi
The green taxis with air conditioning are run by Mowasalat, also known as "Karwa" taxis. Karwa taxis are the official Doha taxis. The other kind of taxi is called a "limousine" taxi. It is not marked, so it is almost impossible to stop. This may be your only option if you stay at an international hotel. They cost more (sometimes twice as
much as Karvas) and may not have a meter. You can talk about the price ahead of time if you feel good about it. If not, you should insist on a meter.
Parking
Check out the qa.parkopedia.com website for information about Doha parking, mostly street parking.
APPROXIMATE BUDGET?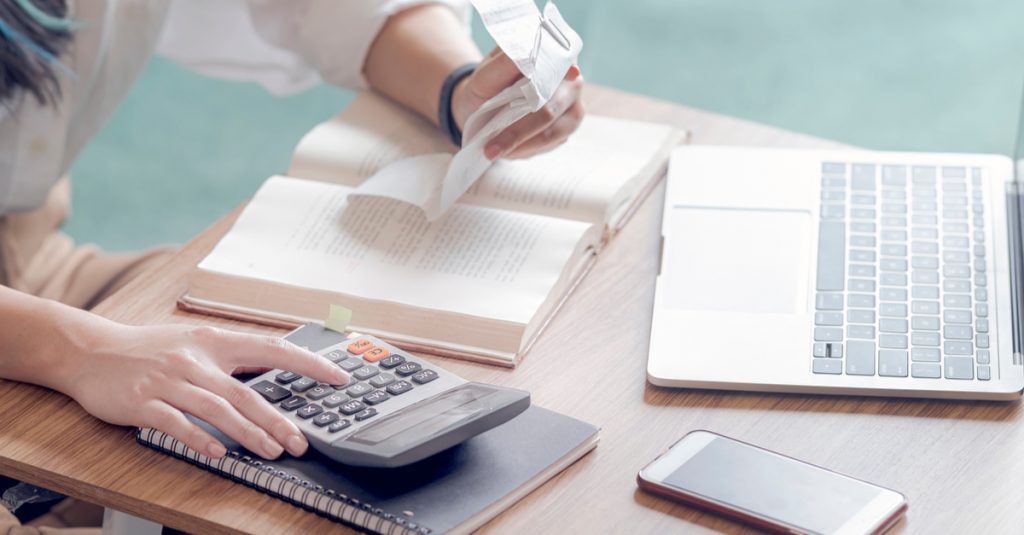 You should budget around QAR582 ($160) daily for your vacation, as this is the average daily cost. The cost of local transportation is QAR67 ($19). A 3-day Weekend vacation costs $472 for a solitary traveller, $803 for a couple, and $1039 for a family of four on average. The city centre hotels range from $97 to $243 per night, with an average of $122, while Airbnb rentals for a full flat cost $30 per night. www.budgetyourtrip.com
Conclusion
Doha is a great city to explore, and I hope you find your way there one day! Travel and discover your bliss. We will persuade you. I have described the ideal time to travel to Doha and the finest sites. So appreciate its beauty. Sustainable tourism. Travel-related information. Cheap and enjoyable travel.
FAQs
Can you drink alcohol in Doha?
Alcohol is forbidden for locals, but foreigners can drink in hotels.
Why is Doha famous?
Doha is renowned for its numerous mosques and modern structures. Additionally, it is rising in libraries, particularly the Qatari Book House and the National Library. The city offers numerous tourist attractions that annually draw a large number of visitors.
Is Doha in Dubai?
Dubai is a city and one of the seven Emirates of the United Arab Emirates, whereas Qatar is an independent and sovereign nation in the Gulf area.
Is Doha part of the UAE?
It is located on the Middle Eastern coast of the Qatari peninsula, only 500 kilometres from Abu Dhabi and Dubai, the two most renowned cities of the neighbouring United Arab Emirates.
Can I wear shorts in Qatar?
You may wear pants or shorts to the beach or pool, but your knees must be protected. You are prohibited from removing your clothing.
Is Doha safe to travel to?
Doha has a low rate of crime. Pickpocketing, bag snatching, and other minor crimes are uncommon, although they do occur. Keep a watch on your possessions, particularly in crowded areas. There can be banking and credit card fraud.
What food is Doha famous for?
Majboos is the national dish of Qatar; thus, visitors to Doha must sample it. It is often prepared with either lamb or chicken and is slow-cooked to provide a rich flavour. It is complemented by a salad and homemade tomato sauce and served over a bed of seasoned rice.
Can you drink tap water in Doha?
Some imported water has higher quantities of assessed criteria, such as arsenic, than the tap and bottled water available in Doha.
Can you kiss in public in Qatar?
Public shows of affection with the opposite sex might land you in trouble in Qatar, so avoid kissing, canoodling, and fondling in public, regardless of whether you are with your husband. A peck on the cheek or holding hands is acceptable with your husband.
Is it safe to walk in Doha at night?
Do not be concerned about visiting Doha, Qatar, at night! Even at night, Doha is a safe place to be in. And here is a city that comes to life at night! Even during the summer, Doha is busier at night than during the day due to the intense heat.
Does Doha have nightlife?
Doha's nightlife features many live music venues and clubs, most of which are located near international hotels.