Vietnam has some of the most magnificent natural settings in the world, and Cat Ba Island is one of its crown jewels. This is the largest island in the gorgeous Ha Long Bay and has been designated a UNESCO World Heritage Site for its natural beauty and ecological richness. It is located in the Gulf of Tonkin.
Cat Ba Island is a popular tourist and local destination because it offers a unique blend of adventure, leisure, and cultural experiences. Hiking through the island's thick jungles, kayaking in the crystal-clear waters of Ha Long Bay, or simply relaxing on one of the island's numerous lovely beaches are all options for visitors.
History of Cat Ba Island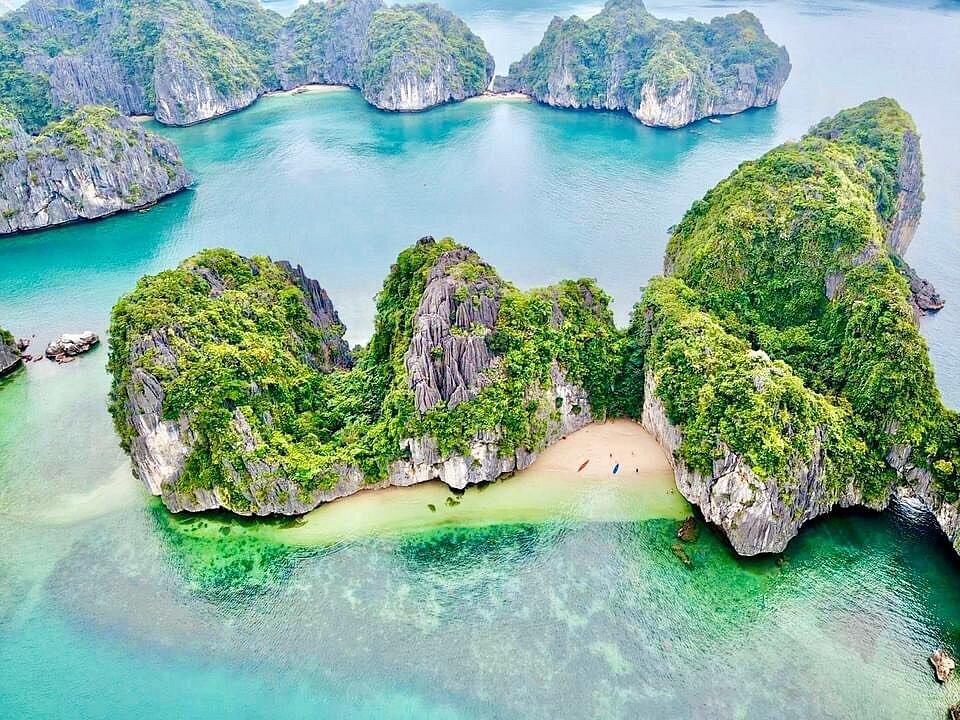 Cat Ba Island's history is rich and fascinating, encompassing thousands of years of human occupancy and development. Because of its strategic location in the Gulf of Tonkin, the island has played a significant role in Vietnamese history, from the early days of the Hung Kings to the French colonial period and beyond.
Cat Ba Island has been home to humans since the Neolithic era, some 6,000 years ago. Excavations have turned up ceramic fragments, stone tools, and other artifacts from this historical period, indicating that the island was home to a thriving society of hunter-gatherers.
Like the rest of Vietnam, Cat Ba Island fell under the French colonial administration in the nineteenth century. On the island, the French erected a naval facility and utilized it as a strategic outpost for controlling access to the Gulf of Tonkin. During World War II, the Japanese controlled Cat Ba Island, and the island experienced considerable action between the French and Vietnamese during the First Indochina War.
Cat Ba Island is a famous tourist destination today, noted for its beautiful natural environment and distinct cultural heritage. The island's rich history may be observed in its many temples, shrines, and historical landmarks, as well as in the daily lives of its people. Cat Ba Island visitors can learn about the island's history through guided tours and visits to museums and cultural institutes.
How to Get to Cat Ba Island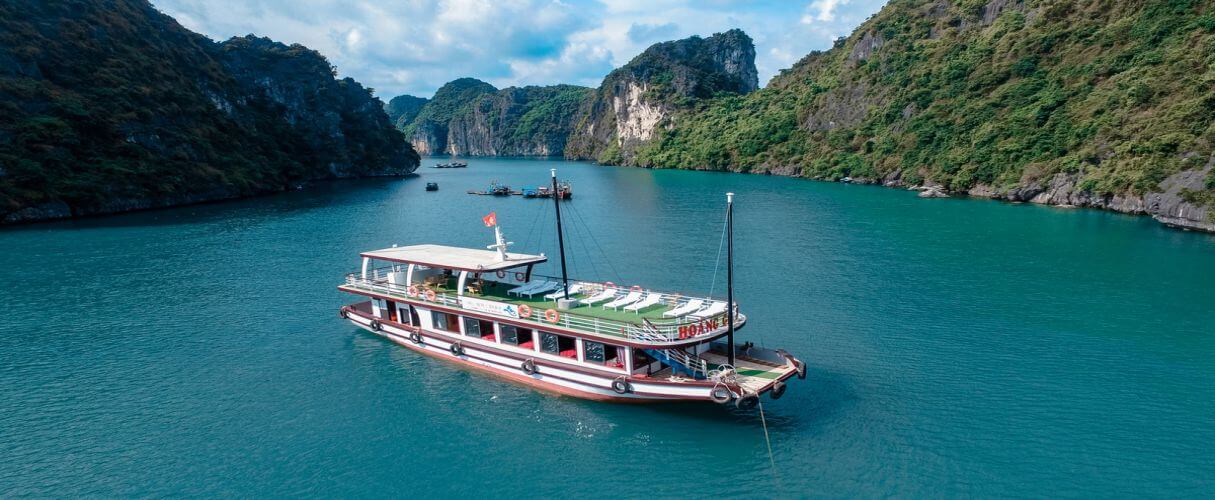 Depending on your starting point and travel choices, various methods exist to get to Cat Ba Island. Here are some of the most popular options:
From Hanoi – Taking a bus or minivan from the city center is the most convenient way to go to Cat Ba Island from Hanoi. Several firms run daily services to Cat Ba town, with travel times varying from 3 to 5 hours depending on traffic and route. Another option is to arrange a private car or cab from Hanoi, which may be more convenient if you have a lot of luggage or want to stop along the trip.
From Haiphong – You can take a ferry or a speedboat from Ben Binh harbor to Cat Ba town if you're coming from Haiphong. Ferries leave multiple times per day, and the trip takes between 1.5 and 2 hours, depending on the type of boat you board. Speedboats are speedier but more expensive, with travel times ranging from 45 minutes to one hour.
From Halong Bay – You can take a ferry or a speedboat from Tuan Chau Island to Cat Ba Island if you are already in Halong Bay. Depending on the style of boat you choose, the ride takes between 1.5 and 2 hours.
From other destinations – If you're traveling from another part of Vietnam, such as Ninh Binh or Hue, you can take a train or bus to Hanoi or Haiphong, then continue to Cat Ba Island, as mentioned above.
Traveling to Cat Ba Island is simple, and various options are available depending on your budget and travel style. On the island, you can explore its attractions on foot, by bike, or motorbike, or take tours to nearby places like Ha Long Bay or Lan Ha Bay.
Getting Around at Cat Ba Island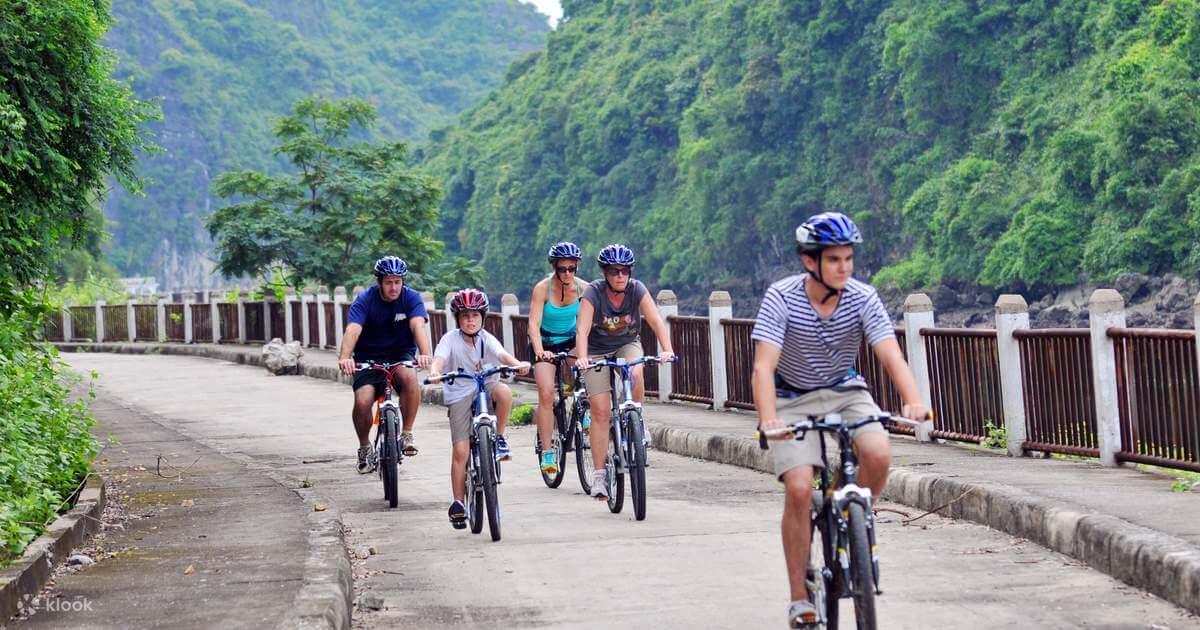 Moving around Cat Ba Island is pretty simple, with numerous options for your interests and budget. Here are some of the most prevalent modes of transportation on the island:
Walking – Cat Ba town is small enough to explore on foot, and many of the island's prominent attractions are easily accessible. This is an excellent opportunity to learn about the local culture while enjoying the island's natural beauty.
Bicycle – If you wish to cover more ground, rent a bike from one of Cat Ba's many rental shops. This is a popular way to explore the island's rural sections and cycle along the gorgeous coastal roads.
Motorbike – Rent a motorcycle from one of the many rental businesses in Cat Ba town for even more flexibility and freedom. This is an excellent way to reach the island's more secluded sections, beaches, and adjacent sights like Cannon Fort and Hospital Cave.
Taxis & Private Cars – You can rent a taxi or a private automobile to carry you around the island if you want a more comfortable and convenient choice. If you're traveling with a group or have a lot of luggage, this is a good alternative, and it can be less expensive than renting a motorbike if you're only staying on the island for a short period.
Tour Buses – You can join one of the many tour buses that run on the island if you want to tour the island's many attractions, such as the National Park or the beaches. These buses often pick up and drop off guests at their hotels, making it easy to see all the sights without having to bother with transportation.
Remember to obey local traffic regulations and wear a helmet if you rent a motorcycle or bicycle.
Best Time to Visit Cat Ba Island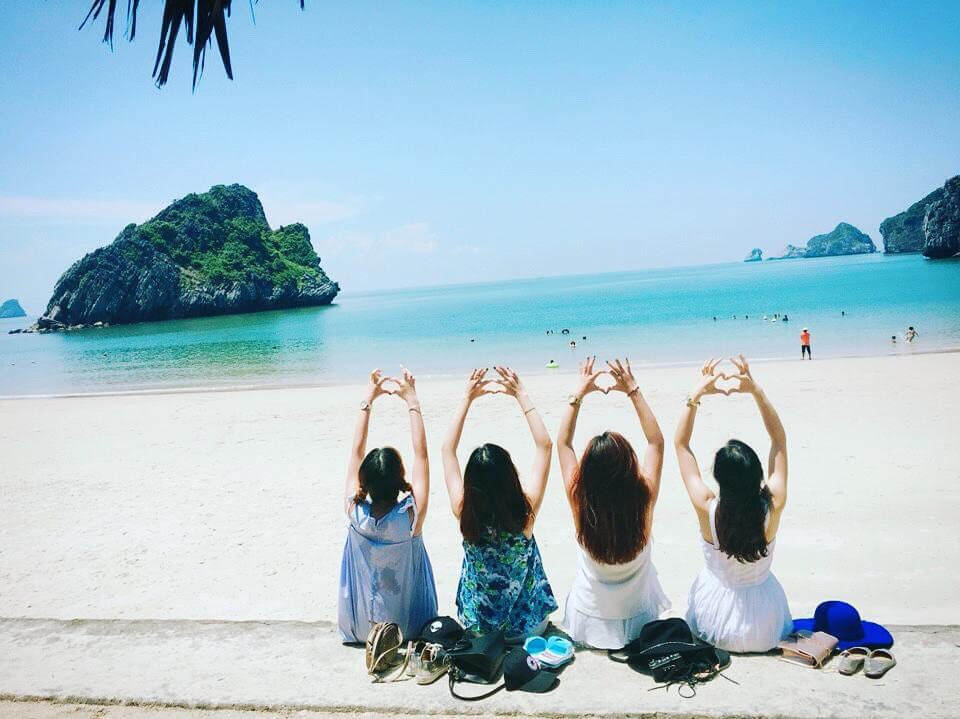 Your interests and travel plans determine the best time to visit Cat Ba Island. Here is a breakdown of the seasons and what to expect with each one:
High Season (May to September) – With mild temperatures, sunny days, and clear skies, this is the most popular time to visit Cat Ba Island. The water is also warm during this time, making it excellent for swimming, kayaking, and other water activities. Remember, though, that this is also the busiest time of year, with crowds and increased fees for lodging and tours.
Shoulder Season (March to April, October to November) – If you want to escape crowds and enjoy warmer weather, now is the time to visit Cat Ba Island. Temperatures are still mild, although rain showers are possible. Accommodation and tours are often less expensive during this period, and you'll have more freedom to explore the island without having to cope with enormous crowds.
Low Season (December to February) – This is the most remarkable and driest period of the year on Cat Ba Island, with temperatures ranging from 10 to 20 degrees Celsius (50 to 68 degrees Fahrenheit). While unsuitable for swimming or sunbathing, this is an excellent time to explore the island's numerous hiking paths and natural wonders. Accommodation and tours are also significantly cheaper during this period, making it an ideal choice for budget travelers.
Your interests and travel plans determine the best time to visit Cat Ba Island. Consider going during the shoulder or low season to avoid crowds and save money. The high season is a better choice for pleasant weather and outdoor activities.
Where to Stay on Cat Ba Island
Cat Ba Island has various accommodation options to suit every budget and travel style. Here are some of the best places to stay on the island
Cat Ba Sunrise Resort – This magnificent resort is situated on a hill overlooking Cat Ba Bay and offers breathtaking views of the surrounding landscape. The resort has big rooms and suites, a large pool, and a restaurant providing delectable local and foreign cuisine.
Cat Ba Island Resort & Spa – This lovely resort is situated on a secluded beach, giving guests direct access to the crystal-clear waters of Cat Ba Bay. The resort has various rooms and suites, a large swimming pool, a spa with multiple treatments, and many eating options.
Cat Ba Sandy Beach Resort – This eco-friendly resort is set on a secluded beach, providing guests with a peaceful and restful escape from the hustle and bustle of Cat Ba town. The resort has rustic bungalows, a coastal restaurant serving fresh seafood, and outdoor activities like kayaking and snorkeling.
Cat Ba Central Hostel – This low-cost hostel is in the center of Cat Ba town, providing travelers easy access to the island's many attractions and eateries. The hostel has pleasant dorm rooms, private rooms, a rooftop patio with spectacular views, and a bar selling local and international drinks.
Cat Ba Backpackers Hostel – This famous backpacker hostel is located in the heart of Cat Ba town and provides guests with a pleasant and social environment. The hostel has lovely dormitory rooms, a rooftop terrace with bay views, and a bar giving inexpensive drinks and snacks.
Cat Ba Family Hotel – This mid-priced hotel is in the heart of Cat Ba town, giving tourists easy access to the island's numerous restaurants and stores. The hotel has large rooms, a rooftop patio with panoramic views, and a restaurant that serves outstanding local and international food.
Cat Ba Island has many hotel alternatives to suit every budget and vacation type. Whether you're looking for a magnificent resort or a low-cost hostel, you'll find something to suit your needs.
Sightseeing on Cat Ba Island
Cat Ba National Park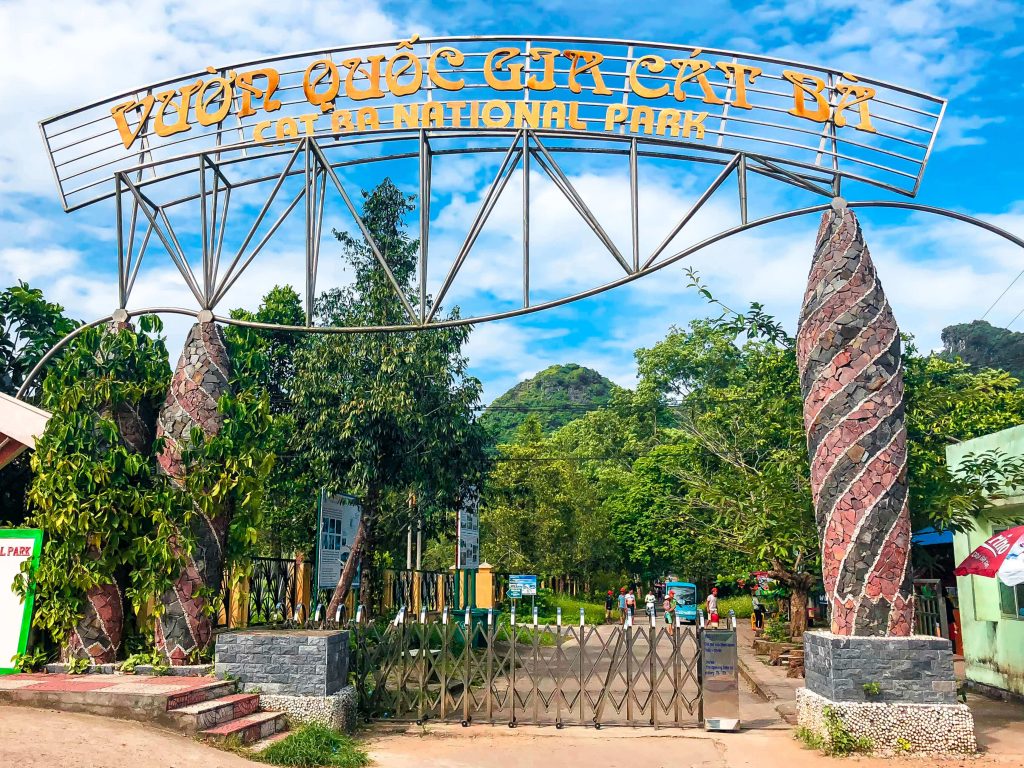 This stunning national park encompasses over 100 square kilometers of rough jungle and limestone hills. Hiking through the park allows visitors to witness a variety of flora and fauna, including unusual monkeys and birds.
Lan Ha Bay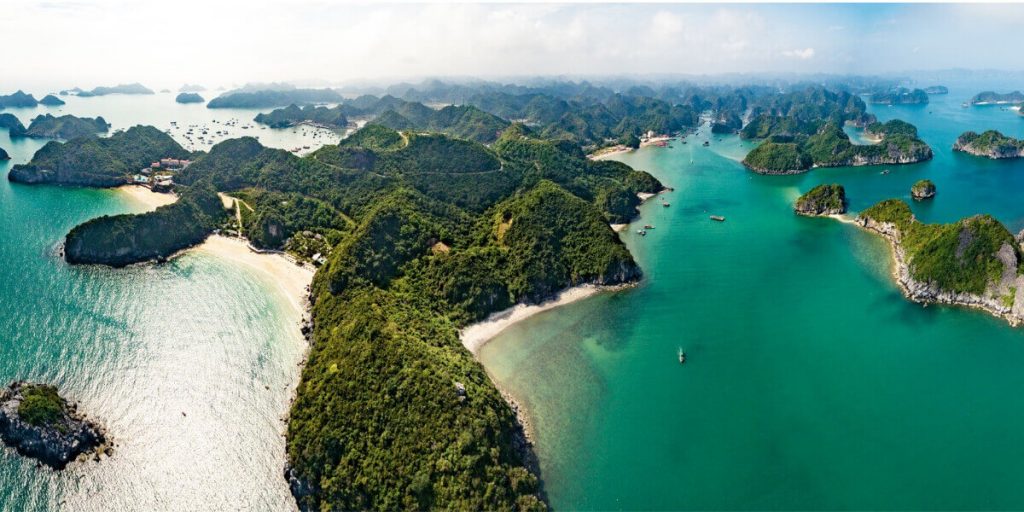 This beautiful area, just south of the Halong area, is noted for its crystal-clear seas, isolated beaches, and limestone cliffs. Visitors may explore the bay's various islands and hidden coves by boat excursion.
Cannon Fort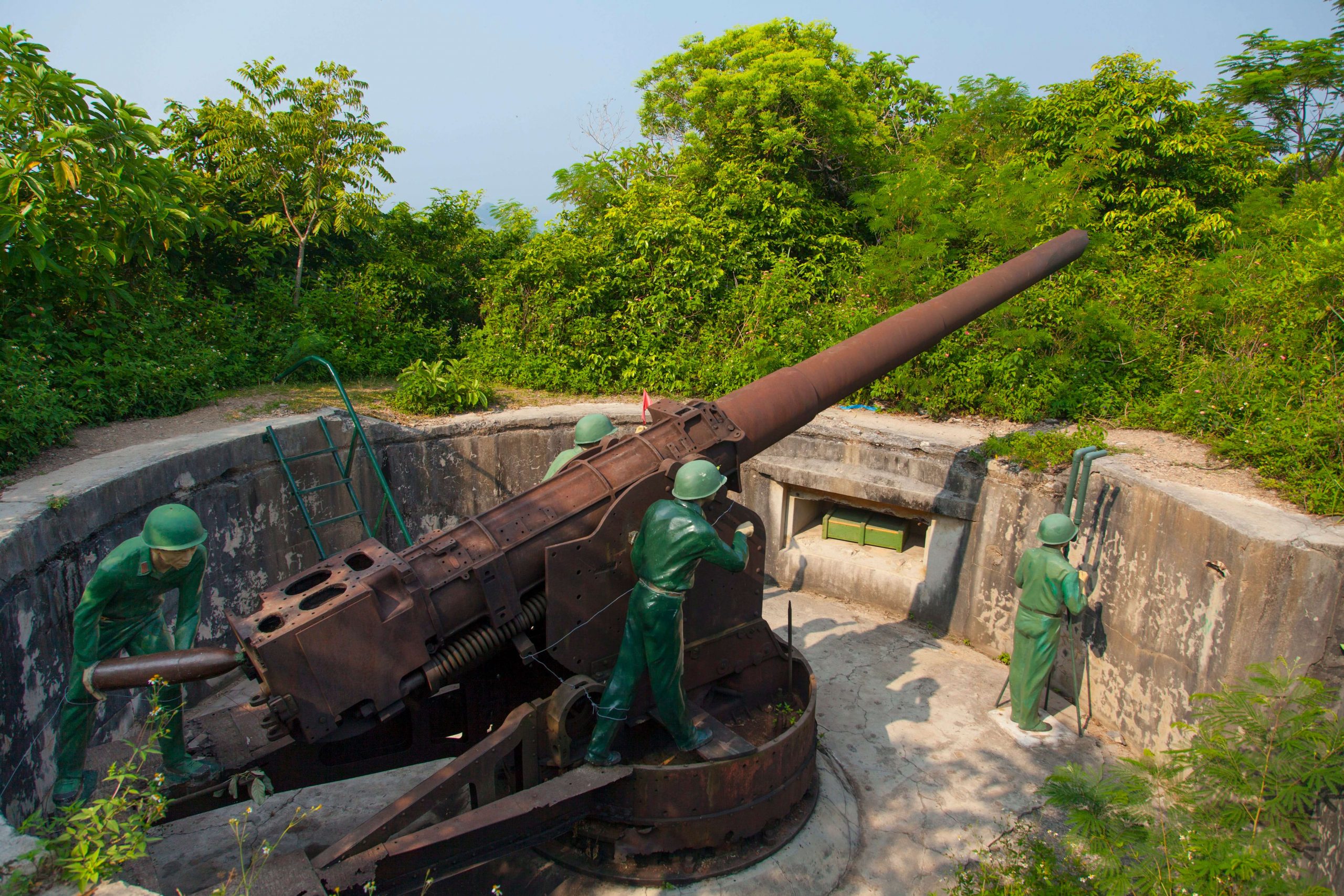 The French built this ancient fort in the 1940s, and it gives spectacular views of the surrounding landscape. Visitors can learn about the fort's intriguing history while exploring its tunnels and artillery emplacements.
Cat Ba Fishing Village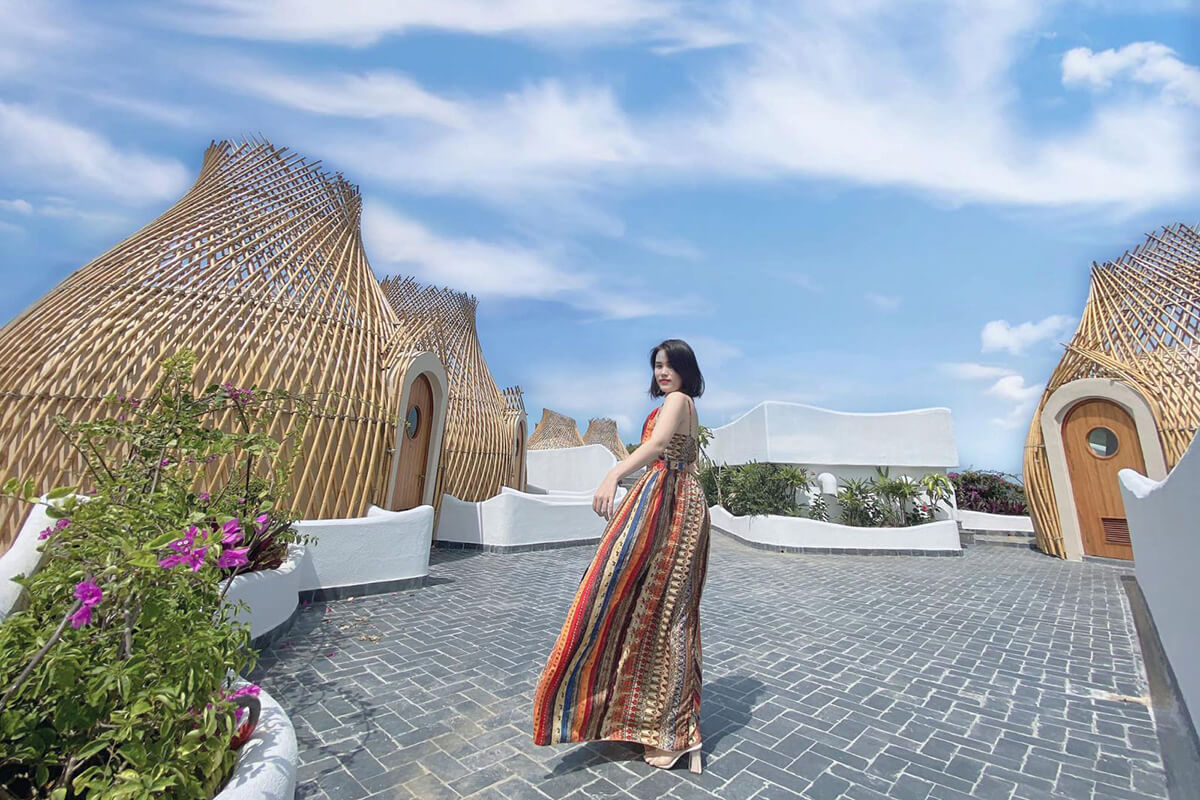 This traditional fishing town on the island's east coast provides tourists with a look into the daily lives of the local fishermen. Visitors can take a boat tour through the city to learn how the fisherman catch and process their catch.
Hospital Cave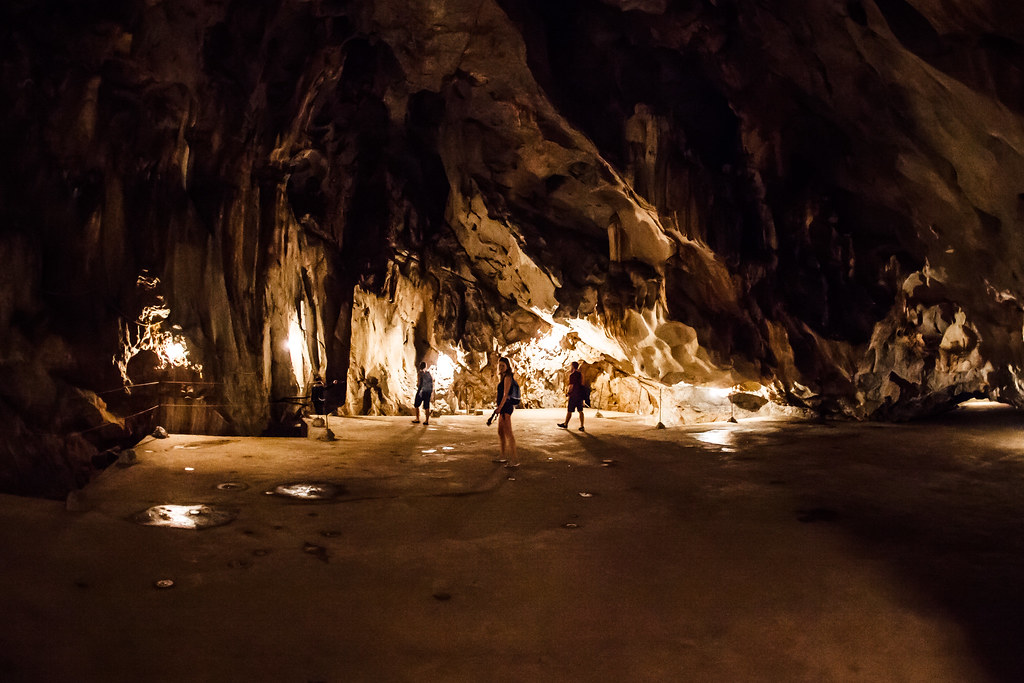 During the Vietnam War, this unusual cave was used as a hidden hospital and bomb shelter. Visitors can explore the different rooms of the cave and learn about its intriguing history.
Cat Co Beaches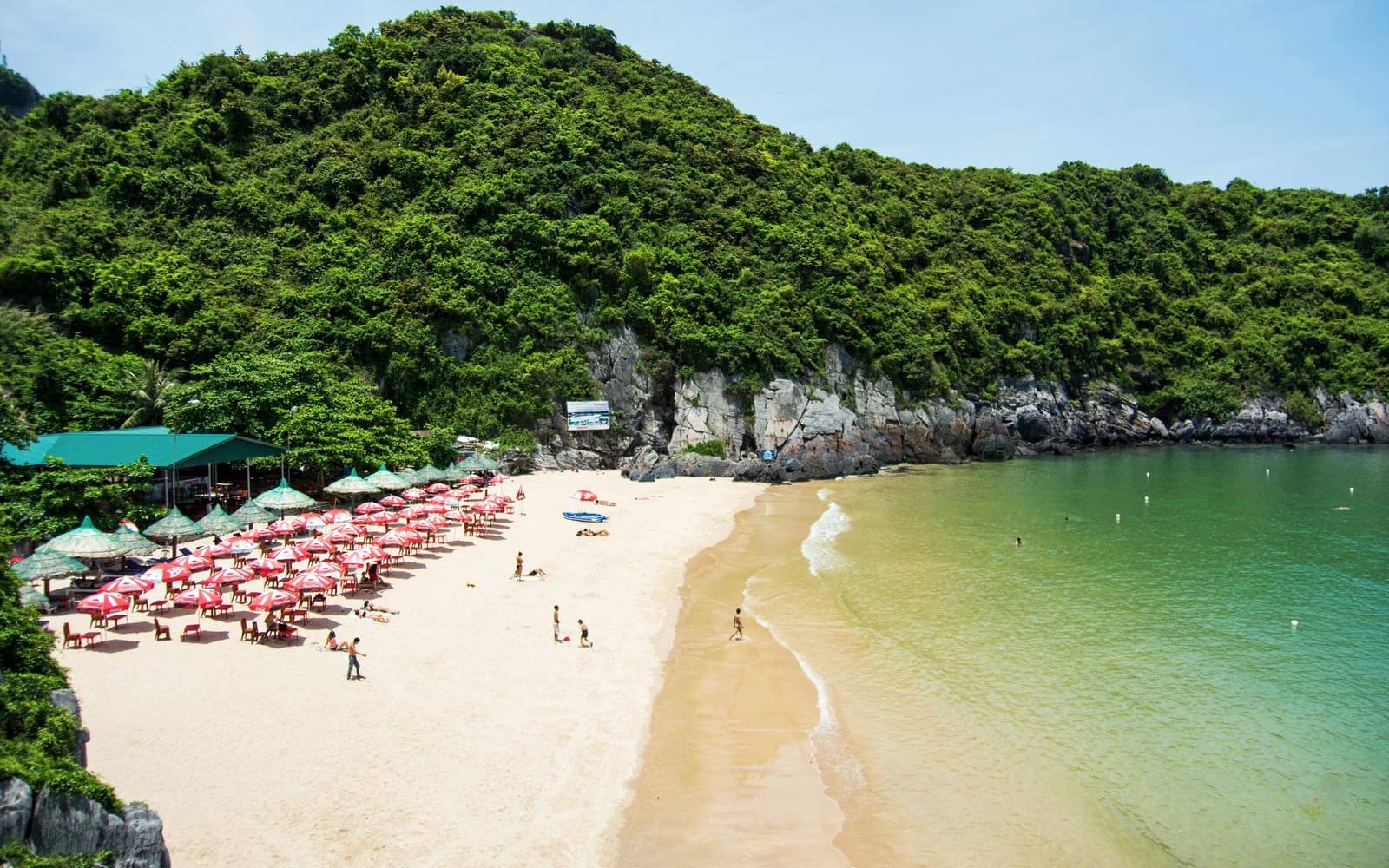 These gorgeous beaches are located on the island's west coast, allowing visitors to relax and soak up the sun. Cat Co 1, 2, and 3 are the island's three main beaches, each with a distinct ambiance and services.
Viet Hai Village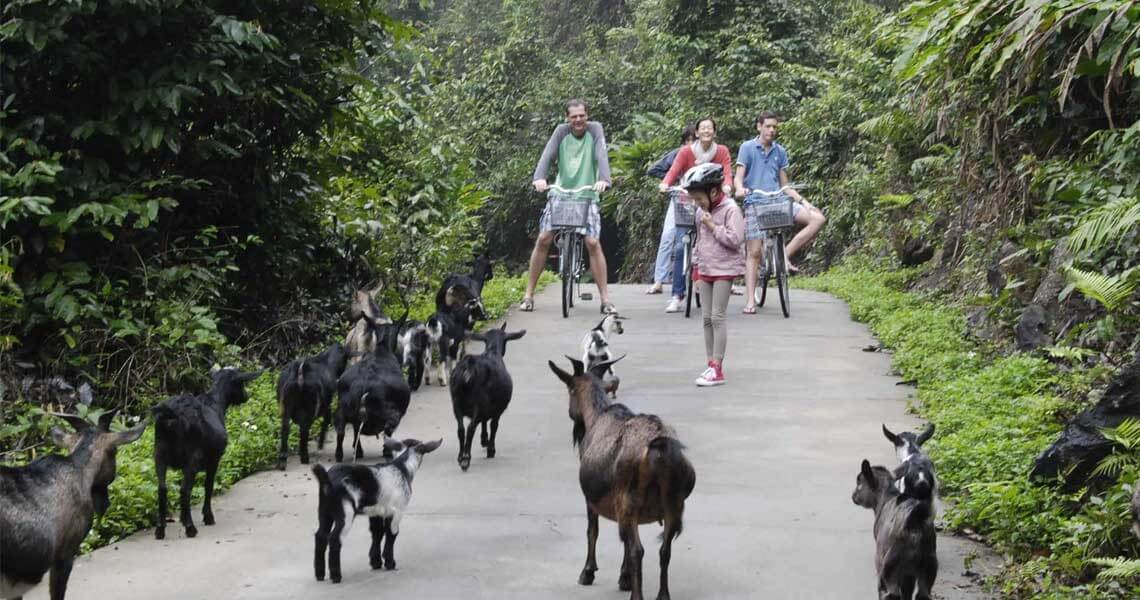 This little settlement in Cat Ba National Park is home to an ethnic Vietnamese minority. Visitors to the village can take a guided tour to learn about its traditional way of life and visit its many rice fields and fruit orchards.
Must Try Foods on Cat Ba Island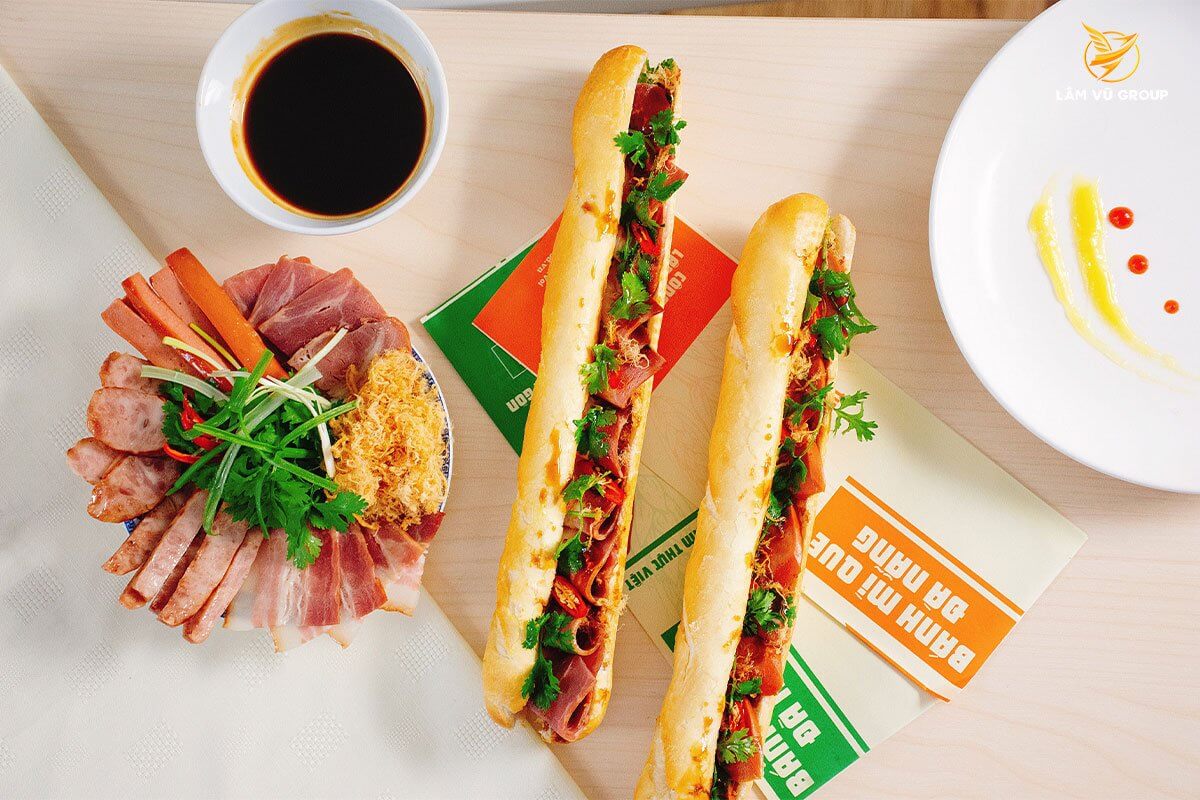 Cat Ba Island is a foodie's heaven with various delectable and unique cuisine. Here are some foods you should try during your visit:
Seafood – Cat Ba, a fishing island, is well-known for its fresh seafood. Visitors can sample grilled squid, fried fish, shrimp hotpot, and seafood spring rolls, among other specialties.
Nem nướng – This grilled pork sausage is a favorite Cat Ba street meal. The sausage is marinated in fish sauce, sugar, and garlic before being perfectly grilled and served with fresh herbs on rice paper.
Bánh mì – This Vietnamese sandwich is a famous quick supper in Cat Ba. A baguette is generally stuffed with various meats, veggies, and a spicy sauce.
Chả cá – This grilled fish meal is a Hanoi specialty, but it's also popular in Cat Ba. The fish is marinated in turmeric and other spices before being grilled with dill and onions in a hot pan.
Cà cuống – This one-of-a-kind flavor is created from the essence of a little bug found in the rice paddies of Cat Ba. Seasoning is used to lend various foods a distinct, fragrant flavor.
Mực xào sa tế – Another famous seafood dish in Cat Ba is stir-fried squid. The squid is cooked with garlic, chili, and lemongrass before being served over rice.
Bánh đa cá – This dish comprises fish broth, rice noodles, and crunchy rice crackers. The soup has a herb and fish sauce flavor and can be topped with various seafood and vegetables.
Cat Ba Island has a delectable selection of seafood and local specialties to try. During your visit, make sure to eat these must-try meals.
Travel to Cat Ba Island on a Budget
Travel during the Off-Season – Consider traveling in the shoulder season or off-season (April to May or September to November), when costs for lodging and activities may be reduced. The busiest months for tourists on Cat Ba Island are June through August.
Stay in Budget Accommodation – On Cat Ba Island; there are a lot of inexpensive guesthouses and hostels. Look for accommodations that provide tidy, cozy rooms at a reasonable price.
Eat Local Street Food – Besides being excellent; street food is also an affordable choice. To try some of the island's specialties at a reasonable price, look for street food vendors and nearby eateries.
Rent a Motorbike – A terrific method to explore the island independently and frequently less expensive than guided excursions is renting a motorbike. Before renting, look over the bike and haggle over the rental cost.
Haggle – Haggle is customary in Vietnam, notably on Cat Ba Island. Always be confident to haggle, whether ordering a taxi or shopping for souvenirs.
Pack a Refillable Water Bottle – The cost of consuming bottled water adds up quickly. Please bring a reusable water bottle and fill it up at water fountains or your lodging to save money and avoid plastic waste.
Use Public Transportation – Accessing and leaving Cat Ba Island is cheap because of public transportation, including buses and ferries. To prepare for your transport, do advanced research on rates and schedules.
Using this money-saving advice, you can take advantage of Cat Ba Island's offers without breaking the bank.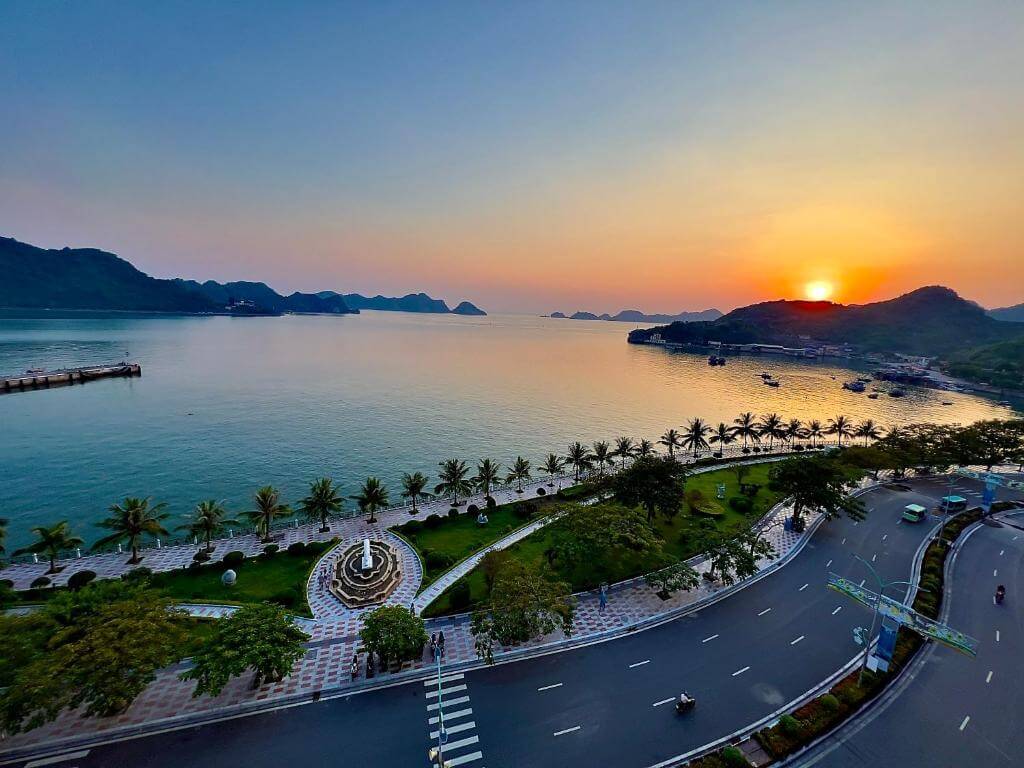 Cat Ba Island is a place that has something to offer everyone, whether they are looking for adventure, relaxation, or a cultural experience. This island is rapidly rising to the top of Vietnam's tourist attractions thanks to its breathtaking natural beauty, varied species, and various activities.
FAQ
Is it worth visiting Cat Ba Island?
Natural Beautification: Cat Ba Island is well-known for its breathtaking scenery, which includes clear beaches, tranquil bays, and lush tropical woods. The island is the ideal getaway from Vietnam's busy cities, and anyone visiting the nation should make it one of their first stops.
What is the Best time to go to Cat Ba Island?
Generally speaking, the weather on Cat Ba island is pleasant all year round, making it an excellent location for outdoor pursuits like hiking, kayaking, and rock climbing.
Why is Cat Ba Island famous?
Cat Ba Island's caves are noted for their undeveloped beauty and variously sculpted stalactites and stalagmites. Hospital Cave, Trung Trang Cave, Hoa Cuong Cave, and Phu Luong Cave are a few of the most well-known names.
How many days do you need on Cat Ba Island?
Around three days
Most visitors stay on Cat Ba Island for three days because there are so many different things to do there.
What is the secret of Cat Ba Island?
"women's Island" and "cat ba island" refer to sandy islands. According to legend, three Tran Dynasty women were murdered, and their bodies floated to Cat Ba Island centuries ago. Each body washed ashore on a different beach, and local fishermen discovered all three.
Is it expensive to go to Cat Island?
About 1250 yen will get you a one-way ticket. It's important to remember that there are only 3 or 4 ferries per day. If you intend to return to the mainland that same day, pay attention to the time!
Is Cat Island private?
In 2002, the southern tip and western half of the island were added to the Gulf Islands National Seashore. Most of the beach and the remaining portions of the island are still privately owned.
How many people live on Cat Ba Island?
Due to hunting for traditional medicine and habitat fragmentation by human activity, the population numbers, formerly between 2,400 and 2,700, decreased to as few as 53 langurs in 2000. There are currently only 68 wild langurs surviving in existence.
Happy Travels!
People also viewed: