Uncovering the History and Charm of Coimbra, Portugal
Despite not having as many modern attractions as Lisbon and Porto, it is rich in ancient structures representing every period of architectural history. The university and its surrounds are designated as a World Heritage Site. It's the third largest city in the country, with about 460,000 population in the entire region.
Coimbra is referred to as Aeminium in a Latin inscription from the fourth century, while Condeixa, located 8 miles (13 km) to the southwest, was once known as Conimbriga or Conimbrica. Aeminium was a Moorish stronghold for over a century before Alfonso III of Asturias, and Leon reclaimed it in 878 and settled it with northern Galicians. Aeminium became known as Coimbra when the see of Conimbriga was moved there. The bishop retained the previous name. After being taken by Ferdinand I of Castile in 1064, it was used as a base for more than a century to retake Portugal from the Moors.
Coimbra's primary business is producing ceramics, textiles, beer, wine, paper, and leather. In the 19th century, a publishing house was established there. Between Porto and Lisbon, Coimbra is located along the electric railways and the motorway. Near Coimbra, a second road and railroad connect to Guarda and Spain.
The two primary industries in the region are fishing and agriculture (grain, olives, rice, and fruits). Although small petroleum resources have been discovered, they have not yet been profitably utilized. Hydroelectricity generated by dams on the Mondego and its tributary, the Alva, is a significant source. Pop. city (2001): 101 069; pop. Mun. (2001): 148 443; pop. City (2011 est.): 97 600; pop. Mun. (2011): 143 396.
Getting into Coimbra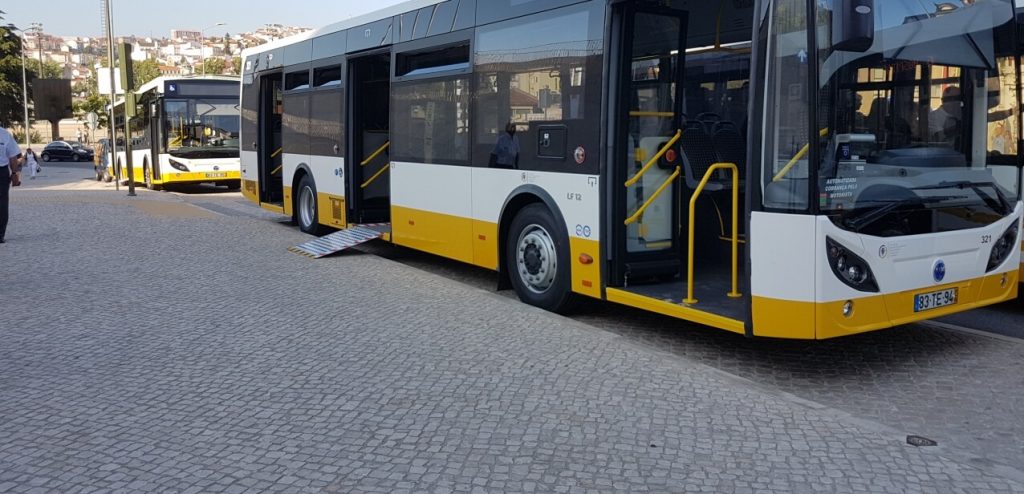 The majority of visitors come to Coimbra by train from Lisbon or Porto. However, both cities also offer frequent express buses. Despite being closer to Porto, most guests take the train from Lisbon. Most attractions are accessible by short walks once in the city center.
Airports Closest to Coimbra
Porto's airport is 110 km (68 miles) from the city, while Lisbon's is 210 km (130 miles) distant. You're better off going to Porto, which has direct flights from most major European cities and the United States. Suppose you plan to travel to Coimbra immediately after arriving in Portugal (Newark). Although there are more flights to Lisbon, it takes around two hours to get to Coimbra from there compared to less than an hour from Porto.
Trains to Coimbra
Trains from Lisbon to Porto pass through Coimbra. Coimbra has two stations, and the one on that route is referred to as "Coimbra B." From there, you can take a train that travels to the more central "Coimbra A" station. Only a 5-minute ride away (at no additional cost; you don't need to buy another ticket). Or you can walk to the center for about 20 minutes down a busy road.
Buses to Coimbra
Coimbra connects Lisbon, Porto, and other significant Portuguese cities via contemporary, luxurious express buses. The old town and major hotels are a quick 10-15-minute walk from the Avenida Fernando de Magalhães central bus stop.
They leave from the Sete Rios terminal in Lisbon and the Campo 24 de Agosto terminal in Porto, respectively.
How to Go to Coimbra from Lisbon
Nearer to Porto than Lisbon, Coimbra is about midway between the two cities. However, Lisbon is where the majority of visitors to Coimbra arrive from. Driving is not required as there are excellent and frequent public transportation connections between the two locations. (or even recommended, as parking in Coimbra is scarce and relatively expensive, and the tolls and gas make it an even more costly journey than public transportation).
Train from Lisbon to Coimbra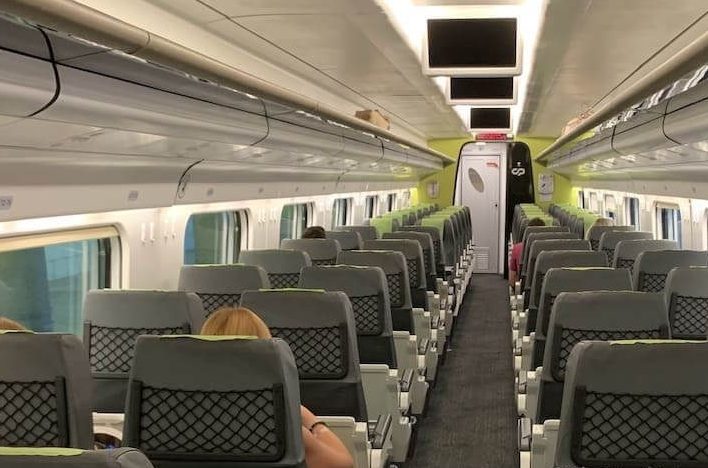 The quickest means of transportation from Lisbon to Coimbra is by train. The two services available are the slower Intercidades train and the faster Alfa Pendular train. The first takes two hours and two minutes, and the second takes one hour and forty-three.
Although both services are comfortable, the Alfa Pendular employs more modern trains and provides more legroom. The standard "tourist" or "2nd class" tickets on the Intercidades and Alfa Pendular cost €20.00 and €24.10, respectively. The "Comfort" or "1st class" tickets on the Intercidades and Alfa Pendular cost €25.25 and €34.40, respectively. Before boarding, tickets must be purchased at the counter or online at cp.pt (the website of the national train operator; take note that "Lisboa" and not "Lisbon" should be selected as your departure station).
A specific carriage and seat are indicated on the tickets.
There are multiple daily trains (about every 30 or 60 minutes) until 10 pm. The first one of the day departs at 6:30 am.
The Coimbra B station, a 20-minute walk from the city center down a busy road, is where they arrive in Coimbra. You can wait for the next train to the central Coimbra A station or take a cheap taxi (which won't cost you more than 5 euros) to save the walk. Typically, you won't have to purchase another ticket and won't have to wait very long.
Bus from Lisbon to Coimbra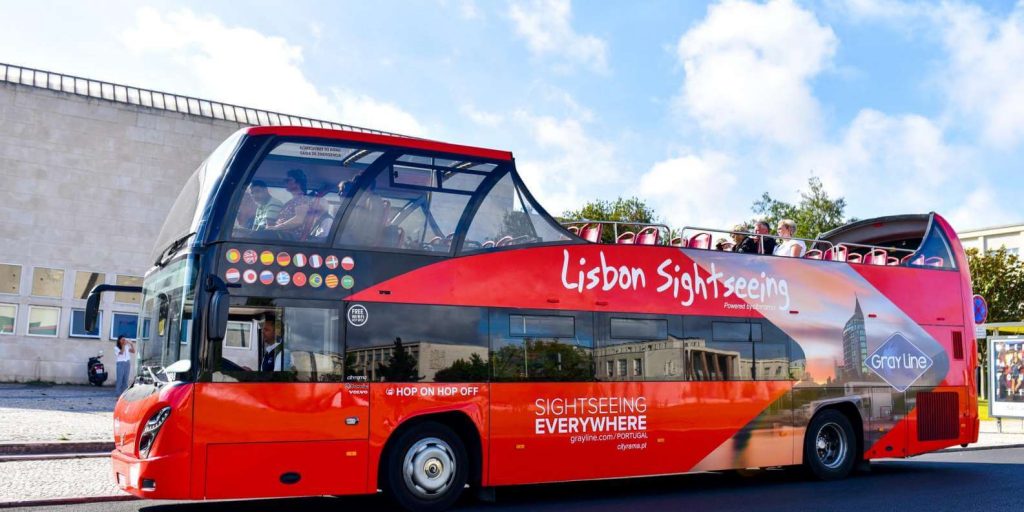 The bus to Coimbra costs a bit less ($15.50), is a little slower than the train (it takes 2 hours and 25 minutes or 2 hours and 45 minutes, depending on the route), and is a better choice for individuals on a tight budget. The Sete Rios terminal, outside the Jardim Zoológico metro station, is where the Rede Expressos buses depart from (blue line).
Throughout the day, the buses, which are contemporary and comfortable, depart around every 30 or 60 minutes (between 6:30 am and 12:15 am). Before boarding, tickets must be purchased at the station's ticket counter or online at rede-expressos. Pt. Look for the word "lunar," which means "seat," on each passenger's ticket to find their designated seat. Large or bulky bags must be kept in.
The old town and most of the city's attractions are roughly a 10- to 15-minute walk from Coimbra's bus station, conveniently located on Avenida Fernando de Magalhães.
How to get to Coimbra from Porto
Coimbra is easily accessible from Porto, which is closer to Coimbra than Lisbon. Driving is not required or advised due to the tremendous and regular public transport connections; also, there is a lack of parking, and the expense of parking, tolls, and gas make driving more expensive than using the train or bus.
Train from Porto to Coimbra
The train is the best (fastest) way to reach Coimbra from Porto — it takes a little over one hour. There are two services, the slower Intercidades and the quicker Alfa Pendular. The Intercidades takes 1 hour and 22 minutes, costing €13.75 for the regular/2nd class and €17.85 for the first class. The Alfa Pendular takes 1 hour and 14 minutes, costing €17.60 for the regular/2nd class and €23.00 for the first class. Both services are comfortable, but the Alfa Pendular trains are more modern and offer more legroom.
Before boarding, tickets must be purchased at the box office or online at cp. Pt (the website of the national train operator).
A specific carriage and seat are indicated on the tickets.
Outside of the city center, at Campanhã station, trains leave. Regular trains connect it to the main So Bento station for no additional charge, and the trip takes only four minutes.
At 5:32 am and 1:00 am, trains depart from Porto. Every 60 minutes or so, there are departures. The Coimbra B station, a 20-minute walk from the city center down a busy road, is where they arrive in Coimbra. Take a cheap taxi (it won't cost more than 5 euros) or wait for the next train to the central Coimbra A station if you'd prefer to avoid that walk. You never have to wait long and don't need to purchase additional tickets.
Bus from Porto to Coimbra
Buses cost less ($12.50) and go to Coimbra in about the same amount of time as trains (1 hour and 25 minutes), making them a good choice for individuals on a tight budget. From a terminal on Campo 24 de Agosto, which is reachable via metro, the Rede Expressos buses leave.
Before boarding, tickets must be purchased at the terminal's ticket counter or online at rede-expressos. Pt. Look for the word "sugar," which means "seat," on the ticket to find each passenger's designated seat. Large or heavy luggage must be kept in the area below. The Coimbra bus station is conveniently located on Avenida Fernando de Magalhães, within a 10–15 minute walk from the old town.
The Best Time to Visit Coimbra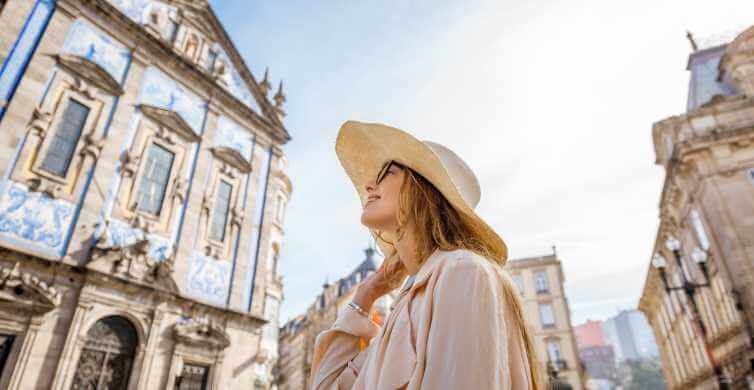 The most significant time to visit Coimbra is during the first week of May when the city is at its liveliest and the weather is moderate and bright. The "Burning of the Ribbons" celebrations, which mark the conclusion of the academic year, took place then. Male students chant fado on the streets as they bid farewell to their time as students, while university graduates ceremonially burn their robes and ribbons. Of course, this is also the season for student parties, so there will be plenty of fun by the river.
When the students are out for the summer, the city is calmer. They return in September, a fantastic time to go because the weather is excellent and the city is starting to wake up.
Coimbra Travel Experience by Season
Spring (March through May)
This season feels moderate because of the combination of humidity and temperature. Warmer temperatures are seen in the later months, with highs between 76.3°F (24.6°C) and 60.2°F (15.7°C). With 6 to 8 days of heavy precipitation per month, rain is quite frequent. Spring is an excellent time for anyone looking for things to do because it is the second busiest season for tourism.
Summer (June through August)
The middle of the year has quite pleasant weather with comfortable high temperatures. With 1 to 3 days of precipitation every month, these months have the least rainfall. The busiest months for tourists in Coimbra are June through August. Therefore housing and other accommodations may be more expensive than usual.
Fall (September through November)
Given the humidity and breeze, the daily highs in the fall range between 82.4°F (28°C) and 56.2°F (13.4°C), which will feel comfortable. 4 to 9 days per month, see substantial amounts of rain or snow. Due to the weather, tourism is at its lowest during these months so hotels may be inexpensive.
Winter (December through February)
Currently, Coimbra's temperatures are too chilly for visitors from warm climates to enjoy themselves. The typical high temperature for this time of year ranges from 60.4°F (15.8°C) to 55.4°F (13°C). It snows or showers eight to ten times per month on average. Tourist traffic is generally minimal at this time of year.
Official Coimbra Tourism Office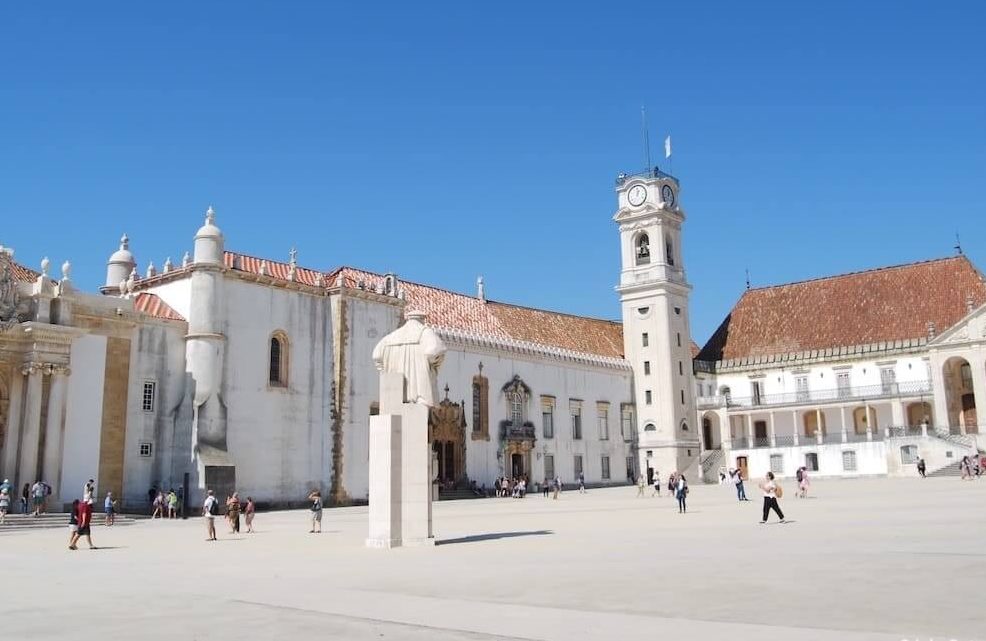 This website has all the information you need to plan your trip to Coimbra. It provides comprehensive and wholly unaffiliated information from locals and travel industry professionals and is not connected to or supported by any regional institution or group.
When in the city, stop by the official tourism office, which is situated directly on the riverfront, facing Largo da Portage on Avenida Emidio Navarro, if you still have any queries. It offers details not only about Coimbra but also about Portugal's broader Centro area. On Praça da Repblica, there is another tourist information center; however, it is closed on weekends.
Must-See Attractions in Coimbra
Coimbra University
Coimbra University is one of the five institutions of higher learning on the list of World Heritage Sites and one of the oldest. It conceals one of the best libraries in the world, a gift from King Joo V in the early 1700s, with 300,000 books arranged around an ostentatious golden display.
Much of the magnificent chapel Capela de So Miguel has a colorfully painted and golden ceiling. You can also visit the Sala dos Capelos (Graduates' Hall), which was previously an examination room and is now adorned with pictures of Portugal's kings. Visits to its unexpected and fascinating scientific and natural history museums are included in the admission price.
That period's library, regarded as one of the best in the world, was given as a gift by King Joo V, one of Europe's wealthiest kings, due to the gold from the colony of Brazil. Access to the 40,000-book library, coated in gold, is through a space that served as the Academic Prison from 1773 until 1834. Two little bat colonies in the library emerge at night to protect the books from insects.
Visiting Coimbra University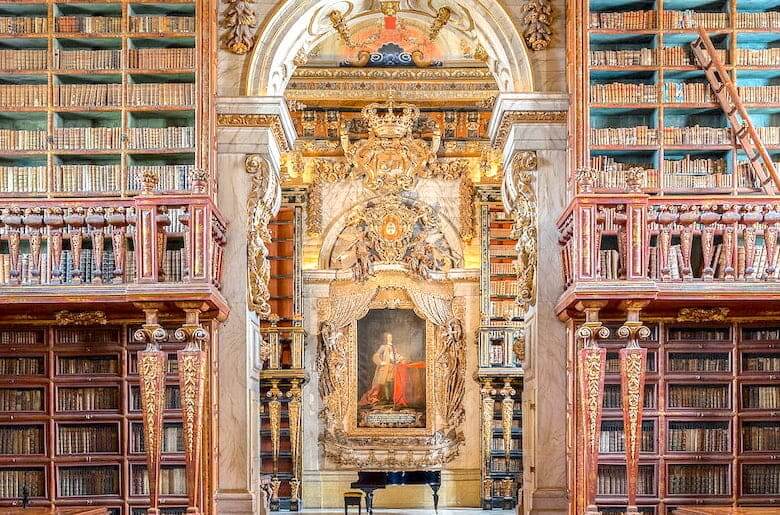 Except for the library, all areas of the institution accessible to guests are open to everyone at any time. You are given one of the specified times when you purchase your ticket because only 60 individuals can enter at once (which happens at 20-minute intervals). To ensure a position at a convenient time, buy your ticket as soon as possible in the morning. You can visit neighboring sights in the interim if you arrive in the morning and are given a slot for the library in the afternoon.
Admission and Tickets to Coimbra University
When facing the entrance gate to the significant buildings, the ticket office is on the left side of the square, where admission tickets can be purchased. It also includes entrance to the university's two museums, the Science Museum and the Natural History Museum, located on the street to the right of the New Cathedral and facing each other down the hill from the campus.
A second ticket is available for €7.00, including everything but the library and the standard access, which costs €12.50. Given that the university's library is its best feature, we don't advise purchasing this second ticket. For an additional €2.00, visitors can climb to the top of the clock tower for a panorama over the campus and the surrounding area.
Conimbriga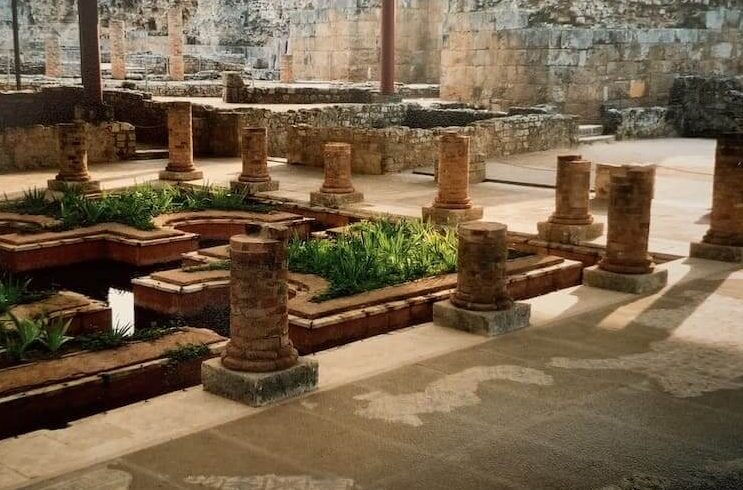 Just 25 minutes outside of Coimbra, Portugal's most extensive Roman site is notable for possessing some of the best-preserved mosaics in Europe. Rich Roman town Conimbriga was once, but it was abandoned in the fifth century as Germanic tribes invaded (a small but informative museum tells the history and daily life of the place). The pond gardens and fountains are the most striking features, followed by the mosaics (the most outstanding of which depict the four seasons and hunting scenes).
There is a sporadic bus service from Coimbra to Conimbriga and another to Condeixa-a-Nova, less than two kilometers (about a mile) away and from whence you can take a taxi or walk to the ruins.
Only three times a day do direct buses from Coimbra leave for the Largo da Portage central square (run by the Transdev business) (at 9 am, 9:30 am, and 12:30 pm on weekdays, and 9:30 am and 12:30 pm on weekends, plus 3 pm on Sundays and 3:30 pm on Saturdays).
The departure times from Conimbriga to Coimbra are 12:55, 4:25, and 5:55 on weekdays, 1:25, 6:25, and 1:55 on Saturdays and Sundays.
The bus takes 45 minutes to get to the ruins because it stops at various locations. One ticket costs €2.60.
Admission and Tickets to Conímbriga
Tickets are €4.50. Children up to the age of 12 are free.
Opens every day, from 10 am to 5:30 pm between November and February, and from 10 am to 8:30 pm from March to October.
Machado de Castro Museum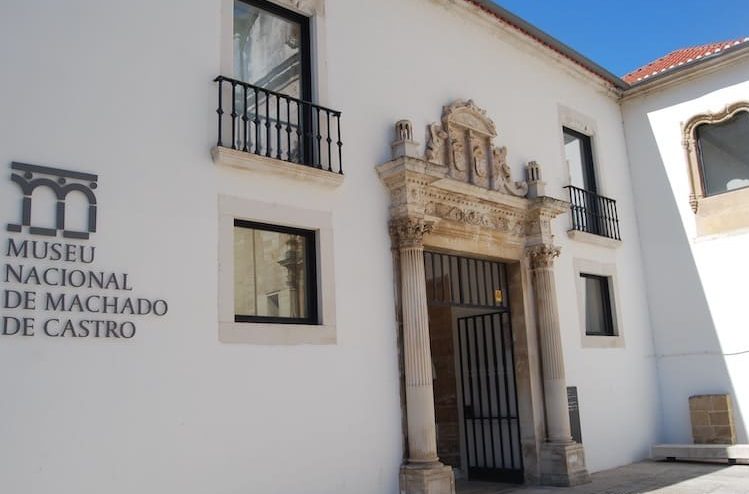 The former bishop's palace, now one of Portugal's most significant museums, is located only down the street from the university. Although it has a notable collection of sculptures from the 14th to the 16th century, the highlight is the Roman-era vaulted passages beneath the group that alone would be reason enough to come.
Coimbra's former Bishop's Palace, built and expanded between the 12th and 18th centuries, became one of Portugal's most important national museums in 1913. It stands on the site of a Roman forum, whose 1st-century cryptoporticus still survives. That subterranean gallery is part of the museum and displays a few Roman sculptures around its vaulted passageways.
Joaquim Machado de Castro, born in Coimbra and Portugal's most prominent sculptor in the 18th century, is the subject of the museum. It is close to the New Cathedral, just down the hill from the university. It is an excellent place to eat because its cafeteria offers reasonably priced lunches with a view.
      Admission and Tickets to the Machado de Castro Museum
Admission is €6. For just the cryptoporticus, it's €3
It's closed on Mondays. On Tuesdays, it only opens in the afternoon (2 pm-6 pm). On all other days, it's open from 10 am to 6 pm.
Santa Cruz Monastery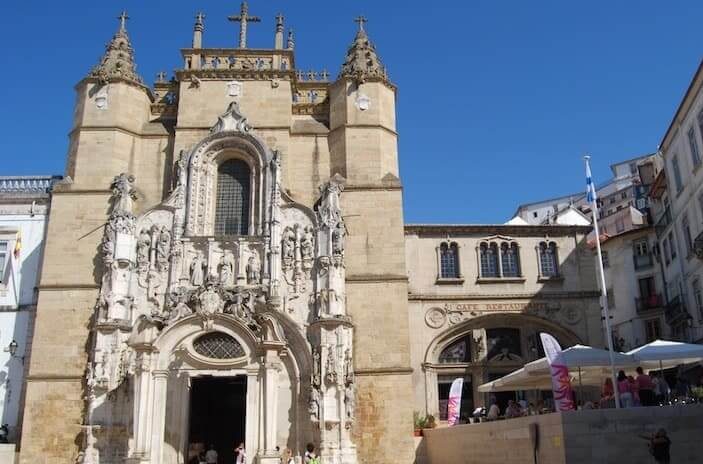 Coimbra's University was founded because of this monastery from the 12th century, which had long been regarded as a school and cultural hub (St. Anthony was its most famous student). The ornate Gothic graves of Portugal's first two kings are hidden behind the sculptured façade (in the church's chancel), and the cloister is one of the purest representations of Manueline (Portuguese Gothic) architecture.
The former church next door now houses Café Santa Cruz, a famous coffee restaurant with a high vaulted ceiling, stained-glass windows, and wood paneling. The monastery, Portugal's esteemed medieval institution, served as the impetus for the founding of Coimbra University. St. Anthony, born in Lisbon and died in Padua, Italy, was its most well-known pupil.
One of Portugal's most exquisite ancient cafés is located just next door in an old chapel from the monastery. It is called Café Santa Cruz. This Coimbra landmark still has a high-vaulted ceiling, wood paneling, and stained-glass windows.
Admission and Tickets to Santa Cruz Monastery
The church is free, but there's an admission charge for the monastery and cloisters.
Opens every day
Old Cathedral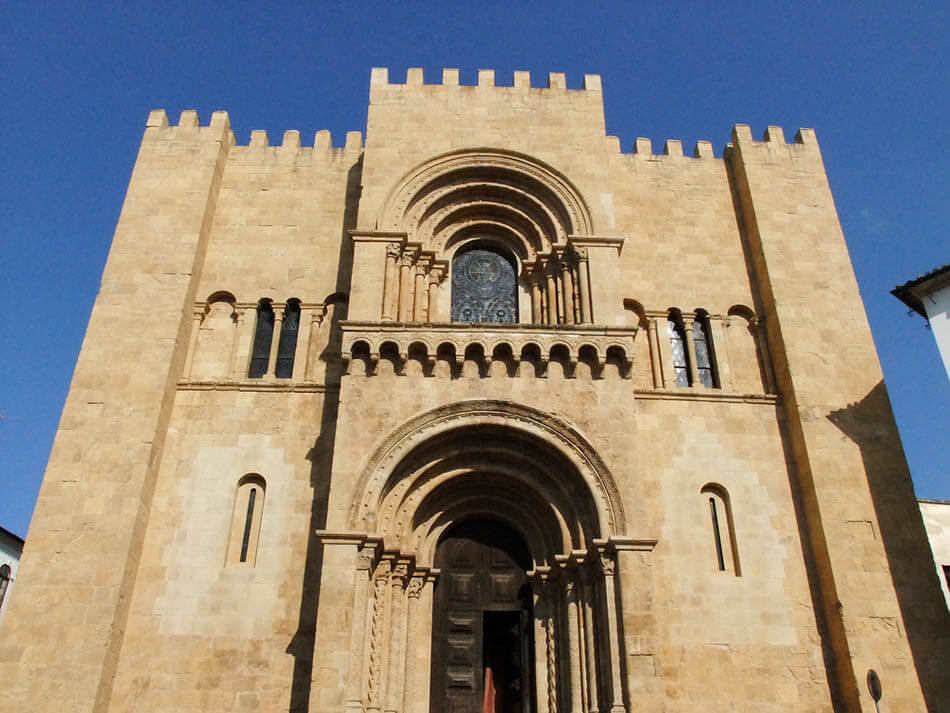 Built in the late 1100s, this fortress church was the city's first cathedral. It has undergone little change over nine centuries, making it one of Portugal's finest Romanesque architectural examples. Only adding a gilded altarpiece in the 1500s altered the interior's grandeur.
Although it appears to be a castle from the outside, the side doorway is a lovely reminder that the church was built in the Renaissance style. One of the city's major cultural events, the "serenade," which takes place in May to commemorate the end of the academic year and features male graduates singing fado as a farewell to student life, takes place on the steps of the exquisitely adorned front gateway with Islamic influences.
How to Get to the Old Cathedral
The Arco de Almedina, the entrance to the old city, leads up to a tiny square where the Old Cathedral is situated in the center of medieval Coimbra.
Admission and Tickets to the Old Cathedral
Tickets are €2.50. No visits are allowed during Mass on weekdays at 5:30 pm, 6:30 pm on Saturdays, and 9:30 am on Sundays.
It's open daily from 10 am to 5:30 pm on weekdays and 6:30 pm on Saturdays. On Sundays, it's available from 11 am to 5 pm.
New Cathedral
When a Jesuit church from 1598 was converted to a cathedral in 1759, it became Coimbra's most significant structure. The choir stalls and a Manueline font were transferred from the previous cathedral, but the interior has been beautifully decorated with baroque altarpieces.
Admission and Tickets to the New Cathedral
Admission is free.
It opens from 9 am to 6:30 pm on weekdays and until 7 pm on Saturdays. On Sundays from 10 am to 1 pm and then from 7 pm to 8:30 pm.
Portugal dos Pequenitos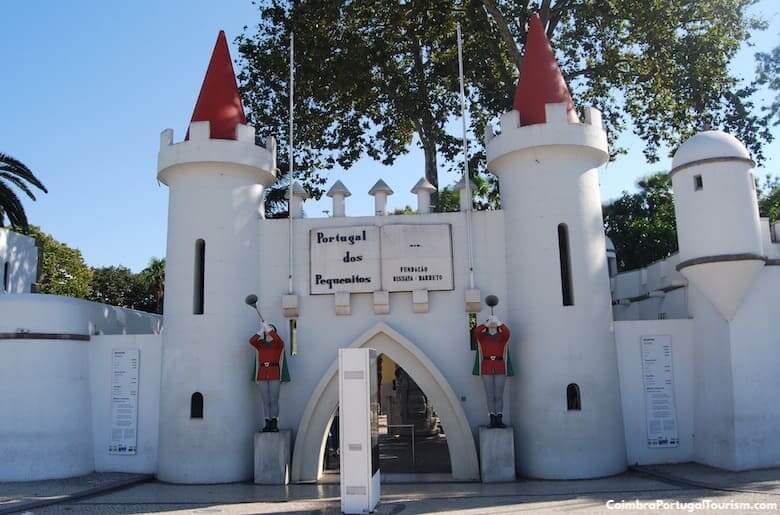 This tiny open-air theme park, designed to be kid-sized, takes visitors on a brief tour of Portugal's most notable sites. Posing for pictures while giving the impression that giants are inside the houses and next to landmarks is part of the fun. Despite being a family-friendly attraction, adults can also enjoy it alone.
Visit Portugal dos Pequenitos, a small village or theme park, to take a virtual tour across Portugal without ever leaving Coimbra. It features scaled-down replicas of the nation's most iconic structures. No one can resist posing for photos, implying that giants are inside homes and standing beside monuments.
It was intended to be a delightful place to educate children and adults about the architecture of each section of Portugal and its colonies. Even though it's a well-liked family attraction, everyone enjoys the activity.
Admission and Tickets to Portugal dos Pequenitos
Tickets are €10.50 for those between the ages of 14 and 64. Children between 3 and 13 years old pay €6.50, as do seniors over 65.
It opens every day — from 10 am to 7 pm from March to May; from mid-September to mid-October; from 10 am to 5 pm from mid-October to February; from 9 am to 8 pm from June to mid-September.
Santa Clara-a-Machado de Castro Museum Monastery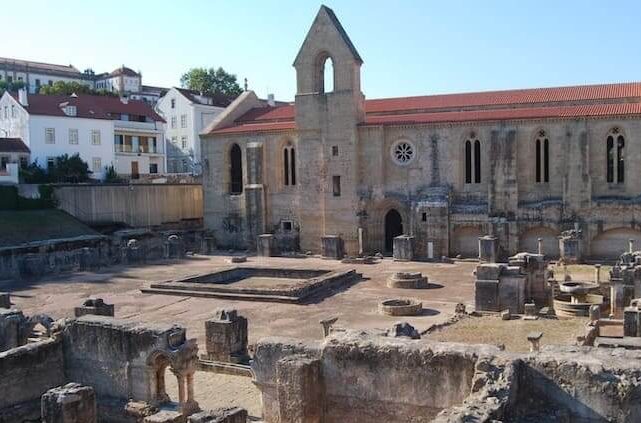 These Gothic ruins have been brought back to life after painstaking restoration for two decades. The monastery, established in 1330, has been eroded by the river since the 17th century. It is now possible to wander around the eerie remains while a museum uses film to describe the building's history and the fantastic rehabilitation effort.
Admission and Tickets to the Santa Clara-a-Velha Monastery
Admission is €4. Children up to 12 years of age are free.
It closes on Mondays and is open from 10 am to 5 pm in the autumn and winter and from 10 am to 7 pm in the spring and summer.
Santa Clara-a-Nova Monastery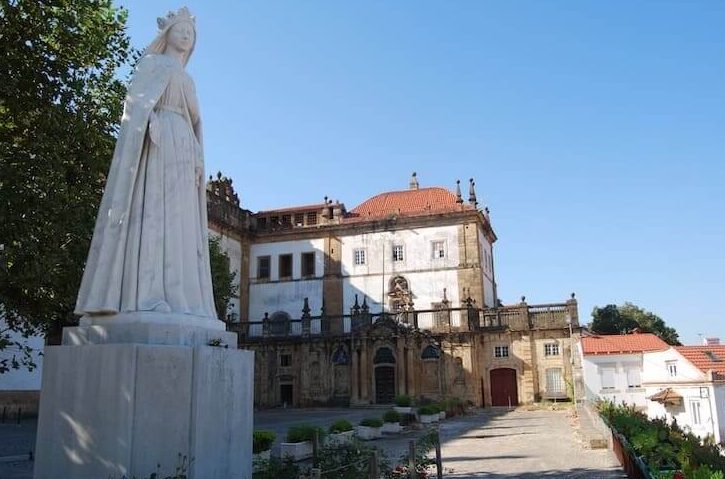 A new ("nova") Santa Clara monastery had to be constructed since the previous ("velha") monastery began to flood and sink. Flooding wouldn't be an issue since the chosen location was near and on top of a hill. It was built in the era's baroque style rather than trying to replicate Gothic architecture. It was handed to the church along with a magnificent altarpiece coated in gold and dedicated to Queen Saint Isabel.
Admission and Tickets to Santa Clara-a-Nova Monastery
Admission is €2
Opens every day
Botanical Garden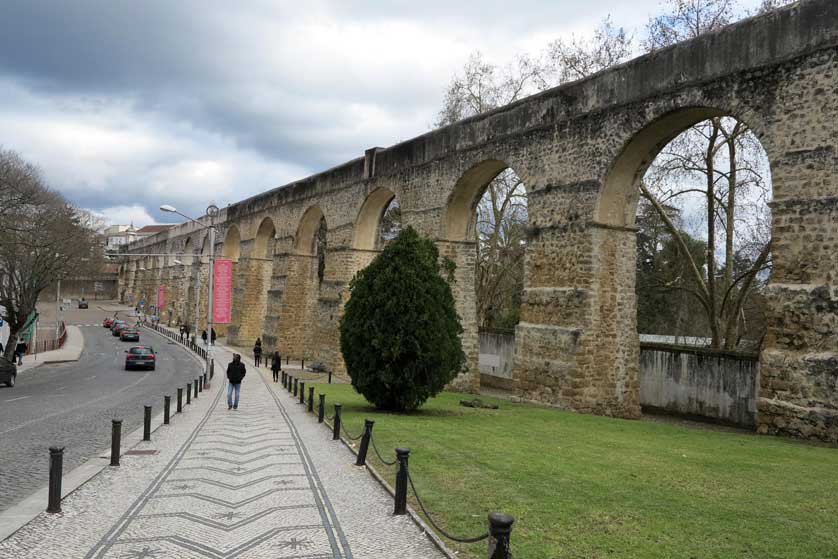 Located down the hill from the university by a 16th-century aqueduct, this botanical garden was laid out in 1772 and was considered one of the world's finest. The university used it to teach natural history and medicine and has hundreds of rare and exotic plants worldwide. A greenhouse was added in 1859, one of the first iron-and-glass buildings in Portugal.
Admission and Tickets to the Botanical Garden
Admission is free.
It opens daily, from 9 am to 8 pm from April to September and from 9 am to 5:30 pm from October to March.
Coimbra Foods & Beverages
Arroz Carolino do Baixo Mondego (Rice)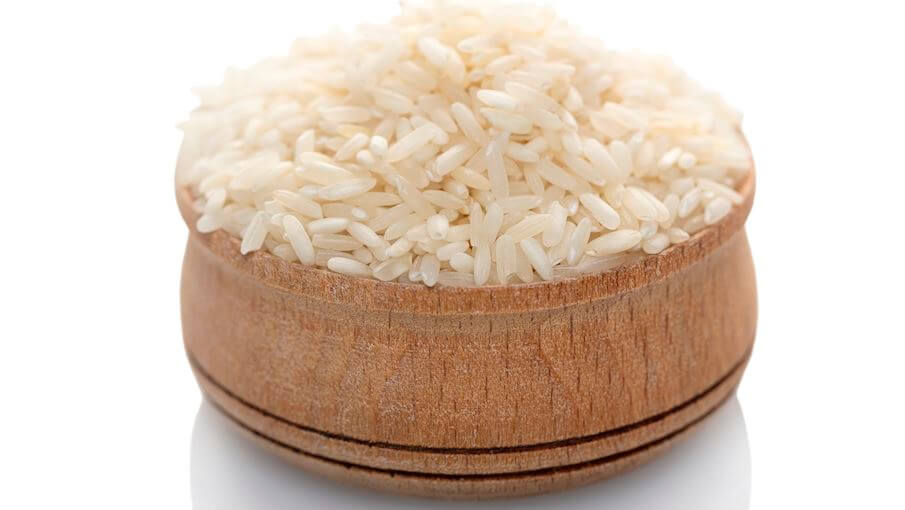 More rice is consumed by the Portuguese than in any other European country, and Carolino rice is by far the most popular rice in Portugal. This long, round-grain rice, grown in the Mondego, Tagus, and Sado river valleys, is the ideal accompaniment to any recipe since it readily takes on the flavors and fragrances of the other items it is cooked with.
Mel da Serra da Lousã (Honey)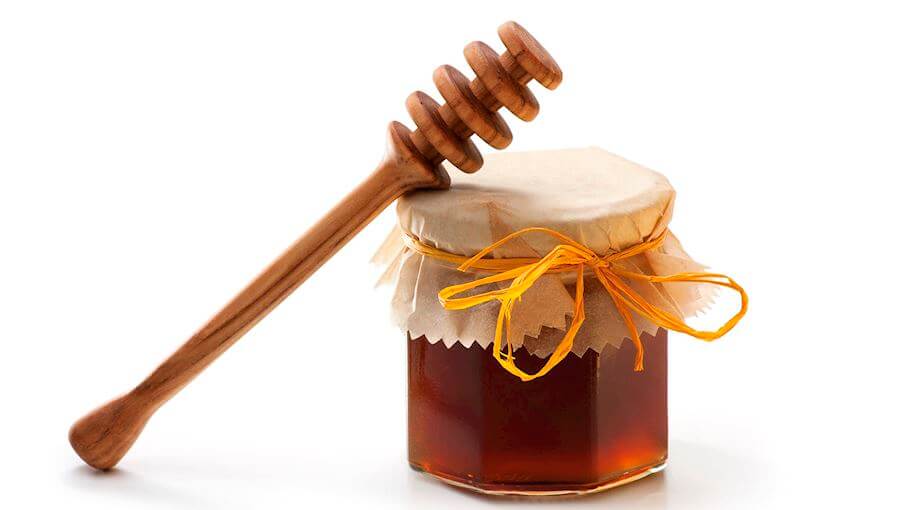 This Portuguese honey is produced by the Apis mellifera bee species native to the Iberian Peninsula and has a high nutritional content. The nectar of nearby flowers and chestnut trees is what these bees eat. They are kept in the municipality of Lous, close to Coimbra.
The honey has a thick, dense texture, is dark amber, and tastes strongly of wood and heather. Low temperatures can cause it to crystallize, increasing its color's hue. It can be used in classic cakes and pastries, eaten raw, or used as a sweetener and sugar alternative.
Farmers in Portugal's Coimbra, Guarda, and Viseu districts have been producing the Bordaleira breed for centuries due to its superior milk. The Serra do Estrela cheese is the most famous food item from Serra da Estrela milk. During the winter months, these sheep are typically kept indoors, but in the summer, they graze on open meadows and consume natural grasses and herbs. Serra da Estrela's meat is incredibly juicy, supple, and succulent and has a delicate flavor and rich aroma.
Queijo Rabaçal (Cheese)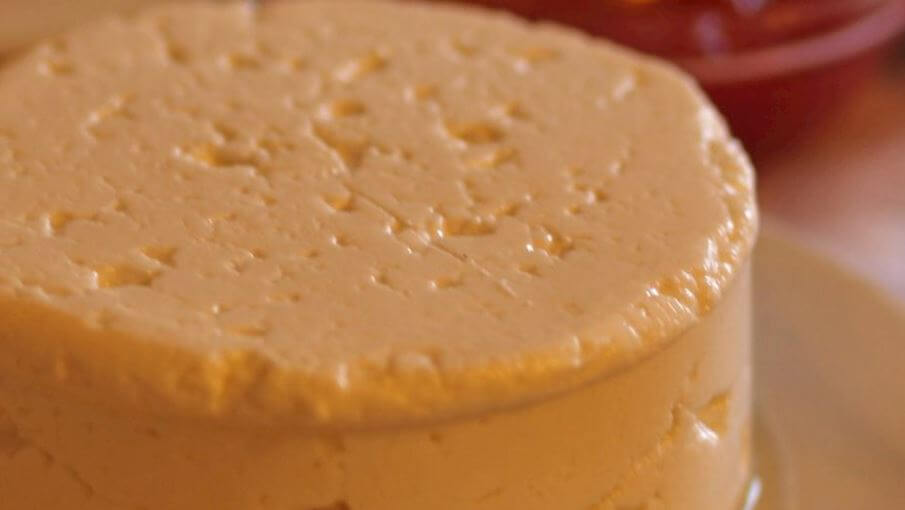 Two-thirds of sheep milk and one-third of goat milk are used to make this semi-hard cheese. The sheep and goats of the Coimbra region graze heavily on a particular variety of thyme that grows abundantly in the grasslands, giving their milk a peculiar, robust flavor that gives Rabaçal cheese its distinct flavor.
The milk is manually collected, strained with a cloth, boiled, then salted.
Baga (Wine variety)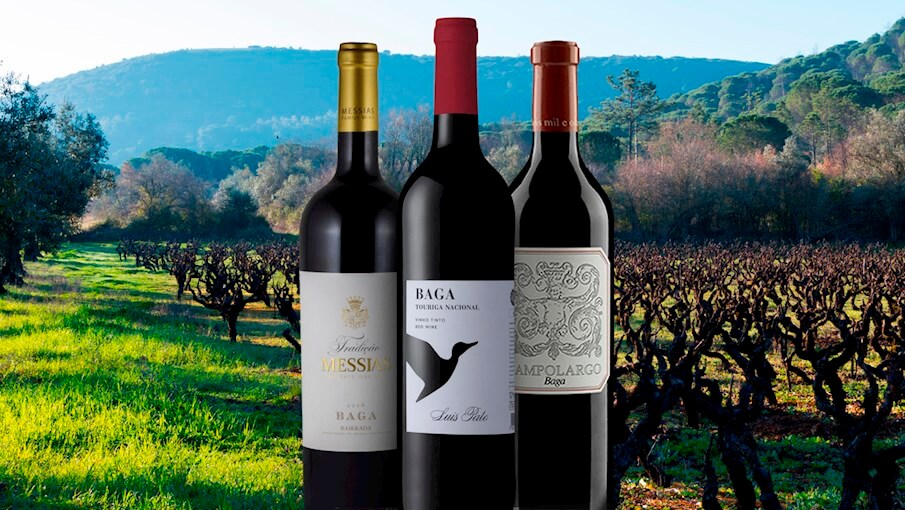 The Baga varietal red grapes are primarily used in the Bairrada region of Portugal. Although this grape with dark skin may yield various wines, up until the 1980s, most producers only utilized it to make cheap bulk wines. When the approach and techniques were altered, it was demonstrated that Baga could produce exceptional quality wines with great aromatic structure, good acidity, and firm tannins.
Baga wines are built for long aging and significantly benefit from the time spent in the bottle. The powerful tannins will tone down, and the aromas usually gain some elegance and complexity. Young Baga wines will have red berries and fruit aromas, which may evolve into more complex tobacco, plums, and coffee expressions.
Bairrada (Wine Appellation)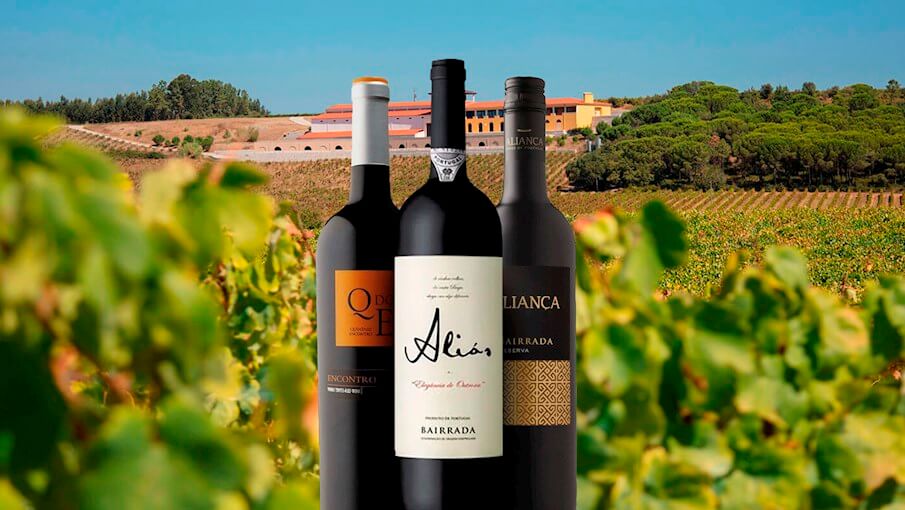 A small and slender Portuguese appellation called Bairrada is next to the Atlantic Ocean. The area is best known for red wines from the indigenous Baga grape. This high-yield grape often yields robust red wines with high levels of tannin and acidity that age nicely.
Santa Clara pastries usually have a sweet almond and egg yolk filling with a thin, crispy crust, even though they are in various sizes and shapes. The pies were named after the Santa Clara monastery in Coimbra, where nuns created and made them.
It is believed that nuns in Coimbra started selling pastries to many students, which led to their popularity in the 19th century. The migration of people brought the Pastéis de Santa Clara to Brazil in the 20th century, and it quickly gained popularity there.
Chanfana (Stew)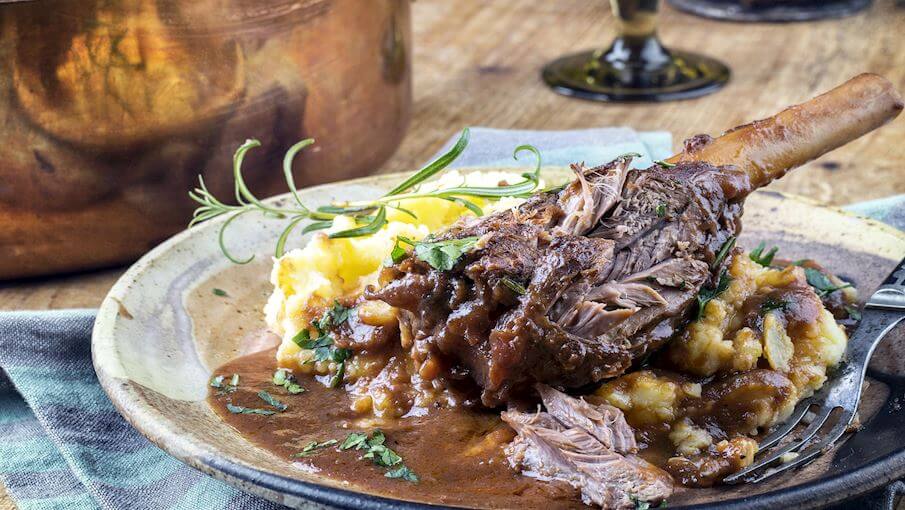 "Prepare channa, a hearty stew, by using goat (or lamb) and baking it in clay pots. Season the meat liberally with Piri-Piri, bay leaves, paprika, and garlic. Drench the mixture subsequently with a lot of red wine. Cook channa for hours so the meat becomes tender and the sauce thickens.
Chanfana's origin is the subject of numerous theories, most of which remain unproven. According to the most widely accepted story, the dish first arose around the beginning of the 19th century during the French conquest of Portugal. It is most closely associated with Coimbra but likely originated in central Portugal (Beira).
Beirão
In the 19th century, create the first batch of Beirão, a herbal liqueur from Portugal. Prepare the drink by macerating twelve different botanicals, although keep the recipe a secret. According to the legend, the genesis of the liqueur began in the 19th century when a port salesman passing through Lousã fell in love with the pharmacist's daughter.
They remained in Lous and began producing and marketing various health products, including a liqueur for stomach aches that would eventually become the Beirão liqueur in 1929. José Carranca Redondo purchased the company that made the beverage in 1940, and he had remarkable success turning Beirão into one of the most well-known Portuguese liqueurs.
Pastel de Tentúgal (Sweet Pastry)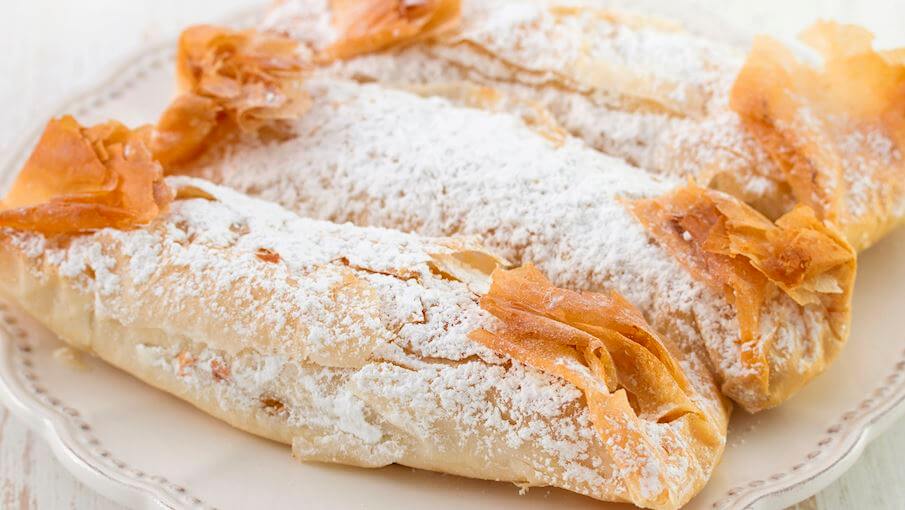 Pastel de Tentúgal, a typical Portuguese pastry with a fascinating heritage that dates back to the 16th century, is one of the seven foods that define Portuguese cuisine. To make it, we use Portuguese egg custard, Doce de ovos. They wrap it in paper-thin dough and cook it till golden and crispy.
Credited with starting the practice of making pastel de Tentúgal, the Carmelite nuns stretched the dough in designated spaces draped in white sheets. Interestingly, they intended the dough to be exceedingly thin to see passages of the Bible through it.
Nightlife in Coimbra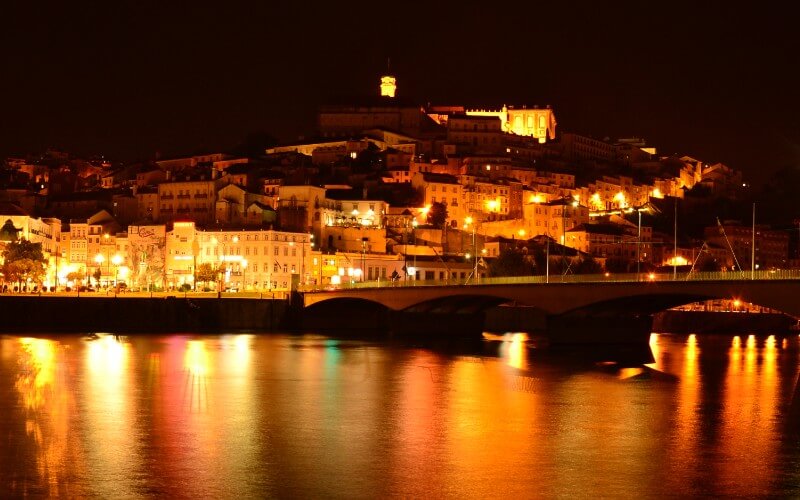 Garden Bar
This bar is unassuming, but it's worth stepping inside and stopping for a drink, with a great atmosphere bubbling away until the early hours. This venue, which has welcomed guests for over 30 years, sits within a glasshouse-like structure, with tropical plants dotted here and there. It prides itself on making one of the best gin and tonics in town, and there's a great selection of other tipples to pick from, from vodkas and whiskies to Portuguese wines.
What's Up, DOC Bar
This lively and price-friendly bar on picturesque, tree-lined square guarantees you will make a friend or five. This bar is a hotspot for students, who stay until the early hours. Things tend to liven up post-10 pm, so it's best to arrive late to have fun.
Aqui Base Tango
This offbeat house is one of Coimbra's most enticing hangouts, a quirky space with original decor and a relaxed, inclusive vibe. Music ranges from jazz to alternative rock, and there's always something going on.
Bigorna Bar
An institution amongst Coimbra's student bar-hoppers, this tiny place near the old cathedral is ideal for a big night. Think cheap shots, copious beer, and a cheerful crowd of international drinkers.
A Taberna
The cuisine is always delicious, particularly the vitela (veal) and the chunk of homemade bread with ricotta cheese that we typically eat as a starter. One of the best things about this restaurant is that the servers bring you a choice of six side dishes, including three different veggie options, to the table.
Where to Stay in Coimbra
The best and most recommended hotels, based on guest reviews, facilities, and location. Advise an overnight stay, especially if you wish to view the Conímbriga ruins, even if you can explore the city's principal attractions in one day. Enjoy Coimbra at a slower pace.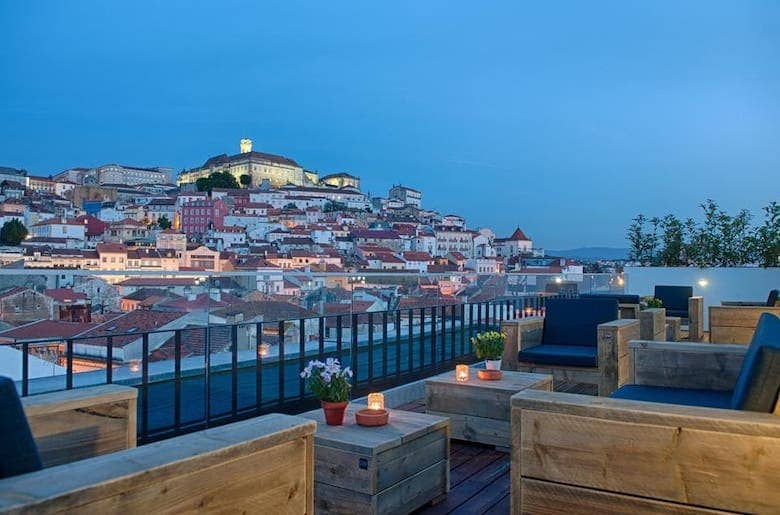 This family-run hotel is near the railway station and the city's prime attractions. Its rooftop offers one of the most picturesque postcard views of Coimbra. The 38 rooms range in size but share a straightforward, modern aesthetic. The top-floor superior rooms offer balconies that look out over the ancient city.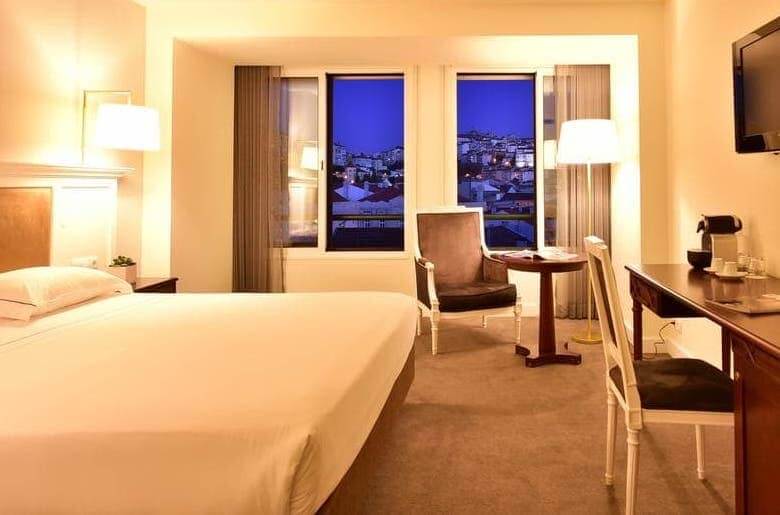 A railroad station separates the ancient town and this 4-star hotel. See the campus from several of the 100 large rooms. A restaurant, a business center, and massages are available upon request.
VILA GALÉ COIMBRA
Due to its riverfront location, approximately half of its 229 rooms provide river views. Many have balconies and look out over the outdoor pool. The sights in the ancient town center are roughly a 15-minute walk from where it is located in the modern part of the city. Two restaurants, a spa, and conference rooms are available for business guests.
Coimbra University is just 15 minutes on foot from Five Senses Hostel, while the Central Bus Station is only 500 meters away. The renowned Joanina Library is 1.5 kilometers from the Coimbra train station. (available from €22.00)
SERENATA HOSTEL COIMBRA
The Serenata Hostel in Coimbra has ancient marble accents, a large wooden staircase, and unusual hand-painted murals. (available from €15.00)
COIMBRA PORTAGEM HOSTEL
House the Coimbra Portagem Hostel in a historic structure in the city's heart. Completely renovate a palace with more than 300 years of history to provide visitors with the best possible experience. (Available From €13.00)
BE Coimbra Hostel offers private rooms with city views in the city's center. Within a 3-minute stroll are the Santa Cruz Monastery, the city's bus and train stations, and the monastery. Each room contains a desk, a closet, and free Wi-Fi. Some rooms include a TV and a private bathroom.
The hostel has a laundry facility, dryers for clothes, and washing machines. Serve breakfast in the dining area of the restaurant every day. The shared kitchen is available for guests to create their meals, and the bar offers a variety of drinks. (available from € 18.00 to € 80.00)
Hostel Sé Velha
The Sé Velha Hostel in Coimbra, Portugal, is 700 meters from the S. Sebastio Aqueduct and features a terrace, a common area, and a bar. Approximately 1 kilometer away from the University of Coimbra.
Coimbra City MAP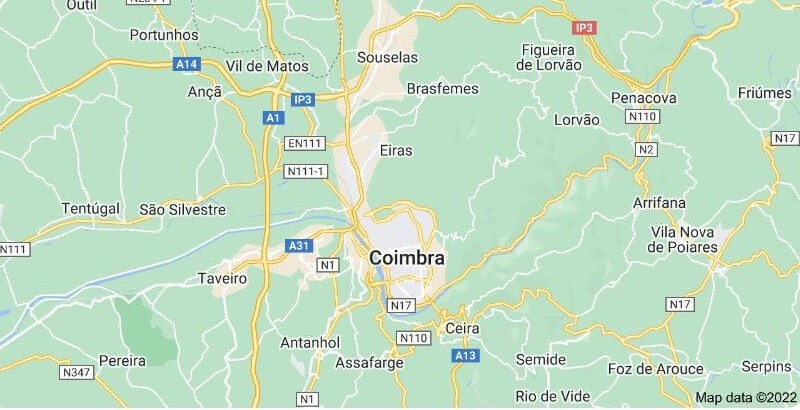 Budget Travel in Coimbra
How much does it cost to travel to Coimbra?
How much cash will you require to travel to Coimbra? Budget approximately €82 ($82) per day for your trip to Coimbra, the average daily cost based on what other tourists spend there. In the past, tourists have typically spent €38 ($38) on meals and €8.58 ($8.57) on local transportation. Additionally, a couple can stay in a hotel for an average cost of €70 in Coimbra. Therefore, the average price of a one-week trip for two people to Coimbra is €1,154 ($1,152).
Accommodation Budget in Coimbra
In Coimbra, a single person's hotel room costs, on average, €35. The typical cost of a hotel stay in Coimbra is €70 for two people sharing a double occupancy room.
Transportation Budget in Coimbra
A taxi ride in Coimbra costs significantly more than public transportation. On average, past travelers have spent €8.58 per person, per day, on local transit in Coimbra.
Food Budget in Coimbra
While meal prices in Coimbra can vary, the average cost of food in Coimbra is €38 per day. Based on previous travelers' spending habits, an average meal in Coimbra should cost around €15 per person. Breakfast prices are usually a little cheaper than lunch or dinner. The food price in sit-down restaurants in Coimbra is often higher than fast or street food prices.
Entertainment Budget in Coimbra
The average daily expenditure on entertainment and activities in Coimbra is €14 per person. This includes money spent on day trips and other forms of sightseeing, including admission fees to museums and other sites.
PARKING IN COIMBRA
If you drive, you'll need to find parking for your vehicle. When we went, we could park on the street near the New Cathedral, located at the city's top. If you use a street meter or a city-run parking lot, parking is free on Sundays but costs about €1 per hour the rest of the week.
There is free parking on the opposite side of the river if you are willing to take a short stroll. It takes about 10 minutes to walk from the Parking Convent San Francisco across the bridge and into the city. This parking is an excellent option if you want to visit the Little Portugal attraction.
Final thoughts on One day in Coimbra
I hope I have piqued your interest in visiting this ancient city. As I said at the outset, I had no idea what to anticipate from Coimbra, yet I left with a strong urge to return. From decadent architecture to miniature buildings, lovely views, and fine food, it has something to keep everybody happy.
Have you visited Coimbra before, or are you about to go? I'd love to know how your visit went and if you have anything additional that readers should not miss. Drop them in the comments.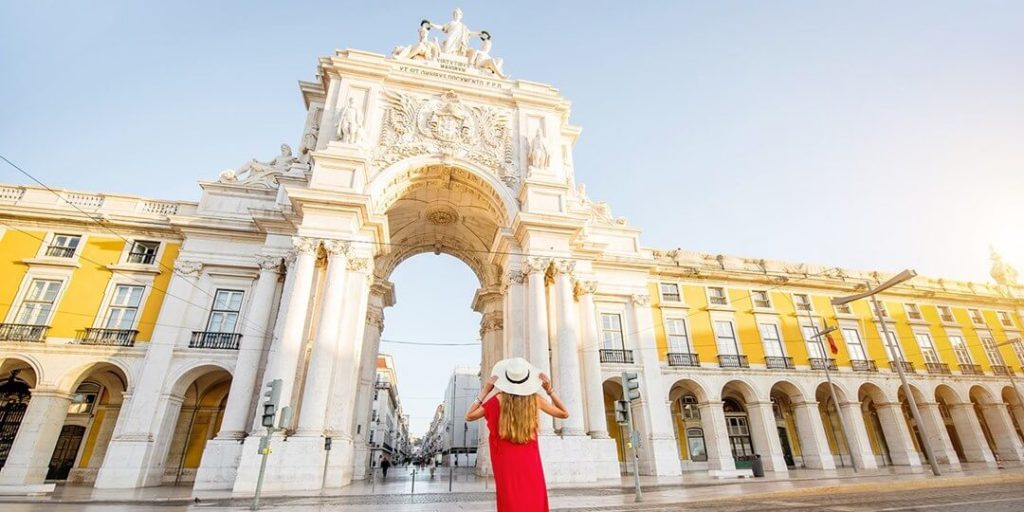 FAQs
Is Coimbra worth visiting?
Explore this city, especially if you want to see areas that aren't overwhelmed by visitors. Visiting Coimbra daily on the route to Porto or Lisbon is possible, but I advise staying at least one night to fully appreciate the city's charm.
How much time do you need in Coimbra?
At least one full day must be spent seeing the city, but two days are needed to explore Coimbra properly, and a third day could be used to take a day trip to one of the intriguing places nearby.
Is Coimbra cheaper than Lisbon?
Idealista data updated in June 2022 shows that the cost of rent for an apartment in Coimbra, Portugal is approximately 53% less than in Lisbon.
What is Coimbra Portugal known for?
The oldest university in Portugal and one of the oldest in Europe is in Coimbra, known as "the city of students." Coimbra is located on the banks of the Mondego River.
How far is Coimbra, Portugal, from the beach?
Although Coimbra does not have any beaches, you can reach one of the largest in Portugal in about 45 minutes by vehicle or 1 hour and 15 minutes by train, and it is the nearest one to the city.
Is Coimbra worth a day trip?
Going to Coimbra, Portugal, from Lisbon and Porto is simple. Going by train from Porto to Coimbra takes one hour, with virtually hourly departures. As a result, Coimbra is a fantastic day trip option from Porto. However, I highly suggest spending at least one night there.
Is Coimbra walkable?
If your legs are up to the steep maze of medieval streets and stone staircases, compact Coimbra is readily walkable.
Is Coimbra hilly?
Once you get there, Coimbra is a very walkable city, but you'll need some energy because it's relatively mountainous. During our Coimbra itinerary, which lasted one day, we walked more than 20,000 steps.
How big is Coimbra Portugal?
Portugal's Coimbra is both a city and a municipality. In a region of 319.40 square kilometers, the municipality has 143,397 residents as of the 2011 Census.
What river runs through Coimbra?
Mondego is a 234 km long river in Portugal that rises in the Serra da Estrela mountains and empties into the Atlantic. It is the longest river to flow entirely within Portuguese territory. In contrast to other cities, it passes through Coimbra and gives the city a unique feel.
People also viewed: