History of Brno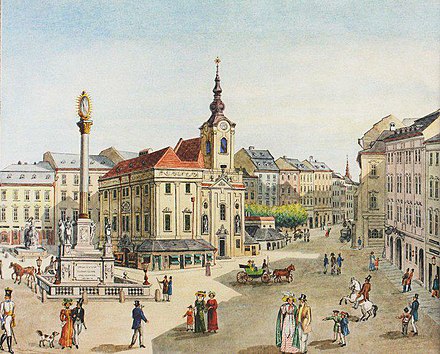 The history of Brno in the Czech Republic dates back to prehistoric times, as the future seat of the Margraviate of Moravia, a castle built in the 11th century by a local branch of the Pemyslid family. In 1243, the King granted it city powers, establishing Spilberk Castle as its dominant structure.
Brno, dominated by the castle on the Pilberk, withstood multiple sieges, such as by the Hussites (religious reformers) in 1428, 1464 by the Bohemian leader, and in 1645 by the Swedes. It was again conquered during the Silesian War of the Austrian Succession (1740–45). Before Napoleon's victory against the combined Austrian and Russian army at Slavkov (Austerlitz), 11 km southeast of Brno, it was seized by the French in 1805.
Under the Habsburgs, the Pilberk Castle was a political prison and a military hospital. 
The churches of St. Thomas and St. James, as well as the Gothic church of the Augustinian monastery, have withstood the devastation of war. Tugendhat House, built in 1930, was recognized as a UNESCO World Heritage site in 1992.
Before World War II, the population was predominantly German; today, it is mostly Czech.
One Day in Brno Itinerary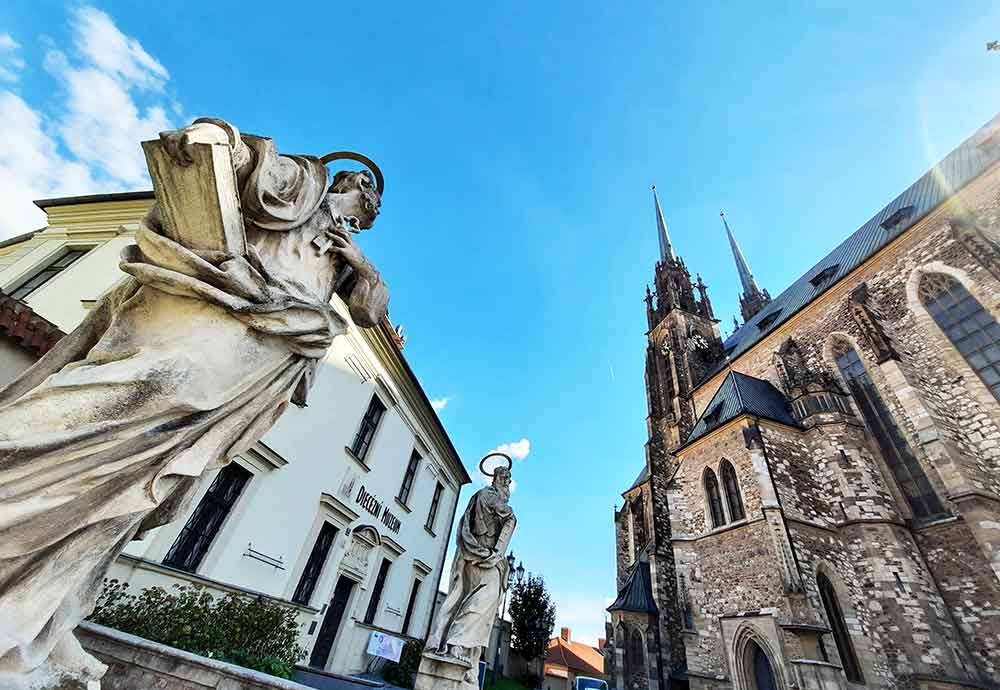 The second-largest city in the Czech Republic, conveniently situated between Prague, Vienna (Austria), and Bratislava (Slovakia), is frequently disregarded by travellers to central Europe.
However, spending at least one day in Brno is recommended if you're looking for a less crowded city break than the nearby capitals.
One benefit of visiting Brno is that it is less crowded, more reasonably priced, and has a vibrant cultural scene and a very picturesque old town than its rivals.
There are numerous activities to do in Brno, whether you're considering taking a quick city break or exploring more of the South Moravian Region.
Three sections make up this quick travel guide to Brno. The list of the top attractions in Brno and a description of what to do during the day are provided in the first part.
More information and helpful advice about what to see, where to locate it, and how to move around are provided in the second section.
You may discover answers to frequently asked questions about Brno in the final part, including information on where to stay, how to get there, and ideas for excursions if you want to extend your stay.
Guide to 1 Day in Brno – At a Glance
In a big hurry? Then you should read this part. The top activities to do in Brno in a day are listed below. One of the best things about Brno is that it is small enough to be easily navigated on foot; an excellent tram network is available if this is not possible.
What to See in Brno, Czech Republic
Špilberk Castle
Cathedral of St. Peter and Paul
The Vegetable Market
Labyrinth under The Vegetable Market
Old Town Hall & Tower
The Dragon of Brno
Liberty Square
Villa Tugendhat
Ossuary at the church of St James Church
Enjoy Brno's craft cocktail scene
Brno One Day Itinerary – Day-by-Day Breakdown
Morning
The first of two landmarks that dominate the Brno skyline is the day's starting point for this Brno attractions guide. Špilberk Castle is at the top of the hill, offering a breathtaking panorama. Approach the Cathedral of St. Peter and Paul, with its twin spires, the second famous structure, from the castle. After passing through the old Vegetable Market Square, descend to the labyrinth's basement entrance.
Afternoon
Before visiting Liberty Square to observe the astronomical clock, visit the Historic Town Hall and climb the old tower. Depending on your enthusiasm, take the tram or walk to the magnificent Villa Tugendhat, included on the UNESCO World Heritage List. Return to town via the Ossuary at the church of St. James after your visit.
Evening
There are several places to have craft cocktails in Brno. Check out some fantastic bars to end the day after tasting traditional Czech cuisine.
The Complete Brno in One Day Itinerary
Morning
Špilberk Castle
Without visiting the famous Špilberk Castle (Hrad Špilberk), visible everywhere in the Old Town of Brno, no worthwhile sightseeing tour of the city would be complete.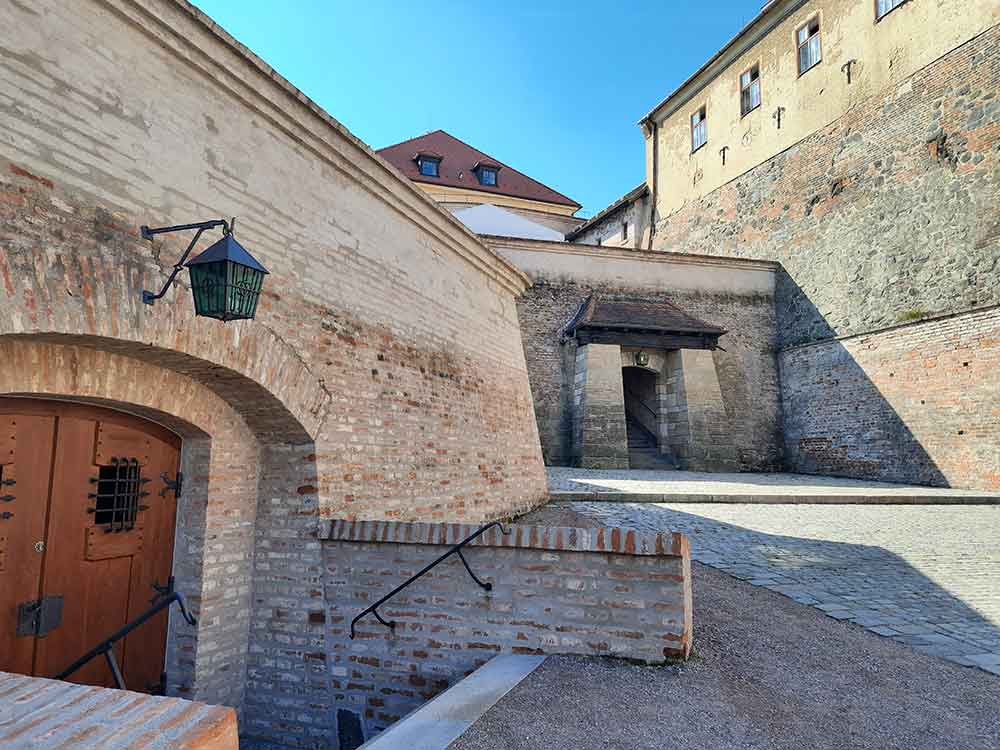 Follow any of the steep paths to get there. It's a good leg and lung workout while passing through lovely gardens and trees, regardless of whether the paths are on a hill or have steps. Stop, spin around, and take in the city vistas at various spots throughout the ascent.
Although Špilberk Castle was built in the 13th century, little remains. You may see a combination of Gothic and Baroque architecture. But the castle has always been significant to the development of the city. It has served as a royal home, castle, garrison, and prison, among other things. Today, it serves as a museum, exhibition venue, and an event rental.
If you wish to spend more time here, you can join a guided tour to visit the Casemates, Bastion, View-Tower, and Water Tanks. However, you can explore a good portion of the exterior and courtyards.
One of the best places in the city to see the sunset is from up here.
Opening Times: Castle grounds are open from 5:30 am – 11 pm – exhibition times and tours all vary 
Cathedral of St. Peter and Paul
The twin spires of St. Peter and St. Paul Cathedral may be seen from most locations in the city. This is also one of the greatest locations to go in Brno if you like heights because it offers breathtaking panoramic views (which are much better from the view from the castle!).
You may get there by returning down the hill through the gardens and returning up it in the direction of the cathedral (yeah, Brno is a moderately hilly city). On Petrov hill, there is a Catholic cathedral.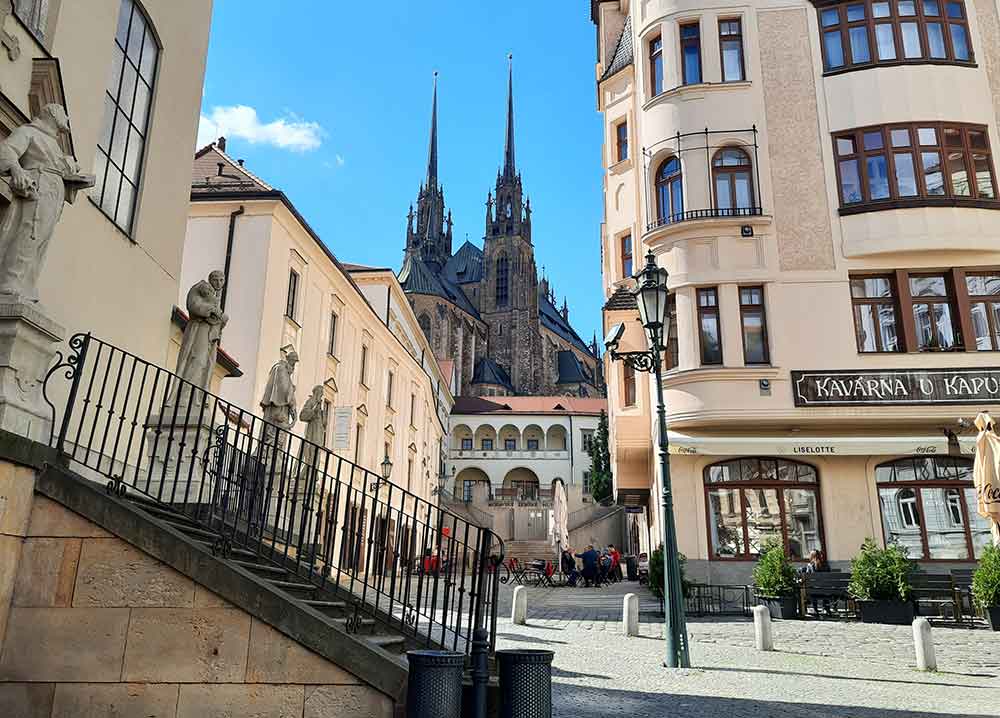 There isn't much to see inside unless you enjoy visiting churches and cathedrals, but if you go around the back of the building, you can access the bell towers. These are unquestionably worthwhile.
The interior begins with a narrow staircase that ascends to the ticket office. The stairs continue until you reach the upper level, which is just below the bells. The bells here ring loudly every 15 minutes, so use caution!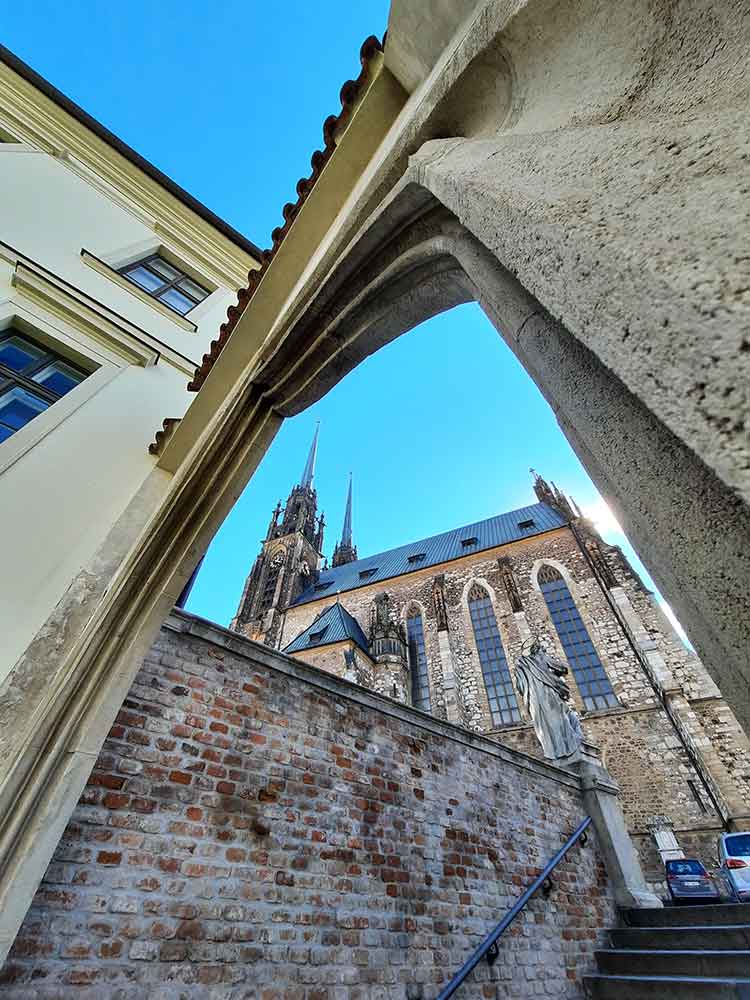 I think two dated wooden doors on this level provide access to some of the city's nicest views. The largest of the two balconies is on the first one you reach. The vista spans the city's south; three people might fit comfortably on it.
Cross the inner bridge through the second wooden door leading to the opposite balcony. This is more akin to a pulpit, so you could feel uneasy about its exposure if you fear heights.
Only one person will fit in this space. This location offers a panoramic perspective of the Old Town and is a fantastic place to capture both the castle and the Old Town in one picture.
The Vegetable Market
It doesn't matter if you refer to it as the Cabbage Market, Zeln trh, or The Vegetable Market. The Brno marketplace, where local farmers' products have been sold for centuries, is located on this ancient plaza. Here, you can find additional locally produced goods, fruits, vegetables, and flowers.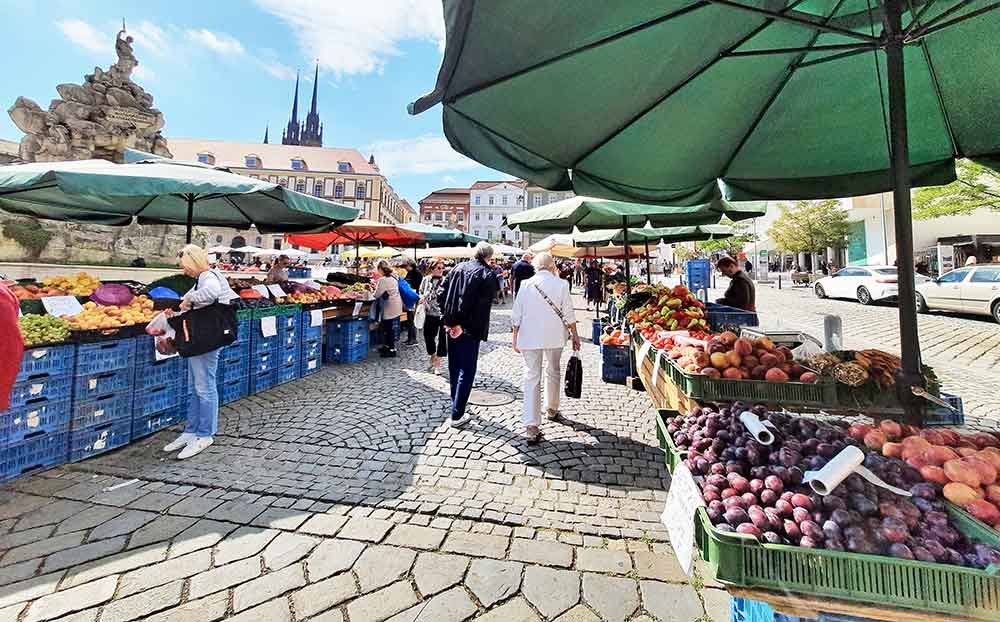 One of the city's oldest and busiest hubs, where local and fresh commodities are sold and bought, is here. A sizable Baroque fountain and a smaller statue of Mozart are located in the centre, paying homage to the composer's appearance and performance in Brno in 1767.
Buildings in all different colours and styles surround the square. These include the 1614 Dietrichstein Palace (Dietrichsteinský palác), the House of the Abbots, and the House of the Lords of Fanal, two Baroque palaces. Gothic and Renaissance architectural styles are used in other structures.
Labyrinth Under the Vegetable Market
Although it may seem a little kitschy to some, I found this one of the most entertaining things to do in Brno (and kids will enjoy it if you travel with them!). There are dozens of cellars, caverns, and passages beneath the vegetable market.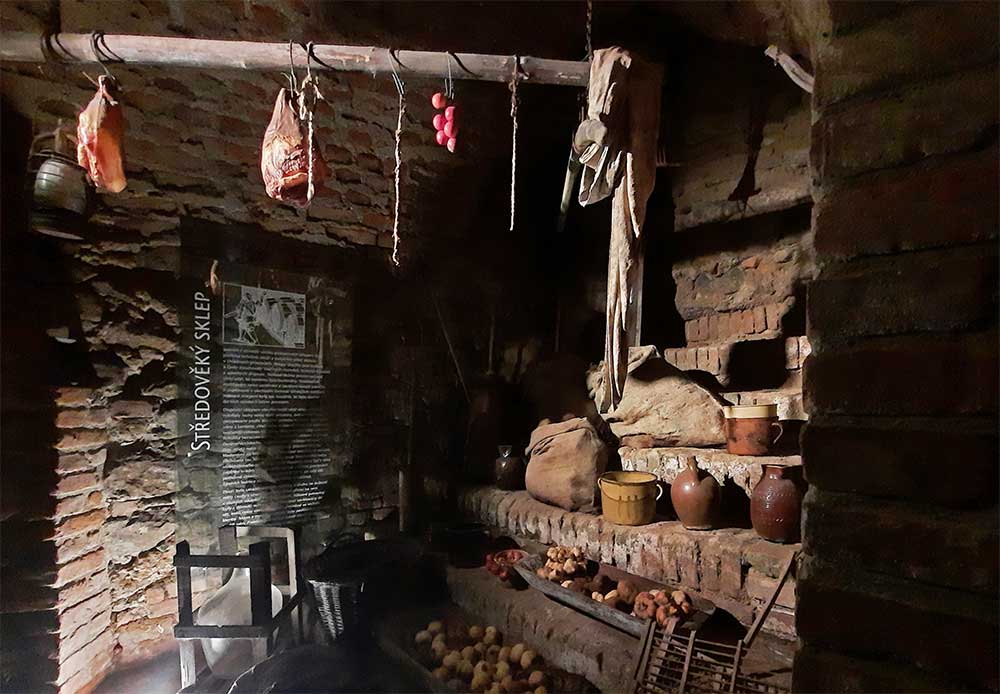 In the past, the labyrinth beneath the vegetable market, known as the "Labyrint pod Zelnm trhem," was used to keep produce, including meats, cheese, fruit, and vegetables, fresh.
Although they have served many purposes throughout the years—including as a torture chamber and a place to hide during a war—they include a network of dungeons, and you may now tour what is known as the Labyrinth.
Learn about what happened in these cellars by descending the 212 steps underground and beneath the Vegetable Market, where you will find over 1,000 meters of passageways. English-speaking tour guides are available.
Afternoon
Old Town Hall & Tower
The Old Town Hall and its accompanying Tower are just a stone's throw from the Vegetable Market and Labyrinth. Also known as the Stará radnice, this is the oldest functioning secular building in Brno and is also home to the legendary Brno Dragon under the archway. Today it serves as an exhibition centre and the main Brno tourism office, where many of the Brno city walking tours start.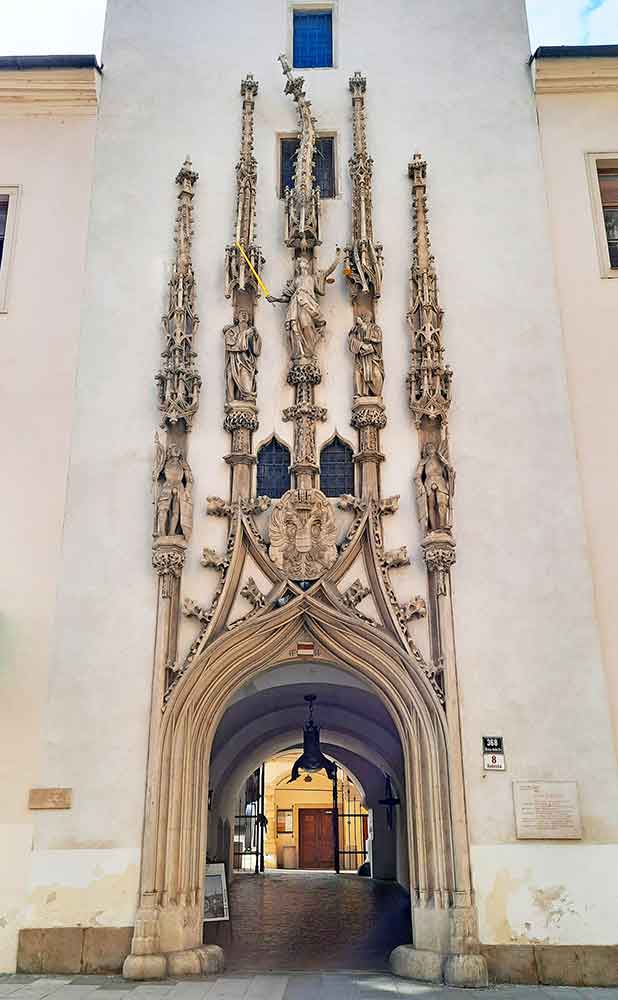 Another quirky thing to look for is the bent turret on the tower's facade. Anton Pilgram sculpted the Gothic-style turret. There are several reasons why it's a bit on the wonk, and if you read any Brno city guide, it will usually come down to one of two reasons.
The first is that all the turrets have a somewhat twisted appearance since the designer attempted to emulate the shape of flames. It was a novel style known as "flame Gothic," in which the decorator attempted to combine the appearance of flames.
The second argument is that the designer designed them crooked as a middle finger to the owners because he wasn't paid the full amount for his labour. Who knows, but it would make a decent story.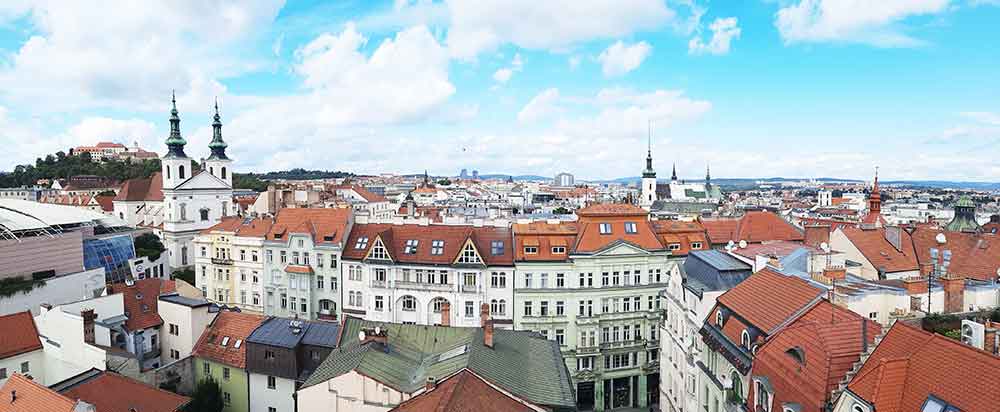 After checking out the outside of the building, climb up the 63-metre tower for another great panoramic rooftop view of the city.
About the Dragon of Brno
You may have noticed that it's a crocodile in reality. It is based on mythology and was given to the community 700 years ago. According to tradition, a dragon terrorised the city, its residents, and its animals.
According to legend, the dragon was killed using a carcass loaded with lime (cement) and water. This led to a chemical reaction inside its stomach, killing the creature and relieving the locals of its anger.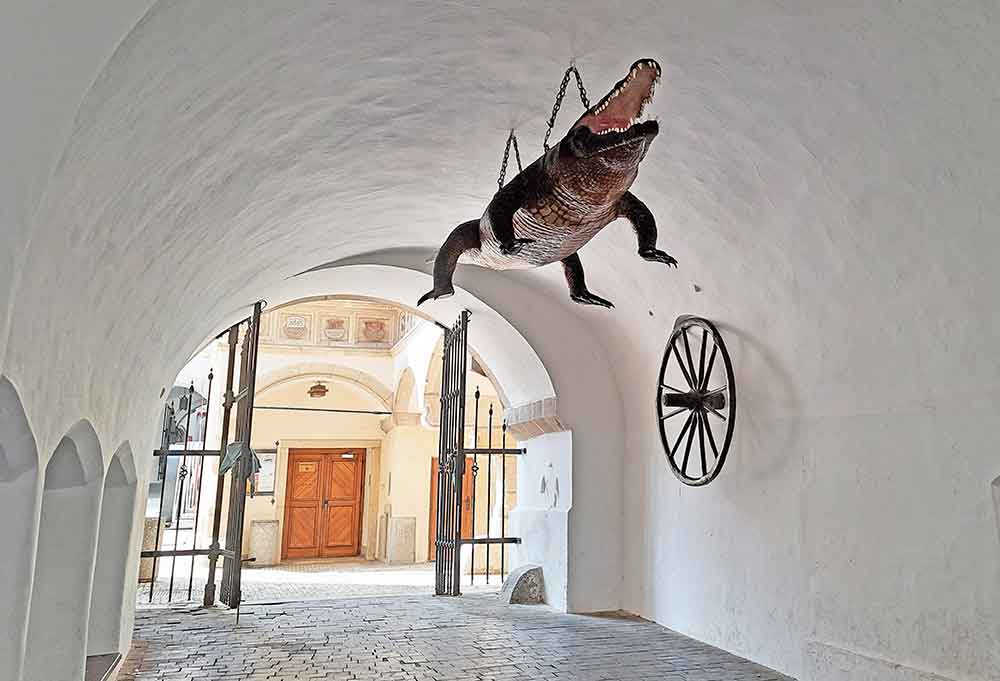 If you've ever wondered what Brno is famous for, go here. The crocodile or dragon is Brno's official emblem; you can see it on everything from sports teams to socks to pastries to trains!
Liberty Square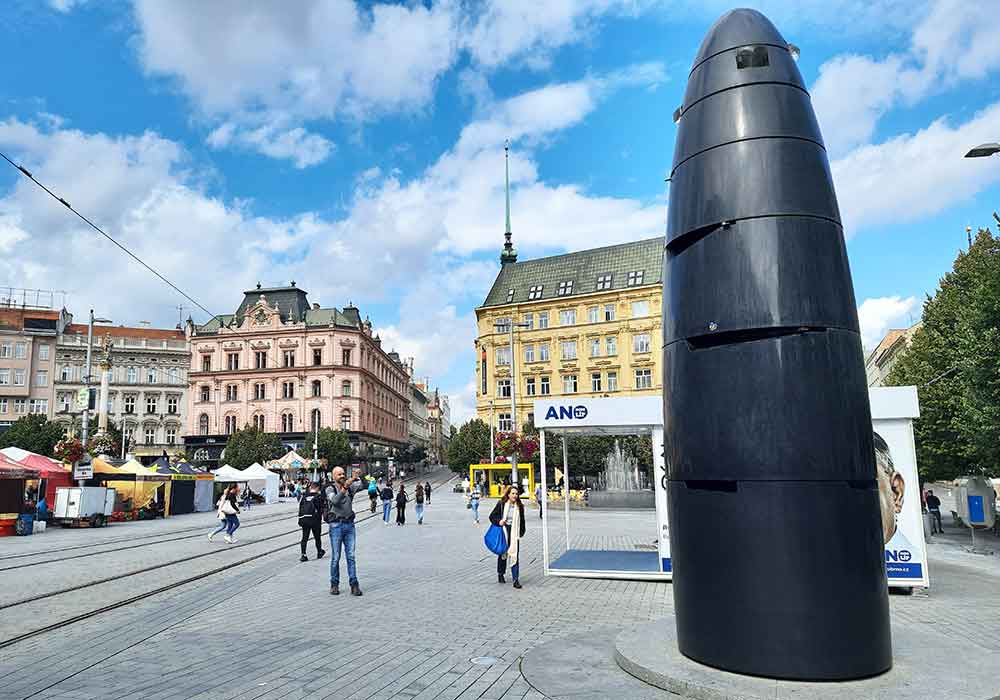 Head toward the city centre from the Old Town Hall. The square known locally as Svoboďák is also known as Liberty or Freedom Square (Námst Svobody in Czech). Brno's major square host's several pop-up markets, festivals, and concerts all year round.
It looks more like a triangle than a square, despite the name. The plaza was first mentioned in documents in the 13th century under the names Lower Market and Big Square (Dolní trh and Velké náměstí, respectively). It once served as one of the city's primary commercial routes.
You may find several impressive-looking buildings surrounding the Square (er, triangle), spanning in style from the Renaissance to Functionalism and everything in between.
The black granite obelisk is one thing to watch for here. Although some people might think otherwise, this serves as the city's astronomical clock and is meant to mimic a bullet. Every day at 11 a.m., the clock releases a sizable glass of marble. The marble can fall out of any of the four slots at the bottom. Locals and visitors will be gathered here, guarding one of the holes as early as 9.30 or 10 am to become the lucky recipient of the marble.
The Horse and Knight Statue
Take a short stroll from Liberty Square to Moravian Square to see the famous statue of a knight riding a horse there. The statue, Courage (Odvaha in Czech), was created by sculptor Jaroslav Róna over more than 30 months.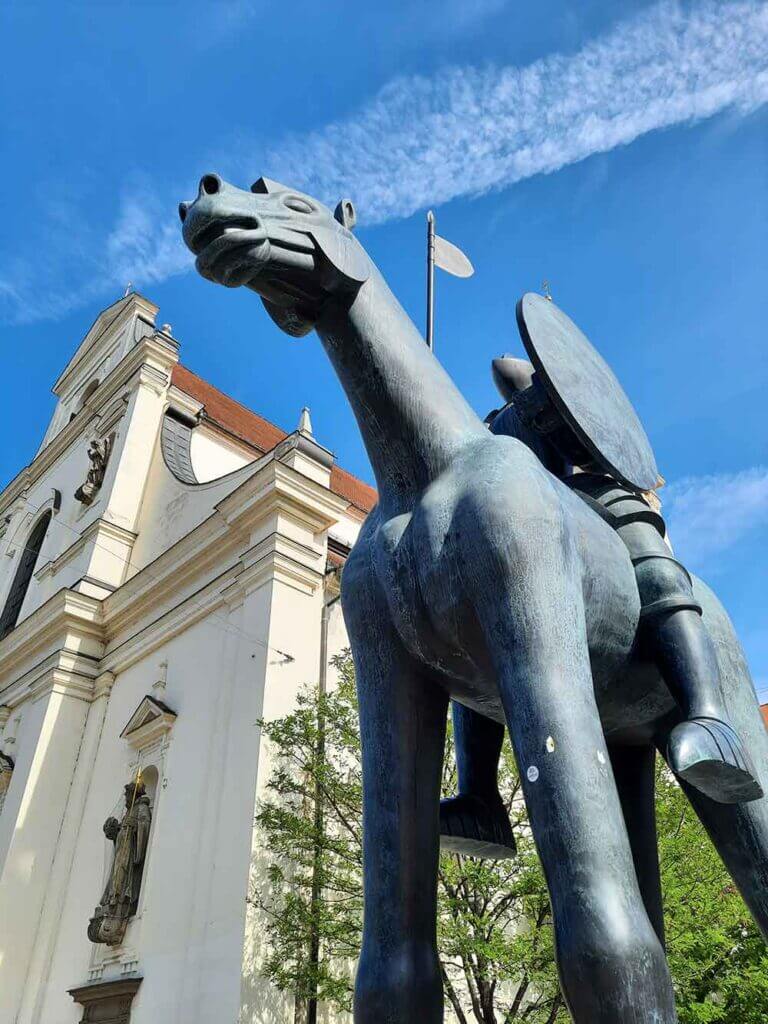 The bronze statue, which stands 8 meters high, depicts a horse with abnormally lengthy legs. People standing beneath it and gazing upward are a common sight. Although there doesn't appear to be much to see at first, if you stand between the horse's front legs and look up at its head, you might flush before laughing knowingly.
Villa Tugendhat
If you've ever wondered what Brno is known for, read on. Well, the city exhibits the pinnacle of functionalist architecture. I can assure you that every Brno travel guide you read will recommend going to Tugendhat Villa. Tickets may sell out weeks, or even months, in advance for this attraction, which is unquestionably one of the most well-liked in Brno.
This home is exceptional because it is one of the outstanding examples of functionalist architecture and incorporates cutting-edge technologies for the era. The villa is so exceptional that it was added to the UNESCO World Heritage List in 2001.
The home is just outside the city in the exclusive Černá Pole neighbourhood. It's a delightful stroll to get here because this neighbourhood is home to some of the most upscale buildings in the city.
Greta and Fritz Tugendhat owned the villa, which was built for them with an open cheque from Greata's father. Ludwig Mies van der Rohe created the design between 1929 and 1930.
This was the first private residence to use a steel load-bearing framework at the time, allowing for an open floor plan and non-load-bearing walls. No effort was spared in its creation, and its materials include Makassar ebony, rosewood, zebrawood, and onyx from Northern Morocco.
The villa utilized a hot-air circulating system for heating and (my personal favourite) a full wall of electrically operated windows to open up the entire side of the house to the gardens.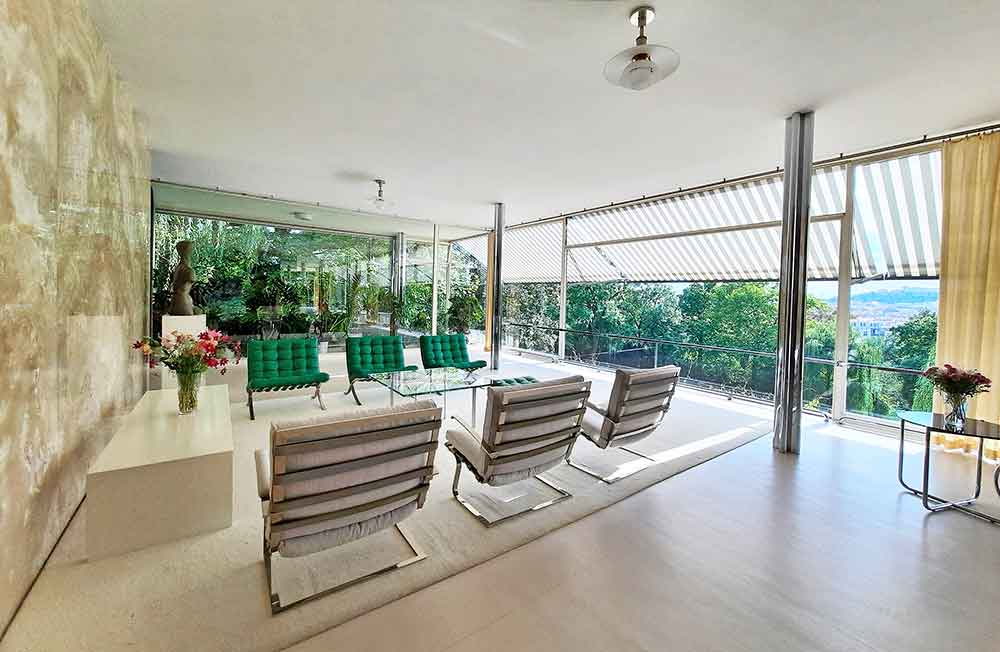 You can visit the house grounds and view the villa from the outside, but the only way to see the inside is to schedule a guided tour if you want to make the most of your trip.
Ossuary at The Church of St James
The second-largest cemeteries in Europe are found in Brno, where 50,000 individuals are thought to have been laid to rest. In the past, this location was home to a churchyard that dates to the 13th century, but as the city grew, the graveyard became insufficient. The bones represent the victims of the plague, cholera, the Thirty Years' War, and the Swedish Siege.
A unique system of burial was adopted to solve the space problem. The graves were opened, and the bone fragments were removed after the body had decayed for about 10 to 12 years to create room for another recently deceased body to be buried in the grave. The ruins were relocated to unique caverns known as ossuaries.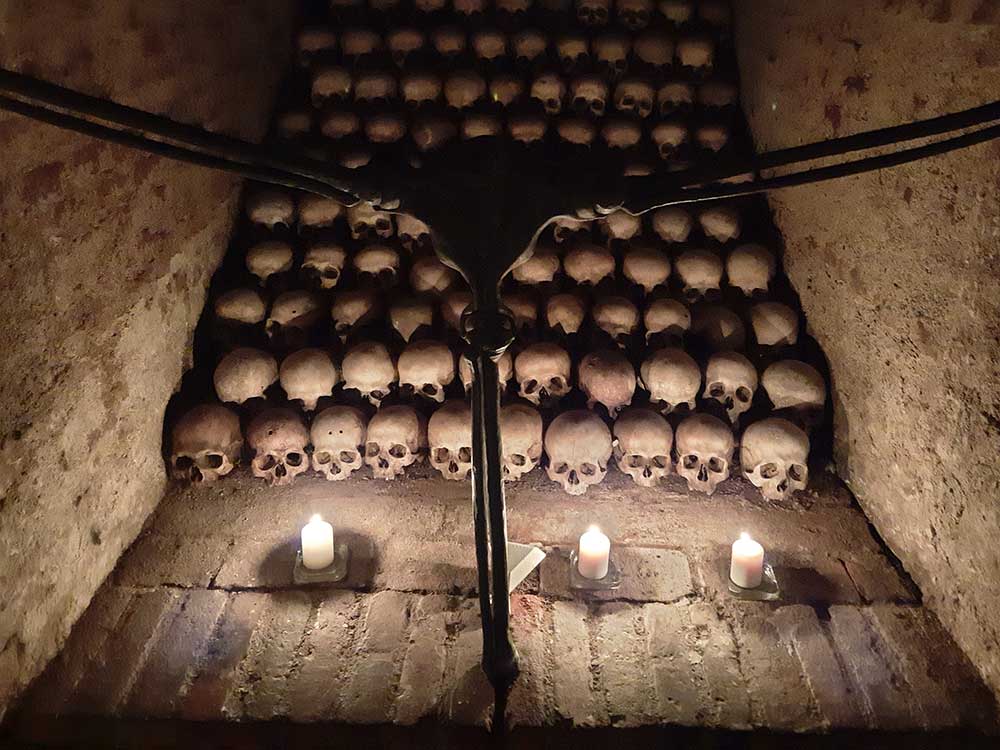 The St. James's Ossuary was neglected over the years until construction began—an unfortunate builder fell into a hole and came onto the Ossuary in 2001. Imagine the horror of learning where more than 50,000 people are buried!
The Ossuary is open during the day but allows nighttime visitation once or twice a year.
Evening
Finish your day in Brno by visiting some of the top artisan drink establishments. There are many options, but these are my top picks—I promise you won't be sorry!
Super Panda Circus
One of the funniest cocktail bars is hidden behind an ordinary door. One of the hosts will welcome you when you arrive and ask you to play a game by following a particular character's story.
If you're more pressed for time, you may go out for a drink and ignore the game. The homemade, potent, and elegantly presented drinks are excellent.
Slast
This cocktail bar doesn't look like much from the street because it is hidden in one of the underground labyrinths. You'll find a plethora of cellars inside that branch off in all directions and are furnished with hip lighting, weird art, and the enticing aroma of shisha smoke. Slast, which means joy in Czech, accurately describes this location.
The menu art was beautiful, and the drinks were created with odd flavour combinations that oddly worked. This is an original place to drink, similar to Super Panda Circus.
Where to Stay in Brno
There are plenty of accommodations available when visiting Brno. This is a jam-packed itinerary; therefore, I advise lodging centrally so you can easily access all the must-see locations in Brno. I rented an apartment because I would be in this place for a week.
Bishop Apartments, Brno
These apartments were centrally located in the heart of the Old Town. They had large and bright rooms, decent Wi-Fi, and a fully equipped kitchen.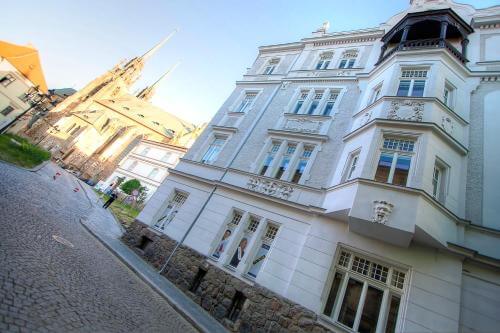 Check availability via Booking.com
Easy Day Trips from Brno
There are several conveniently accessible sights in Brno if you're wondering what to do there and have two days or more to spare. You may take some fantastic day trips from Brno even if you don't have a car because the city is well connected by public transportation.
Here are my top three recommendations for activities close to Brno.
Chateau Lednice
UNESCO has classified the Lednice-Valtice Cultural Landscape as a World Heritage Site. From Brno, it is a short trip to visit. One of the most well-known attractions in the Czech Republic and a definite must-see if you enjoy fantasy castles is Chateau Lednice.
The 1800s saw the construction of this neo-Gothic and Renaissance-inspired palace. Both the outside and inside are lavishly decorated. It is situated amidst exquisitely maintained gardens. Daily English-speaking guided excursions of the interior are available all year long.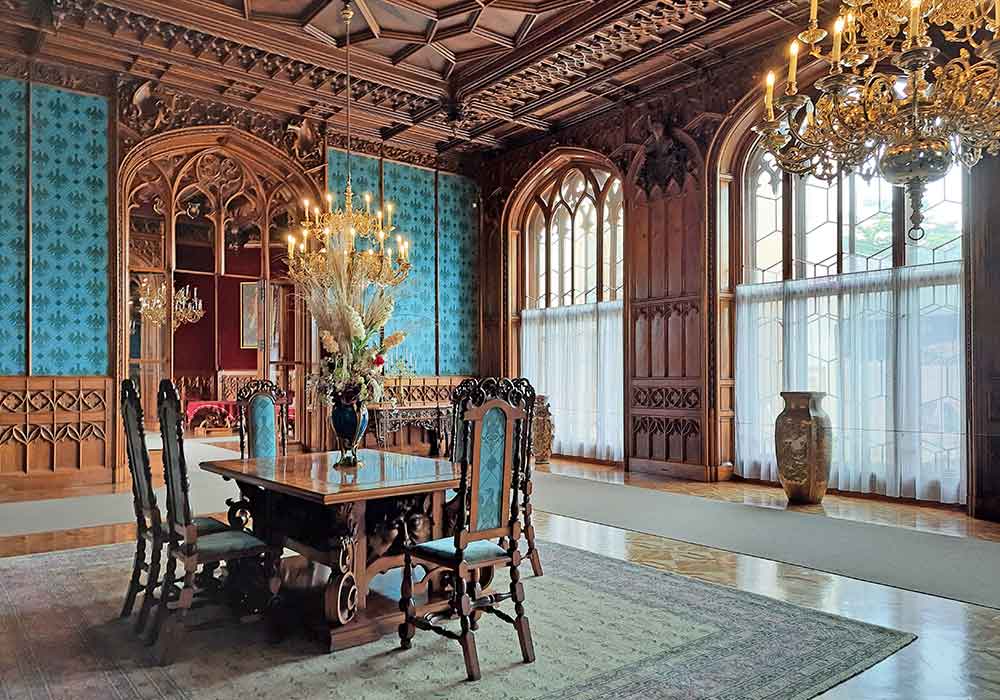 It's worthwhile to stop by one of the many vineyards while you're in this gorgeous area. Annovino is about a 20-minute walk from the Chateau and offers guided tours and tastings at their vineyard and winery if you want to visit one of them.
Moravian Karsts
Visit the adjacent Moravian Karsts of the adventure, and the outdoors are more your style. There are various choices available. Choose one of the adrenaline-filled tours into the caves if you're feeling energized.
You can also choose the walking karst tour and boat ride in one of the caverns if you don't feel comfortable moving around on your hands and knees.
Boating on Brno Lake
The Brno Reservoir is the place to go if you want to escape the city. The tram ride takes 30 minutes and is not difficult. You can spend the entire day at the reservoir surrounded by cafes, restaurants, and recreational amenities. Take the boat that cruises through the bucolic countryside and forest. It stops at Veveří Castle, where you can kill some time by wandering around the remains.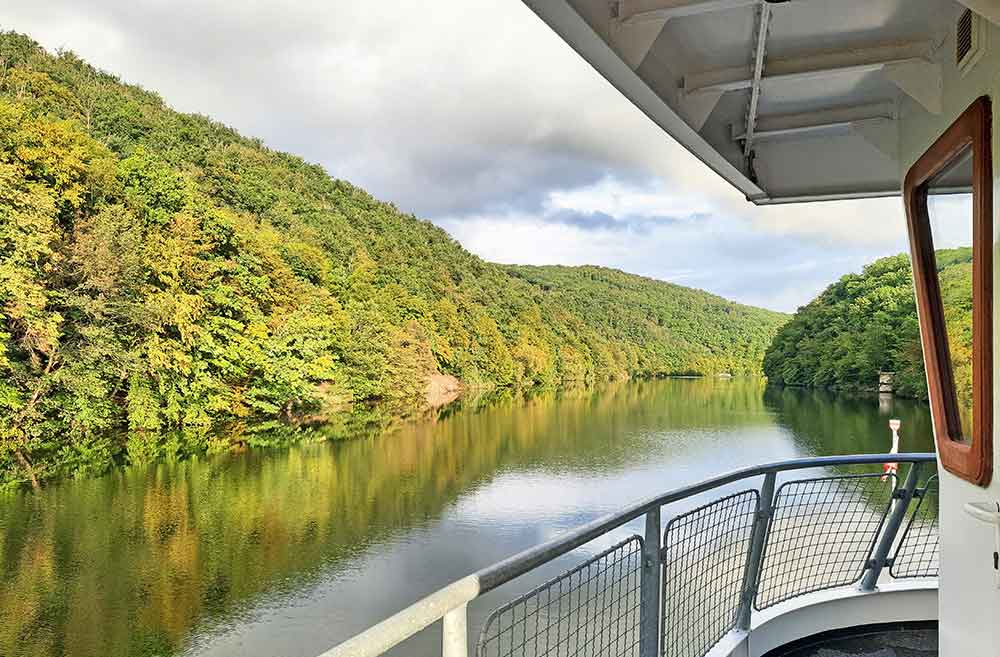 Self-Guided Walking Wine Tour
More than 1200 wineries in the Czech Republic are almost all concentrated in Bohemia and Moravia. 90% of the wine produced in these two countries comes from Moravia. So it should come as no surprise that there are vineyards near Brno.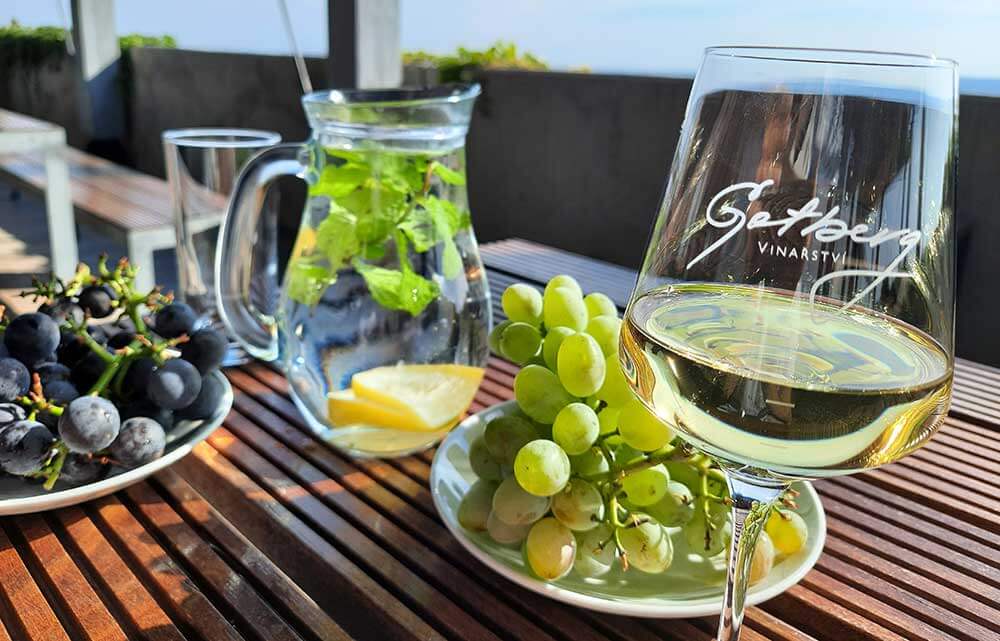 Go to the tiny settlement of Popice via train. The feeling of being in the desert is accurate. From here, you can go on a self-guided walking wine tour to three amazing vineyards. The ideal way to appreciate all three wineries on this circular walk is over a whole day before taking the train back to Brno.
How to Get to Brno
With excellent connections to Prague, Vienna, and Bratislava, Brno is simple to reach by frequent, reasonably priced public transportation. For price comparisons across all of these alternatives, check out the Omio App.
From Prague to Brno by Bus
Several buses travel daily from Prague Florenc Bus Station to Brno Bus Station; the trip takes between 2 and 3 hours. If you make reservations in advance, prices for a single trip start at less than 10 euros.
From Prague to Brno by Train
Trains from Prague to Brno depart from Prague Main Station and arrive at Brno Train Station in about the same amount of time as the bus. Prices for one-way trips can start at roughly 10 euros depending on the class of ticket you choose.
From Vienna to Brno by Bus
The bus ride from Vienna to Brno takes about two hours, and tickets cost as little as eight euros when purchased in advance.
From Vienna to Brno by Train
The journey between the two cities can be completed in as short as 1 hour 40 minutes by taking the direct train, which runs many times daily. When purchased in advance, one-way tickets cost as little as 6 euros.
From Braslavia to Brno by Bus
Depending on your chosen service, the trip from Bratislava to Brno by bus might take two to four hours. If you reserve in advance, tickets run for about 15 euros.
From Braslavia to Brno by Train
Travelling by rail from Bratislava to Brno takes between 90 and 2 hours, and one-way tickets start at 5 Euros.
Getting Around Brno
Excellent public transportation is available in Brno. The tram and the electric bus are the two primary modes in the city. Since the city's centre is so small, I chose to walk most of the day. They operate with your cash card on a tap-in/tap-out basis and are user-friendly.
If you have trouble moving around, bring luggage on wheels! It's important to remember that most of the city's streets and pavements are cobblestone and contain some hills.
Where to Eat in Brno
My Picks for the Best Brno Restaurants & Bars
Pavillon
One of the top fine dining establishments in Brno is Pavillon. The restaurant itself is stunning and neither ostentatious nor modern. The idea of an open kitchen is fantastic. During our visit, we could see the workers assembling our meals.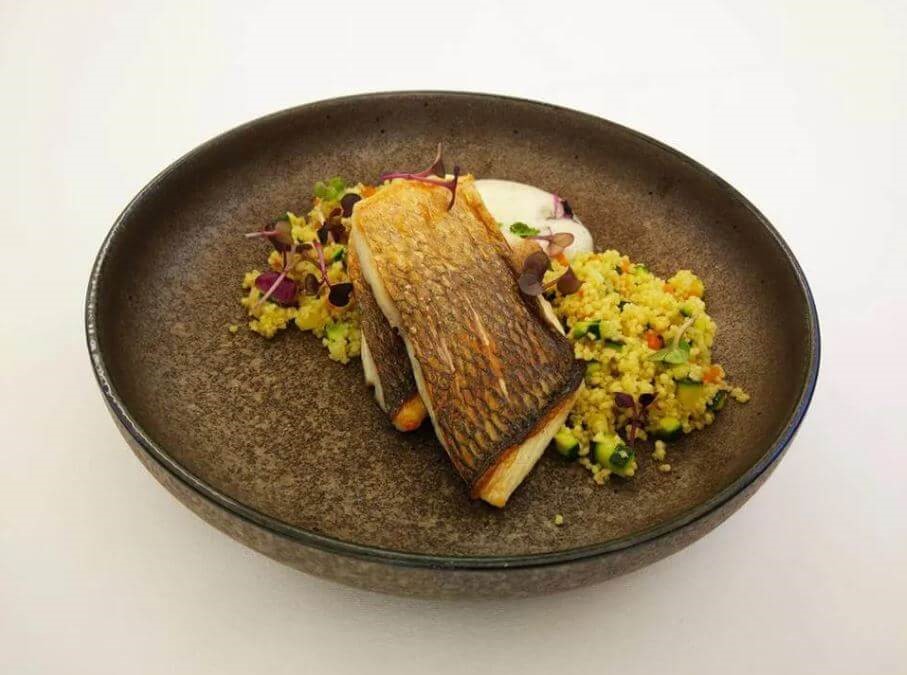 The staff was outstanding; they were constantly there without being intrusive and extremely knowledgeable about the meal and appropriate wine pairings.
They constantly modify their menu. However, I suggest trying their tasting menu as we did. All of the dishes were delicious, but my favourite was the fish. They fish very well, and the wine pairing and plating were excellent.
Atelier Cocktail Bar & Bistro
Their seasonal menu emphasizes items that are produced locally. You can order meals like chicken in a Mexican molé sauce, chicken grilled in coconut milk, served with long beans, and some of Brno's most exquisite desserts.
But despite everything this establishment offers, the cocktails might be the real draw. You can order them off the menu or talk to your waitress about the types of drinks you enjoy; they will be happy to make you an off-menu cocktail.
KOISHI Fish & Sushi
One of the top restaurants in Brno right now is KOISHI, and for a good reason. Only the freshest and best-quality ingredients are used at KOISHI, which has a real Japanese sushi master on staff.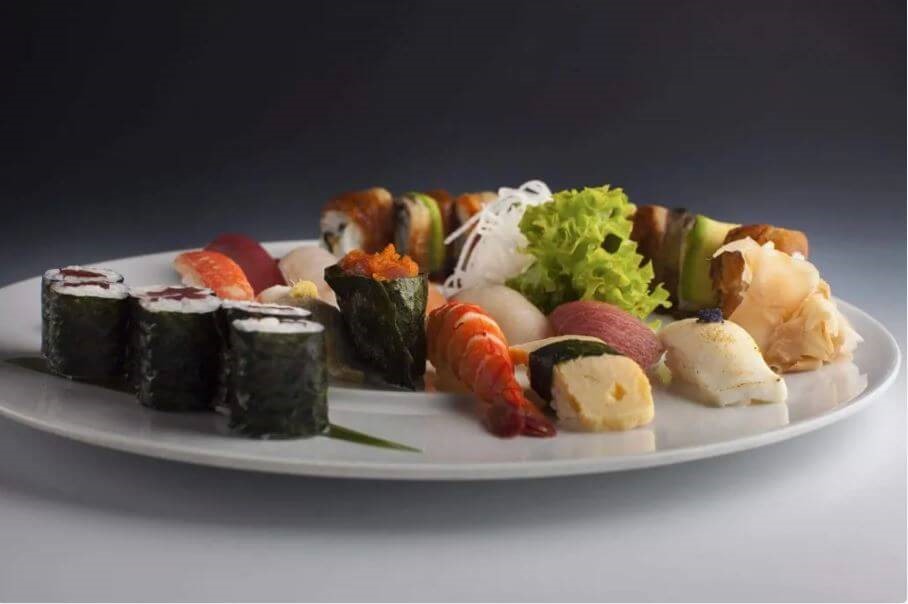 Other fish items on the menu are made with the same tender, loving care and stunning presentation as the sushi.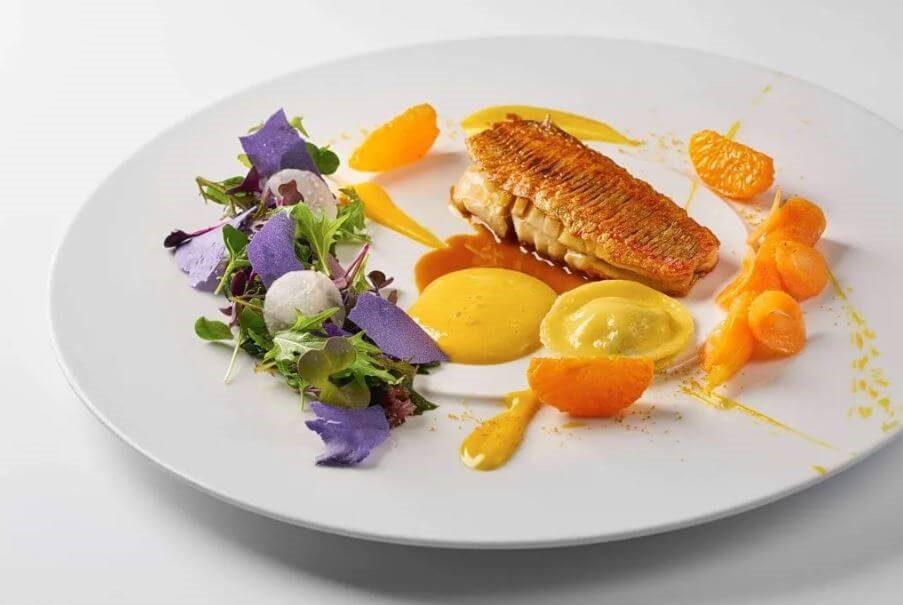 The restaurant also offers options like veal tenderloin or roasted lamb if seafood is not what you want. We all enjoyed our oysters, especially when combined with a local prosecco, so if you like oysters, make sure to try them!
Go Vietnamese
Check out Go Vietnamese if you want Asian food. Our tour guides say this location has been well-liked since it first opened.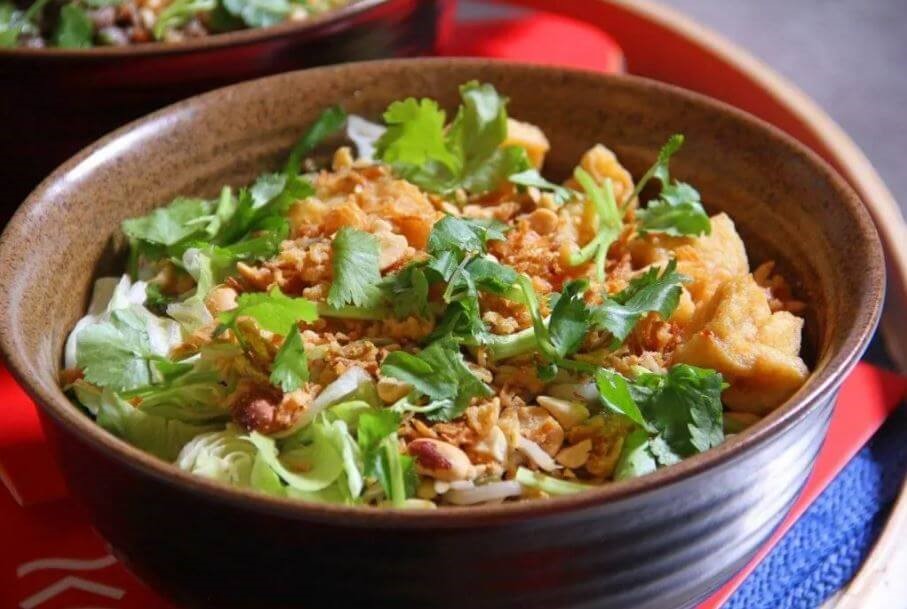 Here, you'll find genuinely affordable traditional Vietnamese dishes produced with high-quality ingredients!
Café Pilát
Despite being somewhat hidden away, Café Pilát is a great place to start the day with a peaceful cup of coffee. The coffee connoisseurs in our group gushed and concurred that it was the best coffee in the Brno eateries we visited. It's a nice location to spend a slow morning while you enjoy the cafe's finer elements because of its stunning décor.
If you're hungry, check out their constantly-changing menu for authentic Middle Eastern dishes, including Moroccan lamb soups, lamb shawarma, spicy meatballs with bulgur, and shakshuka for breakfast.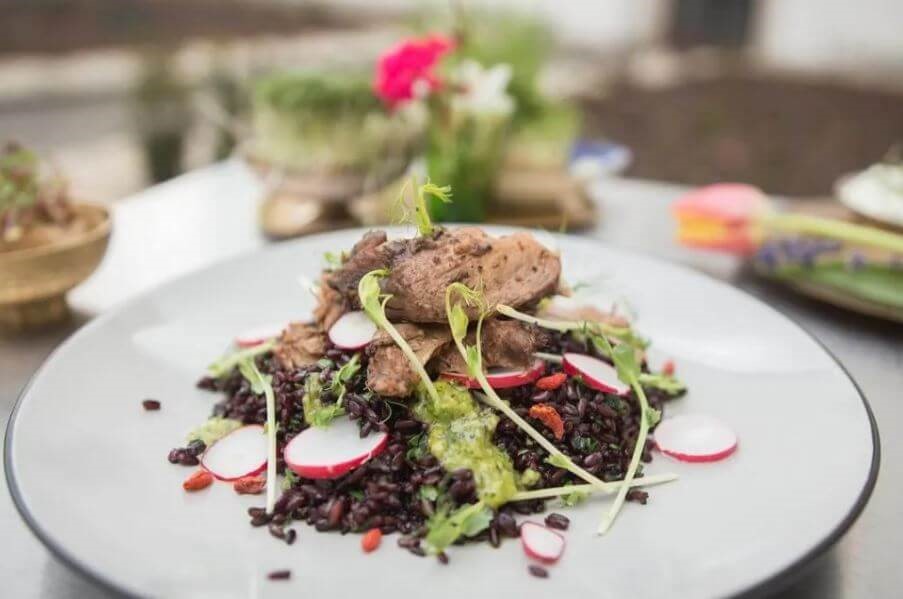 Many vegetarian choices are also available, including stuffed eggplant, hummus, and falafel prepared in-house.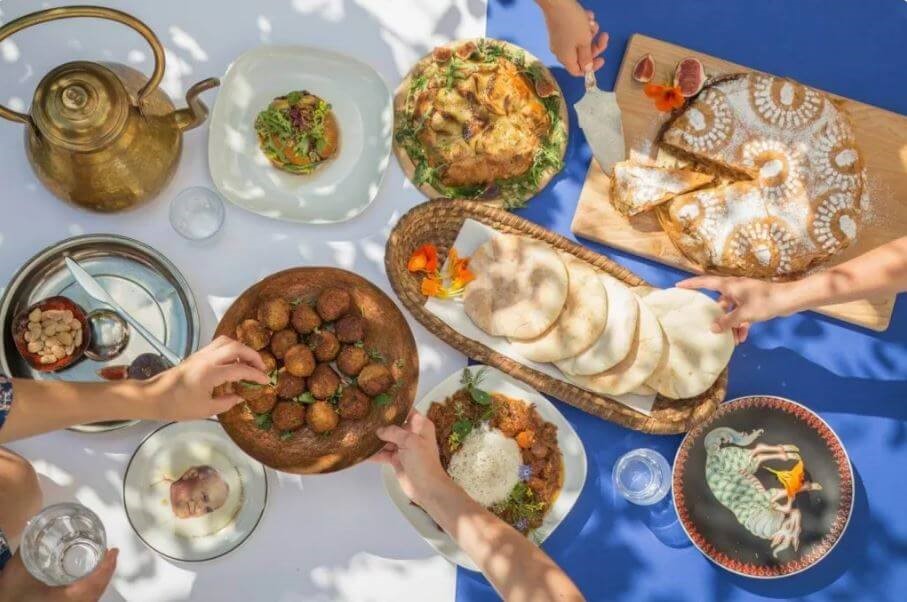 Cupcakekarna
What better way to wrap your supper than by eating cupcakes that have won awards?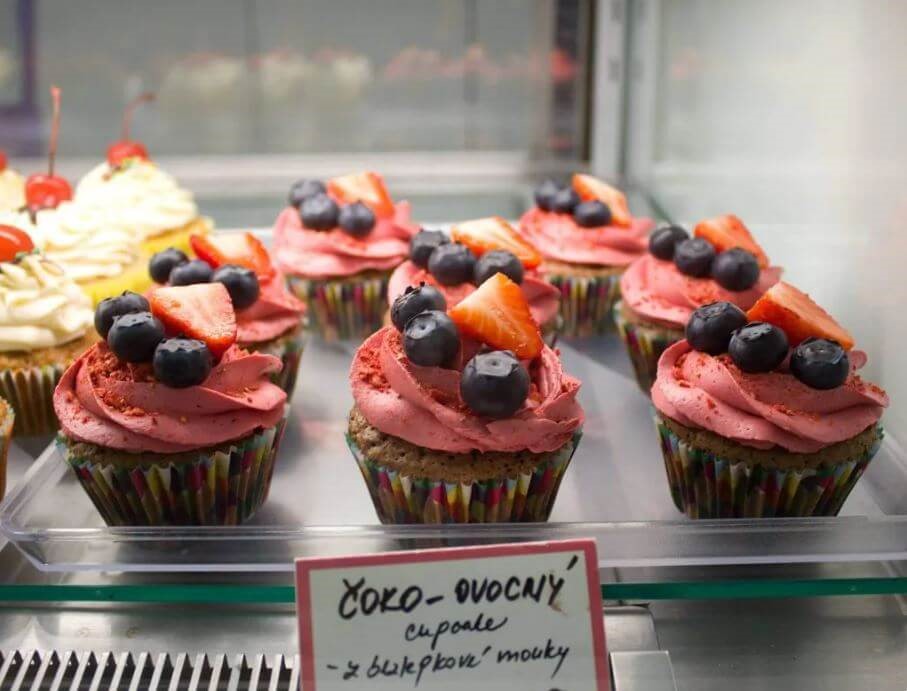 The cupcakes come in various flavours, including red velvet, Oreo, mascarpone, and even a chocolate chilli cupcake! They are as stunning as they are delicious!
Backpacking Brno Suggested Budgets
Expect to spend at least 900 CZK daily on a backpacker's budget. You must limit your drinking, stay in a hostel dorm, use public transit, go on free hikes and walking tours, and prepare most of your meals on this budget. Spend more than 1,100 CZK every day if you intend to go out and drink more.
Expect to spend at least 1,900 CZK a day on a moderate budget. On this spending limit, you can stay in a private room at a hostel or an Airbnb, occasionally travel by taxi or Uber, participate in some bigger activities like rafting or wine tours, dine out for the majority of your meals, and indulge in a few alcoholic beverages.
You can stay in a four-star hotel, participate in any activities, dine out anywhere you like, go out for drinks, and travel around for a "luxury" budget of about 3,500 CZK per day. However, this is just the beginning of luxury—endless possibilities!
You can use the chart below to estimate how much money you need to set aside each day according to your travel preferences. Remember that these are daily averages and that you may spend more and some days less (you might spend less every day). We wish to provide you with a rough outline for creating your budget. The currency is CZK.
| | | | | | |
| --- | --- | --- | --- | --- | --- |
|   |   Accommodation |   Food |   Transportation |   Attraction | Daily Average Cost |
| Backpacker | 300 | 200 | 200 | 200 | 900 |
| Mid-Range | 700 | 500 | 300 | 400 | 1900 |
| Luxury | 1200 | 1200 | 500 | 600 | 3500 |
When to Go to Brno
There are four distinct seasons in the Czech Republic. While the winters are cold, snowy, and quite windy, the summers are mild and dry. Wintertime temperatures typically hover around freezing, if not below. Wear suitable clothing.
The most popular months to visit Czechia are May through September unless you're interested in skiing or going to the Christmas markets. Expect crowds in Prague as this is also the busiest travel period. Nevertheless, the climate is fairly nice, with daily highs of 25°C (77°F) if you can; try to avoid Prague between June and August when it's crowded.
You won't experience the heat or the throng if you go during the shoulder season. You may go hiking and explore in the milder months of March through May and September through October when you can also watch the changing of the leaves. Expect Prague to be much less crowded and to have temperatures of about 14°C (59°F).
How's your one-day trip to Brno going so far? Are you prepared? I had never heard much about Brno, which is why I loved it so much. Regarding the Czech Republic, Prague always gets all the attention.
There is a lot to see in Brno, and while you might choose to stay put, the city also makes a fantastic base for further exploration of the country's south.
The Brno City Details
You can find here the map of Brno    
Getting around in Brno
Most of the attractions of Brno are within walking distance, so you probably won't have to use public transport to get around.
But, if you want to, then buses and trams are available, and tickets can be purchased from ticket machines at some tram stops and kiosks. Single-use tickets: from 20CZK, depending on the distance. The 24-hour pass is 90 CZK.
Designated bike paths can be seen in Brno city, but it is allowed to bike in the pedestrian part of the city.
Just remember that, Although the Euro is occasionally accepted by some restaurants, hotels and shops in Brno, the Czech crown is generally the only currency that can be used.
FAQs
Brno is well-known for its cuisine, modern architecture and cultural environment. The city is recognized as the Mecca of modern architecture because of its world-class buildings.
Yes, Brno is well worth a day or two visits or even more. There is enough to do in and around the city for a fun weekend getaway. Because it is so close to Prague, Vienna, and Bratislava, you can easily combine a vacation to Brno with a visit to one of those lovely cities.
Is Brno cheaper than Prague? 
Yes, the cost of living in Brno is cheaper than in Prague.
What language is spoken in Brno?
The official language of Brno is Czech. However, spoken Czech is slightly influenced by the Moravian dialect.
Is Brno a nice place to live? 
Yes, Brno has a very safe living environment. It is a good place to live in terms of high housing ratings, cost of living and healthcare.
Is English widely spoken in the Czech Republic? 
Nearly half of the population can communicate at some level of English.
Is Brno bigger than Bratislava?
Bratislava is smaller than Brno.