Explore the Charming Old Town and Beyond
The largest city in Slovakia, Bratislava, is filled with spectacular landmarks and has a fascinating history, particularly in its charming Old Town. Bratislava, which has a population of around 500,000 and is located in southwest Slovakia, borders Austria and Hungary.
THE CITY'S HISTORY THROUGH THE REVOLUTIONS OF 1848
The town, then known as Pressburg, was first recorded in literature in 907 and played a significant role in the Hungarian kingdom during the 10th century. It received full-town privileges in 1291 and attained independence with free trade. During the Ottoman Empire's victory over Hungary in the 16th century, the Turks wreaked havoc on the city. Numerous historical occurrences occurred in Bratislava after being chosen as the capital of Habsburg, Hungary, in 1536.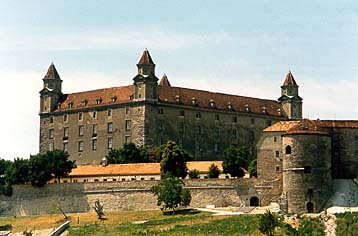 Up until 1806, Hungarian monarchs and queens were crowned there. In the 18th century, Bratislava prospered under the direction of Empress Maria Theresa. Nationalist sentiment increased during the 19th century, and the city participated in the uprisings of 1848 when Hungarians rebelled against the Austrian monarchy, though Austria ultimately prevailed.
History from the creation of Czechoslovakia to the present
Czechoslovakia, under the leadership of Tomas G. Masaryk, was established on October 28, 1918, but it ceased to exist when the Nazis declared Slovakia a puppet state on March 14, 1939. The Soviet Army liberated the city on April 4, 1945. Slovakia was under a totalitarian government following the Communist takeover in 1948 until the Velvet Revolution in 1989. Communism saw a fall in spirituality, a disregard for environmental issues, and unsightly high-rises marred towns' urban landscapes. Totalitarian ideology crept into both public and private life.
Feel the optimism that characterized the democratic protests on Namesti Slovenskeho narodneho povstania (SNP Square). Pope John Paul II paid an extraordinary visit to Bratislava in 1990. Bratislava became the capital of the Slovak Republic in 1993, following the so-called "Velvet Divorce," which saw the breakup of Czechoslovakia. Slovakia utilizes the Euro, whilst the Czech Republic uses crowns as its currency.
Before You Plan a Trip to Bratislava
Determine if a visa is required for Bratislava. To enter Slovakia, you almost certainly require a Schengen visa. Before you enter Bratislava, be sure to have a guidebook. This makes navigating the city simple.
It would help if you had comfortable and incredibly light walking shoes because Bratislava is made for strolling.
Why should you visit Bratislava?
Bratislava is unquestionably a fantastic city to visit, regardless of whether you travel around Central Europe, follow the Danube from beautiful Vienna to majestic Budapest, or fancy a weekend stay in a less well-known European major. In this blog post, I'll try my hardest to persuade you to book a vacation to Bratislava, Slovakia. I'll discuss the ideal times to visit and the top activities in Bratislava.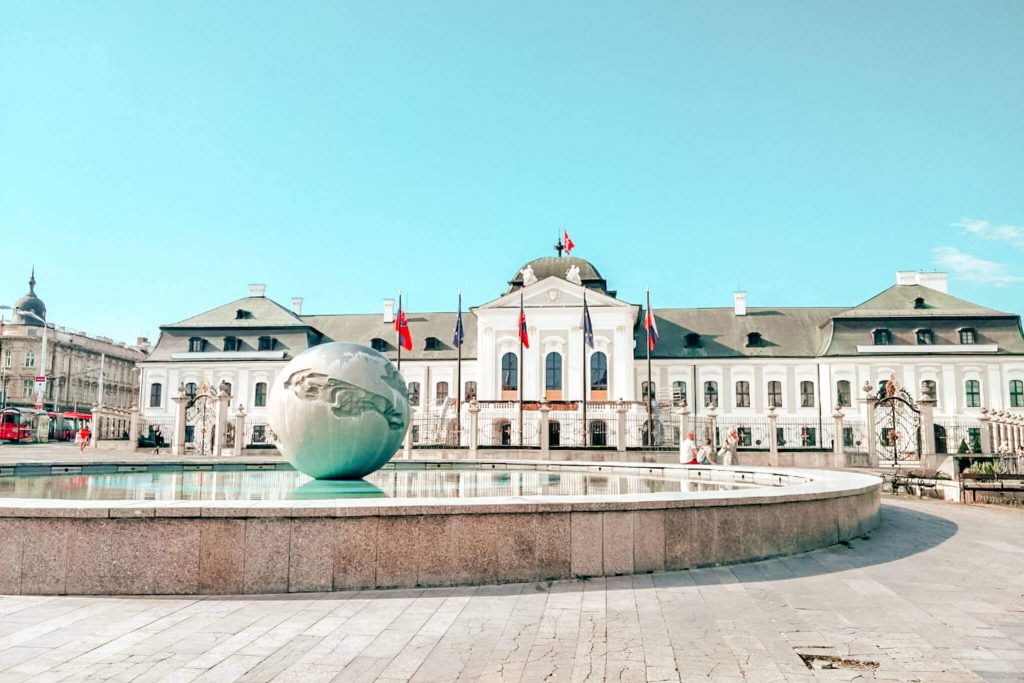 Despite being one of the smallest capitals in Europe, this rapidly expanding city has seen a substantial transformation over the past ten years, changing its appearance and traditions. One of Europe's best-kept secrets is Bratislava, and I'll explain why.
The city is unquestionably a fusion of culture, old buildings, beer, wine, and art. Additionally, Bratislava is home to several significant corporations, which has led to a thriving international population in this city. As a result, a night out in this city is exciting and varied.
This is your travel guide if you're thinking about visiting Bratislava. Are you ready?
GETTING TO THE CITY OF BRATISLAVA
Flying to Bratislava
Slovakia's main airport is Airport Bratislava (BTS). M. R. Štefánik Airport, also known as Bratislava Airport (BTS), is an international airport serving Bratislava and serves several nations with direct flights.
The most popular international flights to Bratislava:
LONDON – BRATISLAVA
DUBLIN – BRATISLAVA
You may take bus 61 (or N61 at night) from Bratislava Airport to the city centre in about 35 minutes.
If you want more luxury, you may either reserve a private transfer in advance to receive the best service for a competitive price or take a cab from the airport to Bratislava.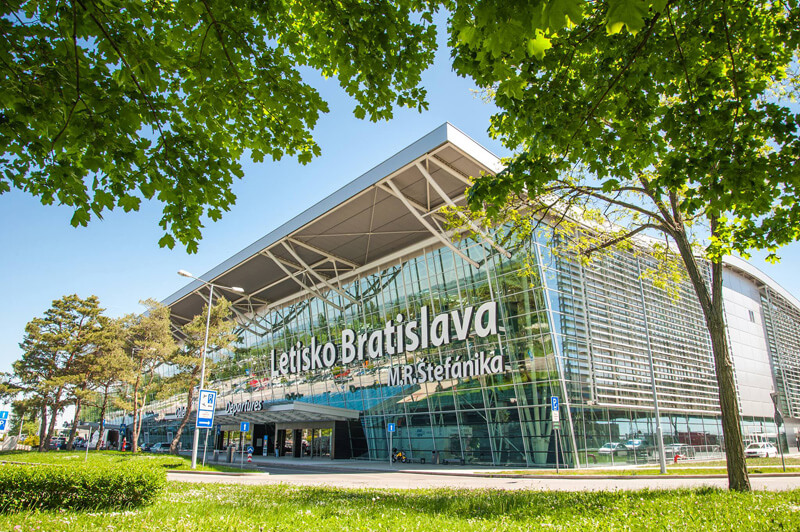 Public Transportation
The cost of public transportation within cities is typically inversely proportionate to the distance travelled. For instance, in Bratislava, a ride lasting 30 minutes costs 0.90 EUR, whereas one lasting 60 minutes costs 1.20 EUR. The majority of the cities sell day permits at about 4.50 EUR.
BUS
The most affordable way to tour the nation is with Flixbus. The 6.5-hour bus ride from Bratislava to Košice costs 22 EUR. The 2.5-hour bus travel from Bratislava to Budapest, Hungary, costs between 12 and 26 EUR, while the one-hour trip from Bratislava to Vienna, Austria, costs only 9 EUR. Numerous buses travel daily between Bratislava and the nearby cities of Budapest, Vienna, and Prague.
TRAINS
Buses cover more ground nationwide than trains, which are more expensive and don't. However, they move much more quickly. It takes four hours and costs 15 EUR to get from Bratislava to Poprad. The 18 EUR trip to Košice takes 5.5 hours. Budapest, Hungary, is 2.5 hours away and costs 10 EUR, whereas Vienna, Austria, is 90 EUR.
Daily trains from Vienna and Budapest travel to Bratislava in foreign languages. Within a short distance of the city centre by foot or public transportation, you will reach Bratislava Main Railway Station.
Check for train ticket prices and train schedules on the ÖBB page.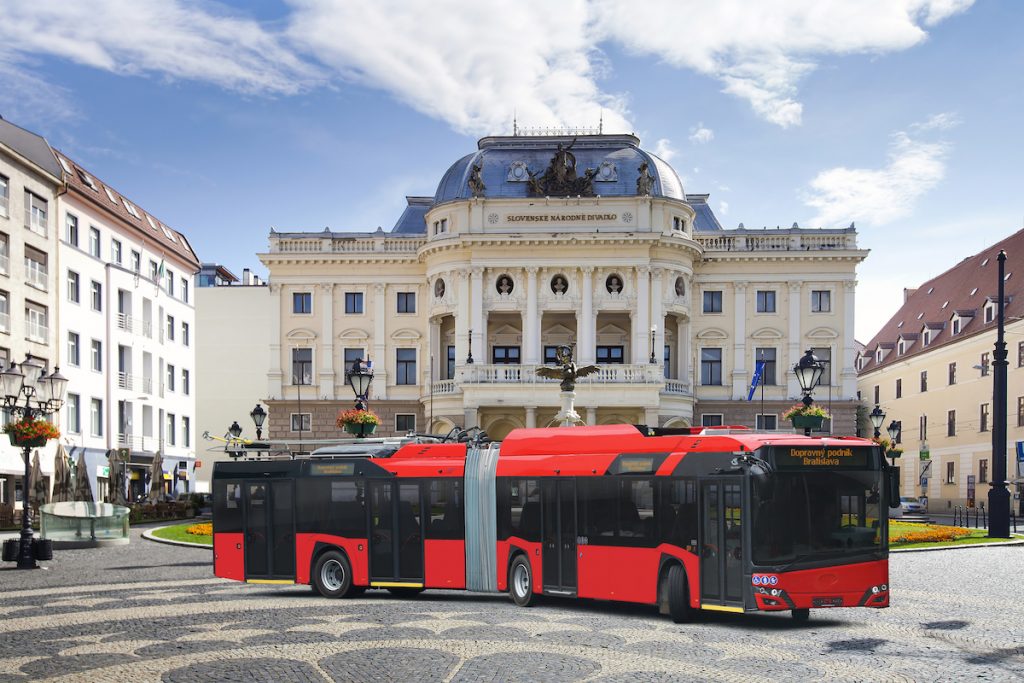 BOAT
Taking a boat over the Danube is one of the most exciting methods to get to Bratislava. The approximately 75-minute boat ride between the European capitals of Bratislava and Vienna is scenic and connects the two cities. There are multiple daily departures, and tickets for this excursion can range in price from 20 to 35 euros.
Check the boat schedule and tickets here: The boat between Bratislava and Vienna.
 From Vienna to Bratislava
Many travellers use their time in Vienna as an opportunity to escape to Bratislava. There are several ways to get from Vienna to Bratislava, including via bus, train, and water. You might also think about taking a day excursion with a guide from Vienna to Bratislava, which is the most practical way to see Bratislava.
From Prague to Bratislava
A well-travelled route connects Prague and Bratislava. These are the two cities of the formerly united nation of Czechoslovakia, after all. Slovakia's and the Czech Republic's capitals are near one another and can be seen in a single trip.
GETTING AROUND THE CITY OF BRATISLAVA
Public Transportation
You won't need public transportation often if you're staying in the city centre around Bratislava. On the other hand, the buses, trolleybuses, and trams can take you practically anywhere in Bratislava if you wish to leave the Old Town to explore the modern area of the city or get from the train station to the historic core. Public transportation uses brand-new, comfy vehicles with screens and stops buttons so you won't miss the stop. Within the window of time indicated on the ticket, transfers are permitted to any mode of transportation. In Bratislava, public transportation is accessible from 5:00 until 22:00.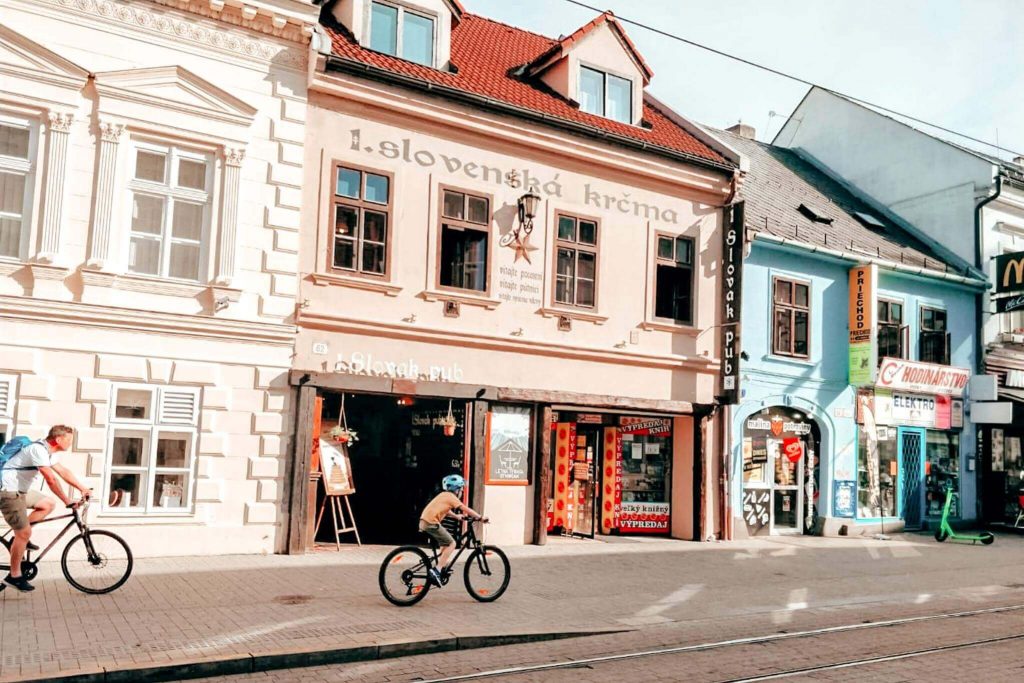 The ticket price depends on the zones that divide the city and the suburbs. The most significant zones for tourists are Zones 100 and 101, encompassing the entire city and its suburbs, the centre, railway terminals, and the airport.
The cost of public transportation in Bratislava is based on the route's duration and geographic coverage. A single ticket for 15 to 30 minutes costs between 0.70 and 0.90 euros, a day pass is 3.50 euros, and a three-day pass is 8 euros.
Taxi
In Bratislava, taxis are also reasonably priced. Otherwise, you can download the HopinTaxi app for your smartphone, which is the regional version of Uber and has very reasonable rates.
Car Rental
For a multi-day rental, car rentals can cost as little as 25 EUR each day. You require an International Driver's Permit (IDP) to rent a car.
Hitchhiking
In Slovakia, hitchhiking is generally safe, and you can typically find a ride fast. Slovakian youth speak English in large numbers. The finest website for current information on hitchhiking is HitchWiki.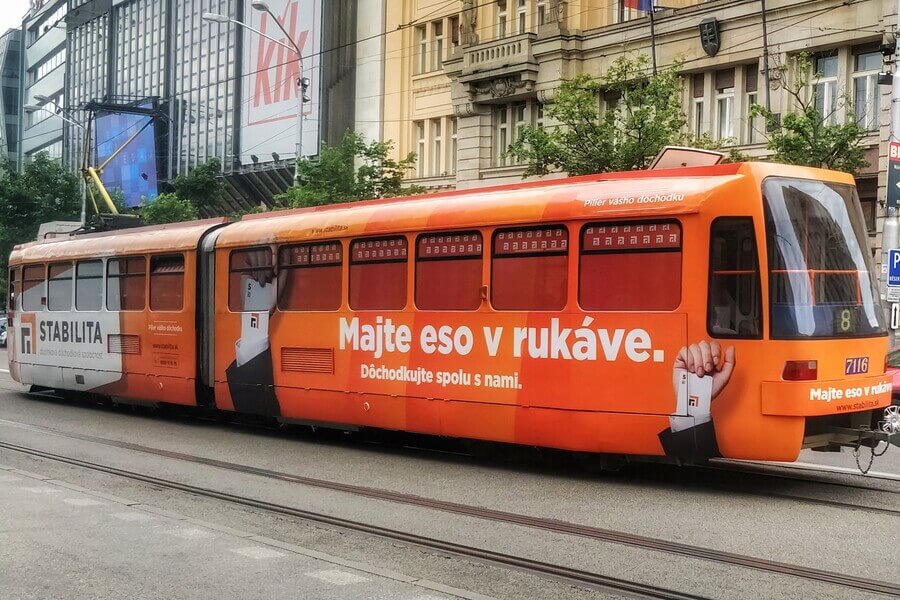 BEST TIME TO VISIT BRATISLAVA
The weather in Slovakia is comparable to that in other central European nations. Bratislava should have bright days between May and September but beware of the strong rains that occasionally fall in the spring and at the end of summer in thunderstorms or showers, sometimes doing significant damage. Winter sports can be played throughout December through February because snowfall is frequent and the weather is chilly.
The greatest number of people arrive during the sunny, hot summer months. The busiest travel season is from July to August when daily highs are typically 27°C (81°F).
You avoid the heat and the crowds by travelling during the shoulder seasons. If you plan to go hiking, May through June or September through October are the finest times to visit. The air is cooler, and you can observe the leaves changing in the fall. Temperatures should be approximately 20°C (68°F).
I would only recommend visiting during the winter if you intend to engage in winter sports like skiing because the weather is cold, snowy, and below-freezing.
THINS TO DO IN BRATISLAVA
Our handy guide to the best things to do in Bratislava is at your disposal. There are many surprises in Bratislava. Everyone can find something. A city that welcomes people of all ages won't let anyone down. What to do in Bratislava is as follows:
THE DEVIN CASTLE
The Devin Castle, which is fairly close to Bratislava, should first and foremost be visited if you have the opportunity. It provides an extraordinary view of the Danube and the surroundings while perched on a cliff that rises more than 200 meters high. You can take the bus 28 toward Devin from the bus station or a scheduled trip from Bratislava to get there.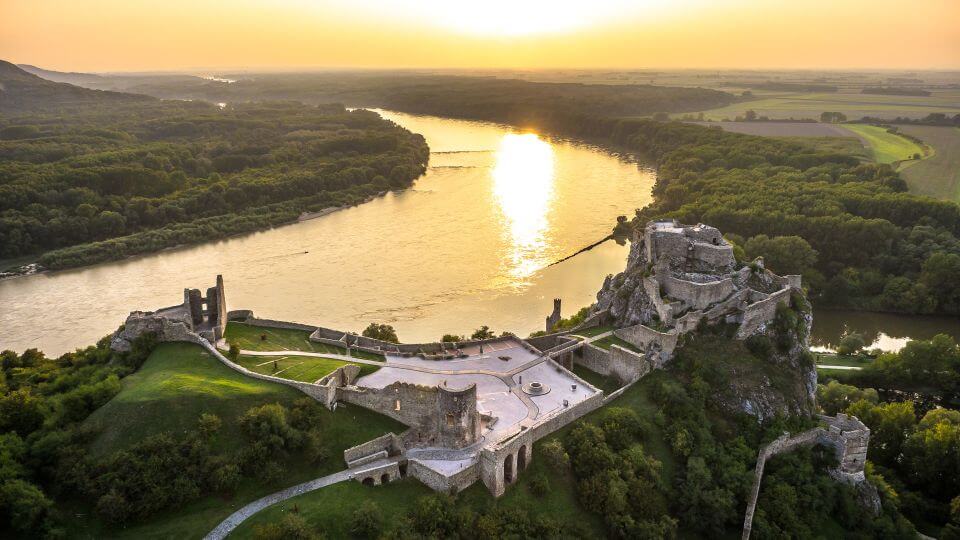 OLD TOWN
Like every other European city, Bratislava's Old Town is where its heart is. You can view practically all of the must-see things there. It is Bratislava's historic district.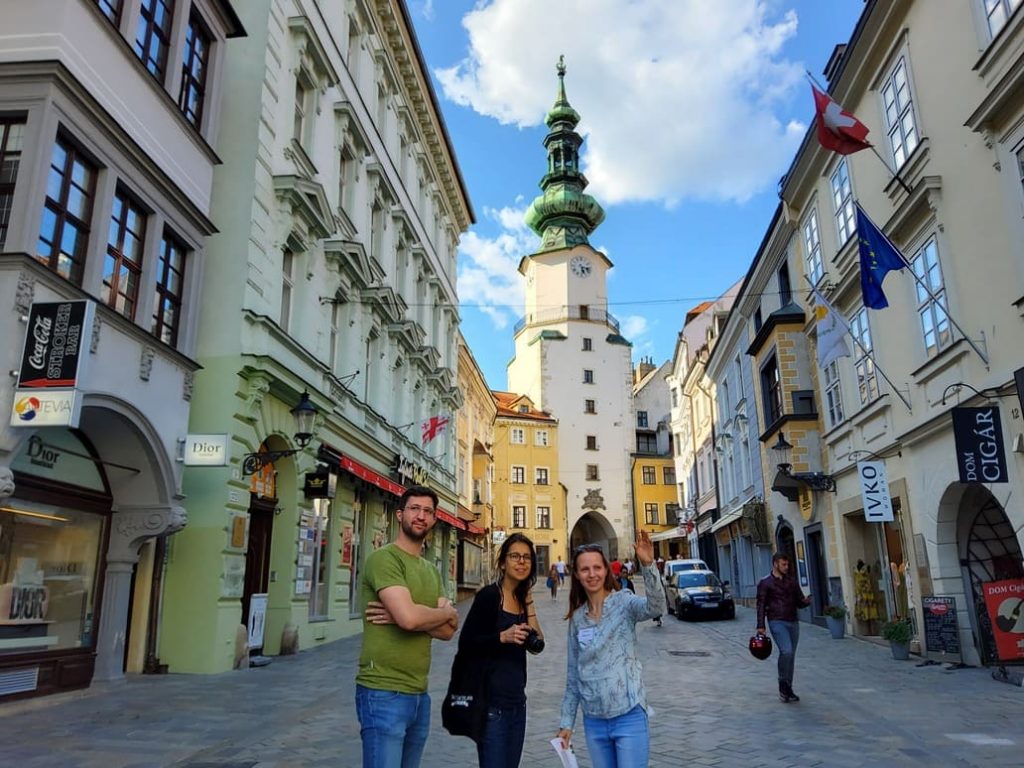 As the community's core, Hlavné Námestie (main plaza) in the old town is constantly crowded with tourists.
Architectural wonders abound in every nook and cranny of the main square, including Palugyayov Palác, a neo-baroque palace, Roland Fountain (Maximilian Fountain), a statue on top of which spins magically at New Year's Eve and can only be seen by a Bratislavian with a pure heart, and Old Town Hall (Stara Radnica), a unified complex of beautiful buildings from various eras.
The Old Town Hall houses the Bratislava City Museum, the city's oldest museum.
PRIMATE'S PALACE
Primaciálne námestie (The Primary Square) in the old town is home to the charming pink neoclassical palace, which is close to the Old Town Hall, New Town Hall, and Museum of City History. The mayor of Bratislava resides there.
The Hall of Mirrors is the Primate's Palace's most well-known room. Only the Hall of Mirrors may be photographed; all other chambers and halls are off-limits.
MICHAEL'S GATE AND TOWER
You may reach Michael's Gate, the city's final remaining medieval gate, over a pedestrian bridge decorated with love locks. You are greeted by streets lined with cafes, restaurants, and shops as you walk after passing the gate.
Michael's Tower towers 51 meters above the gate, making it difficult to miss. The distance from Bratislava to other European capitals is indicated by the golden circle known as Kilometer Zero, which lies directly in front of Michael's Tower.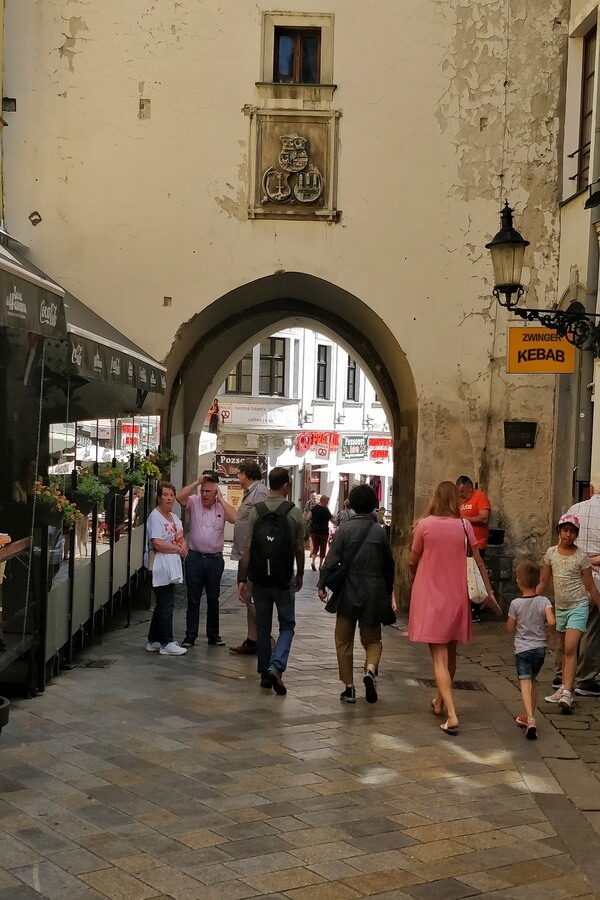 A panoramic view of the city is available from the observation deck atop the Museum of Arms within Michael's Tower for 5€ (per adult) and 3€. (per child aged 6-14).
The Batová Lane, which is recognized for being the narrowest in Bratislava, is a small and picturesque cobbled street that can be reached by walking from the tower to the right.
ST. MARTIN'S CATHEDRAL
The route to Rudnayovo Námestie, where St. Martin's Cathedral is situated, passes along Batová Street and Kapitulská Street among the colourful historic houses. The Old Town skyline is adorned with the cathedral's medieval spire.
HVIEZDOSLAV SQUARE
Hviezdoslavovo námestie, one of numerous squares in Bratislava, is named after Slovakia's celebrated poet Pavol Ország Hviezdoslav. The square is well-liked by both locals and visitors due to its abundance of outdoor eateries and cafes, pedestrian zone lined with trees and seats, and souvenir vendors.
It is home to Carlton, the oldest hotel in the city.
SLOVAK NATIONAL THEATRE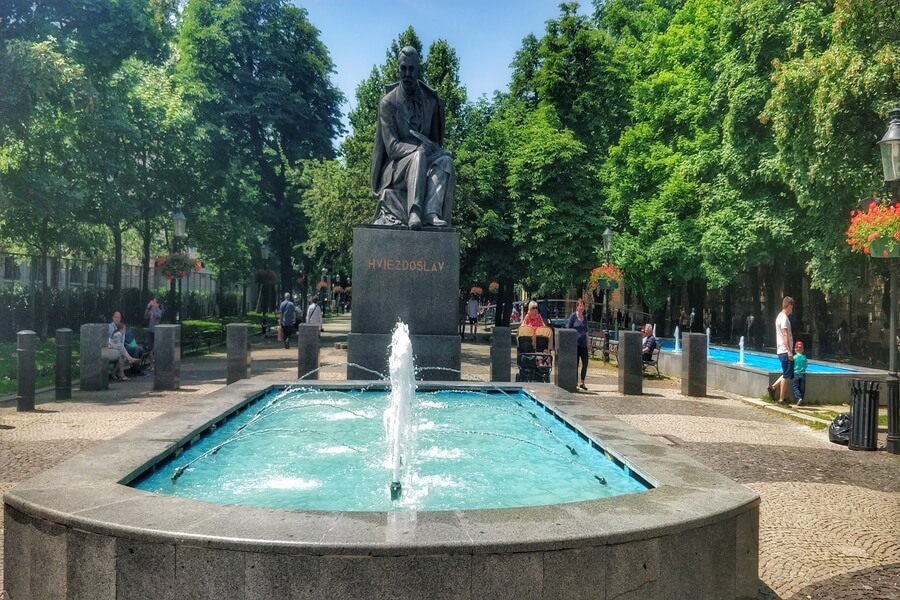 Three permanent ensembles—Opera, Ballet, and Drama—are at the New Slovak National Theater in Pribinova, close to the Eurovea retail complex, and the historic Slovak National Theatre in Hviezdoslav Square.
Throughout the summer, practically every day features a performance. Tickets cost between one and fifty euros. Aren't they cheap?
Visit the theatre's official website to view the schedule of shows, ticket rates, and other information.
UFO BRIDGE
The Old Town of Bratislava and the neighbourhood of Petralka are connected by the Slovak National Uprising Bridge (Most SNP), also known as the New Bridge (Nov most).
The UFO Bridge is so named because of its spaceship-like design.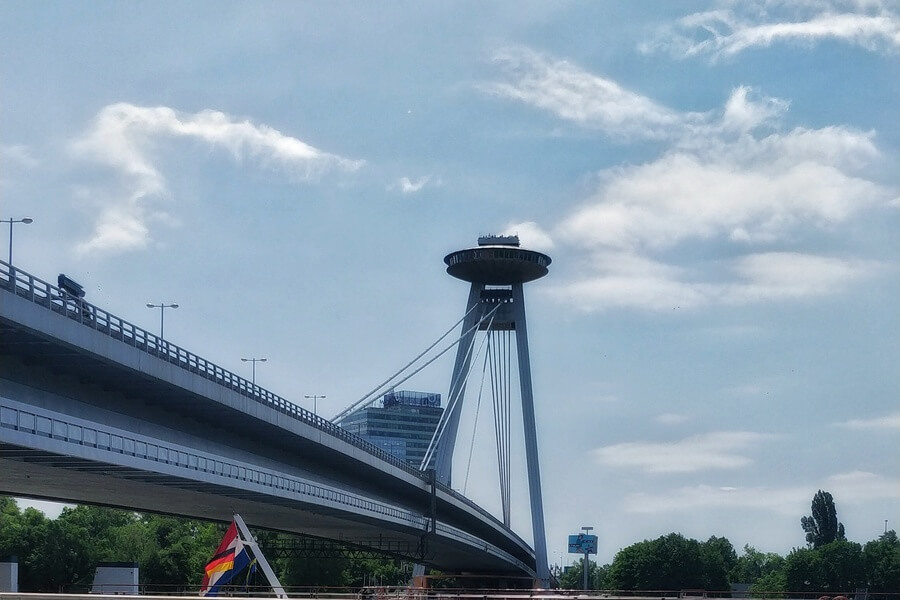 Most spots in Bratislava offer a view of the bridge. It is Bratislava's most prestigious attraction. You can access the observation platform at the top of the bridge, which provides beautiful views of Bratislava via a lift at one of the bridge's legs.
The entrance fee, around 7€, is deducted from your bill if you want to eat at the UFO Restaurant.
BRATISLAVA CASTLE
Before you even reach Bratislava, you can see the castle perched on a hill. It serves as Bratislava's emblem. Slovak euro coins use the castle as their main image.
You can see the House of the Good Shephard, a narrow, yellow rococo-style townhouse that now serves as the Museum of Clocks if you choose to walk from St. Martin's Cathedral to the Bratislava Castle through Židovská street.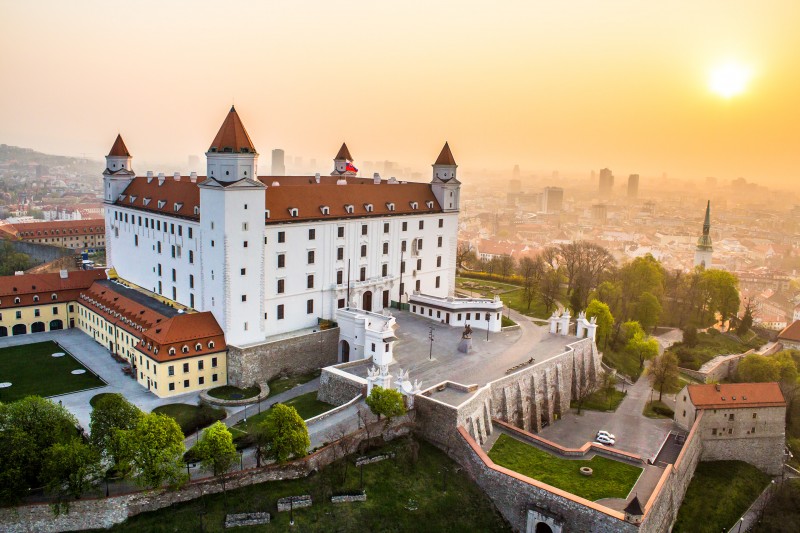 Take the sightseeing train that weaves around the city's most famous monument to get to the castle if strolling through the old town has worn you out.
Although the castle and its baroque garden are lovely, the real allure is found in the expansive views of the old town, the UFO, the Danube River, and Austria.
The entrance fee for the SNM-Historické Muzeum (the castle's museum of history) is 10 euros for adults and 4 euros for children (per child aged 6 to 14).
GRASSALKOVICH PALACE
Grassalkovich Palace, also known as the Presidential Palace, originally served as the residence of Slovakia's president and is now a venue for the events of the aristocratic society.
Although you can visit the enormous Presidential Garden or French Garden at the back of the palace any time of the year, the palace is only open to the public once a year, typically in June.
THE BLUE CHURCH
The church is blue, as the name already makes evident. The gorgeous blue colour is displayed both inside and out. It has an incredibly beautiful backdrop of a blue sky on a clear day.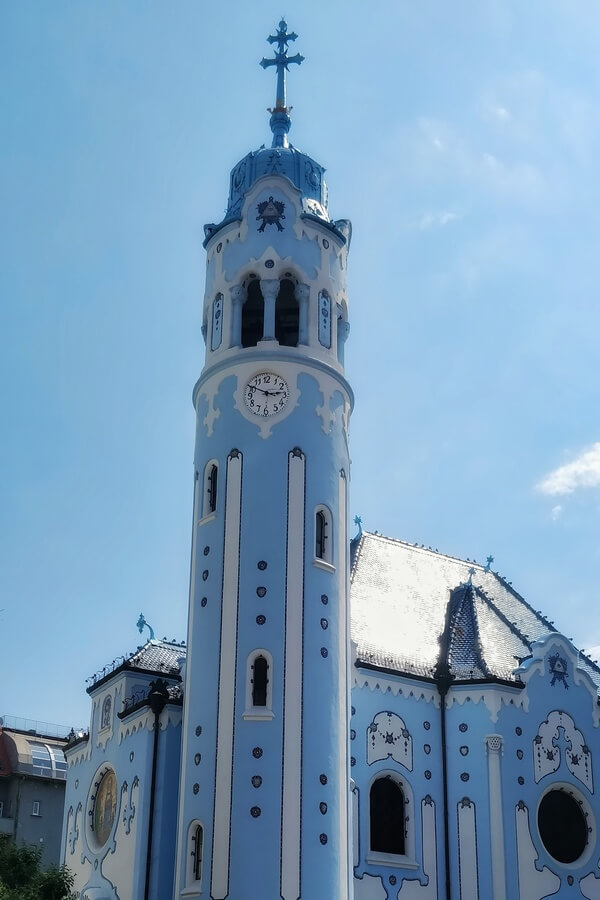 It's on Bezručova Street, not far from the city centre. At the church, we got to take in a lovely wedding ceremony.
ČUMIL
Since Čumil is a celebrity, there would be a line to take his picture. It is also known to visitors as "Rubberneck" and "Man at Work. "The word "Čumil" in Slovakian means "the watcher." His naming is the subject of several legends. Take it from the locals.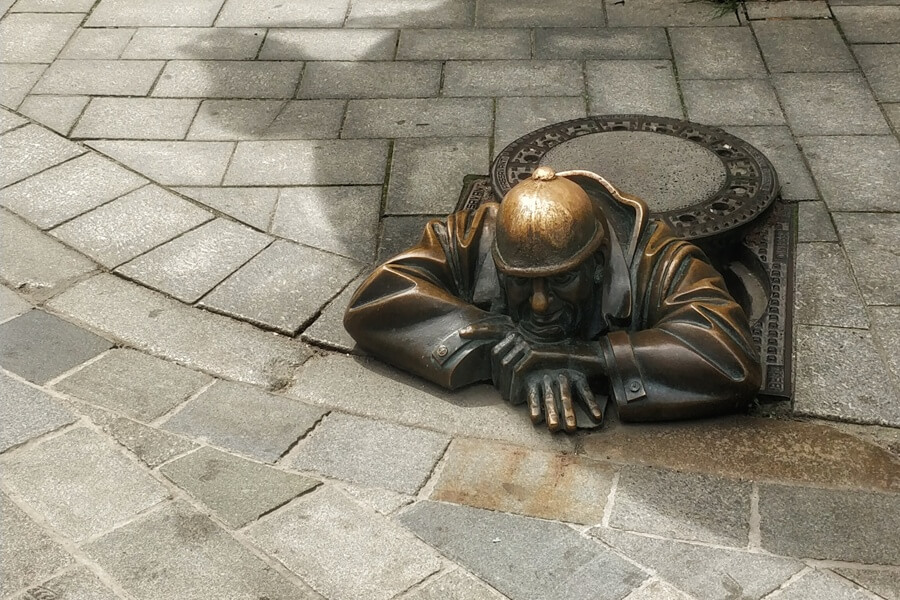 According to some, this mischievous man attempts to peek under the girls' skirts. Others claim he is a slacker who puts in little effort and spends more time watching. Others contend that he is simply unwinding after a long day of work and taking in his surroundings. Whatever it may be, he enjoys watching people pass by based on the smile on his face.
According to legend, if you rub his head while making a wish, it will come true as long as you can keep it a secret.
THE STREETS OF BRATISLAVA
Wandering through the alleys and lanes of the city is the greatest way to discover it and take in the ambience. You can discover sites and attractions that are not listed in guidebooks in this way.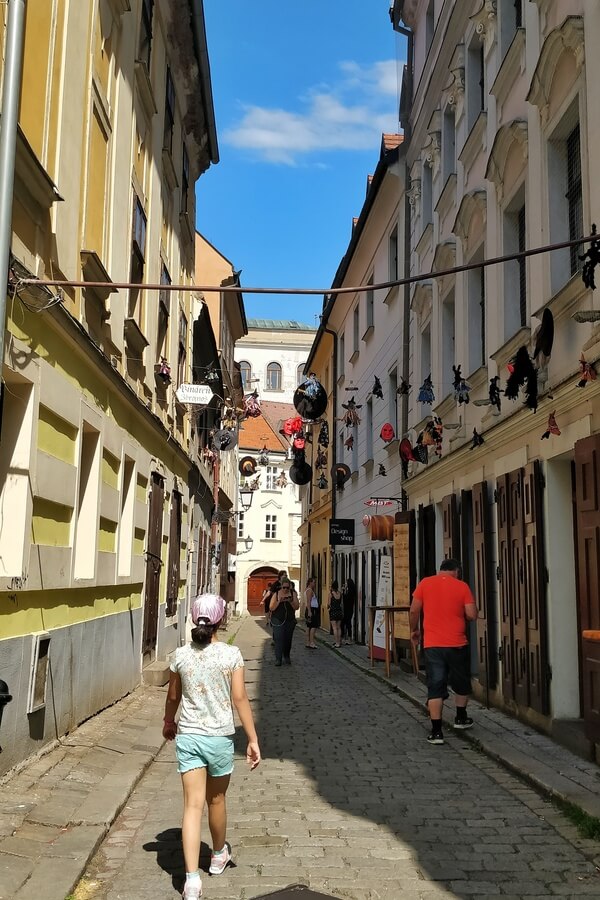 Michalská, Panska (also known as Aristocracy Street), Laurainska, Nedbalova, Ventrska, Obchodná, Farska, Baštová street, and Kapitulska Streets are a few of our favourite streets in Bratislava.
SLOVAK RADIO BUILDING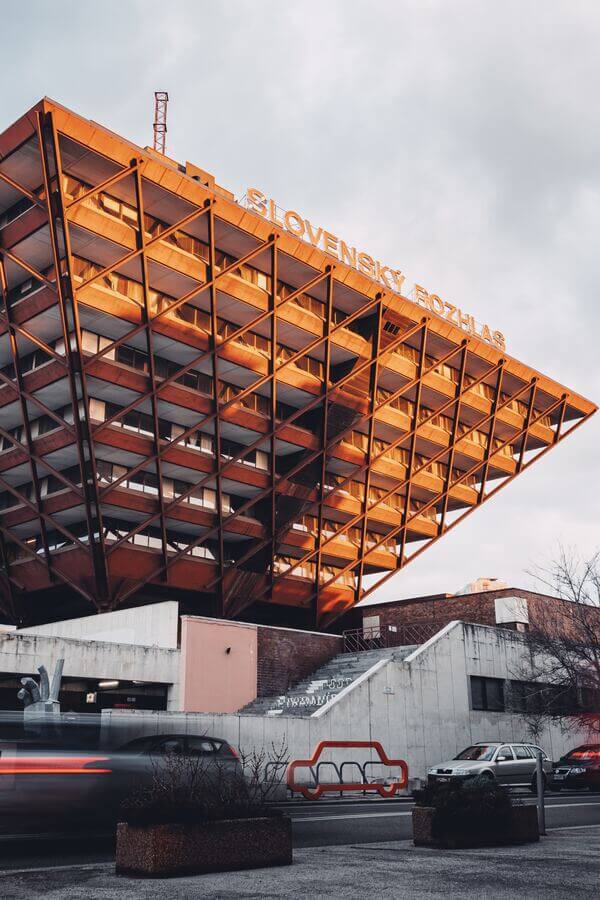 The Slovak Radio Building, one of the world's 30 ugliest structures, doesn't truly seem ugly. My impression might be. The skyscraper, built in the shape of an overturned pyramid, shares a strange Cold War-era vibe with other buildings in Bratislava.
SLOVAK FOODS, YOU MUST TRY
The variety of food, affordable prices, and generous serving sizes in Bratislava restaurants draw customers in. While visiting Slovakia, we urge you to sample some of the unique meals the locals prepare. Although some may think Slovak food is overweight, it is acceptable.
The Bryndzové halušky is Slovakia's national dish (Slovakian potato dumplings with sheep cheese and bacon). Zemiaková placka, a potato pancake frequently loaded with meat and paprika at tourist restaurants, is another typical dish of Slovakia.
Eating out in Bratislava is generally affordable (even more if you move away from the old town, where prices are adjusted for tourists). However, it is customary to leave a 10% gratuity for the service in cafes and restaurants.
DUMPLINGS WITH SHEEP'S CHEESE (BRYNDZOVÉ HALUŠKY)
The national dish of Slovakia is this; therefore, if you can only sample one dish from the country, make it this one! Bryndzové is the name for the exceptional, locally produced, soft, creamy, and peculiar to Slovakia sheep's cheese.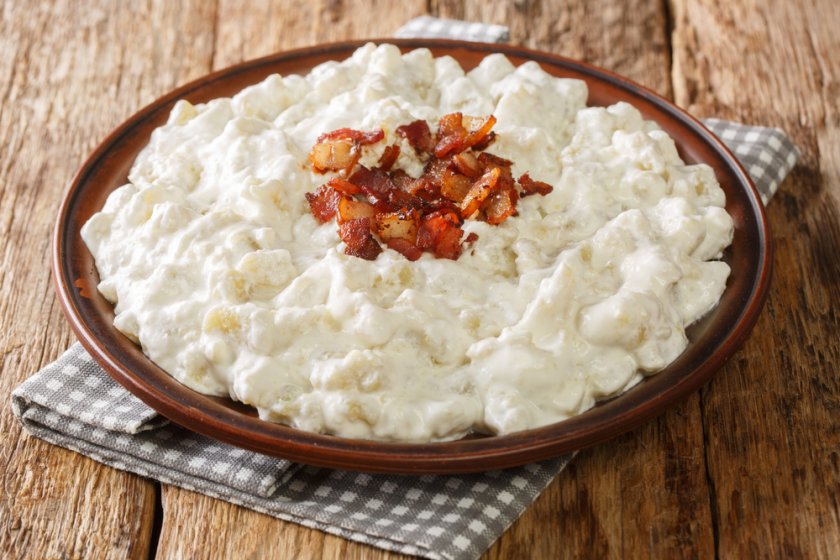 Although neighbouring nations also create this type of cheese, each has a unique recipe, and Slovaks are particularly proud of theirs. halušky, or potato dumplings, comparable to Italian gnocchi, are topped with cheese. Pieces of smoked bacon and sausage can be placed on top to finish the dish and achieve the optimum flavour combination.
PIEROGIS STUFFED WITH BRYNDZA (BRYNDZOVÉ PIROHY)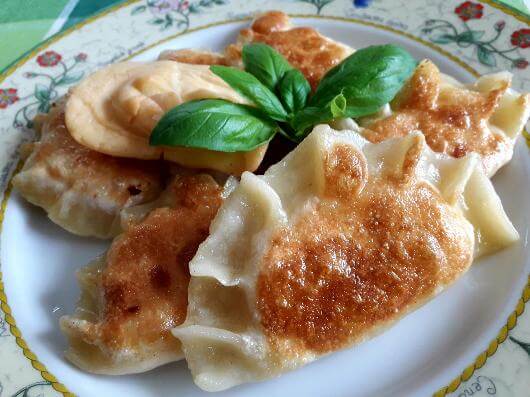 The Slovakian version of the pierogi, a Polish delicacy, features more bryndza cheese. Slovaks stuff these potato dumplings with bryndza cheese, topped with sour cream, and then garnished with bits of crispy bacon once more. A glass of žinčica, or sour sheep's milk, is frequently served with this dish. It's not for everyone because of its tart fermented flavour, but it's worth a go!
CABBAGE SOUP (KAPUSTNICA)
Every traditional Christmas dinner includes cabbage soup, also enjoyed year-round as an appetizer before the main course. Cubed potatoes, sliced mushrooms, diced ham, paprika, black pepper, and garlic are combined with sauerkraut in a creamy foundation. The soup is served hot and is satisfying when combined with freshly baked bread.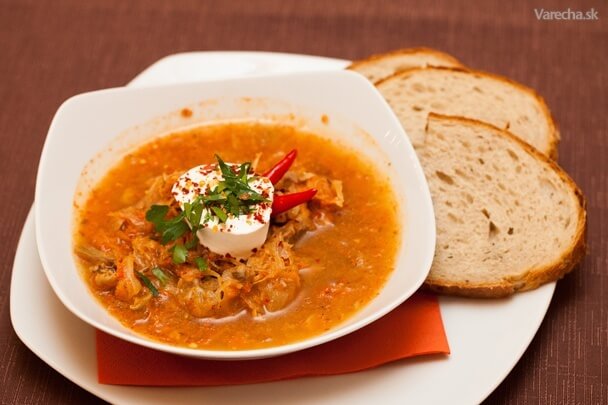 PORK WITH DUMPLINGS AND CABBAGE (VEPŘO KNEDLO ZELO)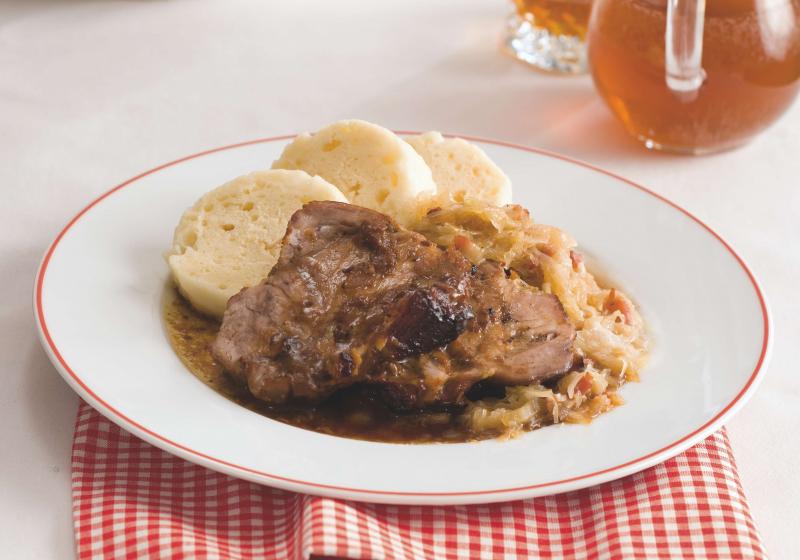 This Slovak favourite has knedle, bread dumplings, and delicate chunks of pork smothered with garlic. A different kind of dumpling called a Knedle resembles a loaf of bread. Frequently, your pork comes with four or five pieces. The meat and garlic give the dumpling rich flavours, making it enticing. It is incredibly soft and delicate.
GOULASH SOUP (GULÁŠOVÁ POLIEVKA)
Another cuisine that is altered in several Central and Eastern European nations is this one. Typically, it includes meat, onions, potatoes, peppers, tomatoes, garlic, and a blend of spices in Slovakia.
This dish is frequently prepared in a cauldron over an open flame and is highly popular during sporting events. A 5K race's finish line or the area next to the tennis courts are both good places to find goulash soup. As the soup simmers for several hours, you are drawn in by the alluring aroma.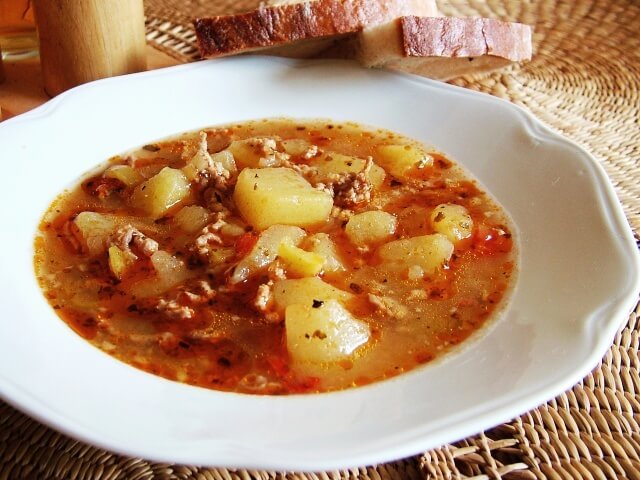 FRIED CHEESE WITH FRENCH FRIES AND TARTAR SAUCE (VYPRÁŽANÝ SYR)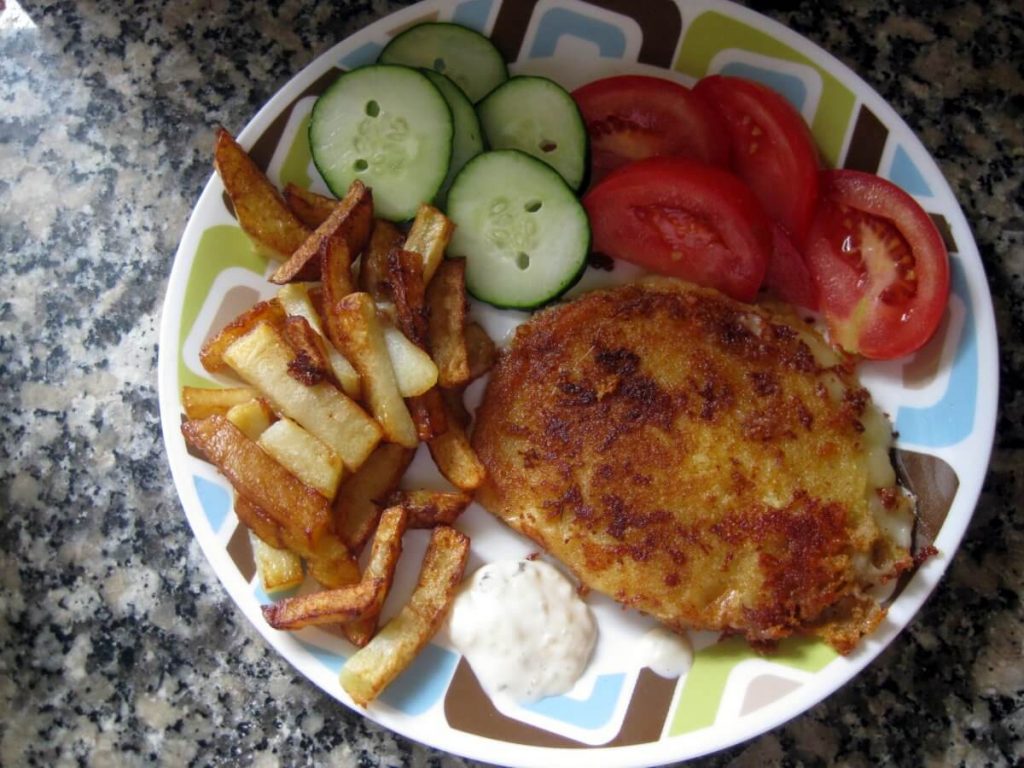 As you indulge in this unhealthy yet wonderful delicacy, let your inner child out to play. This dish must be consumed with a velký pivo, or perhaps two large beers. After spending hours kayaking down the Hron river or tackling a difficult path in the Tatras, it is the ideal meal. Edam cheese is commonly utilized, and pickles are frequently offered to go with this dish.
SLOVAK PANCAKES (SLOVENSKE PALACINKY)
Slovenske palacinky are thin crêpes filled with a variety of delicious ingredients. They practically melt on your tongue when served warm and topped with homemade apricot jam. Other well-liked toppings include strawberry jam, hazelnut spread, powdered sugar, and cinnamon. It's the ideal way to round off a dinner.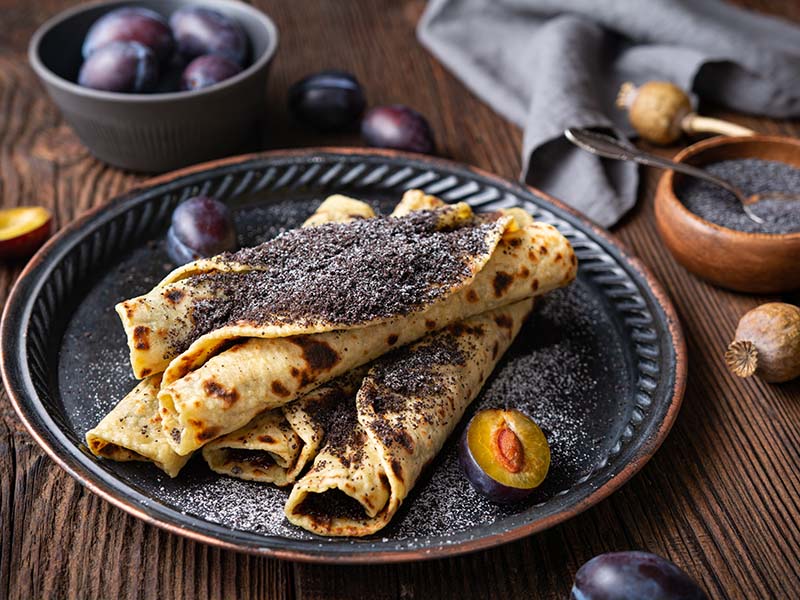 FUNNEL CAKE (TRDELNIK)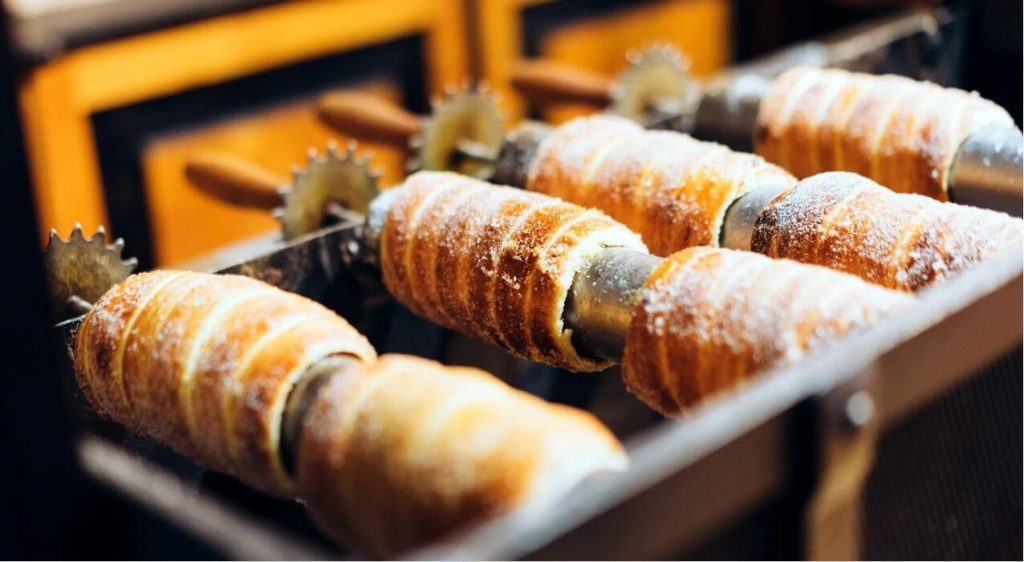 Warm funnel cakes offered at a Christmas market with a mug of mulled wine are excellent in the winter. You can spend hours investigating because the cake gives you the energy you need, and the sugar and cinnamon melt sweetly in your mouth.
Slovaks have recently modified the funnel cake to include a summer version served with vanilla ice cream. This traditional Slovak dessert is now available all year long!
WHERE TO EAT IN BRATISLAVA
Restaurants In Slovakia That Will Make Your Vacation Flavorsome. Slovakia has a large number of cafés and restaurants that serve some of the best gastronomic specialities that are influenced by Slovakian culture. This is due to the growing number of tourists visiting the country.
One of Slovakia's cultural treasures is just waiting to be found in its cuisine. These locations provide a wide variety of cuisines and are nicely kept. As a result, anytime you come here, be sure to eat at some of these top Slovakia restaurants featured below!
LEMONTREE AND SKY BAR RESTAURANT BRATISLAVA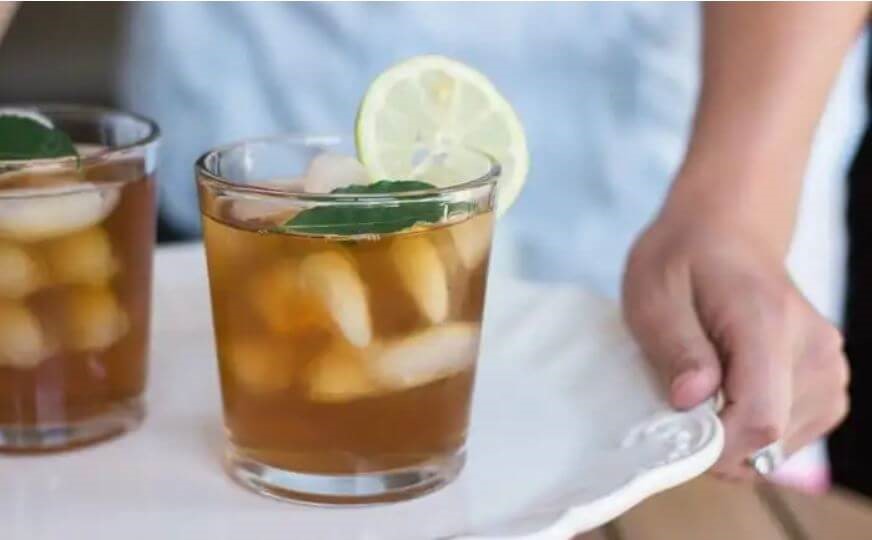 This Bratislava restaurant is well-known throughout the entire nation for its exquisite cocktails. They are renowned for serving a wide variety of delectable dishes. Their meal has a flavour influenced by European cuisine, and they also provide various Thai cuisines. The staff is both warm and quite competent.
The greatest time to go here is in the evening when you can overlook the entire city from the highest points. Given that it is open until midnight, it is the ideal location for fine dining.
HOUDINI RESTAURANT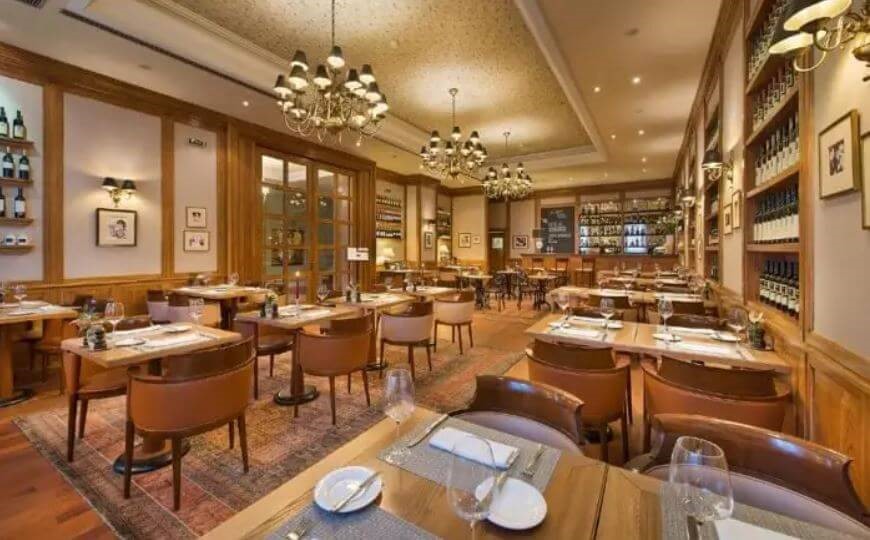 In particular, this is the ideal location for fine dining if you are not a vegetarian. It is a respectable restaurant with a wide selection of meals. It serves non-vegetarian meals, and the food offered here is delicious. The atmosphere here is quite upbeat and bright, and the staff provides excellent customer service.
SLOVAKIA RESTAURANT
The atmosphere in this restaurant is infused with European extravagance. It is the ideal family-friendly restaurant with a lovely garden where you may unwind and unwind for a while.
The interiors of this establishment, which is quite large, showcase its vibrant culture. The cuisine is delicious on its own. If you visit this location, you must stop by this café.
SOHO – BISTRO AND COFFEE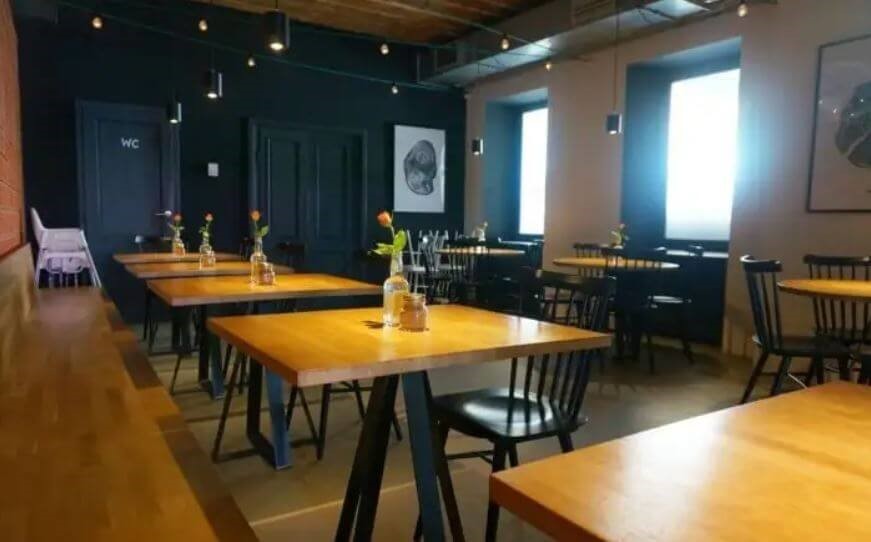 It is a well-known Thai Asian restaurant with a focus on Asian food. There are good vibrations all around. They offer some delectable stuff that is unavailable elsewhere. It's a warm and welcoming location. They offer fantastic drinks and delectable food. Additionally, the staff is outstanding, and the costs are reasonable.
BRATISLAVA FLAGSHIP RESTAURANT
This is yet another upscale eatery. This restaurant's food is so good that you wouldn't mind spending much money there. It would help if you sampled the meats, potato dishes (a local speciality), cheeses, and house brew on their exquisite menu. This restaurant is highly recommended because of its wonderful atmosphere and delicious food.
MEŠTIANSKY PIVOVAR
It's one of those lovely locations whose atmosphere is heavily affected by English culture. Garlic soup, one of the many dishes on the menu, is a must-try. It is highly recommended to eat their traditional cuisine, which is priceless.
Additionally, they provide their house-brewed beer, which you should taste. Overall, this business is amazing with wonderful food and a wonderful atmosphere.
BISTRO ST. GERMAIN
This restaurant screams Italian cuisine from every pore of the establishment. They provide a large selection of freshly produced, handmade pasta. The extensive selection of wines and lemonade that they serve here, however, is what makes them even more well-known. This location has a serene ambience, and the jazz music that plays in the background is comforting to the ears.
The cuisine is delicious here. You could easily mistake the interior for Paris because it is so tastefully designed. This location is a must-visit because of its ideal ambience, delicious food, and outstanding service.
UFO
The food is just as distinctive as the atmosphere. The cuisine served here is a fusion of various cultures. It is excellent and well-presented. Besides being well-known for its mouthwatering food, this location is well-known for its breathtaking views over the Danube River and Bratislava, Slovakia.
Overall, the atmosphere of this establishment is wonderful, with breathtaking views and delectable food.
NIGHTLIFE IN SLOVAKIA
A wild night-out experience will give you a vacation worth telling your friends and family. And if you are headed to Slovakia this year, you don't need to worry about the nightlife. Although comparatively smaller than the neighbouring nations, Slovakia's nightlife is sparkling, vibrant and worth experiencing.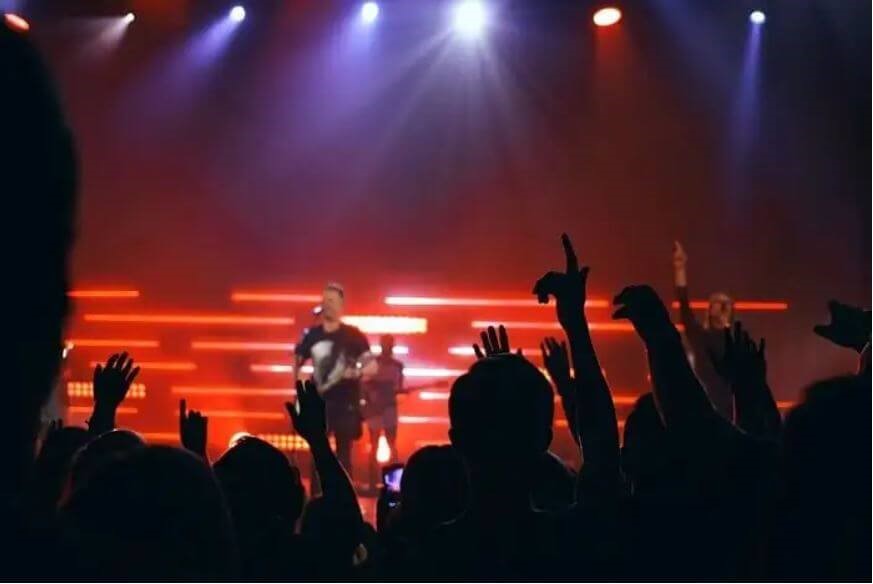 Slovakia has some of the world's best pubs, bars, and clubs. It is a favourite destination among tourists looking for some evening leisure. We have compiled a list of the top 12 Slovakia nightlife experiences. Have a look:
SUBCLUB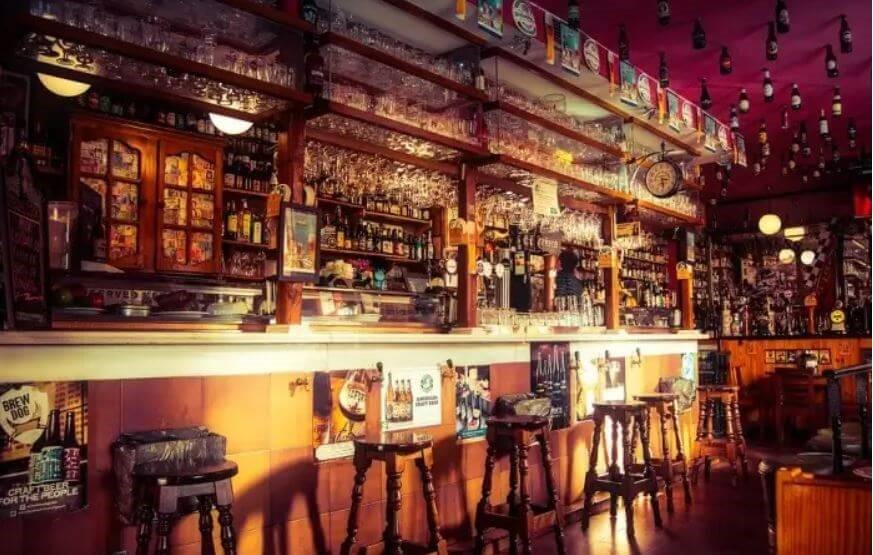 Subclub, one of Bratislava's trendiest underground music venues, will provide you with a memorable experience. This nightclub, which has a 400-person capacity, has been operating since 1993. It is renowned for holding some of the city's top musical events.
Subclub is a joyful environment as a result. Its unique selling point is that it caters to all tastes. Subclub won't let you down whether you enjoy drum and bass, techno, minimal techno, ska, or crossover. The club nights here are a wonderful fusion of all the different cultures.
BAUDELAIRE EVIL FLOWERS BAR
If you want to enjoy Slovakia's nightlife while staying peaceful, go to Baudelaire Evil Flowers Bar. Anyone can become enthralled by the bar's bohemian vibe. There is a large hall and a designated smoking area at the bar. The restaurant is renowned for selling local beer, wine, and cocktails. We urge you to eat a full meal before coming to the pub because food is not served there.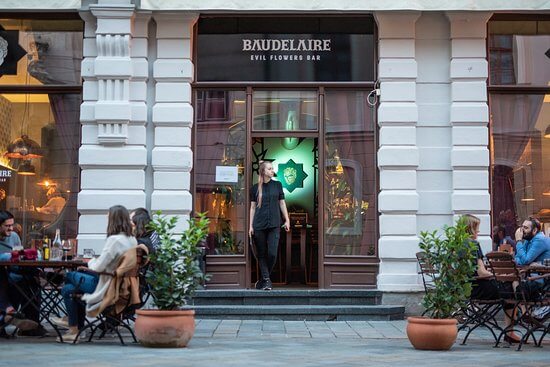 TRAFO MUSIC BAR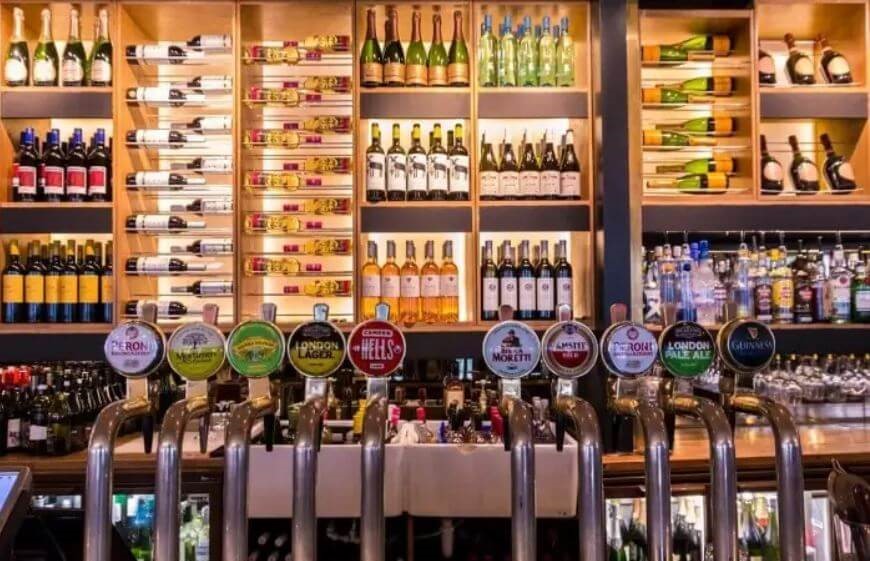 The extravagant Trafo Music Bar is well-known for it. The establishment, unquestionably one of Bratislava's most fashionable and sophisticated pubs, is reminiscent of London clubs. One of the bar's main draws is the 15 m long bar counter.
Along with the gorgeous live music, this draws guests from far and wide. Visit Trafo Music Bar for a very animated and exciting evening full of dancing and entertainment. An evening spent here with loved ones would be remembered for a lifetime.
NU SPIRIT BAR & LOUNGE
No Spirit Bar & Lounge is another popular and lively establishment for taking in the nightlife in Slovakia. You can enjoy live music every day of the week at the bar. It has a lot to offer, from jazz to hip-hop. It's not unusual to see crowds gathered at the Nu Spirit's entrance. People that enjoy making friends are particularly fond of the location.
CASEY CLUB
The Casey Club is a well-known club near the university that attracts many Slovak students. Casey Club won't let you down if you love to party with the young while visiting Slovakia. Every Tuesday, the club throws an enormous frat party. It observes a sizable crowd. Here, you can make many new friends, dance all night long, and drink for pennies on the dollar.
MASQUERADE CLUB
Both locals and visitors appreciate Masquerade Club, a location that exudes fun, enjoyment, and nightlife. The club, which is in the City Center, is fairly roomy and has two dance floors. The top DJs in Europe are always spinning house and R&B music. Apart from that, Masquerade Club stands out from the bulk of other nightlife establishments in Slovakia due to its cosy environment, captivating vistas, and enjoyable music.
HIGH STREET CLUB
Obchodna, a very busy shopping street, is close to High Street Club. The location is rather roomy and allows guests to enjoy drinks quietly while chatting with their friends or even stranger seated next to them. The dance floors' relative diminution nicely serves the goal. Overall, you won't be disappointed by this location. When it comes to arranging themed events, the location has unmatched appeal.
RANDAL CLUB
Randal Club is situated at the junction of Sancova and Zilinska, last but certainly not least. The club is the epitome of elegance and sophistication. The rock aesthetic prevails here. Hard rock devotees can hardly imagine a place more perfect. The club frequently offers numerous live concerts and has a fantastic sound system. You are welcome to stop by the location for an evening of dancing.
WHERE TO STAY IN BRATISLAVA
Without a doubt, Stare Mesto in the Old Town is the best place to stay. You can easily walk everywhere because the region is compact. The north side of the Danube is better connected, so if you choose to stay somewhere else, make sure to do so there.
You have some options to consider:
Hotel: The most expensive option. For a double room, the price is from €40-100 a night
Airbnb: The average cost for 2 people per night is around €20-30 Euros
Hostel:  Stay at Wild Elephant Hostel for €10 a night for a mixed dorm bed.  Particularly good for socializing and meeting others, and it has great reviews on Hostelworld.
However, there are many fabulous hostels in Bratislava, so check out which is the right vibe and price. Exciting!
CITY DETAILS – BRATISLAVA
CITY MAP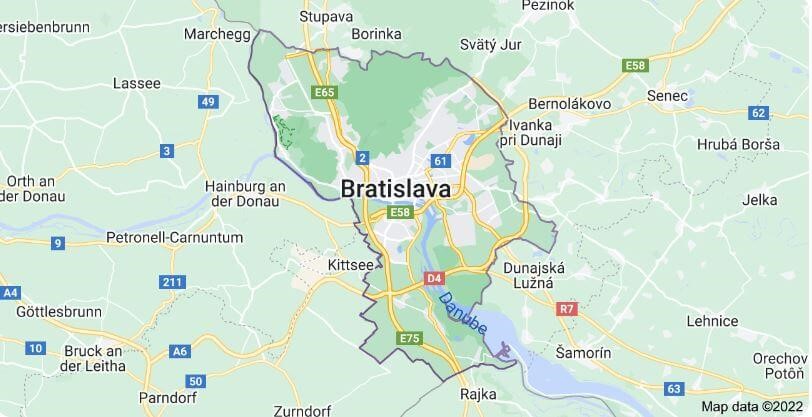 BRATISLAVA CARD
The official tourist destination card, the Bratislava CARD, will help you discover and take advantage of all Bratislava and the Bratislava Region offers. The card is available with or without public transportation.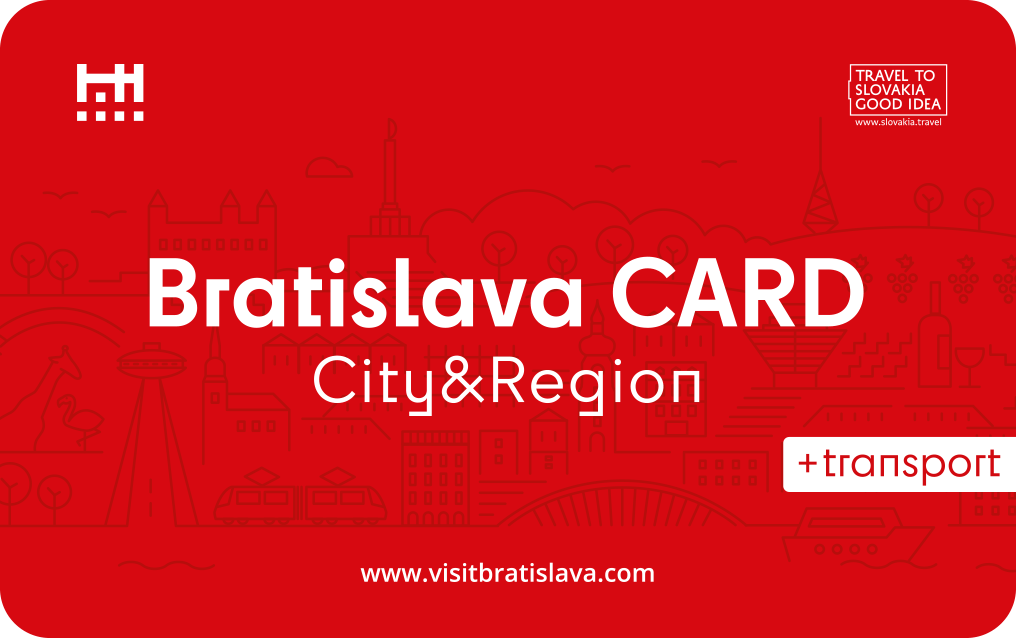 IMPORTANT INFORMATION;
The card is valid for 24, 48 or 72 hours from the sales point's date and hour of activation.
The card is not transferrable and is only legitimate if it is printed with the name of the cardholder, the date, and the time it was issued.
The card is only available to persons aged 16 and over.
In ahead, present yourself with your card at every business.
Unless otherwise specified, all savings mentioned in the brochure apply to basic, non-discounted rates valid for one adult person and are good through March 31, 2023.
The Bratislava CARD with Public Transport Included entitles the bearer to unrestricted travel on all IDS BK zones in the City of Bratislava and the Bratislava Region on both day and night lines. Please display the card and your ID if your ticket is inspected.
Most museums and galleries are closed on Mondays and public holidays.
Unused cards cannot be refunded.
BRATISLAVA CITY PARKING
The city centre of Bratislava has a ton of underground and open-air parking garages for visitors arriving by automobile. Although parking on the side of the road is allowed, you should be aware that if you violate the parking regulations, you risk having a boot installed on your car or hauling it away by a towing company. Therefore, it is recommended that city visitors use one of the many parking lots.
Where to park in the zone?
Parking is only permitted in the places in the zone that are allocated for parking. It is not permitted to park in front of them.
In the zone, parking is available at:
parking places designated by traffic signs on the street
parking places situated outside the street i.e.
parking lots with an organized operation (barrier systems)
in large-scale parking garages or courtyard areas
What is the Zone?
The designated area with restricted traffic is located in the heart of Bratislava and is identified by traffic signs bearing the symbol for forbidden. The vertical road sign designates a pedestrian zone there.
Parking is only allowed in the zones designated by traffic signs that say "P-Reserved" or "Paid Parking Lot."
You can find a map of the zone with restricted traffic HERE.
How to park in the street areas?
A parking ticket can be purchased from a machine to pay for parking. The time for payment is Monday through Friday, 8:00 am to 6:00 pm.
On the streets of the city centre, more than 50 parking ticket machines with credit card payment options are in use. The ticket machines use five languages to communicate. These other than Slovak include English, German, Hungarian, and French.
BUDGETING FOR BRATISLAVA
Prices in Bratislava have steadily risen over the past five years due to the nation and city's considerable changes. Bratislava is still a relatively affordable city and ought to be on the bucket list of every traveller on a tight budget. The money used is the euro.
€10 to get a HOPIN taxi from Airport Bratislava to the city
€20-30 a night for 2-3 people in an Airbnb in the City Centre
Average €10-15 for a meal in a restaurant with drinks.
Average €2-3 for a pint of beer or a glass of wine.
You can easily spend between €80 and €120 on lodging, meals, drinks, and a return taxi from HOPIN airport for a 48-hour excursion.
My proposed daily spending limit is 45 euros. This assumes that you're using public transit, living in a hostel dorm, preparing food, participating in free activities like walking tours and hiking, limiting alcohol use, and visiting some reasonably priced sites like museums or galleries.
A private Airbnb apartment, a few beers out on the town, guided tours, additional paid attractions like the caves, and the occasional taxi ride are all things you can do on a moderate budget of 105 EUR per day. You can also stay in a private Airbnb property.
You can stay in a hotel, eat at any restaurant, rent a car, consume as much alcohol as you choose, and visit as many castles and museums as you can handle on a 200 EUR "luxury" budget! But for luxury, this is merely the ground floor. There are no boundaries!
Our approximations
You can use the chart below to estimate how much money you need to set aside each day according to your travel preferences. Remember that these are daily averages and that you may spend more and some days less (you might spend less every day). We wish to provide you with a rough outline for creating your budget. The price is in EUR.
| | | | | | |
| --- | --- | --- | --- | --- | --- |
|   | Accommodation | Food | Transportation | Attraction | Daily Average Cost |
| Backpacker | 15 | 15 | 5 | 10 | 45 |
| Mid-Range | 35 | 35 | 10 | 25 | 105 |
| Luxury | 75 | 60 | 25 | 40 | 200 |
HAVE YOU BEEN TO BRATISLAVA, SLOVAKIA?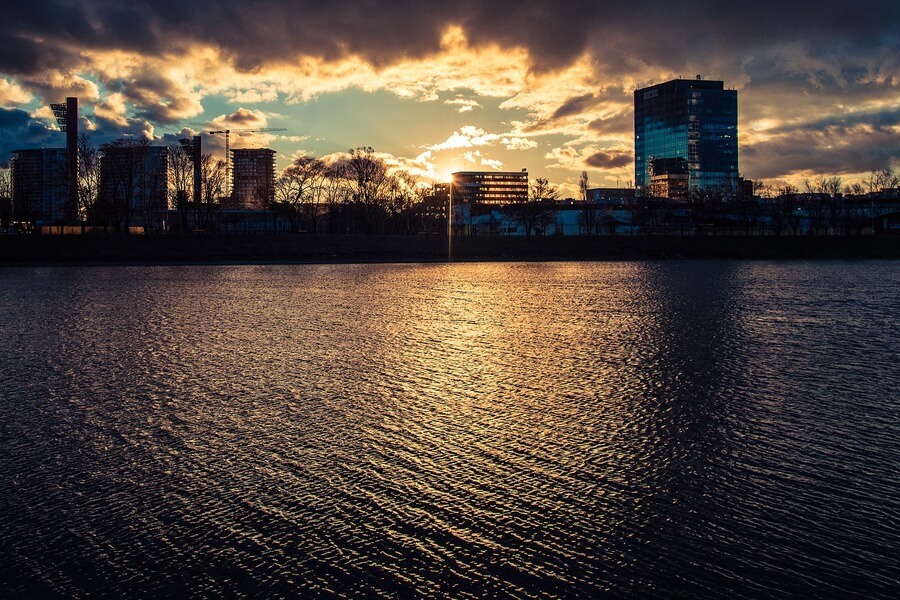 What were your favourite spots? We'd love to know!? Did you find this blog helpful? I'd love for you to share it with me. Pin and save this blog post for later.
FAQs
Is Bratislava worth visiting?
Does Bratislava worth a visit, then? Of course. It is the ideal location for a 2–3 day getaway to unwind, explore, and take advantage of everything Slovakia offers—all on a reasonable budget.
What is Bratislava known for?
The political, cultural, and economic hub of Slovakia is currently Bratislava. The parliament, the executive branch, and the president of Slovakia all have offices there. It has several universities, galleries, museums, theatres, and other cultural and educational organizations.
Do they speak English in Bratislava?
Most people under the age of 20 can communicate in English. If you visit Bratislava, Košice, or any of the larger towns, you will find that every waiter and practically every shop clerk speaks English. However, age is also a factor.
Is a day trip to Bratislava from Vienna worth it?
It is simple to visit Slovakia for a day trip or a longer vacation because trains from Vienna to Bratislava take just over an hour. It's a great place for a day trip because of its stunning hilltop castle, cutting-edge museums, and historic centre.
Is Bratislava like Budapest?
Bratislava is comparable to a smaller version of Budapest. There are several gorgeous structures in the Old Town and city centre, which are both fairly small. In Bratislava, you can walk everywhere to get to the main attractions.
Can I use euro in Bratislava?
The euro is Slovakia's official currency. Exchange currency only at authorized exchange offices and banks. These are available in certain retail stores and all of the big hotels. Traveller's checks are typically not accepted at shops, modest hotels, or dining establishments.
What is the currency in Slovakia?
19 of the European Union's 27 member states use the euro as their official currency. As of 2019, over 340 million inhabitants live within the so-called Eurozone, also known as the euro region, a collection of states. One euro is equal to one hundred cents.
How long is the train journey from Vienna to Bratislava?
Over a distance of approximately 34 miles, it takes 1h 11m on average to travel by rail from Vienna to Bratislava (55 km). From Vienna to Bratislava, there are typically 34 trains each day, and tickets for this route start at €9.80 when purchased in advance.
Which city is the most beautiful in Slovakia?
In addition to theatres and universities, Košice is home to several museums and galleries. It is frequently referred to as Slovakia's most attractive city because it also has one of the best-maintained ancient town centres in the nation.
Is Bratislava a party town?
Nightlife Bratislava: Although it is still a young city and is not as well-known as Prague or Budapest, the young Slovak capital is quickly gaining a reputation for its affordable travel and its quiet but exciting nightlife. Find the top clubs in Bratislava to party and drink all night long!