Exploring Alytus, Lithuania's Best-Kept Secret
Alytus is a city with municipal rights in southern Lithuania. Alytus is the historical center of the Dzūkija region. The city lies on the banks of the Nemunas River.
Lithuania is a country in Europe that borders Latvia in the north, Poland to the South, and Belarus to the Southeast. The country's area is 65,300 km2, and its population is 2.8 million. Alytus is considered the largest city in southern Lithuania and the 6th largest city in Lithuania. It is popular for sports since societies organize different international sports every year. People who love to enjoy can do cart rides, water rafting, bowling, billiard, and tennis.The city covers in greenery, and it is a collection of different traditions, cultures, and people who have lovable hospitality. In 2021, the population in Alytus was 137,741 in 5418 km2. Population density is 25.42/km2, and the annual population change is at -1.4%. According to the statistics female population is larger than the male population in Alytus. 5.2% of the population of Lithuania lives in Alytus.
HISTORY OF ALYTUS
When we drive back to the history of Alytus, it has an ancient history that starts from the year 1377. It originated from the name of the runlet flowing at the foot of a mound of Alytupis. Now it is called a city of white roses. In the 19th century, the city recognized as a third-grade fortress, after that, they constructed roads, three barracks, and three bridges.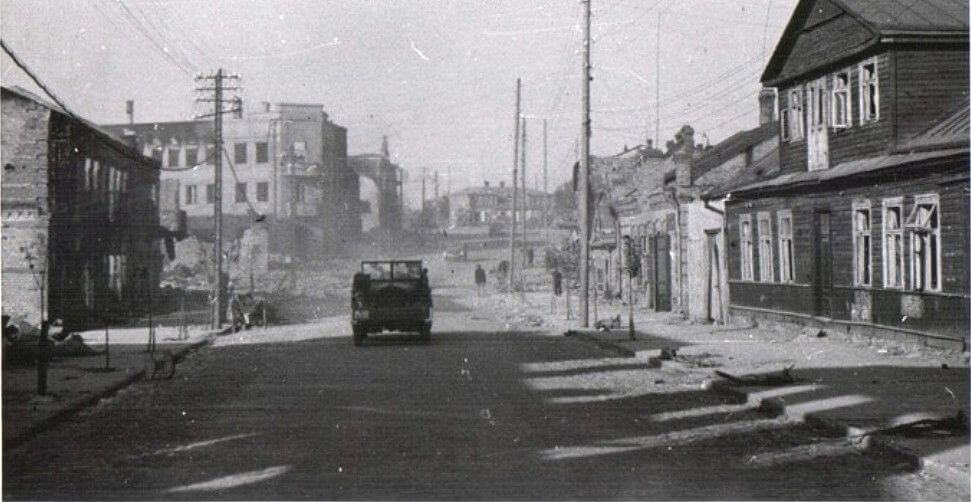 During the First World War, Alytus's city became the country's center. During the First World War, most of the ancient building was destroyed, and very few distinct places and architecture remained in the city. In 1932 city recognized the status of a resort.
GETTING TO ALYTUS
There are two ways to travel to Alytus from Vilnius. The cheapest way to arrive at Alytus is using Bus, which will cost 6 $- 10$ and take nearly 2 hrs. If someone has a private vehicle, that will be more time-saving than using public transport. Once arrive in Alytus, travelers can use public transport and Taxis, which are available for affordable prices.
GETTING AROUND ALYTUS
The city center is easily walkable, but if you want to get from one of the city's ends to the other, it is better to travel by bicycle, scooter, car, taxi, or bus.
BEST TIME TO VISIT ALYTUS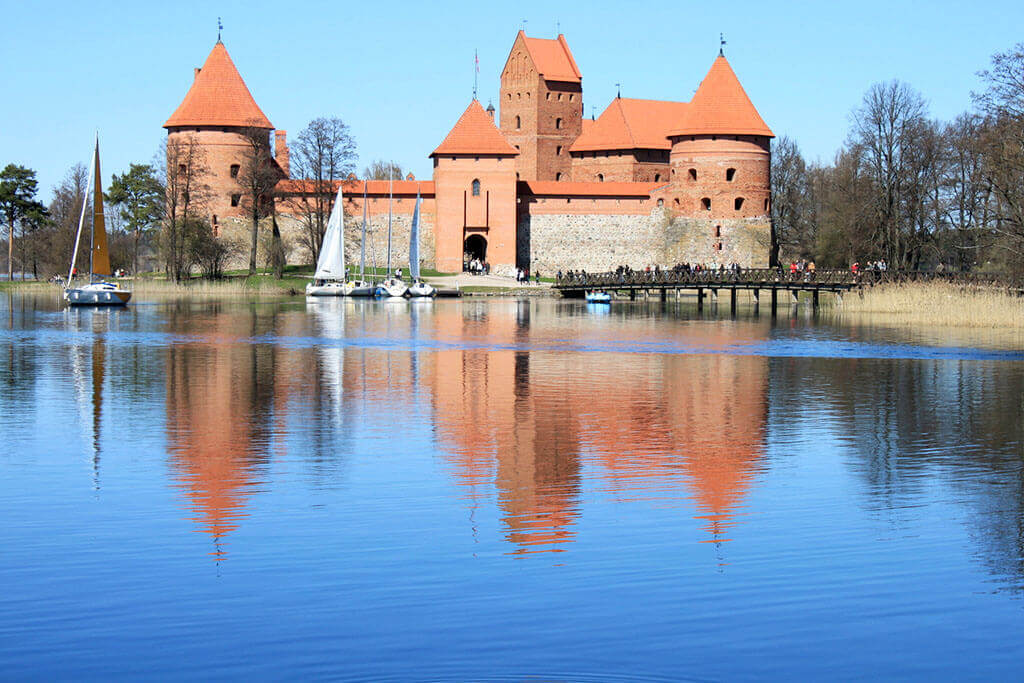 According to the Köppen-Geiger classification, the climate of Alytus is warm, humid, and continental (no dry season). The highest temperature in Alytus varies from -2°C in January to 24°C in July, with an average of 12°C throughout the year. A minimum of 54mm falls in February, and a maximum of 121mm falls in July, totaling 973mm annually.
PEAK TOURIST SEASON IN ALYTUS
Very low season in Alytus
The months with the lowest number of tourists are January, February, and November.
Low season in Alytus
The months with low numbers of tourists are April, September, October, and December.
High season in Alytus
The number of visitors to Alytus is high in March, May, June, and July.
Peak season in Alytus
The largest number of tourists visiting Alytus is during August.
BEST TIME FOR LOW PRICES IN ALYTUS
In Alytus, September often has the most affordable hotel rates. So now is a fantastic time to make holiday savings! Statistically speaking, May is the most expensive month of the year for hotels.
THINGS TO SEE IN ALYTUS
Merkine Observation Tower
From the top of the 26-meter-high tower, you will get a panoramic view over the Nemunas Valley and the woodlands of Dzūkija National Park, Lithuania's most wooded region.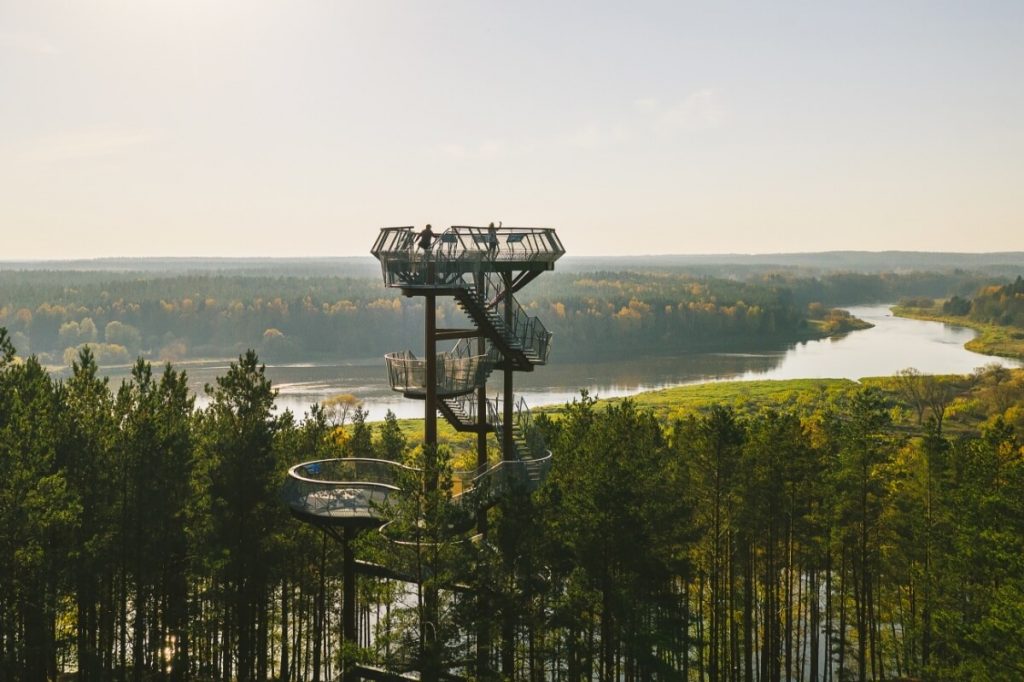 The one-of-a-kind architectural tower with many viewing decks allows you to observe the landscape from various vantage points.
White Rose Bridge
Lithuania's highest pedestrian and bicycle bridge (project author V. Karieta), erected in 2015 in Alytus on the preserved cups of the former railway bridge, has been registered in the Lithuanian Book of Records.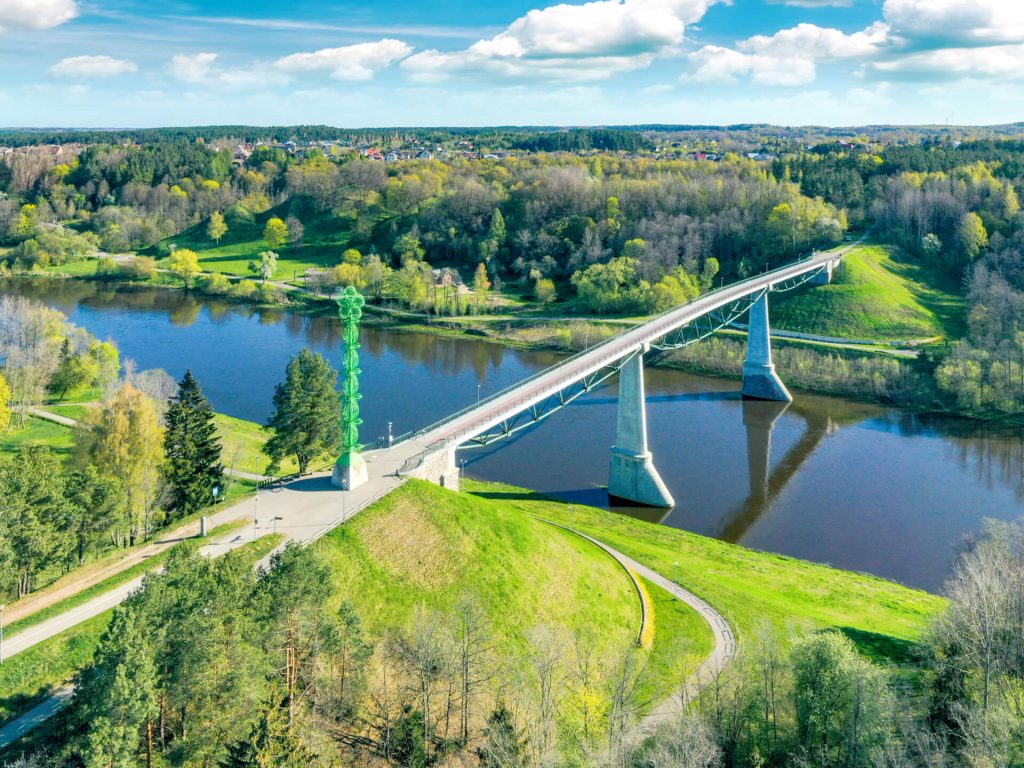 It stands 38.1 meters tall and measures 240.52 meters long. In 2016, it was officially opened. June 4 It linked the bike routes on both sides of the Nemunas River, which divides the city.
Alytus Museum
The local intelligentsia established the Museum of Ethnography in 1928, and you can find around 100,000 exhibits stored there.
Southern Lithuania's districts contributed historical, ethnographic, and archaeological relics to the museum fund. The Museum of Ethnography has multiple locations. Entry is free. Sunday and Monday are closed.
Alytus Town-hall Square
Square in front of the Town Hall. Before you establish Town Hall Square in 1990, the center area of Alytus town made up of the triangular Komsomol Square (from 1954) and the Market Square in front of it, which used to host regular marketplaces, You used to have the triangular Komsomol Square and the Market Square in front of it.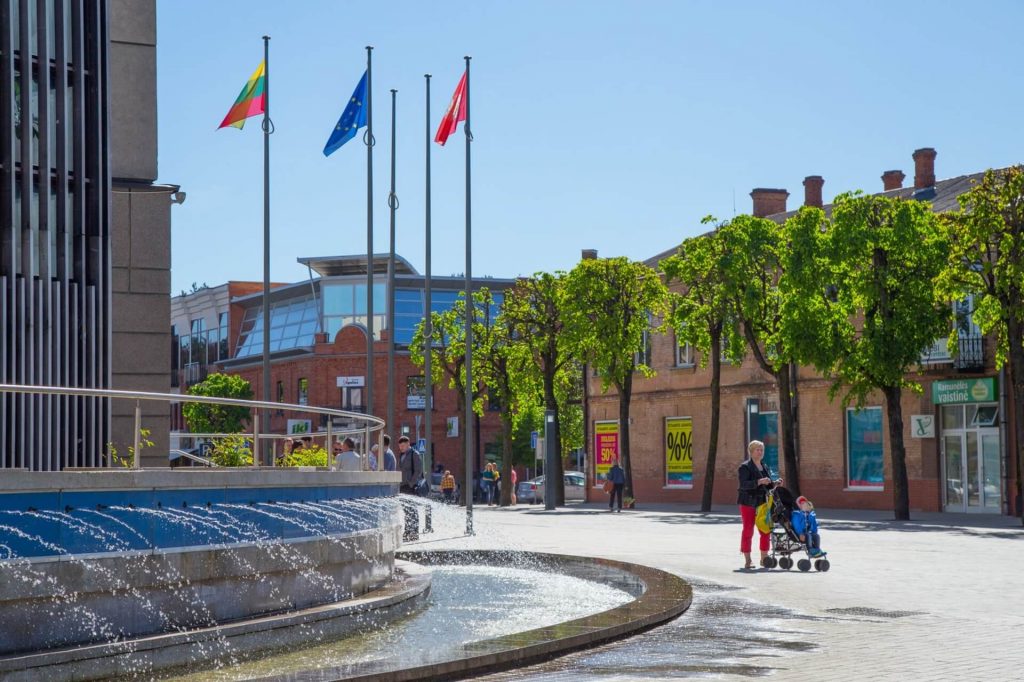 Early twentieth-century business and residential buildings bordered them. Most of these buildings were demolished in 1987 when you built (finished in 1989) the current Town Hall.
Angel of Freedom
The "Angel of Freedom" monument was erected in 1929 to honor Lithuania's first decade of independence. Antanas Aleksandravičius, a well-known Dzūkai (South Lithuanian) sculptor, created the sculpture.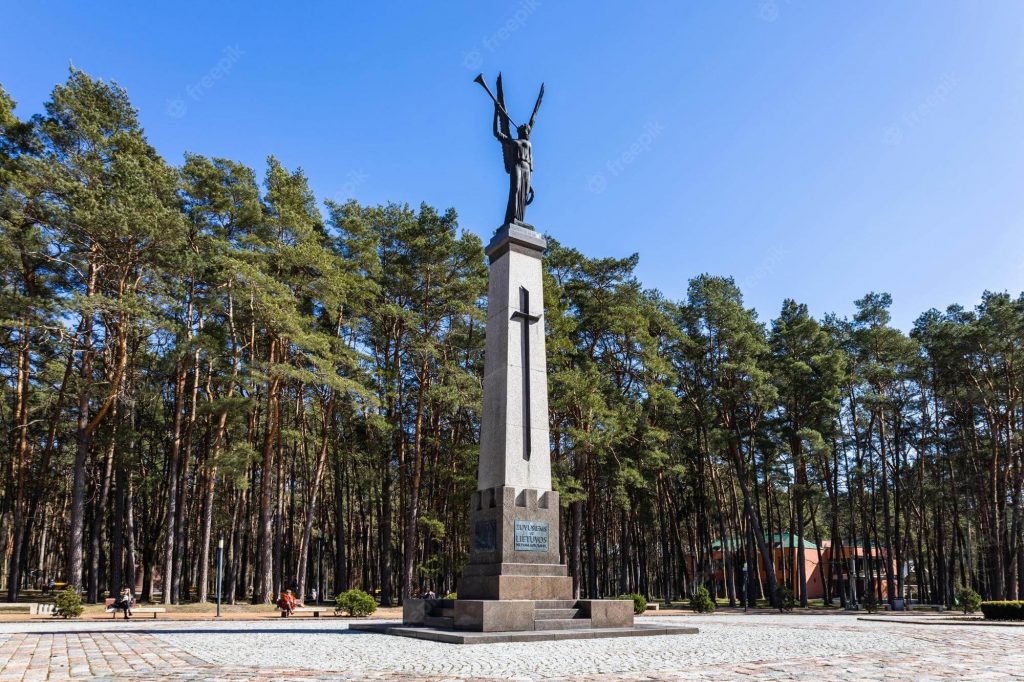 The monument was tested by nature and history, including being struck and destroyed by lightning in 1934. (restored three years later). Later, in the 1950s, the Angel of Freedom was demolished for political reasons. The statue was renovated once more in 1991.
Botanical Reserve of Vidzgiris
Alytus's Vidzgiris Forest, which covers 452 ha of its territory and 388 hectares designated as a botanical reserve in 1960, is a special spot in nature that resembles an island of wilderness within the city.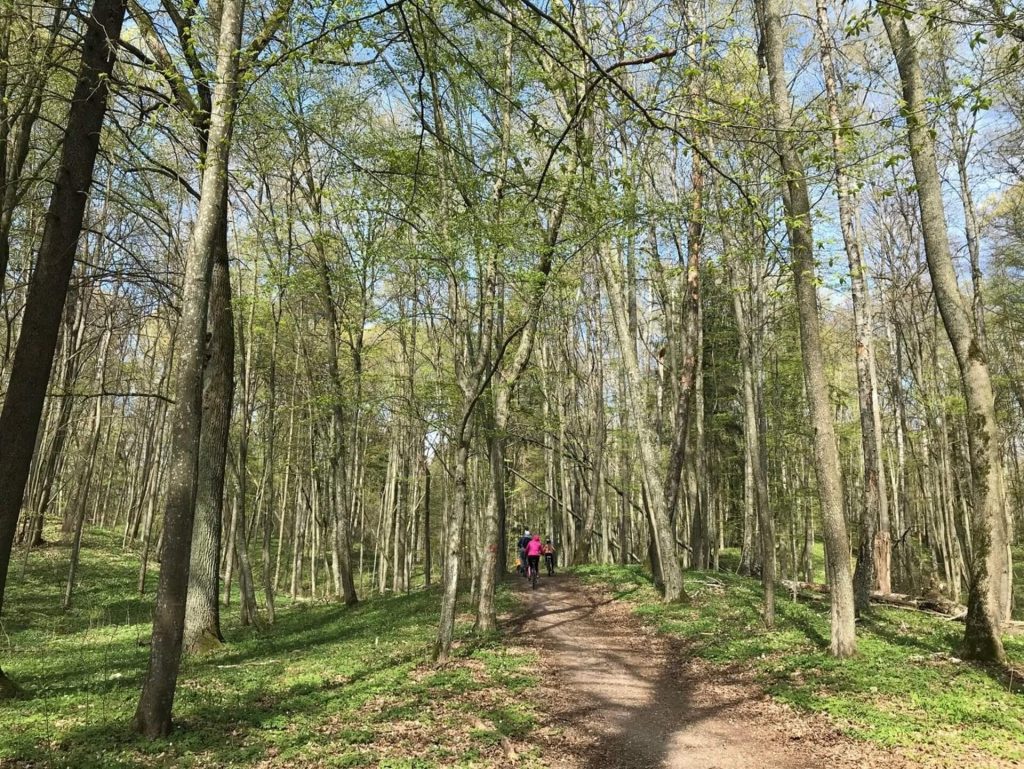 You can find the largest cohesive hornbeam in Lithuania, broadleaf forests, oak woodlands, larch, uncommon plants of great botanical importance, protected species of amphibians and insects, slopes, and ravines in the Vidzgiris forest.
Alytaus Miesto Parkas
The construction of Alytus City Park began in 1926. Construction started in a pine forest that was naturally there around 1930. The Eng. Stasios Taškūnas project was started in 1931. Zigmas Jakulis, the city's mayor from 1936 to 1940, brought the park's concept back from Switzerland. The park covers an area of 5.54 hectares and it is a geometric (regular) park, with a square in the middle of the park, it is 50 m in diameter and represents the sun.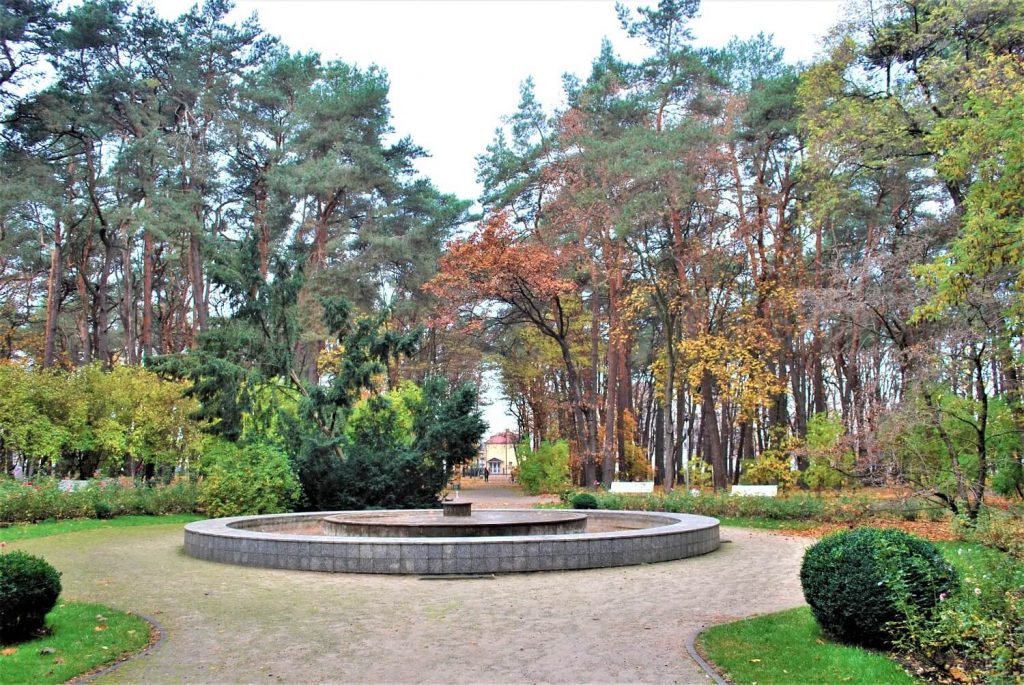 Straight walkways radiate outward in six directions like sun rays, and you will find avenues of deciduous trees and plants lining them.
MUST TRY FOODS IN LITHUANIA
Experiences with food are now a crucial part of every journey. Without a glass of Georgian wine, no evening would be complete in this country. While Spain's paella is its national meal, Italy is renowned for its superb pizza. And since Belgium's chocolate is said to be the best in the world, it would be unacceptable to travel without trying it. What tantalizing flavors may visitors from abroad anticipate tasting in Lithuania?
ŠALTIBARŠČIAI (cold beetroot soup)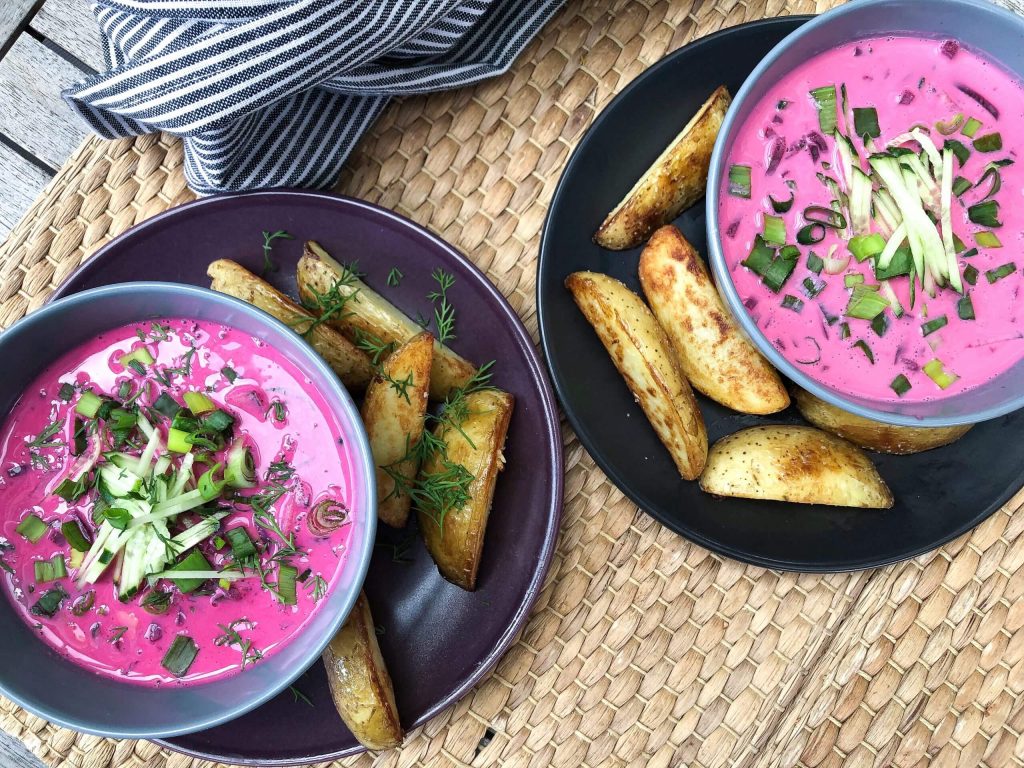 Every summer, when Šaltibarščiai, a vibrant pink cold soup made from organically grown local ingredients (cucumbers, beetroot, herbs, and kefir), makes its way to tables covered in sunlight, Lithuania turns pink. Take a picture since some people believe that Šaltibarščiai is the most attractive cold soup.
Fried Bread with Cheese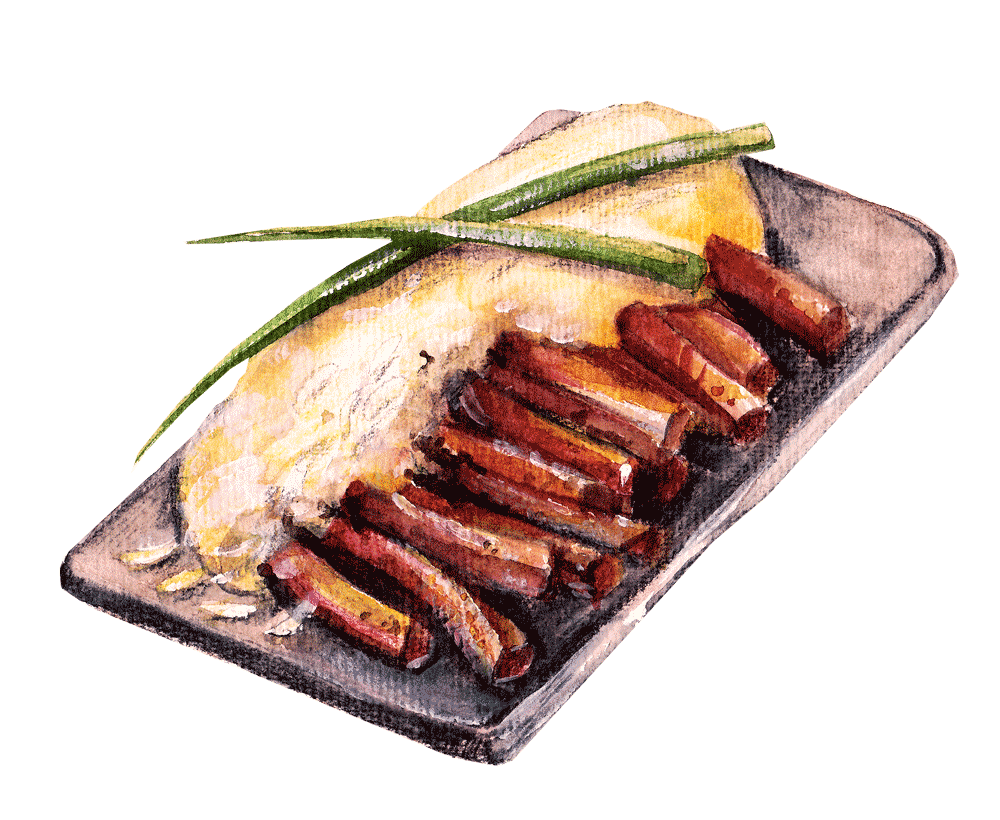 Black bread champions are the Lithuanians. Every Lithuanian consumes 110 kilograms of black bread per year on average. This black bread transforms into a moreish snack when you cut it into strips, deep-fry it in oil, and then cover it in a cheese and mayonnaise sauce. Local beer pairs wonderfully with this snack.
Cepelinai (meat-filled potato dumplings)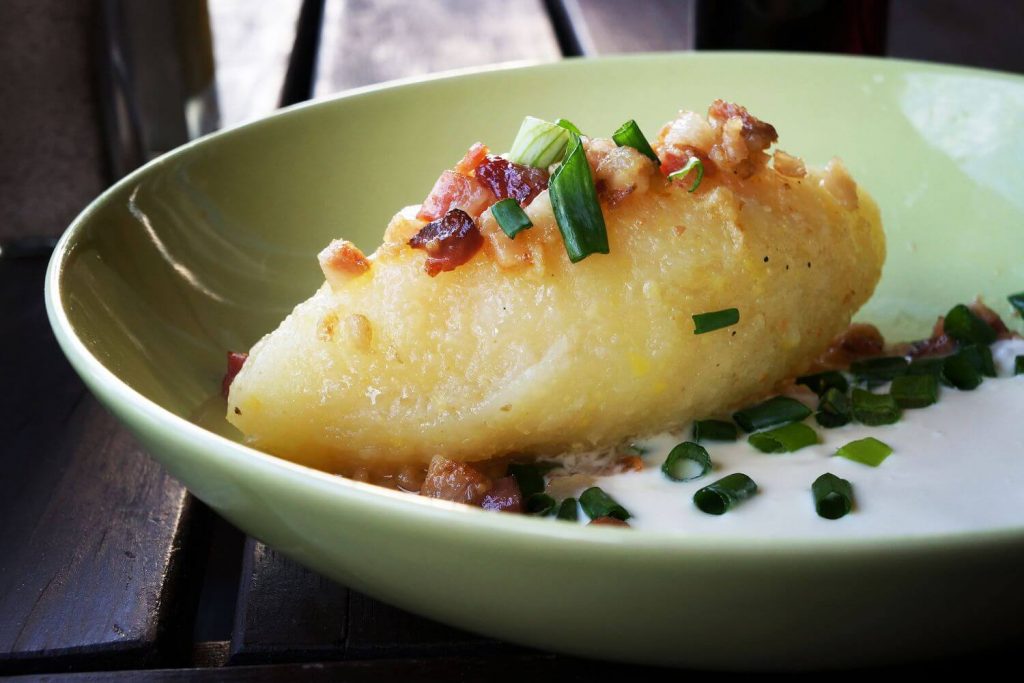 This dish is a heavy weight of Lithuanian cuisine in every sense. You can create cepelinai from grated potatoes fashioned into a zeppelin shape, filled with meat, and garnished with bacon rind. Even though cepelinai were first introduced to the Lithuanian diet in the 20th century, they have become a staple of meals served in homes and restaurants all around Lithuania.
ŠAKOTIS (tree-cake)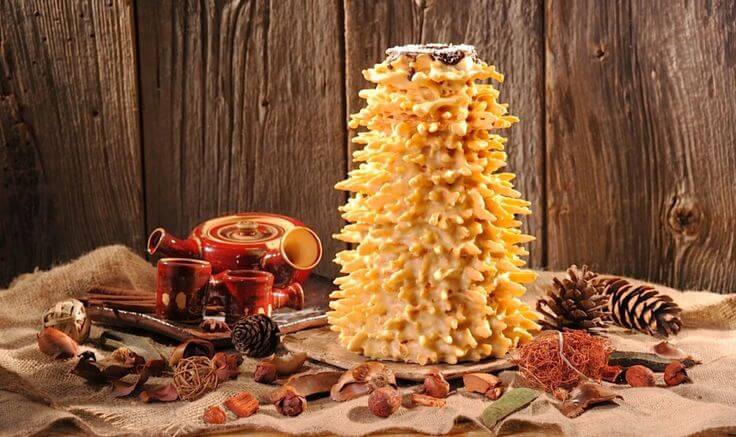 It's customary for Lithuanians to share this towering, spiked cake at celebrations. There is also an Šakotis museum in Lithuania (the only one in the world) where you can try creating one for yourself. It is prepared by adding batter to a spinning spit over an open fire.
GIRA (kvass)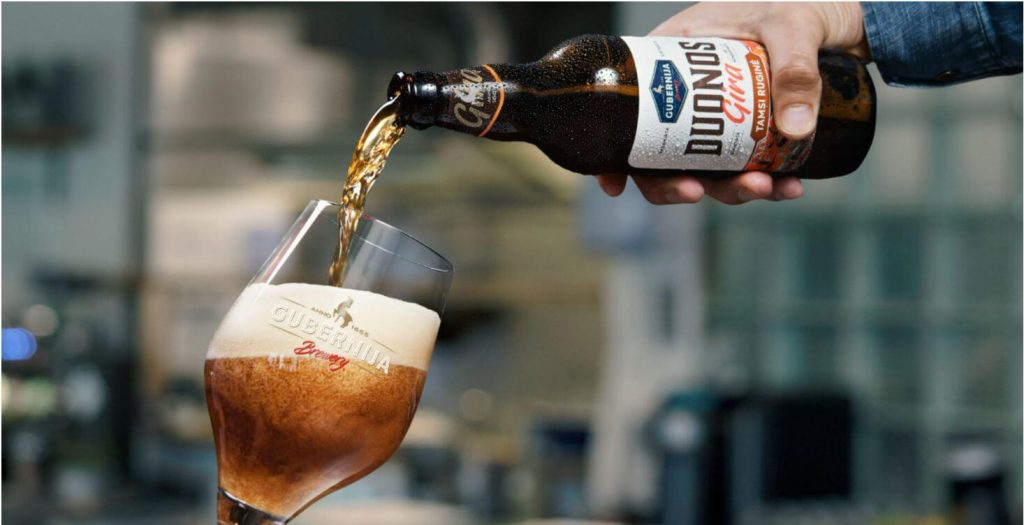 You make this fermented beverage from brown bread crust, it is pleasantly reviving and not overly sweet. Gira, made from apples, caraway seeds, bilberries, strawberries, and other berries, is also available in Lithuania.
Tinginys (uncooked cocoa cookie bar)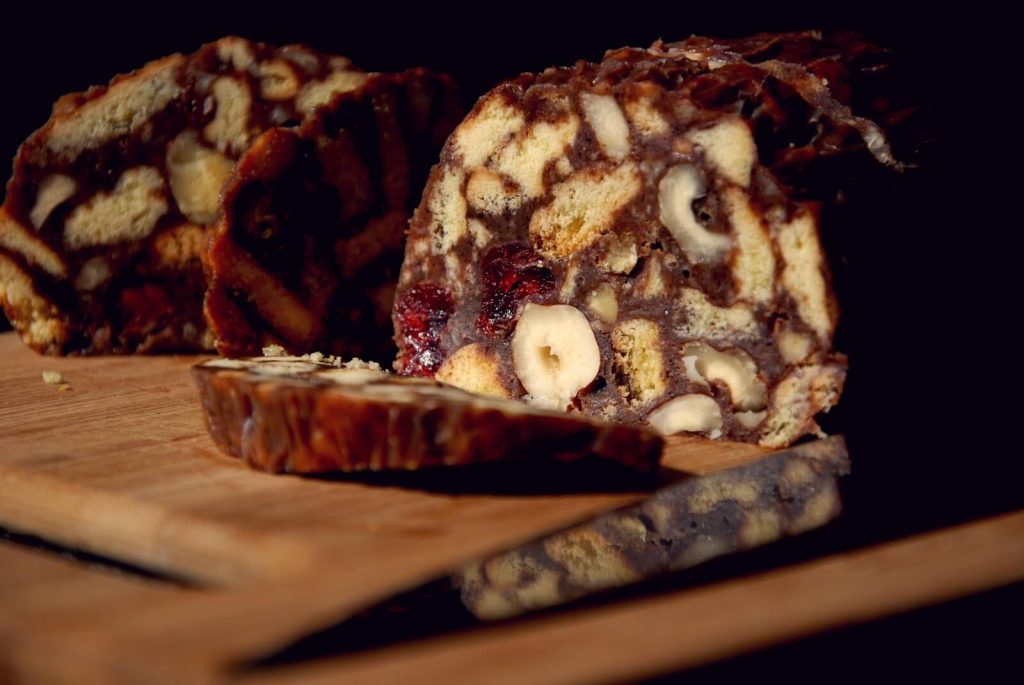 Tinginys is a straightforward cake that combines crushed cookies or biscuits with chocolate, condensed milk, sugar, melted butter, and additional optional ingredients. For more than a century, Lithuanians have cherished the dessert known as tinginys and have eaten it both formally and socially.
Švilpikai (baked whistlers)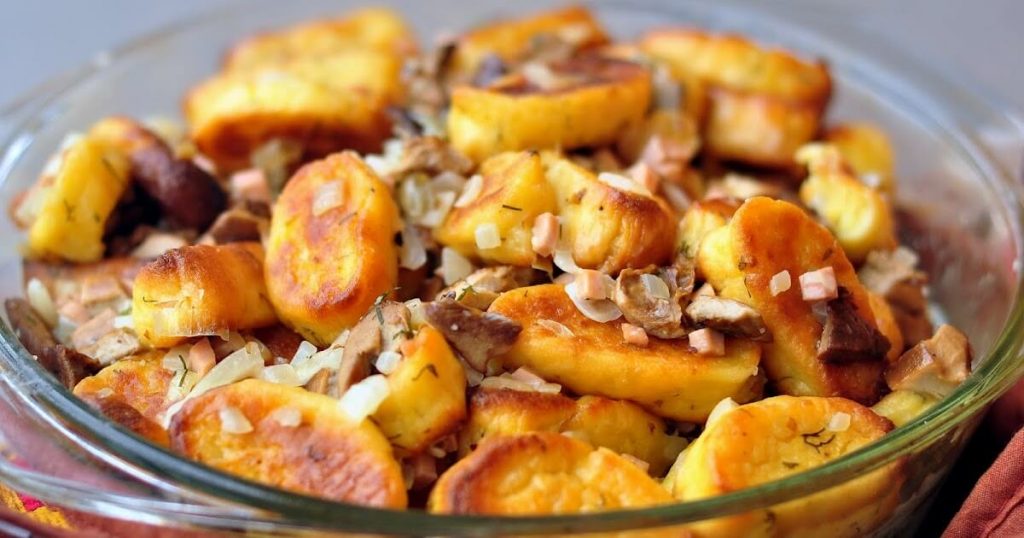 The potato is the most popular vegetable in Lithuania; however, locals don't consume boiled or roasted potatoes. They have developed numerous interesting cooking techniques throughout the years, elevating them to much higher levels of creativity. Baked whistlers, or Švilpikai, are a perfect illustration of that. They are tiny potato dumplings that have been baked. They take on a roasted, golden appearance in the oven. You make these dumplings using mashed, unpeeled, boiled potatoes, egg, flour, and a little salt as ingredients.
STAY IN ALYTUS, LITHUANIA
We recommend choosing your lodging in Lithuania from the list below! Many options range from renowned hotel chains and renovated manor residences to charming campgrounds and rural homesteads. The Hotelstars Union has categorized Lithuanian hotels for your convenience.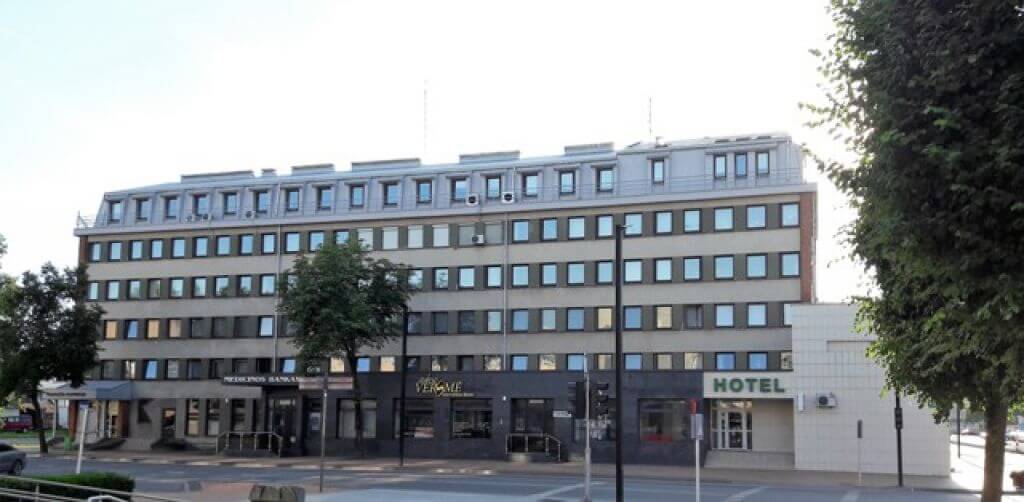 Please follow the links below if you want to book accommodation in Lithuania.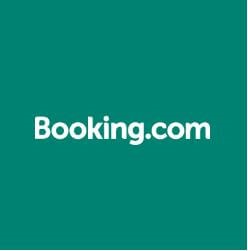 MAP OF ALYTUS CITY
TRAVEL BUDGET IN LITHUANIA
These example budgets assume a 2-week holiday in Lithuania for 2 people. (values are in USD)
| | | | | | |
| --- | --- | --- | --- | --- | --- |
|   | Accommodation | Food | Transport | Sightseeing | Total |
| Backpacker | 34 (for 2) | 12 | 4.8 | Free activities | 924 |
| Traveler | 62 (for 2) | 30 (per person) | 8.7 (per person) | 9.7 (per person) | 2212 |
| Tourist | 90 | 55 | 16 | 20 | 3756 |
Estimated local budget for two people for 2 weeks. This represents an average across the country (the budget may vary depending on the city or region visited).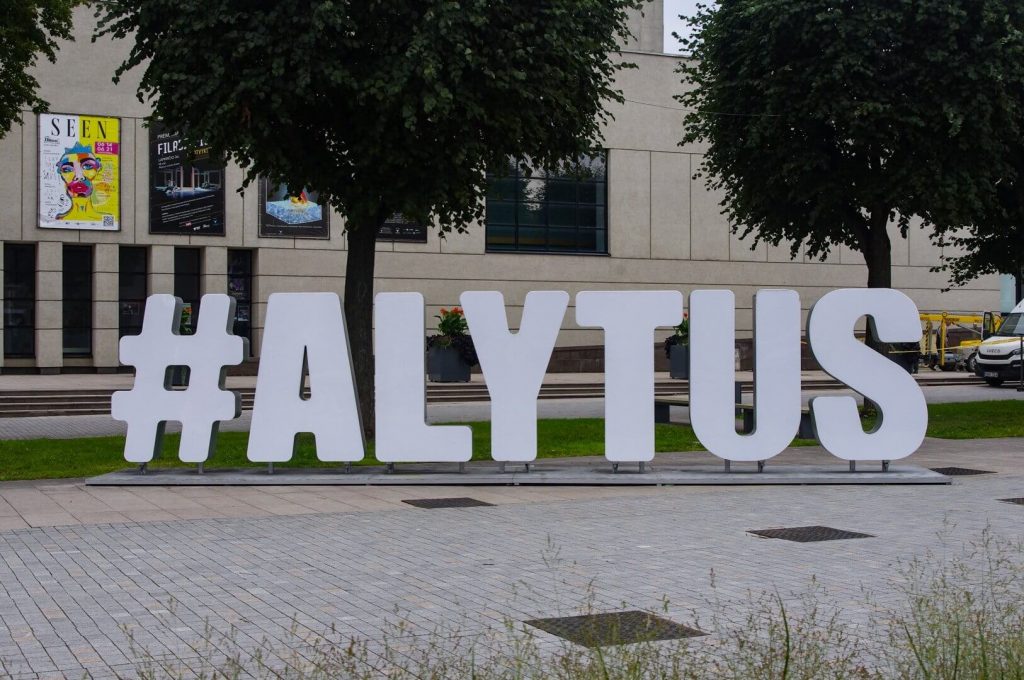 FAQ
Which country is Alytus?
Alytus often spelled Alitus, is a city in southern Lithuania, also in German and Polish Olita. It is located 37 miles (60 km) south of Kaunas along the Neman River (Lithuanian: Nemunas).
How old is Alytus?
Alytus first appeared in historical records in Wigand of Marburg's Chronicles in 1377 M. The Alytus Mound wooden fortress was first recorded in 1384.
How big is Alytus?
48 km²
When did Alytus gain the rights of the city? 
According to June 15, 1581, Stefan Batory, Alytus is given Magdeburg rights, and the coat of arms, features a white rose on a red background.
How much area of Alytus has green areas?
More than one-third of the city is made up of green spaces. One of the main sports tourist destinations in Lithuania is Alytus.
Is Lithuania a good country to live in?
In addition to being safe and reasonably priced, Lithuania also has a very high ranking for contented workers and work-life balance, which is particularly attractive to ex-pats and foreign nationals considering relocating and working overseas.
What is Lithuania famous for?
People recognize Lithuania for its scenery which includes flatlands, numerous forests, lakes, and marches. Additionally, you will find stunning views and dunes, the Curonian Spit draws tourists, as does the coastline, with its sandy beaches where you can find amber. The country offer flatlands, forests, lakes, and marches, and the Curonian Spit with its views and dunes and the coastline with its sandy beaches where you can find amber.
What is unique about Lithuania?
The last European nation to adopt Christianity was Lithuania. The nation's primary religion before Christianity was "Romuva." Vilnius serves as Lithuania's capital. Lithuania's longest and greatest river is the Nemunas, whereas Juozapines Hill (294 m) is its highest point.