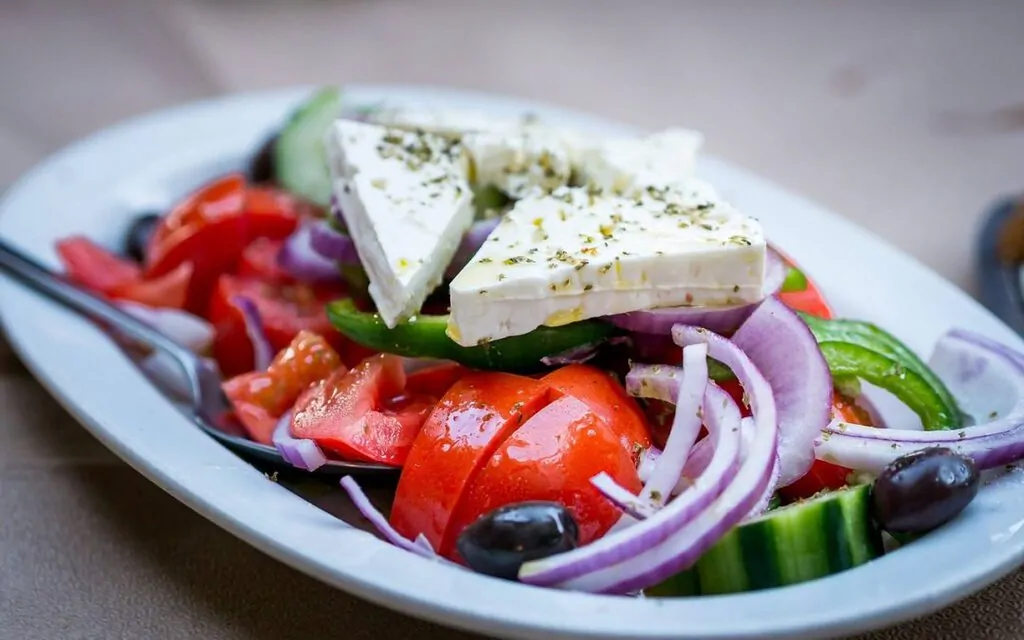 Greece is a beautiful country in the Mediterranean sea with a fascinating history and culture. Exploring this country will be an aim of many travel lovers. Visiting the best attractions in Greece is not the only way to explore this stunning country; having great Greek food is another way of experiencing Greece. Greek cuisine is blended with its culture.
The Location of Greece has given many variations to its gastronomy, as both East and West cooking elements are used to prepare Greek food. Also, Greek food has been inspired by Middle Eastern, Italian, and Ottoman cultures and uses traditional traditions.
Greeks are experts at fusing various ingredients to produce distinctive Greek cuisine. Since it produces some of the world's best olives and olive oil, the nation cannot afford to be anything less than a fantastic culinary destination. The recipes of Greece heavily depend on olives, cheese, bread, herbs, fresh vegetables, fish, olive oil, wine, meat, cereals, and yogurt.
So, let's find out about the delicious Greek cuisine you must try in Greece.
Moussaka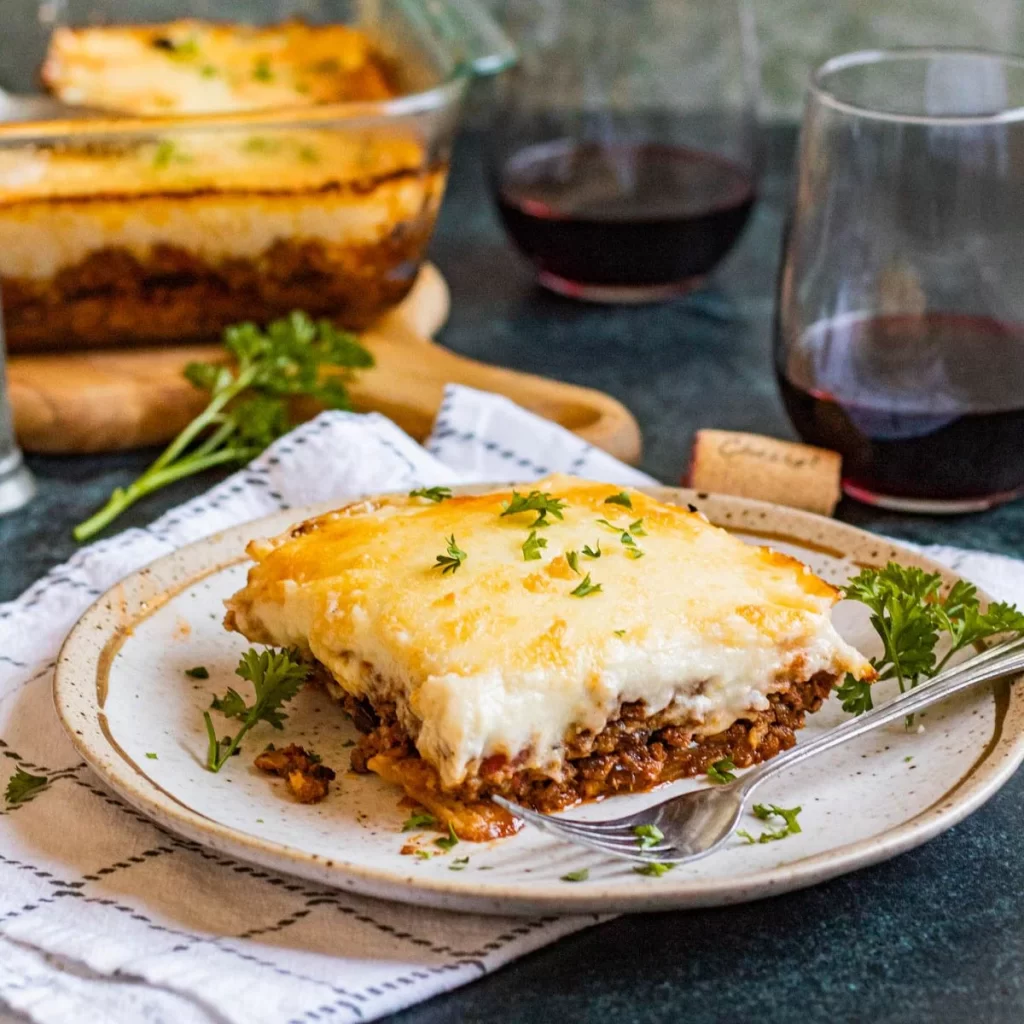 Moussaka is a renowned, traditional meal that is luscious and creamy. Almost all restaurants in Greece serve moussaka. Greek housewives serve this dish for large family gatherings.
Greek moussaka is a flavorful main meal made up of several ingredients. Meat minced from lamb or beef, eggplant, potatoes, and béchamel sauce are typically the major ingredients. Olive oil, grilled cheese, and garlic are also included. In Moussaka, ground beef is cooked in tomato sauce before being layered with sweet eggplants and béchamel sauce. There is no need for many side dishes because this delicious meal fills you up.
Gyros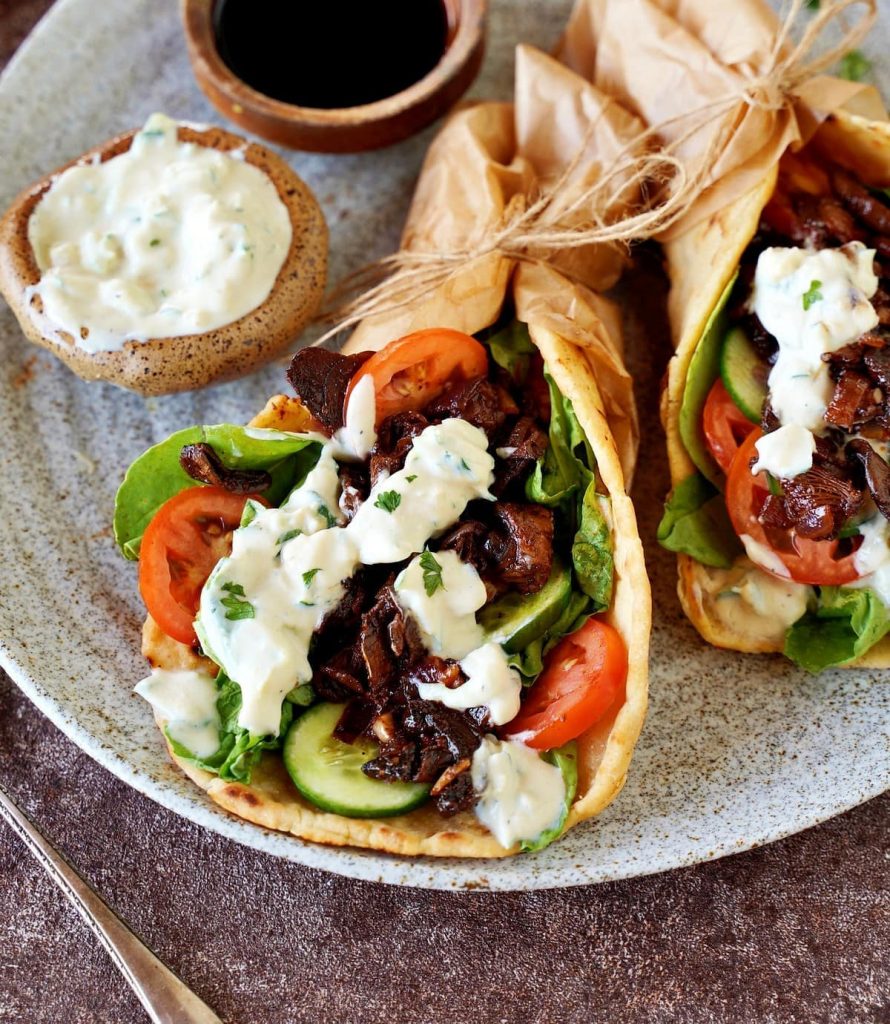 Gyros is one of the most popular foods in Greece. It's important to remember when eating this dish because where you receive it affects a lot. Since the meat and sauce quality is so important, practically every restaurant has its own proprietary recipe, and they undoubtedly don't all taste the same.
Gyros can be served on pita bread or a plate with any desired meat, french fries, lettuce, tomatoes, and the dish's special sauce. Gyros are available with a range of meats, including beef, lamb, chicken, and pork. In Greece, it is frequently served with sour tzatziki sauce on top, along with a side of fries and vegetables. The best thing about gyros is that they are frequently a quick and inexpensive alternative when you're pressed for time or don't want to linger at a restaurant.
Dolmadakia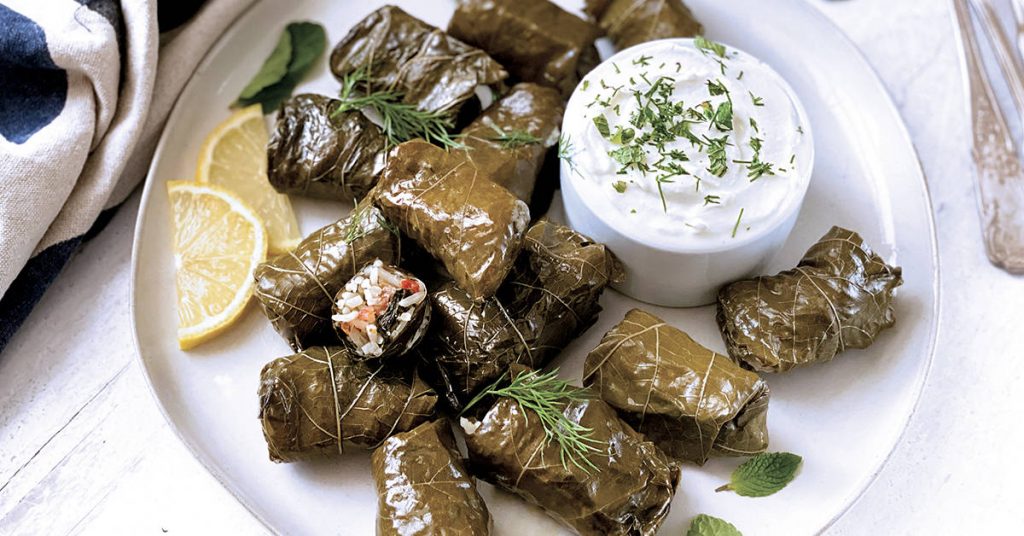 Dolmadakia or dolmades is the Greek word for a group of popular foods in the Balkans, the South Caucasus, Central Asia, and the Middle East. Rice, onion, parsley, mint, dill, and other seasonings are placed into grape or cabbage leaves. Even though the meatless varieties are more popular, minced meat is still used. Depending on the contents, they can be served hot or cold, with or without a dip or sauce.
Dolmadakia is boiled until the leaves are extremely delicate and are fashioned like small cigars. Like many traditional Greek food recipes, these foods are drizzled with olive oil and lemon juice. The best time to eat Dolmadakia is in the summer when the grape leaves are still crisp.
Greek Salad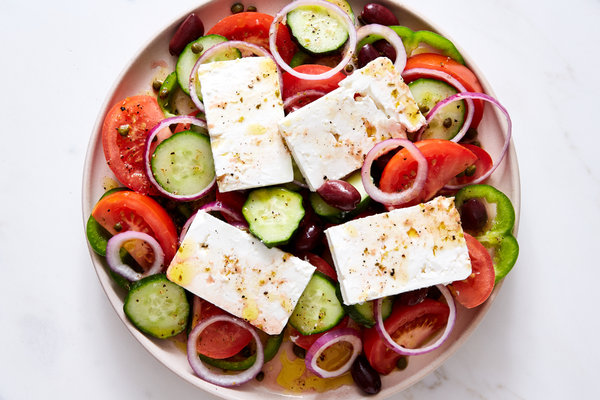 Greek Salad has every meal of Greek, and it is a perennial favorite for all Greeks. Cucumbers, olives, tomatoes, and a sizable chunk of feta cheese are this Greek food's main ingredients. Olive oil, salt, vinegar, and pepper are always served with the salad in restaurants since the dressing is left to the individual's taste.
Although Greek Salad is typically eaten as a beginning, it also makes a fantastic side dish. In Greece, lettuce is not used to make a Greek salad. It frequently also contains capers on top. An extremely tasty and light salad is created when all components are combined.
Saganaki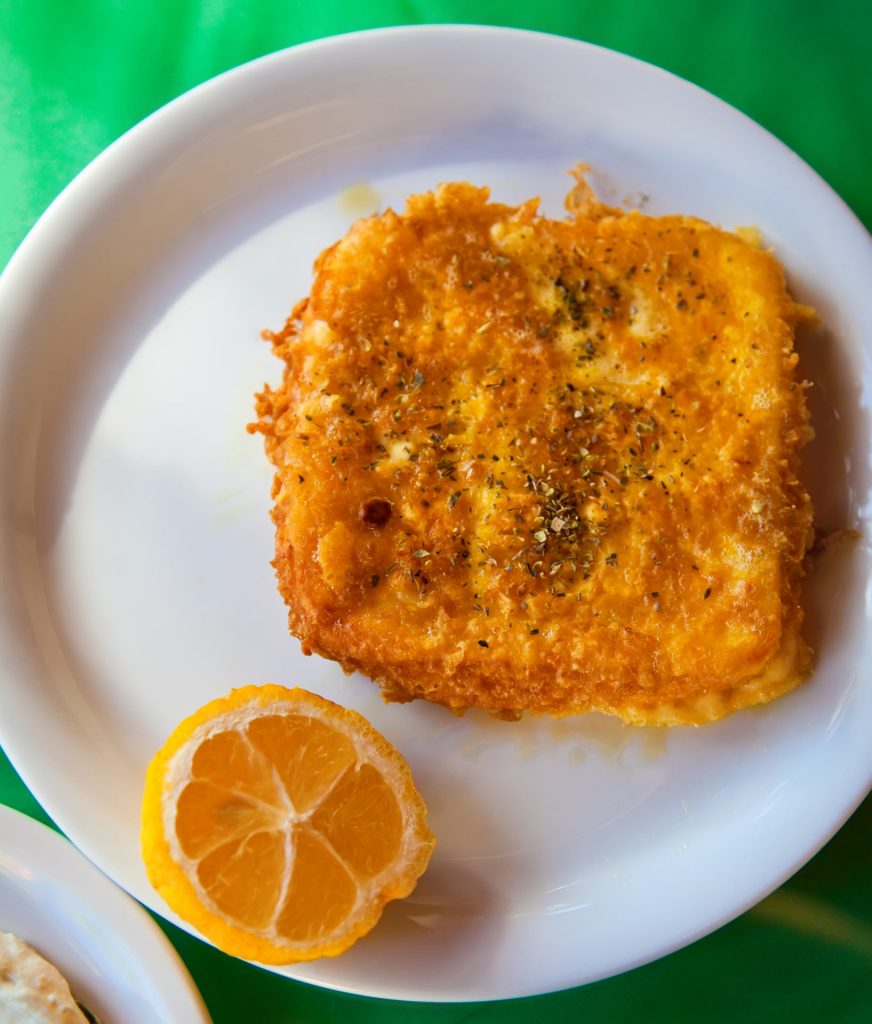 For cheese lovers, saganaki or fried cheese is an essential gastronomic specialty in Greece. It is a delicious specialty with a crusty surface and melted within. This delectable dish is prepared using a different type of cheese in each Greek region.
Saganaki is a small Greek frying pan, but it also describes a variety of Greek food made in this pan, the most well-known of which is this fried cheese appetizer.
This cherished classic Greek food requires two ingredients—flour and cheese—and can be made in less than 10 minutes. Cheese slices from a block are dipped in flour after being chopped into thin pieces. Several kinds of cheese, including halloumi, graviera, and kefalograviera, can make saganaki. The cheese is prepared by melting it in the skillet until it bubbles, then serving it with some bread, a squeeze of lemon juice, and some pepper.
Tomatokeftedes / Santorini Tomato Fritters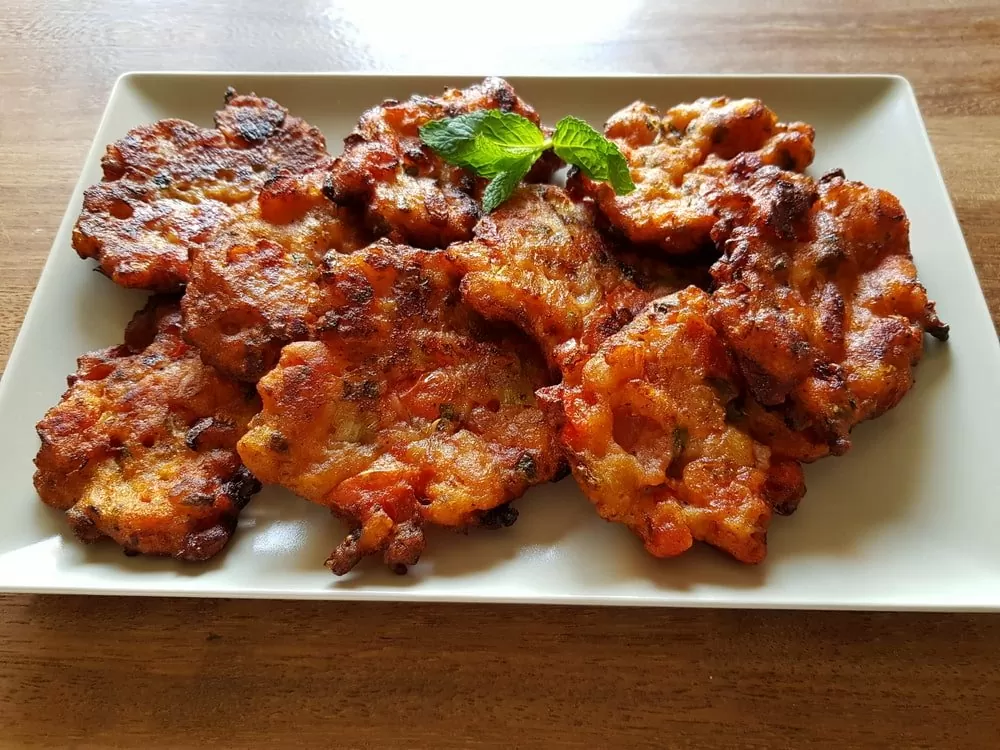 Tomatokeftedes is a traditional vegetarian cuisine in Santorini and Syros. To prepare this delightful culinary item, the tomato must be properly drained. These fritters feature uneven edges and pieces of tomato, onion, and mint. This dish is prepared with various cherry tomatoes unique to Santorini (Ntomataki). These local tomatoes have an amazing texture, which makes for the best tomato fritters!
Spanakopita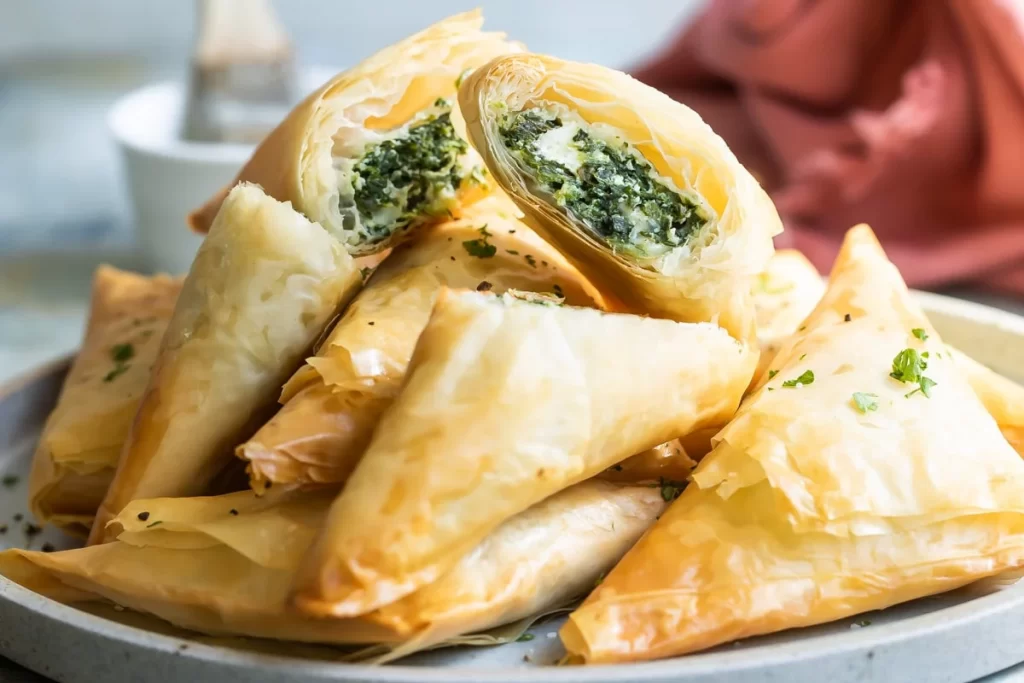 Greek spinach pies made with feta cheese and spinach are known as spanakopita. It is a sort of borek pastry that is also popular in Turkish cuisine and means "spinach pie" in Greek.
Typically, spinach, feta cheese, onion, herbs, and an egg are used to make spanakopita. Although feta is favored, other varieties of salty white cheese, such as kefalotiri, may also be used. Onions are sometimes swapped out for scallions.
The filling is prepared by wrapping it in phyllo pastry with butter or olive oil. Then it is cut into individual servings after being rolled into triangles or piled in a big pan.
Loukoumades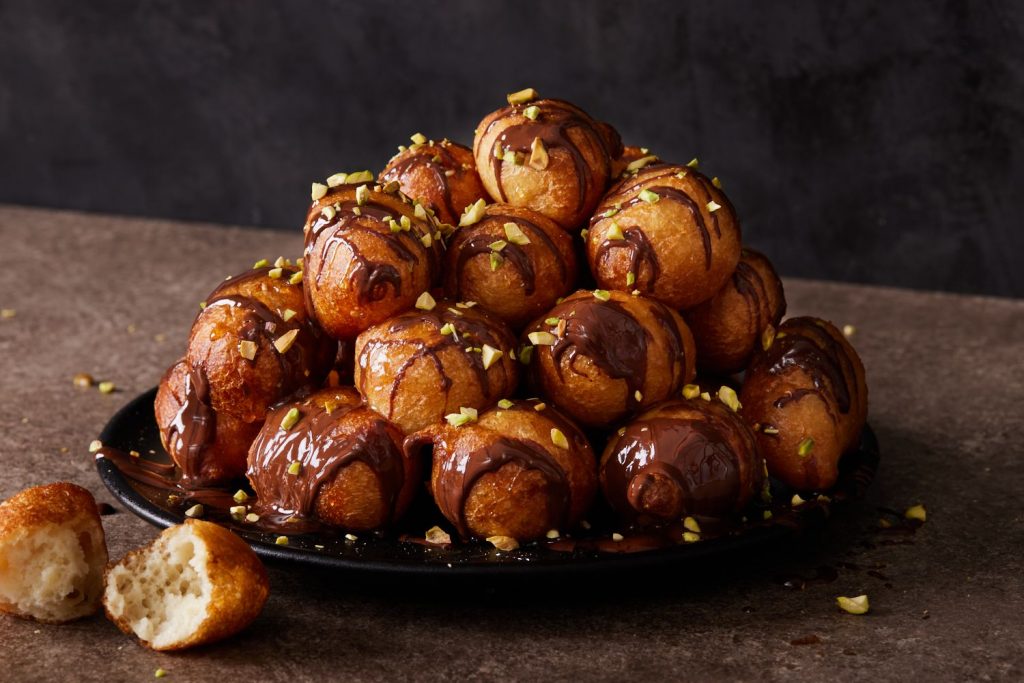 Loukoumades are tiny puffy dough balls dipped in a syrup of sweet honey. As a result of being deep-fried, they have a crispy, golden exterior and a fluffy, airy interior. Loukoumades can be eaten plain or topped with cinnamon and chopped walnuts. They can be compared to the Greek equivalent of doughnuts.
Desserts called Loukoumades have a long history dating back to antiquity. They resemble bite-sized dough balls and have honey on top. Another fantastic element for maximum pleasure is cinnamon. Walnuts are frequently sprinkled on Loukoumades.
This Greek doughnut will delight you with its crispy outside and fluffy interior.
Pastitsio
Another typical Greek dish, pastitsio, is made of layers of baked pasta, luscious beef mince, bechamel, and tomato sauce with melted cheese. In addition to various seasonings, the minced beef is cooked in a tomato sauce. Because the beef sauce in this traditional Greek dish is flavorful and reminiscent of bolognese sauce from Italy, it is sometimes known as "Greek lasagna."
Greek pastitsio can be prepared in various ways, but one of the most well-known preparations starts with a layer of bucatini (or other tubular pasta) mixed with cheese or egg on the bottom. The spaghetti is covered in a béchamel sauce seasoned with additional spices like nutmeg and allspice before being topped with a mixture of ground beef (or a mixture of ground beef and ground pork), tomato sauce, cloves, and cinnamon.
Tiropita / Greek Cheese Pie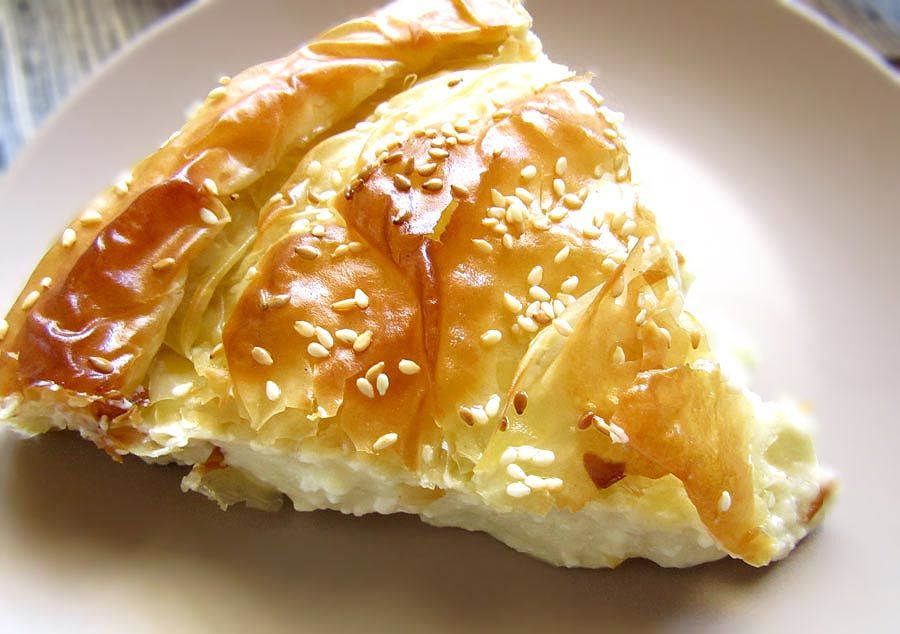 Greeks enjoy their cheese. So it comes as no surprise that they produce mouthwatering pies. Traditional Tiropita is a delicious starter or snack typically made with feta cheese. This thin pie's cheese filling is encased in phyllo dough. Cheese of all kinds is the primary component in this dish (feta cheese mostly). This delectable recipe is also prepared with melted butter and olive oil.
Greek cheese pie, or Tiropita, is a traditional favorite that may be enjoyed as an appetizer or a snack in the middle of the day. This feta cheese dish is available in a variety of forms. Tiropita is the name given when it is rolled into small triangular portions.
Shred the feta cheese and combine it with two other varieties of yellow cheese to add flavor while preparing. After being wrapped in phyllo pastry and cooked until crisp and golden, the mixture is drizzled with olive oil or melted butter.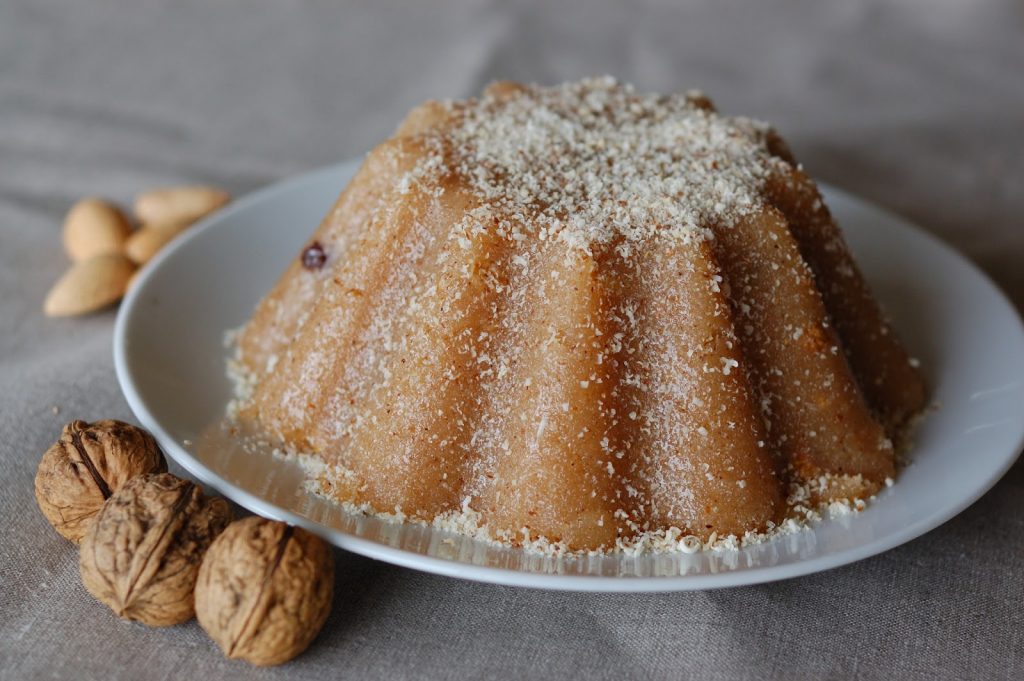 This is a Spectacular Greek Sweets, which is called "Halvas". A blend of cocoa and vanilla make up this treat. Raisins, almonds, and peanuts are also included in the vegetarian-friendly treat. Halvas, frequently consumed as a dessert, is a great meal in the morning.
You will be astonished by the delectability of such a simple fare, especially if you're searching for a dessert without dairy, butter, or eggs. Oil, semolina, sugar, and water are the four elements that make up the delicious halva.
The flavor of these four components together will enchant you. Halva is a semolina pudding sweetened with syrup and decorated with nuts.
Final Words
Don't think that only these dishes are in Greece to taste. This is just the beginning of the fantastic list of meals you must try in Greece; there are many Greek foods you can have a sense of the cuisine's flavors and traditions.
So, we invite you to try these mouth-watering cuisines when visiting Greece. As well as checking other cuisines around the world.